New Age Islam News Bureau
24 Nov 2014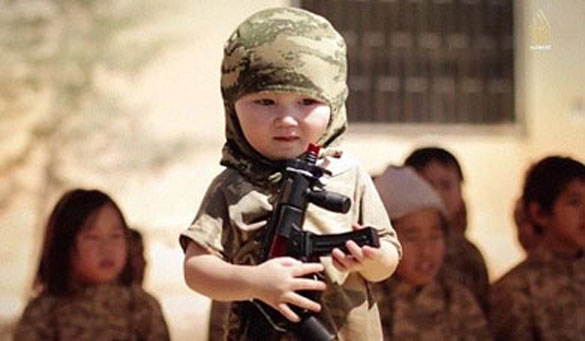 ISIS has released a new propaganda video in which dozens of Kazakh children appear training in an assault courses. (Photo courtesy: Al Hayat Media Center)
-----------
Africa
• 'Over 100 Al Shabaab Militants Killed In Kenya'
• Morocco Arrests Six over ISIL Allegiance Pledge on Video
• Kenya: Get Terrorism Out of Houses of Worship
• Sudan rebels claim raids on Blue Nile army bases
Arab World
• ISIS Used 'Porn' Image to 'Trick' Followers
• Brotherhood backs Salafist protests on Friday for 'Islamic identity'
• 20 Iraq Kurd fighters killed in Diyala operation: Commander
• Iraqi Air Strikes Kill 15 ISIL Terrorists in Salahuddin
• Iraqi troops retake 2 towns in eastern province
• Fighters from Syrian al Qaeda wing close in on Shi'ite village
• ISIL recruits, exploits children 'in systematic and organized manner'
• ISIL receives planeloads of arms at northern Iraq airport
• The global battle for children's rights addressed in Dubai
South Asia
• 40 Taliban Militants Killed During Counter-Terrorism Operations
• Former Awami League official to be hanged for war crimes in Bangladesh
• Haqqani Network behind deadly suicide attack in Paktika
Pakistan
• MQM Accuses Jamaat-i-Islami of Having Links with Al Qaeda, ISIS
• Two Women among Four Killed For Honour in Two Incidents
• Jihad Has Nothing to Do With Militancy: Ex- Jamaat-i-Islami Emir
• ANP leader, MQM worker killed in Karachi violence
• Pakistanis must stand up for their rights on Nov 30: Imran
• Give me two-thirds majority, I'll change the system: Qadri
• Marvi urges Imran to avoid abusive language against politicians
• PM Nawaz, DG ISI discuss matters relating to national security
Mideast
• Israel warns of 'grave mistake' if France recognises Palestine
• Arab Israeli arrested for travelling to Syria, joining ISIS
• Palestinian Authority to delay Palestinian statehood bid at UN
• Israel cabinet votes to enshrine 'Jewish state' in law
• Palestinian youth attacked by Jews: Israel police
Europe
• ISIS Trains Kazakh Children in Ways of War in New Video
• For many young British Muslims tug of peace is stronger than pull of war
• Police chief: '4 or 5' terror plots foiled in UK
• Tony Blair in Cairo for Middle East Peace Talks
North America
• Pak can have 200 nuclear devices by 2020: US Think Tank CFR
• World powers, Iran discuss extending nuclear deal deadline: US
• Pakistan, Afghanistan welcome US decision to expand its combat role in Afghanistan
India
• Muslims, Dalits and Tribals Make Up 53% of All Prisoners in India
• SAARC summit: India and Pakistan keep hopes of Modi-Nawaz Sharif meet alive
Southeast Asia
• Umno assembly will push Malaysians to fear or love Umno
• We're not hooligans, there's no bias in sedition arrests, says Zahid
• 3 killed, 23 injured in bomb blast in Philippines south
Compiled by New Age Islam News Bureau
URL: https://www.newageislam.com/islamic-world-news/new-age-islam-news-bureau/-over-100-al-shabaab-militants-killed-in-kenya'/d/100167
----------
Africa
'Over 100 Al Shabaab Militants Killed In Kenya'
November 24, 2014
Kenyan security forces have pursued and killed more than 100 militants and destroyed their camp in Somalia after the ambush of a Nairobi-bound bus that killed 28 people, Deputy President William Ruto said on Sunday.
Somalia's Islamist al Shabaab militants have claimed responsibility for the attack on Saturday, when gunmen ordered passengers on the bus to recite Quran verses and shot dead non-Muslims - 19 men and nine women - who could not.
The group said the killing outside Mandera, a town in the far northeast near the Somali and Ethiopian borders, was in retaliation for raids on mosques in the southern port city of Mombasa.
Kenyan police said on Saturday that security forces pursued the attackers as they fled to Somalia after the ambush.
"Two successful operations were carried out against the perpetrators of these murderous executions across the border. Our retaliatory action left in its trail more than 100 fatalities," Ruto told a news conference in Nairobi.
Ruto said a camp used by the attackers and four "technicals" pick-up trucks mounted with guns - were also destroyed.
"Our message to them is clear - you may sneak and attack innocent civilians. But for any attack on Kenya and its people, we shall pursue you wherever you go," Ruto said, without naming al Shabaab.
Sheikh Abdiasis Abu Musab, al Shabab's military operations spokesman, said all those who took part in the attacks were unharmed.
Saturday's attacks drew international condemnation from Somalia, Britain, the United States and the United Nations.
Former Prime Minister Raila Odinga called on the government to do more to counter the country's deteriorating security.
"When can we expect an end to this desperate state of affairs? Where is the bottom?" Odinga, now an opposition leader, asked in a statement.
Last week, police in Mombasa shot dead one man and arrested almost 400 others when they raided four mosques that they said were being used to recruit militants and store weapons.
Al Shabaab killed at least 67 people in a gun and grenade raid on a Nairobi shopping mall last September, saying it was revenge for attacks on its fighters by Kenyan troops in Somalia.
That and other attacks in the past year on the coast and in Nairobi have prompted Western nations to issue travel warnings, hitting the tourism industry.
Experts have blamed poor command structures and intelligence sharing for Kenya's problems fighting the militants in the past, but Ruto said improved coordination had assured the success of the weekend raid against the attackers.
http://www.dhakatribune.com/africa/2014/nov/24/%E2%80%98kenyan-security-forces-killed-more-100-al-shabaab-militants%E2%80%99#sthash.iz8QbA6d.dpuf
----------
Morocco Arrests Six over ISIL Allegiance Pledge on Video
November 24, 2014
Morocco has arrested six suspects after an online video showed masked men pledging allegiance to the head of the Islamic State of Iraq and the Levant (ISIL) terrorist group, officials and media said.
Media reports said the video that went online last week was filmed in Morocco and showed three masked men holding the ISIL flag and introducing themselves as soldiers of the ISIL, Al-Monitor reported Sunday.
The video purported to announce the creation of "Jund al-Khilafa" or soldiers of the caliphate, in the Maghreb.
The interior ministry said three people were arrested in connection with the video on Saturday and three more on Sunday.
A statement did not identify the suspects but said the head of the group and two of his accomplices "were jailed in 2008... for their involvement in terrorist plots" and links with Al-Qaeda in the Islamic Maghreb.
A cell phone used to film the video was seized by security forces and police, as was a blade one suspect held while all three were "pledging allegiance to (ISIL chief) Abu Bakr al-Baghdadi", it said.
According to the interior ministry, the suspects also "threatened to carry out criminal acts" in Morocco after undergoing military training at ISIL camps in Libya, Syria and Iraq.
Morocco has announced the arrest of several would-be militants in recent weeks, and last month it boosted security across the kingdom to counter any threat.
Authorities say that more than 2,000 Moroccan terrorists, including some with dual nationality, are now fighting in Syria and Iraq where the ISIL terrorists currently control swathes of territory.
http://english.farsnews.com/newstext.aspx?nn=13930903000741
----------
Kenya: Get Terrorism Out of Houses of Worship
November 24, 2014
In the past few months, the Jubilee government has been struggling to contain the rising cases of insecurity associated with radicalisation of Muslim youths.
Though this problem started to rear its ugly head during the reign of President Mwai Kibaki and Prime Minister Raila Odinga, the new administration has been burning the midnight oil and sparing no effort in ensuring peace and normalcy was restored in affected regions.
However, the situation on the ground shows that the efforts are yet to bear fruits, though there is no let up on the part of the government.
The law enforcers have so far arrested and charged hundreds of radicalised youths linked to terrorism activities that have in the recent past left many people dead or maimed and led to destruction of property worth billions of shillings.
In Likoni, terrorists raided a church and sprayed the worshippers with bullets, leaving six of them dead and a bullet lodged in the head of two-year-old baby Satrine. The incident drew a chorus of international condemnation and outcry after the stories of the agonising pain the little angel was going through and photos of his head, which was swollen and heavily bandaged, were featured.
It was also sad to note the boy's mother was among those who died in the attack.
A few days later, the bullet was successfully removed following an operation carried out by neurosurgeons at the Kenyatta National Hospital.
Earlier, similar incidents of terror were reported in Mombasa and Nairobi's Eastleigh and had resulted in deaths of hundreds of innocent Kenyans. The rising cases of insecurity have been blamed on a breakdown of law and order in our neighbouring countries, mainly in Somalia where the Kenya Defence Forces were deployed to join forces from other Africa Union member states. The mission of the troops, operating under the banner of Amisom is to restore peace and stability in the troubled country, which has known no peace since the overthrow of President Said Barre in 1991.
President Kibaki and his co-principal Raila ordered the deployments of Kenyan troops in October 2011 to pursue and track down the al Shabaab militants. This followed a spate of abductions and violent attacks executed by the militias, who crossed to Kenya, and targeted tourists and Kenyan civilians along the coast region.
Whenever the country has suffered the terror attacks, the Muslim leaders have always come out very strongly to defend those associated with the heinous acts and roundly condemn the government for 'targeting their religion'. The fact that they would issue the statements just after the attack has taken place leaves a lot to be desired. Why fail to allow the investigations to be carried out first?
It is not lost all the terror suspects profess Islam faith and recite Quran verses when they execute the deadly attacks. For instance, during the Westgate Mall terror attack, it was reported that those who recited a verse from the Quran were spared.
So how do the leaders expect the government to respond to these situations? If they want Kenyans to trust and take them seriously, they should learn to control their emotions and engage the authorities in sober discussions on how to deal with the problem.
The law must be followed. Therefore, the killings of top Muslim leaders which have been previously witnessed are callous and must be condemned. Those behind these extra-judicial killings must be pursued and punished. For now, it is apparent that the police are not taking any chance in ensuring that the campaign to radicalise and recruit youths to al Shabab does not succeed.
In a sting operation a few days ago, police recovered an assortment of lethal weapons and arrested 251 Muslim youths. One of them was shot dead when he attempted to hurl a grenade at the police who stormed two mosques -Masjid Musa and Sakina - in the dead of the night where weapons, including six grenades, guns, bullets, pangas and knives were recovered. Besides, reports indicated al Shabaab fatigues, black flags, binoculars, laptops and CDs containing Jihadist teachings were seized.
This time, a section of the Muslim leaders led by Mombasa Governor Ali Hassan Joho appeared to weigh their words. They called on the government to track down the criminals and ensure they face the law. This is the right way to go. A time has come for all of us, irrespective of political persuasions, to join hands and help President Uhuru's administration to nip the menace in the bud.
The house of worship [church, mosque and temple] is sacred and must be respected. This scenario, however, changes when it is infiltrated and converted into training and breeding grounds for terrorists and criminals whose mission is to kill and maim. Therefore, the decision by the police to raid the mosques is well understood and they must sustain the campaign and ensure all criminals are apprehended.
http://allafrica.com/stories/201411240559.html
----------
Sudan rebels claim raids on Blue Nile army bases
November 24, 2014
Sudanese rebels said they attacked two military bases in war-torn Blue Nile state, days after attending a round of peace talks with the government.
The Sudan Peoples Liberation Army-North raided the bases in Blue Nile last week "in retaliation for the aerial bombardment" of two towns, SPLA-N spokesman Arnu Lodi said in a statement.
Fighting flared in the state last month after the end of the rainy season, which leaves many roads impassable, despite both sides meeting at peace talks in Ethiopia until last week.
Lodi said SPLA-N forces attacked a military camp in the town of Buk in central Blue Nile on Tuesday "and managed to destroy one mounted land cruiser".
The rebels launched another raid on a base 30 kilometres (18 miles) from state capital Ed Damazin on Saturday, killing four soldiers, Lodi said.
In the second raid, one rebel was wounded and another captured, he said on Facebook.
The insurgents launched the attacks in retaliation for government air raids on Chali and Yabus in southern Blue Nile.
But Sudanese Armed Forces spokesman Colonel Al-Sawarmy Khaled Saad told AFP the rebel claims were "completely untrue".
He said government forces had launched a ground attack on rebels as they massed troops in Yabus, in the far south of the state.
Saad gave no indication of casualties.
The unrest came after delegations from the government and rebels from South Kordofan and Blue Nile ended peace talks in Addis Ababa on November 18, with mediators saying they were "not too far from a deal".
Fighting erupted in Blue Nile and South Kordofan in 2011 when former rebels from the SPLA-N took up arms against Khartoum.
The insurgents complained of neglect and discrimination by Sudan's Arab-dominated regime.
http://english.ahram.org.eg/NewsContent/2/8/116267/World/Region/Sudan-rebels-claim-raids-on-Blue-Nile-army-bases.aspx
----------
Arab World
ISIS Used 'Porn' Image to 'Trick' Followers
24 November 2014
The Islamic State of Iraq and Syria (ISIS) has been accused of using an image from a pornographic movie in their latest propaganda poster, UK's The Independent reported Sunday.
The militant group was blamed by the United States Foreign Ministry for trying to "trick" social media users by using the still of a woman who initially appeared in"Hungarian porn."
"Stop using fake photos to trick people into supporting your lost cause," Think Again Turn Away Twitter account run by U.S. officials wrote in an address to ISIS.
The image, which was featured as part of an online propaganda poster recently published by the group, portrayed a woman supposedly being raped by a group of men.
Along with the picture, "no more watching brothers die no more watching sister cray [sic]," could be read.
http://english.alarabiya.net/en/variety/2014/11/24/ISIS-tricks-users-with-porn-movie-images-.html
----------
Brotherhood backs Salafist protests on Friday for Egypt's 'Islamic identity'
November 24, 2014
The Muslim Brotherhood has announced its support for protests this Friday called by the Salafist Front in order to preserve Egypt's "Islamic identity."
"The Muslim Brotherhood treasures the call to preserve the nation's identity, which the Egyptian people including the Muslim Brotherhood fought for," said a statement published on the Brotherhood's website on Sunday. "The Egyptian people won't accept any attempt to obliterate its Islamic identity."
The ultra-Conservative Salafist Front has called for "a Muslim youth uprising" on Friday, 28 November across Egypt in order "impose Islamic identity without disguise" and "to impose Islamic sharia."
Full report at:
http://english.ahram.org.eg/NewsContent/1/64/116247/Egypt/Politics-/Brotherhood-backs-Salafist-protests-on-Friday-for-.aspx
----------
20 Iraq Kurd fighters killed in Diyala operation: Commander
November 24, 2014
Twenty Iraqi Kurdish fighters were killed in clashes and by bombs during an operation on Sunday to retake two areas in Diyala province, one of their commanders said.
"The number of peshmerga killed is 20 and more than 40 were wounded during clashes against (IS) and bombs at the entrance of Jalawla, inside Jalawla and in Saadiyah," Mahmud Singawi told AFP by telephone.
http://english.ahram.org.eg/NewsContent/2/8/116266/World/Region/-Iraq-Kurd-fighters-killed-in-Diyala-operation-Com.aspx
----------
Iraqi Air Strikes Kill 15 ISIL Terrorists in Salahuddin
November 24, 2014
Iraqi warplanes bombarded the hideouts of the ISIL Takfiri group in Salahuddin province, killing 15 terrorists.
Iraq's airborne forces inflicted heavy losses on the terrorists in North of Dhuluiya, and claimed the lives of too many of them in al-Hardaniya district, Southeast of Samarra.
A number of terrorists' vehicles were also destroyed during the strikes.
The ISIL Takfiri terrorists currently control parts of Syria and Iraq. They have threatened all communities, including Shiites, Sunnis, Kurds, Christians, Ezadi Kurds and others, as they continue their atrocities in Iraq.
Senior Iraqi officials have blamed Saudi Arabia, Qatar, and some Persian Gulf Arab states for the growing terrorism in their country.
The ISIL has links with Saudi intelligence and is believed to be indirectly supported by the Israeli regime.
http://english.farsnews.com/newstext.aspx?nn=13930903000222
----------
Iraqi troops retake 2 towns in eastern province
24 November 2014
Iraqi authorities say Iraqi troops backed by Shiite militias have retaken two towns seized previously by militants in an eastern province.
Police officials in Diyala province said Monday that Iraqi forces entered the towns of Saadiya and Julala late Sunday after fierce clashes with fighters from the Islamic State of Iraq and Syria group.
The fighting is still continuing with some pockets of resistance outside the two towns, said the police officials.
Islamist militants seized the towns of Jalula, 125 kilometers northeast of Baghdad, and Sadiyah, 95 kilometers north of the capital during a stunning blitz in June which enabled ISIS to take control of large swaths of land in the country's north and west.
http://english.alarabiya.net/en/News/middle-east/2014/11/24/Iraqi-troops-retake-2-towns-in-eastern-province.html
----------
Fighters from Syrian al Qaeda wing close in on Shi'ite village
November 24, 2014
BEIRUT(Reuters) - Members of al Qaeda's Nusra Front and other Sunni Islamists seized an area south of a Shi'ite Muslim village in north Syria on Sunday after clashes with pro-government fighters, opposition activists said.
The insurgents advanced overnight on al-Zahra, north of Aleppo city, seizing territory to the south and also trying to take land to the east in an attempt to capture the village, the Britain-based Syrian Observatory for Human Rights said.
Al-Zahra and the nearby village of Nubl have been under a long siege by anti-government forces in an isolated Shi'ite area. The United Nations said in March that armed groups surrounding the villages had cut electrical and water lines supplying 45,000 residents. The army has used helicopters to drop supplies to the villagers.
Opposition activists said the fighters also targeted Nubl and were seeking to capture both in the advance on the villages, which are located along a highway that leads to Turkey. Control of the villages could open up a new supply line into Aleppo for the insurgents.
"We targeted the town with dozens of mortar shells and dozens of hell cannon shells and Nusra's forces made progress and control buildings which are in the first line of defence of Nubl," said media activist Ahmed Hamidou who was accompanying battalions involved in the campaign.
Full report at:
http://www.trust.org/item/20141123161213-g7or4/?source=jtOtherNews2
--------
ISIL recruits, exploits children 'in systematic and organized manner'
November 24, 2014
Teenagers carrying weapons stand at checkpoints and busy intersections in Iraq's second-largest city, Mosul. Patched onto the left arms of their black uniforms are the logos of the Islamic Police.
In Raqqa, the Islamic State in Iraq and the Levant's (ISIL) de facto headquarters in Syria, boys attend training camp and religious courses before heading off to fight. Others serve as cooks or guards at the extremists' headquarters or as spies, informing on people in their neighborhoods.
Across the vast region under ISIL control, the group is actively conscripting children for battle and committing abuses against the most vulnerable at a young age, according to a growing body of evidence assembled from residents, activists, independent experts and human rights groups.
Full report at:
http://www.hurriyetdailynews.com/isil-recruits-exploits-children-in-systematic-and-organized-manner.aspx?pageID=238&nID=74678&NewsCatID=352
----------
ISIL receives planeloads of arms at northern Iraq airport
November 24, 2014
BAGHDAD — Iraq has detected air shipments of weapons to Islamic State of Iraq and Levant.
A leading parliamentarian said ISIL was receiving planeloads of weapons from unspecified foreign suppliers. Hakim Zalmi, chairman of parliament's Defense and Security Committee, said the aircraft were landing at Tel Afar, a northern facility under ISIL control.
Tal Afar in northern Iraq.
Tal Afar in northern Iraq. Reuters
"Some countries are delivering weapons to ISIL by using airplanes in Tel Afar airport, near Mosul," Zalmi said.
In a statement on Nov. 17, Zalmi did not identify the suppliers. But he suggested that the supplies were arriving from republics of the former Soviet Union.
In mid-November, a Russian aircraft filled with arms and ammunition landed in Baghdad International Airport. Officials said the Russian aircraft contained 40 tons of cargo and arrived in Baghdad after being refused landing in the northern airport of Suleimani.
Full report at:
http://www.worldtribune.com/2014/11/20/isil-receives-planeloads-arms-northern-iraq-airport/
-----------
The global battle for children's rights addressed in Dubai
November 24, 2014
For millions of the children in the region, this has been a year too often marked by violence, fear and abuse.Poor health care, a lack of education, forced child marriages, sexual abuse and other problems have been worsened by the conflict in many countries in the Middle East.
How big a crisis this is for the youngest and most vulnerable members of society was underlined last week in Dubai at the Global Child Forum, an annual conference that was held outside Sweden for the first time.
When asked to describe what was being done to end the suffering, forum chairman Ulf Karlberg spoke of "firefighting" the very serious, grave abuse that is happening every day in these countries to an estimated 150 million to 200 million people.
"Child work, child soldiers, trafficking and sexual abuse, prostitution, you have the whole field of abuses that you can imagine, particularly in the poorer countries," he said.
Full report at:
http://www.thenational.ae/uae/the-global-battle-for-childrens-rights-addressed-in-dubai#full
-----------
South Asia
40 Taliban militants killed during counter-terrorism operations
November 24, 2014
At least 40 Taliban militants were killed and 15 others were injured following military operations by Afghan national security forces in various provinces of the country.
The Ministry of Interior (MoI) following a statement said, Afghan National Police conducted several anti-terrorism joint operations with Afghan National Army and NDS to clean some of the areas from terrorists and enemies of peace and stability of Afghanistan.
The statement further added that the operations were conducted in Zabul, Maidan Wardak, Kunduz, Takhar, Baghlan, Nangarhar, Nuristan, Logar and Helmand provinces.
As a result of the operations at least 40 armed Taliban members were killed, 15 wounded and 11 others were arrested by Afghan National Security Forces, the statement said.
Also, during these operations, Afghan National Police discovered and confiscated light and heavy rounds ammunition, the statement added.
Afghan National Police discovered and defused an improvised explosive device (IED) during the operation in Paktika province.
The anti-government armed militant groups have not commented regarding the report so far.
http://www.khaama.com/moi-40-taliban-militants-killed-during-counter-terrorism-operations-9052
----------
Former Awami League official to be hanged for war crimes in Bangladesh
November 24, 2014
Bangladesh's war crimes court Monday sentenced a former ruling party official to death for mass murder, the 14th person convicted of atrocities during the 1971 war, a prosecutor said.
Mobarak Hossain, who was expelled from the Awami League after he was charged with war crimes in 2012, was found guilty of heading a militia that rounded up and killed scores during the nine-month conflict.
"He was sentenced to death for the murder of 33 people and given (a) life term for the abduction and murder of another person," prosecutor Shahidur Rahman told AFP.
The 64-year-old Hossain is the first person connected with the ruling party to be given the death penalty by the controversial tribunal, which has mostly focused on trials of officials of Jamaat-e-Islami.
Hossain, who was in court to hear the verdict, had previously been an official of Jamaat-e-Islami.
Full report at:
http://tribune.com.pk/story/796296/former-awami-league-official-to-be-hanged-for-war-crimes-in-bangladesh/
----------
Haqqani Network behind deadly suicide attack in Paktika
November 24, 2014
The Haqqani terrorist network has been accused of the deadly suicide attack in eastern Paktika province which left at least 57 people dead.
The Afghan Intelligence – National Directorate of Security (NDS) said the Haqqani Network was behind the suicide attack.
According to local government officials, at least 57 people were killed and around 60 others were injured following the suicide attack which took place around 4:30 pm local time.
The suicide bomber detonated his explosives during a volleyball match in Yahya Khel district which was attended by hundreds of spectators.
No group including the Taliban militants has so far claimed responsibility behind the incident.
The Haqqani terrorist network is accused of staging numerous cross-border attacks from their base in North Waziristan, including the 19-hour siege at the US Embassy in Kabul in September 2011.
Haqqani network was formed in the late 1970s by Jalaluddin Haqqani. The group is allied with al-Qaida and the Afghan Taliban and cooperates with other terrorist organizations in the region.
The network is considered the most lethal insurgent group targeting International Security Assistance Force (ISAF) and Afghan personnel in Afghanistan.
http://www.khaama.com/haqqani-network-behind-deadly-suicide-attack-in-paktika-9055
----------
Pakistan
MQM accuses Jamaat-i-Islami of having links with Al Qaeda, ISIS
November 24, 2014
KARACHI: Accusing the Jamaat-i-Islami of having links with Al Qaeda and Daish, the Islamic State of Iraq and Syria (ISIS) group, the Muttahida Qaumi Movement has said that the country will suffer if action is not taken against the Taliban and Daish.
Addressing a press conference at the party's Nine Zero headquarters here on Sunday, MQM leader Wasay Jalil alleged that the government was deliberately ignoring the threat posed by the ISIS.
Criticising a recent statement of Interior Minister Chaudhry Nisar Ali Khan in which he denied the presence of the ISIS in Pakistan, Mr Jalil said that the ISIS graffiti and posters could be seen across the country, including Lahore.
He urged the interior minister to tell the nation who were behind the graffiti and who were supporting Daish in Pakistan. It was quite clear, he said, that those who subscribed to the ISIS ideology were behind the wall-chalking campaign.
The MQM leader also criticised former JI chief Syed Munawwar Hasan for stressing the need for promoting the jihad culture. He referred to media reports that some suspected militants recently killed in a drone strike in the tribal area had ties with the JI.
Full report at:
http://www.dawn.com/news/1146499/mqm-accuses-ji-of-having-links-with-al-qaeda-isis
----------
Two Women among Four Killed For Honour in Two Incidents
November 24, 2014
DERA MURAD JAMALI: A man killed his wife and a police officer in Gandakha area of Jaffarabad district in the name of honour and on similar ground a woman was murdered along with a man by her father in Haji Shahar area of Bolan district.
Police said that at Bachal Goth in Gandakha area Liaquat Ali allegedly opened fire on his wife and a police officer Naseer Ahmad Jamali, killing the two on the spot.
The suspect was arrested.
"It is an incident of honour killing," police said and added that investigation was in progress.
In Shahbaz Balanari village, Bakhtiar Khan Habani allegedly shot dead his daughter and her alleged paramour, Levies said.
The bodies were taken to the Dhadhar district hospital for medico-legal formalities.
"They were killed for honour," said Levies officials, adding that the suspected killer escaped after the incident.
http://www.dawn.com/news/1146343/two-women-among-four-killed-for-honour-in-two-incidents
----------
Jihad Has Nothing to Do With Militancy: Ex- Jamaat-i-Islami Emir
November 24, 2014
LAHORE: Former Jamaat-i-Islami emir Syed Munawar Hasan tried to clarify as well as praise the concept of jihad, saying it had nothing to do with terrorism and militancy.
Addressing his party's convention at Minar-i-Pakistan on its second day, he said: "Due to propaganda against jihad, people are now even ashamed of using the word as it has been turned into a synonym of the word 'terrorism'.
"We need to wage jihad the way Almighty Allah ordained it, along with a democratic struggle to eliminate oppression and injustice from society. Jihad is a fundamental principle of Islam which has nothing to do with terrorism and militancy."
Speaking to the participants, who also included people from other religious organisations, Mr Hasan said the JI and the Tableeghi Jamaat had similarities in their beliefs and teachings and both were struggling to free the people from slavery of human beings.
Criticising the ongoing military operations in the tribal areas, he said such initiatives had never been the solution to insurgency anywhere in the world.
Full report at:
http://www.dawn.com/news/1146338/jihad-has-nothing-to-do-with-militancy-munawar
----------
ANP leader, MQM worker killed in Karachi violence
November 24, 2014
KARACHI: An Awami National Party (ANP) district president and a Muttahida Qaumi Movement (MQM) party worker were killed in two separate incidents of violence in Karachi, DawnNews reported.
Unknown gunmen shot dead ANP leader Dr Ziauddin in Orangi Town after he was returning from a mosque after prayers.
The gunmen opened indiscriminate fire, as a result of which Dr Ziauddin died on the spot. The assailants fled from the scene soon after the shooting.
He body was later shifted to Abbasi Shaheed Hospital Karachi. The motive behind the killing could not be ascertained.
The ANP condemned the killing and said they would hold a protest in front of the Chief Minister House.
Separately, an MQM worker was killed after being shot in Orangi Town.
MQM leader Altaf Hussain has condemned the killing and said the government had failed to prevent such attacks from taking place.
http://www.dawn.com/news/1146378/anp-leader-mqm-worker-killed-in-karachi-violence
------------
Pakistanis must stand up for their rights on Nov 30: Imran
November 24, 2014
GUJRANWALA: Addressing a public gathering on Sunday, Pakistan Tehreek-i-Insaf (PTI) Chairman Imran Khan claimed that the people of Pakistan have rejected the ruling government and want change in the country.
He said that the people of Pakistan have to rise up for their rights on November 30, when the PTI hold their rally in Islamabad.
"On 30 Nov it will be decided if the status quo will succeed or whether there will be a new Pakistan," he said. Khan said there is great political awareness among the people, who have rejected the status quo.
"When the youth and women of a country decide for change, no power on earth can stop it," he said.
Full report at:
http://www.dawn.com/news/1146368/pakistanis-must-stand-up-for-their-rights-on-nov-30-imran
----------
Give me two-thirds majority, I'll change the system: Qadri
November 24, 2014
BHAKKAR: Pakistan Awami Tehreek (PAT) chief Tahirul Qadri, on Sunday, promised to bring change if the people gave him two-thirds majority in parliament.
Qadri has said that he would unite Sunnis and Shias in the country if the masses voted him to power. Addressing the participants of a rally in Bhakkar, the cleric claimed that he would change the system if people voted him to power with two-thirds majority. He introduced PAT candidate Nazar Abbas for by-polls on November 29 and said he wants to make society a "Hussaini society", referring to Imam Hussain (RA). He said that his 90-day sit-in and "sacrifices have awakened the sleeping people", and that after Islamabad he was launching "Inqilab" from Bkakkar.
Qadri lauded the role of those killed in this movement and said two of them belonged to Bhakkar. He asked people to vote for the PAT candidate in the by-elections. The PAT chief said he was fighting the "war of poor people" for the sake of God. He said that terrorism and sectarianism would be eliminated from Pakistan under PAT rule. "Poor will get health facilities free of cost. Discrimination against women will end. Poor farmers will be given 10 acres of cultivable land absolutely free. Entrepreneurs will be given small loans. Disparity between salaries will be minimised. Free houses will be provided to the homeless. House loans for 25 years will be provided. Petroleum products' prices will be brought down," said Qadri.
Full report at:
http://www.dailytimes.com.pk/national/24-Nov-2014/give-me-two-thirds-majority-i-ll-change-the-system-qadri
----------
Marvi urges Imran to avoid abusive language against politicians
November 24, 2014
ISLAMABAD - National Assembly's Standing Committee on Information and Broadcasting Chairperson Marvi Memon has urged Pakistan Tehreek-e-Insaf (PTI) Chairman Imran Khan to avoid using abusive and un-parliamentary language against political leadership.
Talking to a private television channel, she said that no decent leader could use derogatory and uncivilised language against national leadership. Difference of opinion and criticising others was a beauty of the democratic system but no civilisation permitted anyone to insult democratically elected people in such an objectional way, she said.
Commenting on the PTI's planned public meeting on November 30, Marvi said that the government had no objection on any peaceful political gathering, however, it would not allow anyone to create law and order in the federal capital. Any violent or illegal move would be effectively tackled by the departments concerned, she said.
She said that the national economy suffered a huge loss due to the long marches and sit-ins. However, she said that the government managed to control the damage and signed around 19 agreements with China, which would help strengthen the economy.
http://www.dailytimes.com.pk/national/24-Nov-2014/marvi-urges-imran-to-avoid-abusive-language-against-politicians
----------
PM Nawaz, DG ISI discuss matters relating to national security
November 24, 2014
ISLAMABAD: Prime Minister Nawaz Sharif on Monday met Director General Inter-Services Intelligence (ISI) Lieutenant General Rizwan Akhtar at the Prime Minister House in the federal capital to discuss matters relating to national security.
According to official sources, internal security and fighting against terrorism came under discussion during the meeting.
The meeting took place ahead of PM Nawaz's visit to Nepal where he is expected to attend the South Asian Association for Regional Cooperation (Saarc) summit. He is also scheduled to meet other leaders on the sidelines of the summit.
This was the second meeting between the prime minister and the Lieutenant General after he took office as director general.
DG Rizwan Akhtar was appointed as the new director general of the ISI earlier this month, and is a close ally of Chief of Army Staff General Raheel Sharif. The new spy chief assumed office at a time when the country is faced with grave external and internal challenges.
http://www.dawn.com/news/1146558/pm-nawaz-dg-isi-discuss-matters-relating-to-national-security
----------
Mideast
Israel warns of 'grave mistake' if France recognises Palestine
November 24, 2014
JERUSALEM: Israeli Prime Minister Benjamin Netanyahu warned that France's parliament would be making a "grave mistake" if it recognises a Palestinian state in a vote on Dec 2.
"Do they have nothing better to do at a time of beheadings across the Middle East, including that of a French citizen?" he told reporters in Jerusalem, referring to hiker Herve Gourdel who was executed by his jihadist captors in Algeria in September.
"Recognition of a Palestinian state by France would be a grave mistake, "Netanyahu said.
"The State of Israel is the homeland of the Jewish people, the only state that we have, and the Palestinians demanding a state do not want to recognise the right to have a state for the Jewish people," Netanyahu told members of Israel's growing Jewish community from France.
His comments came just hours after his cabinet voted 14-6 in favour of a controversial proposal to anchor in law Israel's status as "the national homeland of the Jewish people".
France's plans for a non-binding but highly symbolic vote follows similar resolutions passed by the British and Spanish parliaments, and an official decision to recognise Palestine by the Swedish government.
Full report at:
http://www.dawn.com/news/1146512/israel-warns-of-grave-mistake-if-france-recognises-palestine
----------
Arab Israeli arrested for travelling to Syria, joining ISIS
November 24, 2014
An Arab Israeli has been arrested for allegedly traveling to Syria to fight with the Islamic State terrorist organization, it was revealed on Sunday.
22-year-old Hamsa Magamsa, from the village of Yafia in the North, was arrested in a joint Shin Bet and Israel Police operation at Ben Gurion Airport upon returning to Israel on October 24.
According to police, Magamsa, along with three friends from Yafia, left Israel for Turkey on October 5. He and two of his companions then traveled to Syria to join Islamic State.
http://www.jpost.com/Breaking-News/Arab-Israeli-arrested-for-traveling-to-Syria-joining-ISIS-382610
----------
Palestinian Authority to delay Palestinian statehood bid at UN
November 24, 2014
Palestinian Authority Foreign Minister Riad Malki announced on Monday that the PA has decided to delay its statehood bid at the United Nations Security Council, which was supposed to take place at the end of this month.
Malki told the Bethlehem-based Ma'an news agency that the decision to postpone the statehood bid came following US pressure and threats, as well as the failure of the PA to secure the backing of nine Security Council members in favor of the statehood bid.
PA President Mahmoud Abbas said two weeks ago that he was determined to proceed with his plan to seek a Security Council resolution that would set a timetable for a full Israeli withdrawal to the pre-1967 lines.
Full report at:
http://www.jpost.com/Middle-East/PA-delays-Palestinian-statehood-bid-at-UN-382663
----------
Israel cabinet votes to enshrine 'Jewish state' in law
November 24, 2014
Israel's government Sunday endorsed a proposal to anchor in law the country's status as the "national homeland of the Jewish people", drawing fire from critics who said it weakened democracy.
"The cabinet today approved a draft basic law: 'Israel the national state of the Jewish people" said a statement from Prime Minister Benjamin Netanyahu's Likud party, one of whose MPs was a sponsor.
Netanyahu also announced a separate initiative to strip Arabs of their residency and welfare rights if they or their relatives take part in unrest.
Following a stormy meeting, the cabinet voted 14 to six in favour of the national homeland proposal, with ministers from the two centrist parties -- HaTnuah led by Justice Minister Tzipi Livni and Yesh Atid of Finance Minister Yair Lapid -- voting against, media reports said.
The proposal would mean Israel would no longer be defined in its Basic Laws as "Jewish and democratic" but instead as "the national homeland of the Jewish people".
Critics, who include the government's top legal adviser, say the proposed change to the laws that act as Israel's effective constitution could institutionalise discrimination against its 1.7 million Arab citizens.
Full report at:
http://english.ahram.org.eg/NewsContent/2/8/116252/World/Region/Israel-cabinet-votes-to-enshrine-Jewish-state-in-l.aspx
----------
Palestinian youth attacked by Jews: Israel police
24 November 2014
Israeli police say three young Israelis have attacked a Palestinian youth in Jerusalem.
Spokeswoman Luba Samri says the unidentified youth is in good condition in a Jerusalem hospital after Monday's attack, and that police are investigating the incident.
Tensions in Jerusalem are spiking, mostly over Palestinian claims that the Israeli government of Prime Minister Benjamin Netanyahu wants to change the status quo at a sensitive holy site in the city by allowing Jews to pray there.
Netanyahu has repeatedly denied that the claims but some members of his right-wing collation favor letting the prayers go forward.
In recent months, 11 people have been killed in attacks by Palestinian assailants - most in Jerusalem.
On Sunday a West Bank Palestinian home was torched, apparently by Jewish attackers.
http://english.alarabiya.net/en/News/middle-east/2014/11/24/Israel-police-Palestinian-youth-attacked-by-Jews.html
----------
Europe
ISIS trains Kazakh children in ways of war in new video
24 November 2014
The Islamic State of Iraq and Syria (ISIS) has released a new propaganda video in which dozens of Khazakh children appear training with assault rifles at a training camp, UK's Daily Mail reported Sunday.
In the video titled "Race towards good," which was reportedly produced by Al Hayat Media Center - ISIS' media wing, around 20 children who look like they are aged between four and 12 are seen wearing matching same grey uniforms performing a series of drills under the supervision of what appears to be the group's leader, a bearded adult in a black tunique.
"Meet some of our newest brothers from the land of Kazakhstan. They responded to the crusader aggression with their hijrah and raced to prepare themselves and their children, knowing very well that their final return is to Allah," the video states.
"Soon they [the children] will be ready to join the army of the Islamic State [ISIS]," the video adds, before revealing children shouting God is great in Arabic.
One boy, who identifies himself as Abdullah, is filmed as he swiftly and efforlessly re-assembles what looks like an AK-47 assault rifle, apparently to highlight the children's prowess at handling weapons.
"I am from Kazhakistan ... I am in a training camp. [My leader] is Abu Bak al-Baghdadi," the boy tells an interviewer.
"I will be the one who slaughters you, oh kuffar. I will be a mujahid, God willing," he adds.
The footage also show the young boys sitting in a classroom where they are being taught ISIS' radical interpretation of Sharia law.
The video, which is in both Arabic and Kazakh is subtitled in three different languages including English.
http://english.alarabiya.net/en/News/middle-east/2014/11/24/ISIS-video-reveals-training-of-Khazakh-children-with-firearms-.html
----------
For many young British Muslims tug of peace is stronger than pull of war
November 24, 2014
BIRMINGHAM,(Reuters) - For some British Muslims, the path to jihad and the path to peaceful aid work can traverse much of the same terrain.
From an office in Britain's second largest city, Waseem Iqbal and a friend are planning a trip to the Middle East. In Jordan, they will bring food packages for Syrian refugees.
Iqbal, 27, chose charity work not violence. "How do you save innocents in Syria? By going into a war zone and getting yourself killed? Or by... bringing people water pumps, schools and food packages? This is what saves innocents," he said.
Iqbal knows others who have taken a different path. Two acquaintances, young British men, were arrested and charged under Britain's terrorism laws. They were a world apart, Iqbal says, but they had one thing in common: anger.
For authorities struggling to prevent young Muslims from joining the wars in Syria and Iraq, understanding what drives these men is key. Over 500 British citizens have travelled to Syria, officials estimate. Prime Minister David Cameron has warned that militants could return to attack the West.
Iqbal grows his beard long and wears a thawb - a traditional ankle-length robe-like garment. He has been on the staff of charity Human Relief Foundation for a month. In the preceding three years his charity work included opening a youth centre in the basement of a local mosque.
Full report at:
http://www.dawn.com/news/1146563/for-many-young-british-muslims-tug-of-peace-is-stronger-than-pull-of-war
----------
Police chief: '4 or 5' terror plots foiled in UK
24 November 2014
British police claimed Monday that four or five terror plots were foiled this year, as the country's Home Secretary Theresa May prepared to unveil new counter-terrorism measures.
"On average over the last few years it's been about one (plot) a year, but this year alone we think four or five," Scotland Yard commissioner Bernard Hogan-Howe told the BBC.
"Certainly we've seen a change to the momentum... we've seen a change to the frequency and the seriousness of the types of plots that we're looking at," he added.
May is scheduled to announce on Monday that insurance companies will be barred from paying terrorist ransoms, according to released remarks, Agence France-Presse reported.
Investigations have so far led to the arrest of 271 people this year, Metropolitan Police Assistant Commissioner Mark Rowley on Monday.
Separately, three were charged in London last week on charges related to an alleged plot which media reports said included a beheading in Britain.
Full report at:
http://english.alarabiya.net/en/News/world/2014/11/24/Police-chief-4-or-5-terror-plots-foiled-in-UK-.html
----------
Tony Blair in Cairo for Middle East Peace Talks
November 24, 2014
Cairo — Tony Blair, representative of the Middle East Quartet, arrived in Cairo on Sunday to look into the latest developments of the Middle East peace process.
Blair, who formerly served as the United Kingdom's Prime Minister, is scheduled to meet with a number of officials during his visit, reported state-run news agency MENA.
Two Palestinians attacked a Jerusalem Synagogue last Tuesday, killing four people in the holy city's deadliest incident in six years. The perpetrators were immediately shot dead by Israeli police.
Egyptian Foreign Minister Sameh Shukri and United States Secretary of State John Kerry discussed the incident during a meeting in the British capital, London last week. They stressed the importance of resuming the Israeli-Palestinian peace talks, in light of the latest escalation.
Kerry launched an attempt to restart the Israeli-Palestinian peace process in July 2013, coordinating direct negotiations between both sides. Negotiations collapsed upon reaching a pre-planned deadline in April with little results.
Full report at:
http://allafrica.com/stories/201411240644.html
-----------
North America
Pak can have 200 nuclear devices by 2020: US Think Tank CFR
November 24, 2014
WASHINGTON – Pakistan has the fastest growing nuclear weapons programme in the world and by 2020 it could have enough fissile material to produce more than 200 nuclear devices, a top American think tank has said.
"Though many states are downsising their stockpiles, Asia is witnessing a buildup. Pakistan has the fastest-growing nuclear programme in the world. By 2020, it could have a stockpile of fissile material that, if weaponised, could produce as many as 200 nuclear devices," Council on Foreign Relations has said. CFR said that India was estimated to possess enough fissile material for 90-110 nuclear weapons and was expanding its production capacity.
The report 'Strategic Stability in the Second Nuclear Age', authored by George Mason University's Gregory Koblentz, has identified South Asia as the region most at risk of a breakdown in strategic stability due to an explosive mixture of unresolved territorial disputes, cross-border terrorism, and growing nuclear arsenals. Pakistan, the report said, has deployed or is developing 11 delivery systems for its nuclear warheads, including aircraft, ballistic missiles and cruise missiles.
Full report at:
http://www.dailytimes.com.pk/national/24-Nov-2014/pak-can-have-200-nuclear-devices-by-2020-us-think-tank-cfr
----------
Pakistan, Afghanistan welcome US decision to expand its combat role in Afghanistan
November 24, 2014
WASHINGTON: Both Pakistan and Afghanistan have welcomed the US decision to expand its combat role in Afghanistan.
"Pakistan has all along been advocating an orderly withdrawal of forces from Afghanistan and maintained that an abrupt withdrawal of forces will neither be in the interest of Afghanistan nor the region," a senior Pakistani diplomat told Dawn.
Senior US officials told CNN on Sunday that the Obama administration had now decided to "provide combat enabler support" to Afghan National Security Forces in "limited circumstances" to prevent detrimental strategic effects of possible enemy attacks.
Pakistani diplomat says Islamabad wants stability in neighbouring country
Another senior Pakistani diplomat said that there was "a convergence of views" between the United States and Pakistan on stabilising Afghanistan and the decision to give combat role to US troops who would stay there after 2014 was "a reflection of this convergence".
Pakistan has been urging the United States "not to rush out of Afghanistan without putting things right," said a Pakistani official.
Full report at:
http://www.dawn.com/news/1146480/pakistan-afghanistan-welcome-us-decision
----------
World powers, Iran discuss extending nuclear deal deadline: US
November 24, 2014
Iran and world powers are now discussing a possible extension of their deadline for a nuclear deal, a senior US State Department official said Sunday for the first time.
"Our focus remains on taking steps forward toward an agreement, but it is only natural that just over 24 hours from the deadline we are discussing a range of options both internally and with our P5+1 partners," the official said.
"An extension is one of those options. It should come as no surprise that we are also engaged in a discussion of the options with the Iranians," added the official.
The five permanent members of the UN Security Council and Germany (the P5+1) have been locked in talks with Iran for months to turn an interim deal that expires on Monday into a lasting accord.
Such an agreement, after a 12-year standoff, is aimed at easing fears that Iran will develop nuclear weapons under the guise of its civilian activities, an ambition it hotly denies.
The State Department official said a discussion of the options "does not mean that we are not continuing to discuss the broad range of difficult issues and working to make progress on all the issues that need to be part of a comprehensive agreement."
http://english.ahram.org.eg/NewsContent/2/8/116268/World/Region/World-powers,-Iran-discuss-extending-nuclear-deal-.aspx
----------
India
Muslims, dalits and tribals make up 53% of all prisoners in India
Subodh Varma,TNN | Nov 24, 2014
NEW DELHI: Muslims, dalits and adivasis — three of the most vulnerable sections of Indian society — make up more than half of India's prison population, according to an official report on prisons released this month. Although the proportion of these three communities in India adds up to about 39%, their share amongst prisoners is considerably higher at 53%.
India had 4.2 lakh people in prison in 2013. Nearly 20% of them were Muslims although the share of Muslims in India's population is about 13% according to Census 2001. Religion-wise data from Census 2011 is yet to be released but it is unlikely to be much different. Dalits make up 22% of prisoners, almost one in four. Their proportion in population is about 17% according to Census 2011. While adivasis make up 11% of prisoners, their share in the general population is 9%.
Most experts say that this disturbing trend is not because these communities commit more crimes. Rather, it arises because they are economically and socially under-privileged, unable to fight costly cases or often even pay for bail. Some say that these communities are targeted with false cases.
Former chief justice of Delhi high court Rajinder Sachar, who headed the committee that brought out a report on the condition of Muslim community in India in 2006, pointed out that there had been several cases of Muslim youths being acquitted after years in prison.
"Poverty is more prevalent among these three communities and that becomes an obstacle in dealing with the legal system," said Colin Gonsalves, human rights activist and lawyer.
"Our system has an ingrained communal and casteist bias. Also, the proportion of these communities in the police officers and even judiciary is less. These are key factors behind this shocking imbalance," he added.
Full report at:
http://timesofindia.indiatimes.com/india/Muslims-dalits-and-tribals-make-up-53-of-all-prisoners-in-India/articleshow/45253329.cms
----------
SAARC summit: India and Pakistan keep hopes of Modi-Nawaz Sharif meet alive
November 24, 2014
India and Pakistan on Sunday kept the door ajar for a possible meeting between Prime Ministers Narendra Modi and Nawaz Sharif here, with both New Delhi and Islamabad sending out the right signals ahead of the SAARC summit that gets under way on November 26.
In New Delhi, Ministry of External Affairs spokesperson Syed Akbaruddin did not rule out the possibility of a meeting between Modi and Sharif as he said that India is for "cooperative and peaceful ties" with Pakistan. The Prime Minister is keen "to have meaningful dialogues with as many south Asian colleagues as possible", he said. "This would mean taking into account all aspects of relationships."
Akbaruddin said the schedule of the bilateral meetings is being finalised, "brick by brick" and it is a "work in progress". "Our intent is to have meaningful dialogues," he said.
In Islamabad, the Pakistan Foreign Ministry said that "on the sidelines of the event, the Prime Minister (Sharif) will meet other leaders of SAARC countries to discuss issues of bilateral and regional interest."
This came on a day Foreign Secretary Sujatha Singh met her Pakistan counterpart Aizaz Ahmad Chaudhary at the SAARC Standing Committee of Foreign Secretaries.
While there was no official word on whether Singh and Chaudhary discussed any bilateral agenda on the sidelines, a Nepal government official told The Indian Express that they were focused on the "ambitious SAARC agenda" — on poverty alleviation, eradication of illiteracy and connectivity in terms of rail, road and power grid — during the two-day Standing Committee meeting which concludes on Monday.
Full report at:
http://indianexpress.com/article/india/politics/before-saarc-summit-india-and-pak-keep-hopes-of-modi-sharif-meet-alive/99/
----------
Pakistani, Indian students come closer through virtual chat
November 24 2014
KARACHI: On Sunday, students from India and Pakistan came together to have a virtual chat simultaneously held at The 2nd Floor in Karachi and Campus Diaries in Bangalore, India.
Roobaroo, with a hashtag of Story Hack, is conducted by the Campus Diaries in India. This time the collaborating partner is T2F.
Around 1pm, students, most of them from PECHS Girls School, started filling up the main hallway at T2F armed with their laptops. They were soon given placards numbered 1-30 so that students on both sides could reveal their respective numbers and be paired with ones with a similar number.
Nadia Naeem, teacher at the PECHS Girls School, said: "Interaction between the educated lot is need of the hour. I say this because discussions usually go out of hand once you are on the streets. We are lucky to have the technology to interact with people across the border. I just hope these conversations move beyond today's discussion forum."
The event got a bit delayed due to poor internet connections on both sides. Another half an hour was spent introducing the respective teammates to one another. It started with an exchange of banter as people on both sides tried to get their names right.
Full report at:
http://www.dawn.com/news/1146448/pakistani-indian-students-come-closer-through-virtual-chat
------------
Southeast Asia
Umno assembly will push Malaysians to fear or love Umno
November 24, 2014
A worrying sign that the Umno grassroots are tilting to the extremist fringe is when their No. 2 Tan Sri Muhyiddin Yassin has to call up the speakers at next week's party assembly to warn them not to bash other communities and religions.
At a time when Malaysians are worried about rising inflation ahead of the new goods and services tax next year, the Umno grassroots have decided that keeping the Sedition Act and whether to abolish Chinese and Tamil schools are the party's most pressing concerns.
So to make sure that his grassroots members do not inflame multi-ethnic tensions, Muhyiddin decided that he better call them and tell them to tone down their rhetoric.
This assembly will once again be about the core challenge for Umno post-2008 election tsunami.
That is, while its members want to tilt to its Malay supremacist fringe, its senior leaders want to chart a middle path for the party.
Umno grassroots leaders interviewed by The Malaysian Insider said it was essentially about whether Umno could leave behind the old politics of communalism and adopt a new politics of inclusion and equality.
Or, as respected Umno moderate Datuk Saifuddin Abdullah, said, it was whether Umno wanted to be a party that was feared or one loved by all Malaysians.
Sensitive topics
Full report at:
http://www.themalaysianinsider.com/malaysia/article/umno-assembly-will-push-malaysians-to-fear-or-love-umno#sthash.i7DDU8zy.dpuf
----------
We're not hooligans, there's no bias in sedition arrests, says Zahid
November 24, 2014
Every arrest made under the Sedition Act has been done with the right procedure and justification, the Home Minister said today.
Speaking at the Umno International Forum 2014 in Kuala Lumpur today, Datuk Seri Ahmad Zahid Hamidi denied the accusation that the government was using the Sedition Act 1948 to silence its critics, and was coming down hard on the opposition in order to stay in power, Bernama reported today.
"The government is no hooligan. We do not simply apprehend anybody without concrete proof and tangible evidence," Zahid said, according to the national news agency.
He added that in spite of all the criticisms made against the arrests and action taken on those who spread hate speeches, lies and slanders, the majority of Malaysians supported the government's move, as these groups posed a danger to national security.
Referrring to the forum's topic "Hyperconnectivity and the Social Media: Empowering citizens to build or divide a nation" Zahid said Malaysia was under threat by those who used the Internet to spew lies, slander and hate speeches.
Full report at:
http://www.themalaysianinsider.com/malaysia/article/were-not-hooligans-theres-no-bias-in-sedition-arrests-says-zahid#sthash.WX1VelyX.dpuf
----------
3 killed, 23 injured in bomb blast in Philippines south
World Bulletin/News Desk
November 24, 2014
A bomb blast has left at least three people dead and 23 others wounded in a southern Philippines town celebrating an annual bamboo festival.
Cynthia Ortega, disaster management chief in North Cotabato province, told The Andaolu Agency on Monday that an explosive device went off at around 19.30 (13.30 Turkish time) Sunday in front of a restaurant near a public square in M'lang town.
The town is currently celebrating its 6th Kawayan –- or bamboo -– festival that will last until December 5.
Army spokesperson Capt. Jo-ann Petinglay told AA the third victim lost his life while undergoing treatment at a local hospital after two others were killed at the scene.
Of the 23 injured, eight were admitted to hospitals in the area while 15 were treated for minor injuries.
Mujiv S. Hataman, governor of the Philippines' Autonomous Region in Muslim Mindanao, condemned the attack in a statement in which he and other.
Saying they "offer sincere sympathies to the friends and families of the victims of this dastardly act of terrorism," Hataman expressed his confidence that law enforcement would hunt down those responsible and bring them to justice.
A week earlier, a bombing in North Cotabato's Kabacan town has killed a student and injured 16 other people.
The autonomous region's police suspect a breakaway Muslim rebel group, the Bangsamoro Islamic Freedom Fighters (BIFF), of being behind the two latest attacks.
North Cotabato Governor Emmylou Mendoza has released a press statement offering a 100,000 Philippine peso –- over $2,200 -- reward for vital information on the perpetrators of the blast.
The BIFF is a breakaway faction of the Moro Islamic Liberation Front, or MILF, which has recently entered into a peace process with the Philippines government.
http://www.worldbulletin.net/todays-news/149098/3-killed-23-injured-in-bomb-blast-in-philippines-south
-----------
URL: https://www.newageislam.com/islamic-world-news/new-age-islam-news-bureau/-over-100-al-shabaab-militants-killed-in-kenya'/d/100167