New Age Islam News Bureau
13 Jan 2018
Ethiopian Christian Orthodox women attend an Easter mass at the Saint Mark's Cathedral, in Cairo's al-Abbassiya district on April 15, 2017. (AFP)
-----
• 'Madrassas, Masjids Radicalising J and K Youth': Army Chief
• Indonesia Hard-Line Muslims Protest Ban on Facebook Accounts
• Saad Kandhalvi: The Indian Preacher at the Centre of Ijtema Dispute in Bangladesh
• Reza Pahlavi: The Iranians Message Is Clear, Change the Regime
• Is Reopening of Egypt's 'Unlicensed' Churches a Step toward Sectarian Stability?
India
• 'Madrassas, Masjids Radicalising J and K Youth': Army Chief
• Just 4.9% of Higher Edu Teachers Are Muslim
• Aligarh School Has Book on Zakir Naik; UP Government Orders Probe
• A Terrorist Is Just a Terrorist: Jitendra Singh on PDP MLA's Comment
--------
Southeast Asia
• Indonesia Hard-Line Muslims Protest Ban on Facebook Accounts
• In Fiery Speech, Cleric Tells Forum Only Malays Fought Invaders, Communists
• Philippine Muslim Group's Violent Streak Raises Specter of New War
• 'China boosts security in Xinjiang to prevent terrorists'
• Ahead of GE14, mega convention to outline Muslim lobby's demands
• Dr M will bring in Malay-Muslim votes, Pakatan chief secretary says
--------
South Asia
• Saad Kandhalvi: The Indian Preacher at the Centre of Ijtema Dispute in Bangladesh
• Deadly 'Long-Lost Disease' Rages Through Rohingya Camps In Bangladesh
• Four Rohingya killed in Bangladesh camp fire
• First phase of Biswa Ijtema begins in Tongi
• Myanmar's Suu Kyi Says Army Admission on Killings a Positive Step
• Taliban suffer casualties in Afghan Air Force airstrikes in Faryab
• Joint mechanism to resolve issues relating to Durand Line: Pak army
--------
Mideast
• Reza Pahlavi: The Iranians Message Is Clear, Change the Regime
• Turkish Religious Head Calls for Muslims to Reunite
• Turkish Parliament Strips Pro-Kurdish Lawmaker of Her Status
• Palestinian pleads guilty to Hamburg 'Islamist' knife attack
• US sanctions head of Iran's judiciary, others, over human rights abuses
• 176 Palestinians wounded in clashes over Trump's Jerusalem al-Quds move
• Italy signs EU's biggest ever credit deal with Iran
• Flare-up with Israel tests Hamas effort to keep Gaza on low boil
--------
Arab World
• Is Reopening of Egypt's 'Unlicensed' Churches a Step toward Sectarian Stability?
• ISIS Militants Fleeing Syria Leave Behind a Valuable Trove of Intelligence
• A new life sprouts up around Mosul after scars of Daesh rule
• Kurdish Forces Intensify Separatist Moves in Northeastern Syria
• Iraqi Yazidis Celebrate Restoration of Temple Destroyed By Islamic State
• ISIL Inflicts Heavy Defeat on Rival Terrorists in Southern Syria
• Syria commanders accuse Turkey of masterminding militant attack
• Landmine explosion leaves 3 soldiers dead in Saudi Arabia's Najran
• Hariri lauds Hezbollah, wants 'best of relations' with Iran
• Unauthorized foreign presence on Syria soil unacceptable: Deputy FM
--------
Africa
• Boko Haram Militants Shoot Dead 20 Loggers in Nigeria: Sources
• Haftar Denies Making Insulting Remarks against Saif Al-Islam
• 81 migrants held in Libya face deportation
• Liberia: Morocco - a Beacon of Hope for Christianity in the Middle East
--------
Pakistan
• JUI-F Chief Objects to Adoption of Fata Bill
• No Terrorist Sanctuaries in Pakistan, Says PM Abbasi
• 16 suspects rounded up in IBOs in parts of Balochistan: ISPR
• DPC, JuD to resist US supply line to Afghanistan
• Pakistan wants recognition, not aid, in terror fight, Gen Bajwa tells CENTCOM chief
• No US plans for unilateral action, Pakistan told
--------
Europe
• Hassan Bal Admits Funding 'Islamic State' At Irish Court
• IS-Linked Jihadists Claim Attacks on French, US Troops In Africa
• Three French prison guards hurt in attack by al Qaeda inmate
• French jail guards protest over attack by convict facing 9/11 extradition
• Britain First fan who drove van at London restaurant owner walks free
--------
North America
• US Ambassador to The Hague Apologizes For Making Muslim Remarks after Denial
• Trump's Islamophobia Is Having an Unexpected Result
• Trump waives Iran nuclear sanctions, but for last time: White House
• US-Pakistan make first contact post-Trump's tweet
Compiled by New Age Islam News Bureau
URL: https://www.newageislam.com/islamic-world-news/madrassas-masjids-radicalising-j-k/d/113925
--------
'Madrassas, Masjids Radicalising J and K Youth': Army Chief
Jan 13, 2018
DELHI: Army chief General Bipin Rawat on Friday called for a major revamp of the entire government school system in trouble-torn Kashmir, stressing that the youth were being radicalised by the "corrupted" basic education structure and disinformation being spread by madrassas, masjids and social media.
"Government schools in Kashmir are teaching the wrong things... the grass roots problem is there. Stone-pelters are coming out of this warped basic education system. The teachers who teach are also brought up in the same system," he said.
All government school classrooms have separate maps of J&K and India, which sow the seeds of "separate identity" among the children. "The damage is also done through the social media. A very large amount of disinformation campaign is being spread to radicalise the youth," he said, adding that more CBSE schools should be set up in the state.
"The other issue is of the madrasas and masjids — what is being informed to them (the students) or incorrectly informed to them is through the madrasas and masjids. I think some controls have to be exercised there and that is what we are looking at," he added.
https://timesofindia.indiatimes.com/india/madrassas-masjids-radicalising-jk-youth/articleshow/62481202.cms
--------
Indonesia hard-line Muslims protest ban on Facebook accounts
By Niniek Kamini
January 12, 2018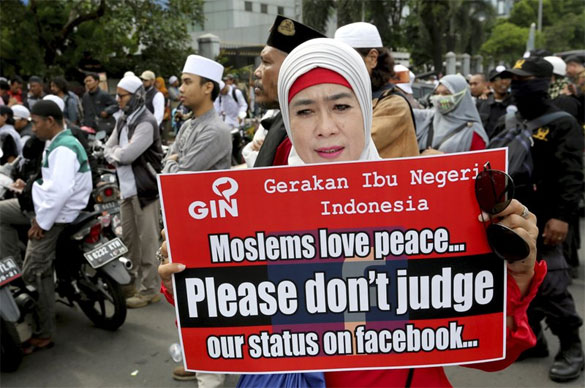 JAKARTA, Indonesia — Muslim hard-liners marched in Indonesia's capital on Friday to protest Facebook's blocking of accounts belonging to their group.
About 200 protesters organized by the Islamic Defenders Front, known by its Indonesian acronym FPI, marched after Friday prayers from a mosque to the Facebook Indonesia office, which was guarded by hundreds of police. They halted traffic along the way as they chanted "Allah Akbar," or "God is Great."
Many carried banners saying "Don't persecute Muslims" and "Please don't judge our status on Facebook."
The group wants to impose Shariah law in the secular nation. It has a long record of vandalizing nightspots, hurling stones at Western embassies and attacking rival religious groups.FPI spokesman Slamet Maarif said they were demanding an explanation of why Facebook had blocked the group's accounts while allowing ones that denounced its leaders and Islam.
"We want justice and no more discrimination against Islamic accounts," he said.
Facebook spokeswoman Putri Ariani said it allows people to use its social networking site to challenge ideas and raise awareness, but removes content that promotes hatred and violence against people with different views.
Indonesia is the world's most populous Muslim country, but has a secular government and a reputation as a tolerant, pluralist society that respects freedom of expression. Most Indonesians practice a moderate form of Islam, but a small extremist fringe has become more vocal in recent years.
https://www.washingtonpost.com/business/technology/indonesia-hard-line-muslims-protest-ban-on-facebook-accounts/2018/01/12/3848f34e-f78e-11e7-9af7-a50bc3300042_story.html?utm_term=.7f40936d7c10
--------
Saad Kandhalvi: The Indian Preacher at the Centre of Ijtema Dispute in Bangladesh
January 12, 2018
Home Minister Asaduzzaman Khan Kamal ensured the matter after a meeting with Tabligh Jamaat organizers and Qawmi Alems yesterday afternoon
Indian preacher Maulana Muhammad Saad Al Kandhalvi will not join the 53rd Bishwa Ijtema, the second largest congregation of Muslims across the world which is scheduled to start today on the bank of Turag River in Tongi.
Home Minister Asaduzzaman Khan Kamal ensured the matter after a meeting with Tabligh Jamaat organizers and Qawmi Alems yesterday afternoon.
The minister said Maulana Kandhalvi would be staying at the city's Kakrail Mosque until his departure from Bangladesh is confirmed at his convenient time.
Police have increased security around the mosque after moving people who were protesting against the Islamic scholar's visit. The protesters, however, have agreed to the solution.
Tabligh Jamaat is the largest organization of Sunni Muslims in this subcontinent. Its headquarters, referred to as the Markaz, is based in New Delhi and operations are conducted through a 13-member Supreme Council, called the Nizamuddin.
A faction of the organization's Bangladesh chapter on Wednesday had blocked the busy Airport Road protesting Kandhalvi's arrival from India to attend the Ijtema.
Followers of the faction, mostly belonging to radical Islamist group Hefazat-e Islam, said they were opposing his presence over his "controversial comments on the Quran and Sunnah."
Who is Saad Kandhalvi?
Born in 1965, Maulana Saad Kandhalvi is the son of Maulana Muhammed Haroon. He completed his Alim course from Madrasa Kasiful Uloom in Hazrat Nizamuddin Markaz in 1987.
He recently announced himself as the sole Amir of Tabligh Jamaat, which angered the senior preachers of the Markaz and resulted into their departure from the place.
What are the controversies centring Maulana Kandhalvi?
Maulana Zubair ul Hasan, the previous Amir of Tabligh Jamaat, had established a Suru committee to lead the organization. But Maulana Kandhalvi established single leadership later on.
In February last year, Darul Deoband in a decree had warned Muslims, specially those associated with Tabligh, about him, saying his knowledge in interpreting Quran and Sunnah was off-track and against the agreed upon and unanimous principles.
According to media reports, Kandhalvi in his speech at the recently held Bhopal Ijtema had said Markaz was the most sacred place on earth after Mecca and Medina.
He was also accused by the Darul Uloom of insulting the prophets and messengers of Allah.
Why Bangladeshi Tabligh men are in dispute over him?
Kandhalvi's recent proclamation about being the head of Tabligh Jamaat had also created a rift among the senior members of the organization's Bangladesh chapter.
In November, a scuffle had broken out between two groups at Kakrail Mosque. To avoid such incident in future, an advisory council of senior preachers was formed.
Regarding the situation, council member Abdul Quddus, who also serves as the acting secretary general of Qawmi Madrasa Education Board, said the council also wanted Kandhalvi to leave.
Talking to the Dhaka Tribune, Secretary General of Bangladesh Islami Oikya Jote Mufti Faizullah said they were also leading the anti-Kandhalvi protests because "he has misinterpreted the Quran."
The protesters said they are against Kandhalvi's autonomous behaviour and urge to stay in power.
Meanwhile, another Tabligh Jamaat faction at a press briefing on Monday also alleged that a conspiracy was afoot to move the Ijtema from here to Pakistan. Kandhalvi's presence and the following protests were all part of that elaborate plot.
Senior leader Rafiqul Islam had claimed that several foreign senior preachers had warned that they would not join the Ijtema if Kandhalvi was attending.
https://www.dhakatribune.com/bangladesh/2018/01/12/saad-kandhalvi-indian-preacher-centre-ijtema-dispute/
--------
Reza Pahlavi: The Iranians Message Is Clear, Change the Regime
12 January 2018
The crown prince of Iran and last heir to the Iranian monarchy, Prince Reza Pahlavi, has stressed the importance of the uprising in Iran in a statement on Thursday, saying that the Iranian people have reached a conclusion after 40 years of living under a religious dictatorship, that this regime cannot be fixed.
He also said that the younger generation Iranians have no hope in fixing the current dictatorship of a regime, while the country suffers from poverty, hunger and unemployment because of corruption.
In a lengthy statement to Al Arabiya's Panorama program, Pahlavi said that the Iranians' message is clear: that the system needs to be fully changed and replaced with a democratic regime. This is the only way to rebuild the country and ensure all the rights of Iranian citizens, he said.
"Iran could have been the Japan of the middle east, but unfortunately it has become like North Korea," Pahlavi added. He also said that previous similar experiences have proved that regimes based on dictatorship do not continue, and that one ideology cannot control a whole country, adding that Iranians need to depend on themselves.
Pahlavi stressed the importance of the success of this uprising to topple the regime for the benefit of the Iranian people and the region. He added that he does not support internal violence or foreign military intervention.
https://english.alarabiya.net/en/News/world/2018/01/12/Iran-s-Reza-Pahlavi-The-Iranians-message-is-clear-change-the-regime.html
--------
Is reopening of Egypt's 'unlicensed' churches a step toward sectarian stability?
13 January 2018
The Egyptian Ministry of Housing has issued a decree allowing Christians to perform their prayers in unlicensed churches until they obtain permits as official houses of worship.
The decision came in response to requests submitted by representatives of Egypt's main Churches at the committee formed in January 2017 to look into the legalization of unlicensed churches in accordance with law number 80 for the year 2016 on the construction of churches.
The Coptic Orthodox Church submitted a list of 2,600 churches and service centers that need to be official organized — 450 Anglican Churches and 120 Catholic Churches. While this step puts an end to the impasse that followed the closure of a few churches in Upper Egypt for lack of permits, it does not necessarily eliminate concerns over the eruption of more sectarian clashes.
According to the Bishop Michael Antoun, representative of the Coptic Orthodox Church at the committee in charge of legalizing unlicensed churches, representatives submitted the names of unlicensed churches to request a license.
"Our church submitted a list of 2,600 churches that needed to be legalized under the 2016 law and when we did not get the license we asked the state for an explanation," he said. "The response was that those churches will work normally provided that their names are on the list on churches seeking license."
The extremist threat to churches
Karim Kamal, president of the Union of Copts for Nation, said the ministry's decision constitutes a positive step towards implementing the 2016 law on the construction of churches, which facilitates building and renovating churches and church-affiliated centers.
"However, it is important to note that the state, the governors, and the ministries of housing or interior were never our main concern," he said. "In fact, all Copts remember how the state helped us in 2013, when the Armed Forces rebuilt the churches burnt down by the Muslim Brotherhood following the June 30 protests."
The problem, Kamal explained, lies in extremist groups that wield influence in a considerable number of villages in the countryside and Upper Egypt.
"These groups are always ready to start clashes over churches, which in turn drives security forces to close those churches in an attempt to solve the problem," he added, in reference to the closure in October 2017 of four churches in Minya governorate in Upper Egypt following attacks by Islamist extremists who objected to the use of houses as places of worship and the attack on another house turned into a church in Giza governorate in December 2017.
Bureaucratic hassles
Journalist Hani SabriLabib does not see the Ministry of Housing's decision as a breakthrough, but rather argues that no development was made at all. "The 2016 law on the construction of churches states that unlicensed churches should be legalized, so the ministry's decision not to stop prayers in these churches is not progress," he said. "In fact, we are back to square one because licenses should have been issued by now, which is not the case."
Labib noted that the committee in charge of looking into the status of unlicensed churches was formed four months after the law was issued, which meant that the churches lost one third of the year they were given to submit the necessary paperwork. "After submitting the lists and waiting, we expected to receive the licenses, but we only got a decision that prayers won't stop, which was already a given," he added.
"Christians pay for those delays as they are subjected to more attacks under the pretext that their houses of worship are not licensed." Labib argued that official licenses are likely to reduce those attacks. Journalist Emad al-Din Hussein agrees with Labib as far as the repercussion of lack of permits are concerned. He cites the example of the attack that targeted a church in the district of Helwan in southern Cairo in December 2017.
"Because the church was not licensed, the owner of the building, who is supposed to be the victim was also arrested and will be tried, and the attackers were charged with vandalizing public property and not attacking a church, hence not treated as terrorists," he wrote.
According to Hussein, the issue of unlicensed churches goes back to restrictions imposed on the construction of churches, which is to a great extent linked to the state's inclination to avoid inciting sectarian violence usually triggered by building churches in areas where extremists are influential.
"The state tries to avoid provoking ultra-conservatives. Christians, therefore, are forced to turn their own private property into houses of worship and they are attacked for that too, and so on."
High number of closed churches
According to Coptic lawyer Ihab Ramzi, the number of churches that have been closed for being unlicensed amounts to 258. "These churches are included in the lists and we are expecting them to be opened as part of the decision to resume prayers in unlicensed churches," he said.
Journalist Hamdi Rizk said that the state should have at least opened several of the closed churches on the occasion of the Coptic Christmas, which falls on January 7 of every year. "This would have coincided with the opening of the Coptic Chrurch in the New Capital, hence delivering a strong message about the state's stance vis-à-vis the Christian community," he wrote.
"Since a closed church is a symbol of the triumph of sectarianism, opening those churches is the first step towards eliminating the excuse extremists use to target Christian houses of worship."
https://english.alarabiya.net/en/features/2018/01/13/Prayers-return-to-Egypt-s-unlicensed-churches-A-step-toward-sectarian-stability-.html
--------
India
Just 4.9% of higher edu teachers are Muslim
JANUARY 13, 2018
At 4.9%, Muslim representation among teachers in higher educational institutions in India is much lower than the community's proportion in India's population (14.2%), going by the recently released All India Survey on Higher Education for 2016-17.
The representation of the Scheduled Castes and Scheduled Tribes is also lower than the populations of the two categories. While the survey, done by the Ministry of Human Resource Development, shows the representation of SCs at 8.3% of the total number of teachers in higher educational institutions, ST representation is 2.2%. The SCs account for 16.6% of India's population and STs about 8.6%.
"At the all-India level, teachers belonging to the general category are more than half, that is, 58.2% of the total number of teachers in India; OBCs follow at 31.3%," says the survey report.
http://www.thehindu.com/todays-paper/just-49-of-higher-edu-teachers-are-muslim/article22433393.ece
--------
Aligarh school has book on Zakir Naik; UP government orders probe
Anuja Jaiswal
Jan 13, 2018
AGRA: The Uttar Pradesh education department has ordered an inquiry and issued a show cause notice to an Aligarh school for allegedly portraying controversial preacher Zakir Naik as "an important Islamic personality" in a book published by them.
The text book, 'Ilm-un-Nafe' is, incidentally, not a part of the syllabus of Islamic Mission School in Masud Nagar of Aligarh. The school is recognised by the government.
Basic Siksha Adhikari (BSA) of Aligarh, Dhirendra Kumar Yadav confirmed that a show cause notice had been issued and a three-member inquiry committee had been set up to inquire into the matter. "The committee has been given a week's time to submit its report. The process of cancelling the recognition of the school will be initiated after receiving the report," said the BSA.
"The school, which has students from class I to VIII, is recognised by the state government. The medium of instruction is English. The school published this book on its own," Yadav added.
Talking to the media, Kaunain Kausar, manager of the school, who compiled the controversial book, said the allegations being levelled against them were baseless. "There is no separate chapter on Zakir Naik in the book. This general awareness book was published in 2015, when there was nothing against Naik. This was the old edition and now it has been modified," he claimed.
Kausar explained that there were many pictures of important Islamic scholars on page 20 of the book. "Students of classes II and III are to identify them and write down their names. We are not teaching the children anything about Naik," he added.
Mohd Sohail, spokesperson of the school said, "Some anti-social elements are trying to tarnish the school's image by making this non-issue an issue."
Naik, 51, who is currently abroad, fled India on July 1, 2016, after terrorists in neighbouring Bangladesh claimed that they were inspired by his speeches. In November 2017, the NIA had registered a case against the televangelist at its Mumbai branch under various sections of the Indian Penal Code and Unlawful Activities (Prevention) Act. Naik's Mumbai-based NGO, Islamic Research Foundation (IRF), has already been declared an unlawful association by the Union home ministry.
Full report at:
https://timesofindia.indiatimes.com/city/agra/aligarh-school-has-book-on-naik-up-govt-orders-probe/articleshow/62478276.cms
--------
A terrorist is just a terrorist: Jitendra Singh on PDP MLA's comment
Jan 12, 2018
JAMMU: Union minister Jitendra Singh on Friday tried to play down the "Kashmiri militants are martyrs" remarks of a PDP MLA, calling it a "stray comment" and said the government was firm on its stand against terrorism.
Aijaz Ahmed Mir stoked a controversy yesterday when he described Kashmiri terrorists shot dead in encounters with security forces as "martyrs" and "brothers" and also cautioned against glorifying their killings.
"If a stray comment is made by a stray person, it is not to be given any importance. But as far as we are concerned, a terrorist is a terrorist and a terrorist only," Singh told reporters here in reply to a question seeking his reaction over the remarks.
"Terrorism is to be dealt in the way terrorism is dealt. We have zero tolerance against terrorism and government is clear on this stand and will continue to follow this stand," he said.
The Union minister said such comments amount to disrespecting the nation's security forces.
"By saying anything, terrorist cannot be a martyr and by making such an apologetic statement about terrorists, who engineer terrorist acts, amounts to disrespecting security forces," said Singh.
Full report at:
https://timesofindia.indiatimes.com/india/a-terrorist-is-just-a-terrorist-jitendra-singh-on-pdp-mlas-comment/articleshow/62479392.cms
--------
Southeast Asia
In fiery speech, cleric tells forum only Malays fought invaders, communists
BY SYED JAYMAL ZAHIID
January 13, 2018
KUALA LUMPUR, Jan 13 — A Muslim cleric from a conservative Islamic coalition told a convention here today that only the Malay community had resisted British colonialists and Japanese occupiers, erasing the contributions of other ethnicities.
Ismail Mina Ahmad, the chairman of the Ummah umbrella group for Muslim organisations, also asserted that only the Malays had battled the communists, which he claimed made the community a target of the predominantly-Chinese Insurgency that lasted for forty years.
"I want to tell you now, despite other races having been in the country then, only the Malays fought against the Siamese, the British, the Japanese," Ismail said in a speech peppered with religious and racial remarks.
"And most importantly — listen to this — only the Malays were targeted by the 'three stars,'" he added.
The "three stars" refer to the emblem worn by the defunct Communist Party of Malaya.
Historically, minority participation in the fight for independence against the British and the Japanese is well-documented, while Chinese police personnel had also been active participants in anti-communist action.
Ismail's assertion are also contradicted by academics who previously noted in essays and commentaries that the latter community had also been a major victim of communist violence, which they said was driven primarily by ideology and not race.
Ummah's convention today is meant to galvanise what Ismail described as "Islamic forces" as well as gather intellectual and theological inputs for the group's effort to form a strategy against a purported offensive against Islam and ethnic Malays.
The cleric repeatedly suggested that outspoken minorities pose a danger to the position of Islam in the country and Malay political rule, claiming the communities are aiming to usurp power even after the Malays have showed generosity by allowing them to become Malaysians.
"We gave them the opportunity to become citizens.. but now they even want to be a prime minister," Ismail claimed.
"The only thing they haven't demanded for is to be King," he added.
Ismail said Ummah must focus its resources on establishing Malay political supremacy to avert the supposed minority takeover, a campaign which he claimed has divine blessing.
"When people talk about maqasid syarak they only mention the five… but there are more: one of them is to ensure the stability and harmony of society (at all cost)," he asserted.
The maqasid syarak in Islamic jurisprudence refers to the higher objective of the shariah, but the interpretation varies between conservative and progressive clerics.
The latter believes the aim of maqasid syarak — the protection of faith, life, property, lineage and intellect — must still be done within the context of shariah rule.
http://www.themalaymailonline.com/malaysia/article/in-fiery-speech-cleric-tells-forum-only-malays-fought-invaders-communists#PM0yml51V14ODwO5.97
--------
Philippine Muslim Group's Violent Streak Raises Specter of New War
January 12, 2018
TAIPEI, TAIWAN —
The Philippines, still recovering from battles last year against a group of Islamic State-inspired, anti-government Muslim rebels, is confronting a rise in violence by another band from the same region and with a similar ideology.
A new conflict would prolong decades of struggles between Muslim separatists and the Philippine government.
Muslim militants on the southern island Mindanao believe the majority Catholic country has taken an unfair share of resources despite five centuries of Muslim settlement. Rebel-linked violence has killed about 120,000 people in Mindanao since the 1960s.
The Bangsamoro Islamic Freedom Fighters, a group often known by its acronym BIFF, has killed 10 to 25 people since early December in surprise attacks and bombings, media reports say.
Eleven people, including nine rebels, have died in incidents since Dec. 25, a local infantry unit spokesman said Friday, and about 300 families are living in emergency shelters to avoid the rebels.
"I think they have enough numbers now to conduct atrocities within the area," said the spokesperson, Capt. Arvin Encinas. "That's why we are strengthening our efforts, to ensure the safety and security in our constituent area of Mindanao."
A roadside bomb killed a soldier Wednesday and on Sunday troops found the bodies of six rebel gunmen following clashes involving 80 rebels and a military reconnaissance post, Inquirer.net reported.
Battle two months ago
The rise in attacks comes two months after troops ended a war with another Muslim rebel group in Mindanao.
Fighting then against the Maute Group killed at least 1,127 people, including more than 900 militants, before it was called off in October.
"BIFF is also trying to get some attention, because they are now starting the small attacks and some explosions in other parts of Mindanao, but we still don't know how big the capability of BIFF is compared to the Maute Group that caused the siege in Marawi," said Maria Ela Atienza, political science professor at University of the Philippines Diliman.
In December, the presidential website said the Armed Forces of the Philippines cited "continuing threats posed" by BIFF as a reason President Rodrigo Duterte should extend martial law in Mindanao through 2018.
Congress later granted the extension of that law, which first took effect in May to help with the battle in 2017. Martial law lets troops and police officers eliminate threats through curfews, road checkpoints and the bypassing of due process to capture rebel suspects.
What they're fighting for
The BIFF split off from a larger rebel group, the Moro Islamic Liberation Front, in 2008 because it didn't recognize the front's peace talks with the government.
It's now divided into three factions, including a violent one, the infantry unit spokesman said. The sub-group pledges allegiance to Islamic State, the world terrorist sponsor based in Iraq and Syria.
BIFF accuses the Moro Islamic Liberation Front of being a "sell-out" to the government because it signed a peace deal in 2014, said Ramon Casiple, executive director of Philippine advocacy organization Institute for Political and Electoral Reform.
Both advocate Muslim autonomy in the southern Philippines, and some BIFF members want all-out independence.
A government commission is working now to formulate an autonomy law after senators shied away following a Moro Islamic Liberation Front attack that killed 43 soldiers in 2015.
Casiple said BIFF has about 200 to 300 people, mostly farmers and a few people who are middle-class and higher. Their ranks fluid because the fighters "co-exist" with the liberation front due to historic clan relationships, he said.
Wider threat
They operate normally in two Mindanao provinces near the 270,000-person city of Cotabato. The president fears BIFF might attack elsewhere in Mindanao, a largely impoverished island of about 21 million, analysts say.
"The president himself is quoted as saying that the post-Marawi situation is still dangerous, and one of things he cited in his request (for martial law) was BIFF, the possibility that the BIFF may attack other cities," Casiple said.
BIFF lacks the scale now of the 5-year-old Marawi rebel group. But its supporters can unite as a stronger force as needed, due to family links in their core region, Atienza said.
Officials still monitor Abu Sayyaf, another of the total 20 Muslim rebel groups in the Southern Philippines, in case it links up with BIFF. Islamic State had chosen an Abu Sayyaf leader as its emir in Southeast Asia in 2016, the U.S.-based SITE Intelligence Group says. But he was killed in Marawi.
BIFF, like other rebel groups, may flourish because of the "porous border" and "weak government" of the southern Philippines, said Enrico Cau, a Ph.D. student of international affairs and strategic studies at Tamkang University in Taiwan.
Those factors let in supporters from Indonesia and Malaysia to support the Muslim rebels in their 2017 fight.
Full report at:
https://www.voanews.com/a/philippine-muslims-violence-specter-of-new-war/4204742.html
--------
'China boosts security in Xinjiang to prevent terrorists'
12th January 2018
return' By K J M Varma Beijing, Jan 12 (PTI) China has beefed up border security in the volatile Uyghur Muslim-majority Xinjiang province to counter terrorists returning from Syria following the defeat of the Islamic State terror group, a military officer said.
China has deployed large number of security forces in Xinjiang bordering Afghanistan, Pakistan-occupied Kashmir and Kyrgyzstan to deal with the separatist East Turkistan Islamic Movement (ETIM) which was blamed for a host of violent attacks in the province and other parts of China in the past few years.
A number of Uyghur youth reported to have joined the IS in Syria to undergo training and China apprehends that they would return to stage attacks in Xinjiang.
Up to 5,000 ethnic Uyghurs from Xinjiang were fighting in Syria, Syria's ambassador in Beijing, Imad Moustapha was quoted as saying last year.
"The control and management of immigration at border areas here has been strengthened in recent years," said a military officer of border defence in Xinjiang's Kashgar prefecture.
Guard rails have been set up along the border to avoid terrorists sneaking into China, the officer was quoted as saying by the state-run Global Times.
Also China has reported to have plans to set up a counter terrorism centre in Afghanistan to deal with return of Uygur militants but the Chinese Foreign Ministry declined to confirm it.
"I have not heard of the information mentioned by you," Chinese Foreign Ministry spokesman Lu Kang said here yesterday when asked about the proposal to set up the centre.
During the past few years China has also been pressing Pakistan to launch a crackdown on training bases of the ETIM in the tribal areas.
Earlier reports said China and Pakistan border police have launched joint patrols along the border to prevent infiltration by militants.
China faced a "prominent" risk of a terror attack, said Ji Zhiye, head of the China Institutes of Contemporary International Relations, at an international relations forum in Beijing last month, the Hong Kong-based South China Morning Post reported.
"The number of jihadists captured on China's borders (in 2017) was more than 10 times the number from the previous year," Ji said.
An accurate count of IS jihadists coming to China could never be confirmed, said Li Shaoxian, head of the Arab research institute at Ningxia University in Northwest China's Ningxia Hui Autonomous Region.
"But the situation has been harsher," Li said.
Many terrorists do not conveniently choose to cross the border into Northwest China's Xinjiang Uyghur Autonomous Region, he warned.
"They just fly to cities like Beijing and Shanghai with their Chinese passports, posing like any other citizen who comes back from another country, which makes counter-terrorism work more difficult," Li said.
China has been trying to monitor and manage the terrorist threat, building an information system and contacts for counter-terrorism work, Li said.
In September 2017, a division of the People's Liberation Army in Tumxuk near Kashgar installed 10 special security scanners at road security checkpoints.
"Counter-terrorism work benefits the whole country and many European countries under threat of terrorism have also strengthened immigration monitoring and management," Li said.
"It was therefore irrational for some western media or countries to misinterpret China's counter-terrorism efforts," he said.
In March 2015, Zhang Chunxian, then party chief of Xinjiang, said authorities had broken up terror groups plotting violent attacks on Chinese soil after fighting in battles in Syria with IS.
Xinjiang passed its own version of the counter-terrorism law in August 2016. The law is a supplement to the national counter-terrorism law approved in December 2015 to define terrorist activities and the corresponding punishment.
Full report at:
http://www.newindianexpress.com/pti-news/2018/jan/12/china-boosts-security-in-xinjiang-to-prevent-terrorists-1751841.html
--------
Ahead of GE14, mega convention to outline Muslim lobby's demands
January 13, 2018
KUALA LUMPUR, Jan 13 — Hundreds of Muslim activists are set to join a major convention in the country's capital today to unite the community and outline their demands, just months before the 14th general election (GE14) is held.
Called "Konvensyen Kebangkitan Ummah" (Malay for "Community Revival Convention), the event will be held at a hall in the Federal Territory Islamic Affairs Department's (Jawi) Islamic Centre near Lake Gardens that can accomodate 1,000 participants.
The convention is organised by a coalition calling itself Gerakan Pembela Ummah (Community Defenders' Movement), a new umbrella group of around 300 local Muslim NGOs, formed reportedly to lobby and reinforce the position of Islam and Muslims in the country.
In its press statement released last month, Ummah outlined the two main objectives of the convention: to increase awareness on the need for Muslim unity for the sake of the country's stability, and to list down their demands towards authorities to ensure the legitimacy of Islam and the Malays.
The convention is scheduled to discuss seven main topics divided by clusters lead by prominent local Muslim activists.
The first cluster on laws and Shariah will be lead by Datuk Wan Ahmad Fauzi Husain from Muslim group Ittihad, the second cluster is on education by Datuk Abdul Raof Hussin from a group representing retirees from the education system, and the third cluster will be about dakwah, or evangelism, by Datuk Wan Mohamad Sheikh Abdul Aziz who used to head the Islamic Development Department Malaysia (Jakim).
Other clusters cover topics such as the economy (Ahmad Yazid Othman from Malay Economic Action Council or MTEM), society (Datuk Nadzim Johan from Malaysian Muslim Consumers Association or PPIM), Malay reserve and rights (Zaharah Sulaiman from Malaysia Archaeology Alliance), and youths (Muhamad Faizzuddin Mohd Zai from student group Gamis).
Ummah was started in May last year, before it was officially launched in July at the Putrajaya headquarters of government-linked trust agency Yayasan Dakwah Islamiah Malaysia (Yadim).
The group said among its objectives are to preserve the dominance and strength of Muslims in the country's politics, and to ensure that the government implements Islamic values in its administration.
Full report at:
http://www.themalaymailonline.com/malaysia/article/ahead-of-ge14-mega-convention-to-outline-muslim-lobbys-demands#8lhYjDhHMQBxxsAr.99
--------
Dr M will bring in Malay-Muslim votes, Pakatan chief secretary says
January 13, 2018
KUALA LUMPUR, Jan 13 — Tun Dr Mahathir Mohamad and Parti Pribumi Bersatu Malaysia (PPBM) will help Pakatan Harapan win over Malay-Muslim voters, Datuk Saifuddin Abdullah has said.
The PH chief secretary said that the upcoming general election would be determined by the Malay-Muslim vote as all parties were gearing up to capture that segment of the electorate.
"The current generation of Malay-Muslims especially the younger crowd recognises two key figures ― Dr M and (Datuk Seri) Anwar Ibrahim as iconic figures in the country's politics.
"Together they represent the aspirations of that segment of voters, and this time the Opposition is equipped like never before to win the hearts and minds of those from the Felda areas…the heartland votes," he said during a live Instagram interview with ProjekMMO yesterday.
"With him (Dr Mahathir) Malay-Muslim voters see someone who has an unquestionable track record in protecting and championing the cause of Malay rights and issues," Saifuddin added.
He also sought to dispel the perception that the wishes of younger party members had been ignored with the nomination of the 93-year old as interim prime minister should the coalition take power.
"We have taken into account the opinions of the youth leaders from the youth wings of all four component parties ― PKR, DAP, Amanah and Pribumi and they were unanimous in lending their support.
"The decision to nominate Dr M was not a snap decision but was carefully and openly debated and deliberated on. We believe this is what will work best," he said.
Saifuddin also sought to reassure all that the former premier was "a changed man" and that any decision made by him fully incorporated the views and input of the all the coalition's organs.
"Anyone who has sat through a meeting chaired by Dr M when he was Umno president and now will tell you there is a sharp difference…it is no longer a roomful of people saying 'Yes Sir', he is not dictating PH.
"All component parties, all members in PH are equals and we do not follow the BN concept of needing an 'Abang Long' or big brother and do not believe in letting one dominating voice silence others," he said.
Saifuddin said Dr Mahathir's inclusion within PH was a tactical move which took into account Dr Mahathir's appeal among voters.
"When Dr M initially met Anwar last year, the picture of them shaking hands and smiling went viral in such a pervasive way that we knew he still had the power and charisma to get such a reaction from the people," he said.
Full report at:
http://www.themalaymailonline.com/malaysia/article/dr-m-will-bring-in-malay-muslim-votes-pakatan-chief-secretary-says#oUj9eBDimcAx0fh0.97
--------
South Asia
Deadly 'long-lost disease' rages through Rohingya camps in Bangladesh
Jan 12, 2018
In a makeshift bamboo clinic, small children struggle to draw breath through surgical masks, victims of a forgotten but deadly disease that has torn through the teeming Rohingya refugee camps in Bangladesh.
Diphtheria had been all but eradicated in Bangladesh until last year, when more than 650,000 Rohingya poured across the border fleeing a bloody military crackdown in neighbouring Myanmar.
Packed into an area meant for a much smaller number of refugees and with little sanitation or healthcare, the new arrivals provided fertile ground for the highly contagious respiratory disease to take hold.
It quickly spread through the camps, with the World Health Organization reporting more than 3,600 cases.
The outbreak has already claimed the lives of at least 30 refugees, mostly children, while a handful of Bangladeshis living near the camps have also contracted the disease.
Carla Pla, head nurse at the specialist diphtheria unit run by medical charity MSF (Doctors Without Borders), said children were arriving with "severe" symptoms.
"This is a very challenging situation, because everyday there are coming more children, and the challenge to get the vaccine is also something that is very difficult," she told AFP at the unit.
Nearly 600 refugees have been referred there since it opened in December, putting enormous pressure on doctors also struggle to treat rampant malnutrition, water-borne disease and other diseases in the camps.
When AFP visited this week most of the patients were small children, some of them clearly struggling to breathe.
- Caught off guard -
Bangladesh authorities were prepared for other diseases and moved quickly to inoculate the new arrivals against cholera and measles to prevent a health disaster.
But the emergence of diphtheria, which causes difficulty breathing and can lead to heart failure, paralysis and death if left untreated, caught aid workers off guard.
"We were taken aback when tests confirmed diphtheria in the camps. It was a long-lost disease in our country," said Abdus Salam, the chief medical officer for Cox's Bazar district, where the camps are located.
"Immediately, we acquired vaccines from abroad for an emergency response."
In December, they launched a huge vaccination push. Nearly 320,000 children aged under 15 have now been inoculated and another 160,000 children are expected to receive the vaccine this month.
High rates of vaccination mean diphtheria has become increasingly rare in much of the world, although Yemen is currently suffering an outbreak.
But the Rohingya come from impoverished Rakhine state, where state-imposed restrictions have ensured abysmal living standards for the persecuted Muslim community, and many children are not vaccinated.
Pla said it was challenging for staff treating a disease that "only existed in the textbooks for all these years", with many doctors seeing live cases for the first time in their careers.
- Shortage of doctors -
Mohammad Hossain assumed his son, now being treated in the MSF clinic, had the same minor throat infection affecting other Rohingya children in the refugee camp.
"I thought it was tonsilitis. But the doctors said it was much more serious," Hossain told AFP, wearing a protective mask as he tended to the 11-year-old.
The appearance of diphtheria, long forgotten in many parts of the world, has compounded the misery for close to one million displaced Rohingya Muslims living in extreme hardship near the border with Myanmar.
Seven specialist diphtheria field clinics have been set up to treat the rising number of patients since the outbreak, said WHO's Southeast Asia emergency director Roderico Ofrin.
Together the wards house 400 beds for patients, but a shortage of doctors has required medics to be flown in from Britain and elsewhere to help battle the outbreak.
Treatment involves administering an antitoxin and antibiotics.
At the MSF ward, where Hossain's son Mohammad Rashed is making a slow recovery, medics wearing single-use scrubs work in tented-off wards treating patients.
Everyone coming into contact with the tents, set away in an isolated clearing, must wear masks and wash their hands in chlorinated water.
Preventing infected patients from coming into contact with the wider, largely unvaccinated population of Rohingya remains a priority, doctors said.
Rohingya community leaders meanwhile are trying to spread awareness about this resurgent disease to offset a full-blown epidemic.
http://www.hindustantimes.com/world-news/deadly-long-lost-disease-rages-through-rohingya-camps-in-bangladesh/story-7ymOVsJbmekJbPDLxbMqtN.html
--------
Four Rohingya killed in Bangladesh camp fire
January 13, 2018
COX'S BAZAR : A Rohingya woman and three children perished when a fire gutted their tent shelter in a UN camp in Bangladesh , authorities said Friday. Police and a Red Crescent official said a candle sparked the fire late Thursday at a UN-run transit camp for refugees in Ghumdum border village.
"Seven people were severely burnt. They were shifted to a Red Crescent field hospital where two people died last night and another two died this morning (Friday)," Ikram Elahi Chowdhury, a regional head of the Bangladesh Red Crescent Society, told AFP. The victims had only arrived from Myanmar in the past week and were waiting at the transit centre to be shifted to a refugee camp in Cox's Bazar district. Joseph Tripura, a spokesman for the UN refugee agency UNHCR, said an investigation had been started.
"We are working closely with the Bangladeshi authorities to ascertain how the fire started and how tragedies like this can be prevented in the future," he said in a statement.
More than 650,000 Rohingya have arrived in Bangladesh since August 25 after Myanmar's security forces launched what the UN and US officials have called ethnic cleansing in the country's Rakhine state.
Many refugees start at transit centres set up along the Bangladesh-Myanmar border before they are brought to the main refugee camps in Cox's Bazar.
Full report at:
https://nation.com.pk/13-Jan-2018/four-rohingya-killed-in-bangladesh-camp-fire
--------
First phase of Biswa Ijtema begins in Tongi
January 13, 2018
The three-day first phase of Biswa Ijtema, the second largest congregation of Muslims after Hajj, began on the banks of the Turag at Tongi after Fazr prayers yesterday.
The Ijtema began with "a'm bayan" (general sermons) by Jordanian Islamic scholar Maulana Sheikh Umar which was interpreted in Bangla by Maulana Abdul Matin, reports UNB.
Thousands of Muslims attended the Juma prayers conducted by Hafez Mohammad Jubayer, the imam of Kakrail mosque in the capital.
Maulana Mohammad Hossain gave sermons after Juma prayers and Maulana Mohammad Rabiur Haque after Maghrib prayers.
Meanwhile, a devotee, Kazi Azizul Haque from Magura's Shalikha, died at Tongi Government Hospital on Thursday night after he fell sick at the Ijtema ground.
The first phase of the 53rd Biswa Ijtema will end tomorrow with the Akheri Munajat (final prayers). The second phase of Ijtema will be held from January 19 to 21.
"Muslim devotees from 32 districts across the country will take part in the two phases of the Ijtema. The first phase will be attended by the devotees from 16 districts and devotees from the other 16 districts will attend the second phase," said engineer Gias Uddin, an organiser of the Ijtema, adds BSS.
Some 3,919 devotees from 79 foreign countries have already reached the Ijtema ground, said the deputy commissioner of Gazipur.
Police have taken a five-tier security measure to ensure safety of the devotees.
Besides, special measures have been taken to ease the traffic. Some 50 CCTVs have been installed to monitor the situation in and around the Ijtema venue.
Meanwhile, Bangladesh Railway has made arrangements to operate special trains on different routes of the country to facilitate the movement of the devotees.
Earlier, a problem arose over the joining of Indian scholar Maulana Saad Kandhalvi in the first phase of the Ijtema.
In the face of stern opposition from a faction of Tabligh Jamaat, it was decided at a home ministry meeting on Thursday that Maulana Saad would not join the Ijtema.
Full report at:
http://www.thedailystar.net/frontpage/first-phase-biswa-ijtema-begins-tongi-1519183
--------
Myanmar's Suu Kyi says army admission on killings a positive step
January 12, 2018
Myanmar's civilian leader Aung San Suu Kyi said on Friday it was "positive" that the country's military was taking responsibility for the actions of troops, after the army said soldiers were involved in killing 10 captured Rohingya Muslims.
The military said in a statement on Wednesday that soldiers and Buddhist villagers had murdered 10 Muslim "terrorists" at a village in northern Rakhine State at the beginning of September and that action would be taken against those responsible.
Asked at a joint news conference with Japanese Foreign Minister Taro Kono about the rare admission of wrongdoing by the military, known as the Tatmadaw, Suu Kyi said: "The Tatmadaw investigated and will take necessary action on that.
"It is a new step for our country," she said, according to a transcript posted on her Facebook page. "I see it that way because a country needs to take responsibility for the rule of law in the country, and this is the first step on the road of taking responsibility and it is a positive thing."
Suu Kyi rarely speaks to the media and has said little in public about the crisis in the western state. The army, which is not under the control of the civilian government, launched a sweeping counteroffensive in northern Rakhine in response to Rohingya militant attacks on Aug. 25, triggering an exodus of more than 650,000 Rohingya villagers to Bangladesh.
Asked if the revelations about the killing at the village of Inn Din, about 50 km (30 miles) north of the state capital Sittwe, could be a concern for refugees who are being asked to return, Suu Kyi said: "Some people might be afraid, but this is not something that has happened right now.
"It was an investigation into a case that happened before. So doing this investigation is a deterrent so that similar cases don't happen later."
Suu Kyi was speaking following a meeting in Myanmar's capital Naypyidaw at which Kono asked her to ensure the "safe and voluntary" resettlement of those who have fled, according to Japanese news agency Kyodo.
The Japanese foreign minister said Tokyo, one of Myanmar's biggest foreign aid donors, planned to give about $20 million for humanitarian support to Rohingya refugees, subject to parliamentary approval, Kyodo said.
"Japan wants to actively support Myanmar's efforts," Kyodo quoted Kono as telling the news conference.
Myanmar and Bangladesh have been discussing a plan to repatriate the refugees.
Full report at:
http://www.thedailystar.net/rohingya-crisis/myanmars-civilian-leader-aung-san-suu-kyi-says-army-admission-killings-positive-step-1518934
--------
Taliban suffer casualties in Afghan Air Force airstrikes in Faryab
Jan 13 2018
The Taliban insurgents suffered casualties in the latest airstrikes conducted as part of the ongoing campaign to suppress the Taliban-led insurgency as well as the other militants who are attempting to expand foothold in this province.
The 209th Shaheen Corps of the Afghan military informed regarding the new airstrikes by releasing a statement covering the operational update of the Afghan national defense and security forces.
The statement further added that the latest airstrikes were carried out in the vicinity of Qaisar district of Faryab province.
According to the Shaheen Corps, at least two Taliban insurgents were killed and three others were wounded in the airstrikes.
The Shaheen Corps of the Afghan military also added that an air campaign is still underway in parts of the province where the militants are attempting to conduct insurgency.
The anti-government armed militant groups including the Taliban insurgents have not commented regarding the report so far.
Faryab is among the relatively volatile provinces in northern parts of the country where the anti-government armed militants are actively operating in a number of its districts.
Full report at:
https://www.khaama.com/taliban-suffer-casualties-in-afghan-air-force-airstrikes-in-faryab-04251
--------
Joint mechanism to resolve issues relating to Durand Line: Pak army
Jan 12 2018
The Pakistani military says documents pertaining to the management of the long porous border between Afghanistan and Pakistan have been sent to the Afghan government in a bid to finalize a joint mechanism for the management of the line.
A spokesman for the Pakistani military Gen. Asif Ghafoor made the remarks during an interview with a private TV channel on Thursday.
He said several issues relating to the Durand Line will be resolve if a mechanism is finalized but he did not elaborate further in this regard.
Gen. Ghafoor further added that there would be significant improvement if the border management work is completed by next year, emphasizing that both countries have take some needed measures.
This comes as the Afghan officials have long been insisting that the ongoing violence in Afghanistan has roots with the leadership councils and safe havens of the Taliban and Haqqani network in Pakistan but the officials in Islamabad are saying that no safe haven exist in the country for the terror groups.
However, the US officials also insist that the Taliban, Haqqani network, and other terror groups posing threats to Afghanistan and the US forces still have sanctuaries and freedom of action in Pakistan.
Full report at:
https://www.khaama.com/joint-mechanism-to-resolve-issues-relating-to-durand-line-pak-army-04249
--------
Mideast
Turkish religious head calls for Muslims to reunite
January 12, 2018
The head of Turkey's religious affairs on Thursday called on the Muslim world to reunite, saying it had become divided on the basis of race and denominations in recent years.
"The Muslim world was united under one banner a hundred years ago. However through a well-thought plan, which we are aware of, it was divided into 40 pieces," Ali Erbaş said, in a meeting with the leaders of the American Muslim community at Diyanet Center of America (DCA) in Maryland.
"We should all be aware of this as history repeatedly shows us how this system of exploitation was created."
Highlighting that Muslims were provoked against each other over ethnic differences for centuries, he said, they are now being set against each other through terrorist organizations.
Erbas said that diverse ethnic backgrounds only add to the richness of Islam, as mentioned in the holy Quran.
Following his speech, Erbas took questions from Muslim opinion leaders.
Responding to a question about what American Muslims can do for Turkey, he said: "We want you to spread the truth and the messages that Turkey stands for."
Recalling Turkish President Recep Tayyip Erdoğan's proverbial remark, "The world is greater than five", he emphasized Turkey's strong stance on persecuted Muslims throughout the world.
Erbas on Friday is expected to give a sermon at the Diyanet Center, which was opened in late 2015 by Erdogan, and is run by Turkey's Directorate of Religious Affairs.
Erbas on his first official visit to the U.S. as president of religious affairs, is accompanied by his wife Seher Erbas and a delegation from the ministry. His next stop will be New York.
https://www.yenisafak.com/en/news/turkish-religious-head-calls-for-muslims-to-reunite-2972425
--------
Turkish parliament strips pro-Kurdish lawmaker of her status
Jan 12, 2018
The Turkish parliament has stripped a lawmaker from the pro-Kurdish Peoples' Democratic Party (HDP) of her status for a second time as the Ankara government presses ahead with a clampdown on members of the opposition party.
The decision came after judicial and constitutional commissions from the parliament prepared a report on 56-year-old Leyla Zana, asking for her dismissal.
Of 324 legislators in attendance, 302 voted in favor of dismissing the Kurdish politician from the Turkish legislature, while 22 opposed the measure, Turkish-language NTV television news channel reported on Friday.
Parliamentary sources said Zana missed 212 consecutive parliament days between October 1, 2016 and April 30, 2017.
Zana had taken the oath on November 17, 2015 while saying in Kurdish, "With the hope of an honorable and lasting peace."
She had also finished it by changing its official wording of "Turkish people" to "people of Turkey," leading the speaker to rule her oath invalid.
"Leyla Zana being stripped of her lawmaker status is void before our people," the HDP said in a tweet following the decision.
It added, "Leyla Zana is the sound of peace, the will of the people, our member of parliament."
Zana rose to prominence in 1991, when she spoke in Kurdish at her oath-swearing ceremony in Turkey's parliament.
"I take this oath for the brotherhood between the Turkish people and the Kurdish people," she said, earning herself a 10-year prison term.
The Turkish parliament has harsh punishments for speaking in Kurdish or using the word "Kurdistan" in the legislature.
On November 4, 2017, the Diyarbakir 5th High Criminal Court found opposition HDP lawmaker Selma Irmak guilty of "leading an armed terrorist organization" and "carrying out propaganda activities for terrorist purposes."
On December 26, 2016, Turkish security forces arrested Aysel Tugluk, a senior official of the HDP, in the capital Ankara, as part of an investigation launched by the Diyarbakir Chief Public Prosecutor's Office against the Kurdistan Workers' Party (PKK) militant group and the Kurdistan Communities Union (KCK), an alliance of pro-Kurdish groups.
In November last year, 13 HDP legislators were arrested over alleged links to the PKK.
Party leaders Selahattin Demirtas and Figen Yuksekdag remain in custody along with eight others, pending trial on terrorism-related charges.
Full report at:
http://www.presstv.com/Detail/2018/01/12/548695/Turkey-Leyla-Zana-parliament-Kurdish-lawmaker-
--------
Palestinian pleads guilty to Hamburg 'Islamist' knife attack
12th January 2018
Hamburg, Jan 12 (AFP) A 26-year-old Palestinian man admitted today to killing a man and wounding six others with a knife in a Hamburg supermarket, an attack that stoked fears of Islamist terrorism in Germany.
Ahmad Alhaw "declares that he takes responsibility for the very serious crimes he committed, and explicitly recognises his guilt regarding all the charges," the defendant's lawyer Christoph Burchard told judges in the high- security courtroom.
Alhaw took a 20-centimetre knife from the shelves of a supermarket last July, using it to kill one and wound six in the assault. He was arrested after passers-by overpowered him.
Charging him with murder, as well as six counts of attempted murder and grievous bodily harm, prosecutors said he acted with a likely Islamist motive.
He told interrogators that the crime "had some connection with events on the Temple Mount" in Jerusalem, where Israeli authorities had recently imposed access controls for Muslim worshippers, prosecutor Yasemin Tuz told the court.
"The results of the investigation show that the accused sought out his victims indiscriminately, retaliating against people who in his view represent perpetrators of injustice targeting Muslims," prosecutors had earlier said.
"It was important to him to kill as many German nationals of the Christian faith as possible. He wanted his actions to be viewed in the context of an Islamist attack, and understood as a contribution to jihad worldwide," they added.
Investigators, however, did not find any evidence to suggest that Alhaw was a member of the Islamic State (IS) group.
Rather, the defendant -- a tall, slim, bearded figure who appeared in court wearing glasses and a blue turtleneck -- had from time to time demonstrated "suspect behaviour", "transforming" his life towards radical Islam before "again taking up a Western lifestyle," Tuz said.
Through an Arabic translator, Alhaw told the court he had sought asylum in Norway in 2009 after giving up dentistry studies in Egypt, hoping for a better life in Europe.
After his application was rejected, he moved around the EU, living in Sweden, Spain and finally Germany.
He was "fascinated" by the Western lifestyle and enjoyed drinking alcohol, with only "phases" of religiosity, Alhaw said. But "he had the feeling that he was not welcome in these countries," he added.
Alhaw himself declined to discuss his suspected religious radicalisation or details of his crimes.
"He knows that he has committed very serious crimes and knows he will be sentenced for them," defender Burchard said.
The killer risks life in prison, although Germany often grants parole after 15 years. Hearings began after he was deemed psychologically fit for trial.
National news agency DPA said Alhaw had allegedly signed a statement during interrogation saying: "Yes, I am a terrorist." The trial is expected to last until March 2, with the six people wounded in the assault invited to the hearings only from January 26.
The assault in the northern port city was the first Islamist attack in Germany since Tunisian Anis Amri drove a truck into crowds at a Berlin Christmas market in December 2016, killing 12 and injuring 48.
Amri was shot dead by police in Milan four days later, and the rampage was claimed by the Islamic State group.
Germany has been on high alert over the threat of a jihadist assault since that truck rampage.
Like Amri, Alhaw was to have been deported after his asylum application was rejected by authorities at the end of 2016, but the process was held up by a lack of identity documents. The attacks have piled pressure on Chancellor Angela Merkel over her decision to allow in more than a million asylum seekers since 2015.
Full report at:
http://www.newindianexpress.com/pti-news/2018/jan/12/palestinian-pleads-guilty-to-hamburg-islamist-knife-attack-1752004.html
--------
US sanctions head of Iran's judiciary, others, over human rights abuses
12 January 2018
The United States imposed sanctions on 14 individuals and entities on Friday for human rights abuses in Iran and supporting Iranian weapons programs, including the head of Iran's judiciary, Ayatollah Sadeq Larijani.
The US Treasury Department said in a statement that Larijani, a close ally of Supreme Leader Ayatollah Ali Khamenei, is "responsible for ordering, controlling, or otherwise directing, the commission of serious human rights abuses against persons in Iran or Iranian citizens or residents."
A Chinese national was sanctioned for acting on behalf of Wuhan Sanjiang Import and Export Co LTD, which is already under sanctions for doing business with an Iranian firm "owned or
controlled" by the military.
Full report at:
https://english.alarabiya.net/en/News/middle-east/2018/01/12/US-sanctions-head-of-Iran-s-judiciary-others-over-human-rights-abuses.html
--------
176 Palestinians wounded in clashes over Trump's Jerusalem al-Quds move
Jan 12, 2018
At least 176 Palestinians were wounded by Israeli live ammunition during clashes in protest at US President Donald Trump's recognition of Jerusalem al-Quds as the capital of Israel, Palestinian officials say.
On December 6, Trump announced his decision to recognize Jerusalem al-Quds as Israel's capital and relocate the US embassy in Israel from Tel Aviv to the occupied city.
The US president's decision caused anger across the Arab and Muslim world and concern among Washington's European allies as well as Russia. However, Israel welcomed it.
On Friday, hundreds of Palestinians clashed with Israeli soldiers in the besieged Gaza Strip and the occupied West Bank in protest at Trump's decision.
Hundreds of Palestinians in Gaza approached the border fence with the occupied territories and threw stones at the Israeli soldiers who fired tear gas canisters to disperse them.
Some protesters threw stones and burned tires in a couple of cities in the West Bank. Israeli soldiers fired tear gas and threw stun grenades.
The Palestinian Health Ministry said a total of 176 protesters were injured during the Friday clashes in the Gaza Strip and the West Bank.
A total of 17 Palestinians have been killed since Trump's announcement of his decision about the Jerusalem al-Quds.
The dramatic shift in Washington's policy vis-à-vis the city triggered demonstrations in the occupied Palestinian territories, Iran, Turkey, Egypt, Jordan, Tunisia, Algeria, Iraq, Morocco and other Muslim countries.
On December 21, the United Nations General Assembly overwhelmingly voted in favor of a resolution that called on the US to withdraw its controversial decision.
Funerals for two Palestinian teenagers
Meanwhile, Palestinians held separate funerals for two teenagers killed by Israeli soldiers on Thursday in the occupied West Bank and the besieged Gaza Strip.
Mourners at al-Maghazi refugee camp in the central Gaza Strip gathered to bury 16-year-old Amir Abdelhamid Abu Mousaed, who was shot dead during protests against Trump's Jerusalem al-Quds move.
Spokesman for the Gaza Ministry of Health, Ashraf al-Qidra, said in a statement on Thursday evening that Abu Mousaed sustained grave gunshot wounds in the chest near the border fence east of al-Bureij camp and succumbed to his wounds after he was taken to al-Aqsa Martyrs hospital in Deir al-Balah city.
People in the occupied West Bank laid to rest 17-year-old Ali Omar Nimr Qino, who was killed after Israeli troopers opened fire on a group of Palestinian protesters in Burin village, southwest of Nablus.
Full report at:
http://www.presstv.com/Detail/2018/01/12/548709/Gaza-West-Bank-Jerusalem-Trump
--------
Italy signs EU's biggest ever credit deal with Iran
Jan 12, 2018
Iran and Italy have signed a major framework credit agreement which will be used to provide funds for development and industrial projects in the Islamic Republic.
Italy's Economy Ministry in a statement to media put the value of the agreement at €5 billion ($6 billion) and said it was signed in Rome between Bank of Industry and Mine and Middle East Bank of Iran, and the investment arm of Italian state-owned holding Invitalia.
The money will be used for projects carried out jointly by Italian and Iranian companies in sectors including infrastructure, construction, oil and gas, electrical energy, and the chemical, petrochemical, and metallurgical industries, Reuters quoted parts of the statement as saying.
Iran's government will provide a sovereign guarantee, the statement added.
Meanwhile, Iran described the agreement – which it said was the biggest with a European bank – as a yet another sign of Europe's determination to expand economic bonds with the Islamic Republic.
Mohammad Khazaei, president of the Organization for Investment, Economic and Technical Assistance of Iran (OIETA), said the agreement with Invitalia had a special political and economic significance "particularly at the current juncture".
"This is the biggest credit agreement ever signed between Iran and a European country which is a very important political and economic development at the current juncture," Khazaei was quoted by Iran's IRNA news agency as saying.
"It shows the determination of the European Union in working with Iran at the current juncture – what will be beneficial to all."
The credit agreement with Italy followed similar moves with several European banks over the past few months. The latest involved an agreement between four Iranian banks and the Eximbank of Russia to provide "unlimited funds" for development projects to be carried out by domestic and international contractors in the Islamic Republic.
In late September, Austria's Oberbank signed a major finance deal with over a dozen Iranian banks based on which it would provide €1 billion in credits to the country's companies that invest in the Iranian economy.
Oberbank's initiative – that was seen in Tehran as the first of its kind in many years – was followed on the same day by a similar agreement between Denmark's Danske Bank and several Iranian banks.
Accordingly, Danske Bank would allocate a credit line of €500 million for investments by Danish businesses in Iran.
On a related front, France's state investment bank Bpifrance (BPI) announced also in September that it planned to provide funds to French companies that invest in the Iranian economy from next year.
Full report at:
http://www.presstv.com/Detail/2018/01/12/548673/Italy-signs-EUs-biggest-ever-credit-deal-with-Iran
--------
Flare-up with Israel tests Hamas effort to keep Gaza on low boil
13 January 2018
ISRAEL-GAZA BORDER: The worst fighting on the Gaza Strip front since 2014 is being calibrated by Hamas, which wants to signal defiance of Israel and the US while being careful not to trigger a new war for the enclave's penned-in Palestinians.
Since President Donald Trump reversed decades of US policy on Dec. 6 by recognizing Jerusalem as Israel's capital, Palestinians in Gaza have launched 18 cross-border rockets or mortars — a third of all such attacks in 3-1/2 years of relative quiet.
For Israel's part, though residents in the south have raised a clamor for harsh retaliation, Prime Minister Benjamin Netanyahu's government has counselled caution and targeted mostly unmanned Hamas facilities in night-time airstrikes.
The careful moves reflect the balancing act maintained both by Hamas that controls Gaza and the Israeli government — old foes who share a reluctance to go to war again.
Gaza's neighborhoods still bear the scars of the destruction caused by Israeli attacks during a seven-week conflict in 2014. In Israel, there is little eagerness to endure the daily sirens warning of rocket strikes.
But ordinary Israelis and Palestinians are keenly aware that even a single incident — a rocket causing multiple fatalities in Israel or Israeli forces killing a militant leader — could set off a conflagration that would be beyond their leaders' control.
Two Hamas gunmen have died in retaliatory Israeli airstrikes and 15 protesters from Israeli gunfire.
"The recent weeks of rockets and Israeli bombardment proved an explosion is possible," said Gaza political analyst Akram Attalla. "How long will Hamas continue to take Israeli strikes to its positions without a response? And how long will Israel's Netanyahu tolerate internal criticism? There is no guarantee."
While there have been no Israeli fatalities or serious injuries in the rocket strikes, farmers in communities close to the Gazan border think twice about tilling fields where they might be exposed and children practice duck-and-cover drills should air raid sirens sound.
"Lately we do feel that there is more presence of the army. We have been told to be more careful, to clear the bomb shelter just in case. You never know when the next rocket will come," said Hila Fenlon, resident of the farm collective Nativ Haasara.
Hamas has responded to Trump's move by mobilizing mass protests at the border and turning a blind eye to other factions firing into Israel in two weeks of daily attacks, which have tailed off recently.
"This saves face for Hamas, as it appears to be the one that stands behind these protests without the need to go to war," said Attalla.
A more violent response was tamped down in debate among Palestinian factions who agreed that an armed confrontation could erode the international support Palestinians have won diplomatically and shift attention from the political process.
Hamas official Sami Abu Zuhri said no-one should underestimate the potential for hostilities to resume under what he called an Israeli occupation, however.
Israel withdrew troops and settlers from the territory in 2005 but remains the conduit for the passage of goods and supplies most of its electricity. Israel and Egypt, citing security concerns, maintain tight restrictions on the passage of Palestinians through their borders with the enclave.
"The situation in Gaza is very difficult and is not tolerable and is doomed to explode," he told Reuters.
Iranian support
Israel sees an outside catalyst for the violence — Iran, which both Hamas and its sometime ally Islamic Jihad (IJ) say has pledged unlimited assistance for them as the Syrian civil war, where Tehran deployed reinforcements for Damascus, winds down.
Israel has gone out its way to blame IJ and other groups for the rocket and mortar attacks, rather than Hamas, and even gave grudging credit to Hamas for being mindful of Palestinian civilian needs.
"Calls to respond with full force against Hamas are irresponsible," the top Israeli general, Gadi Eizenkot, said in a speech last week. He noted Gaza's "danger of humanitarian collapse," which, he said, had forced Hamas to engage with Palestinian President Mahmoud Abbas and secured a renewed power supply to the enclave.
Israel also has problems elsewhere.
Having neutralized much of the rocket threat from Gaza with their Iron Dome interceptor system, and hard at a work on an underground wall that would block guerrilla tunnels from the territory, Israeli defense officials say they worry more about Iran and the combustible northern front with Syria and Lebanon.
They also fear that the $1.1 billion sensor-equipped barrier on the 60-km frontier could tempt Gaza militants to use their tunnels to strike Israel before they lose them.
A range of economic initiatives have been broached, from the construction of an island off Gaza to handle direct imports by sea to the issuing of more permits for Palestinian laborers or agricultural exports to enter Israel.
"There is an effort to help the (Palestinian) population in a way that will not go to the armed wing of Hamas," said Amos Yadlin, a former Israeli military intelligence chief and head of Tel Aviv University's Institute for National Security Studies, which has prepared a 180-page memorandum on the Gaza crisis.
Israeli concern about worsening Gaza's internal problems has put it at odds even with the Trump administration, which has threatened to cut US contributions to the UN Relief and Works Agency (UNRWA) that provides essential aid for Palestinian refugees in the enclave, supporting and administering hundreds of schools and dozens of health facilities.
Israel says funds should be cut gradually and UNRWA should ultimately be dismantled and its responsibilities transferred to the UN's global refugee agency.
Cutting aid to UNRWA would spell "huge pressures on Gaza's residents," said Saleh Naami, another Palestinian political analyst.
Peter Lerner, a former Israeli military spokesman, agreed.
Full report at:
http://www.arabnews.com/node/1224666/middle-east
--------
Arab World
ISIS militants fleeing Syria leave behind a valuable trove of intelligence
Jan. 12, 2018
Islamic State militants fleeing strongholds in Syria are leaving behind a trove of records detailing everything from the terror group's finances to personnel documents on individual fighters.
"Their record keeping is phenomenal," Maj. Gen. James Jarrard told USA TODAY in an interview from Baghdad.
The Islamic State, also called ISIS, kept meticulous records, including directives and orders marked with official stamps.
Over the past three years, the coalition and local forces have seized "hundreds of terabytes" of data from ISIS computers and storage devices in northern Syria, where U.S.-backed forces are operating, according to the coalition headquarters.
Each terabyte can hold more than 80 million pages of Microsoft Word documents.
"We did learn a lot about their organizational structure, how they communicated, how they facilitated personnel and finances," Jarrard said.
"It is a very detail oriented book keeping organization (with) tremendous amount of details on every individual," Jarrard said. The records include a "laundry list of individuals that have moved into Syria and Iraq," he said.
The information has allowed the coalition to target the group's top leaders. "The most valuable stuff that we look for immediately is the connections, the understanding of the organization's construct so we can focus our targeting efforts," Jarrard said.
The Pentagon said it has killed many of the group's most senior officials, though the top leader, Abu Bakr al-Baghdadi, remains at large.
Analysts also use the intelligence to paint a broader picture of how ISIS functioned.
At its peak, the Islamic State earned about $50 million a month from oil revenues and had another $500 million it had looted from banks in areas it controlled. In 2014 it swept into Iraq from Syria, capturing large swaths of territory, including Mosul, Iraq's second-largest city.
At the time it appeared invincible, drawing fighters from around the world to its self-proclaimed caliphate in Syria and Iraq.
Today, the Islamic State has lost 98% of the territory it once controlled, according to the coalition. Pockets of militants have fled to remote areas, including villages along the Euphrates River Valley, stretching between Iraq and Syria. Revenues have been depleted.
"They are struggling for cash in some areas," Jarrard said. "They're telling folks no when they request money and resources."
Jarrard, who commands the Special Operations Joint Task Force in Iraq and Syria, said it will take at least a few more weeks to finish eliminating the caliphate.
"That doesn't mean the war is over," he said. "We will have to continue to maintain that pressure."
Much of the intelligence data was captured when U.S.-backed forces pushed militants out of Raqqa, the Islamic State's global capital, in October. The organization was controlled from the city in northeast Syria.
The Syrian Democratic Forces, a U.S.-backed coalition of Arab and Kurdish fighters, generally turn over laptops and other potential intelligence to U.S. forces who are supporting the local troops with airstrikes and other assistance.
The United States has about 2,000 troops in Syria, including advisers and other personnel backing the local forces, according to the Pentagon.
More: U.S. coalition slashes ISIS oil revenue by more than 90%
More: Trump takes credit for ISIS defeats. Does he deserve it?
The intelligence could provide the U.S. military and other agencies with evidence of how ISIS will attempt to survive once it is completely expelled from the territory it controls.
"It could give us template or model of how ISIS may try to resurge," said Jennifer Cafarella, an analyst at the Institute for the Study of War.
The intelligence so far suggests that ISIS is focused on trying to stay alive and has not issued orders about shifting tactics or strategy.
Even if pockets do survive, reviving the terror group will not be easy. With the collapse of its caliphate the Islamic State has also lost the luster that attracted fighters to its ranks when it controlled major cities and was growing in size and influence.
"What made it global was the brand name and the resources that it provided," Jarrard said. "The brand name is fairly diminished. The resources are not necessarily there."
Still, terror groups like al-Qaeda and the Islamic State have been resilient and their ideology remains attractive to thousands of people.
Some analysts say the U.S. strategy of focusing on the Islamic State's territory, or physical caliphate, has caused it to overlook the group's ability to establish a shadowy network capable of pulling off terror attacks around the world.
"There is a tendency to focus on the visible manifestation of ISIS control," said Jennifer Cafarella, an analyst at the Institute for the Study of War. "There has been less attention on who it is that is pulling off this global scale of operations."
https://www.usatoday.com/story/news/world/2018/01/12/isis-militants-flee-syria-leave-behind-intelligence-computers/1028389001/
--------
A new life sprouts up around Mosul after scars of Daesh rule
13 January 2018
MOSUL: Even before Daesh took over her home city of Mosul, Iraqi 31-year-old Nesrine never imagined she would have a job working late into the evening at a fashion boutique.
But now, in districts of Iraq's second city not left totally devastated by the ferocious fighting to oust the terrorists, life is buzzing again — with more vibrancy than ever.
"We have experienced depression, hunger, ruin and oppression. It is a miracle that we are still alive," Nesrine told AFP.
"We went through a long nightmare and now we have woken up transformed."
Nesrine is employed at a gleaming new clothing shop that has opened up on the east bank of the river Tigris — liberated from Daesh months before the group's final defeat in western districts six months ago — selling skinny jeans and colorful tops from Turkey.
As pop music blares from loudspeakers, she works alongside male colleagues advising customers lured in during a late-evening stroll by images of fashion models.
In the shop window, a mannequin wearing an above-the-knee skirt is on display.
Mosul has long had a reputation as the bedrock of conservatism and became a hub for radical terrorists after the US-led ouster of Saddam Hussein in 2003.
But when Daesh seized control as it swept across northern Iraq in 2014 the group imposed a radical interpretation of Islamic law far more severe than anything residents had known before.
"If a boy and a girl were discovered together then they risked being executed," said Rahma, 21.
Now Mosul University where she studies English is busy with groups of boys with gelled up hair and girls wearing colorful headscarves.
Even before the arrival of Daesh it was "unimaginable" for girls to get a job outside the home working alongside men, unless it was in a staid public administration office, she said.
Ziad Dabbagh has just opened up a restaurant to give people somewhere else to go in the commercial neighborhood of Al-Zuhur.
"People in Mosul used to go to other provinces of Iraq to go out," the entrepreneur said.
Families dine and young men sip tea on the terraces and in the dining hall.
"It was as if we were lost in the middle of a desert, cut off from everything," said Roua Al-Malah, 34, who was out with her family.
"And now all at once we have rediscovered that we can have a good time."
Behind a green glass door, men sip brightly colored fruit juice in the neighboring building as they play cards and billiards amid a cloud of smoke from hookah pipes.
Owner Mazen Aziz opened up in May even as fierce fighting was still raging across the river in Mosul's Old City, which is still a deserted ghost town today.
His billiard club with its smoking, card playing and loud music would have been a prime target for the terrorists who dominated the city for a decade.
Full report at:
http://www.arabnews.com/node/1224616/middle-east
--------
Kurdish Forces Intensify Separatist Moves in Northeastern Syria
Jan 12, 2018
The Arabic-language al-Watan al-Arabi daily quoted local sources as reporting that the Kurdish fighters have recently embarked on forcing civilians in Hasaka to pay income-taxes in line with their cessation plan, adding that the new taxes are apart from the taxes the Kurdish force have been levying from agricultural lands and people's business in Aleppo and other regions under their control.
Al-Watan further said that the employees in Hasaka have to pay 1,000 lira for 50,000 lira of monthly salary.
The paper further said that Kurdish forces did not allow some food-stuff trucks to enter Hasaka province from an entrance at the town of Tal Tamr, claiming that the trucks had not paid customs duties.
The pro-opposition Syrian Observatory for Human Rights (SOHR) reported last month that a fresh round of tensions erupted between the Syrian Army troops and the Kurdish fighters in Hasaka city after the two sides started arresting forces of each other.
The SOHR reported that the army and the Kurds put their forces on alert in Hasaka city, adding that tension erupted after the Kurds arrested three army soldiers in the Northern entrance of Hasaka city and the army arrested two Kurds in the Central part of the city.
Full report at:
http://en.farsnews.com/newstext.aspx?nn=13961022000166
--------
Iraqi Yazidis celebrate restoration of temple destroyed by Islamic State
Jan 12, 2018
Northern Iraq's Yazidi community that suffered so terribly under Islamic State group persecution celebrated on Friday as it inaugurated a restored temple to the sound of traditional drums and flutes.
Overlooked by conical domes of polished stone, hundreds of men in dishdasha robes and women veiled in white gathered at the site which was blown up by the rampaging jihadists in 2014.
The temple at Bashiqa was one of 68 Yazidi temples destroyed by IS, officials said -- and one of the last of 23 in the region to be restored.
Iraq's Kurdish-speaking Yazidis adhere to a faith that emerged in Mesopotamia more than 4,000 years ago.
It is rooted in Zoroastrianism but has over time integrated elements of both Islam and Christianity.
Yazidis pray to God facing the sun and worship his seven angels -- the most important of which is Melek Taus, or Peacock Angel.
The Yazidi community in Iraq comprised some 550,000 people before it was scattered by the IS offensive.
Orthodox Muslims consider the peacock to be a demon figure and refer to Yazidis as devil-worshippers.
The jihadists murdered Yazidis in their thousands in 2014 and abducted thousands of women and teenage girls to make them sex slaves.
According to the religious affairs ministry in Iraqi Kurdistan, some 360,000 Yazidis were displaced by the fighting with 100,000 leaving the country.
Of 6,417 Yazidis reported kidnapped by the jihadists, just 3,207 have been rescued or managed to escape their captors. Half of those still missing are women and girls, the ministry said.
It also said that to date 47 mass graves of Yazidis massacred by IS have been discovered.
UN investigators have said the IS assault on the Yazidis was a premeditated effort to exterminate an entire community -- crimes that amount to genocide.
Friday's ceremony at the temple in the Bashiqa area some 15 kilometres (nine miles) east of Iraq's second city Mosul was an act of both revival and defiance.
"This ceremony shows that life has returned despite the terrorism of IS and its bloody attacks," said 21-year-old Jihan Sinan.
Around her, families posed for pictures as traditional dishes and sweets were handed out and celebrants danced to the tunes of traditional flutes.
Full report at:
http://www.hindustantimes.com/world-news/iraqi-yazidis-celebrate-restoration-of-temple-destroyed-by-islamic-state/story-TMzpf7WB9eH632PLfWOo2M.html
--------
ISIL Inflicts Heavy Defeat on Rival Terrorists in Southern Syria
Jan 12, 2018
Following up on heavy clashes against the Free Syrian Army-linked fighters in the Southwestern countryside of Dara'a that started during late Tuesday afternoon, ISIL terrorists renewed their assault on Thursday, again with the support of heavy weapons such as artillery and tanks.
According to the media wing of the ISIL-affiliated faction, its forces have managed to burst through rebel lines in the Northern part of the Yarmouk basin and capture the towns of Abdali, Harat al-Majahid, Al-Jabiliyah and Al-Bakkar.
Whether or not the ISIL terrorists are continuing to develop their attack in order to seize more settlements is unknown at this point, but what is clear is that its most recent assault against rival groups in Southwestern Dara'a represents more than just a series of raids.
Militant-affiliated websites reported on Monday that Radad Abu Nabout, the field commander of a group affiliated to the Free Syrian Army (FSA), was assassinated by unknown attackers in Dara'a city.
The websites reported that Radad Abu Naout nom de guerre Abu Ahmad was attacked by unknown assailants in Tariq al-Sad neighborhood in Dara'a city.
Abu Nabout was the commander of the March 18th Division affiliated to the FSA.
Full report at:
http://en.farsnews.com/newstext.aspx?nn=13961022000402
--------
Syria commanders accuse Turkey of masterminding militant attack
Jan 12, 2018
Syrian field commanders say Turkey has helped Takfiri militants conduct an attack in the northwest this week to counter the government forces' advances.
Syria's official news agency SANA said Friday, "Field commanders confirmed to the SANA correspondent that terrorists from the Turkistan Islamic Party with the direct support, direction and planning of the Turkish regime, brought most of their forces... to start their attack."
According to the report, the militants used Turkish vehicles in the attack.
In late October, the Syrian army, supported by allied forces and Russian air power, began an offensive in Hama Province. Earlier this month, they had advanced into Idlib, close to a militant-held military airport.
Syrian forces are going for an airbase in southeastern Idlib Province. They advanced to within three kilometers of the Abu al-Duhur military airport on Wednesday. The forces have taken scores of villages in recent weeks near the provincial border between Idlib and Hama.
The terrorist groups reportedly launched a counter attack in Idlib on Wednesday after the advance the army and its allies made toward the airbase.
The so-called Syrian Observatory for Human Rights, a pro-opposition monitoring group, and a military media unit run by the Lebanese ally Hezbollah resistance movement said on Friday the army had taken back several villages captured by the militants in the counter attack.
Full report at:
http://www.presstv.com/Detail/2018/01/12/548718/Syria-Turkey-militant-attack-Idlib
--------
Landmine explosion leaves 3 soldiers dead in Saudi Arabia's Najran
Jan 12, 2018
At least three Saudi soldiers have been killed when a powerful landmine explosion ripped through their military vehicle in the kingdom's southwestern border region of Najran.
An informed source, requesting anonymity, told Yemen's Arabic-language al-Masirah television network that the incident occurred on Friday afternoon, identifying the deceased as Mohammed al-Fatih, Hazam al-Farwan and Hayef al-Qahtani.
Later in the day, Saudi fighter jets carried out five airstrikes against Samah military base in Yemen's southwestern city of Dhamar, located some 100 kilometers (62 miles) south of the Yemeni capital, Sana'a.
There were no immediate reports about possible casualties and the extent of damage caused.
Separately, Saudi warplanes launched two aerial attacks against Sahar district in Yemen's mountainous northwestern province of Sa'ada. No casualties or injuries were reported.
At least 13,600 people have been killed since the onset of Saudi Arabia's military campaign against Yemen in 2015. Much of the Arabian Peninsula country's infrastructure, including hospitals, schools and factories, has been reduced to rubble due to the war.
The Saudi-led war has also triggered deadly epidemics of infectious diseases, especially diphtheria and cholera, across Yemen.
On November 26, the United Nations children's agency (UNICEF) said that more than 11 million children in Yemen were in acute need of aid, stressing that it was estimated that every 10 minutes a child died of a preventable disease there.
Additionally, the UN has described the current level of hunger in Yemen as "unprecedented," emphasizing that 17 million people are now food insecure in the country.
Full report at:
http://www.presstv.com/Detail/2018/01/12/548685/Landmine-explosion-leaves-3-soldiers-dead-in-Saudi-Arabias-Najran
--------
Hariri lauds Hezbollah, wants 'best of relations' with Iran
Jan 12, 2018
Lebanon's Prime Minister Saad Hariri has called for his county to be kept out of regional conflicts, lauding the Hezbollah resistance movement for doing its part to de-escalate the tensions.
In an interview with The Wall Street Journal on Wednesday, Hariri said he was open to Hezbollah continuing to participate in the government following the elections slated for May.
"Hezbollah has been a member of this government. This is an inclusive government that has all the big political parties, and that brings political stability to the country," Hariri said during Wednesday interview, defying pressure from Saudi Arabia to confront the resistance movement.
"My main goal is to preserve this political stability for the unity of the country," said Hariri, who reached a power-sharing deal with Hezbollah in 2016.
Hariri abruptly declared his resignation from Saudi Arabia and from Saudi-owned television on November 4, accusing Iran and Hezbollah of interfering in the region and signaling that that was his reason to quit.
But Lebanese President Michel Aoun, who suspected that Hariri had been forced to step down, refused to accept his resignation and demanded his return from Saudi Arabia first. Lebanese intelligence sources soon concluded that Hariri was under restrictions in Riyadh.
Sayyed Hassan Nasrallah, the Hezbollah secretary general, said back then that Saudi authorities had clearly and openly declared a war on Lebanon by holding Prime Minister Hariri hostage and forcing him to quit.
That drama ended when Hariri returned to Lebanon on November 22 — partially after a diplomatic intervention by France — and rescinded his resignation on December 5.
In the Wall Street Journal interview, Hariri declined to discuss the details of his stay in Saudi Arabia.
The Lebanese prime minister then outlined in his interview a vision under which Lebanon will finally focus on its own affairs and reject foreign interference.
"We cannot accept interference from anyone in Lebanese politics," Hariri said, adding "Our relationship with Iran—or with the [Persian] Gulf —has to be the best relationship, but one that serves the national interests of Lebanon."
Hariri further highlighted Hezbollah's willingness to comply with a policy of "disassociating" Lebanon from regional conflicts.
Hariri, however, admitted that Hezbollah's withdrawal from Syria will take time as the situation there is more complex.
Hezbollah has been helping the national Syrian army in the fight against terrorists in an effort to prevent the spillover of the crisis into Lebanon.
The Lebanese premier also cautioned Israel against any military action against Lebanon, saying any such war would be counterproductive.
"Every time, they say they [Israelis] want to launch a war with the purpose of weakening Hezbollah. And every single time they went to war with Lebanon, they actually strengthened Hezbollah—and weakened the state."
Hezbollah is Lebanon's de facto military power, and has been fighting off recurrent acts of Israeli aggression against the homeland. Riyadh, which reportedly maintains clandestine ties with Tel Aviv, however, has made no secret of its opposition to the group, and has been trying for more than a decade to weaken it.
Full report at:
http://www.presstv.com/Detail/2018/01/12/548676/Lebanon-prime-minister-Hariri-Hezbollah-Iran-regional-tensions
--------
Unauthorized foreign presence on Syria soil unacceptable: Deputy FM
Jan 12, 2018
Syria says the foreign forces who have made their way into the country and established bases there without the consent of Damascus are occupiers and should leave Syrian soil.
Syrian Deputy Foreign Minister Faisal al-Mekdad said it is "unacceptable" for any foreign troops to have a presence on the Syrian soil without the government's approval, adding that Damascus will deal with this issue as a case of "occupation."
Mekdad was referring to the presence of American and Turkish forces in Syria, whose respective countries have refused to pull them out in defiance of Damascus' warnings.
Turkey and the US have also their own troops on the ground in Syria.
The comments come days after President Recep Tayyip Erdogan says Turkey is to keep up its so-called Euphrates Shield military operation in northern Syria, which serves to keep US-backed Kurdish militants away from its borders.
Mekdad called the Turkish presence "invasive," and urged Ankara to stop intervening in Damascus' affairs.
The United States led scores of its allies in an invasion of Syria in 2014, claiming it sought to root out the Takfiri terror group of Daesh. The mission had no Syrian or UN mandate.
In a unilateral mission, Washington has also deployed its own troops to Syria, where they support anti-Damascus militants.
Russia: US blocking aid flow
Also on Friday, Russia's Foreign Ministry said the Rukban refugee camp around al-Tanf, which houses an estimated 60,000 Syrian refugees, was "de-facto occupied by the US armed forces," with access to the district denied to the country's lawful authorities, Russia Today reported.
All limitations on the access of humanitarian convoys to the camp had to be lifted, the ministry emphasized.
It stressed "the need to respect the sovereignty, territorial integrity and independence of Syria in the implementation of humanitarian deliveries and the observance of international humanitarian law."
It further said, "The training of militants from illegal Syrian armed groups continues at the US strongholds in the area."
'UN envoy not serious'
Full report at:
http://www.presstv.com/Detail/2018/01/12/548671/Syria-United-States-Turkey-United-Nations-Russia-Tanf-Rukban-de-Mistura-Sochi
--------
Africa
Boko Haram militants shoot dead 20 loggers in Nigeria: Sources
Jan 12, 2018
At least 20 loggers have been killed in northeast Nigeria after Boko Haram Takfiri terrorists opened fire on them in the militants' latest attack against civilians.
Residents and anti-Boko Haram militia said on Friday that gunmen on motorbikes opened fire on a group of loggers while they were collecting firewood at Kaje village, near the capital of Borno State, Maiduguri, on Monday.
"They (Boko Haram) killed 20 people in the attack. Fifteen others are missing and presumed kidnapped by the attackers," said civilian militia leader Ibrahim Liman.
Details of the attack have been slow to emerge because of limited communications infrastructure after years of fighting in the remote region.
Shuaibu Sidi, a resident of Kaje, confirmed Liman's account and said his brother was among the victims.
More than 20,000 people have been killed since Boko Haram started its deadly campaign in northeast Nigeria in 2009. The violence has claimed many lives in neighboring countries of Chad, Niger, and Cameroon as well.
Boko Haram has been largely pushed out of its main strongholds in northern Nigeria, according to the country's military and government. The group, however, is still active in its Sambisa Forest enclave in Borno and launches sporadic attacks on civilians and security forces from there.
The United Nations has warned that areas affected by Boko Haram face a humanitarian crisis.
Liman said they believe that the perpetrators of the Monday's attack are "the same gunmen" behind the murder of 25 loggers at Maiwa village, which is three kilometers (nearly two miles) from Kaje, back on December 30.
He noted that the assailants were believed to have come from the terrorist group's main enclave in the Sambisa Forest area.
Loggers have been increasingly targeted by Boko Haram, which accuses them of spying for the military and the civilian militia, which assists troops with security.
At least 31 loggers have gone missing since January 2 and are believed to have been kidnapped near the town of Gamboru, on the border with Cameroon.
http://www.presstv.com/Detail/2018/01/12/548694/Boko-Haram-loggers-Nigeria
--------
Haftar denies making insulting remarks against Saif al-Islam
12 January 2018
Libyan Armed Forces General Khalifa Haftar has denied statements published by media outlets a few days ago saying that he accused Saif al-Islam al-Qaddafi, slain ex-president Muammar Qaddafi's son and presidential nominee, of being backed by the Muslim Brotherhood.
The statement was posted on the Libyan Armed Forces official Facebook page by their spokesman, Colonel Ahmad al-Mesmari, on Thursday evening.
"Haftar did not offend Saif al-Islam al-Qaddafi in his last statements, not even close," al-Mesmari posted. "Haftar considers him a Libyan citizen with the same rights as everyone else." Al-Mesmari also accused the brotherhood of standing behind these fabrications in order to "achieve their satanic goals."
This came days after Jeune Afrique magazine published statements attributing to Haftar as saying that he called Saif al-Islam a "poor guy" who is being taken advantage of for his money and that "many gullible people still believe in him."
According to the magazine, Haftar also said that "Saif al-Islam's influence has become a thing of the past" while describing him as "politically poor with no basis to make him a good bet for the coming period." Al-Mesmari said that the journalist responsible for the piece will be prosecuted.
Denial under pressure
The statements attributed to Haftar caused uproar among Qaddafi regime supporters, and those supporting Saif al-Islam who is running for the upcoming Libyan presidential elections.
"Everyone was surprised by what Haftar said lately about Qaddafi's son who is supported by thousands to run for president," Ashraf Abdelfattah, a member of the Supreme Council of the Libyan Tribes said. "It was considered a step in the wrong direction by him, and left behind adverse reactions against Haftar."
Full report at:
https://english.alarabiya.net/en/News/middle-east/2018/01/12/Haftar-denies-making-insulting-remarks-on-Saif-al-Islam-al-Qaddafi.html
--------
81 migrants held in Libya face deportation
13 January 2018
BENGHAZI/ROME: Authorities in eastern Libya said they had arrested and would deport 81 migrants from Eritrea, Ethiopia and Somalia who had escaped from smugglers after failing to reach Europe.
The migrants were reported to authorities by an imam at a mosque on the coast to the south of the Libyan city of Benghazi, officials said on Thursday.
"They were arrested in the Zueitina area at a camp of illegal migrants," said Ahmed Al-Arifi, an official from the department for countering illegal migration in the eastern city of Benghazi. "They were arrested for deportation back to their countries."
Libya is the main departure point for migrants trying to reach Europe by sea, with nearly 120,000 crossing the central Mediterranean last year.
Almost all leave from western Libya, though departures dropped sharply in July last year when some armed factions began blocking crossings. Most of the migrants are from West African countries, though some East Africans enter Libya through Sudan.
Arifi said a total of 5,686 migrants had been deported from eastern Libya last year, up from 2,912 in 2016.
One of the Eritrean migrants, speaking at a detention center in Benghazi, said he had arrived in Libya in March last year from Sudan, after paying $4,000 for the journey.
He was taken across the Sahara desert to the western Libyan smuggling hub of Sabratha, and waited there with other migrants for about four months before being told the sea route had been closed.
Armed groups began preventing boat departures in Sabratha in July, and a major smuggling group was pushed out of the city in September.
The Eritrean said he had then crossed back through the town of Bani Walid to Ajdabiya in the east, close to Zueitina. Smugglers had demanded another $2,000 for the trip to Europe, but he was unable to pay and fled mistreatment at their hands.
"I wanted to go to Italy to work but unfortunately it wasn't possible," he said. "We suffer from severe poverty in our country and there's a dictatorial system.
"Now because we were treated badly by smugglers we are suffering from illnesses and skin diseases. We don't want to return to our country, we want to go to Europe."
Italian coast guard service meanwhile said that 264 migrants had been rescued from a boat off the coast of Calabria, where traffickers have increasingly been using smaller boats recently.
The vessel was sighted by a plane belonging to the EU border agency Frontex and the migrants were rescued off the southern city of Crotone, a spokesman said.
The spokesman said the boat probably came from Turkey. Several coast guard boats and a British ship working for Frontex took part in the rescue effort.
In December 2014 and January 2015, traffickers abandoned about six large vessels carrying hundreds of migrants off the Italian coast after putting the vessels on auto pilot.
The boats had started their journey in Turkey.
"It is rare to see large vessels in this zone, in general it is sailboats here," the spokesman said.
Full report at:
http://www.arabnews.com/node/1224676/middle-east
--------
Liberia: Morocco - a Beacon of Hope for Christianity in the Middle East
12 JANUARY 2018
By Richard Bone
Throughout history, Christianity has played a central role in the Middle East and North Africa. Distinct sites from both the ancient and modern times demonstrate Christianity's unique and vast place in the region. Tragically, Christianity's cultural and contemporary position in the region is persistently under attack.
According to the World Watchlist Report (2017) (https://www.opendoorsusa.org/wp-content/uploads/2016/02/2017-World-Watch-List-1.pdf?mc_cid=783eea7e8f&mc_eid=[UNIQID]) , the persecution of Christians is worst in Libya, Iraq, and Syria, and is worsening in Jordan, Egypt, Turkey, and Algeria. The attack on Christianity is most visible by examining the number of Christians who now call the region home. A century ago, Christians made up over 20 percent of the region's population, while today they comprise under two percent.
Continuously, extremist groups destroy renowned churches, and kill those who worship there. For example, in 2015 the first ever attack on a church in Yemen occurred when the Catholic cathedral in Aden was completely destroyed by militants in affiliation with Daesh (ISIL). This attack was followed by the killing of 16 Catholics assisting victims of the country's civil war at a Sisters of Charity Center in Aden. Until today, multiple attacks on Yemen's Christian community occur every year, and in 2017 it was ranked the ninth worst country for Christians in the world.
Yemen is not the only example of a country experiencing newfound violence upon Christians. In Libya, 21 Christians were beheaded in 2015,while the number of Christians continues to decline as they are targeted in attacks by multiple extremist groups operating within the country's borders. Iraq's Christian population has dwindled from over one million to around two hundred thousand in the past seventeen years.
Within the past two years, it is estimated that over eight hundred Christians have been killed because of their faith in the Middle East and North Africa, and this does not include the Christians amongst the thousands of civilians that have likely been killed in attacks that were not faith related, including the detonation of explosive devices in public areas, attacks using motor vehicles, and other terrorist attacks as have been seen in the region.
Furthermore, governments oftentimes suppress and persecute those who simply wish to practice their faith freely. Sacred texts are banned by governments, as is the long standing practice in Saudi Arabia, where bibles are confiscated upon entry to the country. Similar practices have been carried out in Libya, when former president Muammar al Gaddafi was in power, and it is still carried out by the various groups in control of different sections of the country.
Subsequently, such actions have been reported to have occurred by national or local authorities in nearly every country in the region, even if it is not state policy. Furthermore, Islamist movements ranging from the Muslim Brotherhood in Egypt, to the Islamic Salvation Front in Algeria, have expressed support of such actions. A unique exception among Islamic parties to the seemingly widespread persecution of Christians is Morocco's Party for Justice and Development (PJD), which supports a ban on foreign missionaries, but is vehemently opposed to any ban on Christianity. (https://www.hudson.org/research/12286-islamism-and-the-state-in-morocco?mc_cid=783eea7e8f&mc_eid=[UNIQID])
In short, the disturbing rise in violence against Christians in the region is dire. Iin 2007, not a single targeted attack on Christians was recorded. Starting in 2008, the number of assaults on Christians has increased annually, reaching over fifty violent assaults in 2015 (https://www.nytimes.com/2017/05/26/opinion/why-the-middle-easts-christians-are-under-attack.html?mc_cid=783eea7e8f&mc_eid=[UNIQID]) . Consequently, Christianity's presence nowcontinues to dwindle (https://www.express.co.uk/news/world/883141/christian-persecution-all-time-high-middle-east-copts-syria-iraq?mc_cid=783eea7e8f&mc_eid=[UNIQID]) in the Middle East, where the religion began millenia ago, and thrived until recently. Consequently, once vibrant Christian communities are now abandoned, and the vast majority of the region's citizens are not aware of both the historic and modern Christian communities in their respective countries, nor have they had a personal relationship with someone who practices another faith.
The Kingdom of Morocco, at the westernmost edge of the region, presents a unique opportunity to preserve and even restore the role of Christianity. Christianity has been practiced in Morocco for millennia, originating during the days of the Roman Empire in the fourth century (http://www.sjsu.edu/faculty/watkins/morocco.htm?mc_cid=783eea7e8f&mc_eid=[UNIQID]) . Today, the kingdom is home to a sizable Christian community that continues to grow, despite some repression including confiscation of bibles, accusations of cooperating with foreign missionaries (an illegal practice in the kingdom), and a lack of places to worship (https://www.state.gov/documents/organization/269150.pdf?mc_cid=783eea7e8f&mc_eid=[UNIQID]) , as many large cities are home to one church. In 2014, it was estimated that the Kingdom is home to more than 380,000 Christians.
The unique place that Christians, and in fact all religious minorities play in Morocco is underlined in the Marrakesh Declaration, a religious document supported by the King of Morocco, His Majesty, Mohammed IV, which states that all religious minorities must be able to freely practice their respective faith (https://www.washingtonpost.com/news/monkey-cage/wp/2017/03/01/middle-east-regimes-are-using-moderate-islam-to-stay-in-power/?utm_term=.d0e0c369d961&mc_cid=783eea7e8f&mc_eid=[UNIQID]) . In comparison, neighboring Algeria is home to around 100,000 Christians, and the conditions of religious minorities in the country continue to worsen. (https://www.ecoi.net/local_link/256856/381906_de.html?mc_cid=783eea7e8f&mc_eid=[UNIQID])
Along the Atlantic coast, in the city of Essaouira, there in a Franciscan church that has fallen into neglect and ruin, with a history dating back to the eighteenth century. In many ways, this church is emblematic of the Kingdom's distinct historical experience, built by the Portuguese, and utilized by the French, Arabs, and others. It is a special representation of the multiculturalism, respect, and diversity that is part of Morocco's identity and codified in its Constitution. Unfortunately, today this collapsed church in Essaouira is unable serve as the beacon of an exceptional past and present.
In a region of the world where christians continue to be targets of terrorist attacks, and governmental policies that oppress christians are becoming more common, opportunities should be seized to preserve Christian heritage sites in the Middle East and North Africa. This is especially true when preservation leads to advancing human development. In the case of this church, it will be dedicated to local civil associations, to provide them a work and meeting space for education and inclusive development planning of community projects. The King of Morocco, Mohammed VI, is a champion of cultural projects that are a "driving force" for dialogue and development. These projects require leadership at all levels.
The High Atlas Foundation seeks to restore the Franciscan church in Essaouira so that it may serve as a reminder of the central role that Christianity has, and continues to play, in Morocco and the region. However, we do not simply wish to restore the building. The city government will transfer the church to civil society to serve as a location for public workshops, family education, and a meeting point for interfaith relations and development stakeholders. Restoring the Franciscan church in Essaouira will not only preserve the Moroccan cultural past, but can serve as a catalyst in the Kingdom's strive to set an example of religious and social integration toward shared prosperity in a region where these very values are being fundamentally challenged.
Richard Bone supports communications for the High Atlas Foundation (http://highatlasfoundation.org/?mc_cid=783eea7e8f&mc_eid=[UNIQID]) from Washington, D.C., where he currently studies International Affairs at the George Washington University.
Full report at:
http://allafrica.com/stories/201801120546.html
--------
Pakistan
JUI-F chief objects to adoption of Fata bill
January 13, 2018
ISLAMABAD: The Jamiat Ulema-i-Islam-F (JUI-F) emir on Friday criticised adoption by the National Assembly of a bill extending jurisdiction of the Supreme Court and Peshawar High Court (PHC) to the Federally Administered Tribal Areas (Fata), and said the bill was not on the agenda of lower house of parliament.
"Our party was assured by the speaker of the National Assembly during the meeting of its advisory committee, held in the Parliament House before the start of the session, that the Fata bill was not on Friday's agenda of the lower house," said Maulana Fazlur Rehman at a press conference held at his residence.
He said that according to the original bill, the jurisdiction of the Islamabad High Court, and not that of PHC, was to be extended to Fata. The extension of PHC's jurisdiction to Fata would be unconstitutional because under Article 175 of the Constitution the powers of the IHC could be extended to the tribal areas.
Criticises extension of PHC's jurisdiction to tribal areas
The JUI-F chief said that many people in Fata supported their region's merger with Khyber Pakhtunkhwa, but there were many others who thought that it should be accorded the status of a separate province. That was why a referendum should be held to ascertain the prevalent opinion in the tribal areas.
Maulana Fazl was of the view that extending the jurisdiction of the two courts to Fata would prove to be a futile exercise until a police force was set up and the local administration and courts were fully empowered to handle the affairs of the region.
He said that peace had yet to be restored in some areas of Fata and that many of its people were living in faraway areas. Only after their complete rehabilitation should a decision about their future be taken, with their consent.
The JUI-F emir said his party did not oppose reforms in Fata but had objected to some of the recommendations presented by the high-level committee on Fata.
https://www.dawn.com/news/1382643/jui-f-chief-objects-to-adoption-of-fata-bill
--------
16 suspects rounded up in IBOs in parts of Balochistan: ISPR
Jan 13, 2018
RAWALPINDI: At least 16 suspects were arrested during intelligence-based operations (IBOs) in parts of Balochistan, military's media wing Inter-Services Public Relations said Friday.
According to a statement released by the ISPR, weapons and ammunition, including grenades, improvised explosive devices, rockets and explosives were also recovered during the operations in Sambaza, Sibi and Hazar Ganji areas of Balochistan.
The IBOs were conducted by the Frontier Corps Balochistan under Operation Radd-ul-Fasaad. Similar operations have been carried out in the province lately.
A few days back, three suspects were apprehended in an IBO by FC Balochistan in Dhadar and Mastung areas of the province.
Pakistan had launched Operation Radd-ul-Fasaad across the country in February 2017, which was based on broad-spectrum security and counter-terrorism operations in Punjab, and continuation of ongoing operations across the country.
Full report at:
https://www.pakistantoday.com.pk/2018/01/12/16-suspects-rounded-up-in-ibos-in-parts-of-balochistan-ispr/
--------
DPC, JuD to resist US supply line to Afghanistan
Jan 13, 2018
FAISALABAD: Leaders of Religio-political parties and clerics of Difa-e-Ummat Conference on Friday vowed to launch a campaign against the US's supply line in Pakistan that it uses to support its presence in Afghanistan.
The conference arranged by Difa-e-Pakistan Council (DPC) was held at Dhobi Ghat Ground and was attended by a number of people.
The conference was held amid tight security by the JuD 'volunteers' who also looked after the other administrative affairs.
The speakers of the conference said they will start a massive campaign for the liberation of Jerusalem and Kashmir while endorsing Jamaatud Dawa (JuD) chief and alleged mastermind of Mumbai attack Hafiz Saeed's stance on Kashmir.
The speakers called for a UN inspection team to visit Indian-held Kashmir to observe the atrocities by the Indian forces in the vale.
Addressing the gathering, DPC Chairman Moulana Samiul Haq urged the participants to regain their freedom and identity by unity.
He also announced to unite all religio-political parties on one platform for the country's defence.
JuD chief Hafiz Saeed also addressed the participants. He said, "Pakistan is a blessing of Allah; however today it faces a critical period. Every Pakistani has to come out and put in efforts for its defence."
He also urged workers to be ready for spreading his so-called message of the country's protection, in case of his arrest or detention.
Calling Indian PM Narendra Modi a 'real terrorist', Saeed claimed he was labeled as a terrorist by the Modi-led government only because he talked about freedom of Kashmir.
He also condemned the US declaration about Jerusalem as Israel's capital and said that the US would not be able to move its embassy to Jerusalem.
Awami Muslim League (AML) President Sheikh Rasheed Ahmad also spoke on the occasion and endorsed Kashmir's right to self-determination.
JuD Central Leader Hafiz Abdul Rehman Makki claimed Hafiz Saeed was detained under Indian pressure. He further it was our duty to defend Khatm-e-Nabuwwat belief, and Kashmir and Palestine.
Full report at:
https://www.pakistantoday.com.pk/2018/01/12/dpc-jud-to-resist-us-supply-line-to-afghanistan/
--------
Pakistan wants recognition, not aid, in terror fight, Gen Bajwa tells CENTCOM chief
BY MIAN ABRAR
Jan 13, 2018
ISLAMABAD: Pakistan Army chief General Qamar Javed Bajwa has told the top American general that Pakistan will not seek the resumption of US military aid but it expects honourable recognition of its contributions, sacrifices and unwavering support in the fight against terrorism, the Inter-Services Public Relations (ISPR) said on Friday.
According to the ISPR press release tweeted by Maj Gen Asif Ghafoor, Gen Bajwa received a telephone call from Commander US Central Command (CENTCOM) General Joseph L. Votel and another from a US senator to discuss Pak-US security cooperation in the wake of US President Donald Trump's intense criticism and withholding of aid from Pakistan since the turn of the year.
According to the ISPR, Gen Votel told Gen Bajwa that the US values Pakistan's role in the war against terrorism and that the recent turbulence in the two countries' relationship remains "a temporary phase". However, Gen Bajwa told Gen Votel that the entire Pakistani nation felt betrayed over the US government's recent statements, which he said ignored decades of cooperation on Pakistan's part.
Gen Votel reportedly conveyed to Gen Bajwa that the US is not contemplating any unilateral action inside Pakistan but instead seeks its cooperation in tackling Afghan nationals who, in America's view, use Pakistan's soil against Afghanistan. That, the American general feels, has been undermining Pakistan's contributions in the war, the ISPR release said.
The COAS reportedly told Gen Votel that Pakistan shall continue with its "sincere counterterrorism efforts" even without the financial support of the US, as doing so is in line with Pakistan's national interests. Gen Bajwa also said Pakistan was fully aware of American concerns on the activities of Afghan nationals in Pakistan, and that it has already taken action through Operation Raddul Fasaad.
It was also understood in the conversations that Pakistan will keep supporting all initiatives for peace in Afghanistan despite the American tendency of scapegoating Pakistan, as peace in Afghanistan is the only way to move towards enduring peace and stability in the region, the ISPR said.
Gen Votel, meanwhile, acknowledged the effectiveness of some of the recent actions taken by Pakistan to ensure that Pakistan's hospitality to Afghan refugees is not misused in any way.
He also agreed that both countries stand to gain from cooperative engagement.
Full report at:
https://www.pakistantoday.com.pk/2018/01/12/pakistan-wants-recognition-not-aid-in-terror-fight-gen-bajwa-tells-centcom-chief/
--------
No US plans for unilateral action, Pakistan told
Baqir Sajjad Syed
January 13, 2018
ISLAMABAD: The Uni­ted States has assured Pakistan that no unilateral action on its territory is being planned despite the suspension of military aid and a flurry of hostile statements.
The assurance was extended to Army Chief Gen Qamar Bajwa during his telephonic conversation with Centcom Commander Gen Joseph Votel last week.
Military's public affairs division Inter-Services Public Relations (ISPR) on Friday released the details of Gen Bajwa's recent contacts with the US leaders. The army chief, it is said, was contacted by Gen Votel and an unnamed senator to defuse tensions after Pre­sident Donald Trump's New Year Day tweet accusing Pakistan of lying and being deceitful towards the US.
The calls, according to the ISPR, were for discussing "Pak-US security cooperation post President Trump tweet".
Foreign Office spokesman Dr Muhammad Faisal had a day earlier informed journalists at his weekly media briefing that Pakistan and the US were communicating "with each other on various issues of mutual interest at different levels".
The FO spokesman's statement had spurred speculation that the military was in secret talks with the US. The ISPR statement on the conversations that Gen Bajwa had with Gen Votel and the US senator was, therefore, aimed at quelling the rumours.
The three key messages conveyed by the Centcom chief were that the problems in ties were temporary; there would be no unilateral action against Pakistan, and that the US did not want a disruption in ties rather it wanted cooperation from Islamabad on areas of its concern.
Possibility of a unilateral action by the US was key concern in Islamabad, especially after a Pentagon report on Afghanistan last month mentioned "unilateral steps in areas of divergence".
The statement importantly contained an admission by Gen Votel that Pakistan had already taken action against some of the groups that were of concern to the US and it was satisfied with that action. Gen Votel "acknowledged the effectiveness of some of the recent actions taken by Pakistan to ensure that Pakistan's hospitality to Afghan refugees is not misused in anyway", it noted.
According to Reuters, the US Centcom did not comment on the content of the conversation between Gen Votel and Gen Bajwa. But it said the US military was in "continuous communication" with Pakistan's military, to include recurring conversations between the two.
"We value mutual understanding of interests and concerns that we need to consider and might lead to a positive path forward," US Central Command spokesman Air Force Colonel John Thomas said.
The ISPR said Gen Votel had told the army chief that the "US values Pakistan's role towards war on terror and expected that ongoing turbulence remains a temporary phase. He also conveyed COAS that US is not contemplating any unilateral action inside Pakistan but is seeking cooperation to tackle Afghan nationals who, in US view, use Pakistan's soil against Afghanistan".
Gen Votel said the view that Pakistan was not being helpful was hurting its (Pakistan's) view in Washington.
The broader contours of Gen Bajwa's response shared with the US, as per the ISPR, included a commitment to continuing its operations against terrorism and an acknowledgment of the US concerns about the presence of Afghan militants.
"Pakistan is fully aware of US concerns on activities of Afghan nationals in Pakistan and we are already undertaking multiple actions through Operation Raddul Fasaad to deny any residual capacity to terrorists of all hue and colour for which return of Afghan refugees is an essential prerequisite," Gen Bajwa was quoted as having told Gen Votel.
He told the American general that that the "entire Pakistani nation felt betrayed" over the US statements, but insisted Pakistan would continue to support peace efforts in the region despite being made a "scapegoat".
Pakistan would not seek to unfreeze the funding, but did "expect honourable recognition of our contributions, sacrifices and unwavering resolve in fight against terrorism", he said, adding that Pakistan would continue the counterterrorism operations without US's financial support.
Gen Bajwa also communicated Pakistan's expectations from the US, which included making Afghanistan agree to border control management and recognition of Pakistan's sacrifices in the fight against terrorism.
"Pakistan is also strengthening border controls unilaterally but if Afghanistan genuinely feels affected from Pakistan, bilateral border management must be Kabul's top priority as well," Gen Bajwa said.
Full report at:
https://www.dawn.com/news/1382632/no-us-plans-for-unilateral-action-pakistan-told
--------
Europe
Hassan Bal admits funding 'Islamic State' at Irish court
12 January 2018
A man living in the Republic of Ireland has pleaded guilty to providing funds for the so-called Islamic State group.
Hassan Bal was prosecuted over allegations that he sent 400 euros (£355) to a man in Bosnia, knowing the money was to be used by IS.
The 26-year-old, who formerly lived at O'Connell Street in Waterford, holds both an Irish and a British passport.
It is understood Bal was born in London but moved to Ireland more than 10 years ago where he lived mainly in Waterford.
He was arrested last April when gardaí (Irish police) raided an apartment in O'Connell Street in the city.
Bal has been in custody since May over allegations that he transferred the 400 euros in October 2015 using a postal service in Waterford.
Irish broadcaster RTÉ has reported that the apprentice electrician was in receipt of social welfare in the Republic of Ireland.
On Friday, Bal appeared before Waterford Circuit Court and pleaded guilty to two offences.
The charges related to providing funds for the benefit of a terrorist group and attempting to collect or receive funds for a terrorist group.
He was remanded in custody and a date for sentencing is to be fixed in April.
http://www.bbc.com/news/world-europe-42665704
--------
IS-linked jihadists claim attacks on French, US troops in Africa
12th January 2018
A jihadist group linked to Islamic State has claimed responsibility for attacks on US and French troops in west Africa, in a statement published Friday by Mauritania's ANI news agency.
The group, led by Adnan Abu Walid Sahraoui, said it was behind "an attack against an American commando unit in Niger in October."
On October 4, four US and four Niger troops were killed in an ambush at Tongo Tongo, a village close to the Mali border.
That attack had been blamed on the jihadists but it is only now that the group claimed responsibility.
The Islamists also claimed responsibility for an attack in Mali's restive northeast on Thursday in which three French troops were injured, one seriously, in a suicide bomb attack, said the ANI news agency, which closely tracks jihadist groups operating in the Sahel region south of the Sahara.
Islamic extremists linked to Al-Qaeda took control of the desert north of Mali in early 2012, but were largely driven out in the French-led military operation launched in January 2013, but large tracts of the country remain lawless.
According to an AFP count, 18 French soldiers have been killed in Mali since the launch of Operation Serval, which has since been replaced by Operation Barkhane, a broader offensive deployed in five countries -- Mali, Mauritania, Niger, Chad and Burkina Faso.
These countries form the so-called G5 Sahel, a French-supported group that last year launched a joint military force to combat jihadism.
The date of the attack in Mali coincided with the fifth anniversary of the start of the French operation there.
Full report at:
https://www.expatica.com/fr/news/country-news/Mauritania-US-France-army-Niger-Mali-Islamist-unrest_1640600.html
--------
Three French prison guards hurt in attack by al Qaeda inmate
January 12, 2018
LILLE: Three guards at a jail in northern France have been injured in a blade attack by a German al Qaeda militant who plotted the deadly suicide bombing of a Tunisian synagogue, sources said Thursday.
Islamic convert Christian Ganczarski, serving an 18-year sentence over the 2002 blast in Djerba that killed 21 people, launched himself at prison officers after hearing he may face extradition to the US in connection with 9/11 investigations, according to union sources.
Prison authorities did not confirm or deny the identity of the assailant, but said they were investigating an assault with a razor blade and chisel as a terrorist plot to kill officials.
Regional director of prison services Alain Jego confirmed to AFP that "an inmate, who is finishing a long sentence and who risks being extradited to the United States, assaulted three agents with a blade" at the jail in Vendin-le-Vieil, near the northern town of Lens.
Four officers tried to control the prisoner and three were slightly injured, Jego added.
Ganczarski, who visited Afghan and Pakistani militant camps and met Osama bin Laden, was found guilty in 2009 of helping to plan the Tunisia attack, which was claimed by al Qaeda .
In the suicide bombing a fuel tanker rigged with explosives was detonated in front of the Ghriba synagogue on the island of Djerba, killing 14 German tourists, five Tunisians and two French nationals.
Ganczarski put his expertise in radio and Internet communications at the service of al Qaeda and helped recruit members in Europe, according to investigators.
He was charged along with 9/11 mastermind Khalid Sheikh Mohammed, who is said to have been be al Qaeda's "military commander" and responsible for all foreign operations.
Full report at:
https://nation.com.pk/12-Jan-2018/three-french-prison-guards-hurt-in-attack-by-al-qaeda-inmate
--------
French jail guards protest over attack by convict facing 9/11 extradition
JANUARY 12, 2018
PARIS (Reuters) - Guards at several French prisons protested on Friday after a scissors-attack on several colleagues by an Islamist militant facing extradition to the United States over the 2001 attacks once he completes a jail term for al Qaeda killings in Tunisia.
The guards demanded the resignation of the prison chief at Vendin-le-Vieil in northern France, where Christian Ganczarski hurt three guards with a pair of scissors late on Thursday. The guards also complained about what they see as insufficient staff and resources to handle dangerous inmates.
Ganczarski, a convert to Islam who visited the late al Qaeda leader Osama bin Laden in Afghanistan, is nearing the end of a sentence handed down in 2009 over an attack in which militants killed 21 people at a synagogue on the Tunisian resort island of Djerba.
A senior prison service official said a significant number of prisons had been affected by the walkouts, which lasted 15-20 minutes.
"There is hate, they're fed up, they're bitter. Our colleagues go to work feeling sick with worry (about being attacked)," said Jean-Francois Forget, a member of the Ufap-Unsa prison union.
Prison guard sources say Ganczarski was informed a few days ago of plans to extradite him to the United States, where he is wanted over the airliner attacks that killed 3,000 people on Sept. 11, 2001 -- attacks that prompted the U.S. invasion of Afghanistan and the killing of bin Laden by U.S. special forces.
The Vendin-le-Vieil prison, which is about 200 km (125 miles) north of Paris, is also where France plans to temporarily rehouse the main surviving suspect of an Islamist group that killed 130 people in Paris in November 2015 - Salah Abdeslam.
France is part of a U.S.-led coalition whose warplanes are bombing the Syrian and Iraqi bases of Islamic State, the militant group which has risen to dominance in al Qaeda's place since the killing of bin Laden in 2011.
Footage aired at his 2009 trial in France showed Ganczarski in 2000 alongside bin Laden and Mohamed Atta, one of the leaders of the 9/11 attacks on New York.
Full report at:
https://www.reuters.com/article/us-france-security/french-jail-guards-protest-over-attack-by-convict-facing-9-11-extradition-idUSKBN1F11MM
--------
Britain First fan who drove van at London restaurant owner walks free
Haroon Siddique
12 Jan 2018
A Britain First supporter who drove at a curry restaurant owner after saying "I'm going to kill a Muslim" is to walk free after serving his prison sentence while on remand.
The Old Bailey heard that Marek Zakrocki, 48, also gave a Nazi salute and shouted "white power" before driving his van at Kamal Ahmed outside Spicy Night restaurant in Harrow, north-west London, on 23 June last year – the first anniversary of the Brexit vote.
He told a police officer while in his van: "I'm going to kill a Muslim. I'm doing it for Britain. This is how I'm going to help the country. You people cannot do anything."
The Polish-born window-fitter mounted the pavement twice, trying to pin Ahmed against the front of the restaurant window – which smashed – with his vehicle, the court heard.
On Friday, Zakrocki was sentenced to 33 weeks in jail by Judge Anthony Leonard QC after pleading guilty last month to dangerous driving and beating his wife. On Friday, he also admitted drink-driving. He will be released due to time spent on remand.
He was originally also accused of attempted murder and three racially aggravated offences but those charges were not pursued by the Crown Prosecution Service. Further charges of attempting to cause grievous bodily harm and having a knife in a public place were ordered to lie on file.
When armed officers arrested Zakrocki, they found a Nazi coin in his pocket and a number of flyers for the far-right group Britain First and newspapers at his home in Harrow.
The court heard he had been drinking heavily that day and had grabbed his wife's arm and threatened to kill people and then himself. Before driving at Ahmed he had pushed an unknown Asian man and shouted "white power, white power".
Denis Barry, prosecuting, said: "It's plain that his conduct is very likely to have been motivated by his views about our diverse society."
Barry said Zakrocki had been fixated by Muslims and had made donations to Britain First in the past. The far-right group gained international notoriety when it was retweeted by Donald Trump. Paul Golding, 35, and Jayda Fransen, 31, its leaders. have been charged by police in Northern Ireland in connection with alleged hate speeches they made in Belfast. Both deny the charges.
Zakrocki was sentenced to 32 weeks' imprisonment for dangerous driving, one week for battery against his wife and six weeks for drink driving, with the latter term to run concurrently. He was also disqualified from driving for three years.
Leonard told Zakrocki, who appeared via video link from Wormwood Scrubs prison that he had concluded that he was trying to cause physical harm when he mounted the pavement in his van but that his behaviour was driven largely by his excessive alcohol consumption.
The judge said: "These events are the result of you having drunk up to two bottles of wine, which you knew would affect you seriously because of your chronic alcoholism."
He revealed that Zakrocki had a previous conviction for assaulting a police officer, also while drunk, in 2011.
Leonard said the offences were committed at a time of "heightened tensions" due to the van attack on Muslims outside Finsbury Park mosque in north London. The judge said he had taken into account Britain First literature found at Zakrocki's home but that he was not a member of any far-right organisation.
DC Georgina Acuna, the case officer, said: "I was expecting a slightly longer custodial sentence."
An attempt by Kazrocki's wife to prevent reporting of the proceedings was rejected as groundless by the judge.
Full report at:
https://www.theguardian.com/uk-news/2018/jan/12/britain-first-fan-who-drove-van-at-london-restaurant-owner-walks-free
--------
North America
US ambassador to The Hague apologizes for making Muslim remarks after denial
12 Jan 2018
The new US ambassador to The Hague has apologised for saying Muslim migrants had created "no-go zones" and "burned" politicians in the Netherlands.
In extracts from an interview with De Telegraaf newspaper to be published in full on Saturday, Pete Hoekstra said that with hindsight, "I'm shocked I said it. It was a misstatement. It was simply wrong."
Hoekstra, a Dutch-born former Republican congressman who was Donald Trump's pick to represent the US, added: "I got countries mixed up. I got it wrong, and I don't know how it could have happened."
During a panel discussion in 2015, Hoekstra said "the Islamic movement" had caused "chaos in the Netherlands – there are cars being burned. There are politicians that are being burned and, yes, there are no-go zones in the Netherlands".
The ambassador caused upset on his first day on the job this week after presenting his credentials to King Willem-Alexander, clashing with reporters and refusing to answer repeated requests for clarification about the statements.
One journalist asked if the ambassador could name a politician who had been set on fire in the Netherlands in recent years, while another observed: "This is the Netherlands, you have to answer questions."
Last month Hoekstra denied making the remarks altogether, telling a Dutch TV interviewer he was making "an incorrect statement … that is fake news." After he was played a recording of his remarks, he then denied using the term fake news.
A state department official said on Thursday the department did not agree with the 2015 remarks, adding that Hoekstra will visit Dutch Muslim communities over the weekend.
"The ambassador made mistakes in 2015, made comments that should not have been made. He recognises that," under secretary of state Steve Goldstein told a Washington briefing.
"We have made clear to the ambassador that he must move to get this behind him. And he definitely understands that. He feels great remorse."
Goldstein said Hoekstra's comments were "not the position of the state department, and you will never hear those words from this podium or in any form", he said.
Separately, Dutch prime minister Mark Rutte said that he disagreed with Hoekstra, but stressed he wanted to build "viable" ties with the US administration.
"He seems to be an intelligent man, and he has had instructions from Washington to repair the misunderstanding," he added.
https://www.theguardian.com/world/2018/jan/12/us-ambassador-to-the-hague-apologizes-for-making-muslim-remarks-after-denial
--------
Trump's Islamophobia is having an unexpected result
JAN 12, 2018
President Trump's effort to bar many Muslims from entering the United States may have actually caused public opinion to shift towards Muslims in general — just not in the direction the president likely intended.
Many Americans who once supported or remained neutral on Trump's travel ban have altered their stance, according to a new report in Political Behavior. The study, authored by political scientists Loren Collingwood, Nazita Lajevardi, and Kassra A.R. Oskooii, surveyed 423 people prior to the first iteration of the ban, which targeted all refugees and citizens from seven Muslim-majority nations.
When surveyed again a week later, many of the same respondents seemed to have changed their minds. Around 30 percent said they felt more negatively towards the policy than they had prior to its introduction, with many of those showing the biggest shift also describing their U.S. nationality as a major component of their identity.
That's a notable turn of events, one that indicates the Trump administration's hardline efforts to target immigrants — especially Muslim immigrants — could be backfiring.
The travel ban in all its iterations may come to be one of the policy decisions the president regrets most. Signed on January 27, the first version of the ban spurred mass protests, chaos at airports, and national outcry. Two additional versions of the ban followed, the last of which introduced a ban on North Korean citizens and some Venezuelan officials — two non-Muslim-majority countries. But the moniker "Muslim ban" has endured, in no small part because of Trump's own language. As a presidential candidate, Trump repeatedly called for "a total and complete shutdown of Muslims entering the United States until our country's representatives can figure out what the hell is going on."
Much of the U.S. public sees the travel ban as a Muslim ban, something that may have initially helped Trump. But if the Political Behavior study is any indicator, that connection isn't helping curry support for one of the president's most controversial policy efforts. The study comes after a year marked by rising violence against a number of groups, including Muslims, people of color, Jews, immigrants, and the LGBTQ community. Ibrahim Hooper, communications director for the Council on American-Islamic Relations, or CAIR, told ThinkProgress that's not surprising.
"We've seen twin tracks with the rise of Trump. We've seen an unprecedented rise of Islamophobia and hate incidents targeting not only Muslims but other minority groups," Hooper said. "Along with that we see another track, a tremendous rise in support for Muslims in the United States."
Those dueling narratives emerged after November 2016, Hooper said. Immediately after Trump's election, Muslim communities experienced backlash, with mosques and community centers reporting vandalism, threats, and violent incidents. But the rise in hate is far from the only story.
"Thousands of people volunteered with our organization and the donations poured in," Hooper said. These days, he noted, when a mosque is vandalized, "we see so much support. There's a big rise in support for American Muslims and our institutions. It comes from a recognition that the Trump administration and its supporters have ushered in the rise of hate and white supremacy. People are becoming engaged with the political process. They see what's happening."
Others noted the same phenomenon. Ani Zonneveld, the president and founder of Muslims For Progressive Values, told ThinkProgress that a major turning point came following the initial travel ban.
"As someone who witnessed a demonstration at the airport upon returning from international travel, and as a Muslim, I was moved to tears. It reminded me why I am an American," Zonneveld said. "The overwhelming push-back by non-Muslims, individual Americans who were untouched by the travel ban, and yet demonstrated in numbers, and with states and civil liberty organizations filing suites, reminded others: it is un-American and 'not cool' to discriminate. I believe for those on the sidelines, this unapologetic stance is what they needed to see from their fellow Americans."
Still, advocates are quick to note that displays of support are far from an indicator that Islamophobic trends are ebbing. Hate crimes targeting Muslims rose in major cities across the country in 2017 and many U.S. Muslims have reported feeling fear and anxiety as Trump's presidency has progressed. That atmosphere is one hanging over the community as 2018 progresses. But studies measuring reactions to policies targeting Muslims are still giving some hope that change could be on the horizon.
Full report at:
https://thinkprogress.org/trump-islamophobia-backfiring-ec875d1eae14/
--------
Trump waives Iran nuclear sanctions, but for last time: White House
Jan 12, 2018
US President Donald Trump has reluctantly agreed not to reimpose nuclear sanctions on Iran, but said it would be the last time he issues such a waiver, according to the White House.
Trump said Friday he wanted America's European allies to use the 120-day period before sanctions relief again comes up for renewal to agree to tougher measures and new conditions, otherwise, he noted, Washington would pull out of the deal.
"Today, I am waiving the application of certain nuclear sanctions, but only in order to secure our European allies' agreement to fix the terrible flaws of the Iran nuclear deal. This is a last chance," Trump said in a statement.
"I have outlined two possible paths forward: either fix the deal's disastrous flaws, or the United States will withdraw," he said.
The agreement, known as the Joint Comprehensive Plan of Action (JCPOA), was reached between Iran and six world powers -- the US, the UK, France, China, Russia and Germany -- in July, 2015.
The deal puts limitations on parts of Iran's peaceful nuclear program in exchange for removing all nuclear-related sanctions.
Trump said that he was willing to work "with Congress on bipartisan legislation regarding Iran. But any bill I sign must include four critical components."
He said, first, Iran must "allow immediate inspections at all sites requested by international inspectors."
However, since the JCPOA Implementation, the IAEA has been verifying and monitoring Iran's compliance with its nuclear-related commitments under the nuclear deal and has consistently verified the Islamic Republic's compliance.
Second, the president added that the bill "must ensure that Iran never even comes close to possessing a nuclear weapon," but Tehran itself has always asserted that it never sought to build a nuclear weapon.
Third, Trump noted that "unlike the nuclear deal, these provisions must have no expiration date."
His administartion has been upset at the deal's "sunset clauses" that will put an end to restrictions on Iran's nuclear program after a few years as well as the agreement's "total silence on Iran's missile programs."
Finally, he said, "the legislation must explicitly state in United States law—for the first time—that long-range missile and nuclear weapons programs are inseparable, and that Iran's development and testing of missiles should be subject to severe sanctions."
Washington claims Iran's missile program is in breach of United Nations Security Council Resolution 2231, which endorsed the nuclear deal.
Tehran, however, insists its missile tests do not breach any UN resolutions because they are solely for defense purposes and not designed to carry nuclear warheads.
Trump also said that he had "engaged with key European allies in seeking to secure a new supplemental agreement that would impose new multilateral sanctions if Iran develops or tests long-range missiles, thwarts inspections, or makes progress toward a nuclear weapon."
"And, like the bill I expect from Congress, these provisions of a supplemental agreement must never expire," he said, adding, "The United States will not again waive sanctions in order to stay in the Iran nuclear deal."
Trump had come under heavy pressure from European allies to issue the sanctions waiver.
On Thursday, the European Union's foreign policy chief, Federica Mogherini, together with foreign ministers of France, the UK and Germany delivered a strong defense of the deal in separate statements, which were issued following a meeting with Iranian Foreign Minister Mohammad Javad Zarif in Brussels.
While Trump approved a sanctions waiver, the US Treasury Department announced that it has imposed sanctions on 14 Iranian individuals and companies, including Iranian Judiciary Chief Ayatollah Sadeq Amoli Larijani.
Trump again supports violence in Iran
The Republican president used his statement to, once again, voice support for a recent wave of violence in Iran.
Nearly two weeks ago, some peaceful protests were held in certain Iranian cities against rising prices and the overall economic condition of the country. Limited numbers of violent individuals, some of them armed, later sought to turn the peaceful protests into street riots. However, the original protesters soon heeded calls by authorities to leave the streets so that their activities would not play into the hands of violent rioters.
Trump described the the violent individuals as "brave Iranian citizens," also "calling on all nations to lend similar support to" them.
Following the protests, the US called for an emergency session of the United Nations Security Council to address the issue.
During the January 5 session, US Ambassador to the UN Nikki Haley gave an exaggerated account of the riots and said Washington would remain steadfastly behind the Iranian "protesters."
Full report at:
http://www.presstv.com/Detail/2018/01/12/548719/US-Iran-Trump-sanctions-nuclear-agreement-
--------
US-Pakistan make first contact post-Trump's tweet
12 January 2018
Pakistan army said Friday Washington has assured Islamabad it will refrain from any unilateral action and is seeking cooperation in tackling militant groups in the country.
The assurance was given by Commander of U.S Central Command (CENTCOM) General Joseph L. Votel during a telephone conversation with Pakistani army chief Gen. Qamar Javed Bajwa, according to a statement by Pakistan army's media-wing, the Inter-services Public Relations (ISPR).
Separately, Bajwa received a phone call from a U.S. senator earlier this week to discuss Pakistan-U.S. security cooperation, the statement said without naming the senator.
The recent contacts are seen as an attempt to thaw relations between the two allies, after U.S. President Donald Trump accused Pakistan of providing sanctuaries to the Afghan Taliban, particularly the powerful Haqqani network.
The controversial tweet was followed by suspension of a $255 million military aid to Pakistan.
Pakistan denied the U.S allegations.
Votel, according to the statement, said that the U.S values Pakistan's role toward the war against terrorism.
"He also conveyed that the U.S is not contemplating any unilateral action inside Pakistan but is seeking cooperation to tackle Afghan nationals who, in U.S. view, use Pakistan's soil against Afghanistan," it said.
Pakistan's army chief reiterated that the recent U.S. move had downplayed the country's counter-terror efforts.
Full report at:
http://www.worldbulletin.net/america-canada/197770/us-pakistan-make-first-contact-post-trumps-tweet
--------
URL: https://www.newageislam.com/islamic-world-news/madrassas-masjids-radicalising-j-k/d/113925
New Age Islam, Islam Online, Islamic Website, African Muslim News, Arab World News, South Asia News, Indian Muslim News, World Muslim News, Women in Islam, Islamic Feminism, Arab Women, Women In Arab, Islamophobia in America, Muslim Women in West, Islam Women and Feminism