New Age Islam News Bureau
9Jan 2014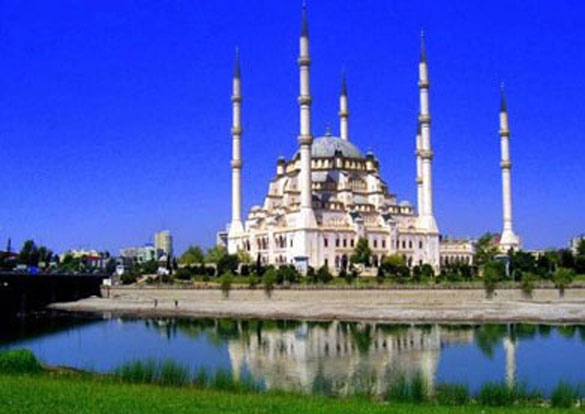 Islamic symbolism lying encoded in Turkey's largest mosque
--------------
India
• 'Lashkar' Imams Spent Night at My Home after Riots, Says UP Headmaster
• Pakistani paintings vandalised in India on display
• Jains in minority list: Govt says Muslim interest won't be hurt
• Three top separatist leaders quit Mirwaiz's Hurriyat
Europe
• Sex Scandal Just Latest Misadventure for Kyrgyz Muftis
• Sweden Democrat slammed for 'Muslim rape' jab
• British Islamist Leader Anjem Choudary 'Vetted Recruits for Syria Jihad'
• Human rights groups call on Iran's regime to stop violent repression of gays
• Russia blocks new UN Syria statement condemning Aleppo raids
• OSCE to voice problems faced by Muslims
• People want end to violence: British HC tells Khaleda
Australia
• Saudi-linked Aussie 'Sheikh' Junaid Thorne encourages jihadists
Pakistan
• Adviser to PM says: US fighting 'wrong war' against 'wrong people'
• Clash in South Waziristan kills three soldiers, 10 militants
• Countering terrorism: Al Qaeda core diminished, 'but threat remains'
• Pakistan and US to review progress on strategic dialogue: FO
• Musharraf's heart like that of '18-year-old': Prosecutor
• Police agree Taliban may have been involved in shrine killings
• Governor Sindh pins hope on targeted operation for 'crime-free' Karachi
• Missing persons: 209 cases of Baloch political workers so far
• Top Pakistan police chief killed
Arab World
• Bomb near Syrian school kills 18 women, kids in regime-held Hama
• Iraq: 12 dead in blast at army recruiting centre
• Iraq: 'Abuse by all sides' in Anbar province says HRW
• Lack of heavy penalties seen in rising cases of harassment: Jeddah
• Scholars approve exhumation of ancient graves in Jazan
• Maliki urges Qaeda fighters to give up
• Islamic Front rescues 300 hostages held by ISIL
South Asia
• BNP Chairperson Khaleda Zia hints severing Jamaat-e-Islami ties
• Afghan intelligence seize huge cache of explosives in Takhar
• Bangladesh editor jailed for seven years over Israel visit
• BNP chief Zia to lose state protocol for first time in 23 years
• Protests against minority repression sweep country
Southeast Asia
• More new pupils in Brunei's religious schools
• Behind Giving of Alms Lurks Fear of Abuse
• Home Ministry outlaws Comango, labels member groups 'un-Islamic'
• Religious Affairs Minister Suryadharma Doubts Claims of Intolerance in Indonesia
• Amnesty Calls for Strengthening of Aceh Truth and Reconciliation Bylaw
• Jais only enforcing the law, says Selangor Islamic council
North America
• CAIR Asks Congress to Help End Persecution of Rohingya Muslims in Burma
• US Muslim scholar: 'Allah' ban a tragic mistake
• Pakistan not an ally of US: Robert Gates
• US Senators hesitate sending arms to Iraq fearing wider sectarian conflict
• Local Muslim organizations of Nassau County form united front
Mideast
• Islamic symbolism lying encoded in Turkey's largest mosque
• Israel army targets Gaza militants after mortar attack
• Turkish President Gül stresses importance of checks & balances, democracy
• Israel demolishes Palestinian community in Jordan Valley
• Nuclear talks exposed US hatred of Muslims, Iran's supreme leader says
Africa
• A year after Mali action, France remains 'Africa's gendarme'
• Somalia's al-Shabab militants issue internet ban
Compiled by New Age Islam News Bureau
URL: https://newageislam.com/islamic-world-news/lashkar-imams-spent-night-home/d/35216
-----------
India
'Lashkar' Imams Spent Night at My Home after Riots, Says UP Headmaster
Jan 09 2014
Muzaffarnagar: On October 13, one month after the communal riots in Muzaffarnagar and Shyamli districts in western Uttar Pradesh began, two imams from Haryana's Mewat district — Hafeez Rashidi and Shahid — visited the home of Liaquat Ali in Kulehri village near Charthwal Kasbah in Muzaffarnagar.
The headmaster at a government-run junior high school in Jalalabad, Liaquat, 60, had apparently met Shahid in Deoband earlier that month, during the last week preceding Bakr-Id.
"On October 13, in the evening, I got a call from Shahid. He was introduced to me as an imam in Mewat, who's been doing a lot of good work there. When he called, he said he was coming to Muzaffarnagar and wished to stay the night," Liaquat told The Indian Express.
Shahid came over that night but he was not alone. "A man, who I learnt later was Hafeez, was with him. Shahid told me that he was also from Mewat and the two helped the community together. I had told them that there was tension in the area and it wasn't a good time to come. But they insisted on coming that very night," said Ali.
The two imams stayed the night at Liaquat's home. The next day, they said they had to go to the nearest train station. Liaquat, who was on his way to work, offered them a lift in his Maruti car. Liaquat said that while on the way to the Thanabhawan railway station, they stopped for a few minutes at the mosque of Liaquat's Maulvi friend Zamiruddin in Jalalabad village in Shamli district.
"Jalalabad is on the way to the railway station and I had called Zamiruddin for some work, and he happened to be in almost the same spot I was. So we met. While we met, I went to relieve myself in the nearby bathroom and the three of them were alone. When I came back...we said our goodbyes and then I dropped them to the railway station," Liaquat said.
Zamiruddin, 52, called Liaquat 15 days after this "chance meeting" and said "the two men were up to no good".
Weeks later in December, the two imams were arrested by the Special Cell of Delhi Police on suspicion of being Lashkar-e-Toiba operatives and plotting a terror attack on the capital. Police claim the two also told interrogators that they had visited the riot-hit areas of Muzaffarnagar and Shyamli to recruit young men and avenge the suffering of Muslim victims during the Muslim-Jat riots in the two districts.
On January 3, Special Cell officers are said to have turned up at the doorsteps of Liaquat and Zamiruddin. On January 6, the two men went on to record their statements against the imams under section 164 CrPC in the chamber of a magistrate at Delhi's Patiala House courts.
While Liaquat said that the first time he met anyone from Delhi Police was last week, Zamiruddin's brother Ibad ur Rahman claimed that their "association with the Delhi Police Special Cell was an old one".
"I have always been impressed with the Delhi Police Special Cell, especially the extent of their network. I have been associated with them for years. I saw them in action in Dubai," Ibadur claimed.
Delhi Police Special Commissioner (Special Cell) S N Shrivastava refused to comment when asked if there was any truth to Ibadur's claim.
Liaquat said that the two imams had never approached him with any plan to recruit young men for terror activities. "I think whatever Zamiruddin spoke to the two of them about, must have shaken him. I don't know what exactly happened," he said, adding that he had severed contact with the two imams after this.
Ibadur's account, however, differed at some points with Liaquat's version of events. His brother, Ibadur said, had never met the two imams. "A call had come from Liaquat's phone. But they never met. My brother met the two accused for the first time while in Delhi," he claimed.
Ibadur said the Special Cell had been enquiring about the matter in Muzaffarnagar and Shamli almost immediately after the arrest of the two imams in December.
"My brother and I initially got scared when we heard the police was looking for him. So we hid. Later, an UP police officer approached us and assured us that nothing untoward would happen. And my brother and I went to Delhi on January 2," he said.
Ibadur claimed he and his brother went to Delhi on their own by train, got in touch with the Special Cell and stayed in the capital for three days while Zamiruddin gave his statement.
Liaquat said he was approached by the police on January 3 and he went with the Delhi Police team to the local police station to give a statement before leaving for the capital with the Special Cell team. He said he was back home on January 6.
http://www.indianexpress.com/news/lashkar-imams-spent-night-at-my-home-after-riots-says-up-headmaster/1217155/
-----------
Pakistani paintings vandalised in India on display
Jan 9, 2014
Faisel, a doctor by training who runs Galley 6, organised an exhibition of the vandalised paintings titled "Resilient Ambassadors".
When artist and gallery owner Arjumand Faisel was invited to bring an exhibition of at least 50 paintings by Pakistani artists to India in September 2102, he was excited. "We selected 17 artists to be part of the exhibition and it was highly appreciated when we went to Mumbai in February 2013," he said.
In Mumbai, people spoke to him more about the November 26 terror attacks and killing of Indian soldiers than about the paintings, he recalls. But in August 2013, he was in for a rude shock when the exhibition was vandalised by Bajrang Dal members in Ahmedabad's "Amdavad Ni Gufa" gallery to protest the killing of Indian soldiers by Pakistani army men on the Line of Control. The miscreants tore down the paintings, which included some of his work. The story didn't end there.
After the incident, the International Creative Art Centre (ICAC) which had invited him, refused to respond to his calls and demands to have the paintings back. He had to keep writing and calling them for months, before the ICAC said it couldn't send the paintings back to Pakistan because no courier agency was willing to do so.
"Finally I asked them to send the paintings to Dubai and the whole thing proved very expensive for me," he said. He even contacted the India Pakistan Friendship Association president in Mumbai who refused to help saying it didn't want to enter into this volatile situation.
When he got the paintings back with great difficulty last December, he realised that three of them were missing. Two of them were by Akram Spaul and one by R M Naeem. He said that he kept contacting ICAC but had received no response on whether the paintings were damaged beyond repair or sold. He said if they were sold, he would have to pay the artists, but he till now he has no news on them.
'Resilient Ambassadors'
On Wednesday, Faisel, a doctor by training who runs Galley 6, organised an exhibition of the vandalised paintings titled "Resilient Ambassadors". A small computer played video footage of the Ahmedabad incident where young men on a rampage could be seen tearing off the paintings and breaking the frames. Some of the paintings on display have been torn, removed from their frames and Mr. Faisel had to cut alarge painting of his which was damaged badly. "I cut my three ft by two ft painting and repainted it. You can still see the scratch marks and other damage," he said pointing to a large brightly coloured frame. Some of the paintings have been ripped apart and some slashed.
Hajra Mansoor and her husband Mansoor Rahi were both shocked at the Ahmedabad incident because they had been having regular exchanges in the past. "When a painting is destroyed, for me it is like killing a child. No art lover would do this, so many people in India loved our work," Ms. Mansoor told The Hindu.
She had studied from the Lucknow Art College and was keen on showing her work in India. "We have so many friends there and we sell many paintings," she said.
Mansoor Rahi said artists had an important role to play worldwide and these exchange programmes kept friendship alive. "These people who damage art want to destroy that friendship. Even though our paintings were damaged, we are not discouraged. We will keep up the interaction and retaliate with love and persistence," he remarked.
Pakistani artists - Abid Hasan, Abrar Ahmed, Akram Spaul, Aqeel Solangi, Arjumand Faisel, Hajra Mansoor, Irfan Gul Dahri, Mussarrat Nahid Imam, Mughees Riaz, Mudassar Manzoor, Mutaib Shah, Omar Farid, Mansoor Rahi, RM Naeem, Sana Arjumand and Wahab Jaffer had taken part in the exhibition in India. It was to travel to New Delhi and later to Pune after Ahmedabad. There was also a proposal to bring Indian painters to Pakistan.
Out of 47 paintings, 30 survived with minor damage, 14 are badly damaged and three are missing. Painter Rubina Qazilbash said, "Art is a way of binding two countries and learning from each other. The minute you learn, you dissolve barriers." For India and Pakistan that's a lot of dissolving of barriers to be done.
http://www.thehindu.com/news/international/south-asia/pakistani-paintings-vandalised-in-india-on-display/article5554210.ece
------
Three top separatist leaders quit Mirwaiz's Hurriyat
M Saleem Pandit,TNN | Jan 9, 2014
SRINAGAR: Three top separatist leaders have quit Mirwaiz Umar Farooq-led faction of the Hurriyat Conference after the amalgam's leader wrote a letter to its PoK chapter accusing the trio of "indiscipline".
The three — Shabir Shah, Nayeem Khan and Azam Inquilabi — took exception to the secret letter and accused the Mirwaiz of turning the amalgam in a "personal fiefdom".
They met in Srinagar on Monday to discuss the issue along with some other Hurriyat leaders.
Khan described the letter as "outrageous, condemnable and shameful" and said it was aimed at undermining the credentials of the senior members of the "freedom movement".
The three later issued a statement, saying they have resolved "political naivety (of writing the letter) shall in no way be tolerated or taken easy as the genuine -freedom leaders have always sacrificed their blood and sweat to keep the spirit of freedom alive".
The statement said the "members with one voice condemned this childish act and said that such type of acts are ridiculous and would not be tolerated at any cost".
This is the second split in the Hurriyat since Syed Ali Shah Geelani quit the amalgam in 2002 over proxy candidates fielded to contest the assembly elections. The amalgam was formed in 1993 to fight for Jammu & Kashmir's "right to self-determination".
The Mirwaiz has been the chairman of his faction for over a decade now. Shah, Khan and Inqulabi have long opposed his continuation.
Sources said the Mirwaiz has postponed the scheduled executive committee meet of the Hurriyat till January 9 to try and bring back the three back into his fold.
Interestingly, the ruling National Conference (NC) has described the fresh Hurriyat split as "the creation of agencies and their attempts to weaken the on-going movement in Kashmir".
"Ram Jethmalani divided Geelani and Mirwaiz and now we have the agencies in our country that are hell-bent in dividing the separatists further so that the ongoing movement could be weakened at large," Mustafa Kamal, additional general secretary of the NC, told a local news agency on Tuesday.
http://timesofindia.indiatimes.com/india/Three-top-separatist-leaders-quit-Mirwaizs-Hurriyat/articleshow/28573949.cms
-----------
Jains in minority list: Govt says Muslim interest won't be hurt
Jan 10 2014
New Delhi: The Minority Affairs Ministry's move to include Jains in the Centre's minorities list has raised concern that broadening the definition without an economic eligibility criterion or a model for better implementation may cause the Muslim community to lose out, a fear which the ministry said was unfounded.
Abusaleh Sharriff, Member of the Sachar Committee that evaluated human development and economic indices of the Muslim community, says: "Our analysis show that in terms of employment opportunities and bank loans, benefits of minorities' entitlements are cornered by more affluent minority communities like Sikhs and Parsis. Jains too are an affluent community and their inclusion may cause the divide to deepen, specially when it comes to the banking sector as they are predominantly a business community. Muslims will lose out."
The problem, he says, is designing schemes for Muslims and targeting it for "minorities" as there is a notion that Muslim-specific schemes may go against secular credentials, with the result that the only schemes from which Muslims benefit are scholarship schemes. The ministry view is that minority status to one more community does not compromise interest of any existing groups on the list. The five religious minorities currently recognised by the Centre are Sikhs, Muslims, Christians, Parsis and Buddhists.
Minority Affairs Minister K Rehman Khan said Sharriff's claim of more affluent minorities cornering benefits was "unfounded".
"Jains are a designated religious minority in 11 states and this is a long standing demand to include them in the National Commission of Minorities Act. That is all we are proposing to do. There are not just economic benefits at stake, there are other forms of protections that minorities are entitled to. There is no question of taking away from other communities because schemes are designed with the specific needs of a community in mind," Khan says.
Justice Rajender Sachar says there is no doubt Jains constitute a religious minority. He says the problem of affluent communities cornering benefits, it is the result of poor implementation. NAC member Farah Naqvi says economic eligibility criteria should be a norm in all affirmative action.
http://www.indianexpress.com/news/jains-in-minority-list-govt-says-muslim-interest-won-t-be-hurt/1217070/
-----------
Europe
Sex Scandal Just Latest Misadventure for Kyrgyz Muftis
Jan 9, 2014
BISHKEK -- A tempest is brewing in Kyrgyzstan over a video that appears to show the country's highest religious authority engaged in a naked romp with a young woman.
Everyone is in agreement that the man in the video is Grand Mufti Rakhmatulla-Hajji Egemberdiev -- even the mufti himself.
What's not so clear is the identity of the woman receiving his affections.
Critics have characterized her as an unnamed "sex bomb" who tempted the Islamic spiritual leader into an extramarital affair.
But Egemberdiev says he is "clean before God" and that the woman is in fact his wife of four years.
That explanation has not been enough to pacify a small crowd of protesters who gathered outside Egemberdiev's Bishkek office on January 6, calling him an adulterer and demanding his resignation.
Strange Bedfellows
Bakyt Nurdinov, a member of the Congress of Muslims, a Bishkek-based nongovernmental group that promotes the rights of the Islamic community, says the video has proved deeply unsettling.
"There's a very heated discussion about all this," Nurdinov says. "Muslim spiritual leaders are in shock. The situation is difficult; they don't know what to say. It's the first time such a thing has happened. It's very upsetting that we've lived to see something like this."
The video, which appeared on Kyrgyz websites on New Year's Eve, appeared to have been shot with a hidden camera.
Although the clip has since vanished from the Internet, at least one grainy, black-and-white image remains, showing only a naked man with a marked resemblance to Egemberdiev and a womanly hand clutching at his back.
Sex tapes are nothing new in Kyrgyzstan. A similar video showing Omurbek Tekebaev, head of the Fatherland (Ata-Meken) political party, first emerged in 2008 and resurfaced just ahead of key parliamentary elections in 2010.
But one involving the country's ostensible spiritual guide has proved unsettling in Kyrgyzstan, which has gone through five muftis in just four years.
Whiff Of Bribery?
Egemberdiev, who has served just over a year in the post, was elected despite being under investigation for failing to pay taxes on money earned through organized trips to the hajj, the annual Islamic pilgrimage to Mecca.
The hajj, which is obligatory for all able-bodied Muslims at least once in their lifetime, is seen as a ripe bribe-taking opportunity for Kyrgyzstan's Spiritual Board of Muslims, or Muftiate, which since 2011 has assumed responsible for doling out much-coveted trips according to the hajj's quota system.
Egemberdiev, who is under investigation together with a former mufti, Chubak-Hajji Jalilov, says the allegations against him are baseless and were raised to prevent his election as grand mufti.
He suggests the video is more of the same, saying he was "interested to find out" who was so interested in his private life. He has repeatedly accused government officials and intelligence workers of meddling in his personal business.
Orozbek Moldaliev, a presidential representative to the Kyrgyz parliament, denies any orchestrated pressure campaign, accusing the country's muftis of using their posts as a money-making opportunity rather than a moral one.
"An entire generation of [mullahs] has grown up with one and the same level of [religious] education, and they all want to become muftis," Moldaliev says. "And the hajj is the reason behind that goal. There's the potential there to receive hidden profits of $4 million-$6 million."
Awkward Situation
There is also chagrin over the fact that the woman, if she is in fact Egemberdiev's spouse, may be the mufti's second wife.
In admitting his role in the video, Egemberdiev said the woman was his "wife through Nikah," an Islamic marriage ceremony that many men use to take additional wives in countries like Kyrgyzstan where polygamy is illegal. (Local Kyrgyz media report that Egemberdiev has a first, legal, wife, although her identity is not known.)
A new video has been released showing an older Kyrgyz couple purporting to be the woman's parents. They confirm that she is Egemberdiev's wife of four years and express distress with the sex tape. Their video shows a photograph of them with their daughter, who appears in modest, dark clothing, with her head covered.
The scandal appears to underscore the deep divide between Kyrgyzstan's secular government and the Muftiate, which is state-run but seen as seeking greater autonomy as it looks to gain greater control over local imams.
None of the country's recent grand muftis, who are elected by the Muftiate from a pool of candidates, has served out an entire five-year term. Jalilov resigned amid a corruption scandal; a previous mufti, Muaratali Jumanov, died in 2010, two months after being kidnapped and brutally beaten.
In the meantime, the Muftiate has also struggled to improve the education standards among the country's Muslim leaders, in an attempt to prevent a rise in extremism and improve religious understanding.
Lawmaker Kanybek Osmonaliev, who formerly served as director of the State Committee for Religious Affairs, says Kyrgyzstan is still struggling to find a true spiritual leader more than 20 years since the collapse of communism and the sanctioned return of religion.
"They're only muftis in name. In 20 years, we haven't been able to generate a single genuine spiritual leader," Osmonaliev says. "Eighty-three percent of our population is Muslim. But the fact that we're talking about dubious deals with hajj funding or various Arab funds speaks to the fact that Soviet atheism continues to dominate the minds of our public."
http://www.rferl.org/content/muslim-cleric-sex-kyrgyzstan-mufti/25221934.html
-----------
Sweden Democrat slammed for 'Muslim rape' jab
8 January 2014
A top Sweden Democrat defending a racism-accused colleague has claimed the Quran states that "rape is a Muslim form of punishment". The prime minister quickly joined a choir of critics and said it illustrated the minority party's us-versus-them rhetoric.
The latest controversy stemming from statements by top brass of the far-right nationalist party started with a Facebook post by Michael Hess, vice chair of the Sweden Democrats in Karlskrona in southern Sweden, in which he wrote that "rape is deeply rooted in Islamic culture".
When asked about Hess' comments, Linus Bylund, press secretary for party leader Jimme Akesson, said the statement couldn't be construed as racist because it was factual.
"It says in the Quran that rape can be used against women who have been unfaithful. It's a Muslim form of punishment," Bylund told the Blekinge Läns Tidning (BLT) newspaper.
When pressed by BLT about which passage in the Quran condoned rape as a form of punishment, Bylund said he did not know.
"I'm not sure exactly. I don't know exactly what's stated in the Quran, but it's been shown that that's the case."
http://europenews.dk/en/node/75715
-----------
British Islamist Leader Anjem Choudary 'Vetted Recruits for Syria Jihad'
Jan 9, 2014
Controversial British Muslim extremist Anjem Choudary has been helping to "vet" potential jihadis for combat in Syria, according to a veteran Islamist leader and associate of his.
Sheikh Omar Bakri Mohammed, who spent 20 years in the UK before fleeing to Lebanon in 2005, offered an insight into the workings of the "Al Muhajiroun" Islamist network he co-founded along with Choudary, which he claimed spans 16 countries and aims to create a "Global Islamic Caliphate" or empire.
Bakri, who is now banned from returning to the UK due to his extremist activities, has repeatedly voiced his support for suicide bombings, and claimed that the deadly bombing of an Israeli tourist bus in Bulgaria was carried out by one of his disciples.
Al Muhajiroun has been repeatedly banned by the UK government, only to surface under new names including "Islam4UK", which was also banned in 2010. Bakri is the "Emir" (commander) of the network, and Anjem Choudhary serves as one of his deputies, he said.
In an interview with Lebanon's LBCI news network, translated by MEMRI, Bakri explained how he appointed regional "commissioners" in each of the countries where the group operates to coordinate local activities.
"We have sent young men to Kashmir, to Bosnia, to Chechnya, to East Turkestan, to Somalia and even to Palestine," boasted the Lebanese cleric, continuing to claim that four British recruits had taken part in suicide bombings in the past few weeks in Syria alone. His reference to "Palestine" may have been to two British Muslims - Asif Hanif and Omar Khan Sharif - who volunteered as suicide bombers for the Hamas terrorist group in 2003.
In April of that year Hanif blew himself up at the Mike's Place beachfront bar in Tel Aviv, killing three people and injuring 55 others. Sharif was found dead on a nearby beach after fleeing the scene when his explosives failed to go off. Hanif had previously been associated with Al Muhajiroun.
Choudary is possibly the most notorious of the group's western leaders, having led numerous protests calling for the implementation of Sharia (Islamic law) in the UK, as well as praising Islamist terrorism.
Provocative protests by him and his followers against British troops serving overseas helped trigger the rise of the English Defense League or EDL - an anti-Islam protest group.
Choudary told interviewers that he was proud of young Muslims in Europe who left to fight in Syria, saying that contrary to more conservative estimates there were "thousands" of such volunteers.
The revelations will add more scrutiny to Choudary's activities in the UK. Though he has always been careful to avoid falling foul of British terrorism laws, he is blamed for a campaign of radicalization and incitement which anti-extremist groups say has started many young Muslims on an ideological journey to "jihad". Just a few months ago anti-fascist group HOPE Not Hate published an expose on his activities entitled "Gateway to Terror", and warning authorities not to tolerate his "antics".
Most recently, two of his followers - Michael Adebolajo and Michael Adebowale - were jailed for the brutal murder of an off-duty British soldier in London. The two Muslim converts ran over Drummer Lee Rigby with a car before stabbing him and attempting to behead him with knives and a meat cleaver.
Islamists associated with Choudhary have also been blamed for extremist "Muslim patrols" seeking to impose Islamic law on parts of London. In early December three Islamist vigilantes were convicted for their part in such a patrol.
http://www.israelnationalnews.com/News/News.aspx/176034#.Utwp39JDsqM
-----------
Human rights groups call on Iran's regime to stop violent repression of gays
Jan 9, 2014
BERLIN – Human rights activists from international organizations ramped up their pressure in a late December letter to Iran's President Hassan Rouhani, calling on him to swiftly end Iran's persecution of its lesbian, bisexual, gay, and transgender community.
The letter cited the Iran Revolutionary Guards Corps arresting gay Iranians at a birthday party in October as one example of a list of violent attacks against LGBT Iranians. According to the letter, 50 members of the Nabi Akram Brigade of the Revolutionary Guards stormed the party in the city of Kermanshahin in western Iran. "Armed members of the security forces verbally abused, assaulted, and beat many of the 80 or so people attending the party, as well as waiters and other staff."
Kermanshah Province's Basij Forces – a state-sponsored shock troop – issued a statement that their aim was to end a "homosexual and Satan-worshiping network with dozens of [members]."
The signatories of the letter to Rouhani are from Human Rights Watch, Amnesty International, the International Gay and Lesbian Human Rights Commission, and the Iranian Queer Organization-IRQO.
They slammed Iran for its Islamic Penal Code.
The anti-gay code "criminalizes any freely and mutually agreed same-sex relations, with punishment ranging from 100 lashes for consensual sexual relations between women (Article 239) to the death penalty for consensual sexual intercourse between men (Article 234). The law also criminalizes other acts between members of the same sex, including touching and intimate kissing, which are punishable by up to 74 lashes (Article 237)."
The human rights representatives called on Iran to repeal its anti-LGBT laws. It is unclear whether Rouhani responded to the letter.
"Nothing essential has changed. The structure is still the same. It's a play, a comic and ugly performance. They're relying on the naiveté of people to be able to succeed," said the openly gay Iranian poet Payam Feili last year about Rouhani's tenure.
According to the human rights letter, Rouhani made an election promise to grant greater individual freedoms to Iranians and end the heavy-handed repression of his predecessor, Mahmoud Ahmadinejad. Western indifference to Iran's repression of its LGBT community was the subject on an editorial in a large LGBT publication in Germany. Siegessäule magazine recently asked why the LGBT community in the West ignores the plight of Iran's LGBT community.
http://www.jpost.com/Iranian-Threat/News/Human-rights-groups-call-on-Irans-regime-to-stop-violent-repression-of-gays-337559
-----------
Russia blocks new UN Syria statement condemning Aleppo raids
Jan 9, 2014
Russia on Jan. 8 blocked a British-drafted U.N. Security Council statement condemning the Syrian government attacks on the city of Aleppo, diplomats said.
It was the second time in a month that Russia objected to a western bid to slam President Bashar al-Assad's air assault against Syria's biggest city that has killed hundreds since December 15.
Aid groups say that Scud missiles and barrels packed with explosives and shrapnel have been dropped on schools, markets and hospitals in Aleppo, killing more than 700 people.
Britain circulated a draft press statement expressing "outrage" at the government attacks on civilians to the other 14 members of the council Jan. 7.
The statement needs the agreement of all members to be released, and Russia objected, insisting all references to Aleppo be taken out, diplomats said. So Britain withdrew the text for fear of seeing a tepid message put out, they added.
Full report at:
http://www.hurriyetdailynews.com/russia-blocks-new-un-syria-statement-condemning-aleppo-raids.aspx?pageID=238&nID=60773&NewsCatID=359
-----------
OSCE to voice problems faced by Muslims
World Bulletin / News Desk
Jan 9, 2014
The Organization for Security and Co-operation in Europe's (OSCE) newly appointed Personal Representative on Combating Intolerance and Discrimination against Muslims stated on Thursday that his main goal would be voicing the problems Muslims are facing.
Assuming the 2014 Chairmanship-in-Office of the OSCE, the world's largest regional security organization with 57 participating states, Switzerland appointed Talip Kucukcan as the Personal Representative on Combating Intolerance and Discrimination against Muslims on Wednesday.
Underlining that the world is going through a time of increasing discrimination against Muslims, Kucukcan told Anadolu Agency (AA) in an interview that he is honored with his new duty.
Full report at:
http://www.worldbulletin.net/?aType=haber&ArticleID=126575
-----------
People want end to violence: British HC tells Khaleda
Jan 9, 2014
British High Commissioner Robert Gibson conveyed people's strong desire for an end to the ongoing violence to BNP Chairperson Khaleda Zia yesterday, by means of relies he had received in his Twitter feed.
"I explained to @BegumKhaledaZia about this twitter feed and passed on the thrust of your messages," he posted on his Twitter profile after a meeting with Khaleda at her residence yesterday evening.
Full report at:
http://www.dhakatribune.com/politics/2014/jan/09/people-want-end-violence-british-hc-tells-khaleda#sthash.oq3uinc6.dpuf
-----------
Australia
Saudi-linked Aussie 'Sheikh' Junaid Thorne encourages jihadists
Jan 9, 2014
THE brother of an Australian man jailed for terrorism-related offences in Saudi Arabia has been delivering lectures at some of the nation's most controversial Islamic centres while encouraging jihadists to show their "might" against disbelievers.
Perth man Junaid Thorne, a 24-year-old who has spent much of his life in Saudi Arabia, has spoken at Sydney's al-Risalah and Melbourne's al-Furqan Islamic centres in recent weeks as part of a lecture tour backed by little-known radical organisation Millatu Ibrahim, which is banned in Germany.
Police and terrorism experts yesterday said they were not aware of the organisation having an active presence in Australia.
At al-Risalah, he sat in front of a Millatu Ibrahim banner - featuring the logo of the al-Qa'ida-linked Islamic State of Iraq and the Levant used by the most extreme Sunni fighters in Syria - to deliver his first "public lecture" since being deported from Riyadh in July.
His deportation came after his brother, Shayden, was sentenced to 4 1/2 years in a Riyadh prison for possessing terrorism-related materials and supporting and encouraging terrorism. Mr Thorne, whose father is a Noongar Aboriginal man, was detained for two months for protesting against his brother's arrest in December 2011.
Full report at:
http://www.theaustralian.com.au/national-affairs/policy/saudilinked-aussie-sheik-junaid-thorne-encourages-jihadists/story-fn59nm2j-1226796166560
-----------
Pakistan
Adviser to PM says: US fighting 'wrong war' against 'wrong people'
Jan 9, 2014
ISLAMABAD: Adviser to Prime Minister on National Security and Foreign Affairs Sartaj Aziz said on Wednesday that America is fighting the "wrong war with wrong methods against the wrong people".
Sartaj Aziz said Pakistan has been protesting against the drone attacks at all levels, as these are un-productive and violate Pakistan's sovereignty. Talking to newsmen after addressing a book launching ceremony at the Islamabad Institute of Strategic Study, the foreign affairs adviser said Pakistan has got support from the international community on its stance on drone attacks.
He said a resolution by the United Nations General Assembly has also been adopted to condemn the drone attacks, which reflects the international public opinion. He said this also speaks of legality and illegality of the use of drones.
Full report at:
http://www.dailytimes.com.pk/islamabad/09-Jan-2014/sartaj-aziz-says-pakistan-achieved-less-lost-more-in-war-on-terror-us-fighting-wrong-war
-----------
Clash in South Waziristan kills three soldiers,10 militants
2014-01-09
PESHAWAR: Pakistani security forces claim to have killed 10 militants repulsing a terrorist attack on a security check post in South Waziristan tribal agency of Pakistan, military officials said on Wednesday.
According to an ISPR press release, security forces troops responded valiantly when terrorists attacked the Green Ridge Post at around 8pm. Three security forces personnel were also killed during the exchange of fire.
The number and identity of those killed could not be verified independently.
This a rare terrorist attack on Pakistani security forces in South Waziristan as armed clashes are normally reported in North Waziristan.
Full report at:
http://www.dawn.com/news/1079191/clash-in-south-waziristan-kills-three-soldiers10-militants
-----------
Countering terrorism: Al Qaeda core diminished, 'but threat remains'
January 9, 2014
WASHINGTON: As the Pakistani government struggles to revive nascent peace efforts with the Tehreek-e-Taliban Pakistan (TTP), the US State Department claims that, while the decision to hold talks is an internal matter, the organisation is "a dangerous and a significant threat".
Justin Siberell, the deputy coordinator of Regional Affairs and Programmes in State Department's Bureau of Counterterrorism, while briefing South Asian journalists said, "The TTP is viewed as a significant threat by the US. It has targeted both Pakistani civilians and security personnel."
Full report at:
http://tribune.com.pk/story/656754/countering-terrorism-al-qaeda-core-diminished-but-threat-remains/
-----------
Pakistan and US to review progress on strategic dialogue: FO
2014-01-09
ISLAMABAD: Pakistan and the United States have agreed to review their strategic dialogue process, said Foreign Office spokesperson Tasneem Aslam at the weekly media briefing on Thursday.
The Foreign Office spokesperson said Advisor to Prime Minister Nawaz Sharif on Foreign Affairs and National Security Sartaj Aziz and US Secretary of State John Kerry would co-chair the strategic review meeting, adding that the dates for the purpose were being discussed and the review was scheduled to take place in Washington.
The spokesperson said there were five working groups for cooperation in different sectors and three of them had already met and added that two groups on counter-terrorism and defence had yet to meet.
Full report at:
http://www.dawn.com/news/1079404/pakistan-and-us-to-review-progress-on-strategic-dialogue-fo
-----------
Musharraf's heart like that of '18-year-old': Prosecutor
PTI | Jan 9, 2014
ISLAMABAD: The condition of former Pakistani dictator Pervez Musharraf's heart was today compared to that of an "18-year-old" by the government prosecutor to emphasize that he did not have any justification for skipping his treason trial.
Prosecutor Akram Sheikh asked the special court set up to try 70-year-old Musharraf on charges of high treason for imposing emergency in 2007 to summon him, saying the former army chief had not undergone an angiography since he was admitted to a military hospital on January 2.
Full report at:
http://timesofindia.indiatimes.com/world/pakistan/Musharrafs-heart-like-that-of-18-year-old-Prosecutor/articleshow/28599344.cms
-----------
Police agree Taliban may have been involved in shrine killings
January 9, 2014
KARACHI: Four of the victims, whose decapitated bodies were found from a shrine in Gulshan-e-Maymar, were laid to rest on Wednesday. Meanwhile law enforcers have arrested around half-a-dozen suspects.
The bodies of six decapitated men were found in a mud-house close to Ayub Shah Shrine, which is located on a hillock in a deserted area on the north-eastern outskirts of the city, on Tuesday morning. Three of the victims were identified as custodians of the shrine. Two others were visitors, while the identity of the sixth victim has yet to be ascertained.
Full report at:
http://tribune.com.pk/story/656616/gruesome-crime-police-agree-taliban-may-have-been-involved-in-shrine-killings/
-----------
Governor Sindh pins hope on targeted operation for 'crime-free' Karachi
2014-01-09
KARACHI: Governor Sindh Dr Ishratul Ibad Khan Wednesday expressed his satisfaction over the ongoing targeted operation citing "significant decrease" in target killings and kidnappings for ransom and hoped that Karachi will soon turn into a 'crime-free' city.
"Earlier, around 26 cases of kidnapping for ransom were reported daily. Now, the number has gone down to one or two cases a day. Target killing is also under control. Soon the government will overcome all kinds of crime," he said.
The governor was speaking to participants of National Security Workshop held under National Defence University at the Governor House, said an official statement.
He said that the police and rangers were conducting targeted operations against the terrorists and outlaws even in those areas of the city where no such action had ever been taken in the past.
Full report at:
http://www.dawn.com/news/1079188/ishrat-pins-hope-on-targeted-operation-for-crime-free-karachi
-----------
Missing persons: 209 cases of Baloch political workers so far
2014-01-08
QUETTA: Commission on enforced disappearances has hitherto received 209 cases of missing Baloch political workers from Balochistan, Pakistan's least developed and insurgency-hit province.
A well-placed source in Balochistan home and tribal affairs department told Dawn.com on Wednesday that 61 missing persons have been recovered and 24 mutilated dead bodies found in different parts of the troubled province up till now.
He said 44 cases of missing persons were disposed off following lack of required documents. Apart from this, 144 cases of missing persons were under trial before Supreme Court of Pakistan.
Full report at:
http://www.dawn.com/news/1079185/missing-persons-209-cases-of-baloch-political-workers-so-far
-----------
Top Pakistan police chief killed
2014-01-09
A senior police officer, known in Pakistan for campaigning against the Taliban, has been killed in a bomb blast in Karachi.
Chaudhry Aslam Khan, the head of the city's anti-terror operations, and three others died in an attack on a police convoy in the Essa Nagri area of the city, reports say.
The Pakistan Taliban have claimed responsibility for the attack.
Mr Khan has survived a number of previous attempts on his life.
http://www.bbc.co.uk/news/world-asia-25667842
---------
Arab World
Bomb near Syrian school kills 18 women, kids in regime-held Hama
Jan 9, 2014
A massive car bomb killed 18 people in the village of Kafat in Syria's central Hama province on Thursday, the Syrian Observatory for Human Rights NGO said.
The monitoring group said women and children were among the dead in the blast, which also killed members of a pro-regime militia.
The huge explosion, which was heard in the nearby city of Hama, took place near a village school, the Observatory added.
Syrian state television also reported the attack in Kafat, which is under government control.
It said 16 people had been killed in a "terrorist explosion" in the village, adding that there were tens of injuries.
Full report at:
http://voiceofrussia.com/2014_01_09/Car-bomb-kills-18-in-Syrias-Hama-province-2807/
-----------
Iraq: 12 dead in blast at army recruiting centre
AP | Jan 9, 2014
A police official says the attacker struck on Thursday morning, and that at least 25 people have been wounded in the blast.
A hospital official confirmed the casualty numbers. Both officials spoke on condition of anonymity because they were not authorized to talk to media.
There was no immediate claim of responsibility, but suicide attacks are the hallmark of al-Qaida's Iraq branch.
Its fighters last week overran parts of two key cities west of Baghdad - Fallujah and Ramadi - and have been clashing with Iraqi forces trying to drive them out.
The attack on the recruiting center could be a retaliation for the military's offensive.
http://timesofindia.indiatimes.com/world/middle-east/Iraq-12-dead-in-blast-at-army-recruiting-centre/articleshow/28592850.cms
-----------
Iraq: 'Abuse by all sides' in Anbar province says HRW
9 January 2014
Human rights activists have condemned abuses by both government troops and insurgents in Iraq's Anbar province.
"Apparently unlawful methods of fighting by all sides have caused civilian casualties," Human Rights Watch said in a report.
The rights group criticised Iraqi forces and militants for carrying out attacks in civilian neighbourhoods.
It comes as troops prepare to launch a major assault against al-Qaeda-linked militants in the city of Falluja.
Sunni militants allied to the Islamic State in Iraq and Syria (ISIS), as well as armed tribesmen angry with the government, overran Falluja last week after clashes triggered by a raid on protest camps in the city and in the provincial capital, Ramadi.
'Caught in the middle'
Full report at:
http://www.bbc.co.uk/news/world-middle-east-25664351
-----------
Lack of heavy penalties seen in rising cases of harassment: JEDDAH
9 January 2014
Most Saudis in a poll conducted recently by the King Abdul Aziz Center for National Dialogue believe that a lack of heavy penalties has contributed to an increase in cases of men sexually harassing women in the country.
The survey included 992 Saudi respondents, representing all levels of society over the age of 18 from all 13 provinces. The margin of error was 2.3 percent. It was conducted over the telephone between Dec. 10 and 15.
The researchers found that 79.7 percent of respondents believe that there is a lack of strict laws and heavy penalties that have contributed to an increase in sexual harassment cases in the country. A total of 14.3 percent do not support this view.
A total of 80.8 percent of the participants believe that the lack of clearly defined penalties is one of the main causes of increasing sexual harassment cases in the country.
A total of 76.6 percent also believe that lengthy and complicated court procedures have resulted in women not getting justice, and that the courts do not adequately protect the reputation of victims, especially since their guardians and fathers have to be present during proceedings.
Full report at:
http://www.arabnews.com/news/506266
-----------
Scholars approve exhumation of ancient graves in Jazan
9 January 2014
The remains of people found at a site developed by an oil refinery would be moved to a public graveyard in Jazan, an official source said.
"The Permanent Committee for Research and Ifta under the chairmanship of Grand Mufti Sheikh Abdul Aziz Al-sheikh has approved the exhumation of ancient graves discovered on the land allocated for Saudi Aramco's Jazan Refinery," said Ali Zaala, spokesman of the Jazan Governorate.
Jazan Gov. Prince Muhammad bin Nasser had issued an order to seek the Ifta committee's expert opinion about the proposal from the Economic Cities Authority to move the bodies.
The ancient graves were discovered while the refinery was developing the land allocated for it by the economic city.
Full report at:
http://www.arabnews.com/news/505001
-----------
Maliki urges Qaeda fighters to give up
9 January 2014
BAGHDAD — Iraq's prime minister urged all those who joined Al-Qaeda and now face a siege by his troops in the western Anbar province to give up their struggle, hinting of a possible pardon if the militants give up the fight.
Speaking in his weekly televised address Wednesday, Al-Maliki also vowed to continue the "sacred war" against Al-Qaeda's local branch — the Islamic State in Iraq and the Levant — and finish the push to retake key Anbar cities of Fallujah and Ramadi, which the militants overrun since last month.
"I call on those who were lured to be part of the terrorism machine led by Al-Qaeda to return to reason," Al-Maliki said. In return, he promised that his government will "open a new page to settle their cases so that they won't be fuel for the war that is led by Al-Qaeda."
Full report at:
http://www.saudigazette.com.sa/index.cfm?method=home.regcon&contentid=20140109191943
-----------
Islamic Front rescues 300 hostages held by ISIL
Jan 9, 2014
Seventy people were found dead and three hundred hostages released when the Islamic Front, an opposition group close to the Free Syrian Army took over an area controlled by al Qaeda affiliate, Islamic State of Iraq and the Levant (ISIL) in Aleppo on Tuesday.
"Journalists and activists were among the 300 released and the seventy dead were found with their hands tied behind their backs", confirmed spokesman for Syrian Local Coordination Committee (LCC), Ahmed Muhammed Ali.
Full report at:
http://www.worldbulletin.net/?aType=haber&ArticleID=126507
-----------
South Asia
BNP Chairperson Khaleda Zia hints severing Jamaat-e-Islami ties
Jan 9, 2014
BNP Chairperson Khaleda Zia, in an interview with The New York Times, has hinted to reconsider her party's alliance with Jamaat-e-Islami.
But, the BNP chief ruled out the chances of reconsidering it now.
Jamaat is the key ally of the BNP-led 18-party combine alliance.
"Khaleda signaled some willingness to reconsider her party's ties with the banned pro-Islamic party Jamaat-e-Islami, as the government has demanded," said a news item published on the newspaper's online edition on January 6.
"With Jamaat, it's not a permanent alliance," Khaleda said during the interview.
Asked if she could end it, the BNP chief said, "At this moment, I cannot, but when the time will come I will see."
Full report at:
http://www.thedailystar.net/khaleda-hints-severing-jamaat-ties-6113
-----------
Afghan intelligence seize huge cache of explosives in Takhar
By GHANIZADA - Thu Jan 09 2014
The Afghan intelligence – National Directorate of Security (NDS) announced Thursday that a huge cache of improvised explovice device (IED) was discovered and seized in north-eastern Takhar province of Afghanistan.
National Directorate of Security (NDS) following a statement said the explosives and weapons were seized during an operation in Rustaq district.
The statement further added that two suspected individuals, recognized as Habibullah and Abdul Jabar, were arrested by Afghan intelligence operative.
Full report at:
http://www.khaama.com/afghan-intelligence-seize-huge-cache-of-explosives-in-takhar-3276
-----------
Bangladesh editor jailed for seven years over Israel visit
2014-01-09
DHAKA: A Bangladesh court Thursday jailed a newspaper editor for seven years for trying to travel to Israel more than a decade ago to speak about a rise in Islamic militancy.
Salahuddin Shoaib Choudhury, 48, who edits the Weekly Blitz newspaper, was found guilty of harming the country's interests through his articles as well as trying to make a banned trip to Israel, said prosecutor Shah Alam Talukder.
The verdict in the capital of the Muslim-majority nation came amid mounting criticism of the government's muzzling of dissenting voices, and after a blood-soaked general election boycotted by the opposition and dismissed as a farce.
The ruling also came just a day after another court indicted top human rights activists on similar charges for publishing "false" details of a police crackdown — a case criticised by local and international rights groups.
Full report at:
http://www.dawn.com/news/1079394/bangladesh-editor-jailed-for-seven-years-over-israel-visit
----------
BNP chief Zia to lose state protocol for first time in 23 years
Jan 9, 2014
The BNP chief Khaleda Zia, who boycotted Bangladesh's general election, has sought adequate protection as she is set to lose her protocol and security guards for the first time in 23 years since she is no longer a lawmaker.
Newspaper reports and BNP sources said Colonel (retd) Abdul Majid, a top official of Ms. Zia's personal security team, sent a letter to Ansar and Village Defence Party headquarters two days ago, seeking 22 Ansars personnel for her security.
During the past 23 years, Ms. Zia had enjoyed protocol and special facilities, including security guards, in her capacity as either the prime minister or Leader of Opposition.
Ms. Zia demanded deployment of Ansar forces to guard her upmarket Gulshan residence in Dhaka.
Full report at:
http://www.thehindu.com/news/international/south-asia/zia-to-lose-state-protocol-for-first-time-in-23-years/article5557890.ece
-----------
Protests against minority repression sweep country
Jan 9, 2014
Waves of protest by different socio-political, cultural and professional bodies swept over the country yesterday with the demand for stern action against the people who attacked Hindus in different regions during and after the January 5 national election.
DHAKA
The Bangladesh Federal Union of Journalists (BFUJ) demanded due compensation to the victimised families from a protest rally in front of the capital's Jatiya Press Club.
BFUJ President Monjurul Ahsan Bulbul said the nation had failed to protect the minorities and the entire nation had to take its responsibility.
Speakers at the rally compared the barbaric attacks with that carried out by the Pakistani army and its local collaborators in 1971.
Full report at:
http://www.thedailystar.net/city/protests-against-minority-repression-sweep-country-6086
-----------
Southeast Asia
More new pupils in Brunei's religious schools
Jan 9, 2014
Religious schools across the country welcomed an overall increase in new students this year, which included 89 non-Muslim enrollments.
A total of 5,358 new students began their studies at religious schools nationwide yesterday, marking a slight rise from 5,036 enrollments last year. Brunei-Muara District recorded the highest number of new students with 3,927 enrollments.
Although only 89 non-Muslims have joined this year compared to 116 in 2010, the total number of non-Muslims attending religious schools jumped from 569 to 680 over the last four years.
Statistics from the Islamic Studies Department at the Ministry of Religious Affairs revealed that 52.2 percent of existing non-Muslim students in religious schools hail from Tutong, followed by 25.5 percent in Brunei-Muara, 16.6 percent in Belait and 5.5 percent in Temburong.
Full report at:
http://www.thejakartapost.com/news/2014/01/09/more-new-pupils-bruneis-religious-schools.html
-----------
Behind Giving of Alms Lurks Fear of Abuse
Jan 9, 2014
Damaged pillar: Indonesian Muslims are concerned about how money meant for the needy is used
"Just prayed for @SedekahHarian's donors. May all prayers be answered, God willing."
When Ahmad Gozali tweeted the above on Jan. 1, he did not expect it would create a stir in the Indonesian Twitter verse.
There was nothing wrong in the tweet, or so it seemed until Twitter users accused Gozali of trying to siphon money off his followers in a pay-for-prayer scheme, raising fears that religion is being used to scam people in the world's largest Muslim-majority nation.
Gozali, a financial planner by day, was on a pilgrimage to Mecca last year when he sent out the tweet. He is also an adviser at Sedekah Harian (Daily Alms), a social foundation dedicated to charity work and donating alms to the less unfortunate.
Full report at:
http://www.thejakartaglobe.com/news/behind-giving-of-alms-lurks-fear-of-abuse/
-----------
Home Ministry outlaws Comango, labels member groups 'un-Islamic'
Jan 9, 2014
KUALA LUMPUR— The Home Ministry today banned a coalition of non-government organisations (NGOs) that was outspoken on human rights, alleging the majority of groups under its umbrella were un-Islamic and unregistered.
In a statement from the ministry's secretary-general today, it said the Coalition on Malaysian NGOs in the Universal Periodic Review Process (Comango) was promoting sexual rights contrary to Islam and that only 15 out of its 54 groups were legally registered.
"Any group which wishes to run legitimate activities in the country must be registered with the Malaysian Registrar of Societies under the Societies Act 1966 as set in under Section 7 of the Act," said the statement here.
Full report at:
councilhttp://www.themalaymailonline.com/malaysia/article/home-ministry-outlaws-comango-labels-member-groups-un-islamic#sthash.d403S92e.dpuf
-----------
Religious Affairs Minister Suryadharma Doubts Claims of Intolerance in Indonesia
Jan 9, 2014
Religious Affairs Minister Suryadharma Ali claimed that Indonesia was a bastion of religious tolerance on Thursday, setting off a chorus of critics who accused the controversial minister of ignoring instances of violence in this pluralist nation.
"There are those who said that Indonesia is intolerant," Suryadharma said in an interview with the Indonesian newspaper Kompas. "Is this reality or conjecture? Because I see, all around Indonesia, harmony is still in place."
Suryadharma said claims of widespread intolerance in Indonesia were confusing, emphasizing that the vast majority of Indonesians lived in religious harmony. It's a controversial statement for many rights groups in Indonesia. While the nation's constitution — the Pancasila — officially recognizes six major religions and the vast majority practice a moderate form of Islam, members of minority religious groups or those not recognized by the state are prone to harassment and intimidation in some of the country's more conservative regions.
Full report at:
councilhttp://www.thejakartaglobe.com/news/religious-affairs-minister-suryadharma-doubts-claims-of-intolerance-in-indonesia/
-----------
Amnesty Calls for Strengthening of Aceh Truth and Reconciliation Bylaw
Jan 9, 2014
Amnesty International has praised the Aceh parliament for passing a bylaw in December to establish a truth and reconciliation commission to investigate the abuses that took place during 30 years of conflict between Acehnese rebels and the Indonesian military, but emphasized that more needed to be done before the process could begin in earnest.
"The establishment of truth commissions is an important step toward understanding the circumstances that led to past violations, learning from the past to ensure that such crimes will not be committed again, and ensuring that shared experiences are acknowledged and preserved," Amnesty said.
Full report at:
councilhttp://www.thejakartaglobe.com/news/amnesty-calls-for-strengthening-of-aceh-truth-and-reconciliation-bylaw/
-----------
Jais only enforcing the law, says Selangor Islamic council
Jan 9, 2014
The Selangor Islamic Religious Department (Jais) was only enforcing the law when it seized more than 300 copies of Bahasa Malaysia and Iban language Bibles from The Bible Society of Malaysia (BSM) last week, the state Islamic Affairs Council (Mais) said today.
Its chairman Mohamad Adzib Mohd Isa said Jais's action should not be misconstrued as interfering in the "constitutional right of anyone to profess and practise their religions as enshrined under the federal constitution".
"This is because Jais's action was merely to enforce the law which was enacted to prevent the propagation of other religious doctrines or beliefs among Muslims.
"This has nothing to do with any attempts to intervene with the rights and freedoms of other religions to perform their religious practices," he said in a statement.
Full report at:
councilhttp://www.themalaysianinsider.com/malaysia/article/jais-only-enforcing-the-law-says-selangor-islamic-council
-----------
North America
CAIR Asks Congress to Help End Persecution of Rohingya Muslims in Burma
Jan 9, 2014
(WASHINGTON, D.C., 1/8/14) — CAIR is calling on American Muslims and other people of conscience to contact their member of Congress today to urge support for House Resolution 418 to help Rohingya Muslims facing persecution in Burma.
Unanimously adopted by the U.S. House Foreign Affairs Subcommittee on Asia and the Pacific in December, the resolution calls on the government of Burma (Myanmar) to end the persecution of its Rohingya minority and to respect internationally-recognized human rights for all ethnic and religious groups within Burma.
Introduced by Representative James McGovern (D-MA) and co-sponsored by 16 Republicans and Democrats, HR 418 needs at least 10 additional co-sponsors to receive a full House Foreign Affairs Committee markup and requires another 25 co-sponsors to receive a vote on the House floor.
Full report at:
Jais only enforcing the law, says Selangor Islamic councilhttp://boston-massachusetts.us/ask-congress-to-help-end-persecution-of-rohingya-muslims-in-burma/
-----------
US Muslim scholar: 'Allah' ban a tragic mistake
Jan 9, 2014
KUALA LUMPUR, Jan 9 — An influential US Muslim scholar has urged the Malaysian government to stop barring non-Muslims from using the word "Allah" to refer to God, labeling the decision a "tragic mistake."
Writing in the online newspaper The Huffington Post this week, Muhammad Musri, who is president of the American-Islam and of the Islamic Society of Central Florida, argued that words are often borrowed when cultures overlap and because of Islam's predominance in Malaysia, the word "Allah" became the standard term used by Malaysians to refer to God.
"I am a Muslim scholar and an Imam who has memorized the Qur'an. And I'm fully convinced that the Malaysian court's decision runs counter to the core values and spirit of Islam," he said.
Full report at:
councilhttp://www.themalaymailonline.com/malaysia/article/us-muslim-scholar-allah-ban-a-tragic-mistake#sthash.XZDgpXdL.dpuf
-----------
Pakistan not an ally of US: Robert Gates
Jan 9, 2014
Robert Gates, the former U.S. Defence Secretary who was the strongest supporter of Pakistan, believes that Islamabad is not an ally of America and it will not give up its policy of supporting terrorists.
"Although I would defend them in front of Congress and to the press to keep the relationship from getting worse -- and endangering our supply line from Karachi -- I knew they were really no ally at all," Mr. Gates writes in his forthcoming book titled 'Duty: Memoirs of a Secretary at War'.
Referring to his visit in January 2010 -- his second and the last one to Pakistan -- wherein he met the then President Asif Ali Zardari, Prime Minister Yousuf Raza Gilani and Army Chief Gen Ashfaq Pervez Kayani, Mr. Gates writes that he returned convinced that Islamabad would not give up its policy of supporting terrorists.
Full report at:
councilhttp://www.thehindu.com/news/international/world/pakistan-not-an-ally-of-us-robert-gates/article5557668.ece
-----------
US Senators hesitate sending arms to Iraq fearing wider sectarian conflict
Jan 9, 2014
As top US lawmakers consider whether to provide Iraq with helicopters and other arms to help battle Al-Qaeda, a number of congressmen have said they are reluctant to authorize such a move over concerns that PM Maliki may use them against his rivals.
Iraqi Prime Minister Nouri al-Maliki and the Iraqi military are known to be preparing a military assault with the goal of re-taking the city of Fallujah from the Islamic State of Iraq and the Levant (ISIS), a faction of Al Qaeda, and other members of the insurgency.
Meanwhile, US President Obama has asked Congress to permit the sale of Boeing Ah-64 Apache helicopters to assist the government in its fight against the insurgency.
The Senate Foreign Relations Committee and House Foreign Relations Committee have both delayed the sale, in no small part because of lingering fears that Maliki - who is Shia - will use American weapons not only against ISIS, but also against his Sunni political rivals.
Full report at:
Jais only enforcing the law, says Selangor Islamic councilhttp://rt.com/news/senators-hesitate-sending-iraq-347/
-----------
Local Muslim organizations of Nassau County form united front
Jan 9, 2014
The Muslim Community of Nassau County, a newly formed coalition of mosques and other Muslim organizations, donated some 300 blankets and hundreds of pounds of non-perishable food items to the Long Island Council of Churches on Dec. 20 in East Meadow.
The MCNC formed in October, and comprises several Muslim organizations across the county, including the Long Island Muslim Society on East Meadow Avenue — where the donation ceremony took place — the Islamic Center of Long Island in Westbury, Hamza Masjid in Valley Stream, Masjid Al-Baqi in Bethpage, Muhammadi Masjid in Elmont, the Hillside Islamic Center in New Hyde Park and Jaam'e Masjid in Bellmore.
Full report at:
councilhttp://www.liherald.com/stories/Local-Muslim-organizations-form-united-front,52093?content_source=&category_id=5&search_filter=&event_mode=&event_ts_from=&list_type=&order_by=&order_sort=&content_class=&sub_type=&town_id=
----------
Mideast
Islamic symbolism lying encoded in Turkey's largest mosque
World Bulletin / News Desk
Jan 9, 2014
Esoteric and mystical symbolism is often found encoded in the ancient and medieval examples of shrine architecture, but the architectural features of Sabanci Central Mosque in Turkey's southern city of Adana offers a modern - albeit a bit too overt - case of religious symbolism.
The physical dimensions of the mosque, the largest in Turkey, lay bare the employ of numerological cues in its architecture.
Mosque architecture of Turkey's republican era is often criticized for merely imitating famous mosques of the Ottoman classical age, particularly major works by the seminal architect (Mimar) Sinan.
Sabanci Central Mosque is no exception in this sense, as its complexion highly resembles Istanbul's renowned Suleymaniye, while its interior features try to imitate Sultan Ahmed Mosque, also known as the Blue Mosque, of the former Ottoman capital.
'Pillars' of religion
Despite this, its architect endeavored to add some mystical flavors unfamiliar to many mosques built in the country's modern era.
Numerology served as the primary vehicle for this, as the mosque's structure contains correlations with certain numbers that are regarded significant within the Islamic thought.
"The main dome of the mosque is 32 meters in diameter, which corresponds to the 32 fards [binding religious duties] in Islam", said Ihsan Yegen, deputy religious affairs director of Adana province.
Full report at:
councilhttp://www.worldbulletin.net/?aType=haber&ArticleID=126500
-----------
Israel army targets Gaza militants after mortar attack
Jan 9, 2014
The Israeli military has attacked targets in the Gaza Strip after militants in the territory fired mortars into Israel. The air force hit "terrorists in Gaza as they were preparing to launch rockets toward Israel" on Thursday, the military said, as cited by AP. Two men were wounded when a drone fired at their motorcycle, Gaza Health Ministry spokesman Ashraf al-Kidra said.
http://rt.com/news/line/2014-01-09/#53829
-----------
Turkish President Gül stresses importance of checks & balances, democracy
Jan 9, 2014
At a time when some Western observers suggested that the rule of law is the most significant casualty of the ongoing political turmoil in Turkey, the country's president has drawn attention to the utmost need for checks and balances within a democracy.
"The foundation of the legitimacy passes through democracy today," President Abdullah Gül said yesterday as he was addressing military students during a visit to the Turkish Military Academy.
His remarks were made in the context of the dependency of regional and global peace upon the formation of legitimate rules in each country.
"What we call democracy is actually national will. If we expand this a little bit more, it is foundation of democratic states governed by the rule of law," Gül said. "When we say democratic states governed by the rule of law; it is to say a multi-party system, fair, free and proper elections; everybody's having clear authorities and responsibilities and having the balance systems which we call 'checks-balances' within this system, and governing of these [systems] in an harmony."
Full report at:
http://www.hurriyetdailynews.com/turkish-president-gul-stresses-importance-of-checks--balances-democracy-.aspx?pageID=238&nID=60769&NewsCatID=338
-----------
Israel demolishes Palestinian community in Jordan Valley
World Bulletin / News Desk
Jan 9, 2014
Israeli military forces demolished on Wednesday buildings belonging to the Palestinian community of Khirbet 'Ein Karzaliyah in the northern Jordan Valley, rendering homeless the entire population consisting of three families, comprised of 10 adults and 15 minors.
The residents have been left without shelter for themselves and their livestock in the harsh winter weather conditions, Israeli Human Rights Network B'Tselem Director Jessica Montell said in a report.
Full report at:
http://www.worldbulletin.net/?aType=haber&ArticleID=126570
-----------
Nuclear talks exposed US hatred of Muslims, Iran's supreme leader says
Jan 9, 2014
Iran's Supreme Leader Ayatollah Ali Khamenei said on Thursday that nuclear negotiations with world powers had revealed US "enmity" towards the Islamic state.
He was speaking hours before the resumption of talks in Geneva.
"We had announced previously that on certain issues, if we feel it is expedient, we would negotiate with the Satan (the United States) to deter its evil," Khamenei told a gathering, reported by the official IRNA news agency.
"The nuclear talks showed the enmity of America against Iran, Iranians, Islam and Muslims," he said.
Full report at:
http://www.jpost.com/Diplomacy-and-Politics/Nuclear-talks-exposed-US-hatred-of-Muslims-Irans-supreme-leader-says-337613
-----------
Africa
A year after Mali action, France remains 'Africa's gendarme'
9 January 2014
DAKAR — A year after dispatching warplanes and troops to repel an extremist incursion in Mali, France is fighting in another of its former colonies, demonstrating it is destined to play reluctant "gendarme" in Africa, say analysts.
With the Mali intervention deemed a success by the international community, France is withdrawing most of its soldiers but has launched another operation in the Central African Republic (CAR) to stop escalating inter-communal religious conflict.
France's Defense Minister Jean-Yves Le Drian has welcomed the achievements of Operation Serval, launched on January 11, 2013 to drive militants linked to Al-Qaeda out of Timbuktu and Mali's other northern cities.
Full report at:
http://www.saudigazette.com.sa/index.cfm?method=home.regcon&contentid=20140109191983
----------
Somalia's al-Shabab militants issue internet ban
9 January 2014
Islamist militants in Somalia have issued a directive banning companies from providing internet services.
The al-Qaeda-linked al-Shabab group has given firms 15 days to shut down mobile internet and fibre optic services, which are due to launch soon.
Those who do not comply would be seen as "working with the enemy" and dealt with according to Islamic law, it said.
Correspondents say the group often executes those it accuses of spying for Somalia's government or Western powers.
Al-Shabab was driven out of the capital, Mogadishu, in August 2011, but still controls many southern and central areas of the country.
Full report at:
http://www.bbc.co.uk/news/world-africa-25666470
-----------
URL: https://newageislam.com/islamic-world-news/lashkar-imams-spent-night-home/d/35216