New Age Islam News Bureau
24 Aug 2015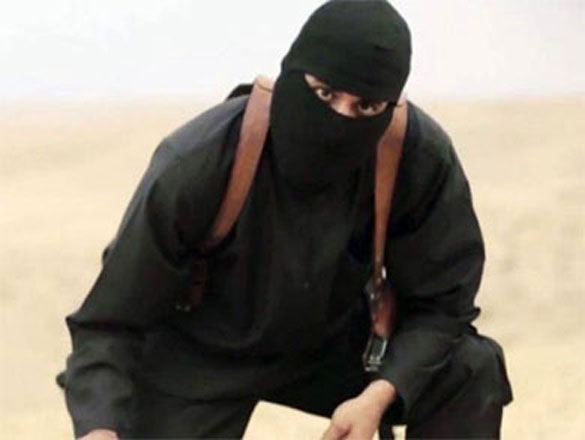 The terrorist was captured on film threatening to behead Britons at home
--------
Europe
• 'Jihadi John' Threatens To Return To UK to Carry On Beheadings
• France Train Gunman 'Dumbfounded' By Terrorism Allegations
• Russia's playing a Double Game with Islamic Terror
• Kremlin moves to attract Islamic funds
• Anti-Muslim poster displayed at UK eatery sparks controversy
------------
South Asia
• New Terrorist Group Emerges In Afghanistan, Calling Itself 'Islamic Commandos'
• Militants Blow Up Shrine in Logar's Charkh District
• 37 Insurgents Killed In Security Operations In Six Provinces In Afghanistan
• Explosion in Shebarghan leaves 1 dead, 2 wounded
• Bomb in northern Afghan town kills one, says official
• Ali Sait Akin appointed as new Turkish ambassador to Afghanistan
• Two Hizb-ut Tahrir men held in Dhaka
• Sheikh Hasina says Muslim nations should unite against terrorism
-----------
Arab World
• Iraqi Airstrikes Kill Dozens of Takfiri Daesh Terrorists
• Syria Regime Strikes near Damascus Kill 34
• ISIS Blows up Ancient Temple in Syria's Palmyra
• Insurgents shell main prison near Syrian capital, killing 10
• Lebanon protest postponed after Beirut clashes
• Bomb kills two Egyptian police, wounds 24
• Army enters central Beirut amid fierce clashes
• Pro-Hadi Militias Threaten to Kill WHO Aid Workers
• Al-Qaeda fighter sentenced to 20 years in prison
• Lebanon PM reaches out to critics as trash crisis grows
• Brotherhood leader awarded 6 life terms
• Protesters re-open access to Iraq's Umm Qasr port
• Striking cops clash with anti-riot police in Egypt
-----------
Africa
• We've Reduced Boko Haram to Wanderers, Bandits, and Says Army General
• Al-Shabaab Bomb Attack Kills 11 In S. Somalia
• Tunisian guard killed in shootout with 'terrorists'
• Nigeria army chief escapes Boko Haram ambush
• Tunisia rescues 124 migrants after boat breaks down
• AFC receives US$50 million from the IDB for project financing
-----------
Pakistan
• Modi Non-Serious About Peace in Region: Chief of Jamaat-e- Islami
• Suspected Bomber Escapes From Anti-Terror Court In Karachi
• Court grants bail to DJ Butt in loudspeaker ban violation case
• MQM lawmaker in ICU speaks to police
• Military courts quietly given powers to try internment centre suspects
• Zardari condemns attack on PPP leader in Bajaur
• Khan asks ECP officials to resign
-----------
India
• India 'Won' 1965 War with Pakistan: New Army Book
• Pak Violates Ceasefire, Fires Mortar Shells
-----------
Mideast
• Britain to 'Tread Carefully' In Relations with Iran
• 4 Qaeda Suspects Killed By 'US Drone' In Yemen
• Turkish soldiers killed after convoy hit explosives
• Yemen's pro-Hadi forces mobilize to retake Sanaa
• Iranian Police Make Arrests to Prevent Protest Gathering against British Embassy Reopening
• Iranian MPs, University Formations Protest at British Embassy Reopening
• Source: Bahraini Regime Cooperating with MKO against Iran
• Abbas quits PLO leadership ahead of internal election
• Israeli administrative detention policy slammed by rights group
• Iran's Deputy Security Chief Rejects Report on Endorsing Secret Deal with IAEA
• Zionist draconian rule of detention without trial highlighted
-----------
North America
• US Muslims Want Republican's Apology
• An International Islamic Centre in America's busiest airport
-----------
Southeast Asia
• Malaysia Will Not Protect 'Un-Islamic' Gay Rights, Says PM
• Islam Nusantara Can Protect RI from Fundamentalism
• Malaysia finds 24 more bodies of human trafficking victims
• Asia migrant crisis: New mass graves on Malaysia-Thai border
• Indonesia, China to cooperate more to combat drug trafficking
Compiled by New Age Islam News Bureau
URL: https://www.newageislam.com/islamic-world-news/new-age-islam-news-bureau/-jihadi-john--threatens-to-return-to-uk-to-carry-on-beheadings/d/104360
-----------
Europe
'Jihadi John' threatens to return to UK to carry on beheadings
Aug 23, 2015
Dreaded Islamic State executioner "Jihadi John" has threatened to return to UK to continue "cutting off heads".
In a one minute and 17 second video, he is seen wearing a black hood with his face uncovered for the first time on camera, The Independent reported.
The terrorist has been in hiding since he was named as 27-year-old Londoner Mohammad Emwazi.
He is heard threatening to return to the UK with the leader of ISIS ("Khalifa") to kill non-Muslims ("kuffar"). Quoting a new footage released by The Daily Mail, The Independent said the video is believed to have been taken in south-east Syria two months ago.
The footage is believed to have been filmed two months ago, but it is the first footage to emerge of him since he was identified in February, Metro.co.uk reported.
The footage was captured in secret on a mobile phone by rebel fighters in the Free Syrian Army and a facial mapping expert said he believes the footage is of Emwazi, the paper said.
An audio clip which accompanied the video includes a man with a British accent saying: "I am Mohammed Emwazi. I will soon go back to Britain with the Khalifa... We will kill the kuffar... I will carry on cutting heads."
Dressed entirely in black, a balaclava covering all but his eyes and the bridge of his nose, Jihadi John became a symbol of Islamic State militant group's brutality and one of the world's most wanted men.
Read: IS bombers already in UK, ready for lone-wolf attacks: Report
In the past, the Kuwaiti-born computer programming graduate from London, used videos to threaten the West, admonish its Arab allies and taunt US President Barack Obama and British Prime Minister David Cameron before hostages cowering in orange jump suits. Emwazi is believed to be responsible for the beheadings of at least seven Western hostages including Britons David Haines and Alan Henning.
Emwazi first appeared in an Islamic State video last August, when he apparently killed the US journalist James Foley.
He was also seen in another video taking part in the execution of 17 Syrian soldiers.
In February this year, Cameron had vowed to use all means at his disposal to hunt down militants such as "Jihadi John".
http://www.hindustantimes.com/world-news/jihadi-john-threatens-to-return-to-britain-to-cut-off-heads/article1-1383352.aspx
------------
France train gunman 'dumbfounded' by terrorism allegations
August 24, 2015
President Francois Hollande will on Monday bestow France's highest honour on a group of Americans and a Briton who have been hailed as heroes for overpowering a Moroccan gunman on a crowded train.
Anti-terror investigators are questioning the alleged attacker, 25-year-old Ayoub El Khazzani, who boarded a high-speed train in Brussels bound for Paris on Friday armed with a Kalashnikov assault rifle, a Luger automatic pistol, ammunition and a box-cutter.
Witnesses say he opened fire, injuring a man before being wrestled to the floor and subdued by three American passengers, including two off-duty servicemen, and a 62-year-old Briton.
Hollande will personally thank the group for their bravery on Monday, when he is to award them the country's Legion d'Honneur medal. The ceremony is expected to be attended by Belgian Prime Minister Charles Michel and the US Ambassador to Paris Jane Hartley.
Several French ministers, the mayor of the town closest to where the incident occurred and the president of France's national rail company are also due to attend.
Khazzani is said to have told investigators he is "dumbfounded" by accusations he was intending to carry out a terror attack, and insists he was only trying to rob passengers.
He said he merely stumbled upon a weapons stash in a park in Belgium and decided to use it to rob passengers, according to Sophie David, a lawyer assigned to his case when he was taken off the train in Arras, northern France.
"He is dumbfounded that his act is being linked to terrorism," David told BFM-TV, adding that Khazzani said he was homeless.
David is no longer representing Khazzani as he has been transferred to a police station near Paris for questioning.
'Football and fishing'
Khazzani's father, meanwhile, described his son on Sunday as a "good boy" who preferred talking about "football and fishing" to politics.
"I have no idea what he was thinking and I have not spoken to him for over a year," Mohamed El Khazzani told British newspaper The Daily Telegraph in Algeciras, Spain.
Under French law, suspects in terrorism-related investigations can be questioned for up to 96 hours, meaning Khazzani could be held until Tuesday evening.
Intelligence services in Belgium, France, Germany and Spain have previously flagged him as an Islamic extremist.
But one of the Americans who overpowered him told a press conference on Sunday that if Khazzani had known how to handle guns, he could have killed many people.
"He clearly had no firearms training whatsoever," National Guardsman Alek Skarlatos said.
"If he knew what he was doing or even got lucky and did the right thing, he would have been able to operate through all eight of the (ammunition) magazines and we probably wouldn't be here today along with a lot of other people."
A Spanish counter-terrorism source said Khazzani had lived in Spain for seven years until 2014. He came to the attention of Spanish authorities for making hardline speeches defending jihad.
Spanish intelligence services say he went to France, from where he travelled to Syria, but the suspect has reportedly denied going to the conflict-ridden country where the Islamic State group controls swathes of territory.
Crossing into France
Khazzani is accused of emerging from a toilet cubicle on the high-speed train, brandishing the weapons, just after it crossed from Belgium into northern France.
A French passenger who first encountered him tried to disarm him but he got away and fired at least one shot, wounding a French-American traveller in his 50s.
The attack was stopped when the two off-duty US servicemen and their friend Anthony Sadler, a student, charged the gunman and restrained him.
In a press conference at the US ambassador's residence in Paris, 23-year-old Sadler dismissed suggestions that Khazzani was not trying to kill anyone.
"It doesn't take eight magazines (of bullets) to rob a train," he said.
The Americans told the press conference that they had reservations in the first-class carriage where the attack took place, but could not initially find their seats.
They only moved to the carriage half an hour into the journey because the wireless Internet was poor and they were seeking a better connection.
Spencer Stone, who serves in the US Air Force, reached the gunman first and was slashed in the neck and on the eyebrow and almost had his thumb sliced off with a box-cutter.
"The gunman would have been successful if my friend Spencer had not gotten up," said Sadler. "I want that lesson to be learned. In times of terror like that to please do something. Don't just stand by and watch."
http://www.thedailystar.net/world/france-train-gunman-dumbfounded%E2%80%99-terrorism-allegations-131758
------------
Russia's Playing a Double Game With Islamic Terror
08.23.15
Even as America touts its counterterrorism partnerships with Russia, evidence points to the FSB directly feeding Dagestanis to ISIS.
It is an article of faith among the many critics of the current Russian government that, however unpleasant Vladimir Putin may be, he is still a necessary partner in one crucial field of U.S. foreign policy: cooperation in the war on Islamic terrorism.
Proof, if it were needed, for how valued this cooperation is among U.S. policymakers came in the conspicuous absence of Alexander Bortnikov, the director of the Federal Security Service (FSB), Russia's domestic intelligence agency, from sanctions levied by the Treasury Department against Russian officials. The sanctions targeted bureaucrats involved in both the invasion and occupation of Crimea and the unacknowledged maskirovka war that Moscow is still waging in eastern Ukraine—a war that has drawn amply on the resources of the FSB and has included several "former" FSB officers on the battlefield. Not only was Bortnikov not sanctioned, he was invited by the White House last February as a guest to President Obama's three-day conference on "countering violent extremism," whereas the current FBI director, James Comey, was not.
That conference was held principally because of the international threat posed by ISIS and the coalition war against it in Syria and Iraq, not to mention the Chechen identity of the Tsarnaev brothers, perpetrators of the 2013 Boston marathon bombings. Bortnikov's presence was a mutual recognition by the U.S. and Russia that fighting jihadism is a shared challenge between two countries now embroiled in a pitched stand-off over the fate of Europe and much else.
Chechen leader Ramzan Kadyrov smiles during a government organised event marking Chechen language day in central Grozny April 25, 2013.
Maxim Shemetov/Reuters
Yet a recent investigation conducted by Novaya Gazeta, one of the few independent newspapers left in Russia, complicates this cozy tale of counterterrorist cooperation. Based on extensive fieldwork in one village in the North Caucasus, reporter Elena Milashina has concluded that the "Russian special services have controlled" the flow of jihadists into Syria, where they have lately joined up not only with ISIS but other radical Islamist factions. In other words, Russian officials are added to the ranks of terrorists which the Russian government has deemed a collective threat to the security and longevity of its dictatorial ally on the Mediterranean, Bashar al-Assad.
It may sound paradoxical—helping the enemy of your friend—but the logic is actually straightforward: Better the terrorists go abroad and fight in Syria than blow things up in Russia. Penetrating and co-opting terrorism also has a long, well-attested history in the annals of Chekist tradecraft.
Milashina makes her case study the village of Novosasitili in Dagestan's Khasavyurt district. Since 2011, nearly 1 percent of the total population of Novosasitili has gone to Syria—22 out of 2,500 residents. Of that figure, five were killed and five have returned home. But they didn't leave Russia, a country notoriously difficult to enter and exit, without outside help. The FSB established a "green corridor" to allow them to migrate first to Turkey, and then to Syria. (Russians, including those living in the North Caucasus, can catch any of the daily non-stop flights to Istanbul and visit Turkey without a visa.)
"It's perfectly conceivable that the FSB would take their most violent types and say, 'Yeah, you want your caliphate? Go set it up in Raqqa.'"
"I know someone who has been at war for 15 years," Akhyad Abdullaev, head of the village, tells Milashina. "He fought in Chechnya, Afghanistan, Iraq, and now in Syria. He surely cannot live peacefully. If such people go off to war, it's no loss. In our village there is a person, a negotiator. He, together with the FSB, brought several leaders out of the underground and sent them off abroad on jihad. The underground resistance has been weakened, we're well off. They want to fight—let them fight, just not here."
Milashina next interviews the "negotiator" Abdullaev mentions. He tells her of his role as an intermediary between the FSB and local militants in arranging the latter's departure to the Levant. In 2012, for instance, he helped arrange for a man known as the "emir of the northern sector"—a "very dangerous man," believed by the FSB to have been behind several terrorist bombings—to go to Turkey if he agreed to quit jihadism in Dagestan. The FSB gave the emir a passport and acted as his travel agent. The condition was that he'd deal exclusively with the FSB and not inform any of his confederates of his true sponsor. The emir has since been killed in Syria, but the "negotiator" tells the journalist that he's subsequently brought another five militants to the FSB who benefited from the same quid pro quo arrangement. "This was in 2012," he says. "Just before the Syrian path opened up. More precisely, [the FSB] opened it."
So far the tactic of encouraging hijrah, or jihadist emigration, has appeared to help the Russian government pacify its decades-long insurgency in the North Caucasus. Akhmet Yarlya, a researcher at Moscow State Institute of International Relations's Center of the Problems of the Caucasus and Regional Security, a group attached to Russia's Foreign Ministry, has estimated that between two and three thousand Islamic militants have joined ISIS in the Middle East. By all accounts, the result has been great for counterterrorism officials, who are now able to claim direct credit for seeing terrorist violence in the region halve since the Syria crisis kicked off.
Tanya Lokshina, the Russia program director and a senior researcher at Human Rights Watch, told The Daily Beast that while she can neither confirm nor deny the allegations put forward in Novaya Gazeta, "It is also evident that [Russian] law enforcement and security agencies are proud of the fact that the number of casualties in armed clashes between insurgent forces and security has declined very significantly by some 50 percent. Officials attribute it to the success of the government in fighting the insurgency; in reality, it seems the drop derives from the fact that all the aggressive, competent fighters are no longer fighting in Dagestan but are in Syria as part of ISIS."
Mike Rogers, a former U.S. representative and the chair of the House Permanent Select Committee on Intelligence, told The Daily Beast that the FSB might be turning a "blind eye" to jihadist outflow to Syria. "The only reason I say that is that they could alert Assad's folks to get them once they're in Syria," Rogers said. "But for me, the idea of getting them out of town doesn't make sense because they know they get combat training and come back home."
However, a former CIA operative who has liaised with the FSB in Tajikistan told The Daily Beast that such concerns wouldn't necessarily stop a clandestine conveyor belt of extremists out of Russia, which is hardly unique to Putin's regime. "It's perfectly conceivable that the FSB would take their most violent types and say, 'Yeah, you want your caliphate? Go set it up in Raqqa.' The Saudis did this in the '80s with the Afghans. It's sort of tried and true. We could do the same thing. Of course, we're not."
------------
Kremlin moves to attract Islamic funds
24 August 2015
Russia may amend its financial regulations to allow Islamic banking in a bid to attract funds from Muslim countries, as its economy struggles with a recession and Western sanctions.
The move comes as economists, including those at the International Monetary Fund, say U.S. and European sanctions are having a significant negative impact on the Russian economy by blocking important Russian companies from accessing global financial markets.
Officials have created a task force charged with implementing Islamic banking in the country, including amending the country's banking laws, said Dmitry Savelyev, deputy chairman of the State Duma Committee on Financial Markets and the leader of the task group, the TASS news agency reported.
Islamic law, known as Sharia, places restrictions on certain types of financial transactions, such as interest payments. Over the years, a sophisticated field of banking practices compliant with Sharia has arisen to facilitate financial activity among pious Muslims, including the issuance of Islamic bonds, known as "sukuk."
The market for Islamic finance is expanding rapidly and should reach a total size of $2.6 trillion by 2017, according to a report by global consulting firm PricewaterhouseCoopers. Another estimate by the IMF said total global Islamic assets would reach $3.4 trillion by the end of 2015.
Russia has a significant Muslim minority, estimated at about 15% of the population, which could make the practice attractive here.
Konstantin Baymukhashev, an attorney at UFS IC, said the changes in Russian legislation should help attract investment into the Russian economy from Arab countries.
Attracting Islamic assets
Rustam Minnikhanov, the president of Tatarstan, one of Russia's predominantly Muslim regions, has been one of the most vocal proponents for bringing Islamic finance to Russia.
"The Muslim countries have not taken part in the attempts to isolate our country on the international stage, and the latest developments in the world economy have shown that Islamic banks can withstand various global crises and complement the global financial system," Mr. Minnikhanov said in a speech in June at the KazanSummit Economic Forum.
Islamic finance will help Russian companies compensate for the lack of funding caused by the recent deterioration of relations between Russia and the West, he argued.
In July, Mr. Minnikhanov concluded a cooperation agreement with the president of Russia's largest lender, state-owned retail banking giant Sberbank, involving the development of Islamic banking in Tatarstan.
Ahmed Mohammed Ali Al-Madani of the Islamic Development Bank, a multilateral Islamic lending organization based in Saudi Arabia, told RIR that Sharia-compliant bonds have also been issued by entities based in non-Muslim countries, including the United Kingdom, and that the worldwide amount of such assets has reached $120 billion.
"The republic of Tatarstan could be promoted as an Islamic finance hub within Russia," Mr. Al-Madani said. Tatarstan's largest bank, AK Bark, has already attracted some funds based on Islamic investment. Furthermore, in January 2015, local insurance operator Alliance began selling a specialized insurance product called"Halal Invest" that is compliant with Islamic norms.
"This kind of business is gaining momentum around the world, and by developing it in this country, we will diversify sources of funding and increase confidence in the banking system," said Semyon Nemtsov, an analyst at Russ-Invest investment company.
However, analysts said Russia is unlikely to see a sudden surge of investment from Islamic countries.
"Islamic banking is first and foremost a religious and ideological concept. Its actual financial significance is secondary. This is why there are in fact a great deal of obstacles that hamper its implementation within Russia's legal and financial system," said Konstantin Korishchenko, deputy director of the Department of Capital Markets and Financial Engineering at the Russian Presidential Academy of National Economy and Public Administration.
According to Mr. Korishchenko, there are numerous factors that will significantly complicate the alignment of Islamic finance and standardized Western banking, including the facts that Islamic regulations require that assets be sorted according to their source and deny explicit interest payments or futures transactions.
Moreover, Russia is likely to have more difficulties introducing Islamic finance than do common law countries like the UK. The introduction of Islamic banking will require deep, fundamental changes to Russian law.
According to Mr. Baymukhashev, Islamic and Russian banking systems are radically different from each other. "Islamic banks do not provide their clients with loans in the classical sense, but rather sell actual products or act as partners (co-investors) in some kind of a project, thus bearing all the associated risks with the client," Mr. Baymukhashev explains, adding that Islamic banking also precludes the financing of companies that produce or sell alcoholic drinks.
"The difference between those two financial systems is significant. Amending the law is only a part of the ground we will have to cover while implementing Islamic banking in Russia," says Mr. Baymukhashev.
http://in.rbth.com/economics/finance/2015/08/24/kremlin-moves-to-attract-islamic-funds_391861
------------
Anti-Muslim poster displayed at UK eatery sparks controversy
August 24, 2015
Customers of a local eatery in Middlesex, England were angered after seeing an anti-Muslim poster displayed on its notice board telling Muslims to 'get out of our countries.'
The offensive poster was displayed on a notice board in Weatherspoons which read, "MUSLIMS. Are you unhappy with our countries? Are you offended by our culture? Would you prefer to live under sharia law? Then we have a simple solution for you… go back to where you came from. You can live under Muslim rule there and enjoy it as much as you like!"
A 28-year-old who is a regular customer at the eatery, said he was disgusted by the poster which is allegedly the work of the Infidel Brotherhood.
Read: Woman attempts to have Muslim Uber driver fired for wearing headscarf
"I was absolutely disturbed to see this vile poster on display in my local pub, let alone in the biggest pub chain in the UK. I only popped in for lunch with a friend from work who happened to be a Muslim, but we were so upset by it we were forced to leave" he said.
Expressing his shock on seeing the poster he said that he won't go back to the same pub again and that racist propaganda should not be allowed in Britain.
"It is disgraceful that J D Wetherspoon pubs are allowing this anti-Muslim propaganda to be displayed – I'd hate for any Muslim to think all British people are racists because of this." he added.
However, a spokesperson for the pub apologised for the poster claiming that the staff had no knowledge of it being displayed, and the poster was removed as soon as the staff were made aware of it.
Read: Lost in translation: Police nabs three Christians over 'blasphemous' poster
"The customer notice board, which is regularly checked and monitored by staff, has now been completely cleared of all material, whatever the content. The Moon on the Square is a community pub, proud of its diverse customer base, and has always been fully committed to operating in a non-discriminatory way," a statement from the pub said.
Muslims have become unjust racist targets since the Charlie Hebdo attacks in Paris.
http://tribune.com.pk/story/943781/anti-muslim-poster-displayed-at-uk-eatery-sparks-controversy/
------------
South Asia
New terrorist group emerges in Afghanistan, calling itself 'Islamic Commandos'
Aug 24 2015
Taliban and al-Qaeda had surged an insurgency in Afghanistan for over a decade and few months before another group by the name of Daesh affiliating itself with the Islamic State, a terrorist group from Iraq and Syria, appeared in parts of the country with carrying out some brutal executions.
Officials in parts of the country are now saying that a new terrorist group calling itself 'Islamic Commandos' has began functioning in their areas.
Mohammad Ali Ahmadi, deputy governor of Ghazni province told Azadi Radio on Sunday that the group calling itself 'Islamic Commandos' recently began functioning in this province. He said majority of this group is currently fighting with security forces in northern Afghanistan.
"Major part of this group is operating in northern areas such as Badakhshan, Kundoz and Faryab," he said.
According to Ahmadi, a part of this group has settled in the border areas of southern Afghanistan's Zabul, Urozgan and Kandahar provinces.
Full report at:
http://www.khaama.com/new-terrorist-group-emerges-in-afghanistan-calling-itself-islamic-commandos-3814
------------
Militants blow up Shrine in Logar's Charkh District
Aug 24 2015
Unidentified gunmen have blown up a shrine in central Logar province, an official said on Monday.
Mohammad Saleem Salih, spokesman for the governor of Logar province said that a group of gunmen went to Shah Khalwati shrine located in Garamabad area of Charkh District and blew it up at around 05:00 am this morning.
Provincial administration of Logar province has strongly condemned the attack on a shrine and ordered security organs to detain those behind it.
Initial investigation reveals that the militant group belonging to Mawlawi Shoaib Dawran S/O Mawlawi Ahmad was behind the attack.
This is second incident of attacks on Shrines in Charkh District of Logar province so far this year.
Full report at:
http://www.khaama.com/militants-blow-up-shrine-in-logar-province-3817
------------
37 Insurgents Killed In Security Operations In Six Provinces In Afghanistan
Aug 24 2015
37 militants have been killed in newest security operations in Nangarhar, Baghlan, Kunduz, Faryab, Sar-e-Pul and Helmand provinces, the Ministry of Interior announced on Monday morning.
A statement issued by the ministry states that the operations were jointly conducted by Afghan National Police, Afghan National Army and personnel from the National Directorate of Security (NDS) – Afghanistan's intelligence agency in past 24 hours.
The statement further states that 37 insurgents were killed, three wounded and three others detained by the security forces.
Full report at:
http://www.khaama.com/37-insurgents-killed-in-security-operations-in-six-provinces-3815
------------
Explosion in Shebarghan leaves 1 dead, 2 wounded
Aug 24 2015
A relatively heavy blast rocked northern Jawzjan province of Afghanistan earlier today, local officials said.
The blast took place in a market place in Shebarghan city with eyewitnesses in the area saying at least one person was killed and two others were wounded.
Provincial police chief Faqir Mohammad Jawzjani confirmed the incident and said one person was killed and two others were wounded in the incident.
Full report at:
http://www.khaama.com/casualties-feard-suicide-attack-rocks-sherbarghan-city-9597
------------
Bomb in northern Afghan town kills one, says official
Aug 24, 2015
JAWZJAN: Afghan officials say a bomb hidden in a vehicle carrying produce has exploded in a northern township, killing one person and wounding two.
Faqir Mohammad Jawzjani, the police chief of Jawzjan province, said on Monday the vehicle was carrying beans through an intersection in Shibirghan when the bomb - hidden in one of the sacks of beans - detonated.
Shibirghan has largely been peaceful though insurgents have extended their presence to the north during this summer's fighting season.
Full report at:
http://www.dawn.com/news/1202492/bomb-in-northern-afghan-town-kills-one-says-official
------------
Ali Sait Akin appointed as new Turkish ambassador to Afghanistan
By ZABIHULLAH MOOSAKHAIL
Aug 24 2015
Ali Sait Akin has been appointed as the new Turkish ambassador to Afghanistan.
Akin presented his Diplomatic Credentials to President Mohammad Ashraf Ghani in Presidential Palace on Sunday.
A formal ceremony was organized in Presidential Palace (Arg) where Akin said that he is happy with his appointment.
He praised Afghan government's peace initiatives and expressed his country's support for it.
Akin said that a peaceful and stable Afghanistan is also in the interest of Turkey and the region.
Akin pledged to facilitate visas to Afghans and encourage the Turkish airlines to expand their services to Herat and Kandahar provinces.
He informed the President that his country is ready to finance the construction of Mawlana Jalaludin Mohammad Balkhi University.
Full report at:
http://www.khaama.com/ali-sait-akin-appointed-as-new-turkish-ambassador-to-afghanistan-3816
------------
Two Hizb-ut Tahrir men held in Dhaka
Aug 24 2015
Detectives have detained two members of banned Islamist outfit Hizb-ut Tahrir at Uttara in Dhaka.
The detainees are Al Tamas Ahmed Babu and Syed Jane Alam Rubel.
Sheikh Nazmul Alam, deputy commissioner of Dhaka Metropolitan Police (DMP), said the duo were held during a drive on Sunday night.
He said another Hizb-ut Tahrir member fled the scene during the drive. "We are trying to catch him."
Full report at:
http://www.dhakatribune.com/bangladesh/2015/aug/24/two-hizb-ut-tahrir-men-held-dhaka
------------
Sheikh Hasina says Muslim nations should unite against terrorism
August 24, 2015
Prime Minister Sheikh Hasina yesterday said Muslim nations could settle their disputes through talks and take a united stance against terrorism.
"Muslim Ummah should be united to adopt a stance against terrorism, but unfortunately Muslim countries are fighting each other and giving chance to others for taking the advantage," she said.
The PM made the comment when visiting Secretary General of the Organisation of Islamic Conference (OIC) Iyad Ameen Madani paid a courtesy call on her at her office.
After the meeting, Prime Minister's Press Secretary Ihsanul Karim briefed reporters. He said Hasina mentioned that terrorists were just terrorists, and the question of religion should not come when it came to terrorism.
The premier said Islam is a religion of peace and harmony that teaches about tolerance. "The essence of Islam should be known properly," she said.
Referring to the terrorist attacks on a Saudi Arabian mosque, Hasina strongly criticised the incident and said Islam never supported such heinous acts.
About the OIC's role in the development of education sector, the PM laid emphasis on science- and technology-based education in the context of the OIC's initiatives.
In this regard, Hasina mentioned that her government established a number of science-and technology- based universities in the country to promote science and ICT-based education.
Besides, she said her government had also been promoting research activities by allocating funds separately.
Full report at:
http://www.thedailystar.net/backpage/muslim-ummah-should-unite-against-terror-131689
-----------
Arab World
Iraqi airstrikes kill dozens of Takfiri Daesh terrorists
Aug 24, 2015
Iraqi fighter jets have carried out a series of airstrikes against Daesh Takfiri terrorists and their positions in various areas of the Arab country, killing scores of the militants.
In a Sunday statement, the Iraqi Defense Ministry said the warplanes targeted Daesh positions in the western province of Anbar.
The Iraqi jets also hit Daesh positions in the town of Dijla, located about 30 kilometers (18 miles) north of the capital, Baghdad as well as in the town of Baiji, in the northern Salahuddin Province.
"Eagles of the Iraqi air force from the Anbar, Dijla and Baiji operation units have destroyed several ISIS (Daesh) positions, killing many militants," the statement said.
A large number of ready-to-use car bombs were destroyed by the airstrikes, according to the statement.
Full report at:
http://www.presstv.ir/Detail/2015/08/24/426103/Iraq-fighter-jet-airstrike-Daesh-ISIL-Anbar-Salahuddin
------------
Syria regime strikes near Damascus kill 34
23 August 2015
The toll from heavy government bombardment of a rebel stronghold outside the Syrian capital rose on Sunday to 34 civilians including 12 children, a monitoring group said.
Separate rocket attacks killed 11 people in a regime-held neighbourhood northeast of Damascus and one person in the capital itself on Sunday, state television said.
"There are now 34 civilians that were killed in Saturday's attacks on Douma, among them 12 children and eight women," said Rami Abdel Rahman, director of the Syrian Observatory for Human Rights.
Forces loyal to President Bashar al-Assad targeted the rebel-held town of Douma with shelling and air raids on Saturday.
By late evening, the Observatory said 20 civilians had been killed, but also that rescuers were still searching for more victims.
"Overnight, they found more victims underneath the rubble, and others who were wounded died," Abdel Rahman said on Sunday.
He said some strikes killed entire families inside their homes.
Local volunteers and civil defence teams worked on Sunday morning to locate seven people who were still unaccounted for, the Britain-based Observatory said.
The Douma Coordination Committee, a local activist group, published the names and photos of documented casualties on Facebook.
One picture showed a toddler the group said had been rescued from beneath the rubble but who succumbed to his wounds shortly afterwards.
At least 11 air strikes targeted the Eastern Ghouta area, of which Douma is a part, on Sunday. Some hit the town of Arbin, killing four civilians.
Full report at:
http://english.alarabiya.net/en/News/middle-east/2015/08/23/Toll-from-Syria-regime-strikes-near-Damascus-now-34-.html
------------
ISIS Blows up Ancient Temple in Syria's Palmyra
24 August 2015
Islamic State of Iraq and Syria (ISIS) militants on Sunday blew up the ancient temple of Baal Shamin in the UNESCO-listed Syrian city of Palmyra, the country's antiquities chief told AFP.
"Daesh placed a large quantity of explosives in the temple of Baal Shamin today and then blew it up causing much damage to the temple," said Maamoun Abdulkarim, using another name for ISIS.
Over the past several months, ISIS have blown up and defaced historical sites and artefacts across their sprawling self-proclaimed "caliphate" stretching across Iraq and Syria.
ISIS took control of Palmyra in May, located in the central desert region of the country, sparking worldwide concern that they would destroy its 2,000 year-old ruins.
Last week, the militants caused uproar when they beheaded Khaled Asaad, an 82-year-old antiquities scholar living in Palmyra, reportedly because he refused to reveal where some artefacts were hidden.
Full report at:
http://english.alarabiya.net/en/News/middle-east/2015/08/24/ISIS-blows-up-temple-in-Syria-s-Palmyra.html
------------
Insurgents shell main prison near Syrian capital, killing 10
23 August 2015
Insurgents shelled the central prison near the Syrian capital Damascus on Sunday as well as residential neighborhoods in the city, killing at least 11 and wounding more than 40.
The Interior Ministry statement, carried by state TV, said the shelling of the prison area killed 10 and wounded 40. It did not say if the dead and wounded included prisoners from the jail known as Adra Prison, just northeast of Damascus. The statement did not say which specific insurgent group was responsible for the attack.
Later Sunday, insurgents fired shells into residential neighborhoods in Damascus killing one person and wounding seven, according to state TV.
Infographic: Insurgents shell main prison near Damascus
(Design by Farwa Rizwan/ Al Arabiya News)
Insurgents have shelled Damascus on several occasions in recent weeks, killing and wounding dozens of people.
Full report at:
http://english.alarabiya.net/en/News/middle-east/2015/08/23/Insurgents-shell-main-prison-near-Syrian-capital-killing-10.html
------------
Lebanon protest postponed after Beirut clashes
24 August 2015
Lebanese protesters said they had postponed a demonstration set for Monday evening, after rallies a day earlier triggered clashes with security forces in Beirut.
Organisers of the "You Stink" campaign against a garbage disposal crisis said on their Facebook page they would hold a news conference later in the day to explain their decision.
On Sunday, the Lebanese army arrived central Beirut, clearing two main squares, where clashes between protestors and security forces – in their second day - left at least 20 people injured.
Full report at:
http://english.alarabiya.net/en/News/middle-east/2015/08/24/Lebanon-protest-postponed-after-Beirut-clashes.html
------------
Bomb kills two Egyptian police, wounds 24
24 August 2015
A bomb struck a bus carrying Egyptian policemen Monday, killing two and wounding 24, officials said, the latest attack against security forces who are being targeted by ISIS.
The attack occurred in the Nile Delta province of Baheira, 260 kilometers north of Cairo, while the policemen were traveling to work in a civilian bus.
"Two policemen were killed and 24 others were wounded, including two seriously," said health ministry spokesman Hossam Abdel Ghaffar.
A local health official earlier told AFP that one policeman had died in the blast.
Jihadists have killed scores of police and soldiers since an Islamist insurgency swelled in the wake of the 2013 overthrow of president Mohammad Mursi, the country's first democratically elected president who took office following the 2011 ouster of longtime ruler Hosni Mubarak.
The insurgency has been spearheaded by Egypt's ISIS affiliate which has launched regular attacks against security forces.
While mostly centered on the Sinai Peninsula, ISIS has in recent months carried out more attacks in the capital, including against foreign targets.
On Thursday, a car bomb claimed by IS tore through a Cairo police building injuring 29 people, including six policemen.
Full report at:
http://english.alarabiya.net/en/News/middle-east/2015/08/24/Bomb-kills-one-Egyptian-policemen-wounds-29-.html
------------
Army enters central Beirut amid fierce clashes
23 August 2015
The Lebanese army arrived central Beirut late Sunday, clearing two main squares, where clashes between protestors and security forces – in their second day - left at least 20 people injured, sources told Al Arabiya News Channel.
Lebanese protesters carry an injured girl during clashes with riot police (AFP)
The move appears to be a clear escalation in the protests, which began on Saturday evening in the Lebanese capital's Martyr's Square.
Around the same time the army moved in, Internal Security Forces (ISF) cleared the Martyr's and Riad al-Solh squares, Al Arabiya News Channel reported.
Lebanese activists clash with riot police (AP)
On Sunday, around 200 youths, some wearing scarves or masks to cover their faces, threw stones and bottles filled with sand at police and tried to pull down security barricades, an AFP correspondent said. Footage shown on social media appeared to show a man lying on the group, with blood pouring from his head.
Footage taken from a Lebanese channel appears to show security forces in the capital Beirut during the protests (Still courtesy of LBC)
The demonstrators were calling on the government to step down for mishandling a dispute over uncollected garbage in the streets for weeks, extending an online campaign named "You Stink" by activists.
Full report at:
http://english.alarabiya.net/en/News/middle-east/2015/08/23/Thousands-of-Lebanese-protest-against-government-in-Beirut.html
------------
Pro-Hadi Militias Threaten to Kill WHO Aid Workers
Aug 23, 2015
"All WHO employees from different countries have left Aden due to the threats by militants of the former fugitive president (Mansour Hadi)," Samir al-Bari told FNA on Sunday.
He reiterated that the WHO workers had been stationed in Yemen since few days ago in a bid to save the Yemeni people from contagious diseases.
Saudi Arabia has been striking Yemen for 151 days now to restore power to fugitive president Mansour Hadi, a close ally of Riyadh. The Saudi-led aggression has so far killed at least 5,516 Yemenis, including hundreds of women and children.
Full report at:
http://english.farsnews.com/newstext.aspx?nn=13940601001326
------------
Al-Qaeda fighter sentenced to 20 years in prison
24 August 2015
JEDDAH: The Special Criminal Court has sentenced a Saudi citizen to 20 years in prison for leading the Abdullah Azzam Brigades, one of the branches of the Al-Qaeda terror group.
The accused reluctantly turned himself in to Saudi authorities in Pakistan due to a serious injury he sustained which caused him permanent disability.
The accused, Naj Al-Khair, 33, once led the Azzam Brigades and spent time in Iran. Additionally, he received intensive training in improvised explosive devices (IEDs) in Afghanistan. Later, he was hit by a missile launched by a US drone in Waziristan, on the Pakistan-Afghan border.
But he returned to Saudi Arabia due to permanent disability and after being abandoned by his colleagues in the Abdullah Azzam Brigades who appointed Majid Al-Majid in his place. Majid died of an illness in Beirut in 2013.
Full report at:
http://www.arabnews.com/saudi-arabia/news/796051
------------
Lebanon PM reaches out to critics as trash crisis grows
24 August 2015
BEIRUT: Lebanon's prime minister reached out to government critics over the country's growing trash crisis Sunday, as protesters gathered again following a night of clashes with police.
Weeks of anger about overflowing piles of rubbish in Beirut and other parts of Lebanon erupted on Saturday as thousands protested outside the prime minister's office.
Police responded with tear gas, water cannon and gunfire as some protesters tried to pull down barricades and barbed wire.
A Red Cross official said at least 16 people had been wounded in the clashes. Lebanon's Internal Security Forces (ISF) said more than 35 of its members were injured.
Moving to ease tensions, Prime Minister Tammam Salam said on Sunday he was ready to meet with members of the "You Stink" movement which is organizing the demonstrations and has blamed political divisions and corruption for the crisis.
Salam said he stood "with the people and with the citizens," adding: "I'm ready to listen to you and sit with you."
He also pledged to hold accountable those responsible for using "excessive force against civil society and against the people.
"We cannot allow yesterday's events to pass without accountability and follow-up," Salam said.
He called on Lebanon's cabinet to meet this week to find a solution to the crisis, railing against political divisions that have paralyzed the country's institutions.
Salam said the country's trash crisis was the "straw that broke the camel's back."
"But the story is bigger than this straw. This is about the political trash in this country," he said.
Protesters were meanwhile gathering again in central Beirut on Sunday, joining others who had spent the night in tents near government buildings.
Hundreds of demonstrators, some wearing masks or scarves around their face, had gathered near Salam's office, an AFP photographer said, while security forces had set up two rows of barbed wire and a row of metal barricades to keep back the crowds.
In a statement to journalists at the protest site, the movement's leadership rebuffed Salam's offer of talks and demanded the government's resignation.
Protesters have been calling for a concrete solution to a crisis that has seen piles of waste growing in Beirut and the populous Mount Lebanon region since the country's largest landfill was shut on July 17.
Full report at:
http://www.arabnews.com/middle-east/news/795846
------------
Brotherhood leader awarded 6 life terms
23 August 2015
CAIRO: Egyptian Muslim Brotherhood leader Mohamed Badie and several other prominent figures were sentenced to life in prison on Saturday for murder and inciting violence, judicial sources said, part of an ongoing crackdown on the outlawed group.
Badie has faced numerous trials and has accumulated two death sentences and five sentences to life in prison in separate cases, which still may be appealed.
Saturday's sentencing related to an attack on a police station in the city of Port Said in 2013 in which five people were killed. Senior Brotherhood leader Mohamed El-Beltagy, cleric Safwat Hegazy, and 16 others were also sentenced to life in prison, 28 to ten years in prison and 68 acquitted. Another 76 people were given life sentences in absentia.
Charges ranged from murder and inciting violence to stealing weapons and destruction of public and private property.
Full report at:
http://www.arabnews.com/middle-east/news/795496
------------
Protesters re-open access to Iraq's Umm Qasr port
24 August 2015
BASRA, Iraq — Road access to Iraq's southern Umm Qasr commodities port was restored on Sunday following a two-day closure by protesters after the authorities promised to create new jobs, a port company spokesman and port workers said.
Thousands of Iraqis have protested in recent weeks in Baghdad and southern Iraqi cities, calling for jobs, government services and reforms of the judiciary, parliament and local governing bodies.
At Umm Qasr, negotiations with security officials and the director of the state-run General Company for Ports of Iraq resulted in a pledge to create up to 75 new jobs, said company spokesman Anmar Al-Safi.
Full report at:
http://www.saudigazette.com.sa/index.cfm?method=home.regcon&contentid=20150824254305
------------
Striking cops clash with anti-riot police in Egypt
Aug 23, 2015
Protesting police officers in Egypt have clashed with riot police known as Central Security Forces (CSF) in the northern city of Zagazig in Sharqiya Governorate, demanding the ouster of Egypt's interior minister.
During a Sunday protest in front of Sharqiya's security directorate, CSF forces fired tear gas at the protesting police officers, who have gone on strike since Saturday for higher wages, prompting the lower-ranking striking officers to respond by firing warning shots into the air, forcing CSF forces to flee the scene, the local al-Ahram Arabic news website reported.
Four law enforcement officers from both sides were injured during the clashes, according to the report.
The two police forces are operated separately. The striking forces have won the backing of fellow officers from a number of other cities across Egypt.
This is while the protesting officers are demanding unpaid bonuses for the months of June and July, along with access to the same health care facilities used by higher-ranking officers, the report said.
The file photo of mounted Egyptian police officers (Photo by AFP)
The protesting officers demanded the expulsion of Interior Minister Magdy Abdel Ghaffar and Sharqiya's Security Director General Khaled Abdel Rahman Yehia.
The report cited "a senior security official" as alleging that the banned Muslim Brotherhood, tied to military-ousted President Mohammed Morsi, was behind the protest by police officers without elaborating.
Additionally, Egypt's state news agency MENA also cited an unnamed "security source" as claiming on Saturday that the Brotherhood "instigated the ongoing strike" and "paid" the officer to launch the protest.
Full report at:
http://www.presstv.ir/Detail/2015/08/23/426035/Egypt-Zagazig-striking-police-officers-Abdel-Ghaffar
-----------
Africa
We've Reduced Boko Haram to Wanderers, Bandits, and Says Army General
Posted By: Precious Igbon
August 24, 2015
The former Commander, Army Corps of Engineers, Major General Sarduarna Davies has said the Army has reduced the terrorist group, Boko Haram to wanderers and bandits.
Davies spoke at the corps headquarters in Bonny Camp, Lagos, while handing over to his successor, Major General Edmund Obi at the weekend.
The outgone corps Commander reminded his personnel that the ongoing war against the terrorists was an engineering and logistics war, urging them to ensure that only trained personnel were deployed to the area.
He said: "I am very certain that we are winning the war in the northeast. I am just in from there and I can tell you that they are just bunch of marauders who are just acting like bandits now.
Full report at:
http://thenationonlineng.net/weve-reduced-boko-haram-to-wanderers-bandits-says-army-general/
------------
Al-Shabaab bomb attack kills 11 in S. Somalia
AUGUST 24, 2015
With direct ties to al Qaeda, al-Shabab claimed responsibility for the attack in Kismayo, and the group alleged the death toll was significantly higher than reported, according to Agence France-Presse.
The attack took place as soldiers were lining up for training, killing 16 Somali soldiers and injuring 21 others.
'One hundred apostate militia were killed in an operation carried out by one of the fearless Mujahedeen suicide attackers who drove his vehicle through the enemy inside a training camp and detonated.
At least 21 people are dead following two auto bomb attacks in Somalia.
At least 10 soldiers died in the attack, said a senior military official in Kismayo, Col. Mohamed Hassan.
The site is now being used by Somali troops and Kenyan soldiers affiliated with the African Union Mission to Somalia (AMISOM).
Despite being forced out of many of their strongholds, al-Shabab are still able to launch lethal attacks in the capital, Mogadishu, and elsewhere in Somalia.
Full report at:
http://www.tjcnewspaper.com/al-shabaab-bomb-attack-kills-11-in-s-somalia-25500/
-----------
Tunisian guard killed in shootout with 'terrorists'
24 August 2015
A Tunisian border guard was killed on Sunday in a shootout with jihadists on the border with Algeria, state television and the president of a union of border guards said.
"A border guard was killed and three others were wounded in a shootout with a terrorist group in Bouchebka," Wataniya 1 television reported.
Ridha Ennasri, the union president, confirmed to AFP that a border guard was killed in "a terrorist attack" and said that another was wounded.
The killing comes days after a Tunisian policeman was shot dead by two assailants on a motorbike in the coastal resort of Sousse. Authorities have been unable to say whether that killing was carried out by jihadists and an investigation is ongoing.
In June, a jihadist gunman killed 30 Britons and eight other foreign tourists on a beach in Sousse, an attack claimed by the Islamic State group.
Tunisia has been under a state of emergency in the wake of that massacre, which followed an attack by gunmen on the Bardo museum in the capital Tunis that killed 21 foreign tourists and a policeman.
Full report at:
http://english.alarabiya.net/en/News/middle-east/2015/08/24/Tunisian-border-guard-killed-in-shootout-with-terrorist-group-.html
------------
Nigeria army chief escapes Boko Haram ambush
Aug 23, 2015
Boko Haram Takfiri terrorists have ambushed a convoy carrying the Nigerian military chief, sparking a gun battle in which at least one soldier and 10 militants were killed.
Nigerian army spokesman Sani Usman said in a statement on Sunday that the convoy of Nigeria's Chief of Army Staff Lieutenant General Tukur Buratai came under attack in Faljari village, 45 kilometers east of Borno State capital Maiduguri.
The violent clashes started after Boko Haram militants opened fire on the military convoy in the troubled region.
"The terrorists encountered an overwhelming firepower from the troops in which 10 of them were killed. The troops captured five terrorists," said Usman, adding, "During the encounter, sadly, we lost a soldier, while an officer and four soldiers sustained gunshot wounds."
Ban due in Nigeria
This comes as United Nations Secretary General Ban Ki-moon is expected to arrive in Nigeria later Sunday to commemorate the fourth anniversary of a deadly attack on the global body by Boko Haram terrorist group in the capital Abuja.
Also on August 13, up to 150 people were shot dead or drowned in a river in northeastern Nigeria while fleeing violence by the Boko Haram Takfiri terrorists in the violence-hit Yobe State.
Full report at:
http://www.presstv.ir/Detail/2015/08/23/426002/Boko-Haram-Nigeria-Faljari--General-Tukur-Buratai-Borno
------------
Tunisia rescues 124 migrants after boat breaks down
Aug 23, 2015
Tunisia's coast guard has rescued 124 migrants in the Mediterranean Sea close to neighboring Libya, said the International Committee of the Red Cross (ICRC).
Mongi Slim, an official at the ICRC, said the migrants, all Africans, had been "attempting to illegally reach the Italian island of Lampedusa before they were rescued" and taken to the southern Tunisian port of Ben Guerdane.
All of the migrants rescued were stranded at sea for three days. They had taken off from the Libyan coast onboard a large inflatable vessel that later broke down, Slim told AFP on Sunday.
Among the migrants were 109 Nigerians, including 19 women, seven Ghanaians, including four women, four Ethiopians, a couple from Cameroon, and two Congolese.
For years now, Tunisia has been at the forefront of rescue efforts amid an overflow of mainly African migrants bound for Europe on small and unsafe boats that run into trouble most of the Full report at:
http://www.presstv.ir/Detail/2015/08/23/426047/124-migrants-rescue-Tunisia-forces-Mediterranean-Sea-boat
------------
AFC receives US$50 million from the IDB for project financing
08/24/2015
LAGOS, Nigeria, August 24, 2015/ -- Africa Finance Corporation (AFC) (http://www.africafc.org) is pleased to announce its acceptance of a US$50 million 15 year line of financing, with a 13 year six month repayment period, from the Islamic Development Bank (IDB).
The funds will be used to finance projects located across the numerous African IDB member countries. The projects will be structured in a way that is compliant with Islamic Finance, focusing particularly on infrastructural and agricultural projects that promote the economic and social development of the communities concerned.
This is AFC's first Islamic finance borrowing and is the result of several years of increasing cooperation and collaboration between the two institutions. AFC initiated discussions in 2009 and a Memorandum of Understanding was later signed with the Islamic Corporation for the Development of the Private Sector (ICD), the private sector arm of the IDB Group.
Building on this groundwork a team from the IDB visited AFC in 2014, following the reaffirmation of AFC's international credit rating of A3/P2 by Moody's and based on several more years' track record in landmark project financing and development. AFC's involvement in projects such as the Bakwena Toll Road, a transport infrastructure development which has connected South Africa's industrial heartland to the nearest deep water port in Mozambique, were instrumental to the success of the corporation's application.
Full report at:
http://www.gnnliberia.com/articles/2015/08/24/africa-finance-corporation-afc-receives-us50-million-islamic-development-bank
------------
Pakistan
Modi Non-Serious About Peace In Region: Chief Of Jamaat-E- Islami
August 23, 2015
Oldham: Chief of Jamaat-e- Islami Siraj-ul-Haq says, Indian government led by Narendra Modi is non-serious about peace in the region.
Addressing a gathering in Oldham Sirajul said, the visit of Indian Prime Minister to Bangladesh is evident of his intentions about Pakistan.
He said unless Kashmir issue is resolved, peace cannot be realized in its true sense. "We should focus on the core issue of Kashmir," he added. JI chief said the federal government should pursue an aggressive policy on the Kashmir issue, on all international forums.
Full report at:
http://nation.com.pk/national/23-Aug-2015/modi-non-serious-about-peace-in-region-ji-chief
-----------
Suspected bomber escapes from anti-terror court in Karachi
ISHAQ TANOLI
Aug 24, 2015
KARACHI: An undertrial prisoner, who was being tried for possession of explosives, escaped from police custody on Monday when he was produced for his hearing at Karachi's Anti-Terrorism Court-IX.
Tanveer alias Jumbo was under the custody of the special investigation unit after he was arrested in Karachi's Ibrahim Hyderi in 2014 and a case (FIR 241/14) was registered under Sections 4/5 of the Explosives Subtances Act, 1908.
The act mentions punishment for 'attempting to cause an explosion or possessing explosives with the intention of endangering life or property or keeping them under suspicious circumstances'.
Police had claimed that hand grenades and other explosive devices were recovered from Tanveer's possession at the time of arrest.
A hearing for evidence in this case was fixed at ATC-IX today and the prisoner was brought to court from Central Jail. He was being escorted by a policeman when he apparently managed to unlock his handcuffs and escaped.
Karachi's ATCs are housed at Sindh Secretariat where there are no boundary walls on the premises.
Full report at:
http://www.dawn.com/news/1202483/suspected-bomber-escapes-from-anti-terror-court-in-karachi
------------
Court grants bail to DJ Butt in loudspeaker ban violation case
SAMAR ABBAS
Aug 24, 2015
ISLAMABAD: A local court on Monday granted bail to DJ Butt, who managed the sound systems during Pakistan Tehreek-i-Insaf's (PTI) 126-day sit-ins last year, after hearing a case related to the violation of a capital administration ban on the use of loudspeakers.
DJ Butt appeared before the court of Assistant Commissioner (AC) Islamabad Waqas Rasheed after non-bailable warrants were issued for his arrest on Friday.
AC Waqas Rasheed heard a case against DJ Butt relating to the violation of Section 144 of the criminal procedure code (CrPC) and the Amplifier Act which he was accused of committing during PTI's sit-ins last year.
Upon hearing the music guru's stance, the court granted bail to DJ Butt until September 3 and directed him to furnish a security bond worth Rs100,000 for his release.
DJ Butt was also ordered to appear before the court for the next hearing of the case which was adjourned until September 3.
PTI's veteran music guru was also arrested earlier in September 2014 during the party's sit-in in Islamabad in relation with the same case.
Read: DJ Butt behind bars, but the show must go on
Inspector General Tahir Alam Khan had told Dawn at the time,"(DJ Butt) was arrested for violation of Section 144 (entitled: 'Power to issue order absolute at once in urgent cases of nuisance or apprehended danger')," in connection with a case registered at the Secretariat police station under section 188 of the Pakistan Penal Code (PPC), entitled 'Disobedience to order, duly promulgated by public servant'.
Full report at:
http://www.dawn.com/news/1202503/court-grants-bail-to-dj-butt-in-loudspeaker-ban-violation-case
------------
MQM lawmaker in ICU speaks to police
Aug 24, 2015
KARACHI: Muttahida Qaumi Movement lawmaker Rashid Godil on Sunday briefly spoke to officials investigating the Aug 18 armed attack on his life in which his driver was killed. However, the police decided that his formal statement would be recorded later.
DIG-East Munir Ahmed Shaikh told Dawn that he called on Mr Godil at the Liaquat National Hospital, where he is under treatment in an intensive care unit (ICU).
"I talked to him briefly and the lawmaker communicated through signs and gestures," said the DIG, who is leading the probe team.
The DIG said that Mr Godil told him that he left his residence in Defence with his wife and driver and was on his way to Bahadurabad when he was attacked. He was sitting next to the driver, he added.
He said he had heard gunshots clearly and the driver had got off the car to help him but fell down.
The police did not ask more questions since he was in pain and decided that his formal statement would be recorded later.
A police source told Dawn that Mr Godil was also asked about his statement in Islamabad that his life was in danger. However, he replied that he gave such a statement in a lighter mood, the source added.
Meanwhile, doctors at the LNH said they would decide on Monday when to move Mr Godil from the ICU to a medical ward as he made good progress on the fourth day since he was taken off the ventilator.
Full report at:
http://www.dawn.com/news/1202381/mqm-lawmaker-in-icu-speaks-to-police
------------
Military courts quietly given powers to try internment centre suspects
MALIK ASAD
Aug 24, 2015
ISLAMABAD: The government has quietly allowed the military courts to try thousands of suspects detained at different internment centres by passing an ordinance in February this year.
After the December 16, 2014, attack on the Army Public School Peshawar, the government had introduced the 21st constitutional amendment to allow for military courts.
On January 6, parliament passed the amendment that enabled military courts to try civilians facing various charges related to terrorism, militancy, sectarian violence, waging war against the state, armed forces and law enforcement agencies.
Amendment passed as ordinance when parliament wasn't in session; minister says matter will be tabled in NA
However, this constitutional amendment and the subsequent amendments to the Pakistan Army Act (PAA) did not allow for the trial of those detained in the internment centres.
According to retired Lt-Col Tahir Mehmood, of the army's legal directorate, the initial amendment to the PAA was silent about the internment centres detainees.
"The amendments in the PAA made in January this year empowered jurisdiction of the military courts to those suspects who were not subject to the army act earlier," he explained, adding that the 21st amendment gave constitutional cover to the amendments made in the PAA.
A former officer of the army's judge advocate general (JAG) branch, the military's legal directorate, told Dawn that there were over 6,000 suspects detained at different internment centres and that these suspects were captured in military operations since 2009.
During the hearings of some missing persons' cases in courts, the military did admit to holding some of them in custody; it said these men were captured in the operational areas and then detained in the internment centres.
The detention of these suspects was of concern to the military.
As a result, while the petitions against the 21 amendment were pending in the apex court, the ministry of law and justice on February 25 promulgated an ordinance for further extending the ambit of the PAA to the persons under the custody of the armed forces. This has now allowed the military courts to hold the trial of the men that had been detailed earlier, before the 21 amendment was passed.
The ordinance amended Section 2 (which defines jurisdiction of the PAA) to say: "Any person arrested, detained or held in custody by the armed forces, civil armed forces or law enforcement agencies and kept under arrest, custody or detention before the coming into force of the Pakistan Army (Amendment) Act 2015 (Act II of 2015) shall be deemed to have been arrested or detained pursuant to the provisions of this Act as amended by the PAA."
Retied Brigadier Wasaf Khan Niazi, a former JAG, told Dawn that the government had extended the jurisdiction of the military courts.
When asked whether the government could apply the law to the detained suspects retrospectively, Brigadier Naizi said this was a procedural law not a penal law. "Therefore, it could be applied retrospectively."
Penal law, or criminal law, deals with offences and their penalties such as murder or child abuse; so for instance when a new offence is brought under the ambit of law such as child abuse or cyber crime, it cannot apply retrospectively, he explained.
Full report at:
http://www.dawn.com/news/1202421/military-courts-quietly-given-powers-to-try-internment-centre-suspects
------------
Zardari condemns attack on PPP leader in Bajaur
August 24, 2015
ISLAMABAD - Former resident and Co-chairman of Pakistan Peoples Party Asif Ali Zardari has condemned the attack on PPP's Tehsil Mohmand president in Bajaur Agency Sunday morning resulting in the martyrdom of Muhammad,. He was killed when a remote controlled bomb planted in front of his house went off as he came out. Zardari paid glowing tributes to the martyred and said that his sacrifice will not go in vain. He also called for arrest of culprits and bringing them to justice.
http://nation.com.pk/national/24-Aug-2015/zardari-condemns-attack-on-ppp-leader-in-bajaur
------------
Khan asks ECP officials to resign
August 24, 2015
ISLAMABAD - PTI chief Imran Khan demanded yesterday Election Commission of Pakistan officials resign as they had no moral grounds to continue with their office.
"The upcoming local government polls in Punjab and Sindh could not be transparent under the current setup," Khan told the media after holding a meeting with party office-bearers.
The ECP has not so far responded to my letter pointing out blunders committed by the commission after report of the Judicial Commission, he claimed.
"I am waiting for ECP to respond to my letter. If it fails, I will stage sit-in. I have come to the conclusion that no department will give justice until one does not take to streets," Khan said.
Online news agency reported that the ECP started its preparations to respond to the letter by Khan, demanding resignation of it.
There was a great chance the ECP would give it final touch during the next week, sources said.
The added that the ECP would complete its consultation during the current week with authorities concerned to prepare the reply to Khan's the letter.
The reply would be sent to him after the approval of Chief Election Commissioner and other officials of the ECP.
The PTI chief also said that the National Database and Registration Authority (Nadra) chairman should also tender his resignation as he was part of the irregularities in the general elections of 2013.
"We want answers so that these issues are resolved before the upcoming by-polls and local body polls," he said, adding the ECP with its present set up has no justification to conduct LG polls or by-elections.
The judicial commission in its 237-page report said despite some lapses on part of Election Commission of Pakistan (ECP) "the 2013 general elections were in large part organized and conducted fairly and in accordance with the law.
However, Khan said the ECP and Nadra had not showed slackness but rather were guilty of criminal offenses as they played with mandate of voters.
About the tribunal's decision on Speaker Ayaz Sadiq's election to National Assembly, Khan said, "More wickets of PML-N will fall down now it will be Water and Power Minister Khawaja Asif's turn.
Full report at:
http://nation.com.pk/national/24-Aug-2015/khan-asks-ecp-officials-to-resign
------------
India
India 'won' 1965 war with Pakistan: New Army book
Rajat Pandit
Aug 24, 2015
NEW DELHI: Pakistan has long claimed victory over India in the 1965 war, celebrating September 6 as the 'Defence of Pakistan Day', when most objective assessments have held that the war ended more or less in a draw.
India was always more realistic, with its official war history recording that the 1965 war was more of a stalemate than anything else. Military gains were also lost on the negotiating table.
But with the Modi government deciding to celebrate the 1965 war as a "great victory" on its 50th anniversary, with even a "commemorative carnival" being planned, a new reader-friendly history of the war unabashedly concludes: "India won the war."
Commissioned by the Army's official think-tank Centre for Land Warfare Studies, the new book titled '1965, Turning the Tide: How India Won the War' has been written by defence analyst Nitin Gokhale. The book is part of the defence ministry's ongoing major project to rewrite histories of all wars and major operations to make them "simple and reader-friendly", as earlier reported by TOI.
While IAF's new history of its operations in the 1965 war debunks accounts that its Pakistani counterpart was the victor since the former lost more aircraft, as was reported on Sunday, the Army book goes several steps further.
"It is clear India not only thwarted the Pakistani designs but also inflicted unacceptable losses on the Pakistani military, triggering many changes within that country's politico-military structure," argues the book, which will be released on September 1.
For one, India captured 1,920 sq km of Pakistani territory while losing 540 sq km of its own. For another, India lost 2,862 soldiers, while the toll for Pakistan was 5,800, says the book quoting the then defence minister Y B Chavan's statement in Rajya Sabha. Moreover, Pakistan lost over 450 tanks, while India lost less than 100. But the figures can vary, with the book itself acknowledging that Pakistan said only 1,033 of its soldiers died in the war.
Statistics apart, the 280-page book says Pakistan miserably failed to achieve its strategic objectives. Operation Gibraltar, which sought to infiltrate mujahids and regular soldiers into J&K stood defeated when the Kashmiris did not rise up in revolt to support them.
Then Pakistani President Ayub Khan was forced to launch Operation Grand Slam, a full-fledged military assault to sever the Kashmir Valley from the rest of India. "It was a masterstroke in conception but faltered in execution," says the book.
Full report at:
http://timesofindia.indiatimes.com/india/India-won-1965-war-with-Pakistan-New-Army-book/articleshow/48645801.cms
------------
Pak violates ceasefire, fires mortar shells
Aug 24, 2015
NEW DELHI: Pakistan violated the ceasefire by resorting to firing in Balakot sector of Jammu and Kashmir.
There was heavy firing by Pakistani Rangers on Sunday night in Balakot sector.
Pakistani Rnagers fired 60 mm moratr shells at the Indian side.
BSF troops also retaliated.
Full report at:
http://timesofindia.indiatimes.com/india/Pak-violates-ceasefire-fires-mortar-shells/articleshow/48648936.cms?
-----------
Mideast
Britain to 'tread carefully' in relations with Iran
24 August 2015
Britain needs to remain cautious in its relations with Iran, Foreign Secretary Philip Hammond said on Monday, after he reopened the British embassy in the country nearly four years since protesters stormed the compound in Tehran.
The historic step marks a thawing of relations between the Islamic state and Western powers, but Hammond told the BBC that there was still disagreement on major issues.
"We should tread carefully. There's a deep legacy of distrust on both sides and we have major areas where we have very substantial policy differences."
Full report at:
http://english.alarabiya.net/en/News/middle-east/2015/08/24/UK-to-tread-carefully-with-Iran-.html
------------
4 Qaeda suspects killed by 'US drone' in Yemen
24 August 2015
Aden — Four suspected Al-Qaeda militants were killed overnight in an apparent US drone strike in Mukalla, the southern Yemeni city that the extremist group overran in April, a local official said Sunday. The four were traveling in a car on the tarmac of Mukalla's Al-Rayane airport that was struck by a missile fired by an "American drone," according to the unnamed official, killing them instantly. The night strike follows a similar attack on Friday which killed three Al-Qaeda suspects as they travelled through the central Marib province, tribal sources said. The United States is the only country known to operate armed drones over Yemen, and strikes have continued on suspected militants even as the country has been battered by months of fighting between pro- and anti-government forces. — AP
http://www.saudigazette.com.sa/index.cfm?method=home.regcon&contentid=20150824254306
-----------
Turkish soldiers killed after convoy hit explosives
24 August 2015
Two Turkish soldiers were killed and three wounded on Monday when the vehicle they were travelling in hit explosives buried in the road, the latest attack following the collapse of a ceasefire with Kurdish militants, security sources said.
The explosion occurred near the town of Semdinli in Hakkari province, which borders the Iraqi border, in the mainly Kurdish southeast.
Turkey has launched more than 400 air strikes against the Kurdistan Workers Party (PKK) in northern Iraq, where the armed group is based, and in southeast Turkey since late July, in what it says is a response to attacks on police officers and soldiers.
Full report at:
http://english.alarabiya.net/en/News/middle-east/2015/08/24/Two-soldiers-killed-after-convoy-hits-explosives-in-Turkey.html
------------
Yemen's pro-Hadi forces mobilize to retake Sanaa
24 August 2015
Forces loyal to President Abdrabbu Mansour Hadi are stepping up military efforts to retake Yemen's capital Sanaa from Iranian-backed Houthi militias, according to Al Arabiya News Channel.
The Popular Resistance is backed by a Saudi-led coalition, which has been leading an air campaign against the militia since March, and Yemeni armed forces.
The Popular Resistance is backed by a Saudi-led coalition, which has been leading an air campaign against Houthis since March. (Reuters)
The Houthis overran Sanaa in September, causing violence across the country.
Meanwhile, Saudi special forces have revealed that landmines believed to be planted by Houthis have been located on the Saudi-Yemeni border, according to security sources.
The sources said that the special forces have successfully destroyed the landmines.
On Sunday, Houthis seized control of the University of Sanaa and captured a number of professors, including an education official.
Full report at:
http://english.alarabiya.net/en/News/middle-east/2015/08/24/Yemen-s-pro-Hadi-forces-mobilize-to-retake-Sanaa.html
------------
Iranian Police Make Arrests to Prevent Protest Gathering against British Embassy Reopening
Aug 23, 2015
A number of Iranian people and students who wanted to hold a peaceful gathering to protest at the reopening of the British embassy in small groups were arrested by the law enforcement police forces in front of the British mission in Tehran today.
The streets near the embassy compound were heavily guarded since early this morning by the special police and law enforcement troops who dispersed the people to avoid any protest gathering.
Many Iranian university students formations, political figures, officials and elites had slammed the reopening of the British Embassy, and called for a gathering in front of the mission to protest at what they called as the 'Black Sunday'.
Relations between Iran and Britain hit an all-time low in November 2011, when the two countries shut down their diplomatic missions around Britain's key role in the imposition of a new set of western sanctions against Iran and its repeated meddling with Iran's domestic affairs.
Iran recalled all its staff and closed its embassy in London in November after Britain recalled its diplomatic mission in Tehran due to massive protests in front of the British embassy complex by thousands of Iranian students who demanded a cut of ties with London.
The Iranian students' November protests at the British mission came after the Iranian legislators in an open session of the parliament in November approved the bill of a law on downgrading relations with Britain. After the parliament approval, Iran expelled the British ambassador from Tehran.
The parliament approval came a week after the US and Britain targeted Iranian financial sectors with new punitive measures, including sanctions on Iran's Central Bank and petrochemical industry.
The sanction against CBI and Iran's petrochemical industry was adopted in a unilateral move by the US, Canada and Britain outside the UN Security Council as other council members, specially Russia and China, had earlier warned against any fresh punitive measure, including sanctions, against Iran.
The British government has also embarked on delisting the anti-Iran terrorist Mojahedin-e Khalq Organization (MKO) from its list of terrorist groups.
The Iranian lawmakers initially started drafting a bill to downgrade ties with London after Britain's direct involvement in stirring post-election unrests in Iran in 2009, but they intensified and accelerated the move after former British Envoy to Tehran Simon Gass criticized the human rights situation in Iran.
"Today, International Human Rights Day is highlighting the cases of those people around the world who stand up for the rights of others - the lawyers, journalists and NGO workers who place themselves at risk to defend their countrymen," Gass said in a memo published by the British Embassy in Tehran on December 9, 2010.
"Nowhere are they under greater threat than in Iran. Since last year human rights defenders have been harassed and imprisoned," Gass added.
Following Britain's support for a group of wild demonstrators who disrespected Islamic sanctities and damaged private and public amenities and properties in Tehran on
On December 27, 2009, members of the parliament's National Security and Foreign Policy Commission drafted bill of a law requiring the country's Foreign Ministry to cut relations with Britain completely.
The British government's blatant stance and repeated remarks in support of the last year unrests inside Iran and London's espionage operations and financial and media support for the opposition groups are among the reasons mentioned in the bill for cutting ties with Britain.
Iran has repeatedly accused the West of stoking post-election unrests, singling out Britain and the US for meddling. Tehran expelled two British diplomats and arrested a number of local staffs of the British embassy in Tehran after documents and evidence substantiated London's interfering role in stirring post-election riots in Iran.
Full report at:
http://english.farsnews.com/newstext.aspx?nn=13940601001345
------------
Iranian MPs, University Formations Protest at British Embassy Reopening
Aug 23, 2015
"The foreign ministry should have made a statement before the reopening of the British embassy and should have told people the cause of the reopening," Secretary of the University of Tehran Students' Islamic Society Reza Nazari told FNA on Sunday.
"Has Britain promised to avoid meddling in Iran's internal affairs? The old cunning fox should promise not to incite sedition in Iran again," he added.
Also, senior Iranian legislator Seyed Amir Hossein Qazizadeh Hashemi said that the government is required to abide by the parliament approvals and laws on the reopening of embassies and the British embassy reopening is no exception.
"History has shown that Britain has always wanted to spy on Iran and incite sedition and today, we have the same assessment and prediction and Britain is unlikely to be in pursuit of any other goal other than spying and mischief," he told FNA today.
Many in Iran are angry at the embassy reopening as British Foreign Secretary Philip Hammond arrived in Tehran and reopened his country's mission.
In relevant remarks on Saturday, several Iranian university students formations, political figures and elites slammed the reopening of the British Embassy in Tehran, saying that London's black track record in Iran displays how dangerous the resumption of ties with Britain is.
The Office for Consolidating Unity in a statement voiced its opposition to the reopening of the British Embassy, and said, "The British embassy's record shows nothing but support for spying operations, organization of street unrests and assassination of Iranian scientists."
It noted that Britain has on several occasions proven its animosity towards the Iranian nation, and the reopening of the embassy would pave the way for London's spying on Iran.
Meantime, Secretary of the University Students Justice-Seeking Movement said that Britain's attitude towards Iran has worsened after the closure of its embassy in Iran. "Reopening the British embassy in Iran would be a counterrevolutionary, illegal and irrational move," Hossein Shahbazi said.
Shahbazi pointed to Britain's past behavior in Iran, and said, "The parliament's ratified law says that the British Embassy should not be reopened unless Britain changes its behavior."
Relations between Iran and Britain hit an all-time low in November 2011, when the two countries shut down their diplomatic missions around Britain's key role in the imposition of a new set of western sanctions against Iran and its repeated meddling with Iran's domestic affairs.
Iran recalled all its staff and closed its embassy in London in November after Britain recalled its diplomatic mission in Tehran due to massive protests in front of the British embassy complex by thousands of Iranian students who demanded a cut of ties with London.
The Iranian students' November protests at the British mission came after the Iranian legislators in an open session of the parliament in November approved the bill of a law on downgrading relations with Britain. After the parliament approval, Iran expelled the British ambassador from Tehran.
The parliament approval came a week after the US and Britain targeted Iranian financial sectors with new punitive measures, including sanctions on Iran's Central Bank and petrochemical industry.
The sanction against CBI and Iran's petrochemical industry was adopted in a unilateral move by the US, Canada and Britain outside the UN Security Council as other council members, specially Russia and China, had earlier warned against any fresh punitive measure, including sanctions, against Iran.
Full report at:
http://english.farsnews.com/newstext.aspx?nn=13940601001322
------------
Source: Bahraini Regime Cooperating with MKO against Iran
Aug 23, 2015
"The Al Khalifa regime has recently asked the MKO terrorist group to cooperate with the Manama government to confront Iran," a Bahraini informed source, speaking on the condition of anonymity, told FNA on Sunday.
He noted that the Bahrain intelligence service believes that Iran is the main supporter of the Manama government's opponents and for the same reason it supports the MKO that is an armed opposition to the Islamic Republic and has assassinated over 12,000 citizens and officials.
"The Manama government has sent Bahraini lawmaker Jamal Bouhassan to Paris to meet MKO leaders to the same end," the source said.
The source also revealed that Bahraini journalist Hani al-Fardan has been arrested for publishing an article against MKO.
Al-Fardan has been arrested over an article during which he criticized Bahraini lawmakers for supporting the MKO terrorist group.
Al-Fardan, the Arabic-language Al-Wasat journalist, was interrogated over his article that criticized the Salafist Member of Parliament, Jamal Bouhassan, who attended the MKO meetings in Paris, and disclosed how Bahrain and its Parliament support the MKO terrorist organization's activities against Iran.
The MKO, founded in the 1960s, blended elements of Islamism and Stalinism and participated in the overthrow of the US-backed Shah of Iran in 1979. Ahead of the revolution, the MKO conducted attacks and assassinations against both Iranian and western targets.
The group started assassination of the citizens and officials after the revolution in a bid to take control of the newly-established Islamic Republic. It killed several of Iran's new leaders in the early years after the revolution, including the then President, Mohammad Ali Rajayee, Prime Minister, Mohammad Javad Bahonar and the Judiciary Chief, Mohammad Hossein Beheshti who were killed in bomb attacks by the MKO members in 1981.
The group fled to Iraq in 1986, where it was protected by Saddam Hussein and where it helped the Iraqi dictator suppress Shiite and Kurd uprisings in the country.
The terrorist group joined Saddam's army during the Iraqi imposed war on Iran (1980-1988) and helped Saddam and killed thousands of Iranian civilians and soldiers during the US-backed Iraqi imposed war on Iran.
Since the 2003 US invasion of Iraq, the group, which now adheres to a pro-free-market philosophy, has been strongly backed by neo-conservatives in the United States, who argued for the MKO to be taken off the US terror list.
The US formally removed the MKO from its list of terror organizations in early September, one week after Secretary of State Hillary Clinton sent the US Congress a classified communication about the move. The decision made by Clinton enabled the group to have its assets under the US jurisdiction unfrozen and do business with the American entities, the State Department said in a statement at the time.
In September 2012, the last groups of the MKO terrorists left Camp Ashraf, their main training center in Iraq's Diyala province. They have been transferred to Camp Liberty. Hundreds of the MKO terrorists have now been sent to Europe, where their names were taken off the blacklist even two years before the US.
The MKO has assassinated over 12,000 Iranians in the last 4 decades. The terrorist group had even killed large numbers of Americans and Europeans in several terror attacks before the 1979 Islamic Revolution.
Some 17,000 Iranians have lost their lives in terror attacks in the 35 years after the Revolution.
Full report at:
http://english.farsnews.com/newstext.aspx?nn=13940601001126
------------
Abbas quits PLO leadership ahead of internal election
24 August 2015
RAMALLAH: Palestinian president Mahmoud Abbas resigned Saturday as head of the Palestine Liberation Organization's Executive Committee in a bid to force new elections for the top body, an official said.
Wassel Abu Yussef said that more than half of the 18-member committee had also stepped down.
"The resignation of the president of the executive committee Mahmud Abbas and more than half of its members has created a legal vacuum, and therefore the Palestine National Council has been asked to meet in one month to elect a new executive committee," Yussef told AFP.
Yussef added, however, that the resignations will take effect only when the PNC meets. The PNC, or Palestinian parliament, has 740 members who live in the Palestinian territories and in the diaspora. It has not met in nearly 20 years.
Full report at:
http://www.arabnews.com/middle-east/news/795836
------------
Israeli administrative detention policy slammed by rights group
Aug 24, 2015
A rights group has censured the Israeli regime's persisting policy of detaining Palestinians and holding them in captivity without charge or trial, describing the practice as legally and morally unacceptable.
Israeli rights group B'Tselem said on Monday that the Tel Aviv regime is using the harsh approach as a punitive measure to circumvent what it described as the regime's "justice system."
Palestinian prisoners are increasingly resorting to hunger strikes to protest the repressive administrative detention policy as well as the cruel prison conditions in Israeli detention facilities.
The development comes just days after Palestinian lawyer Mohammed Allan ended a 65-day hunger strike on Thursday after an Israeli court suspended his detention due to his severe health condition.
In July, another Palestinian prisoner, Khader Adnan, was released after a 56-day hunger strike to protest his administrative detention. It was the second time Adnan had gone on hunger strike to protest his indefinite detention; he had staged a 66-day hunger strike in 2012, which also led to his release.
Full report at:
http://www.presstv.ir/Detail/2015/08/24/426110/Middle-East-Palestine-Israeli-detention-policies-administrative-detention-rights-groups'
------------
Iran's Deputy Security Chief Rejects Report on Endorsing Secret Deal with IAEA
Aug 23, 2015
"There is no agreement singed by the SNSC undersecretary for strategic affairs and the IAEA," Hosseini Tash said on Saturday.
He reminded such an issue is basically not within the framework the SNSC secretariat's responsibilities.
His remarks came after the AP alleged in a report that Hosseini Tash was a signatory to the agreement between Iran and the IAEA.
The AP also claimed that it has attained the text of Iran and the IAEA secret agreement, adding that Iranian experts will help the IAEA experts in inspection of the country's nuclear sites.
Full report at:
http://english.farsnews.com/newstext.aspx?nn=13940601000574
------------
Zionist draconian rule of detention without trial highlighted
24 August 2015
JERUSALEM: A Palestinian prisoner's hunger strike has sparked new calls for Israel to curb its use of a form of detention without trial, with activists charging routine abuse of a measure aimed at preventing attacks.
Mohammed Allan, 31, ended his hunger strike on Thursday after Israel's top court suspended his administrative detention. He had twice been in a coma.
The lawyer said to be a member of the militant group Islamic Jihad had been held since November and has reportedly vowed to resume fasting if the courts reinstate administrative detention against him.
The measure allows internment without trial for six-month intervals that can be renewed indefinitely, with Israeli officials saying it is an essential tool in preventing attacks and protecting sensitive intelligence because it allows authorities to keep evidence secret.
It has been strongly criticized by rights activists, who have called on Israeli authorities to prosecute or release such detainees.
Full report at:
http://www.arabnews.com/middle-east/news/795851
------------
North America
US Muslims Want Republican's Apology
23 August 2015
CAIRO – A leading US Muslim advocacy group has called on the Republican presidential hopeful Scott Walkers to apologize over his anti-Muslim remarks, in which he claimed that there are only a "handful of reasonable, moderate followers of Islam."
"These types of inaccurate statements reflect a lack of understanding of Islam and Muslims that is, frankly, not presidential," the Council on American-Islamic Relations (CAIR) Government Affairs Manager Robert McCaw said in a statement obtained by OnIslam.net.
"If Mr. Walker believes only a 'handful' of Muslims are moderate or reasonable, then he is ignoring the very clear reality that violent extremists murder more Muslims than they do people of any other faith."
CAIR's calls followed Walker's remarks he made in Derry, New Hampshire, where he said that the vast majority of Muslims are extremists.
Moreover, Wisconsin governor taunted the US president Barack Obama and said: "You've got to identify who the enemy is loud and clear," Wisconsin State Journal reported on Sunday, August 23.
"We've said it repeatedly, it's radical Islamic terrorism, it is a war not against only America and Israel, it's a war against Christians, it's a war against Jews, it's a war against even the handful of reasonable, moderate followers of Islam who don't share the radical beliefs that these radical Islamic terrorists have."
Defending the governor's remarks, spokeswoman Ashlee Strong said in a statement: "The Governor knows that the majority of ISIS's victims are Muslims. Muslims who want to live in peace — the majority of Muslims — are the first target of radical Islamic terrorists.
"Under the Obama-Clinton foreign policy doctrine, we've been abandoning our traditional Muslim allies in the Middle East and allowing ISIS, al Qaeda, and Iran to fill the void."
He added that the campaign's follow-up statement about Muslims wanting to live in peace encompassed "exactly what he was saying."
The presidential candidate offensive remarks came a month after one of his advisors called for using nuclear weapons on a number of Muslim-majority nations and for the deportation of undocumented immigrants of Middle Eastern descent.
Full report at:
http://www.onislam.net/english/news/americas/492467-us-muslims-want-republicans-apology.html
------------
An International Islamic Center in America's busiest airport
August 23, 2015
Ahlul Bayt News Agency - Amid the lager chapels area of New York's John F Kennedy airport Terminal 4 lies the JFK International Islamic Center.
While the chapel's area was built in 1955 and remodeled in 1966, the Islamic center was added in 2001 a decade after the idea was first proposed by United American Muslim Association to cater to a rising demand for a prayer area for Muslims.
The mosque, which one of the only seven prayers areas designated for Muslims all over America, is also one of the busiest according to International Association of Civil Aviation Chaplains.
Speaking to TIME Ahmet Yuceturk, the imam at JFK International Islamic Center, and a chaplain with the Port Authority of New York and New Jersey said:
"It's the only mosque of its kind in the country. It's not just a room, which is what most airport mosques are," Yuceturk continued. "We are our own place, we have our own services, we are our own community within the chapels here. It's very different from anything in America."
The maroon carpeted mosque hold services five times daily and welcomes Muslims from all backgrounds, whether they are Muslims working at the JFK airport or travelers stopping between flights. The mosque also acts as a community center between services, offering Arabic lessons and Quranic discussions and communal meals as well as holding a wedding occasionally.
Essam Matwaoy, who works at the airport, visits the mosque regularly says: "I come here all the time," he told TIME at the JFK International Islamic Center recently. "When it's time to pray, my co-workers even tell me, 'Essam, it's time to pray—go to the mosque!'"
Often after the prayers, the worshippers break into happy conversations.
Yaya Dosso, a limo driver originally form the Ivory Coast calls the congregants his second family. He says: "My wife gets upset. I always eat breakfast here."
Like Dosso and Essam, many other JFK workers stop at the mosque on their breaks and sometimes on their days off.
"This place is my second home," said Roshana Shoma, 23, a customer service agent for Etihad Airways, "I come here all the time. It's very comfortable for us. If the mosque weren't here, we wouldn't be able to pray."
Full report at:
http://en.abna24.com/service/america/archive/2015/08/23/707328/story.html
------------
Southeast Asia
Malaysia will not protect 'un-Islamic' gay rights, says PM
24 August 2015
Malaysia's Prime Minister has said his government will not protect LGBTI rights because they are at odds with Islam.
Najib Razak made the comments last week at an international seminar on the Islamic concept of Wasatiyyah, or moderation, in Bangi, Selangor.
'Although universal human rights have been defined, we still define human rights in the country in the context of Islam and the Sharia,' he said, referring to the Universal Declaration of Human Rights.
'And even if we cannot defend human rights at an international level, we must defend it in the Islamic context.'
Gay sex is illegal in the Muslim-majority country and punishable by fines, whippings or up to 20 years imprisonment.
Razak went on to say that extremist and liberal groups were trying to impose their views on the majority.
Full report at:
http://www.gaystarnews.com/article/malaysia-will-not-protect-un-islamic-gay-rights-says-pm/
------------
Islam Nusantara can protect RI from fundamentalism
August 24 2015
Analysts have argued that the concurrent promotion of moderate Islamic thinking by both Nahdlatul Ulama (NU) and Muhammadiyah, the country's two largest Muslim organizations, was a positive indication that Muslims in Indonesia are generally more wary of firebrand versions of Islam.
Muslim thinker Akhmad Sahal said that NU's promotion of Islam Nusantara, and Muhammadiyah's Islam Berkemajuan (progressive Islam), resulted from a long history of Islamic teachings being contextualized within local Indonesian culture.
Sahal said that Islam Nusantara showed the character of a progressive faith.
Islam Nusantara promotes the idea that values derived from religion can be made consistent with local context.
"We aren't practicing Islamic teachings or values as they are practiced in Saudi Arabia," said Sahal, who is also chairman of the US branch of NU.
Sahal, however, said that Islam Nusantara should not be considered as synonymous with other local traditions such as klenik (black magic) or Islam Kejawen (Islam tinged with Javanese mysticism).
"Islam Nusantara means we are focused on muamalah [social duties] and maslahat [the general good] that the community, in this case Indonesia, must strive for," he said.
Earlier this month, in its 33rd national congress in Jombang, East Java, NU promoted its agenda of "reinforcing Islam Nusantara for Indonesia and for international civilization".
NU said that the concept of Islam Nusantara, according to Imam, referred to the empirical and historical reality that Islam had been embedded in the culture, economy, politics and technology of the archipelago for a long time.
The idea of Islam Nusantara is to inculcate tolerance among Muslims amid the metastasizing influence of conservative and radical groups from Middle Eastern countries.
Meanwhile, Hajriyanto Y. Thohari, a member of Muhammadiyah's executive board, said that the organization's version of Islam, known as Islam Berkemajuan, resulted from the need to adapt to a rapidly changing world.
"K.H Ahmad Dahlan once said that while practicing Islamic values, Indonesian Muslims should act progressively and follow the dictates of the time," Hajriyanto said, referring to the founding father of Muhammadiyah.
He said that to act progressively, Indonesian Muslims should champion reason and continue to promote education and knowledge.
Full report at:
http://www.thejakartapost.com/news/2015/08/24/islam-nusantara-can-protect-ri-fundamentalism.html
------------
Malaysia finds 24 more bodies of human trafficking victims
Aug 24, 2015
KUALA LUMPUR: Malaysian police said Sunday that they have found 24 more bodies of suspected human trafficking victims in jungles bordering Thailand.
Authorities said in May that they had discovered 139 suspected graves in abandoned jungle camps in the northern Malaysian state of Perlis, a remote area bordering Thailand that trafficking syndicates were using as a transit point.
Most of the victims were believed to be from Myanmar's persecuted Rohingya minority or impoverished migrants from Bangladesh.
Read: Mass graves with 'hundreds of bodies' found in Malaysia
Police said in a brief statement Sunday that 24 bodies were discovered this past week, in addition to 106 bodies found earlier. The bodies have been sent for autopsy, the statement said. No further details were available.
The discoveries in northern Malaysia followed similar revelations earlier in May in Thailand, where police unearthed 36 bodies from shallow graves in seven abandoned camps on the Thai side of the border.
The discoveries have exposed hidden networks of jungle camps run by human smugglers, who have for years held countless desperate people captive while extorting ransoms from their families.
Full report at:
http://www.dawn.com/news/1202494/malaysia-finds-24-more-bodies-of-human-trafficking-victims
------------
Asia migrant crisis: New mass graves on Malaysia-Thai border
23 August 2015
New mass graves with 24 bodies thought to be those of migrants have been found in Malaysia, police say.
The graves were found in the state of Perlis near the Thai border not far from 139 grave sites unearthed in May, Perlis police chief Shafie Ismail said.
Authorities believe they may belong to migrants held for ransom in jungle camps by gangs of human traffickers.
Migrants from Bangladesh and Myanmar have left for Thailand, Malaysia and Indonesia recently.
Most of the more than 100 bodies found in May belonged to Rohingya Muslims fleeing persecution in Myanmar.
Malaysian police said the latest bodies have been sent for post-mortem examinations.
Survivors of the detention camps have told the BBC that they were tortured and raped when they couldn't pay the traffickers, and said some died from the abuse.
The news is likely to trigger more debate on whether Malaysian officials are doing enough to stop human trafficking.
Recently, the US removed Malaysia from its list of human trafficking's worst offenders.
But, human rights groups accused American officials of doing this in order to speed up a trade pact with the Asia Pacific region, something the US has denied.
Full report at:
http://www.bbc.com/news/world-asia-34033474
------------
Indonesia, China to cooperate more to combat drug trafficking
August 24 2015
The National Narcotics Agency (BNN) has announced plans to boost cooperation with China's National Narcotics Control Commission (NNCC) to combat drug trafficking in the region.
BNN head Anang Iskandar said recently that the cooperative efforts would aim to improve the policing of drugs coming out of the world's major drug producer, China, into Indonesia, which had become a hub for international drug distribution.
"China, Taiwan, Hong Kong and West Africa are all involved in international drug syndicates that the BNN has identified," he said, as quoted by Antara news agency on Monday.
International drug dealers have targeted Indonesia mainly for the distribution of ecstasy pills and crystal methamphetamine, Anang added.
Full report at:
http://www.thejakartapost.com/news/2015/08/24/indonesia-china-cooperate-more-combat-drug-trafficking.html
-----------
URL: https://www.newageislam.com/islamic-world-news/new-age-islam-news-bureau/-jihadi-john--threatens-to-return-to-uk-to-carry-on-beheadings/d/104360