New Age Islam News Bureau
25 Jan 2018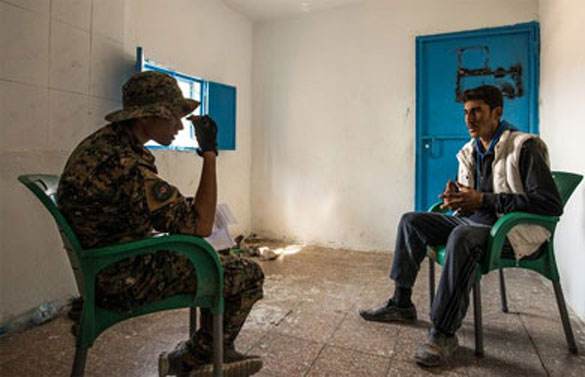 American military officials fear the makeshift camps may repeat a security mistake of the Iraq war even as they have sought to avoid any major responsibility for addressing it.
-----
• 'It's a Hindu-Muslim Conundrum over Conversions in Maharashtra'
• 'Pakistan Madrasa Students Are Tied To Sectarian Thinking', Says Report
• Deadly ISIS Attack Hits an Aid Group, Save the Children, in Afghanistan
• China's Muslim Communists Made to Sign Atheism Pledges
• Defeated in Syria, ISIS Fighters Held in Camps Still Pose a Threat
• Muslim Brotherhood Crumbling Around Erdogan
India
• 'It's a Hindu-Muslim Conundrum over Conversions in Maharashtra'
• Terrorists Warn Pulwama Principal against Deputing Girls In Republic Day Parade
• Followers of Islam in India Not Against Cow Protection: Mohan Bhagwat
• 2 Terrorists, 1 Civilian Killed In Anti-Terror Operation in J&K's Shopian
• Muslim Family In Haryana Village Asked To Go To Pakistan
--------
Pakistan
• 'Pakistan Madrasa Students Are Tied To Sectarian Thinking', Says Report
• Armed Struggle against State Un-Islamic: Ulema
• Afghan Taliban confirms meeting Pakistani officials in Islamabad: report
• LHC to govt: Leave Hafiz Saeed alone
• Pakistan hopes ICJ will dismiss Jadhav case
--------
South Asia
• Deadly ISIS Attack Hits an Aid Group, Save the Children, in Afghanistan
• 6 Taliban Militants Killed, 2 Held Alive In Helmand Operations
• Taliban loses two commanders during clashes in Faryab province
• Suicide bomber and Humvee laden with explosives eliminate in Helmand
• 3 killed, 25 wounded as siege ends on NGO office in East of Afghanistan
• Afghan airline repatriates Ukrainians killed in hotel attack
--------
Southeast Asia
• China's Muslim Communists Made to Sign Atheism Pledges
• Indonesian Muslim Cleric Wins 2017 Human Rights Award
• No Point Praying If You're Unjust, Penang Mufti Disagrees with Zamihan
• Melaka to review dubious religious activities in Pulau Besar
--------
Arab World
• Defeated in Syria, ISIS Fighters Held in Camps Still Pose a Threat
• Now Defeated, Iraq's most feared Jihadists Await Their Fate
• Over 200 Turkey-Backed Militants Killed in Clashes with Kurds in Northern Syria
• US-Led Strikes Kill Up To 150 IS Fighters in Syria
• Turkey Plans New Strategy to Push towards Central Afrin in Northern Syria
• Official: Kurds Want Negotiations with Damascus
• Al-Qaeda Recruiting Fugitive ISIL Terrorists in Africa
• SDF Continues Forced Recruitment in North-eastern Syria
• Syria says claims it uses chemical weapons 'lies'
• Bahrain regime forces detain another Shia clergyman
• Over 70 Mass Graves Found in Northern Iraq
--------
Mideast
• Muslim Brotherhood Crumbling Around Erdogan
• Yemeni Forces Kill 40 Houthi Militants, Free Several Areas in Saada
• In Jenin, Terrorists Get What They Deserve; In Gaza, They Don't
• Erdogan vows to expand military operation from Afrin to Manbij
• Aid groups slam US for withholding Palestinian refugee funds
• Iran seizes bombs, explosives in Saudi terror plot
• Yemeni forces shoot down Saudi spy drone over Ma'arib
--------
Africa
• Over 30 Dead In Car Bombings at Benghazi Mosque
• Somali Forces Kill Young Boys in Anti-Shabab Operation
• Somalia reiterates appeal to lift arms embargo
--------
Europe
• UN Expresses Alarm at Reports of Summary Executions In Libya's Benghazi
• New British Anti-Extremist Commissioner Provokes Muslim Ire
• Germany's Turks, Kurds initiate blame game
• US rejects Russian-proposed probe into Syria chemical attacks
• French prison guards block over 125 prisons, risk sanctions
--------
North America
• Little Has Changed For Muslims since the Quebec Mosque Attack
• American Islamophobia Is Helping Trump Kill The Iran Deal
• Pakistani Islamism Flourishes in America
Compiled by New Age Islam News Bureau
URL: https://www.newageislam.com/islamic-world-news/it-hindu-muslim-conundrum-conversions/d/114060
--------
'It's a Hindu-Muslim Conundrum over Conversions in Maharashtra'
January 24, 2018
A majority of Muslims in Maharashtra who chose to change their religion have adopted Hinduism, while a majority of Hindus preferred to convert to Islam in the state, an RTI reply has revealed.
As per data of the last 43 months acquired by RTI activist Anil Galgali, 1,687 people voluntarily converted to different faiths across the state, said the figures of all religious conversions provided by the Directorate of Government Printing & Stationery (DGPS).
Of these people who opted to change their religion voluntarily owing to various social-religious reasons, the faith-wise breakdown was: 1,166 Hindus, 263 Muslims, 165 Christians, 53 Buddhists, 16 Sikhs, nine Jains, four Neo-Buddhists and 11 others.
Out of these Hindus, 664 converted to Islam, followed by 258 adopting Buddhism, 138 embracing Christianity, 88 becoming Jains and 11 taking to Sikhism, one Neo-Buddhist and six to other religions, says the DGPS data.
"Islam remains a high favourite among the religion change seekers, with 749 out of the total 1,687, between June 10, 2014 and January 16, 2018," Galgali said citing the data.
In contrast, from among the Muslims who decided to convert, 87 percent - or 228 embraced Hinduism, 21 embraced Christianity, 12 became Buddhists and two became Jains.
Out of the Buddhists changing their religion, 21 embraced Islam, 17 became Hindus, 14 took to Christianity and one to Jainism.
Of the Christians who changed their faith, 100 embraced Hinduism, 47 took to Islam, 11 became Buddhists, five adopted Jainism and two became followers of Sikhism.
From the 16 Sikhs who changed their religion, 12 embraced Islam, and two each adopted Christianity and Jainism.
Among the nine Jains, four converted to Islam, two each became Hindus and Christians and one embraced Sikhism.
"These are only the numbers available with the DGPS which records the changes reported to it.
In actual terms, the number of people who change their religions is much higher and needs to be studied," Galgali said.
http://www.business-standard.com/article/news-ians/it-s-a-hindu-muslim-conundrum-over-conversions-in-maharashtra-118012401422_1.html
--------
'Pakistan Madrasa Students Are Tied To Sectarian Thinking', Says Report
BY MIAN ABRAR
Jan 25, 2018
ISLAMABAD: Experts at a report launch on Wednesday noted that madrasa students are tied to sectarian thinking as the parties they like, the magazines they read, and the personalities they idealise are all sectarian titled.
These views were expressed at the launch ceremony of a report on thinking of madrassah students titled, "After Study Hours: Exploring the Madrasa Mindset", and organised by Pak Institute for Peace Studies (PIPS) here. The report was based on a survey conducted with 135 students from around 43 seminaries of 17 districts all over the country and was released by PIPS – an Islamabad-based think tank.
The discussion was moderated by columnist Khursheed Nadeem.
The experts were unanimous on the conclusion that attempts at mainstreaming madrasas should go in tandem with the broader priorities of state and society, especially in education sector. Seminary students, who often fall for a sectarian worldview, should open up with nuanced perspectives.
Council of Islamic Ideology (CII) Chairman Dr Qibla Ayaz said many of today's international and national developments are somehow linked to madrasas. He added that not much knowledge is available about madrasas, and suggested that "madrassah studies" should be introduced in the universities.
PIPS Director Amir Rana, however, contested the idea, saying that madrassah graduates have already been stepping in the mainstream educational sector.
Dr Ayaz also added that the recently-released Paigham-e-Pakistan (message of Pakistan), which denounced militancy in Pakistan, is a major step forward, calling to study if the thinking of students had changed.
The study also called for developing the interest of students in logic and philosophy, which will help in enhancing their critical enquiry. These subjects are already in the curriculum of seminaries, and therefore, will find many supporters.
Field researchers Sabookh Syed, Mujtaba Rathore and Muhammad Younus said that it is often difficult to engage with seminary students because of mistrust and absence of the culture of enquiry. The study noted that as in the past, the government may mainstream madrasas by introducing mathematics and science in 2018.
While these subjects are important, students should be taught about the meaning of what they are learning, including in mathematics, and engaged with nuanced analysis. Similarly, students' interest in the subject of 'history' should be explored further, it was said.
Participants wondered why sectarianism, even though the curriculum is the same. One reason could be that seminaries are supposed to be affiliated with one of the several sect-based boards.
Religious scholar Amanat Rasool argued that student consult exegesis of the scholars of their own sects, thus developing sectarian tendencies from the onset.
At the same time, the study also noted, much of the thinking of the madrassah students is in line with the broader society. The parties they choose are ultimately from the choices provided outside of the seminary.
The problem, columnist Harris Khalique said, comes from society at large. He said that madrasa system should be viewed in the context of broader education reforms, which includes 28 systems at this point in time. Experts suggested the thinking of madrassah students should be compared with those of public-sector students.
Amir Rana said that a key debate around madrassahs is that they are not part of the economy in the way students of other sectors are.
Harris Khalique said that unfortunately, madrassahs have been misused in the war economy. If the war continues, the problem will persist.
CII Chairman Khalid Masud reasoned that madrassah education is a professional, not mass education, which is a relatively modern concept.
https://www.pakistantoday.com.pk/2018/01/24/madrassah-students-are-tied-to-sectarian-thinking-says-report/
--------
Deadly ISIS Attack Hits an Aid Group, Save the Children, in Afghanistan
By ZABIHULLAH GHAZI and MUJIB MASHAL
JAN. 24, 2018
JALALABAD, Afghanistan — Five Islamic State gunmen stormed the Save the Children office in the eastern Afghan city of Jalalabad after an explosion on Wednesday, killing five people and wounding dozens in a 10-hour siege, officials said. The assailants were killed.
Save the Children, a global charity that provides aid in 120 countries, said it had suspended all Afghanistan operations. It had been working in 16 of Afghanistan's 34 provinces, reaching more than 700,000 children.
"We remain committed to resuming our operations and lifesaving work as soon as possible," Save the Children said in a statement.
The Islamic State's local affiliate in Afghanistan claimed responsibility for the attack, according to the group's Amaq news agency. As the group's foothold in eastern Afghanistan has come under pressure from sustained Afghan military operations and American air power, it has increasingly claimed urban attacks.
Attaullah Khogyani, a spokesman for the governor of Nangarhar Province, which includes Jalalabad, said the gunmen entered the charity's office at 9 a.m. after a suicide bombing in front of the building.
"I saw a white car arrive, then armed men rushed out of the car," said a witness, Mohammed Waseem, 28. "After that, a blast occurred, followed by gunfire. I had to run away to seek safety for myself."
As is the case with many such urban attacks, there was initial confusion about the number of armed assailants. When the operation was declared over after 7 p.m., Mr. Khogyani said five had been involved and all were dead.
Mr. Khogyani said the victims included three Save the Children employees, one tailor across the street from the office and an Afghan commando; 24 others were wounded.
"We could have ended the operation in the morning and killed all the attackers, but there were more than 45 civilians and employees trapped inside," said Mohammed Gulab Mangal, the province's governor. "All those employees were rescued to safety."
Bahadur Mushfiq, who works for Save the Children in Jalalabad, was among those trapped for hours inside in the office's safe room.
"We heard a boom, and the gate of our office was blown away," he said. "I don't know the number of people who entered our office, but they had grenades and climbed upstairs."
About 40 or 50 people were trapped in the room, he said, "but all of us got out safely except two people were slightly wounded."
Officials said that the Jalalabad office of Save the Children shared a wall with another aid organization, the Swedish Committee for Afghanistan, and that the Swedish group's staff had been evacuated.
There are at least two schools in the area. Pictures circulating on social media showed children, some accompanied by adults and others on their own, running away from the scene.
"This is an outrage," Nicholas Kay, the British ambassador to Afghanistan, said on Twitter. "Any attack on children & humanitarians is a crime against humanity. I hope for a quick and safe end to this horrific incident in Jalalabad."
Aid organizations have been targeted repeatedly in Afghanistan in recent years, forcing some to cut back operations. The Red Cross recently closed offices in two northern provinces and scaled back operations in a third regional hub after repeated attacks targeting its staff. In the latest episode, one of its physiotherapists was fatally shot while assisting a polio patient.
The pace of violence across Afghanistan has been relentless in recent weeks, with civilians bearing the brunt. On Saturday, the Taliban attacked a packed hotel in Kabul, killing at least 22 people and terrorizing much of the Afghan capital during nearly 15 hours of fighting.
Zabihullah Ghazi reported from Jalalabad, and Mujib Mashal from Kabul, Afghanistan. Jawad Sukhanyar and Fahim Abed contributed reporting from Kabul.
https://www.nytimes.com/2018/01/24/world/asia/save-the-children-afghanistan.html?mtrref=www.google.co.in&gwh=E6AEED392187DE072F16BA366BAE0DA2&gwt=pay
--------
China's Muslim Communists made to sign atheism pledges
Saibal Dasgupta
Jan 24, 2018
BEIJING: China's Communist Party is getting Muslim members of the party to sign documents pledging their commitment to atheism and renouncing religious leanings. The pledge-signing ceremonies "reflect their devotion to the pursuit of Marxist purity".
A pledge-taking event attended by senior officials and party members took place in the Muslim-majority area of Linxia Hui Autonomous Prefecture in Gansu province, according to a party website.
This is among a series of moves by the party to counter the rising interest in spiritualism in a country which has an atheist constitution to which the ruling Communist Party is committed. The party is worried about growing interest in Christianity and the spread of fundamentalism among a section of the Muslim community.
"Party members should not have religious beliefs, which is a red line for all members," Wang Zuoan, director of the State Administration for Religious Affairs, wrote in a party journal.
Such pledging ceremonies have been held over the past two years in Jiaozuo city in Henan province, Linzhi county in southwest China's Tibet Autonomous Region, and Enshi Tujia and Miao Autonomous Prefecture in Hubei province.
At the Linxia event, all party members were asked by prefecture party chief Yang Yuanzhong to firmly obey the party constitution, be Marxist atheists and observe their commitment to not believe in any religion in order to maintain the purity and progressive nature of party membership.
A statement stressing the need for "party members to sign a commitment to not harbour religious beliefs" was released by the committee of discipline inspection and supervision of the party committee of Linxia.
Many party members grow up in religious families and are influenced by their environment, the official Global Times newspaper quoted Xiong Kunxin, a professor of ethnic studies at Beijing's Minzu University of China, as saying.
"There are some party members who are atheists in public but who harbour religious sentiments in private," Xiong said.
Linxia, with a population of about two million, is often described as "China's Mecca" as more than half of the residents are Muslims, official media said.
https://timesofindia.indiatimes.com/world/china/chinas-muslim-communists-made-to-sign-atheism-pledges/articleshow/62639270.cms
--------
Defeated in Syria, ISIS Fighters Held in Camps Still Pose a Threat
By ERIC SCHMITT
JAN. 24, 2018
WASHINGTON — American-backed Kurdish militias in northern Syria are detaining hundreds of Islamic State fighters and family members in makeshift camps, raising fears among United States military officials of potentially creating a breeding ground for extremists — repeating a key security mistake of the Iraq war.
Despite its concerns, the Trump administration has largely taken a hands-off approach toward the detainees, who come from more than 30 countries and were captured or surrendered after last year's collapse of Raqqa, the Islamic State's self-proclaimed capital.
Unlike suspected Islamic State militants seized in neighboring Iraq, largely from the northern city of Mosul and surrounding areas, the detainees being held in the Kurdish region of Syria fall into a legal gray area and face an uncertain long-term fate.
Kurdish authorities are meting out justice in ad hoc courts, but the region is still part of Syria, and Kurdish control is not internationally recognized. Some countries like Russia have signaled that they will repatriate their fighters, but many other nations are refusing.
The detention of the Islamic State fighters is just one issue the United States is grappling with in its partnership with Syrian Kurds. American troops have fought alongside Kurdish-led militias on battlegrounds against the Islamic State in northeast Syria, and the Pentagon is showing no sign of backing away from them. At the same time, however, Washington is trying to tamp down escalating tensions in Syria between the Kurdish militias and Turkey, a longtime NATO ally that views the Kurds as a terrorist threat.
United States Special Operations troops advising the Kurdish-led militia known as the Syrian Democratic Forces are cataloging fingerprints and other so-called biometrics of many of the estimated 200 to 300 detainees in at least three camps near Raqqa. The American forces also are interrogating the detainees to learn more about foreign fighter networks and threats to their home countries.
But American military officials see parallels with the Iraq war, in which militants, including Abu Bakr al-Baghdadi, the current leader of the Islamic State, were held for years at Camp Bucca, a sprawling American detention facility on the Kuwaiti border where they became more radicalized.
"Clearly, we've seen what happens when you have a group of highly trained, terrorist fighters held in detention for a long time," Col. Ryan Dillon, a spokesman for the American-led military coalition in Baghdad, said in a telephone interview. "We don't want to see that, and it's something we're addressing."
If so, the initial efforts appear tentative.
The Trump administration has quietly established an interagency working group, including officials from the State, Defense and Justice Departments, to help the Syrian Kurds deal with the problem. But American officials seem to want to wash their hands of the growing problem, despite the potential security and humanitarian risks.
"Foreigners who take up arms in Iraq and Syria and are subsequently captured in the field are not necessarily turned over to the coalition, nor is there any requirement for the coalition to be notified," the American-led military coalition in Baghdad said in an email.
Marc Raimondi, a spokesman for the White House's National Security Council, referred all questions to the State Department. When asked for comment, the State Department said in an email: "We are working to address issues related to ISIS fighters detained in other countries. This includes discussions with foreign partners."
International relief organizations are seeking more information about conditions in the camps over the long term, particularly on widows and children of suspected fighters. "In Syria, we are involved in ongoing discussions with regard to detention access," said Marc Kilstein, a spokesman for the International Committee for the Red Cross in Washington, who declined to provide details to avoid jeopardizing its work in the region.
A Kurdish journalist, Arin Sheikhmus, 30, said he had visited three camps where Arab, Asian and European "war prisoners" were being held. He said he had seen as many as 100 women and children who had been taken into custody to be turned over to their home countries, including Russia, Indonesia and Kazakhstan. In at least one of the camps, a large number of the prisoners were suspected fighters from Tunisia, a United States official said.
Mostapha Bali, a spokesman for the Syrian Democratic Forces, said conditions in the camps met international standards, especially for women and children. He said Kurdish authorities were sorting out which detainees were actual combatants and which were local civilians pressed by the Islamic State into administrative or medical jobs, and could be safely released.
"Those who were involved in bloodshed and fighting will be submitted to trial and will be punished, but those who joined Daesh and worked in civil sectors, like medicine, nursing and municipalities," will be adjudicated by tribal mediation panels, he said, referring to another name for the Islamic State.
Mr. Bali said about 400 Syrians had been released through this process, and added that Kurdish authorities were trying to repatriate other prisoners to their home countries. But that effort is facing strong headwinds.
"Some countries showed more interest than others in extraditing their citizens," said Nouri Mahmoud, a Kurdish spokesman. "European governments so far have been reluctant to reach out to us in order to extradite their citizens."
Khaled al-Ibrahim, a lawyer who represents defendants in a special terrorism court that Kurdish authorities call People's Defense Court, defended in WhatsApp messages the justice that is being administered to the suspected Islamic State fighters.
"Any defendant can be assigned a lawyer to take their case," he said. "Verdicts come after court sessions and evidence presented. We don't have the death sentence in the Northern Syria federation. We don't torture or get confessions by force. Our prisons are correctional facilities."
Even as Kurdish authorities, American officials and relief organizations seek to address the Islamic State prisoners in custody, broader concerns remain about those fighters still at large.
Some 40,000 fighters from more than 120 countries poured into the battles in Syria and Iraq over the past four years, American and other Western officials say. While thousands died on the battlefield, officials say many thousands more probably survived to slip away to conflicts in Libya, Yemen or the Philippines, or have gone into hiding in countries like Turkey. About 295 Americans are believed to have traveled to Iraq or Syria, or tried to, American officials said.
Of more than 5,000 Europeans who joined those ranks, as many as 1,500 have returned home, including many women and children, and most of the rest are dead or still fighting, according to Gilles de Kerchove, the European Union's top counterterrorism official.
European intelligence services, along with Interpol, have created major new databases of suspected foreign fighters. European spy agencies and Europol have also created counterterrorism hubs in the Netherlands for sharing information and mapping out strategy.
The United Nations Security Council last month unanimously approved a resolution requiring all nations to collect airline passenger data, maintain watch lists of known and suspected terrorists, and collect biometrics, such as fingerprints, to help spot foreign fighters if they attempt to board planes.
In the field, American warplanes and Kurdish-led ground forces are hunting for the roughly 1,000 remaining Islamic State fighters hiding along the Euphrates River valley near the border with Syria and Iraq. American counterterrorism officials believe Mr. Baghdadi is most likely hiding in these Sunni border areas straddling the two countries.
In a Senate hearing this month, David M. Satterfield, the State Department's acting top Middle East diplomat, warned that Islamic State operatives still posed a threat. "Many of its core leadership and cadre avoided the fight," he said. "They remain present and they remain coherent."
Karam Shoumali contributed reporting from Berlin, Hwaida Saad from Beirut, Lebanon, and Thomas Gibbons-Neff from Washington.
https://www.nytimes.com/2018/01/24/world/middleeast/isis-syria-militants-kurds.html?mtrref=www.google.co.in&gwh=86B4E1CBDA04FC20D0AA8B8DB618CB83&gwt=pay
--------
Muslim Brotherhood crumbling around Erdogan
Pinar Tremblay
January 24, 2018
A line heard frequently in Turkey is, "The Justice and Development Party [AKP] has no saga left to tell."
The word "saga" can be explained as promises that capture and excite constituents. This rhetoric has been heard more often since August, when several AKP mayors were pressured to resign. That action came after Turkish President Recep Tayyip Erdogan in May 2017 had candidly observed the diminishing enthusiasm in his party's ranks, which he compared with "metal fatigue." Al-Monitor observed how Erdoganmania evolved into Erdogan fatigue by July, and since then most pundits have been using "the end of the AKP's saga" as a careful way of explaining the dissolving political structure.
Since July, the discomfort has grown far beyond fatigue, despite a well-institutionalized censorship on media. The AKP has not just run out of ideas to excite the masses, but also is experiencing erosion of its ideological core — namely the Islamist movement Muslim Brotherhood. Erdogan, seen as the AKP's crux, remains unchallenged, but he and his slogans have lost their impact. Crowds in every city Erdogan visits seem to cheer for him and applaud at the end of his remarks, but there are signs of discontent.
For example, on Dec. 15, while speaking in Istanbul, Erdogan asked the crowd, "Who does the Islamic world look up to?" Failing to get an answer, he said, "You are quiet; where do they look? Of course they are looking at Turkey."
On Dec. 24, speaking in the predominantly Kurdish southeastern town of Sirnak, Erdogan got angry with his audience for cheering at the wrong moment. He recalled how Sirnak had only generated a yes vote of 28% for the April constitutional referendum that expanded the presidency's powers. The misplaced response — by an apparently disinterested audience cheering out of habit rather than enthusiasm — visibly bothered the president, but the crowd just kept clapping and cheering. Erdogan stopped and said, "Why did you clap? I think it is a misunderstanding."
There are several indications that slowly even the crowds that gather to cheer Erdogan are failing him, because the novel ideas and solidarity promise of the Muslim Brotherhood no longer work in Turkey.
There are six main patterns for explaining how the Brotherhood is now on life support in Turkey.
First is the alienation of the Kurds in Turkey. One of the AKP's biggest promises was to embrace every Muslim and end the bloodshed of war in southeastern Turkey with the Kurdistan Workers Party in particular. Until the pro-Kurdish Peoples' Democratic Party was able to enter the Turkish parliament, the AKP took pride in representing the Kurds. Yet the peace process collapsed and the AKP showed little to no effort to restart it. Instead, Erdogan opted to form an alliance with the ultranationalist Nationalist Action Party, also known as the Grey Wolves, which resulted in further destruction of Kurdish cities.
In the meantime, the AKP should be given credit for opening up social and cultural public spaces to different Islamist groups. Over the years, to advocate for Islam and strengthen its core — while battling extreme secularist rules and regulations — the AKP encouraged various religious orders. For decades, most of the attention has focused on the effort to allow women to wear headscarves in public. But the July 15, 2016, coup attempt showed that different Islamist movements — in this case specifically, the Gulen movement — had penetrated state institutions extensively. The AKP's tireless efforts to rid government agencies of the Gulen movement (which Turkey now refers to as a terrorist organization) shows us these Islamists have actually been in charge of several state agencies for decades. Now there are signs that the movement is being replaced by other Islamist groups.
Erdogan plays Islamist groups against each other. For example, on Jan. 20, the Official Gazette announced that 256 tax-exempt waqfs (religious and charitable foundations), including the Ismailaga religious order and Ensar Waqf, have been given a place in official protocol for national celebrations. Several other religious endowments have been established during the AKP's rule, most of which advocate more conservative versions of Islam than the Muslim Brotherhood. In sum, the second reason for the Brotherhood's weakening in Turkey is simply diversification of Islamist groups and their leadership, although none challenge Erdogan or openly demand to replace most Brotherhood networks. Alternative mosques and groups operating under the waqfs are competing for and complementing the services of Turkey's top religious agency, the Diyanet (Directorate of Religious Affairs).
The third reason for the Muslim Brotherhood's weakened state is the failure of Erdogan's dream: to raise a pious generation. Hundreds of religious schools (imam-hatip schools) have been established all around the country, but the quality of education they provide has been below satisfactory and enrollment rates have fallen to 30%. The government has not been able to provide an alternative for these schools.
The fourth reason is the party's failure to fulfill economic promises. Despite impressive national growth rates and grandiose landmark projects, the Turkish economy is struggling: Inflation and unemployment levels are in double digits, the Turkish lira is losing against the euro and the US dollar, and farmlands are disappearing due largely to droughts. Recently, there have been a few instances in which Erdogan's rallies have been disturbed by workers demanding permanent jobs. One unemployed construction worker attempted to self-immolate in front of the parliament building Jan. 12. He told the media he was an AKP member who desperately needed a job.
The fifth explanation is the AKP's inability to restructure itself and control expanding nepotism. Despite Erdogan's struggle to renew party cadres and rejuvenate the political arena, the number of people who acquire government and private-sector positions because of their family connections continues to rise. Internally, it seems there are bitter feuds and childish competitions among senior AKP members.
Last but not least is the domino effect — that is, Turkish Brotherhood networks have been weakened by regional defeats of the movement. Egypt, Tunisia, Syria, Qatar and Hamas have all had their own challenges since the Arab Spring uprisings in 2011. The AKP government has really tried to host dissidents and help struggling Brotherhood leaders on multiple fronts, but it hasn't worked. Particularly, the imprisonment of Egypt's former president, Mohammed Morsi, and the failure of the Brotherhood in Syria crippled the Turkish Brotherhood's rhetoric and resistance.
In Turkey, contrary to the fearmongering of conspiracy theory-loving columnists, the Muslim Brotherhood wasn't ousted by imperial powers or militant secular groups. Its gradual corrosion is an internal issue. The Brotherhood network was based on civil society's collaboration and cooperation to fill the vacuums created in areas the states neglected such as health care, education and other basic needs of communities. The original idea was to lead by example and help everyone. Yet in Turkey, after acquiring the state powers and resources, these unofficial networks have gradually stopped expanding and become only effective tools to rally groups around the political party and the ballot box.
As the AKP gradually evolved into a much-dreaded one-man rule, the Turkish Muslim Brotherhood lost its solidarity. This, however, should neither be read as the end of Islamism in Turkey nor as the loss of Erdogan's stronghold on the country. It rather means the Muslim Brotherhood is no longer the locomotive engine for AKP's election victories. Therefore, Erdogan will need more rally-around-the-flag climax moments — be they "God-given," such as the July 2016 coup attempt, or the military-led operation on Afrin, Syria.
https://www.al-monitor.com/pulse/originals/2018/01/turkey-muslim-brotherhood-last-bastion-crumbling.html
--------
India
Terrorists warn Pulwama principal against deputing girls in Republic Day parade
M Saleem Pandit
Jan 24, 2018
SRINAGAR: Two masked gunmen barged into the house of the principal of a high school in Pulwama on Wednesday and thrashed him for letting girls participate in the upcoming Republic Day parade.
In a video that went viral, the militants are seen entering the house of Ghulam Mohammad Sheikh at Pinglena village and asking him to apologise for "pressurizing the girl students" to attend the January 26 parade in the district.
"We have our agents in the police department who are keeping a close vigil on every movement. We will also identify the lady teacher who teaches dance to girls," the men are heard saying in the video.
The "warning" comes just two days after Lashkar-e-Taiba issued a diktat to Kashmiri women, threatening them to be prepared for "consequences" if they did not observe the "Islamic dress code".
Pulwama senior superintendent of police (SSP) Mohammad Aslam Choudary said, "Militants are involved in issuing the threat and we have launched an inquiry to identify them."
https://timesofindia.indiatimes.com/india/terrorists-warn-pulwama-principal-against-deputing-girls-in-republic-day-parade/articleshow/62639797.cms
--------
Followers of Islam in India not against cow protection: Mohan Bhagwat
Jan 24, 2018
DARBHANGA: RSS chief Mohan Bhagwat said today people belonging to all religious faiths in India were like brothers, and even followers of Islam were not against cow protection.
The Rashtriya Swayamsevak Sangh Sarsanghchalak also said many Muslims in India did not eat beef.
"In India, people of all religions are like 'sahodar bhai' (brothers born to the same mother). Even followers of Islam here do not oppose 'gopalak' and 'gorakshak' (people rearing and protecting cows)," Bhagwat told a gathering of RSS volunteers.
Bhagwat's comments came in the backdrop of incidents of cow vigilantism at several places for which opposition parties blamed the BJP, RSS and its allied organisations.
Noting that the condition of farmers was a cause for worry, Bhagwat said India's prosperity was closely linked to the well-being of those involved in agriculture, and stressed on promoting cattle rearing and organic farming.
In apparently laudatory words for the Narendra Modi government, he said, "Earlier an atmosphere of dejection prevailed in the country which is no longer the case now, and we, as a nation, are marching ahead on the global platform."
Later, inaugurating a cancer hospital here named after Swami Vivekananda, Bhagwat called for ensuring availability of good and affordable health and education facilities to all sections of society.
Speaking at the function, Union Minister of State for Health and Family Welfare Ashwini Kumar Choubey said the Centre was making efforts to improve medical facilities in states like Uttar Pradesh, Bihar and Jharkhand, and the entire North-East.
The proposed projects included a 250-bed cancer hospital in Muzaffarpur, to be built at a cost of Rs 150 crore by the Bhabha Atomic Research Centre (BARC), and a superspeciality hospital in Darbhanga, Choubey said.
Full report at:
https://economictimes.indiatimes.com/news/politics-and-nation/followers-of-islam-in-india-not-against-cow-protection-mohan-bhagwat/articleshow/62638658.cms
--------
2 terrorists, 1 civilian killed in anti-terror operation in J&K's Shopian
M Saleem Pandit
Jan 24, 2018
SRINAGAR: A teenager was killed and several others injured when clashes erupted between civilians and security forces during an anti-terror operation in South Kashmir's Shopian district on Wednesday. Two terrorists, affiliated to the Hizbul Mujahideen, were also gunned down during the encounter.
The civilian, identified as Shakir Ahmad Mir, 17, was killed when armed forces fired at a crowd trying to disrupt anti-terror operations against three HM terrorists holed up at Chaigund village in the district. Shakir was rushed to a primary health centre, where he was declared dead on arrival.
Kashmir additional director general of police Munir Khan said, "Three HM terrorists wearing burqas were seen entering a residential house at Chaigund village in the afternoon today. So, the security forces cordoned the area and zeroed in the house where they were holed-up."
Shopian SSP Shri Ram Ambarkar said the encounter was carried out by a joint team of the Army, police and CRPF.
"As the joint team approached the house, militants opened fire triggering an encounter," Ambarkar said.
Full report at:
https://timesofindia.indiatimes.com/india/2-terrorists-1-civilian-killed-in-anti-terror-operation-in-jks-shopian/articleshow/62639368.cms
--------
Muslim Family In Haryana Village Asked To Go To Pakistan
Jan 24, 2018
A Muslim family in a village in Haryana has been threatened to leave their home and shift to Pakistan. The family from Joshi Jat village in Sonipat has also approached police in this regard, and one person has been arrested in connection with the case.
Talking about the issue, a member of the family, Suresh Alvi, said that his family has been resident of that village for the past 300 years. He said that they are the only Muslim family in the village while the rest hail from Jat community. Alvi also pointed that his ancestors were even made Sarpanch of the village in the past.
Alvi accused a villager, Jaiveer, of misguiding people in the name of religion through instant messaging application WhatsApp. He said that the police had been informed about the same.
Some of the villagers are backing the family, saying they are being threatened without any reason.
Full report at:
http://zeenews.india.com/india/muslim-family-in-haryana-village-asked-to-go-to-pakistan-2075778.html
--------
Pakistan
Armed struggle against state un-Islamic: ulema
JANUARY 25, 2018
ISLAMABAD: The Pakistan Ulema Council (PUC) has maintained that armed struggle against the state is against the tenets of Islam and that those who shed blood in the name of religion have nothing to do with Islam as well as Pakistan. "Islam declares the murder of a single man as murder of the whole humanity," a statement issued by the organisation said, adding that the PUC had already launched a mass contact drive to raise awareness among the masses about fight against terrorism as well as growing extremism and intolerance in the society. The PUC urged the political parties to join their struggle against militancy in the country. It called upon the parliament to give legal status to the recently launched national counter-terrorism narrative 'Paigham-e-Pakistan' through necessary legislation so that lives of the coming generations should be made safe.
The organisation urged the people to play their due role for end to terrorism, extremism and violence from the society. "Being citizens of this country, it is our responsibility that we stand shoulder to shoulder with the government, security forces and national institutions in their struggle to fight challenges facing Pakistan," the statement read. "A peaceful struggle for the enforcement of shariah in the country is responsibility of every Muslim but bloodshed in the name of Islam can never be tolerated," the statement said, adding that hundreds of thousands of civilians and armed forces personnel have already sacrificed their lives in the fight against terrorism. The PUC said that Pakistan was facing numerous challenges due to irresponsible steps taken by US and India in the region. "Pakistan is bearing the brunt of US military intervention in Afghanistan. It's about time for Pakistan to quit coalition with US for the sake of development, progress and peace in Pakistan," the statement said, adding that only a united struggle against terrorism and militancy can help Pakistan pull out of the 'quagmire' and move forward on the path of development. The PUC maintained that anti-state elements wanted to weaken Pakistan through dividing the nation on religious, sectarian and ethnic grounds. "We must discourage those forces who want to divide Pakistan to achieve their nefarious designs," the statement concluded.
https://dailytimes.com.pk/188181/armed-struggle-state-un-islamic-ulema/
--------
Afghan Taliban confirms meeting Pakistani officials in Islamabad: report
Jan 25, 2018
The Afghan Taliban group has formally confirmed a meeting between the group's Qatar office delegation and Pakistani officials in Islamabad, reported Khamar News on Wednesday.
The delegation, comprising five leaders, including Shababuddin Dilawar and Malawi Rasool, came from Qatar to explore prospects of resuming talks, the report quoted Dawn News as saying.
Without disclosing much detail, the statement issued by the group said that the group favours political settlement to end the ongoing violence in the country. The news agency, however, reported that the Taliban refused to hold talks with the Afghan government; they were willing to sit on the table with the US though.
It reported: "They [Pakistan officials] have said the Taliban remained unmoved [on an offer to engage in talks with Afghan government]. They are sticking to their past stance. They want to negotiate with the US through the Qatar Office, but refused to negotiate with the Afghan government."
This comes as Pakistani officials said last week that the Taliban group is not prepared to hold talks with the government as reports indicate that the Taliban supreme leader Mullah Hebatullah Akhundzada has sent a delegation to Islamabad to explore ways for reviving peace talks.
In a separate development, Pakistan again sought clarity relating to President Donald Trump's new Afghan policy, insisting that the Trump administration needs to chalk out a clear policy whether it wants to resolve the Afghan dispute by force or through dialogue, reported a local media outlet.
Pakistan reasserted that the administration wouldn't be able to establish peace in the country by employing both the options simultaneously, adding that reconciliation is the key to resolve the conflict. As the US eyes mending ties with Pakistan following a series of tirades, it told the US that the country will play the due role to achieve regional peace; however, its national interests would remain priority.
"As a result of the ongoing contacts, a four-nation group for restoring talks between the Kabul government and the Taliban, may come into being."
Full report at:
https://www.pakistantoday.com.pk/2018/01/25/afghan-taliban-confirms-meeting-pakistani-officials-in-islamabad-report/
--------
LHC to govt: Leave Hafiz Saeed alone
Jan 25, 2018
LAHORE: The Lahore High Court (LHC) on Wednesday restrained the Punjab government from arresting or detaining Jamaat-ud-Dawa (JuD) chief Hafiz Muhammad Saeed till the next order. The LHC also directed the government not to take action against JuD or Falah-e-Insaniat Foundation (FIF), founded by Hafiz Saeed.
During Wednesday's hearing, Justice Ameenud Din Khan issued a notice to the federal government to submit its reply on the matter on March 7. On Tuesday, Saeed had moved the court and challenged his possible arrest or government action against JuD and FIF, ahead of the visit of the United Nations (UN) monitoring team which would arrive in Pakistan on January 28.
In a petition filed through Advocate AK Dogar, Saeed stated that the government wanted to take action against him and his organisation under the pressure of the United States (US) and India. He requested the court to restrain the government from taking action against JuD or FIF.
In the writ petition, Dogar stated that Saeed and his allies were detained in Pakistan on the insistence of US and India, but the government could not provide any proof against them in the court of law. The government was now making plans to take action against JuD, FIF and to impress the UN monitoring team that would land in the country early next week.
Full report at:
https://www.pakistantoday.com.pk/2018/01/24/lhc-to-govt-leave-hafiz-saeed-alone/
--------
Pakistan hopes ICJ will dismiss Jadhav case
January 25, 2018
ISLAMABAD - Pakistan hopes that the International Court of Justice will ultimately dismiss the convicted Indian spy Kulbushan Jadhav's case after the ICJ fixed April 17 and July 17 for India and Pakistan to file written pleadings, officials said on Wednesday.
Senior officials at the foreign ministry told The Nation that Pakistan had prepared its case with an aim to push the ICJ to dismiss the Indian case.
An official said: "Pakistan will submit the updated details of the Jadhav case in the ICJ by the deadline [July 17]. The main focus is to prove this case does not fall in the ICJ jurisdiction. We are hopeful to justify our case."
Another official said: "Indian case is weak. If we fight properly, we can prove our point. Our earlier reply too is detailed and this time we hope to close this case for good. India is just trying to keep us engaged."
Pakistan claims the ICJ had no jurisdiction to hear Kulbushan Jadhav's case as it was linked to Pakistan's security.
Pakistan had also submitted its reply to the ICJ under Article 36 of the United Nations Charter.
Last year, the ICJ asked Pakistan to stay Jadhav's execution until a final verdict.
"Pakistan shall take all measures at its disposal to ensure that Jadhav is not executed pending the final decision in these proceedings," the ICJ ruled.
India had approached the top UN court after Jadhav was sentenced to death by a Pakistani military court for his role in terrorism.
The Research and Analysis Wing agent was found guilty of conducting espionage activities in the country.
Ignoring all evidence, India however, maintains he was kidnapped from Iran last year.
The trial against Jadhav was conducted under the Pakistan Army Act 1952 and Official Secret Act of 1923.
In the past, he said, the ICJ had indicated provisional measures to prevent executions in three cases, based on the violation of Article 36 of the Vienna Convention on Consular Relations. These included "(i) the case of Vienna Convention on Consular Relations (Paraguay vs USA) of 9th April 1998; (ii) La Grand case (Germany vs USA) of 3rd March 1999; and (iii) Avena and other Mexican nationals' case (Mexico vs USA) of 5th Feb 2003," official record suggested.
Pakistan had entered a Revised Declaration under Article 36(2) of the statute of the ICJ on March 27, 2017.
"This is a common practice. It is stronger declaration than the earlier that was entered in 1960. Many clauses have been added to the declaration including, excluding 'all matters related to the national security of Islamic Republic of Pakistan', which in the current case totally excludes the jurisdiction of [the] ICJ under Article 36(2) in our view," an official said.
Last month, Pakistan arranged a "family reunion" for Kulbushan Jadhav.
The mother and wife, Avanti Jadhav and Chetenkul Jadhav, were not allowed any physical contact due to security concerns.
They sat across, divided by a glass barrier, and spoke initially for 35 minutes, which was later extended to 40 minutes upon Jadhav's request.
The meeting took place at the foreign ministry and the "guests" were given VVIP protocol, which invited criticism from Pakistanis who see Jadhav as the killer of several innocent people.
The foreign ministry also issued a video clip where Jadhav thanked the Government of Pakistan for arranging the meeting with his family.
Foreign Office spokesperson Dr Mohammed Faisal said Pakistan was in no hurry to execute Jadhav as he still had his mercy appeal pending before the army chief, Gen Qamar Javed Bajwa.
Full report at:
https://nation.com.pk/25-Jan-2018/pakistan-hopes-icj-will-dismiss-jadhav-case
--------
South Asia
6 Taliban militants killed, 2 held alive in Helmand operations
Jan 24 2018
At least six Taliban insurgents were killed and two others were arrested alive during the ongoing operations in southern Helmand province of Afghanistan.
The provincial government media office in a statement said Tuesday that the militants were killed in the vicinity of Nahr-e-Saraj and Nad-e-Ali districts.
The statement further added that the Afghan ground and air forces carried out a series of operations against the hideouts of the Taliban in Spin Masjid area, leaving three militants dead and another militant wounded.
The Afghan forces also conducted operations in Nad-e-Ali district where three Taliban militants were killed, the governor's office said.
In another operation conducted in Marja district, the Afghan security forces arrested two Taliban insurgents and their weapons were confiscated, the statement said.
According to the provincial government, the Afghan forces discovered and confiscated twenty improvised explosive devices during the same operations.
The anti-government armed militant groups including the Taliban insurgents have not commented regarding the reports so far.
Helmand is among the relatively volatile provinces in southern Afghanistan where the anti-government armed militant groups are actively operating in a number of its districts and often carry out insurgency activities.
The local officials said last week that the Afghan Special Forces also confiscated 10 mortar rounds, 207 RPG rockets, 150 Improvised Explosive Devices, 50 remote-controlled landmines, 350 different types of ammunition rounds, 20 hand grenades, 320 kgs of explosives, and 234 equipments to be used in landmines.
https://www.khaama.com/6-taliban-militants-killed-2-held-alive-in-helmand-operations-04337
--------
Taliban loses two commanders during clashes in Faryab province
Jan 25 2018
Two local commanders of the Taliban group were killed during the clashes with the Afghan national defense and security forces in northern Faryab province of Afghanistan.
The 209th Shaheen Corps in the North said a clash broke out between the Afghan forces and the Taliban insurgents in Ghormach district.
According to the Shaheen Corps officials, two local commanders of the group were killed with one of them identified as Mullah Sher Agha.
The officials are saying that four Taliban militants were also wounded during the clashes that took place in Aab Garmak area of the district.
The Afghan forces also confiscated a communication device set and an improvised explosive device was discovered and defused as well, the officials said.
The anti-government armed militant groups including the Taliban insurgents have not commented regarding the incident so far.
Faryab is among the relatively volatile provinces in northern parts of the country where the anti-government armed militants are actively operating in a number of its districts.
Full report at:
https://www.khaama.com/taliban-loses-two-commanders-during-clashes-in-faryab-province-04343
--------
Suicide bomber and Humvee laden with explosives eliminate in Helmand
Jan 24 2018
A suicide bomber was killed before he manage to reach to his target to detonate a Humvee armored personnel carrier in southern Helmand province of Afghanistan.
According to the local officials, a suicide bomber riding a Humvee vehicle packed with explosives was attempting to get closer to its target in Marjah district but was spotted and eliminated by the security forces before it manage to hit his target.
The provincial government media office in a statement said the militants were looking to target the security forces during the operation but the suicide bomber and his vehicle were cordoned and the explosives inside vehicle went off as the security forces opened fire on it.
The statement further added that only the suicide bomber was killed in the explosion and no one else was hurt.
According to the local government, the militants have been hardly suppressed by the security forces in the area and were apparently looking to carry out a deadly attack to avenge their defeat.
The officials are saying that the security forces have managed to make around 3 kilometers advance in the restive areas of Marjah since the launch of the operation earlier today.
The militants have suffered heavy casualties during the operations but the exact number is not clear so far, the officials added.
Full report at:
https://www.khaama.com/suicide-bomber-and-humvee-laden-with-explosives-eliminate-in-helmand-04342
--------
3 killed, 25 wounded as siege ends on NGO office in East of Afghanistan
Jan 24 2018
At least three have reportedly been killed and around twenty others have sustained following a coordinated attack on a non-governmental organization in Jalalabad city in eastern Nangarhar province of Afghanistan.
According to the local government officials, the siege of the militants on the non-governmental organization's office ended with the elimination of all four attackers earlier this evening.
The officials further added that three people including two security guards of the Save the Children office were killed and twenty five others including four security guards of the office were wounded.
According to Nangarhar officials, the militants launched the attack at around 9 am local time by initially detonating a vehicle packed with explosives to allow the remaining militants infiltrate the compound and secure positions for a standoff.
The majority of those wounded in the attack have sustained injuries due to shattered glasses, the officials said, adding that around 19 of them were discharged after receiving first aid.
Provincial governor Gulab Mangal said the operation by the security forces was conducted slowly to prevent the civilian casualties, mainly the children who were trapped in the area.
He said at least 46 people including 12 women were rescued by the security forces during the operation.
Full report at:
https://www.khaama.com/3-killed-25-wounded-as-siege-ends-on-ngo-office-in-east-of-afghanistan-04341
--------
Afghan airline repatriates Ukrainians killed in hotel attack
January 25, 2018
KABUL - The remains of seven Ukrainian Kam Air employees murdered by Taliban gunmen were loaded onto a plane at Kabul airport Wednesday to be repatriated, following a sombre ceremony days after the attack on a luxury hotel.
Afghan officials and executives from the airline oversaw a brief memorial service where caskets draped in blue and yellow Ukrainian flags were adorned with wreaths and framed portraits of the deceased.
"It is a disaster for us," Kam Air CEO Samad Osman Samadi told AFP.
"It will take us a while to recover because we lost our professional crew. We also used their experience to train our Afghan pilots."
The airline lost nine personnel including five pilots and four crew members during the 12-hour attack on the state-run Intercontinental Hotel on the weekend. Kam Air officials said seven of the nine victims were from Ukraine. There were also two from Venezuela, whose bodies will be repatriated in the coming days.
At least 40 Kam Air employees were at the Intercontinental, which is not part of the global InterContinental chain, when gunmen began slaughtering guests and employees Saturday night, killing at least 22 people, including 14 foreigners.
Most of the airline staff survived by hiding in their rooms, waiting in silence as the gunmen went from door to door breaking them open and killing those inside.
The Afghan airline has been struggling to recover in the massacre's wake, cancelling flights and reorganising schedules as employees cope with the loss of their colleagues.
The attack on the Intercontinental came weeks after a private company took over the hotel's security, which multiple visitors described as lax in the run-up to the incident.
It remains unclear where the airline will now house its foreign staff while they are in Kabul, which is one of the deadliest places in war-torn Afghanistan for civilians.
Full report at:
https://nation.com.pk/25-Jan-2018/afghan-airline-repatriates-ukrainians-killed-in-hotel-attack
--------
Southeast Asia
Indonesian Muslim cleric wins 2017 human rights award
January 25, 2018
A cleric from Nahdlatul Ulama, Indonesia's largest Islamic organization, has won the 2017 Yap Thiam Hien Award for his efforts in upholding human rights and promoting diversity through writing.
Ahmad Mustofa Bisri, known as Gus Mus, is the first Muslim cleric to receive the award, which was established by the Jakarta-based Human Rights Study Center Foundation in 1992 to honor the late Yap Thiam Hien (1913-89), a noted lawyer and human rights defender in Indonesia.
Maritime Affairs and Fisheries Minister Susi Pudjiastuti presented the award to the 73-year-old leader of Raudlatut Thalibin Islamic Boarding School in Rembang, Central Java, on Jan. 24 at a ceremony in Jakarta.
Foundation director Todung Mulya Lubis said Gus Mus had fought for human rights in terms of religious issues and for diversity and social harmony.
Gus Mus had shared with people his ideas through poems and never took part in any protests, he said.
In a speech, Gus Mus stressed the importance for the nation to fight injustices. "Injustices make people angry. Angry people make radicalism," he said.
Father Antonius Benny Susetyo, secretary of the Setara Institute for Democracy and Peace's national council, acknowledged that Gus Mus deserved the award.
"He fights for inclusivism with all his soul and energy. He commits to uphold the state philosophy of Pancasila (five principles). He is a figure who can become a bridge of peace," he said.
https://www.ucanews.com/news/indonesian-muslim-cleric-wins-2017-human-rights-award/81343
--------
No point praying if you're unjust, Penang mufti disagrees with Zamihan
Predeep Nambiar
January 24, 2018
GEORGE TOWN: Being a just leader is better than praying for 60 years, says Penang mufti Wan Salim Wan Mohd Noor citing a hadith of the Prophet, in response to a government preacher's call that Dr Mahathir Mohamad spend his time in prayer instead of making a political comeback.
Salim said there is nothing wrong with Mahathir's political comeback if the intention is to correct the wrongs of the past.
"However, if his return is for selfish interests, such as for his family and cronies, then it would be wrong," he told FMT.
He was asked about recent remarks from Zamihan Mat Zin, who among others said Mahathir should spend his time in prayer and repent for all his "sins" when he led the government for 22 years.
Mahathir, 93, who chairs Pakatan Harapan, is also the coalition's candidate for prime minister.
Salim said a good Muslim must carry out good deeds while they are alive.
"Repenting is not by merely chanting for forgiveness from Allah, but by changing one's ways and habits.
Full report at:
http://www.freemalaysiatoday.com/category/nation/2018/01/24/no-point-praying-if-youre-unjust-penang-mufti-disagrees-with-zamihan/
--------
Melaka to review dubious religious activities in Pulau Besar
January 24, 2018
MELAKA, Jan 24 — The Melaka government will hold serious discussions with the organisers of the recent Maulidur Rasul event at Pulau Besar to address the allegedly dubious religious activities carried out during the programme on the island.
"We have directed the Melaka Mufti Department, the Melaka Islamic Religious Department and the Melaka Islamic Religious Council to hold discussions to resolve the issue," Chief Minister Datuk Seri Idris Haron told reporters after chairing the state executive council meeting here today.
"Perhaps, the organisers thought they are doing the right things when it was pretty obvious that the activities contravened the true teachings of Islam. However, we cannot jump into conclusion. Maybe they were practising the teachings of different schools of Islamic thoughts.
"That is why we need to hold the discussions, so that we can understand the situation and respect each other's views in order to avoid any untoward incidents," he said.
Full report at:
http://www.themalaymailonline.com/malaysia/article/melaka-to-review-dubious-religious-activities-in-pulau-besar#FFL6MCRJaVs2Dz8F.97
--------
Arab World
Now defeated, Iraq's most feared jihadists await their fate
25.01.2018
Their names spread terror across the Islamic State group's cross-border "caliphate", but senior jihadists now languish in Iraqi prisons, subjects of mockery for the populace they ruled.
Once boasting nicknames like the Black Box and the Butcher of Mosul, the defeated IS commanders now draw vitriol on social media while news outlets have published selfies taken by Iraqi soldiers of them being captured or marched handcuffed in prison uniforms.
Following the jihadist group's ouster from second city Mosul last July, Iraqi forces went on the hunt for IS fighters who had fled the battlefield.
Researchers estimate they have since put behind bars some 20,000 suspected members of the group.
The search involved digging through the rubble of war-torn Mosul and hunting through the tunnels and hideouts the jihadists had created during their three-year reign.
It was in Mosul's Old City, near the al-Nuri mosque where the self-proclaimed "caliph" Abu Bakr al-Baghdadi made his only public appearance, that the elite Counter-Terrorism Service found the senior commander nicknamed the "Black Box of IS" — a moniker that came from his lynchpin role in the organisation.
Nizam Eddin al-Rifai had sent gunmen and suicide bombers in a desperate bid to repel government troops, said Sabah al-Noman, spokesman for elite units that spearheaded the Mosul offensive.
But in the end he had no choice but to surrender. Cornered by government soldiers, he left his underground hideout bare-chested, his unkempt beard matching his white hair.
Time was finally up for the notoriously hardline head judge of the "caliphate" which at its height ruled over roughly seven million people in Iraq and Syria.
The 60-year-old Mosulite is still under interrogation, Noman said, adding that he could still give up valuable information about IS.
Rifai's position made him the group's third in command, according to security sources speaking on condition of anonymity.
He also had the symbolically important role of "teaching theology to Abu Bakr al-Baghdadi," the jihadists' self-proclaimed "caliph", they said.
– 'Terrorised all of Mosul' –
Another infamous IS member, Mufti Abu Omar (whose real name is Ezzedine Taha Ahmed), spread terror far beyond Mosul through the group's propaganda efforts.
In one gruesome video, he appeared in military uniform. Sporting a kalashnikov rifle he ordered young people, suspected of being gay, thrown from the roof of a building to their deaths.
That clip and others earned the 62-year-old Iraqi the nickname "Butcher of Mosul".
Today, he is in the hands of the country's security forces, who nickname him "White Beard" — facial hair he trimmed as he tried to disguise himself as troops approached.
He escaped, like many jihadists, by mingling with the flood of civilians fleeing the battle-scarred city centre.
He hid in a house in the city's east, never leaving for fear of being recognised, provincial council security official Mohammed Ibrahim said.
"A neighbour saw him and informed the security forces," he said.
Today, the "Butcher" is a subject of derision and hatred on social media.
"He terrorised all of Mosul by stoning people to death," wrote one user.
"Today the people of Mosul should take him to a public place and beat him to death with their shoes."
– 'Cubs of the caliphate' –
Some of those now detained were among the wave of foreigners who flocked to IS.
While his comrades enforced IS rule, Abu Hamza al-Beljiki was preparing for the future.
According to investigators, he was in charge of the "cubs of the caliphate" — about sixty children aged eight to 13 who received intensive fitness and weapons training.
Abu Hamza is the nom de guerre of Tarik Jadaoun, a Belgian fighter with Moroccan roots, who joined the group in 2014.
After appearing in videos calling for attacks in Europe, he earned the moniker "the new Abaaoud", after his compatriot Abdelhamid Abaaoud, one of the organisers of the November 2015 attacks in Paris.
Currently detained and awaiting trial, he faces charges under Iraq's terrorism law, that have already seen several Europeans receive the death penalty.
According to statements by Iraqi justice officials, he made a detailed confession to his jailers.
https://www.journalducameroun.com/en/now-defeated-iraqs-most-feared-jihadists-await-their-fate/
--------
Over 200 Turkey-Backed Militants Killed in Clashes with Kurds in Northern Syria
Jan 24, 2018
The Kurdish-language Hawar news quoted the Syrian Democratic Forces (SDF) as declaring that 203 members of militants affiliated to the Turkish army, including four commanders, have been killed in different battlefields in Afrin region in the last two days.
The SDF further said that the Kurdish fighters destroyed seven military vehicles of the Turkish army and seized two armored vehicles.
The SDF said that the Turkish Air Force has continued targeting heavily different Kurdish-held regions, including the village of Iska in Shirwa and nearby region in the village of Jomleh in Jandaris region.
Kurdish sources said earlier today that a notorious field commander of Ankara-backed Free Syrian Army (FSA) was killed amid the Turkey-led Olive Branch Operation forces' withdrawal after fierce clashes with the Kurdish fighters.
The sources said that the Kurdish fighters repelled a heavy offensive of the Turkish soldiers and their allied militants and later in a rapid counter-attack in Jandris region North of Afrin managed to recapture the village on Hommam.
The sources further said that the Kurdish fighters fended off another attack of the Olive Branch Operation in the village of Qastal Jandou near the small town of Sheran in Afrin region and took back control over Qastal hill.
Full report at:
http://en.farsnews.com/newstext.aspx?nn=13961104001298
--------
US-led strikes kill up to 150 IS fighters in Syria
January 25, 2018
WASHINGTON : The US-led coalition has killed as many as 150 Islamic State fighters in an operation in the middle Euphrates River Valley in Syria, officials have said.
According to a coalition statement, the air strikes took place Saturday near Al-Shafah, in Deir Ezzor province, on an IS headquarters where the militants appeared to have been "massing for movement."
"The precision strikes were a culmination of extensive intelligence preparation to confirm an ISIS headquarters and command and control centre in an exclusively ISIS-occupied location in the contested middle Euphrates River Valley," the statement read.
While IS has lost most of the terrain they once controlled in Syria, they still remain entrenched in pockets along the middle Euphrates River Valley. "There's still have a heavy fight going on," said US Central Command spokesman Lieutenant Colonel Earl Brown. "We are continuing to go after those guys that are trying to reestablish themselves. It's a hard fight right now."
The coalition said that the Syrian Democratic Forces, a US-backed Arab-Kurdish alliance fighting IS, had assisted in target observation prior to the strike.
"The combination of intelligence and continuous eyes on the target ensured no accidental engagement of non-military personnel," the statement read.
The coalition's highlighting of the SDF's role comes as Kurdish fighters in northern Syria are under assault by Turkey.
Washington is treading a fraught line in Syria, on the one hand trying to maintain its relationship with NATO ally Turkey - which views Kurdish fighters as terrorists - while on the other continuing to support Kurdish ground forces that have been critical to the defeat of IS.
Full report at:
https://nation.com.pk/25-Jan-2018/us-led-strikes-kill-up-to-150-is-fighters-in-syria
--------
Turkey Plans New Strategy to Push towards Central Afrin in Northern Syria
Jan 24, 2018
The Turkish-language Yeni Safak daily quoted the sources as saying that military operations along the borderline with Hatay, Hasa, Kakhan Sakisli and Kilis has been halted to resume a fresh ground operation towards the town of Afrin after recent advances of the Ankara forces and allied militants against Kurds within the framework of the Olive Branch Operation in Northwestern Aleppo.
The daily further said that the Turkish troops have captured seven regions in clashes with the Kurds in Afrin, adding that the army forces are about to fortify their position in the seven newly-captured regions and later push towards the town of Afrin.
It added that the new strategy will prevent the Kurds from prevailing over he tpositions of the Ankara forces.
Field sources reported on Tuesday that the army and affiliated militants known as the Olive Branch Operation forces kicked off their attacks on the Kurds from five flanks, including the town of Bolbol North of Afrin, Rajou region Northwest of Afrin, Sheikh al-Hadid region West of Afrin, Jandaris region Southwest of Afrin and Azaz region to East of the Kurdish-held town of Afrin.
Full report at:
http://en.farsnews.com/newstext.aspx?nn=13961104001105
--------
Official: Kurds Want Negotiations with Damascus
Jan 24, 2018
"Turkey has deepened the crisis in Syria and supported terrorism financially. When it failed in its policies, it sent its army to launch attack against Afrin," Fouzeh Yousef, the head of the executive board of democratic federalism in Northern Syria, was quoted as saying by the Arabic-language al-Akhbar newspaper on Wednesday.
He stressed that the Kurds will stand against Turkey's attacks and occupation of Afrin, noting, "The Syrian Kurds want negotiations with the Syrian government but consider federalism as a better solution."
His remarks came after UN Secretary-General Spokesperson Stephane Dujarric said that the United Nations expresses its deep concern over Turkey's ongoing operation in the Kurdish enclave of Afrin in Northern Syria, which has already claimed lives of civilians and forced about 6,000 of people leave their homes.
The UN representative also added that more than 120,000 displaced people currently reside in the targeted district.
Turkey's Operation 'Olive Branch' kicked off on Saturday from air and ground around the area of Afrin in Syria's Aleppo to oust the Kurdish People's Protection Units (YPG), which Ankara views as a terror organization and the Syrian branch of the outlawed Kurdish Workers' Party (PKK).
Syrian President Bashar al-Assad on Sunday stressed that Turkish offensive in Afrin is part of Ankara's strategy based on supporting terrorists.
The Syrian government has condemned the "brutal Turkish aggression" against the Kurdish-controlled enclave of Afrin, rejecting Ankara's claim about having informed Damascus of the operation.
Full report at:
http://en.farsnews.com/newstext.aspx?nn=13961104001165
--------
Al-Qaeda Recruiting Fugitive ISIL Terrorists in Africa
Jan 24, 2018
The Arabic-language website of Russia's Sputnik quoted Najeh Ibrahim, an Islamic analyst, as saying that the Al-Qaeda organization has been recruiting the ISIL terrorists that have left battlefields in Syria and Iraq for Africa.
Ibrahim told the Arabic Sputnik that Al-Qaeda Leader Ayman Mohammed Rabie al-Zawahiri has welcomed recruitment of ISIL members, adding that some of the fugitive ISIL members that left Iraq and Syria are not capable of returning home and have moved to the regions under al-Qaeda control, specially in Africa and the Arabic Maqreb region.
Sputnik added that Al-Qaeda is trying to recruit fresh forces without any direct confrontation with the international coalition in order to collect the secrets of ISIL to avoid its fate.
Media sources said in November that they gained access to letters sent by ISIL ringleader Abu Bakr al-Baghdadi to other commanders of the terrorist group in Libya after his repeated failures in Syria and Iraq.
The Arabic edition of al-Sharq al-Awsat newspaper reported that al-Baghdadi's letters, some of them written last year and some of them in the past few weeks, indicate that the ISIL leader was after making up for his defeats in Syria and Iraq by calling on the terrorist groups' commanders and members to go to Libya.
Full report at:
http://en.farsnews.com/newstext.aspx?nn=13961104000761
--------
SDF Continues Forced Recruitment in Northeastern Syria
Jan 24, 2018
The sources said that the SDF has embarked on arresting a number of residents in the town of Ein Issa in Northern Raqqa to force them to join the SDF.
The sources further said that the UN representative in the region has not allowed the Kurds to enter Ein Issa camp but tens of civilians have been arrested by the SDF outside the camp.
The Arabic-language al-Watan daily reported last week that the SDF forced 1,000 civilians, mostly teachers, in the province of Hasaka and Deir Ezzur to join the SDF.
Al-Watan quoted an analyst as saying that the SDF's move was in line with the recent US decision to form a 30,000-member army in Northeastern Syria.
http://en.farsnews.com/newstext.aspx?nn=13961104000803
--------
Syria says claims it uses chemical weapons 'lies'
24 January 2018
The Syrian government said on Wednesday that claims by the French and US foreign ministers that it was still using chemical weapons were "lies."
On Tuesday, US Secretary of State Rex Tillerson said the Syrian government may still be using chemical weapons, following a suspected chlorine attack in the rebel enclave of eastern Ghouta on Monday.
Rescue workers in the rebel-held enclave of Eastern Ghouta, near to Damascus, accused government forces of using chlorine gas during bombardment of the area on Monday. The UK-based Syrian Observatory for Human Rights said at least 13 people had suffered suffocation in the incident.
President Bashar al-Assad's government denies using chemical weapons, which it agreed to destroy in 2013 under an agreement brokered by Russia and the United States.
"Only yesterday more than 20 civilians, mostly children, were victims of an apparent chlorine gas attack," Tillerson said after attending a conference on chemical weapons in Paris.
Serious concerns
"The recent attacks in Eastern Ghouta raise serious concerns that Bashar al-Assad may be continuing to use chemical weapons against his own people." Eastern Ghouta is the last major rebel-held zone near Damascus and where at least 390,000 civilians have been besieged for four years.
"Russia ultimately bears responsibility for the victims in Eastern Ghouta and countless other Syrians targeted with chemical weapons since Russia became involved in Syria," said Tillerson.
Russia is a close ally of Assad, providing direct military support in Syria against the various rebel groups trying to oust him and also diplomatic cover in the UN Security Council.
Tillerson was speaking during a meeting hosted by France on an initiative to target those responsible for chemical attacks, largely in Syria, after an international investigation into who is to blame for chemical weapons attacks in Syria ended in November after Russian opposition.
Russian failure
A joint inquiry of the United Nations and the Organization for the Prohibition of Chemical Weapons (OPCW) determined that the Syrian government used the nerve agent sarin in an April 4, 2017, attack and also used several times chlorine as a weapon.
"Russia's failure to resolve the chemical weapons issue in Syria calls into question its relevance to the resolution of the overall crisis," Tillerson said, adding there was mounting evidence since April 2014 that Syria still had chemical weapons.
Full report at:
https://english.alarabiya.net/en/News/middle-east/2018/01/24/Syria-says-claims-it-uses-chemical-weapons-lies-.html
--------
Bahrain regime forces detain another Shia clergyman
Jan 24, 2018
Bahraini regime forces, backed by masked militiamen, have arrested a Shia Muslim cleric on the northwestern coast of the tiny Persian Gulf kingdom as the ruling Al Khalifah dynasty presses ahead with its heavy-handed crackdown and persecution of the members of the religious community in the country.
Bahraini forces stormed the house of Sayed Adnan Sayed Hashim in the village of Diraz, situated some 12 kilometers west of the capital Manama, early on Wednesday morning, and arrested him.
On January 20, the Salam for Democracy and Human Rights, a rights campaigning group based in Britain, said in a report that the Bahraini regime had committed a total of 313 cases of rights abuse against Shia clerics since 2011.
The report studied court orders, government decrees and other actions by police and security forces against the clerics between 2011 and 2017, saying clerics in the tiny Persian Gulf kingdom of Bahrain have been subject to various forms of rights violations including death sentences, life imprisonment, citizenship revocation, enforced deportation, arbitrary detention and other harsh prison sentences.
It said the Shia scholars, who have a huge base of public support in Bahrain, have badly suffered from humiliation and physical torture as a result of government treatment.
Meanwhile, the Bahrain Centre for Human Rights has reported that regime forces have arrested 37 people, including three children.
The center added that two people were also arrested less than 24 hours after they had been released from the regime custody.
Thousands of anti-regime protesters have held demonstrations in Bahrain on an almost daily basis ever since a popular uprising began in the country in mid-February 2011.
They are demanding that the Al Khalifah dynasty relinquish power and allow a just system representing all Bahrainis to be established.
Manama has gone to great lengths to clamp down on any sign of dissent. On March 14, 2011, troops from Saudi Arabia and the United Arab Emirates were deployed to assist Bahrain in its crackdown.
Scores of people have lost their lives and hundreds of others sustained injuries or got arrested as a result of the Al Khalifah regime's crackdown.
On March 5, 2017, Bahrain's parliament approved the trial of civilians at military tribunals in a measure blasted by human rights campaigners as being tantamount to imposition of an undeclared martial law countrywide.
Full report at:
http://www.presstv.com/Detail/2018/01/24/550045/Bahrainmilitiamen-detain-another-Shia-clergyman
--------
Over 70 Mass Graves Found in Northern Iraq
Jan 24, 2018
The sources said that over 70 mass graves have thus far been discovered in the towns of Sinjar, Tal Afar and al-Ba'aj in Nineveh province.
The sources said that the mass graves contain a large number of bodies of Izadi people mascaraed in ISIL's era in Nineveh.
Several mass graves have been found in areas formerly controlled by ISIL terrorists since Iraqi forces launched their major offensive in October 2016 to liberate Mosul, the ISIL's last urban stronghold in the Arab state.
The largest mass grave on the territory of Iraq, allegedly containing the bodies of more than four thousand people, was found late February not far from the city of Mosul near the Baghdad-Mosul road.
According to reports, the number of dead bodies was more than four thousand, making it the largest mass grave on the territory of Iraq so far. The bodies belonged to Iraqi security forces who have been killed by the ISIL back in the summer of 2014 when the terrorist group first captured the area.
Iraq's Prime Minister Haider al-Abadi declared the end of military operations against the ISIL group in the Arab country.
Full report at:
http://en.farsnews.com/newstext.aspx?nn=13961104000961
--------
Mideast
Yemeni forces kill 40 Houthi militants, free several areas in Saada
24 January 2018
According to military sources speaking to Al Arabiya, the Yemeni national army, with the support of the Arab coalition, killed 40 Houthi militants across three fronts in the Saada governorate on Wednesday.
The governorate is a Houthi militia stronghold.
The sources also said that the Yemeni army continued to make military progress in various parts of Saada, including al-Falaj, al-Rakhm, Jibal Shoaeb and more. These areas are now Houthi militia free.
Similarly, the coalition's air force destroyed seven Houthi military vehicles, mines and missile stores.
https://english.alarabiya.net/en/News/gulf/2018/01/24/Legitimate-Yemeni-forces-kill-40-Houthi-militians-free-several-areas-in-Saada.html
--------
In Jenin, Terrorists Get What They Deserve; In Gaza, They Don't
by Hillel Frisch
JANUARY 24, 2018
In 2002, Israel — after considerable procrastination in the face of unprecedented terrorist attacks — finally adopted an offensive hard-hitting strategy against the Palestinian Authority (PA) and local terrorist factions. This happened when Israel reconquered the major towns in the West Bank that had become sanctuaries from which Hamas, Islamic Jihad and Fatah terrorists launched sophisticated suicide and hit-and-run attacks.
The IDF has been engaged in relentless nightly penetrations ever since. Terrorist acts, and the number of victims of terrorist acts, has duly plummeted.
By contrast, in Gaza, Israel withdrew entirely in 2005, dismantled all the settlements, and adopted a policy of containment. Hamas turned all of Gaza into a sanctuary in which it could train fighting forces, build up a militia that could effectively coordinate company-level attacks, and develop missile and tunneling capabilities.
Thousands of missiles were launched, numerous attack tunnels into Israel were built, and three rounds of costly fighting between Hamas and Islamic Jihad took place subsequent to Israel's withdrawal from Gaza.
On the night of January 17, 2018, we were witness to another reminder of the success of the hard-hitting strategy adopted towards the Arabs in the West Bank — and the failure of containment in Gaza.
One need only compare the firefight in Jenin, which led to the death of Hamas terrorist Ahmad Jarrar — who had participated in the killing of Rabbi Raziel Shevach eight days before — to the ambush and abduction of Gilad Shalit on the Gaza border by Hamas terrorists in 2006.
In the January 17 firefight, not only was Jarrar killed by the police anti-terrorist unit, together with other IDF forces, but another member of the terror cell was apprehended. He will no doubt reveal information leading to the apprehension of the rest of those involved in the attack. The operation was hardly costless; two members of the anti-terrorist unit were wounded, one seriously.
But the ambush of an IDF tank, the killing of two crew members and the abduction of Gilad Shalit in the summer of 2006 led to an entirely different outcome. Not only did the IDF fail to extricate Gilad or kill the cell members who had participated in the attack and fled back into Gaza, but Shalit's subsequent release came at a considerable cost — more than 1,000 terrorists were freed in 2011, many of whom had been sentenced for multiple murders, and some of whom have committed further terrorist acts since their release.
A spurious comparison? Hardly. One of those released to Gaza was reportedly the mastermind behind the killing of Rabbi Raziel Shevach, so there is very much a connection between the two events.
These events are related in another important way: Both were planned and perpetrated by terrorists who belong to Hamas, an organization that calls for Israel's destruction.
Be under no illusion. They did not gather intelligence on the movement of Rabbi Raziel Shevach (a father of six young children), command a car, secure firearms for the attack and precious ammunition to fire, and kill Shevach because he was a settler in the way that the EU defines him.
Had the terrorist squad been able to plan and perpetrate the same attack in northern Tel Aviv, it would have gladly done so. From Hamas' perspective, Tel Aviv is a "settlement" just as much as Havat Gilad, the settlement where Shevach lived and outside of which he was murdered.
This can be confirmed on a more personal level. Ahmad Jarrar, Shevach's killer, is the son of Hamas commander Nasr al-Jarrar, who was killed in 2002 for planning suicide attacks in Israel — within the Green Line. Like father, like son.
Only the son had to make do with the murder of a Zionist settler beyond the Green Line — probably because the planners reasoned that their car would have been stopped at a checkpoint along the security fence, or that the gathering of sufficient intelligence would have involved more participants, and thus a higher probability of disclosure by informants.
A comparison of the firefight in Jenin with the abduction of Shalit will not be a decisive factor in shaping the fundamental visions of peace of either advocates of greater Israel, or advocates of Peace Now.
It does, however, have a bearing on defining the necessary prerequisites of any future solution — namely, the absolute necessity of an active Israeli military and police presence in the West Bank that will allow the nabbing of Jarrar clones, preferably before they perpetrate their attacks. It will also allow the punishing of those who have already committed attacks, not only to achieve justice, but to achieve deterrence as well.
Indeed, the Israel Security Organization (the Shabak), together with the IDF and the police, do nab most perpetrators well before their attacks, especially the professionals (as opposed to individual attackers). They report that 400 such attempts were nipped in the bud in 2017.
Some might ask, can't the future Palestinian state nab potential terrorists instead of Israeli security forces? The answer lies in one important detail. Note where the January 17 firefight took place: in the town of Jenin, which is designated as Area A. Area A is under the complete control of the PA.
Add to the Jarrar clones the danger of the ammunition workshops constantly being revealed and destroyed there. These workshops, if left alone, could easily develop into production centers of mortars and missile projectiles. This is, in fact, exactly how such workshops developed in Gaza following Israel's withdrawal in 2005.
The problem with peacemaking is that most of it is top-down. The deliberations typically take place in idyllic surroundings — the woods around Oslo, Camp David, the Wye River, Montreux, Lausanne, Sochi, etc.
The tragedy is that the costs of these deliberations take place on ground zero — among pedestrians, in buses, at entrances to busses and train depots, etc.
It's time to see peacemaking from the ground up.
Comparing the firefight in Jenin to Shalit's abduction and its ramifications is a good way to begin. And one of the most important lessons of such an exercise is that an Israeli presence in the West Bank is indispensable, at least until an effective alternative can be found.
It will surely not be the future State of Palestine.
Full report at:
https://www.algemeiner.com/2018/01/24/in-jenin-terrorists-get-what-they-deserve-in-gaza-they-dont/
--------
Erdogan vows to expand military operation from Afrin to Manbij
24 January 2018
Turkish President Recep Tayyip Erdoğan confirmed that his country will continue to abort what he called "the conspiracies on its border with Syria" starting with the area of Manbij.
Erdogan pointed out that the organization of the Kurdish units and protection units are two sides of the same coin, and that external parties control them, and exploit them as needed.
Turkish Foreign Minister Mevlüt Çavuşoğlu said that US Secretary of State Rex Tillerson proposed the establishment of a security zone inside Syria at a depth of 30 kilometers.
This comes as the Turkish military operations continue in Afrin, where the Syrian Observatory for Human Rights confirmed the return of the Turkish aerial bombardment north of Aleppo province.
The attacks targeted areas in the town of Jendiris and Rajo district, and other places in the countryside of Afrin.
Full report at:
https://english.alarabiya.net/en/News/middle-east/2018/01/24/Erdogan-vows-to-expand-military-operation-from-Afrin-to-Manbij.html
--------
Aid groups slam US for withholding Palestinian refugee funds
January 25, 2018
The leaders of 21 humanitarian aid groups wrote to the Trump administration on Wednesday to object "in the strongest terms" to a decision to withhold $65 million in planned U.S. contributions to the United Nations agency that serves Palestinian refugees.
The U.S. State Department said last week that Washington would withhold $65 million it had planned to pay the United Nations Relief and Works Agency for Palestine Refugees in the Near East (UNRWA), saying it needed to make unspecified reforms.
The leaders of the aid groups warned of "dire consequences" if the cut was maintained, according to the letter, a copy of which was given to Reuters.
"We are deeply concerned by the humanitarian consequences of this decision on life-sustaining assistance to children, women and men in Jordan, Lebanon, Syria, and the West Bank and Gaza Strip," the letter said.
State Department spokeswoman Heather Nauert on Thursday denied the move was to punish Palestinians, who have been sharply critical of President Donald Trump's announcement last month that he would move the U.S. Embassy to Jerusalem from Tel Aviv.
She repeated the U.S. view that UNRWA needs reform, saying there are a lot more refugees in the program than previously, and that "money coming in from other countries needs to increase as well to continue paying for all those refugees."
Eric Schwartz, president of Refugees International and former U.S. Assistant Secretary of State for Population, Refugees and Migration, said the comments by Nikki Haley, the U.S. ambassador to the UN, was aimed at punishing Palestinian political leaders and forcing them to make political concessions.
"But it is wrong to punish political leaders by denying life-sustaining aid to civilians. This is a dangerous and striking departure from U.S. policy on international humanitarian assistance which conflicts starkly with values that U.S. administrations and the American people have embraced," Schwartz said in the letter.
The State Department also said on Thursday that the United States would not provide a separate $45 million in food aid for Palestinians that it pledged last month as part of the West Bank/Gaza Emergency Appeal led by UNRWA.
Nauert said the United States had made clear to UNRWA that the $45 million was a pledge aimed at helping the agency with "forecasting," but it was not a guarantee.
Trump said in a Twitter post on Jan. 2 that the United States gives the Palestinians hundreds of millions of dollars a year, "but get no appreciation or respect."
The decisions to curb funding are likely to compound the difficulty of reviving Israeli-Palestinian peace talks as well as further undermine Arabs' faith that the United States can act as an impartial arbitrator.
Full report at:
https://nation.com.pk/25-Jan-2018/aid-groups-slam-us-for-withholding-palestinian-refugee-funds
--------
Iran seizes bombs, explosives in Saudi terror plot
Jan 24, 2018
Iran has captured two large caches of explosives and powerful bombs that were supposed to be detonated in populated areas as part of two terrorist plots, one of them directly designed and led by Saudi Arabia.
The Iranian Intelligence Ministry said in a Wednesday statement that in one operation, security forces discovered no less than 23 remote controlled bombs that terrorists were going to use in order to wreak havoc in the eastern parts of the country.
Terrorists had managed to carry the bombs over Iran's eastern borders and sneak them into the country using help from Saudi intelligence agencies, according to the statement.
The ministry said another shipment of explosives complete with bomb-making equipment were seized from a terrorist group in the western province of Kordestan.
The materials, captured from a "separatist" militant group in the border town of Mariwan, included military-grade material such as TNT, C4, explosive kits and electronic charges.
The statement did not reveal further details about the identities of the terrorists or their possible targets.
Saudi officials have on several occasions made open calls for instability in Iran.
Hours before a series of terrorist acts that killed and injured several people in Tehran last June, Saudi Foreign Minister Adel al-Jubeir said, "Iran must be punished for its interference in the region."
The Daesh Takfiri terrorist group claimed responsibility for the near-simultaneous assaults at Iran's Parliament (Majlis) and the Mausoleum of the late Founder of the Islamic Republic Imam Khomeini.
A month before that, then-Saudi Deputy Crown Prince and Defense Minister Mohammed bin Salman said in a televised interview with Arabic-language Al-Manar TV, "We will work to have the battle in Iran rather than in Saudi Arabia."
Full report at:
http://www.presstv.com/Detail/2018/01/24/550055/Iran-Saudi-terrorist-plot-Kordestan-Mariwan
--------
Yemeni forces shoot down Saudi spy drone over Ma'arib
Jan 25, 2018
Yemeni air defenses have shot down a Saudi reconnaissance drone over the war-torn country's central Ma'rib province.
Yemen's Arabic-language al-Masirah satellite television network reported on Thursday that the drone was shot down over the province's Harib al-Qaramish region.
On December 30, Yemeni fighters managed to shoot down a Saudi unmanned aerial vehicle (UAV) as it was on a reconnaissance mission in Yemen's northwestern province of Hajjah.
Back on October 27, Yemeni forces, using a surface-to-air missile, shot down a Eurofighter Typhoon fighter jet belonging to the Royal Saudi Air Force as it was flying east of the Yemeni capital city of Sana'a.
Earlier that month, the Yemeni army announced that it also managed to shoot down a US-made General Atomics MQ-9 Reaper, a drone operated by the Royal Saudi Air Force.
Since March 2015, the Saudi regime has been heavily bombarding Yemen as part of a brutal campaign against its impoverished southern neighbor in an attempt to reinstall Yemen's former President Abd Rabbuh Mansur Hadi, a staunch ally of Riyadh, and crush the popular Houthi Ansarullah movement, which is in control of large parts of Yemen, including the capital. The Saudi campaign, however, has failed to achieve its goals.
Over the past two years, Houthis have been running state affairs and defending Yemeni people against the Saudi aggression.
Full report at:
http://www.presstv.com/Detail/2018/01/25/550080/yemen-saudi-drone-marib
--------
Africa
Over 30 dead in car bombings at Benghazi mosque
January 25, 2018
BENGHAZI - More than 30 people were dead and dozens wounded after two car bombings outside a mosque frequented by militant opponents in Libya's second city Benghazi, medical officials said Wednesday.
The attack after evening prayers on Tuesday underlined the continued chaos in Libya, which has been wracked by violence and divisions since dictator Moamer Kadhafi was toppled and killed in a 2011 NATO-backed uprising.
Benghazi has been relatively calm since military strongman Khalifa Haftar announced the eastern city's "liberation" from militants in July last year after a three-year campaign, but sporadic violence has continued.
The bombers blew up two cars 30 minutes apart outside the mosque in the central neighbourhood of Al-Sleimani, according to security officials.
Emergency and security workers who had rushed to the scene were among those killed in the second blast. There was no immediate claim of responsibility but the mosque is known to be a base for Salafist groups which fought the militants alongside Haftar's forces.
Mourners gathered outside the mosque on Wednesday, walking through puddles of water stained red with blood. Vehicles in a parking lot outside the mosque were burnt-out and mangled, their windows shattered. The city's Al-Jala hospital received 25 dead and 51 wounded, its spokeswoman Fadia al-Barghathi said. The Benghazi Medical Centre received nine dead and 36 wounded, spokesman Khalil Gider said. Ahmad al-Fituri, a security official for Haftar's forces, was among those killed, military spokesman Milud al-Zwei said. Medical officials said many of the wounded were in critical condition and the death toll was likely to rise.
Haftar supports an administration based in the east of the country. It declared three days of mourning following the attack. A UN-backed unity government based in the capital Tripoli, the Government of National Accord (GNA), has struggled to assert its authority outside the west. The GNA condemned the attack as a "terrorist and cowardly act".
The UN Support Mission in Libya (UNSMIL) denounced the bombings as "horrific" and warned that "direct or indiscriminate attacks against civilians... constitute war crimes".
UN efforts to reconcile the rival administrations have produced no concrete result. Haftar said in late December he would support elections in 2018 to bring the country out of chaos, but suggested he could take measures if efforts for "a peaceful power transition via free and democratic elections were exhausted".
Haftar's opponents accuse him of wanting to seize power and establish a military dictatorship, while his supporters have called for him to take control by "popular mandate".
UN envoy Ghassan Salame presented a plan to the Security Council in September to hold parliamentary and presidential elections this year, but analysts are sceptical they will take place.
Clashes between rival militias are common, with fighting at Tripoli's airport last week leaving 20 dead and forcing the cancellation of all flights for five days.
The turmoil has stifled efforts to restore oil-rich Libya's economy and made the country fertile ground for extremists.
The Islamic State group has a significant presence and was in control of coastal city Sirte from late 2014 to late 2016, when the militants were pushed out by pro-GNA forces.
People-smugglers have also taken advantage of the chaos to turn the country into a major gateway for migrants heading to Europe.
https://nation.com.pk/25-Jan-2018/over-30-dead-in-car-bombings-at-benghazi-mosque
--------
Somali Forces Kill Young Boys in Anti-Shabab Operation
25 January 2018
US forces operating in Somalia took part in a mission in which their Somali counterparts killed fighters who appeared to be under 18, the US military's Africa Command said Wednesday.
On January 18, US forces went in an advisory capacity with Somali partners on a mission in the Lower Shabelle region to an indoctrination center for the Al-Qaeda-affiliated Shabab group.
"During the mission, the Somali National Security Forces received hostile fire," AFRICOM said in a statement.
"The Somali forces returned fire in self-defense."
In the ensuing firefight, five "enemy combatants" were killed and six were wounded.
Some of those killed appear to have been under the age of 18, AFRICOM said, without providing additional details.
At the end of the operation, Somali forces recovered 30 "male children" from the indoctrination center.
"We support the Federal Government of Somalia and UNICEF efforts to reunite these children with their families," the statement read.
Officials said US soldiers did not fire their weapons in the engagement.
Al-Shabaab have been trying since 2007 to overthrow the Somali government, which has the support of the international community.
Full report at:
https://english.alarabiya.net/en/News/middle-east/2018/01/25/Somali-forces-kill-young-boys-in-anti-Shahab-operation.html
--------
Somalia reiterates appeal to lift arms embargo
25 January 2018
Somalia has appealed to the United Nations and the United States to lift the arms embargo they imposed during the civil war.
Anadolu Agency caught up with Somalian Ambassador to Ethiopia Mohamed Ali-Nur Hagi on the sidelines of an African Union meeting of the Permanent Representatives Committee (PRC) in preparation for the 30th Assembly of heads of state and government slated for Sunday.
The ambassador said the embargo had outlived its purpose.
The UN Security Council first imposed an arms embargo on Somalia in January 1992.
Although it has been relaxed in subsequent years, the embargo is still in effect. In 2014, the Security Council reaffirmed the overall arms embargo on Somalia.
"Our appeals for the lifting of the arms embargo are well justified due to the fact that Somalis are no longer fighting a clan-based civil war, which had lent a reason for the U.S. and U.N. to impose the embargo," the ambassador said.
Full report at:
http://www.worldbulletin.net/africa/198168/somalia-reiterates-appeal-to-lift-arms-embargo
--------
Europe
UN expresses alarm at reports of summary executions in Libya's Benghazi
25 January 2018
The UN Libya mission said it was alarmed by reports of "brutal and outrageous summary executions" in the eastern city of Benghazi on Wednesday, after pictures emerged appearing to show at least nine prisoners being shot dead at the site of a twin car bombing.
The gunman resembles Mahmoud al-Werfalli, a bearded special forces commander wanted by the International Criminal Court (ICC) for allegedly carrying out a number of similar killings.
https://english.alarabiya.net/en/News/north-africa/2018/01/25/UN-expresses-alarm-at-reports-of-summary-executions-in-Libya-s-Benghazi.html
--------
New British anti-extremist commissioner provokes Muslim ire
January 25, 2018
The British government has appointed Sara Khan, British Muslim human rights activist, to head up a new body aimed at fighting extremism in the country. The Commission for Countering Extremism was created in the wake of the devastating Manchester Arena bombing last May, which killed 22 people and saw more than 500 injuries.
The body will be tasked with initially assessing how large the threat posed by various extremist groups of all political and religious persuasions is, and what should be the appropriate reaction to them. It will also go into schools and colleges to help identify early warning signals and will also seek to ensure that women's rights are being respected.
When launching the process for finding the commissioner, the home secretary Amber Rudd said: "It will identify and challenge tolerance of extremism, tackle extremist ideology and promote British values, learning the lessons from the struggle against racism in the twentieth century."
Ms Khan has previously advised the Home Office, Department for Education and Department for International Development, and has been welcomed by Ms Rudd as being expertly qualified to lead the body's "vital work".
"I am honoured and humbled to have been announced as the Lead Commissioner," Ms Khan said. "I recognise the scale of the challenge we face in confronting extremism and I am deeply committed to this role. I will create a Commission that is forthright in challenging extremism in the name of our shared values, fundamental freedoms and human rights."
However, there has been a backlash from members of the British Muslim community. Many view Ms Khan with some wariness due to her closeness to the government and her support for the controversial Prevent counter-terrorism programme, which tries to stop radicalisation of individuals taking place but which has been described by a UN body as being "inherently flawed".
Baroness Warsi, a Conservative peer who was the first Muslim to attend cabinet, released a statement to the BBC describing the appointment to the "vital role" as being "deeply disturbing".
"Sara has unfortunately been a strong advocate of the government's policy of disengagement, a policy which many – including members of the police and intelligence services – consider has damaged the important battle to engage Britain's Muslim communities," she said.
"For the Commissioner to be effective the person had to be an independent thinker, both connected to and respected by a cross section of British Muslims. Sara is sadly seen by many as simply a creation of and mouthpiece for the Home Office.
"The opaqueness surrounding her relationship with the Home Office was the subject of questions at the Home Affairs Select Committee, questions which have still not been addressed," she added.
Full report at:
https://www.thenational.ae/world/europe/new-british-anti-extremist-commissioner-provokes-muslim-ire-1.698479
--------
Germany's Turks, Kurds initiate blame game
Jan 24, 2018
Leading Turkish and Kurdish groups in Germany on Wednesday accused each other of "importing" a foreign conflict in the wake of Ankara's cross-border offensive against a Syrian Kurdish militia.
Skirmishes have erupted between the two groups in Germany since Turkey on Saturday launched its operation "Olive Branch" to oust Kurdish militia, whom Ankara views as a terror group, from their Afrin enclave in northern Syria.
Three million ethnic Turks live in Germany, the largest diaspora and a legacy of the country's "guest worker" program of the 1960 and 70s, as well as hundreds of thousands of Kurds.
Germany's Turkish-dominated Coordination Council of Mosques said the conflict had been used as an excuse to launch a spate of "attacks on Turkish mosque groups" in Europe's biggest economy.
"The fighting in northern Syria has been taken as an opportunity to incite against Turkish infrastructure and in particular mosques, and to import terror into Germany," it said in a statement.
At least two mosques of the Turkish-controlled Ditib group were hit in western Germany's Minden and the eastern city of Leipzig, said the council.
Windows of the buildings were smashed and walls vandalized, said the council, without naming possible suspects.
It also pointed to a brawl that broke out between Kurds and Turkish passengers at Hanover Airport on Monday, which forced police to intervene to separate the two sides.
"We condemn these attacks and call for calm on all sides," said the council.
The Kurdish Community of Germany, for its part, accused Ditib imams of calling for war against the Kurds in Syria.
Full report at:
http://www.presstv.com/Detail/2018/01/24/550035/Germany-Turks-Kurds-Afrin-
--------
US rejects Russian-proposed probe into Syria chemical attacks
Jan 24, 2018
The United States rejects a Russian-drafted UNSC resolution aimed at establishing an investigative mechanism into all allegations of chemical attacks in Syria, with both sides discrediting each other's data on the issue.
"We want to rise above the differences and propose [the] creation of a new international investigative body... based on the impeccable and irrefutable data obtained in a transparent and credible way," said Russia's permanent representative to the UN Vasily Nebenzia during a UN Security Council meeting held on Tuesday.
The UNSC meeting was called by Moscow to discuss the crisis in Syria, especially recent accusations against Damascus over an alleged chemical attack.
The Russian proposal was rejected by US Ambassador to the UN Nikki Haley, who accused Russia of attempting to protect Syrian President Bashar al-Assad.
"When Russia doesn't like the facts, they try and distract the conversation. That's because the facts come back over and over again to the truth Russia wants to hide – that the Assad regime continues to use chemical weapons against its own people," she said.
"The United States and the international community are not going to be fooled. We remain steadfast in pursuing accountability for those who use chemical weapons," she added.
The mandate of the Joint Investigative Mechanism (JIM) of the UN and the Organization for the Prohibition of Chemical Weapons (OPCW) expired in November after several of failed attempts by the UNSC to extend its authority.
Nebenzia noted the probes collapsed because they were full of "systemic deficiencies" and had become a mechanism for political manipulation.
After the US rejected Moscow's initiative, Nebenzia added that the move showed the establishment of a professional and independent investigative mechanism is the last thing Washington wants.
"The fact that our resolution was outright dismissed says volumes. This once again reveals the truth, that we sadly already know. The United States of America does not need an independent, professional mechanism. Not only that you reveal the truth, but you show your true colors in front of the international community," the Russian envoy to the UN added.
The United States and its allies have repeatedly accused Syrian government forces of carrying out chemical attacks in civilian areas without providing any substantial evidence.
Full report at:
http://www.presstv.com/Detail/2018/01/24/549959/russia-us-syria-chemical
--------
French prison guards block over 125 prisons, risk sanctions
January 24, 2018
PARIS — French prison authorities warned Wednesday that protesting prison guards were risking fines or sanctions on the movement's 10th day, with actions at 129 prisons.
Guards seeking improved working conditions and better safety measures set up picket lines or blocked prison entrances. Guards at 16 prisons "put down their keys" — meaning they refused all work — a move which triggers a demand for police and gendarmes to do the guards' job, a Prison Administration official said.
The official, confirming French press reports, said that letters sent to prison directors laid out possible financial or disciplinary sanctions against protesting personnel, including job suspensions of five to 15 days. The official was not authorized to speak publicly and could not be identified by name.
The official said sanctions were not automatic and could be handed out but then "suspended" and would be decided on a case-by-case basis.
Prison guards are forbidden from going on strike, and the possibility of issuing suspended sanctions appeared to be a tactic to soften the blow. It was not immediately known whether any prison directors had decided to levy sanctions against protesting personnel.
"Sanctions won't stop us," the top union representing prison guards, UFAP-UNSA, said in a statement on its website. It firmly condemned "these old-school methods, scandalous and unacceptable."
The current nationwide movement, growing increasingly tough, was the largest in years, with the majority of France's 188 prisons affected to various degrees.
The protest was fluid, changing even hour by hour. Guards at 10 more establishments joined the protests during Wednesday, raising the number of prisons affected from 119 to 129.
The Prison Administration insisted it remained open to negotiations — even after two failed rounds of talks this week between union leaders and Justice Minister Nicole Belloubet. Tuesday's talks lasted only an hour.
The letters warning of sanctions were sent out because security is being compromised by the protest movement, the corrections official said, adding that calling on police and gendarmes, and diverting them from their essential tasks, "cannot go on indefinitely."
After 10 days, "the movement has an impact," the official said.
The protest had threatened to disrupt the first trial related to the deadly Islamic State attacks on Paris in 2015. About 200 guards protested early Wednesday outside the Fresnes prison south of Paris, where Jawad Bendaoud, who is accused of helping two of the attackers, was held.
Bendaoud was eventually allowed to travel to appear in a Paris court after police forces cleared the prison's main entrance.
Guards want better wages and enhanced security measures, notably for radicalized prisoners, in addition to more jobs promised by the government.
Attacks in about a half-dozen prisons — including by Muslim inmates suspected of being radicalized — have fueled guards' demands for improved working conditions.
Officials say some 4,000 acts of aggression against guards take place each year.
Full report at:
https://www.washingtonpost.com/world/europe/french-prison-guards-blockade-more-than-100-prisons/2018/01/24/43d9099c-00f8-11e8-86b9-8908743c79dd_story.html?utm_term=.65ed11b8eb9f
--------
North America
Little Has Changed For Muslims Since The Quebec Mosque Attack
Jeewan Chanicka
01/24/2018
I remember exactly what was happening a year-ago as news about the terrorist attack at a Quebec mosque was happening. Along with a group of community organizers with whom I work, I was getting play-by-play updates of the aftermath of the murders of: Azzeddine Soufiane, 57; Khaled Belkacemi, 60; Ibrahima Barry, 39; Mamadou Tanou Barry, 42; Abdelkrim Hassane, 41; and Boubaker Thabti, 44.
I remember feeling a complex mix of terror, anger, rage, fear and worry for my children, my family and the community. The last Conservative government buoyed by Republican politics in the United States stirred up the racism and hate that continues to live and thrive in the silent politeness of our historic and current Canadian landscape. While everyone was talking about the shock and surprise, many of us in our hearts knew that it was only a matter of time. Now what?
I couldn't sleep that night. I kept looking at my phone for updates, worrying about the men, women and children who would have been there. We weren't safe anymore in what was supposed to be a sanctuary for us. I went to work shell-shocked, with this fog over my head and heart. I could see life happening but it all felt surreal. What was worse was I don't think anyone around me really realized what was happening and how much trauma I was walking in with that day.
I felt reassured that the Prime Minister labelled it what it was — a terrorist act — and I was hopeful after his majority win that perhaps there would be a change. Public outpouring of love and support helped.
In many conversations within the community, we wondered if this could be a turning-point for us as a country, or would it simply return to what it was? A narrative, wrapped in a rhetoric of fear and terror, where we were the "other," simply "coming here" to destroy, needing to shed our identities and prove our loyalty and patriotism. Certainly those beliefs and attitudes were buoyed by laws like the Cultural Barbaric Practices Act, C51, Security Certificates and all the other laws that have made who we are non-Canadian or not Canadian enough.
Today though, one year later, it feels like we are fighting a rising tide of hate released by the Conservative Party of Canada, and that not much has really changed. The Quebec attack was not prosecuted as an act of terror. In spite of the 253 per cent rise of Islamophobic hate crimes since 2012, the Muslim community continues trying to convince the police to investigate these acts as hate. A Motion to address Islamophobia unleashed hatred across the country in ways that continue to scream "you do not belong here," and these were being echoed by people elected supposedly to represent all of us.
Except "us" apparently excludes some. Most recently this re-surfaced in the vitriolic responses around an 11-year-old child who claimed she was attacked. The onslaught of hatred on the eve of the anniversary of the Quebec terrorist attack has led to the Muslim community feeling further isolated.
Muslims continue to be targeted by laws put in place by the Conservatives. Today we see the potential deportation of Abdoul Kadir Abdi, who's faced the worst forms of systemic Islamophobia and racism. There has been a rise in hate inspired and white nationalistand supremacistgroups, including Canada's first armed militia who wants to shed blood to protect Canada from Muslims.
All of this is happening and the government still has not even acknowledged, "white supremacy" as being an issue in spite of CSIS having documented the concerns, nor have they mentioned any type of public safety strategy, policy or approach to address this. In Quebec, where the attacks took place, the rhetoric of fear and terror re-emerged after the crocodile tears of politicians around the niqab. The Prime Minister initially said the federal government couldn't comment. In Ontario, we are still waiting to see what the Anti-Racism Directorate will do to address Islamophobia, supposedly a priority.
There have been some glimmers of light. Since the attack, the Coalition Against White Supremacy and Islamophobia was formed and mobilized nationwide rallies and events in an effort to increase awareness and dialogue. Jewish-Muslim relationships continue to be strengthened, as Jews, who know all too well what complacency in the rise of white supremacy can lead to, and Muslims, have begun to outreach to one another. Labour and community based organizations and neighbours have been showing solidarity. Many Muslim-Canadians are beginning to speak openly and unapologetically about who they are, and not needing to choose one part of their identity over another.
These are the moments many of us hold on to for hope.
Many of us continue to hold our breath, wondering when laws might change or tangible support will come.
In Toronto, Councillor Neethan Shan, who brought forward a motion to make Jan 29 a Day of Remembrance, has faced a backlash of hate. The National Council of Canadian Muslims has asked the Prime Minister to consider doing the same for the country, just like we did and should have, after 14 women were killed at a university in Montreal. The question has now become, are Muslims, "Canadian enough" in the eyes of those in power to afford to us what has been rightfully done for others, or will politicians pander to hate and privilege at our expense?
Until then, I'm trying to deal with all the trauma, pain and heartbreak that Jan 29 stirs for me, the tears that I have already begun to cry and the silence and the lack of awareness of this reality by those around me. I think about the families and those 17 children who are without their fathers.
What is the legacy that their lives have had on our country? How might they see that the lives of their fathers made us better people and a better country?
We need more than words and assurances. We need action.
http://www.huffingtonpost.ca/jeewan-chanicka-/little-has-changed-for-muslims-since-the-quebec-mosque-attack_a_23333072/
--------
American Islamophobia Is Helping Trump Kill The Iran Deal
Hussein Rashid
01/24/2018
In 1985, musician Sting released a song called "Russians." With its chorus of "Russians love their children, too," it was reminder that even our most implacable enemies, with weapons that could destroy the world, were still human. We saw past the ideology of communism to find a common humanity. A generation later, rampant Islamophobia has made it difficult for the United States to see Muslim nations as anything other than existential threats. There is no distinction made between Islamism ― the push to turn religion into an ideology to control people ― and Muslims, who are the greatest victims of Islamism. Most of us do not conceive of Muslims as humans who love their children, too.
The U.S. response to Iran's recent economic protests, and President Donald Trump's decertification of the Iran nuclear deal, show us how little we understand Muslims. That ignorance, and our failure to see Muslim nations as rich, diverse cultures peopled by, well, people, tears at America's social fabric, and weakens the U.S. as an international actor.
We cannot ignore the impact of the the 1979 Iranian Revolution on the American psyche; the revolution, and especially the hostage crisis, set up a political and cultural hostility between the two nations that continues to this day. However, from an Iranian perspective, the revolution was the natural outcome of Operation Ajax, the not-so-covert 1953 U.S. operation to overthrow the democratically elected prime minister and replace him with the Shah. Most Americans are unaware that the catalyst for the revolution came a generation earlier, spurred by the U.S. meddling. But many Iranians have not forgotten.
Iranian resentment of America is not difficult to understand. Most loyal Americans resent or despise a former Soviet agent interfering in our democratic processes to install a lecherous and kleptocratic authoritarian figure. As it applies to Iran, we do not have to excuse hostage-taking to recognize mutual grievances between the U.S. and Iran.
It was with this mutual recognition that the international community, lead by the U.S., negotiated the Iran nuclear deal. The agreement sought to move beyond the acrimony between the U.S. and Iran to create a more stable and secure world. Unfortunately, as Trump chooses to walk away from the deal, we are forced to confront the fact that, since Iran is in complete compliance with the agreement, the most salient argument for walking away from it traffics in American Islamophobia.
The general American understanding of Islam is deeply influenced by Saudi Arabia, which practices a new form of Islam called Wahhabism. Wahhabism represents neither of the two largest traditional Muslim communities, the Sunni and the Shi'a, the latter of which is practiced in Iran.
As a movement, Wahhabism is animated by xenophobia, misogyny, homophobia, transphobia, exploitation of people, massive unethical accumulation of wealth, spreading of hatred and corrupting the foundational teachings of the faith. Imagine a combination of the GOP's white evangelicalism, but Muslim and in the Persian Gulf region. Wahhabists are not fundamentalists, as their understanding of the faith shifts as the geopolitical situation demands, and with their excessive love of riches, they cannot rightly be called puritanical. The Wahhabi and Saudi leadership are nihilistic, and see the world through a lens of benefiting at someone else's expense.
Intellectually, the Taliban and Daesh ― also known as the Islamic State ― are the natural continuation of Wahhabism. In addition, many of the financial patrons of Wahhabi ideology are also patrons of the Taliban and of Daesh. The vitriol of the Wahhabis gave rise to the Taliban and Daesh. The Saudi leadership, as supporters of the Wahhabi state, are extremely anti-Shi'a, as Shi'ism offers a different vision of what it means to be Muslim. But most Americans cannot imagine a Muslim country that practices Islam differently from Saudi Arabia, even though Iran offers a very different approach to the religion.
While it is true that Iran shares with Saudi Arabia an obsessive interest in controlling women, the religious differences between the two nations speak volumes as to how that control can manifest. The Prophet Muhammad's beloved wife, Khadijah, was his employer, and had a relatively public life both before and after her marriage to Muhammad. He loved his daughter Fatima so much that he said that he would love whomever she loved, and curse whomever she cursed. As a result, she wielded a great deal of social power, prohibiting those she believed betrayed her father's message from attending his funeral.
Because the Islam of Iran follows the edict of the Qur'an to love Muhammad's family, the state can only do so much to curtail the opportunities for women, such as dictating how they dress. The result is that women are educated, own businesses, and occupy elected and appointed political positions. In addition, their schooling includes religious education, which means they are able to argue against the regime's restrictions using the language of religion.
This use of religious language and symbols is important, as it is based on an understanding of Islam that is systematic, rational and based on an ethical worldview. Although corrupted by the needs of the state, the religious system also has the potential to correct the state's worst excesses. It is the story of the murder of the Prophet Muhammad's favorite grandson, by the 7th century equivalent of the Saudi state, that informs the political positions of many Iranian Muslims. He stood against oppression and died for his convictions in 680. This story inspired both the 1979 and 2009 revolutions, and continues to drive criticism of the regime.
Just as important as the religious language are Iran's aesthetic contributions to global culture. The 14th century poet Jalaluddin Rumi wrote in Persian, and is a best-selling poet in the U.S. Yet, despite his impact on American culture, many Americans do not connect his poetry to his religion, to his cultural background or to the fact that he was a scholar of the Qur'an. We do not understand that the beauty he generated was because of his faith, not in spite of it. Nor is he the only Persian-world poet whose work was shaped by his religion. While other names may not be familiar to many Americans, Persian poetry has a deep archive of beautiful work, inspired by love of the Divine, the Prophet Muhammad and Muhammad's family. The music of Iran remains an important cultural touchstone, and the architecture, such as the Pink Mosque, generates awe through beauty.
Full report at:
https://www.huffingtonpost.com/entry/opinion-rashid-iran-deal_us_5a60bcf0e4b01f3bca590a04
--------
Pakistani Islamism Flourishes in America
by Sam Westrop
January 24, 2018
On January 1, President Trump tweeted that Pakistan gives "safe haven to the terrorists." The State Department subsequently suspended over a billion dollars of security assistance and military funding to the country. The suspension of this aid is both welcome and long overdue. For decades, elements within Pakistan's government have openly supported America's most virulent enemies, including funding and training the Afghani Taliban and sheltering Osama bin Laden. Today, the country continues to provide support and sanctuary for the perpetrators of terrorist attacks against the U.S. and its allies. But if the Trump administration is determined to cripple Pakistan's support for Islamist terror, it cannot limit its focus to South Asia; it must also confront Pakistan's Islamist proxies in the U.S.
One of the most important Islamist networks running America's Muslim communities today is Jamaat-e-Islami (JI). Founded in British India in 1941 by the prominent Islamist theorist Abul Ala Maududi, JI maintains branches in dozens of countries across the globe. In 1971, JI terrorists helped Pakistani forces murder hundreds of thousands of Bangladeshis fighting for freedom from Pakistani rule. In the decades since, JI has been complicit in violence across the subcontinent. As a result, the U.S. government has designated the head of JI's paramilitary wing in Pakistan and Kashmir, Syed Salahuddin, as a "global terrorist."
Despite JI's violence, its front groups in America have flourished — enjoying partnerships with government, praise from politicians and journalists, and funding from prominent charitable foundations.
One of the most important American JI organizations is an international aid charity named Helping Hand for Relief and Development (HHRD). Founded in 2005, HHRD was annually raising an astonishing $40 million by 2015.
HHRD is openly connected to terror. In December 2017, HHRD organized a conference at a government-run college in the Pakistani city of Timergara. Other organizations sponsoring the event included the Falah-e-Insaniat Foundation and the Milli Muslim League, the charitable and political wings respectively of the notorious Pakistani terrorist organization Lashkar-e-Taiba. In 2016, the U.S. government designated the Falah-e-Insaniat Foundation as a terrorist organization. Today Hafiz Saeed, the leader of Lashkar-e-Taiba and the mastermind behind the deadly 2008 Mumbai attacks, lives freely in Pakistan, despite a $10 million U.S. bounty.
When HHRD is not meeting with designated terrorist organizations, it can usually be found partnering with JI charities that are also closely linked to terrorism. Another sponsor of the HHRD conference in December was a Pakistani charity named Al-Khidmat, which is the main charitable wing of JI. According to the Indian BBC journalist Subir Bhaumik, Al-Khidmat "aids militancy and helps to support the Hizb-ul-Mujahideen, Jamaat's armed wing and other groups." In 2006, JI announced that Al-Khidmat sent 6 million rupees ($100,000) to Hamas for their "just Jihad." HHRD is currently working with Al-Khidmat on a number of projects.
But HHRD is not just connected to JI through charitable partnerships and conferences. A look at HHRD's American staff and officials reveals that they openly identify as JI operatives.
Mohsin Ansari, for example, is the chairman of HHRD. He is an alumnus of Islami Jamiat-e-Talaba, the student wing of Jamaat-e-Islami's branch in Pakistan. Today he runs a "networking" group for its graduates in the United States.
Ansari frequently promotes JI on his Facebook account, attends JI rallies and events in America, Europe, and Pakistan, and has approvingly shared photos of Jamaat-e-Islami rallies in Pakistan at which the crowds wave placards reading: "Death to Israel. Death to America."
Ansari also devotes dozens of Facebook posts to praising JI terrorist operatives convicted for their roles in the 1971 mass killings, claiming that the "Pakistani nation will remember these heroes for centuries to come."
He even boasts of meeting with the son of a JI war criminal, Motiur Rahman Nizami, whom Bangladesh's International War Crimes Tribunal convicted of genocide, rape, and torture, and who was subsequently executed for his crimes. But Ansari assured his Facebook followers that the war criminal Nizami had been a mujahid [holy warrior] and remains a shaheed[martyr].
Ansari's social-media accounts are replete with extremist rhetoric and praise for other Islamist causes. He has frequently expressed support for Turkey's Islamist president, Recep Tayyip Erdoğan, at one point exclaiming that Erdoğan's party, the AKP, is in power despite the "power brokers of the world, the liberal anti Muslim media headed by Jews."
HHRD's CEO, Raza Farrukh, also openly affiliates with JI. While serving as the head of HHRD, he took pride in meeting with JI's Pakistani deputy leader Khurshid Ahmad at a meeting in Pakistan organized by HHRD's partner, Al-Khidmat. Ahmad has previously described the Taliban as "refulgent and splendid" and has written about the "implication of Europe's being in the clasp of Jews."
Despite its partnerships with terrorist organizations and its officials' promotion of extremism, HHRD has long enjoyed non-Muslim support. HHRD reveals that its donors include the British government, the World Food Programme, the World Health Organization, and prominent American corporations such as Microsoft, Cisco, PepsiCo, and Dell.
In 2013, HHRD announced that it had been named one of the "top ten" charities in America. That same year, the U.S. government's Office of Personnel Management informed HHRD that it would be included on the government's Combined Federal Campaign list, a workplace-giving program that enables federal-government employees to donate from their salaries to HHRD.
HHRD is not the sole JI organization operating in America. It is just one component of a powerful network of JI groups coordinated by an organization named the Islamic Circle of North America (ICNA). ICNA has openly identified itself as a JI organization on a number of occasions. Other ICNA-run organizations include another aid organization named ICNA Relief (formerly run by HHRD chairman Mohsin Ansari) and a youth wing named Young Muslims.
Since ICNA's founding in 1968, its leaders have included Ashrafuzzaman Khan, who during the 1971 Liberation War in Bangladesh served as commander-in-chief of a JI militia group. In 2013, Bangladesh's International War Crimes Tribunal found Khan guilty of abducting and murdering 18 Bangladeshi intellectuals. Khan was sentenced to death in absentia for his role in the genocide.
These ties to war criminals are enduring. In 2016, HHRD chairman and former ICNA Relief head Mohsin Ansari revealed that ICNA and its offshoots were asked to organize funeral prayers for the aforementioned JI war criminal, Motiur Rahman Nizami.
ICNA and its offshoots also promote extremism at home. Its annual symposium in Chicago is one of the largest conferences in the American Muslim calendar. The conference frequently features JI operatives and some of America's most extreme and bigoted Muslim clerics. ICNA's youth wing, Young Muslims, operates in mosques all across America and teaches extremist Islamist tracts to Muslim youth.
In spite of its extremist associations, in 2016 ICNA received a grant of over $1.3 million from the Department of Homeland Security. ICNA Relief is also included in the U.S. government's workplace-giving program. Moreover, as I have previously noted for National Review, other JI front groups in Pakistan have secured another $2 million in U.S. government grants since 2013.
There is no doubt that HHRD, ICNA, and their various offshoots are proxies for Jamaat-e-Islami. The U.S. government's designation of JI's military wing as a terrorist organization also leaves no doubt that JI is a violent Islamist network. Its front groups in the subcontinent and the West are funding Hamas, working with designated terrorist groups, instilling Islamist ideas in young western Muslims, usurping the leadership of American Muslim communal institutions, and using charitable giving to sanitize JI's reputation and further its pernicious agenda.
he government's decision to cut support for duplicitous Pakistan is an important step towards confronting Islamist terror. But for these efforts to be truly effective, the administration's attention must now turn to the lawful Islamist networks that openly support foreign terrorist organizations and foment extremism from the comfort of their 501(c)(3)s in the United States.
Full report at:
http://www.meforum.org/7181/pakistani-islamism-flourishes-in-america
--------
URL: https://www.newageislam.com/islamic-world-news/it-hindu-muslim-conundrum-conversions/d/114060
New Age Islam, Islam Online, Islamic Website, African Muslim News, Arab World News, South Asia News, Indian Muslim News, World Muslim News, Women in Islam, Islamic Feminism, Arab Women, Women In Arab, Islamophobia in America, Muslim Women in West, Islam Women and Feminism