New Age Islam News Bureau
20 March 2018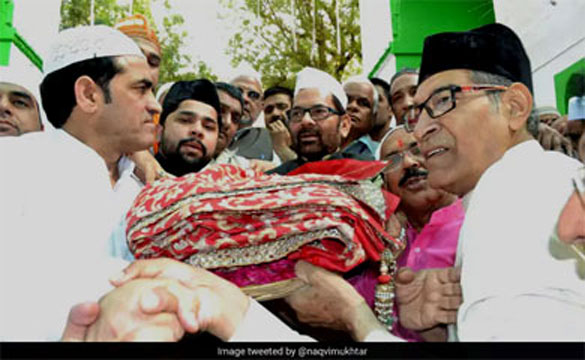 A huge crowd had gathered at the dargah premises to see the 'chadar'.
-----
• 'Islamist' Agenda Unleashed: Turkey Joins with Jihadists to Conquer US Allies in Afrin
• Monks, Troops Help Muslims after Race Riots in Sri Lanka
• With PM's Offering At Ajmer Sharif, Minister Delivers Message on Islam's "Biggest Enemy"
• In Saif Hands: Gaddafi's Son To Run For Libya President
• Pakistan's Apex Court Slams ISI for 'Dissatisfactory' Report on a Hardliner Cleric's Funding
• 1 In 5 Muslim Canadians Say They Face Discrimination
Mideast
• 'Islamist' Agenda Unleashed: Turkey Joins with Jihadists to Conquer US Allies in Afrin
• Erdogan Vows To Expand Syria Offensive to Eastern Regions
• Israel court rejects bid to make Palestinian teen Ahed Tamimi trial public
• Yemen minister says Houthis still kidnapping, recruiting child soldiers
• Palestinian president attacks Hamas, calls US ambassador 'son of a dog'
• Arab coalition to show new evidence of Iran arming Yemen's Houthis
• Turkish troops, pro-Turkey militia will not remain in Syria's Afrin: Ankara
--------
South Asia
• Monks, Troops Help Muslims after Race Riots in Sri Lanka
• Top Court Cancels Bail for Bangladesh Opposition Chief Zia
• Myanmar is worst-performing country for aid access, as Rohingya refugees face monsoon threats
• Catholic workers in Bangladesh labour over Lent
• Australia PM meets Myanmar leader Suu Kyi, to raise human rights concerns
• Top ISIS leaders Omair and Abu Samaya killed in North of Afghanistan
• Motorcycle bomb explosion leaves 1 dead, 7 wounded in Herat
--------
India
• With PM's Offering At Ajmer Sharif, Minister Delivers Message on Islam's "Biggest Enemy"
• Chandrababu Naidu Meets Islamic Groups after TDP-BJP Break-Up
• A Kerala preacher and the textbook controversy in his chain of schools
• Another Hardliner Takes Charge of Tehreek-e-Hurriyat
• Rohingya issues better left to executive: Govt to SC
• J&K: Missing Kupwara youth joins militant ranks
• India Confirms Death of 39 Men Kidnapped By Isis in Iraq In 2014
• Sri Sri Ravi Shankar Objects to AIMPLB Charges against Him
--------
Africa
• In Saif Hands: Gaddafi's Son To Run For Libya President
• Senegal Closes Schools Linked To Turkish Cleric In Exile
• Sisi: Egypt working with Sudan, Ethiopia regarding the Nile
• Suicide bomber blows self up in Tunisia's Ben Gardane
• Nigeria: Islamic Group Pledges to Support Govt's Anti-Corruption Fight
• Two Mombasa men arrested headed to Somalia to join Al-Shabaab
--------
Pakistan
• Pakistan's Apex Court Slams ISI for 'Dissatisfactory' Report on a Hardliner Cleric's Funding
• Musharraf's Diplomatic Passport Renewed In January: Ahsan Iqbal
• At least 4 killed in blast near Hekmatyar's rally
• Anti-Terrorism Court orders arrest of TLP chief Khadim Rizvi, others in Faizabad sit-in case
• Special envoy suggested for ensuring friendly ties with Afghanistan
• Army denies meeting between Shehbaz, Bajwa
• Hustle and bustle returns to tribal areas, but US doubts commitment to war on terror
--------
North America
• 1 In 5 Muslim Canadians Say They Face Discrimination
• Trump's Pick To Lead UN Agency Says Has Trust of Muslim States
• US Senate to vote on ending Washington's role in Saudi war on Yemen
--------
Europe
• UN Envoy De Mistura: Syria Partition 'Catastrophe', Fears Return of ISIS
• Thousands Protest In London against Islamophobia
• A Third of UK Muslims Report Abuse or Crime While Studying
• Europe's New Security Threat: Hundreds of Jihadists Due To Be Released from Prison
• This Jewish leader is defending the Muslim call to prayer in Sweden
--------
Southeast Asia
• Ban on Face Veils at Indonesian University Lasted Just a Week
• Indonesia's "Islamic Diplomacy" Seeks to Broker an Afghan Peace
• Perlis Mufti Didn't Ask About Mut'ah, Suhakam Inquiry Told
• A Malaysian flag at a Spirit worker's party was reported as an ISIS symbol, suit says
• Filipinos mark 50th year of massacre of Muslim fighters
• Envoy says Maldives will not extend state of emergency
--------
Arab World
• OIC Seeks Intensified International Cooperation against Extremism, Terrorism
• Mauritanian President Praises Al Azhar's Role in Spreading Moderate Islam
• Egypt: 4 troops, 36 Islamic militants killed in Sinai battle
• Saudi Crown Prince Slams 'Harmful' Iran for Sheltering Osama Bin Laden's Son
• US Continues Airborne Rescue of ISIL Commanders in Syria
• Over 79,000 Civilians Relocated from Terrorist-Held Regions in Eastern Ghouta
• Almost 730 Turkish Soldiers, 3,600 Kurdish Militias Killed in Afrin Battle in Northern Syria
• Egypt military says 36 Daesh terrorists killed in Sinai clashes
• Saudi Arabia beheads Indonesian migrant worker
• Some militants may accept deals to withdraw from Ghouta: Syrian minister
• Saudi Arabia 'providing relief to all in need in Yemen without discrimination'
Compiled by New Age Islam News Bureau
URL: https://www.newageislam.com/islamic-world-news/islamist-agenda-unleashed-turkey-joins/d/114657
--------
'Islamist' Agenda Unleashed: Turkey Joins with Jihadists to Conquer US Allies in Afrin
03-19-2018
JERUSALEM, Israel – Turkish troops captured the Syrian city of Afrin near the Turkish border Sunday, marking the end of a two-month battle. While Turkey's victory may seem minor, many believe it was a pivotal battle with major implications for the United States and Israel.
When Turkish soldiers raised their flag in the center of Afrin,Turkish President Recep Tayyip Erdogan, who made capturing Afrin a major goal, celebrated the moment.
"The Turkish Armed Forces have established total control in Afrin's city center," Erdogan announced. "Most of the terrorists had already turned tail and run away."
The "terrorists" Erdogan referred to were Kurdish forces who fought alongside the United States in the battle against ISIS.
Middle East expert Dr. Jonathan Spyer, director of the Rubin Center at the Interdisciplinary Center in Herzliya and a fellow at the Middle East Forum, spoke with CBN News about the battle for Afrin.
"From a strategic point of view, the Kurds of Syria have been the West's most faithful and indeed most effective allies in the course of the fighting against the Islamic State in the past three to four years," Spyer said. "And now there's a very strong sense among the Kurds that they have effectively been betrayed by their Western friends and partners."
Yet these Kurds promised to fight on and said their war against Turkey had entered a new phase.
The battle saw the Turkish army fighting alongside Islamist groups, some of them al Qaeda militias. Some reportedly threatened the Kurds to either convert or die.
Near the end of the Turkish campaign, a video was sent out as evidence of indiscriminate bombing against civilians. Churches in the area pleaded for help and prayer, while a UN representative warned of ethnic cleansing. At least 150,000 Kurds have now fled the area.
Yet Erdogan mocked the European Union and dismissed attempts by the West to stop the offensive against Afrin.
"There's nothing the European Parliament can say to Turkey. And whatever they say goes in one ear and comes out from the other," Erdogan said.
"This is yet further indication of the extent to which Turkey is moving away from its former role as a reliable Western ally and as a NATO member in good standing and more and more a sense that Turkey is a state deeply tinged with Islamist ideology," Spyer said.
https://www1.cbn.com/cbnnews/israel/2018/march/islamist-agenda-unleashed-turkey-joins-with-jihadists-to-conquer-us-allies-in-afrin
--------
Monks, troops help Muslims after race riots in Sri Lanka
March 20, 2018
Buddhist monks and army troops have begun rebuilding and renovating scores of properties damaged during a series of anti-Muslim riots near Kandy in Sri Lanka's Central Province, an area known for its scenic tea plantations.
The government announced a nationwide state of emergency after two people were killed in the sectarian violence, which also saw nearly 450 Muslim-owned homes and numerous shops damaged.
As racial tensions boiled over, 60 vehicles were torched and more than 20 mosques attacked as violence erupted in key cities across the nation.
Sinhala Buddhist mobs attacked Muslims at their homes, businesses and mosques but security forces said calm has since been restored despite the problems between the two religious groups.
A group of Buddhist monks and army troops started to clear the debris as the first stage of the process to restore religious venues, places of business and damaged houses on March 16.
Venerable Pilhatha Mahanama Thera, the chief monk of Rajagalla Ranthatipokuna Buddhist Temple, joined another 10 monks in clearing away the rubble from damaged mosques, homes and Muslim-owned shops.
"More than 250 people including army personnel and Buddhist monks have teamed up for this project," the Venerable Mahanama Thera said. "If we all do what we can, we can move toward reconciliation and find our own way to contribute to the [healing]," he told ucanews.com.
"We are helping Muslims to rebuild after the unrest, in the interests of greater mutual understanding," he added.
"I was very saddened to see this. We are deeply concerned about those who came here from other areas to carry out the riots, but as Buddhist monks we stand in solidarity with the Muslims," he said.
In recent years, hard-line Buddhist groups like Mahasohon Balakaya, Bodu Bala Sena and Ravana Balaya have preached hatred against Muslims and warned of a growing Muslim population in Sri Lanka.
Across the country, rights activists have also urged caution regarding the growing wave of religious intolerance and extremism.
Many Muslim families have sought out private security guards or other forms of protection as they fear for their safety.
Cader Mohamed Nijam, a member of the Muslim Local Council, said more than 200 army personnel were called in to clear the debris.
The damaged workplaces, homes and places of worship were in a relatively contained area just east of Kandy. The ruined buildings stretched from the village of Digana to Kengalla, a distance of several kilometers.
"The first stage of the cleaning work took place at Digana Mosque, which was attacked by Buddhist mobs. We also cleaned up 30 houses that were vandalized," Nijam told ucanews.com.
"Those who were affected by the riots are eligible for immediate compensation from the Ministry of Prison Reforms, Rehabilitation, Resettlement and Hindu Religious Affairs," he added.
https://www.ucanews.com/news/monks-troops-help-muslims-after-race-riots-in-sri-lanka/81835
--------
With Pm's Offering At Ajmer Sharif, Minister Delivers Message on Islam's "Biggest Enemy"
March 19, 2018
AJMER: Union Minority Affairs Minister Mukhtar Abbas Naqvi today offered the ceremonial 'Chadar' at Sufi Saint Khwaja Moinuddin Chishti's shrine in Ajmer on behalf of Prime Minister Narendra Modi.
The Urs festival is an annual festival held at Ajmer which commemorates the death anniversary of the Sufi saint Khwaja Moinuddin Chishti. It is held over six days and features night-long Qawwali and various religious ceremonies. Thousands of pilgrims visit the shrine from all over India and abroad during the Urs.
Prime Minister Narendra Modi had handed over the 'Chadar' to Mr Naqvi on Saturday to be offered at the shrine. Huge crowds had gathered at the Dargah premises to see the 'chadar' being offered. Elaborate security arrangements have been made at the dargah. In a message, PM Modi conveyed his greetings to the followers of the Sufi saint in India and abroad. He also wished for "harmonious co-existence of cultures" and said that "Peace, unity and harmony is at the core of various philosophies in the country, Sufism is also one of them. When we talk of Sufi saints in India, Khwaja Moinuddin Chishti appears as a symbol of great spiritual traditions."
Two dozen LCD screens were installed in and around the Dargah where PM Modi's video message was aired, according to IANS reports.
Mr Naqvi said that said terrorism was the biggest enemy of Islam and the entire humanity. We need to strengthen the fabric of social harmony and unity.
Mr Naqvi also inaugurated a 100 toilet-complex, constructed by the Ministry of Minority Affairs, at "Vishramsthali" on Kayad road near the Dargah.
https://www.ndtv.com/india-news/with-pms-offering-at-ajmer-sharif-minister-delivers-message-on-islams-biggest-enemy-1825925
--------
In Saif hands: Gaddafi's son to run for Libya president
19 March, 2018
The son of deposed Libyan despot Muammar Gaddafi has announced he will run for president later this year.
Saif al-Islam al-Gaddafi made the annoucement through his lawyer in Tunis on Monday, according to al-Araby al-Jadeed.
Gaddafi Jr. will run as the candidate for the Popular Front for the Liberation of Libya, a political party formed in December 2016 pledging to unite Libyan activists to "liberate the country from control of terrorist organisations".
Saif is wanted by the International Criminal Court (ICC) following Gadaffi's brutal crackdown in the wake of popular anti-government protests in 2011. An armed revolt led to the overthrow of the regime, with Saif and his father fleeing south.
Muammar Gaddafi was captured by anti-government fighters and brutally killed. Saif was held by a Libyan militia but reportedly freed six years later.
Sources, who requested anonymnity, told al-Araby al-Jadeed that since then Saif has been living in Zintan, in northwest Libya.
He regularly meets supporters and party members in secret at one of his properties on the outskirts of the town.
Gaddafi also boasts an extensive network of contacts in influential countries, the source alleges.
The director of Saif al-Islam's political reform programme, Ayman Boras, claimed during a press conference in Tunis that despite Saif's bloody past, his planned reforms will appeal to many Libyans.
He said that the party is well aware of the difficulties Libya faces but is confident that the people will lend their support to Saif's campaign.
Boras told al-Araby al-Jadeed that Saif is "under the protection of Libyans", and will announce details about his election campaign shortly.
He assured that Gaddafi junior is not a "military man" and unlike his father, rejects the use of violence in politics with a "modern" and "open-minded" vision for the future of Libya.
Human rights activist Khaled Guel told al-Araby al-Jadeed that despite being wanted by the ICC, the eastern government in Tobruk - which has connections to some elements of the old regime - has granted Saif amnesty.
"The humanitarian situation is deteriorating and the path forward is unclear. Therefore many Libyans now believe that the only way to save the country is through Saif al-Islam," said Guel.
He added that the only way Libya can get past the current impasse is to overcome political divisions.
The whereabouts of Saif al-Islam have been uncertain since he was released by militiamen who held him hostage for six years until July 2016.
Saif al-Islam came to prominence in Libyan politics some 16 years ago.
He was viewed initially as a reformer and spoke of modernising the country and opening up the state-controlled economy.
To some extent, he also highlighted some of the rampant human rights violations perpetrated by his father's regime, and was soon tipped as the heir in waiting.
This changed when he took the side of his father following the outbreak of the 2011 revolution. He soon lost any popular support he once had when a brutal crackdown was launched on the people by the regime.
https://www.alaraby.co.uk/english/news/2018/3/19/gaddafis-son-saif-to-run-for-libya-president
--------
Pakistan's apex court slams ISI for 'dissatisfactory' report on a hardliner cleric's funding
Omer Farooq Khan
Mar 19, 2018
ISLAMABAD: Pakistan's apex court on Monday slammed the country's spy agency, Inter-Services Intelligence (ISI), over its "dissatisfactory" report regarding the source of funding of a hardliner cleric, who had blocked the twin cities of Islamabad and Rawalpindi for 22 days in November last year.
Khadim Hussain Rizvi, a firebrand cleric, had turned last year's controversial changes to the Khatm-i-Nabuwwat, or Finality of Prophethood, oath in the Elections Act 2017, into a religious and political controversy by demanding resignation of the then law minister Zahid Hamid.
Calling it a clerical error, the government had subsequently rectified the omission of the clause but it had failed to satisfy Rizvi. It was generally believed that the protesters were supported by the military establishment to weaken the incumbent government.
While the government, after a botched up operation to end the blockade of the twin cities, had caved in into all the demands of the protesters, the Supreme Court (SC) had taken a suo motu cognizance of abusive language during the sit-in and the difficulties caused to residents of the capital by the roadblocks placed by the agitators.
During Monday's hearing of the case, the SC rejected the ISI report on the sit-in, calling it "unsatisfactory". In its report, the ISI told the top court that Rizvi was "financially corrupt". The spy agency said it had recommended to the government to avoid the use of force and resolve the issue peacefully through negotiations.
"This report is deeply unsettling; it has been prepared by one of the premier agencies of the country, yet a journalist could have given more details about the protests than this report," said Justice Qazi Faez Isa, head of a two-member bench, after reviewing the document. "I fear for the country after reading this report of ISI," the judge remarked.
The judge questioned why the ISI did not mention the source of Khadim Rizvi's income, bank accounts and whether he pays tax or not.
The court also pointed out that the report did not answer the specific questions previously raised by it before ordering the ISI to submit its report.
Separately, an anti-terrorism court (ATC) in Islamabad on Monday ordered the arrest of Rizvi and other absconding suspects in the sit-in case.
On March 5, the ATC had declared Rizvi and his associates absconders in the case for failing to appear before the court after repeated summons.
https://timesofindia.indiatimes.com/world/pakistan/pakistans-apex-court-slams-isi-for-dissatisfactory-report-on-a-hardliner-clerics-funding/articleshow/63369900.cms
--------
1 in 5 Muslim Canadians say they face discrimination
March 20, 2018
A recent study has revealed that Islamophobia very much exists in Canada. It is defined as prejudice and hostility towards Muslims. In the University of Waterloo research, one in five Muslim Canadians said that they experienced discrimination due to their religion, ethnicity or culture at least once in the past five years.
It also found that among the general adult population in each Canadian region, Muslims were the least liked group when compared to caucasians, catholics, Indigenous people, members of the LGBTQ community and racial minorities.
"There are negative attitudes towards Muslims in Canada as a specific group and they themselves are experiencing higher rates of discrimination than most other demographic groups in Canada. That is the reality," said author Sarah Wilkins-Laflamme. "However, residents of Quebec, older respondents and persons who favour Conservative politics were found to be more likely to have greater negative feelings towards Muslims than towards members of other social groups."
The study drew on information from the 2011 Canadian Election Study and the 2014 General Social Survey by Statistics Canada.
The election study, which surveyed a total of 4,202 individuals 18 years and older, asked people to choose a number between zero (really dislike) and 100 (really like) to represent their feelings towards various groups living in Canada.
Rates of significantly more negative feelings towards Muslims than towards other racial minorities varied by region among the general population, with 31 per cent of respondents in British Columbia expressing such feelings, 38 per cent in the Prairies, 33 per cent in Ontario, 50 per cent in Quebec and 33 per cent in Atlantic Canada.
The General Social Survey asked 831 individuals aged 15 and older who identified as Muslim whether they have experienced discrimination.
Rates of self-identified discrimination also varied by region, with 35 per cent of Muslims in Atlantic Canada, 22 per cent in the Prairies and British Columbia, 22 per cent in Quebec, and 18 per cent in Ontario indicating they have experienced discrimination at least once in the past five years.
"The results from this study indicate that educational measures and open dialogue with Muslims and Muslim communities to combat the closed views of Muslims and prejudice need to focus on more than just educational institutions," said Wilkins-Laflamme. "A serious effort should also be made to bring the dialogue to social settings where Quebec residents, older adults, those without a university education, and those with a more conservative value orientation can also benefit from them."
https://www.indiatvnews.com/lifestyle/news-islamophobia-in-canada-one-in-five-muslims-face-discrimination-433459
--------
Mideast
Erdogan vows to expand Syria offensive to eastern regions
Mar 19, 2018
Turkish President Recep Tayyip Erdogan has vowed to further expand military operations against Kurdish militants in Syria to the eastern parts of the Arab country, even threatening to send troops to northern Iraq if Baghdad could not clear the region of the militants.
Speaking in Ankara a day after Turkish forces and their allies stormed and captured the northwestern Syrian city of Afrin, Erdogan said on Monday that his country's military would target the Syrian city of Manbij, as well as Ayn al-Arab or Kobani, and towns along the border to the east of the Euphrates River.
"Now we will continue this process until we entirely eliminate this corridor, including in Manbij, Ayn al-Arab, Tal Abyad, Ra's al-Ayn and Qamishli," Erdogan said in his speech.
Indicating that there was no plan for the Turkish army to call off the cross-border "Operation Olive Branch" against members of the US-backed People's Protection Units (YPG) in Syria, Erdogan described the taking of Afrin as merely a "comma" and warned of a surprise attack on Kurdish militant-held areas in northern Iraq.
Ankara views the YPG as the Syrian branch of the Kurdistan Workers' Party (PKK) militant group that has been fighting for an autonomous region inside Turkey since 1984.
During the speech on Monday, the Turkish president said his troops could cross into Iraq to drive out the PKK from the region of Sinjar in the country's north if Baghdad government was reluctant to oust the Kurdish militants from the area.
"If (Baghdad) cannot, we may turn up in Sinjar suddenly one night and clean up the PKK there," Erdogan said.
Ankara launched the Afrin offensive on January 20 after the United States said it sought to create a 30,000-strong force near the Turkish border in Syria with the help of the so-called Syrian Democratic Forces (SDF) militant group, which is mainly comprised of YPG forces.
The Syrian government has already condemned the Turkish offensive against Afrin as an act of aggression. Over 280 civilians have lost their lives since the offensive began, according to the so-called Syrian Observatory for Human Rights (SOHR).
The UK-based monitor group also reported on Monday that militants with the so-called Free Syrian Army (FSA) had gone on a rampage in Afrin, pillaging shops and homes after capturing the city.
The FSA members broke into shops, restaurants and houses and left with foodstuff, electronic equipment, blankets and other goods, according to the SOHR report.
"Operation Olive Branch" is Turkey's second major military intervention in Syria during the unprecedented foreign-backed militancy that broke out in the Arab country in 2011.
In August 2016, Turkey began a unilateral military intervention in northern Syria, code-named Operation Euphrates Shield, sending tanks and warplanes across the border. Ankara claimed that its military campaign was aimed at pushing the Daesh Takfiri terrorist group from Turkey's border with Syria and stopping the advance of Kurdish militants, who were themselves fighting Daesh.
Turkey ended its campaign in northern Syria in March 2017, but at the time did not rule out the possibility of yet another military offensive inside the Arab country.
Syria has been gripped by foreign-backed militancy since March 2011. The Syrian government says the Israeli regime and its Western and regional allies are aiding Takfiri terrorist groups that are wreaking havoc in the country.
http://www.presstv.com/Detail/2018/03/19/555999/Erdogan-Kurdish-militants-Manbij-YPG-Sinjar-PKK
--------
Israel court rejects bid to make Palestinian teen Ahed Tamimi trial public
20 March 2018
An Israeli military court has blocked a bid to make the high-profile trial of Palestinian teen Ahed Tamimi public, meaning it will continue behind closed doors, her lawyer said Monday.
"The Military Appeals Tribunal dismissed the defense's appeal against a closed trial," Gaby Lasky wrote on Twitter. "A public trial was the only defense and it's obvious that in its absence, Ahed Tamimi will not be entitled to a fair trial."
Tamimi was arrested four months ago after the 17-year-old appeared in a viral video, along with her mother and cousin, slapping and shoving two Israeli soldier outside their family home in the village of Nabi Saleh in the occupied West Bank.
The soldiers had taken up positions next to the house amid near daily protests in the village against US President Donald Trump's decision to recognize Jerusalem as the capital of Israel.
Tamimi has been charged with 12 counts including assault and could face a lengthy jail term if convicted. Her trial -- which has found wide resonance with Palestinians -- opened on February 13 and is scheduled to continue on March 21 in front of Israel's Ofer military court near Ramallah in the West Bank.
Mariam Barghouti, a Palestinian activist close to the Tamimi family and Ahed's mother, Nariman, confirmed to AFP that the request for a public trail had been rejected. Questioned by AFP, a military spokesman was not able to confirm the decision.
Full report at:
https://english.alarabiya.net/en/News/middle-east/2018/03/20/Israel-court-rejects-bid-to-make-Palestinian-teen-Ahed-Tamimi-trial-public.html
--------
Yemen minister says Houthis still kidnapping, recruiting child soldiers
19 March 2018
Human rights violations have worsened across Yemen as child recruitment campaigns by Houthi militias increased in the past several weeks, according to one Yemeni minister Al Arabiya has spoken to.
Dr. Mohammed Askar, Yemen's Minister of Human Rights, asked the international community to interfere to fulfill its duty in pursuing those who violates human rights in Yemen. He stressed that human rights issues currently are one of the priorities of the Yemeni government. Strengthening the rule of law, reforming the judiciary and combating corruption, promoting national protection of human rights and public freedoms, as well as meeting urgent humanitarian needs. The Ministry of Human Rights to promote and protect human rights in addition to attaining security, economic stability, strengthening the power of law, reforming the judiciary and combating corruption, and strengthening national protection of human rights and public freedoms, as well as fulfilling urgent humanitarian needs. There are many procedures and actions taken by the Yemeni Government in the liberated areas during the past three years, represented in the Ministry of Human Rights to promote and protect human rights. Askar told Al Arabiya.
Askar indicated that the Human Rights ministry studies and make reports for the practices that violates the human rights principles inside Yemen, in order to be able to respond to it and benefit from it. The most prominent of which were reports about the abductees and the enforced disappearances in Iranian-backed Houthi militia prisons, other reports were about the continuous recruiting of children, and thus it launched campaigns to pressure the Houthis to stop recruiting children, which contributed in increasing the families and the community awareness of the danger of this trend. Another report was about the minefields made by the militias and the sever violations against children, there was also qualitative reports about displacement and bombing civilians in Taiz and implemented training course about psychological and social support to protect children affected by the war took place in May 10-15 2017.
From the very first days of liberating the Yemeni provinces from the Houthi militias supported by Iran, and until this moment, the Ministry of Human Rights held several meetings with the UN representatives, special rapporteurs, international organizations working in Yemen, its expeditions to Yemen, ambassadors and diplomats, to monitor and track the Human rights issues in Yemen, participating in the Human Rights Council's rounds in March, June and September and present general reports about the humanitarian situation in Yemen. To show that the government is committed to the Human rights, conventions and treaties signed and ratified by Yemen.
Full report at:
https://english.alarabiya.net/en/features/2018/03/19/Yemen-minister-says-Houthis-still-kidnapping-recruiting-child-soldiers.html
--------
Palestinian president attacks Hamas, calls US ambassador 'son of a dog'
Mar 20, 2018
RAMALLAH, West Bank (Reuters) - Palestinian President Mahmoud Abbas on Monday called the U.S. ambassador to Israel a "son of a dog" because of his support for Israeli settlers in the occupied West Bank.
Abbas, speaking at a Palestinian leadership gathering, also blamed Hamas for a bomb attack last week on the convoy of Palestinian Prime Minister Rami Hamdallah in Gaza, remarks that threatened reconciliation efforts with the Islamist group.
The Palestinian leader accused Ambassador David Friedman of defending Israeli settlers in the West Bank by saying that they were building on "their land". The slur drew rebukes from the diplomat and Israeli Prime Minister Benjamin Netanyahu.
In an angry tone, Abbas said: "The son of dog says they build on their land? He is a settler, and his family are settlers, and he is the US ambassador in Tel Aviv. What should we expect from him?"
Friedman, a strong supporter of Israel's settler movement, was an early and enthusiastic advocate of US President Donald Trump's Dec. 6 decision to recognise Jerusalem as Israel's capital and to move the US embassy there.
Friedman responded during a speech in Jerusalem to a conference on combating global anti-Semitism, saying: "His response was to refer to me as son of a dog. Anti-Semitism or political discourse? Not for me to judge, I leave that all up to you."
US Middle East envoy Jason Greenblatt issued a statement calling Abbas' comment "highly inappropriate." He said the Palestinian leader needed "to choose between hateful rhetoric and concrete and practical efforts to improve the quality of life of his people."
Trump's announcement on Jerusalem delighted the Israeli government but infuriated Palestinians, who have staged regular protests since then.
Israel regards Jerusalem as its eternal and indivisible capital, although that is not recognised internationally. Palestinians feel equally strongly, saying that East Jerusalem must be the capital of a future Palestinian state.
Peace talks aimed at finding a two-state solution to the Israel-Palestinian conflict have stalled, while Israeli settlement expansion has continued.
Netanyahu said Trump's decisions on Jerusalem appeared to have brought Abbas to the point of making a verbal attacks on a US official.
"For the first time in decades, the U.S. administration has stopped spoiling the Palestinian leaders and tells them: enough is enough," Netanyahu said on Twitter. "Apparently the shock of the truth has caused them to lose it."
BLAME FOR BOMBING
Addressing the rancour between Hamas and Fatah, Abbas said there had been "zero" progress in reconciliation, citing efforts to bring a power-sharing deal to bear on the crossings out of the Gaza Strip and on security within the enclave.
Relations have grown even worse since Hamdallah and Palestinian security chief Majid Faraj's convoy was attacked by a roadside bomb in the Hamas-controlled Gaza Strip on March 13. They were uninjured.
"We congratulate the two big brothers (Hamdallah and Faraj) that they are safe after the sinful and despicable attack that was carried out against them by the Hamas movement in the Gaza Strip," Abbas said.
He offered no evidence of Hamas' involvement but said he did not trust Hamas to investigate the incident honestly.
"We do not want investigation from them, we do not want information from them and we do not want anything from them because we know exactly that they, the Hamas movement, were the ones who committed this incident," he said.
Abbas said Hamas would have to give up control of Gaza or risk taking full responsibility for the enclave and its two million residents without any help from his Western-backed Palestinian Authority.
"In my capacity as the president of the Palestinian people I have tolerated much in order to regain unity and unite the homeland and I was met with rejection by Hamas and their illegitimate authority," he said.
Hamas called his comments irresponsible and said they aimed to "burn bridges and reinforce divisions." The group has previously denied involvement in the bombing.
Full report at:
https://timesofindia.indiatimes.com/world/middle-east/palestinian-president-attacks-hamas-calls-us-ambassador-son-of-a-dog/articleshow/63375258.cms
--------
Arab coalition to show new evidence of Iran arming Yemen's Houthis
19 March 2018
The Arab Coalition spokesperson, Colonel Turki al-Maliki, said the coalition will hold a press conference on Monday to reveal new evidence that exposes Iran's involvement in smuggling ballistic missiles and weapons to the Houthis.
The press conference, which will be held at 16:10 KSA time, will show the ballistic missiles which Iran smuggled to militias in Yemen and detail how Iran threatens regional and international security and spreads chaos.
The coalition has several times confirmed that Iran was arming the Houthis and that it threatens international and regional navigation. Iran, however, has repeatedly denied arming the Houthis as for instance in February it accused US Ambassador Nikki Haley of presenting "fabricated" evidence that a November 4 missile fired at Riyadh airport was Iranian-made.
https://english.alarabiya.net/en/News/gulf/2018/03/19/Arab-coalition-to-show-new-evidence-of-Iran-s-armament-of-Houthis.html
--------
Turkish troops, pro-Turkey militia will not remain in Syria's Afrin: Ankara
Mar 19, 2018
Turkey says its military troops and pro-Ankara forces do not plan to remain in Syria's Afrin as occupiers after they ousted Kurdish militants from the northern city, insisting that Ankara will leave the region to its "real owners."
Turkey's Deputy Prime Minister Bekir Bozdag made the promise on Monday, a day after Turkish soldiers, backed by members of the so-called Free Syrian Army (FSA) militia, captured the city from the grips of the Kurdish militants, particularly those of the Kurdish People's Protection Units (YPG).
He added that there was no plan to remain in the city, even as officials warned the offensive could expand eastwards.
Ankara waged the so-called Operation Olive Branch against the YPG, perceived by the Turkish government as the Syrian offshoot of the Kurdistan Workers' Party (PKK) "terrorist" group, in the volatile region of Afrin in January 20, and has said that the full-scale offensive could extend to Manbij and beyond.
"As we said, we will not permanently stay there, nor are we occupiers," Bozdag told reporters in televised comments in Istanbul, alleging that the objective of Operation Olive Branch was to restore peace, security and stability to the region and leave it to its "real owners."
The capture of Afrin is seen a major step forwards for Ankara as it seeks to bolster its control along the border in the northern parts of the Arab country.
Meanwhile, AFP correspondents and the so-called Syrian Observatory for Human Rights (SOHR) reported that Turkey-backed FSA militiamen have reportedly gone on a rampage in Afrin, pillaging shops and homes after capturing the city on Sunday.
The FSA members broke into shops, restaurants and houses and left with foodstuff, electronic equipment, blankets and other goods, the AFP reporters said.
The UK-based monitor group also said that Turkey's Syrian allies "have begun pillaging private property, political and military sites and shops."
Operation Olive Branch is Turkey's second major military intervention in Syria during the unprecedented foreign-backed militancy that broke out in 2011.
In August 2016, Turkey began a unilateral military intervention in northern Syria, code-named Operation Euphrates Shield, sending tanks and warplanes across the border. Ankara claimed that its military campaign was aimed at pushing the Daesh Takfiri terrorist group from Turkey's border with Syria and stopping the advance of Kurdish militants, who were themselves fighting Daesh.
Turkey ended its campaign in northern Syria in March 2017, but at the time did not rule out the possibility of yet another military offensive inside the Arab country.
Full report at:
http://www.presstv.com/Detail/2018/03/19/555979/Turkey-Syria-Afrin-FSA-YPG-PKK-Bozdag
--------
South Asia
Top court cancels bail for Bangladesh opposition chief Zia
March 20, 2018
DHAKA: Bangladesh's Supreme Court Monday halted the release of opposition leader Khaleda Zia on bail, deepening a political crisis ahead of a national election due in December.
The top justices suspended a lower court's decision to grant Zia bail until May, prompting a sharp reaction from her lawyers who said it was part of a campaign by Prime Minister Sheikh Hasina to silence the opposition.
"It is an unprecedented order in the judicial history of Bangladesh. We think it is not the decision of the top court, rather it is a government decision," one of Zia's lawyers, Sanaullah Mia, told AFP.
Fakhrul Islam Alamgir, secretary general of Zia's Bangladesh Nationalist Party (BNP) said the order was a "reflection" of the government's desire to keep Zia confined during the election, which is widely expected to be held in December. "We've repeatedly said people are not getting justice in the country and the judiciary is controlled by the government," Alamgir told AFP.
The 72-year-old BNP leader was jailed for five years last month on charges of embezzling money intended for an orphanage. The three times former prime minister, now being held in a special jail, has consistently dismissed the charges as politically motivated.
The BNP wanted Zia freed pending appeals before a high court so that she can lead the party's election campaign. Violence erupted in cities across Bangladesh after the guilty verdict on February 8 as BNP supporters clashed with police and ruling party activists.
Zia, who entered politics in the 1980s after her military dictator husband was assassinated in a failed coup, also faces dozens of separate charges related to violence and corruption. Her party boycotted a 2014 national election in which Hasina was re-elected. The BNP is expected to contest the upcoming election however. Zia and her son were detained by an army-backed government in 2007 and spent a year and a half in detention pending trials for alleged corruption.
https://nation.com.pk/20-Mar-2018/top-court-cancels-bail-for-bangladesh-opposition-chief-zia
--------
Myanmar is worst-performing country for aid access, as Rohingya refugees face monsoon threats
MARCH 20, 2018
Myanmar tops a list of countries where the ability of aid groups to reach people in need has worsened in the past six months, the Geneva-based research group ACAPS has said.
In examining 37 countries, ACAPS analysts considered nine indicators, including violence against humanitarian workers and restrictions preventing people from reaching aid.
"Myanmar is the country where humanitarian access has deteriorated the most, as access for the Rohingya population has become increasingly difficult," the group said in a statement.
The ACAPS report preceded another released Tuesday by a British parliamentary committee, which warned floods and disease could kill thousands of Rohingya refugees in camps in neighboring Bangladesh.
The chair of the International Development Committee, Stephen Twigg, said in a statement that time was running out, adding that donors "must work with the Bangladesh government".
"Substantial numbers of refugees are about to face another crisis. With the weather about to turn, the fragile safety and sanctuary that the Rohingya have found in temporary camps provided by Bangladesh is in jeopardy," Twigg said.
United Nations' officials say nearly 700,000 Muslim Rohingya have fled Buddhist-majority Myanmar to Bangladesh.
That came after militant attacks in August sparked a crackdown, led by security forces, in Rakhine state that the U.N. and United States have said constitutes ethnic cleansing.
Myanmar has repeatedly denied reports implicating soldiers in widespread abuses of Rohingya civilians, particularly in Maungdaw, a border district in western Rakhine State.
Although the Myanmar government had allowed some groups to access the district, it was "in a short-term and unpredictable manner", said Pierre Peron, a spokesman for the U.N. Office for the Coordination of Humanitarian Affairs (OCHA) in Myanmar.
"Most humanitarian organizations that had been working in Maungdaw District for years have still not been able to resume life-saving programs for some of the most vulnerable people in the world," he told the Thomson Reuters Foundation via email.
A Myanmar government spokesman was unavailable for comment.
The British parliamentary committee said the situation for Rohingya would likely worsen, with heavy rains expected to begin within days, followed by the cyclone season.
"Severe weather conditions and heavy rainfall could result in the deaths of thousands of Rohingya," the IDC said.
The committee warned that the camps in Bangladesh are ill-equipped to withstand the 2.5 meters of heaviest rains predicted to fall from June through August. The camps were built quickly, with shelters in places prone to landslides and flooding.
Poor sanitation, as well as a low vaccination rate among Rohingya who had limited access to healthcare in Myanmar, meant flooding would likely bring disease, the IDC said.
Full report at:
https://www.reuters.com/article/us-britain-eu-meeting/amid-brexit-deal-talk-eu-summons-envoys-media-idUSKBN1GV0UA
--------
Catholic workers in Bangladesh labor over Lent
March 16, 2018
Lenten season spells gloom every year for Raphael Hembrom, an indigenous Santal Catholic from Rajshahi Diocese in northern Bangladesh.
Hembrom, 35, works at a textile factory in Zirani, an industrial hub in Gazipur district about 40 kilometers north of the capital Dhaka.
Hembrom moved there about eight years ago in search of a job and landed one in the country's vital garments industry.
"I can still recall my days back home in my village during Lent. I used to join my friends in celebrating the Way of the Cross on Fridays. I found the Lenten songs of sorrow and Jesus' suffering very moving," said Hembrom, who got married two years ago and now lives near his workplace with his wife, who takes care of most of the domestic chores.
"Since coming to Dhaka, I've been unable to attend the Way of the Cross, Sunday Mass or any religious practice,"he told ucanews.com. "I want to fast on Fridays but I can't as we work in shifts and I usually have to work on Fridays. I regret this but there's nothing I can do."
He works for 10-13 hours a day including overtime and only has one day off a week, earning 13,000-15,000 taka (US$159-183) per month.
This leaves him with scant savings at the end of the month after he deducts living expenses for his family, the money he sends to his parents, and 4,000 taka to rent a one-room residence with a tin roof.
"We don't earn much even though we work hard day and night. I feel so tired when I get home that I just crash out right after dinner, as I need to get up early the next day. Back in my village we used to have a family prayer in the evening. That's not possible anymore," he said.
Hembrom frets that when he has children they could grow up without a firm grounding in Christian teachings and values.
"I still follow religion and the teachings of the church, remembering what I learned as a child. But I'm a bit scared about the future — when we have children, I don't know how much they will learn about religion or catechism."
The Catholic Church offers spiritual and pastoral care for Christian migrant workers in Bangladesh but its reach is not absolute due to financial and manpower limitations.
To help plug the gaps, Italian missionaries from the Pontifical Institute for Foreign Missions (PIME) opened the Jesus Worker Center (JWC) in 2009, one of a number of programs offering assistance to migrant workers.
It also offers residential facilities for newly arrived migrant workers until they find somewhere else to live.
But Hembrom and many others like him lack the time to visit the center and are unable to avail themselves of the care it offers.
"We have 2,000 Christian migrant workers from 800 families, most of them indigenous, who visit the center randomly," said a priest from the PIME who helps manage the facility. He requested that his name not be used.
"They do backbreaking jobs in various industries. The most pressing challenge is their extremely busy work schedule, which doesn't leave them with any time for prayer or spiritual endeavors. They work very hard day and night."
To tackle the problem, the center organizes meetings and seminars for workers during national holidays.
"We arrange programs and we go to the places where most of the workers live. We visit their families and try to listen to their problems and find solutions. Sometimes we offer Mass in their homes. During Lent, we organize the Way of the Cross and spiritual direction preparation programs for them ahead of Easter," the priest said.
Kakoli Marandy, 30, is another Santal Catholic and mother of two who hails from Naogaon district in the northern part of the country.
She works at a packaging factory in the Pagla area of Narayanganj district near Dhaka. Her husband works as a security guard at a nearby factory. They earn about 15,000 taka per month.
While there is a small Catholic church in Narayanganj city, it takes about an hour for Marandy to get there by bus or boat.
"During Lent we feel we must attend the Way of the Cross on Fridays, but the distance and the heavy traffic make this a challenge even on the weekend," she said.
"We can't make it to Sunday Mass as that is a workday. There are a good number of Catholics in the area where we live and they are in a similar situation," she said.
She said her family has not been able to participate in the Way of the Cross for the last five years; neither has she been able to celebrate Easter with her family or relatives back home.
Easter Sunday is not a public holiday in Muslim-majority Bangladesh.
"We feel sad that we can't go to church even though we love our religion. But we have to work first to make sure our children are fed and receive an education. After that, we can consider religion," she said.
Some 60,000-70,000 Christian migrant workers are employed in various industrial zones in Dhaka and its adjacent areas, according to the Catholic bishops' Justice and Peace Commission (JPC).
In 2010, the JPC created the Desk for Migrants and Itinerant People to render pastoral care, educational assistance and awareness-building services to migrant Christians in Dhaka and elsewhere in the country.
However, the desk has not been fully active due to a lack of qualified priests who specialize in these areas, said Bishop Gervas Rozario of Rajshahi. He doubles as chairman of the JPC.
"The desk was created to help migrant workers battle injustice in their workplaces and elsewhere. I think when Christian workers are deprived of pastoral and spiritual care, it is a kind of injustice," he said.
"The Jesus Worker Center is trying to fill the vacuum. In the future, we would like to replicate this model in other places," Bishop Rozario said.
Occasionally, the JPC sends a letter to parishes close to these industrial zones and urges priests to extend their services to migrant workers so they can feel the church's love, the prelate said.
Full report at:
https://www.ucanews.com/news/catholic-workers-in-bangladesh-labor-over-lent/81774
--------
Australia PM meets Myanmar leader Suu Kyi, to raise human rights concerns
March 19, 2018
Suu Kyi had been scheduled to give a speech and answer questions at a foreign policy think-tank event in Sydney on Tuesday but cancelled
Myanmar leader Aung San Suu Kyi arrived in Canberra on Monday to be met by a military honour guard and Australian Prime Minister Malcolm Turnbull, who has said he will raise human rights issues during her visit.
Suu Kyi has been in Australia since Friday, attending a special summit of Association of Southeast Asian Nations (Asean) leaders in Sydney, where her presence drew street protests and a lawsuit accusing her of crimes against humanity.
Australia's Attorney General has said he would not allow the lawsuit, lodged by activist lawyers in Melbourne on behalf of Australia's Rohingya community, to proceed because Suu Kyi had diplomatic immunity.
Since coming to power in 2016, Suu Kyi, who won the 1991 Nobel Peace Prize for her struggle for democracy in Myanmar, has faced growing criticism for failing to condemn or stop military attacks on her country's minority Rohingya Muslims.
UN officials say nearly 700,000 Muslim Rohingya have fled Buddhist-majority Myanmar to Bangladesh after militant attacks on August 25 last year sparked a crackdown, led by security forces, in Rakhine state that the United Nations and United States have said constitutes ethnic cleansing.
The UN independent investigator on human rights in Myanmar, Yanghee Lee, said in Geneva this month she saw growing evidence to suspect genocide had been committed.
Myanmar denies the charges and has asked for "clear evidence" of abuses by security forces.
Neither Suu Kyi nor Turnbull made public remarks before their meeting, but the Australian leader said on Sunday that Suu Kyi spoke "at considerable length" during the Asean meeting about Rakhine State, appealing to her Southeast Asian neighbours for humanitarian help.
Suu Kyi had been scheduled to give a speech and answer questions at a foreign policy think-tank event in Sydney on Tuesday but cancelled because she was not feeling well, event organizers said, without giving more details.
Full report at:
http://www.dhakatribune.com/world/2018/03/19/australia-pm-meets-myanmar-leader-suu-kyi-raise-human-rights-concerns/
--------
Top ISIS leaders Omair and Abu Samaya killed in North of Afghanistan
Mar 19 2018
Two top leaders of the Islamic State of Iraq and Syria (ISIS) terrorist group were killed in a joint operation of the Afghan Special Forces and the US military in North of Afghanistan.
The NATO Special Operations Component Command in a report said, recent Afghan Special Security Forces offensive operations enabled by U.S. airstrikes eliminated 15 ISIS-K fighters in Jowzjan and Sar-e Pul provinces, Afghanistan, Mar. 16, 2018.
The report further adds that a U.S. airstrike killed ISIS-K Khitaba (platoon-sized) commanders Omair and Abu Samaya as they met in Sar-e Pul. Omair and Samaya replaced Khitab Aka, ISIS-K's lead facilitator of foreign fighters, captured in Jowzjan, Jan. 28. Unable to take root in Afghanistan, ISIS-K relies on external support of fighters and equipment for survival in northern Afghanistan.
Later that night, ASSF conducted a raid on the ISIS-K headquarters in Jowzjan, eliminating 13 terrorists. The ASSF conducted the raid in an area ISIS-K believed to be a safe haven for the reception of their foreign fighters and weapons.
"The capability and capacity of the ASSF will ensure Afghanistan cannot again be used as a safe haven from which trans-regional terrorists can threaten the U.S. and international partners," said Gen. John Nicholson, NATO Resolute Support commander.
Full report at:
https://www.khaama.com/top-isis-leaders-omair-and-abu-samaya-killed-in-north-of-afghanistan-04684/
--------
Motorcycle bomb explosion leaves 1 dead, 7 wounded in Herat
Mar 19 2018
At least one person was killed and seven others were wounded in an explosion in western Herat province of Afghanistan.
According to the local officials, the incident took place at around 2 pm local time the vicinity of Shindand district of Herat.
The officials are saying that the militants have detonated a motorcycle packed with explosives in a busy market in the area.
No individual or group has so far claimed responsibility behind the incident.
Herat has been among the relatively calm provinces in West of Afghanistan during the recent years and following the fall of the Taliban regime.
Fewere terrorist related incidents are reported from Herat province as compared to the other western and southern provinces but the anti-government armed militant groups have been attempting to expand their insugency in this province recently.
Full report at:
https://www.khaama.com/motorcycle-bomb-explosion-leaves-1-dead-7-wounded-in-herat-04682/
--------
India
Chandrababu Naidu meets Islamic groups after TDP-BJP break-up
Mar 19, 2018
Andhra Pradesh chief minister N Chandrababu Naidu met several Islamic groups on Monday in a move viewed as an attempt to woo the minorities after his Telugu Desam Party (TDP) severed its ties with the Bharatiya Janata Party.
The Muslim leaders, who came to meet the TDP chief at the Praja Darbar Hall adjacent to his official home in Amaravati, hailed him for breaking the alliance with the BJP.
Naidu said he joined the BJP-led National Democratic Alliance (NDA) at the Centre despite ideological differences because he wanted to secure maximum benefits for the state, which was reeling from losses after Telangana was carved out of Andhra Pradesh in 2014.
"I had to take the decision in the larger interests of the state. However, I had never compromised on the secular principles," he said.
The TDP severed its four-year alliance with the BJP over the NDA government's refusal to grant special category status to Andhra Pradesh.
The TDP chief alleged that the BJP has now declared a war on him and his government.
"What mistake did I commit? Is it a crime to ask for keeping promises made in the AP reorganisation act? Did I ask for the moon? With whom does the BJP want to fight with? With me? Or with the people of Andhra Pradesh?" he asked.
He said his party had come out of the NDA because it failed to do justice to the state.
"Now, the real colours of the BJP are exposed. It is trying to destabilise my government by instigating the YSR Congress and the Jana Sena Party," he alleged.
Reacting to Naidu's meeting, state BJP president K Hari Babu said the chief minister's move to woo Muslims didn't surprise him.
"He has come out of the NDA only with an eye on the elections, as he has to blame the Centre to cover up his failures. And he needs to tap the Muslim vote bank to gain some ground in the state," he said.
The chief minister reminded the Islamic groups that the TDP had opposed attempts of the Narendra Modi government to push through the "triple talaq" bill in Parliament.
"Ours was the only party in the NDA to resist the triple talaq bill that was aimed at interfering in the personal law of Muslims," he said.
He promised that the TDP would fight for more reservation in jobs and education for Muslims.
"Right from the beginning, our government has been working from the interests of minorities. In the latest budget, we have allocated Rs 1,100 crore for minority welfare, which was unprecedented in the history of the state," Naidu said.
The Muslim representatives, who came to meet him under the leadership of Vijayawada (West) legislator Mohammad Jaleel Khan, appreciated the chief minister's move.
"We shall join hands with the TDP to fight against the BJP," Khan said.
https://www.hindustantimes.com/india-news/chandrababu-naidu-meets-islamic-groups-after-tdp-bjp-break-up/story-ES33lWnuADaX9vy1NJ7nQO.html
--------
A Kerala preacher and the textbook controversy in his chain of schools
by Shaju Philip
March 20, 2018
Two weeks ago, a district sessions court in Ernakulam granted bail to M M Akbar, a preacher who also runs a chain of schools. He had been arrested from Hyderabad on February 24, on charges of fomenting communal enmity through a textbook for primary school. Granting bail, the court observed, "The court does not find anything in the offending passage against any other community or religion or group of people, which is an essential prerequisite to bring out the offences alleged in the case."
Akbar, widely known as Kerala Zakir Naik, is managing director of the Peace International School chain, which has 12 CBSE schools — 10 in Kerala, one each in Minicoy and Mangaluru.
Before the controversy over the textbook, the spotlight had first fallen on his schools in July 2016, when it emerged that a few of the missing youth who had allegedly joined the Islamic State had worked in schools of his chain. One of them, Abdul Rashid, and his wife Sonia a.k.a. Aysha had worked with the Peace School in Kasaragod before they went missing. Besides, his second wife, Yasim Ahamed, who was arrested from Delhi while trying to fly to Afghanistan, allegedly to join Rashid, had worked as a teacher with the Peace School in Kottakkal, Malappuram.
Akbar, 52, who is also the director of Kozhikode-based Niche of Truth, an organisation engaged in propagating Islam through various media, began Peace Schools in 2006 under the Peace Educational Foundation.
Muslim businessmen invested in each centre, while Akbar managed the academic activities. About 90 per cent of the 6,500 students covered by the chain are Muslim; each school offers Islamic and general education under one roof.
All schools under the Peace Foundation have the same curriculum, but the one in Ernakulam was the first to face a police case in the textbook controversy. Although schools in Kollam and Thrissur too faced similar cases, both were stayed by the court later.
A section of the textbook, Islamic Studies for Class II, refers to Shahada, an Islamic creed declaring faith in the oneness of God and acceptance of Muhammad as God's prophet. The section deals with a question-answer session between a teacher and a Muslim. "Suppose your friend Adam/Susan has decided to become a Muslim, what advice you will give?" It is followed by multiple-choice answers, which formed the basis of the police case .
Citing this section, the state education department moved a complaint with local police on September 17, 2016. A month later, police registered a case. In December 2016, Kochi police arrested three executives of Mumbai-based Burooj Realisation, the textbook publisher. Later, they were granted bail.
"That section was in the textbook Islamic Studies, meant for Muslim students," says Akbar. "It was introduced as part of madrasa education, which we were providing in the school. We taught it for four years, until 2016, when we decided not to continue that section as we felt it was not suitable for Class-II students," he claims. "When the complaint came up, we had abandoned the entire book, which came in three volumes. However, the police seized the book from the school and registered the case."
The school in Ernakulam first came on the police radar following media reports that Merin Jacob, a.k.a. Mariam, one among the missing youth, had taught there.
Noor Muhammed Shah, one of the promoters of Peace Ernakulam School, says Mariam never taught there. "She had appeared for an interview and addressed a classroom session as part of a demonstration. She was not selected. Why should we be blamed for her going missing?"
Akbar claims the same textbook has been taught in 400 schools in the country since 2009. Even in Kerala, two schools under Muslim managements have been using it for religious education, he says. Last January, the education department ordered closure of the school; Kerala High Court stayed the order.
Akbar says his school is now in the process of preparing a new text for religious education for Muslim students. "Now, we provide pooled materials taught by various Muslim groups in their madrasa system."
Akbar used to be a schoolteacher in Malappuram. He had taught physics. As a student, Akbar had been associated with Mujahid Student Movement. Although he is known as an orator, Akbar never had any academic training as a Muslim scholar. In recent years, on debates on religion, Akbar has represented the Muslim side, quoting abundantly from Hindu and Christian religious texts.
Full report at:
http://indianexpress.com/article/india/mm-akbar-a-kerala-preacher-and-the-textbook-controversy-in-his-chain-of-schools-5103831/
--------
Another hardliner takes charge of Tehreek-e-Hurriyat
M Saleem Pandit
Mar 20, 2018
SRINAGAR: Pro-Pakistan separatist leader Syed Ali Shah Geelani who headed Tehreek-e-Hurriyat for 15 years resigned from its chairmanship on Monday.
He nominated his close aide 74-year-old Mohd Ashraf Sehrai as his successor. Geelani held the post for 15 years since the party was formed following a split in the Hurriyat Conference.
Sehrai will be interim chairman until formal elections are conducted as decided by Majlis-e-Shora.
However, sources said, it was completely the call of the ISI to hand over the reins of Hurriyat to Sehrai because of his hardline stand.
https://timesofindia.indiatimes.com/india/another-hardliner-takes-charge-of-tehreek-e-hurriyat/articleshow/63373599.cms
--------
Rohingya issues better left to executive: Govt to SC
March 20, 2018
Stating that diplomatic efforts were on to resolve the issue of Rohingya refugees, the Centre on Monday strongly opposed in Supreme Court PILs filed on the subject and urged the court to leave the matter to the executive. "Way in which various PILs are filed… Court will have to go into what is the genesis of these, who wants demographic change, who wants destabilisation, who wants to harm internal security," Additional Solicitor General Tushar Mehta told a bench of Chief Justice Dipak Misra and Justices A M Khanwilkar and D Y Chandrachud.
The court was hearing a petition filed by two Rohingya refugees and a batch of PILs on the issue. The petitioners have claimed that medical and educational facilities were being denied to Rohingya living in the camps. The Centre denied this, following which the court refused to pass any interim order. However, acting on another plea, the court asked the Centre and states to file a "comprehensive report" on living conditions of Rohingya refugees in camps in Delhi, Haryana, Rajasthan and Jammu and Kashmir in two weeks.
Mehta upped the ante when petitioner counsel Prashant Bhushan referred to an affidavit filed by the Home Ministry last week. It denied charges that BSF was pushing back Rohingya refugees at the border using stun guns and chilly grenades. Bhushan contended that the affidavit also stated that as per the Passport Act of 1920, "every foreigner entering India must be in possession of a valid national passport or any other internationally recognised travel document establishing his/her nationality and identity and bearing — (a) his/her photograph' and (b) a valid visa for India granted by an authorised Indian representative abroad". This effectively meant that the Rohingya who did not have visa were being pushed back, he said. "Obviously the Rohingya won't have visa… There is a genocide against them and they are fleeing.
Mehta countered: "PIL petitioners are making all sorts of false claims with impunity. How can they say Government of India is making false statement? What interests are we trying to protect here?" Bhushan replied, "Humanity's interest." "Someday the court will have to even look into it," said Mehta, "I'm saying no person living in India is denied health or education benefits." Senior counsel Colin Gonsalves said there was a bias and Rohingya children were not being admitted to schools or hospitals. Mehta countered, "I have given an assurance on affidavit."
Full report at:
http://indianexpress.com/article/india/rohingya-issues-better-left-to-executive-govt-to-sc-5103923/
--------
J&K: Missing Kupwara youth joins militant ranks
March 20, 2018
After PhD scholar Mannan Wani, another young man from north Kashmir's Kupwara town has joined militant ranks. Bilal Ahmad Shah (25), who was missing for the past three weeks, recently appeared in pictures on the social media with an AK 47 rifle. He is believed to have joined Hizbul Mujahideen.
Shah hails from Shartmaqam village and his father Shamas-u-din was a Hizbul Mujahideen militant who was killed in an encounter in the early 90s.
"We came to know about the youth joining militant ranks through social media,'' said a senior police officer. Police have started an investigation.
Shah was arrested in 2008 by the Special Operation Group of J&K Police and "tortured" in the custody.
J&K: Network recruiting youths for militancy busted
Srinagar: Police on Monday said that a network recruiting youths into militant ranks was busted in south Kashmir's Tral area and six people were arrested.
Full report at:
http://indianexpress.com/article/india/jk-missing-kupwara-youth-joins-militant-ranks-5103834/
--------
India confirms death of 39 men kidnapped by Isis in Iraq in 2014
20 Mar 2018
India says 39 of its citizens who were kidnapped by Islamic State in Iraq in 2014 have been confirmed dead after their remains were tested in Baghdad.
The Indian external affairs minister, Sushma Swaraj, told parliament that DNA tests on bodies recovered from a mass grave had shown a match with the construction workers, who disappeared in June 2014 when Mosul fell to Isis.
"With full proof I can say these 39 are dead," Swaraj said on Tuesday.
India had maintained that at least some of the hostages could still be alive – contrary to the testimony of one survivor – and had said it would not announce their deaths without concrete evidence.
Swaraj said ID cards, long hair and the kada bracelets traditionally worn by Sikh men were recovered from the grave of the workers, who mostly hailed from Punjab state.
The bodies were found near Badush, a village about 10km from the construction site where the men were snatched. Isis has been accused of executing at least 500 inmates from a prison in the same area in June 2014.
One of the workers, Harjit Masih, managed to escape the massacre, returning to India in 2015 and telling a news website that he and his colleagues were taken to Badush four days after their kidnapping and gunned down.
He claimed to have only been grazed by a bullet and to have escaped to the Kurdish-controlled city of Erbil. He also said the workers had been in phone contact with their families and the Indian embassy in Baghdad in the days before their execution.
But Swaraj has consistently disputed his account of the hostages' deaths and said on Tuesday that Masih had escaped from Iraq by posing as a Muslim from Bangladesh.
The external affairs ministry will hold a press conference about the announcement on Tuesday afternoon.
"Shattered at the heart-wrenching news ... that the 39 Indians missing in Iraq, most of whom were Punjabis, are dead," the Punjab chief minister, Amarinder Singh, tweeted. "My heart goes out to the families who had been living in hope since their reported abduction by Isis in 2014. Prayers with all of them."
Full report at:
https://www.theguardian.com/world/2018/mar/20/india-confirms-death-of-39-men-kidnapped-by-isis-in-iraq-in-2014
--------
Sri Sri Ravi Shankar objects to AIMPLB charges against him
Mar 20, 2018
LUCKNOW: Spiritual guru Sri Sri Ravi Shankar has dismissed as "baseless" the All India Muslim Personal Law Board's allegation that he was "inciting terrorists and anti-social elements."
"I was shocked and saddened to note that the board thinks I am inciting terrorists and anti-social elements. I strongly object to this baseless accusation," said the spiritual guru in a letter to AIMPLB general secretary Maulana Wali Rahmani on March 12.
"You are aware that people currently resort to crime at the drop of a hat, not just in India but all over the world. I have always strongly condemned any kind of violence irrespective of its nature or location, said the Art of Living founder in his letter.
"For 61 years of my life, I have never by word, thought or action wished ill or hurt anybody and for 41 years of my public life, I have always worked for amity, peace and spiritual uplift," he added.
Ravi Shankar wrote to Maulana Wali Rehmani following his recent statement that "Sri Sri's comment that after court's decision, the situation in the country can become like that of Syria and that the Muslims should leave their claim on Ayodhya is a threat to Muslims and the court both. This is an attack on the country's well being."
Rebutting the AIMPLB general secretary's statement, Sri Sri said, "For your information, two most eminent and respected Supreme Court judges, former Chief Justice PN Bhagwati and Justice VR Krishna Iyer have been the founding trustees of our organisation. We uphold very high moral and ethical values.
"There is no question of dishonouring or disrespecting the Supreme Court order. In fact, my whole effort is aligned with the Supreme Court's suggestion, given by erstwhile Chief Justice Jagdish Singh Khehar that 'an amicable settlement of the Ayodhya Ram Janmabhoomi-Babri Masjid dispute was a better course than insisting on judicial pronouncement'."
The Art of Living founder said, "I will also like to bring to your attention that the Ram Temple is not a property of one person or an organisation, but a matter of faith for the entire community. An emotional issue like this should be viewed from a realistic point of view."
Elaboarting upon his stand, Sri Sri said, "I have to honestly express my apprehensions regarding this issue and (I) would like to convey that I am in no way one-sided or in any way encouraging anti-social elements. Kindly understand my intention. I only want to create goodwill for both communities."
On March 7, a day after spiritual leader Sri Sri Ravi Shankar pitched for an out- of-court settlement of the Ayodhya issue (March 6), the AIMPLB had said that only a court order on the matter was acceptable to it.
The board also took exception to a recent reported statement made by the Art of Living founder on the Ayodhya issue.
Asked about a letter written to the AIMPLB by Ravi Shankar in which he had suggested that Muslims should gift one acre at Ayodhya site to Hindus who, in turn, would provide five acres for a mosque, Rehmani had said that he would comment on it only after discussion with the board members.
Full report at:
https://timesofindia.indiatimes.com/india/sri-sri-ravi-shankar-objects-to-aimplb-charges-against-him/articleshow/63379879.cms
--------
Africa
Senegal closes schools linked to Turkish cleric in exile
Mar. 18, 2018
DAKAR, Senegal (AP) — Senegal's government has closed more than a dozen schools linked to a man the Turkish government considers a terrorist, underlining Turkey's growing influence in predominantly Muslim West Africa.
About 3,000 children in Senegal have been affected as Turkey reduces the influence of Fethullah Gulen, who is labeled a terrorist by Turkey's government.
The schools closed last year were linked to Hizmet, a moderate Islamic movement developed from the teachings of Gulen, a Turkish cleric living in exile in the U.S. and accused by the Turkish government of being behind a 2016 coup attempt.
The issue has taken center stage in West Africa with the recent visit by Turkey's president. About 30 countries have been affected in Africa.
Turkish President Recep Tayyip Erdogan visited Algeria, Mauritania, Senegal and Mali recently, meeting with heads of state and bringing along Turkish business leaders to increase investments in Africa. Erdogan pointedly thanked the countries for closing the Gulen-affiliated schools.
"Most of the countries that were exploited by the (Gulen) terror organization were in Africa," Erdogan said at the beginning of the week-long trip. Schools in Gambia, Guinea, Somalia, Chad, Mauritania, Niger, Gabon, Senegal and now Mali have been transferred to his government's Maarif Foundation, he said.
In Senegal, the Maarif Foundation opened three new schools.
Gulen had a large footprint abroad: A report from Turkish intelligence says that the Gulen network had about 2,800 schools, education institutions, foundations, NGOs and hospitals in about 170 countries.
The school closures in Africa will be seen in Turkey as a positive step in the fight against Gulen, said Emre Caliskan, a researcher at Oxford University specializing in Turkey and Africa relations.
But schools are only a part of Turkey's efforts to strengthen its footprint in Africa. Turkey has increased its embassies in Africa from 12 in 2003 to 41 today.
"Turkey needs the support of African countries and other nations in the United Nations," said Caliskan.
Murat Kadir, a coordinator for the Maarif Foundation in Senegal, said only some of the students from the former Gulen schools have transferred to the three schools the foundation opened in November 2017 with about 120 students in Senegal. They plan to add two more, he said.
The remainder of the 3,000 students whose schools were closed in Senegal has had to find other institutions.
Fady Ndao, whose 16-year-old daughter studied at a Gulen school, College Sultan, before it was closed said she chose to go to a Senegalese school instead of transferring to the new Turkish government one in Dakar.
"If it is for political reasons, that is truly not right," she said of the school closures. "We are Senegalese in Senegal. We have a right to choose a good education here."
http://www.njherald.com/article/20180318/AP/303189939#
--------
Sisi: Egypt working with Sudan, Ethiopia regarding the Nile
19 March 2018
Egyptian President Abdel-Fattah al-Sisi told a joint press conference in Cairo, on Monday, with his Sudanese counterpart Omar al-Bashir, that Egypt intends to work with Sudan as well as with Ethiopia for the sake of the collective benefit of the Nile River.
Al-Sisi announced the efforts to enhance cooperation between Egypt and Sudan in various fields and activate the joint efforts between the two countries as represented in a number of bodies and committees.
Bashir stressed Sudan's will to settle any differences between Cairo and Khartoum.
He said that Sudan is keen on the security of Egypt, referring to the historical relations between the two countries and people.
"We reiterate the eternal brotherly relations and common links that unite the two peoples of the Nile valley," Sisi said in a televised news conference following a meeting with Bashir.
In turn, Bashir said as "Egypt is now going through an election period", his delegation "timed our visit now to reiterate our support for Egypt's stability and to support President Sisi."
The Sudanese president arrived in Egypt earlier on Monday to discuss the means to strengthen relations and issues of common concern. Al-Bashir was received at Cairo airport by the Egyptian President al-Sisi.
"The Sudanese president is paying a visit to Egypt within the framework of continuing consultations between the two presidents and discussing ways to strengthen bilateral relations in all fields," Egyptian Presidential Spokesman Bassam Radhi said Sunday.
This comes a few days after the visit of Major General Abbas Kamil, the acting Egyptian intelligence chief to Sudan, and his meeting with Sudanese Foreign Minister Ibrahim Ghandour and Sudanese officials to discuss all outstanding issues and resolve any differences as well as pave the way to return the relations between the two countries to the right track.
The two leaders met recently on the sidelines of the African summit in the Ethiopian capital, Addis Ababa, and asserted Egyptian-Sudanese relations and the historical ties between the two countries.
The meeting was followed by a joint statement on efforts to achieve and promote common interests, take into account the concerns of both countries, respect internal affairs and maintain their national security.
The two presidents mentioned future cooperative steps over Nile water discussions, without providing much detail.
"We agreed to start preparing to hold the joint committee (meeting), to be chaired by the two countries' presidents, during this year in Khartoum," Sisi said.
Bashir responded that the two countries "don't have any choice but to cooperate, because truthfully this is the interest and confirmed demand of our peoples."
Full report at:
https://english.alarabiya.net/en/News/middle-east/2018/03/19/Sisi-We-are-working-with-Sudan-and-Ethiopia-regarding-the-Nile.html
--------
Suicide bomber blows self up in Tunisia's Ben Gardane
19 March 2018
A suicide bomber blew himself up in southern Tunisia on Monday, according to the country's Interior Ministry.
In a statement, the ministry said that security forces had tracked down two terrorist suspects in the southeastern city of Ben Gardane.
After one of them blew himself up, security forces exchanged fire with the second suspect, the ministry said without providing any death or injury tolls.
In March of 2016, Ben Gardane was the scene of fierce confrontations between Tunisian security forces and the ISIL terrorist group, which ended in a crushing defeat for the latter.
Full report at:
http://www.worldbulletin.net/africa/200034/suicide-bomber-blows-self-up-in-tunisias-ben-gardane
--------
Nigeria: Islamic Group Pledges to Support Govt's Anti-Corruption Fight
20 MARCH 2018
By Saxone Akhaine and Abdulganiu Alabi
An Islamic group, Just Foundation (JF), has pledged to use religion to fight corruption in Nigeria.The Executive Director of the Foundation, Imam Fuad Adeyemi, disclosed this in Kaduna, during an advocacy visit to Islamic leaders in the state.
He said the foundation would solicit people of proven integrity in other Islamic organisations to join in the anti-corruption project.
Adeyemi disclosed that the foundation had secured the support of an international donor agency, and also obtained grants from MacArthur Foundation to commence the anti-corruption fight.
The group cautioned that public officials in the public and private sectors would no longer have a hiding place in the society.Adeyemi disclosed that it would train people in all aspects of governance to monitor budgets and project locations, especially those with deadlines. He said: "After the sensitising, the clerics would be empowered to speak on the effects of corruption, and disseminate the information to the public.He said: "The project is a three-year pilot, which is expected to cover six states of Kogi, Niger, Lagos, Osun, Kaduna and Abuja."He explained that the clerics would fight corruption from the grassroots, as government continues to fight from the top.
According to him: "Rather than constantly preaching prosperity, we will rather encourage and support the Imams, preachers and their followers to speak against those who use their positions and opportunities to cheat and loot."
"Looting the treasury to their own selfish and ungodly advantages potentially create despondency, triggers a sense of competition and desperation to get rich at all costs."He alleged that corruption and the mad acquisition of wealth have transformed to digital stealing and scientific corruption.
He expressed concern that some Nigerians have continually devised new approaches, despite government's efforts.He explained: "Just Foundation, as an arm of Al-Habibiyyah Islamic Society, has embarked on an anti- corruption mission to free the society of the canker warm, using the religious leaders as a tool.
Responding, the President, Muslim Council of Nigeria,Olopade Sulaimon, said recruiting scholars and clerics would go a long way in reaching out to Nigerians who have the power to decide who govern them.He argued: "The reason corruption has found its place in the system, is because the society condones it, many corrupt leaders are celebrated in Nigeria. There is the need to compliment government's efforts in the fight."
Full report at:
http://allafrica.com/stories/201803200067.html
--------
Two Mombasa men arrested headed to Somalia to join Al-Shabaab
March 19th 2018
Police are holding two men believed to be Al-Shabaab recruiters who were trying to sneak out of the country to join Al-Shabaab in Somalia. The two Kenyans Suleiman Hemed Mwandilo and Salama Salim Mohamed were apprehended in Takaba, Mandera on Wednesday March 14 by security officers while seeking to travel to Somalia.
Police say the two individuals are key Al-Shabaab facilitators and recruiters who were attempting to cross over to Somalia and continue with their recruitment and facilitation of terror activities. They include 37-year-old Salama Salim Mohamed who is a Digo fisherman from Maweni in Mombasa while Suleiman Hemedi Mwandilo, 39, is a resident of Bagani within Likoni, Mombasa. Security officers intercepted the two at a roadblock in Takaba as they were planning to cross over to Somalia through the El-Wak - Boroache route. The two who were presented in court and initially claimed they were heading to Elwak to market fish products and police were allowed to hold her for 30 days to complete their investigations. Avoid fake news! Subscribe to the Standard SMS service and receive factual, verified breaking news as it happens. Text the word 'NEWS' to 22840 The two are said to have been active members in the Al-Shabaab facilitation and recruitment network in Mombasa. According to police, the two men were also engaged in drug peddling and other petty crimes in Likoni, Mombasa and were being monitored by security agencies for some time before their arrests. A police report also shows that the two were part of Ramadhan Hamisi Kufungwa's network. Ramadhan is a Kenyan fighter and a middle level commander within Al-Shabaab ranks and file in Somalia.
He is also a key recruiter and facilitator who has recruited and facilitated youths mostly from Majengo and South Coast to join Al-Shabab in Somalia. Ramadhan was born in Ukunda, Kibundani area and schooled in Bongwe Primary School after which he proceeded for religious studies at Ijtihaad Madrassa and Maganyakulo Madrasatul Tawheed Islaamiya. In 2011 he is believed to have travelled to Somalia to join Al-Shabaab but later on returned to become a fanatical adherent and follower of the late Aboud Rogo and Abubakar Shariff aka Makaburi.
Full report at:
https://www.standardmedia.co.ke/article/2001273757/two-mombasa-men-arrested-headed-to-somalia-to-join-al-shabaab
--------
Pakistan
Musharraf's diplomatic passport renewed in January: Ahsan Iqbal
Baqir Sajjad Syed
March 20, 2018
ISLAMABAD: Former president retired Gen Pervez Musharraf was not only issued a new passport two months before the expiry of his travel document but it was again a diplomatic passport that he was entitled to being a former head of state, Interior Minister Ahsan Iqbal confirmed to Dawn on Monday.
The former military ruler has been declared absconder by courts in several cases including high treason case, judges' detention case and Benazir Bhutto assassination case. However, it is not clear if specific permission was given for a diplomatic passport and who gave it.
The interior minister claimed that the diplomatic passport of Gen Musharraf was renewed out of fear that he might use it as a pretext for not returning home to face the treason case. "He needs passport to travel back to Pakistan. He would have contended that without a passport he cannot travel and would have blamed the government for blocking his return," Mr Iqbal said in response to a query about the renewal of the former military ruler's passport.
His passport was to expire on March 16, 2018, but he sought an early renewal as international travel, in many cases, is not possible with a passport having less than six-month validity. Initially, the government was reluctant to renew his passport and withheld the application for nearly two months but it was finally renewed from Dubai on Jan 5 for the next five years.
A source in Gen Musharraf's party — the All Pakistan Muslim League — said that Foreign Office (FO) was holding up the application but when the former president's aide-de-camp Maj Shehryar "contacted someone", the process went ahead. The source said the authorisation for issuance of diplomatic passports is given by FO as per Passport and Visa Manual 2006.
An FO source revealed that no record of the correspondence pertaining to Gen Musharraf's passport renewal could be traced in FO's consular section but it was said the matter was referred to the interior ministry which had then allowed the renewal.
Gen Musharraf's case was referred to FO by the Pakistani consulate in Dubai seeking approval in view of the high-profile cases against him. Technically, it was not required because former presidents enjoy lifetime entitlement to a diplomatic passport. Under Paragraph 45-E of the Passport and Visa Manual 2006, diplomatic passports might be renewed or altered, if necessary, by Pakistani passport-issuing authorities abroad, by intimating the Ministry of Foreign Affairs.
FO spokesman unaware
FO Spokesman Dr Muhammad Faisal said he was unaware about the issue. "I don't know. I'll check," he replied to a query.
The special court hearing the treason case against the former president had last week directed the government to suspend his passport and computerised national identity card (CNIC) if he failed to return to Pakistan to face the charges against him. Directives were also issued for getting him repatriated with the help of Interpol.
The interior minister claimed he had given instructions to "all three agencies" to seize his passport and CNIC and move for the issuance of red warrants if Gen Musharraf failed to return by March 16.
Musharraf's return
As the former military dictator expressed willingness to come back home to avoid possible suspension of his CNIC and diplomatic passport, the interior ministry sought detail of his possible return.
The special court seized with the high treason case on March 8 directed the interior ministry to suspend his CNIC and passport besides asking the federal government to extradite the former military ruler with the help of Interpol.
The interior ministry, however, gave another chance to Gen Musharraf offering him to surrender within a week. The APML, however, claimed that he could return in six to eight weeks.
Since the special court, headed by Peshawar High Court (PHC) Chief Justice Yahya Afridi, is set to resume proceedings on March 21, the interior ministry on March 17 issued a letter to the counsel for Gen Musharraf, Akhtar Shah, asking him that "the travel itinerary of General (retd) Pervez Musharraf, as well as [details of] his stay in Pakistan may be sent to this ministry at the earliest so that necessary foolproof security arrangements can be made for him will in time."
Advocate Shah had earlier filed an application before the special court seeking army's security for the ex-army chief. Commenting on the application, Advocate Mohammad Akram Sheikh, who heads the prosecution side, apprised the PHC that the government had assured him of foolproof security while turning down the request for provision of security by the defence ministry.
The counsel for Musharraf, however, insisted on army's security for the ex-military ruler in response to the interior ministry's letter.
Advocate Shah told Dawn that he had responded to the interior ministry and asked them to explain in detail the mechanism and standard of the security for Gen Musharraf. He said the former army chief could not rely upon the security arrangement by the interior ministry as everyone had witnessed that the civil forces working under the ministry had miserably failed to disperse a handful of protesters from Faizabad Interchange in November 2017.
The interior ministry had filed a complaint in December 2013 against Gen Musharraf under Article 6 of the Constitution for imposing a state of emergency on Nov 3, 2007, and suspending the Constitution. A special court in March 2014 indicted Gen Musharraf for high treason.
The prosecution, in this case, laid the entire evidence by September 2014. The former military ruler, however, lingered on the proceedings by filing petitions in the Islamabad High Court and the Supreme Court. Finally, he left the country in March 2016 as the interior ministry removed his name from the Exit Control List (ECL) after the federal government lost its appeal against an order of Sindh High Court.
https://www.dawn.com/news/1396334
--------
At least 4 killed in blast near Hekmatyar's rally
March 20, 2018
JALALABAD: A bomb on a motorcycle exploded near a political rally in eastern Afghanistan on Monday, killing at least four people and wounding 10 others, officials said.
The blast happened as supporters of Gulbuddin Hekmatyar, a warlord and former prime minister, were leaving the rally at a football stadium in Jalalabad, the capital of Nangarhar province.
Hekmatyar, who returned to public life last year after signing a controversial peace deal with the Afghan government, was at the gathering but it was not clear if he or his supporters were the targets of the attack.
Provincial governor's spokesman Attaullah Khogyani said four people had been confirmed dead and 10 others including two children wounded.
There was no immediate claim of responsibility for the blast. Areas of restive Nangarhar, which borders Pakistan, are a stronghold for the militant Islamic State group but Taliban are also active there.
It was the latest deadly violence to strike war-torn Afghanistan as militant groups step up attacks and US and Afghan forces intensify air strikes and ground offensives.
Full report at:
https://www.dawn.com/news/1396319/at-least-4-killed-in-blast-near-hekmatyars-rally
--------
Anti-Terrorism Court orders arrest of TLP chief Khadim Rizvi, others in Faizabad sit-in case
Haseeb Bhatti | Mohammad Imran
March 19, 2018
An Anti-Terrorism Court (ATC) in Islamabad on Monday ordered the arrests of Tehreek-i-Labbaik Pakistan's (TLP) Khadim Hussain Rizvi, Pir Afzal Qadri and other absconding suspects in a case pertaining to the Faizabad sit-in held last year.
The ATC ordered their arrests after they failed to appear before the court despite being issued multiple summons.
The ATC had previously issued non-bailable arrest warrants for Rizvi and other clerics after they did not respond to various summons.
The police were separately ordered to submit their final challan in the next hearing of the case, which has been scheduled for April 4.
The Faizabad sit-in, organised by politico-religious parties in November 2017, had disrupted life in the twin cities for at least 20 days.
ISI report rejected
Earlier today, the Supreme Court (SC) had rejected Inter-Services Intelligence's (ISI) report on the Faizabad sit-in, calling it "unsatisfactory".
"This report is deeply unsettling: it has been prepared by one of the premier agencies of the country, yet a journalist could have given more details [about the protests] than this report," Justice Qazi Faez Isa said after reviewing the document.
Justice Isa is part of a two-member SC bench, along with Justice Musheer Alam, which has been hearing a suo motu case regarding the use of abusive language during the sit-in and the difficulties caused to residents of the capital by the roadblocks placed by the agitators.
In today's hearing, Justice Isa said that the ISI — just like the judiciary — was "answerable to taxpayers".
The court asked the deputy attorney general, who submitted the report, if he was satisfied with it, to which the latter replied in the affirmative.
The bench then pointed out that the report did not even specify the source of Rizvi's income.
When Justice Isa inquired further about Rizvi's occupation, he was told that the TLP chief was a "religious lecturer".
The explanation was offered by Col Falak Naz, who was representing the Defence Ministry in the hearing.
"Is 'religious lecturer' a profession?" Justice Isa asked, before turning to Rizvi's tax status and bank account.
Col Naz responded that Rizvi lived on donations.
"Then mention that he is being financially supported by others!" the judge exclaimed.
The court also pointed out that the report did not answer the specific questions previously raised by the court before ordering the ISI to submit a new report within two weeks.
The court also ordered the attorney general to be present for the next hearing.
Islamabad protests
Daily life in Islamabad was disrupted for 20 days in November 2017 by protesters belonging to religious parties, including TLY, the Tehreek-i-Khatm-i-Nabuwwat, and the Sunni Tehreek Pakistan (ST).
The agitators believed that during the passage of the Elections Act 2017, the Khatm-i-Nabuwwat oath was deliberately modified as part of some conspiracy. The amendment to the oath had been explained as a 'clerical error' by the government and subsequently rectified through an Act of Parliament.
Nonetheless, the protesters had occupied the Faizabad Interchange, which connects Rawalpindi and Islamabad through the Islamabad Expressway and Murree Road — both of which are the busiest roads in the twin cities.
The government had initiated several rounds of negotiations with the protesters, but failed each time.
Explore: How the Islamabad protests happened
The sit-in lasted nearly three weeks and culminated after an operation to end the protest by the government failed, following which the army brokered an 'agreement' between the state and the protesters, the terms of which included the resignation of former law minister Zahid Hamid.
Full report at:
https://www.dawn.com/news/1396251/anti-terrorism-court-orders-arrest-of-tlp-chief-khadim-rizvi-others-in-faizabad-sit-in-case
--------
Special envoy suggested for ensuring friendly ties with Afghanistan
Ikram Junaidi
March 20, 2018
ISLAMABAD: Former defence secretary retired Lt Gen Asif Yasin Malik has proposed a high-powered special envoy, working directly under the prime minister, to interact with the Afghan government for removing misconceptions and frictions and ensuring friendly relations between two countries.
"However, it should also be ensured that Pakistani soil would not be used against Afghanistan. Both countries should make joint strategies to address the issues. They should understand that the United States never cared about the local people while it was in Vietnam, Iraq or Libya. How will it care about the people of Afghanistan?" he said while speaking an international conference titled 'Afghanistan Crisis: What Lies Ahead?', organised by think tank Pakistan House at a hotel here on Monday.
Mr Malik said the US had been putting all the blame on the Haqqani network and alleging that it was operating in Pakistan.
"However, the fact is that almost 60 per cent area of Afghanistan is beyond the control of the Afghan government. On the other hand, Afghanistan doesn't have a foreign policy and currently all the decisions are being taken under the influence of the US and India. Corruption has been continuously increasing in the public sector and the country is leading to civil war. Dialogue should be started among all ethnic entities," he suggested.
He said Pakistan was also facing problems because of poor priorities in its foreign policy. Fata reforms had also been stalled and projects under the CPEC were being delayed because of hindrances, he said.
"The US should stop interfering in Afghanistan and the decision to involve India is also creating problems. During the past one decade the US has spent $1 trillion in Afghanistan; had it invested one-fourth of it on development, there would have been no problem in that country," Mr Malik said.
He recommended that border control should be strengthened in Pakistan and Afghanistan and both countries should take extra steps for bilateral trade.
Director General of the Centre for Strategic and Regional Studies, Kabul, Dr Abdul Baqi Amin said the people and government of Pakistan had helped Afghanistan with the most difficult conditions during the battle of the Soviet Union, with more than five million Afghan refugees in their homeland, and about two million refugees were still living in Pakistan.
Full report at:
https://www.dawn.com/news/1396360/special-envoy-suggested-for-ensuring-friendly-ties-with-afghanistan
--------
Army denies meeting between Shehbaz, Bajwa
March 20, 2018
Pakistan Army's media wing on Monday criticised a media outlet for allegedly reporting a news about a "meeting of the army chief with the Punjab chief minister", calling such form of reporting "highly irresponsible".
In a tweet, Inter-Services Public Relations (ISPR) Major General Asif Ghafoor said: "News about the meeting of the army chief [General Qamar Bajwa] with CM Punjab [Shehbaz Sharif] twice during last 72 hours being reported by a media house is baseless and highly irresponsible. No such meeting has taken place."
https://www.pakistantoday.com.pk/2018/03/20/army-denies-meeting-of-shehbaz-bajwa/
--------
Hustle and bustle returns to tribal areas, but US doubts commitment to war on terror
MARCH 20, 2018
MIRAN SHAH: Clean, safe and secure. These are the supposed hallmarks of Pakistani tribal border regions touted by Islamabad, an image paid for with blood and treasure in a two-year campaign to clear North Waziristan's provincial capital from groups such as the Pakistani Taliban and notorious Haqqani network.
But the new schools, homes and markets with their glistening coats of paint and freshly poured concrete mask a seeming ghost town.
Few residents of the largest city in North Waziristan rarely venture into the heart of the city center – the site of the some of the most intense clashes with radical Islamic militant groups that refuse to go away.
The fighting had become so intense that Pakistan's military, at the onset of the operation, forcefully evacuated thousands of civilians into "temporary displaced persons" camps elsewhere within the border region between Afghanistan and Pakistan – known as the Federally Administered Tribal Areas.
From high atop Sarbanki Fort, one of several Pakistani army outposts manned by units from the "Golden Arrows" 7th Division, Brig. Gen. Jawad proudly pointed out for a small group of visiting reporters the burgeoning skyline of markets, schools, homes and businesses that cover a wide swath of Miran Shah's new city center.
When asked what happened to the homes and businesses that stood in their place before the government offensive into North Waziristan, Gen. Jawad replied dispassionately, "They were no more. Wiped away clean."
In the two years since the official end of the North Waziristan operation, Islamabad claims life has slowly returned to Miran Shah and the surrounding provinces, despite continuing complaints from the Trump administration and the Afghan government that Pakistan is not going enough to root outextremist groups that use the border regions as a sanctuary, training base and launching pad for attacks inside Afghanistan.
Maj. Gen. Azhar Ali Shah, head of all 7th Division forces in North Waziristan, said in a briefing that he has "taken a back seat" to Pakistani military and civilian-led redevelopment operations in Miran Shah, one of the largest cities in the Federally Administered Tribal Areas.
"In this whole area, I do not have any enemies," he said.
One fresh sign of progress: Pakistan on March 10 announced the reopening of a key Ghulam Khan border post between the North Waziristan tribal region and Afghanistan, allowing for trade convoys to pass. The crossing was closed for three years after government forces launched a major operation against the Pakistani Taliban and foreign militants in the area.
At a low point in Islamabad-Washington relations, President Trump singled out Pakistan as a problem last summer in his revised battle plan for Afghanistan.
Gen. Joseph L. Votel, head of Central Command, which oversees the South Asian theater, and Gen. John Nicholson, who commands the 14,000-plus U.S. troops stationed in Afghanistan, recently called out Pakistan from what the Pentagon said was an insufficient effort in dealing with terrorist groups on its soil.
"Having sanctuary in Pakistan or having support from other actors in the region certainly is an aspect of the Taliban's success here," Gen. Votel told a March 14 Senate Armed Services Committee hearing in Washington. "I cannot tell you that we have seen decisive changes in the areas in which we're working, but I remain very well-engaged with my [Pakistani] partner to ensure that we are moving forward on this."
Radical links
Despite Pakistan's public pronouncements, many U.S. officials and private analysts contend its powerful intelligence services maintain long-standing links to radical Islamist groups as a lever to pressure Kabul and as an asset in Islamabad's rivalry with its greatest strategic challenge: India.
But Gen. Azhar said his country's contributions and sufferings from the global war on terror, some with roots in the U.S.-backed war against the Soviet Union in Afghanistan in the 1980s, have been consistently overlooked by Washington and other foreign critics. Over 800 Pakistani soldiers died and 3,500 were wounded in the operation to flush out extremist groups from their redoubts in North Waziristan, he said.
In a thinly veiled shot at the American-led efforts to battle the Afghan Taliban, Gen. Azhar said his forces were able in two years to subdue the de facto center of the Haqqani network, a brutal Afghan militant group headed by warlord Sirajuddin Haqqani, while the U.S.-backed Afghan forces could not do the same across the border. Pakistan accomplished this without alienating the local population, which is critical to winning a guerrilla struggle.
"We did not fight the population; we [only] fought the terrorists" he said.
But that success has come at a cost that is evident from a quick survey of the landscape.
Bombed-out plots of land that once housed local businesses lay in tatters, as do mud-brick compounds that housed generations of Waziri families. Trash and debris line the newly paved roads that cross the former Haqqani stronghold.
Small black placards baking in the sun, erected by 7th Division troops, list the family names of those who owned the shops and homes, waiting for them to reclaim their property.
Those who have stuck it out agree with Gen. Azhar's contention that the most dangerous place on earth has turned a corner.
Clad in a leather jacket over a traditional shalwar kameez, teacher Arif Ula recalled the days when his high school – located yards from a Pakistani combat outpost in the city center – was used as a mortar pit by Haqqani fighters during some of the most intense battles of the North Waziristan offensive.
"It was very bad, very dangerous," he said in an interview, recalling the dilapidated school where he conducted classes during lulls in the fighting.
Mr. Arif, who has a Ph.D. in early childhood education and earned his master's degree at California State University-Chico, recalled the day Pakistani forces moved his family from Miran Shah to a camp 80 miles north in the Swat Valley – a former Pakistani Taliban stronghold cleared months before the North Waziristan operation reached full swing.
"We were sad. We did not want to go" despite the violence, Mr. Arif said. "It was very far, and [Miran Shah] is our home." But despite those hardships, staying in Miran Shah under the Haqqanis and Pakistani Taliban was not an option, he said.
"Things were very bad with them," he said. "It was terrible. We could not live like that anymore."
Teaching elementary and high school students at the new school built by the 7th Division on the site that was once a Haqqani mortar and artillery pit, Mr. Arif declares, "It is good to be home."
Questionable victory
In the war that straddles the Pakistan-Afghanistan border, from Swat Valley in the northwestern Pakistan to Balochistan province bordering the Taliban heartland of Helmand and Kandahar provinces in Afghanistan, defining success has often been as complicated as determining which warring factions were fighting whom.
To Islamabad, the costly campaign carried out in North Waziristan, Balochistan and the Swat Valley is proof positive that Pakistan does not differentiate between good and bad groups.
"We do [counterterrorism] across the board," said Maj. Gen. Nadeem Ahmed Anjum, inspector general for Pakistan's Frontier Corps for Balochistan province, citing the more than 2,500 counterterrorism operations his units have executed in the past year.
"We do not discriminate between Haqqani [Network], Tehrik-e-Taliban – the Pakistani Taliban faction – and Lashkar-e-Taiba," the terrorist group responsible for the 2008 attacks in Mumbai, he said during an interview at his headquarters in Quetta.
But skeptics say military operations have targeted select terrorist groups and jihadi groups that do not happen to be Pakistani proxies.
It is simply not true that Pakistan is going after all violent jihadi groups in South Asia, said David Sedney, a senior analyst at the Center for Strategic and International Studies.
Even as Pakistani officials in North Waziristan and Balochistan were touting their successes this month, "there were multiple, credible reports Taliban battlefield commanders were in Pakistan for the last two months" making preparations for the upcoming fighting season, said Mr. Sedney, who was deputy assistant secretary of defense for Afghanistan, Pakistan and Central Asia under President Obama from 2009 to 2013.
"Pakistan has to put on a good show" given the international pressures it faces, said Bill Roggio, senior fellow of the Foundation for Defense of Democracies.
On the North Waziristan operation, "if the [terrorist groups] were anti-state, they went after you," he said.
The border operation "gives Pakistan enough cover to play the victim card" to gain international support for battling extremists, Mr. Roggio said. But at the end of the day, the Pakistani effort consisted of "Potemkin raids and Potemkin actions" that brought little change in the status quo, he said.
Mr. Sedney said it appeared the 7th Division was able to flush Haqqani network fighters from the border areas in North Waziristan, but Gen. Azhar's claims of the group's demise were flat wrong.
"Is there a Haqqani headquarters in Miran Shah? No," Mr. Sedney said. "But it is clear the Haqqanis continue to operate out of the Kurram Agency and maintain a significant presence in the country."
The Kurram Agency is a largely Pashtun tribal area on the northern border that is the closest part of the country to the Afghan capital of Kabul.
Several American drone strikes have reportedly targeted top Haqqani leaders in Kurram Agency.
Full report at:
https://dailytimes.com.pk/217177/hustle-and-bustle-returns-to-tribal-areas-but-us-doubts-commitment-to-war-on-terror/
--------
North America
Trump's pick to lead UN agency says has trust of Muslim states
19 Mar 2018
GENEVA: Donald Trump's nominee to lead the UN migration agency said Monday (Mar 19) that he has convinced member states that he holds no anti-Muslim views, after a series of reports accused him of prejudice against Islam.
Ken Isaacs, who has a long record of humanitarian work with the Christian charity Samaritan's Purse and within George W. Bush's presidential administration, has been nominated by the US State Department to head the International Organization for Migration (IOM).
Isaacs is in Geneva trying to rally support for his candidacy ahead of a June vote in which IOM's 169-member states will choose their next director-general, a post traditionally held by an American.
But his candidacy has been complicated by reports detailing incidents where Isaacs apparently tweeted or re-tweeted material offensive to Muslims.
Speaking to journalists on Monday, Isaacs said he has met with envoys from dozens of IOM member-states, including majority Muslim nations, and convinced them he was not a bigot.
"Yes, they feel satisfied," he said, adding that "after talking to me for a minute or two and hearing who I am, what I talk about, what my heart is," questions about prejudice vanish, he said.
"I have never shown discrimination against anybody for anything, period," he said. "If (people) need help, I have always helped them."
Questions about Isaacs' views on Islam emerged shortly after his February 1 nomination in a Washington Post article that reported tweets between 2015 and 2017 in which Isaacs claimed the Koran "instructs" Muslims to commit acts of violence.
"RETWEETS ARE NOT ENDORSEMENTS"
He also reportedly suggested Syrian Christian refugees should be given priority over Muslim ones and challenged claims that Islam was a peaceful religion, leading the paper to call his candidacy an "embarrassment" in an editorial.
Isaacs' Twitter account has since been made private.
Last week, CNN reported on a set of retweets, including one in December where Isaacs circulated a post from Robert Spencer, the director of Jihad Watch, that claimed "peaceful Muslims" and "Jihadis" were indistinguishable.
CNN reported four other instances where Isaacs retweeted anti-Islam sentiments.
"First, I would point out the bio at the top that says retweets are not endorsements," Isaacs said in response to a question about the CNN report. "I have retweeted many things to stimulate conversation."
He added that accusing him of discriminating against Muslims stands in defiance of his four-decade career, highlighting his charitable work in Darfur, Jordan, Iraq, Bangladesh and elsewhere helping Muslims in need.
Isaacs currently faces two rival nominees from Costa Rica and Portugal in the race to become director-general of the IOM, but insisted he was "probably the best qualified" candidate and the only one "with any muddy boot experience" on the ground.
https://www.channelnewsasia.com/news/world/trump-s-pick-to-lead-un-agency-says-has-trust-of-muslim-states-10057480
--------
US Senate to vote on ending Washington's role in Saudi war on Yemen
Mar 20, 2018
The US Senate has teed up a vote on ending the US military involvement in the Saudi war on Yemen.
Spearheaded by Senators Bernie Sanders, Mike Lee and Chris Murphy, the resolution would not include the US alleged targeting of al-Qaeda elements in the impoverished country.
Once the Senate reconvenes on Tuesday, the lawmakers could have up to four hours of debate; therefore, a vote is expected at approximately 4:15 pm.
If passed, the measure would require all US forces to leave the war-ravaged country within 30 days.
"You know it's a new precedent. ... I think a lot of members on our side are trying to figure out what a yes vote means and what a no vote means," Texas Republican Senator John Cornyn told The Hill.
Lawmakers from both sides of the aisle have already voiced opposition for the US support for Riyadh, implicated in war crimes in the neighboring country, but it is still unclear whether the effort could garner enough votes.
Saudi Arabia has been incessantly pounding Yemen since March 2015 in an attempt to crush the popular Houthi Ansarullah movement and reinstate former president, Abd Rabbuh Mansur Hadi, who is a staunch ally of the Riyadh regime.
At least 13,600 people have been killed since the onset of Saudi Arabia's military campaign against Yemen. Much of the Arabian Peninsula country's infrastructure, including hospitals, schools and factories, has been reduced to rubble due to the war.
Full report at:
http://www.presstv.com/Detail/2018/03/20/556025/Senate-to-vote-on-ending-US-war-on-Yemen
--------
Europe
UN envoy De Mistura: Syria partition 'catastrophe', fears return of ISIS
20 March 2018
Syria is heading for a catastrophic partition and could see the return of ISIS if there is no inclusive peace settlement, UN Syria envoy Staffan de Mistura said on Monday.
"The truth is that a soft, long-term partition of Syria, which (is) the one that we are witnessing at the moment, in different areas of control, will be a catastrophe, not only for Syria but for the whole region," he told an audience at Geneva's Graduate Institute.
"Without an inclusive political process, including those who are excluded, particularly the majority, the Sunnis, ISIS will come back," he said. De Mistura, holding up a map of Syria with different colors for territory held by different parties, said: "This is fragmentation, this is in fact a country which has areas under the influence of other countries."
"This is not sustainable, he added. "I believe at end of day Syria has to remain unified." He said he believed neither the European Union nor the World Bank would help fund the estimated $352 billion cost of rebuilding Syria unless there was a political process with a new constitution, elections under UN supervision and power-sharing.
Pyrrhic victory
Without that any military victory would be a pyrrhic victory, he said. No country actually wanted to see Syria break up, and Russia and the United States had a common interest in seeing Islamic State defeated and were talking to each other, which was positive, de Mistura said.
An agreement between those two countries to sit down and talk would have an immediate impact across the region. But he saw more potential for creative diplomacy between the United States and Russia, he said.
But he saw no chance of "diplomacy backed by force", a formula used to end the war in former Yugoslavia in the 1990s.
"I think there is no willingness by any country to get involved militarily inside Syria in a pro-active way, except Russia which is there to defend the government, and others there for other reasons but not necessarily to find a solution."
https://english.alarabiya.net/en/News/middle-east/2018/03/20/UN-envoy-De-Mistura-Syria-partition-catastrophe-fears-return-of-ISIS.html
--------
Thousands protest in London against Islamophobia
March 19, 2018
London: Braving the extremely cold weather, thousands of the people took to roads on Sunday protesting against Islamophobia. They were protesting the recent 'punish the Muslims' campaign. The protest which began from Oxford was attended by people of all faiths and races. The protestors were carrying placards with anti-Islamophobia slogans.
It must be noted that the Islamophobe groups across Europe have gained momentum in the recent months, resulting in increased attacks on Muslims.
According to a Christian student, Katharine, who participated in the protest, the protest aimed at sending a clear message to the criminal groups that we wouldn't accept religious bigotry in our country.
https://www.siasat.com/news/thousands-protest-london-against-islamophobia-1331595/
--------
A third of UK Muslims report abuse or crime while studying
19 Mar 2018
A third of Muslim students have experienced abuse or crime at their place of study in the UK, with most victims believing it was motivated by Islamophobia, a National Union of Students (NUS) survey has found.
The Muslim Students Survey was launched in 2017 to try to gain a better understanding of the experiences of Muslim students in further and higher education and received 578 responses among UK-based students.
One in three respondents said they had experienced some type of abuse or crime at their place of study, with 79% of those believing it was motivated by prejudice relating to their Muslim identity, the NUS said. Prejudiced statements or gestures before, during or after the incidents were cited.
A third of the respondents said they were "fairly or very worried" about experiencing verbal abuse, physical attacks, vandalism, property damage or theft at their place of study, relating to their religion or belief.
Female respondents who wore a religious Islamic garment – such as a hijab, niqab or jilbab – were more likely to be very worried.
Hareem Ghani, the NUS women's officer, said: "We are deeply concerned about Islamophobia and anti-Muslim sentiment within the education sector and society as a whole. Action must be taken immediately by institutions and students' unions to safeguard Muslim students – especially women – against racism in or around campus."
Racism and prejudice in universities was highlighted earlier this month when it emerged two men were arrested after a black university student complained that a group of people had subjected racially abused her in her hall of residence.
Officers began an investigation after Rufaro Chisango, a student at Nottingham Trent University, posted a video in which a group of men can be heard chanting "we hate the blacks" and "sign the Brexit papers".
The survey found that Prevent, which forms part of the government's counter-terrorism strategy and requires educational institutions to identify and report students suspected of being vulnerable to radicalisation, significantly affected Muslim students.
One-third of respondents felt negatively affected by Prevent. Some had been referred to authorities under the scheme, had organised events that were cancelled or significantly changed because of it, or had disengaged from political debate specifically due to concerns around being reported under its terms.
As a result, 43% of those who reported being affected by Prevent said they felt unable to express their views or be themselves.
The survey found only 38% of respondents agreed that their students' union understood their needs as a Muslim student, while 39% rarely or never felt able to participate in their union's sports activities. The drinking culture, a general lack of inclusiveness and mixed-sex sports were stated as barriers to sporting involvement.
Ninety per cent of respondents said they had a prayer space or mosque on or near campus, while 68% had access to halal food on or near campus. Just over a quarter (28%) were clear they had a Muslim chaplain or cleric at their institution, while 24% were sure that theirs had an imam.
The shadow education secretary, Angela Rayner, said universities had a duty of care to students, none of whom should feel unsafe because of their religion, ethnicity or gender.
"Our universities are places of learning and debate, and should also act as a safe space for all students from fear of persecution, harm and bigotry," she said.
Full report at:
https://www.theguardian.com/uk-news/2018/mar/19/a-third-of-uk-muslims-report-abuse-or-while-studying
--------
Europe's new security threat: Hundreds of jihadists due to be released from prison
Mar 19, 2018
Already wrestling with a constantly-evolving terror threat, European intelligence agencies spy a new problem on the horizon: hundreds of jihadists due to be released from prison.
Battling to stop further attacks like those seen everywhere from London to Paris, Brussels to Barcelona, freshly-released prisoners will add to agencies' surveillance burden.
Although many may go on to lead peaceful lives after prison, some may not -- and officials admit they have so far given insufficient attention to working out the scale of the threat.
They are already working to keep track of jihadists returning from the battlefield in Iraq and Syria, and homegrown radicals who investigators fear could launch an attack at any moment.
In France alone, some 500 jihadists handed heavy jail sentences at the beginning of the 2000s are set to be released before 2020 after serving their time, an anti-terror official told AFP.
"They represent a potential threat, a worrying threat that we are taking very seriously," said the official, speaking on condition of anonymity.
Some 1,500 other French prisoners are suspected to have been radicalised behind bars, not least thanks to contact with these hardened extremists.
One of the most infamous examples of authorities losing track of a released jihadist is that of Cherif Kouachi, who along with his brother massacred staff at Charlie Hebdo magazine in Paris in 2015.
Imprisoned from 2005-2006 awaiting trial for his role in a recruitment network that sent jihadists to Iraq, he was convicted in 2008 but walked free as he had already served his time.
Kouchai was placed under surveillance and his phone was tapped for several years, but he and his brother Said threw investigators off the scent by using their friends' phones.
Before they attacked Charlie Hebdo in 2015, killing 12 in a hail of Kalashnikov bullets, they had slipped off the radar simply by moving house.
Prison, a 'school for jihad'
Anti-terror officials agree that the same mistakes must not be made again.
"We have to have the same attitude towards those leaving prison as we do towards those coming back from Syria," said Yves Trotignon, a former anti-terror analyst at French foreign intelligence agency DGSE.
"For these 500 guys that are going to be coming out, we have no means of evaluating the operational danger they represent," said Trotignon.
"The only solution is to immediately start following their networks. Who is meeting who? Who is telephoning who? In this way you can start to map out their contacts."
He added: "We often say that prison is a school for crime, but it's also a school for jihad.
"It's the place where those on the fringes get radicalised, where they learn things from those detained earlier."
Britain has some 200 people in prison on terrorism offences as of December, according to interior ministry figures, a number that has been steadily rising in recent years.
And Belgium is wrestling with a similar problem.
Islamic expert Alain Grignard of Liege University said up to 200 people had been sentenced on terror charges before and after the 2016 Brussels attacks, and at some point they will walk free.
"Rarely do people come out of prison better than when they went in," he warned.
"Even more so for someone who is idealistic who, as well as a criminal past, has this dimension of a fight against injustice in which Muslims are the victims," he added.
"They can come out even more motivated than before."
Continuity in intelligence work
Dutch lawyer Andre Seebregts, who has defended several suspected jihadists recently released from jail, said none of his clients had been offered any formal rehabilitation.
Such convicts are often tracked with GPS ankle bracelets and given contact with a government-provided imam and parole officer.
But "the danger of re-radicalisation is still there," he told AFP.
Extremists may be carefully surveilled before their arrest but then go on to inhabit what one French penitentiary official called an "intelligence blind spot" once behind bars.
"After the attacks of 2015 and 2016, this is no longer acceptable," the official said.
French authorities last year gave the prison intelligence agency BCRP boosted powers, and they are increasingly using surveillance techniques previously reserved for police.
Across Europe, the goal is now to try to maintain as much continuity as possible when it comes to tracking jihadists in prison and afterwards.
Full report at:
https://www.hindustantimes.com/world-news/europe-s-new-security-threat-hundreds-of-jihadists-due-to-be-released-from-prison/story-xhO1OAl6iqh3uvUiQqok5K.html
--------
This Jewish leader is defending the Muslim call to prayer in Sweden
19 March, 2018
A Jewish leader in Sweden is defending the right of the Muslim community to broadcast the call to prayer, after right-wing politicians reportedly pushed for a ban on the practice, known as the adhan.
Aron Verständig, head of the Stockholm Jewish Community group, said that preventing mosques from holding calls to prayer "would damage integration in the country", according to Swedish website The Local.
Verständig went as far as comparing the emerging debate about the subject to how Jews were treated in Sweden in the 18th century, "where there was hysteria over Jewish immigrants bringing instability to the country due to their unfamiliar customs", he said, in reference to the Islamic ritual.
"These kind of arguments have occurred throughout history. In Sweden we've always had them: people come here, then there are big demands placed on them in order to fit in, and that's not something that helps integration."
According to The Local, the leader of the Christian Democratic party had instructed local politicians to vote against allowing the call to prayer.
The controversy seems to have been triggered by a request from a mosque in the town of Växjö in southern Sweden for a permit to broadcast the call for prayer on Fridays - but not on a daily basis. Växjö is not the first to do so, however, with a mosque in a suburb of the capital already broadcasting the call to prayer on Fridays.
"It's not like there are thousands of mosques asking for calls to prayer in Sweden, it's only one that asked recently and this thing came up, so the whole thing is being exaggerated," the Jewish leader said.
"But it's an election year," he added.
The broadcasting of calls to prayers from mosques has frequently met with opposition in communities where Islam is a minority religion, including in Cologne, Germany. In Switzerland, mosques were banned from building minarets following a 2009 referendum.
The majority of mosques in Europe do not use loudspeakers for the adhan, preferring to keep the call to prayer within the mosque.
Full report at:
https://www.alaraby.co.uk/english/news/2018/3/19/this-jewish-leader-is-defending-muslim-mosques-in-sweden
--------
Southeast Asia
Ban on Face Veils at Indonesian University Lasted Just a Week
By JOE COCHRANE
MARCH 19, 2018
full niqab head coverings at Sunan Kalijaga State Islamic University this month, its rector said they were not a natural part of Indonesian culture. After days of protests, he dropped the ban. Credit Koko/Agence France-Presse — Getty Images
JAKARTA, Indonesia — When the head of a prominent Islamic university in Indonesia banned the face-concealing niqab headdress on campus this month, calling it out of step with the country's true culture, it seemed a significant pushback against the conservative drift of Islam.
Perhaps more significant is that the ban lasted just a week.
A string of protests broke out, including by former members of an Islamic group banned by the Indonesian government last year for spreading a Saudi-influenced brand of extremism. And at the start of last week, the rector's office at the university, the Sunan Kalijaga State Islamic University in the Central Java city of Yogyakarta, confirmed that the niqab ban had been rescinded. No reason was given.
The issue has again pitted conservative Islamic groups here, which insist it is a woman's right to publicly wear the niqab — a full head covering with only eye slits, usually accompanied by a shoulder-to-toe gown — against advocates who are concerned that more extreme strains of Islam have become ascendant.
"It's good that there's a debate on the niqab," said Julia Suryakusuma, a prominent Indonesian author and social commentator. "But it's scary that the debate is happening at all, because usually the more progressive view buckles under to the conservatives."
Indonesia is the world's most populous Muslim-majority country. But it is not an Islamic state, and it has influential Christian, Hindu and Buddhist minorities. While many Muslim women among the country's 260 million people wear hijabs — the traditional Islamic head scarf that hides the hair and neck — many others do not.
However, conservative Islamic groups in Indonesia have set out to change that. They regularly hold protests against Western issues and values, and have campaigned for years for Indonesia to become a state guided by Shariah law.
These groups have supported hundreds of religiously inspired local bylaws in the past decades, the majority of which single out women — enforcing dress and morality codes — while others target religious minorities and gay, lesbian and transgender people.
In the months leading up to his niqab ban, the university's rector, Yudian Wahyudi, and members of its staff expressed alarm that more and more students were wearing the niqab in recent years. In announcing the ban, he threatened to expel students who did not honor it. Mr. Yudian did not respond to messages last week seeking comment.
Siti Ruhaini Dzuhayatin, an analyst on Islam and a lecturer at the university, said she regretted that her rector had rescinded the ban. She said it was important to point out that the niqab is not an integral part of either Islam or Indonesian culture.
"It is part of Arab culture," she said. "If a cleric somewhere says it's O.K. to wear the niqab, it's only part of a culture, not Islam. It's not true that there is this kind of teaching on clothing in Islam."
That said, far more Indonesian women, in particular those who are younger, wear head scarves today than 10 or 15 years ago, though most mix it with casual clothing.
Ms. Siti called the niqab "a new phenomenon" among some young women, noting that even Indonesia's most traditional Islamic schools have never required women and girls to fully veil their faces.
Last November, the national government in Jakarta intervened after a picture showing girls wearing niqabs at a private Islamic high school in Central Java Province went viral on social media, warning the school that it violated Indonesian education regulations.
The increased prominence of niqabs has not been limited to schools. Last year, a women's group named the Niqab Squad was formed at a Jakarta mosque to fight what it calls prejudice against face veils, and it now has chapters across Java.
The group also promotes clothing, including head-to-toe burqas with polka-dot trim, as fashion statements, which doesn't go over well with everyone.
"The Indonesian masses are like sheep; they follow everything new," said Ms. Suryakusuma, the author. "The trouble is this trend also has serious social and political consequences that could erode the Indonesian republic."
https://www.nytimes.com/2018/03/19/world/asia/indonesia-niqab-university.html?mtrref=www.google.co.in&gwh=28F65D3B73A04D38E5162912EC159389&gwt=pay
--------
Indonesia's "Islamic diplomacy" seeks to broker an Afghan peace
BY Ahmad Rizky M. Umar
20 March 2018
Indonesia is set to host talks among Indonesian and Afghan Islamic clerics in Bogor, south of Jakarta, at the end of March. This dialogue, part of Indonesia's bid to mediate the peace process in the long-standing Afghan conflict, will involve the Indonesian Ulema Council and Afghanistan's Islamic clerics. Representatives of the Taliban were expected to attend, only to later reject the invitation to participate.
The talks follow Indonesian President Joko (Jokowi­) Widodo's visit to Kabul earlier this year, and are not the first time Indonesia has attempted to mediate a peace process. In 2016 Jakarta hosted the 5th Extraordinary OIC Summit on Palestine and Al-Quds Al-Sharif, which served as a bid to mediate the Israel–Palestine peace process.
Similarly, the Indonesian Government collaborated with civil society organisations in mediating the Mindanao peace process in the Philippines, providing humanitarian aid and engaging in negotiations to free two Indonesian fisherman held hostage by Abu Sayyaf militants since November 2016.
Historically, Indonesia has been well-regarded for its quiet but decisive mediation role in conflict resolution processes in Cambodia the 1980s, as well as for its actions in achieving peaceful resolutions to internal religious conflicts in Ambon and Aceh.
But is this experience sufficient to justify a greater role for Indonesia as an effective and impartial peace broker in Afghanistan?
There are two good opportunities and three limitations to this prospect, all of which need to be taken into account by Jakarta before it seriously engages with the Afghan peace process. While Indonesia might be able to step forward with its proposal for a peace roadmap in Afghanistan, some structural problems might constrain its attempts to get involved.
Let's begin with the opportunities. One gain from the talks might be greater recognition of Indonesia's humanitarian diplomacy. During Jokowi's presidency, Indonesia has taken a lead both in sending humanitarian aid to Rohingya refugees, and responding to the 2015 earthquake in Nepal. This leadership has not only involved the government (particularly the Foreign Ministry) but also a network of religious-based civil society organisations. By hosting the Afghan talks, Indonesia could expand its humanitarian network.
The second opportunity is for increased cooperation in the social and educational sector. Although Indonesia is not a signatory to the 1951 Refugee Convention, it currently hosts more than 13,000 refugees from Afghanistan, Pakistan, and other Middle Eastern countries. The talks among Islamic clerics should been seen as a chance to build social and educational cooperation; for example, by providing scholarships to refugees in Indonesia, or through educational exchange programs.
However, structural factors might constrain these opportunities.
The first obstacle could be the overuse of Islam in foreign policy. Of course, the Bogor talks aim to use Islam as a model of peaceful conflict resolution in world politics; but we should remember that Islam in Afghanistan not only has different characteristics to Islam in Indonesia but also a different historical trajectory. Islam in Afghanistan is politically linked with tribal and ethnic groups with various political interests. This makes conflict resolution more complicated than in Ambon.
This leads to the second obstacle: limitations to Indonesia's engagement with Islamic political forces in Afghanistan. The Taliban, for example, is vastly different to Indonesian jihadi militia that can be confronted with "deradicalisation" programs. This obstacle was made clear by the Taliban's withdrawal from the talks, although they seem to be interested in the broader peace offer made by the Afghan Government. It is important for Indonesia to engage with the Taliban, whose political aspirations are closer to insurgency than mere religious dissent.
It is also important to understand the geopolitical context of the Afghan conflict, which is shaped by a long-standing rivalry with the United States and Soviet Union (in the past), and by the interethnic contestations that followed the US invasion. Indonesia might host dialogues as a means to facilitate a peace process, but this is not enough. Jakarta needs to consider the strategic environment in South Asia before engaging as an impartial mediator.
Full report at:
https://www.lowyinstitute.org/the-interpreter/indonesia-s-islamic-diplomacy-seeks-broker-afghan-peace
--------
Perlis mufti didn't ask about mut'ah, Suhakam inquiry told
Sheith Khidhir Bin Abu Bakar
March 19, 2018
KUALA LUMPUR: The brother-in-law of missing Perlis activist Amri Che Mat has denied that the Perlis mufti had ever questioned Amri on whether he practised "mut'ah", a form of contract marriage not recognised in Malaysia, which can be summarily ended with the consent of both sides.
He was refuting a claim by mufti Mohd Asri Zainul Abidin that Amri had admitted to the practice at a meeting that the two had.
Amri's brother-in-law Nor Hafizal Ariffin was also present at the meeting.
Speaking at the Human Rights Commission of Malaysia (Suhakam) inquiry into Amri's disappearance, Hafizal admitted he could not remember much about the meeting.
However, he said he would have remembered if the subject of mut'ah was brought up.
"Mut'ah is interesting. I would have remembered," he said.
Hafizal, however, said Amri admitted he was a Shia Muslim during the meeting.
The meeting supposedly took place on Oct 22, 2015, a day after Asri joined the raid on Amri's home by the police and the state's religious authorities.
Amri was not present during the raid and he had gone with Hafizal to meet Asri at the mufti's office the next day.
Questioned further, Hafizal admitted that he did not know for sure whether Amri practised mut'ah.
Amri, who co-founded Perlis Hope, has been missing since Nov 24, 2016.
The Suhakam inquiry is also investigating the disappearance of Pastor Joshua Hilmy and his wife, Ruth. The couple were last seen on Nov 30, 2016.
The inquiry had also included the case of Pastor Raymond Koh, who has been missing since February last year after he was abducted by some 10 men in Petaling Jaya.
Full report at:
http://www.freemalaysiatoday.com/category/nation/2018/03/19/perlis-mufti-didnt-ask-about-mutah-suhakam-inquiry-told/
--------
A Malaysian flag at a Spirit worker's party was reported as an ISIS symbol, suit says
March 19, 2018
In September, Spirit employee Munir Zanial threw a party to celebrate Malaysian Independence Day and the end of Ramadan.
At the party, guests, the majority of whom were of Malaysian Indian ancestry, took photos with a Malaysian flag.
In October, Zanial learned he was being investigated by the FBI after a Spirit Boeing Employees' Association employee had complained about a "group dressed in Muslim garb" and "an American flag desecrated with ISIS symbols," a lawsuit alleges.
The FBI investigation was closed in October, but Zanial found out in January that his membership in the association had been restricted.
The American Civil Liberties Union has filed a complaint against the Spirit Boeing Employees' Association, saying Zanial was discriminated against due to his race, ethnicity and religion.
A representative of the Spirit Boeing Employees' Association said she could not comment Monday.
Zanial is a Malaysian national of Indian ancestry, according to the complaint. Like the majority of Malaysians, he is Muslim. He has lived in Wichita since 2011 and works as a senior stress engineer at Spirit. He has been a member of the Spirit Boeing Employees' Association since 2016.
Spirit Aerosystems also operates a large facility in Malaysia.
The lawsuit states that Zanial had rented space at the Spirit Boeing Employees' Association's recreational lake to host his party. Several of the guests, including his wife, wore hijabs.
A report was later filed about Zanial with the Spirit security team, the lawsuit says, but no one from the association contacted Zanial.
Lauren Bonds, legal director at the ACLU, said Zanial and the ACLU hope others won't experience similar reactions while gathering and celebrating.
"He was in a situation where he was celebrating the end of Ramadan and the 60th anniversary of Malaysian independence, there was absolutely no basis for assuming anything negative was going on in broad daylight at the SBEA's lake," Bonds said. "It's just illogical how something so small snowballed into this and the only way you can explain this is prejudice and discrimination."
The Malaysian flag has alternating red and white stripes and a blue rectangle in the upper left corner, much like the American flag. Unlike the American flag, it has a crescent moon and a 14-point star on the blue rectangle.
The ISIS flag is black with the words La 'ilaha 'illa-llah — "There is no God but God" — written across the top in white, Arabic script, according to Time Magazine. A white circle beneath the script has the words "God Messenger Mohammed" written inside it.
In late October, the FBI closed its investigation, but told Zanial that the association was working with a private investigator, according to the complaint.
When Zanial applied to rent part of the association's pavilion in January, he was told that his membership "had been restricted due to an incident that occurred during his September 2nd party. (SBEA Executive Director Trish) Pulliam described the incident as involving a guest holding a flag," the lawsuit states.
Full report at:
http://www.kansas.com/news/local/article205840559.html
--------
Filipinos mark 50th year of massacre of Muslim fighters
March 19, 2018
Filipino activists marked the 50th anniversary of a massacre of Muslim commandos reportedly trained by the government of then-president Ferdinand Marcos to wreak havoc in Sabah, Malaysia in the 1960s.
At a forum in Manila last week, historians and academics called the incident on March 18, 1968, as one of the "heinous crimes of the dictatorship" against the Moro people.
"It signifies the cycle of events of frustrations of the Moro people," said Macrina Morados, dean of the Institute of Islamic Studies of the University of the Philippines.
Professor Julkipli Wadi stressed the importance of "looking back critically" at the path of the struggle of the Muslim Moro people of Mindanao.
In 1967, Marcos created a secret commando unit called Jabidah supposedly to take over Sabah. The Philippines had laid claim to the territory on Borneo after Britain gave Malaya independence.
About 180 young Moro fighters from the Tausug tribe in Mindanao were brought to Corregidor Island near Manila to train but were reportedly killed for insubordination.
Some scholars said the men were killed to prevent a leak of information about the covert mission.
Wadi said the massacre inspired the "rebirth of the Moro people's armed struggle for freedom and independence."
Months after the incident, several Muslim groups in Mindanao issued a manifesto of independence and formed what was later known as the Moro National Liberation Front.
Full report at:
https://www.ucanews.com/news/filipinos-mark-50th-year-of-massacre-of-muslim-fighters/81824
--------
Envoy says Maldives will not extend state of emergency
20 March 2018
COLOMBO, Sri Lanka: An envoy says Maldives will not extend the state of emergency that is due to expire on Thursday amid criticism of the government over the recent political turmoil.
Mohamed Hussain Shareef, ambassador to neighboring Sri Lanka, said the government "has no intention of extending" the emergency when its 30-day period expires, "barring very unusual circumstances such as widespread violence."
Maldives declared an emergency due to turmoil following a Supreme Court ruling ordering the release of several of the president's jailed political opponents. Under the emergency law, President Yameen Abdul Gayoom had two Supreme Court judges arrested for alleged corruption and the remaining three judges annulled the order to release Yameen's opponents.
Full report at:
http://www.arabnews.com/node/1269796/world
--------
Arab World
OIC Seeks Intensified International Cooperation Against Extremism, Terrorism
19 March, 2018
Secretary-General of the Organization of Islamic Cooperation Dr. Youssef al-Othaimeen said that the organization seeks to intensify cooperation with the international community to develop a comprehensive plan addressing the threat of extremism and terrorism, taking into account security, economic, cultural and social dimensions.
Othaimeen added that the organization is keen to confront the false and malicious ideas about Islam through its initiatives to monitor and address Islamophobia; the OIC Islamophobia Observatory and an information strategy to confront this phenomenon.
In his speech at the headquarters of the General Secretariat in Jeddah on Sunday, Othaimeen said that the organization is exerting great efforts to establish the values of dialogue, communication and coexistence, citing his recent meeting with Pope Francis of the Vatican and Pope Twadros II and Pope of the Coptic Orthodox Church of Alexandria.
This came during the preparatory meeting of the 45th session of the Council of Foreign Ministers of the Organization, which will be held in Dhaka on May 5 and 6, 2018.
He shed light on the efforts exerted by the organization in regards to the Palestinian cause and Jerusalem in light of the continued escalation of colonial settlement and attacks on the Holy sites.
He stressed the organization's keenness to find a solution to the issue of Muslim Rohingya and Muslim minorities in the Philippines, Thailand, Central Africa, Sri Lanka and Europe.
He also discussed the efforts on addressing issues in some member states, especially in Syria, Iraq, Yemen, Libya, Mali, Somalia and Afghanistan, in addition to Kashmir and the Nagorno-Karabakh region of Azerbaijan.
On the other hand, Head of Media Center of OIC Maha Akil told Asharq Al-Awsat that the wave of enmity against Muslims has seen a decline in the USA after President Donald Trump's visit to Saudi Arabia and his attendance of the Islamic-US summit in Riyadh in which he changed his rhetoric and view of the Muslim world.
Akil pointed out that the racist demonstrations against Muslims were faced by larger demonstrations defending Muslims, calling for peaceful coexistence and rejecting hatred.
"In Europe, the pace of hostility against Muslims has increased since 2015, especially after the refugee crisis," Akil said.
"We have been noting an increase in the level of Islamophobia in the field of education, work, media, politics and judiciary in Europe and an increase in violence against Muslims in countries where they are minorities, such as in Central Europe."
"Unfortunately the growing feelings of populism and Islamophobia comes first because of the wrong linkage between Muslims and terrorism," she explained.
https://aawsat.com/english/home/article/1209856/oic-seeks-intensified-international-cooperation-against-extremism-terrorism
--------
Mauritanian president praises Al Azhar's role in spreading moderate Islam
Mar. 19, 2018
NOUAKCHOTT - 19 March 2018: Mauritian President Mohamed Ould Abdel Aziz hailed Monday the role of Al Azhar institution in spreading moderate Islam in the face of extremist thoughts.
The Mauritanian president was speaking during a meeting with Al Azhar Grand Imam Ahmed Al Tayyeb at the presidential headquarters.
Abdel Aziz lauded Al Azhar's suggestion of establishing an Islamic center affiliated to the institution in Mauritania and forming a joint scientific committee, headed by Mauritanian Minister of Islamic Affairs and Traditional Education Ahmed Ould Ahl Dawood.
Meanwhile, Tayyeb hailed similarities between Al Azhar and the Mauritanian educational institutions and their role in spreading the values of moderation and countering terrorism. He also said that Al Azhar is ready to grant a number of scholarships for studying at its faculties.
Also, Mauritanian Prime Minister Yahya Ould Hademine received Al Azhar Grand Imam, as they discussed various current Islamic issues.
Hademine met with al Tayyeb, who is on a visit to Mauritania, where the pair also reviewed the role of Al Azhar in the Islamic world in spreading tolerance of Islam.
Full report at:
https://www.egypttoday.com/Article/1/45649/Mauritanian-president-praises-Al-Azhar-s-role-in-spreading-moderate
--------
Egypt: 4 troops, 36 Islamic militants killed in Sinai battle
Mar 19, 2018
Egypt's military says four troops and 36 Islamic militants have died in the past five days of fighting in the restive Sinai Peninsula.
Monday's statement says one officer was among the four killed army personnel. It also says that eight soldiers were wounded, including two officers.
The military says that it also destroyed 400 hideouts, munition and weapons depots and dismantled 93 explosive devices during the operation.
It says 345 suspected militants and fleeing criminals have been arrested.
Since Egypt launched the wide-scale operation more than a month ago, 20 troops have been killed.
Full report at:
http://abcnews.go.com/International/wireStory/egypt-troops-36-islamic-militants-killed-sinai-battle-53844970
--------
Saudi Crown Prince slams 'harmful' Iran for sheltering Osama bin Laden's son
19 March 2018
Saudi Crown Prince Mohammed bin Salman's highly-anticipated interview on CBS's 60 minutes aired on Sunday night in which the young royal spoke on a wide-range of topics, including the link between al-Qaeda and Iran.
The television interview, the first in which he is addressing an American audience, was broadcast two days before the crown prince's meeting with US President Donald Trump in Washington.
Co-host of CBS This Morning Norah O'Donnell bagged the exclusive interview, in which the crown prince said the son of former al-Qaeda leader Osama bin Laden is being supported by Iran.
"Unfortunately, Iran is playing a harmful role. The Iranian regime is based on pure ideology. Many of the Al-Qaeda operatives are protected in Iran and it refuses to surrender them to justice, and continues to refuse to extradite them to the United States. This includes the son of Osama bin Laden, the new leader of Al-Qaeda. He lives in Iran and works out of Iran. He is supported by Iran," Prince Mohammed said.
He also said that Saudi Arabia would build its own nuclear capabilities "immediately" if Iran develops a bomb.
In a preview of the interview posted by CBS online a week before the full sit-down aired, the crown prince also likened Iran's supreme leader to Adolf Hitler during the rise of Nazi Germany.
Full report at:
https://english.alarabiya.net/en/News/gulf/2018/03/19/Saudi-crown-prince-gives-first-US-television-interview.html
--------
US Continues Airborne Rescue of ISIL Commanders in Syria
Mar 19, 2018
Local sources in Hasaka said on Monday that they have witnessed three US helicopters land in a region between the two villages of al-Jeisi and Kalo, 2km South of Tal Hamis region in Southeastern Qamishli.
They added that during the operations a number of US military men evacuated 4 ISIL commanders of Iraqi origin from the region.
The US forces have recently intensified their heliborne operations to evacuate ISIL commanders who have been trapped in Hasaka province.
Local sources in Hasaka had also reported in February that the US helicopters have conducted heliborne operations in the village of Tuwaimin, 50km Northeast of al-Shadadi, in Southern Hasaka.
Full report at:
http://en.farsnews.com/newstext.aspx?nn=13961228001080
--------
Over 79,000 Civilians Relocated from Terrorist-Held Regions in Eastern Ghouta
Mar 19, 2018
Brigadier General Vladimir Zolotokhin reported that over 6,000 civilians have left terrorist-held villages and settlements via Hamouriyeh corridor since this morning.
In the meantime, field sources reported that more than 79,000 civilians have so far fled terrorist-held regions in Eastern Ghouta for specified locations under the army's control.
Local sources said that the militants continue to abduct civilians to prevent them from leaving Eastern Ghouta and to use them as human shield.
Well-informed sources reported on Monday that two main terrorist groups in Eastern Ghouta have demanded relocation to militant-held regions in Idlib province after talks with the Russian Reconciliation Center for Syria and amid rapid advances of the army in the region.
The sources said that representatives of Ahrar al-Sham and Faylaq al-Rahman in Arbin, Harasta, Hazeh, Jobar and Ein Terma held talks with the Russian Reconciliation Center for Syria, and demanded relocation of their gunmen from Eastern Ghouta to Northern and Northwestern Syria.
The sources said that the terrorists have asked to be sent to Idlib to join the Al-Nusra Front (Tahrir al-Sham Hay'at or the Levant Liberation Board) and other terrorist groups affiliated to the Turkey-led Euphrates Shield.
Full report at:
http://en.farsnews.com/newstext.aspx?nn=13961228000782
--------
Almost 730 Turkish Soldiers, 3,600 Kurdish Militias Killed in Afrin Battle in Northern Syria
Mar 19, 2018
The Kurdish-language Hawar news quoted Turkish İYİ (Good) Party Leader Meral Akşener as saying that a sum of 762 Turkish forces and allied militants have been killed in Operation Olive Branch since January 20.
In the meantime, Turkish President Recep Tayyip Erdogan announced on Sunday that a sum of 3,603 Kurdish fighters have been killed or held captive in the Turkish army operation in Afrin since January 20.
Field sources reported on Sunday that the Turkish Army and Ankara-backed militants prevailed over the Kurdish fighters and captured the strategic town of Afrin in Northwestern Aleppo.
The sources said that the Turkish troops and allied militants captured al-Ashrafiyeh, al-Jamiliyeh and Old Garage neighborhoods after they managed to enter the town of Afrin from three flanks.
They added that the forces of Operation Olive Branch further advanced and occupied the town.
In the meantime, President Recep Tayyip Erdogan announced on Sunday that Turkish Armed Forces and Free Syrian Army (FSA) took complete control of Northwestern Syria's Afrin,
Turkey's Operation 'Olive Branch' kicked off on January 20 from air and ground around the area of Afrin in Syria's Aleppo to oust the Kurdish People's Protection Units (YPG), which Ankara views as a terror organization and the Syrian branch of the outlawed Kurdish Workers' Party (PKK).
Syrian President Bashar al-Assad has stressed that Turkish offensive in Afrin is part of Ankara's strategy based on supporting terrorists.
Full report at:
http://en.farsnews.com/newstext.aspx?nn=13961228000630
--------
Egypt military says 36 Daesh terrorists killed in Sinai clashes
Mar 19, 2018
The Egyptian military says three dozen members of the Daesh Takfiri terrorist group have been killed in the country's restive Sinai Peninsula over the past five days.
The military made the announcement in a statement on Monday, saying Egyptian soldiers and police had killed 36 Daesh terrorists as part of a months-long sweeping operation against the Takfiri outfit in the troubled region.
Security forces "eliminated 30 armed Takfiri elements during a shootout with raiding forces" in the northern and central Sinai Peninsula, the statement said.
A police shootout also left six "Takfiri elements" dead and destroyed "an extremely dangerous terrorist cell," it added.
The Egyptian military also announced that security forces had arrested 345 people, "including a number of extremely dangerous Takfiri elements and fugitives," in Sinai over the past five days.
The clashes left four Egyptian troops dead and eight soldiers wounded, including two police officers, according to the military report.
The army launched a major assault against militants in Sinai on February 9 after Egyptian President Abdel Fattah el-Sisi gave Egyptian forces a three-month deadline to crush Daesh in Sinai.
Sisi issued the ultimatum in November after suspected Daesh gunmen massacred hundreds of people at a Sinai mosque.
In recent years, militant groups have killed hundreds of soldiers, policemen and civilians in Sinai and elsewhere in Egypt.
Sinai has been the hotbed of militancy in Egypt since a coup led by Sisi ousted former president Mohamed Morsi in the summer of 2013. Sisi came to power a year later only to see attacks that had normally targeted security forces in Sinai expanded to the mainland Egypt to affect civilians.
A branch of Daesh, a Takfiri terrorist group that is on its last legs in Iraq and Syria where it was most active, has been behind many attacks in Sinai and elsewhere.
Full report at:
http://www.presstv.com/Detail/2018/03/19/555966/Egyptian-military-Daesh-Sinai-Peninsula
--------
Saudi Arabia beheads Indonesian migrant worker
Mar 19, 2018
Saudi Arabia has beheaded an Indonesian migrant worker for murder despite suspicions that the accused was forced into his confession and repeated pleas by Indonesian President Joko "Jokowi" Widodo that the man be granted clemency.
According to Migrant Care, an Indonesian organization focusing on the welfare of Indonesian migrant workers, Zaini Misrin, a driver, was executed on Sunday. He was found guilty of the murder of his Saudi employer in 2008, after being arrested four years earlier.
Migrant Care suspected that the 53-year-old had been forced to confess to the murder. The group further claimed that Zaini did not receive legal assistance during his trial and was only accompanied by a translator believed to be complicit in forcing him to confess to the crime he claimed he did not commit.
"Saudi Arabia also did not notify Indonesia [about the execution] either through the consulate general in Jeddah or the Foreign Ministry," the group said in a statement released on Monday.
The Indonesian Foreign Ministry confirmed the execution and Migrant Care's claim that it was not notified by Riyadh beforehand about the beheading.
"Misrin's trial and execution were a gross human rights violation," Migrant Care director Wahyu Susilo was quoted as telling ucanews.com on March 19. "Misrin said he was forced to confess to the murder. He faced pressure and intimidation from Saudi Arabian authorities."
President Jokowi made requests for clemency in Zaini's case during Saudi monarch King Salman's visit to the Southeast Asian country in 2015 and during two other meetings between the two leaders.
According to an AFP count, over 30 people of all nationalities have been executed in Saudi Arabia since the beginning of the year.
Saudi Arabia's execution rate has doubled since Mohammed bin Salman was appointed crown prince in 2017, according to the anti-death penalty rights group Reprieve. The group said 133 executions have taken place in the eight months since his appointment last June, compared with 67 in the eight months before.
Maya Foa, the group's director, said, "The doubling of executions under the new crown prince reveals that, beneath his glossy public image, Mohammed bin Salman is one of the most brutal leaders in the kingdom's recent history.
Reprieve said 18 young men are currently facing imminent execution for protest-related offenses under Saudi Arabia's wide-ranging "anti-terrorism" laws. Eight of those were children at the time of their alleged offenses.
Saudi Arabia carried out 153 executions across the kingdom last year. In the most stunning case of executions in 2016, Saudi Arabia executed on January 2 Sheikh Nimr al-Nimr along 46 other people in defiance of international calls for the release of the prominent Shia cleric and other jailed political dissidents in the kingdom.
Saudi officials execute convicts by sword and then dangle their corpses from a helicopter to make sure the public could see the result of the execution.
Concern is growing about the increasing number of executions in Saudi Arabia.Saudi authorities say the executions reveal the Saudi government's commitment to "maintaining security and realizing justice." The country has come under particular criticism from rights groups for the executions carried out for non-fatal crimes.
Full report at:
http://www.presstv.com/Detail/2018/03/19/556014/Saudi-Arabia-beheads-Indonesian-worker-
--------
Some militants may accept deals to withdraw from Ghouta: Syrian minister
Mar 19, 2018
Some militants may soon agree to withdraw from the Damascus suburb of Eastern Ghouta as Syrian government troops constantly shrink the militant-held areas of the flashpoint region.
Ali Haidar, the Syrian minister for national reconciliation affairs, said in an interview on Monday that militants in an enclave centered around the town of Harasta may be ready for such a deal.
"What remains of Ghouta is, I believe, open to discussion ... to accomplish reconciliations at a certain level."
"There may be an accomplishment in Harasta in the coming period. I don't commit to specific timeframes because the matter is linked to the militants accepting departure or settling their situation (with the authorities) and the army entering the area," Haidar noted.
Harasta is one of three rebel pockets in Eastern Ghouta, a besieged area on the outskirts of Damascus which is home to some 400,000 people.
Elsewhere in his remarks, Haidar pointed out that there were contacts with Ghouta militants and "to a certain extent there are acceptable results in part of the file."
The Damascus government is offering militants in Eastern Ghouta similar terms to those offered in other parts of the country that have been recaptured from militants, namely safe passage out for those who agree to surrender territory, or a reconciliation agreement for those who wish to stay under government rule.
Damascus has liberated numerous areas across the country on the back of similar agreements.
The development came after thousands of civilians left Eastern Ghouta as militants have been raining rockets on the capital from the suburb area, while using civilians there as human shields, preventing their exit through safe passages set up by Russia and blocking their access to humanitarian aid.
The evacuees were reportedly provided with basic commodities upon arrival at Syrian army posts before being transported to temporary accommodation centers.
During the past few weeks, Syria and Russia have cornered foreign-backed militants in the enclave as part of their campaign to liberate civilians holed up there and end militant attacks from the suburb on the capital.
During their advances in the area, Syrian forces have uncovered workshops used to make chemical weapons. The Syrian military has also intercepted several arms and ammunition cargoes heading to Eastern Ghouta.
Haidar said the Syrian army had captured 80 percent of Eastern Ghouta, which was controlled by militants since mid-2013.
Full report at:
http://www.presstv.com/Detail/2018/03/19/556003/Syria-Ali-Haidar-Damascus-Ghouta-Russia
--------
Saudi Arabia 'providing relief to all in need in Yemen without discrimination'
20 March 2018
RIYADH: The King Salman Humanitarian Aid and Relief Center (KSrelief) launched a fresh campaign on Monday to deliver humanitarian aid in Yemen, saying that the center provided relief without discrimination to areas under legitimate rule and those controlled by the Houthis.
"The center has continued to deliver comprehensive humanitarian aid in Yemen, as well as providing fuel to hospitals and water plants across the country within its efforts to deliver humanitarian assistance to all Yemeni people," said Nasser Al-Nafe, a center spokesman.
He told Arab News that KSrelief had distributed 42,000 food baskets and 21,000 ready-to-eat meals in the northern province of Hajjah, currently under the control of the Houthi militias, as a part of Yemen Comprehensive Humanitarian Operations (YCHO).
He added, however, that in certain areas controlled by the Houthi militants the center was delivering humanitarian aid without its banner as "our aim is to ensure relief supply to those in need without interruption and without discrimination."
Despite harassment, serious violations of international norms and arrests by the militias that control the area of the field team distributing food and other aid, it had been able to reach all the distressed areas, he said.
He said that during the six months of distribution, the number of beneficiaries reached 252,402, including 137,318 children and 56,205 women.
While providing humanitarian assistance, the center aims to maintain several projects including addressing malnutrition in children and pregnant and lactating mothers, as well as a water supply project.
Meanwhile, the center on Sunday launched a new campaign to distribute food aid in the liberated districts of Al-Khokha and Al-Hayes in the southern province of Hodeidah. This relief campaign aims to deliver 22,000 food baskets to the target groups in the two districts, with 11,000 food baskets per district.
Saudi Arabia signed an agreement last Thursday to deposit $2 billion in Yemen's Central Bank under the directives of King Salman to save the Yemeni economy and currency from collapse.
The agreement was signed by Finance Minister Mohammed Al-Jadaan and Yemeni Central Bank's Governor Mohammed bin Mansour Zammam in the Saudi capital.
Earlier, King Salman issued a directive in January to transfer $2 billion to the Central Bank of Yemen.
Full report at:
http://www.arabnews.com/node/1269691/saudi-arabia
--------
URL: https://www.newageislam.com/islamic-world-news/islamist-agenda-unleashed-turkey-joins/d/114657
New Age Islam, Islam Online, Islamic Website, African Muslim News, Arab World News, South Asia News, Indian Muslim News, World Muslim News, Women in Islam, Islamic Feminism, Arab Women, Women In Arab, Islamophobia in America, Muslim Women in West, Islam Women and Feminism