New Age Islam News Bureau
24 Sept 2014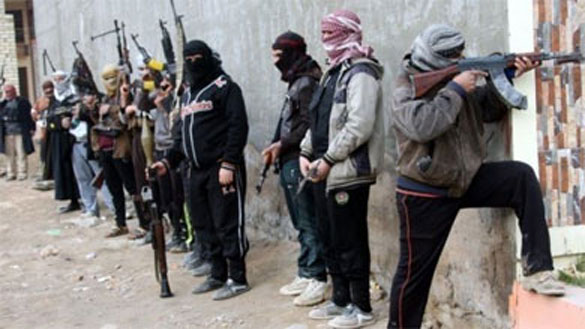 ISIL Takfiri militants in Iraq (file photo)
-----------
Arab World
• 'ISIL Bombings Kill 700 Iraqi Soldiers'
• US led strikes kill 30 Al Qaeda fighters in Syria
• Qatar grants terrorist al-Nusra Front 20 million dollars in financial aid
• Israeli forces clash with Palestinians in Al-Aqsa Mosque
• Turkey prevents Kurdish refugees from fighting ISIL
• Russia condemns US-led attacks on ISIL in Syria
• Houthi rebels cry 'victory' as Hadi warns of civil war
• Top Iraqi generals retired after huge loss to IS militants
------------
Southeast Asia
• China's War on Terror Becomes All-Out Attack on Islam in Xinjiang
• Indonesia Tells the US How To Defeat Jihadists with Soft Power
• Peaceful advocate for Muslim Uyghurs in China sentenced to life in prison
• Two killed in explosions in China's Muslim-dominated Xinjiang region
• 'Have thicker skin' when discussing religious issues, says interfaith Muslim speaker
• Tun Dr Mahathir: US behind Islamic State Militants
• Indonesia preps Islamic pension rules as Islamic banking growth slows
------------
India
• Dalai Lama Discusses Jihad, Islamic State at Meeting of India's Religious Leaders
• 62-Year-Old Muslim Has Navratri Prayers by Heart
• Jammu seethes in anger as Valley corners sympathy
• India says no plans for Modi-Sharif meeting in New York
------
Pakistan
• Qadri Tells Overseas Supporters to Welcome PM with 'Go Nawaz Go' Chant
• Peshawar suicide attack on FC kills five
• Security personnel raid Shahzain Bugti's residence, seize explosives
• SC to hear govt plea against Musharraf's travel plans
• Jet fighters strike militant hideouts in Tirah
• Gunmen kill Ahmadi doctor in Mirpurkhas
• PTI gears up for show at Minar-i-Pakistan
• Parties reject Altaf's demand for new provinces in Sindh
• Altaf suggests technocrats' government for two years
• Security personnel raid Shahzain Bugti's residence, seize explosives
------------
Africa
• Boko Haram Shootout in Nigerian Town Leaves at Least 36 People Dead
• Photo Prompts Speculation Nigeria's Boko Haram Leader Killed In Battle
• Somalia: Number of Al Shabab Defectors Continues To Increase
• Fears in Jordan over attacks on ISIL
• South Africa's gay-friendly mosque under fire from Muslim community
• Kenyan counterterrorism efforts against Al-Shabab are counterproductive
------------
Mideast
• Israel hosts Takfiri terrorists in occupied Golan Heights: Video
• Turkey Takes in 'Terrorists' from the Muslim Brotherhood
• Gaza truce negotiations set to resume in Cairo
• Israel military shoots down Syrian aircraft
• Israel kills two Palestinians suspected of teens murders
• Arabs draft resolution against Israeli nuclear arsenal
• Islamic State closes in on Syrian town, refugees flood into Turkey
• US airstrikes violate Syria's national sovereignty: Iran
• Iran ready to supply Europe gas via Austria: Rouhani
• UN must play impartial role in Syria: Iran FM
-------
North America
• Politicians, Religious Leaders of All Faith Denounce Anti-Muslim Bus Ads
• Chicago Muslim Outreach Groups Stifled by ISIS Threat
• NYC Officials Denounce Anti-Islam Transit Ads
• US, allies open new front against IS, bomb Syria
• Crazy theories about Islamic State in Middle East
• Bin Laden son-in-law sentenced to life in US prison
------------
Europe
• With their feet and a tweet, Europe's Muslims stand up to ISIS
• Don't rule out ground troops to fight IS: Blair
• Russia's Putin looking at cooperation to fight Islamic State: agency
• German Imams to Lead Friday Protests Against ISIS
• New Islamic State jihadist threat makes policing harder
---------
South Asia
• Bangladesh ex-premier on trial over corruption charges
• Nawaz offers support to new Afghan leaders
• Karzai blames US, Pakistan for Afghan war
Compiled by New Age Islam News Bureau
URL: https://www.newageislam.com/islamic-world-news/new-age-islam-news-bureau/-isil-bombings-kill-700-iraqi-soldiers-/d/99235
------------
Arab World
'ISIL Bombings Kill 700 Iraqi Soldiers'
Sep 24, 2014
ISIL Takfiri militants have unleashed a set of bombing attacks on a military base in central Iraq, killing some 700 soldiers, witnesses say.
According to reports on Tuesday, two attackers detonated their explosives-laden vehicles in Camp Saqlawiyah, north of the city of Fallujah, while three others set off their explosive vests there.
Some 200 soldiers survived the attack, mostly injured. The survivors said the terrorists also kidnapped a number of army troops.
Hundreds of soldiers were stationed at the base at the time of the attack.
The army forces were stranded at the base without ammunition and supplies after the sole supply route to the camp was cut off by the ISIL terrorists.
"There were no reinforcements, no food supplies, no medicine, no water, and then our ammunition began to run out," a surviving soldier said.
Iraq's military, backed by volunteers, launched a major operation against the ISIL militants in Fallujah on Sunday.
The ISIL terrorists currently control parts of Syria and Iraq. They have carried out heinous crimes in the two countries, including mass executions and beheadings of people.
Senior Iraqi and Syria officials have blamed Saudi Arabia, Qatar, Turkey and some other Persian Gulf Arab states for the terrorism in their country.
http://www.presstv.ir/detail/2014/09/24/379827/isil-bombings-kill-700-iraqi-soldiers/
------------
US led strikes kill 30 Al Qaeda fighters in Syria
September 24th, 2014
Beirut: US-led air strikes killed 30 Al Qaeda militants and eight civilians, including children, in northern Syria on Tuesday according to the Syrian Observatory for Human Rights
Most of the 30 fighters killed in the strikes west of the second city Aleppo were foreigners, and the civilians included three children and one woman; as stated by the Britain-based monitoring group.
The toll came after the Pentagon confirmed eight strikes against "seasoned Al Qaeda veterans" in Aleppo province in addition to a series of strikes targeting the Islamic State group elsewhere in northern and eastern Syria.
The United States has also taken action to disrupt the imminent attack plotting against the United States and Western interests conducted by a network of seasoned Al Qaeda veterans — sometimes referred to as the Khorasan Group.
It's alleged that the group established a safe haven in Syria to develop external attacks, construct and test improvised explosive devices and recruit Westerners to conduct operations.
The Khorasan Group is believed to refer to an initiative by Al Qaeda's central command in the Afghanistan-Pakistan region to establish a group in Syria of some of its veteran militants to focus on attacks against the West.
Its members cooperate with Al-Nusra Front, Al Qaeda's Syria affiliate, using the group's resources and bases, according to experts.
Al-Nusra's focus, however, has so far been on the fight against President Bashar al-Assad's regime and its members are largely Syrian citizens.
http://www.dawn.com/news/1133839/us-led-strikes-kill-30-al-qaeda-fighters-in-syria
------------
Qatar grants terrorist al-Nusra Front 20 million dollars in financial aid
Sep 24, 2014
Qatar has granted 20 million dollars in financial aid to the al-Qaeda-affiliated al-Nusra Front, which has been fighting against the government of the Syria President Bashar al-Assad and has taken over parts of the Israeli-occupied Golan Heights in Syria.
This is while, earlier in September, Qatar's Emir Tamim Bin Hamad Al Thani said during a joint press conference with German Chancellor Angela Merkel that his country does not support any Takfiri militants in Syria and Iraq.
"Qatar is not and has never financed terrorist groups," the Qatari emir said.
The Qatari financial assistance to the terrorist group comes amid the publicity campaign by the US about the fight on terrorism.
On Monday night, Pentagon spokesman Rear Admiral John Kirby said in a statement that the US army and "partner nation forces are undertaking military action against… terrorists in Syria using a mix of fighter, bomber and Tomahawk Land Attack Missiles." The strikes he was referring to, were carried out without the UN consent.
Washington has been supporting militant groups operating against the government in Syria since March 2011, when foreign-sponsored militancy first began in Syria.
Many terrorists have reportedly been trained by the CIA in Jordan. The militant groups have also been armed with advanced weapons.
According to reports, besides Qatar, the Western powers other regional allies - especially Saudi Arabia and Turkey - are also supporting the Takfiris fighting against the Syrian government.
http://www.presstv.ir/detail/2014/09/24/379810/qatar-gives-20m-to-nusra-front/
------------
Israeli forces clash with Palestinians in Al-Aqsa Mosque
Sep 24, 2014
Israeli forces have once again attacked Palestinian worshippers at Al-Aqsa Mosque compound in East al-Quds (Jerusalem).
According to reports on Wednesday, clashes broke out between Palestinians and Israelis after Israeli forces stormed the holy site.
At least 17 Palestinians were reportedly injured in the clashes.
Israeli troops have escalated their raids on the Al-Aqsa Mosque in recent months. The Al-Aqsa Mosque is the third holiest site for world Muslims.
Almost on a daily basis, Israeli troops force their way into the ranks of Palestinian worshipers, triggering scuffles.
Recently, Israeli troops have been escorting Jewish extremists into the compound, where they engage in a flurry of provocative practices insulting to Muslims.
This comes as Israeli authorities are also systematically acting to change the identity and character of several Palestinian cities.
A report published by the Al-Aqsa Foundation in October 2013 said the Israeli regime is planning to build a synagogue at Al-Aqsa Mosque compound as part of its efforts to further Judaize the occupied Palestinian territories.
Over the past decades, Israel has tried to change the demographic makeup of al-Quds (Jerusalem) by constructing illegal settlements, destroying historical sites, and expelling the local Palestinian population.
http://www.presstv.ir/detail/2014/09/24/379821/israelis-attack-palestinians-in-alaqsa/
------------
Turkey prevents Kurdish refugees from fighting ISIL
Sep 24, 2014
Turkey has kept its border closed to prevent Syrian Kurdish refugees from returning to the city of Kobani to fight the ISIL terrorists there, Press TV reports.
The Syrian Kurdish refugees remain resolute to help the Kurds in Syria and other Kurdish regions along Turkey's border fighting against the Takfiri group. They, however, say that Turkish authorities prevent them from joining the Kurdish fighters.
"We want to help the people there but the border is closed. The humanitarian situation of the Kurds is not good there," Huseyin Gugor, from Kurdish Freedom and Democracy Party, told Press TV.
Turkish Kurds accuse Ankara of being sympathetic toward the militants belonging to the ISIL Takfiri group.
Full report at:
http://www.presstv.ir/detail/2014/09/24/379818/turkey-prevents-kurds-from-fighting-isil/
------------
Russia condemns US-led attacks on ISIL in Syria
Sep 24, 2014
Russia has condemned the US-led airstrikes targeting ISIL Takfiri terrorists in Syria, calling the move a violation of international law.
"Russia would like to emphasize that such actions can only be undertaken within the framework of the international law," Russian Foreign Ministry spokesman Alexander Lukashevich said on Tuesday.
The law "prescribes to have a prior and clear consent of the government of Syria to such actions, or a decision passed by the UN Security Council to that effect," Lukashevich added.
He also noted that the initiators of the unilateral measure should bear full legal responsibility for their action.
According to reports, the United States and its allies have carried out at least 200 airstrikes against the ISIL militants operating inside Syria. The strikes were carried out without approval of the United Nations. The Syrian government says the US had informed it of the strikes in advance.
Full report at:
http://www.presstv.ir/detail/2014/09/24/379808/russia-slams-usled-airstrikes-on-isil/
------------
Houthi rebels cry 'victory' as Hadi warns of civil war
24 September 2014
SANAA: President Abed Rabbo Mansour Hadi warned Tuesday of "civil war" in Sunni-majority Yemen and vowed to restore state authority as Shiite rebels in apparent near-total control of Sanaa hailed their "victory."
Yemen "is facing a conspiracy" and "the danger of slipping into civil war," Hadi said in a speech at the presidential palace, two days after Ansarullah rebels took all other key state institutions in the capital, overshadowing a UN-brokered peace deal.
In a televised speech, rebel leader Abdelmalek Al-Houthi hailed what he called the "victory" of his fighters.
"We congratulate our people on the victory of their popular revolution that has established a new era based on cooperation," Houthi said.
Hadi had earlier evoked the specter of foreign plots aimed at torpedoing progress in Yemen.
"Internal and foreign forces (have) allied to... overthrow the Yemeni model" of power transition following an Arab Spring-inspired uprising, the president said.
Yemen was the only Arab Spring country where an uprising led to a political settlement by which Hadi replaced former autocrat Ali Abdullah Saleh.
Hundreds of rebels manned checkpoints on the airport road and other major thoroughfares on Tuesday while heavily armed patrols cruised the streets in four-wheel-drive vehicles, AFP correspondents reported.
Insurgents alongside small detachments of military police guarded public offices the rebels entered on Sunday, including the main government building, parliament, army headquarters and the central bank.
Full report at:
http://www.arabnews.com/middle-east/news/634806
------------
Top Iraqi generals retired after huge loss to IS militants
24 September 2014
BAGHDAD: Iraqi Prime Minister Haider Al-Abadi retired two senior generals on Tuesday as part of an overhaul of the country's armed forces, which collapsed this summer in the face of Islamic State insurgents.
The two commanders had been close allies of Abadi's predecessor, Nuri Al-Maliki, a Shi'ite widely blamed for sectarian rule.
Abadi's decision to remove the two generals followed an Islamic State assault on an Iraqi army base in Saqlawiya in western Anbar province on the weekend. A senior Iraqi security official said the attack left 400 to 600 soldiers dead or captured.
Iraqi soldiers described on Monday how Islamic State fighters inflicted heavy losses in a chaotic raid on a military base just an hour's drive from Baghdad, highlighting the fighters' ability to attack high-profile targets despite US air strikes.
A statement from Al-Abadi's office said he had issued orders to detain two commanders for "negligence" in the incidents 50 km west of Baghdad, while some troops who escaped accused the military leadership of failing to help them during the siege.
Their raid at Saqlawiya is the latest since the northern city of Mosul fell to Islamic State in June to exposes the Iraqi military's shortcomings. It followed a massacre of an army detachment at Camp Speicher in the same month, in which military recruits were led off the base unarmed and murdered in their hundreds.
One officer who survived the raid said that of an estimated 1,000 soldiers in Saqlawiya, only about 200 had managed to flee.
"This failure is not the fault of the soldiers ... the mistake was that of the military leadership, they failed," said the officer, who declined to be named due to the sensitivity of the issue.
Full report at:
http://www.arabnews.com/middle-east/news/634801
------------
Southeast Asia
China's war on terror becomes all-out attack on Islam in Xinjiang
By Simon Denyer
September 19
SHACHE COUNTY, China – The month of Ramadan should have been a time of fasting, charity and prayer in China's Muslim west. But here, in many of the towns and villages of southern Xinjiang, it was a time of fear, repression, and violence.
China's campaign against separatism and terrorism in its mainly Muslim west has now become an all-out war on conservative Islam, residents here say.
Throughout Ramadan,police intensified a campaign of house-to-house searches, looking for books or clothing that betray "conservative" religious belief among the region's ethnic Uighurs: women wearing veils were widely detained, and many young men arrested on the slightest pretext, residents say. Students and civil servants were forced to eat instead of fasting, and work or attend classes instead of attending Friday prayers.
The religious repression has bred resentment, and, at times, deadly protests. Reports have emerged of police firing on angry crowds in recent weeks in the towns of Elishku, and Alaqagha; since then, Chinese authorities have imposed a complete blackout on reporting from both locations, even more intense than that already in place across most of Xinjiang.
A Washington Post team was turned away at the one of several checkpoints around Elishku, as army trucks rumbled past, and was subsequently detained for several hours by informers, police and Communist Party officials for reporting from villages in the surrounding district of Shache county; the following day, the team was again detained in Alaqagha in Kuqa county, and ultimately deported from the region from the nearest airport.
Across Shache county, the Internet has been cut, and text messaging services disabled, while foreigners have been barred. But in snatched conversations, in person and on the telephone, with the few people in the region brave enough to talk, a picture of constant harassment across Xinjiang emerges.
Full report at:
http://www.washingtonpost.com/world/chinas-war-on-terror-becomes-all-out-attack-on-islam-in-xinjiang/2014/09/19/5c5840a4-1aa7-4bb6-bc63-69f6bfba07e9_story.html
------------
Indonesia Tells the US How To Defeat Jihadists with Soft Power
September 24th, 2014
Indonesia, home to the world's largest population of Muslims, had some words of advice for the United States for defeating the extremist group Islamic State and other like-minded jihadists.
"Once ISIS [Islamic State in Iraq and Syria] can be defeated militarily, we will urgently need to come up with subsequent measures to ensure that future generations will not take up their diabolical cause again," outgoing Indonesian president Susilo Bambang Yudhoyono told US military cadets at West Point this week. He cited his own country's success in ending conflict in Indonesia's once-violent Aceh province and its reconciling with its one-time territory of Timor-Leste.
The fact that Indonesia doesn't have more problems with terrorism despite its large Muslim youth population and porous land and sea borders lend some weight to Yudhoyono's words. Moderate Muslim religious leaders in the country have condemned IS, and even some radical groups are distancing themselves from the group on the basis that it has killed many fellow Muslims.
But Indonesia's main approach to dealing with terrorism on its own soil—where groups like Jemaah Islamiyah and Darul Islam launched several deadly attacks between the late 1990s and the mid-2000s—has been anything but soft. In the aftermath of the 2002 attack in Bali that killed over 200 people, Indonesia launched a conventional "hard power" response through military intelligence-gathering, raids, and arrests. Convictions rose dramatically after 2002, and then again after twin bombings of Western hotels in Jakarta in 2009.
Full report at:
http://qz.com/270295/indonesia-tells-the-united-states-how-to-defeat-jihadists-with-soft-power/
------------
Peaceful advocate for Muslim Uighurs in China sentenced to life in prison
23 September 2014
A court in the Xinjiang region of north-west China sentenced the country's most prominent peaceful advocate for the rights of Muslim Uighur people to life in prison for inciting separatism on Tuesday.
Ilham Tohti, a former economics professor at Minzu University of China in Beijing, is known as a moderate Uighur intellectual and critic of the government's ethnic policies. He advocates increased autonomy and equal rights for Xinjiang's minority groups. The 44-year-old has firmly denied the charge.
The US and EU have called for his release, and human rights groups have described the case as a political prosecution intended to showcase the government's unwillingness to tolerate even moderate forms of dissent.
"Ilham's case is an example of someone being convicted for speaking freely," Tohti's lawyer, Li Fangping, said by phone, adding that the defence would appeal against the verdict.
The court in Urumqi, the region's capital, also demanded the seizure of all Tohti's assets.
Xinjiang, a sparsely populated but ethnically diverse region, is more than six times the size of the UK and borders several central Asian states. Tensions between the region's Muslim Uighur minority and majority Han Chinese have flared into clashes and terror attacks over the past year and a half. More than 200 people have died in Xinjiang-related violence since last spring. On Sunday, three explosions in the south of the region killed two people and injured many others.
China blames the conflict on independence-seeking separatists, terrorists, and the spread of radical Islam. Uighur groups abroad say the clashes are a desperate protest against religious oppression and economic marginalisation.
"Today, Ilham Tohti becomes another casualty of China's war on words," said Dominic Moran, the director of free expression programmes at the New York-based Pen American Centre. "His conviction makes a mockery of China's professed commitment to social harmony by silencing one of the country's unifying voices and, with it, fellow Uighur writers who are now unlikely to dare speak out."
He added: "Pen upholds Tohti's innocence, decries the profound iniquity of this judgment, and holds profound concerns regarding his maltreatment in detention. We maintain hope that, with time, justice will prevail and he will be freed to return to his wife and children."
Xinhua, China's official newswire, said afternoon that Tohti "spread lessons containing separatist thoughts via the website [Uighur] Online".
Full report at:
http://www.theguardian.com/world/2014/sep/23/xinjiang-china-court-ilham-tohti-muslim-uighur-life-in-prison
------------
Two killed in explosions in China's Muslim-dominated Xinjiang region
Sep 22, 2014
Beijing: At least two persons were killed and several others injured in a series of explosions in China's restive Muslim-dominated Xinjiang province.
Explosions hit at least three locations in Xinjiang's Luntai County last evening, the Tianshan news portal, run by the regional government, said in a short report this morning.
The report did not identify the explosions, which appeared to be coordinated attacks, as acts of terrorism, Hong Kong-based South China Morning Post reported.
"The local social order was normal," the Tianshan said, indicating that there was no further unrest following the explosions.
Full report at:
http://www.firstpost.com/world/two-killed-explosions-chinas-muslim-dominated-xinjiang-region-1723927.html
------------
'Have thicker skin' when discussing religious issues, says interfaith Muslim speaker
23 Sep 2014
A Russian Muslim speaker has raised concerns about the way religious minorities are being "demonised" in Malaysia as it paves the way for more divisiveness in the country. Julia Sveshnikova, policy coordinator for non-governmental organisation (NGO) Islamic Renaissance Front (IRF), said that interfaith interaction was under threat because...
A Russian Muslim speaker has raised concerns about the way religious minorities are being "demonised" in Malaysia as it paves the way for more divisiveness in the country.
Julia Sveshnikova, policy coordinator for non-governmental organisation (NGO) Islamic Renaissance Front (IRF), said that interfaith interaction was under threat because people's minds were being cultivated to think less of others who are different.
"That is why it rings a warning bell when religious minorities are being demonised in the eyes of a religious majority, for instance, that attitude has paved the way to the resentment about the Shia sect in Malaysia," she said at a CCM Interfaith Ecumenical Conference public forum in Petaling Jaya.
Sveshnikova referred to the history of the Jews under the Nazi regime which cultivated people's minds to the point of dehumanising the "other". When people accepted this view, it was then sufficient to condone a massacre of the Jews.
"It is a very extreme example but we are concerned that this kind of practices should not take place anywhere else," said Sveshnikova, who is based in Malaysia researching political Islam.
She added that even among university students, there seemed to be a hesitation to speak up about how they really felt, more so when their views were different from the official stand.
More worryingly, she added, was the "authority of religion" that was used to deny citizens their rights on the basis of religious affiliation.
"Sometimes non-Muslims, for instance, are advised not to speak out against injustices on the grounds they are not qualified to judge on the matters of Islam, even if they are well-versed on the theme," she said.
She also said that the government adopted a dual track – promoting the concepts of religious moderation on one hand but not actively counteracting the right-wing extremists groups on the other.
Full report at:
http://news.malaysia.msn.com/tmi/have-andnumber8216thicker-skin%E2%80%99-when-discussing-religious-issues-says-interfaith-muslim-speaker
------------
Tun Dr Mahathir: US behind Islamic State Militants
September 22, 2014
KUALA LUMPUR, Sept 22 — Former Prime Minister Tun Dr Mahathir Mohamad has blamed the United States (US) for spawning the growth of militant group Islamic State (IS), adding that the US has "never learned from their mistakes".
Writing on his blog today, he said that the US had only caused more harm by creating a trail of destruction in several Muslim countries.
"The United States seems unable to learn from the failures of their past strategies.
"They created the Taliban to fight Russia in Afghanistan. That turned awry.
"They (US) created the Taliban to fight Russia in Afghanistan. That turned awry.
"They went to war against Afghanistan and Iraq, believing with shock and awe they would finish victorious in three months," he wrote.
Dr Mahathir said that the US has once again created IS, by supporting the Sunni controlled movement to overthrow Syrian president Bashar al-Assad's Shiite administration.
"Where did they come from? Just like the Taliban they were created by the United States of America.
Full report at:
http://www.themalaymailonline.com/malaysia/article/dr-m-us-behind-islamic-state-militants
------------
Indonesia preps Islamic pension rules as Islamic banking growth slows
Thu Sep 18, 2014
Indonesia's capital market regulator is projecting a drop in the growth rate of Islamic banking assets and is developing an array of initiatives to boost the sector, including much-awaited rules governing Islamic pension funds.
Indonesia's financial services authority, Otoritas Jasa Keuangan (OJK), said in a report that it is preparing a five-year blueprint aimed at industry issues such as sector consolidation, a lack of scale and foreign ownership limits.
OJK said it was now preparing draft regulations for Islamic pension funds, after Indonesia's national sharia council issued a ruling approving the overall concept in November last year. It has been under study since 2009.
"There is demand from the public to participate. With this, it is hoped that the number of sharia products increase and the public's wish for a pension fund on the basis of sharia principles is fulfilled."
Countries such as Pakistan and Malaysia have made efforts to develop Islamic pension systems of their own, where fund managers screen their portfolios according to religious guidelines such as bans on tobacco, alcohol and gambling.
Under a "moderate" scenario, the OJK projects Islamic banking assets will grow by 14.4 percent in 2014, down from 24.2 percent in 2013 and 34 percent in 2012, although these figures would remain above those for conventional banks.
As of December, Indonesia's Islamic banking industry - which included full-fledged lenders, Islamic windows and Islamic rural banks - had a combined 248.1 trillion rupiah ($20.6 billion) in assets, or 4.9 percent of the country's total banking assets.
That means Indonesia, which has the world's biggest Muslim population, remains well below neighbouring Malaysia, where Islamic banks hold more than 20 percent of all banking assets.
The OJK said challenges faced by Islamic banks were mainly internal, rather than related to external pressures such as falling commodity prices or lower export demand, as the sector's foreign currency funding stood at about 5.9 percent.
Full report at:
http://www.reuters.com/article/2014/09/18/us-islamicfinance-indonesia-idUSKBN0HD0P320140918
------------
India
Dalai Lama Discusses Jihad, Islamic State At Meeting Of India's Religious Leaders
09/23/201
On Saturday the Dalai Lama shared a lesson on 'jihad' aimed at the Islamic State and other groups who commit violence in the name of religion.
Speaking at a meeting of Indian leaders from nine different religious traditions, the Dalai Lama addressed the Islamic State, saying: "Killing in the name of faith is unacceptable."
The Tibetan spiritual leader focused on the concept of "jihad," commonly thought to be a holy war, but which he said has a far more spiritual dimension within the context of Islam.
"Jihad combats inner destructive emotions," the Dalai Lama said. "Everybody carries jihad in their hearts, including me."
Just one day after the Dalai Lama delivered his remarks, the Islamic State reportedly released a speech over social media entitled "Indeed Your Lord Is Ever Watchful," which encouraged Muslims around the world to kill "disbelievers."
In his comments on Saturday the Dalai Lama warned against such aggression and encouraged religious leaders to speak out.
"If we remain indifferent to what is happening around us, it is wrong," the Nobel Peace Prize winner said.
With his lesson on jihad, the Dalai Lama joins other Muslim and non-Muslim leaders who have described the Islamic State's representation of the faith. Pope Francis has also spoken out against the group, most recently during a trip to the Muslim-majority Albania.
Addressing an audience in Tirana, the pope applauded the mutual respect among faiths which he said was strong in Albania, and called such cooperation a "precious gift" in today's world.
"This is especially the case in these times where an authentic religious spirit is being perverted by extremist groups and where religious differences are being distorted and instrumentalised."
Full report at:
http://www.huffingtonpost.com/2014/09/23/dalai-lama-jihad_n_5862528.html
------------
62-Year-Old Muslim Has Navratri Prayers by Heart
Sep 23, 2014
Bijnor: Saddan Kamali, a 62-year-old Muslim, who otherwise dons a skull cap, wears a red Tilak on his forehead and wears a Kurta-pyjama and red stole during the Navratri season. For the past nearly half century, he has lent his voice the Jagrans (prayer sessions) organised during Navratri. He knows all the songs by heart.
What is more, he is not the only one in his family to have been associated with Hindu prayer functions. For the last two generations, members of his family have been singing and playing musical instruments at Hindu processions and plays.
Full report at:
http://timesofindia.indiatimes.com/city/meerut/62-year-old-Muslim-has-Navratri-prayers-by-heart/articleshow/43262606.cms
------------
Jammu seethes in anger as Valley corners sympathy
ANIL ANAND
20th Sep 2014
On the face of it Jammu (city), the winter capital of Jammu and Kashmir has survived the onslaught of the recent flash floods due to its topography, as the gushing waters of river Tawi have ravaged localities on its embankments and hundreds of village downstream before it enters Pakistan.
Nearly a fortnight after the flash floods that resulted due to incessant rains and caused large scale landslides in the predominantly hilly Jammu region, the reality has gradually started sinking in. Lack of relief and rehabilitation measures, despite tall claims of the administration, and the disappearing act of the political parties during the initial days have caused anger among the people.
On top of that the focus of the entire relief and rehabilitation operation has been on Kashmir, that too on Srinagar city, which has incensed the people. Questions are being asked on the impartiality of both the Centre and the state governments.
Areas around Jammu city, particularly those located downstream bear a picture of total neglect, even days after the waters receded. Acute shortage of water and power, damaged houses with no help in sight and deplorable civic conditions in these areas have forced the people to take to the streets in protest. The Gujjar Nagar area on the bank of Tawi and areas such as Pargwal, Falain Mandwal and Samba stretching up to the Pakistan border have faced total destruction.
A large number of government schools in these areas are still closed as the government has not come up with any contingency plans to ensure that the studies of the students are not affected anymore. Nearly 150 schools have been damaged in Jammu district alone. 1,200 schools across Jammu have been destroyed. These schools are mostly located in the hilly areas where relief and rehabilitation measures have not fully picked up due to poor road connectivity. The relief efforts till date mostly were through aerial route carried by Army and Air Force.
Full report at:
http://www.sunday-guardian.com/news/jammu-seethes-in-anger-as-valley-corners-sympathy
------------
India says no plans for Modi-Sharif meeting in New York
September 24th, 2014
NEW DELHI: There are "no plans" for a meeting between Indian and Pakistani prime ministers on the margins of the UN General Assembly in New York this week, India's foreign ministry spokesman said on Tuesday.
As part of "neighbours first" policy, Prime Minister Narendra Modi is scheduled to meet the leaders of Sri Lanka, Bangladesh and Nepal, Press Trust of India quoted the spokesman, Mr Syed Akbaruddin, as saying.
Asked if there could be a meeting between Mr Modi and Prime Minister Nawaz Sharif, he said: "There are no plans for the meeting."
Full report at:
http://www.dawn.com/news/1133928/india-says-no-plans-for-modi-sharif-meeting-in-new-york
------------
Pakistan
Qadri tells overseas supporters to welcome PM with 'Go Nawaz Go' chant
By Ahmad Ahmadani
September 24, 2014
ISLAMABAD: Pakistan Awami Tehreek (PAT) Chief Dr Tahirul Qadri on Tuesday called upon overseas Pakistanis to encamp outside United Nations Headquarters to protest against Prime Minister Nawaz Sharif during his ongoing visit to New York.
"Receive and welcome Prime Minister Nawaz Sharif with 'Go Nawaz Go' slogan to show disapproval against him," Qadri said. He also called upon people to encamp outside the UN Headquarters to protest against Premier Sharif, saying he has lost every right to rule this country.
"The PM is proceeding to attend the United Nations General Assembly session after trampling upon rights of his own people," fiery anti-government Canadian cleric said while delivering a routine speech to his diehard workers protesting on the Constitution Avenue in the heart of federal capital.
Full report at:
http://www.dailytimes.com.pk/national/24-Sep-2014/qadri-tells-overseas-supporters-to-welcome-pm-with-go-nawaz-go-chant
------------
Peshawar suicide attack on FC kills five
September 24, 2014
PESHAWAR: A suicide bomber rammed his explosives-laden car into a convoy of Frontier Corps in the high security zone inside the cantonment, leaving five people, including a woman and a security official, dead. FC Deputy Inspector General Brig Khalid Javed was the prime target of the suicide attack, Peshawar police chief Ejaz Khan confirmed, while the ISPR said the senior military official survived the attack but was wounded. His condition was stated to be out of danger. "The suicide bomber was in a car and detonated explosives as soon as he got close to the FC vehicle," Peshawar police chief DIG Ejaz Khan told reporters. Rescue 1122 said five persons, including an FC officer and a woman, were among the dead, while 13 were injured, two of them being in a "critical condition." It was the first such attack since operation Zarb-e-Azb was launched against Taliban and other militant groups in North Waziristan in mid-June this year. The claim of responsibility for the attack by banned terror outfit Tehreek-e-Taliban Pakistan was no surprise. Its spokesman, Shahidullah Shahid, phoned media offices to own the suicide attack. "The attack on the security forces' convoy was a reaction to the Zarb-e-Azb operation," he said. A three-wheeler and FC vehicle were completely damaged in the attack on Sher Shah Suri Road near Peshawar Press Club and at distance of few hundreds metres from the Chief Minister's House, Governor's House and 11 Corps Headquarters of the military. Full report at:
http://www.dailytimes.com.pk/national/24-Sep-2014/peshawar-suicide-attack-on-fc-kills-five
------------
Security personnel raid Shahzain Bugti's residence, seize explosives
By Syed Ali Shah
September 24th, 2014
QUETTA: Security forces personnel conducted a raid at the residence of Jamhoori Watan Party (JWP) leader Nawabzada Shahzain Bugti Wednesday and recovered huge quantity of arms and ammunition, a security official said.
A security agency official, who requested anonymity, told that Dawn Frontier Corps and personnel of anti-terrorist force foiled a major bid of terrorism during a joint raid.
He said 800 hand grenades, 200 kilograms of explosives, 13 RPG launchers, electric detonators, etc were seized during the raid that was carried out at Shahzain's residence on Quetta's Al Gailani road.
Full report at:
http://www.dawn.com/news/1134030/security-personnel-raid-shahzain-bugtis-residence-seize-explosives
------------
SC to hear govt plea against Musharraf's travel plans
September 24th, 2014
ISLAMABAD: The Supreme Court is expected to resume from Oct 1 the hearing of a government appeal that will determine whether retired General Pervez Musharraf – who is currently on trial for treason – can go abroad to see his ailing mother.
A five-judge bench, consisting of Chief Justice Nasirul Mulk, Justice Anwar Zaheer Jamali, Justice Saqib Nisar, Justice Asif Saeed Khosa and Justice Ejaz Afzal, will hear the government challenge against the Sindh High Court (SHC) order of June 12, which ordered that Musharraf's name be removed from the Exit Control List (ECL).
The appeal was hurriedly filed by the government on June 14, which challenged the high court order on the apprehension that once Musharraf leaves the country, he is unlikely to come back to stand trial under Article 6 of the Constitution.
At the last hearing, held on June 23, the Supreme Court had suspended the high court judgment until it delivered a verdict on the appeal and also formulated a set of questions to determine whether the former president could be allowed to leave the country without modifying its earlier verdict.
On April 8 last year, the Supreme Court had issued directives to the government to place Musharraf's name on the ECL and ensure that he does not leave the country until the order was varied or modified.
Pleading the government appeal in the fresh case, Attorney General Salman Aslam Butt had argued at the time that the government was merely following the Supreme Court's orders of April 8.
Full report at:
http://www.dawn.com/news/1133964/sc-to-hear-govt-plea-against-musharrafs-travel-plans
------------
Jet fighters strike militant hideouts in Tirah
By Zahir Shah Sherazi
September 24th, 2014
PESHAWAR: Jet fighters struck suspected militant hideouts in various parts of the Kokikhel area in Tirah Valley of Khyber Agency early on Wednesday morning.
Local and intelligence sources said that a number of militant hideouts were destroyed while several terrorists have also been killed in the strikes.
The Inter Services Public Relations (ISPR) is yet to issue details of the recent military activity and the information could not be independently verified as the access of journalists is limited in the region.
Full report at:
http://www.dawn.com/news/1134029/jet-fighters-strike-militant-hideouts-in-tirah
------------
Gunmen kill Ahmadi doctor in Mirpurkhas
September 24, 2014
AFAQ AHMED/Agencies
MIRPURKHAS - Gunmen shot dead a homoeopathic doctor from Ahmadi minority here, said police and members of the community on Tuesday.
His body was shifted to Rabwah (Faisalabad) for burial after post-mortem from Civil Hospital Mirpurkhas on Tuesday. The assailants stormed Mubashar Ahmad Khosa's clinic late on Monday. "He was attending to patients at his clinic at Malhi Colony when two unidentified assailants came in and fired at him repeatedly before fleeing on a motorbike," a statement by Jamaat Ahmadiyya Pakistan spokesman Salimuddin said. Zafarullah Dharejo, a senior local police official, added that a third attacker kept watch outside.
Khosa, who was a well-known doctor in the area, succumbed to injuries on the way to hospital.
Full report at:
http://nation.com.pk/national/24-Sep-2014/gunmen-kill-ahmadi-doctor-in-mirpurkhas
------------
PTI gears up for show at Minar-i-Pakistan
September 24th, 2014
LAHORE: The Pakistan Tehreek-i-Insaf has geared up for staging a massive show on the call of party chief Imran Khan in Lahore on Sept 28.
It claims the protest gathering will serve as a referendum against the Nawaz Sharif-led government.
The PTI leaders say Imran Khan's message of bringing about a country-wide change by eliminating corruption as well as putting free and fair electoral system in place has reached every home in the country and people will come out to support this cause on next Sunday.
PTI Lahore President Abdul Aleem Khan says the party has applied to the district administration, police and other institutions concerned for holding the gathering at Minar-i-Pakistan on Sunday.
The PTI Lahore on Tuesday held its organising committee meeting and constituted various committees to put up the best show in the city.
Speaking to the meeting participants, PTI Punjab President Ejaz Chaudhry said the party had been organising a historic peaceful sit-in for the past 41 days. He said Imran Khan was working to save, strengthen and prosper Pakistan. He said the PTI was struggling for the creation of a 'Naya Pakistan' that was actually envisioned by Quaid-i-Azam Muhammad Ali Jinnah and Allama Iqbal.
Mr Chaudhry said the incumbent government formed on the basis of 'fake' mandate should realise its status in the wake of Election Commission's internal report that showed massive irregularities in the elections. He said the Punjab government's 'conspiracy' to burn general election record in a Lahore school was exposed. He said such tactics could not change public opinion and added that the slogan "Go Nawaz Go" had become the voice of every Pakistani at home and abroad.
Full report at:
http://www.dawn.com/news/1133992/pti-gears-up-for-show-at-minar-i-pakistan
------------
Parties reject Altaf's demand for new provinces in Sindh
September 24th, 2014
KARACHI: A multi-party conference on Tuesday rejected a call of the Muttahida Qaumi Movement to create more administrative units in Sindh and resolved that everyone living in the province irrespective of their ethnic background would not allow the division of Sindh.
The conference, titled 'Administrative provinces and demand for dividing Sindh is a conspiracy against Sindh, country and peace', was jointly organised by the Jamiat Ulema-i-Pakistan and the Qaumi Awami Tehreek.
Besides two former chief ministers, representatives of the Pakistan Tehreek-i-Insaf, Pakistan Muslim League-Nawaz, PML-Functional, Jamaat-i-Islami, National Party, Awami National Party, Jamiat Ulema-i-Islam-Fazl, Balochistan National Party, several Sindhi nationalist parties and members of civil society and minorities attended the conference.
Know more: Altaf reiterates call for more provinces
The event was presided over by JUP Secretary General Maulana Owais Ahmad Noorani while QAT president Ayaz Latif Palejo conducted the meeting.
Mr Palejo told the audience that the Pakistan Peoples Party and the MQM were not invited to the conference. However, he said that the PPP's Saeed Ghani was there in his personal capacity.
Maulana Noorani expressed his gratitude for demonstrating rare unity and said that his party was against carving out provinces on the basis of ethnicity and considered all those living in Sindh as brothers.
He said that every resident of Sindh would join hands to foil the conspiracies to divide Sindh.
Over three dozen speakers got the opportunity to represent the views of their party. They endorsed the stand taken by leaders of the major parties and the organisers of the event that Sindh would not be divided.
Full report at:
http://www.dawn.com/news/1133885/parties-reject-altafs-demand-for-new-provinces-in-sindh
------------
Altaf suggests technocrats' government for two years
September 24, 2014
LONDON: Muttahida Qaumi Movement (MQM) chief Altaf Hussain has called for the setting up of a technocratic government in the country for a period of two years.
Altaf Hussain early on Tuesday said that the two protesting parties in Islamabad – Tehreek-e-Insaf (PTI) and Pakistan Awami Tehreek (PAT) and the government should look for a way to end the current political crisis in which the stakeholders can save face. MQM chief, while speaking to Governor Punjab who visited the party's secretariat in London Tuesday, urged all parties involved in the Islamabad impasse to step back from their hardened stance. Altaf called for a technocratic government to be set up in the country for two years during which those involved in rigging would be punished.
"The technocratic government should be ruthless in its accountability of all people," he said. However, the MQM leader added that it was not necessary to make the setup straight away. "The setup can be formed after the tenure of the current government ends," he proposed. He further said that Pakistan is passing through a critical phase, "on one hand we have flood affectees on the other we have Operation Zarb-e-Azb and the IDPs who need our help". Altaf reiterated that his party is not participating in the Islamabad sit-ins, but, his heart was with those people who were contained in Model town by the government for days. He lamented that MQM was not allowed to take food to them. Though, he thanked God that the government did not take any step that could create a situation of bloodshed.
Full report at:
http://www.dailytimes.com.pk/national/24-Sep-2014/altaf-suggests-technocrats-government-for-two-years
------------
Security personnel raid Shahzain Bugti's residence, seize explosives
By Syed Ali Shah
September 24th, 2014
QUETTA: Security forces personnel conducted a raid at the residence of Jamhoori Watan Party (JWP) leader Nawabzada Shahzain Bugti Wednesday and recovered huge quantity of arms and ammunition, a security official said.
A security agency official, who requested anonymity, told that Dawn Frontier Corps and personnel of anti-terrorist force foiled a major bid of terrorism during a joint raid.
He said 800 hand grenades, 200 kilograms of explosives, 13 RPG launchers, electric detonators, etc were seized during the raid that was carried out at Shahzain's residence on Quetta's Al Gailani road.
Full report at:
http://www.dawn.com/news/1134030/security-personnel-raid-shahzain-bugtis-residence-seize-explosives
------------
Africa
Boko Haram Shootout in Nigerian Town Leaves at Least 36 People Dead
9/20/14
Fighters from Nigerian Islamist militant group Boko Haram stormed the northeastern town of Mainok on Friday, sparking a gun battle that killed at least 36 people and continued into Saturday, two security sources said.
Four civilians were also killed in the remote north of Cameroon in a cross-border attack by Boko Harammilitants, according to Cameroon state radio.
Boko Haram has killed thousands over the past five years in its struggle for an Islamic state in northeast Nigeria.
Newsweek Magazine is Back In Print
"Thirteen of the terrorists who came to attack civilians in Mainok market yesterday were killed, some of them fled with gunshots and our colleagues are already on their trail. Unfortunately, 23 civilians died in the attack," one of the sources said.
The other said the death toll may be even higher, saying he had counted 25 bodies on one road.
The Nigerian military did not immediately respond to a request for comment.
Since a military offensive began last year the Islamists have taken out their anger on civilians in increasingly frequent attacks. They have also branched out to strike in areas far from the rebel strongholds.
Gunmen stormed a higher education college in northern Nigeria's main city of Kano on Wednesday, firing on fleeing students and triggering an explosion in an attack that killed at least 15 people and wounded 35, police said.
Boko Haram rebels have also made several incursions into the hilly jungle region of neighboringCameroon in recent months. Cameroon has deployed troops to the border in an attempt to repel them.
Cameroon's army responded after an assault on the village of Assighassia near the city of Mokolo, and two militants were killed and a Cameroonian soldier injured, state-run Cameroon Radio Television reported late on Friday.
"Two hours later, the terrorist group again attacked the village of Ganse, also close to Full report at:
http://www.newsweek.com/boko-haram-shootout-nigerian-town-leaves-least-36-dead-272026?piano_t=1
------------
Photo Prompts Speculation Nigeria's Boko Haram Leader Killed In Battle
September 22, 2014
A grainy and gruesome photo has fuelled speculation that the infamous leader of the Nigerian terror group Boko Haram is dead, even as the African nation's army presses fighters in the northern territory and the fate of hundreds of hostages hangs in the balance.
The military in neighbouring Cameroon claims to have killed Abubakar Shekau, the warlord seen earlier this year in a monstrous video vowing to sell nearly 300 kidnapped schoolgirls, and even released a photo purportedly of his corpse. Nigerian security forces are trying to authenticate the report, and officials in the U.S., which has aided Nigeria's hunt for Shekau, declined to comment when asked by Fox News if they are checking into the validity of the image.
"We are aware of the reports, but can't confirm anything at this time," a U.S. State department official said.
There is no question that the man shown in the photo released by Cameroon bears a strong resemblance to Shekau, but the terror leader reportedly uses body doubles to confound his enemies. The recent report is not the first time that Shekau was claimed to have been killed, although the statement from Cameroon, which has been battling Boko Haram at the border, and the photo, make this instance more compelling than others.
Cameroon officials say Shekau was killed in battle near the north-eastern city of Konduga. According to Bloomberg.com, the Nigerian Armed Forces tweeted out a posting claiming that more than 60 Boko Haram militants were killed in the battle and that a senior leader had been captured.
Military officials in the region had claimed last year that Shekau was killed in a battle on June 30. He later appeared in a video sent to media outlets to prove that he was still alive.
Boko Haram, which claims to have established a caliphate in the town of Gwoa, and according to Human Rights Watch, has killed more than 2,000 innocent people in the first half of 2014. But the group gained international infamy when it abducted nearly 300 schoolgirls from the northern town of Chibok in April. Although dozens are believed to have escaped, 200 or more remain captive in the rugged wilds of northern Nigeria.
Full report at:
http://www.foxnews.com/world/2014/09/22/photo-prompts-speculation-nigeria-boko-haram-leader-killed-in-battle/
------------
Somalia: Number Of Al Shabab Defectors Continues To Increase
September 23, 2014
Mogadishu (RBC) The number of Al Shabab defectors who have surrendered to the government security continue to increase as the joint forces plan to move on the second major military offensive.
Lower Shabelle Governor Abdukadir Nur Siidii has mentioned that 41 newly defected Al Shabab members have surrendered to the security forces in Qoryoley district in the past two days.
"We are currently screening them as the number is expected to rise." the governor said in an interview this morning.
Mr Siiidii said the security apparatus and government officials in the region are doing very key job to secure the defectors from the threat from Al Shabab "because these young men were mostly lured by Al Shabab".
Full report at:
http://www.raxanreeb.com/2014/09/somalia-number-of-al-shabab-defectors-continue-to-increase/
------------
Fears in Jordan over attacks on ISIL
23 Sep 2014
Amman, Jordan - Jordan has confirmed it took part in air strikes launched against the Islamic State of Iraq and the Levant (ISIL) inside Syrian territory in the early hours of September 23.
Mohammad al-Momani, the Jordanian information minister and government spokesperson, said that his country was among four other Arab countries that participated in the air strikes.
"We aimed at attacking terrorists in their home to protect our stability, peace, and the independence of our land. Our country faces real threats by extremism," he told Al Jazeera Arabic. He added that the operation will continue during the coming hours.
A statement issued by the Jordanian armed forces said the operation was aimed at putting an end to the infiltration and the shooting at military bases on the eastern and northern borders with Syria.
The Jordanian Armed Forces confirmed that air force participated in the attacks.
"Jordanian air force planes destroyed some selected targets of terrorist groups which had been sending their members to carry out destructive activities in Jordan," said the statement.
"Unfortunately, attempts to penetrate the border increased in the past two months," the statement said.
Al Jazeera contacted the armed forces to clarify who the "terrorist groups" were and the exact number of the targets and locations, but they refused to comment.
"There are no more details to add to the report," said a senior official, who spoke on condition of anonymity.
Although Jordan had previously announced that it joined the US-led alliance against ISIL, overt participation in the military air strikes came as a surprise to most Jordanians.
The attacks come only one day after statements by the Jordanian Interior Minister Hussein al-Majali about "sleeping cells" in Jordan that aim to "target the kingdom".
Majali confirmed the kingdom's full commitment to the international alliance against ISIL.
Last week, Momani told Al Jazeera that Jordan was still examining how it would participate in fighting ISIL: "We will announce at the right time what Jordan's role [in fighting ISIL] will be."
Political analyst Hassan Abu Hanieh told Al Jazeera that he attributes this to "possible dramatic developments such as the advances made in northern Syria, which pushed thousands of Kurds into Turkey".
"Jordan probably feared an attack on its land by ISIL," Abu Hanieh added.
Other analysts said the government has been working for days to prepare the Jordanian public to accept this type of military intervention against ISIL.
Full report at:
http://www.aljazeera.com/news/middleeast/2014/09/fears-jordan-over-attacks-isil-2014923112457706656.html
------------
South Africa's gay-friendly mosque under fire from Muslim community
September 23, 2014
Johannesburg: A gay-friendly mosque has been opened in South Africa's Cape Town amid fierce criticism from the local Muslim community.
The new 'Open Mosque' also planning to have women as imams.
Launched by Muslim academic Taj Hargey, the South African-born director of the Muslim Educational Centre of Oxford, the first Friday prayers at the 'Open Mosque' drew more media crews than worshippers.
Fourteen national and provincial organisations representing the Muslim community across South Africa issued a joint statement condemning Hargey's plans.
"Hargey's cult has totally no affinity with the? Islam which the Muslims of South Africa follow," the statement read.
"We believe that it is illegal and highly deceptive for Hargey to?call his warehouse of 'worship' a 'mosque', and his cult 'Islam'".
Full report at:
http://zeenews.india.com/news/world/south-africas-gay-friendly-mosque-under-fire-from-muslim-community_1474245.html
------------
Kenyan counterterrorism efforts against Al-Shabab are counterproductive
September 24, 2014
by Abdullahi Boru Halakhe
On Sept. 6, a day after the White House announced the killing of Ahmed Godane, the leader of Somali Islamist group Al-Shabab, in a nighttime airstrike five days earlier, Kenyan President Uhuru Kenyatta said that Godane's death was "a small measure of closure to Westgate attack victims." The Al-Qaeda-affiliated group was behind the Sept. 21, 2013, mass shooting at the Westgate shopping mall in Nairobi, Kenya, which left 67 people dead and more than 175 wounded. It was billed as a revenge attack for Kenya's 2011 military incursion into Somalia after strings of cross-border attacks by Al-Shabab targeting aid workers and tourists.
As Kenya marks the first anniversary of the Westgate attack this week, the cycle of violence that ties Kenya, Somalia and the United States together continues. In the aftermath of the Westgate tragedy, violence from Al-Shabab, the Kenyan state and U.S.-supported African forces in Somalia have continued to terrorize ordinary Somalis and cost them their lives.
It is time to consider whether regional and international counterterrorism efforts against Al-Shabab, which created the conditions for the group's emergence, are counterproductive and need to be reformed.
Al-Shabab's rise
In 2006, after more than a decade of lawlessness, the Union of Islamic Courts (ICU), a disparate group of Islamist organizations, consolidated power, bringing a semblance of stability to Somalia, a country long ravaged by internecine conflict. Seeing the group's rise as a threat, the U.S. backed Ethiopia's subsequent invasion of Somalia. The Ethiopian incursion gave Al-Shabab, then only a marginal component of the ICU, its raison d'être. By deftly appropriating the longstanding enmity between Somalia and Ethiopia, the group began casting itself as the vanguard of the Somali resistance against external forces.
To be sure, from the start Al-Shabab had acute internal contradictions and conflicts, which were far more existential than any external intervention. For example, the ideological contests between the pan-Somali nationalism espoused by Hassan Dahir Aweys, a former head of ICU's shura council, and Godane's transnational jihadist ambitions were difficult to reconcile. This saw the departure of Aweys, who is currently under house arrest in Mogadishu; the purging of prominent figures from Al-Shabab, including Godane's rival Ibrahim al-Afghani and a number of other influential leaders; and the fleeing of the group's spokesman Mukhtar Robbow.
Godane's demise was hailed as a major blow to the group's transnational jihad. But in an audio message released on Sept. 6, Al-Shabab renewed its allegiance to Al-Qaeda and appointed Ahmed Omar Abu Ubaidah as its new leader, "warning its enemies to 'expect only that which will cause you great distress,'" according to Reuters.
Full report at:
http://america.aljazeera.com/opinions/2014/9/kenya-us-counterterrorismalshababsomalia.html
------------
Mideast
Israel hosts Takfiri terrorists in occupied Golan Heights: Video
Sep 24, 2014
Exclusive footage by Press TV shows the Takfiri terrorists in the Israeli-occupied Golan Heights in Syria.
In the video provided by the Press TV correspondent in the region, black-clad masked terrorists are seen holding weapons as several vehicles pass by.
The footage is not the first indication that Tel Aviv is in cahoots with the foreign-backed militant and terrorist groups inside Syria.
In August, Syria's ambassador to the UN Bashar Ja'afari told Press TV that the Israeli regime allows the free flow of weapons and ISIL Takfiri militants into the occupied Golan Heights and then into the rest of Syria.
The Israelis help the Takfiris infiltrate into the separation line on the Golan Heights from Jordan, where their training camps are located, the Syrian diplomat said.
In February, Israeli Prime Minister Benjamin Netanyahu paid a visit to a secret field hospital in the occupied Golan Heights, where injured militants coming in from Syria receive medical treatment.
Full report at:
http://www.presstv.ir/detail/2014/09/24/379798/takfiris-present-in-occupied-golan-video/
------------
Turkey Takes in 'Terrorists' from the Muslim Brotherhood
09.19.14
ISTANBUL, Turkey — As the United States tries to cobble together a regional alliance capable of containing and eventually crushing the self-styled jihadist caliphate in Iraq and Syria, the behavior of NATO member Turkey is increasingly problematic. It isn't volunteering any of its hundreds of thousands of soldiers, it doesn't want the Americans using Turkish bases to launch airstrikes, and its efforts to close its border to ISIS oil smugglers have been half-hearted.
Now Turkey is openly welcoming members of the Muslim Brotherhood branded as terrorists by other governments vital to this awkward anti-ISIS coalition.
Saudi Arabia, the United Arab Emirates and the current Egyptian government are united in a drive to crush the Brotherhood throughout the Middle East, while Turkey and Qatar have defended the Brotherhood as a modernizing movement that should participate in evolving democratic systems.
Turkey's offer to host the Muslim Brotherhood follows accusations, denied by Ankara, that the country has turned a blind eye to activities of Sunni extremist groups like ISIS in the hope that their fighters would push Syrian dictator Bashar al-Assad from power. Instead, ISIS is becoming a regional threat and a growing problem for Turkey itself.
Qatar also has come under fire as an alleged supporter of ISIS jihadists, and, under mounting international pressure, the fabulously rich little emirate decided to expel seven Brotherhood officials, including the leader Mahmoud Hussein. Brotherhood foreign relations officer Amr Darrag said in a statement on September 13, carried by Ikhwanweb, the Brotherhood's official English language website, that Qatar had asked the group to leave and that the Brotherhood officials would comply with the request "in order to avoid causing any embarrassment for the State of Qatar." Days later Darrag was reported to be in Turkey.
Then, earlier this week Turkish President Recep Tayyip Erdogan visited Qatar. Afterward, he told Turkish reporters that Ankara was prepared to take the Brothers in. "If there is a request by them, it will be looked at," Erdogan said. "If there is no obstacle, they would enjoy the ease that is shown to everyone else."
Ankara has been a key supporter of the Brotherhood in recent years, arguing it is a legitimate organization that won a democratic election in Egypt before President Mohamed Morsi was unseated in a coup led by current President Abdel Fattah al Sisi. As a consequence, ties between Ankara and Cairo were thrown into crisis. Egypt expelled the Turkish ambassador last year, prompting Ankara to declare the Egyptian envoy in Turkey persona non grata.
Erdogan has refused to work with the new government in Cairo and in public speeches since Morsi's ouster Erdogan has used the four-fingered "Rabia" hand sign, a symbol of Brotherhood resistance against Egypt's security forces. In return, Egypt has accused Erdogan of making "provocative" statements and meddling in its internal affairs.
Offering asylum to the Brotherhood leadership would take things one step further, and not everybody in the Turkish government is happy with it. Murat Yetkin, a respected Turkish columnist and editor of the Hurriyet Daily News, an English language newspaper read by many foreign diplomats in Ankara, quoted an unnamed high-ranking Turkish official saying that Turkey would rather not serve as the new base for the exiled Brotherhood. "We do not want to be in any business that will put us in difficulty," the source told Yetkin. "A perception that Turkey is hosting the leadership of Ikhvan [Brotherhood] or any other foreign organization will put it in a difficult position."
Full report at:
http://www.thedailybeast.com/articles/2014/09/19/turkey-takes-in-terrorists-from-the-muslim-brotherhood.html
------------
Gaza truce negotiations set to resume in Cairo
September 24th, 2014
CAIRO: An Israeli delegation arrived in Cairo on Tuesday for indirect talks with Palestinians on a long-term Gaza truce, hours after Israeli soldiers killed two suspects in the June murder of three Jewish teenagers.
The Israeli army operation in the West Bank city of Hebron in which the two Palestinians died in an exchange of fire had threatened to derail the scheduled negotiations in Cairo.
Israel says the militants, Amer Abu Eisha and Marwan Qawasmeh, were behind the murder of the teenagers that led to weeks of simmering violence which culminated in a 50-day war between Israel and Hamas militants in Gaza.
Senior Hamas negotiator Ezzat al-Rishq told AFP the Palestinian team had been headed to the headquarters of the Egyptian intelligence service which mediates the talks when they learned of the Hebron incident and had turned back in protest.
"The talks have been delayed by two hours," Rishq said, condemning what he called the "assassination" of Abu Eisha and Qawasmeh.
The Israeli delegation arrived earlier on Tuesday, said an official at Cairo airport.
Tuesday's meeting is expected to set a timetable for further negotiations after the Muslim Eidul Azha holiday in the first week of October, a Palestinian official said.
On August 26, both sides reached a ceasefire that ended the Gaza conflict, which killed more than 2,140 Palestinians, most of them civilians, and 73 on the Israeli side, mostly soldiers, with an agreement to start negotiations in a month on unresolved issues.
These include the construction of a seaport and restoring the territory's airport, and exchanging Palestinian prisoners for the remains of Israeli soldiers.
Hamas, a militant movement designated as a terrorist group by the United States, Israel and the European Union, will also hold separate negotiations in Cairo with the Fatah faction of Palestinian president Mahmud Abbas.
The factions agreed a unity government in June to end a seven-year rift that left Hamas in control of Gaza, but the Islamists remain the de facto rulers of the coastal enclave.
The talks will focus on the transfer of power in Gaza to the national unity government and on security in the enclave, a member of the Fatah delegation said.
Israeli troops on Tuesday killed two Palestinians named as suspects in the June murder of three Jewish teenagers in the West Bank that sparked a deadly spiral of tit-for-tat violence.
The murders culminated in a 50-day, full-scale war between Israel and the Palestinian movement Hamas in Gaza that claimed more than 2,200 lives.
Amer Abu Eisha and Marwan Qawasmeh, whom Israel had accused of carrying out the kidnappings and murders, were killed "in an exchange of fire" in the southern West Bank city of Hebron, the army said.
The two men were in a house in Hebron and gunfire broke out during an arrest operation by the Shin Bet internal security services and the army's anti-terror unit, it indicated in a statement.
Full report at:
http://www.dawn.com/news/1133828/gaza-truce-negotiations-set-to-resume-in-cairo
------------
Israel military shoots down Syrian aircraft
September 24th, 2014
JERUSALEM: Israel shot down a Syrian warplane on Tuesday, saying the aircraft crossed the battle lines of Syria's civil war and flew over the Israeli-held Golan Heights, perhaps by accident.
The incident coincided with but did not appear to be directly related to air strikes the United States and Gulf Arab allies mounted on Islamic State strongholds in Syria.
But it presented another challenge to Israel's oft-stated desire to stay on the sidelines of a conflict on its northern doorstep, in which Al Qaeda-linked Nusra Front rebels took over a border crossing on the Golan last month.
The Israeli military said its US-made Patriot missile air defence system shot down a Syrian Russian-built Sukhoi fighter plane that had "infiltrated Israeli airspace" over the territory, captured by Israel in the 1967 Middle East war.
It was the first time in three decades that Israel had downed a Syrian warplane.
The Syrian Observatory for Human Rights, which tracks violence in the civil war, said the warplane had been bombing areas outside Quneitra, a Syrian town near the Israeli-held side of the frontier, at the time it was shot down. It said the pilot had bailed out.
Syria described the downing of the aircraft as an act of aggression.
Full report at:
ttp://www.dawn.com/news/1133833/israel-military-shoots-down-syrian-aircraft
------------
Israel kills two Palestinians suspected of teens murders
September 24, 2014 AFP
HEBRON- Israeli troops on Tuesday killed two Palestinians in the West Bank suspected of the murders of three Jewish teenagers in June, which sparked events leading to the devastating war in Gaza.
The killings, during a raid on the suspects' hideout, came before Israeli and Palestinian delegations began negotiating in Cairo a more permanent Gaza ceasefire, almost jeopardising the talks, a Palestinian official said.
Amer Abu Eisha, 32, and Marwan Qawasmeh, 29, whom Israel accused of kidnapping and murdering the teens, were killed "in an exchange of fire" in the southern West Bank city of Hebron, the army said. The pair were hiding out in a Hebron house and killed when gunfire erupted during an operation by the Shin Bet internal security services and the army's anti-terror unit. Residents said they heard shots fired in what appeared to be a clash between the suspects and security forces, and that the army had also broken down the doors of several shops.
Dozens of youths threw stones at the soldiers nearby, and following the shooting, a general strike was being staged across the city. Sporadic clashes between stone-throwing youths and soldiers continued, but ceased briefly during the funerals of Abu Eisha and Qawasmeh.
Some 3,000 mourners attended the processions and burials, with many waving the flags of Islamist movement Hamas, which controls Gaza and has a large support base in Hebron. Hamas's armed wing the Ezzedine al-Qassam Brigades praised the two "martyred fighters".
Shin Bet said troops had also arrested at least three Palestinians alleged to have helped Abu Eisha and Qawasmeh to hide.
Army spokesman Colonel Peter Lerner said on Twitter that the suspects "no longer pose a threat to Israeli civilians," and posted pictures of the two men.
Prime Minister Benjamin Netanyahu praised the operation, saying the suspects had been "dealt with". "I said that whoever perpetrated the kidnapping and murder of our boys would bear the consequences... that we would pursue the enemy, find them and not return until they had been dealt with," he said.
The West Bank-based Palestinian Authority's security chief Adnan al-Damiri accused Israel of "carrying out operations to kill (people) and destroy houses".
Full report at:
http://nation.com.pk/international/24-Sep-2014/israel-kills-two-palestinians-suspected-of-teens-murders
------------
Arabs draft resolution against Israeli nuclear arsenal
Sep 24, 2014
A number of Arab countries have circulated a draft resolution against the Israeli regime for its nuclear arsenal at an International Atomic Energy Agency (IAEA) meeting.
The draft resolution, which is backed by 18 Arab countries, expresses deep concern about Israel's nuclear capabilities. It further calls on the Tel Aviv regime to join the nuclear Non-Proliferation Treaty (NPT).
The draft is similar to previous draft resolutions proposed at the meetings of the Vienna-based IAEA.
The Tel Aviv regime, which is widely believed to be the only possessor of nuclear arms in the Middle East, reportedly maintains between 200 and 400 atomic warheads.
Furthermore, Israel has never allowed any inspection of its nuclear facilities and continues to defy international calls to join the NPT.
Full report at:
http://www.presstv.ir/detail/2014/09/24/379804/arabs-draft-resolution-on-israel-nukes/
------------
Islamic State closes in on Syrian town, refugees flood into Turkey
Sep 21, 2014
BY DAREN BUTLER AND SYLVIA WESTALL
Islamic State militants tightened their noose on a northern Syrian border town on Sunday as the United Nations said the number of Syrian Kurds fleeing into neighbouring Turkey may have topped 100,000 and was likely to go much higher.
Residents fleeing the frontier town of Ayn al-Arab, known in Kurdish as Kobani, and its surrounding villages said the militants were executing people of all ages in the areas they had seized to create a climate of fear and slavish obedience.
Kurdish politicians in Turkey renewed their appeal to young people in the country's mainly Kurdish southeast to head to Kobani to help their ethnic kin push back Islamic State, which has seized swathes of Iraq and Syria in recent months and proclaimed a caliphate in the heart of the Middle East.
"ISIL (Islamic State) are continuing to advance. Every place they pass through they kill, wound and kidnap people. Many people are missing and we believe they were kidnapped," Welat Avar, a doctor, told Reuters by telephone from Kobani.
"We now urgently need medicines and equipment for operations. We have many casualties ... ISIL killed many people in the villages. They cut off the heads of two people, I saw it with my own eyes," he said.
A Kurdish politician from Turkey who visited Kobani on Saturday gave a similar account of the Sunni militants' tactics.
"Rather than a war this is a genocide operation ... They are going into the villages and cutting off the heads of one or two people and showing them to the villagers," Ibrahim Binici, a deputy from Turkey's pro-Kurdish HDP party, told Reuters.
"It is truly a shameful situation for humanity," he said, calling for international intervention.
Some Syrian Kurds compared their plight to the Yazidi minority in Iraq, which came under attack from Islamic State earlier this year. Tens of thousands of Yazidis were forced to flee their homeland of Sinjar and other villages.
The United States has carried out airstrikes against Islamic State in Iraq and has said it is prepared to extend them into Syria, but it is not clear when or where this could take place.
U.S. Ambassador to the United Nations Samantha Power said on Sunday that other countries were willing to join Washington in launching air strikes in Syria against Islamic State militants.
"We will not do the air strikes alone," she told CBS' "Face the Nation". "But we're going to leave it to other nations to announce for themselves what their specific commitments to the coalition are going to be."
"WHERE IS THE WORLD?"
Among the tens of thousands crossing the border into Turkey on Sunday was Muhammet Abbas, a 40-year-old teacher who wore a blue cap as protection against the blazing sun. He led a group of about 20 people including his wife and six children.
"Everybody is scared ... Where is humanity? Where is the world? They are killing us and nobody cares."
Full report at:
http://www.reuters.com/article/2014/09/21/us-syria-crisis-turkey-kurds-idUSKBN0HG07D20140921
------------
US airstrikes violate Syria's national sovereignty: Iran
Sep 24, 2014
Iran's Foreign Ministry has stressed the importance of uprooting terrorism in line with international principles, saying the US airstrikes in Syria violate the country's national sovereignty.
"The US move to attack Syria, which has been carried out outside recognized international mechanisms, are regarded as a violation of the country's national sovereignty and regulations as well as principles of international law which will undoubtedly have many negative consequences on the international scene," Foreign Ministry Spokeswoman Marzieh Afkham said on Tuesday.
She added that the US-led airstrikes in Syria were in line with previous interventionist policies in the region which have already complicated the regional situation.
The Iranian official warned against the repetition of previous mistakes by the US and certain countries in pursuing double standards on terrorism and arming well-known terrorist groups in the region.
"The responsibility for the consequences of the new US move, including the killing and injuring of innocent civilians, rests with those who have paved the way for the flow of arms and terrorism into Syria and other regional countries," the spokesperson pointed out.
She added that these sides are responsible for fanning the flames of conflict in the region through the provision of financial and military aid to extremist groups.
Afkham's remarks came after Iranian President Hassan Rouhani said on Tuesday that the US-led airstrikes in Syria are illegal because they are not approved by or coordinated with the Syrian government.
Full report at:
http://www.presstv.ir/detail/2014/09/24/379824/us-strikes-violate-syria-sovereignty/
------------
Iran ready to supply Europe gas via Austria: Rouhani
Sep 24, 2014
Iranian President Hassan Rouhani says the Islamic Republic can be a reliable supplier of energy for Europe, adding that Tehran is ready to transfer gas to the European countries via Austria.
The Iranian president made the remarks in a Tuesday meeting with his Austrian counterpart Heinz Fischer in New York on the sidelines of the 69th UN General Assembly meeting.
Touching on Iran's nuclear talks with the P5+1, Rouhani said that a final deal could be achieved over Tehran's atomic energy program provided that both negotiating sides were resolute on achieving an agreement.
"What is important for Iran is to have access to peaceful nuclear technology for the purpose of the country's development," he said.
Iran is ready to reach a nuclear agreement with the opposite side by the November 24 deadline, Rouhani said, adding, however, that a final agreement should be made within the framework of the international regulations as well as the Non-Proliferation Treaty (NPT).
He called on the European Union (EU) and Austria to facilitate the immediate conclusion of a deal, stressing that a comprehensive agreement would benefit Iran, the EU and all parts to the talks.
Rouhani also called for the promotion of scientific and cultural ties between Iran and Austria.
The Austrian president, for his part, welcomed the expansion of ties with Iran, including in the energy sector.
Full report at:
http://www.presstv.ir/detail/2014/09/24/379811/iran-ready-to-transfer-gas-to-europe/
------------
UN must play impartial role in Syria: Iran FM
Sep 24, 2014
Iran's Foreign Minister Mohammad Javad Zarif says the United Nations should play an active and impartial role in Syria and help the country reach national consensus.
In a meeting with new UN Special envoy to Syria Staffan de Mistura in New York on Tuesday, Zarif hailed his proper measures to confer with Syrian officials and groups with the purpose of arriving at political reconciliation.
He stressed the importance of battling the Takfiri ISIL militants and said, "The fight against terrorism, whose priority has always been stressed by the Islamic Republic of Iran, has today turned into a priority for the international community."
The Takfiri ISIL militants have seized large swathes of Iraq and Syria. They have carried out heinous crimes in the two countries including mass execution of people.
Full report at:
http://www.presstv.ir/detail/2014/09/24/379809/iran-urges-impartial-un-role-in-syria/
------------
North America
Politicians, Religious Leaders of All Faith Denounce Anti-Muslim Bus Ads
September 23, 2014
NEW YORK (CBSewYork) — Religious and political leaders of all faiths and backgrounds gathered on the steps of City Hall Tuesday to denounce anti-Muslim ads set to appear on New York City buses and at subway stations.
Some of the ads include an image of American journalist James Foley just before he was beheaded standing next to his masked executioner, and another of Hitler.
The ads, which will appear on 100 buses and at two subway stations, are paid for by the American Freedom Defence Initiative run by anti-Islam blogger Pamela Geller, WCBS 880's Marla Diamond reported.
"That has no place here in New York City or anywhere else," City Council Speaker Melissa Mark-Viverito said of the ads.
"How dare these ads suggest and equate the American Muslim community with ISIS?" Rabbi Marc Schneier added.
Full report at:
http://newyork.cbslocal.com/2014/09/23/politicians-religious-leaders-denounce-anti-muslim-bus-ads/
------------
Chicago Muslim Outreach Groups Stifled by ISIS Threat
By Tamara Leitner
Sep 23, 2014
Chicago-area Muslims who want to educate and inform about their peaceful religion say they already feel the effects of the battle being waged in the Middle East, thousands of miles away.
"People call and they yell at us," said Dr. Sabeel Ahmed, the Director of the non-profit Gain Peace. "They tell us to go back home."
Gain Peace is an educational campaign that aims to dispel misperceptions about Islam as a violent, unforgiving religion. But, Ahmed says, education has become increasingly difficult as the terrorist group known as ISIS continues to wage war in the middle east.
"When there is any crisis in the Middle East, any tensions, then the rate increases about 10 to 15 percent," said Ahmed.
ISIS has gained control of much of Iraq and important areas of Syria, and their war mongering has seized on American's fears that the religion is hostile.
"The Muslim community is definitely bracing itself," said Angie Emara, the founder My Jihad.
Emara launched the public education campaign MyJihad in 2012, to take back Islam from Muslim and anti-Muslim extremists. Much of their work has focused on sharing the proper meaning of Jihad, as believed and practiced by the majority of Muslims.
"Everything that we have put out there and our lives is getting undone yet again because a group of people are trying to claim they are Muslim and acting in the name of religion," she said.
Full report at:
http://www.nbcchicago.com/investigations/Chicago-Muslim-Outreach-Groups-Stifled-by-ISIS-276828981.html
------------
US, allies open new front against IS, bomb Syria
September 24th, 2014
WASHINGTON: The United States and its Arab allies bombed Syria for the first time on Tuesday, killing scores of Islamic State (IS) fighters and members of a separate Al Qaeda-linked group, opening a new front against militants by joining Syria's three-year-old civil war.
In a remarkable sign of shifting Middle East alliances, the attacks encountered no objection from President Bashar al-Assad's Syrian government, which said Washington had notified it in advance.
Warplanes and ship-launched Tomahawk cruise missiles struck dozens of targets including fighters, training compounds, headquarters and command and control facilities, storage sites, a finance centre, trucks and armed vehicles, CENTCOM said.
"I can tell you that last night's strikes were only the beginning," Rear Admiral John Kirby, a US Defence Department spokesman, told reporters. The overnight attacks had been "very successful", he said, but gave few details and would not discuss casualties.
The Syrian Observatory for Human Rights, which monitors the war in Syria, said at least 70 IS fighters were killed in strikes that hit at least 50 targets in the provinces of Raqqa, Deir al-Zor and Hasakah.
It said at least 50 fighters and eight civilians were killed in strikes targeting Al Qaeda's Syrian affiliate, the Nusra Front, in northern Aleppo and Idlib provinces.—Reuters
Anwar Iqbal adds: President Barack Obama informed Congress on Tuesday that the United States had started a series of air strikes on Al Qaeda factions in Syria, particularly the group known as Al Khorasan.
US officials say that most Al Khorasan fighters were foreigners and came from the Taliban-controlled areas in Afghanistan and Pakistan's tribal region.
Full report at:
http://www.dawn.com/news/1133938/us-allies-open-new-front-against-is-bomb-syria
------------
Crazy theories about Islamic State in Middle East
BY FRIDA GHITIS
09/23/2014
While much of the world grows increasingly concerned about the threat posed by the Islamic State, a surprisingly large number of people in the Muslim world are convinced we are all being deceived. With great confidence, they claim that ISIS, as the group is also known, is not what it purports to be.
The Middle East's blast furnace of conspiracy theories is overheating, working overtime to mix small pieces of reality with large doses of imagination, prejudice and paranoia; combining them to produce fantastical scenarios.
The outlandish theories are making their way to the highest level of Arab government and finding adherents even among high-level Muslim European officials.
A few weeks ago, a senior employee of the Dutch Justice Ministry, Yasmina Haifi, was fired after tweeting "ISIS has nothing to do with Islam. It is part of a plan by Zionists to make Islam look bad." Haifi, who appears to be a very modern European Muslim, worked as a project leader for the Netherlands' National Cyber Security Center in the Hague.
In Egypt, the minister of culture, Gaber Asfour, repeated one of the most widely disseminated fabrications during a televised audience, claiming he found out from Hillary Clinton's most recent book, "that the Americans decided to support and create ISIS," as part of their plan to support the Muslim Brotherhood and establish U.S.-friendly governments.
There is no such passage in the frequently "quoted" Clinton book. And the theory is absurd on too many counts for this space. But that has not stopped officials and media in Egypt, Jordan, Lebanon, the Palestinian territories and elsewhere from reporting that the former secretary of state and likely presidential candidate revealed a head-spinning American plot. According to that story, the United States planned to invade Egypt and prevent the overthrow of President Mohammed Morsi, a Muslim Brotherhood leader. But that plan was foiled by crack Egyptian military officials, who used fighter jets and submarines to stop the project.
The bottom line of all the conspiracy theories is that ISIS is not an indigenous organization. Instead, it is the creation of outside forces with nefarious plans for the region and for the world's Muslims.
Full report at:
http://www.miamiherald.com/opinion/op-ed/article2218041.html
------------
Bin Laden son-in-law sentenced to life in US prison
September 24, 2014
NEW YORK : A US court sentenced Osama bin Laden's son-in-law and former Al-Qaeda spokesman Sulaiman Abu Ghaith to life in prison on Tuesday.
The 48-year-old Kuwaiti, who has defended the September 11, 2001 attacks, was found guilty on March 26 of plotting to kill Americans and providing material support to terrorists. Before the sentence was handed down in a US federal courtroom, Abu Ghaith spoke in Arabic through a translator to say the only judgement he would accept was that of God. "Today when you are shackling my hands, and intend to bury me alive, you are unleashing the hands of thousands of Muslims and they will join the rally of free men," he said.
Judge Lewis Kaplan said Abu Ghaith failed to show remorse for the September 11 attacks and told the courtroom he remained a menace. "You continue to threaten," Kaplan said. "What you have done warrants the maximum sentence." Abu Ghaith is the highest ranking Al-Qaeda leader ever held in a prison on US soil.
Full report at:
http://nation.com.pk/international/24-Sep-2014/bin-laden-son-in-law-sentenced-to-life-in-us-prison
------------
Europe
With their feet and a tweet, Europe's Muslims stand up to ISIS
24, 2014
PARIS: As ISIS extremists call for random murders throughout Europe in Allah's name, the continent's Muslims are hitting back with mass peace demonstrations and a Twitter campaign to say "not in my name."
From Norway in the far north to Germany and France, Muslims have taken to the streets to denounce the ISIS jihadists controlling large areas of Iraq and Syria who they say have hijacked their religion and terminology to spread hate and breed violence.
The ISIS group are "terrorists and murderers who drag Islam into the dirt and bring hatred and suffering to the people, including to their own fellow Muslims, in Syria, in Iraq and elsewhere," said Aiman Mazyek, chairman of Germany's central council of Muslims.
Along with other Muslim groups, Mazyek's council organised last week a day of prayers and rallies across Germany, which is home to around four million Muslims, mainly with Turkish roots.
Under the open sky in the Berlin suburb of Kreuzberg - known affectionately as little Istanbul for its large Turkish population - thousands knelt on prayer mats and listened to speeches against violent jihadism.
"They are acting under the banner of the Prophet, but their crimes show that they have not understood a word of what Allah has revealed to us and how our Prophet lived by these commandments," said a statement read out in mosques across Germany.
Similar marches have taken place in Norway and Denmark under the banner "say no to the (non) Islamic State."
Other Muslims have taken to social media to combat ISIS, which itself has used Twitter effectively to recruit potential recruits.
The London-based Active Change Foundation has started a hashtag campaign #notinmyname that has spread rapidly across Twitter.
"Tell the world that ISIS are the real enemies of Islam. It's nothing to do with us," says the group on its website, alongside videos of young Muslims holding placards with the slogan.
"Tell ISIS that they can't murder in your name."
Full report at:
http://www.dailystar.com.lb/News/World/2014/Sep-24/271773-with-their-feet-and-a-tweet-europes-muslims-stand-up-to-isis.ashx#axzz3EMyzsGYm
------------
Don't rule out ground troops to fight IS: Blair
23 September 2014
LONDON: Britain's former prime minister and Middle East peace envoy Tony Blair said Monday that sending ground troops to fight the Islamic State (IS) group should not be ruled out.
Blair, who sent British forces to fight wars in Iraq and Afghanistan, said he knew "as well as anyone" the difficulties of any such move but insisted it should not be discounted.
"I accept fully there is no appetite for ground engagement in the West," Blair wrote in an essay on the website of the Tony Blair Faith Foundation.
"But we should not rule it out in the future if it is absolutely necessary. Provided that there is the consent of the population directly threatened and with the broadest achievable alliance, we have, on occasion, to play our part."
He added that air power alone "will not suffice" in the fight against the IS group.
"They can be hemmed in, harried and to a degree contained by air power. But they can't be defeated by it," Blair added.
"You cannot uproot this extremism unless you go to where it originates and fight it."
Blair sees the conflict in Iraq and Syria as part of a wider global problem with radical Islam which also spans unrest in Pakistan, Nigeria, Mali and China's Xinjiang province.
"This is not a clash of civilizations. It is a struggle between those who believe in peaceful coexistence for people of all faiths and none and extremists who would use religion wrongly as a source of violence and conflict," he wrote.
Full report at:
http://www.arabnews.com/middle-east/news/634261
------------
Russia's Putin looking at cooperation to fight Islamic State: agency
Sep 22, 2014
Russian President Vladimir Putin discussed with his Security Council on Monday potential cooperation with other countries on fighting against Islamic State, Russian news agencies cited the Kremlin's spokesman as saying.
Russia, whose ties with Washington are at their lowest since the end of the Cold War, has not yet responded to calls from the United States to build an international coalition to destroy the radical Sunni Muslim group, which has seized swathes of territory in Iraq and Syria.
"Permanent members of the Security Council exchanged opinions on possible forms of cooperation with other partners on a plan to counter Islamic State in the framework of international law," Interfax quoted Kremlin spokesman Dmitry Peskov as saying.
He did not say who the other partners were.
Full report at:
http://www.reuters.com/article/2014/09/22/us-russia-isis-idUSKCN0HH1DD20140922
------------
German Imams to Lead Friday Protests Against ISIS
Larbi Arbaoui
21 September 2014
German Muslims will rally together during the Jumuah prayers, a congregational prayer that Muslims hold every Friday, to protest against ISIS jihadists, and denounce the barbaric atrocities perpetrated by the group, which has nothing to do with Islam and Muslims.
The Germany Authorities called on imams in charge of some two thousand mosques across Germany to use their Friday rituals "to rally against the Islamic State and speak out against beheading in Syria and Iraq," according to RT.
According to the same source, Aiman Mazyek, the chairman of the Central Council of Muslims in Germany, told the country's Muslim population on Friday that" they shouldn't stay quiet about the misuse of the Islamic faith," describing the Islamic State as "in truth terrorists and murderers" who have dragged Islam "through the mud."
RT said that the protest in the form of nine large rallies will be held in cities across Germany, including Berlin, Stuttgart, Hanover, and Mölln.
Full report at:
http://www.moroccoworldnews.com/2014/09/139651/german-imams-to-lead-friday-protests-against-isis/
------------
New Islamic State jihadist threat makes policing harder
eptember 24, 2014
Paris: The Islamic State group's call on Muslims to go after the "filthy French" and other Westerners multiplies already deep security concerns in nations targeting the militant organisation.
The appeal made public on Monday makes intelligence tracking of potential suspects virtually impossible and opens up Muslims in the West to the possibility of being unfairly put under suspicion or stigmatised.
Nations are honing mechanisms to monitor Westerners who head to Syria and Iraq to fight in the jihad, the better to catch them when they return home with deadly skills. But how do you track someone who reads the Islamic State group's call in a newspaper or on a mainstream website, and then carries out a spontaneous attack?
Advertisement
Experts in terrorism agreed that the options to counter-act the call on all Muslims to kill are virtually nil, beyond bolstering security forces' visibility - thus allowing them to act quickly if need be.
"We are not waging a war between East and West, or Christianity and Islam," French Prime Minister Manuel Valls said on Tuesday. The French government says what it calls the "butchers" of the Islamic State group don't represent Islam.
But Valls acknowledged that France is facing an unprecedented challenge from "the enemy within."
"We have compatriots who could strike us," he said on Europe-1 radio.
On Friday, France became the first country to join the US in carrying out airstrikes in Iraq. France, with the largest Muslim population in Western Europe, an estimated 5 million, also counts the highest number of citizens and residents who have turned to jihad in Syria and Iraq - more than 900 people travelling or planning to go.
France has increased security around places of worship, airports and "symbolic" sites after the first airstrikes.
A French citizen captured on Sunday evening in Algeria by a breakaway al-Qaida affiliate was the first victim of the new threat. A masked man crouching with the hostage in an authenticated video threatened his death if France doesn't end airstrikes on Iraq within 24 hours. The group, Soldiers of the Caliphate, said the kidnapping was a response to the Islamic State group's call.
On Tuesday, Australian police shot a man to death after he had stabbed two counterterrorism officers. It wasn't immediately clear whether the violence was related to the call from the Islamic State group, but police there said they were investigating reports that the deceased man had been waving an Islamic State flag.
The group's sweeping appeal in an audio statement implored Muslims to "not let this battle pass you by, wherever you may be."
Full report at:
http://www.smh.com.au/world/new-islamic-state-jihadist-threat-makes-policing-harder-20140924-10l83i.html#ixzz3EMzTRIbP
------------
South Asia
Bangladesh ex-premier on trial over corruption charges
Sep 22, 2014
Bangladesh's former prime minister has gone on trial over two corruption cases and several other charges that can lead to her life imprisonment if found guilty.
Khaleda Zia, the 69-year-old leader of the Bangladesh Nationalist Party (BNP), was excused from attending the Monday hearing on security grounds.
The trial has been adjourned until October 13.
The anti-corruption court started the trial after it dismissed a postponement request by Zia's lawyers, lead prosecutor, Mosharraf Hossain, said.
Apart from several other charges, Zia and three of her aides are accused of embezzling nearly USD 400,000 from a charitable trust.
The opposition leader is also accused of leading a group of five people, including her eldest son, in siphoning off USD 277,000 funds meant to be donated to an orphanage.
The charges date back to Zia's last tenure as prime minister from 2001 to 2006.
The opposition leader has slammed the embezzlement charges as politically motivated and said the accusations aim to destroy her party which has promised to overthrow the government of Prime Minister Sheikh Hasina.
Full report at:
http://www.presstv.ir/detail/2014/09/22/379626/bangladesh-expm-on-trial-over-graft/
------------
Nawaz offers support to new Afghan leaders
September 24, 2014
ISLAMABAD - Prime Minister Nawaz Sharif on Tuesday congratulated the newly elected President of Afghanistan Ashraf Ghani Ahmadzai and Chief Executive Abdullah Abdullah on their power-sharing agreement.
In a telephonic conversation, Nawaz Sharif congratulated both the leaders separately on being elected in the Afghanistan elections and on their deal for the roles of President and Chief Executive. Nawaz Sharif assured full support of the Government of Pakistan in helping its Afghan brothers in promoting peace and reconciliation. The PM also extended an invitation to both these leaders to visit Pakistan.–Our Staff Reporter
http://nation.com.pk/national/24-Sep-2014/nawaz-offers-support-to-new-afghan-leaders
------------
Karzai blames US, Pakistan for Afghan war
September 24, 2014
KABUL - Outgoing Afghan President Hamid Karzai on Tuesday blamed the United States for his country's long war, a final swipe at the country that helped bring him to power 13 years ago but towards which he has become increasingly bitter.
His farewell speech came days ahead of the planned swearing in of a new president, Ashraf Ghani, after months of potentially violent crisis over a disputed election that ended in a power-sharing deal, yet to be tested, with rival Abdullah Abdullah.
Karzai blamed both the United States and neighbouring Pakistan for the continuing war with the Taliban-led insurgency and warned the new government to "be extra cautious in relations with the US and the West".
The conflict kills thousands of Afghans each year and has claimed the lives of more than 2,200 American and other international forces in Afghanistan.
"One of the reasons was that the Americans did not want peace because they had their own agenda and objectives," Karzai said. He did not elaborate, but in the past has suggested continued violence has been an excuse for the United States to keep bases in the country. He also accused Pakistani power players of trying to control Afghanistan's foreign policy.
"Today, I tell you again that the war in Afghanistan is not our war, but imposed on us and we are the victims," Karzai said. "No peace will arrive unless the US or Pakistan want it."
"My advice to the next government is to be very careful with America and the West. We can be friends with them, but we want equal benefits," he said.
In recent years, Karzai has sharply denounced the United States for the deaths of Afghan civilians in air strikes and for holding suspected Afghan militants prisoner without trial. The relationship deteriorated to near breaking point this year, when Karzai refused to sign a key security pact with the United States.
He said he had travelled to Pakistan, where much of the Taliban's leadership is believed to be based, at least 20 times seeking a negotiated end to the war, but his efforts were thwarted. Neither the US nor the Pakistani embassies in Kabul had immediate comment on Karzai's speech. Karzai has been in power since 2001 after being plucked from virtual obscurity by the United States following the overthrow of the Taliban's government for sheltering Al-Qaeda's terrorist leadership after the 9/11 attacks on the US.
Full report at:
http://nation.com.pk/national/24-Sep-2014/karzai-blames-us-pakistan-for-afghan-war
------------
URL: https://www.newageislam.com/islamic-world-news/new-age-islam-news-bureau/-isil-bombings-kill-700-iraqi-soldiers-/d/99235