New Age Islam News Bureau
21 Feb 2018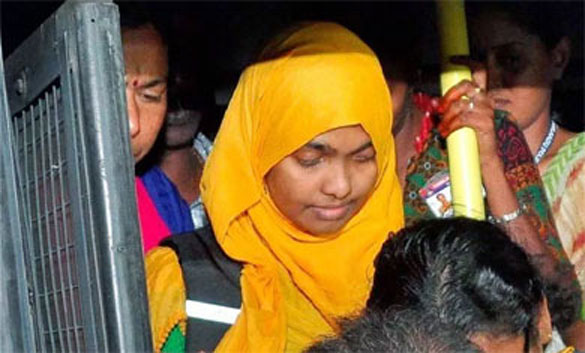 Hadiya, alias Akhila, Credit: PTI
---
• 'I Embraced Islam and Married Shafin Jahan of My Own Will,' Hadiya Tells SC
• Lawyer Seeks FIR Against Participants of Asma Jahangir's Funeral
• Saudi Extremist Cleric Phones Warlord Khalifa Haftar to Give Him Instructions On How To Build His Army
• Abbas Calls for Mideast Peace Conference in Rare UN Speech
• Defeats in Middle East Driving Islamic State Fighters to Philippines – Separatist
India
• 'I Embraced Islam and Married Shafin Jahan of My Own Will,' Hadiya Tells SC
• This Muslim Priest, Sadique Miyan, 85, At Hindu Temple Spreads Message of Love
• 200 Muslim Orphanages in Kerala Threaten To Close Down In Defiance Of Sc Order
• Jharkhand Bans PFI, Says Members Influenced By Islamic State
• Maldives Opposition Leader Mohamed Nasheed Gets The Delhi Cold Shoulder
• Al-Qaeda Claims Separatist Leader's Killing In Kashmir; Zakir Musa Warns • Hurriyat Against Pursuing 'Secular Politics'
• Haj House in Ghaziabad: Muslim Bodies, Opposition Cry Foul, Seek Action on Officials
--------
Pakistan
• Lawyer Seeks FIR Against Participants of Asma Jahangir's Funeral
• Senate Body Recommends Arrest, Repatriation of Hussain Haqqani
• Lawyer seeks FIR against participants of Asma Jahangir's funeral
• Pakistan: 10,000 Saudi soldiers being trained in Pakistan
• Protests in Pakistan after Christian Man Commits Blasphemy
• Russia will continue to boost Pakistan's counterterrorism capacity, says FM Lavrov
• PPP asks govt to call back troops from Saudi Arabia
--------
Arab World
• Saudi Extremist Cleric Phones Warlord Khalifa Haftar to Give Him Instructions On How To Build His Army
• More Than 100 Killed In Syria Assault on Damascus Suburb
• Tens of Ankara-Backed Militants Killed in Operation Olive Branch
• Over Dozen civilians killed in new US-led strikes in Syria's Dayr al-Zawr
• Guantanamo inmate set for transfer to KSA
• Several Civilians Killed in US Airstrikes in Deir Ezzur
• White Helmets Preparing for New Plot in Eastern Damascus
• Tahrir Al-Sham Gains Control over Rival Terrorists' Base in Northern Syria
• Egypt adds Muslim Brotherhood party leader Abul Fotouh to terror list
--------
Mideast
• Abbas Calls for Mideast Peace Conference in Rare UN Speech
• Turkey Vows To Lay Siege To Syria's Afrin 'In Coming Days'
• West Bank settlers grew twice the rate of Israel's overall population last year
• India drops 'retaliation' mode to buy more Iran oil
• UN voices worries of declining humanitarian situation in Gaza
• Turkey frees top pro-Kurdish politician detained over Afrin offensive opposition
--------
Southeast Asia
• Defeats in Middle East Driving Islamic State Fighters to Philippines – Separatist
• Why Choose Fatwa Over Civil Laws? UN Committee Asks Putrajaya
• Islamic Studies Will Follow Rules of Religious Bodies in Johor, Says TMJ
• Cops nab 11 suspects over alleged links to IS
• 'Umno can't be trusted to protect Islam, vote for PAS'
• Taiwan looks south for Muslim tourist dollars
• Maldives parliament approves extension of state of emergency by 30 days
--------
South Asia
• Stranded Rohingya Refuse to Return to Myanmar without Guarantees
• Taliban Kill At Least 8 Policemen in Afghanistan
• 9 Afghan Policemen, 13 Militants Killed In Farah Clash
• Afghan military prevent clashes among Jamiat and Junbish parties in Faryab
• MoD rejects 40 Afghan Special Forces are under siege in Faryab province
• Foreign circles attempting to sabotage peace efforts, claims Khalili
• Explosion kills 3 tribal elders in east Afghanistan
--------
North America
• US Designates Ansar ul Islam As Global Terrorist Group
• Rape-accused Tariq Ramadan faces US charges as 'Muslim victim comes forward'
• I'm not a bigot, says US council member after anti-Muslim, anti-black posts
--------
Africa
• Al-Shabaab Steps up Extortion and Indoctrination as Morale Dips
• Over 200 Boko Haram suspects convicted in Nigeria
• Suspect arrested after al Shabaab attack on Wajir teachers
• Libya rescues 441 refugees off western coast
--------
Europe
• British Media's Negative Muslim Coverage 'Much Worse'
• Russia Voices Worries over US, NATO Denial of Daesh in Afghanistan
• Australian Isis fighter Neil Prakash's extradition decision deferred until May
• France arrests three linked to Barcelona terror attacks
• Russia says Nusra terrorists 'recovering strength' in US-controlled zone in S Syria
Compiled by New Age Islam News Bureau
URL: https://www.newageislam.com/islamic-world-news/i-embraced-islam-married-shafin/d/114362
--------
'I embraced Islam and married Shafin Jahan of my own will,' Hadiya tells SC
Amit Anand Choudhary
Feb 20, 2018
NEW DELHI: Refuting the allegation that she was indoctrinated to embrace Islam, Hadiya alias Akhila, the woman who has been at the centre of alleged Kerala love jihad case, told the Supreme Court that she embraced Islam of her own free will and she wants to continue to live as a Muslim.
In her 26-page affidavit in the apex court, Hadiya gave details on how she got influenced by teaching of Islam and got converted. She said that Jahan had no role in her conversion and he came into her life only after she embraced Islam.
"I hereby submit that I embraced the faith/religion of Islam on my choice as per my conscience and on my own free will after studying about Islam and thereafter I married a person, namely Shafin Jahan, from the same faith as per my choice and on my own free will. However, despite the fact that I submitted repeatedly before the Kerala High Court that I made the above choices on my own free will, the HC did not heed to my submissions," she said.
She filed affidavit in support of her husband who approached the apex court challenging the HC verdict annulling the marriage. The apex court had earlier allowed Hadiya to come out of her father's custody to resume her Bachelors in Homeopatic Medicine and Surgery (BMHS) study from Salem-based college in Tamil Nadu after she pleaded for freedom for clutches of her family. The court is now to decide the validity of her marriage.
Pleading for restitution of her conjugal rights, She said "Shafin Jahan is my husband, I want to continue to live as wife of my beloved husband and that I embraced Islam and married him on my own free will. I further pray that this court may be kind enough to appoint my husband as guardian. I pray that the court may be pleased to allow us to live together as husband and wife."
She alleged that her father, being an atheist, was opposed to her decision to embrace Islam due to some extrenious reasons and also accused NIA of misleading her by projecting Jahan as terrorist.
"It appears to me that my father is under the influence of certain sections of people who are trying to use him. Otherwise, I do not see how my father, who is an atheist, would object to me changing my religion or marrying someone from a different religion. I further submit that all those people played and still playing behind my father and all those errant personnel, both official and non-official, who subjected or caused to subject me to the horrendous torture and torments are liable to be brought to justice," she said.
"The baseless and malicious propaganda being made by the investigating agency and by the evil forces behind my father that I am mentally not sound, that I have connection with Islamic State and the media trial on these allegations would detrimentally affect my future and career as a doctor, causing irreparable heavy injuries and loss to me. As per my faith, I believe that my obligation to my parents is invaluably and indeterminably huge. I don't hate them. I have not left them in the lurch nor would I ever do so. Being my parents, I shall not denounce them," she said.
https://timesofindia.indiatimes.com/india/i-embraced-islam-and-married-shafin-jahan-on-my-own-will-hadiya-tells-sc/articleshow/63001765.cms
--------
Lawyer Seeks FIR Against Participants of Asma Jahangir's Funeral
Feb 21, 2018
LAHORE: A lawyer has filed an application with the Gulberg Police Station seeking the registration of a case under Section 295-A against the participants of prominent human rights lawyer Asma Jahangir's funeral, Pakistan Today has learnt.
After Asma Jahangir's abrupt death due to a cardiac arrest, many of her female comrades, colleagues and relatives joined the prayers at Gaddafi Stadium, which was led by Syed Haider Farooq Maududi, son of Jamaat-e-Islami (JI) founder Syed Abu'l Al'a Maududi, in the front row.
The application filed by Advocate Amanullah seeks the registration of a case against Farooq Haider Maududi, Muneeza Jahangir, Saleema Jahangir (daughters of Asma Jahangir), and around 100 more people who attended the funeral.
The application states: "The mixed gathering at the funeral of Asma Jahangir was against Islamic values, which hurt the sentiments of the Muslims all over the world, especially Pakistani Muslims."
The complainant requested that an FIR [First Information Report] be registered under Section 295-A, which pertains to deliberate and malicious acts intended to outrage religious feelings of any class by insulting its religion or religious beliefs.
Talking to Pakistan Today, Advocate Amanullah claimed that the FIR will be registered by Wednesday.
"Two lawyers were shot dead otherwise we would have gone to the police station today to follow up on the application," he said.
Advocate Amanullah further said that the application was filed by a group of lawyers on the basis of a fatwa issued by many clerics.
However, when asked, Imanullah refused to tell the name of the lawyers' group or clerics who have issued the fatwa against the mixed gathering at the funeral.
Meanwhile, IGP Punjab's Spokesman Nayab Haider denied receiving any such application.
Pakistan Today contacted Gulberg SHO Babar Ashraf and Model Town SP Dr Shakir Ahmed several times for their comments but they were not available.
'FIR UNNECESSARY':
Council of Islamic Ideology (CII) Chairman Dr Qibla Ayaz said that women could have only prayed and stood at one side instead of standing in the front row, however, an FIR is "unnecessary".
"This is an Islamic matter and religious matters should be solved through discourse."
When asked about the pictures of Quaid-e-Azam's funeral circulating on the social media—in which women could be seen standing with men— he said that people used to be less "sensitive" about these matters back then but "now people are easily offended".
He was, however, of the view that "sanctity of funeral rites should have been upheld".
Talking to Pakistan Today, Pakistan Ulema Council leader Hafiz Tahir Ashrafi held Farooq Haider Maududi responsible for not "guiding" people in accordance with the Islamic teachings.
The cleric said that Islamic principles should have been followed and women shouldn't have attended the funeral.
"Despite the presence of women, the funeral is not un-Islamic if four takbeers are said," he added.
Responding to a question, he said that the funeral of Quaid-e-Azam was led by Allama Shabeer Ahmed Usmani, who could have never let a woman stand in the front row, whereas he "knows" Farooq Haider Maududi.
"He doesn't belong to any school of thought," he added.
Institute for Peace and Secular Studies founder Diep Saeeda said that the same people who couldn't stand Asma when she was alive, are now filing FIRs, worried about the nitty gritties of her funeral more than her daughters who were present there, themselves.
"People are playing politics over the dead," she lamented.
Criticising the judicial activism, she said that nowadays political talks can be heard in the bars, and urged the lawyers to refrain from getting involved in "dirty" politics.
https://www.pakistantoday.com.pk/2018/02/20/lawyer-seeks-fir-against-participants-of-asma-jahangirs-funeral/
--------
Saudi Extremist Cleric Phones Warlord Khalifa Haftar to Give Him Instructions On How To Build His Army
February 20, 2018
A Telephone conversation between the Saudi radical cleric, Osama Ataya Al-Otaibi, and commander of Dignity Operation, warlord Khalifa Haftar, has shown the interference and influence of extremists on Khalifa Haftar and their powers to master his self-styled army.
In the conversation, which was posted on some Salafi discussion forums, Al-Otaibi instructed Khalifa Haftar to preserve "Muslims and Salafists' blood" and to "protect himself". He also ordered him to coordinate with what he referred to as "the brothers in Zintan and the fighting Salafist groups in all over Libya."
"There is an important thing; the flag you raise should be clear; you should focus on supporting the real Islam that is followed by our Salafist brothers." Al-Otaibi outlines while Haftar was mumbling "yes, sure."
He also reminded him that the aim of his Dignity Operation is to restore the country's prestige, which, according to Al-Otaibi, was spoiled by "the Muslim Brotherhood and the Khawarij."
"Yes, right, sure, that's the truth, no state prestige." Haftar interacted politely.
Al-Otaibi also advised him to renounce "democracy" and focus only on supporting "the flag of Islam." He also instructed him to hand over offices of the Awqaf and Islamic Affairs Authority to the Salafists in order to "guide the people to the religion of Allah."
Khalifa Haftar recalled to Al-Otaibi some of Libya's history, saying the Libyans "fought the Turks and the Italians" to defend their religion and territory until they got their independence.
"They were fighting only for the sake of their religion," Haftar claimed, assuring Al-Otaibi that he would follow in their footsteps.
Haftar conferred with Al-Otaibi over his instruction to renounce "democracy", asking him to help him define it.
"My definition of democracy; maybe you can help me in this; as you know I lived in the USA; we don't need to follow them. We saw the democracy there, it is fit for them, but it differs from one country to another. Our country is a Muslim one; we should apply our Islamic teachings in everything." Haftar stated.
Al-Otaibi also gave Haftar what he called "three very important recommendations. He urged him to "bring some Salafists and clerics closer to him in order to provide him with Sharia advice", and to work for "pleasing Allah and keeping away from sins."
"The third thing, I want you to strengthen your relation with Zintan, so that you hit your enemy with one hand to accelerate your victory." Al-Otaibi said, revealing that he has a strong relationship with some leaders of armed groups in Zintan.
Haftar said it was heartening to hear Al-Otaibi's recommendations, asking him to send them to the Zintani leaders as well, which he promised to do so.
"Please don't give up sending me any advice any day." Haftar called on Al-Otaibi.
Al-Otaibi went on further and informed Haftar that he had written a religious article to raise the spirits and morale of his military personnel and he would send it to him soon for distribution, reminding him that he and his forces are in "Jihad."
"We hope if you can record this religious article in an audio file," Haftar asked Al-Otaibi, who promised to do that.
"Great, your audio article will be distributed to all personnel and they will all hear it." Haftar responded.
Al-Otaibi also suggested forming a temporary military council under the leadership of Khalifa Haftar to pave the way for the establishment of a qualified regular army.
The date of the telephone conversation could not be verified
Al-Otaibi is a Saudi Arabian cleric of Palestinian descent and a former Jihadist in Afghanistan. He is well-known for his strict and extremist views and misinterpretations of Islamic teachings. He is notorious for his bloody Fatwas and incitement of tensions in Libya, Yemen, Egypt and Syria.
In February 2017, he was given a red carpet treatment by Dignity Operation in eastern Libya where he held several religious lectures and delivered Friday sermons at mosques during his month-long visit.
https://www.libyaobserver.ly/news/saudi-extremist-cleric-phones-warlord-khalifa-haftar-give-him-instructions-how-build-his-army
--------
Abbas calls for Mideast peace conference in rare UN speech
February 21, 2018
UNITED NATIONS - Palestinian leader Mahmud abbas on Tuesday called for an international conference to be held by mid-2018 to launch a new, wider Middle East peace process and pave the way to Palestinian statehood.
In a rare address to the UN Security Council, abbas presented what he called a "peace plan" to revive the comatose Israeli-Palestinian talks with new international mediation - in which the United States would have less weight.
"To solve the Palestine question, it is essential to establish a multilateral international mechanism emanating from an international conference," abbas said.
President Donald Trump's decision to recognize Jerusalem as Israel's capital infuriated the Palestinians, who declared that Washington could no longer play a role as lead mediator in the Middle East peace process.
abbas put the blame for the failure of peace efforts squarely on Israel, saying it was "acting as a state above the law" and had "shut the door on the two-state solution" to the Israeli-Palestinian conflict.
"It has transformed the occupation from a temporary situation as per international law into a situation of permanent settlement colonization," he said. abbas said the conference should lead to full UN membership for the state of Palestine, mutual recognition of Israel and Palestine, and the creation of a new international mechanism to reach a final settlement. The Palestinian leader immediately left the council chamber following his address, leaving Israeli Ambassador Danny Danon to complain that he was once again "running away" from dialogue.
"You have made it clear, with your words and with your actions, that you are no longer part of the solution. You are the problem," Danon said.
Path to nowhere
The US envoy to the UN, Nikki Haley, warned that turning to the United Nations and rejecting the US role in peace talks "will get the Palestinian people exactly nowhere toward the achievement of their aspirations."
Haley was accompanied to the council meeting by Jason Greenblatt, the US envoy for Middle East peace and Jared Kushner, Trump's son-in law and adviser on Israeli-Palestinian peace efforts.
"Our negotiators are sitting right behind us, ready to talk," she said, before adding: "But we will not chase after you. The choice, Mister President, is yours."
The Israeli-Palestinian peace process has been deadlocked since a major push by the former US administration of Barack Obama ended in failure in April 2014.
The Trump administration is preparing a new peace plan even though chances for agreement appear dim.
The Palestinians hope that greater international involvement in the peace process will serve to counter what they see as a US stance biased in favor of Israel.
Israel, which often accuses the European Union and the United Nations of bias against it, is reluctant to accept any other mediator than the United States.
UN envoy Nickolay Mladenov said the international community must continue advocating for "substantial Israeli policy changes" on settlements and stressed that "these are not negotiations between equals."
The Palestinians see East Jerusalem as the capital of their future state and UN resolutions call on countries to refrain from moving their embassies to the city until its status is resolved in an Israeli-Palestinian deal.
In December, the General Assembly voted 128-9, with 35 abstentions, to reject the US decision to recognize Jerusalem.
That vote in the 193-nation assembly came after 14 of the 15 council members voted in favor of a similar measure. The United States vetoed that draft resolution.
Tensions have also flared over the US decision to cut funding to the UN agency for Palestinian refugees (UNRWA).
The United Nations granted Palestine the status of a non-member observer state in 1992, but an upgrade to full membership would require unanimous backing from the Security Council - an unlikely outcome, given the near-certainty of a US veto.
https://nation.com.pk/21-Feb-2018/abbas-calls-for-mideast-peace-conference-in-rare-un-speech
--------
Defeats in Middle East Driving Islamic State Fighters to Philippines – Separatist
February 20, 2018
Foreign Islamic State fighters forced out of Syria and Iraq have been arriving in the philippines with the intent of recruiting, and they have plans to attack two Philippine towns, the head of the country's largest Muslim rebel group said on Tuesday.
More than 1,100 people were killed last year when pro-Islamic State militants attacked and held the Philippine city of Marawi for five months, leading to massive destruction across the scenic lakeside town.
That could happen in other cities if Congress fails to pass a law to allow Muslims in the southern philippines to run their own affairs, according to Ebrahim Murad, leader of the Moro Islamic Liberation Front, a separatist group which signed a peace deal with the government in return for greater autonomy.
"Based on our own intelligence information, foreign fighters who were displaced from the middle east continued to enter into our porous borders and may be planning to take two southern cities - Iligan and Cotabato," Murad said.
The two cities are 38 km (24 miles) and 265 km (165 miles) respectively from Marawi.
Murad said fighters from Indonesia, Malaysia, and the middle east were known to have entered the philippines , including a Middle Eastern man holding a Canadian passport.
That man went to a stronghold of the Abu Sayyaf militant group, notorious for kidnapping and piracy, Murad said.
Murad said militants had been recruiting fighters in remote Muslim communities, exploiting delays in the passage of legislation aimed at addressing long-standing Muslim grievances, the Bangsamoro Basic law (BBL).
"These extremists are going into madrasas, teaching young Muslims their own version of the Koran, and some enter local universities to influence students, planting the seeds of hatred and violence," he said.
Such a scenario would be a major headache for the military, which is fighting on multiple fronts on the southern island of Mindanao to defeat home-grown Islamic State loyalists, bandits and communist insurgents.
Mindanao is under martial law.
The military has said remnants of the militant alliance that occupied Marawi were trying to regroup and were using cash and gold looted from Marawi to recruit.
Murad's statement echoed those of President Rodrigo Duterte, who last month urged lawmakers to pass the BBL, or face re-igniting war with separatists after two decades of peace.
"We cannot decisively win the war against extremism if we cannot win the peace in the halls of Congress," Murad said.
https://nation.com.pk/20-Feb-2018/defeats-in-middle-east-driving-isis-fighters-to-philippines-separatist
--------
India
This Muslim Priest, Sadique Miyan, 85, At Hindu Temple Spreads Message Of Love
February 20, 2018
Patna, India: Villagers in a Bihar hamlet wake up every morning to the sounds of bells coming from a local temple.
They have been doing this for several decades — the bell chimes and they run out of their beds to prepare for the day.
This is their daily routine. However, what is unusual here is that the bell hanging in the local Hindu temple is rung by a Muslim villager who serves as the priest here.
Ram's family lives at Sohsa village in central Bihar's Arwal district, some 80km from Patna. His is a lesson for those hankering to spread hate in the name of religion.
Love and service
"All religions are same," Miyan said. "They all talk about love and service to humanity."
At the far-end of his life, the octogenarian priest has only one wish: "I want my mortal remains to be flown away in the Ganges," he says.
The Muslim priest, who studied until intermediate and speaks Hindi, Urdu and Arabic with equal ease, turned towards the Hindu religion while he studied in Class 3.
"I have been offering prayers at the temple since 1949 and faced no problems from anywhere," he said.
"Religion must not be thrust upon anyone; let the people choose his own religion," she said.
But he is not alone in the mission to create a new society based on communal brotherhood.
Example
Like him, Muslim villagers in Bihar have set a new example of communal harmony by helping in the renovation of an old Hindu temple dedicated to another Hindu deity, Hanuman.
Hindu villagers from Bakhari village in central Bihar's Begusarai district were quite worried after an old temple turned decrepit.
Also, the temple did not have sufficient space: during major religious events, devotees found the area wanting.
Recently, the local villagers planned to renovate the temple, but the lack of space and financial crunch stared them in the face.
When the Muslim villagers came to know about it, they came forward and offered a helping hand — some donated land for the temple expansion while others offered financial help.
The result: the Hindu temple got a new look.
http://gulfnews.com/news/asia/india/this-muslim-priest-at-hindu-temple-spreads-message-of-love-1.2176688
--------
200 Muslim Orphanages in Kerala Threaten To Close Down In Defiance Of SC Order
21 February 2018
Close to 200 Muslim orphanages in Kerala have threatened to close down in defiance of a Supreme Court order asking all orphanages and children homes in the country to be registered under the Juvenile Justice Act.
The Kerala-based Yateem Khana Association represented by senior advocate Kapil Sibal claimed that the apex court's order of May 2017 was contrary to the very nature and purpose of Yateem Khana is to provide a home to those children who are either abandoned or stay away from their parents.
Moreover, the instruction is religious in nature and being the property of Waqf, the administration rests with the Waqf Board. On the other hand, children kept in Juvenile homes are those in need of care or in conflict with law and can even be taken up in adoption. If the Yateem Khana is registered under the JJ Act, it will lose its character and will run contrary to Muslim personal law which does not permit adoption.
But the bench of Justices Madan B Lokur and Deepak Gupta felt that the institutions housing children must essentially be registered under the JJ Act. The Court's order was guided by numerous instances of child sexual abuse and rape of inmates in homes run by government, NGOs and other voluntary organisations.
A majority of child care homes, according to information supplied to Court, are unregistered. This led the Court to think about the plight of children kept in these homes culminating in its order asking all states to crack the whip and register all orphanages and children homes under the 2015 Act.
Sibal's client had filed an affidavit in the apex court claiming that they will shut down than come under the JJ Act. This offended the bench which said, "Such is your attitude that you suggest we have to close down and let the state look after the children.
Show us how different are you than the JJ Act, are you providing facilities to children and how many are there in your institutions."
Full report at:
http://www.dailypioneer.com/city/200-muslim-orphanages--in-kerala-threaten-to-close-down-in-defiance-of-sc-order.html
--------
Jharkhand bans PFI, says members influenced by Islamic State
February 21, 2018
The Jharkhand government has banned Popular Front of India (PFI), saying its members were "internally influenced" by the IS. An official release issued on Tuesday said: "The action has been taken following a proposal of the Home Department/ police on which the Law department has also given its consent".
The release further said the organisation has been most active in Pakur district. "Popular Front of India started in Kerala. The members of this organisation are internally influenced by the ISIS. Inquiry by Special Branch has revealed that some members of this organisation have gone secretly to Syria from the South Indian states and (are) working for ISIS," it said.
Recently, the PFI tried to celebrate its Foundation Day in Pakur and put up posters in the town, saying they were going to hold "School Chalo (lets go to school)" programme, during which school bags and kits were to be distributed. However, police conducted flag march for a couple of days in the town and took down the posters.
Last year in July, the PFI filed a complaint before the court of Chief Judicial Magistrate, accusing Pakur SP Shailendra Prasad Barnwal and two other police officers of custodial torture of some members of the minority community after a BJP leader, Hisabi Rai, was booked for allegedly inciting "gau rakshaks" for violence. Barnwal could not be reached for his comment.
Principal Secretary (Law) Dinesh Kumar Singh said the decision to ban PFI has been taken in the wake of several reports of their increased activity. Asked whether the organisation, which claims to take up social causes of the minority community, was directly found to be involved in undesirable activities, Singh said that, as per report with the government, most such activities were being carried out in the background. Singh also said that a state government was within its jurisdiction to ban an organisation, even if its spread was not limited to the state itself.
Full report at:
http://indianexpress.com/article/india/jharkhand-bans-pfi-says-members-influenced-by-islamic-state-5072092/
--------
Maldives Opposition leader Mohamed Nasheed gets the Delhi cold shoulder
by Sushant Singh |
February 21, 2018
Top sources at the Ministry of Defence Tuesday said that former Maldivian president Mohamed Nasheed had not briefed Defence Minister Nirmala Sitharaman about the situation in his country when they met in Bengaluru last Sunday.
The clarification came after Nasheed, who lives in exile in Colombo, tweeted a photograph of him seated across Sitharaman with a caption: "Pleasure to meet and brief Indian Minister of Defence Nirmala Sitharaman on the situation in the Maldives."
Ministry sources in New Delhi told The Indian Express that the meeting that Nasheed referred to was an "unscheduled, chance meeting in Bengaluru on the sidelines of a function organised by a well-known Chennai-headquartered media house. Further, there was no discussion on the situation in the Maldives."
Full report at:
http://indianexpress.com/article/india/nirmala-sitharaman-maldives-crisis-mohamed-nasheed-gets-the-delhi-cold-shoulder-5072051/
--------
Al-Qaeda claims separatist leader's killing in Kashmir; Zakir Musa warns Hurriyat against pursuing 'secular politics'
Ishfaq Naseem
Feb 20, 2018
A week after two unidentified gunmen killed former militant commander and separatist leader, Mohammad Yusuf Rather, shooting him dead inside a passenger vehicle, the police is investigating claims made by Al-Qaeda's Kashmir head, Zakir Musa, that the killing was carried out to warn Hurriyat parties against pursuing secularism.
Rather, who was associated with Hurriyat (G) chairman Syed Ali Shah Geelani for the last 14 years, was killed by two gunmen on Saturday, when he was travelling from Beerwah in Budgam to his house in the same district. Two pistol-wielding men who were sitting in the back seat of a vehicle fired at his head and later fled from the place.
A shutdown was declared in Kashmir, after which Musa allegedly released an audio file claiming that he ordered his men to kill the Hurriyat leader. He also said that Kashmir's battle will not be political but in order to establish the rule of Islam. "These dishonest Hurriyat leaders don't understand. If they want to run their politics, they shouldn't become a thorn in our way, or else we will chop off their heads and display them at Lal Chowk. This is why we had to kill Mohammad Yusuf Rather," he can be heard saying in the audio clip.
"Our Kashmir's battle is for ensuring glorification of Islam and we will establish the Shariah system of Islam. My appeal to all who want to enforce religion is that it should be followed first by oneself. We should become dear to Allah and tie the rope of the Almighty with strength and not repose faith on anyone else," he added.
Musa is the head of Al-Qaeda affiliate Ansar Ghazwatul Hind, and the fresh audio release came a few months after he had accused Pakistan of "back-stabbing militants", following US' attack on Afghanistan. In his previous audio message, he had said that even as foreign militants were fighting in Kashmir, the Pakistani government got militants killed, and even closed the training camps.
Deputy inspector general of police, Central Kashmir Range, Ghulam Hassan Bhat, said that a case has been registered after Rather's killing, and they are looking into the audio clip as well. "We are also going through call records of the deceased, and have questioned the driver in whose vehicle Rather was heading home," Bhat said.
According to police officials, two pistol-wielding persons were sitting in the back seat of a vehicle on 13 February. At around 4.40 pm, they fired at Rather, killing him immediately. The police then handed over his body to Rather's family members, after which a case was registered.
However, Geelani and two other members of the Joint Resistance Leadership (JRL) — a joint forum of separatists — Hurriyat (M) chairman Mirwaiz Umer Farooq and JKLF chairman Mohammad Yaseen Malik, blamed government agencies for the killing. In his statement, Geelani said, "The assassins are enjoying the full support of their sponsors, and a territory which is controlled by seven lakh armed people roaming with lethal weapons, can never be a safe place" for people like Rather.
Hurriyat (G) spokesman Gulam Ahmad Gulzar said that as the general secretary of the separatist outfit Tehreke Wahadati Islami, Rather was associated with the Geelani-led faction since 2004. He said that he was the deputy chief commander of the now non-existent militant outfit Hizbul Momineen in the early 1990s before he joined the separatist conglomerate. "He was an important Hurriyat (G) leader and a member of our executive council," he said.
Meanwhile, Rather's killing has further deteriorated the security situation in Kashmir, with the Hurriyat blaming the incident on "Indian security agencies". Gulzar said that the government was "using" security agencies for killing the separatists to thwart Kashmir's "freedom struggle".
Police officials said that Gulzar was also working as a section officer in the power development department, even as he remained associated with the Hurriyat (G) chairman. He was working a few kilometers away from his Budgam residence, said a police official.
Gulzar also said that the fresh audio "may have been doctored by the Indian agencies to create a wedge in the Kashmiri society".
Full report at:
http://www.firstpost.com/india/al-qaeda-claims-separatist-leaders-killing-in-kashmir-zakir-musa-warns-hurriyat-against-pursuing-secular-politics-4359817.html
--------
Haj House in Ghaziabad: Muslim Bodies, Opposition Cry Foul, Seek Action On Officials
Ayaskant Das
Feb 21, 2018
GHAZIABAD: The sealing of the Haj House in Ghaziabad on Tuesday elicited sharp reactions from Muslim organisations and Opposition parties that accused the BJP government in the state of playing communal politics.
The Muslim organisations questioned why the complex was sealed by the state government, which owns the property, instead of ensuring that a sewage treatment plant was installed on the premises as per the requirements of the UPPCB.
Khalid Rasheed, a member of All India Muslim Personal Law Board, said: "The building is a government property that was constructed by the Haj committee, which is a statutory body. It was built with money from the state exchequer and with the provision to provide lodging and accommodation to Haj pilgrims. If there are any shortcomings in the project, the Haj committee must see to it that they are addressed before the annual pilgrimage to Mecca begins this July. Haj pilgrims who stayed at the complex after its inauguration had indeed faced problems inside."
The Haj House was constructed at a cost of Rs 51 Crore. Its foundation stone had been laid by Samajwadi Party patriarch Mulayam Singh Yadav in March 2005, when he was the chief minister of UP. Mulayam's son Akhilesh Yadav inaugurated the building in September 2016, when he was the chief minister of UP.
"In UP, there are a number of government buildings and private institutions that do not comply with environmental norms. It comes as no surprise that this government has targeted the Haj House alone for violating pollution control standards. If pollution control norms were not followed, why is the government reluctant now to punish the officials for non-compliance? Disciplinary action should be taken against all officials who were in charge of the construction and the contractor who executed the project," said Navaid Hamid, the president, All India Muslim Majlis-e-Mushawarat.
Opposition parties said the move by the BJP government threatened the social and democratic fabric of the country.
"The values of the SP were different from those followed by the ruling party now. Our government had constructed the complex keeping in mind the religious values of different sections of the society. If this government had followed the same values, it would have taken necessary corrective measures to ensure compliance with pollution norms instead of sealing the building," SP spokesperson Rajendra Chaudhary said.
The Congress echoed the SP on the issue. "If there were violation of norms during the construction, the state government should have penalised the officials responsible for it. The structure had been constructed by the UP government and it is its duty to protect it as well. The shortcomings in pollution control standards should have been addressed by the state long back," said Naseeb Singh, the in charge of western UP Congress Committee.
Executive officer and Haj secretary Vineet Srivastava said the NGT order had been received at the Haj House on Monday evening.
"The building has not been handed over to us as yet by the construction and design services department but whatever steps need to be taken for getting the plant set-up will be taken and expedited," he added.
Mohsin Raza, the state minister for Haj and Waqf, said the green tribunal case was a long-drawn one.
"The matter concerns the environment ministry and National Green Tribunal, so no interference can be made in the order. A detailed report will be sought on Wednesday and then things will be more clear on what steps can be taken," he added.
Full report at:
https://timesofindia.indiatimes.com/city/noida/muslim-bodies-opposition-cry-foul-seek-action-on-officials/articleshow/63005274.cms
--------
Pakistan
Senate Body Recommends Arrest, Repatriation of Hussain Haqqani
Feb 21, 2018
Senator Rehman Malik says parliament was busy in discussing qualification of a disqualified person
Senator asks the government to wake up and unveil nexus of India and US
Senate Standing Committee on Interior has recommended to arrest former Pakistan envoy to US Hussain Haqqani and repatriate him.
It committee met here Tuesday with Senator Rehman Malik in the chair. It was told that Hussain Haqqani was defaming Pakistan across the globe. It alleged that Hussain Haqqani was working against ideology of Pakistan.
Interior additional secretary, briefing the committee, said that 25,000 to 30,000 licenses of automated weapons were issued during the last tenure of PPP regime without any verification. It further said these licenses were issued at throwaway rates. Ironically, a person collected more than one weapon license. Currently, around 60pc weapons in the country were illegal, he added.
Senator Sardar Fateh Muhammad Husni said that Interior secretary must inform the committee that who was involved in issuing these licenses. Who obtained illegal weapons? The committee also recommended to Council of Islamic Ideology (CII) to define a transgender and present its report that what Islamic laws say about the transvestites.
On this occasion, Fateha Khawani was offered for victims of India firing along the Line of Control (LoC). Senator Rehman Malik said that government should move international court against Modi government and file a case against him for his involvement in war crimes.
He alleged that on the one hand, the government was supporting Modi government directly while on the other hand, India was targeting innocent people at Line of Control (LoC). He sought debate on this issue in the parliament. He said rather the parliament was busy in discussing the qualification of a disqualified person. He said country was facing serious issues, adding a net of conspiracies was being netted by India with the nexus of US. He called upon the government to wake up and unveil nexus of India and US. Senators Javed Abbasi, Shahi Syed, Dr Jehanzeb Jamaldini, Fateh Muhammad Husni, Interior additional secretary and Law secretary attended the meeting.
https://www.pakistantoday.com.pk/2018/02/20/senate-body-recommends-arrest-repatriation-of-hussain-haqqani/
--------
Lawyer seeks FIR against participants of Asma Jahangir's funeral
21 Feb 2018
LAHORE: A lawyer has filed an application with the Gulberg Police Station seeking the registration of a case under Section 295-A against the participants of prominent human rights lawyer Asma Jahangir's funeral, Pakistan Today has learnt.
After Asma Jahangir's abrupt death due to a cardiac arrest, many of her female comrades, colleagues and relatives joined the prayers at Gaddafi Stadium, which was led by Syed Haider Farooq Maududi, son of Jamaat-e-Islami (JI) founder Syed Abu'l Al'a Maududi, in the front row.
The application filed by Advocate Amanullah seeks the registration of a case against Farooq Haider Maududi, Muneeza Jahangir, Saleema Jahangir (daughters of Asma Jahangir), and around 100 more people who attended the funeral.
The application states: "The mixed gathering at the funeral of Asma Jahangir was against Islamic values, which hurt the sentiments of the Muslims all over the world, especially Pakistani Muslims."
The complainant requested that an FIR [First Information Report] be registered under Section 295-A, which pertains to deliberate and malicious acts intended to outrage religious feelings of any class by insulting its religion or religious beliefs.
Talking to Pakistan Today, Advocate Amanullah claimed that the FIR will be registered by Wednesday.
"Two lawyers were shot dead otherwise we would have gone to the police station today to follow up on the application," he said.
Advocate Amanullah further said that the application was filed by a group of lawyers on the basis of a fatwa issued by many clerics.
However, when asked Imanullah refused to tell the name of the lawyers' group or clerics who have issued the fatwa against the mixed gathering at the funeral.
Meanwhile, IGP Punjab's Spokesman Nayab Haider denied receiving any such application.
Pakistan Today contacted Gulberg SHO Babar Ashraf and Model Town SP Dr Shakir Ahmed several times for their comments but they were not available.
'FIR UNNECESSARY':
Council of Islamic Ideology (CII) Chairman Dr Qibla Ayaz said that women could have only prayed and stood at one side instead of standing in the front row, however, an FIR is "unnecessary".
"This is an Islamic matter and religious matters should be solved through discourse."
When asked about the pictures of Quaid-e-Azam's funeral circulating on the social media—in which women could be seen standing with men— he said that people used to be less "sensitive" about these matters back then but "now people are easily offended".
He was, however, of the view that "sanctity of funeral rites should have been upheld".
Talking to Pakistan Today, Pakistan Ulema Council leader Hafiz Tahir Ashrafi held Farooq Haider Maududi responsible for not "guiding" people in accordance with the Islamic teachings.
The cleric said that Islamic principles should have been followed and women shouldn't have attended the funeral.
"Despite the presence of women, the funeral is not un-Islamic if four takbeers are said," he added.
Responding to a question, he said that the funeral of Quaid-e-Azam was led by Allama Shabeer Ahmed Usmani, who could have never let a woman stand in the front row, whereas he "knows" Farooq Haider Maududi.
"He doesn't belong to any school of thought," he added.
Institute for Peace and Secular Studies founder Diep Saeeda said that the same people who couldn't stand Asma when she was alive, are now filing FIRs, worried about the nitty gritties of her funeral more than her daughters who were present there, themselves.
"People are playing politics over the dead," she lamented.
Full report at:
https://www.pakistantoday.com.pk/2018/02/20/lawyer-seeks-fir-against-participants-of-asma-jahangirs-funeral/
--------
Pakistan: 10,000 Saudi soldiers being trained in Pakistan
20th Feb 2018
By Aamir Latif
KARACHI, Pakistan (AA): Pakistan on Monday revealed it is training some 10,000 Saudi soldiers, injecting credence to the reports about ever-increasing security cooperation between Riyadh and Islamabad in recent months.
Defense Minister Khurram Dastagir, who was giving a policy statement in the senate on a recent government's decision to send 1000 additional troops to the Kingdom, did not offer further details about the presence of such a high number of Saudi soldiers on Pakistan's soil, and the nature of training being imparted.
Many, however, link the growing defense cooperation between the two countries to the Saudi Arab's internal security following speculations about rifts within ruling Al-Saud family and a recent crackdown against corruption involving several ruling family members.
The statement came after several parliamentarians questioned the decision, fearing that the additional troops might be used against pro-Iran Houthi rebels in Yemen.
Some 1,600 Pakistan army officers and troops are already stationed in the Kingdom in accordance with a 1982 security protocol between the two sides.
Currently, some 647 Pakistani troops are also stationed in Qatar, whereas Pakistan air force is training 10 Iranian pilots, according to the local media.
"As far as deployment of Pakistanis troops outside the territory of Saudi Arabia or in Yemen is concerned, I want to assure you that it will not happen. Pakistan will remain neutral regarding any conflict in the Middle East in accordance with the parliament's guidelines," the minister said.
He was referring to a 2015 parliamentary resolution, which stated that Islamabad will not be part of any conflict in the Middle East, particularly Yemen.
His statement, however, further heated up the debate with several members belonging to left-wing Pakistan Peoples Party (PPP). Senate Chairman Raza Rabbani termed the clarification "insufficient", and demanded elaboration of operational and deployment details.
"I cannot tell that where will these troops be deployed in Saudi Arabia. But let me assure you, they will remain stationed within the Saudi territory," Dastagir said responding to a question from former interior minister, and a leading PPP figure Aitzaz Ahsan, who said the troops might be deployed at the Yemen border.
Previously in a statement, Pakistan army insisted that neither the fresh contingent nor the already stationed troops would be deployed outside Saudi Arabia.
"In continuation of ongoing Pak-KSA bilateral security cooperation, a Pakistan army contingent is being sent to the KSA on training and advise mission. These or troops already there will not be employed outside KSA. Pak Army maintains bilateral security cooperation with many other GCC / regional countries," said the statement.
Saudi Arabia, which alone hosts 1.9 million Pakistanis, tops the list of countries with highest remittances to Pakistan — over $4.5 billion annually.
Full report at:
http://muslimnews.co.uk/news/south-asia/pakistan-10000-saudi-soldiers-trained-pakistan/
--------
Protests in Pakistan after Christian Man Commits Blasphemy
Feb 20, 2018
LAHORE: Hundreds of activists of religious parties surrounded a Christian colony in Lahore, demanding arrest of a Christian man who allegedly posted blasphemous content on the social media, police said on Tuesday.
The Christian youth was accused of allegedly posting blasphemous content about Muslim holy places.
The activists of Tehreek-e-Labaik Ya Rasool Allah (TLYRA) and other religious parties gathered in Shahdara area in Lahore and surrounded the Christian families living there, demanding them to hand over the man to them.
They said they would not leave the place till the youth hiding there was handed over to them.
The activists of Tehreek-e-Labaik Ya Rasool Allah (TLYRA) and other religious parties gathered in Shahdara area in Lahore and surrounded the Christian families living there, demanding them to hand over the man to them.
They said they would not leave the place till the youth hiding there was not handed over to them.
"After over 12-hour standoff we managed to persuade the protesters to disperse as the suspect had been arrested and duly booked under relevant sections of the Pakistan Penal Code for committing blasphemy," police senior officer Ali Raza said.
An FIR has been registered against the Christian youth.
"We negotiated with the leaders of the religious parties and told them that the suspect would get exemplary punishment," Raza said, adding that police are still present in Shahdara to avoid any untoward incident.
Police stopped them from entering the Christian colony. Around 400 Christian families are living there.
Full report at:
https://timesofindia.indiatimes.com/world/pakistan/protests-in-pakistan-after-christian-man-commits-blasphemy/articleshow/62998656.cms
--------
Russia will continue to boost Pakistan's counterterrorism capacity, says FM Lavrov
February 20, 2018
Russian Foreign Minister Sergei Lavrov said on Tuesday that Russia will continue to assist Pakistan to bolster its counterterrorism capabilities, and the two countries will also form a commission for military cooperation, TASS news agency reported.
"We have confirmed Russia's readiness to continue boosting Pakistan's counterterrorism capacity, which is in the entire region's interests," he said while addressing a press conference with his Pakistani counterpart Khawaja Asif.
Lavrov said fighting terrorism was a priority area of Russia-Pakistan cooperation, but his country also sees other opportunities for bilateral trade and economic cooperation with Pakistan, especially in the energy sector.
Noting that the two countries will form a commission on military cooperation, the foreign minister said Russia and Pakistan will continue to hold the Druzhba (Friendship) joint military exercise.
We cannot fight others' wars on our soil: Asif
Foreign Minister Asif while addressing the press conference said the proliferation of militant Islamic State (IS) group terrorists in Afghanistan is a cause of alarm for Pakistan and the IS militants who have relocated themselves from the Middle East to northeastern Afghanistan are a threat for Pakistan, Central Asia and Russia.
He said Pakistan thinks the number of IS terrorists in Afghanistan has surpassed the Taliban groups mentioned on a daily basis by Afghanistan and the US.
"There is absolutely no real acknowledgement by Kabul and Washington of such a large presence or proliferation of Daesh [Arabic acronym for IS] in Afghanistan."
Asif said Pakistan asserts that a negotiated settlement is the only solution to the Afghan conflict, but "the Daesh presence is definitely alarming for us because they are not a party to negotiations in Afghanistan".
Observing that there are "monumental failures" in Afghanistan, he said there was an effort to scapegoat Pakistan and other countries for the shortcomings.
Pakistan has rejected those allegations, Asif said, adding: "We cannot fight others wars' on our soil."
The foreign minister said both Pakistan and Russia have been making efforts to promote peace and reconciliation in Afghanistan. He said Pakistan supports the "role played by Russia in developing a regional approach to Afghanistan" and its "commendable" efforts for eliminating IS.
"We remain committed to fighting the menace of terrorism in cooperation with the international community including Russia despite our heavy human and material losses," he said, noting that Pakistan has lost more than 70,000 people in the anti-terrorism fight.
Asif said Pakistan as a matter of principle opposes the imposition of unilateral sanctions against any country including the Russian Federation "especially when these are politically motivated".
According to a Foreign Office (FO) press release, Asif and his Russian counterpart during their consultations expressed satisfaction at the increasing bilateral cooperation between the two countries and agreed to further intensify efforts to deepen cooperation in all areas of mutual interest.
Discussing the situation in Afghanistan, the two foreign ministers agreed that there was no military solution to the conflict in that country.
They agreed to closely coordinate in all Afghanistan-related processes for a regional solution of the Afghan conflict.
The Russian diplomat also "deeply appreciated Pakistan's efforts and sacrifices in the fight against terrorism", the FO statement said.
Russia 'very preoccupied' by IS presence in Afghanistan: Lavrov
Talking about the Afghan conflict, Lavrov said Russia is "very preoccupied" by the increasing presence and influence of IS militants in Afghanistan.
"We are very preoccupied by what is happening in Afghanistan and by the expansion of IS influence."
According to Lavrov, the presence of IS in the north and east of Afghanistan is "serious" and "already amounts to a thousand people." Moscow is especially concerned, he said, about the security threat this creates for neighbouring former Soviet republics and to Russia.
"This is right on the borders of our Central Asian neighbours. It increases the risk of terrorists entering Central Asia, from where it's not difficult for them to get to Russia, and further," Lavrov said.
IS and the Taliban have staged several attacks in Afghanistan in recent weeks, including one on a luxury hotel in Kabul on January 20.
Full report at:
https://www.dawn.com/news/1390621/russia-will-continue-to-boost-pakistans-counterterrorism-capacity-says-fm-lavrov
--------
PPP asks govt to call back troops from Saudi Arabia
February 21, 2018
ISLAMABAD - Pakistan People's Party on Tuesday asked the government to call back troops from saudi arabia .
The ppp urged the government to make diplomatic efforts to bring about peace in the "unfortunate war-torn zone" and unite the Muslims.
In a statement, the ppp parliamentary leader in the Senate Taj Haider alleged the incumbent government had promoted conflict within the Muslim-majority nations.
This week Prime Minister Shahid Khaqan Abbasi said that Pakistani troops only had an advisory role in saudi arabia and were deployed in the kingdom for the last 30 years.
Abbasi said around 2,500 Pakistani troops were imparting training in saudi arabia , adding, he would also take the parliament into confidence on the matter of sending more troops to saudi arabia .
Pakistan's decision to send troops to saudi arabia and allow former army chief Gen Raheel Sharif to lead the Saudi-led military alliance annoyed Iran who called it a Sunni-alliance.
In the recent past, Pakistan-Iran ties had been far from warm as Iran believes the "Sunni-alliance" was formed to target Shia Muslims rather than terrorists.
The alliance was formed by saudi arabia in December 2015 with its headquarters in Riyadh.
Pakistan delayed approval to Raheel Sharif – considering Iran's objections - for several months before finally giving a nod to the former army chief.
Taj Haider recalled that it was Zulfikar Ali Bhutto who in the long history of Islam had for the first time brought the heads of states of all Muslim-majority countries under one roof.
"Bhutto brought about a consensus among them on a peaceful and reconciliatory way to resolve their mutual differences. It is tragic to see that the present government of pseudo democrats is bent upon promoting conflict within the world of Islam and has sent Pakistani soldiers to saudi arabia against a clear decision taken by the parliament," he added.
The resolution of non-interference passed by the parliament, Haider said, was reflective of the desire of the people of Pakistan who following the vision of Bhutto want to see the world of Islam as a united entity.
Senator Haider said it was common knowledge that the decision to send the troops had been taken much before the matter was raised in the joint session of the parliament.
"Funds from the Kingdom of saudi arabia had also been received. The motives for committing our armed forces in a conflict between two brother Muslim countries were purely personal," he said.
Haider said the move by the government was a return of the favours shown to the former prime minister Nawaz Sharif by saudi arabia reaching an agreement with and securing a pardon from dictator Pervez Musharraf.
"The appointment of General Raheel Sharif to head the forces of 40 Muslim countries was the first phase of the divisive plan. The resolution of the joint session of the parliament only delayed the implementation of the divisive plan of the pseudo democrats," he said. The senator said during the last few decades, hundreds of thousands of Muslims had been killed at the hands of other Muslims in proxy wars patronised by American imperialism and Zionism.
"Now there is a conflict within the 40-nation alliance as well. God forbid there is no danger to the holy mosques of Medina Pak and Mecca Sharif. The real objective of American imperialism, Zionism and Indian Brahmanism is to divide and weaken the world of Islam by promoting internal armed conflicts. The pseudo democrats are playing in the hands of these forces for purely personal ends," he said.
Haider said an opportunity to mediate and to end the conflict between brothers has been sadly lost.
"The valiant armed forces of Pakistan are bravely fighting the evil forces of terrorism and extremism internally, and the cowardly attacks of Indian Brahmanism on the Line of Control in Kashmir. Which Pakistani would genuinely desire to have a single soldier of ours posted abroad to fan conflict between brothers at this time or at any other time? And this too for serving the personal ends of some discredited individuals," he said.
Senator Haider demanded that the resolution passed by the joint session of the parliament should be respected and implemented in letter and spirit.
ZARDARI TAKES NOTICE OF BAJAUR'S YOUTH MURDER
Former president Asif Ali Zardari Tuesday took notice of murder of a youth Ahmed Shah from Bajaur in Karachi and has instructed Chief Minister Sindh Murad Ali Shah to submit a report after completion of inquiry into the murder.
Full report at:
https://nation.com.pk/21-Feb-2018/ppp-asks-govt-to-call-back-troops-from-saudi-arabia
--------
Arab World
More than 100 killed in Syria assault on Damascus suburb
February 20, 2018
BEIRUT (AP) — Intense Syrian government shelling and airstrikes on rebel-held Damascus suburbs killed nearly 130 people in two days, marking some of the deadliest bombardment of the rebellious region in three years, a monitoring group and paramedics said Tuesday.
Retaliatory shells rained down on Damascus, killing at least eight people and causing panic among residents of the Syrian capital, seat of President Bashar Assad's power.
The violence in the capital and nearby areas came as scores of pro-government gunmen began entering the northern Kurdish enclave of Afrin. Turkish troops shelled the areas shortly after the fighters entered the area, forcing journalists to flee. Turkish state media reported the pro-government forces then fell back 10 kilometers (6 miles) from Afrin city.
The targeted suburbs — scattered across an area known as eastern Ghouta — have been subjected to weeks-long bombardment that has killed and wounded hundreds of people. Opposition activists say government forces have brought in more reinforcements in recent days, suggesting a major assault is imminent to recapture the area that is the last main rebel stronghold near Damascus.
The area that has been under tight siege since last year where people suffer from food shortage is home to some 400,000 people as well as thousands of insurgents belonging to different factions. The most power are the ultraconservative Army of Islam and Failaq al-Rahman with small presence for al-Qaida-linked fighters.
Videos from the eastern suburbs showed paramedics pulling out the injured from under the rubble while others are seen franticly digging through the debris in the dark, in search for survivors.
Monday's bombardment that killed nearly 100 people saw the use of warplanes, helicopter gunships, missiles as well as artillery, in a major escalation of violence near President Bashar Assad's seat of power.
The Britain-based Syrian Observatory for Human Rights said it was the deadliest days in eastern Ghouta since 2015, adding that 20 children and 15 women were among those killed.
The opposition-affiliated Syrian Civil Defense, also known as White Helmets, said the shelling and airstrikes killed 98 and that some people are still under the rubble. It said the dead included one of the rescue group's members, Firas Jomaa.
Both the Observatory and the White Helmets reported more airstrikes and shelling on Tuesday in eastern Ghouta as rebels pounded Damascus with mortar shells. The White Helmets reported 15 deaths on Tuesday while the Observatory said 23 people were killed.
The Observatory said the "crazy shelling" appears to be paving the way for a wide ground offensive on eastern Ghouta. If captured by government forces it would be another major victory for Assad since the conflict began seven years ago.
Rebels retaliated by hitting some Damascus neighborhoods with mortar shells, killing eight persons, including three children, and wounding 15 people, according to the state news agency SANA. On Tuesday morning, Damascus residents reported shelling of areas in central Damascus.
"Shells are falling like rain. We are hiding in the corridor," a Damascus resident told The Associated Press, asking that her name not be mentioned for her own safety. She spoke while hiding in the corridor of an office building.
"It's a bloody day," said Abdelrahman Shahin, a 31-year-old resident of Damascus who was walking on the street when a shell landed on a nearby taxi, killing the driver and a passenger in front of his eyes.
"They both died," he said, visibly shaken. "The driver was out for his livelihood, his family will be waiting for him," he said.
Syrian state TV later reported live from the streets of Damascus to show what it called the people's "steadfastness" despite the shelling. The TV reporter said residents expressed hope that the Syrian army would retake eastern Ghouta.
Army of Islam official Mohammed Alloush and Nasr al-Hariri, who heads the committee that represents the Syrian opposition, described what is happening in eastern Ghouta as a new "Holocaust" committed by the government and its backers Iran and Russia.
The U.N. envoy for Syria Staffan de Mistura decried a recent upsurge in violence, expressing concerns that eastern Ghouta could fall victim to widespread bloodshed like that in northern Aleppo more than a year ago. Assad's forces captured Aleppo in December 2016 in his biggest victory since the conflict began in March 2011.
"Bottom line: if we have learned something from Aleppo, (it's) time to actually avoid all this," de Mistura said.
The U.N. children's agency, UNICEF, issued a one-page statement of protest against the killings and carried a headline, saying: "Do those inflicting the suffering still have words to justify their barbaric acts?"
The headline was followed by a blank space underneath. UNICEF said it issued this blank statement because "we no longer have the words to describe children's suffering and our outrage."
The International Committee of the Red Cross also issued a statement saying that "this cannot go on." It added that "distressing reports" of dozens injured and killed every day in eastern Ghouta with "families trapped, with no safe place to hide from shelling. Dozens of mortars in Damascus cause civilian casualties and spread fear. We cannot let history repeat itself."
"The humanitarian situation of civilians in East Ghouta is spiraling out of control," said Panos Moumtzis, the U.N. regional humanitarian coordinator for the Syria crisis, in a statement late Monday.
"It's imperative to end this senseless human suffering now. Such targeting of innocent civilians and infrastructure must stop now," he said.
In northern Syria, Syrian state TV reported that Turkish troops shelled the entrance of the northern Kurdish enclave of Afrin shortly after scores of pro-government fighters entered the area. The TV showed shells falling in an area where journalists gathered Tuesday afternoon forcing some of them to flee the area.
Minutes before the shelling, about 20 vehicles with heavy machine guns mounted on them were seen entering the area as part of an agreement between the government and the main Kurdish militia in Syria known as the People's Protection Units, or YPG. Turkish state media reported the pro-government forces then fell back 10 kilometers (6 miles) from Afrin city.
Turkey has threatened Syrian troops not to help YPG fighters, warning that it will fight its backers.
Ankara considers the YPG a "terrorist group" linked to the Kurdish insurgency within Turkey's borders. On Jan. 20, it launched a major air and ground offensive, pounding the enclave with airstrikes and artillery on a daily basis.
______
Associated Press writers Zeina Karam in Beirut, Suzan Fraser in Ankara, Turkey, Jamey Keaten in Geneva, and Albert Aji in Damascus, Syria contributed to this report.
https://www.washingtontimes.com/news/2018/feb/20/98-dead-assault-rebel-held-damascus-suburb-say-act/
--------
Tens of Ankara-Backed Militants Killed in Operation Olive Branch
Feb 20, 2018
The Kurdish-language Hawar news reported that they have killed 20 militants affiliated to Turkey on Monday during attacks against them in the village of Houbakeh in Rajou region.
Meantime, the Turkish army fighter jets launched massive strikes on the villages of Sanareh, Onqaleh in Shiyeh and Hikjeh in Jandaris as well as several other villages in Shara.
In a relevant development on Monday, the Turkish Army General Staff announced in a statement that a sum of 1,641 Kurdish gunmen have been killed or captured in the Turkish Army Operation Olive Branch in Afrin region in Northwestern Aleppo.
The statement said that a sum of 1,641 Kurdish fighters have thus far been killed or captured by the Turkish army men and Ankara-backed militants in Afrin operation.
Full report at:
http://en.farsnews.com/newstext.aspx?nn=13961201000348
--------
Over Dozen civilians killed in new US-led strikes in Syria's Dayr al-Zawr
Feb 20, 2018
More than a dozen civilians have lost their lives when the US-led coalition purportedly fighting the Daesh Takfiri terrorist group carried out a series of aerial assaults in Syria's eastern province of Dayr al-Zawr.
Local sources told Syria's official news agency SANA that 16 people, including 9 women, were killed in the US-led aerial attacks against residential buildings in al-Bahra village on Tuesday afternoon.
The sources noted that the death toll is expected to rise as some people had been critically wounded in the airstrikes.
The London-based Airwars organization, which tracks civilian deaths in US-led airstrikes, reported earlier this year that a total of at least 5,961 civilians had been killed as a result of the attacks in Iraq and Syria.
The so-called Syrian Observatory for Human Rights (SOHR) reported on November 23 last year that 2,759 civilians, including 644 minors and 470 women, had been killed in US-led aerial attacks against civilian areas in Syria over the past 38 months.
The monitoring group added that the US-led air raids had claimed the lives of 98 people, including four children and as many women, between October 23 and November 23 this year.
The SOHR went on to say that the civilian fatalities had been mostly recorded in the northern provinces of Hasakah, Raqqah, Aleppo and Idlib in addition to the eastern province of Dayr al-Zawr.
The US-led coalition has been conducting airstrikes against what are said to be Daesh targets inside Syria since September 2014 without any authorization from the Damascus government or a UN mandate.
The military alliance has repeatedly been accused of targeting and killing civilians. It has also been largely incapable of achieving its declared goal of destroying Daesh.
On December 14, 2017, Syria's Ministry of Foreign Affairs and Expatriates stated that the US-led coalition is indeed targeting civilian facilities and providing Daesh terrorists with cover.
It noted that Daesh terrorists have been purged from most regions in Syria only through counter-terrorism operations conducted by government troops and allied fighters from popular defense groups.
The Syrian foreign ministry also criticized the so-called advocates of human rights and rule of law for turning a blind eye to the atrocities the US-led coalition is perpetrating in Raqqah and Dayr al-Zawr provinces.
Militant rocket attack kills several civilians in, around Damascus
Meanwhile, at least five civilians have lost their lives in separate rocket attacks by foreign-sponsored Takfiri militants against residential districts in and around Syria's capital city of Damascus.
A woman was killed on Tuesday afternoon when several rockets fired by Takfiri terrorists struck Jaramana city, located 3 kilometers southeast of Damascus.
A little girl also lost their life after projectiles slammed into another district in the same Syria city.
Two projectiles also slammed into the campus of Faculty of Science in the capital, though there were no immediate reports of casualties and the extent of damage caused.
Full report at:
http://www.presstv.com/Detail/2018/02/20/553004/Over-Dozen-civilians-killed-in-new-USled-strikes-in-Syrias-Dayr-alZawr
--------
Guantanamo inmate set for transfer to KSA
February 21, 2018
WASHINGTON - A Guantanamo Bay detainee who pleaded guilty to helping plan a 2002 attack on a French oil tanker is set to be transferred from the military prison to Saudi Arabia, an official said Tuesday.
Saudi citizen Ahmed Mohammed Ahmed Haza al-Darbi has cooperated with the government since entering his plea four years ago, and prosecutors agreed he should be sent to a Saudi rehabilitation center some time after February 20. If transferred, Darbi would be the first Guantanamo inmate to be released since President Donald Trump took office more than a year ago.
"Upon completion of all conditions, he may request to serve out any remaining portion of his sentence to confinement in the Kingdom of Saudi Arabia," Pentagon spokeswoman Commander Sarah Higgins said in a statement. "These conditions, which are not in al-Darbi's control, have not been finalized. He will continue to remain at Guantanamo until all details have been concluded."
Darbi, who is the brother-in-law of one of the September 11, 2001 plane hijackers, admitted to planning, aiding and supporting an attack on the MV Limburg which killed a Bulgarian sailor, injured a dozen and caused a large oil spill in the Gulf of Aden.
According to a transcript of an October hearing, the government recommend Darbi be sentenced to 13 years in prison, to include time served since his 2002 confinement at Guantanamo.
"The accused took a number of actions to ensure the successful completion of the attack on the Limburg, including providing or obtaining visas for the terrorists that actually took part in the attack, providing them housing, purchasing equipment," prosecutor Captain Matthew Hracho said.
As part of his plea, Darbi has provided evidence against Saudi Guantanamo detainee Abd al-Rahim al-Nashiri, who faces the death penalty on charges he masterminded the MV Limburg attack and the 2000 attack against the USS Cole in Yemen that left 17 dead.
Darbi's lawyer did not immediately respond to a request for comment.
A total of 41 inmates remain at Guantanamo but Trump has vowed to send more detainees to the notorious prison on a US naval base on Cuba.
Full report at:
https://nation.com.pk/21-Feb-2018/guantanamo-inmate-set-for-transfer-to-ksa
--------
Several Civilians Killed in US Airstrikes in Deir Ezzur
Feb 20, 2018
The sources confirmed that the US warplanes have attacked the town of al-Bahra in Southeastern Deir Ezzur, killing 16 civilians.
Late in January, local sources in Southeastern Deir Ezzur reported that a number of civilians have been killed or wounded in the US-led collation air raids.
The sources said that the fighter jets pounded the village of al-Bahara on the Eastern bank of the Euphrates River, killing five civilians and wounding several more.
Local sources also confirmed in the same month that the warplanes pounded the villages of al-Bahara, killing 30 civilians, mostly women and children.
Full report at:
http://en.farsnews.com/newstext.aspx?nn=13961201000645
--------
White Helmets Preparing for New Plot in Eastern Damascus
Feb 20, 2018
The Arabic-language al-Manar news channel quoted certain media outlets as reporting that intelligence shows that the White Helmets have distributed masks in Eastern Ghouta for what they call as efforts to protect civilians from chemical gases.
Based on the report, apparently, the White Helmets group, often praised by Western media as courageous rescuers helping civilians caught in a battle zone, is creating a new scenario to raise chemical attack allegations against the Syrian army.
Local sources had warned last Tuesday that the al-Nusra Front (Tahrir al-Sham Hay'at or the Levant Liberation Board) and the White Helmets are coordinating another false-flag operation in Idlib province to later accuse the Syrian government forces of carrying out another chemical attack.
The Russian Reconciliation Center for Syria quoted the sources as disclosing that the Al-Nusra has transferred over 20 chlorine gas cylinders to one of the villages in Idlib province.
The sources told the Russian center that Al-Nusra is to carry out provocative measures with the White Helmets' cooperation to later accuse the Syrian army of a new chemical attack on the militants.
Also, RT quoted the Russian Center as saying that it's been warned that the Al-Nusra terrorists brought in chlorine containers to a local village, where they aimed to work with the White Helmets to stage "a false-flag operation."
Last week, the Russian Center received a phone call from a resident of the village of Saraqib in Idlib province about the planned incident.
According to the source, on the afternoon of February 12, Al-Nusra Front brought three cars packed with more than 20 cylinders of chlorine along with personal protective equipment to Saraqib.
Additionally, according to the caller, representatives of the local branch of the White Helmets, wearing individual means of protection, conducted rehearsals of "giving first aid" to "local residents" who were supposedly suffering from poisoning.
The information received from the Idlib resident raised a red flag for members of the Russian Center for Reconciliation in Syria.
Full report at:
http://en.farsnews.com/newstext.aspx?nn=13961201000421
--------
Tahrir Al-Sham Gains Control over Rival Terrorists' Base in Northern Syria
Feb 20, 2018
Field sources reported on Tuesday that just a few hours after the merger of Ahrar al-Sham and Nouralddeen al-Zinki terrorist groups in the form of Syria's Tahrir Front, Tahrir al-Sham militants attacked the newly-founded terrorist group's positions in Western Aleppo.
According to the sources, during the clashes, Tahrir al-Sham terrorists won control of the rival group's military base in al-Mohandesin 2 region along with a cache of weapons and ammunition.
Meantime, other members of Syria's Tahrir Front warned Tahrir al-Sham terrorists to withdraw from the base before they resort to any military action.
Also, reports said that members of Abu Omar Saraqib battalion terrorist group have defected Tahrir al-Sham and joined Syria's Tahrir Front.
Militant sources said on Sunday that Al-Nusra Front (Tahrir al-Sham Hay'at or the Levant Liberation Board) has put its gunmen on alert for an imminent attack on a rival terrorist group after one of its senior commanders was assassinated in Western Aleppo. The Al-Nusra has accused Nouralddeen al-Zinki terrorists of assassinating its field commander Abu Ayman al-Mesri in Western Aleppo, and issued a call to place all its forces on alert for an imminent attack on al-Zinki positions in the region, militant sources said.
Full report at:
http://en.farsnews.com/newstext.aspx?nn=13961201000375
--------
Egypt adds Muslim Brotherhood party leader Abul Fotouh to terror list
20 February 2018
The Criminal Court of South Cairo added on Tuesday Abdel Moneim Abul Fotouh, head of "Powerful Egypt" party and the former Muslim Brotherhood member and presidential candidate along with 15 others to the terror list based on a memorandum submitted by the Attorney General.
Attorney General Nabil Sadiq received a communication from lawyer Samir Sabri demanding that Abdel Moneim Abul Fotouh and party members be added to the terror list.
Sabri said that the Supreme State Security Prosecution office decided to imprison Abul Fotouh for 15 days under charges that include inciting masses against the state, disrupting the constitution, plotting to overthrow the regime, threatening national security and spreading chaos, impeding state institutions from exercising their role in establishing security and political stability, calling for boycotting the presidential elections, belonging to the international organization of the Muslim Brotherhood, and contacting the fugitive Brotherhood leaders abroad to coordinate the implementation of an anarchist plan targeting the stability of the country.
Sabri said that according to Law No. 8 of 2015 on the formation of terrorist entities, all evidence against Abul Fotouh was available and therefore he must be included on the terror list.
The Egyptian authorities arrested on Wednesday evening Abul Fotouh and members of his "Powerful Egypt" party.
Full report at:
https://english.alarabiya.net/en/News/middle-east/2018/02/20/Egypt-adds-Muslim-Brotherhood-party-leader-Abul-Fotouh-to-terror-list.html
--------
Mideast
Turkey vows to lay siege to Syria's Afrin 'in coming days'
February 20, 2018
President Recep Tayyip Erdogan on Tuesday said Turkish forces would soon lay siege to syria 's afrin as a cross-border offensive targeting a Kurdish militia entered its second month.
On January 20, Ankara launched an air and ground operation supporting Syrian rebels against the People's Protection Units (YPG) in the afrin region of northern syria .
turkey views the YPG as a Syrian offshoot of the outlawed Kurdistan Workers' Party (PKK), which has been waging an insurgency against the Turkish state since 1984.
"In the coming days, swiftly, we will lay siege to the centre of the town of afrin ," Erdogan told parliament.
While some analysts say turkey and pro-Ankara Syrian rebels have made slow advances, Erdogan defended the operation's progress, saying the army wanted to avoid putting the lives of both its troops and civilians needlessly "at risk".
"We did not go there to burn it down," he said, adding that the operation's aim was to "create a safe and liveable area", where Syrian refugees in turkey could conceivably return to.
Since syria 's war erupted in 2011, more than 3.5 million people have sought refuge in turkey .
According to the Syrian Observatory for Human Rights monitor, Syrian rebels and Turkish forces have taken 45 villages since the start of the operation, most of them bordering afrin .
And Turkish security expert Abdullah Agar said troops involved in operation "Olive Branch" had captured around 300 square kilometres (120 square miles) of territory.
Over the past month, 205 Syrian rebels have been killed, along with 219 YPG and allied fighters and 112 civilians, Observatory figures show.
The Turkish army says 32 of its troops have been killed since the offensive was launched.
Ankara strongly denies there have been any civilian casualties.
Warning to Damascus
Jana Jabbour, a political science professor at Sciences Po university in Paris, said the Turks were "struggling to move forward" because of the "organisation of the Kurdish YPG forces and their combativeness".
She said it was important to distinguish between political rhetoric, "even political propaganda", and the reality on the ground.
On the ground, fighting was now focused around the area of Arab Wiran in northeast afrin , the Observatory said.
If captured, pro-Ankara forces would control 50 continuous kilometres of afrin 's northern border with turkey . The operation looked like it was going to be further complicated when Syrian state media reported that pro-government forces were expected to enter afrin to counter the Turkish offensive.
In a thinly-veiled threat to Damascus, Erdogan on Tuesday warned turkey would tolerate no interference. "We will block the way of those who come to help from outside the city or the region," he said.
Later, Erdogan told reporters that the Syrian regime would not send any fighters.
Asked by a journalist if the regime backed down after Russian President Vladimir Putin and Erdogan spoke on the phone on Monday, the Turkish leader said without elaborating that the threat had been defused "after discussions", NTV broadcaster quoted him as saying.
Strained ties with US
The operation strained already difficult ties with Washington, which has given weaponry to the YPG as part of its fight against Islamic State jihadists in syria .
The US has called on turkey to show restraint, warning that the offensive risks diluting the fight against the jihadists.
But instead of pulling back, Erdogan threatened to expand the offensive to the YPG-held town of Manbij. When US Secretary of State Rex Tillerson visited Ankara last week, the two sides agreed to work together in syria and set up working groups on issues like Manbij where American troops are operating and which the US diplomat described as a "priority".
In addition to its disagreements with Washington, turkey must take into account the interests of Russia, a key Damascus ally, which controls northern Syrian airspace.
Moscow may have given the green light to the offensive, but it has previously closed the airspace to Turkish jets after a Russian plane was shot down in an area of north syria where Turkish military observers were expected to enforce a de-escalation zone. The offensive is broadly supported in turkey where political parties, media and clerics speak in unison, against a backdrop of nationalist rhetoric led by Erdogan.
Only the pro-Kurdish Peoples' Democratic Party (HDP) does not back the operation.
Since Olive Branch got under way, turkey has detained 786 people, 587 of whom are being held for spreading "terror propaganda" on social media, the interior ministry says, in what opponents charge is a crackdown on critics of the operation.
Another 85 people have been held on charges of organising protests against the offensive.
https://nation.com.pk/20-Feb-2018/turkey-vows-to-lay-siege-to-syria-s-afrin-in-coming-days
--------
West Bank settlers grew twice the rate of Israel's overall population last year
20 February 2018
The number of Jewish settlers in the West Bank grew at nearly twice the rate of Israel's overall population last year, a settler leader said Monday, predicting that settlement growth would surge even more in the coming years thanks in part to the Trump presidency.
Yaakov Katz said that President Donald Trump, backed by a Mideast team dominated by settler supporters, has created a friendly new atmosphere conducive to settlement growth after eight contentious years with the Obama White House.
"This is the first time, after years, that we are surrounded by people who really like us, love us, and they are not trying to be objective," Katz said. "We have to thank God he sent Trump to be president of the United States."
Katz is founder of "West Bank Jewish Population Stats," a report sponsored by "Bet El Institutions," a prominent settler organization that has ties to Trump's closest Mideast advisers. He said the figures are based on official data from the Israeli Interior Ministry not yet available to the public.
According to his figures, the West Bank settler population reached 435,159 as of Jan. 1, up 3.4 percent from 420,899 a year earlier. The settler population has grown 21.4 percent in the last five years. In comparison, Israel's total population grew 1.8 percent to 8.743 million last year, according to the Central Bureau of Statistics.
Katz said the rapid growth of the settlements should put to rest the idea of a two-state solution favored by the Palestinians and most of the international community. Based on recent growth patterns, he said the West Bank settler population could approach 500,000 by the time Trump leaves office. His study did not include the more than 200,000 Israelis now living in east Jerusalem, the Palestinians' hoped-for capital.
"We are changing the map," he said. "The idea of the two-state solution is over. It is irreversible." The Palestinians seek the West Bank, along with east Jerusalem and the Gaza Strip, for a future independent state. Israel captured the territories in the 1967 Mideast war, though it withdrew from Gaza in 2005.
Two-state solution
A string of US presidents, both Republican and Democrat, have endorsed the idea of a two-state solution and have joined the international community in opposing settlements as obstacles to peace. But after years of failed US-led peace efforts, Trump has taken a different line. He says he would support a two-state solution only if both sides agree to it. Israeli Prime Minister Benjamin Netanyahu's nationalist coalition is dominated by settler allies who oppose Palestinian independence.
Trump also has taken a softer stance toward the settlements, urging restraint at times but avoiding the strong condemnations of his predecessors. His ambassador to Israel, David Friedman, is a former president of Bet El Institutions. His chief Mideast adviser, son-in-law Jared Kushner, has donated to the group, and even Trump once sent a donation.
These deep ties to the settlements have helped fuel Palestinian suspicions of the White House. Those suspicions deepened after Trump recognized Jerusalem as Israel's capital in December, prompting the Palestinians to say the US can no longer be an honest Mideast broker. Trump's team has been working on a peace proposal, though it is not clear when it will be released.
Palestinian chief negotiator Saeb Erekat said the figures reflect an Israeli policy of building settlements to destroy the two-state solution. He said Trump's muted response encourages more settlement building. "What is required of the world, including the American administration, is to condemn the settlements as illegitimate and illegal and to recognize the principle of two states on the 1967 borders," he said. "if they want to keep hope in any future peace process, they must stop these plans."
Brian Reeves, spokesman for Peace Now, an anti-settlement monitoring group, said it could not corroborate Katz's figures but that they are in the "ballpark" of its own estimates. Katz said the settlement growth has been fueled both by natural growth of the population, which is heavily religious and tends to have larger families, as well as the attraction of cheaper housing in the West Bank.
Full report at:
https://english.alarabiya.net/en/News/middle-east/2018/02/20/West-Bank-settlers-grew-twice-the-rate-of-Israel-s-overall-population-last-year.html
--------
India drops 'retaliation' mode to buy more Iran oil
Feb 20, 2018
State-owned Indian refiners are set to raise their oil purchases from Iran amid unconfirmed reports that the Iranian Ministry of Petroleum had offered 100% discount on its freights.
President Hassan Rouhani's visit to India this week gave a new impetus to enhancing bilateral relations which are under the shadow of US threats to reimpose draconian sanctions on the Islamic Republic.
India was one of the countries which maintained trade with Iran including oil purchases when Tehran came under intensified Western sanctions in 2012, but that came with generous discounts.
Since the lifting of sanctions on Iran in 2016, Tehran had reportedly cut down on its freight discount but Iranian officials offered last week to raise it if Indian companies purchased more oil from the country.
For 2018, Tehran had reportedly reduced the discount to 62 percent of the Platts freight assessment from 80 percent, apparently in response to the Indian government's orders to refiners to import less oil from Iran.
Those orders have been interpreted as New Delhi's retaliation for Tehran's refusal to grant development of the offshore Farzad B gas field in the Persian Gulf to Indians at steeply concessionary terms.
On Saturday, officials in the Indian Ministry of External Affairs said the two sides agreed to continue and increase the pace of negotiation for reaching appropriate results in energy cooperation, including on Farzad B and that they were for reaching a conclusion on the gas field issue soon.
Iran's Minister of Petroleum Bijan Zangeneh told reporters after a meeting with Indian Oil Minister Dharmendra Pradhan in New Delhi that India's state-owned companies were going to increase their level of Iranian oil purchase.
Zangeneh said both state-owned and private Indian refiners will buy about 500,000 barrels per day (bpd) of Iranian oil in 2018. Indian imports of Iranian oil through January to April in 2017 averaged 442,800 bpd, which were about 17 percent less than those in the corresponding period a year before.
Pradhan said Indian companies were about to raise imports from Iran in 2018. "We have got good incentives compared to other major producers. We will get benefit if we buy from Iran ... We will boost oil imports from Iran compared to this fiscal year," he told reporters.
Reuters quoted an unnamed Indian official as saying that Iran's Ministry of Petroleum was offering 100 percent discount, meaning a sum equivalent to 105 percent of the Platts freight assessment.
Zangeneh on Saturday said he was "very optimistic about the future of the relationship between the two countries and our companies, especially for developing oil and gas fields".
An Indian delegation is to visit Tehran this week to see data on some fields after Pradhan said India had sought a stake in Iran's South Azadegan oil field.
The two countries have just signed 15 agreements, including Tehran leasing to New Delhi operational control of part of the Iranian east coast port of Chabahar for 18 months.
India and Iran have a mutual interest in developing relations. While Iran seeks to use foreign investment as a buffer against fresh US pressures and to revive its economy, India hopes to utilize Iran's transit potentials to embolden its connectivity footprints.
However, this has to be weighed against a fresh push by US leaders to dissuade countries from engaging in trade with Iran.
Full report at:
http://www.presstv.com/Detail/2018/02/20/552996/Iran-India-oil-exports-discount-Rouhani-gas
--------
UN voices worries of declining humanitarian situation in Gaza
Feb 21, 2018
The UN's Middle East envoy Nickolay Mladenov has slammed the expansion of Israeli settlements on Palestinian territories
"Throughout the reporting period Israel's illegal settlement-related activities continued unabated," said Mladenov during his monthly report to the Security Council on Tuesday.
"I reiterate the long-standing UN position that all settlement-related activities are illegal under international law and are a substantial obstacle to peace; and I call on Israel to seize and reverse such policies," he added.
About 600,000 Israelis live in over 230 settlements built illegally since the 1967 occupation of the Palestinian territories.
The continued expansion of Israeli settlements is one of the major obstacles to the establishment of peace in the Middle East.
In recent months, Tel Aviv has stepped up its settlement construction activities in the occupied Palestinian lands in a blatant violation of international law and in defiance of United Nations Security Council Resolution 2334.
European nations and the United Nations, among others, maintain their strong opposition to settlement building in the Palestinian territories.
Mladenov (seen below) further censured the demolition and seizure of Palestinian structures especially the destruction of donor-funded classrooms built for Palestinian children.
"Demolition and seizure of Palestinian-owned structures also continued, with 31 structures affected, resulting in 33 Palestinians displaced. Particularly concerning was the demolition of two donor-funded classrooms serving Palestinian children in the Bedouin community of Abu Nuwar. This is the sixth demolition or confiscation in the school since February 2016," he said.
Calling on the Tel Aviv regime to halt such activities, he noted that 44 schools in the occupied West Bank are currently at risk of be destroyed.
The UN official also voiced worries over the he humanitarian, economic and ecological situation in Gaza, stressing that it is unsustainable.
"Continuing power cuts of up to 20 hours per day severely undermine the provision of basic services. Without additional immediate fuel deliveries, the situation could deteriorate with dramatic consequences," he added.
The Gaza Strip has been under an Israeli siege since June 2007. The blockade has caused a decline in the standards of living as well as unprecedented levels of unemployment and unrelenting poverty.
Full report at:
http://www.presstv.com/Detail/2018/02/21/553067/un-israel-settlement-middle-east-envoy
--------
Turkey frees top pro-Kurdish politician detained over Afrin offensive opposition
Feb 20, 2018
Turkish officials have released the former co-leader of the country's main pro-Kurdish party, whom they had arrested a week ago over her opposition to Ankara's ongoing cross-border offensive in Syria's northwestern region of Afrin against the Kurdish People's Protection Units (YPG).
The Peoples' Democratic Party (HDP) said in a post published on Twitter that Serpil Kemalbay had been set free.
"Defending peace is not a crime; it is an obligation, an honor!" the post read.
An HDP official, speaking on condition of anonymity, stated that Kemalbay will have to report regularly to the authorities and cannot leave the country as she is placed under a travel ban.
Police arrested Kemalbay in the capital Ankara on February 13. She had handed over her job to Pervin Buldan at a party congress two days earlier.
Yuksekdag succeeded Figen Yuksekdag, who was stripped of her parliamentary status last May after being jailed on terrorism charges in November 2016.
Turkish media outlets reported that Kemalbay had been detained over calls for protests against Operation Olive Branch launched late last month.
Ankara views the YPG as the Syrian branch of the militant Kurdistan Workers' Party (PKK) that has been fighting for an autonomous region inside Turkey since 1984.
Turkish President Recep Tayyip Erdogan has repeatedly said that Afrin should be cleared of "terrorists," and demanded the deployment of Turkish troops there during a speech back in November 2016.
This is while US officials regard the YPG as the most effective fighting force against the Daesh Takfiri terrorist group in northern Syria, and have substantially increased their weaponry and technology support to the terrorist group.
The controversy over a possible Syria border force first started on January 14 when a report emerged on Reuters saying that the military coalition led by the United States in Syria was planning to set up a large border force of up to 30,000 personnel with the aid of its militia allies.
The Syrian government has already condemned the "brutal Turkish aggression" against Afrin, rejecting Ankara's claim about having informed Damascus of the operation.
Damascus "strongly condemns the brutal Turkish aggression on Afrin, which is an inseparable part of Syrian territory," Syria's official news agency, SANA, cited a Syrian Foreign Ministry source as saying on January 20.
Full report at:
http://www.presstv.com/Detail/2018/02/20/553022/Turkey-frees-top-proKurdish-politician-detained-over-Afrin-offensive-opposition
--------
Southeast Asia
Why choose fatwa over civil laws? UN committee asks Putrajaya
BY YISWAREE PALANSAMY
February 21, 2018
KUALA LUMPUR, Feb 21 — The Malaysian government should state the legality of Islamic edicts or fatwas and why they take precedence over civil laws despite not being legally binding, a United Nations (UN) committee has said.
The question was posed by Ruth Halperin-Kaddari, the vice-chair of the United Nations Convention on the Elimination of all Forms of Discrimination Against Women (CEDAW) committee in Geneva, Switzerland yesterday during a review of Malaysia's progress on women's rights which was broadcast live.
The committee had referred to the National Registration Department's (NRD) refusal to allow Muslim children born within six months of their parents' marriage, to take their father's names and instead using the "bin Abdullah" suffix often associated with illegitimate children.
It pointed out that if the child cannot take the father's name, it would also mean that she may not be conferred with Malaysian nationality — thus contravening Article 9 of CEDAW that regulates equal rights on nationality.
"Why does the government not abide by the state laws that obligates the registration of every child upon birth, and conferring nationality, when it is a Malaysian man [who is the father]?
"And why does the government with administrative powers over the national registration department, prefer the religious fatwa rather than the civil law?" Halperin-Kaddari asked.
She also questioned the Malaysian delegation if the situation would change following the landmark Federal Court's verdict in the M. Indira Gandhi case, which ruled that the civil courts still hold the final say, even in matters concerning Islamic laws.
Halperin-Kaddari then pointed out that issues pertaining to children's nationality and birth registration is therefore "obviously a constitutional issue".
Arik Sanusi Yeop Johari from the Attorney-General's Chambers however said that the team was unable to deliberate or explain the matter, claiming subjudice as the "bin Abdullah" case is currently pending in the Federal Court.
Halperin-Kaddari then again pressed the delegation to answer as a mere matter of "principle", the possibility of challenging a religious edict by way of a judicial review.
However, Arik maintained his initial reply, which frustrated another committee member who then questioned the Malaysian delegation on the actual position of Malaysia — whether it is a secular or theocratic nation.
"Malaysia is supposed to be a republican state. Not a theocratic state, and it must be made very clear that laws of the state prevail over religious laws," Philippine representative and rapporteur, Rosario G. Manalo said, lamenting that Arik's reply was not acceptable.
"If it's a theocratic state, that's the end of a democratic state, but it claims to be a republic. Therefore the state law prevails. So give me a clear answer, otherwise I put you in doubt," she added.
Malaysia is a constitutional monarchy state.
The committee had earlier also questioned a fatwa against women's rights group Sisters in Islam, asking whether it is in line with Putrajaya's obligation to provide for peaceful and pluralist public spheres.
The group had filed in 2014 for judicial review of a gazetted fatwa in Selangor that declared the group as "deviants" in Islam due to their alleged religious liberalism and pluralism.
In Muslim jurisprudence, a fatwa only stands as an opinion of a learned scholar. However in Malaysia a fatwa issued by a state mufti will be made law if gazetted.
On the federal level, the muftis also join a conference of the National Islamic Council's fatwa committee that would formulate binding fatwa.
Countries party to CEDAW are obliged to send regular status reports on the implementation of the treaty, to be reviewed by a committee of experts which will engage in dialogue with government representatives.
Malaysia's progress in women's rights was reviewed only for the second time today, despite acceding to CEDAW in 1995. The last review was 12 years ago for its 2004 report.
http://www.themalaymailonline.com/malaysia/article/why-choose-fatwa-over-civil-laws-un-committee-asks-putrajaya#v9D3tx9diE2P3alJ.97
--------
Islamic Studies will follow rules of religious bodies in Johor, says TMJ
February 20, 2018
PETALING JAYA: Johor crown prince Tunku Ismail Ibrahim has warned against anyone lobbying state officials in hopes of persuading them to allow foreign teachers or syllabuses into Johor.
In a statement issued today, Tunku Ismail said this included attempts to lobby officials from the Johor State Islamic Affairs Department (JAINJ) by taking them on holidays.
"I also feel that to ensure the highest standards of Islamic studies throughout Johor, all teachers and teaching staff must be hired from accredited colleges, like the Johor College of Islamic studies (Marsah) or the Maahad Tahfiz Negeri Johor (MTNJ)," the Johor Council of Islamic Affairs chairman said in a statement.
He added that all state and private Islamic institutions must abide by guidelines set by JAINJ and Johor's Council of Islamic Affairs (MAINJ).
"I have instructed that all Islamic studies taught in the state or in private Islamic study institutions must follow the guidelines set by the governing bodies of JAINJ and MAINJ."
In October 2017, Sultan Ibrahim Sultan Iskandar had issued a decree to forbid JAINJ from having any dealings with the Malaysian Islamic Development Department (Jakim) as he said that religion fell under state jurisdiction, as enshrined in the Federal Constitution.
This stemmed from the Muslim-only launderette in Muar issue, which led to a preacher, Zamihan Mat Zin, criticising the sultan's actions in ordering the owner to stop his segregation based on religion.
Johor also followed Singapore's lead in banning two Muslim preachers, Zimbabwe grand mufti Ismail Menk and Malaysian Ustaz Haslin Baharim, from giving lectures in the state on the ground that their views could harm racial unity and harmony.
Johor religious committee chairman Abd Mutalip Abd Rahim said the ban was ordered by Sultan Ibrahim Sultan Iskandar in a decree.
Full report at:
http://www.freemalaysiatoday.com/category/nation/2018/02/20/islamic-studies-will-follow-rules-of-religious-bodies-in-johor-says-tmj/
--------
Cops nab 11 suspects over alleged links to IS
February 21, 2018
KUALA LUMPUR, Feb 21 — Malaysian police arrested 10 suspects in Sabah, while one was apprehended by Singaporean authorities for alleged activities in recruiting new militants for terrorist group the Islamic State (IS).
Of the 10 arrested in Sabah between January 24 and February 6, Inspector-General of Police Tan Sri Mohamad Fuzi Harun said that there were attempts by the Abu Sayyaf terror group to establish a cell in that state.
"The cell is to prepare and bring in Daesh influences from Southeast Asia region for the purpose of undergoing military-like training in the southern Philippines," Mohamad Fuzi said referring to the Islamic State (IS) group as Daesh.
"Members of the same cell were also to plan for future attacks in Sabah," he added in a statement.
Of the 10 men and one woman, aged between 27 and 50, Mohamad Fuzi said two of them were members of terror groups in the southern Philippines.
As for the Penangite, who was arrested in Singapore, Mohamad Fuzi said the 34-year-old man had planned to joined the IS group in Syria.
The suspects, he said, were arrested under Act 574 of the Penal Code for terrorism related offences, and will be investigated under the Security Offences (Special Measures) Act 2012 (Act 747).
Full report at:
http://www.themalaymailonline.com/malaysia/article/cops-nab-11-suspects-over-alleged-links-to-is#xe7BT7tu3Kyog4Fc.97
--------
'Umno can't be trusted to protect Islam, vote for PAS'
20 Feb 2018
PAS vice-president Idris Ahmad has urged Umno members to vote for PAS in the 14th general election to ensure the country will be governed in line with Islamic principles.
According to a report in party organ Harakah Daily, Idris said the bipartisan support for the Federal Court's decision on unilateral conversion in the M Indira Gandhi case showed that neither Umno nor Pakatan Harapan are able to truly champion Islam.
"Harapan celebrated the decision.
"They are even willing to work together with Umno-BN to pass this act (Section 88A) that is prejudiced against Islam, despite always slandering PAS for wanting to join Umno.
"Umno can't be relied upon anymore to lead Islam in Malaysia, while Harapan is not based on Islam, because DAP, which (is a party that) clearly rejects Islam, has authority within the coalition," he told the crowd at the Himpunan Fastaqim PAS in Sik, Kedah last night.
Section 88A refers to a proposed clause in the Law Reform (Marriage and Divorce) Act (Amendment) Act 2017 which would have blocked the unilateral conversion of minors.
The clause was not included when the law was eventually passed.
Following the Federal Court decision, Minister in the Prime Minister's Department Azalina Othman Said (photo) announced that she would raise the matter of unilateral conversions with the cabinet again.
Idris subsequently called all Umno members to vote for PAS to "save the country from being destroyed" and to make it one that would "prosper with Islam" (sejahtera bersama Islam).
Harapan no different from Umno
Idris also contended that Harapan and BN were part of the same destructive system of rule that was inherited from the British, one that made the rich richer and the poor poorer.
He blamed the many problems facing the country on "bad administration" and said Umno (as part of BN) should not continue to rule the country.
"Harapan wants to take over the country's administration, but it seeks to preserve the same system of rule that has proven to fail.
"It even wants to use the very leader who destroyed the country using that system and install Dr Mahathir (photo) as the PM," said the Bukit Gantang MP.
Ultimately, PAS offered the best and most comprehensive solution to Malaysians, contended Idris.
"Through our Dokumen Hijau (that lays out the party's economic principles), Wawasan Induk Negara Sejahtera (that lays out the policies to govern the country) and 'technocratic government' plans, PAS offers a solution to Malaysians who want a change that is not just a mere change of leaders like what Harapan wants.
Full report at:
https://www.malaysiakini.com/news/412869
--------
Taiwan looks south for Muslim tourist dollars
February 21, 2018
TAIPEI: From halal fried chicken to hot springs hotels with prayer facilities, Taiwan is adapting its traditional tourist draws to woo Muslim visitors as Chinese arrivals dwindle.
Mainland tourist numbers have slid dramatically as China relations deteriorate, with speculation authorities there are turning off the taps to pressure Taiwan's Beijing-sceptic government.
Taiwan is now looking to boost relations with 16 south and southeast Asian countries, as well as Australia and New Zealand – what it calls its "southbound policy" – and is seeking more visitors from the region.
That has meant a growing number of tourists from Muslim-majority countries, such as Malaysia and Indonesia. Taiwan welcomed 30% more visitors from southeast Asia in 2017.
Taoism is the prevalent religion in Taiwan, with Muslims making up less than 2% of the population, but tourists who spoke to AFP said they were surprised how welcome they felt.
"I really like the natural scenery in Taiwan and the people are very nice," said Ashma Bunlapho, 40, a Muslim tourist from Thailand on a five-day trip with her husband.
She found halal restaurants using Google Maps, including a shop selling beef noodle – a Taiwanese favourite – and felt free to pray where she chose, taking her mat with her to famous nature spots including Sun Moon Lake in central Taiwan.
Malaysian tourist Dean Idris said halal eats were easily accessible as he visited Taipei with his two young children, taking in the zoo, a night market, and a historic district close to the city's best-known temple.
"I learned that Taiwan, Taipei especially, is actually Muslim-friendly," he told AFP outside a mosque in the capital, where he had gone to pray.
Cultural pride
Thailand, South Korea and Japan are among Asian nations that have been tapping into the Muslim travel market, which has been fuelled by growth in cheap flights and a booming middle class in countries such as Indonesia.
Fried Chicken Master, a small shop not far from Taipei's Chiang Kai-shek Memorial Hall – one of its most famous landmarks – has adapted to the trend, selling a halal version of the snack, which is also a Taiwanese favourite.
"We hope to be able to serve tourists, exchange students, or Muslims living in Taiwan. As Taiwanese we are proud of our food," said Louis Tsai, a spokesman for Super Qin Group, which owns the shop.
A trip to one of Taiwan's hot springs resorts tops most tourists' to-do lists and Gaia Hotel in mountainous Beitou, best-known for its natural pools, provides guest rooms with prayer direction signs and prayer schedules.
Minibars there are alcohol-free and cakes do not include pork-based gelatin. To obtain its halal certification, the hotel kitchen created a separate cooking and dining area.
"Since the number of Chinese tourists has decreased, and southeast Asia is quite a sizable market with many Muslims, this is an area we have to actively pursue," Jack Chang, Gaia's operations manager, told AFP.
Fair comparison?
On a recent visit to Istanbul, Taipei mayor Ko Wen-je met with Turkish lawmakers who want to fund the building of a third mosque in Taipei, according to the city government.
Taiwan is also trialling visa waivers for Thailand, Brunei and the Philippines. It eased visa rules last June for six southbound countries, including Indonesia, India, and Cambodia.
But some doubt whether the growth in Muslim tourism is enough to offset the lost income from the mainland.
Chinese visitor numbers dropped by a fifth last year, dropping since Taiwanese President Tsai Ing-wen came to power in May 2016.
Beijing still sees self-ruling democratic Taiwan as part of its territory and relations have become increasingly tense as Tsai refuses to acknowledge it is part of "one China".
Salahuding Ma, secretary general of the Chinese Muslim Association, the largest halal certification body in Taiwan, says it is hard for the new wave of tourists to compete with their Chinese counterparts.
"The Chinese have wealth and spend lavishly," he told AFP.
"If you are talking about southeast Asia, which countries can even compare?" he asked.
Ma says Taiwan would have greater success if it overcame the language barrier by encouraging students from "target countries" to work in the island's tourism sector.
Full report at:
http://www.freemalaysiatoday.com/category/world/2018/02/21/taiwan-looks-south-for-muslim-tourist-dollars/
--------
Maldives parliament approves extension of state of emergency by 30 days
21 February 2018
MALE: Parliament in the Maldives on Tuesday approved a 30-day extension of a state of emergency sought by President Abdulla Yameen who cited an ongoing national security threat and constitutional crisis.
Countries including the United States, India and Canada along with the United Nations have urged Yameen to lift the emergency and restore normalcy.
Tour operators say hundreds of hotel bookings have been canceled daily since the 15-day emergency was imposed on Feb. 5 despite government assurances that all is normal in the resort islands, which are far from the capital.
Yameen imposed the emergency to annul a Supreme Court ruling that quashed the convictions of nine opposition leaders and ordered his government to free those held in prison.
The emergency "shall only apply to those alleged to have carried out illegal activities – it shall not apply to otherwise law abiding residents of, or visitors to, the Maldives," a statement from Yameen's office said on Tuesday.
The US State Department issued a statement on Tuesday saying Washington was disappointed by the extension of the state of emergency.
Since Feb. 5, the government has arrested the chief justice, another Supreme Court judge and former president Maumoon Abdul Gayoom on charges of attempting to usurp power.
Yameen has ignored the court rulings but stopped short of saying he would not obey them. He has jailed opposition members and fired two police chiefs who said they would uphold the court rulings.
Yameen took power in 2013 and his recent moves aim to consolidate power ahead of an election this year.
The country's neighbor India urged the government to release the nine opposition leaders as required by the Supreme Court.
All 38 ruling party lawmakers approved the vote at an extraordinary session of parliament boycotted by the opposition who cited the constitution to say it required 43 MPs.
Former president Mohamed Nasheed, who is in exile, said the government could not extend the emergency without 43 votes.
Ibrahim Mohamed Solih, leader of the opposition coalition's parliamentary group, said: "This state of emergency is illegal .... Yameen has, in effect, hijacked the entire state and is ruling the Maldives like a military dictator."
Parliament says it passed the extension to the emergency under a procedure that does not require a quorum and it sought an opinion on the matter from the Supreme Court.
Former attorney general Ahmed Ali Sawad said more than half of MPs should be present for a vote on the emergency decree.
"This is fundamental legislative check on an executive action having wide ranging ramifications on the rights, liberties and affairs of the people," Sawad told Reuters.
Full report at:
http://www.arabnews.com/node/1250981/world
--------
South Asia
Stranded Rohingya refuse to return to Myanmar without guarantees
February 21, 2018
COX'S BAZAR, Bangladesh - rohingya refugees living in no man's land refused Tuesday to return to Myanmar without guarantees of citizenship and security after Bangladesh and Myanmar officials met to discuss their repatriation.
The 6,000 rohingya were among the first to flee Myanmar in the wake of a brutal military crackdown on the Muslim minority in late August. They have been living ever since in a makeshift camp in a strip of unclaimed land between the two countries. In recent weeks they have come under pressure to return , with a Myanmar minister warning of "consequences" if they remain in no man's land.
But community leader Dil Mohammad told AFP they would not return without guarantees of security, citizenship and compensation for property lost in the clampdown.
"We are not going to return to our homes and villages in Myanmar unless our demands are met. We want citizenship, all rights, security to our lives and property and compensation," he said.
Mainly Buddhist Myanmar denies citizenship to its Muslim rohingya minority in Rakhine state, insisting they are illegal immigrants from Bangladesh even though many have been there for generations.
Nearly 700,000 fled after last year's crackdown, which the United Nations has said amounted to ethnic cleansing. Most of those now live in camps across the border in Bangladesh, but the country's government has made clear it does not want them to stay and has agreed to start sending them home.
On Tuesday officials from both countries held talks to decide the fate of the 6,000 before speaking to them directly in no man's land.
"Every person we spoke to said that they would go back to their homes if they got security," said the head of the Bangladesh delegation, Abdul Mannan. A spokeswoman for the UN refugee agency told AFP any returns must be voluntary.
"Some members of this group in no man's land have said they fear returning home and wish to seek safety in Bangladesh," Caroline Gluck said.
"We appeal to the Bangladeshi authorities to allow them to do so. At the same time, Myanmar should ensure conducive conditions for the safe and sustainable return of those who wish to do so voluntarily." A video circulated on social media last week showed Myanmar's deputy minister for home affairs Aung Soe addressing the refugees through a barbed-wire fence.
Other rohingya living there said the Myanmar army had recently set up bunkers near the fence and now conducted regular patrols nearby, stirring fear among the refugees.
"They tell us that we should leave this place or else they will shoot us," said Rashid Ahmed, 32.
Bangladesh was supposed to start the repatriation process last month but it has been delayed amid concerns over a lack of preparation.
Recent aerial photos of Rakhine state showed bulldozed rohingya settlements, and it is unclear whether they will be able to return to their former homes.
https://nation.com.pk/21-Feb-2018/stranded-rohingya-refuse-to-return-to-myanmar-without-guarantees
--------
Taliban Kill At Least 8 Policemen in Afghanistan
February 20, 2018
At least eight policemen were killed in a taliban attack in Farah province late Monday night, local officials said today, reported Tolo News.
Mohmmad Nasir Mahri, the provincial governor's spokesman, said the incident happened after taliban attacked a security check post in Bala Blok district of the province.
Thirteen taliban insurgents were also killed during the clash, Mahri said.
According to Mehri the clash started late Monday night and continued until Tuesday morning.
taliban claimed responsibility for the attack.
https://nation.com.pk/20-Feb-2018/taliban-kill-atleast-8-policemen-in-afghanistan
--------
9 Afghan policemen, 13 militants killed in Farah clash
Feb 20 2018
At least eight policemen and thirteen anti-government armed militants were killed during the overnight clash in western Farah province of Afghanistan.
The incident took place late on Monday night in the vicinity of Bala Bolok district after a large number of militants launched coordinated attacks on security posts.
Provincial governor's spokesman Mohammad Nasir Mehri confirmed that at nine eight policemen lost their lives in the attack.
He said at least thirteen militants were also killed after the Afghan security forces responded to the militants fire.
The anti-government armed militant groups including the Taliban insurgents have not commented regarding the report so far.
According to the local officials, the attack sparked a fierce gun battle that lasted until the late hours of the Tuesday morning.
Farah is among the relatively volatile provinces in the western parts of the country where the anti-government armed militant groups including the Taliban insurgents are actively operating in some of its districts.
Full report at:
https://www.khaama.com/9-afghan-policemen-13-militants-killed-in-farah-clash-04525
--------
Afghan military prevent clashes among Jamiat and Junbish parties in Faryab
Feb 21 2018
The Afghan Military in the North with the support of the local tribal and political elders intervened to prevent clashes between Jamiat-e-Islami and Junbish Milli parties in northern Faryab province.
The 209th Shaheen Corps of the Afghan Military in the North said the commander of the Shaheen Corps Gen. Mubin and the local tribal and politcal elder as well as the local Ulemas intervened to prevent clashes between the supporters of the two parties.
According to reports, the supporters of the two parties were preparing for clashes as a member of Junbish Milli Nizamuddin Qaisari wanted to arrest the Jamiat-e-Islami party member Fatiullah Qaisari.
Qaisari who is also a member of the Parliament had recently visited northern Faryab province amid reports that he was accused of failed assassination attempt on Nizamuddin Qaisari.
The Shaheen Corps said the tensions between the two escalated after the arrival of Fatiullah Qaisari but the local elders as well as the Shaheen Corps commander intervened to prevent clashes between the two sides.
Full report at:
https://www.khaama.com/afghan-military-prevent-clashes-among-jamiat-and-junbish-parties-in-faryab-04528
--------
MoD rejects 40 Afghan Special Forces are under siege in Faryab province
Feb 20 2018
The Ministry of Defense of Afghanistan (MoD) has rejected reports suggesting that at least 40 personnel of the Afghan Special Operations Forces are under the siege of the militants in northern Faryab province.
MoD spokesman Gen. Dawlat Waziri said the Afghan forces are still based in Pashtun Kot district from where the siege reports emerged.
He said the Afghan forces are in good condition and continuously receive support from the center as he rejected the reports that the Special Forces are in critical condition.
According to Gen. Waziri, the militants carried out two attacks but both the attacks were repulsed and there are no serious concerns at the moment.
This comes as reports emerged earlier suggesting that at least 40 Special Operations Forces personnel and several civilians are under the siege of the militants.
The anti-govenment amed militant and terrorist groups including the Taliban insurgents have not commented regarding the report so far.
Full report at:
https://www.khaama.com/mod-rejects-40-afghan-special-forces-are-under-siege-in-faryab-province-04526
--------
Foreign circles attempting to sabotage peace efforts, claims Khalili
Feb 20 2018
The chairman of the Afghan High Peace Council (AHPC) Mohammad Karim Khalili claims that the certain foreign circles are attempting to sabotage the peace efforts.
Khalili made the remarks during a conference attended by the local tribal and Jihaid leaders from all 34 provinces of the country.
He said the Afghan government is committed to peace efforts in a bid to end the ongoing violence and conflict in the country.
However, he said certain foreign circles are attempting to sabotage the peace efforts and the recent attacks are just some of the examples of the sabotage efforts.
He did not elaborate further in this regard and it is yet not clear to which foreign circles the High Peace Council chairman was referring to.
In the meantime, Khalili urged the tribal and Jihadi elders to step up efforts for the reconciliation process.
According to the Afghan High Peace Council around 800 tribal and Jihadi leaders from the 34 provinces of the country have taken part in today's conference.
Full report at:
https://www.khaama.com/foreign-circles-attempting-to-sabotage-peace-efforts-claims-khalili-04524
--------
Explosion kills 3 tribal elders in east Afghanistan
Feb 21, 2018
A blast at a hotel in Afghanistan's eastern city of Jalalabad has killed at least three tribal elders and injured two others, although the exact cause of the explosion remains unclear.
The blast occurred Tuesday on the second floor of a hotel in Jalalabad, the capital city of the country's violence-ridden Nangarhar Province, where the tribal elders had checked in, said a spokesman for the provincial governor, Attaullah Khogyani.
It was not clear if the blast was caused by a bomb, and Khogyani said no one had claimed responsibility.
The elders were visiting Jalalabad to take part in a meeting on the new electronic identity cards being distributed by the central government.
Nangarhar, which borders Pakistan, has long been beset by militancy and violence. Both the Taliban and Daesh terrorist groups are present in the province.
A new study has found that the Taliban militants are openly active in 70 percent of Afghan territory, fully controlling four percent of the country and maintaining presence in another 66 percent.
Daesh has so far claimed responsibility for several terrorist attacks in Jalalabad, including a January 24 attack targeting an office of the Save the Children aid organization in the city.
Former Afghan president Hamid Karzai recently said the US was colluding with Daesh terrorists in Afghanistan and allowing the Takfiri group to flourish in the country.
Most recently, Karzai also told the US-based Washington Post in an interview published last week that the US was not in Afghanistan to defeat the Taliban but was there because America's main rivals such as China, Russia, and Iran were in the neighborhood. Russia, too, has pointed to indications that the US military is allowing members of Daesh, who have suffered serious defeats in Syria and Iraq, to infiltrate into Afghanistan.
Full report at:
http://www.presstv.com/Detail/2018/02/21/553083/Afghanistan-explosion-Jalalabad-Nangarhar-tribal-elders
--------
North America
US Designates Ansar ul Islam As Global Terrorist Group
20/02/2018
WASHINGTON, Feb 20 (KUNA) -- The US designated Ansarul Islam, based in Burkina Faso, as a global terrorist group, a State Department release announced Tuesday.
Ansarul Islam launched several attacks near the border with Mali including a December 2016 attack against an army squad that killed a dozen soldiers.
The group also conducted a strike February 2017 on two police stations in Burkina Faso and is believed to be behind a March 2017 murder of a school director and another man.
"This designation seeks to deny Ansarul Islam the resources it needs to plan and carry out further terrorist attacks," the statement said. "Among other consequences, all of its property and interests in property subject to U.S. jurisdiction are blocked, and US persons are generally prohibited from engaging in any transactions with the group," it added. (end) ak.gb
https://www.kuna.net.kw/ArticleDetails.aspx?id=2692639&Language=en
--------
Rape-accused Tariq Ramadan faces US charges as 'Muslim victim comes forward'
21 February 2018
Rape-accused Muslim academic Tariq Ramadan could now face charges in the United States after American attorney Rabia Chaudry said she had referred an alleged victim to a federal prosecutor this week.
Ramadan is currently being held in a French prison since February 2 on charges that he raped two women in Paris and Lyon.
Chaudry confirmed to Al Arabiya English that she had referred "a Muslim victim" to the prosecutor, declining to comment on the matter further or explaining exactly what the US victim had accused Ramadan of.
The attorney had written in a Facebook post, however, that she was "guessing there will be more [victims]" to come forward.
Chaudry added: "This is not a vast international conspiracy. This is also not how people are wrongfully convicted. Wrongfully convicted people are not accused of multiple similar crimes in different countries. In fact, they usually have completely clean records other than one accusation that ends up being false."
Ramadan has been imprisoned at the Fleury-Mérogis prison, south of Paris, as authorities investigate the rape charges. He could be held in long-term custody while the probe continues.
The Swiss academic, who is a grandson of Muslim Brotherhood founder Hasan al-Banna, found fame after writing numerous books on Islam and the integration of Muslims in Europe.
He traveled frequently to give talks around the world and was also a professor of contemporary Islamic studies at the University of Oxford.
Commenting on the French judicial proceedings, Chaudry wrote:
"I don't know much about the French legal system other than it seems to have a lower evidentiary threshold than the US. The standard is not beyond a reasonable doubt. The standard is an intimate conviction, i.e. jurors' impressions based on the evidence [sic]. I also don't know if that there is a plea process but if there is one it might be better for him than a trial in which the witnesses confront him and testify - imagine a jury reacting to that.
"I know this is hard on our community, but it does not serve us to bury our heads in the sand. He will likely serve time in prison, and it will likely be a just result," she added.
Full report at:
https://english.alarabiya.net/en/News/world/2018/02/21/North-Korea-cancels-planned-meeting-with-Pence.html
--------
I'm not a bigot, says US council member after anti-Muslim, anti-black posts
20 FEBRUARY 2018
Texas - A council member in northern Texas is rejecting calls for his resignation over a series of anti-Muslim and anti-black Facebook posts, including one saying that President Donald Trump should ban Islam in US schools.
Tom Harrison, a city council member in Plano, Texas, is accused of sharing a post from a Facebook page titled "Joined Hands Across America For Trump." The meme, which showed a young girl wearing a hijab, read: "Share if you think Trump should ban Islam in American schools."
The post sparked a public outcry, with Plano Mayor Harry LaRosiliere calling for Harrison's removal from the council and the council voting Sunday to publicly admonish Harrison.
"Mr. Harrison's conduct is unbefitting a council member to serve our diverse community. I find this Facebook post abhorrent and believe this is a stain on our city and does not represent who we are," LaRosiliere said Monday afternoon in a statement to The Washington Post, saying that Harrison had refused to step down over the incident.
The council voted 7 to 1 to censure Harrison, which the mayor called "the only course of action available to the council." He said that Harrison was the only dissenting vote.
The mayor said the city council had learned about several "equally offensive" posts from Harrison and called a special council meeting over the weekend to address them. One post reportedly read, "In the 19th century, all slave owners were Democrats. In the 21st century, all slave owners are Muslims. Their allies are the Democrats."
Another showed a picture of President Lyndon B. Johnson and read: "Black children born without a father in the home rate pre LBJ's 'Great Society' welfare system in 1964 = 7%. Black children born without a father in the home rate post LBJ's 'Great Society' 2014 = 73%. Hey liberals, how's your 'Great Society' working out for the black family?"
Amid the backlash, an apology was posted from Harrison's Facebook page, according to ABC affiliate WFAA.
It read:
"I want to sincerely apologize to the Plano Muslim Community for the unintentional hurt I caused by reposting something on my personal Facebook page that wrongfully implied I am anti-Muslim. My intent on inputting this on my personal Facebook page was to emphasize that Christianity is not the only religion being targeted for exclusion in our public school. It was not meant as a personal attack against the Islamic faith. As a Christian, it is my belief that all should be free to worship as they choose, but we live in a time where any practice of religious expression in public schools is rarely tolerated. My hope is that due to the rightful negative response to my post, that it will spark a renewed discussion about all religions and their place in our public schools. My other regret is that my personal action has reflected poorly on the City of Plano. My action was personal in nature, but I should have remembered this past Monday night's Council discussion . . .. none of us are ever truly off duty. None of us are perfect, and we will all be judged one day by the highest authority. Until then, I ask for forgiveness within the community and acceptance of my sincere apology."
The post appears to have been removed.
During Sunday's council meeting, Harrison said that although he had apologised, he would not resign.
"I want to assure the citizens of Plano, I am not xenophobic. I am not a bigot. I am not a racist. What I am is someone who was elected, told people I would do a job for everyone in Plano," he said to a clashing chorus of boos and applause.
Harrison could not immediately be reached for comment Monday afternoon.
Plano, a Dallas suburb, is about 25 miles from Irving, a city that has been at the center of anti-Muslim controversies. Nearly 67 percent of Plano's nearly 260 000 residents are white, according to census data. Nearly 8 percent are black, and nearly 17 percent are Asian.
Plano Mayor Pro Tem Rick Grady expressed sorrow for the community, saying he was "heartbroken." "It is the love of this community and the citizens in this community that I continue to serve. And I serve all of you, not some," he said Sunday during the council meeting.
"I have fought my entire life for this hatred to go away, for this stereotype to go away, for bigotry to go away, and it seems to continue," Grady said. "This kind of intolerant behavior, this insensitivity for people, needs to cease. And to continue to perpetuate it and to say I could sit on a board of directors and feel that way and then stand out in public and say I don't, doesn't jive."
After calling for Harrison's resignation, LaRosiliere said he could forgive him "as a member of a citizen of Plano, but not as a Plano City Council member."
Full report at:
https://www.iol.co.za/news/world/im-not-a-bigot-says-us-council-member-after-anti-muslim-anti-black-posts-13378044
--------
Africa
Al-Shabaab steps up extortion and indoctrination as morale dips
21 Feb 2018
Al-Shabaab militants in Somalia are extorting huge sums from starving communities and forcibly recruiting hundreds of children as soldiers and suicide bombers as the terror group endures financial pressures and an apparent crisis of morale.
Intelligence documents, transcripts of interrogations with recent defectors and interviews conducted by the Guardian with inhabitants of areas in the swath of central and southern Somalia controlled by al-Shabaab have shone a light on the severity of its harsh rule – but also revealed significant support in some areas.
Systematic human rights abuses on a par with those committed by Islamic State in Iraq and Syria are being conducted by the al-Qaida-affiliated Islamist militants as the west largely looks away because most analysts do not see the group as posing a threat to Europe, the UK or the US.
The group has put to death dozens of "criminals", inflicted brutal punishments on gay people, conducted forced marriages, and used civilian populations as human shields.
In one 2017 incident investigated by the Guardian, a man was stoned to death for adultery. In another, four men and a 16-year-old boy were shot dead by a firing squad after being accused of spying for the Somali authorities. In a third, a 20-year-old man and a 15-year-old boy were killed in a public square after being found guilty by a religious court of homosexuality.
Last year at least five people were lashed publicly after being accused of "immoral or improper behaviour". They included a 15-year-old and a 17-year-old who were given 100 lashes each for "fornication".
UN officials said they had received reports of stonings for adultery. The former al-Shabaab leader, Hassan Dahir Aweys, who defected in 2013, described the group's aim as "Islamic government without the interference of the western powers in Somalia".
Al-Shabaab, which once controlled much of south and central Somalia, including the capital Mogadishu, was forced to retreat to rural areas by a military force drawn from regional armies seven years ago. Since then it has proved resilient, and remains one of the most lethal terrorist organisations in the world, but appears to be suffering a crisis of morale and financial pressure, prompting the drive to squeeze revenue out of poor rural communities.
One recent defector from central Somalia told government interrogators that the group forces "Muslims to pay for pretty much everything except entering the mosque". Another said that al-Shabaab's "finance ministry" – part of the extensive parallel government it has set up – is "hated".
Al-Shabaab used to demand money or children from clans: now they demand both
The former mid-ranking commander, who defected four months ago, described how wells were taxed at $20,000 (£14,000) per month and a fee of $3.50 levied at water holes for every camel drinking there. One small town in Bai province was forced to pay an annual collective tax of a thousand camels, each worth $500, and several thousand goats, he said.
In addition, trucks using roads in territory controlled by al-Shabaab have to pay $1,800 each trip. Five percent of all land sales is taken as tax, and arbitrary levies of up to $100,000 imposed on communities for "educational purposes", the defector said. There is also evidence that the movement is suffering from manpower shortages.
A third defector said al-Shabaab now insisted that all male children attend its boarding schools from the age of about eight. The children train as fighters and join fighting units in their mid-teens.
"By that age they are fully indoctrinated. They are no longer under the influence of their parents," said Mohamed Mubarak, research director of the Horn International Institute for Strategic Studies thinktank.
According to Somali authorities, troops stormed a school run by al-Shabaab in January and rescued 32 children who had been taken as recruits to be "brainwashed" to be suicide bombers. "Al-Shabaab used to demand money or children from clans: now they demand both," the defector said.
Al-Shabaab has also told people they will be punished – possibly put to death as spies – if they have any contact with humanitarian agencies.
Somalia has been hit by a series of droughts, and only a massive aid effort averted the deaths of hundreds of thousands last year.
A new military campaign launched by President Mohamed Abdullahi Mohamed and supported by the US has seen intensive drone strikes on al-Shabaab targets, putting the militants under significant pressure. Fears of spies have led to a series of internal purges. Suspected agents are jailed and brutally tortured.
Al-Shabaab cuts thieves' hands and kills looters . Everyone is scared of them
"Distrust is so high that when they go into battle, everyone is afraid of being shot in the back by his comrade," one of the defectors said. "When soldiers get leave, half come back. Al-Shabaab now send patrols to collect people who have fled home. They stay in jail until they agree to rejoin."
Abdirahman Mohamed Hussein, a government official overseeing humanitarian aid in southern central Somalia, told the Guardian that extremists used local populations as human shields. "They do not want people to move out because they are worried that there could be an airstrike if the civilians leave," Hussein said.
Al-Shabaab also imposes tight restrictions on media, the defectors said. "Most people only listen to al-Shabaab radio stations or get news from al-Shabaab lectures which go on for hours and which cover religion and which all must attend," one said. Another said some people risked harsh punishments to listen in secret toVoice of America and the BBC.
"Life is really tough in al-Shabaab-controlled areas. There is no food, no aid and children are being taken," said Mubarak, the thinktank director. "Al-Shabaab are still trying to portray themselves as defenders of Somali identity. The message has a lot of sympathy but is not translating into active support."
The draconian punishment, seizures, taxes and abductions run counter to the strategic guidance issued by al-Qaida leader Ayman al-Zawahiri, who has called for affiliates of the veteran group to build consensus and support among local communities. Their practices do, however, recall those of Isis.
Al-Shabaab also manipulates rivalries between clans and tribes, and benefits from the failures of local authorities to provide basic services. Several interviewees said they preferred using al-Shabaab's justice system, and that the group had brought security.
In once case in May last year, two clan elders in Beledweyne in Hiran region agreed to seek al-Shabaab justice to settle a case of rape. The attacker was found guilty and stoned to death.
"We decided to go to the al-Shabaab court because the judge rules under the Islamic law and there is no nepotism and corruption," said Abdurahman Guled Nur, a relative of the rape victim, in a telephone interview. "If we went to a government court, there would be no justice because the rapist could have paid some cash to the court and he would be freed."
Mohamed Hussein, a farmer in Barire, a town 40 miles south of Mogadishu that has seen fierce fighting, returned home when al-Shabaab took control of the area in early October. "When the government soldiers were here, there was looting, illegal roadblocks and killing," he said. "But al-Shabaab cuts thieves' hands and kills looters. The Islamic court gives harsh sentences for the criminals, so everyone is scared of them. That way we are in peace under al-Shabaab. If you do not have any issue with al-Shabaab, they leave you alone."
https://www.theguardian.com/world/2018/feb/21/al-shabaab-extortion-indoctrination-somalia
--------
Over 200 Boko Haram suspects convicted in Nigeria
20 February 2018
A total of 205 Boko Haram militants have been convicted and 526 others freed for lack of evidence in the second round of mass trials of persons arrested in connection with the insurgency in northeast Nigeria, according to a statement.
In the statement issued on late Monday, Salihu Isa, Justice Ministry's spokesman, said 73 cases were adjourned by the special panels trying the terrorism cases at a heavily guarded prison yard in central Niger state.
Isa said the panels comprising four judges tried a total of 301 cases.
Up from 475 last week, the spokesman said most of the 526 persons freed were minors or people with mental illness.
The first round of the mass trials took place last October.
Full report at:
http://www.worldbulletin.net/africa/199011/over-200-boko-haram-suspects-convicted-in-nigeria
--------
Suspect arrested after al Shabaab attack on Wajir teachers
Feb. 20, 2018
A suspect has been arrested following the killing of four people by suspected al Shabaab militants in Wajir County.
Three teachers and the wife of one of them were killed at Qarsa Primary School early last Friday morning.
Read: Suspected al Shabaab kill four at Wajir school
North Eastern Regional Coordinator Mohamud Saleh said a team of multi-agency security agents found the suspect.
Two are on the run, he said at Garissa Government Guest House on Tuesday.
Saleh did not give the details of the arrest but noted: "Security apparatus are determined to ensure the arrest of those involved in the killing of innocent Kenyans.
"I assure Kenyans that we will pursue this matter to the very end. Even if they cross over to Somalia we shall go for them. They will face the consequences.
"Surely, how do you kill a teacher who is teaching your children? This is being heartless."
Saleh spoke when he opened a five-day training workshop for chiefs and assistant chiefs from the County.
He warned the administrators against sleeping on their jobs, saying they will be sacked.
At a press briefing last week, the Coordinator issued the names of Kenyans he said had been working with the Somalia-based terror group.
He identified them as Maalim Yussuf, the commander, and his accomplices Daud Ahmed and his cousin Abdirashid Ibrahim, who are from Kotulo
Saleh said most terror attacks are led by Kenyan youths from the region who have been recruited by the militants and are well known to the community.
Following the attack, non local-teachers from the region have threatened to leave en mass as their lives are in danger.
Knut and Kuppet had asked them to leave but on Monday, Senators told them to stay put as the "very dangerous" call will deny children their right to education.
Full report at:
https://www.the-star.co.ke/news/2018/02/20/suspect-arrested-after-al-shabaab-attack-on-wajir-teachers_c1717670
--------
Libya rescues 441 refugees off western coast
Feb 20, 2018
Libya's coastguard rescued 441 refugees in two separate operations as their boats drifted off the western coast, the navy and a doctor said on Tuesday.
Thirty-five women and 16 children were among 324 illegal refugees rescued in one of the operations on Monday with help from a fishing boat, a navy statement said.
The refugees, from countries including Chad, Nigeria, Mali and Libya, were drifting in two inflatable boats about seven nautical miles from Zuwara near the Tunisian border after the engines failed, it said.
The coastguard also rescued 117 refugees, including five women and two babies, off the coast of Zawiya, west of the capital Tripoli, on Monday, doctor Abdel Aziz al-Misrati of the charity International Medical Corps told AFP.
Rocked by lawlessness since the NATO-backed 2011 uprising that toppled and killed longtime dictator Muammar Gaddafi, Libya has become a key transit country for illegal migration across the Mediterranean Sea.
Full report at:
http://www.presstv.com/Detail/2018/02/20/553035/Libya-Refugees-Rescue-Operation-
--------
Europe
British media's negative Muslim coverage 'much worse'
Feb 21, 2018
By Ahmet Gurhan Kartal
LONDON
The way some British media depicts Islam and Muslims negatively is much worse than it was in 2011, former Tory co-chair and member of the House of Lords Sayeeda Warsi said Tuesday.
Providing evidence to the House of Commons' Home Affairs Committee on "hate crime and its violent consequences", Warsi said British Muslims were constantly targeted by certain print media outlets.
"I could spend hours and hours on negative depiction by the written press," she said.
Warsi said low-level poisoning via negatively written stories was now a "daily occurrence".
Chris Frost, the chairman of the National Union of Journalists, said the "problem is a large-scale" problem now.
Frost told the committee that some of the evidence he gathered was appalling, namely how some editors instructed their reporters to write stories in a particular way.
"One of the best ways of selling newspapers is making people believe that there is a risk. Because of the ISIS [Daesh], Muslims are the group targeted," he said.
Frost underlined that as much as 64 percent of the British public received information about Islam and Muslims through the media, most not seeking any further information.
"It is vitally important for newspapers to know what they are talking about," he said.
Both Warsi and Frost also drew attention to the fact that the Independent Press Standards Organization (IPSO) was "not fit for purpose" to handle complaints about fake anti-Muslim stories.
Warsi said reporters could not get away with homophobic, racist and anti-Semitic reports but the situation regarding antı-Muslim reporting is "much worse than it used to be in 2011".
"IPSO allows discrimination against a certain group. It should re-think about their role," she said.
Fear
Warsi told the committee that young Muslim girls wearing headscarves and easily identifiable as Muslims are now standing by the walls in tube stations with the fear of being pushed on the rails.
"I did not think we would still have a debate about the headscarf in 2018," she said.
Frost also pointed out that the negative Muslim coverage by the national print media encouraged individual blog writers to do the same.
"Especially the tabloids choose those stories deliberately because they know it would sell," he said.
The committee also heard that some anti-Muslim stories that appeared on online versions of certain outlets, such as the Daily Mail, were quickly picked up by far-right figures and went viral.
Baroness Warsi urged the prime minister and the leader of the opposition party to give a major speech about Muslims' contribution to the U.K.
Anti-Muslim attacks in the U.K. spiked after deadly terror attacks in Manchester and London Bridge last year, according to official figures.
http://aa.com.tr/en/europe/british-medias-negative-muslim-coverage-much-worse/1069083
--------
Russia voices worries over US, NATO denial of Daesh in Afghanistan
Feb 21, 2018
Russian Foreign Minister Sergei Lavrov has voiced worries over the US and NATO's denial of the presence of Daesh terrorists in Afghanistan.
"We are alarmed as unfortunately, the US and NATO military in Afghanistan makes every effort to silence and deny the Daesh group's presence in Afghanistan," said Lavrov during a press conference in Moscow on Tuesday.
He added that Moscow is harboring suspicions towards the NATO coalition's actions on curbing the threat of terrorists in Afghanistan.
"According to our data, the Daesh presence in northern and eastern Afghanistan is rather serious, there are already thousands of gunmen," Lavrov said.
"This increases the risk of the terrorists' penetration to Central Asia and it is not that difficult to get to Russia," he added.
Earlier in the month, Iranian Defense Minister Brigadier General Amir Hatami said the US is transferring Daesh to Afghanistan to justify its military presence in the Central Asian country following heavy blows dealt to the Takfiri terrorist group in Syria and Iraq.
The Iranian defense minister also stressed that the US created Daesh to use it in Syria and Iraq.
However, he said, "after heavy blows suffered in these two countries, the US tried to take Daesh out of the scene and transfer it to Afghanistan to justify its presence there through [the group's] shameless crimes."
Late last month, Leader of the Islamic Revolution Ayatollah Seyyed Ali Khamenei issued a similar warning about Washington's attempt to relocate Daesh from the Middle East to Afghanistan.
In December last year, Russian warned that an estimated 10,000 members of the Takfiri Daesh terrorist group are currently present in Afghanistan, and that their number is growing due to the relocation of the terror outfit to the Central Asian country after territorial defeats in Syria and Iraq.
Daesh began establishing a presence in Afghanistan almost a year after making sweeping land grabs in Iraq and Syria in 2014.
The Takfiri terrorist group took advantage of the ongoing chaos in Afghanistan and recruited some of its fighters from among Taliban defectors.
Back in 2014, the US-led occupying forces in Afghanistan officially announced the end of their combat operations in the country, saying they now had a mission to "train, advise, and assist" Afghan troops.
Full report at:
http://www.presstv.com/Detail/2018/02/21/553065/russia-afghanistan-daesh-us-nato
--------
Australian Isis fighter Neil Prakash's extradition decision deferred until May
20 Feb 2018
A court in Turkey has deferred a decision on whether to extradite the Islamic State militant and recruiter Neil Prakash to Australia until 24 May.
Appearing in the Kilis criminal court on Tuesday the Melbourne-born jihadist admitted to being a member of Isis but said he had nothing to do with the group in Australia.
"The charge of being a member of Islamic State, I admit to it, I was," News Corp Australia reported him saying. "But on the other charge of being a leader of an organisation in Australia, that I had nothing to do with."
The 26-year-old appeared by video link from a prison north of Kilis. He faces charges in Australia over his alleged promotion of Isis and recruitment of militants to fight for the group in Syria and carry out attacks in Australia.
He was arrested 16 months ago trying to cross the border from Syria into Turkey after deserting Isis, and is being held in jail on terrorism-related charges.
The decision by Judge Ismail Deniz to adjourn an extradition decision came after the prosecution asked for more time to provide a report on whether Prakash should be extradited, News Corp reported.
He is the most senior Australian Isis terrorist to be captured and would be the first senior figure to be extradited and charged under legislation introduced in 2015 in response to the threat posed by the jihadist group.
Full report at:
https://www.theguardian.com/world/2018/feb/21/australian-isis-fighter-neil-prakashs-extradition-decision-deferred-until-may
--------
France arrests three linked to Barcelona terror attacks
20 February 2018
Three people were arrested in France on Tuesday for alleged links to a suspect in last year's deadly jihadist attacks in Barcelona and a nearby seaside resort, the Spanish interior ministry said Tuesday.
The arrests were made during a joint operation with French and Spanish police in the south and southwest of France, the ministry said in a statement.
A total of 16 people were killed when a van drove into crowds on the popular Las Ramblas boulevard in the heart of Barcelona and in a knife attack in the nearby resort of Cambrils in August 2017.
The three arrested were suspected to have links with Moroccan national Driss Oukabir, who was alleged to have rented the van used in the Barcelona rampage.
Full report at:
https://www.thelocal.fr/20180220/france-arrests-three-linked-to-barcelona-attacks
--------
Russia says Nusra terrorists 'recovering strength' in US-controlled zone in S Syria
Feb 19, 2018
Russian Foreign Minister Sergei Lavrov has strongly urged the US to immediately shut down its so-called zone of control in southern Syria, saying Washington has practically made the area a safe haven for terrorists of the Jabhat Fateh al-Sham Takfiri terrorist group, formerly known as al-Nusra Front.
The Russian top diplomat was referring to a 55-kilometer zone near the southeastern Syrian town of al-Tanf, in Homs Province, which the US unilaterally declared to be under its protection last year. Among other things, it contains the Rukban refugee camp, which, according to Moscow, is home to many terrorists, including those of the Jabhat Fateh al-Sham outfit.
"Inside the al-Tanf zone, which the Americans unilaterally declared under their protection, and inside the refugee camp" terrorists "are regularly reported to recover strength," Lavrov said at the Valdai Club conference on the Middle East in Moscow on Monday.
"On several occasions they conducted raids from there into other territory of the Syrian Arab Republic. This zone must be shut down immediately," he further said, adding that the US was turning a blind eye to such abuses of its protection.
Elsewhere in his remarks, Lavrov also criticized, without mentioning by name, some member states of the UN Security Council for being hesitant to say that the humanitarian convoys could not enter the US-controlled al-Tanf zone, because Washington "would not guarantee their safety."
"Instead they focus attention on the humanitarian situation in Idlib or Eastern Ghouta," he said, adding that Russia has increasing evidence that the US has no intention of fighting the Jabhat Fateh al-Sham outfit.
Lavrov also dismissed reports that hundreds of Russians had been killed in Syria recently, saying that such reports were an attempt to use improper means to exploit the war in the Arab country.
On Thursday, the Russian Foreign Ministry Spokeswoman Maria Zakharova denounced the presence of US forces in al-Tanf, saying the so-called zone of control had become a shelter for the remaining members of Daesh Takfiri terrorist group.
Russia has time and again accused the US of attempting to hamper a full Syrian victory against Daesh, which is on its last legs in eastern Syria and in neighboring Iraq. Moscow has already released evidence revealing that US forces deployed in Dayr al-Zawr's border regions and in Jordan have been collaborating with Daesh and other terrorists, including those of Jabhat Fateh al-Sham, through providing intelligence about Syrian and Russian forces.
Moscow has backed Syria's fight against terror since September 2015 when Russian air force and troops arrived in the Arab country at an official request of Damascus to help the government fight against Daesh and other Takfiri terrorists. Russia's assistance has proved to be a major success as Syria has managed to liberate key areas over the past years, including the country's second largest city, Aleppo.
Full report at:
http://www.presstv.com/Detail/2018/02/19/552938/Russia-Syria-US-Jabhat-Fateh-alSham-alTanf-Rukban-Daesh
--------
URL: https://www.newageislam.com/islamic-world-news/i-embraced-islam-married-shafin/d/114362
New Age Islam, Islam Online, Islamic Website, African Muslim News, Arab World News, South Asia News, Indian Muslim News, World Muslim News, Women in Islam, Islamic Feminism, Arab Women, Women In Arab, Islamophobia in America, Muslim Women in West, Islam Women and Feminism