New Age Islam News Bureau
11 Jul 2018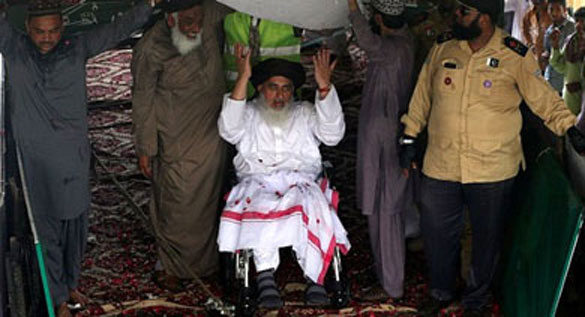 Khadim Hussain Rizvi, the leader of the Tehreek Labbaik Pakistan (TLP), vowed to 'wipe Holland off the face of the earth' with a nuclear attack
------
• 'Give Me an Atom Bomb and I'll Wipe Holland off the Face of the Earth,' Vows Leader of Pakistani Islamist Group in Response to Prophet Muhammad Cartoon Competition
• 'Govt Powerless To Nullify Child Marriage As It Is Valid Under Islamic Laws'
• Muslim Scholars Call For End to 'Evil' Afghan Fighting
• DU Proposes To Introduce Islam and International Relations Paper in MA
Pakistan
• 'Give Me an Atom Bomb and I'll Wipe Holland off the Face of the Earth,' Vows Leader of Pakistani Islamist Group in Response to Prophet Muhammad Cartoon Competition
• Several Pakistani Clerics Turn Down Saudi Invitation to Conference on Afghan Peace, Stability
• Ruling on Declaration of 'True Faith' To Be Challenged, Says Minister
• MMA Fighting Against Forces Inimical To Islam: Fazal-ur-Rehman
• Imran Khan, Hafiz Saeed's Son among Others in Terror Hit-List Ahead Of Pakistan Elections
• Major Political Parties in Pakistan Pledge To Combat Terrorism, Radicalisation If Voted To Power
• ANP Leader Haroon Bilour among 20 Killed In Peshawar Blast
• 'Nobody should be asked to disclose religious belief while seeking employment'
• Politicians safe because of army's sacrifices: ISPR
• NRO promulgated to remove vestiges of political vendetta: Musharraf
--------
Southeast Asia
• 'Govt Powerless To Nullify Child Marriage As It Is Valid Under Islamic Laws'
• Dozens of Govt Mosques in Jakarta Promote Radicalism
• Muslim Divorce Rates at 5-Year Low
• Living a double life: Indonesia's atheists fear jail or worse
• Mais: Underage marriages in Selangor must have Shariah judge's consent
• Dr Zakir Naik: I am indebted to Malaysia, won't break any laws
• Umno Youth chief hails Dr M for letting Zakir Naik stay in Malaysia
• China, Arab states agree to enhance cooperation under new strategic partnership
--------
Arab World
• Muslim Scholars Call For End to 'Evil' Afghan Fighting
• Rebels Kill 27 Regime Fighters in Northwest Syria
• South Syria suicide car bomb claimed by ISIS kills 8
• Syria: Terrorists Retreat from Border with Jordan
• Syrian Army Liberates Key District in Dara'a City
• Turkey-Backed Militants Engage in Fresh Clashes Again in Northern Syria
• Militants in More Dara'a Regions End Battle with Syrian Army
• Assad's forces bomb villages in northwest
--------
India
• DU Proposes To Introduce Islam and International Relations Paper in MA
• Indian Intelligence Infiltrated Islamic State Ring to Track, Arrest Afghan Suicide Bomber Sent To Hit Delhi
• Disturbing To See Muslims Being Targeted In the Country: Mulk Actor Taapsee Pannu
• CPI (M) To Take On Islamic Radical Organisations in Kerala
• Media Reports on Setting up Of Shariah Courts Fake, Says Muslim Board
• Pakistani Islamist lobbied with author of UN report on Kashmir
• Muslims demand review of SC order restricting Namaz at Taj Mahal
• 'Section 377, Islam Form a Double Bind for Queer Muslims'
• J-K: NIA Steps Up Quizzing Of Hurriyat Leaders, Others in Terror-Funding Case
--------
Africa
• Nigeria Frees 183 Children, Clears Ties to Boko Haram
• Troops Kill 15 Boko Haram Terrorists In Borno
• Suspected Shabaab militants raid police post, officer missing
• Somalia: Army Command Announces Fresh Offensive against Al-Shabab
--------
Mideast
• Israeli President Slams Bill That Could Lead To Jewish-Only Communities
• Hamas Rejects So-Called Trump's Deal Of The Century
• Turkish police launch raids to detain Islamic figure, followers
• Yemeni forces fire missile at Jazan Economic City in Saudi Arabia
• Israel seizes boat from Gaza seeking to break blockade
• Yemeni army cuts Houthi supply routes within Hodeidah
• Saudi air defence forces intercept Houthi missile launched at Jizan
• Lebanese court sentences seven to hard labour over spying for Israel
• Turkey resolved to make progress in EU membership process: Cavusoglu
--------
South Asia
• 'Russia, Iran, China, Pakistan Intelligence Chiefs Discuss Daesh Threat in Afghanistan'
• At Least 15 Killed In 2 Attacks in Afghanistan as Islamic Scholars Debate Taliban War
• NATO leaders to discuss extension of Afghan forces funding beyond 2020
• US deputy assistant secretary of state met with Gulbuddin Hekmatyar
• Key Taliban commander blown up by own explosives in Kunduz province
--------
North America
• After Discouraging Year, US Officials Expect Review of Afghan Strategy
• US Ambassador Urges Germany to Block Iran Cash Withdrawal
• Former American rapper converts to Islam
• Pompeo talks tough on Iran while visiting the Emirates
• Pompeo to press European allies over Iran on NATO summit sidelines
--------
Europe
• Christian, Muslim and Jewish Groups Join Together For '21 for 21' Interfaith Collaboration
• What a Foiled Plot to Execute Muslims Reveals About Islamophobia in France
• Leader's aide plans to deliver message to Russia's Putin in Moscow: Qassemi
• UN applauds Ethiopia-Eritrea rapprochement
Compiled by New Age Islam News Bureau
URL: https://www.newageislam.com/islamic-world-news/give-atom-bomb-ill-wipe/d/115800
--------
'Give Me an Atom Bomb and I'll Wipe Holland off the Face of the Earth,' Vows Leader of Pakistani Islamist Group in Response to Prophet Muhammad Cartoon Competition
10 July 2018
The leader of a Pakistani Islamist group vowed to 'wipe Holland off the face of the earth' with a nuclear attack in response to a Prophet Muhammad cartoon competition being held in the country.
Khadim Hussain Rizvi, the leader of Tehreek Labbaik Pakistan (TLP), issued the warning at an event organised by the Karachi Press Club last week.
'If they give me the atom bomb, I would remove Holland from the face of the earth before they can hold a competition of caricatures,' he said, according to the Times of India.
'I will wipe them off the face of this earth.'
He was referencing a competition of cartoons depicting the Prophet Muhammad announced by The Freedom Party of Dutch anti-Islam politician Geert Wilders last month.
The party said the plan to hold the competition in the party's secure offices in Dutch Parliament had been approved by the Dutch Counter-terrorism Agency NCTV.
Wilders' Freedom Party is the leading opposition party in parliament after coming in second place in elections last March.
He has called for the Koran to be banned, and says Islam is a totalitarian faith.
'Freedom of speech is threatened, especially for Islam critics,' Wilders said in a statement.
'We should never accept that. Freedom of speech is our most important freedom.'
American cartoonist Bosch Fawstin, winner of a similar contest in Garland, Texas, in May 2015, has been asked to judge the Dutch contest, which will be held later this year.
Earlier in 2015, Islamist gunmen killed 12 people at the Paris offices of the French secularist satirical newspaper Charlie Hebdo, which had printed cartoons of the Prophet.
In 2005, the publication in a Danish newspaper of a dozen cartoons depicting the Prophet led to violent protests across the Muslim world.
Meanwhile, the TLP is a political party known for its vehement opposition to changes in Pakistan's blasphemy laws.
Last November, more than 2,000 TLP members staged a three-week long sit in at Faizabad – the intersection of the twin cities of Islamabad and Rawalpindi – protesting a small change to the oath taken by parliamentary candidates.
It would have seen them say 'I believe' instead of 'I solemnly swear' that Prophet Muhammad is the final prophet.
The government ultimately rolled back the change in the Election Act, claiming it had been a clerical error.
http://www.dailymail.co.uk/news/article-5938609/Leader-Pakistani-Islamist-group-vows-wipe-Holland-face-earth.html
--------
'Govt powerless to nullify child marriage as it is valid under Islamic laws'
10 July 2018
PETALING JAYA: Deputy Prime Minister Datuk Seri Dr Wan Azizah Wan Ismail said the marriage between a 41-year-old man and his 11-year-old child bride remains valid under Islam despite the fine imposed on the man.
Dr Wan Azizah, who is also the Women, Family and Community Development Minister, explained that under Kelantanese Islamic laws, children under 16 are allowed to get married with the permission of a Syariah Court judge and that Putrajaya is powerless to nullify it.
"Legally it is not valid but under the Islamic laws it is," she told reporters after a function at the National Welfare Foundation in Putrajaya.
She added that the government is 'working' with the National Fatwa Council to push the age limit for marriage to 18.
Women's Aid Organisation communication officer Tan Heang-Lee told theSun that the fine imposed by the Gua Musang Shariah Court on the 41-year-old rubber tapper was a mere slap on the wrist.
"To end child marriage, it is important that we raise the minimum age of marriage to 18, without exception.
"Only then can we send a clear message to everyone that Malaysia does not tolerate child marriage and child abuse in the society," Tan said when contacted.
Agreeing with the NGO's stand, Sisters in Islam communication manager Majidah Hashim claimed that the fine does little to punish the man considering the severity of his offence, and to serve as a deterrent against child marriages in the future.
"We are disappointed that maximum fines for the charges were not doled out and that the punishment does not appreciate the severity of implications that child marriage has on the 11-year-old girl.
"The subjectivity of the fines as well as the discretion enjoyed by the judge in deciding the punishment only goes to demonstrate that no exceptions can be allowed in laws that intend to end child marriages once and for all in Malaysia," Majidah said.
Majidah added that allowing judges the liberty to decide based on circumstances can clearly be abused resulting in injustice to vulnerable child brides.
http://www.thesundaily.my/news/2018/07/10/govt-powerless-nullify-child-marriage-it-valid-under-islamic-laws
--------
Muslim scholars call for end to 'evil' Afghan fighting
MOHAMMED AL-KINANI
July 11, 2018
JEDDAH: The International Ulema Conference on Peace and Security in Afghanistan has called for an end to the violence in the country, saying fighting between Muslims was strictly prohibited in Islam.
Under the patronage of Makkah Gov. Prince Khaled Al-Faisal, senior ulema, or Islamic scholars, from Saudi Arabia and the Muslim world said it was important the crisis in the country has "a supporting religious reference."
Also present at the conference, which began on Tuesday, were the Saudi minister of Islamic affairs, Sheikh Abdullatif bin Abdul Aziz Al-Asheikh; Imam of the Grand Mosque, Sheikh Saleh bin Humaid; and senior ulema member and member of the Ifta permanent committee and adviser at the Saudi royal court, Abdullah Al-Mutlaq.
Speaking to Arab News, the special envoy to the Afghani president, Mohammed Akram Khpalwak, said: "The gathering of these Muslim scholars is of great importance to us as they agreed that fighting is among Muslims is strictly prohibited in Islam."
Thanking King Salman and the crown prince, Khpalwak said that such meetings could offer a way out of the Afghani predicament, "the thing that all Afghani people are looking for."
A spokesman for the Afghan Ulema Council, Mohammad Qasim Halimi, said the conference was backed by prominent Islamic scholars from different parts of the Muslim world.
"Islamic scholars have a word to say and all Muslims will consider and obey them — and I hope their call will find acceptance from the Taliban, especially after both parties of the Afghani conflict listened to the Friday sermons delivered by the imams of the two holy mosques a few weeks ago," Halimi told Arab News.
He said that that about 40,000 people have died in the Afghanistan conflict since 2001.
"The reason behind such atrocities is the ideology of terrorists who accept nothing but their views and opinions. They are, in fact, using religion to reach their political or economic goals. Otherwise, they are just infiltrators for external hands," he said.
Executive adviser to the Afghani president Painda Mohammad Hikmat said: "We expect that the Muslims scholars will come up with a fatwa that forbids the war in Afghanistan.
"They are many plots against Afghanistan for political, economic and even ideological interests," he said.
The deputy education minister and member of the executive board of the Ulema Council, Shafiq Samim, said the war had forced more than 1,000 schools out of the 18,000 countrywide to close.
"These schools are in the areas where Taliban and Daesh militias are found," he told Arab News.
"We hope the declaration of this conference will help convince the Taliban to share a dialogue table with the government," Samim said.
In his opening speech, Secretary-General of the Organization of Islamic Cooperation (OIC) Dr. Yousef bin Ahmad Al-Othaimeen called on the Afghan government and "all components of Afghan society" to respond to work toward peace in the country.
"Our conference today is a reflection of the gravity of the strife and division in Afghanistan that have denied Afghan people the grace of security and stability, hindered development, frustrated society and killed hope," he said. "Worse still, killing the innocent in the name of Islam has aggravated the situation." He said that this conference comes at a critical time in Afghanistan's history. "Great store is set by this event to meet the aspirations and hopes of the people who have been torn apart by the fighting and want to see their country return to security, stability and prosperity," he said.
"Afghanistan has long been on our agenda at the OIC. The organization has always come out in full support of this country, engaging in countless initiatives and actions, both regional and international.
"It is a matter of huge responsibility for you to live up to what the people of Afghanistan expect. We are confident this conference will be of great benefit not only to Afghanistan but also to the broader Muslim world. The entire Muslim community is looking forward to you correcting the misguided and distorted interpretations of the Islamic teachings, and stand in the way of evildoers mortgaging Islam, stirring up destruction and acting wrongly in the name of Islam," he said.
On Monday, Afghan President Ashraf Ghani said the brief truce had raised the prospects for peace in Afghanistan.
http://www.arabnews.com/node/1336786/saudi-arabia
--------
Du Proposes To Introduce Islam And International Relations Paper In Ma
11 July 2018
The Political Science department of Delhi University (DU) has proposed to introduce a paper named "Islam and International Relations" in its masters course. If introduced the students will study "Islam and the question of transnational terrorism" as a topic in their syllabus.
The paper will also cover sub-topics like "Islam and the west after 9/11", "Iraq war and making of ISIS", "the Afghanistan war and making of Al-Qaeda", "The United States, the military industrial complex and Islamic extremism", "Wahhabism, petrodollar Islam and the globalization of transnational jihad" among others.
At times when world is struggling with religious fundamentalists and terrorists who are compromising the peace and tranquility of the nations across the world, the course tends to "explain as to how in recent times, the genealogy and archeology of the religious and political thought in Islam and its connection with the systemic contours of societies and political institutions has emerged to be one of the most contested subjects in humanities and social sciences," stated the course objective.
The course then lays out "as to how such an interest has been the product of the radicalization of political Islam and the growing unhealthy interface that has developed between Islam and violence, as a result of the globalization of Jihad that has brought in the medieval notions of a contest between adobe of Islam (Dar al-Islam) and land of unbelievers (Dar al-harb). Owing to this, Islam has become a prominent element in the sphere of security studies. On this count, the study of Islam becomes very crucial for the students of International Relations".
A teacher of political science at a DU college, on condition of anonymity said that the work on the plan of introducing the course was going on since last more than one year but "in-silos", fearing the strong opposition from the left faction. The department has uploaded the course on its website and has invited suggestions from all stakeholders. If introduced, it will be offered as an elective paper for semester III and IV students.
"It is being proposed as one of the optional paper and moreover it is under the proposal stage. Suggestions from different stakeholders including students, teachers are invited. The course is being restructured as per Choice Based Credit System (CBCS). The paper Islam and International relations is under the broad umbrella of topic of international relations," said Professor Navnita Chadha Behera, Head , Department of Political Science, Delhi University .
Other sub-topics that paper proposes to cover includes "Orientalism and the western interpretation of Islam", "Islam's encounter with colonialism and modernity", "Islam : From Prophethood to Imperialism" etc.
https://www.dailypioneer.com/city/du-proposes-to-introduce-islam-and-international-relations-paper-in-ma.html
--------
Pakistan
Several Pakistani clerics turn down Saudi invitation to conference on Afghan peace, stability
Tahir Khan
JULY 11, 2018
ISLAMABAD: Several Pakistani clerics have turned down invitations to attend a two-day international conference on Afghanistan that started in the Saudi city of Jeddah on Tuesday and is expected to end with the issuance of a communiqué against the Taliban fighting in Afghanistan.
The International Conference of Muslim Scholars on Peace and Stability in Afghanistan, hosted by Saudi Arabia in collaboration of the Organisation of the Islamic Cooperation (OIC), will conclude in the holy city of Makkah on Wednesday (today) with a declaration to condemn violence in Afghanistan, according to organisers.
Some of the Pakistani invitees have told Daily Times that they disagreed with the contents of the invitation letter, in which all groups operating in Afghanistan have been declared terrorists. "We had serious reservations over the agenda. The organisers had not consulted us ahead of the conference and our concern is the conference will adopt a declaration without our input," an invitee told Daily Times, preferring to stay anonymous.
Daily Times has further learnt that most of the Pakistani scholars invited for the event were those who had participated in a similar conference held in Indonesia in May this year. The conference ended with a declaration terming suicide attacks in Afghanistan against Islam and also backing President Ashraf Ghani's dialogue offer to the Taliban.
Meanwhile, Taliban have also issued a statement defending their activities against the US-led foreign forces and saying that the conflict in the country is 'not an inter-Afghan battle or battle among the Muslims. It started 17-years ago when Americans invaded Afghanistan using aerial and ground force'. The statement said Afghans do not expect the Saudi Arabian authorities and scholars side the 'American invaders in this fight between Islam and disbelief'.
Daily Times has learnt that Pakistani scholars also declined Saudi invitations include those considered very close to the Kingdom, like Fazlur Rehman Khalil, who led a Difa-i-Harmain Sharifain movement when Saudi Arabia and its allies launched a military campaign against Shi'ite Houthis in Yemen, the outfit fighting the Saudi-backed government in the country. Khalil changed his mind when he read the invitation, said a source close to him. Mufti Abdul Rahim, who heads Jamiatur Rasheed Karachi, a major seminary of the Deobandi schools of thought, also refused the invitation.
Maulana Anwarul Haq, the deputy chief of Madrassa Haqqania, and Maulana Idrees, a senior teacher at Haqqania, who had attended the Indonesian conference, also preferred to stay away from the Saudi meeting.
An official of the seminary told Daily Times that Maulana Samiul Haq, chief of his own faction of JUI, had stopped the two from traveling to the Kingdom.
In a recent statement, Samiul Haq, who publicly supports Afghan Taliban, launched an appeal to the ulema not to participate in the conferences, holding that such events 'stop jihad against the American imperialists in Afghanistan and the whole Islamic world'. He said the top American commander in Afghanistan General Nicolson had stated in March this year that the US will use religious scholars against the Taliban.
Unconfirmed reports suggest that the chairman of the Council of Islamic Ideology, Qibla Ayaz, has also gone to Saudi Arabia to attend the conference. Some other renowned scholars Dr Abdul Razaq, the president of the Wafaqul Madaris al-Arabiya; Allama Zahid Mehmood Qasmi, the chairman of the Markazi Ulema Council; Allama Shah Owais Noorani of JUP; and Maulana Azizur Rehman Hazarvi have reportedly also declined invitations, which were delivered through Pakistan's Religious Affairs Ministry.
The Secretary General of the Organisation of Islamic Cooperation, Dr. Yousef bin Ahmed Al-Othaimeen has expressed the hope that the conference will lead to national reconciliation in Afghanistan and the cessation of all acts of terrorism and violent extremism that are contrary to the teachings of the Islamic religion.
He pointed out that 105 prominent Muslim scholars are participating in the conference from a number of countries including Afghanistan, Saudi Arabia Indonesia, Egypt, Sudan and Morocco. Daily Times sent queries to the Saudi embassy's officials to seek their comments but they avoided response.
https://dailytimes.com.pk/265806/several-pakistani-clerics-turn-down-saudi-invitation-to-conference-on-afghan-peace-stability/
--------
Ruling on declaration of 'true faith' to be challenged, says minister
Jamal Shahid
July 11, 2018
ISLAMABAD: The caretaker Minister for Informa­tion and Law, Syed Ali Zafar, has said that making declaration of faith compulsory before joining the judiciary and civilian and military services is discriminatory and will be challenged.
"The government cannot discriminate in service laws in matters of employment. I believe that our judges are… learned and very aware of human rights. They know their obligations to protect these rights but this judgement is contrary to that and so must be challenged," said Mr Zafar while speaking as the chief guest at a consultation session on minority rights, freedom of religion or belief, titled "Faith for Rights", on Tuesday.
The event was organised by the National Commission for Human Rights (NCHR) and Potohar Organisation for Development Advocacy (PODA) in collaboration with the European Union (EU).
The minister was talking about the judgement of the Islamabad High Court that made it mandatory for every citizen, whether Muslim or non-Muslim, to declare their "true faith", failing which they would be guilty of betraying the state and exploiting the Constitution.
"Court judgement or no court judgement, I disagree. I am also in charge of law [ministry] and we will challenge this judgement. It is nobody's business to know what somebody's belief is. Why should somebody be so intrusive? We do not need to disclose that. It is enough if you are a citizen of this country," said Mr Zafar.
He argued that citizens were entitled to protection as the government deemed all citizens equal. "We cannot allow any sort of discrimination on the basis of belief and religion towards any citizen of Pakistan."
EU's Representative in Pakistan Anne Marchal said the EU would support every effort aimed at ensuring provision of human rights in Pakistan. She said the GSP plus status was linked with ensuring the implementation of 27 human rights conventions.
Full report at:
https://www.dawn.com/news/1419306/ruling-on-declaration-of-true-faith-to-be-challenged-says-minister
--------
MMA fighting against forces inimical to Islam: Fazal-ur-Rehman
FAWAD MAQSOOD
JUL 11TH, 2018
Addressing a Eid Milan Party arranged by Hafiz Safi Ullah here, he said that the unison of religious parties would end the politics of PTI who is the harbinger of polices that are repugnant with Pakistan ideology.
He said that religion Islam should be a priority of every voter while selecting their leaders in election.
"Our name has not been part of any NRO, off Shore Company and terrorist organization.
People should judiciously use their right of franchise to sift right from the right and elect those whose priority is to end corruption and promote religion Islam", he said.
MMA Chief said that we are fighting against those who are intends to end Islamic identity of Pakistan adding scenes that were witnessed in protests of D Chowk Islamabad should be eye opener for everyone. He urged voters to revisit their options and priorities on July 25.
He rejected criticism of political opponents saying how a party that is of insignificant stature can target a political force that from the beginning struggled to uphold norms of religion Islam.
He said that it is very easy to blame opponents for putting country under debt but conversely PTI who ruled KP for five years has overburdened the province by exponential debt of 350 billion rupees that was only 80 billion in tenure of MMA.
Fazal-ur-Rehman also criticized PTI saying not a single university has been established by them while nine universities were being set up in the province by MMA government.
He claimed that PTI provincial government that boasted to construct 300 dams has failed to setup a single mega power generation station in KP.
Full report at:
https://www.brecorder.com/2018/07/11/427798/mma-fighting-against-forces-inimical-to-islam-fazal-ur-rehman/
--------
Imran Khan, Hafiz Saeed's son among others in terror hit-list ahead of Pakistan elections
Jul 10, 2018
The National Counter Terrorism Authority (NACTA) of Pakistan has said that some top politicians of the country, including Pakistan Tehreek-e-Insaf chief Imran Khan, can be attacked by terrorists during the campaign for Pakistan general elections, scheduled for July 25.
The authority informed about the threat to the leaders to a Senate panel. Among those facing the threat are PTI chief Imran Khan, Awami National Party president Afsandyar Wali, Qaumi Watan Party's Aftab Ahmad Khan Sherpao, Jamiat Ulema-e-Islam-Fazal leader Akram Durrani and ANP leader Ameer Haider Hoti, reported Pakistani media.
Apart from these, Lashkar-e-Taiba founder Hafiz Saeed's son, Talha Saeed, who is contesting the elections on Allah-o-Akbar Tehreek party ticket, is also likely to be targeted by terrorists. The agency further said that some senior leaders of Pakistan Peoples Party (PPP) and Pakistan Muslim League-Nawaz (PML-N) were also in the hitlist of the terrorists.
NACTA has apprised the Interior Ministry, provincial home departments, and other agencies about the imminent threat to the top politicians of Pakistan, said a report in The Nation.
Pakistan-based Dawn News reported that the panel chief, Rehman Malik, had asked the Interior Ministry to ensure fool-proof security to all those facing the threat. He also called for providing security to the heads of all major political parties.
He further raised the issue of incidents of violence reported during the high-stake election campaign in the country. Malik cited the incident of a group of people pelting stones on the convoy of PPP chief Bilawal Bhutto Zardari while he was on his way to address a poll rally in Lyari area of Karachi.
Full report at:
http://zeenews.india.com/world/imran-khan-hafiz-saeeds-son-among-others-in-terror-hit-list-ahead-of-pakistan-elections-2123618.html
--------
Major political parties in Pakistan pledge to combat terrorism, radicalisation if voted to power
July 11, 2018
Admitting that terrorism and radicalisation have isolated Pakistan globally, the country's major political parties have pledged to combat the scourges if they are voted to power in the July 25 general election. In their manifestos, the Pakistan Tehreek-e-Insaf (PTI), the Pakistan Peoples Party (PPP) and the Pakistan Muslim League-Nawaz (PML-N) have identified terrorism, radicalisation and extremism as the bane of the country.
They also promised to reform the education in thousands of madrassas (Islamic seminaries) spread across the Muslim-majority nation.
The United States, India and Afghanistan have been pressing Islamabad to stop providing safe havens to terror groups operating in the country.
Imran Khan-led PTI in its manifesto released yesterday said it recognises the scourge of terrorism and its devastating effect on Pakistan and its citizens not only in terms of the massive loss of Pakistani lives but also in a once tolerant society becoming polarised into intolerance, fear and hate.
"The PTI stands committed to restoring the spirit of tolerance and acceptance amongst all the citizens of Pakistan," it said.
The cricketer-turned-politician's party, which seems to have the backing of the powerful military, says it will try to educate the population through developing a counter-ideological narrative by co-opting religious scholars.
And a counter-narrative is critical because militants need social space for their existence and growth. In their minds, they see themselves as law enforcers, administrators, teachers and justice providers.
"Having gained social space, they seek out physical space and as governance weakens they become stronger. So it is critical for the state to reclaim social space along with physical space," it says.
The PTI will also focus on restructuring syllabi and main-streaming the madrassas by providing them with proper educational facilities.
To ensure the success of the party's counter-terrorism strategy, immediate steps will be taken to reform the criminal justice system and revise the anti-terror laws so that it is precise and focused on terrorism, the manifesto says.
Further, it says the party will not allow Pakistan's territory or people, including its armed forces, to be used by any other nation for the promotion of its political ideology or hegemony, for promoting terrorism or for the destabilisation of any other state.
The PPP in its manifesto released last week noted that despite all its sacrifices in the struggle against terrorism, Pakistan remains isolated in the global community, unable to project a positive image.
"Despite our losses and sacrifices in the war against terror, we are often seen as a problem," the manifesto says.
"This drift must stop. We must get the government on a track that is modelled on serving the people," the party led by Bilawal Bhutto Zardari says.
It says that if returned to power, the party will ensure that the large swathes of territory that have been wrested from the control of terrorists in the unruly tribal areas will not backslide into ungoverned spaces.
Under a PPP government, the manifesto says, there will be no accommodation for terrorist groups, their backers and financiers, or sympathisers.
"We will implement a comprehensive security strategy to prevent attacks on major urban centres in tandem with targeted military operations against all militant and terrorist outfits that challenge the writ of the state," the party says.
The manifesto of the PML-N of ousted Prime Minister Nawaz Sharif says the party would ensure proper registration of the madrassas through a system mutually agreed by all.
Further, subjects like mathematics, computers, physics, chemistry, economics, phycology etc. need to be made part of curricula of the madrassas in consultation with central authorities of various denominations.
The party noted that when the PML-N government took office in 2013, the security situation of the country was in "serious jeopardy", marred with terrorism, sectarian violence and crime.
"A sharp surge in the number and severity of militant attacks was witnessed, causing the loss of more than 2,000 precious lives and rendering more than 3,500 individuals injured," the manifesto points out.
In the past five years, the PML-N-led government has been successful in steering Pakistan to combat terrorism, weed out militancy and contain the threat of radicalism, it says.
If voted back to power in the July 25 election, the party said it hopes to adopt a multi-dimensional and holistic approach towards security.
Full report at:
https://www.moneycontrol.com/news/politics/major-political-parties-in-pakistan-pledge-to-combat-terrorism-radicalisation-if-voted-to-power-2694281.html
--------
ANP leader Haroon Bilour among 20 killed in Peshawar blast
July 10, 2018
At least 20 persons, including Awami National Party (ANP) leader Haroon Bilour, were killed in a suspected suicide blast which targeted an election gathering of ANP in Yakatoot area of Peshawar on Tuesday night, DawnNewsTV reported.
Peshawar Capital City Police Officer (CCPO) Qazi Jameel said that more than 30 people were injured in the explosion, who have been shifted to Lady Reading Hospital.
The blast took place when Haroon Bilour, the son of ANP's slain leader Bashir Ahmed Bilour and a PK-78 candidate, arrived at the site where the ANP workers had gathered for a corner meeting. Bilour suffered serious injuries and was shifted to the hospital where he succumbed to his wounds.
The police officer did not confirm the nature of the blast. A local ANP leader, however, told DawnNewsTV said that a suicide bomber blew himself when Bilour entered the compound where the meeting was being held.
"According to our initial investigation, it was a suicide attack and Haroon Bilour... was the target," said AIG Shafqat Malik.
The death toll was initially reported at 13 but it rose to 20 overnight, according to Lady Reading Hospital's spokesperson, Zulfiqar Ali Baba Khel.
The rescue teams and law enforcement agencies reached the site of the blast. Police and bomb disposal officials collected evidence from the site of the blast and initiated an investigation into the incident.
The body of Haroon Bilour was later shifted to Bilour House where ANP workers gathered in great numbers to pay respect to their deceased leader. ANP leader Iftikhar Hussain said the funeral prayers of Haroon Bilour will be offered on Wednesday at 5pm at Wazir Bagh in Peshawar.
In 2012, Haroon Bilour's father Bashir Ahmed Bilour was also killed when a Pakistani Taliban bomber blew himself up in a party meeting in Peshawar.
The following year in 2013, the Tehreek-i-Taliban Pakistan (TTP) had claimed responsibility for an attack at an ANP rally in Peshawar, in which 15 people were killed. The TTP spokesperson at the time, Ehsanullah Ehsan, had told journalists that Haroon was the target, but "unfortunately Ghulam Ahmed Bilour got injured".
The ANP, which governed the Khyber Pakhtunkhwa province from 2008 to 2013, has been a continual target of militant groups operating in the northwest. The militants killed hundreds of ANP leaders and supporters in attacks around the 2013 election.
Earlier this month, seven people including a candidate of the Muttahida Majlis-i-Amal were injured in an explosion during an election rally near Takhtikhel canal.
The Taliban have time and again threatened to target secular parties for what they call supporting the military action in tribal areas and the "war on terror".
Although there has been no immediate claim of responsibility for the attack, the city of Peshawar has for decades been a victim of militancy due to its status as a frontline for the ongoing war against terrorism as well as its proximity to the restless tribal areas and the Pak-Afghan border.
Politicians under threat from terrorists
The Natio­nal Counter Terrorism Authority (Nacta) on Monday had revealed the names of six personalities, including Imran Khan and Hafiz Saeed's son, who could be targeted by terrorists during the ongoing election campaign.
"Six people include Pak­istan Tehreek-i-Insaf chairman Imran Khan, Awami National Party leaders Asfandyar Wali and Ameer Haider Hoti, Qaumi Watan Party head Aftab Sherpao, Jamiat Ulema-i-Islam-Fazl leader Akram Khan Dur­rani and Hafiz Saeed's son Talha Saeed. Moreover, there are threats to senior leadership of the Pakistan Peoples Party and Pakistan Muslim League-Nawaz," Nacta director Obaid Farooq said while briefing the Senate Standing Committee on Interior.
Full report at:
https://www.dawn.com/news/1419202/anp-leader-haroon-bilour-among-20-killed-in-peshawar-blast
--------
'Nobody should be asked to disclose religious belief while seeking employment'
July 11, 2018
ISLAMABAD: Caretaker Minister for Information and Broadcasting Barrister Syed Ali Zafar on Tuesday said that the government should challenge the judgment that ordered that civil servants must mention their religion on a form, as nobody should be asked to disclose religious beliefs while seeking employment.
"Nobody should be asked to disclose religious beliefs while seeking employment and the government should not be so intrusive and nobody should be discriminated against in the matter of employment," he said while speaking here at a consultative session on the minority rights, freedom of religion or belief and faith for rights.
The caretaker minister said that growing poverty, lack of education and galloping population were causes of extremism and religious intolerance, and everybody should come together to resolve the issues. He said that Quaid-e-Azam Mohammad Ali Jinnah had personified the vision of Pakistan.
He said that extremism of any kind was a curse and religious intolerance that led to violence was its worst form. However, it was an issue not only in Pakistan but a worldwide phenomenon also, he said. In many cases, the reasons for extremism and violence against minorities were personal vendetta or political and territorial ones, he said, adding that the extremism should not be associated with religion.
"No religion that I have studied talks about committing violence against other religions. No religion teaches intolerance and every religion teaches love," he said. "Our people are peace loving just like others elsewhere in the world. In Pakistan, we just don't shake hands, we embrace one another so that the spirit of love is transmitted," he pointed out.
The minister said that the government, which was open and transparent, would want a powerful National Commission for Human Rights, which should be given funds and made self-sufficient. If the commission were not given funds, it would be subservient to the government, he emphasised.
"We have to make every institution independent. Every institution, whether it is an investigation agency, court or security agency, should be powerful in its own right." He said that no one had right to interfere in the choice of other people about their religious beliefs.
"It is the fundamental right of everybody to live according to their own conscience. It is a responsibility of the government to ensure that no citizen imposes his will on others. The only way we progress is by eliminating extremism, whether by physical action against terrorism or by educating the citizens," he said.
Ali Zafar said that Pakistan was made a scapegoat after the war in Afghanistan and the West then abandoned the country. Yet Pakistanis have single-handedly fought against the terrorists and succeeded, he said, adding that now there was a need to ensure that such elements never raise their head again and this too can only be achieved through learning.
Full report at:
https://www.pakistantoday.com.pk/2018/07/10/nobody-should-be-asked-to-disclose-religious-belief-while-seeking-employment/
--------
Politicians safe because of army's sacrifices: ISPR
July 11, 2018
ISLAMABAD - The military has "no direct role" in nationwide elections due July 25, the army spokesman said Tuesday, after widespread allegations it is pressuring media and the ruling party in a bid to manipulate the polls.
Instead the military will deploy more than 370,000 soldiers on polling day to help ensure the vote goes smoothly, ISPR Director General Major General Asif Ghafoor said.
"The Pakistan armed forces have no direct role," he told a packed press conference at General Headquarters in Rawalpindi, adding: "Let me make it clear, that we have no direct role."
He also said that the political personalities are facing more safe today due to the sacrifices of the security forces.
He further denied involvement in the political process by either the army or its intelligence agencies.
Maj-Gen Ghafoor maintained that the armed forces will only have a role to facilitate the ECP. The ISPR chief said the armed forces would remain neutral and not interfere in the electoral process.
He categorically stated that in case of any irregularity, the personnel of armed forces would only observe and point out to the election commission and would not take any corrective measure on their own.
While the ECP in its notification said that the deployment of armed forces shall be made for the provision of a secure environment in the conduct of the election in a free, fair and transparent manner.
The military troops will be deployed inside and outside all the polling stations from July 23 to July 27 for the provision of the secure environment in the conduct of the election in free, fair and transparent manner, said the ECP notification.
It said that the armed forces have been given the responsibility to make foolproof security arrangements during the printing, stocking and storage of ballot papers.
It said that the armed forces shall provide security during the transportation of ballot papers and other materials from printing presses to respective polling stations and back to district treasuries or ECP's strong rooms.
The notification said that the armed forces shall also deploy a sufficient number of mobile vigilance teams, Quick Reaction Force (DRF) and reserves in all constituencies to provide the secure environment.
The notification said that the security staffs deployed on polling stations were supposed to first report to the presiding officer, then officer-in-charge, and returning officers respectively if they found any irregularity or malpractice during the election process.
On the other hand, the ISPR director-general made it clear that the armed forces would provide necessary support to the ECP in the conduct of the general election in a free, fair and transparent manner.
The ISPR chief in his media briefing said that two personnel would be deployed inside and two outside sensitive polling stations while there would be normal deployment on other polling stations.
He said as per the mandate given by the ECP, they were also responsible for the security of printing presses during the printing of ballot papers.
"Security would also be provided for the transportation of the ballot papers to polling stations and dispatch of ballot boxes to the ECP's strong rooms," he said.
Maj-Gen Ghafoor pointed out that the armed forces would provide only security and the handling of the election material would remain the exclusive domain of the ECP.
He said that the Army has set up an election support centre in Rawalpindi for coordination with the ECP.
Replying to a question about allegations of rigging and political engineering, he said that allegations of rigging have always been levelled before and after elections in the past.
He said that the armed forces have been waging the war of survival of Pakistan for the last 15 years and they cannot deflect attention from the core issues of security and defence.
Answering a question regarding the election symbol of jeep allotted to various people, he said it was the ECP, which allotted election symbols to candidates and the armed forces had nothing to do with the specific case.
To another question, he said "Our response is in place regarding any cyber threat. Some forces are active on the social media against Pakistan's political stability. Action will be taken if any act is taken repugnant to the security of Pakistan".
He urged the media to play its role in creating awareness for free, fair, and transparent elections.
Regarding invisible forces, he said that anybody to be elected by the people of Pakistan will be acceptable to the armed forces. "We are the creature of God and not the aliens. We are serving the people of Pakistan," he said. He also denied the role of the ISI in allotting election symbols to the contesting candidates. He also rejected the ISI's involvement in the Multan episode where a PML-N candidate was roughed up allegedly by security personnel asking him to change his loyalty and return the PML-N's ticket.
About donations for a fund established for the construction of dams, the ISPR chief said that the army chief has also donated his one-month salary for this purpose.
At the outset of Maj-Gen Ghafoor's briefing, a 20-minute training movie was screened which has basically been produced for the awareness of the troops to be deployed for the election duty.
Full report at:
https://nation.com.pk/11-Jul-2018/politicians-safe-because-of-army-s-sacrifices-ispr
--------
NRO promulgated to remove vestiges of political vendetta: Musharraf
Nasir Iqbal
July 11, 2018
ISLAMABAD: In a reply submitted to the Supreme Court, former president retired Gen Pervez Musharraf has claimed that he promulgated the National Reconciliation Ordinance (NRO) 2007 without having any mala fide or vested interests and to end acrimony between different political parties and (improve) political conditions prevailing then.
Mr Musharraf pleaded that the NRO 2007 was promulgated by him as then president on the advice of the government, which was later declared by the apex court void ab initio through its judgement in December 2009.
The reply was submitted by his counsel Akhtar Shah in response to earlier directives of an SC bench seized with a petition of Feroz Shah Gilani, president of the Lawyers Foundation for Justice, in which he has named Mr Musharraf, former attorney general Malik Mohammad Qayyum, former president Asif Ali Zardari and the National Accountability Bureau as respondents.
Mr Musharraf said the promulgation of the NRO was aimed at fostering mutual trust and confidence amongst the holders of public office, removing vestiges of political vendetta and victimisation, making the election process more transparent and amending certain laws, in addition to ancillary-related matters.
The reply insisted that all actions taken by the then president were in accordance with the laws as existed at that time.
Mr Musharraf requested the court to dismiss the petition to the extent of his involvement.
Earlier, Mr Zardari had filed a reply pleading that no case of causing losses to the public exchequer or looting and plundering national wealth had ever been proved against him in Pakistan or abroad.
He said he had no role in the promulgation of the NRO because he was in jail when it was introduced, adding that the cases against him were reopened when the NRO was set aside by the Supreme Court in 2010 and all cases were tried de novo which resulted in his acquittal on merit.
At the last hearing on July 4, the Supreme Court had asked for details of assets of Gen Musharraf, Mr Zardari and Malik Qayyum.
The court had ordered the respondents to furnish details of their bank accounts and assets both inside and outside the country as well as investments made in offshore companies.
Full report at:
https://www.dawn.com/news/1419305/nro-promulgated-to-remove-vestiges-of-political-vendetta-musharraf
--------
Southeast Asia
Dozens of govt mosques in Jakarta promote radicalism
July 11, 2018
Dozens of mosques located at Indonesian government buildings in Jakarta have been promoting radical Islamic teachings, according to the results of a study released by a local NGO on July 8.
Suggesting the government should look a bit closer to home in its fight against radicalism, the Association of Islamic Boarding School and Society Development and Rumah Kebangsaan — a social organization — said 41 out of 100 mosques located at government offices in the capital have promoted radicalism during Friday sermons.
They include espousing the creation of caliphate and conducting hate speech, according to the study findings.
The study took place between Sept. 29 and Oct. 21 last year by analyzing hundreds of video and audio recordings.
The results "show that the government seems not to be paying much attention to their own mosques," association chairman Agus Muhammad told ucanews.com
He called for the government to up its game and take a closer look in its own backyard and for moderate Islamic organizations "to take a more active part in delivering sermons at state-owned mosques."
Father Antonius Suyadi, who heads Jakarta Archdiocese's Commission for Ecumenical and Interreligious Affairs, expressed alarm at the study findings, saying they "illustrate how strong the threat of increasing intolerance is."
He called on the government to immediately address the issue.
"[It] must manage their mosques in a better way so that national unity can be nurtured," he said, adding that the archdiocese "is always open to a dialogue with any party to promote this."
The study results came as little surprise to Helmy Faishal Zaini, secretary-general of the country's largest Islamic organization, Nahdlatul Ulama, who said his organization has warned both local and central governments about this in the past.
"This boils down to how the authorities manage their own mosques. Make a list of preachers who often deliver provocative sermons and ban them," he said.
However, Anwar Abbas, secretary-general of the Indonesian Ulema Council, expressed doubts over the study findings.
"If it's true 41 out of 100 mosques are like that, this nation would no longer exist. The fact is the nation is still solid. Even love for the nation is stronger," he said.
https://www.ucanews.com/news/dozens-of-govt-mosques-in-jakarta-promote-radicalism/82779
--------
Muslim divorce rates at 5-year low
July 11, 2018
The number of Muslim divorces fell to a five-year low last year, thanks to recent initiatives to bolster marriages within the community, although some experts warned it is too early to celebrate.
There were 1,637 divorces among Muslim couples last year, down 3.8 per cent from 2016's figure of 1,702.
Last year's figure was the lowest since 2012 when 1,587 Muslim couples split up, according to the 2017 marriages and divorces statistics released by the Department of Statistics yesterday.
Experts attributed the dip to new initiatives aimed at strengthening marriages in the Muslim community.
"Couples are now also required to go through a marriage counselling programme before they file for divorce, which may have contributed to a reduction in divorce rates, as couples are given the opportunity to reflect and really assess their decision to get a divorce," said Madam Zaleha Ahmad, centre director of the Association of Muslim Professionals' Marriage Hub.
Another possible contributing factor to the fall is the Government's increased focus on supporting couples in their marriages, said a representative from the Singapore Muslim Women's Association, which conducts marriage preparation courses as well as marriage counselling sessions.
However, the top reason for divorce was infidelity, with 23.5 per cent of Muslim couples splitting up because of a cheating spouse. This was up from 18.8 per cent in 2007.
Other observers cautioned that the fall in divorces should not be a cause for celebration yet.
Full report at:
https://www.straitstimes.com/singapore/muslim-divorce-rates-at-5-year-low
--------
Living a double life: Indonesia's atheists fear jail or worse
11 Jul 2018
JAKARTA: As a university student, Luna Atmowijoyo prayed five times a day, refused to shake hands with men who weren't relatives and was "more fundamentalist" than her pious Muslim parents.
But a decade later, Atmowijoyo has turned her back on Islam and is among a small number of atheists in Indonesia who live in fear of jail or violent reprisals from religious hardliners.
Leading a double life - devout Muslim on the outside, non-believer on the inside - is often the only choice for atheists in the world's biggest Muslim majority country.
Atmowijoyo, who lives with her parents, still wears an Islamic headscarf to escape the wrath of an abusive father who knows nothing of his daughter's change of heart, which started when she was told to avoid friendships with non-Muslims.
"A lot of simple things started to bother me," said the 30-year-old, who asked not to use her real name.
"Like I couldn't say Merry Christmas or Happy Waisak to people of other religions," she added, referring to a Buddhist holiday also known as Vesak or Buddha's Birthday in other parts of Asia.
Treating gay people as abnormal was another problem and it soon became impossible for Atmowijoyo - once a conservative Islamic party member - to square the Koran's teachings with science.
Then the unthinkable crept into her mind: God does not exist.
BLASPHEMY
The sprawling Southeast Asian archipelago is officially pluralist with six major religions recognised, including Hinduism, Christianity and Buddhism, while freedom of expression is supposed to be guaranteed by law.
But criticising religion - particularly Islam, which is followed by nearly 90 per cent of Indonesia's 260 million citizens - can land you in jail.
This year, a university student was charged for a Facebook post that compared Allah to the Greek gods and said the Koran was no more scientific than the Lord of the Rings. He faces up to five years in prison.
Alexander Aan was jailed for 30 months in 2012 for posting explicit material about the Prophet Mohammed online and declaring himself an atheist.
The prosecutions fit a wider trend of discrimination against the archipelago's sizeable population of minorities, observers said.
Authorities, however, insist atheist beliefs are not illegal - as long as they're not aired in public.
"Once somebody disseminates that idea, or the concept of atheism, that will be problematic," said Abdurrahman Mas'ud, head of the research and development agency at the Ministry of Religion.
"FEAR FOR MY LIFE"
Two decades after the fall of dictator Suharto - who kept the country running along secular lines - conservative Islam has exploded into Indonesia's public life in lockstep with the rise of hardliners and religiously motivated violence.
The country has grappled with Islamist militancy for years, including the 2002 Bali bombing that killed more than 200 in Indonesia's worst-ever terror attack.
More attacks followed and this year, 13 people were killed in a wave of suicide bombings claimed by the Islamic State group that targeted Christian congregations.
Buddhist temples have also been attacked, while this year an angry mob rampaged through a small community of the Ahmadiyya Islamic minority on the island of Lombok, destroying homes and forcing dozens of members to flee.
Atheists who were interviewed said they worried that hardliners, encouraged by populist politicians, could turn their attention to them next.
"The worst thing that can happen in Indonesia is we can be killed," said one 35-year-old graphic designer who was raised as a Catholic.
"I genuinely fear for my life."
Many apostates - particularly those from conservative Muslim backgrounds - assume two identities, like Atmowijoyo.
"As long as they keep quiet there is not much risk," said Timo Duile, a researcher at the University of Bonn who has studied atheism in Indonesia.
"That is the reason that most atheists I talked to prefer to stay incognito."
"INCLUSIVE ISLAM"
No one knows how many atheists there are in Indonesia.
While small groups hold regular meetings in large cities, most have sought out like-minded individuals online.
The "You Ask, Atheists Answer" open forum on Facebook has nearly 60,000 members, and there are more like it online.
Karina, based in Singapore, said when she found a private Facebook page for fellow atheists in her native Indonesia she finally felt she was "not alone".
Atheists who were interviewed said they worried about doxxing - publishing private information to identify users - by radical Islamist cyber groups, which regularly make death threats.
Indonesia is not the only Muslim-majority nation where non-believers face danger.
Secular and atheist bloggers have been killed in Bangladesh, atheists have been threatened by government officials in Malaysia and jailed in Egypt.
Indonesia, by contrast, is often praised for its moderate, inclusive brand of Islam - but that is something many atheists say is no longer a reality.
Karina said she was concerned about friends back home. "I?m quite worried about them."
And even in Singapore, she felt she needed to watch her back.
Full report at:
https://www.channelnewsasia.com/news/asia/living-a-double-life--indonesia-s-atheists-fear-jail-or-worse-10519536
--------
Mais: Underage marriages in Selangor must have Shariah judge's consent
10 July 2018
SHAH ALAM, July 10 — Underaged marriages in Selangor can only be performed with the written consent and approval of the shariah judge in the state.
Chairman of the Selangor Islamic Religious Council (Mais) Datuk Mohammed Khusrin Munawi said Selangor had fixed the minimum age for marriage for men at 18 years while for women, it is 16 years.
"The application for consent for underaged marriages must be filed by the parents or guardian, as well as by the child itself.
"When the application is heard, the shariah court will order the child to undergo counselling sessions conducted by the district Welfare Services Department," he said in a statement here today.
He added that Muslim parents and guardians who want their underaged children to get married must make sure that they are physically and mentally ready.
Full report at:
https://www.malaymail.com/s/1650914/mais-underaged-marriages-in-selangor-must-have-shariah-judges-consent
--------
Dr Zakir Naik: I am indebted to Malaysia, won't break any laws
11 July 2018
KUALA LUMPUR, July 11 — Controversial Islamic preacher Dr Zakir Naik expressed his gratitude to the Malaysian government for not deporting him home to India where he is wanted to facilitate investigations into terror activities there.
In a statement through an aide, the Mumbai-born who is a Malaysian permanent resident also gave a commitment that he will not break any laws during his stay here.
"I thank the Malaysian government for examining the issue from an unbiased perspective, and Prime Minister Tun Dr Mahathir Mohamad for his decision to allow me to stay here, as long as I continue to abide by the law and support the peace and harmony of this country," he said.
He then expressed disappointment over some local media reports, which he claimed had tarnished his image by linking him to terror-related activities, and accused him of delivering hate speeches.
"Some sections of the media have attacked me for my supposed 'incitement to terror', and it would be naive not to assume that this was done with a broader objective of demonising Islam and Muslims. Unable to find any evidence against me, they resorted to doctored video clips, out-of-context quotations and a host of dishonest schemes to accuse me of terrorism, hate speech and even money laundering.
Dr Zakir reiterated his assertions that none of his speeches was objected to by non-Muslims in India, his homeland, until 2012, during which he claimed "a group of religious fanatics" had then sought to tarnish his image.
He insisted that he has never promoted terror using Islam in 25 years of preaching.
Dr Zakir also praised Malaysia's unity and diversity and expressed gratitude for being allowed to be a part of the community.
"I am humbled to be a part of this diversity, and I also acknowledge the sensitivities it entails. I would never wish to disrupt or jeopardise this balance in any way, or to break the rule of law of this country, because it is my primary concern to foster the social harmony currently enjoyed by its citizens.
"Finally, while I hope that justice and peace return to my homeland, India, I remain indebted to Malaysia — not just as one seeking fair treatment, but as an individual with a love of humanity," he added.
Dr Mahathir has said that Malaysia will not deport Dr Zakir back to India, as long as he does not create problems here.
The Mumbai-born Islamic televangelist is wanted by the Indian government for alleged money laundering and terrorism.
Full report at:
https://www.malaymail.com/s/1651132/dr-zakir-naik-i-am-indebted-to-malaysia-wont-break-any-laws
--------
Umno Youth chief hails Dr M for letting Zakir Naik stay in Malaysia
11 July 2018
KUALA LUMPUR, July 11 — Umno Youth chief Datuk Asyraf Wajdi Dusuki praised Prime Minister Tun Dr Mahathir Mohamad for allowing Mumbai-born Islamic preacher Dr Zakir Naik to remain in the country.
In a tweet, Asyraf commended Dr Mahathir for defending the rights and position of Dr Zakir.
"He will not be sent back to India on baseless charges which will only frame him as an individual who has contributed much to religion and to the promotion of universal peace."
Earlier yesterday during an anti-corruption programme in Putrajaya, Dr Mahathir said the government will not give in to pressure from groups to deport the controversial preacher, but instead consider all factors in deciding what is to be done with Dr Zakir.
Full report at:
https://www.malaymail.com/s/1651131/umno-youth-chief-hails-dr-m-for-letting-zakir-naik-stay-in-malaysia
--------
China, Arab states agree to enhance cooperation under new strategic partnership
July 10, 2018
JEDDAH: The China-Arab States Cooperation Forum began its eighth ministerial meeting in Beijing on Tuesday to discuss ways to strengthen Arab-Chinese relations.
The Saudi delegation was led by Foreign Minister Adel Al-Jubeir, who is chairman of the current session.
In a speech at the opening ceremony, Chinese President Xi Jinping announced his intention to hold an international conference on the Israeli-Palestinian conflict, and expressed his support for the two-state solution and the Arab Peace Initiative.
China and Arab countries have agreed to establish a "future-oriented strategic partnership of comprehensive cooperation and common development," Xi said.
Kuwait's Emir Sheikh Sabah Al-Ahmad Al-Jaber Al-Sabah said: "We believe that boosting mechanisms of cooperation between us will contribute to achieving the supreme interests of our Arab nation and our friends, and to enhancing historical relations between the two sides, which we are keen to develop and promote in all fields."
Arab League Secretary-General Ahmed Aboul Gheit said the ministerial session reflects the two sides' keenness to deepen Arab-Chinese ties.
He urged China to continue its support for Arab issues, foremost among them the Palestinian cause.
On the sidelines of the ministerial meeting, Al-Jubeir delivered a lecture to the Middle East Studies Association.
He said: "Saudi-Chinese relations have been deepened by both countries' belief in key principles, notably respecting the sovereignty of states and non-interference in their affairs."
"Saudi Arabia launched its Vision 2030 reform plan to bolster the economy by reducing dependence on oil, attracting investors, and improving the transparency and performance of government institutions," he said.
Vision 2030 also aims to create a climate of tolerance and moderation, confront extremism, and enable Saudi women to be partners in moving the Kingdom forward, he added.
Saudi Arabia considers itself an essential partner in China's Belt and Road Initiative (BRI), which will have a great economic and social impact on the world, and will contribute to regional security and stability, Al-Jubeir said.
Riyadh is consulting with Beijing on cooperation regarding the BRI, and on encouraging the Middle East to play a key role in the project, he added.
Al-Jubeir pointed to both sides' keenness to intensify scientific exchanges, as the Kingdom has sent students to China for education and to become bridges between the two countries.
Full report at:
http://www.arabnews.com/node/1336746/saudi-arabia
--------
Arab World
Rebels kill 27 regime fighters in northwest Syria
10 July 2018
Rebels and militants killed more than two dozen pro-government fighters in a joint attack in a northwestern stronghold of Syrian President Bashar al-Assad's regime, a monitor said Tuesday.
In retaliation, the government and its ally Russia pounded rebel-held areas in the coastal province of Latakia and neighboring Idlib on Tuesday.
The government's attack resulted in the death of four civilians, the Syrian Observatory for Human Rights said.
It was the bloodiest opposition assault on the area in three years, according to the Britain-based monitor, which relies on a network of sources inside the country.
The surprise offensive late Monday targeted a pair of villages and observation points in Latakia, near the Turkish border.
"At least 27 regime forces and allied fighters, including eight officers, were killed in fierce clashes and shelling in the village of Al-Ateira," said Observatory Head Rami Abdulrahman.
He said, "They took Al-Ateira and kicked out regime forces from several observation points after killing or wounding them."
Another 40 government loyalists were wounded and six rebels were killed, he said.
The Observatory said the opposition fighters included local rebels from Latakia as well as more hardline forces.
Latakia is the heartland of Assad's regime on the Mediterranean coast, and is home to the Hmeymim airbase where Russian troops and warplanes have been based since 2015.
Forces opposed to Assad have repeatedly attacked the province since the uprising broke out in March 2011. They hold a northeastern sliver of territory bordering the neighboring province of Idlib.
The regime and Russia also bombarded that strip of land and parts of western Idlib with air strikes and artillery fire on Tuesday, killing four civilians, the monitor said.
That area falls under a de-escalation deal agreed last year between Russia, fellow regime backer Iran, and rebel ally Turkey.
https://english.alarabiya.net/en/News/middle-east/2018/07/10/Rebels-kill-27-regime-fighters-in-northwest-Syria.html
--------
South Syria suicide car bomb claimed by ISIS kills 8
11 July 2018
A suicide car bombing on Tuesday killed eight newly reconciled fighters from pro-government and rebel ranks in an attack on a south Syrian village claimed by ISIS.
The Britain-based Syrian Observatory for Human Rights said the explosion hit Zaizun, a village in the western countryside of Daraa province which rebels agreed in recent days to hand over to regime control.
"Eight regime and opposition fighters who recently reconciled were killed in a suicide car bomb attack targeting a military position in Zaizun," said Observatory head Rami Abdel Rahman.
ISIS claimed responsibility for the attack in a statement posted on the Telegram messaging app, saying the car driven by a suicide bomber had been packed with explosives.
Zaizun lies near a sliver of southern territory controlled by Jaish Khaled bin Walid, a faction that has pledged allegiance to ISIS, which is not bound by the deal between the rebels and the government.
Abdel Rahman said it was likely that this faction was responsible for the attack, adding it was the first suicide bombing targeting regime forces since they launched an offensive on Daraa.
Backed by Russia, Syrian troops began a bombing blitz of Daraa province on June 19 that killed dozens of civilians and displaced more than 320,000 people.
The onslaught came to an end on Friday, when Moscow brokered a deal with rebels for them to surrender their weapons and hand over towns to government troops.
The agreement also provides for safe passage for thousands of opposition fighters and civilians to rebel territory further north, although those transfers have not yet begun.
The regime is now in control of around 80 percent of Daraa province, while rebels hold around 15 percent, according to the Observatory.
Anticipating a regime attack, thousands of people have fled the ISIS-held zone in the past two days heading toward the Israeli-occupied Golan Heights.
Around 200,000 displaced people have already sought refuge along that frontier, which remains sealed, according to the United Nations.
"After finishing off rebel forces in the south, the regime is expected to attack the last pocket held by the ISIS affiliate there," said Abdel Rahman.
Government forces have not yet begun their assault but rebels nearby hit the ISIS-held area with artillery and mortars late Monday.
Full report at:
https://english.alarabiya.net/en/News/middle-east/2018/07/11/South-Syria-suicide-car-bomb-claimed-by-ISIS-kills-8-.html
--------
Syria: Terrorists Retreat from Border with Jordan
Jul 10, 2018
The army men staged a rapid march on terrorists and freed the entire border region between the Southern province of Dara'a and Jordan after imposing control over Zeizoun region West of Dara'a.
The only area in Dara'a still under terrorists' control is a few-kilometer-long chunk of the border taken by the ISIL.
In the meantime, field sources said that the army has arrived at the ISIL-held region in Hawz al-Yarmouk.
The army has now cut off the link between the remaining pockets of terrorists trapped in Dara'a city and the operation room in Jordan that is run by the army and security services of a number of Arab and western states, known as the Al-Mouk Operation Room.
Reports said earlier today that the army troops captured more bordering checkpoints and managed to lay siege on the Southern city of Dara'a after terrorists insisted on battle with the government forces in the Western parts of the province.
The army men drove terrorists out of 7 bordering checkpoints (No 29 up to 35) at the country's border with Jordan.
The army soldiers further advanced towards the Western direction of the hills near al-Katibah al-Mahjourah Air Defense Base in Western Dara'a and managed to lay full siege on Dara'a city.
In the meantime, local sources said that the army has purged terrorists from a vast region from Nasib border-crossing to Zeizoun township and from Sout of Tisiya to Southeast of Dara'a city and Zeizoun.
Full report at:
http://en.farsnews.com/newstext.aspx?nn=13970419001000
--------
Syrian Army Liberates Key District in Dara'a City
Jul 10, 2018
The army men launched fresh attacks on terrorists' positions in the Southeastern part of Dara'a city that is under a full siege of the government forces.
The army soldiers further managed to seize control over Qaraz district.
In the meantime, other units of the army hunted the remaining pockets of terrorists in Southwestern neighborhoods of Dara'a city and imposed complete control over the Old Customs area and al-Hajana Battalion Base.
Field sources reported that the army has further tightened noose on the terrorists trapped in Dara'a city after its advances on Tuesday.
Reports said earlier today that the army troops captured more bordering checkpoints and managed to lay siege on the Southern city of Dara'a after terrorists insisted on battle with the government forces in the Western parts of the province.
The army men drove terrorists out of 7 bordering checkpoints (No 29 up to 35) at the country's border with Jordan.
The army soldiers further advanced towards the Western direction of the hills near al-Katibah al-Mahjourah Air Defense Base in Western Dara'a and managed to lay full siege on Dara'a city.
In the meantime, local sources said that the army has purged terrorists from a vast region from Nasib border-crossing to Zeizoun township and from Sout of Tisiya to Southeast of Dara'a city and Zeizoun.
Full report at:
http://en.farsnews.com/newstext.aspx?nn=13970419000793
--------
Turkey-Backed Militants Engage in Fresh Clashes Again in Northern Syria
Jul 10, 2018
Two units of Firqa Sultan Morad, affiliated to the Turkish army, engaged in fierce clashes in the town of Jarabulus in Northern Aleppo, inflicting several casualties on both sides.
Meantime, local sources said that residents in Northern Aleppo are showing anger over continued infighting among the terrorist groups in the region through several demonstrations against militants, calling for their expulsion from their towns and villages.
In the meantime, Ankara-backed Jarabulus Local Council warned civilians that had sought shelter in a school to leave there immediately.
Militant-affiliated sources reported that the Turkish army is planning to establish a university affiliated to the Turkish university of Gaziantep at the school in Jarabulus.
Based on the latest reports from Jarabulus, people at the school have protested at the council's order to leave the school.
The Kurdish-language Hawar news reported last week that the Turkish soldiers exchanged heavy fire with the militants of al-Hamza Brigade at the entrance of the occupied town of Afrin along al-Fil Street in Northwestern Aleppo.
Hawar news further said that the Turkish army's heavy artillery fire at one of the positions of al-Hamza Brigade near Deir Sam Hospital and also near the village of Tarandeh has frightened residents in the region.
The clashes came after the Turkish troops urged al-Hamza members to leave Afrin and deployed in the town's outskirts that was opposed by the Brigade, Hawar news said.
Full report at:
http://en.farsnews.com/newstext.aspx?nn=13970419000766
--------
Militants in More Dara'a Regions End Battle with Syrian Army
Jul 10, 2018
A group of militants in al-Matiyeh township in Southern Dara'a endorsed peace with army.
In the meantime, other terrorists in Tafas township in Western Dara'a handed over their military and armored vehicles to the army in line with the implementation of the peace agreement in the region.
Meanwhile, army helicopters dropped thousands of surrender-now leaflets over the villages of al-Harra, Kafr Shams, Zamrin and Salmin in Death Trianble in Northern Dara'a, calling on the militants to surrender to the government forces.
The Russian Defense Ministry announced in its latest report on Monday that militants in more regions in Dara'a and Sweida provinces handed over their weapons to relevant officials and ended fight with the Syrian army.
The Center reported that 15 towns in Dara'a and a town in Sweida province have joined the peace plan.
It added that totally 75 regions in Dara'a province joined the peace plan, increasing the number of such regions in Southwestern Syria to 90.
Full report at:
http://en.farsnews.com/newstext.aspx?nn=13970419000684
--------
Assad's forces bomb villages in northwest
July 11, 2018
BEIRUT: Syrian regime forces have bombed villages and towns in the northwest after a surprise attack by insurgents, say activists
The Syrian Observatory for Human Rights said Tuesday's bombardment targeted half-a-dozen opposition-held villages in the northwestern Idlib province, killing at least five civilians. The activist-operated Idlib Media Center put the death toll at four.
The regime assault came hours after opposition groups in Idlib seized the village of Ateera near the border with Turkey in a surprise attack. It was a rare advance for the armed opposition.
The regime is waging a wide-scale offensive in southern Syria, where it recently retook a major crossing on the border with Jordan.
The Observatory and other activist-operated platforms reported that over 24 soldiers were killed, including a number of officers.
Idlib province, the last major opposition stronghold, is included in a "de-escalation" agreement negotiated by Russia and Iran, which support the regime, and Turkey, which backs the opposition and has deployed a dozen observation points in the province.
Similar agreements elsewhere in the country have collapsed in the face of regime offensives, and the regime is expected to advance on Idlib province once it has secured other areas.
On Monday, regime forces extended their control all the way along Daraa province's border with Jordan up to a pocket of territory held by Daesh-affiliated militants, severing a once vital opposition lifeline to Jordan.
Army helicopters reportedly dropped leaflets on the opposition-held town of Al-Haara saying "there is no place for militants."
Daraa was the scene of the first anti-Assad protests that spiraled into a war now estimated to have killed half a million people. The conflict has driven over 11 million people from their homes, with some 5.6 million Syrian refugees in neighboring states alone and many more in Europe.
Regime forces began thrusting into Daraa province last month. Heavily outgunned rebels surrendered quickly in some places as the US, which once armed them, told opposition forces not to expect its intervention.
The regime offensive is expected to turn next to nearby rebel-held areas of Quneitra province, at the border with the Israeli-occupied Golan Heights.
The UN said on Monday it would immediately start providing humanitarian assistance to thousands of civilian families affected by the fighting in the Daraa, Sweida and Quneitra areas of southern Syria.
Full report at:
http://www.arabnews.com/node/1336801/middle-east
--------
India
Indian intelligence infiltrated Islamic State ring to track, arrest Afghan suicide bomber sent to hit Delhi
by Ritu Sarin
July 11, 2018
In an audacious counter-intelligence operation, unprecedented in its scale and scope, Indian security agencies infiltrated an Islamic State ring to thwart a bid by an IS Afghan suicide bomber to strike New Delhi.
The operation included the Indian "plant" supplying the IS operative with explosives — without triggers — and even arranging for his accommodation in the capital.
The arrest by Indian agencies happened in New Delhi around September 2017 but it's only now that top diplomatic and intelligence sources have confirmed details to The Indian Express.
The IS operative, who lived in New Delhi in the guise of an engineering student, was flown to Afghanistan days after he was arrested and is, at present, understood to be in custody at a key US military base in Afghanistan.
In fact, so "high value" is this Afghan bomber that his confessions and interrogations are seen as one of the possible reasons behind the string of successes achieved recently by US forces against the Taliban in Afghanistan, sources said.
Sources have told The Indian Express that an 18-month-long surveillance operation in Afghanistan, Dubai and New Delhi yielded intelligence that a group of 12 IS operatives were being sent after training in Pakistan to carry out bomb attacks in the region. One of them, an Afghan national in his mid-twenties and the "son of a wealthy businessman," was given New Delhi as his target for a suicide attack.
Sources said that as part of his undercover "mission," he got himself admitted to a private engineering college on the outskirts of the capital, along the Delhi-Faridabad highway. Initially, he lived in the college hostel but, sources said, he subsequently rented a ground-floor apartment in Lajpat Nagar,
As many as 80 Indian investigators and security personnel had to be deployed for "physical surveillance" during the peak one-month period of the operation to ensure that the target was never out of sight and did not slip away, sources said.
There is an indication, from his questioning, that the suicide bomb attack in the Manchester arena in UK on May 22, 2017, killing 23 people, could have been triggered by a member of the same IS group which included the Afghan picked up from New Delhi.
Sources said that the type of explosives he demanded in New Delhi were similar to the ones used in the Manchester blast.
There is information that the IS operation began with sleuths of the Research & Analysis Wing (R&AW) tracking a suspicious transfer of $50,000 by individuals under their watch from Dubai to a location in Afghanistan and then linking the dots with intelligence shared by US about New Delhi being a possible target in the near future for an IS strike.
It was at this stage that a decision was taken to infiltrate the IS circuit. With a flow of telephone intercepts giving away details of the arrival of the bomber in New Delhi, a suitable candidate was picked for befriending the Afghan.
Sources said that the Indian operative was the one who located the Lajpat Nagar safehouse for the Afghan, though initially a third-floor place was arranged, this was later changed to a ground-floor apartment.
This Indian agent was finally tasked by the IS to arrange for explosives for the New Delhi strike at which stage, a multi-agency surveillance ring was thrown around the Lajpat Nagar house, sources said.
It is now known that the IS saboteur visited the Delhi Airport, Ansal Plaza mall, a Vasant Kunj mall as well as the South Extension market, may be among other places in New Delhi, as reconnaissance for the strike.
Constant feedback was being given by him to his handlers in Afghanistan.
Another twist to the dramatic early-morning swoop was the fact that the consignment of explosives and improvised devices was delivered to the Afghan by the Indian without any triggers as the ultimate subterfuge.
Those in the know of the ensuing interrogation of the IS bomber picked up from New Delhi say that besides Indian counter-intelligence experts, US agents also joined the interrogation. Sources said his confessions have helped US forces strike at many Taliban targets in Afghanistan and Pakistan.
https://indianexpress.com/article/india/indian-intelligence-infiltrated-is-ring-to-track-arrest-afghan-suicide-bomber-sent-to-hit-delhi-5254357/
--------
Disturbing to see Muslims being targeted in the country: Mulk actor Taapsee Pannu
by Priyanka Sharma
July 10, 2018
Weighing in on the increased prejudice against Muslims in the country, Taapsee Pannu says it is very disturbing that a particular religion is being targeted.
Taapsee made the comment at the trailer launch of her upcoming film Mulk, which is the story of a Muslim family caught in a terror plot.
When asked about the community being targeted, Taapsee told reporters, "It's very disturbing. I'll give you an example from my own life. My manager is a Muslim, my driver, my house help are Muslims.
"If I were to feel disturbed in their presence then I would be disturbed whole day and night because my life is run by them. It's very disturbing to realise that a particular religion is being targeted. These people are inseparable to me. So this was a big reason for me to do the film. I thought if someone has to stand up then I would like to take that responsibility. This fear and this disturbance in my mind, I vented it all out through this film," she said.
Mulk director Anubhav Sinha, who was present at the trailer launch, added, "When we started the film it looked against the tide but the kind of comments we are receiving I am happy that I made it. It's not about Hindu-Muslims, we have had these clashes before. It's such a diverse country, everybody has fought everybody. Hindus have fought Muslims, Sikhs have fought Hindus, Shias have fought Sunnis, Brahmins have fought Thakurs. So it goes on in our country."
Full report at:
https://indianexpress.com/article/entertainment/bollywood/mulk-actor-taapsee-pannu-5253927/
--------
CPI (M) To Take On Islamic Radical Organisations in Kerala
July 10, 2018
Communist Party of India (Marxist) and its government in Kerala led by Pinarayi Vijayan have stepped up its political offensive against Islamic radical organisations operating in the state.
The CPI (M) state leadership has decided to identify leaders in the Social Democratic Party of India (SDPI) and its affiliates who sponsor Islamic radical groups including and seek their support.
Meanwhile, Kerala Police was directed to take firm action against SDPI and Popular Front of India (PFI) activists who allegedly plotted the killing of tribal student and Student Federation of India leader Abimanyu.
Abimanyu, 19, was brutally killed inside Maharaja's College campus in Ernakulam on July 2.
The CPI (M) launched a political campaign in 200 centres across the state against the SDPI and its terror tactics. The campaign is followed by house visits alerting families to keep vigil against PFI and its terror designs.
The PFI and its wings such as National Women's Front and Campus Front of India are notorious for using terror to spread their social messages.
"The SDPI is affiliated to the PFI and is a terror outfit engaged in divisive tactics and is a threat to Kerala's secular society. We will fight them politically," CPI (M) state secretary Kodiyeri Balakrishnan told India Today.
Earlier Elamaram Kareem, Rajya Sabha member and central committee member of the CPI (M), had listed out the brutal killings engineered by PFI and its affiliated organizations.
In his article titled "PFI -- an enemy of Muslims", Kareem alleged that PFI had killed 39 persons between 1995 and 2018, including nine RSS workers in Marad, Kozhikode.
The CPI (M) offensive against PFI and its affiliated organisations have shaken the radical groups in Kerala which thrived on government's patronage in the past.
Kerala's ruling governments had taken a lenient view of PFI due to vote bank politics.
"The CPI (M) offensive against PFI is a bit late in the day. It is hypocritical as the CPI (M) colluded with the PFI in Malappuram district to defeat Indian Union Muslim League," MK Muneer of IUML told India Today.
However, a senior CPI (M) leader told India Today that the party has always taken a firm stand against PFI and its affiliates from the very beginning. "They [PFI] has infiltrated all parties with a mission and executed their agendas. Now we are scrutinising their presence in our party at various levels and have warned all party members that their association with radical sponsors will be monitored and treated as an anti-party activity," the CPI (M) leader said.
PFI has been operating in the state by sponsoring criminal mafia and had infiltrated into various political parties including CPI (M), Congress and IUML for political cover.
The brutal killing of Abimanyu inside a college campus exposed their operation channel.
Kerala Police has detained around 500 people involved in various criminal activities after the murder and raided around 400 premises. The raids and arrests revealed that the radical groups under the shelter of SDPI were involved in money laundering, hawala operations, real estate mafia and blackmail.
The CPI (M) offensive against PFI-affiliated organisations is going to put them in serious problem; PFI has offered to give up a few people involved in the Abimanyu murder and is negotiating for truce.
Full report at:
https://www.indiatoday.in/india/story/cpim-to-fight-out-islamic-radical-organisations-in-kerala-1281865-2018-07-10
--------
Media reports on setting up of shariah courts fake, says Muslim board
Jul 10, 2018
The All India Muslim Perosnal Law Board (AIMPLB) on Tuesday hit out at a section of the media for spreading fake news regarding its plan to set up 'shariah courts' in each district of the country.
"@AIMPLB_Official never demanded a parallel court system. It has been and will be running Darul Qazas under the arbitration act. Our Darul Qazas are only arbitration centers that are helping the society. Please ignore fake news," it tweeted.
AIMPLB secretary Zafaryab Jilani said there was no proposal for setting up new 'darul qazas' on the agenda of the board's meeting in New Delhi on July 15. "We had set up our first centre in 1993 and more centres have come up since. Their progress report is presented to the board from time to time," he said.
"We do not call them 'shariah courts' as is being made out by a section of the media. A similar attempt to stoke a controversy and challenge the legality of these centres was made earlier too, and a petition was filed in the Supreme Court, which upheld their validity in 2014."
Maulana Khalid Rasheed Farangi Mahli, a member of the board's executive council, said it was precisely to counter these propaganda and misinformation that the body had decided to constitute a special panel of its own to present the "true picture".
A case in point was also the heat generated on the instant triple divorce bill, Mahli said.
"The board is very happy with the way its women members led a countrywide protest and played an active role in the passing of triple talaq bill."
He said the campaign not only created awareness but also helped in removing misconceptions among both Muslims and non-Muslims that instant triple divorce was one of the most deplorable practices and should be shunned by the community.
Full report at:
https://www.hindustantimes.com/india-news/media-reports-on-setting-up-of-shariah-courts-fake-says-muslim-board/story-WaBFJQRSp8EW8Rv1ZX5PPP.html
--------
Pakistani Islamist lobbied with author of UN report on Kashmir
Jul 10, 2018
MISSISSAUGA: In a sensational revelation, a Pakistani Islamist, based in Canada has admitted that the United Nations High Commissioner for Human Rights, Zeid Ra'ad al-Hussein, was in constant touch with him while preparing the Human Rights report on Kashmir+ and which has been rejected by India.
Based in Toronto, Zafar Bangash is an Islamic movement journalist and an Imam at the Islamic Society of York Region's Mosque.
While speaking at a conference on Kashmir in Mississauga, Bangesh revealed, "I can say it to you, and I say it with all humility, but with great pride that we 'The Friends of Kashmir' also have a role in the production of this report. In fact, I had personal correspondence with the High Commissioner for Human Rights, e-mail correspondence in which he responded to my personal letter and e-mail saying that he would like to have access to both sides of Line of Control". Confessing about lobbying and consultation with officials in Islamabad, Bangesh added, "I responded to him (Zeid Ra'ad alHussein) after speaking to the Foreign Office spokesperson in Pakistan, Mr. Nafees Zakaria, who used to be the Consul General in Toronto and he assured that Pakistan would welcome the UN High Commissioner and their representatives to Pakistan and they will facilitate their visit."
The event was also attended by President of Pakistan occupied Kashmir (PoK) Sardar Masood Khan.
While threatening India to not engage in nuclear war with Pakistan, Masood said, "We must take steps towards averting a war between India and Pakistan on the issue of Jammu and Kashmir which has been called a long-festering problem. We should avoid the war, because if there is a nuclear war in South Asia, if would be end of civilization".
On June 14, the UN released its first ever human rights report on Kashmir accusing security forces of gross human rights violations on both sides of the border.
The report demanded Pakistan stop using its anti-terror legislation to crack down on activists. On the other hand, it accused India of using excessive force on civilians.
Full report at:
https://timesofindia.indiatimes.com/india/pakistani-islamist-lobbied-with-author-of-un-report-on-kashmir/articleshow/64931294.cms
--------
Muslims demand review of SC order restricting Namaz at Taj Mahal
Siraj Qureshi
July 10, 2018
He said that the Constitution allows every Indian the freedom of practicing their religion. Supreme Court should also take that into consideration before passing orders on such matters.
Aghai said that the mosque in the Taj Mahal was constructed for Muslims to offer Namaz, but the Supreme Court plans to usurp that right of the Muslims.
Collectorate Bar Council former secretary Amir Ahmed advocate said that the order has been issued in the interest of the security of the Taj Mahal and should be honoured. He said that there were plenty of mosques around the Taj Mahal where Namaz could be offered and there was no rule that the Namaz has to be offered in the Taj Mahal only.
Haji Jameeluddin, former principal of the Shobia Inter College said that the Supreme Court's order violates the Constitutional freedom given to every Indian Muslim and the Muslim community will vehemently oppose this decision. He appealed to the local Muslims of Agra to go and offer Namaz in huge numbers at the Taj Mahal so that the Archaeological Survey of India does not get a chance to take away the mosque from the Muslims.
Full report at:
https://www.indiatoday.in/india/story/muslims-demand-review-of-the-sc-order-restricting-namaz-at-taj-mahal-1281772-2018-07-10
--------
'Section 377, Islam Form a Double Bind for Queer Muslims'
Jul 10, 2018
Rafiul Alom Rehman
As a teenager growing up in a lower middle-class Muslim home in Meghalaya, I remember, once, asking a friendly Maulana if my desire for people of the same-sex was a sin. Taking me to a corner, he advised me that I should fast, pray and atone for my unnatural behaviour by taking cold showers each time a thought crossed my mind. With no knowledge of sexual rights or alternative Islamic interpretations around homosexuality, it was extremely difficult for me to reconcile my faith and sexuality as I grew up.
Section 377 carried a peculiar charge — it was far removed from my lawful life, but it was part of it in other ways. I feared the stigma of being discovered and ridiculed. For a large part of my school and college life, I had to resort to silence: I was careful not to expose a side of me that was so integral to my existence. Moving to Delhi to study at university enabled me to explore my sexuality and access resources around LGBTQ rights. However, a deep sense of religious guilt continued to haunt me. There was a time when I distanced myself from Islam. However, it did not take me long to realise that my Muslim identity was something that I could not escape, as I would be invariably become the target of Islamophobic jokes and comments on terrorism or Muslim patriarchy.
The LGBTQ and Muslim communities continue to be stigmatised in different ways. For queer Muslims like me, it's a double bind. We are disproportionately affected by conventional expectations of religious and gender and sexuality norms, along with a host of other discriminations that Muslims in general face, like finding a house to rent, for example. We are also ostracised within our homes and communities, which pushes us towards self-denial, depression and suicide. Transgender and gender-diverse Muslims have a hard time even finding a safe space to offer prayers.
Full report at:
https://www.hindustantimes.com/india-news/section-377-islam-form-a-double-bind-for-queer-muslims/story-OUGqMTQcHWkAu70HlJYczJ.html
--------
J-K: NIA steps up quizzing of Hurriyat leaders, others in terror-funding case
by Deeptiman Tiwary
July 11, 2018
Days after the PDP-BJP government in Jammu and Kashmir fell, after the BJP withdrew support, the National Investigation Agency (NIA) has begun its crackdown on separatists and has called, among others, a Hurriyat faction member related to a PDP legislator for questioning in connection with a case of terror funding.
Sources said the agency last week called for questioning 10 people from the Valley, including Hurriyat leaders. They were questioned on suspicion that they played a role in funding anti-India agitations.
It is learnt that among those called is Mohammad Shafi Reshi, an advocate affiliated to Hurriyat's S A S Geelani faction and is uncle of Yasir Reshi, an MLC of the PDP.
Another person called is Hurriyat leader Ghulam Nabi Sumji, sources said. A former MLA of Muslim United Front, Sumji had resigned from the Assembly in 1989 to join the Hurriyat to represent Muslim Conference. Last month, the then Mehbooba Mufti government had approved Sumji's pension application in what was seen as an attempt to make peace with the Hurriyat.
Sources said that barring one, none of those summoned have turned up for questioning — they are understood to have sought more time. "Most of them have said they are not well. They will be called for questioning again," said an official privy to investigation details.
Last week, the NIA had questioned Ghulam Mohammad Bhat, an accountant working with Kashmiri businessman Zahoor Watali, who has been arrested by the NIA in the case and is presently in jail. Bhat had been questioned earlier as well in the case.
After registering a case in May last year against Hurriyat leaders for fomenting trouble in the Valley with funds from Pakistan-backed terror groups such as LeT and Hizb-ul-Mujahideen, the NIA had raided 12 locations across Kashmir. These included houses and offices of several Hurriyat leaders and people associated with them.
Houses of Bhat, Reshi and Sumji were among those searched. Sources said the other people called for questioning are also among those whose premises have been either searched or are connected to such people.
The development comes close on the heels of the NIA's arrest of Dukhtaran-e-Millat chief Asia Andrabi, along with two associates, on Friday in connection with a separate case.
Full report at:
https://indianexpress.com/article/india/j-k-nia-steps-up-quizzing-of-hurriyat-leaders-others-in-terror-funding-case-5254284/
--------
Africa
Nigeria frees 183 children, clears ties to Boko Haram
09 July 2018
The Nigerian army on Monday freed 183 children from custody after they were cleared of alleged links with Boko Haram, according to UNICEF.
The children, aged between 7-18 years, comprise eight girls and 175 boys.
"These (children) are first and foremost victims of the ongoing conflict and their release is an important step on their long road to recovery," a statement by the UNICEF quoted its Nigeria representative Mohamed Fall as saying.
"We will be working with the Borno State Ministry of Women Affairs and Social Development and partners to provide the children with all the assistance they need. I also want to commend the action taken by the military and the authorities, it demonstrates a clear commitment to better protect children affected by the conflict."
The statement said the children will receive medical attention and psychosocial support before the process of reuniting them with their families and reintegrating them into society begins.
Since 2017, UNICEF has supported the social and economic reintegration of more than 8,700 children released from armed groups, helping trace their families, returning them to their communities, and offering them psychosocial support, education, vocational training and informal apprenticeships, and opportunities to improve livelihoods, the statement added.
Thousands of suspects are reportedly being held across military facilities in Nigeria for alleged ties with the militants. Some of the detainees are being tried in batches.
http://www.worldbulletin.net/africa/203860/nigeria-frees-183-children-clears-ties-to-boko-haram
--------
Troops kill 15 Boko Haram terrorists in Borno
11 July 2018
Troops of 7 Brigade, Sector 3 of the Multinational Joint Task Force (MNJTF) have killed 15 Boko Haram terrorists during a clearance operation at Arege, Borno State.
The MNJTF comprises forces from Nigeria, Chad, Cameroun and Niger. The mission of the military formation is to rid Lake Chad Basin and Islands of the remnants of Boko Haram insurgents.
The Director, Army Public Relations, Brig-Gen. Texas Chukwu, in a statement yesterday in Maiduguri, said the exercise, which lasted for over three hours, forced some insurgents to flee with gunshot wounds.
According to him, efforts are being intensified to arrest the fleeing suspects, adding that his men recovered five AK-47 rifles, an anti-aircraft gun and a light machine gun during the military expedition.
"Unfortunately, one soldier was injured and is currently receiving attention at a military medical facility," he added.
The spokesman urged the public to always report any suspicious movement within their localities to law enforcement agencies for prompt action.
Meanwhile, Governor Simon Lalong has said the relevant laws to try the perpetrators of the recent attacks on the Plateau will soon be signed into law.
He made the disclosure yesterday while receiving former Head of State and National Chairman of Nigeria Prays, Gen. Yakubu Gowon (rtd), in Jos.
His words: "We have reviewed adequate laws to prosecute offenders in Jos.
"We will ensure the enthronement of sustainable peace on the Plateau."
He commended Gowon for standing by the state as a father, assuring him that efforts were being made to restore the state to its pride of glory.
The erstwhile Nigerian leader, who was on a condolence visit to the Government House, decried the practice where arrested suspects are taken to Abuja and released almost immediately.
He said: "People arrested should be investigated and prosecuted in Jos where the crime was committed."
Gowon condemned the flaying of President Muhammadu Buhari on the social media, noting: "The Buhari I know will not be involved, certainly no leader will encourage his people to be killed."
Full report at:
https://guardian.ng/news/troops-kill-15-boko-haram-terrorists-in-borno/
--------
Suspected Shabaab militants raid police post, officer missing
JULY 10 2018
Suspected Al-Shabaab militants attacked a police post in Garissa on Tuesday, county police boss David Kerina said.
The militants attacked Hamey Police Post which is located near the Kenya-Somalia border at 2am.
They raided the post from different corners and had a heavy exchange of fire with officers based at the station.
MISSING
Mr Kerina said an Administration Police officer remained unaccounted for on Tuesday afternoon following the attack.
He added that four officers sustained minor injuries and are out of danger.
"Four officers only got bruises. They fought hard and repulse the enemies," he said.
The police boss said search is underway for the missing officer.
According to a police source, the officers at the station had prior intelligence of an impending attack and were ready to fight back.
The Somali-based militants have in the recent past staged attacks targeting security officials in areas around the Kenya-Somalia border.
On Thursday last week, five police officers were injured when suspected Al-Shabab militants planted Improvise Explosive Devices on the road.
Full report at:
https://www.nation.co.ke/counties/garissa/Shabaab-militants-raid-police-post-/3444784-4655818-94uqfc/index.html
--------
Somalia: Army Command Announces Fresh Offensive Against Al-Shabab
10 JULY 2018
The commander-in-chief of Somali national army [SNA] General Abdiweli Hussein Jama Gorod has announced a new anti-al Shabaab push. During a meeting with military officers, Gorod said they have readied an offensive aimed at flushing out Al-Shabaab from the remaining areas still under its control.
Abdullahi Ali Anod, the Somali National Army Commander has urged the young military officers to serve the nation honestly and take part the war on Al-Shabaab. General Gorod called on the SNA leading officials to prepare for a final push against Al Shabaab which is expected to be unleashed in the coming weeks.
Full report at:
https://allafrica.com/stories/201807100430.html
--------
Mideast
Israeli president slams bill that could lead to Jewish-only communities
10 July 2018
Israeli President Reuven Rivlin criticized a proposed law Tuesday that would open the door to the establishment of Jewish-only communities in the country.
Rivlin's comments marked a rare intervention in politics by the country's president, whose role is mainly symbolic.
He voiced his concerns in an open letter, pointing to a clause in the proposed legislation that defined Israel as the "national home of the Jewish people."
The so-called nation-state law, which the government hopes to have approved by the end of the month, could become part of the country's basic laws which serve as a de facto constitution.
The clause Rivlin criticized would allow the state to "authorize a community composed of people having the same faith and nationality to maintain the exclusive character of that community."
That was seen as allowing towns to exclude Arab citizens, who account for some 17.5 percent of Israel's population, or even other Jewish communities.
Rivlin said that the legislation "could harm the Jewish people worldwide and in Israel, and could even be used as a weapon by our enemies."
"Do we want to support the discrimination and exclusion of men and women based on their ethnic origin?" he wrote.
He said that the bill could allow the establishment of towns that would, for example, exclude Jews of Middle Eastern origin, ultra-Orthodox Jews or homosexuals.
Attorney General Avichai Mandelblit has also said that he is opposed to the law in its current form.
Avi Dichter, a lawmaker from Prime Minister Benjamin Netanyahu's Likud party and the bill's sponsor, said the clause was aimed at "allowing a Zionist population to live without having a population at its side that is not ready to defend the country's borders."
Israeli Arabs largely support the Palestinian cause, and right-wing Jews often accuse them of disloyalty. Netanyahu supports the bill but has not commented on the clause in question.
The government is hoping to win approval for the bill during the current parliamentary session, which finishes at the end of July. Negotiations on potential amendments are ongoing.
A separate part of the legislation that would designate Hebrew as Israel's only official language, granting only "special status" to Arabic, has also raised concerns.
Dichter says the law aims to defend Israel's "status as a Jewish and democratic state."
https://english.alarabiya.net/en/News/middle-east/2018/07/10/Israeli-president-slams-bill-that-could-lead-to-Jewish-only-communities.html
--------
Hamas rejects so-called Trump's deal of the century
Jul 11, 2018
Palestinian Resistance movement Hamas has announced that it will not support Washington's so-called deal of the century and will continue to resist Israel's occupation.
Hamas released a statement on Tuesday in which it said that US President Donald Trump's plan "constitutes a violation of the Palestinian people's legitimate rights."
"All indications show that the deal violates our legitimate rights, mainly the right of return, liberating our land and establishing our independent state with Jerusalem al-Quds as its capital," added the statement.
It also referred to the relocation of the US embassy from Tel Aviv to the al-Quds as a deadly plot, while calling on all Palestinian factions and parties to unite in the face of the Israel-US measures.
"Hamas believes the current circumstance is the best to achieve internal reconciliation and real Palestinian unity," noted the statement.
The so-called deal, a backchannel plan to allegedly reach a peace settlement between Israel and the Palestinians, was proposed by the US administration late last year. Although the plan has not been released, leaks signal it will consist of the same tried and failed ideas.
Palestinians believe that the deal suggests building their own Jerusalem al-Quds from areas surrounding the existing city and forget about the historic place. They also believe that the US-drafted plan calls for keeping borders and security under Israeli control, while it keeps Israeli settlements' final borders to be discussed in later negotiations.
Full report at:
https://www.presstv.com/Detail/2018/07/11/567719/hamas-palestine-deal-of-the-century
--------
Turkish police launch raids to detain Islamic figure, followers
July 11, 2018
ISTANBUL: Turkish police launched an operation on Wednesday to detain 235 people associated with Muslim author and televangelist Adnan Oktar over accusations including forming a criminal gang, fraud and sexual abuse, Istanbul police headquarters said.
It said in a statement the raids were carried out by its financial crimes section in an operation state-run Anadolu news agency described as having been spread across five provinces and that searches of properties were continuing.
Police launched one raid in the early hours on Oktar's house at Cengelkoy on the Asian side of Istanbul and detained him and his guards, the Sabah newspaper said.
In February, Turkey's television watchdog suspended a television program hosted by Oktar that blended theological discussion and dancing, saying it violated gender equality and women's rights.
Oktar hosts talk show program on his television channel, A9, on which he has discussed Islamic values and sometimes danced with young women he calls "kittens" and sang with young men, his "lions".
Full report at:
http://www.arabnews.com/node/1336941/middle-east
--------
Yemeni forces fire missile at Jazan Economic City in Saudi Arabia
Jul 10, 2018
Yemeni army forces, supported by allied fighters from Popular Committees, have fired a domestically-designed and -developed ballistic missile at a strategic economic target in Saudi Arabia's southwestern border region of Jizan in retaliation to the Riyadh regime's devastating military aggression against their impoverished country.
A Yemeni military source, speaking on condition of anonymity, said the short-range Badr-1 missile struck Jazan Economic City, located 967 kilometers southwest of the capital Riyadh, with great precision on Tuesday afternoon, Arabic-language al-Masirah television network reported.
Earlier in the day, Yemeni army soldiers and Popular Committees fighters had fired a ballistic missile at the supply depots of Saudi-sponsored militiamen loyal to Yemen's former president Abd Rabbuh Mansur Hadi in the country's western coastal province of Hudaydah.
A military source, speaking on condition of anonymity, said the short-range missile struck the designated target with great precision.
The source, however, did not provide further information about possible casualties and the extent of damage caused.
Also on Tuesday, Saudi military aircraft bombarded a number of residential areas across Yemen, leaving several civilians dead and injured.
At least five civilians lost their lives and eight others sustained injuries when Saudi warplanes targeted two vehicles as they were traveling along a road in Zabid town of Hudaydah province.
Saudi fighter jets also pounded an area in the Kitaf wa al-Boqe'e district of Yemen's mountainous northwestern province of Sa'ada, leaving three people dead.
Two civilians were also killed and a woman and a child suffered injuries when Saudi aircraft hit a house in an area of Baqim district in the same Yemeni province.
The Yemeni Ministry of Human Rights announced in a statement on March 25 that the Saudi-led war had left 600,000 civilians dead and injured since March 2015.
The United Nations says a record 22.2 million Yemenis are in need of food aid, including 8.4 million threatened by severe hunger.
A high-ranking UN aid official recently warned against the "catastrophic" living conditions in Yemen, stating that there was a growing risk of famine and cholera there.
Full report at:
https://www.presstv.com/Detail/2018/07/10/567668/Yemeni-forces-fire-ballistic-missile-at-Saudi-mercenaries-supply-depots-Report
--------
Israel seizes boat from Gaza seeking to break blockade
10 July 2018
Israel's navy seized a boat on Tuesday that had left from a Gaza port with wounded Palestinians aboard in a bid to challenge the blockade of the Hamas-run enclave.
Hundreds of people had gathered to see off the boat carrying nine passengers, including four people said to have been wounded by Israeli soldiers along with students.
The passengers "with specific needs are prevented from travelling, receiving care and finishing their studies," said organiser Raed Abu Dair.
"We are determined to break the blockade."
Mahmud Abu Ataya, 25, who recently suffered a leg wound east of Gaza City, said: "I am leaving to be cared for abroad."
But the boat was seized by Israel's navy a short time after setting off.
"After the boat and the Palestinians on board are searched, the boat will be towed to the Israeli navy base in Ashdod," Israel's military said in a statement.
"The (military) assigned medical personnel to treat Palestinians on board requiring medical assistance."
A similar attempt was made in May and also resulted in Israeli forces seizing the main protest boat several kilometers (miles) out to sea.
Israel's blockade restricts Gazan boats to up to six nautical miles off the enclave.
Israel and Islamist movement Hamas, which runs the Gaza Strip, have fought three wars since 2008.
UN officials and rights activists have repeatedly called for Israel to lift the blockade, citing deteriorating humanitarian conditions.
Israel says it is necessary to stop Hamas and other militant groups in Gaza from obtaining weapons or materials that could be used to make them.
On Monday, Israel also closed its only goods crossing with the Gaza Strip in response to weeks of fires at farms caused by kites and balloons carrying firebombs from the Palestinian enclave.
A spokesman for Israel's fire service says 750 fires have burned 2,600 hectares, putting the damage at millions of shekels (hundreds of thousands of dollars/euros).
Gazans began launching the kites as part of protests along the border calling for Palestinian refugees to return to their former homes now inside Israel.
Since protests and clashes broke out along the Gaza border on March 30, at least 139 Palestinians have been killed by Israeli fire and more than 4,000 have been wounded by gunfire.
Full report at:
https://english.alarabiya.net/en/News/middle-east/2018/07/10/Israel-seizes-boat-from-Gaza-seeking-to-break-blockade.html
--------
Yemeni army cuts Houthi supply routes within Hodeidah
11 July 2018
The Yemeni army cut the Houthi militia supply routes between At Tuhayta, Zabid and Bayt al-Faqih districts in Hodeidah, a military source said.
The source also said that violent battles are ongoing in east of At Tuhayta towards Zabid, adding that the army forces seized control of the At Tuhayta-Zabid triangle.
The Houthis' random and heavy shelling of At Tuhayta killed 12 civilians and injured others.
President Abd-Rabbu Mansour Hadi, who established a committee headed by Prime Minister Ahmed bin Daghr to crystallize ideas before direct negotiations with the Houthis and to study the proposals submitted by UN Special Envoy for Yemen Martin Griffiths, said on Tuesday while meeting with the latter in Aden that the Houthis do not understand the concept of peace.
Hadi added that the Houthis only look like they're seeking peace when they feel they're retreating in order to gain more time.
Full report at:
https://english.alarabiya.net/en/News/gulf/2018/07/11/Yemeni-army-cuts-Houthi-supply-routes-in-Hodeidah.html
--------
Saudi air defence forces intercept Houthi missile launched at Jizan
10 July 2018
Saudi Arabia's air defense forces intercepted a missile launched towards the kingdom's southwestern Jizan region by Yemen's armed Houthi militias.
The Houthi-run al-Masirah TV said earlier that a Badr 1 missile had targeted Jizan Economic City, where Saudi Aramco is building a refinery that is expected to become fully operational in 2019.
There were no immediate reports of damage or casualties.
The Iran-aligned Houthis, who control Yemen's capital Sanaa, have fired dozens of missiles into the kingdom in recent months. Most of the missiles have been intercepted by the Saudi military.
A military coalition led by Saudi Arabia and the United Arab Emirates intervened in Yemen's war in 2015 to unseat the Houthis and restore the internationally-recognized legitimate government.
Full report at:
https://english.alarabiya.net/en/News/gulf/2018/07/10/Saudi-Arabia-says-it-intercepts-Houthi-missile-launched-at-Jizan.html
--------
Lebanese court sentences seven to hard labour over spying for Israel
Jul 10, 2018
Lebanon's Military Tribunal has sentenced seven Lebanese nationals in absentia to hard labor on charges of espionage for Israel's Mossad spy agency and collaboration with Israeli authorities.
The tribunal, chaired by Brigadier General Hussein Abdallah, issued the verdicts against Fadi Hashem, Charbel Hashem, Maroun Hashem and Lina Aanid on Tuesday after they were found guilty of crossing into occupied Palestinian territories, working with Israeli officials and receiving permits to live there.
The court also stripped them of their rights as Lebanese citizens.
Three other defendants, identified as Salam Fakhoury, Assad Saqr and Antoinette al-Nadaf, were each sentenced in absentia to 15 years of hard labor for collaborating with Israel.
The military tribunal also revoked the nationality of the trio.
Back in January last year, Lebanese security forces arrested five people over working for Mossad.
The media office of Lebanon's General Security Directorate announced in a statement that the quintet had confessed to passing information to Mossad via Israeli embassies in Turkey, Jordan, Britain and Nepal.
The statement stressed that the individuals were arrested following intensive monitoring of Israeli intelligence operations in the country as part of Lebanon's activities aimed at dismantling similar networks.
It added that the two spies from Nepal were also engaged in recruiting other Nepalese workers in Lebanon.
Full report at:
https://www.presstv.com/Detail/2018/07/10/567702/Lebanese-court-sentences-seven-to-hard-labor-over-spying-for-Israel
--------
Turkey resolved to make progress in EU membership process: Cavusoglu
Jul 10, 2018
Turkish Foreign Minister Mevlut Cavusoglu has underlined the country's determination to make progress in its EU membership process.
Speaking to members of his ministry on Tuesday, Cavusoglu also said the foreign ministry will be merged with Turkey's EU Affairs Ministry to follow up the work "under one roof."
The Turkish foreign minister made the statements a day after President Tayyip Erdogan was sworn in as president with new executive powers, keeping Cavusoglu in his position in the cabinet.
In late June, the EU said talks with Turkey to potentially accept Ankara's accession to the bloc have reached a deadlock over alleged Turkish rights violations and judicial failures, including mass arrests and dismissals and targeting journalists, academics, politicians, rights defenders and social media users.
The EU, however, noted that Ankara remained a "key partner" for the Western bloc on matters such as aiding to block the persisting stream of refugees and asylum seekers into Europe.
EU's ties with Ankara have steadily deteriorated particularly since an attempted coup in 2016, after which Ankara started a wide-scale crackdown on suspected putschists.
More than 150,000 people have been detained or dismissed over their alleged backing for the putsch. Much to the anger of Ankara, Western countries see the crackdown as an attempt to crush all dissent.
The accession talks were part of a deal struck between Turkey and the EU in March 2016 to limit the flow of refugees to Europe. Under the agreement, Turkey vowed to take back rejected asylum seekers and patrol borders. In return, the EU pledged financial aid, visa-free travel for Turkish nationals and progress in Turkey's long-stalled EU membership talks.
Turkey has accused the EU of showing "double standards" and criticized the bloc for its failure to help Turkey enough with the 3.5 million Syrian refugees the country is hosting.
Full report at:
https://www.presstv.com/Detail/2018/07/10/567695/turkey-eu-Cavusoglu
--------
South Asia
'Russia, Iran, China, Pakistan intelligence chiefs discuss Daesh threat in Afghanistan'
Jul 11, 2018
Moscow says the heads of intelligence services of Russia, Iran, China and Pakistan have sat down in Islamabad for talks on the threat of increasing Daesh activities in Afghanistan after the Takfiri terrorist group lost its strongholds in Iraq and Syria.
Sergei Ivanov, the chief of the press bureau of the Russian Foreign Intelligence Service, told the TASS news agency on Tuesday that the officials had stressed "coordinated" measures against the Daesh's relocation to Afghanistan.
The quadripartite discussions in Islamabad "focused on the dangers arising from a buildup of Daesh on the Afghan territory," he said.
"The conference reached understanding of the importance of coordinated steps to prevent the trickling of IS (Daesh) terrorists from Syria and Iraq to Afghanistan where from they would pose risks for neighboring countries," he added.
Ivanov also noted that the intelligence chiefs, among them Director of the Russian Foreign Intelligence Service Sergei Naryshkin, had underlined the need for more active regional cooperation to settle the conflict in Afghanistan.
The US and its allies invaded Afghanistan under the guise of the war on terror. Some 17 years on, the Taliban militant group has only boosted its campaign of violence across the country, targeting both civilians and security forces in bloody assaults.
More recently, Daesh has also taken advantage of the chaos and established a foothold in eastern and northern Afghanistan.
The Takfiri group has stepped up its terror attacks in the war-torn state despite the presence of thousands of foreign troops on Afghan soil.
Latest reports say the US military is allowing Daesh elements to infiltrate into Afghanistan after their defeats in Syria and Iraq.
In February, Leader of the Islamic Revolution Ayatollah Seyyed Ali Khamenei said that by transferring Daesh to Afghanistan, Washington seeks "to justify the continuation of its presence in the region and to create security for the Zionist regime."
Daesh started a campaign of terror in Iraq and Syria in 2014, occupying territory in the two Arab countries and establishing a self-proclaimed "caliphate" there.
Soon, the Iraqi and Syrian armies galvanized to retake Daesh-held territory and the terror outfit was gradually stripped of all the land it had occupied in the two Middle Eastern states.
https://www.presstv.com/Detail/2018/07/11/567748/Russia-Iran-Daesh-Islmabad
--------
At least 15 killed in 2 attacks in Afghanistan as Islamic scholars debate Taliban war
By Sayed Salahuddin
July 10
KABUL — At least 15 people were killed on Tuesday in two separate attacks by militants in Afghanistan as Islamic scholars gathered in Saudi Arabia to discuss the legitimacy of the Taliban's war against the U.S.-backed government of President Ashraf Ghani. One of the attacks, by a suicide bomber, happened near a government security checkpoint on the outskirts of the eastern city of Jalalabad, where 12 people, including security forces and civilians, were killed, provincial officials said.
The second strike targeted government civil servants in Ghazni province, southwest of Kabul, a bastion for the Taliban insurgents. Several people, including a district chief, lost their lives in that incident, officials said.
The Taliban said it was behind the raid in Ghazni.
On its website, the Islamic State said its local affiliates carried out the Jalalabad attack, the latest of several strikes by the network in Kabul and Jalalabad in recent months.
It also asserted responsibility for a wave of deadly strikes in the city, including last week, when 19 people, many of them from the minority Sikh and Hindu groups, were killed in a convoy heading for a meeting with Ghani in a secure part of the city.
Officials said the Taliban unleashed a number of attacks elsewhere in the country in the past 24 hours ahead of a two-day meeting of international Islamic scholars that began Tuesday in Saudi Arabia.
The Afghan government expects the gathering to term the Taliban insurgency and use of suicide attacks in Afghanistan as unlawful, as similar meetings have done recently in Kabul and Jakarta.
The gathering comes amid shows of repeated optimism by Afghan government officials in recent days about holding direct talks with Taliban leadership after last month's brief and unexpected truce during the Eid holiday ending the fasting month of Ramadan.
The Taliban refused to reciprocate an extension to Ghani's unilateral cease-fire and has conducted bloody attacks against government forces, drawing harsh criticism against Ghani for his move from his political rivals.
The militants have repeatedly since said the group will not engage in talks with the "powerless" Kabul government until foreign troops leave the country.
Speaking during a conference with visiting U.S. Secretary of State Mike Pompeo, Ghani on Monday said the brief truce had opened an opportunity for peace in Afghanistan and that its 40 years of war cannot come to an end in one night or day.
Commenting on the Saudi gathering, the Taliban urged the kingdom and the clerics to back the group in its war against U.S.-led troops in the country, pledging to continue its insurgency until all foreign troops leave.
"The Afghan Mujahid nation does not expect authorities of Saudi Arabia and scholars to side with American invaders in this fight between Islam and disbelievers," the Taliban said in a statement.
Full report at:
https://www.washingtonpost.com/world/asia_pacific/fresh-violence-kills-over-15-in-afghanistan-as-islamic-scholars-debate-taliban-war/2018/07/10/192ef1de-8429-11e8-8f6c-46cb43e3f306_story.html
--------
NATO leaders to discuss extension of Afghan forces funding beyond 2020
Jul 11 2018
The NATO leaders meeting will kick off in Brussels today to hold talks regarding the deterrence and defence, stepping up the fight against terrorism, and and achieving fairer burden-sharing.
The NATO leaders will also hold talks regarding the extension of the Afghan forces funding beyond 2020.
NATO Secretary General Jens Stoltenberg told reporters on Tuesday "We will close the Summit with a meeting on Afghanistan, joined by our Resolute Support partners."
He said "Our presence in Afghanistan is vital to ensuring the country never again becomes a safe haven for international terrorism."
According to Stoltenberg "And Allies are increasing their commitment, both in forces and funding."
"We have added around 3,000 more trainers to our mission," he said, adding that "At the Summit, I expect we will also agree to extend funding for the Afghan forces beyond 2020."
Full report at:
https://www.khaama.com/nato-leaders-to-discuss-extension-of-afghan-forces-funding-beyond-2020-05557/
--------
US deputy assistant secretary of state met with Gulbuddin Hekmatyar
Jul 10 2018
The US deputy secretary of state Alice Wells met with the leader of Hezb-e-Islami Gulbuddin Hekmatyar to hold talks regarding the ongoing efforts on Afghan-led peace process.
Sources close to Hezb-e-Islami have said Mr. Hekmatyar met with the deputy US secretary of state Alice Wells in his office on Tuesday.
According to the sources, the two sides held talks regarding the ongoing efforts to end the war, peace process, upcoming elections, role of the political parties, and efforts to revive peace talks.
The sources further added that Hezb-e-Islami's political affairs chief Bakhtar Aminzai, political delegation chief Dr. Ghairat Baheer, Dr. Farooq Wardak, Eng. Mohammad Amin Karim, and Eng. Habibur Rehman Hekmatyar.
According to reports, this is the first time a top US official is meeting with the leader of Hezb-e-Islami Gulbuddin Hekmatyar after almost two decades.
Full report at:
https://www.khaama.com/us-deputy-assistant-secretary-of-state-met-with-gulbuddin-hekmatyar-05554/
--------
Key Taliban commander blown up by own explosives in Kunduz province
Jul 10 2018
A key local commander of the Taliban group has been killed in an explosion triggered by own explosives in northern Kunduz province of Afghanistan.
The 209th Shaheen Corps of the Afghan Military in the North said the incident has taken place in Zarkharid area in the capital of Kunduz province.
The source further added that the Taliban commander killed in the explosion has been identified as Hanzala.
The anti-government armed militant groups including Taliban militants have not commented regarding the incident so far.
The anti-government armed militant groups frequently use explosives materials for the roadside bombings and car bombings to target the government staff and security personnel.
However, in majority of such incidents the ordinary civilians are targeted besides such bombings incur casualties to the security personnel and in some cases the Taliban militants themselves are killed or wounded.
A total of 10,453 civilian casualties – 3,438 people killed and 7,015 injured – were documented in the 2017 Annual Report released last month by the UN Assistance Mission in Afghanistan (UNAMA) and the UN Human Rights Office.
Full report at:
https://www.khaama.com/key-taliban-commander-blown-up-by-own-explosives-in-kunduz-province-05553/
--------
North America
After discouraging year, US officials expect review of Afghan strategy
July 11, 2018
The United States is preparing to undertake a review of its strategy in Afghanistan, US officials told Reuters, a year after President Donald Trump begrudgingly agreed to extend America's involvement in the 17-year-old war after the announcement of his South Asia strategy.
Officials said Trump has shown signs of frustration over the lack of progress since he unveiled a strategy last August that committed to an open-ended deployment of US military advisers, trainers, and special forces and increased air support for Afghan security forces. The goal was to force the Taliban militants to open peace talks with the Kabul government.
Trump was opposed to remaining in America's longest war but was convinced by his advisers to give it more time. Last year, he authorized the deployment of an additional 3,000 US troops, bringing the total to around 15,000.
Nearly a year later, the current situation is in a stalemate in which Afghan civilians are paying a heavy toll, the Taliban are expanding in rural areas but are unable to capture major urban centres, and the capability of Afghan security forces remains in doubt.
Several current US officials and other former officials and advisers with direct knowledge said the White House had not yet formally ordered the review but they were preparing for a government-wide appraisal in the next few months.
The officials spoke on condition of anonymity because they were not authorized to publicly discuss the issue.
"We've received some indications from the White House that Trump could ask for a review in the next few months. So we're preparing for what it would look like," said a senior US official.
The review would examine all facets of the current strategy, including what progress had been made, the US troops presence, and the prospect of negotiations with the Taliban. It also would include US relations with Pakistan, which US officials accuse of supporting the insurgents, the senior official said.
Islamabad, however, denies the charge, with several Pakistani officials as well the Army irked at the Trump administration's request to "do more".
The White House did not immediately respond to a request for comment.
Longest war
The US-led forces invaded Afghanistan in 2001 to topple the Taliban government for harbouring al-Qaeda.
Since then, nearly 1,900 US troops have been killed in the war, even as corruption remains endemic in the country and security remains precarious. A recent US government watchdog report found that the Afghan government controlled or influenced only 56 percent of the country.
Trump has vented over the lack of progress in Afghanistan, other officials told Reuters, also on the condition of anonymity.
"The president has asked repeatedly what progress we've made in Afghanistan since he made his decision, and how much we've invested there since 2001," said one senior official with first-hand knowledge of the ongoing debate over Afghan policy.
"He's voiced his frustration about the lack of progress many, many times, basically asking 'What have we got for all that money?"
Michael Kugelman, a South Asia specialist at the Woodrow Wilson Center, said that if there had meaningful progress in Afghanistan, a review would be unlikely.
"The administration could essentially say (after the review) that the conditions have not improved on the ground, so what is the reason to stay," Kugelman said.
It is not unprecedented for the White House to request such an internal review. Officials said a similar review was carried out after President Barack Obama unveiled an Afghanistan strategy in 2009.
US Secretary of State Mike Pompeo, on a surprise visit to Afghanistan on Monday, promised support for President Ashraf Ghani's bid to start peace talks with the Taliban and repeated the United States would be willing to take part.
He said the strategy announced last year was working and would reassure Afghans 'that we will support them as they continue fighting to liberate their country and their people'.
https://nation.com.pk/11-Jul-2018/after-discouraging-year-us-officials-expect-review-of-afghan-strategy
--------
US ambassador urges Germany to block Iran cash withdrawal
10 July 2018
The US ambassador to Germany urged Berlin on Tuesday to stop Iran withdrawing large sums of cash from bank accounts in Germany to offset the effect of new US sanctions imposed after Washington withdrew from a 2015 nuclear deal.
Richard Grenell, a longtime critic of the accord, told the mass-circulation daily Bild that the US government was extremely concerned about Tehran's plans to transfer hundreds of millions of euros in cash to Iran.
"We encourage the highest levels of the German government to intervene and stop the plan," Grenell said.
Iran curbed its nuclear activity under the deal and won relief from international sanctions. The other signatories including US allies Germany, France and Britain have reaffirmed the deal, seeing it as crucial to preventing an Iranian nuclear weapon. Trump denounced it as badly flawed in Iran's favor.
Grenell's comment drew a rebuke from Johann Wadephul, deputy leader of Chancellor Angela Merkel's conservatives in parliament, who said the transaction should not be blocked on political grounds if it passed legal muster.
"The statement of the US ambassador is once again unsettling and difficult to reconcile with his diplomatic role," Wadephul told Reuters.
A German finance ministry spokeswoman said German authorities were examining the Iranian request according to clearly prescribed guidelines aimed at averting risks linked to money laundering or possible financing of extremist groups.
"Naturally it's clear that part of the German government review will also look at whether there could be a violation of a sanctions regime," a foreign ministry spokesman said.
Bild first reported on Monday that German authorities were considering a request by Iran to withdraw 300 million euros ($350 million) from bank accounts held in Germany and to transfer the cash to Tehran.
Grenell has sparked controversy by adopting a far more outspoken role than his predecessor since arriving in Berlin in May, including a posting on Twitter in which he said German firms should wind down their business in Iran after Trump's decision to pull the United States out of the nuclear accord.
Full report at:
https://english.alarabiya.net/en/News/world/2018/07/10/US-ambassador-urges-Germany-to-block-Iran-cash-withdrawal.html
--------
Former American rapper converts to Islam
July 10, 2018
Kristin, a former American rapper has converted to Islam saying that there are many beautiful things in this religion, the most significant of which being prayer.
In an interview with Rahyafteha website she highlighted, "ever since I reverted and started wearing hijab, I have been treated with much more respect by men than before I was a practicing Muslimah."
Here is the full text of her interview with Rahyafteha (affiliated to Edoardo Agnelli Islamic Association):
Thank you so much for your time and cooperation. Please introduce yourself.
My born name was Kristin but after reverting to Islam, I now go by the name of Abedah. I come from a Republican Christian family. I live in Texas, USA. My birthday is May 6, 1986. I took Shahada on April 5, 2012.
Before reverting to Islam, I was a famous rapper by the name of MC Router. I produced albums and toured all over the US and Europe. My last show as MC Router was in Amsterdam with the biggest audience in my career, topping out at over a thousand.
I was also featured in a documentary on Netflix (an American entertainment company) and appeared on many shows, magazines and newspapers all throughout the US and Europe.
I gave up my music career at the peak of my music career after reverting to Islam, because I knew I had a new path to follow. Allah (SWT) blessed me with an audience and a gift to be able to have a following and they listen to me, so I used my ability to perform in front of crowds and changed it into Dawah.
How did you get familiar with Islam?
I used to teach ESL (English as a Second Language) to foreign students in the university. A group of Muslims from KSA (Kingdom of Saudi Arabia) came into my life and introduced Islam to me and continued to teach me and challenge me every day to learn about Islam until I understood it and accepted it.
What drove you to convert to Islam?
I was raised Southern Baptist and my grandfathers were both Southern Baptist preachers who both had their own churches in which they lead. As a Christian, you are taught and almost even brainwashed to believe and accept that Jesus is the only way to salvation and when you pray, you pray to Jesus. However, I never felt this was right and I was always seeking a relationship with mighty God. Christianity isn't really set up for its followers to seek out understanding and closeness to Allah (SWT) rather than Jesus. The more I learned about Islam and that there is none worthy of worship but Him, it really was the turning point to lead to me to Shahada because this was more logical and Islam is more structured and focused on the worshipper and his true God.
What was your family's reaction after you became a Muslim? Did you have any problem with people who knew you? Are you married?
My fathers' side of my family did not accept and they called the FBI (the Federal Bureau of Investigation) and homeland security on me; claiming I was involved with terrorist activities. I had agents at my door day-and-night, following me everywhere. They went on investigating every small part of my life. Though I have tried tirelessly to keep my ties with that side of the family, they have threatened me and warned me to stay away and made it clear they will never accept me as one of their family.
My mother, at first did not take the news of my reversion well. We were featured on the TV show; Dr. Phil because she thought I needed an intervention and I needed to go back to Christianity and also feared I would join ISIL. However after a few years, I moved in with my mother and now she has accepted it, but she still is not comfortable with it.
She watches me closely and if I make any mistake she tells me I am a bad Muslim or a hypocrite just to have a reason to tell me I made the wrong choice. Most of the people who knew me before Islam abandoned me, just like my family did. None of them wanted to associate with me at all and to this day, six years later, I have not had their acceptance.
I am not married, I am divorced. I met my ex-husband years after becoming a Muslim.
How do you see the spread of Islam in the US?
The spread of Islam in the USA is growing slightly, but not as rapidly as in other countries like Europe for example. I believe this is because there are too many people in America who are against Islam and especially our current president who encourages hateful attitude towards Muslims. I get attacked and yelled at and harassed every single day by people in my city. I can't get hired anywhere because of my hijab and other Muslims constantly encourage me to take it off, but if I trust in Allah I know I will be given something better by His will alone.
What is the most beautiful Ayah of the Quran in your opinion? And why?
There are many beautiful Ayahs in the holy Quran, but the most beautiful one to me is in Surah Duhaa 93:7;
"And He (Allah) found you lost and guided you." (93:7) .I think this is or should be special for reverts because we were lost, a lot of Muslims forget we are all born Muslim, (Fitra ), but depending on how our parents raise us, we end up following and believing in other religions. As a revert, I was completely lost, and not all people who are lost are guided to Islam, Allah (SWT) chooses whom He wills to guide and I was guided. There is nothing more beautiful or amazing to know and remember that I didn't choose Islam, Allah (SWT) chose me and guided me! SubhanAllah!
What' your opinion about hijab? Did wearing hijab have any effect on your private life? Do you think it is only dedicated to women?
I started wearing hijab on the first week I took Shahada. It was such an easy transition for me and even though some of my friends and my mother especially, didn't approve or didn't understand, I am a strong-willed person and I always do what I want to do without giving regard to anyone else, and that can be a bad thing or a good thing, but it's my character.
If I want to do something, I don't let anyone around me tell me I can't or let their opinions influence me. My ambition drives me.
Every day I hear Muslim women, new and old, talking about their struggles of wearing hijab, how they are scared of it being dangerous for them or because they are scared of what others think, but in my opinion, I only care what Allah (SWT) thinks and I fear Allah (SWT) not the people.
I don't understand how it can be hard for someone because it was never hard for me and it's a part of Islam. I never struggled with. I just knew it was my duty as a Muslim and that was enough for me.
I definitely think hijab is for both men and women. Hijab is not just a scarf on the head, it's modesty and a mindset and a piece of our character. It's how we talk to people, how we act towards people and how we present ourselves and interact with each other. For men, it's less talked about, but I think it is important to discuss hijab for men because it's not only the women's obligation or responsibility.
Hijab for men is a long discussion and takes some knowledge and understand to process but in short, the opinion that Muslim men must cover themselves between the navel and the knees is predominant, and most Muslims believe that a man who fails to observe this requirement during Salat must perform the prayer again, properly covered, in order for it to be valid.
Three of the four madhabs, or schools of law, require that the knees be covered; the Maliki school recommends but does not require knee covering. According to some hadith, Muslim men are asked not to wear gold jewelry and to lower his gaze, just to give a few examples.
I think the biggest link between men and hijab is lowering the gaze because the main purpose of hijab is modesty and a man lowering his gaze is a great way to practice that.
How do you analyze the family institution according to Christianity and Islam?
Being raised a Christian, I went to church on Sundays and that was the end of my spiritual growth. Some Christian families are more involved with the Bible studies and praying together as a family such as before a meal or at bedtime, but the Christians I knew never really had a structured spiritual environment in which they were daily reflecting and practicing the religion or daily setting time apart for worshipping Allah (SWT).
In Islam, it is much more common that parents teach Quran to their children along with prayer and Sunnah's of the Prophet (PBUH). You see more young Muslim kids praying and active in the mosques than you see Christian kids active in praying and the churched. You also see how the teachings of Islam affect the children and how the Muslim children are more adept to respect their parents and take care of them when they are older.
Islam gives a structure and a guideline for Muslim families on how to approach parents in old age, approaching marriage and staying connected to the Deen by praying and seeking knowledge. Many Christian kids don't seek out knowledge about Christianity as they get older and don't memorize the Bible…some do of course but it's more probable in Muslim families because Christianity lacks in spiritual family structure as compared to Muslims families.
What specifically attracted you to Islam?
Two things specifically attracted me to Islam equally:
The close relationship a Muslim can have with Allah (SWT). Without going through a preacher, priest, saint, angels, or other Prophets.
The structure of Islam is set up so brilliantly. Everything you need for every situation in life has a solution and approach in Quran. This sets Quran apart from other religions. Men wrote the Bible but Quran is the direct word of Allah SWT.
What was your religion before converting to Islam?
Southern Baptist – Christianity.
What was your feeling when you prayed for the first time? Wasn't it hard for you to pray 5 times a day?
Many reverts will tell you a candy-coated story about how praying their first time was the most amazing and powerful experience, but the reality for a lot of us is that it's not all sunshine and smiles.
When I prayed for the first time I was scared, because I wanted to pray correctly, I was frustrated because I had to read notes on a piece of paper on the ground to follow each step. I didn't have anyone to show me so I was learning literally from a printed out paper with step by step instructions. After I finished my first prayer, I felt hopeful and excited but it was mostly stressful because it was new and I knew the importance of it and I wanted to learn it in the right way.
If you want to say some words about the beauty of Islam, the peace, the calmness you have found in this religion what do you say?
There are many beautiful things in Islam. One of the most beautiful things about Islam is prayer. It's a chance to connect to Allah (SWT) all throughout the day and the evening. To talk to Allah (SWT) and to be thankful and to ask for forgiveness and knowing that if you pray to seek His forgiveness with a sincere intention, that by His will, you will be forgiven.
The intention is another beautiful thing about Islam because everything in Islam is based on intention. If you intend to do something good, with a sincere intention, even if you didn't get to do it, it is counted as a good deed for you. Also, it keeps Muslims in a reality check which is healthy for our spiritual growth.
If we make a bad intention for something we know the results are not going to be good and that there is no Barakah in that thing. Yet again, if we make a bad intention and we don't do it, it is not counted against us! SubhanAllah, that is so beautiful!
I have found so much peace and calmness in Islam, because when we pray or when we are alone with Allah (SWT) it is a time when everything around us stops and we know Allah (SWT) is right there, listening to us and knowing that Allah (SWT) is all Seeing and all Knowing and all Hearing, it makes us calm and peaceful because Allah (SWT) knows what is in our hearts even if we don't know it for ourselves and know that Allah (SWT) in control, there is nothing more peaceful than that, if we have total faith in Allah (SWT) to guide us and keep us on the right path.
How do you analyze women's right in Islam compared to what the West has propagated?
Non-believers have such twisted views about women's rights in Islam because they have a lack of knowledge and understanding. They take what they see in the media or the movies and take it for the fact.
My mother thought I would marry a Muslim man and get beaten up or abused. However, my mother has met many Muslim men and their families and she has changed her views because it takes knowledge and it takes immersion or an experience to see the high status that women have in Islam. Ever since I reverted and started wearing hijab, I have been treated with much more respect by men than before I was a practicing Muslimah.
Which feature in Islam attracted you?
The Quran and the structure of Islam attracted me the most, along with the oneness of Allah (SWT).
Who/ what influenced your conversion to Islam?
As I mentioned earlier, it was a group of students from KSA who introduced Islam to me, gave me a Quran translated into English and taught me about Islam and answered all the questions I had. Also, before reverting, I had many Islamic dreams in which were clear signs from Allah SWT that He was guiding me, it wasn't that I was choosing Islam it was that Allah SWT was guiding me and through these dreams, I knew this was the right religion.
As a convert, what way of inviting to Islam you believe is more effective on non-Muslims?
Everyone has a different approach to Dawah. I actively do Dawah and by the will of Allah (SWT) have brought people to Islam or re-energized born Muslims to get back to the Deen.
For me, I think the best method is being relatable. This is why Reverts play such an amazing role in DAWAH because many times we were in the shoes of the people we are giving Dawah too. We were a Christian or a Jew or an Atheist. So we know how they are feeling and what they are thinking.
Full report at:
http://en.abna24.com/news/america/former-american-rapper-converts-to-islam_901178.html
--------
Pompeo talks tough on Iran while visiting the Emirates
10 July 2018
US Secretary of State Mike Pompeo warned Tuesday that America and its Gulf Arab allies want to show Iran that its actions have "a real high cost" after Tehran threatened to disrupt Mideast oil supplies. Pompeo's comments came during a short trip to the United Arab Emirates.
"We deny Iran the financial capacity to continue this bad behavior," Pompeo said, "so it's a broad range, a series of sanctions aimed not at the Iranian people, but rather aimed at the single mission of convincing the Iranian regime that its malign behavior is unacceptable and has a real high cost for them."
Pompeo discussed the recent threats by Iranian President Hassan Rouhani over the Strait of Hormuz, through which a third of all oil traded by sea passes. While in Europe last week, Rouhani said any disruption to Iran's oil exports would result in the whole region's exports being disrupted.
Iran "should know that America is committed to keeping sea lines open, keeping the transit of oil available for the entire world," Pompeo said. "That's the commitment we have had for decades. We continue under that commitment."
Global oil prices rose following expectations that the US would push its allies to stop importing Iranian crude oil, further tightening the world energy supplies. While allies like Saudi Arabia, the UAE and Kuwait said they were willing to increase their own production as necessary, additional output may not be enough to satiate demand.
Already, gasoline prices have increased earlier this year in the US from $2.26 to $2.86 a gallon, according to AAA. Trump himself has been tweeting that oil suppliers must do more to lower prices ahead of midterm elections this fall. US benchmark crude traded near $75 a barrel on Tuesday, while Brent crude traded near $80.
While State Department officials acknowledged earlier that some allies will get waivers to continue importing Iranian oil, Pompeo added that such imports largely would be "sanctionable activity and we will enforce those sanctions."
Full report at:
https://english.alarabiya.net/en/News/world/2018/07/10/Pompeo-talks-tough-on-Iran-while-visiting-the-Emirates.html
--------
Pompeo to press European allies over Iran on NATO summit sidelines
Jul 11, 2018
US Secretary of State Mike Pompeo is reportedly set to meet with senior British, French and German officials on the sidelines of a NATO summit in an attempt to persuade them to join Washington in pressuring Iran.
Pompeo arrived for the summit in Brussels on Tuesday, and will meet with the three countries' political directors on Wednesday or Thursday, Reuters reported, citing an unnamed senior official with the US State Department.
He would be trying to assure Paris, London and Berlin of "alternative oil supplies" in case of a boycott of Iranian oil sales, according to the report.
The US has warned third countries against buying Iranian crude as of November 4 amid a rise in Washington's attempts to choke the Islamic Republic oil revenue.
Separately, the US is seeking to ensure anti-Iran pressure from its allies on the Persian Gulf's coast.
Earlier in the month, a statement released by the Saudi cabinet after a meeting chaired by Saudi King Salman said that the kingdom, which is one of the US's strongest regional allies, would be increasing its output to make up for the Iranian crude.
Most recently, senior US State Department officials completed three days of talks on Iran in Saudi Arabia, and "discussed new ways to deprive the regime of revenues," Reuters cited a State Department official as saying to reporters while traveling on Pompeo's plane.
"In our meeting with the Saudi energy minister, we discussed maintaining a well-stocked oil market to guard against volatility," he said, adding, "We talked about minimizing market disruptions and helping partners find alternatives to Iran oil."
Before heading to Brussles, Pompeo, himself, was in Abu Dhabi, where he likewise tried to rally more support against Tehran.
Back in May, the US pulled out of a multilateral nuclear agreement with Iran, and said it would be reinstating its sanctions against Tehran.
Washington has threatened the countries potentially maintaining business with Iran despite the US's bans with "secondary sanctions."
The other signatories to the accord, which include Russia, China, the UK, France and Germany, however, have strongly objected to the US's withdrawal, and vowed to try to preserve the deal.
Tehran has said the European parties to the nuclear deal, which are close US allies, need to provide Iran with practical guarantees that its economic dividends from the agreement would remain intact with the return of American sanctions.
'Pompeo will fail'
Speaking to Press TV, author and political scientist Kaveh Afrasiabi, however, played down Pompeo's drive, saying his efforts will likely fail to produce any result.
"The US…has isolated itself by unilaterally exiting the JCPOA and the Europeans have made a resolute effort to preserve the JCPOA," he added, referring to the Joint Comprehensive Plan of Action, the official name of the nuclear agreement.
He said "the American course of diplomacy and trying to bully the allies into something that they don't want to" are "against their national interest," adding that such a policy "is simply uncivilized and a barbarian way of conducting global diplomacy."
Full report at:
https://www.presstv.com/Detail/2018/07/11/567741/Iran-United-States-oil-allies-Britain-France-Germany-Saudi-Arabia-UAE
--------
Europe
Christian, Muslim and Jewish Groups Join Together For '21 for 21' Interfaith Collaboration
July 11, 2018
Christian, Muslim and Jewish groups have joined together to celebrate the way young people are promoting interfaith collaboration.
In a world first, three media outlets serving the three Abrahamic faiths have joined forces to set up the 21 for 21 project, which is aimed at finding "21 leaders for the 21st century".
The project is looking for 21 young people who have made a significant difference to understanding and cooperation between people of different faiths.
"There is a widely held perception that faith communities in this country and elsewhere are in constant conflict. I think that's actually not the case," Justin Cohen, the news editor at Jewish News who set up the project, told The Independent.
He said although there were examples of spikes in community tension, "particularly at times of conflict in the Middle East", overall relations between communities in the UK are "a bit of a beacon, a bit of an example, for other communities in other countries".
The project, he said, was "an example and a way of highlighting that as well as celebrating young people who are the future of interfaith understanding and cooperation in the UK."
The 21 young people - seven Christians, seven Muslims and seven Jews – will be chosen from a range of nominees.
The nominees, who will be chosen from a panel of judges, will come from a wide variety of backgrounds, Mr Cohen said.
"They could be the head of organisations dealing with this kind of activity, they could be forming their own collaborations," he said.
"It could be within the field of music, art, politics or any field where they are leading this kind of activity and innovating in this kind of activity."
They will be presented with prizes at a reception at Lambeth Palace, as well as featured in profiles by the Church Times, Muslim TV and Jewish News.
"There are countless examples in this country of collaborations between people of different faiths," Mr Cohen said.
He went on to say he hoped the list will be "a one stop shop highlighting all this great activity that's taking place."
Nominations will close on Monday 16 July.
https://www.independent.co.uk/news/uk/home-news/interfaith-21-for-21-christian-muslim-jewish-together-work-a8440591.html
--------
What a Foiled Plot to Execute Muslims Reveals About Islamophobia in France
By Karina Piser
July 11, 2018
Late last month, France's intelligence services announced they had uncovered an extremist cell plotting an attack on national soil. The group, which calls itself the Operational Forces Action, had begun testing explosives and stockpiling weapons. Police found homemade grenades, a guide titled Homemade Napalm, 14 handguns, 22 rifles, and thousands of ammunition cartridges. Its 10 members were immediately charged with terrorist conspiracy; some were also charged with illegal possession of firearms and explosives manufacturing.
French security forces have prevented scores of attacks since January 2015. But this one was different. The AFO—the organization's French acronym—is a far-right vigilante group with the stated mission to fight the "Islamic peril," arguing that authorities have been too lax in combating terrorism and preventing radicalization. Its members intended to execute veiled women and imams and poison the food at halal grocery stores.
Those chilling plans drew initial media attention, but the news quickly faded. The Interior Ministry announced it had been tracking the AFO since mid-April, and the group's ringleader—a former police officer, Guy Sibra—was subsequently released with "judicial supervision."
The AFO is an offshoot of Volunteers for France, or VPF, a legal organization with the same ideology but that claims to disavow violent tactics. The media have referred to the AFO as the "ultra-right," to distinguish it from far-right political parties. That notably includes the recently renamed National Rally—the party formerly known as the National Front, which made unprecedented gains in the 2017 presidential elections.
National Rally leader Marine Le Pen immediately condemned the AFO's plans, though Louis Aliot, a legislator from her party, seemed to understand where they were coming from. "If groups are forming to defend themselves," he told the newspaper L'Opinion, "it is first and foremost because the state is being soft on radical Islam," an explanation echoed by others on the far right.
The AFO's Sibra, for his part, assisted with the National Front's campaign efforts during the 2015 regional elections. One National Rally spokesperson denied any official links, but an administrative secretary, who had recruited Sibra at the time, called him "trustworthy," "balanced," and "proud of his land."
Sibra left the VPF last year, calling its leadership "too soft," and created the AFO. But while the VPF, as a legal entity, doesn't promote physical violence, its rhetoric mirrors the AFO's aggressive diatribes against an "internal enemy." "We created this organization, because our French identity has been abandoned," Antoine Martinez, the VPF's co-president and a retired army pilot, told me, citing the "rapid Islamization" of France and Europe. The crisis, he said, is the product of decades of uncontrolled immigration and the "refusal of generations of Muslim immigrants to integrate," notably marked by women who wear the headscarf and the presence of halal butchers and grocery stores.
"If you've seen Paris," he went on, laughing, "you should know the rapid transformation that I'm talking about, and our political class isn't doing anything to change it." The answer, he insisted, shouldn't be violence: "We operate in respect of the laws of the Republic."
Martinez and his ilk rail against the open borders of the Schengen zone. He defends the notion that a "Great Replacement"—a term coined by French author Renaud Camus—is underway, imperiling Europe's white identity. "For years some have been warning that Muslims are the fifth column," he told me, echoing the phrase used by far-right figures in the UK and US that describes a threat from within.
With that in mind, Martinez takes issue not only with recent arrivals "of Islamic origin" but with the millions of French Muslims who make up an estimated 8 percent of the French population: "The first generation that came after colonization integrated without problem—there are some among them who are our friends, who wedded our way of life."
That, he contends, has deteriorated with subsequent generations. "The proof," he said, is that many of the perpetrators of the attacks that killed more than 250 people in 2015 and 2016 were French nationals, or, as he put it, "quote unquote French."
According to Stéphane François, an expert on far-right groups at the National Center for Scientific Research, the fact that the AFO and VPF publicly diverge on the effectiveness of violence shouldn't distract from their shared vision of society. "They both see the immigrant as a colonizer who must be sent back home." Still, the VPF's "goal is to incite violence," he said. "The entire ideology is based on the notion that we are at war against a pernicious or silent Islamic occupation."
While the French ultra-right has parallels in the United States and elsewhere in Europe, Jean-Yves Camus, a specialist of the far right at the French Institute for International Affairs, emphasizes France's unique historical relationship with the Muslim world, especially with its former colonies. The memory of the Algerian war, in particular, drives the enduring assertion that Muslims from North Africa are invading France. "All of the issues in France concerning Islam, this idea that we're being, or will be, invaded, are all linked to our colonial past," he explained.
The Algerian war lasted from 1954 to 1962 and was marked by horrific violence and torture on both sides, numerous assassination attempts on then-President Charles de Gaulle, and, after Algeria's independence, the massive departure of hundreds of thousands of pieds noirs—Europeans, mostly French, who lived in French Algeria.
Much of that war played out in France. Algerian militants staged mass protests and launched terrorist attacks, and the French state responded with a heavy hand. In October 1961, for example, French riot police cracked down on pro-independence demonstrations. Over 100 died, according to some estimates, as police beat protesters and dragged others into the Seine river, which runs through Paris. That same year, 21 police officers were killed in clashes with National Liberation Front, or FLN, the movement that led the push for Algerian independence.
The memories of this violence frame the AFO's approach, Camus said. Indeed, the group's website is full of references to the Algerian war: "The enemy has the same origin, mentality, family upbringing and religion and the terrorists of the FLN," the AFO site reads. Sibra is 65—"old enough to have grown up with reports of violence on the radio, to know what was going on," Camus told me. Sibra was formerly a police officer in Marseille, "a city," according to Camus, "where the memory of the war is omnipresent." With that in mind, the AFO might see itself as a contemporary iteration of the Secret Army Organization, or OAS, a French far-right paramilitary formed to kill Algerian sympathizers. Recent terrorism committed by the Islamic State or its adherents, Camus argued, "has reactivated attitudes linked to the Algerian war, giving new reason to radicalize."
The AFO and VPF were born in the aftermath of recent terrorism that reenergized decades of national debate over Islam's visibility in the public sphere, notably with seemingly endless rancor about the hijab. France's particular vision of secularism, or laïcité, has been a fixture of media coverage and political deliberations since the 1980s, particularly pertaining to integrating the Muslim minority.
Laïcité is the outcome of the French revolutionary revolt against the Catholic Church, which was enshrined in a 1905 law that separates religion from politics, guarantees freedom of conscience, and assures the equal footing before the law of different religions. Over time, the concept has been reinterpreted to confine religion to the private sphere; in 2004, Parliament passed a law banning religious symbols in public schools, in response to the increasing number of middle- and high-school students who came to school wearing a hijab. Since then, France has attempted to navigate what can seem—especially seen from the United States, with its own notion of religious freedom—like an obsession with the headscarf, which many here insist is a symbol of political Islam.
"France, unlike the United States, believes that one becomes French by losing their identity, by shedding their difference," François explained to me. "And so the argument goes that the Muslim—and especially the Muslim woman—with her veil, with her practices, is not one of us." That vision of national identity, he added, "has created a favorable climate that resonates with the ultra-right—that the French model of integration no longer works because Muslims increasingly refuse to integrate."
Many Muslims see the dynamics François describes as an inevitable outcome of those decades of media coverage, exacerbated by the climate of suspicion and hysteria that has reigned since 2015. Although the spike in hate crimes against Muslims that followed the attacks on the staff of the satirical magazine Charlie Hebdo quickly leveled off, a national fixation with Islam endures. The resulting narrative often blurs the line between displaying an adherence to the religion and being a potential radical. A spate of recent controversies over women who cover their hair—from Maryam Pougetoux, a student-union representative who wore a hijab, to Mennel Ibtissim, a candidate on the singing competition The Voice who wears a turban—attest to the near consensus that any woman who wears the hijab is peddling an extremist ideology that makes her a threat to social cohesion.
Amid the outcry over Pougetoux's hijab—the argument went that a religious Muslim can't defend the progressive ideals of the national student union—Interior Minister Gérard Collomb likened her to the "youth who are attracted to the Islamic State." Terrorism experts overwhelmingly consider that reading out of touch with the reality of radicalization; for many Muslims, it was another example of political pandering to a public increasingly hostile to Islam's visibility.
"What person in his right mind can be minister of the interior and say that on TV?" Yasser Louati, a Muslim activist and cofounder of the Committee of Justice and Freedom for All, an international anti-racism organization, asked, incredulously. "It shouldn't be shocking that the AFO, claiming to fight radical Islam, selects people who look like her as targets."
Frustration with Muslims' presumed radicalism or complicity with Islamist ideology is a recurrent theme in the scores of interviews I've conducted with Muslim teens and in the responses to over 500 questionnaires I've distributed to classrooms with large Muslim populations over the last 10 months. Karima, a high-school senior in Vitry-sur-Seine, a suburb south of Paris, described a "reflex to do everything possible to undermine the credibility of a woman who wears a headscarf." She attributes that to "the media, which constantly revolves around Islam and the threat it poses, and that the public follows like sheep." Inès, a high-school student in Drancy, in the northeast suburb of Seine-Saint-Denis lamented a "national fear in which people don't see a religion but a violent ideology." That "misunderstanding means that nobody can look beyond a woman's headscarf, to see her ideas, or who she is, and so laïcité becomes a justification to erase her." For her classmate Sherine, the link is automatic and established: "They assume that, because for personal reasons you decided to cover your hair, you have an absolutist vision of Islam, and so you're a terrorist."
The ultra-right—as well as the political far right—naturally advances those false generalizations. But the sentiment transcends partisan divides. Opposition to the hijab, for example, is prominent among the so-called republican left, which argues that the garb undermines gender equality, is an emblem of political Islam, and is a sign of differentiation that disrupts national unity. "Even seemingly progressive circles have embraced the urgency to 'normalize' the Muslim population," François told me.
In a statement, the Republican Spring—a movement established in 2016 that embodies that segment of the left—condemned the AFO's plans. But it also lashed out against those who argued that the drone of controversies over laïcité and Islam could have galvanized the ultra-right's views. They say the logic is the inverse, adding that the polemics that have arisen "have nothing to do with Islam," the religion, "but with Islamism," the ideology that has inspired extremist groups. The Republican Spring's detractors, however, maintain that during the outrage over Pougetoux, for example, the movement failed to differentiate between Islam and Islamism, characterizing a student-union president protesting government reforms to university admissions as a representative of hard-line political Islam. The reason was her hijab; her insistence that it had no political significance did little to budge the imposed label.
I asked Martinez, the co-president of the VPF, what he thought about those incidents, and whether he agreed with the outcry on the left. "We've been talking about laïcité nonstop for some 20 years now," he told me. "And why give it so much attention? Because there's an ideology—it's not even a religion, it's simply an ideology, that wants to impose sharia in France, and so that's why everyone feels the need to talk about laïcité. The real subject isn't laïcité—it's Islam."
For many Muslims, Sibra's swift release was an example of the state's indifference to their community, especially in contrast to the response to those suspected of collaborating with Islamist terror groups, like the Islamic State. The same day he was released, for instance, a man received a four-year prison sentence for having posted a picture of that group's flag on his Facebook page. "It sends the message that if you are part of a white terrorist organization, you can get away with it," Louati said.
Lila Charef, the co-director of the French Collective Against Islamophobia, was angry that "even after our security services showed Sibra's intent to act, his stockpiled weapons, his plans to make bombs—that he was being monitored—they would let him go," she said. "It's extremely serious," she added, stressing a link between the AFO's plans to target women in hijabs and the national attitude toward them. "It confirms the alarm bells we've been sounding for years, that in France, a women in a hijab is considered such a danger."
The AFO remains small, and both Camus and François warned against exaggerating its capabilities. But its website has been updated daily since its members were arrested—with regular tirades against Muslims, but also Jews—hinting that its scope might be greater than what meets the eye.
Full report at:
https://www.thenation.com/article/foiled-plot-execute-muslims-reveals-islamophobia-france/
--------
Leader's aide plans to deliver message to Russia's Putin in Moscow: Qassemi
Jul 10, 2018
A senior advisor to Leader of the Islamic Revolution Ayatollah Seyyed Ali Khamenei plans to pay a "very important" visit to Moscow to deliver a message to Russian President Vladimir Putin, Iranian Foreign Ministry spokesman says.
Speaking in an interview with IRIB on Tuesday, Bahram Qassemi added that Ali Akbar Velayati, the Leader's advisor on international affairs, would embark on a trip to Russia on Wednesday as part of efforts to make Iran's stance clear after the US pullout from a historic nuclear agreement signed between Tehran and the P5+1 group of countries in 2015.
US President Donald Trump announced on May 8 that Washington was walking away from the nuclear agreement, officially known as the Joint Comprehensive Plan of Action (JCPOA), signed between Iran and the five permanent members of the United Nations Security Council -- the United States, Britain, France, China and Russia -- plus Germany in 2015.
Trump also said he plans to reinstate US nuclear sanctions on Iran and impose "the highest level" of economic bans on the Islamic Republic.
Under the JCPOA, Iran undertook to put limits on its nuclear program in exchange for the removal of nuclear-related sanctions imposed against Tehran.
Qassemi said, "After Mr. Trump's strategic mistake to exit the multilateral and international accord, the JCPOA, the Islamic Republic of Iran decided to dispatch a number of its special representatives" to other countries.
He added that these special envoys "carry messages of high-ranking" Iranian officials about the country's viewpoints and stance on the selfish US behavior which runs counter to international regulations.
The Iranian spokesperson explained that Velayati's visit to Moscow would also take place in line with such a policy and noted that he would also travel to China.
"As two neighbors, Moscow and Tehran have commonalities and common interests in regional and international arenas. So, the meeting between Velayati and Putin at the Kremlin and conveying messages of high-ranking Iranian officials can be very important," he pointed out.
He said Velayati would also hold talks with other Russian officials on bilateral relations in political and economic sectors as well as leading regional and international issues, including the US withdrawal from the JCPOA.
Since the US president pulled Washington out of the historic nuclear deal, European countries have been scrambling to ensure that Iran gets enough economic benefits to persuade it to stay in the deal. The remaining parties have vowed to stay in the accord.
Tehran has conditioned its stay in the deal to practical European strides to make sure Iran's dividends from the deal would not be affected when US sanctions "snap back" in August.
The first group of sanctions on Iran's automotive sector, gold trade, and other industries will "snap back" on August 4. Further sanctions on oil and transactions with the central bank of Iran will come into effect November 6.
Speaking at a press briefing in Beijing on Monday, a spokeswoman for Chinese Ministry of Foreign Affairs, Hua Chunying, said her country would continue efforts to safeguard the achievements of the JCPOA, saying it has put forward a five-point proposal in this regard.
"Facing the complicated and stern situation at present, China clearly put up a five-point proposal emphasizing in particular that international rules should be observed, major countries should show their due integrity and sense of responsibility, unilateral sanctions can only run counter to one's desire and should be abandoned, and dialogs and consultations should adhered to a constructive approach in discussions about issues of common concerns," Hua said.
Germany and China on Monday reiterated that they are committed to the 2015 nuclear deal even after the United States' withdrawal.
Full report at:
https://www.presstv.com/Detail/2018/07/10/567689/Velayati-Khamenei-Putin-Moscow-Bahram-Qassemi
--------
UN applauds Ethiopia-Eritrea rapprochement
Jul 11, 2018
The United Nations Security Council (UNSC) has hailed the rapprochement between ex-foes Eritrea and Ethiopia but has not offered to review the sanctions on the former country after expressions of concern by a number of council members.
A draft UNSC statement, initially prepared by Sweden, on Tuesday "reaffirmed that efforts by the Government of Eritrea to engage with the international community enable a review of measures on Eritrea."
The US, China, the UK, France, and the Ivory Coast, however, objected to tying the betterment of ties between the two African neighbors to a review of Eritrea sanctions and ultimately dropped that reference from the statement, according to diplomats cited by Reuters.
Ethiopia, which is a current UNSC member, announced its desire on Monday for the UN to lift its own sanctions on Eritrea. Ethiopia and Eritrea had declared an end to their state of war earlier in the day and agreed on resuming diplomatic ties, developing ports, and renewing flights between the two nations after decades of conflict.
Eritrea remains under a UN arms embargo since 2009, after UN experts monitoring sanctions against Somalia accused Eritrea of providing political, financial, and logistical support to armed militants, undermining peace and reconciliation in the largely-lawless and impoverished Somalia. Eritrea, however, has rejected the accusations.
The 15-member UNSC is due to renew its arms embargo and targeted sanctions against Eritrea in November. The body may choose, however, to adopt a resolution before then to remove the sanctions.
A council resolution would need nine votes in favor and no vetoes by permanent members, namely the US, China, Russia, Britain, and France.
Full report at:
https://www.presstv.com/Detail/2018/07/11/567745/Ethiopia-Eritrea-UN
--------
URL: https://www.newageislam.com/islamic-world-news/give-atom-bomb-ill-wipe/d/115800
New Age Islam, Islam Online, Islamic Website, African Muslim News, Arab World News, South Asia News, Indian Muslim News, World Muslim News, Women in Islam, Islamic Feminism, Arab Women, Women In Arab, Islamophobia in America, Muslim Women in West, Islam Women and Feminism