New Age Islam News Bureau
18 Jan 2019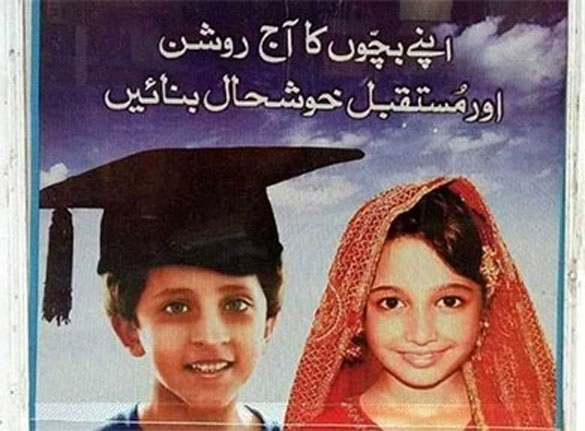 State Life Insurance, a government-owned life insurance company that is the largest insurance provider nationally, has employed all cultural stereotypes in an advertisement for their Child Education and Marriage Plan.
-----
• 'From Sufi to Salafi: Spirit of Kashmiriyat in Danger'
• State Life Insurance of Pakistan Draws Ire after Endorsing Education for Boys, Marriage for Girls
• Egypt Establishes A Supreme Council to Combat Sectarian Strife
• Yemeni Activists Accuse Houthis of Detaining, Torturing Women over Made-Up Charges
• 'Levant's Transition to Islamic Rule Was Gradual for Majority of Population'
• YouTube Imposes Partial Ban on UK Islamophobe Robinson
• US: Congresswoman Omar Defends Tweet Criticizing Israel
India
• 'From Sufi to Salafi: Spirit of Kashmiriyat in Danger'
• World's Tallest Durga Idol Was Made in Assam by a Muslim Artisan
• Bombay HC Grants Bail to Right-Wing Group Leader in Muslim Techie's Murder
• Andhra Pradesh: Altaf Rizvi appointed treasurer of Ahle Sunnat Wal Jamaath
• 'IS module': NIA raids in Uttar Pradesh, Punjab, four detained
• Dialogue between India and Pakistan imperative for peace: Farooq Abdullah
• 4 Pakistan soldiers dead as India retaliates to border attacks
--------
Pakistan
• State Life Insurance of Pakistan Draws Ire after Endorsing Education for Boys, Marriage for Girls
• Transgender Pakistanis Take Their Rights to Nation's Islamic Courts
• India has 'no role' in Afghanistan: Pak foreign office
• Pakistan steps up efforts to salvage stalled US-Taliban talks
• SC approves draft Gilgit-Baltistan governance order
• Sindh police asked to give 18 missing children's details to FIA for investigation
• Afghan peace process a 'shared responsibility': Pakistan, US
--------
Arab World
• Egypt Establishes A Supreme Council to Combat Sectarian Strife
• Saudi Arabia Pumps Money into Restive Shi'ite Quarter It Once Flattened
• Tolerance-plus: Pope in Abu Dhabi will build on relations with Muslims
• Media: MbS Puts Younger Brother under House Arrest
• Iraqi MP Warns of US-Saudi-Israeli Plot against Hashd Al-Shaabi
• US-Backed SDF Commander Killed in Eastern Deir Ezzur as Tensions Heighten
• Terrorists Receive Severe Blow in Failed Attacks on Demilitarized Zone in Hama, Idlib
• US-led coalition hits mosque used by ISIS in Syria
• Militants kidnap Christian in Egypt's Sinai Peninsula
--------
Mideast
• Yemeni Activists Accuse Houthis of Detaining, Torturing Women over Made-Up Charges
• US 'deal of century' doomed to hit dead end: Palestine
• Hamas unveils Iran-funded homes for former Israel prisoners
• Cash-strapped Turkish Muslim foundation 'forced to sell properties'
• Thousands of Activists Ask Europe to Boycott US Anti-Iran Conference in Poland
• Houthi commander behind missile attacks killed in intelligence operation
• Israeli regime responsible for many conflicts in Middle East: Hezbollah
• Fatah trying to drag Gaza into new war with Israel: Hamas co-founder
--------
Africa
• 'Levant's Transition to Islamic Rule Was Gradual for Majority of Population'
• 34 killed in attack on 2 Touareg villages in Mali
• Doctor, child killed in Sudan anti-government protests
• Netanyahu set for first-ever visit by Israeli PM to Chad
• Canadian geologist kidnapped in Burkina Faso found dead
• Sudanese march on presidential palace as protests linger
--------
Europe
• YouTube Imposes Partial Ban on UK Islamophobe Robinson
• Austria Tilting Law against Syrian Asylum-Seekers
• Pegida Holds Protest, Screens Islam-Insulting Movie In Front Of Utrecht Mosque
• Saudi risks 'revolution' over basic rights: UK MP
• EU to impose sanctions for Syrian chemical attack
--------
North America
• US: Congresswoman Omar Defends Tweet Criticizing Israel
• Trump's new 'anti-Muslim' appointee, Charles M Kupperman, worries civil rights groups
• Press TV's Hashemi due in US court on Friday
• US Army to acquire Israeli Iron Dome missile systems
• US trained UAE troops for air combat in Yemen: Report
• Pentagon: Four US personnel killed in ISIS attack on Syria's Manbij
--------
South Asia
• Bangladesh Bans Film About 2016 Islamist Cafe Siege Fatal To 22, Cites Damage To Reputation
• NSA Mohib, Intelligence Chief Stanikzai met Ambassadors of 5 countries in Kabul
• 4 Taliban, ISIS-K militants surrender to Afghan forces in Nangarhar
• Afghans march in cities to call for pullout of US troops
• Hundreds of Rohingya families flee India for fear of deportation, persecution
--------
Southeast Asia
• Guidelines for Private Sector to Allow Muslim Staff To Perform Prayers
• Former religious teacher and student placed on Restriction Order under ISA
• Israel calls Malaysian ban on its athletes 'shameful'
• Now, Goldman paints former star banker as promiscuous Muslim convert, 'master con man'
• Jokowi, Prabowo Turn Up Heat in First Debate, Steer Clear of Past Human Rights Cases
Compiled by New Age Islam News Bureau
URL: https://www.newageislam.com/islamic-world-news/from-sufi-salafi-spirit-kashmiriyat/d/117499
--------
'From Sufi to Salafi: Spirit of Kashmiriyat in danger'
Jan 18, 2019
NEW DELHI: Jammu and Kashmir is going through a phase of radicalisation where traditions like Sufism have been eroded and there is a threat of Kashmir being lost to fanatical Islam with no space to other religious beliefs, a senior BSF officer has said in an article mean't for internal circulation.
'Salafism' backed by Pakistan has sounded the death knell of 'Kashmiriyat'. "We are losing Kashmir to fanatic Islam where there is no place for other religions and religious sects other than Sunnis," S S Guleria, posted as DIG intelligence in Kashmir, has said in BSF's annual magazine 'Borderman'.
Guleria has warned that the tentacles of radicalism have struck deep roots in Kashmir with teachers prompting students to hate non-Muslims and same is the case in colleges. He has written of Wahabi preachers systematically visiting villages on Fridays and weekends to propagate exclusivist Salafi ideology among youth.
In the solutions that he has suggested, Guleria has batted for opening cinema halls, liquor shops in the Valley as well as organising concerts and IPL matches there. He has also called for stronger laws against radicalisation, de-ligitamising madrasas and introduction of textbooks that reflect moral points of all religions.
The officer has said Hurriyat, Jamaat-e-Islami, Ahle-Hadith and other such organisations have facilitated the spread of extremist thought and that Pakistan has been "fully backed by China" in its efforts to destabilise the Valley.
The influence of Wahhabis, according to the officer, has changed the nature of insurgency in Kashmir from calls for "freedom" to that of terrorists fighting in what they say is the cause of Islam. He warns that the "signs of alienation and growing anti-India sentiments may look familiar, but a churn is taking place beneath the surface", which is threatening Kashmiri co-existence.
The presidential medal winning officer writes that in south Kashmir particularly, about 5-6 preachers visit villages and go to a pre-selected house where a group of 20-25 youth in the age group of 15-30 are in attendance with tea and snacks being served. The preachers espouse Salafi ideology, preach hatred and intolerance against other communities and advocate secession.
"This brainwashing is done in a very systematic way. Those radicalised are encouraged by separatists to threaten the members of minority community (mainly Sikhs) to leave Kashmir so that they can convert it into a singular monolithic society, an antithesis of Kashmiriyat", Guleria writes.
The mosques controlled by Wahhabis, including Ahle-Hadith, according to the officer, have doubled from around 1,000 in the last decade with most of the youth opting for them rather than the traditional Kashmiri Sufi shrines.
The factors that have deepened radicalisation, according to Guleria, include free-flow of Wahhabi literature through print, electronic and social media as well as money from the Gulf and narco-terrorism. Organisations like Lashkar-e-Taiba (LeT) and Jaish-e-Mohammad (JeM), according to him, have managed to convince even educated Kashmiri youth that Sufism portrays an image of tolerance, meekness and pacifism. This has attracted a sizeable number of educated youths from well off families to terrorist ranks.
Young Kashmiris are subscribing to jihadi ideology propagated by Islamic State, Al Qaeda, and the online propaganda of IS, AQIS and Hizbul Mujahideen among others is appealing to the young generation. There are currently 365 militants in the Valley including 172 Pakistanis, he adds.
About China's role, Guleria says in his write-up that its economic support has emboldened Pakistan's confidence to meddle in Jammu and Kashmir due to which Islamabad is sponsoring radicalisation financially, militarily and with material support.
Asserting that merely killing of militants, or providing material support to Kashmiris or blocking the internet will not help, Guleria asks government to deal with the problem of radicalisation "surgically".
He recommends a dynamic counter-radicalisation policy for Kashmir as current endevaours of Indian government in this regard are "miniscule" as compared to the ISI of Pakistan. Government, Guleria recommends, should open large number of educational institutions where nationalism and secularism should find due place. He asks government to establish and sponsor government newspapers in the Kashmir Valley as most dailies there currently indirectly support militancy.
https://timesofindia.indiatimes.com/india/from-sufi-to-salafi-spirit-of-kashmiriyat-in-danger/articleshow/67581269.cms
--------
State Life Insurance of Pakistan Draws Ire after Endorsing Education for Boys, Marriage for Girls
January 18, 2019
State Life Insurance, a government-owned life insurance company that is the largest insurance provider nationally, has employed all cultural stereotypes in an advertisement for their Child Education and Marriage Plan.
The advertisement portrays a boy in an Oxford cap while a female child is shown wearing a bridal dupatta, essentially endorsing education for the boy and marriage for the daughter.
While the ad was first published in 2015, however, it has recently been making rounds on social media. Senior Pakistan People's Party (PPP) leader Sherry Rehman tweeted that the insurance agency needed to stop publishing such adverts.
"The promotion of child marriage for girls and studies for only boys is not the role modelling we need in society. The bill for banning child marriage meets with social barriers like this, making laws hard to implement," she added.
A user pointed out that the insurance provider seems to define 'roshan mustaqbil' differently for male and female children. "Pakistan – in 2019 – for you all," she added.
Another user condemned the cultural message in the advertisement: "State Life Insurance had the audacity to publish their pathetic mindset on their posters and get them posted around. It is pathetic and gross how they are promoting this stereotype and making people believe that it is okay how things work right now."
"It's okay to worry about your son's education and all a daughter deserves is to get married. Gross, smh!", he added.
https://www.pakistantoday.com.pk/2019/01/17/state-life-insurance-draws-ire-after-endorsing-education-for-boys-marriage-for-girls/
--------
Egypt Establishes A Supreme Council to Combat Sectarian Strife
17 Jan 2019
Decree 602/2018, issued by President Abdel-Fattah Al-Sisi on 30 December, establishes a Supreme Council to Combat Sectarian Strife.
According to the official gazette, the council will be mandated to formulate a general strategy to prevent and contain sectarian violence, developing "new mechanisms to contain such incidents and issuing periodical reports" on their success.
The council will be headed by Magdi Abdel-Ghaffar, President Al-Sisi's counter-terrorism advisor and a former interior minister, and include representatives from the Armed Forces, national security and intelligence agencies. It will be authorised to invite ministers and other concerned officials to attend its meetings.
Al-Sisi's decree was issued just a few days ahead of Coptic Christmas celebrations and before the president opened a major mosque and the largest cathedral in the Middle East in Egypt's New Administrative Capital.
The opening of the mosque and cathedral on 7 January came two days after a police officer was killed while defusing a bomb near a church in Nasr City.
Islamist jihadists have long sought to target churches at Christmas time and during other Coptic feasts. Heavy security measures were in place during this year's celebrations with roadblocks and police deployed en masse around churches to prevent car bombs and other attacks.
In April 2017 terrorists attacked two churches, one in Alexandria, the second in Gharbiya governorate, killing 49 and injuring more than 140. At the time US President Donald Trump tweeted that the "bloodletting of Christians in the Middle East must stop". In November, an armed group targeted a bus carrying Christians in the governorate of Minya, killing nine and wounding others. The Interior Ministry said it was able to pursue the group and kill its members.
Al-Sisi's initiative to confront sectarian violence was welcomed in religious and political circles.
Egypt's Grand Mufti Shawki Allam described it as a "qualitative shift towards citizenship". Coptic Orthodox Church official Kamal Zakher said it was a "positive step in confronting sectarian and terrorist incidents".
The council's level of representation is a sign the authorities are willing "to address the problem's root causes", says Al-Ahram political analyst Nabil Abdel-Fattah.
He added that the decree establishing the council comes parallel to the president's order in July 2017 to form a National Council to Combat Terrorism and Extremism.
Kamal Amer, head of parliament's Defence and National Security Council, says the council could be an important vehicle in fighting sectarian incidents that seek to divide Egypt's Muslims and Christians.
"By issuing this decree," intoned Abdel-Fattah, "President Al-Sisi is acknowledging that simple security solutions are not enough to resolve sectarian problems."
"We need a cultural and social revolution to change people's mindset, particularly in Upper Egypt and rural areas."
In December two Christians were shot dead in Minya by a Muslim church security guard following a verbal squabble.
"In many Upper Egypt governorates, and particularly in Minya, sectarian violence is common. Most often, it is an extension of personal disputes or clashes over places of worship," said Abdel-Fattah.
"Extremist elements exploit petty disputes and turn them into bloody clashes.
"Minya heads national tables in terms of incidents of sectarian strife. For decades the governorate has been a haven for terrorist movements and extremist Islamist clerics who preach hatred and perverted interpretations of Islam.
"These groups exploited the rise of the Muslim Brotherhood between 2011 and 2013 to spread their venomous ideology on a grand scale among villagers and school students. The lack of public services, development projects and employment opportunities helped create fertile ground for the spread of sectarian violence."
According to Abdel-Fattah, the government's traditional approach to containing sectarian strife fuelled the situation.
"When sectarian incidents take place reconciliation councils are convened to contain the situation rather than address its root causes," he says.
Abdel-Fattah hopes that the new council will develop a radical new strategy to tackle the situation.
"We need to stand up to Salafi and Muslim Brotherhood clerics who preach hatred against Christians and issue discriminatory fatwas," says Abdel-Fattah.
Legal expert Fouad Abdel-Moneim Riad wrote in Al-Ahram on 12 January that President Al-Sisi's decree should be followed by other measures to help contain sectarian incidents.
"Religion should be removed from national ID cards, the niqab banned, control on extremist fatwas issued by Salafi clerics tightened and an anti-discrimination commission established," wrote Riad.
Riad, who chaired the committee charged with investigating sectarian incidents following the ouster of Mohamed Morsi, said the majority of attacks against Christians were triggered by the provocative preaching of extremist clerics affiliated with Salafi groups and the Muslim Brotherhood.
"We saw how these clerics pushed members of their congregations to torch churches following the removal of the Brotherhood regime," said Riad.
Mushira Khattab, a former minister of population and family planning, said in an article also published on 12 January, that Article 53 of the constitution which prohibits discrimination urgently needs to be put into effect.
"There is a pressing need for a national anti-discrimination commission to tackle all forms of discrimination based on religion, colour, gender and sex, promote a culture of diversity and tolerance and ensure educational curricula do not contain any discriminatory content," she said.
http://english.ahram.org.eg/NewsContent/1/64/321905/Egypt/Politics-/Egypt-Containing-sectarian-violence.aspx
--------
Yemeni Activists Accuse Houthis Of Detaining, Torturing Women Over Made-Up Charges
January 18, 2019
SANAA: Yemen's Houthi militias hold dozens of women without bringing them to trial or charging them with a crime, often torturing the detainees and blackmailing their families, activists said on Thursday.
The allegations were first raised over the weekend by the Yemen Organization for Combating Human Trafficking, based in the capital, Sanaa.
The group's founder, Nabil Fadel, said he received information from families, former female detainees, and other sources showing that over the past months, the Houthis have been rounding up women over allegations of prostitution and collaboration with the Saudi-led coalition.
A Yemeni rights lawyer on Thursday said the women were rounded up from cafes and parks in the past months. Speaking on condition of anonymity for fears for personal safety, he said their families are searching for their missing daughters.
The Yemeni anti-trafficking group said it obtained new information showing that the militias were carrying out atrocities such as "abuse, torture, and forced disappearances of women and girls in secret and illegal prisons."
An AP investigation last month showed that thousands of Yemenis have been imprisoned by the Houthi militia during the four years of Yemen's grinding civil war.
Many of them suffered extreme torture — being smashed in their faces with batons, hung from chains by their wrists or genitals for weeks at a time, and scorched with acid.
http://www.arabnews.com/node/1437411/middle-east
--------
'Levant's transition to Islamic rule was gradual for majority of population'
Jan 17,2019
AMMAN — The transition from the Byzantine to Early Islamic period was drastic when looks at only historical literary sources, claimed a French scholar from the University of Paris-Panthéon-Sorbonne.
"After a short-lived Sassanid occupation of the Levant from 614-628AD, the conquest by Islamic armies remained a shock for savants. For instance, a handful of chroniclers interpreted the failure of the Byzantine Empire to control their territory as the waning of their golden age," Apolline Vernet said.
Vernet added that from a top-down viewpoint, the battle of Yarmouk was a significant moment in breaking Byzantine dominion over the Levant.
Gradual change
However, the gradual establishment of the new Islamic ruling-system is a tangled and complex narrative, she continued, noting that the first decades of the Islamic state in the Near East are punctuated by both back-and-forth battles along the frontier areas of the empire and civil war.
"During the reign of Muawiya Ibn Abu Sufyan, he tried to calm tensions between ruling factions to some degree, but the new administrative shift is mostly attributed to the Caliph Abdel Malik Ibn Marwan," Vernet said.
Marwan, who ruled between 685 and 705 AD, introduced reforms that standardised Islamic administrative practices and solidified Arabic as the official administrative language. He also ordered inscribed milestones to be placed on the main roads within the territory.
From the bottom-up viewpoint, recent studies have emphasised the resilience of local inhabitants — or their ability to compromise with the new socioeconomic and political realities, the scholar explained.
The governor of a province had military, administrative and fiscal duties, but he was also responsible for the inhabitants' environment by maintaining and improving civil works and public facilities, she underlined.
"The relationship between the governor and the local population would have been quite close, as suggested by contemporary Egyptian papyri and recent studies", Vernet pointed out.
In general, the shift from Byzantine to Islamic rule was a step-by-step process over the course of the 7th-8th centuries AD — rather than one explosive event. "It echoes in the archaeological remains that show no evidence of societal collapse or destruction of sites in the Near East."
Decapolis during transition
When it came to the established sites in the area such as the Decapolis, they did not face abrupt change following the Islamic conquest, Vernet explained.
"Nonetheless, the integration of the new Muslim population and practices can be discerned by archaeology through different means."
Vernet claimed that the congregational mosque was the focal point for urban Muslim communities and would have been constructed in most of cities during the Umayyad period.
The scholar added that the most remarkable one in Jordan is the mosque located in the ancient city centre of Jerash.
"Another aspect to the city's transformation during the first years of Islam was the increase of pottery workshops and kilns within the city," Vernet said, noting that the ceramics produced were sold locally in the various shops near the mosque, but were also sent abroad to marketplaces in other regional cities.
However, in the case of Pella, in north-western Jordan, the scholar said that "no mosque from the Umayyad period has been recorded yet — not even a palatial centre".
Nevertheless, several houses discovered on the hill can attest to the continuity of daily life during the transition from Byzantine to Umayyad rule, she underlined.
A study of Pella's artefacts, some of which, along with their owners, were sealed away by an earthquake in 750AD, showed that new decorations and shapes were used for tableware after the conquest.
Vernet said there is no indication Pella's inhabitants converted to Islam, and instead seemed to be wealthy merchants living under Umayyad rule.
Seized in 634 or 635, the ancient city of Amman kept its former status as a prominent city during the Umayyad period, she said, adding that the only evidence for this period in the lower city is a mosque, which is no longer visible.
"In contrast, the citadel was renovated to accommodate the regional administration of the province," the French researcher said, adding that in addition to a palace, cistern, market and a mosque, archaeologists also uncovered a residential quarter.
These three cities show the wide range of both continuity and transformation that affected Byzantine cities after the Islamic conquest. Even if the preexisting structures are still standing, new trends appeared in economic, administrative and everyday life.
'Oriental house'
The "the oriental house", or "central courtyard house" is a type of structure that dates back to prehistoric times, and was constructed for centuries from northern Syria through Arabian Peninsula, Vernet said.
"It suits the requirements of the warm climate with a simple but effective plan: the living rooms surround the courtyard, where shade can be easily made with a piece of fabric in a corner, a tree or a peristyle," she noted, saying that the "central courtyard house" was very common during Byzantine and Islamic rule.
Nevertheless, one has to note that this type of plan was widely constructed in the aristocratic castles and newly-founded cities during the Umayyad period, Vernet said.
"The plan would serve as a dwelling unit in the aristocratic complex... and it could be used as an apartment to house the family of an official," the archaeologist underlined.
Moreover, the Islamic period introduced a systematic room pattern, which could be extended from the small "proto-bayt" (a central room leading to two side rooms), to the large "Syrian-bayt" (a rectangular central room leading to two sets of side rooms), Vernet said.
"Both examples are found at the citadel of Amman... Those rooms could have been used for banqueting purposes or to welcome special guests into the house," she emphasised.
Vernet said that even though the Islamic period in the region was embedded with an ancient foundation, "the study of housing practices highlights new living habits and customs introduced by newcomers following the Islamic conquest".
http://www.jordantimes.com/news/local/%E2%80%98levants-transition-islamic-rule-was-gradual-majority-population%E2%80%99
--------
YouTube imposes partial ban on UK Islamophobe Robinson
Jan 17, 2019
UK far-right activist and Islamophobe Tommy Robinson has been banned from making money on YouTube because he allegedly spread hate on the platform.
A YouTube spokesperson said on Thursday that the video-sharing website has suspended advertisements on Robinson's account.
"We have suspended ads on Tommy Robinson's YouTube channel as it breaches our advertising policies," said the spokesperson.
The ban comes a day after the American video-sharing platform removed adverts from videos on Robinson's page, saying they promoted "hatred, intolerance or discrimination".
YouTube's decision to "demonetize" Robinson's account came following complaints and reports by other users.
The move would be a serious blow to the Islamophobe figure whose channel has over 270,000 subscribers and enjoys high earnings from far-right viewers in Britain and elsewhere.
Robinson slammed the move and said it was "continued censorship". He also claimed that Google, which owns YouTube, was planning to close down his account and ban him altogether.
Robinson's page on YouTube has already been flagged fro allegedly violating rules on "hate speech or content that promotes or incites violence". Among the videos spotted on the page is one from last year that includes footage of Robinson punching a migrant on a street in Italy.
Robinson has several criminal convictions in the UK and is free pending a ruling by the country's attorney general on contempt of court charges. He has openly promoted hate against Muslims and other minority groups in Britain since he founded the English Defense League some 10 years ago.
Robinson has already been banned from major social media websites like Twitter while payment platform PayPal has also removed him from online transactions over his violation of rules on hate speech.
https://www.presstv.com/Detail/2019/01/17/586072/UK-Islamophobe-Robinson-YouTube-ban
--------
US: Congresswoman Omar defends tweet criticizing Israel
17.01.2019
By Umar Farooq
WASHINGTON
Congresswoman Ilhan Omar on Thursday defended a comment in which she criticized Israel years before and said she hoped people would see the country's "evil doings."
In 2012, Omar posted a tweet regarding the Gaza War, where the Israeli Defense Force launched a week-long offensive on the Gaza Strip, leaving 174 Palestinians dead, according to the United Nations.
"Israel has hypnotized the world, may Allah awaken the people and help them see the evil doings of Israel," said Omar.
The tweet resurfaced in an on-air interview with CNN, where she defended her comment.
"I don't know how my comments would be offensive to Jewish Americans," Omar told CNN. "My comments precisely are addressing what was happening during the Gaza war, and I am clearly speaking about the way the Israeli regime was conducting itself in that war."
Omar, alongside Rep. Rashida Tlaib, are the first two Muslim women to serve in U.S. Congress.
The representatives have been outspoken about their criticism of Israel, and have expressed support for the Boycott, Divestment, and Sanctions movement which demands a boycott of Israeli companies involved in human rights violations, until the situation for Palestinians improves.
While serving in the Minnesota legislature, Omar also reportedly voted against a bill trying to prohibit companies from doing business with entities engaging in a boycott of Israeli products.
https://www.aa.com.tr/en/americas/us-congresswoman-omar-defends-tweet-criticizing-israel/1367826
--------
India
World's tallest Durga idol was made in Assam by a Muslim artisan
January 17, 2019
A day before Xilpi Diwas — or what is celebrated as "artiste's day" in Assam — 61-year-old Nuruddin Ahmed officially became the man who made the world's tallest idol of Hindu goddess Durga, endorsed by the Limca Book of Records.
Ahmed, who hails from Guwahati's Kahilipara area, had built a 98-feet-tall idol out of bamboo during Durga Puja in September 2017 at a pandal in Bishnupur, Guwahati — a feat that had grabbed plenty of attention even then. "While most people appreciated my work and did not disturb me, some would often ask me if my 'dharma' conflicted with my work," says Ahmed. "But where does religion come into the picture? Xilpi'r kunu dharma nai (Artistes do not have any religion)."
Forty people — of various faiths, including Hindus and Muslims — worked together in September 2017 to build the gargantuan idol that nearly a lakh flocked to Bishnupur to see. Made completely out of baah (bamboo), a material found in abundance through Assam, Ahmed's Durga idol was built in seven days flat.
"We had actually taken forty days to build it — it was ready by September 17. However, a big storm destroyed it a week before Durga Puja and we had to rebuild from scratch," says Ahmed. The five-day festival is one of the most important in eastern India, especially in West Bengal, Assam, Orissa and Tripura and marked by elaborate pandals made under artistic supervision.
Ahmed is also involved in the art direction of the biggest pandals in Guwahati including the ones at the Rehabari and Bharalamukh localities. "I used bamboo for the idol because the material is intrinsic to Assam and the Assamese people — I wanted to promote it," he says.
Ahmed received the letter from the Limca authorities last month but went public with the news on his Facebook account only on Wednesday, once he had received the hardbound copy of the Limca Book Records 2019. In the book, under the section, "Statues and Idols", Ahmed's Durga idol shares space with the largest Nandi, Shivalinga, Hanuman statue, Buddha statue etc. "We used cotton only for the ropes — rest of it was all bamboo," says Ahmed, who has also been involved with the Bhramyaman (mobile or travelling) theatre groups of Assam as an art director for the last 29 years.
"I do work for mandirs and pujas, xattras (monastic orders of 16th centure poet-saint Sankardeva) and naamghars, as well as masjids," says Ahmed, who also happened to turn 61 today. As is the norm, the pandal in Bishnupur was dismantled on the last day of Durga Puja in September 2017 — however, because of "public demand", Ahmed's idol was up for an extended week.
https://indianexpress.com/article/north-east-india/assam/worlds-tallest-durga-idol-was-made-in-assam-by-a-muslim-artisan/
--------
Bombay HC Grants Bail To Right-Wing Group Leader In Muslim Techie's Murder
January 17, 2019
The Bombay High Court Thursday granted bail to Dhananjay Desai, an accused in a case related to the killing of IT professional Mohsin Shaikh in Pune in 2014.
According to police, Shaikh was killed by three men after they were "provoked" by an inflammatory speech delivered by Desai.
Justice Sadhana Jadhav granted bail to Desai against a bail bond and surety of Rs 50,000.
His lawyer Abhijeet Desai said a detailed order giving reasons for the grant of bail will be available Monday.
As per the prosecution, on June 2, 2014, Desai-led Hindu Rashtra Sena had organised a meeting in Hadaspar area of Pune following the circulation of morphed pictures of King Shivaji, former Shiv Sena chief Bal Thackeray and some Hindu deities.
The police alleged that Desai had given a provocative speech instigating the audience at the meeting. Afterwards, some of the attendees had gine on a rampage.
Three of them spotted two men on a motorbike, one of them spotting a beard, and attacked them. The victims, Mohsin and Riyaz, were both IT professionals.
Riyaz managed to escape but Mohsin died in the attack. Desai was subsequently arrested.
He had sought bail arguing that he had no role to play in the incident and was not even present at the spot.
Full report at:
https://www.business-standard.com/article/pti-stories/hc-grants-bail-to-right-wing-group-leader-in-muslim-techie-s-murder-119011701420_1.html
--------
Andhra Pradesh: Altaf Rizvi appointed treasurer of Ahle Sunnat Wal Jamaath
Jan 17, 2019
AMARAVATI: All India Muslim Personal Law Board (AIMPLB) state president Altaf Rizvi was elected as treasurer of the Ahle Sunnat Wal Jamaath, a religious organization of Muslims.
The new executive of the Ahle Sunnat Wal Jamath was elected during the two-day long congression of the Jamaath held at Kondapalli Sha Bukhari Karbala grounds in Kondapalli near Vijayawada on Thursday. Mufti Mohammed Abdul Khader Rizwi of Vijayawada has been elected as new state president of the Jamaath.
Full report at:
https://timesofindia.indiatimes.com/city/amaravati/andhra-pradesh-altaf-rizvi-appointed-treasurer-of-ahle-sunnat-wal-jamaath/articleshow/67576467.cms
--------
'IS module': NIA raids in Uttar Pradesh, Punjab, four detained
January 18, 2019
Suspecting that members of the recently-busted outfit, which has been accused of being an Islamic State module, were planning to form a separate group to carry out terror activities, the NIA Thursday raided seven locations across Uttar Pradesh and Punjab. NIA sources said that four people have been detained and are being questioned. The key among them, sources said, is a Maulvi from a mosque in Ludhiana. The Maulvi hails from Rampur in Uttar Pradesh and was an associate of arrested accused Saqib Iftekhar, also a Maulvi from Hapur, said the sources.
Iftekhar is alleged to have helped the group procure weapons and had travelled to Jammu and Kashmir thrice to arrange weapons and to meet militants in the Valley. The NIA now suspects that Iftekhar's visits to the Valley were not to arrange weapons for the group he was associated with, but to start a new group, the sources said.
On December 26, NIA arrested 10 people from Delhi's Jaffarabad and Uttar Pradesh's Amroha for allegedly being part of a group called Harkat-ul-Harb-e-Islam. The agency alleged that the group owed allegiance to the IS and was being handled by an online entity by the name of Abu Malik Peshawari.
During its raids, NIA had claimed to have seized arms and explosives. Officially, NIA has maintained that the group had plans to target "vital installations and important personalities which included politicians".
According to NIA, the group was led by Delhi preacher Mufti Sohail with civil engineering student Mohammed Anas, Zubair and Zaid — all of them under arrest — being part of the core group. "We are examining why Iftekhar wanted to form a separate group," an NIA officer said.
Sources said raids were conducted at Rampur, Bulandshahr, Meerut, Hapur, Amroha and Ludhiana Thursday and several suspects were questioned. Some of these suspects are being brought to Delhi, sources said. During the searches, NIA seized mobile phones, laptops and "incriminating literature", sources said.
NIA has so far arrested 12 people in the case. The last arrest was made on January 12, when one Mohammed Absar Ahmed was nabbed from Meerut. A theology teacher at Jamia Husania Abul Hassan in Hapur, Absar was a close friend of Iftekhar and had travelled with him to Kashmir thrice to procure weapons and meet militants, according to NIA.
"Absar's interrogation revealed that Iftekhar wanted to start a new group and it was in this connection that they had gone to Kashmir and met a Maulvi in Tral. The Maulvi helped them meet another person for contacts with militants who Iftekhar wanted to meet for training of his men. All these people have been questioned. It is from here that the clue about Ludhiana Maulvi being part of the group came," an NIA officer said.
An NIA team comprising about 50 members and personnel of Crime Investigation Agency of Ludhiana Police raided the Madani Jama Masjid on Rahon Road and detained the Maulana, a native of Rampur in Uttar Pradesh. Sources said the Maulana had come to Ludhiana from Uttar Pradesh four months ago.
Full report at:
https://indianexpress.com/article/india/is-module-nia-raids-in-up-punjab-four-detained-5543852/
--------
Dialogue between India and Pakistan imperative for peace: Farooq Abdullah
January 17, 2019
Former Jammu and Kashmir Chief Minister and National Conference president Farooq Abdullah on Thursday said that talks between India and Pakistan were imperative for peace.
Addressing party workers at a function in Sher-i-Kashmir Bhawan, the NC chief recalled the words of former prime minister Atal Behari Vajpayee that one can change friends, but not the neighbours.
In his public address at Tangdhar along the Line of Control in Kashmir's Kupwara district, Vajpayee had said that both India and Pakistan will progress together if they remain friends, otherwise both will have to suffer, the NC leader recalled.
The situation is the same today, he said, apparently referring to continued incidents of ceasefire violation along the border.
He asked Pakistan to improve its relations with India in better interests of its people. Today, it is visiting Saudi Arabia, Qatar and UAE with a begging bowl so as to arrange funds for running the country, he said, adding that countries are, however, not run like this.
"Come what may, today neither we can take that part of Kashmir, nor it cannot wrest Kashmir from us,'' he said, adding that "we have to find a way out''. "It is possible if they (Pakistan) stop aiding and abetting militancy,'' he pointed out, adding that "our problems will come to an end if we come closer to each other''.
The NC leader slammed BJP government at the Centre for making false promises to the people. Today, they have kept 10 per cent reservaion (economically weaker among upper caste) without identifying the categories of people and their percentage to be benefited out of it, he added.
They have also been assuring Kashmiri Pandits of their return to the Valley. He asked Prime Minister Narendra Modi to announce during his February 3 visit to Jammu as to when he would be taking them back home in the Valley.
The NC leader also alleged attempts being made in Jammu to spread hatred between communities. They talk of separating Jammu, he said, without naming BJP or the Sangh Parivar and dared them to do so pointing out that it was their government in Delhi.
Full report at:
https://indianexpress.com/article/india/j-k-talks-imperative-for-peace-between-india-and-pakistan-says-ex-cm-farooq-abdullah-5543752/
--------
4 Pakistan soldiers dead as India retaliates to border attacks
Jan 17, 2019
At least four Pakistani soldiers were killed between Tuesday and Thursday after the Indian Army launched a strong retaliation to ceasefire violations that mark the most significant escalation of tensions along the Line of Control in Jammu and Kashmir this year.
The action comes less than a week after an Indian Army officer and a soldier patrolling the Line of Control (LoC) in Kashmir were killed in targeted explosions, and a Border Security Force (BSF) assistant commandant was shot dead by Pakistani snipers on the International Border in Jammu.
"At least four regular soldiers of the Pakistan Army were killed in the last 48 hours when the Indian Army retaliated along the LoC," said a senior officer of the Indian Army, who asked not to be named.
A second official, posted with BSF, too, said the Indian retaliation had led to deaths on the other side, but put the number at five.
"The casualties [on the Pakistan side] were mainly in the Rajouri sector and we have been able to confirm it," the first officer added.
Earlier in the day, Northern Army commander Lt Gen Ranbir Singh said Indian forces were "giving a befitting reply to every single ceasefire violation by the neighbouring country". The officer did not confirm or deny when asked if the retaliation had led to deaths on the Pakistani side.
Lt Gen Singh added that "2018 has been a great year for security forces, more than 250 terrorists were killed, 54 were caught alive, and four surrendered before the security forces", ostensibly referring to actions in the Kashmir.
Former Jammu and Kashmir chief minister Omar Abdullah criticised the statement.
"I beg to differ, a great year would be one in which no young man would join militancy, no terrorists would be killed and no security personnel would lose their lives in encounters. The compulsion of killing militants/terrorists shouldn't be treated as a cause for celebration," he wrote on Twitter.
Officials said Pakistan's ceasefire violations continued on Thursday and a civilian was injured by mortar shelling along the LoC in Jammu and Kashmir's Rajouri district.
The Pakistani side was reported to have engaged in heavy firing in Jhangar, Laam, Pukherni and Peer Badeswar areas of Rajouri district.
At 2,936, the year 2018 recorded the highest number of ceasefire violations by Pakistan troops in the past 15 years along the Indo-Pakistan border, according to official data.
Full report at:
https://www.hindustantimes.com/india-news/4-pakistan-soldiers-dead-as-india-retaliates-to-border-attacks/story-BuJeLaqnTRZmd0Yps1K0DM.html
--------
Pakistan
Transgender Pakistanis Take Their Rights to Nation's Islamic Courts
17 Jan 2019
A Pakistani transgender activist brought the rights of fellow transgender people in the country to a court in Lahore on Wednesday seeking police enforcement of laws against beating and torturing transgender people, a regular occurrence in the Islamic country.
Pakistan's constitution establishes the country as explicitly Islamic; its preamble begins with the words "in the name of Allah, the most Beneficient, the most Merciful." Congress cannot enact laws that run afoul of Sharia, the Islamic legal code.
Pakistan nonetheless passed laws protecting transgender people from harm, the Transgender Persons (Protection of Rights) Act, in May, allowing citizens to legally choose their gender, run for office despite identifying as transgender, and remain free of discrimination or violence. Transgender people also enjoy a higher profile in public life in the country. In December, Lahore hosted its first Trans Pride Parade.
Pakistan legally recognizes three genders: male, female, and khawaja sira, an ancient third gender believed to possess magical powers. Khawaja sira have complained that the transgender movement is detracting from their struggles and represents a modern, intrusive cultural phenomenon. Despite being seen as magical, many khawaja sira are ostracized and suffer ridicule and discrimination.
Pakistan's government is notoriously weak in the face of Islamic radicals in the country, however, routinely failing to enforce its own laws protecting Christians and other religious minorities in addition to transgender people and women generally. Transgender people frequently suffer extreme attacks – from beatings to being burned alive – with little police action.
The Pakistani newspaper Dawn reported Thursday that a transgender activist, Hina Shahzadi, has appealed to the local sessions court in Lahore calling for police to enforce anti-violence laws against the community.
"Shahzadi contended that trans people are teased and subjected to torture without any reason. She alleged that a prime suspect, along with others, subjected trans people to sexual harassment and torture," the newspaper noted, adding that among the "teasing" were routine death threats from locals who disapproved of their identities. Shahzahi received support from a transgender support group that "staged a silent protest" that day, Dawn added.
Sharia law is explicit about punishing homosexuality, but gender identity is murkier territory, thus the existence of the Transgender Persons Act. Pakistanis can go to prison for "acts of sodomy;" sharia demands a death sentence for homosexuality. Similarly, Pakistani law requires prison sentences for most acts of "blasphemy," save for insulting Muhammad personally, which carries a death sentence.
In contrast, the law allows transgender people to legally marry, so long as they marry a member of the other biological sex. Notably, intersex people, who are not born physically possessing distinct male or female genitalia, cannot marry because they are considered neither men nor women.
The law notwithstanding, violence against transgender people is common in the country. In one particularly gruesome case in 2017, a man set a transgender person on fire after extorting the individual, who refused to pay the money demanded. Police did nothing to stop the attack. Similarly, crimes like gang rape of transgender individuals often go unpunished, and those transgender individuals who, disowned by family, end up working as dancers or sex workers are often killed with little retribution when they run out of money and their services stop being seen as lucrative to exploiters.
The fate of transgender people is akin to the suffering of religious minorities, particularly Christians, who routinely face mob attacks and lynching when falsely accused of "blasphemy" by Muslim neighbors. The government typically does not arrest those involved in killing Christians for fear of offending the Islamic supremacist factions in the country.
"The appeasement of extremist groups by successive Pakistani governments has led to a climate of fear for religious minorities and for those who question the use of the blasphemy law," Brad Adams, Asia director at Human Rights Watch, said in a report on the country by the NGO published Thursday.
In the most egregious recent case of the Pakistani government allowing Islamic radicals to threaten and attack Christians, authorities throughout the country failed to stop violent riots in November protesting the acquittal of Asia Bibi, a Christian woman sentenced to death on false charges of blasphemy. Muslim men burned cars, attacked businesses, formed checkpoints to target and beat Christians in their neighborhoods, and forced the shutdown of much of the activity in major cities like Islamabad and Lahore. To stop the riots, the Pakistani government placed Bibi on a no-fly list, despite her status of no longer being charged with a crime. Bibi remains hidden in an undisclosed location to prevent a Muslim mob from killing her.
https://www.breitbart.com/asia/2019/01/17/transgender-pakistanis-take-rights-nations-islamic-courts/
--------
India has 'no role' in Afghanistan: Pak foreign office
Jan 17, 2019
ISLAMABAD: India has no role in Afghanistan, the Pakistan foreign office spokesperson said Thursday, asserting that Islamabad played a key role in arranging direct talks between the Taliban and the US to find a peaceful solution to the longstanding Afghan problem.
Speaking at the weekly briefing, Mohammad Faisal said Pakistan always maintained that the solution to the conflict in Afghanistan lies in an Afghan-led and Afghan owned peace process.
"In pursuance of that (policy), we have facilitated direct talks between the US and the Taliban," he said.
He said Pakistan was convinced that an intra-Afghan dialogue will lead to peace and stability in the war-torn country.
"In our view, intra-Afghan dialogue is crucial for success and sustainability of peace process in Afghanistan. Pakistan will continue to support and facilitate Afghan peace process in good faith and as part of a shared responsibility," he said.
Responding to a question on India's role in the country, Faisal said "India has no role in Afghanistan".
Faisal's remarks contradict Pakistan's Foreign Minister Shah Mehmood Qureshi's earlier statement in which he acknowledged that India had stakes in Afghanistan and its cooperation was necessary for the peace process.
"Some meetings have taken place (among key stakeholders) for establishment of peace in Afghanistan. India also has stakes in Afghanistan and its cooperation will also be needed," Qureshi said last month.
India has been a key stakeholder in the peace and reconciliation process in Afghanistan and has committed aid worth USD 3 billion to the war-ravaged country.
Faisal said Prime Minister Imran Khan will visit Qatar on an official invitation on January 21 and will meet the Amir and Prime Minister of Qatar.
"Issues of mutual interest will be discussed during the visit. The Prime Minister will discuss the import of manpower by Qatar from Pakistan," he said.
Faisal said President of the UN General Assembly Maria Fernanda Espionosa will visit Pakistan from January 18 to 22, which is her first to any country in the Asia-Pacific region after her election.
During her visit, Espionosa will call on the President and the Prime Minister. The foreign minister will also hold a meeting with the visiting dignitary, he said.
Full report at:
https://timesofindia.indiatimes.com/world/pakistan/india-has-no-role-in-afghanistan-pak-fo/articleshow/67575661.cms
--------
Pakistan steps up efforts to salvage stalled US-Taliban talks
January 18, 2019
ISLAMABAD: Pakistan on Thursday affirmed its continued support for the Afghan peace and reconciliation process as it stepped up efforts for salvaging the stalled talks between the United States and Taliban.
The assurance was extended by the country's highest political and military offices against the backdrop of breakdown in the US contacts with the Taliban, which were being facilitated by Pakistan, due to the militant group's persistent refusal to engage with the Afghan government.
Prime Minister Imran Khan, in a telephonic conversation with Afghan President Ashraf Ghani, reassured the latter that Pakistan was making "sincere efforts" for a politically negotiated settlement of the Afghan war.
The Prime Minister Office in a statement said that President Ghani had called PM Khan to discuss recent developments relating to the reconciliation process and thanked him for "Pakistan's sincere facilitation". The two leaders agreed "to remain engaged and create an environment for resolving all outstanding issues", it further said.
Pakistan had last month facilitated a meeting between the US and Taliban to pave the way for an intra-Afghan dialogue. The meeting was also attended by representatives of Saudi Arabia and the United Arab Emirates. Despite the Abu Dhabi meeting, which was said to have ended on a positive note, the Taliban have continued to refuse to talk to the Afghan government. Their refusal has now become a major roadblock for the continuation of the engagement.
Foreign Office spokesman Dr Mohammad Faisal in his media briefing recalled that direct talks between the US and Taliban were facilitated by Pakistan in pursuance of its long-held position that the solution to the conflict in Afghanistan lies in an Afghan-led and Afghan-owned peace process. "Intra-Afghan dialogue is crucial for success and sustainability of peace process in Afghanistan," he emphasised.
Meanwhile, Chief of the Army Staff Gen Qamar Javed Bajwa told US Special Envoy for Afghan Reconciliation Zalmay Khalilzad during a meeting at the General Headquarters that Pakistan would continue "efforts for bringing peace and stability in the region".
Ambassador Khalilzad, who was initially scheduled to visit Islamabad on Tuesday, was accompanied at the meeting by Commander Resolute Support Mission Gen Austin Scott Miller, senior US presidential aide Lisa Curtis and other officials.
The US special envoy and his delegation earlier held talks with Foreign Secretary Tehmina Janjua at the Foreign Office.
Ms Janjua reiterated that Pakistan was facilitating the process for peace and stability in the region. She underlined that taking the Afghan peace process forward was a shared responsibility.
"Both sides agreed that ultimately the intra-Afghan dialogue would be vital to agree upon the contours of a future Afghan polity where Afghanistan becomes a stable and prosperous country and at peace with its neighbours," an FO statement said.
Ambassador Khalilzad had on completion of his meetings in Kabul on Wednesday adopted a tough tone on the lingering stalemate in the process, suggesting that the US was ready for both fighting and talking. Talking to journalists in Kabul, he stressed that the Taliban should negotiate with the Afghan government. "If Taliban want to talk, we can talk. If they want to fight, we can fight," he added.
In a tweet, he later said that it was agreed in his meetings with Afghan leaders that "military pressure is essential while we prepare to engage in negotiations for peace".
VoA, while quoting unnamed sources, reported that Pakistani authorities were making efforts to arrange a meeting between Ambassador Khalilzad and Taliban representatives to break the logjam. The VoA report said Pakistani officials appeared confident about bringing the two sides to the table.
Full report at:
https://www.dawn.com/news/1458238/pakistan-steps-up-efforts-to-salvage-stalled-us-taliban-talks
--------
SC approves draft Gilgit-Baltistan governance order
Iftikhar A. Khan
January 18, 2019
ISLAMABAD: The Supreme Court on Thursday accorded approval to a freshly proposed presidential order enshrining framework for governance of Gilgit-Baltistan, directing immediate promulgation of the order.
In a landmark judgement announced in the open court, the SC asked the president to promulgate the order on the advice of the federal government in any case within a fortnight.
"No amendment shall be made to the Order as so promulgated except in terms of the procedure provided in Article 124 of the same, nor shall it be repealed or substituted, without the instrument amending, repealing or substituting (as the case may be) the same being placed before this Court by the Federation through an application that will be treated as a petition under Article 184(3) of the Constitution. Nothing in this judgement shall be construed to limit the jurisdiction conferred on this Court by the Proposed Order itself; and Const.P. No.50/2018 etc. -: 29 :- iii. If the Order so promulgated is repealed or substituted by an Act of Parliament the validity thereof, if challenged, shall be examined on the touchstone of the Constitution," reads the order.
A seven-judge larger bench headed by Chief Justice Mian Saqib Nisar had on Jan 7 reserved its judgement on a set of petitions challenging the Gilgit-Baltistan Order, 2018 and the Gilgit-Baltistan Empowerment and Self Governance Order, 2009, besides raising several issues linked with governance in GB and powers of courts in the region.
The federal government had constituted a committee, shepherded by the attorney general, to review the entire matter and place before the apex court the draft of a fresh order for the governance of GB.
"In our view, that draft, as modified …… does provide a suitable framework in the hue of constitutional nature for the governance of GB," the verdict says.
The order, while dealing with the question of jurisdiction, points out that Article 187 of the Constitution confers a special jurisdiction on the apex court.
"As the text of Article 184(3) supra indicates", this court can give "such directions to any person or authority including any Government… as may be appropriate for the enforcement of any of the Fundamental Rights conferred by Chapter 1 of Part II" of the Constitution. It is now well settled that this constitutional power, within the scope of the grant, is not just plenary; it is also dynamic and flexible.
"Keeping these provisions in mind, and the special nature of the issue before us — the settling of a framework, of a constitutional nature, for the governance of GB — we are of the view that our jurisdiction extends to the giving of suitable directions to the Federation, both to promulgate the Proposed Order and also for ensuring its continuity. It is only in this way that fundamental rights can be granted to the people of GB in the meaningful and realistic manner envisaged by this Court in the case of Al-Jehad Trust", reads the judgement.
The order also says it was a matter of some concern that although the apex court had articulated the basic position with regard to the status and rights of the people of GB in Al-Jehad Trust case two decades ago, the actual realisation by the executive of that expression has remained fitful at best.
"This is not acceptable. This Court has not hesitated in the past to give legal recognition to the aspirations of people who have unhesitatingly, enthusiastically (and, if we may put it like that, joyously) cast their lot with Pakistan right from the beginning. We do not hesitate now to take the matter further. Therefore, we do not just provide judicial imprimatur to the proposed framework: we also give it permanence, so that the people of GB have unassailable confidence that their rights, and the enjoyment thereof, is not subject to the whims and caprice of every passing majority, but are firmly grounded in the Constitution itself. And let it be clearly understood: we will not hesitate in future, should the need and occasion arise, to take, within our constitutional mandate, all such steps as may be required, it reads.
Full report at:
https://www.dawn.com/news/1458257/sc-approves-draft-gilgit-baltistan-governance-order
--------
Sindh police asked to give 18 missing children's details to FIA for investigation
January 18, 2019
KARACHI: The Sindh High Court on Thursday directed a deputy inspector general of police to provide details of 18 missing children to the Federal Investigation Agency to check their travel history.
The two-judge bench of the SHC headed by Justice Naimatullah Phulpoto, who was hearing a petition about missing children, also directed DIG CIA Amin Yusufzai and assistant director of FIA anti-human trafficking cell Abdul Hameed Bhutto to come up with progress reports on Feb 21.
The bench also asked the DIG to specify in the progress report the steps taken to recover each individual missing child and the locations from where the children went missing.
Earlier, the bench had summoned the provincial chief of FIA after a question raised about the possibility of using these children in human trafficking. On Thursday, director FIA Sindh Munir Ahmed Shaikh appeared and informed the bench that Mr Bhutto had been tasked with investigating the issue of the missing children.
The DIG CIA, who is heading a committee to make efforts for recovery of the missing children, through a progress report submitted that a meeting was held with the FIA officials and they sought details of Form-B of the missing children in order to find if they were taken out of the country.
The report further contended that the DIG directed the SSP AVCC to make efforts to compile a list of missing children, including Form-B, adding that the investigating officers had also visited the interior part of Sindh and Balochistan to locate the children. The DIG contended that he provided the required details to the FIA.
However, the bench directed the DIG to provide complete details of Form-B of the 18 missing children to the FIA for check their travel history.
On the directive of the SHC, the police had registered 23 FIRs regarding missing children at various city police stations. Later, five of them returned home.
Officials summoned
Another bench of the SHC on Thursday directed the secretaries of the health and works departments to appear on Friday (today) after the Pakistan Medical and Dental Council (PMDC) highlighted some deficiencies in the under-construction Shaheed Mohtarma Benazir Bhutto Medical College and Lyari General Hospital.
Full report at:
https://www.dawn.com/news/1458172/sindh-police-asked-to-give-18-missing-childrens-details-to-fia-for-investigation
--------
Afghan peace process a 'shared responsibility': Pakistan, US
JANUARY 18, 2019
Pakistan and visiting US special representative Zalmay Khalilzad on Thursday agreed that ultimately the intra-Afghan dialogue would be vital to agree upon the contours of a future Afghan polity where Afghanistan becomes a stable and prosperous country and at peace with its neighbours.
US Special Representative for Afghan Reconciliation Ambassador Zalmay Khalilzad held a delegation-level meeting with Foreign Secretary Tehmina Janjua to discuss developments in the Afghan reconciliation process. He was accompanied by an interagency delegation representing departments of defence, state and the National Security Council. The foreign secretary was assisted by senior officials from the ministries of Foreign Affairs And Defence.
It was noted during the meeting that taking the Afghan peace process forward remained a shared responsibility. Ambassador Khalilzad briefed the Pakistan side on his recent engagements in the region. He lauded Pakistan's efforts in facilitating direct talks between Taliban and the US in Abu Dhabi last month. The foreign secretary reiterated Pakistan's commitment to facilitate Afghan reconciliation process to realize the shared goal of peace and stability in the region.
This is Ambassador Khalilzad's fifth trip to the region. He is set to call on Foreign Minister Shah Mehmood Qureshi on Friday (today).
Meanwhile, a delegation led by Zalmay Khalilzad and including US Commander for Afghanistan General Austin Scott Miller met Chief of Army Staff General Qamar Javed Bajwa at the General Headquarters in Rawalpindi, according to a statement issued by the Inter-Services Public Relations (ISPR).
Matters pertaining to regional security and the Afghan peace and reconciliation process were discussed between the two sides. The US delegation appreciated Pakistan's efforts towards the peace process, said the military's media wing.
General Bajwa reiterated the importance Pakistan gives to peace in Afghanistan and provided assurances that efforts to bring peace and stability in the region will continue on the part of Pakistan.
Full report at:
https://dailytimes.com.pk/345319/afghan-peace-process-a-shared-responsibility-pakistan-us/
--------
Arab World
Saudi Arabia Pumps Money Into Restive Shi'ite Quarter It Once Flattened
Jan. 17, 2019
AWAMIYA, Saudi Arabia (Reuters) - The old quarter of Awamiya, a town on Saudi Arabia's oil-producing eastern shore that was once the center of Shi'ite protests, was leveled in 2017 following a security campaign against gunmen the authorities accuse of having links to Iran.
The district's maze of mud brick homes and narrow alleyways, which militants used for years to launch surprise attacks against police, have now been replaced by a shopping complex, events hall and expansive plazas dotted with palm trees.
The Riyadh government, supportive of a puritanical strain of Sunni Islam that considers Shi'ite Muslims heretics, hopes investing in the broader area of Qatif after decades of alleged neglect will finally snuff out the violence.
These efforts are a test for the policies of Crown Prince Mohammed bin Salman, who has struck a conciliatory tone toward the kingdom's Shi'ite minority while confronting arch-rival Iran in a decades-long struggle for influence across the Middle East.
Shi'ites have long complained of discrimination they say keeps them from senior government jobs, reduces state investment in their areas and leads to closures of centers of worship.
Security forces have repeatedly quashed mass protests in Qatif, starting with a 1979 uprising inspired by the Iranian revolution of the same year. At the time, another district in Awamiya was destroyed and turned into a parking lot.
In 2011, Arab Spring uprisings in other Arab countries sparked more fighting, drawing Qatif deeper into Saudi Arabia's regional contest with Iran and ultimately leading to the demolition of a district in Awamiya known as al-Musawara.
The government has spent more than $60 million to rebuild the 18-hectare (45-acre) al-Musawara and another $230 million to compensate residents for hundreds of razed homes. More money is being pumped in to rehabilitate schools, hospitals and malls as well as beaches, a fish market, and an old fort.
REGIONAL RIVALRY
Prince Mohammed, known as MbS, won Western plaudits for social and economic reforms that include committing the country to a more moderate form of Islam than the semi-official Wahhabi school, which has often been criticized as the ideology of radical Islamists worldwide.
But the reforms have been accompanied by a crackdown on dissent and a purge of top princes and businessmen on corruption charges. The murder of journalist Jamal Khashoggi at the kingdom's Istanbul consulate last October has further raised doubts about whether MbS is serious about real change.
Following decades of repression, any attempt to improve sectarian relations will take time. And it is likely to face suspicion from Shi'ites, say Western diplomats and analysts.
"If the government is going after people like Khashoggi and the business elite in that harsh way, then just imagine how they would go after some Shia who makes trouble," said Toby Matthiesen, a research fellow of Islamic and Middle Eastern Studies at the University of Cambridge.
Since becoming defense minister in 2015, the crown prince has taken a more assertive stance against Tehran, launching a war against Yemen's Iranian-aligned Houthis and cutting ties with Qatar in part over accusations it is cozying up to Iran.
He has tried to distance that from domestic unrest, telling an American magazine last year that Riyadh's problem was with the ideology of the Iranian regime, not Shi'ites. But critics say the government's heavy-handed tactics have not changed.
Five human rights activists from Qatif, including a woman, are facing the death penalty in a trial condemned by rights groups and the United Nations.
"FRUSTRATION AND FATIGUE"
A military vehicle sitting at the edge of al-Musawara, now rebranded Wasat (Central) Awamiya, is a reminder of street battles that left buildings pockmarked with bullet holes.
A day before Reuters visited the quarter on a government media tour last week, six people were killed in a security operation in another part of Qatif, raising concerns that militants quashed in one area will pop up in others.
Fahad Jubeir, mayor of Eastern Province, said he is confident that residents will embrace the government initiative.
"I expect it will have the magical effect of changing the area from a shelter for terrorists into a beacon of civilization," Jubeir said, voicing hope that all traces of violence would disappear "very soon".
A project manager said designers consulted with locals to faithfully replicate historical architecture amid concerns over the demolition of centuries-old buildings in a region where heritage is rarely preserved.
Gone are the covered passageways too tight for vehicles to pass, replaced by more than 5.5 hectares of green spaces.
Matthiesen, the scholar who has written a book about sectarianism in the Gulf, said even if residents are unsatisfied they are unlikely to resist amid growing repression.
"That doesn't mean that it's somehow going well or that it's a new approach to the Shi'a. There's just a general sense of frustration and fatigue," he said.
https://www.usnews.com/news/world/articles/2019-01-17/saudi-arabia-pumps-money-into-restive-shiite-quarter-it-once-flattened
--------
Tolerance-plus: Pope in Abu Dhabi will build on relations with Muslims
Jan. 17, 2019
When Pope Francis visits Abu Dhabi Feb. 3-5, he will visit a land where interreligious tolerance is mandated by law; while Catholics in the United Arab Emirates count their blessings for that, the pope is expected to nudge for something more.
Tolerance is praiseworthy, and Catholics in the Emirates do not take it for granted. But for Pope Francis, the next step -- and often a big one -- is mutual knowledge, respect and cooperation.
As the pope said in Bangladesh in late 2017, "respect and shaping a culture of encounter, dialogue and cooperation in the service of our human family" requires "more than mere tolerance. It challenges us to reach out to others in mutual trust and understanding, and so to build a unity that sees diversity not as a threat, but as a potential source of enrichment and growth."
The Apostolic Vicariate of Southern Arabia cares for the almost 1 million Catholics living in the Emirates, Oman and Yemen. The faithful belong to 16 parishes -- with Mass offered in a dozen languages in churches, chapels and meeting rooms, sometimes simultaneously.
In the United Arab Emirates, a federation of seven emirates on the southeast edge of the Arabian Peninsula, the ruling families have donated land for Catholic and other Christian churches. But no bells call the faithful to prayer and no crosses can be visible from the street.
Islam is the state religion and the faith of almost all of its citizens. But citizens account for less than 20 percent of the Emirates' population; most of the rest are foreign workers from almost every country in the world and include significant numbers of Catholics from India and the Philippines.
"We have experienced great benevolence from the leaders of the Emirates to be able to worship in the churches that have been built on land generously donated by them," said Bishop Paul Hinder, head of the apostolic vicariate. "These gestures and the continuous efforts by the state to create an environment of tolerance and harmony in the community are very encouraging."
The Catholic parishes run busy Rite of Christian Initiation of Adults programs, but only for foreigners. "Most of our RCIA candidates come from other Christian denominations or did not have a life in faith at all. Some are Hindu," said Marcus Khoury, who assists with the program at St. Joseph's Cathedral in Abu Dhabi.
Bringing adults into the Catholic faith is "a delicate matter where we have to be careful at all times," Khoury said. "We are not allowed to proselytize among Muslims, and therefore have to make sure that our RCIA candidates were not originally Muslim."
For Khoury, who worked for a year in neighboring Saudi Arabia, where Christianity can be practiced only in private homes, "Abu Dhabi is fortunately very open and relaxed when it comes to practicing other religions."
Khoury works as in-house legal counsel specializing in construction and arbitration law. Many Muslims, he said, know just by his name that he is Christian, or at least from a Christian family. But "my Muslim co-workers rarely talk about religion with me. To a certain extent it still is a touchy subject, as one may risk being misunderstood as proselytizing and trying to convert Muslims when talking to them about Christianity."
At work and at school, Bishop Hinder said, Catholics interact with their Muslim sisters and brothers and people of other faiths, so friendships are formed and cultures shared.
But the visit of the pope, which will include "the first ever public Mass in the country," will bring even more attention to the Catholic community, the bishop said, so Catholics want "to put our best foot forward to shine during this time."
Feras Hamza is a Dubai-based professor and Islamic historian who has participated in high-level Christian-Muslim dialogue programs. He told Catholic News Service, "The lived reality of day-to-day interaction, co-existence and social exchange -- economic, cultural or otherwise -- is itself a form of continuous dialogue" and one that best describes "the state of Christian-Muslim relations in the UAE."
"Christians and Muslims in the UAE do not need to discuss their scriptures to demonstrate 'dialogue,'" he said. "'Religion' cannot be singled out from what anthropologists would call 'culture,'" and people's "values may be anchored in and shaped by religious traditions, but they ultimately have life and meaning only in communal exchange and in the everyday."
A sign of how seriously the UAE takes tolerance, he said, is the appointment of a Cabinet "minister of state for tolerance" and the proclamation by Sheik Khalifa bin Zayed, the UAE president, of 2019 as the "Year of Tolerance."
In addition to focusing on dialogue with his Muslim hosts, Pope Francis will devote time to the international community of Catholics living in the Emirates. Those Catholics include lawyers like Khoury and financiers, doctors, nurses, teachers and tens of thousands of maids and construction workers.
For many of the domestic and blue-collar workers, a job in the Emirates is a great opportunity to work and send money home to their families. But policing their working conditions has not been easy; the government continues to enact protections, such as making it illegal for an employer to confiscate the worker's passport, regulating the fees employers can withhold from paychecks, mandating a maximum 12-hour work day for domestics and guaranteeing one day off each week.
The Catholic parishes are one of the few places in the Emirates where foreign workers of all countries and categories come together.
Khoury, the lawyer, said his French-language community at St. Joseph's includes people from France, Belgium, Lebanon, Iraq, Cameroon and Egypt. It lets him "break through the otherwise typical expat bubble in which expatriates-foreigners largely stick to their own nationality and social class."
Many of the migrants are unmarried. Bishop Hinder said that through their involvement in parish communities "they end up becoming each other's support system for spiritual growth and in personal relations."
And while the government has made strides in protecting workers, "there are sometimes unfortunate situations where migrant workers find themselves in dire straits if companies close down or salaries are not paid," the bishop said. "All parishes have set up community-service initiatives to help in this type of case," with volunteers providing legal assistance, parishioners collecting food and clothing and sponsors coming forward to pay for a stranded worker's plane ticket back home.
As guests in a foreign land, Bishop Hinder said, Catholics know their actions speak louder than words, and "living in peace and harmony becomes a natural priority."
Full report at:
https://angelusnews.com/news/cindy-wooden/tolerance-plus-pope-in-abu-dhabi-will-build-on-relations-with-muslims
--------
Media: MbS Puts Younger Brother under House Arrest
Jan 17, 2019
"Sources have told us that Mohammed bin Salman has detained his brother Bandar bin Salman and sent to the place where his mother Fahda Al Hathleen has also been kept under house arrest for a long time in the palace of Prince Sultan in Abha," the Arabic-language al-Ahd al-Jadid wrote on its twitter page on Thursday.
The report was re-tweeted by Mujtahid, the well-known source and whistle-blower in the Saudi royal family.
US officials believe, based on several years of intelligence, that MbS took action against his mother, because he was concerned that she opposed his plans for a power grab that could divide the royal family and might use her influence with the king to prevent it.
The officials added that MbS has placed his mother under house arrest at least for some time at a palace in Saudi Arabia, without the king's knowledge.
The US intelligence assessment of the Crown Prince's actions against his mother, which American officials said has long been concealed from both the King and the public, is an example of MbS's willingness to remove any perceived impediment to solidifying his position as Saudi Arabia's next king, the current and former officials said.
Officials added that the assessment of the dynamic between MbS and his mother, which has not been previously reported, is based on a combination of human intelligence, intercepts and information shared with the US from other countries.
The US officials, who spoke on condition of anonymity because of the sensitive nature of the intelligence, stressed that the 82-year-old King has at times been told his third wife is out of the country receiving medical treatment. They stated that the king has told people around him that he misses her and apparently does not know her true location or status.
Full report at:
http://en.farsnews.com/newstext.aspx?nn=13971027000692
--------
Iraqi MP Warns of US-Saudi-Israeli Plot against Hashd Al-Shaabi
Jan 17, 2019
Karim Aliwi told the Arabic-language al-Ma'aloumeh news agency on Thursday that the US is hatching a big plot in the Middle-East which will be centered in Iraq.
He cautioned of the US attempts to paralyze Hashd al-Shaabi and annihilate it, and said certain Arab states, specially Saudi Arabia, which cooperate with Israel against Hashd al-Shaabi and the resistance forces will accompany Washington in the execution of its plots.
Aliwi also said that the US is attempting to legalize its presence in Iraq and establish permanent bases in the country after blacklisting Hashd al-Shaabi and the resistance forces.
In relevant remarks on Wednesday, Abdel Bari Atwan, the editor-in-chief of Rai al-Youm newspaper, underlined that Washington's hostile stance towards Hashd al-Shaabi and its quest for dismantling popular groups in the Arab state derives from their opposition to the US forces' occupation of Iraq.
"The US administration in an unprecedented demand called on the Iraqi government on Tuesday to dissolve 67 groups operating in the framework of the Iraqi popular forces, while all these groups were welcomed by Washington when they were fighting against the ISIL alongside the US forces. Then what has changed now," Atwan wrote.
Noting that Iraq's security and national identity is gradually reviving, he said that Hashd al-Shaabi forces or their leaders have demanded withdrawal of all the 5,500 US military troops from Iraq and are opposed to the US use of military bases in Iraq for possible attacks against Syria and Iran.
Atwan added that Hashd al-Shaabi is also hostile to Israel and is in clear solidarity with Syria, which is another reason for the US enmity.
Full report at:
http://en.farsnews.com/newstext.aspx?nn=13971027000431
--------
US-Backed SDF Commander Killed in Eastern Deir Ezzur as Tensions Heighten
Jan 17, 2019
Field sources in Eastern Syria reported on Thursday that a bomb was detonated on the way of an SDF vehicle in the village of al-Tawamiyeh near the town of al-Basireh in Eastern Deir Ezzur, killing a senior commander of Deir Ezzur military council namely Abu Ishaq al-Ahwaz.
They also said that infightings between the Kurdish and Arab forces under the command of the SDF have increased in Deir Ezzur.
Other local sources in Hasaka also reported that the Assayesh Kurdish security forces in the town of al-Shadadi in Southern Hasaka have engaged in heavy internal clashes, adding that at least 10 of them were killed and wounded.
According to the sources, the clashes erupted after a member of Assayesh security forces was killed in Tal al-Shadadi region.
Similar reports from the region said on Wednesday that differences had intensified between the militant groups backed by the US and civilians in Eastern Syria as massive military operations by Turkish Army are imminent.
The Syrian media activists reported that the SDF have arrested a large number of people in areas under their control in Hasaka, Raqqa and Deir Ezzur provinces with the aim of forced recruiting of conscripts.
The activists said the SDF move has angered the local population, intensifying unrests in the region. "In one of such cases, civilians torched an SDF military base in the town of al-Qahtanieh in Northeastern Hasaka," they said.
Full report at:
http://en.farsnews.com/newstext.aspx?nn=13971027000255
--------
Terrorists Receive Severe Blow in Failed Attacks on Demilitarized Zone in Hama, Idlib
Jan 17, 2019
The Syrian army units in Northern Hama launched heavy artillery and missile attacks on Jeish al-Izza terrorists in regions near the town of Hasraya who intended to infiltrate into the army-controlled regions, destroying militants' strongholds and killing and wounding several of them.
Also, the army troops stationed in areas near the village of Zalin in Northern Hama targeted terrorists' positions in the town of al-Latamineh in response to their attacks, inflicting heavy damages and casualties on them.
The Syrian army forces also repelled an offensive by Tahrir al-Sham from al-Katibeh al-Mahjoureh region against military points in Eastern Idlib, killing and wounding several militants.
Meantime, the artillery units of the army targeted the positions and moves of terrorists in Sakik, Sahal, al-Baraj, Mas'adah and Tal Khatarah in Southern and Southeastern Idlib, destroying several of their military vehicles and equipment and killing a number of terrorists.
In a relevant development on Wednesday, the Syrian army warded off continued attacks of the terrorists on their military positions by pounding and destroying militants' movements in Northern Hama and Southeastern Idlib.
The Syrian Army's artillery and missile units pounded the movements and military positions of Jeish al-Izza terrorists who were trying to penetrate into Syrian Army positions in Northern Hama and Southeastern Idlib from al-Lahaya and al-Latamanieh towns, destroying several military positions and inflicting heavy losses and casualties on the militants.
The Syrian Army's artillery units pounded militants' movements in the villages of al-Zayareh, al-Zaka and Lahaya in Northern and Northwestern Hama, killing a large number of terrorists and destroying their military equipment and weapons.
Full report at:
http://en.farsnews.com/newstext.aspx?nn=13971027000188
--------
US-led coalition hits mosque used by ISIS in Syria
18 January 2019
The US-led coalition fighting ISIS in Syria destroyed a command center in a mosque in the war-torn country on Thursday, officials said.
The strike is another indication that ISIS has not been "defeated" in Syria, as Trump claimed last month when he ordered the withdrawal of US forces from the country.
Coalition aircraft "destroyed an ISIS command and control facility in a mosque in Safafiyah," a coalition statement read.
"ISIS continues to violate Law of Armed Conflict and misuse protected structures like hospitals and mosques, which cause a facility to lose its protected status," the statement added.
ISIS holdouts in Syria are mainly in the eastern province of Deir Ezzor.
Four Americans, including two US soldiers, were killed Wednesday in a suicide blast claimed by ISIS in the northern city of Manbij.
Full report at:
https://english.alarabiya.net/en/News/middle-east/2019/01/18/US-led-coalition-hits-mosque-used-by-ISIS-in-Syria-.html
--------
Militants kidnap Christian in Egypt's Sinai Peninsula
January 18, 2019
CAIRO: Extremist militants on Thursday kidnapped a Christian man traveling in a taxi in the turbulent north of Egypt's Sinai Peninsula, according to security officials, an incident that raises the specter of renewed attacks on minority Christians in the region after a two-year lull.
The officials did not identify the man, but said police pursued the kidnappers into the desert to which they fled after the incident, killing one of them and wounding two others in a firefight, but could not free the hostage. Two policemen were also wounded in the firefight, said the officials.
There was no word on whether any of the other passengers traveling in the taxi, a minibus, were harmed, suggesting that the kidnapping of the Christian man could have been planned.
The attack took place about 30 km west of El-Arish, northern Sinai's largest city, said the officials, who spoke on condition of anonymity because they were not authorized to brief the media.
A spate of attacks on Christians in northern Sinai in late 2016 and early 2017 forced nearly 300 families to flee their homes there and find refuge elsewhere in Egypt.
Those killed included a cleric, workers, a doctor and a merchant. The last Christian to be killed in Sinai was in January 2018, when militants gunned him down as he walked on the street in El-Arish.
The militants, now led by Daesh, say they are punishing the Christians for their support of President Abdel Fattah El-Sisi.
The spiritual leader of Egypt's Coptic Orthodox Christians, whose ancient church is the country's predominant Christian denomination, is a close ally of El-Sisi, who has made sectarian harmony a cornerstone of his domestic policy.
El-Sisi's patronage of the community has given Christians a measure of protection but did little to protect them from radicals, particularly in regions south of Cairo where Christians are a sizable minority.
Since 2016, Daesh militants have killed more than 100 Christians in attacks targeting churches and buses carrying pilgrims to remote desert monasteries.
Also on Thursday, according to the officials, suspected militants sneaked into the parking lot of the main hospital in the city of Rafah on the Sinai border with the Gaza Strip and torched two vehicles before escaping.
The incident was the latest in a recent spate of violent incidents in Rafah, most of whose residents have been evicted and compensated over the past year to deny the militants hiding places.
Nearly a year ago, the government threw into the battle against the Sinai militants thousands of troops, heavy armor, helicopter gunships and jet fighters in a bid to end the insurgency.
Full report at:
http://www.arabnews.com/node/1437431/middle-east
--------
Mideast
US 'deal of century' doomed to hit dead end: Palestine
Jan 17, 2019
The Palestinian Authority (PA) says US President Donald Trump's yet-to-be-unveiled proposal on the Israeli-Palestinian conflict will hit a "dead end" after an Israeli TV report released what it called details of the so-called "deal of the century."
PA spokesman Nabil Abu Rudeineh stressed on Wednesday that any imitative short of a sovereign Palestinian state based on the pre-1967 boundaries with the entire East Jerusalem al Quds as its capital would fail.
"Rumors and leaks about the deal of the century, as well as ongoing attempts to find regional and international parties that would cooperate with this plan, are failed attempts that will reach a dead end," he said.
"Any peace plan that does not include an independent Palestinian state - with all of East Jerusalem as its capital - on the 1967 borders, is destined to fail," he added.
Citing a source who took part in a briefing in Washington on the so-called peace plan by a senior American official, Israeli Channel 13 TV reported that the bid provides for a Palestinian state in 85-90 percent of the West Bank, with the capital in "most of the Arab neighborhoods" of East Jerusalem al-Quds.
The plan also endorses the Israeli grip over parts of East Jerusalem al-Quds and the Holy Basin, which includes the Old City and its adjacent territories, according to the report.
Moreover, the initiative stipulates various land swaps and Israel's annexation of major settlement blocs.
However, the Israeli settlements, defined as isolated, would not be evacuated and expanded, but "dried out."
The White House rejected the Channel 13 report as mere "speculations."
"As in the past, speculations regarding the peace plan are inaccurate. We have no further reaction," it said in a statement.
Elsewhere in his remarks, Abu Rudeineh said that any proposal meant to resolve the Israeli-Palestinian conflict should have "international legitimacy."
"The address for achieving a just and lasting peace is the Palestinian leadership, which affirms that any proposals regarding the political process must be based on international legitimacy and the principle of the two-state solution," he said.
Palestinians have already rejected Trump's plan, with President Mahmoud Abbas calling it "the slap of the century."
Last month, eight European Union member states warned that Trump's initiative would not be successful if it fails to take into account internationally-agreed parameters for peace.
The United Kingdom, France, the Netherlands, Poland and Sweden – which are all member states to the UN Security Council - as well as Belgium, Germany and Italy said in a joint statement that the so-called Middle East peace plan should support the Palestinian statehood and end the Israeli occupation.
Israel occupied the West Bank as well as East Jerusalem al-Quds during the Six-Day War in 1967. It later annexed the Palestinian city in a move not recognized by the international community.
Israel lays claim to the whole city, but the Palestinians view its eastern sector as the capital of their future sovereign state.
Trump recognized Jerusalem al-Quds as the Israeli "capital" in December 2017 and moved the American embassy from Tel Aviv to the ancient city in May 2018, sparking global condemnations.
https://www.presstv.com/Detail/2019/01/17/586017/Palestine-Israel-Nabil-Abu-Rudeineh
--------
Hamas unveils Iran-funded homes for former Israel prisoners
January 17, 2019
GAZA CITY: Hamas said Thursday it had allocated new homes funded by Iran in Gaza to former Palestinian prisoners who had been held in Israeli jails.
The prisoners ministry said 26 apartments in a new building in southern Gaza had been given out in a lottery between 125 former Palestinian prisoners.
Officials from Hamas, the Islamist movement that rules the Gaza Strip, said the program was the first of its kind funded by Iran.
A second building will be constructed in northern Gaza, the ministry said, adding the project aimed to "reduce the suffering of our freed prisoners."
Iran has long been a strong backer of Hamas and its ally Islamic Jihad, providing them with funds, weapons and training.
Hamas has fought three wars with Israel since 2008.
Full report at:
http://www.arabnews.com/node/1437046/middle-east
--------
Cash-strapped Turkish Muslim foundation 'forced to sell properties'
January 17 2019
The properties of a Turkish Muslim foundation on the Greek island of Kos (İstanköy) have been put up for sale under pressure by the Greek government. The Education and Culture Association of Kos Muslims, another foundation, has condemned both the sale and the donation, expressing its expectation that the decisions be withdrawn.
Education and Culture Association of Kos Muslims President Kadir Memiş condemned the move and sent a letter to the board of the Charitable Muslim Foundations, asking them to halt the sale.
In his letter, Memiş said the board could find other resources in a bid to prevent the sale of foundation properties. The board should apply to the Greek government for tax exemption which has been the main reason behind the group being left cash-strapped, he noted.
The board of the administration for Charitable Muslim Foundations in Kos put a 34,000-square-meter land up for sale upon the instructions of Greek authorities, Mustafa Kaymakçı, the chair of the İzmir-based Rhodes, Kos and Dodecanese Turks Culture and Solidarity Association, told Hürriyet Daily News.
The same board members also decided to donate a 38,000-square-meter land for a symbolic price for the construction of a hospital, upon the request of the Greek government. The auction is slated for Jan. 31 and non-Greek citizens cannot purchase these properties, he said.
The decisions were imposed by the Greek authorities, Kaymakçı said, noting that this move was just the latest of such pressure imposed by the Greek government on Turkish Muslim foundation properties in Rhodes and Kos for many years. Several real estates were "sold or donated by force since 1947 in order to erase our identity," Kaymakçı added. Last year, Turkish associations prevented the destruction of the Sulaymaniyah Madrasah, but the property was later handed over for a university compound, he said.
All members of the board are appointed by the Greek administration and the Muslim population has no say over the affairs of the charitable foundations, he stated.
The board members justify the sale to pay off the debts of the foundations, which have been derived from the tax burden imposed on the Muslim foundations and for astronomical personnel costs, according to Kaymakçı.
Although religious foundations in Greece are exempted from tax according to the Greek constitution, Turkish foundations in Kos and Rhodes are subjected to 0.6 percent property tax.
Kaymakçı said they believe there are 2,000 Muslim Turks living in Kos, while the number is 7,000 in Rhodes. Greek authorities have shut down Turkish schools unilaterally, leaving youngsters unable to learn Turkish, he noted.
Full report at:
http://www.hurriyetdailynews.com/cash-strapped-turkish-muslim-foundation-forced-to-sell-properties-140581
--------
Thousands of Activists Ask Europe to Boycott US Anti-Iran Conference in Poland
Jan 17, 2019
"On February 13-14, the US will host a summit on the Middle East in Warsaw, Poland. The aim of the conference will be to set the stage for an unnecessary conflict with Iran," the anti-war activists wrote in a petition released on Codepink website.
"Instead of a summit to confront Iran, we need the world to pressure the United States to reenter the Iran nuclear deal after Trump's unilateral withdrawal and to lift the devastating sanctions it has imposed on Iran. Sign our letter asking EU countries to skip Pompeo's belligerent conference in Warsaw next month and instead host a gathering on Middle East peace with all Middle Eastern nations including Iran," the petition already signed by over 3,000 activists said.
They also addressed the EU in a letter which urges its members not to participate in the Poland meeting against Iran.
"Dear Representatives of the European Union, US Secretary of State Mike Pompeo recently announced that the United States and Poland will jointly host a ministerial meeting on the Middle East in Warsaw on February 13-14. This meeting aims to set the stage for an unnecessary conflict with Iran. We urge you NOT to attend the meeting and instead host an alternative one with all nations of the region, including Iran," it said.
"Secretary Pompeo says the summit will bring together representatives from 70 countries from Asia, Africa, the Western Hemisphere, Europe and the Middle East. While the meeting will address issues of peace, stability, freedom and security, a major part of the agenda is, according to Secretary Pompeo, to make sure that Iran is not a destabilizing force. This meeting is part of the US campaign against Iran that includes withdrawing from the Iran nuclear agreement and re-imposing sanctions that the US had lifted as part of the deal," the letter said.
"A major step forward for peace and security in the Middle East was precisely the Iran nuclear agreement, which was negotiated by the US, Iran, France, the UK, Germany, Russia and China, and was approved by the European Union and the UN Security Council. The other signatories have remained in the agreement and have been looking for ways to circumvent US sanctions on Iran. It is the Trump administration's withdrawal from the long-negotiated agreement and its increased hostility towards Iran that have added to the instability of the region and are threatening to unleash another devastating war in the Middle East," it said.
Warning that the US is fanning the flames of conflict, it said, "Since European countries are still a party to the Iran nuclear agreement and want to improve relations with Iran, it would not make sense for Europe to participate in a conference hostile to Iran. Your non-participation would send a critical message to other countries to follow your lead."
"We urge all nations to skip this conference and instead pressure the US administration to rejoin the Iran nuclear agreement. We urge you to host an alternative gathering with all Middle Eastern nations, including Iran, to stop terrorism and end wars, including the catastrophic war in Yemen," it concluded.
The list below shows a number of signatories of the petition:
Medea Benjamin, Co-Director, CODEPINK for Peace
Lindsey German, Stop the War Coalition UK
Chris Nineham, Stop the War Coalition UK
Tarak Kauff, Veterans for Peace
David Hartsough, Director, Peaceworkers
Hassan El-Tayyab, Co-Director at Just Foreign Policy
Jodie Evans, Co-Director, CODEPINK for Peace
Bill Fletcher Jr., former President of TransAmerica Forum
Ann Wright, retired US Army Colonel
Rebecca Vilkomerson, Executive Director, Jewish Voice for Peace
Alice Slater, Coordinating Committee Member, World Beyond War
Kevin Zeese, co-director, Popular Resistance
Margaret Flowers, co-director, Popular Resistance
Joseph Carl Gerson, President, Campaign for Peace Disarmament and Common Security
Ludo De Brabander, spokesperson, Vrede vzw, Belgium
Phyllis Bennis, fellow, Institute for Policy Studies
Kevin Martin, President, Peace Action
Gar Smith, co-founder and director, Environmentalists Against War
Jacqueline Cabasso, National Co-convener, United for Peace and Justice
Mubarak Awad, President, Nonviolence International
Michael Beer, Executive Director, Nonviolence International
John Hallam, UN Nuclear Disarmament Campaigner, People for Nuclear Disarmament, Australia
Junko Abe, representative, Nuclear Free Ehime, Japan
Bruce Gagnon, coordinator, Global Network Against Weapons & Nuclear Power in Space
Lisa Pelletti Clark, co-president, International Peace Bureau, Italy
Theresa Kresse, coordinator, International Peace Bureau, Germany
David Swanson, Director, World BEYOND War
Corazon Valdez-Fabros, Vice President, International Peace Bureau, Philippines
Sussan Tahmasebi, Executive Director, FEMENA
Trita Parsi, author
Mark Weisbrot, Executive Director, Center for Economic and Policy Research
Mitchell Plitnick, researcher, Lobe Log
Elaine Scarry, professor, Harvard University
Paul Shannon, committee member, American Friends Service Committee
Fatemeh Keshavarz, professor, University of Maryland
Paul Barker, Peace Corps Iran Association
Mark Solomon, former co-chair, United States Peace Council
Carolyn Eisenberg, professor, Hofstra University
Gayle McLaughlin, interim chair, California Progressive Alliance
Janice Sevre-Duszynska, media rep, Association of Roman Catholic Women Priests
Foad Izadi, professor, University of Tehran
Jamal Abdi, president, National Iranian American Council
Gerry Condon, president, Veterans for Peace
Gary Ghiradi, communications director, The National Network Opposing the Militarization of Youth
Farideh Farhi, professor, University of Hawaii at Manoa
Charles Richard Mayson, New Zealand
Seth Morrison, Jewish Voice for Peace
Isam Suleiman, Palestinian Christians Acting for Peace
Melody Moezzi Esq., author, attorney, activist
V. Rev. Fr. George Makhlouf, Chaplain - Spiritual Adviser, Palestinian Christians Acting for Peace
Jeanette G. Gottlieb, president, Peace Corps Iran Association
Rev. Catherine Alder, retired pastor and counselor, United Church of Christ
Carolyn Yale, board member, Peace Corps Iran Association
David Webb, chair, Campaign for Nuclear Disarmament, United Kingdom
George Muedeking, mission elder, Albuquerque Mennonite Church
Lucas Wirl, co-chair, No to War-No to NATO, Germany
Alfred L. Marder, president, US Peace Council
The number of signatories of the conference is increasing every moment.
Pompeo told Fox News earlier this month that Washington would jointly host a global summit focused on Iran and the Middle East next month in Poland.
The international gathering will take place in Warsaw from February 13 to 14, the US State Department said in a statement.
Iranian Foreign Minister Mohammad Javad Zarif lashed out at the anti-Iran conference, describing it as a "desperate circus" that will disgrace the participants.
"Reminder to host/participants of anti-Iran conference: those who attended last US anti-Iran show are either dead, disgraced, or marginalized. And Iran is stronger than ever," Zarif said in a Friday tweet.
Zarif also strongly criticized the Polish government for hosting the conference, reminding Warsaw of thousands of Polish refugees saved by Iran during the Second World War.
"Polish Govt. can't wash the shame: while Iran saved Poles in WWII, it now hosts desperate anti-Iran circus," he went on to say.
Also, Secretary of Iran's Supreme National Security Council (SNSC) Ali Shamkhani underlined that the anti-Tehran conference indicated that the US sanctions against Iran had yielded no results.
Full report at:
http://en.farsnews.com/newstext.aspx?nn=13971027000496
--------
Houthi commander behind missile attacks killed in intelligence operation
17 January 2019
Arab coalition sources said on Thursday that an intelligence operation by the coalition led to the killing of former Yemeni air force commander, who defected to the Houthi militias, Major General Ibrahim Ali al-Shami.
According to the sources, al-Shami, who was responsible for several ballistic missile attacks, was killed in Sanaa.
Al-Shami was number 19 on the Arab coalition's most wanted list with a reward of $10 million for information that could lead to his capture.
Meanwhile, the Houthis alleged that al-Shami died from a heart attack.
The former major general in the Yemeni national army had facilitated the theft of ballistic missiles on behalf of the Houthi militias.
https://english.alarabiya.net/en/News/gulf/2019/01/17/Yemen-Intelligence-operation-by-Arab-coalition-kills-Houthi-leader.html
--------
Israeli regime responsible for many conflicts in Middle East: Hezbollah
Jan 17, 2019
A high-ranking member of the Lebanese Hezbollah resistance movement has accused the Tel Aviv regime of being behind most crises in the Middle East region.
"The Israeli occupation [regime] is the biggest problem in our region. It intervenes in world's issues… [while] the Unites States and Europe help it to normalize relations with some Arab countries, so that the regime is accepted internationally and regionally in particular," Hezbollah Deputy Secretary General Sheikh Naim Qassem said in an interview with Arabic-language al-Manar television network.
He added, "Israel is the main problem in the region as it is behind many existing crises. This region will continue to suffer from successive and cumulative crises as long as the Israeli occupation [regime] exists and acts in such an aggressive manner under American supervision."
"We must always bear in mind that Israel is a great danger; and that Arab and Muslim countries should reach an understanding with each other and work out appropriate means of cooperation. I am warning those countries seeking normalization of ties with the Israeli enemy that your bids will destroy your nations. Protect the independence of your countries against Israel rather than facilitating such a scheme!" Qassem pointed out.
The senior Hezbollah official then noted that the US has failed miserably in Syria, describing Secretary of State Mike Pompeo's tour of the Middle East as an attempt by the White House to raise the morale of its frustrated regional allies.
He then scoffed at the recent visit by US Under Secretary of State for Political Affairs David Hale to Beirut, stating that the solution to Lebanon's government formation deadlock is "domestic."
"Hale knows very well that he is not in a position to dictate things on Lebanon and its officials. He who does not see daily Israeli violations against Lebanon as an aggression is not eligible to give advice about citizenship and Lebanon's future," Qassem underlined.
Full report at:
https://www.presstv.com/Detail/2019/01/17/586063/Israeli-regime-responsible-for-many-conflicts-in-Middle-East-Hezbollah
--------
Fatah trying to drag Gaza into new war with Israel: Hamas co-founder
Jan 17, 2019
A high-ranking leader of the Palestinian Hamas resistance movement has accused the West Bank-based Fatah movement of attempts to provoke the Israeli army to launch a new military campaign against the impoverished Gaza Strip.
"Fatah-affiliated people are trying to force the Gaza Strip into a fresh battle with Israel by launching rockets during this sensitive time," Mahmoud al-Zahar said in an exclusive interview with Arabic-language Palestine Today television network.
Zahar added, "Some of these people are linked to Israel and are commissioned to get on with the task. These people are well-known to us. Fatah stands behind them. We have talked with their field leaders about their dangerous acts. Sometimes, they are arrested."
The Hamas leader noted that Gaza-based resistance movements are closely monitoring Israel's acts of aggression against the coastal enclave, stressing that they would never wait too long to respond to such moves.
Zahar's remarks came after Hamas spokesman Fawzi Barhoum warned in a statement on Sunday that the movement "will intensify the confrontation with Israel" in the coastal sliver if the Israeli military launches new attacks against the enclave.
"The Israeli occupation [regime] bears the consequences of continuing to commit its follies against peaceful protesters and deliberately killing them in cold blood as well as bombing sites of resistance," he stated.
The Palestinian official further noted that the escalation of situation in Gaza and "playing with fire" will never led to security for Israel and its people.
The statement came after Israeli military aircraft carried out several airstrikes against multiple locations across the besieged Gaza Strip late on Saturday.
Palestinian Ma'an news agency reported that Israeli warplanes fired at least one missile towards a military site belonging to Hamas east of Gaza City. Two other sites were targeted in the town of Beit Lahiya in the northern Gaza Strip and in the city of Khan Yunis south of the enclave. The Israeli airstrikes caused fires to erupt in several targeted sites; however, there were no reports of human casualties.
The Israeli military frequently bombs the Gaza Strip, with civilians being the main target of such attacks.
Israel has also launched several wars on the Palestinian coastal sliver, the last of which began in early July 2014. The military aggression, which ended on August 26, 2014, killed nearly 2,200 Palestinians. Over 11,100 others were also wounded in the war.
The Gaza Strip has been under an Israeli siege since June 2007. The blockade has caused a decline in the standards of living as well as unprecedented levels of unemployment and unrelenting poverty.
Full report at:
https://www.presstv.com/Detail/2019/01/17/586054/Fatah-trying-to-drag-Gaza-Strip-into-another-military-confrontation-with-Israel-Hamas-cofounder
--------
Africa
34 killed in attack on 2 Touareg villages in Mali
17.01.2019
At least 34 people were killed on Thursday when armed men, believed to be on motorcycles, raided two Touareg villages in eastern Mali, a governor said.
Menaka Governor Nanout Kotia said many more were injured in the attack and clashes between rival tribes in the Western African nation resulted in the deaths of 40 people within the last month.
The latest attack near the province of Menaka is only a continuation of ongoing conflicts among hostile tribes.
More than 200 people died in clashes between hunters and members of the largely nomadic Touareg and Fula ethnic groups last year.
Touaregs is one of the oldest and largest tribes in Africa whose roots are believed to go back to Amazighs (Berbers) and Tariq ibn Ziyad, the conqueror of Andalusia, and predominantly live in Libya, Mali, Niger and Burkina Faso.
Several terror groups are also active in northern Mali, where French, Malian and UN peacekeepers are conducting counterterrorism operations.
Tensions erupted in Mali in 2012 following a failed coup and a Touareg rebellion that ultimately allowed al-Qaeda-linked militant groups to take over the northern half of the country. In 2015, a peace deal was signed between the government and some insurgent groups.
Political and community disputes continue to fuel tensions in northern Mali, thus undermining the implementation of the peace agreement.
https://www.aa.com.tr/en/africa/34-killed-in-attack-on-2-touareg-villages-in-mali/1367666
--------
Doctor, child killed in Sudan anti-government protests
17 January 2019
A doctor and a child were killed in Sudan protests on Thursday, according to Reuters citing Doctor's committee linked to opposition.
Stone-throwing protesters clashed with Sudanese security forces in the capital Khartoum on Thursday in the latest round of demonstrations against President Omar al-Bashir's rule that erupted a month ago.
Demonstrations also erupted in three other cities as part of a four-week long unrest that poses the most persistent challenge to Bashir's grip since he took power in a coup in 1989.
https://english.alarabiya.net/en/News/middle-east/2019/01/17/Doctor-child-killed-in-Sudan-protests.html
--------
Netanyahu set for first-ever visit by Israeli PM to Chad
17 January 2019
Prime Minister Benjamin Netanyahu will embark upon the first-ever visit by an Israeli premier to Chad in the coming days as the two countries move to renew diplomatic ties, his office said Thursday.
Netanyahu's trip to the Muslim-majority central African nation on Sunday comes after Chadian President Idriss Deby Itno visited Israel in November.
The prime minister's office had not yet provided further details on the trip, though it was expected to be only a one-day visit.
Israeli media said it would be the first by a premier.
Netanyahu said during Deby's November visit that he intended to announce the resumption of diplomatic ties during an upcoming trip to Chad.
The two leaders at the time declined to comment on whether their talks have included arms deals.
Chadian security sources say the country has acquired Israeli equipment to help battle rebels in the country's north.
Chad is also one of several African states engaged in Western-backed operations against Boko Haram and ISIS group.
In recent years, Israel has held out the prospect of cooperation in fields ranging from security to technology to agriculture, to improve ties on the African continent.
Diplomatic relations between Israel and Chad, a country of some 15 million people, were severed in 1972.
Deby is one of Africa's longest-serving leaders.
Full report at:
https://english.alarabiya.net/en/News/world/2019/01/17/Netanyahu-set-for-first-ever-visit-by-Israeli-PM-to-Chad.html
--------
Canadian geologist kidnapped in Burkina Faso found dead
January 18, 2019
OUAGADOUGOU: A Canadian geologist kidnapped at a remote gold mine in northeast Burkina Faso by suspected jihadists has been found dead, the ministry of security told AFP on Thursday.
A body found with gunshot wounds late Wednesday is that of Kirk Woodman, "the Canadian who was kidnapped the day before yesterday," ministerial spokesman Jean-Paul Badoum said.
Earlier, a security official said the body of a "white man with gunshot wounds" had been found in Siega in Soum province.
The body "is being taken to Dori for identification," the source said. Another security source said the remains would then be flown by helicopter to Ouagadougou.
Canadian Foreign Minister Chrystia Freeland said her country was "appalled and deeply saddened" by the killing.
"Canada condemns those responsible for this terrible crime. We are working with the government of Burkina Faso and other international partners to pursue those responsible and bring them to justice," she said.
Woodman is one of two Canadians who have gone missing in Burkina Faso, an impoverished country in the front line of a jihadist rebellion in the Sahel.
He was vice president of a Canadian company, Progress Minerals, which owns a gold mine at Tiabangou, located in Yagha, a volatile province near the Niger and Mali border.
He was at the mine when the site came under attack from about 10 armed men, Security Minister Clement Sawadogo said on Wednesday.
The assailants "rounded up the staff. They searched the base camp and made off with some equipment. They took the expatriate with them," he said.
Woodman had arrived in the country just on January 10, Sawadogo added.
In mid-December, 34-year-old Canadian aid worker Edith Blais was reported missing with an Italian friend, Lucas Tacchetto, 30, as they were travelling between the western town of Bobo-Dioulasso and the capital Ouagadougou.
Troubled region
The vast region on the southern rim of the Sahara is struggling with a bloody Islamist insurgency and a wave of lawlessness.
After chaos engulfed Libya in 2011, an Islamist insurgency gained ground in northern Mali, Burkina's neighbour, while Boko Haram rose in northern Nigeria.
Jihadist raids began in northern Burkina Faso in 2015 before spreading to the east, near the border with Togo and Benin.
Most of the attacks have been attributed to Ansarul Islam and the Group to Support Islam and Muslims (JNIM).
Smaller groups are also active, with the overall number of fighters estimated to be in the hundreds, according to security sources.
The groups are believed to be responsible for more than 270 deaths since 2015. Ouagadougou has been hit three times and almost 60 people have died there.
Eight foreigners have been abducted in the last four years, according to an AFP tally.
Among them is 84-year-old Australian doctor worker, Kenneth Elliott, who was kidnapped with his wife Jocelyn in April 2015 in Djibo, where the pair ran a clinic for the poor.
Jocelyn Elliott was released after a year. Her husband, whose whereabouts remain unknown, has been declared a citizen of Burkina Faso, under a decree issued last November.
Full report at:
https://www.freemalaysiatoday.com/category/world/2019/01/18/canadian-geologist-kidnapped-in-burkina-faso-found-dead/
--------
Sudanese march on presidential palace as protests linger
Jan 17, 2019
Sudanese police have fired tear gas at protesters marching towards the presidential palace in the capital during a demonstration against the 29-year rule of President Omar al-Bashir.
Protest organizers had called for a march on the presidential palace in the capital Khartoum on Thursday, along with simultaneous demonstrations in several other cities.
Witnesses said that hundreds of demonstrators gathered in central Khartoum and began their march but riot police quickly confronted them with tear gas.
The protesters held anti-government placards and chanted slogans such as "Peace, justice, freedom" and "Revolution is the choice of the people."
They also demanded the resignation of President al-Bashir, who took power in a coup in 1989.
Authorities had reinforced security forces in the capital's key areas ahead of the planned march.
Several army vehicles mounted with machine guns were stationed outside the palace. Security personnel, many in plainclothes, were stationed across the downtown area of Khartoum and along the expected route of Thursday's march.
Sudan has been gripped by mass protests triggered by rising prices and shortages of food and fuel since December 19. The public display of anger later escalated into calls for Bashir to go.
In Khartoum, authorities say 24 people have died in the protests, but human rights group have put the death toll higher.
There have been calls by human rights groups for authorities in Sudan to investigate the use of lethal force by security forces against protesters.
Last week, UK-based rights group Amnesty International said that more than 40 people had been killed and more than 1,000 arrested. The New York-based Human Rights Watch (HRW) said the dead included children and medical staff.
UN rights chief decries use of 'excessive force'
The UN High Commissioner for Human Rights Michelle Bachelet, in a statement on Thursday, strongly denounced Sudan's "repressive response" to demonstrations, including the use of live ammunition against protesters.
"I am very concerned about reports of excessive use of force, including live ammunition, by Sudanese State Security Forces during large-scale demonstrations in various parts of the country since December 19," the statement read.
The UN rights chief also called on Sudan's government to protect the protesters' right to freedom of expression and peaceful assembly, regardless of their political affiliations. She warned that "a repressive response can only worsen grievances."
"The government needs to ensure that security forces handle protests in line with the country's international human rights obligations by facilitating and protecting the right to peaceful assembly," Bachelet said.
She called on the government to ensure the immediate release of all those who had been arbitrarily detained. "I urge the authorities to work to resolve this tense situation through dialogue, and call on all sides to refrain from the use of violence."
Bachelet also urged the fact-finding committees created by the government and Sudan's National Commission of Human Rights to conduct their investigations "in a prompt, thorough and transparent manner, with a view to accountability."
And she said her office remained ready to deploy a team to Sudan to help advise the authorities on how to ensure they act in accordance with the country's international human rights obligations.
The UN rights office has also decried reports that security forces had followed some protesters into the Omdurman Hospital and "fired tear gas and live ammunition inside the premises of the hospital."
The protests come as Sudan's economy has stagnated for most of Bashir's rule. He has also failed to keep peace in the religiously and ethnically diverse country, losing three-quarters of Sudan's oil wealth when South Sudan seceded in 2011 following a referendum.
Full report at:
https://www.presstv.com/Detail/2019/01/17/586058/Sudan-Khartoum-President-Omar-alBashir--HRW-UN
--------
Europe
Austria tilting law against Syrian asylum-seekers
17.01.2019
By Askin Kiyagan
VIENNA
The Austrian government is seemingly determined to make it easier to expel Syrian asylum-seekers.
Interior Minister Herbert Kickl said Thursday that he believes a readmission agreement with the Syrian regime will be very effective.
Speaking to Kronen daily, Kickl claimed an increase in the crime rate due to foreigners has been seen in the past year and so the government is set to take emergency security measures.
Elaborating on Austria's widely-criticized asylum law that allows the deportation of asylum-seekers whose requests are denied as well as those who have committed major crimes, Kickl said that the readmission agreement with the Syrian regime may take some time and the option to deport to a third country will be considered in the meantime.
"We will keep asylum-seekers who are convicted or prone to violence at transit zones such as airports where they will have only one option ahead, to go back to their countries," said Kickl.
He also recently told the media that his government is working to legislate tougher asylum laws which won't forgive even petty crimes.
According to the UN Refugee Convention, host countries can only deport migrants who have been convicted of "a particularly serious crime" such as murder, rape or armed robbery, but not lesser crimes.
https://www.aa.com.tr/en/europe/austria-tilting-law-against-syrian-asylum-seekers/1367690
--------
Pegida holds protest, screens Islam-insulting movie in front of Utrecht mosque
Jan 18, 2019
Supporters of the far-right Islamophobic group Pegida staged an anti-Islam demonstration in front of a mosque in the Netherlands late Wednesday.
The demonstration was held outside the Abi Bakr Issidik Mosque, frequented by members of the Moroccan community, in Utrecht, the central Netherlands.
During the demonstration, members of Pegida made speeches and showed a movie insulting Islam.
Tight security measures were taken around the mosque, including the installation of high barricades, and extra police were dispatched to the area.
After the Pegida demonstration, some local residents behind the barricades clashed with security forces.
Police detained two people.
Jamal Houri, press secretary for the mosque, told Anadolu Agency that Pegida tries to be deliberately provocative.
"Even though the area they chose for the demonstration was provocative, the mosque administration and community decided not to follow their provocation and ignored them completely," Houri said.
Full report at:
https://www.dailysabah.com/islamophobia/2019/01/17/pegida-holds-protest-screens-islam-insulting-movie-in-front-of-utrecht-mosque
--------
Saudi risks 'revolution' over basic rights: UK MP
Jan 18, 2019
Saudi Arabia will eventually face a "revolution" unless it decides to introduce reforms and stop abusing people's freedom of expression, a British lawmaker has warned the kingdom.
Crispin Blunt, a Conservative Member of Parliament (MP) and chair of a parliamentary panel on detained Saudi women activists, advised Riyadh leaders to realize that a civil society was a necessity to save their monarchy system of government.
"The alternative to a consultative monarchy is an absolute monarchy and down that route lies disaster and eventually revolution," the MP wrote in an op-ed for The Independent published on Thursday.
The lawmaker (pictured below) leads a detention review panel (DRP) of British MPs who have called on Riyadh to let them meet with women's rights activists the kingdom has arrested as part of its longstanding crackdown against proponents of civil rights reforms.
Blunt hopes that his good ties with Saudi Crown Prince Mohammed bin Salman and other royals help him get access to the women, who have allegedly been subjected to torture and sexual assault in Dhahban Prison, where they are being held in custody.
Saudi security officials detained over a dozen activists in May last year, shortly before Riyadh decided to lift a years-long ban on women driving. Ironically, many of the arrested activists played a key role in the campaign that led to removing the ban.
The crackdown on women activists has been widely seen as a message to other rights advocates that reforms in the country always come from the top. It has also been as an attempt by the Saudi monarchy to discourage similar campaigns on other issues.
While Saudi authorities released some of the women without charge later on, at least eight more along with a number of male supporters of the movement for basic rights remain in custody.
Amnesty International, Human Rights Watch and other rights groups have warned that at least three of the women have been subjected to torture and sexual assault while all have been denied access to lawyers.
Saudi Arabia has denied the "baseless" allegations.
"I am offering myself to the Saudi government to enable progress, and in today's crisis conditions, to help rescue its tarnished reputation for justice," Blunt wrote.
Full report at:
https://www.presstv.com/Detail/2019/01/17/586086/UK-MP-Blunt-DRP-Saudi-revolution-women-activist
--------
EU to impose sanctions for Syrian chemical attack
Claire Corkery
January 17, 2019
The European Union will reportedly impose sanctions on Syrian officials suspected of orchestrating the regime's chemical weapons attacks in a major widening of the punishments handed out for violating the ban on the weapons.
EU ambassadors have also reportedly agreed to add five Syrian citizens to the listing under the new chemical weapons sanctions' regime. A separate report said that 11 people would be added to the list for a range of human rights violations.
A spokeswoman for the EU's diplomatic service confirmed to The National that EU ambassadors had agreed to submit to the Council the first listings for the new sanctions regime to address the use and proliferation of chemical weapons.
Foreign ministers who meet in Brussels on Monday will also target four Russian military intelligence officers accused of carrying out chemical weapons attacks, including the nerve agent poisoning of a former Russian double agent in Salisbury last year.
Two of the officers who will be sanctioned are the men British authorities believe carried out the attack on Sergei Skripal and his daughter Yulia, according to Radio Free Europe citing unnamed EU diplomats.
The two suspects, who claimed on Russian state television that their trip to Salisbury on the day that the Skripals were poisoned was to see the cathedral, have been named by investigators Bellingcat as Alexander Mishkin and Anatoly Chepiga. Bellingcat said the pair worked for the GRU, Russia's highly secretive military intelligence unit.
It is believed the sanctions will be adopted on Monday when EU foreign ministers meet in Brussels for the EU foreign affairs council.
Full report at:
https://www.thenational.ae/world/europe/eu-to-impose-sanctions-for-syrian-chemical-attack-1.814838
--------
North America
Trump's new 'anti-Muslim' appointee, Charles M Kupperman, worries civil rights groups
by Patrick Strickland
Jan 18, 2019
Washington, DC - American civil rights groups have condemned the appointment of a new deputy national security advisor who served on the board of an anti-Muslim group for nearly a decade.
US President Donald Trump appointed Charles M Kupperman last week to assist National Security Advisor John Bolton, saying in a press release that Kupperman "brings to the role more than four decades of national security policy and programme experience".
Kupperman served on the board of directors for the Center for Security Policy (CSP) between 2001 and 2010, according to tax records.
The Southern Poverty Law Center (SPLC), an Alabama-based hate monitor, designates the CSP as an anti-Muslim hate group, pointing to the group's promotion of conspiracy theories claiming that Muslims have infiltrated the US government and seek to establish Islamic law in the country.
The Council on American Islamic Relations (CAIR) has called on the Trump administration to revoke Kupperman's appointment.
"Once again this is an example of Trump elevating foxes into the hen house, where Islamophobes are well placed to direct our nation's national security priorities," Robert McCaw, director of CAIR's government affairs department, told Al Jazeera.
McCaw argued that Kupperman's appointment "should absolutely be rescinded" and that he "has no place in the US government".
In the White House press release, John Bolton was quoted as saying that Kupperman "has been an advisor to me for more than 30 years, including during my tenure as National Security Advisor to President Trump".
"Charlie's extensive expertise in defence, arms control and aerospace will help further President Trump's national security agenda."
Kupperman has held senior positions in defence contractors Lockheed Martin and Boeing, and served in the administration of former President Ronald Reagan in the 1980s.
During his 2016 presidential campaign, Trump called for a "complete and total shutdown" of Muslims entering the US.
Since coming to office in January 2017, he has issued a slew of executive orders, some of which have been challenged in courts, seeking to bar entry for travellers from several Muslim-majority countries.
In October, during the midterm elections, the Muslim Advocates group released a report documenting 80 instances of political candidates using "clear anti-Muslim" rhetoric in 2017 and 2018.
'Not an accident'
At the time of publication, the White House had not replied to Al Jazeera's request for a comment.
Established in 1988, the Washington, DC-based Center for Security Policy is headed by Frank Gaffney Jr, and has promoted the false claim that the Muslim Brotherhood has infiltrated the US government and American society at large.
Gaffney, who also served in the Reagan administration, has falsely claimed that former Iraqi dictator Saddam Hussein was behind the 1995 Oklahoma City bombing, said former President Barack Obama was a covert Muslim, and claimed Hillary Clinton adviser Huma Abedin was a Muslim Brotherhood operative.
In 2011, Gaffney called on Congress to create an updated version of the House Un-American Activities Committee, which was established in 1938 to seek out Americans with communist ties or sympathies. In his version, however, the committee would root out Muslims supposedly seeking to undermine US institutions.
According to the SPLC, Kupperman is one of several people with ties to the CSP to join the Trump administration.
Others include Kellyanne Conway, whose firm produced a dubious poll for the CSP. It claimed that more than half of American Muslims advocate replacing US law with Islamic law.
Bolton, who appointed Kupperman, also appeared on Gaffney's radio programme often, as did US Secretary of State Mike Pompeo, the SPLC noted.
Nathan Lean, author of The Islamophobia Industry, said that it is not "an accident that people with clear connections to anti-Muslim hate groups are being elevated in the Trump world".
"In fact, with John Bolton at the helm of National Security, such an eventuality would be absolutely expected," he told Al Jazeera.
"Kupperman's associations with Frank Gaffney are enough to disqualify him from any government post, let alone one in which he is advising a man who is arguably in the president's ear on a daily basis regarding matters of national security."
https://www.aljazeera.com/news/2019/01/190117160447367.html
--------
Press TV's Hashemi due in US court on Friday
Jan 18, 2019
Press TV news presenter Marzieh Hashemi, who has been imprisoned by the FBI on unspecified charges, is due to appear in a Washington, DC, court on Friday.
The 59-year-old US citizen, who is based in Iran, was detained as a "material witness" to a criminal case and no charges were pressed against her, according to Hossein Hashemi, her elder son.
The US law defines a material witness as a person who is presumed to have information about the subject matter of a lawsuit or criminal prosecution, which is critical to the outcome of the case or trial.
Ms. Hashemi was taken into custody on Sunday in St. Louis, Missouri, where she had filmed a Black Lives Matter documentary.
FBI agents apprehended the Press TV journalist upon arrival at St Louis Lambert International Airport, before she boarded a flight to Denver, her son said.
Suzanne Nossel, CEO of the PEN America group promoting literature and free expression, says she is concerned Hashemi might have been targeted for her documentary work on the Black Lives Matter movement or for political reasons.
"If there are other grounds for Hashemi's detention they must be made clear, otherwise she should be released immediately," Nossel added.
Hashemi's son had told Press TV that he and his siblings had also received subpoenas to appear before a grand jury in DC.
A Muslim convert who has been living in Iran for years, Hashemi had traveled to the US to visit her ill brother and other family members.
She told her daughter that she was handcuffed and shackled and was being treated like a criminal.
The journalist also said that she had her hijab forcibly removed, and was photographed without her headscarf upon arrival at the prison.
Full report at:
https://www.presstv.com/Detail/2019/01/18/586090/Iran-hashemi-Press-TV-arrest-FBI
--------
US Army to acquire Israeli Iron Dome missile systems
Jan 17, 2019
The US Army is in the process of acquiring two batteries of the Israeli-made Iron Dome missile system, a new report suggests.
The army would use the missile systems to protect US ground forces overseas against unmanned air vehicles, mortars, rockets, artillery and cruise missiles, Inside Defense reported Wednesday.
The batteries will include 12 launchers, two sensors, two command centers and 240 interceptor missiles, the report said.
The Pentagon is said to be rushing the deal due to its "urgency" and plans to acquire the system's Israeli-made radar as well because adjusting the system to American radars means its deployment would face delays.
The US military has already tested the system. In September 2017, Israel loaned the US an Iron Dome battery, which was flown to the missile range in White Sands, New Mexico.
The report suggested that Iron Dome was also significantly cheaper than similar American missile systems.
For example, a system based on the AIM-120 AMRAAM missiles cost the Pentagon around $12 million for each launcher and $800,000 for each interceptor missile while the Iron Dome would only cost $1.37 million for each launcher and$150,000 for each interceptor missile.
The US Army has been working with Israeli weapons maker Rafael to develop an American version of the interceptor system since 2017.
In order to integrate the missile system, the US military was going to invest $289.7 million in the missile system in the current fiscal year and another $83.8 million for the next fiscal year, Israeli media reported, citing US congressional documents.
In total, the US Army would spend $1.6 billion for Iron Dome's full integration until 2024, the report added.
How effective is the system?
The Iron Dome was originally developed to counter small rockets that Hamas and other Palestinian resistance groups fired into Israeli occupied territories in retaliation for the regime's crimes against Palestinians.
The system has proven largely ineffective in serving that purpose, an issue that became clear during the latest Israeli aggression against Gaza Strip.
The military confrontation lasted only a day after Hamas fired hundreds of domestically built missiles into Israel. Iron Dome's failure to intercept much of the missiles forced Israeli Prime Minister Benjamin Netanyahu to call for truce, a move that prompted his war minister, Avigdor Lieberman, to resign.
Full report at:
https://www.presstv.com/Detail/2019/01/17/586040/US-Army-Israel-Iron-Dome-missile-deal
--------
US trained UAE troops for air combat in Yemen: Report
18.01.2019
By Umar Farooq
WASHINGTON
The U.S. Air Force has been training Saudi-led coalition personnel from the United Arab Emirates for aerial combat in Yemen, Yahoo News reported late Wednesday, citing newly obtained official documents.
A spokesman and an official from U.S. Central Command told Yahoo News the military did not "conduct exercises with members of the [coalition] to prepare for combat operations in Yemen".
Similar remarks were made last month by Gen. Joseph F. Dunford, chairman of the Joint Chiefs of Staff, stressing that the U.S. is "not a participant in the civil war in Yemen, nor are we supporting one side or the other".
But the documents, which were obtained by Yahoo News through the Freedom of Information Act, tell another story.
According to one of the documents from U.S. Air Forces Central Command from December 2017, the U.S. "escorted 6 UAE F-16s to RED FLAG; assisted 150 airmen in challenging exercise to prepare for combat ops in Yemen".
Support from the U.S. Air Force's Air Warfare Center at al-Dhafra Air Base near Abu Dhabi also helped advance the Gulf state's F-16 fighter jet program.
"Unit fighter personnel advanced the UAE's F-16 fighter pilot training program; 3 pilots flew 243 instructor sorties/323 hrs that created 4 new instructors & 29 combat wingmen who immediately deployed for combat operations in Yemen," the document said.
In 2015, a Saudi-led coalition, including the UAE, launched a campaign into Yemen after Houthi rebels overran much of the country and took over the capital, Sanaa. With U.S. support, the coalition launched a devastating air campaign aimed at rolling back Houthi gains.
The violence has devastated Yemen's infrastructure, including its health and sanitation systems, prompting the UN to describe the situation as one of the worst humanitarian disasters of modern times.
Full report at:
https://www.aa.com.tr/en/americas/us-trained-uae-troops-for-air-combat-in-yemen-report/1367885
--------
Pentagon: Four US personnel killed in ISIS attack on Syria's Manbij
January 17, 2019
Four US personnel were killed in a suicide attack claimed by ISIS in the northern Syrian city of Manbij on Wednesday, the Pentagon has confirmed.
It said, "two US service members, one Department of Defence (DoD) civilian and one contractor supporting DoD were killed and three service members were injured while conducting a local engagement in Manbij".
"Initial reports indicate an explosion caused the casualties, and the incident is under investigation," it added.
It is the largest death toll incurred by US forces in Syria since a global coalition to fight ISIS was formed in 2014.
The UK-based Syrian Observatory for Human Rights said the blast also killed at least five US-backed fighters as well as nine civilians.
The Kurdish-run Hawar news agency said two US-backed local fighters and 13 civilians were killed in the attack.
Amaq – ISIS's media wing – claimed that the attacker used a suicide vest to strike at coalition forces near a restaurant in the flashpoint Kurdish-held city.
It is the first major attack that explicitly targets US forces since US President Donald Trump announced last month that he would be withdrawing troops from the country.
Turkish President Recep Tayyip Erdoğan on Wednesday said he did not believe the attack would impact Mr Trump's decision to withdraw from Syria.
He said the American president won't halt the withdrawal because it would mean ISIS wins.
Meanwhile, American Vice President Mike Pence on Wednesday maintained the view that ISIS had been defeated, despite the attack on coalition forces.
"The caliphate has crumbled and ISIS has been defeated," he told a gathering of US ambassadors in Washington, without referencing the attack that took place only hours earlier.
He also said that Washington was pressing ahead with plans to pull out its troops.
"Thanks to the leadership of this commander-in-chief and the courage and sacrifice of our coalition partners, we're now actually able to hand off the fight against ISIS in Syria to our coalition partners and we are bringing our troops home," he said.
The US-backed Manbij Military Council, which is linked to the Kurdish People's Protection Units (YPG), has controlled Manbij since they seized the city from ISIS in 2016.
The US-led coalition conducts regular patrols inside Manbij and on the outskirts of the city.
Russia's military police recently deployed to areas outside Manbij, where they are conducting patrols in a zone adjacent to rebel-held territory in Aleppo province.
Wednesday's incident was not the first time that forces of the US-led coalition were subjected to attacks in the area, although they have been rare.
Full report at:
https://www.thenational.ae/world/mena/pentagon-four-us-personnel-killed-in-isis-attack-on-syria-s-manbij-1.814589
--------
South Asia
Bangladesh bans film about 2016 Islamist cafe siege fatal to 22, cites damage to reputation
JAN 18, 2019
DHAKA - Bangladesh has banned a film based on a 2016 cafe attack claimed by the Islamic State group that left 22 people dead, saying it would damage the country's reputation.
The Film Censor Board denied the theatrical release of "Shonibar Bikele," a decision the movie's director criticised as "unhealthy for artistic expression.
The title of the film translates to "Saturday Afternoon" and dramatises the July 2016 attack on an upmarket cafe by Islamist militants who killed 22 of their hostages, including 18 foreigners.
The state's censor board said the film—- a Bangladesh-German co-production — could incite religious fervour in the Muslim-majority nation of 165 million.
"The board did not sanction permission for the movie's exhibition, both at home or abroad, as it would disrupt internal security and also tarnish the country's global image," the censor board's vice chairman, Nizamul Kabir, told AFP on Thursday.
Bangladesh has suffered from homegrown extremism for decades, but the Holey Artisan Cafe attack was the worst in years and seen as a major blow to the country's image as a moderate Muslim nation.
The government has always denied the five young men who seized the cafe for hours before killing many hostages and dying themselves were linked to the Islamic State group.
Director Mostofa Sarwar Farooki criticized the decision to ban his film.
"Filmmakers should feel free to take inspiration from any incident that happens around them," the eminent Bangladeshi director said.
"They don't tarnish an image. They only interpret events. It's real world actions that can damage an image," he told AFP.
He said they would appeal against the decision in the hope of gaining a theatrical release.
The mastermind of the cafe attack was killed in a subsequent crackdown on homegrown militancy that has left at least 100 alleged homegrown fighters dead.
https://www.japantimes.co.jp/culture/2019/01/18/entertainment-news/bangladesh-bans-film-2016-islamist-cafe-siege-fatal-22-cites-damage-reputation/#.XEFxh1Uzazc
--------
NSA Mohib, Intelligence Chief Stanikzai met Ambassadors of 5 countries in Kabul
17 Jan 2019
The National Security Adviser Hamdullah Mohib and Intelligence Chief Mohammad Masoom Stanikzai met with the Ambassadors of five countries in Kabul.
The Office of the National Security Council (ONSC) in a statement said NSA Mohib and the Director of the National Directorate of Security Mohammad Masoom Stanikzai met with the Ambassadors of China, Uzbekistan, Tajikistan, Turkmenistan, and Kyrgyzstan in Dilgosha Palace this morning.
The statement further added that the meeting focused on joint fight against terrorism and strengthening of regional cooperation.
The Afghan side presented a report regarding the recent achievements in the fight against terrorism particularly in suppressing the ISIS group in Afghanistan and reiterated that Afghanistan is in the frontline of the fight against terrorism and regional mobilization of coordination is needed in this regard, the statement added.
Full report at:
https://www.khaama.com/nsa-mohib-intelligence-chief-stanikzai-met-ambassadors-of-5-countries-in-kabul-03135/
--------
4 Taliban, ISIS-K militants surrender to Afghan forces in Nangarhar
17 Jan 2019
Four militants affiliated with the Taliban and ISIS Khurasan surrendered to the Afghan forces in eastern Nangarhar province of Afghanistan.
The 201st Silab Corps of the Afghan Military in the East in a statement said three Taliban militants and a member of ISIS Khurasan surrendered to the Afghan forces in Bati Kot district on Wednesday.
The statement further added that the militants were previously involved in destructive activities but the surrendered to Afghan forces after renouncing violence.
The antig-government armed militant groups including Taliban have not commented regarding the surrender of their militants so far.
Full report at:
https://www.khaama.com/4-taliban-isis-k-militants-surrender-to-afghan-forces-in-nangarhar-03136/
--------
Afghans march in cities to call for pullout of US troops
Jan 17, 2019
Several hundred protesters have marched in three cities in southern and eastern Afghanistan to call for a ceasefire and an end to the US-led war in the country.
The Thursday marches took place in Kandahar, the southern cradle of the Taliban, and in the eastern cities of Khost and Jalalabad.
The participants held placards and chanted slogans such as "No War", "We want ceasefire" and "We want Peace."
Bismillah Watandost, a member of the People for Peace Movement, urged the Taliban to respond to a truce offer proposed by the Afghan government last year.
"Afghans want an absolute ceasefire as soon as possible. The government had agreed a one-year ceasefire and the Taliban must accept their demand."
Haji Farhad, a protester in Jalalabad, said that people of Afghanistan had been fed up with the ongoing war and violence.
"We call on the Taliban to come to the peace talks with the Afghan government and have mercy on the Afghan people. Our men, women, children and widows want peace. We are tired of war."
In recent months, the war-weary grassroots peace movement in Afghanistan has organized a series of sit-ins and a hunger strike demanding that both the government and the Taliban implement a ceasefire.
In May 2018, the peace marches began when a handful of civilians traveled 700 kilometers from Lashkar Gah in the southern province of Helmand to end their journey in the capital Kabul.
Since then, many others have been organized, including a wheelchair peace march by amputees between the western city of Herat and Kabul.
The developments come as the Kabul government has stepped up efforts to convince the Taliban to end more than 17 years of militancy amid Washington's failures on the battleground.
The US, too, has been holding talks with the Taliban. The US State Department's special envoy, Zalmay Khalilzad, has said that he had held "productive" meetings in Abu Dhabi with Afghan and international partners "to promote intra-Afghan dialogue towards ending the conflict."
Khalilzad said the Taliban seek an agreement on the withdrawal of foreign forces, while the US wants assurances from the militant group that its forces would not be attacked.
Khalilzad is currently in Pakistan on the last leg of his regional tour aimed at finding a negotiated end to Washington's longest military engagement.
Khalilzad said in the Afghan capital Wednesday that he hoped for fresh talks with the Taliban "very soon" after meetings with them in late 2018 in Doha and Abu Dhabi.
The talks are the latest in a flurry of diplomatic efforts aimed at putting an end to the war in Afghanistan, which began with the US-led invasion in 2001.
US President Donald Trump has ordered the start of withdrawing some 7,000 troops from Afghanistan, about half of the total number of American boots on the ground in the war-torn country.
Full report at:
https://www.presstv.com/Detail/2019/01/17/586074/Afghanistan-Taliban-Kabul-Kandahar-Khost-US-Zalmay-Khalilzad
--------
Hundreds of Rohingya families flee India for fear of deportation, persecution
Jan 17, 2019
Some 2,000 Rohingya Muslims, who had fled to India from death and violence in Myanmar, have reportedly left the South Asian country too, fearing continued harassment there and possible deportation.
Mohammed Arfaat, a Rohingya youth leader residing in Bangladesh, said on Thursday that the Muslims had left India for Bangladesh over the past months.
The renewed exodus started after an incident in October, which saw seven Rohingya men being deported to Myanmar. Another family comprising five people were sent back to Myanmar by India earlier in January.
More families were preparing to make their way out of India, fearing a crackdown, according to Arfaat and another leader of the Muslim community.
The Rohingya, the world's most persecuted ethnic minority, have been attacked and driven out of their native Rakhine State in Myanmar in what the United Nations investigators as well as international rights groups have denounced as "an ongoing genocide."
India estimates that 40,000 Rohingya Muslims live in camps across the country, mainly in the city of Jammu in the north, the south-central city of Hyderabad, and the capital New Delhi.
Fearing 'identification and murder'
India's Hindu nationalist government regards the Rohingya as illegal and a security risk. It has ordered that tens of thousands of them be identified and repatriated.
Arfaat said, "We already faced so many problems in our country and we needed freedom to live elsewhere. But, if like in Myanmar, you are fearful again, why would you live there?"
He even cited a call by the Jammu Chamber of Commerce & Industry for an "identify and kill movement" against the Rohingya.
Only 16,500 of Rohingya Muslims have identity cards issued by the UN refugee agency. The UNHCR says the documents help "prevent harassment, arbitrary arrests, detention and deportation."
The Indian government, however, does not recognize the cards either and rejects a UN position that deporting the Rohingya violates the principle of refoulement – sending refugees back to a place where they would face danger.
Myanmar's violent military campaign in 2017 forced more than 720,000 Rohingya Muslims across the border to Bangladesh. The Muslims faced mass killings, rape and arson in the Buddhist-majority country.
In August, a UN report accused the Myanmar military of mass killings and rapes of Rohingya with "genocidal intent" in 2017.
In its final report released on August 27, 2018, a UN fact-finding mission on Myanmar said the country's army, led by Commander-in-Chief Senior-General Min Aung Hlaing, had carried out the "gravest crimes" against the Rohingya with "genocidal intent."
Full report at:
https://www.presstv.com/Detail/2019/01/17/586053/India-Rohingya-Muslims-flee-crackdown-Myanmar
--------
Southeast Asia
Guidelines for private sector to allow Muslim staff to perform prayers
17 Jan 2019
BATU GAJAH: The Human Resources Ministry has released guidelines for private sector employers which would allow Muslim staff members to spend at least 20 minutes daily to perform their prayers.
The guidelines, published by the Labour Department and Jabatan Kemajuan Islam Malaysia (Jakim), also recommend that Muslim staff be given an hour-and-a-half off for Friday prayers.
Deputy Human Resources Minister Datuk Mahfuz Omar (pic) said the guidelines were produced after considering the views and opinions of muftis at a meeting of Syariah experts.
"The initiative to produce the guidelines began in 2017 when the department received complaints from workers who found it impossible to perform their prayers because they weren't given time off.
"So we thought it best to take proper measures to restore harmony in the workplace by publishing these guidelines so that employers would give their staff some time off for them to perform their prayers," he said.
Mahfuz said this when launching the guidelines at the Camfill Malaysia Sdn Bhd plant here.
Last year, the department received about 4,468 complaints, 0.3% of which had to do with Muslim workers not being given enough time to perform their prayers on a workday.
Mahfuz said the guidelines were in line with Article 3(1) of the Federal Constitution which states that Islam is the official religion of the country and therefore Muslims should be allowed to perform their prayers at the appropriate times.
He said other than giving employees time off to pray, employers also must ensure that clean prayer rooms, complete with prayer mats and a place for ablutions, were available for men and women.
The "kiblat" (the direction that should be faced when a Muslim prays) should also be clearly marked once identified by the state mufti.
Mahfuz also reminded workers not to abuse the time off, and use it for its intended purpose.
He also said the ministry plans to publish the guidelines for Muslim female staff members.
"This is aimed at clearing any confusion between employers and workers on the appropriate dress code in any given field, especially in the private sectors," he said.
https://www.thestar.com.my/news/nation/2019/01/17/guidelines-for-private-sector-to-allow-muslim-staff-to-perform-prayer/
--------
Former religious teacher and student placed on Restriction Order under ISA
JAN 16, 2019
Hariz Baharudin
SINGAPORE - A Singaporean former religious teacher and student pair who held radical beliefs promoting violence and views detrimental to Singapore's cohesion has each been issued a Restriction Order (RO) under the Internal Security Act.
Murad Mohd Said, 46, was placed on an RO on Dec 5 last year while his student, 56-year-old technician Razali Abas, was arrested in September last year and placed on an RO in October.
Murad was a freelance religious teacher until he was struck off from the Asatizah Recognition Scheme (ARS) in May last year for his segregationist ideologies that contravened the ARS Code of Ethics.
In a statement on Wednesday (Jan 16), the Ministry of Home Affairs said Murad was issued with an RO because he propagated beliefs promoting violence and views detrimental to the cohesion of Singapore's multiracial and multi-religious society.
It said he had taught his students that it was compulsory to kill apostates, who he defined broadly as those who did not believe in Islam, Sufis, Shi'ites and those who had renounced the religion.
He had also taught them that Muslims were allowed to defend themselves by waging "armed jihad" against "infidels who persecuted them".
"Murad also encouraged his students to withdraw from Singapore's secular society, disregard secular laws and adhere to the rulings of Syariah law instead," said MHA.
The ministry added that even after his ARS accreditation was cancelled by the Islamic Religious Council of Singapore (Muis), Murad continued to spread his divisive views online.
"Murad's binary 'us versus them' worldview and violent teachings, which he propagated to his students and followers, could have led them to develop extremist views, as well as lead to inter-and intra-faith tensions," said the MHA.
"His statements on the primacy of Syariah law over secular laws also undermines Singapore's secular nation-state system."
The Straits Times understands that Murad was the principal of Madrasah Al-Arabiah Al-Islamiah (MAI) from 2004 to 2006.
Razali was introduced to Murad's teachings in 2012 and attended his classes, said MHA.
The "exclusivist religious teachings" in the lessons made Razali more susceptible to other radical and violent influences that he later found on social media.
Over time, Razali became convinced it was legitimate to kill those who he felt were oppressors of Islam, including non-Muslims, said MHA.
It added that he began to seek out people with "militant-looking" profiles on Facebook, viewing them as heroes who made sacrifices that he could not make himself.
MHA said Razali was issued with an RO "to prevent him from continuing his downward spiral into extremism".
A person on an RO may not change his residence, employment or travel out of Singapore without official approval. He also cannot issue public statements or join organisations without approval.
He usually continues to undergo rehabilitation, likecounselling, to steer him away from radical ideology and extremism.
The ministry also said, in an update, that the RO issued against Singaporean Jauhari Abdullah was allowed to lapse on Sept 14 last year.
Full report at:
https://www.straitstimes.com/singapore/former-freelance-religious-teacher-and-student-placed-on-restriction-order-under-isa
--------
Israel calls Malaysian ban on its athletes 'shameful'
18 Jan 2019
JERUSALEM: Israel condemned on Thursday Malaysia's ban on Israeli participation in international sporting events it hosts and said the decision was inspired by Prime Minister Mahathir Mohamad's "rabid anti-Semitism".
Malaysia, a majority-Muslim country that does not maintain diplomatic relations with Israel, announced it would bar Israelis from any event in the Southeast Asia nation after banning Israeli athletes from the World Para Swimming championships this coming July.
In a statement, Israeli Foreign Ministry spokesman Emmanuel Nahshon called on the International Paralympic Committee, which is organising the competition, to change the venue if it cannot persuade Malaysia to lift the edict.
"This is shameful and totally opposes the Olympic spirit," the statement said. "Israel condemns the decision, inspired no doubt by Malaysia PM Mahathir's rabid anti-Semitism."
Mahathir, 93, has for decades been accused of anti-Semitism for his attacks against Jews. In a BBC interview in October, he described Jews as "hook-nosed" and blamed them for the troubles in the Middle East.
Swimmers from some 70 countries are expected to compete in the July 29-Aug. 4 championships in the eastern state of Sarawak. The event is an important milestone towards next year's Tokyo Paralympics.
The International Paralympic Committee said in a statement that it was "bitterly disappointed at the stance of the Malaysian government" and the IPC governing board would discuss the matter at a meeting in London next week.
Thousands in Malaysia and neighbouring Indonesia took to the streets last December to protest against Washington's decision to recognise Jerusalem as Israel's capital. Palestinians want East Jerusalem, captured by Israel in the 1967 Middle East war, as the capital of a state they seek to establish.
Malaysian Foreign Minister Saifuddin Abdullah said on Wednesday that Malaysia would continue to take a strong position on the plight of the Palestinians. "It is about fighting on behalf of the oppressed," he said.
Israeli athletes have been banned in the past by countries that do not recognise Israel. They have also competed at events in Arab countries without national symbols, typically under the flag of the sports federation running the event.
Full report at:
https://www.channelnewsasia.com/news/sport/israel-calls-malaysian-ban-on-its-athletes--shameful--11137162
--------
Now, Goldman paints former star banker as promiscuous Muslim convert, 'master con man'
17 January 2019
KUALA LUMPUR, Jan 17 — Wall Street bank Goldman Sachs has used "scorched-earth tactics" to smear its former top investment banker, Tim Leissner, in an attempt to minimise its role in the 1Malaysia Development Berhad (1MDB) financial scandal.
US paper New York Times (NYT) reported that Goldman executives and their lawyers have, in their presentations to US regulators and law enforcement authorities, painted Leissner as a "master con man" who was so sneaky that even retired military intelligence officers working for the bank could not detect his allegedly fraudulent behaviour.
In a meeting with US federal prosecutors last November in Washington, Goldman reportedly delivered a PowerPoint presentation that claimed Leissner may have been married to two women briefly at the same time.
Another slide reportedly showed a photo of Leissner praying with other men as well as images of a government-issued ID card which showed Leissner describing himself as Muslim. Goldman officials reportedly used that slide to allege that Leissner converted to Islam twice to impress rich Muslim women he was dating.
NYT reported that the presentation also accused Leissner of having had sexual relations with at least one Goldman client and of getting a mail-order doctorate from a now-defunct university.
The paper reported that Goldman was using the presentation to argue that the bank's compliance system should not be faulted for failing to discover Leissner's schemes, given his alleged slipperiness. The US investment bank reportedly delivered similar hours-long presentations to bank regulators, besides the Justice Department.
Goldman is facing criminal charges filed by Malaysia that alleged US$2.7 billion (RM11 billion) was stolen from the proceeds of three bonds worth US$6.5 billion that the bank had arranged for Malaysian state investment firm 1MDB.
Leissner pleaded guilty last year to US criminal charges of bribery and money laundering in the 1MDB scandal. But the 48-year-old reportedly told a federal judge that hiding his actions from Goldman's compliance department was "very much in line" with the bank's wider culture, especially in Asia.
Leissner, who was Goldman's South-east Asia chairman, resigned from the bank in 2016 after allegedly breaking company rules.
Five current and former Goldman bankers told NYT that they knew of Leissner's hard-partying reputation and seduction of rich women, including several executives at companies that were clients of the bank.
"A lot of the people that worked for me would tell me the stories about Tim being a wild man," Joe Ravitch, a former Goldman partner who helped hire Leissner, was quoted saying.
A Goldman official reportedly said the bank had investigated Leissner's relationship with a top female executive at a Malaysian media company, but no action was taken.
Yesterday, Goldman reportedly said that in the fourth quarter last year, it set aside an additional US$516 million to cover possible legal and regulatory penalties, including 1MDB-related ones.
Full report at:
https://www.malaymail.com/s/1713464/now-goldman-paints-former-star-banker-as-promiscuous-muslim-convert-master
--------
Jokowi, Prabowo Turn Up Heat in First Debate, Steer Clear of Past Human Rights Cases
January 18, 2019
Jakarta. Incumbent Joko "Jokowi" Widodo was not shy to throw a few jabs in the first presidential debate on Thursday, pushing his challenger, Prabowo Subianto, to make some serious blunders as the candidates debated human rights, law and corruption.
Still, Jokowi and Prabowo both refrained from going into the specifics of long-unresolved human rights cases, which may directly implicate the latter and several former generals currently among the president's ranks.
The debates began calmly with candidates taking turns to answer prepared questions – which were made known to them beforehand. Jokowi spent almost all the time allocated for his opening statement to greet his opponents and members of the audience.
Meanwhile, Prabowo and his running mate Sandiaga Uno employed every trick in the book to pivot their answers to the questions on the law, human rights and security toward the economy and employment matters – the focus of their campaign so far.
The heat was turned up when the candidates were allowed to question each other, with Prabowo quick to bring up claims that law enforcement under the Jokowi administration has been unfair and one-sided, mainly at the expense of opposition supporters.
Jokowi deflected the claim, saying that Indonesia upholds the rule of law and that the country's legal mechanisms are functioning well. He challenged his opponent by saying that anything illegal should be reported to the relevant authorities instead of using it to stir controversy.
Jokowi cheekily made reference to the infamous deception by theatrical producer, actress and writer Ratna Sarumpaet, an avid Prabowo supporter.
"Let's not rush into conclusions. Mr. Prabowo's campaign team member, for example, was said to have been assaulted, with her face battered. But then we found out that she underwent plastic surgery," Jokowi said.
Ratna is currently in police detention, awaiting trial. She is accused of having created the deception to allow Prabowo's campaign to discredit his opponent.
Rights Violations
As lively debates often go, neither side managed to engage in any meaningful discussion on ways they would resolve the many cases of gross human rights violations that have been unresolved over the past five decades.
Amnesty International has pointed out that the Jokowi administration has failed to show seriousness in resolving cases of gross human rights violations, including the abductions of pro-democracy activists and the Semanggi I and II incidents in 1998 and 1999, when the armed forces opened fire on protesting students.
The attorney general, who was appointed by Jokowi, recently refused to, accept the findings of the National Commission on Human Rights (Komnas HAM) on the cases and several others, saying that there were not enough facts to bring the cases to trial.
Both candidates appeared to be aware that it would be detrimental to their respective election campaigns to highlight these cases, and seemed to be careful not to mention any specifics.
Prabowo was dishonorably discharged from his position as commander of the Army Strategic Command (Kostrad) after he was found to have overstepped his authority in ordering the kidnappings of civilians.
The case involving the student shootings, however, has never gone to trial. Observers have long said it may implicate Wiranto, one of Jokowi's key allies, who was the chief the military at the time.
Jokowi acknowledged the "burden of past human rights abuses" during Thursday evening's debate and said their resolution has been pending due to a lack of evidence and the length of time that has passed since the incidents took place.
"However, we are still committed to resolving this human rights issue, which will be supported by a fair legal system and good law enforcement," Jokowi said.
Prabowo: Small Corruption Is O.K.
Prabowo said corruption in Indonesia was caused by the low wages civil servants receive. Therefore, he intends to increase taxes to provide government workers with a better standard of living.
"If I lead this country, I will realistically improve the quality of life for all bureaucrats. The question is where I will get the money. I will increase the tax rate, which currently stands at 10 percent, or even lower. I will return [the tax rate] to a minimum of 16 percent, so we will get at least $60 billion," he said.
On the other hand, Jokowi said the focus should be on bureaucratic reform, especially in terms of recruitment. He emphasized the importance of recruitment based on merit and competence, as well as strong internal monitoring.
"There's not much we want to say. We fully understand the issues facing this country and what we must do. We don't lean toward dictatorship or authoritarianism, and we don't have a record of past human rights abuses, nor issues surrounding corruption," Jokowi said.
During his turn to ask his opponent a question, Jokowi raised the issue of ex-corruptors on the list of legislative candidates from Prabowo's Great Indonesia Movement Party (Gerindra), as published by Indonesia Corruption Watch. Prabowo responded by saying that those cases had been resolved and that the people involved were duly punished.
"I think that this is a democracy ... if the law allows it, and the candidate is capable and the people want it, and maybe he didn't corrupt by that much… It is those who have stolen trillions or rupiah that we should go after," Prabowo said.
Terrorism
During the debate, Prabowo's take on terrorism in Indonesia focused heavily on the source of it being rooted in other countries.
"I know very well terrorists were sent from other countries. The terrorists are controlled by non-Muslims. I reject the notion that Muslims are terrorists," he said.
When it comes to homegrown terrorists, Prabowo claimed that most of them were a product of economic inequality and despair.
"Homegrown terrorism comes from despair and economic inequality. They were hurt and influenced by radical teachings. I support a deradicalization program. When I am president, I will also invest in health and education," he said, adding that he would strengthen the country's military, police and intelligence services.
Jokowi running mate Ma'ruf Amin, meanwhile, proposed a focus on preventative efforts to suppress radicalism and intolerance, which would involve mass organizations and religious groups. This would be paired with a human rights approach, which Jokowi emphasized by saying that law enforcement officers would be trained to be mindful of human rights when conducting operations.
Regarding deradicalization, Jokowi and Ma'ruf said this process would heavily depend on the root causes.
Full report at:
https://jakartaglobe.id/news/jokowi-prabowo-turn-up-heat-in-first-debate-steer-clear-of-past-human-rights-cases/
--------
URL: https://www.newageislam.com/islamic-world-news/from-sufi-salafi-spirit-kashmiriyat/d/117499
New Age Islam, Islam Online, Islamic Website, African Muslim News, Arab World News, South Asia News, Indian Muslim News, World Muslim News, Women in Islam, Islamic Feminism, Arab Women, Women In Arab, Islamophobia in America, Muslim Women in West, Islam Women and Feminism