New Age Islam News Bureau
26 March 2020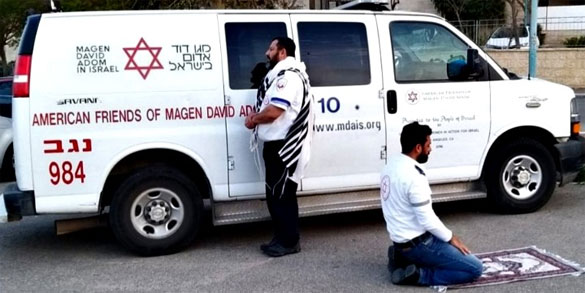 Two Israeli emergency workers — one Jewish, one Muslim — taking a prayer break during the coronavirus pandemic. Photo via Daniel Carmon / Twitter.
----
• 'Azaan' Trends on Twitter After Call to Prayer Echoes Across Country Through the Night
• Heartening Photo Shows Jewish and Muslim Emergency Responders in Israel Taking Joint Prayer Break Amid Coronavirus Crisis
• Malaysia Is Selling 'Halal' Hand Sanitiser to Combat Coronavirus - And It Does Not Work
• Ulema Of Al-Azhar University Issue Fatwa Banning Congregational Prayers
• Farangimahali, Sunni Cleric, Has Appealed to Muslims To Offer Daily Prayers from Their Homes and Not Mosques
• COVID-19: Islamic Body of Ulema Today Endorses the Lagos State Government's Decision To Restrict Religious Gatherings
• New Zealand Mosque Attacker Admits Killing 51 Muslim Worshippers
----------
Pakistan
• 'Azaan' Trends on Twitter After Call to Prayer Echoes Across Country Through the Night
• Ajmal Wazir asks people of KP to continue following govt instructions to win corona battle
• 3 Pakistanis in US among Covid-19 fatalities
• Tally of Pakistan's virus cases crosses 1,000 mark with eighth death
• 200 vehicles burnt: LPG leakage causes blast, inferno at petrol pump in Lahore, leaving one dead
-----
Mideast
• Heartening Photo Shows Jewish and Muslim Emergency Responders in Israel Taking Joint Prayer Break Amid Coronavirus Crisis
• Iran Will Stand by Afghanistan In Campaign Against Terrorism, Extremism: Spokesman
• HRW: Saudi forces torture, disappear Yemeni civilians in al-Mahrah
• Turkey charges 20 Saudis over 2018 Khashoggi murder
• Palestinian foreign ministry calls on Israel to release prisoners amid coronavirus outbreak
• 'Provocative' social media activity puts 410 under detention in Turkey
• Zarif slams Pompeo for spreading 'third-rate propaganda,' hatred amid coronavirus pandemic
------
Southeast Asia
• Malaysia Is Selling 'Halal' Hand Sanitiser to Combat Coronavirus - And It Does Not Work
• Philippine Gives Muslim Coronavirus Victims Religious Exemption from Cremation
• Govt to Issue Protocol on Ramadan Mass Exodus amid Coronavirus
• Lone COVID-19 patient in Cotabato recovers
• Diplomatic challenges from the Muslim world
• Coronavirus: Hundreds of Muslims pray together from balconies in Morocco
------
Arab world
• Ulema Of Al-Azhar University Issue Fatwa Banning Congregational Prayers
• Third Saudi Expansion of Grand Mosque In Makkah Shut
• Christian Martyrs of Islamic Jihad
• "Ansar Allah" announces 66 offensive operations in Saudi Arabia
• Custodian of the Two Holy Mosques Condoles President of Chad on Victims of Terrorist Attack on Boma Island
-----
India
• Farangimahali, Sunni Cleric, Has Appealed to Muslims To Offer Daily Prayers from Their Homes and Not Mosques
• Kolkata Imam Urges People to Pray from Home Owing to The Threat Posed by Novel Coronavirus
• Jamia Millia Professor Fails 15 Non-Muslim Students, University Suspends Him Over Communal Act
• Man dies of coronavirus in Kashmir after attending Islamic congregation with Indonesians
----
Africa
• COVID-19: Islamic Body of Ulema Today Endorses the Lagos State Government's Decision To Restrict Religious Gatherings
• COVID-19 Is Western Deceit, Conspiracy Against Muslims, Says Leader of Izala Muslim Sect
• Islamist insurgents capture second town in northern Mozambique within 48 hours
• Fighting ongoing between army and Islamist insurgents around Exxon LNG facilities in Mozambique
• Coronavirus: Shehu Sani Donates Protective Items, Food To Churches, Mosques
------
New Zealand
• New Zealand Mosque Attacker Admits Killing 51 Muslim Worshippers
• Christchurch shootings: Will terrorist and mosque killer be deported to Australia?
• Christchurch mosque attack: Mother of victim dances in driveway to celebrate gunman's guilty plea
• Inquiry into Christchurch mosque shootings continues despite guilty pleas, lockdown
• 'I want to pray for him' - Christchurch mosque victims respond after attacker pleads guilty
• Widow of man killed at Al Noor Mosque 'shocked and relieved' by guilty pleas
------
South Asia
• Attention to Islamic, cultural and educational values MoIC's main priority: Minister Safi
• Islamic State gunman kills 25 in attack on Sikh house of worship in Kabul
• Afghanistan pays for the impasse of its arrogant leaders
• ISIS terrorist group claims attack on Sikh temple in Kabul city
------
Europe
• Chairman of Caucasus Muslim Board congratulates President Shavkat Mirziyoyev on Navruz holiday
• Islamic Development Bank launches USD 2 bln COVID-19 aid package
-----
North America
• Coronavirus death toll passes 1,000 in US
The roots of the Christchurch mosque massacre gunman
Compiled by New Age Islam News Bureau
URL; hhttps://www.newageislam.com/islamic-world-news/azaan-trends-twitter-after-call/d/121410
------
'Azaan' Trends on Twitter After Call to Prayer Echoes Across Country Through the Night
26 March 2020
Javed Hussain
With the coronavirus case tally closing in on a thousand in Pakistan, multiple neighbourhoods across the country witnessed the call to prayer being recited from mosques and homes simultaneously at an unusual time last night.
After 10pm, which is well past the time of Isha Azaan across Pakistan, several observers heard multiple calls to prayer in various parts of the country.
Twitterati used the hashtag '#Azaan' to share their experience of witnessing the call to prayer in their neighbourhoods at an unexpected time.
In the beginning, it was unclear how this was being coordinated in so many different parts of the country simultaneously, but it emerged that some religious leaders had called on citizens to recite the Azaan from their balconies and rooftops at 10pm every night starting from Tuesday.
In his message, Farooq said that in times of distress and when disaster struck, the call to prayer was recited aloud in the night, in an effort to asks for Allah's mercy and forgiveness.
"I request those who can hear me right now, that — to fight this difficult situation upon us — we recite the Azaan together at 10pm. Hopefully, tens of thousands of people will recite the Azaan tonight," he said.
When contacted by DawnNewsTV, Council of Islamic Ideology Chairman Dr Qibla Ayaz corroborated Farooq's message and said that while there are no Hadith suggesting that this was practiced in Prophet Muhammad's (PBUH) time, "There is evidence suggesting that people of Central Asia took up the practice later, when disaster and distress struck." He added that there was nothing wrong in doing so at an individual level.
Prayer leader of the Parliament House Mosque, Maulana Ahmadul Rahman, also said that there was no evidence of the practice in Prophet Muhammad's (PBUH) time, but added that there was nothing wrong in reciting the call to prayer as a means to God's mercy.
https://www.dawn.com/news/1543616/azaan-trends-on-twitter-after-call-to-prayer-echoes-across-country-through-the-night
-------
Heartening Photo Shows Jewish and Muslim Emergency Responders in Israel Taking Joint Prayer Break Amid Coronavirus Crisis
MARCH 25, 2020
by Algemeiner Staff
One of the enduring images of the coronavirus was captured in Israel on Wednesday, as a camera caught the remarkable sight of two emergency workers — one a Jew, the other a Muslim — standing alongside their ambulance vehicle and praying in their respective traditions.
The photograph caught the attention of pro-Israel social media influencers, several of whom commented that there was no better depiction of the country's democratic and multi-ethnic character.
"Caught on camera," tweeted retired Israeli diplomat Daniel Carmon — who was originally sent the photo through a group on WhatsApp that he belongs to — "a praying interlude in the midst of a hectic day by #Jewish and #Muslim @Mdais paramedics who will later continue fighting #CoronaVirus together. Touching photo, isn't it?"
Responding to another user who commented that "the Muslim probably hates the Jewish dude," Carmon said that assessment could not be more wrong.
https://www.algemeiner.com/2020/03/25/heartening-photo-shows-jewish-and-muslim-emergency-responders-in-israel-taking-joint-prayer-break-amid-coronavirus-crisis/
----
Malaysia is selling 'halal' hand sanitiser to combat coronavirus - and it does not work
25 March, 2020
The global outbreak of coronavirus has prompted a purchasing frenzy of anti-bacterial products, and in Malaysia, some vendors have taken it a step further by offering "halal" hand sanitisers - sans alcohol.
Many of these hand sanitisers are being marketed as halal - permissible in Islam - designed to appeal to Muslim consumers.
Alcohol is not permissible to consume for practicing Muslims and some vendors are offering "alcohol-free" alternatives to hand sanitiser, but experts say they are essentially useless as a deep cleaning agent.
Medical practitioners say alcohol-based products are 60 to 95 percent are more successful at killing bacteria compared to ethanol alcohol.
Here's the kicker: isopropyl alcohol and ethyl alcohol (ethanol) - both of which can be used to make hand sanitisers - are both chemical compounds classified as alcohol.
And if that isn't enough to grind some gears, merchants are selling these products at inflated prices, around US$8 (RM35), compared the cheaper ones found in shops.
Takyahlah dok tunggang agama dan jual Hand Sanitizer 'halal' waktu wabak Covid-19 ni.
Mufti Wilayah yang kini Menteri Hal Ehwal Agama dah kata penggunaan Hand Sanitizer alkohol ialah HARUS, tidak najis dan boleh guna untuk solat
Alcohol destroys the protein which houses the coronavirus, and so is an important preventative measure in protecting oneself against the virus.
https://english.alaraby.co.uk/english/news/2020/3/25/malaysia-is-selling-fake-halal-hand-sanitiser-for-coronavirus
-----
Ulema of Al-Azhar University issue fatwa banning congregational prayers
March 26, 2020
The Supreme Ulema Council (SUC) of Egypt's AlAzhar University has issued a fatwa, banning all congregational prayers at mosques to stem the spread of coronavirus outbreak. Pakistan's President Dr Arif Alvi had requested the supreme council to issue a guideline for Muslims around the world over precautionary measures while performing religious obligations. The fatwa, a ruling on a point of Islamic law given by a recognised authority, further states that all public gatherings, including congregational prayers, can speed up the spread of the deadly disease. Hence, government officials in Muslim countries have the authority to cancel congregational and Friday prayers, it adds. On Saturday, Al-Azhar Grand Imam Sheikh Ahmed Al-Tayeb had decided to suspend Friday prayers and congregational prayers for the Muslims at Al-Azhar Mosque in Cairo for two weeks, as a preventive measure against the COVID-19 pandemic. Last week, he issued a fatwa saying that the cancellation of Friday prayer and all congregational prayers are permissible amid the current health crisis. The novel coronavirus – which originated in the central China city of Wuhan towards the end of December 2019 – has spread to all continents excluding Antarctica. The COVID-19 respiratory illness caused by the mysterious contagion has so far killed thousands of people and infected tens of thousands of others across the globe.
https://pakobserver.net/ulema-of-al-azhar-university-issue-fatwa-banning-congregational-prayers/?utm_source=rss&utm_medium=rss&utm_campaign=ulema-of-al-azhar-university-issue-fatwa-banning-congregational-prayers
-----
Farangimahali, Sunni Cleric, Has Appealed to Muslims To Offer Daily Prayers from Their Homes and Not Mosques
Mar 26, 2020
LUCKNOW: Sunni cleric and Aishbagh Eidgah Imam, Maulana Khalid Rasheed Farangimahali, has appealed to Muslims to offer daily prayers from their homes and not mosques.
Issuing the appeal on Wednesday, he said, "In this crisis times we should understand our responsibility towards the society. We should stay indoors and offer namaz from our homes and not mosques."
"Only the Imam and the muezzin (the one who calls the azaan) should offer the Juma Namaz at the mosque. All others should offer 'namaz' from their homes even on Fridays on the lines of the Zuhar (afternoon) namaz," he added.
Even during the lockdown on Wednesday it was observed that people were gathering at mosques in large numbers to offer prayers. At a mosque on the Butler Palace road over 100 persons had gathered for namaz which led the cleric to appeal to them to worship from their homes.
https://timesofindia.indiatimes.com/city/lucknow/uttar-pradesh-offer-namaz-from-home-said-sunni-cleric/articleshowprint/74825730.cms
------
COVID-19: Islamic Body of Ulema Today Endorses the Lagos State Government's Decision to Restrict Religious Gatherings
March 26, 2020
The Islamic body of Ulamahs today endorses the Lagos State Government's decision to restrict religious gatherings to 20 people or less in all worship centres in the state.
This acceptance was made known on Wednesday at a meeting held with Prince Olanrewaju Anofiu Elegushi, the Commissioner for Home Affairs in his office at Alausa.
Speaking on behalf of the Body of Muslim Clerics, Sheu Muhzinu Ajagbemokeferi, said the decision of the state government could not have come at a better time considering the devastating effect of the coronavirus all over the world.
While attesting that the Holy Quran supports the move of the government to avoid the spread of the disease amongst worshippers in Lagos, promises their total support for the State's suspension of large religious gatherings.
Earlier, the Commissioner had informed the body that, government's directive is to safeguard the lives of its citizens while all efforts are geared towards stemming the spread of the disease in Lagos.
https://thenationonlineng.net/covid-19-muslim-clerics-back-govt/
-----
New Zealand mosque attacker admits killing 51 Muslim worshippers
Nicky Harley
March 26, 2020
The far-right Australian terrorist who killed more than 50 people in the Christchurch massacre last year has pleaded guilty to the charges.
He had previously denied 51 charges of murder, 40 of attempted murder and one of engaging in a terrorist act, but changed his plea after a hurriedly arranged court hearing.
Judge Cameron Mander recorded convictions on all charges and said the man would be sentenced at a date yet to be determined.
"The guilty pleas represent a very significant step towards bringing finality to this criminal proceeding," Mr Mander said.
Mr Mander said sentencing would not take place until the court system had returned to normal, "at a time when victims and their families can attend the court in person".
https://www.thenational.ae/world/new-zealand-mosque-attacker-admits-killing-51-muslim-worshippers-1.997481
------
Pakistan
Ajmal Wazir asks people of KP to continue following govt instructions to win corona battle
1 HOUR AGO
Adviser to Khyber Pakhtunkhwa Chief Minister Ajmal Wazir has said that the people of Khyber Pakhtunkhwa should continue to heed the government's orders so that "battle against coronavirus can be won".
He said that all doctors and medical staff are working on war footing so that people of the province can remain safe.
The adviser further said that people should not worry, the province has ample rations available for everyone and an inventory is being kept.
https://www.dawn.com/live-blog/#1543869
-----
3 Pakistanis in US among Covid-19 fatalities
March 26, 2020
Anwar Iqbal
WASHINGTON: As the coronavirus crisis intensified in the United States, three Pakistanis have been identified among 730 people who have died across the country, it emerged on Wednesday.
Rehman Shukr, son of Major General Abeera Choudhry and retired Brig Irfan Shukr, contracted Covid-19 earlier this month and was hospitalised in Washington where he died on Tuesday, according to social media reports.
The 26-year-old was a financial system specialist at the International Monetary Fund. His mother is a gynaecologist in the Army Medical Corps (AMC) and his father works at a private medical university in Islamabad.
"Hard to decide whether the human aspect of the disease is more important than its implications on the economy," Rehman posted these sentences from a New York Times article on his Facebook newsfeed on March 21. "Very easy to let emotion guide policy, and we've seen time after time why that's a bad idea."
Other Pakistanis whose lives were taken away by the virus in the US include New York-based businessman Haji Iqbal Warraich and an unnamed Pakistani woman. Both died in New York on March 23.
Mr Warraich was a philanthropist contributing regularly to Pakistani and US charities. He was also active in community affairs. He was buried in Long Island, New York.
The Pakistani woman who died of the virus was already hospitalised in Brooklyn, New York, when she became infected with Covid-19, her friends and family said. They also said they did not wish to disclose her name to the media. She was interred in Marlboro, New Jersey.
New York Governor Andrew Cuomo said on Wednesday that more than 30,800 people had tested positive for the virus in his state, the epicentre of the US outbreak, and more than 17,800 in New York City alone, Reuters reported.
Across the US, more than 53,000 people have been diagnosed with Covid-19, the disease caused by the virus that is particularly perilous to the elderly and people with pre-existing medical conditions, with at least 730 deaths.
World Health Organisation officials have said the United States could become the global epicentre of the pandemic, which first emerged late last year in the Chinese city of Wuhan.
On March 11, the virus claimed the life of the first Pakistani. But much to the relief of local health authorities and government officials back then, the person was in Italy when he passed away.
A statement issued by a spokesperson for the Foreign Office in Islamabad said the man's name was Imtiaz Ahmed and was 61 years of age. He died of Covid-19 in Brescia, a city in the northern Italian region of Lombardy.
https://www.dawn.com/news/1543816/3-pakistanis-in-us-among-covid-19-fatalities
-----
Tally of Pakistan's virus cases crosses 1,000 mark with eighth death
March 26, 2020
Ikram Junaidi
ISLAMABAD: While tally for the novel coronavirus (Covid-19) cases entered four digits with eight fatalities on Wednesday, the country witnessed a lockdown which hampered public movement, businesses and daily life activities.
In the federal capital, the Bhara Kahu area, from where six cases were reported in members of Tablighi Jamaat, has been sealed to avoid further spread of the deadly virus.
Special Assistant to the Prime Minister on Health Dr Zafar Mirza sait at a press conference that an aeroplane had brought 500,000 N-95 face masks from China and another two planes would bring personal protective equipment (PPE) weighing 12 tonnes on Friday.
Chairman of the National Disaster Management Authority Lt Gen Mohammad Afzal, while briefing the parliamentary leaders, said on March 13 there were 2,200 ventilators in Pakistan and 40 of them were out of order.
"We did not have sufficient PPEs but now things are improving. Next month we will get 2,000 ventilators and we are aiming to have 10,000 ventilators in Pakistan in future. Moreover our target is to have 1.5 million testing kits of Covid-19. The NDMA has received Rs5 billion and opened an office of the purchase committee in Pakistan Embassy in China as we have decided to rely on China for equipment due to unavailability in West," he said.
He said a scanner for coronavirus had been arranged from China. "The scanner is so huge that we may have to bring it in two or three aeroplanes or maybe through Khunjerab Pass," he said.
Meanwhile, a 50-year-old woman, who was suffering from Covid-19, died in Rawalpindi on Wednesday. She was a British national of Pakistani origin, belonging to Sohawa tehsil. She had returned from the UK about two weeks ago and was admitted to Rawalpindi hospital where she died.
According to the police sources, she had visited her ancestral village Mohrah Akra near Sohawa town on March 19, where she had complained of deterioration of health. She was shifted to Rawalpindi hospital where it was confirmed that she had been infected with the virus.
The deceased was buried in her ancestral graveyard in Mohrah Akra village and police and health authorities sorted out over a dozen relatives of the victim, including her husband, son and other family members whom she had met before being hospitalised and who had attended her funeral. These people were shifted to the district government's isolation centre near Missa Kaswal where they would be tested for the virus.
Spokesperson of the Ministry of National Health Services (NHS) Sajid Shah, while talking to Dawn, said that the woman had arrived from the UK on March 9 and was included as the eighth member in list of casualties due to Covid-19.
Moreover, three new cases were reported in Gilgit Baltistan, raising tally in the region to 84. Two villages in Nagar district have been sealed after identification of over 14 locally transmitted coronavirus patients in the villages.
Sindh Chief Minister Syed Murad Ali Shah received 500,000 face masks, including 50,000 N-95 masks, donated to the provincial government by China.
Moreover the CM approved the purchase of 290 ventilators, 3.2m PPE, 100 rapid kit antigen test machines, 100,000 testing kits, 50 RT lamp testing machines and 10,000 RT lamp kits and 29 portable X-ray machines so that testing capacity in the province could be enhanced.
https://www.dawn.com/news/1543803/tally-of-pakistans-virus-cases-crosses-1000-mark-with-eighth-death
------
200 vehicles burnt: LPG leakage causes blast, inferno at petrol pump in Lahore, leaving one dead
March 26, 2020
LAHORE: A massive fire followed by a huge blast at a Shahdara petrol pump, minutes after leakage of liquefied petroleum gas (LPG) from an overturned tanker, left a man dead and 10 others injured, including a traffic warden, here on Wednesday.
Of the injured persons, the condition of six was said to be critical as they suffered over 60 per cent burns.
Syed Zahid Abbas (65), who died of serious burns at a hospital, was father of a traffic warden, Yasir Ali. As per his family, he was going to a bank to collect his pension when the blast occurred.
According to police and witnesses, the LPG tanker overturned at Shahdara Morr near a petrol pump, resulting in a massive gas leakage from its tank.
As the leaking gas accumulated in a huge quantity at the petrol pump, which was also selling CNG, a fire erupted there, the eyewitnesses said. Minutes later, they said they heard a huge blast.
They said the impact of the blast was so intense that 200 vehicles were burnt. They included four buses, six coasters, nine cars, 15 rickshaws, 80 motorcycles rickshaws, three trucks and 70 bikes. Windowpanes of nearby buildings, including residences, shattered. The walls of a mosque collapsed because of the blast, the witnesses added.
Following the blast, they said, clouds of dense black smoke billowing from the petrol pump could be seen from a distance, besides flames of the raging fire.
They said the massive explosion along with the blazing fire caused panic in the vicinity, forcing locals, including women and children, to leave their houses.
Rescue 1122 staff reached the spot after considerable delay, despite being informed of the incident immediately, locals said.
After the blast, locals started rescue work by making efforts to put off the fire and shifted some of the injured persons to various hospitals.
A duty doctor at the Mayo Hospital Lahore said 10 injured people were brought to the emergency unit of the facility following the incident. Of them, he said, two suffered 100 per cent burns, one 90pc, another 78pc, while three others had 55 to 65pc burns.
He said two more persons were brought with head and neck injuries, adding that most of them were in a critical condition.
Later, nearly a dozen fire-engines and special vehicles, along with firefighters, reached the spot and launched fire extinguish efforts.
A Rescue 1122 official said casualties remained low as the area was wearing a deserted look because of the lockdown announced by the government to check spread of coronavirus, otherwise it could have been much disastrous as Shahdara Morr was one of the busiest intersections of the city during normal days.
https://www.dawn.com/news/1543738/200-vehicles-burnt-lpg-leakage-causes-blast-inferno-at-petrol-pump-in-lahore-leaving-one-dead
-----
Mideast
Iran will stand by Afghanistan in campaign against terrorism, extremism: Spokesman
25 March 2020
A senior Iranian official says the Islamic Republic will stand by the Afghan government in its fight against terrorism and extremism, offering condolences over a deadly militant attack on a Sikh temple that left dozens of people dead.
Iranian Foreign Ministry Spokesman Abbas Mousavi condemned the Wednesday attack, which was claimed by the Daesh Takfiri group, commiserated with the families of the victims and extended his most sincere condolences to the bereaved ones.
"Terrorists will definitely not achieve their goals to foment insecurity, instability and religious disputes through [carrying out] sinister acts and imposing heavy expenses on the oppressed people of Afghanistan," Mousavi pointed out.
Afghanistan's Interior Ministry spokesman Tariq Arian said in a message to journalists that security forces had killed gunmen, who attacked a Sikh religious complex in the capital, Kabul, ending an hours-long siege that killed at least 25 people.
Witness Raju Singh Sonny told AFP that a man dressed in a police uniform burst into the temple in central Kabul, shot a guard and started attacking worshippers in the main hall.
Narindra Singh Khalsa, a parliamentarian from the minority Sikh community, told AP news agency he had been near the Gurdwara - the Sikh place of worship - when the attack happened and ran to the site.
In 2018, a bombing targeting the Sikh community and claimed by Daesh killed more than a dozen people in the eastern city of Jalalabad.
The attack came a day after the US said it would cut its aid to the Afghan government by $1 billion, voicing disappointment that rival leaders in the country had failed to establish an inclusive government and form a team to negotiate with the Taliban.
The US came to an agreement with the Taliban in February to begin withdrawing troops. But the militants have not stopped hitting government targets.
https://www.presstv.com/Detail/2020/03/25/621600/Iran-will-stand-by-Afghanistan-in-campaign-against-terrorism,-extremism:-Spokesman
------
HRW: Saudi forces torture, disappear Yemeni civilians in al-Mahrah
25 March 2020
Human Rights Watch (HRW) says Saudi forces and their allies have commited serious abuses against Yemeni civilians since June last year in al-Mahrah governorate.
"Saudi forces and their Yemeni allies' serious abuses against local-Mahrah residents is another horror to add to the list of the Saudi-led coalition's unlawful conduct in Yemen," Michael Page, deputy Middle East director at HRW, said on Wednesday.
"Saudi Arabia is severely harming its reputation with Yemenis when it carries out these abusive practices and holds no one accountable for them," he added.
According to HRW, the abuses include arbitrary arrests, torture, enforced disappearances, and illegal transfer of detainees to Saudi Arabia.
Meanwhile, leading rights group Amnesty International announced that the continued sales of weapons to Saudi Arabia and the United Arabia Emirates have intensified the war in Yemen.
In a report published on Monday on the eve of the fifth anniversary of Yemen war, the organization blamed the UAE for recklessly supplying militants in Yemen with advanced weaponry.
It also expressed concern about the war crimes being committed by the US-backed coalition, including the bombardment of homes, businesses, and hospitals.
The HRW further called on the US, France, Britain and other countries to immediately halt their supply of weapons to the aggressors.
Saudi Arabia launched its war on Yemen on March 26, 2015, to restore power to the country's former Riyadh-backed officials, who had fled the country amid a power struggle at home.
The war — which has killed tens of thousands of Yemenis — has been receiving sustained arms, intelligence, logistical, and political support from Washington and some of its allies, notably the United Kingdom.
The weapons supplied by the US and others have included precision ammunition that the Saudi-led coalition has been deploying indiscriminately against Yemen's civilian-populated areas.
https://www.presstv.com/Detail/2020/03/25/621609/Yemen-HRW-Human-Rights-Watch-Saudi-Arabia-UAE
------
Turkey charges 20 Saudis over 2018 Khashoggi murder
25 March 2020
Turkish prosecutors have charged 20 Saudi nationals, including two former senior aides to Crown Prince Mohammed bin Salman, over the killing of dissident journalist Jamal Khashoggi in 2018.
The Istanbul prosecutor's office said in a statement on Wednesday that the former aides, Saud al-Qahtani and Ahmed al-Assiri, were charged with "instigating the deliberate and monstrous killing, causing torment."
The indictment also charged 18 other Saudis, including intelligence operative Maher Mutreb – a companion of bin Salman, forensics expert Salah al-Tubaigy and Fahad al-Balawi, a member of the Saudi royal guard. They face life imprisonment if convicted.
Khashoggi, a former advocate of the Saudi royal court who later became a critic, was killed in the Saudi consulate in Istanbul on October 2, 2018, after he entered the premises to collect documents for his planned wedding to his Turkish fiancée Hatice Cengiz.
According to Turkish officials, Khashoggi was killed and his body was cut into pieces by a 15-man Saudi squad inside the consulate.
The Washington Post, where Khashoggi was a columnist, reported in November 2018 that the CIA had concluded that bin Salman personally ordered the murder.
Ankara has called Khashoggi's killing "premeditated murder," and has pressed the kingdom for information on his dismembered body's whereabouts.
Riyadh initially claimed Khashoggi had left the consulate on October 2. It rejects allegations linking the killing to the crown prince, claiming instead that the murder had been carried out by a "rogue" group.
The Istanbul prosecutor's office said the 20 suspects, who are not in Turkey, would be tried in absentia. It did not give a date for the trial.
In December 2019, the Saudi public prosecutor said of the 11 individuals held over Khashoggi's death, five were sentenced to death, three more were sentenced to jail terms totaling 24 years and the remaining three, including Qahtani and Assiri, were exonerated. The acquittal met with global condemnation, with many describing it as a travesty of justice.
https://www.presstv.com/Detail/2020/03/25/621595/Turkey-Khashoggi-Saudi
-----
Palestinian foreign ministry calls on Israel to release prisoners amid coronavirus outbreak
25 March 2020
The Palestinian Ministry of Foreign Affairs and Expatriates has called on the Israeli regime to immediately release over 5,000 Palestinian prisoners from its jails amidst rising cases of infection with a new coronavirus in the occupied territories.
The ministry, in a statement released on Wednesday, announced that the Israeli Prisons Service (IPS) is not providing proper health protection to Palestinian prisoners, as Israeli authorities have demonstrated that they have no intention of easing apartheid to make sure Palestinians are able to face the epidemic under better conditions.
"Israel is in violation of its obligations under international law, the Geneva Conventions and human rights principles that demand Israel, as the occupying power, … take full and direct responsibility for the life and health of the prisoners," the statement read.
"Palestine will continue to follow up on the health conditions of the prisoners in light of the outbreak of this pandemic with the relevant international parties, especially the International Committee of the Red Cross (ICRC)," it added.
Palestinian prisoners are threatening to go on hunger strike to protest Israeli officials' failure to enforce measures to prevent the spread of coronavirus.
Earlier in the day, a Palestinian political prisoner at Nafha Prison in the southern part of the Israeli-occupied territories set fire this morning to a room used by the prison guards to protest the prison administration's neglect of the health conditions for the prisoners.
According to Qadri Abu Bakr, head of the Commission for Prisoners Affairs at the Palestine Liberation Organization (PLO), the prisoner, identified as Ayman Sharabati, did the action when prisoners were taking their daily walk out of their cells in protest at the way the IPS deals with the health situation in prisons and its failure to take enough precautions to prevent the spread of coronavirus among the detainees.
Abu Bakr said the IPS has reduced the medical staff in jails to only one nurse in every facility, which showed the Tel Aviv regime's policy of medical negligence for prisoners.
Israel has intensified its abuse of Palestinian prisoners, asking them to use their socks as masks to avoid the coronavirus disease.
Abu Bakr urged the ICRC and other rights organizations to intervene on behalf of Palestinian prisoners to make sure they get the proper health care amidst the coronavirus pandemic.
Meanwhile, al-Dameer Association for Human Rights says four Palestinian prisoners suspected to have contracted novel coronavirus are suffering from poor health conditions at Israel's maximum-security Ayalon Prison in Ramla.
The association noted its lawyer had been able to speak with three of the prisoners, identified as Ahmad Nassar, Qais Daraghmeh, and Ibrahim Awad, and that each of them was being held in a separate room, which they were not allowed to leave.
The Arab League has already called on international human rights organizations and other relevant bodies to secure the release of Palestinian prisoners from Israeli jails.
The assistant secretary General of the 22-member regional organization, Said Abu Ali, highlighted in a press statement that protection of prisoners is an imperative, especially in times of pandemics such as the current coronavirus crisis across the globe.
The Arab League has demanded the immediate release of Palestinian prisoners from Israeli jails amid the outbreak of the novel coronavirus virus in the occupied territories.
He also called on the international community to pressure Israeli authorities to release around 5,000 Palestinian prisoners, including hundreds of elderly inmates with health issues, 180 juveniles and 43 women, before the number of coronavirus infections in the Israeli-occupied Palestinian territories spirals out of control.
Abu Ali also called for effective protection and proper safety measures for thousands of Palestinian prisoners inside Israeli jails.
Palestinian prisoners in Israeli detention centers have threatened to go on an open-ended hunger strike in protest at a ban on meeting attorneys, lack of protective measures by guards during searches in their cells, and denial of medical protection gear in the wake of soaring cases of infection with the virus called COVID-19.
An unnamed source close to Palestinian prisoners told the Israeli English-language Haaretz newspaper that prisoners affiliated with the Islamic resistance movement, Hamas, returned their breakfast and lunch servings on Thursday, while those affiliated with Fatah returned some meals during the weekend. They plan to launch a full hunger strike at the beginning of next month.
"Prisoners are enclosed in their cells," the source said, adding that Israeli wardens "who deliver food [to Palestinian prisoners] are walking around, handing it out with no gloves or masks…."
Palestinian prisoners have not been tested for the coronavirus, as Israeli health ministry regulations in place call for a test only in cases where there exist both exposure to a confirmed patient and symptoms of COVID-19, which include fever, cough and shortness of breath.
https://www.presstv.com/Detail/2020/03/25/621590/Palestinian-foreign-ministry-calls-on-Israel-to-release-prisoners-amid-coronavirus-outbreak
------
'Provocative' social media activity puts 410 under detention in Turkey
25 March 2020
Turkey has so far detained 410 people over "provocative and abusive" social media posts about the coronavirus pandemic, the interior minister said on Wednesday.
Suleyman Soylu also said the ministry had identified 1,748 suspected social media accounts over the past week, 65 percent of which belonged to terror groups including outlawed Kurdish militants and followers of US-based Muslim preacher Fethullah Gulen.
"So far, 410 people have been caught," Suleyman Soylu said in an interview with 24 TV news channel.
"There are those who attempt to provoke ... and abuse the issue" arising from the pandemic, he said, without elaborating.
Turkey has confirmed 44 deaths from the novel coronavirus, while 1,872 cases of infection have been recorded.
Authorities have taken a raft of measures from shutting schools and universities to banning mass prayers.
https://www.presstv.com/Detail/2020/03/25/621588/Turkey-coronavirus-social-media
-----
Zarif slams Pompeo for spreading 'third-rate propaganda,' hatred amid coronavirus pandemic
26 March 2020
Iranian Foreign Minister Mohammad Javad Zarif has blasted his American counterpart Mike Pompeo for keeping up a "third-rate propaganda" barrage against Tehran even at a time when the world is busy fighting a deadly coronavirus pandemic.
"Even a pandemic won't stop @SecPompeo from spouting 3rd-rate propaganda," Zarif tweeted on Wednesday after the top US diplomat claimed that the government of Iran's President Hassan Rouhani was "mishandling" the outbreak of the highly-contagious virus called COVID-19.
"One wonders whether he's Sec of State or Secretary of Hate," said Zarif, adding that such propaganda will fail to divert attention from his bad reputation as a warmonger and promoter of America's economic terrorism.
"No amount of trolling will gloss over his infamous warmongering & #EconomicTerrorism; killing innocents & impeding global fight against #COVID19," wrote Zarif.
Pompeo's claims come as almost all world states have focused their efforts on containing the fast spread of COVID-19.
However, the Iranian nation's fight against the virus has been exceptionally hard as its efforts have been severely hampered by the toughest of American economic sanctions.
Over the past week, calls have been growing on the international stage for the US to lift the illegal sanctions, which have hampered Tehran's access to lifesaving medical supplies at the current critical time.
Turning a deaf ear to those calls, the US has instead claimed readiness to aid Iranians, with President Donald Trump saying "all they (Iranians) have to do is ask."
Tehran has rejected Washington's offer as meaningless as long as Washington keeps the economic bans in place and prevents Iran from utilizing its own resources in the fight against the disease.
Earlier this week, Rouhani said the US president "is like someone who has blocked the path to a well and does not allow anybody to approach the clean water … and instead holds up a glass of muddy water and says, 'I have come to help and I know you are thirsty'."
"We don't need the United States' glass of muddy water," he noted, stressing that all the Americans have to do is to remove their barriers.
On Wednesday, Pompeo took to Twitter to allege that Rouhani is "inventing reasons to blame the US for his government's gross mishandling of the #WuhanVirus outbreak in Iran.
Last week, Leader of the Islamic Revolution Ayatollah Seyyed Ali Khamenei said the US offer of help was a lie, highlight speculation that Washington has been the manufacturer of the new coronavirus.
Leader of the Islamic Revolution Ayatollah Seyyed Ali Khamenei has described the US "the most evil enemy of the Iranian nation", saying the offer by the United States to help Iran fight the coronavirus outbreak is strange.
Pompeo's "mishandling" allegations come while the World Health Organization (WHO) has praised Tehran's response to the outbreak despite the US bans, saying the Islamic Republic has the necessary capabilities to overcome the challenge.
Earlier this month, Rouhani compared the marked quality of Iran's performance in the face of the outbreak to that of some major Western countries.
An Iranian deputy health minister says the Islamic Republic is prepared to help the United States bring the fast-spreading new coronavirus under control.
On March 19, Iranian Deputy Health Minister Ali-Reza Raeisi said the Islamic Republic is prepared to help the United States bring the coronavirus under control in light of the American health system's shortcomings and cover-up in the face of the pandemic.
Worldwide, there have been more than 471,410 confirmed cases of the virus and 21,295 deaths. Europe has turned into the new epicenter of the virus, with Italy being the hardest hit country.
In Iran, the respiratory disease has so far killed 2,077 people and infected 27,017 others. A total of 9,625 people have also recovered.
presstv.com/Detail/2020/03/26/621631/virus-coronavirus-Iran-Zarif-Pompeo-Secretary-of-Hate
----
Southeast Asia
Philippine Gives Muslim Coronavirus Victims Religious Exemption from Cremation
March 26, 2020
DAVAO CITY, Philippines (UPDATED)– The Philippine government gave Muslim coronavirus victims religious exemptions from cremation.
Dimapuno Datu Ramos Jr., chief of the National Commission on Muslim Filipinos (NCMF), said the exemption was approved by the Inter-Agency Task Force on Emerging Infectious Disease (IATF-EID) in Manila.
NCMF Secretary Saidamen Pangarungan sought the exemption in a letter dated March 16, after consulting with ulama and imam groups. The task force respected that cremation is forbidden in Islam and death from contagion is not an exemption, Ramos said.
The IATF agreed to put in place strict procedures to prevent the virus from spreading. The burial must also be done within 12 hours or half the period normally allowed in Islamic rites.
"They must be placed in an airtight sealed cadaver bag and must be buried in the nearest Muslim cemetery within 12 hours in the presence of an imam wearing PPE (personal protective equipment) for the brief Muslim burial rites," Department of the Interior and Local Government Secretary Eduardo Año told Rappler.
At least 3 Filipino Muslims have died from the novel coronavirus disease. Mindanao's two deaths were Muslims buried in Iligan City and Marawi City.
Zia Alonto Adiong, spokesperson for the Lanao del Sur Province Covid-19 response, said they sought Department of Health approval when they buried last week a coronavirus victim in Marawi City.
Volunteers who performed the Muslim burial wore hazmat suits. The burial ceremony was also modified to make sure the health workers were not unnecessarily exposed to danger, skipping the full washing and ablution of the cadaver as normally required in Islamic rites.
https://www.rappler.com/nation/255955-philippines-gives-muslim-coronavirus-victims-religious-exemption-cremation
-----
Govt to Issue Protocol on Ramadan Mass Exodus amid Coronavirus
26 March 2020
TEMPO.CO, Jakarta - Religious Affairs Ministry's director-general of Muslim guidance, Kamaruddin Amin, announced that the government will soon decide a policy regarding the Ramadan mass-exodus or Eid homecoming, locally known as mudik, amidst the coronavirus (COVID-19 ) outbreak.
"Whether the mudik will be prohibited or not, the government will decide. We can only wait for the government's instruction" he told Tempo on Thursday,March 26.
According to Kamaruddin, the Ministry cannot single-handedly decide whether an official ban should be issued or not and that it must be discussed thoroughly by the Coordinating Minister of Human Development and Culture, Muhadjir Effendy.
So far, the central government has generally called for people to avert from traveling and to stay at home amid the social distancing protocol the government imposed following the rapid growth of positive coronavirus cases.
The religious affairs ministry itself, said Kamaruddin, will issue its own public appeal regarding the situation. However, the ministry has yet to officially issue it.
The Eid homecoming is a tradition where thousands upon thousands of people mobilize and travel briefly back to their hometown to gather with relatives in commemoration of Eid celebration after the Islamic fasting month of Ramadan. The mass mobilization poses extreme risk of spreading the coronavirus or COVID-19.
https://en.tempo.co/read/1324132/govt-to-issue-protocol-on-ramadan-mass-exodus-amid-coronavirus
-----
Lone COVID-19 patient in Cotabato recovers
March 26, 2020
COTABATO CITY, Philippines — The Cotabato Regional Medical Center announced Thursday its lone COVID-19 patient has recovered after two weeks of confinement.
"The patient has been discharged after recuperation," physician Helen Yambao, chief of the CRMC, told reporters in a press briefing where she confirmed the recovery of the patient whose named she refused to reveal.
The patient, who was just released from confinement, is one of the 215 Islamic Tabligh missionaries who participated in a gathering of more than 15,000 missionaries in Kuala Lumpur, Malaysia early this month.
One of the Filipino Tablighs, an ethnic Maranaw, who joined the event in Kuala Lumpur died from coronavirus infection at the Amai Pakpak Medical Center in Marawi City more than a week ago.
The Bangsamoro regional government said it has identified 196 of the 215 Filipino Tablighs who traveled to Malaysia recently.
Hundreds of the more than 15,000 Tablighs of different nationalities who joined the congregational gathering in Malaysia's capital, Kuala Lumpur, have reportedly been afflicted with COVID-19 infection.
Asnin Pendatun,spokesman of the Bangsamoro Inter-Agency Task Force on COVID-19, said they now have the names of the Filipino Tablighs who traveled to Malaysia.
"We have their names and their passport numbers," said Pendatun, who is Cabinet secretary in the office of Chief Minister Hadji Ahod Ebrahim of the Bangsamoro Autonomous Region in Muslim Mindanao.
Pendatun said 35 of the 215 Filipino Tablighs who participated in a large gathering in Malaysia are from the BARMM provinces.
The Tabligh religious group is comprised of preachers roving in far-flung areas to propagate Islam, clad in traditional Pakistani men's attire.
The Bangsamoro government has enlisted the help of the Regional Police Office-BARMM, the military's Western Mindanao Command and the local government units in Maguindanao, Lanao del Sur, Basilan, Sulu and Tawi-Tawi in tracing the whereabouts of the recalcitrant Tablighs refusing to submit to medical examination.
https://www.philstar.com/nation/2020/03/26/2003590/lone-covid-19-patient-cotabato-recovers
------
Diplomatic challenges from the Muslim world
25 Mar 2020
NEW DELHI : The last few weeks have witnessed an extraordinary phenomenon—strident criticisms from foreign governments of certain policy measures taken by the Indian government. While these sharp rebukes have come from a variety of international sources, what has been surprising are the remarks of leaders of three major Muslim countries—Iran, Turkey and Malaysia.
The criticisms began in August last year, soon after the Indian government announced new constitutional and administrative arrangements in Jammu and Kashmir. Iran's Supreme Leader Ayatollah Ali Khamenei called on India to follow a "just policy" towards the "noble" people of Kashmir. The Iranian criticism became more strident after the communal violence in Delhi in February. Khamenei condemned the "massacre" of Indian Muslims, and called on the government to control "extremist Hindus and their parties" and avoid India's "isolation from the world of Islam".
Turkish president Recep Tayyip Erdogan also criticized the "massacres" of Indian Muslims. Separately, he saw the "struggle" of the Kashmiri people as comparable to the Turks' own struggle against foreign domination in World War I. In his remarks at the UN General Assembly in September last year, Malaysia's former prime minister Mahathir Mohamad accused India of "invading and occupying the country" of Jammu and Kashmir. Later, in December, he criticized the Citizenship Amendment Act (CAA) for depriving Muslims in India of their citizenship.
In response to the censures from Turkey and Malaysia, India has taken quick retaliatory action. The government has said that it will cut imports of oil and steel from Turkey, and has placed imports of palm oil from Malaysia on the "restricted" list, thus curtailing imports of 4.4 million tonnes of Malaysia's major export item.
These brickbats from Muslim leaders contradict the massive efforts made by Prime Minister Narendra Modi personally to cultivate ties with the Islamic world. In his high profile outreach to Islamic nations, Modi has always had domestic interests in mind. Affirming this, last December, when there were protests across India against the CAA, Modi had said: "Congress … feels if the world's Muslim countries love Modi so much, how will we create fear about him among Indian Muslims."
These interventions in what India sees as its domestic concerns reflect significant shifts in the Muslim world—doctrinal and political—that have brought these countries, along with Qatar (that has not joined the anti-India chorus), into an alignment founded on Islamist affinity. This could upend existing equations of power and influence in West Asia and the Islamic realm.
The nascent connectivity between these four nations was publicly proclaimed at the "Muslim 5 Summit", convened in Kuala Lumpur by the then prime minister Mahathir Mohamad on 19-21 December last year. Mahathir had initially envisaged a five-nation Islamic summit that would bring together Malaysia, Turkey, Qatar, Pakistan and Indonesia.
This initiative was viewed as a rival to the Saudi-led Organisation of Islamic Cooperation (OIC). Hence, the summit lost two of its "founders"—Pakistan and Indonesia: Pakistan was pressurised by Saudi Arabia not to attend, and Indonesia declined the invitation for fear of alienating the kingdom. Malaysia then invited Iran to fill the gap.
Mohamad, 94 years old and prime minister after a long gap, shaped the summit to promote his vision of a rejuvenated, modern and successful Muslim civilization that would overcome its backwardness, extremism, and internecine conflicts that have exposed it to western machinations.
The Kuala Lumpur summit reflects a clear schism at the heart of the Muslim world, with these four countries —Turkey, Iran, Qatar and Malaysia—uniting against the Saudi-led Islamic order that has defined Muslim affairs over the last several decades. The thread binding the four nations is their affiliation with Islamism, and specifically its most influential organization, the Muslim Brotherhood.
Islamism" describes the efforts of a political movement to influence and ultimately shape government and society on the basis of the rules and traditions of Islam. While its adherents derive these ideas and principles from pristine Islam dating back to the holy prophet, there is no consensus among Muslim scholars and movements about the meaning and application of such principles in modern times.
Today, Islamism has three expressions: one, Wahhabiyya in Saudi Arabia that provides the monarch with full authority in the political area, giving him responsibility for his peoples' security and welfare in return for their loyalty and obedience.
The second expression is jihad, where its adherents believe that Islam and the Muslim community are under attack from the West (in alliance with regional leaders) and hence they have divine sanction to resort to violence to defend their faith.
The third expression finds in principles of pristine Islam the sanction for grassroots politics that enjoins pluralism, human rights and liberties, constitution-based democratic systems, and flexibility in the understanding and application of Shariah, alongside acceptance of secular laws.
The Muslim Brotherhood, set up in Egypt in 1928, is the first modern Islamist movement. Concerned about the cultural encroachments of western materialism and secularism, it advocated a "return to Islam". By the end of the last century, its scholars had derived the principles of democratic governance from Islamic norms, calling for a national constitution, parties, free elections, responsible government, and rights of citizens. These principles have never been implemented fully in any Arab polity due to the pervasive authoritarian order.
Today, in West Asia, the Muslim Brotherhood is most influential in Turkey and Qatar, while it has been declared a "terrorist" organization by Saudi Arabia, the UAE and Egypt. Egypt's military dictatorship overthrew the democratically-elected Brotherhood government in a coup d'etat in 2013.
Saudi Arabia and the UAE view the Brotherhood as their principal threat; they fear that the activist democratic politics advocated by it could be more alluring to their young population than their 19th century ruler-led paternalism that provides no scope for popular participation in governance.
Saudi Arabia's Wahhabi doctrine is firmly anchored in Islam; this has legitimized its "guardianship" of Islam's holy cities of Mecca and Madinah and given it a natural claim to lead the Muslim world in doctrinal and political areas. It has solidified support for itself across the Muslim realm through a network of well-funded institutions, domestic and transnational. The most important among them is the OIC. Set up in 1969, headquartered at Jeddah and largely funded from Saudi coffers, this 57-member conclave of Muslim nations serves to garner support for its positions against challenges from other Muslim countries.
In recent years, ties between India and the Gulf sheikhdoms have expanded exponentially due to: very significant Indian demand for the region's oil and gas; the substantial trade and investment ties, and the presence of the eight million-strong Indian community. These ties have been strengthened with Prime Minister Modi's frequent interactions with the leaders of the UAE and Saudi Arabia, with the two countries promising to invest $70 billion and $100 billion, respectively, in India.
Besides energy and economic considerations, they also see India as a partner in the battle against extremism. Hence, taking a pragmatic approach, they did not join other Muslim nations in criticizing India in response to recent domestic developments; they probably also hope that India's ties with them could over time dilute its links with Iran.
While the kingdom is confronting a strategic challenge from Iran in its geographical space, the bigger threat it faces is to its leadership of the Muslim ummah (community) from the emerging Islamist alignment of Turkey, Qatar and Iran.
Turkey under Erdogan has substantially severed its ties with its Kemalist secular order. What we witness now is a Brotherhood-influenced "Islamic nationalism", an approach that combines backing for Islamism with aspirations to revive Ottoman power and influence and ultimately replace Saudi Arabia as the leader of the Muslim world.
Iran describes its revolution as "Islamic", but its neighbours and its own constitution view it as Shia. Iran has repeatedly sought to overcome this stigma by reaching out to Sunni Islamism as represented by the Brotherhood. During former president Mohammed Morsi's short reign in Egypt, the two Islamist nations attempted to bridge the sectarian divide with the over-arching doctrinal and political affiliations they share. After Morsi's fall, Iran's leaders have communicated with Brotherhood leaders in exile to build an anti-Saudi front.
Qatar has for long been an outlier in the family of the Gulf Cooperation Council (GCC) sheikhdoms, mainly on account of its backing for the Brotherhood and its advocacy of normal ties with Iran. Islamist advocacy is at the heart of its foreign policy. This has fed the paranoia in the Gulf relating to the threat from the Brotherhood and led to Saudi Arabia, allied with the UAE, Bahrain and Egypt, initiating in June 2017 the "siege" of Qatar, a comprehensive political, economic and logistical blockade of the tiny peninsula nation.
Meanwhile, Turkey's ties with Iran are more complex. Though divided by the sectarian cleavage, they are today brought together by shared doctrinal and political interests.
After the departure of Mahathir Mohamad, even if Malaysia becomes more low-key in Islamic matters, the alignment of Turkey, Iran and Qatar on Islamist basis is a major development in regional politics. Given that it is being shaped at a time when the regional scenario is divided and conflictual and the global order uncertain, it is difficult to forecast the assured resilience of the grouping and its effectiveness in regional affairs.
One, the triumvirate will offer a serious challenge to Saudi leadership of the Muslim realm. This has largely been facilitated by Saudi Arabia's own recent self-goals: the futile war in Yemen; the siege of Qatar; the murder of Jamal Khashoggi, and the arrest, incarceration and mistreatment of royal family members in November 2017, followed by the detention of other senior royals this month to pave the way for the crown prince to ascend the throne. These developments, coupled with the crown prince's close ties with US President Donald Trump and Israel have discredited the kingdom and its crown prince and called into question their fitness to lead the Islamic ummah.
Two, while the unity of the nascent alignment will face serious tests, the three partners will make every effort to make it work. Their ideological commitment to Islamism is that of true believers rather than that of pragmatics or opportunists. They are also joined together by their visceral hostility towards Saudi Arabia.
Three, while Qatar will seek to maintain close ties with the US, the other two partners see a far greater strategic affinity and clarity of purpose with Russia. Again, China, with its Belt and Road Initiative, is also deeply interested in regional stability and, in time, could abandon its caution in regional affairs in favour of a more proactive approach to regional security, in tandem with Turkey and Iran. This will facilitate the shaping of a new global order.
What does this mean for India? As long as Modi's government pursues its current domestic agenda, the criticism will remain strident. Modi's ability to bank on the "silence" of his Muslim friends—Saudi Arabia and the UAE—to flaunt his links with the Islamic world will get further diluted, as will his leadership persona globally. In fact, if the communal divide widens at home, India may find that the list of its friends has got much smaller.
Thus, India, that has so far viewed itself as a global role-player and shaper of the new world order, may find its influence confined to the borders of Bharat Mata.
https://www.livemint.com/news/india/diplomatic-challenges-from-the-muslim-world-11585154238694.html
-----
Coronavirus: Hundreds of Muslims pray together from balconies in Morocco
20 hours ago
Hundreds of Muslims in Morocco have been filmed praying together from their balconies as the country's lockdown continues amid the coronavirus pandemic.
A state of medical emergency was declared on 19 March, which, as with many other countries, has closed all but essential stores and forced residents to stay indoors.
On Friday, many mosques throughout Morocco — and the wider Muslim world — stopped communal prayers for the first time in living memory.
After the imposition of such restrictions, locals in Tangier, a coastal city in the country's north-west, took to their balconies and rooftops on Saturday evening to take part in mass prayer.
In footage widely shared on social media, hundreds of Moroccans can be heard chanting dhikr (devotional acts of remembrance) and supplications while asking Allah for relief from the coronavirus outbreak.
Prayer is one of the "five pillars" of Islam, performed five times a day by the devout, but enjoined as a communal activity at noon on Fridays.
But with the rapid spread of Covid-19 across the globe, some governments have suspended communal prayers or closed mosques entirely, leaving many of the world's 1.6 billion Muslims to pray at home, at work, in parks or in the street.
In Mecca, Islam's holiest sanctuary, the usually crowded courtyard around the Kaaba in the Grand Mosque has been left all but deserted after Saudi authorities ramped up the country's containment measures.
At Riyadh's al-Rajhi mosque, only the imam, the muezzin who sings the call to prayer, and other staff were allowed inside instead of the thousands who normally attend during Friday prayers.
"This feeling is indescribable ... the minarets are crying. The mosques were once full of worshippers," Nasser Mohammed, the mosque muezzin, told Reuters last week.
Last month, a missionary gathering in Malaysia, attended by 16,000 Muslims from southeast Asia, created the largest known viral vector in the region, generating 670 coronavirus cases in half a dozen countries. Weekly prayers were later called off in Malaysia.
Crowded shrines in Iran, drawing pilgrims from that country and Shia Muslims from other nations, have also helped accelerate the spread of one of the largest outbreaks of coronavirus so far. To date, 1,934 deaths and more than 24,800 cases have been confirmed in Iran.
https://www.independent.co.uk/news/health/coronavirus-morocco-muslim-prayer-video-state-emergency-a9423606.html
-----
Arab world
Third Saudi Expansion of Grand Mosque in Makkah shut
March 25, 2020
MAKKAH — Sheikh Abdul Rahman Al-Sudais, head of the Presidency for the Affairs of the Two Holy Mosques, has directed the closure of the Third Saudi Expansion Area of the Grand Mosque in Makkah as part of the precautionary measures being taken to stem the spread of coronavirus, the Saudi Press Agency reported.
The presidency has already taken a series of preventive and precautionary measures, the latest of which was the closure of all doors other than the main doors of the Grand Mosque.
The roof and basement of the Grand Mosque have already been shut in addition to intensifying sterilization operations for the air conditioning and ventilation systems as well as reducing the number of workers at the Two Holy Mosques.
http://saudigazette.com.sa/article/591234/SAUDI-ARABIA/Third-Saudi-Expansion-of-Grand-Mosque-in-Makkah-shut
----
Christian Martyrs of Islamic Jihad
Mar 26, 2020
Raymond Ibrahim
The slain are ultimately modern day reflections of an ancient (and ongoing) phenomenon that permeates nearly fourteen centuries of history: Muslims slaughtering Christians who refuse to renounce Christ and embrace Muhammad.
Indeed, earlier this month, on March 6, the martyrdom of 42 other Christians was commemorated. They too were beheaded—1,171 years before half their number (the 21 Egyptians/Ghanaian) were executed under very similar circumstances. Known as the 42 Martyrs of Amorium, their dramatic story follows:
In 838, Caliph al-Mu'tasim—at the head of eighty thousand slave-soldiers—burst into Amorium, one of the Eastern Roman Empire's largest and most important cities. They burned and razed it to the ground and slaughtered countless; everywhere there were "bodies heaped up in piles," recalled a chronicler. The invaders locked those who sought sanctuary inside their churches and set the buildings aflame; trapped Christians could be heard crying kyrie eleison—"Lord have mercy!" in Greek—while being roasted alive. Hysterical "women covered their children, like chickens, so as not to be separated from them, either by sword or slavery."
About half of the city's seventy thousand citizens were slaughtered, the rest hauled off in chains. There was such a surplus of human booty that when the caliph came across four thousand male prisoners he ordered them executed on the spot. Because there "were so many women's convents and monasteries" in this populous Christian city, "over a thousand virgins were led into captivity, not counting those that had been slaughtered. They were given to the Moorish and Turkish slaves, so as to assuage their lust," laments the chronicler.
When the young emperor, Theophilus (r. 829–842), heard about the sack of Amorium—his hometown, chosen by the caliph for that very reason, to make the sting hurt all the more—he fell ill and died three years later, aged 28, reportedly from sorrow. Meanwhile, the Muslim poet Abu Tammam (805‐845) celebrated the caliph's triumph, since "You have left the fortunes of the sons of Islam in the ascendant, and the polytheists [Christians] and the abode of polytheism in decline."
Among the many captives carted off to Iraq were forty-two notables, mostly from the military and clerical classes. Due to their prestigious status and in order to make them trophies of Islam, they were repeatedly pressured to convert:
During the seven years of their imprisonment, their captors tried in vain to persuade them to renounce Christianity and accept Islam. The captives stubbornly resisted all their seductive offers and bravely held out against terrible threats. After many torments that failed to break the spirit of the Christian soldiers, they condemned them to death, hoping to shake the determination of the saints before executing them. The martyrs remained steadfast…
Interestingly, some of the arguments used by Muslims indicate that they acknowledged Christ as the Prince of Peace and Muhammad as the Lord of War—and played it to great effect. One Theodore, a Christian cleric who fought in defense of Amorium, was goaded as follows: "We know that you forsook the priestly office, became a soldier and shed blood [of Muslims] in battle. You can have no hope in Christ, whom you abandoned voluntarily, so accept Mohammed." Theodore replied: "You do not speak truthfully when you say that I abandoned Christ. Moreover, I left the priesthood because of my own unworthiness. Therefore, I must shed my blood for the sake of Christ, so that He might forgive the sins that I have committed against Him."
In the end, none would recant; and so, on March 6, 845, after seven years of torture and temptation failed to make them submit to Muhammad, all 42 Christians were—like their 21 spiritual descendants, the Egyptian/Ghanaian martyrs—also marched to a body of water, the Euphrates River, ritually beheaded, and their bodies dumped into the river.
In the video of the 21 martyrs made by ISIS, some could be seen mouthing, "Oh Lord Jesus Christ" immediately prior to having their heads carved off. Commenting on this, Coptic Orthodox Bishop Anba Antonios Aziz Mina, said: "The name of Jesus was their last word. Like the passion of the early martyrs, they entrusted themselves to He, who moments later, would welcome them into his embrace (emphasis added)."
http://www.frontpagemag.com/fpm/2020/03/christian-martyrs-islamic-jihad-raymond-ibrahim/
------
"Ansar Allah" announces 66 offensive operations in Saudi Arabia
March 26, 2020
The spokesman for the Yemeni armed forces loyal to the "Ansar Allah group", Brigadier Yahya Sari, announced that the group launched 66 attacks in the depth of Saudi Arabia this year.
Confirmed A spokesman for the armed forces Of the group today, Wednesday, during a press conference in which it reviewed the statistics of five years of the Yemeni war:
"The Air Force conducted more than 160 operations this year, including 37 reconnaissance operations, 66 operations in the depth of the Saudi enemy, and 94 operations against hostile targets at home."
On the Air Defense Forces, Brigadier-General Sari said: "Since the beginning of the aggression, the Air Defense Forces have carried out more than 721 operations during which more than 371 aircraft were shot down, including 53 fighter and Apache helicopters and 318 reconnaissance and spy planes, while occupancy and forced to leave amounted to about 350 operations." .
And he added: "During the current year, the Air Defense Forces have achieved several successes, most notably the downing of a Tornado warplane, as well as a number of confrontations during the past months. Our air defenses carried out 64 operations, including the operation of the Tornado plane and other operations to prevent and force the departure.
He stressed that: "New air defense systems have entered the battle line and other systems are being developed to become more effective on the battlefield."
Brigadier General Sareya pointed out that: "The navy and coastal defense forces have carried out more than 29 qualitative military operations targeting ships, battleships, frigates and boats, targeting enemy port berths, as well as thwarting landings and justifications for the enemy forces. A number of ships that violated Yemeni territorial waters have been detained."
Concerning the Air Force, he pointed out that the Air Force carried out during five years 4116 military operations, distributed between 669 offensive operations and 3490 reconnaissance operations, while the total number of joint operations between the path and artillery reached 73, and with the missile force 11 operations and one joint operation between the path, missile and artillery.
"Fast flying operations targeted military bases and installations, sensitive targets, gatherings, camps, enemy movements and reinforcements, including targets in the Saudi and Emirati depths, including targets on the home fronts, while specific operations were carried out during which more than 10 drones were used in one operation," he said.
Yemen is experiencing a humanitarian crisis, the worst in the world, due to the continuous battles for five years between the Yemeni army and allied forces backed by a military alliance from Arab and Islamic countries led by Saudi Arabia on the one hand, and the Ansar Allah group and allied forces on the other.
https://www.mbs.news/a/2020/03/ansar-allah-announces-66-offensive-operations-in-saudi-arabia.html
-----
Custodian of the Two Holy Mosques Condoles President of Chad on Victims of Terrorist Attack on Boma Island
2020/03/26
Riyadh, March 26, 2020, SPA -- The Custodian of the Two Holy Mosques King Salman bin Abdulaziz Al Saud has sent a cable of condolences to President Idriss Deby of the Republic of Chad, following the terrorist attack on Boma Island, which resulted in deaths and injuries.
The King said in his cable, "We learned of the news of the terrorist attack that took place on Boma Island resulting in deaths and injuries, and we strongly condemn this heinous criminal act. In my own name and on behalf of the government and the people of the Kingdom of Saudi Arabia, we express to Your Excellency, the families of the dead and to the brotherly people of Chad sincere condolences, wishing a speedy recovery for the injured."
https://www.spa.gov.sa/viewfullstory.php?lang=en&newsid=2051572
-----
India
Kolkata Imam Urges People to Pray from Home Owing to The Threat Posed by Novel Coronavirus
Mar 26, 2020
KOLKATA: The imam of the Nakhoda Mosque, Shafique Qasmi, has requested people to offer prayers at home owing to the threat posed by novel coronavirus.
"Our management committee has received a notification from the government and it has been decided that people will be requested to offer prayers at home," said Qasmi.
He specified the mosque will not be shut and prayers will continue. "There will be azaan, the call of prayer, and only the imam, muezzin and khadims will offer prayers inside. People are instructed to offer their prayers at home," said Qasmi.
Seevral thousand people offer namaz at Nakhoda Mosque everyday. On Fridays, the number exceed 30,000-35,000. "We are at a critical juncture and need to follow the guidelines issued by the government. Stay at home and pray for everybody," said Qasmi.
https://timesofindia.indiatimes.com/city/kolkata/kolkata-imam-urges-people-to-pray-from-home/articleshowprint/74825833.cms
-----
Jamia Millia Professor Fails 15 Non-Muslim Students, University Suspends Him Over Communal Act
March 26, 2020
A Jamia Millia Islamia University professor had tweeted about deliberately failing 15 of his students who were non-Muslims. After public outrage on social media over his tweet, the university has now suspended the professor.
Abrar Ahmad, an assistant professor at Jamia University had said on Twitter on Wednesday that he has chosen to fail 15 non-Muslim students who didn't support the agitation against Citizenship Amendment Act (CAA).
Dr. Abrar Ahmad, Asstt Professor of @jmiu_official tweeted in public domain as to failing 15 non-muslim students in an exam. This is a serious misconduct inciting communal disharmony under CCS CONDUCT RULES. The university suspends him pending inquiry.@DrRPNishank @HRDMinistry
Abrar Ahmad, Asstt Professor of @jmiu_official tweeted in public domain as to failing 15 non-muslim students in an exam. This is a serious misconduct inciting communal disharmony under CCS CONDUCT RULES. The university suspends him pending inquiry.
The professor tweet on Wednesday immediately triggered people on Twitter calling for action against him saying such communal behaviour cannot be tolerated at a national university.
The Jamia Millia Islamia University has seen protests over CAA, NRC and NPR since December. On December 15, the protests turned violent and Delhi Police barged into the university premises and allegedly beat up students.
The protests outside the university gates grew in large numbers ever since. It has been called off now over threats of coronavirus spread.
Jamia University has been the epicentre of anti-CAA protests since December when the brutal police action on students triggered nationwide outrage and universities across the country were up in arms to protest against the government.
https://www.indiatoday.in/india/story/jamia-millia-professor-fails-15-non-muslim-students-university-suspends-him-over-communal-act-1659901-2020-03-26
------
Man dies of coronavirus in Kashmir after attending Islamic congregation with Indonesians
March 26, 2020
A65-year-old man infected with the coronavirus has died at Chest Disease (CD) Hospital in Dalgate, Srinagar in the early hours of Thursday. With this, Kashmir recorded its first coronavirus death.
"Despite our best efforts, the Covid-19 positive patient at Chest Disease Hospital passed away after suffering a cardiac arrest. The patient had medical history of prolonged illness with diabetes, hypertension and obesity," they said.
The patient is said to be a resident of Hyderpora Srinagar (originally a resident of Sopore) who had returned from New Delhi, Uttar Pradesh and Jammu recently taking part in a Tablighi Jamaat' congregation attended by people from Indonesia and Malaysia.
As of now, eight people have tested positive for coronavirus (Covid-19) in the Kashmir Valley while the tally of such patients in the entire J&K region has gone up to 11. Three cases were reported from Jammu earlier this month.
"As we share the sad news of our first #Covid19 fatality, my heart goes out to the family of the deceased. We stand with you and share your grief," Mayor of Srinagar Junaid Azim Mattu tweeted.
Authorities in Kashmir have expressed apprehensions that the cases could be more than reported in the Valley as a significant number of people appeared to have concealed their travel history.
As per a government bulletin on Wednesday in Jammu and Kashmir, as many as 5,124 travellers and people who came in contact with suspected and positive cases have been put under surveillance.
Among them 3,061 are in home quarantine (including facilities operated by the government), 80 in hospital quarantine and 1,477 in home surveillance.
https://www.indiatoday.in/india/story/kashmir-reports-first-coronavirus-death-1659822-2020-03-26
-----
Africa
COVID-19 Is Western Deceit, Conspiracy Against Muslims, Says Leader Of Izala Muslim Sect
26 March 2020
By Terhemba Daka
Opposition to government efforts in controlling the spread of Coronavirus snowballed in the north, as leader of Izala Muslim sect, Sheikh Sani Yahaya Jingir, described COVID-19 as an international deceit and western conspiracy against Muslims.
Jingir, in a sermon to a congregation on Izala TV and monitored by journalists in Kaduna, restated that Coronavirus was a lie, insisting that it was a conspiracy meant to stop Muslims from performing their religions rites.
"Is the virus as effective as fire that could not burn Prophet Ibrahim (AS)? Then the virus is a lie. Whatever people have to say, they should say the truth. A professor has said it was a lie.
"President of Turkey declared that they shouldn't stop the Juma'at congregation because of Coronavirus, because they don't believe in the virus, they only believe in Allah.
"Another country in Europe, also took the same path. Ask United States President Donald Trump. They are just unveiling Coronavirus that was written in a book 39 years ago. How many graves of Coronavirus victims have you seen and how many of the victims have you seen in hospitals?
"We were witnessed to the Cholera epidemic in Kano and we saw how massive burials were done. We saw the graves, but where are those of Coronavirus victims?"
Besides, the Muslim Media Watch Group of Nigeria (MMWGN) has urged the politicians and religious leaders to desist from actions and sentiments capable of putting people at the risk of contracting Coronavirus.
This appeal is coming against the backdrop of some State Chief Executives and religious leaders who felt indifferent to Federal Government's directive on measures at safeguarding citizens from contracting the epidemic that has ravaged the world since December.
In a statement issued by its Ogun State Coordinator, Kamaldeen Akintunde in Abeokuta, it implored leaders and clerics to eschew politics and religious sentiments, but key into the global efforts at curtailing the spread of the disease.
It, however, lauded stakeholders in the health sector, including federal and state governments for being responsive to the challenge, especially initiatives put in place to contain the disease.The group urged greater collaboration, cooperation and synergy among stakeholders in the health sector for an aggressive approach in tackling the
scourge.
https://guardian.ng/news/covid-19-is-western-deceit-conspiracy-against-muslims-says-islamic-cleric/
-----
Islamist insurgents capture second town in northern Mozambique within 48 hours
26 March 2020
Islamist insurgents on Wednesday captured a second town within 48 hours in northern Mozambique's Cabo Delgado province on Wednesday, prompting fears that they are gaining a foothold in the area and could jeopardise the huge natural gas industry that is poised to take off there.
On Wednesday they attacked the district capital of Quissanga, defeating security forces and causing residents to flee. This followed their successful assault by land and sea on Monday on the strategic port town of Mocimboa da Praia which they held for most of the day.
This port town is just 60km south of liquid gas installations under construction on the Afungi peninsula. The risk analysis firm Control Risks said in a report that it did not believe the jihadists would yet venture an attack on Afungi because of the significant military presence there. But it added that "other commercial operations across these districts are likely to pose attractive targets to the group".
Some reports on the attack on Mocimboa da Praia – the biggest military operation in the 30 months of the insurgency – said the fighters had destroyed barges which oil and gas corporations had been using to offload equipment at the port for the construction of the gas facilities.
And there are growing concerns that the insurgents are starting to win over the local population as the latter lose faith in the government and its security forces. After capturing Mocimboa da Praia the insurgents robbed banks and shops and handed out money and food to residents, many of whom cheered them, according to local reports. When the security forces took control of the town in the evening after the insurgents had retreated, the security forces assaulted several civilians in retaliation for their show of support for the insurgents.
Another worry is that the insurgents seem to be converting some members of the security forces. Social media posts in Mozambique are claiming that the attack on Mocimboa da Praia was led by Daitão Jamal Tevula, a former officer in the Marines, who had defected to the insurgents recently.
The insurgents, who launched their first attack, also in Mocimboa da Praia, in October 2017, don't generally claim responsibility for their operations nor do they issue any other propaganda, so their identity remains murky. However they have mostly been identified as Ahlu Sunnah wal Jamaah, and some analysts believe they are an affiliate of Islamic State through its Central Africa Province (Iscap).
Photographs of the attack on Quissanga, circulating on social media, show masked men in camouflage uniforms posing triumphantly in front of the Quissanga District Police Command and other buildings, waving the black flag of the Islamic State/ISIS terror group. One of the men is holding a bazooka, and two have AK-47 assault rifles.
Other photographs depict a large number of spent cartridges and several dead bodies, one of them burnt. Most seem to be of civilians, though one is wearing the uniform of the Mozambican armed forces (FADM) and another victim seems to be wearing police boots, according to the official Mozambique news agency AIM.
The authenticity of all these photographs could not be independently verified as having been taken in Quissanga on Wednesday but since the one taken in front of the district police headquarters shows the name of the building they do seem genuine.
The Portuguese news agency Lusa reported that residents of Quissanga had fled the village by boat to the island of Ibo, 14km away or by land to the major town Pemba, less than 100km away.
The Control Risks report said the attack on Mocimboa da Praia, "marks a significant strategic shift by al-Sunnah, involving the coordination of a large number of militants to conduct a complex attack. The militants were well-armed and supplied, evidenced by their ability to hold off security forces for most of the day.
"After entering the town, the militants barricaded all roads leading into Mocimboa da Praia before breaking up into groups of approximately two-to-three fighters, stretching the security forces across several neighbourhoods. These groups then patrolled Mocimboa da Praia for several hours before distributing food to local residents, some of whom applauded them.
"The attack underscores al-Sunnah's rapidly evolving tactics and growing willingness to engage in extended skirmishes with the security forces," the report said.
"Moreover, apparent support for the group among the local community marks a shift in relations that is likely to bolster both recruitment and logistical supply lines to the group in the coming months.
"Businesses in Mocimboa da Praia district are exposed to an increased threat of attacks by militants and unrest driven by sympathetic members of the local community.
"Vehicles remain most vulnerable to being targeted. Nonetheless, the latest attack signals al-Sunnah's ability to stage complex attacks on fixed assets without adequate security provisions."
https://www.dailymaverick.co.za/article/2020-03-26-islamist-insurgents-capture-second-town-in-northern-mozambique-within-48-hours/
-----
Fighting ongoing between army and Islamist insurgents around Exxon LNG facilities in Mozambique
Mar 25, 2020
The Mozambican army has been fighting since Monday the Islamist insurgents of Al Sunnah in the city of Mocimboa da Praia, close to the facilities of the future liquefaction plant of Exxon Mobil. According to Bernardino Rafael, the head of the Mozambican police, it was the Islamists who launched hostilities by attacking an army barracks in the city in the north of the country early in the morning, injuring dozens of people.
"Mocimboa da Praia is currently an active combat zone. The military is doing everything it can to restore security. We ask people to stay away from the fighting zones , " said Rafael.
The standoff between the insurgents and Maputo has been going on since 2017 and has already claimed more than 900 lives. If no claim has been made by the Group, we can clearly see a desire to weaken the emerging natural gas industry. Many questions remain about the origin and the real motivations of Al Sunnah.
The government, which communicates very little about the situation, seems overwhelmed by these attacks and is working to hire private security companies to thwart the Islamist offensive.
https://www.energymixreport.com/fighting-ongoing-between-army-and-islamist-insurgents-around-exxon-lng-facilities-in-mozambique/
-----
Coronavirus: Shehu Sani Donates Protective Items, Food To Churches, Mosques
MAR 25, 2020
A former federal lawmaker, Senator Shehu Sani, has distributed protective items and foodstuffs to churches, mosques and correctional centers.
He added that the days of reckoning had come for those charged with the responsibility of turning around Nigeria's hospitals but refused to take action.
A modest intervention in the fight against #Convid_19;today we distributed free Face masks,Hand Sanitizers & foodstuffs to some Mosques,Churches & the Correctional Services in Kaduna.#CoronaVirusInNigeria #CONVID19 #StopTheSpread #CoronaCrisis #FightCOVID19 #Covid19Out #CONVID
Sani said, "Coronavirus will not bring an end to the world but surely return it to its beginning and basics where love, brotherhood and compassion was the spirit.
"If Coronavirus had come during electioneering period, political leaders could have distributed free and customised sanitisers, masks and ventilators."
http://saharareporters.com/2020/03/25/coronavirus-shehu-sani-donates-protective-items-food-churches-mosques
-----
New Zealand
Christchurch shootings: Will terrorist and mosque killer be deported to Australia?
26 Mar, 2020
By: Sam Hurley
The man responsible for the Christchurch terror attacks will be liable for deportation but it is possible the Australian killer will never leave prison, let alone our shores.
Brenton Tarrant pleaded guilty to all the charges he faced during a hastily-arranged hearing in the High Court at Christchurch this morning.
He admitted murdering 51 people at two Christchurch mosques on March 15 last year, and also pleaded guilty to 40 charges of attempted murder and one charge of engaging in a terrorist act.
After being convicted by Justice Cameron Mander on each charge, the attention now turns to the 29-year-old's sentencing - which will take place after the coronavirus-imposed court restrictions are eased.
Some, such as Dr Jarrod Gilbert, the Director of Criminal Justice at the University of Canterbury, have wondered if Tarrant would be the first person In New Zealand to be sentenced to life imprisonment without the possibility of parole.
"I would have bet anything you like that this would have been our first sentence of life without parole. I wonder if his guilty plea reduces the likelihood of that," he said in a tweet after the guilty pleas.
I would have bet anything you like that this would have been our first sentence of life without parole. I wonder if his guilty plea reduces the likelihood of that. https://www.nzherald.co.nz/nz/news/article.cfm?c_id=1&objectid=12319961 …
An Immigration New Zealand spokeswoman said the department was unable to comment specifically on this case and on whether Tarrant could be deported to Australia prior to the sentencing hearing.
"An individual who is a New Zealand resident and is convicted of a criminal offence which is committed within 10 years of being granted residence, for which they receive a prison sentence of five years or more, is automatically liable for deportation.
https://www.nzherald.co.nz/crime/news/article.cfm?c_id=30&objectid=12319995
------
Christchurch mosque attack: Mother of victim dances in driveway to celebrate gunman's guilty plea
Patrick Gower
53 minutes ago
The families of the victims couldn't be in the courtroom to see Tarrant plead on Thursday because of the COVID-19 lockdown, but that didn't stop Janna Ezat being the happiest she'd been in a year.
"This is the first time I dance since the 15th of March," she told Newshub "It's amazing. I'm smiling now rather than tearing."
"To minimise our happiness and feeling, but no, although there is nobody in the street, I feel I own the street - I own the city," she said.
It was a relief also - for Temel Atacocugu - Tarrant shot him nine times. Now he wants him to get the longest lockdown ever.
"This is another hurdle that we have crossed over another mini closure if I could put it that way and we're just looking forward to reaching the finishing line."
"For the families who lost their loved ones, we continue to stand with you and I hope today brought some relief to you."
https://www.newshub.co.nz/home/new-zealand/2020/03/christchurch-mosque-attack-mother-of-victim-dances-in-driveway-to-celebrate-gunman-s-guilty-plea.html
------
Inquiry into Christchurch mosque shootings continues despite guilty pleas, lockdown
Mar 26 2020
Mariné Lourens
The Royal Commission into the March 15 terror attacks will not be affected by the shooter's surprise guilty plea in the High Court in Christchurch.
In an unforeseen turnaround Brenton Tarrant, 29, on Thursday morning admitted 51 charges of murder, 40 charges of attempted murder and a charge of engaging in a terrorist act. He appeared in court via video-link from Auckland Prison, Paremoremo, where he's held in maximum security.
In total, 51 people were killed in the terrorist attack, the worst mass shooting by an individual in New Zealand history.
Women comfort each other as they sit next to flowers and tributes by the wall of the Botanic Gardens on March 17, 2019 in Christchurch, after the mosque shootings that claimed the lives of 51 people. (Photo by Carl Court/Getty Images)
Tarrant was the first person to be charged under NZ's Terrorism Suppression Act 2002. He originally pleaded not guilty to the charges against him and was headed for a six-week long trial in June.
Although Tarrant's guilty pleas means victims will no longer have to face the trauma of the trial, it does not expedite or affect the Royal Commission's inquiry into the shootings in any way.
The Royal Commission said it learned about the attacker's guilty pleas along with the rest of New Zealand. "The [inquiry's] terms of reference are clear: The Royal Commission cannot inquire into the guilt or innocence of any individual charged in relation to the attack. That is not our role," said the Commission in a statement.
"For this reason, today's developments do not directly impact the Royal Commission's inquiry process. It is however, hugely significant for families and survivors who will now be absorbing this news."
While the inquiry is still ongoing, it is being "significantly impacted" by the coronavirus alert level 4 restrictions that all New Zealanders now face. The Royal Commission said staff were committed to getting the job done and continued to work from home, but there were some aspects of their work that could not be managed remotely.
The Terms of Reference require the Commission to make findings on several matters, including the knowledge and focus of relevant state sector agencies prior to the attack, whether state agencies could have taken any additional measures to prevent the attack, and how similar attacks could be prevented in future. They also refer to the need to reassure the New Zealand public, including its Muslim communities.
The Royal Commission into the mosque attacks was originally scheduled to report back to the government by December 10, 2019. In November, Internal Affairs Minister Tracey Martin announced she would extend the deadline for the Commission 's report to April 30, 2020 and approved an additional $3m for the longer timeframe.
https://www.stuff.co.nz/national/120604470/inquiry-into-christchurch-shooting-continues-despite-guilty-pleas-lockdown
-----
'I want to pray for him' - Christchurch mosque victims respond after attacker pleads guilty
18 MIN AGO
Today the shooter behind last year's Christchurch terror attack pleaded guilty, an unexpected change that caught many off guard and because of legalities, none of the families were able to be given a head's up.
Brenton Tarrant appeared in Auckland's High Court today via audio-visual link, pleading guilty to 51 counts of murder, 40 of attempted murder and one of committing a terrorist act.
Due to the nationwide coronavirus shutdown, his victims were locked down in their homes today as the gunman admitted to his horror.
Farid Ahmed, a senior member of Al Noor mosque who survived the shooting but lost his wife Husnam is still forgiving, even now.
Abdul Aziz, the hero who chased the gunman away from Linwood Islamic Centre with nothing but an Eftpos machine, is in a different camp to some.
https://www.tvnz.co.nz/one-news/new-zealand/want-pray-him-christchurch-mosque-victims-respond-after-attacker-pleads-guilty
-----
Widow of man killed at Al Noor Mosque 'shocked and relieved' by guilty pleas
26-03-2020
Families of the victims of the 15 March mosque attacks and the Muslim community have reacted with relief, shock and happiness after this morning's unexpected guilty pleas from the man who was due to go on trial for the shootings.
At the High Court in Christchurch, Brenton Tarrant admitted 51 counts of murder, 40 of attempted murder and one under the Terrorism Suppression Act. Until today he had denied all of the charges and was scheduled to stand trial in June.
"Obviously I have had no chance to go out and speak to people but the flurry of Whatsap messages that have come in just speak of people bursting into tears, crying with relief, and something like peace in the chaos."
He said this case has obviously had great repercussions across New Zealand and across the world, but that the Islamic community was looking beyond that to the Ramadan fasting month which is likely to be 25 or 25 April, there was the Royal Commission report which is due to be released at some time.
"My own anticipation was that some parts of that might be redacted in view of the possible evidential nature of the trial - that itself would possibly exacerbate things because then it gives a route to people thinking 'hang on there's some secrecy around this' and then the trial itself which we were looking at with a fair sense of dread."
He said a trial would have dragged out the anguish by more than a year, and the initial messages he was receiving expressed enormous relief that the trial will now not go ahead.
"I am relieved we won't have to sit through a trial" - Shadia Amin duration4′ :59″ from Nine To Noon Add to playlist Download
"I mean I'm shocked at the sudden change in his plea and I'm relieved that my family and everyone else from the other victims won't have to live or any of us to realise again what happened."
She said the guilty plea will make a big difference to the families, and now at least they do not have to go through the experience again day after day.
John Milne, father of 14-year-old Sayaad Milne, who died at the Al Noor mosque, said he and his family were extremely grateful and celebrating.
"My daughter says, yahoo! Now I am happy, happy happy. You know I have forgiven him [the gunman]. My wife won't have to go through all the drama. She was trying to get prepared and determined not to cry, to show him [gunman] that what he did not not really affect her, but I don't think she would have really been that strong."
He forgave the gunman and became a 'messenger of peace' to the world, and said he was "very happy" and that "it was a step in the right direction."
"People do horrible things but people should be courageous to accept their guilt and try to be a better person," he said.
Ahmed said he hoped the Australian gunman would choose to put aside his hatred and choose love and was certain his would provide the victim's families peace through this challenging time.
Imam Gamal Fouda, who was leading prayer when Tarrant entered Al Noor Mosque and opened fire on 15 March last year, also said the terrorist's guilty pleas were "completely unexpected" but a relief.
"I am relieved we will not have to endure a long and stressful trial - many of the victims were dreading reliving their trauma by having to re-tell their stories in court and possibly be questioned on them."
One of the lawyers assisting the families, Aarif Rasheed, said they had not received any word on what led to the unexpected guilty pleas.
"Any possible explanations are speculative but we do know terrorists are often seeking a sense of self-importance and attention to their cause. The Covid-19 pandemic has removed that."
Prime Minister Jacinda Ardern said she breathed a huge sigh of relief when the man accused of the Christchurch mosque massacre pleaded guilty to all charges.
She said she knows it will be deeply disappointing for the victims and their families that they cannot gather together right now, due to the Covid-19 lockdown but that the guilty pleas would be a small reprieve to the victims.
Christchurch Mayor Lianne Dalziel is also relieved and said when she heard the news her immediate thoughts were with the families of those killed and people who were injured.
The Royal Commission investigating the Christchurch mosque shootings says its work has not been impacted, after the accused gunman pleaded guilty to all of the charges he was facing.
In a statement, the inquiry said its role is not to inquire into the guilt or innocence of any individual charged in relation to the attack, so today's developments do not directly impact its work.
The Royal Commission is due to hand over its report next month, but the statement says the current Covid-19 restrictions are having a significant impact on its work.
It said staff are committed to getting the job done, but there are some aspects of the inquiry process that cannot be managed remotely.
A statement from Police Commissioner Mike Bush said arrangements for the court hearing were made at short notice after Tarrant indicated via his counsel that he wished to be brought before the court.
Commissioner Bush said police appreciate that the news will come as a surprise to the victims and the public, who may have wanted to be present in the courtroom.
The two Imams from the Al Noor and Linwood Avenue Mosques were present in the courtroom as representatives of the victims, as were representatives of the media, he said.
Suppression orders were put in place to allow police, victim court advisors and Victim Support to advise as many of the victims as possible prior to the news being made public.
Sentencing will not take place until it is possible for all victims who wish to attend the hearing to do so. Bush said due to the Covid-19 epidemic that will not be possible for some time.
"While the sentencing hearing is still pending, today's guilty pleas are a significant milestone in respect of one of our darkest days," Bush said.
https://www.rnz.co.nz/news/national/412668/widow-of-man-killed-at-al-noor-mosque-shocked-and-relieved-by-guilty-pleas
-----
South Asia
Attention to Islamic, cultural and educational values MoIC's main priority: Minister Safi
March 26, 2020
KABUL: Acting Minister of Information and Culture, Hasina Safi, met with a number of religious figures here in her office yesterday, BNA reported.
According to the agency, the religious scholars shared their views on media's activities in the country, in particular that of the visual media, asking the acting minister to help align their broadcastings in line with the Islamic teachings.
To help prevent the spread of COVID-19, the religious scholars said that they have shut the mosques, asking visual media to also avoid people's gatherings in their programs and help raise awareness. They said if the cities to be quarantined, then people would prefer to watch TVs, the agency quoted.
The Ulema said that audio visual medias should consider Islamic, cultural and educational values in their programs and avoid any broadcasts contrary to the Islamic principles, according to the agency.
Calling attention to Islamic, cultural and educational values as the ministry's main priority, the acting minister assured of her led ministry cooperation in this regard.
He stressed that the media should pay close attention to Islamic values, culture and popular traditions of the people of the country.
https://www.thekabultimes.gov.af/2020/03/26/attention-to-islamic-cultural-and-educational-values-moics-main-priority-minister-safi/
------
Islamic State gunman kills 25 in attack on Sikh house of worship in Kabul
March 25, 2020
BY TAMEEM AKHGAR
A lone Islamic State gunman rampaged through a Sikh house of worship in the heart of the Afghan capital Wednesday, killing 25 worshippers and wounding eight, Afghanistan's Interior Ministry said.
The gunman held many worshippers hostage for several hours while Afghan special forces, helped by international troops, tried to clear the building. At least one of the dead was a child.
The Afghan special forces rescued at least 80 worshippers who had been trapped inside the Sikh house of worship, known as a Gurdwara, as the gunman lobbed grenades and fired his automatic rifle into the crowd, the ministry said.
Earlier, Afghan lawmaker Narindra Singh Khalsa said he rushed over to help after receiving a call from a person inside the Gurdwara telling him of the attack. There were about 150 people inside at the time, he said.
The SITE Intelligence Group, which tracks militant postings and groups, said IS claimed responsibility for the attack on the group's Aamaq media arm. The communique identified the gunman as Indian national Abu Khalid al-Hindi, who carried out the attack to avenge the plight of Muslims living under severe restrictions in Indian-ruled Kashmir, Hindu India's only Muslim dominated state.
At a Kabul hospital, Mohan Singh, who was in the Gurdwara when the attack began, said he first heard the sound of gunshots and ducked for cover under a table. Later he heard explosions, adding that he believes they were hand grenades. He was wounded when parts of the ceiling fell on him.
In photographs shared by the Interior Ministry, about a dozen children were seen being rushed out of the Gurdwara by Afghan special forces, many of them barefoot and crying.
As news of the attack first broke, Taliban spokesman Zabihullah Mujahed tweeted that the Taliban were not involved. Earlier this month, Afghanistan's IS affiliate struck a gathering of minority Shiite Muslims in Kabul, killing 32 people.
Afghanistan's National Security Adviser Hamdullah Mohib condemned the attack in a tweet while neighboring Pakistan and India both issued statements of condemnation. Pakistan described the attack as "heinous."
"Such despicable acts have no political, religious or moral justification and must be rejected outright," the Pakistani Foreign Ministry statement said.
India said the attack was particularly egregious coming as Afghanistan sought to deal with the growing coronavirus pandemic.
"Such cowardly attacks on the places of religious worship of the minority community," India said, reflect the "diabolical mindset of the perpetrators and their backers."
U.N. Secretary-General Antonio Guterres condemned the attack, reiterating that "attacks against civilians are unacceptable and those who carry out such crimes must be held accountable," U.N. spokesman Stephane Dujarric said.
The United Nations Assistance Mission in Afghanistan called for a "reduction of violence leading to a cease-fire" by all combatants in Afghanistan.
Sikhs have suffered widespread discrimination in the conservative Muslim country and have also been targeted by Islamic extremists. Under Taliban rule in the late 1990s, they were asked to identify themselves by wearing yellow armbands, but the rule was not enforced. In recent years, large numbers of Sikhs and Hindus have sought asylum in India, which has a Hindu majority and a large Sikh population.
In July 2018, a convoy of Sikhs and Hindus was attacked by an Islamic State suicide bomber as they were on their way to meet Afghan President Ashraf Ghani in the eastern city of Jalalabad, the capital of Nangarhar province. Nineteen people were killed in that attack.
Elsewhere in Afghanistan, at least eight civilians were killed in southern Helmand province when their vehicle hit a roadside mine, said Omer Zwak, spokesman for the provincial governor. The area is under Taliban control but no one took immediate responsibility.
In a separate incident in northern Kapisa province, insurgents opened fire on a vehicle killing three civilians and a security officer, said Shahiq Shoresh Kohistani, spokesman for the provincial police chief.
Washington signed a deal with the Taliban on Feb. 29 and has begun to withdraw its troops in keeping with the agreement but it has run into trouble as Afghanistan's political leadership battles relentlessly for power. Two presidents sit in Kabul. Even a surprise visit by U.S. Secretary of State Mike Pompeo on Monday, who threatened to withhold $1 billion in aid if they didn't "get their act together," could break the impasse.
A glimmer of hope appeared late Wednesday with a tweet from Taliban political spokesman Sohail Shaheen. He said the release of Taliban prisoners — a must before intra-Afghan negotiations can begin — could start by March 31. The decision came after a four-hour video conference between the Taliban, the government, Washington's peace envoy Zalmay Khalilzad and the Qatari government representative. The Taliban maintain a political office in the Middle Eastern State of Qatar.
The U.S.-Taliban deal calls for the release of 5,000 Taliban prisoners as well as 1,000 government captives as a good will gesture to launch intra-Afghan negotiations, but until now Kabul has been resisting the release.
Meanwhile, with more than 137,000 Afghans returning from Iran so far this year — traveling throughout the country before being tested and without follow up — there have been concerns that the country's already war-devastated health system could be overwhelmed.
The United Nations Assistance Mission in Afghanistan (UNAMA) on Wednesday called for a "reduction of violence leading to a cease fire" by all combatants in Afghanistan to better prepare for "the looming health crisis posed by COVID-19," and to give a chance to intra-Afghan negotiations between warring groups.
https://globalnews.ca/news/6734140/kabul-sikh-attack-islamic-state/
-------
Afghanistan pays for the impasse of its arrogant leaders
25 Mar 2020
By Gen. Lutfullah Mashal
The US Department of State announced, in an unusually harsh statement, the reduction of $1 billion of US aid to Afghanistan this year and warned of their preparedness to reduce by another $1 billion in 2021. The harsh statement also threatened further reductions in all forms of cooperation between the US and Afghanistan after the country's rival leaders failed to agree on forming a new government. The "unexpected" decision to cut the aid was made on Monday by US Secretary of State Mike Pompeo after he made an urgent visit to Kabul to meet with Ashraf Ghani and Abdullah Abdullah, the rival Afghan politicians who have each declared themselves president of the country after disputed elections last year. Pompeo flew from the United States all the way to Kabul in an unannounced visit, despite the global travel bans due to the Coronavirus pandemic, and had hoped to break the deadlock between the two dueling Afghan politicians, but was unable to bring the two leaders to agree on "an inclusive government that can meet the challenges of governance, peace, and security, and provide for the health and welfare of Afghan citizens". Pompeo slammed the two leaders for being unable to work together and threatening a potential peace deal that could end America's longest-running conflict. This "disappointing" announcement comes amid the globally spreading Coronavirus pandemic – and in a time, when Afghanistan is facing its "worst" days in the last two decades of the history of Afghanistan. Security situations have worsened, the Taliban and ISIS have increased attacks on major cities as part of their spring-offensive, the economy has badly dwindled, unemployment is at record high level, the nation is divided and the Taliban are on the doorsteps of major cities and the capital, Kabul! Afghanistan relies on international aid in order to run its government, pay its soldiers, provide education and healthcare to its citizens and rebuild the war-ravaged country. The U.S. has been the prime backer of the Afghan government since it invaded the country in 2001 and overthrew the Taliban after the 9/11 attacks. Will the reduction of aid resolve the political crisis in Afghanistan? The quick answerer is, NO. The political crisis in Afghanistan is created by the political leadership of Afghanistan. The reduction of aid will not affect the "Leadership" of Afghanistan. Afghan leaders and their "small teams" have their own "luxury and expensive" way of living in Afghanistan. Living in "isolated" state-owned palaces and posh areas of the capital They are rich, their children and family live abroad and those in Kabul, are living inside secured and "big walled" compounds. There is little to lose for the leadership circle.
The leadership's prime goal in Afghanistan is "to stay in power"; the well-being of their homeland and citizens is not the priority in their agendas. The incessant disagreements and distrust among the leadership of Afghanistan have brought the war-ravaged country to the edge of the cliff. uncertainty and chaos loom everywhere. These selfish leaders have taken hostage the peace process, elections, hope and future of Afghanistan. The reduction of aid will not affect corrupt politicians or leaders. It is the common Afghan citizens who will suffer the most. The reduction of aid will hit hard the Afghan people in the midst of spreading coronavirus and a dwindling economy. Security will also be badly affected and the slow pace of reconstruction in Afghanistan will be halted.
Afghans need the US and international aid more than ever, in order to face the ongoing security, economic and political challenges that are created by the US and their allies in Afghanistan.
The United States has a moral responsibility of supporting Afghans in rebuilding their war-ravaged country after four decades of od war and conflict. Humanitarian aid should not be considered a tool for pursuing US national interests. Afghans hope that the United States does not abandon Afghanistan again, as they did in the early 90s, after the collapse of the Soviet Union. Afghans want the US to continue their generous support to the Afghan security forces, reconstruction, and the fragile peace process.
Abandoning Afghanistan will cost too much for the US. Although the Taliban have signed a peace accord with the United States, majority Afghans are skeptical about the future and sustainability of this accord and the Taliban's aggressive offensive (despite an agreement to decrease violence") is another backlash to the so-called peace accord with the Taliban. ISIS is still around and has powerful bases and hide-outs in eastern Afghanistan.
The reduction of aid will hit hard Afghanistan and Afghan citizens; not its leadership. Unfortunately Afghans and Afghanistan, both suffer from the apathy and rivalries of their political leadership and pay the price for the impasse of its arrogant leaders.
https://www.khaama.com/afghanistan-pays-for-the-impasse-of-its-arrogant-leaders-768769/
------
ISIS terrorist group claims attack on Sikh temple in Kabul city
25 Mar 2020
The ISIS terrorist group claimed responsibility for the attack on Sikh temple in Kabul city which left a number of people dead or wounded.
The terror group issued a statement confirming that the assailants of the group carried out the attack against the Sikh temple in Kabul city.
Taliban spokesperson Zabiullah Mujahid in a statement said the Islamic Emirate has no link with the attack in Shor Bazar area of Kabul.
The Ministry of Interior in a statement said the attack left 25 people dead and 8 others wounded while security forces rescued at least 80 people from inside the temple.
Tariq Arian, a spokesperson for the Ministry of Interior earlier said a group of suicide bombers intruded into a Sikh temple in Shor Bazar area at around 7:45 am local time.
https://www.khaama.com/isis-terrorist-group-claims-attack-on-sikh-temple-in-kabul-city-04565/
-----
Europe
Chairman of Caucasus Muslim Board congratulates President Shavkat Mirziyoyev on Navruz holiday
25.03.2020
The President of the Republic of Uzbekistan Shavkat Mirziyoyev has received a festive congratulation from the Chairman of the Caucasus Muslim Board, Sheikh ul-Islam Allahshükür Pashazade.
Chairman of the Caucasus Muslim Board cordially greeted the President and brotherly people of Uzbekistan and sincerely congratulated on the bright and dear Novruz holiday.
"Dear Shavkat Miromonovich! I am glad that this holiday gives an opportunity to once again convey to You the words coming from the heart, wishes for peace and prosperity to each family, progress and prosperity to the entire Uzbekistan people. I appreciate Your personality, attach great importance to the wise advice and statements of Your Excellency, which make a significant contribution to strengthening peace and stability, deepening dialogue and cooperation between our peoples, the peoples of our common spiritual space", notes Sheikh ul-Islam Allahshükür Pashazade.
Chairman of the Caucasus Muslim Board wished President Shavkat Mirziyoyev all the best, all the blessings and mercies of the Almighty, even greater success from Allah, welfare and prosperity to all the people of fraternal Uzbekistan.
http://uza.uz/en/politics/chairman-of-caucasus-muslim-board-congratulates-president-sh-25-03-2020
----
Islamic Development Bank launches USD 2 bln COVID-19 aid package
26 March 2020
The facility will extend financing to both the public and private sectors in minimising the spread and impact of COVID-19 in IsDB member countries and to build their resilience. The 3Rs package (Respond, Restore, and Restart) is expected to deliver medium-term action through financing trade and SMEs to sustain activity in core strategic value chains and ensure continuity of the necessary supplies mainly to the health and food sectors.
IsDB stated that the package delivers long-term action to build resilient economies on solid foundations and catalyse private investment by supporting economic recovery and countercyclical spending, with a targeted USD 10 billion that aims to unlock USD 1 trillion worth of investments.
The bank said that the package starts with pandemic preparedness, in cooperation with G20 Global Initiative, follows with medium-term action through financing for trade and SMEs and includes long-term action to build resilience.
https://thepaypers.com/e-invoicing-supply-chain-finance/islamic-development-bank-launches-usd-2-bln-covid-19-aid-package--1241396
----
North America
Coronavirus death toll passes 1,000 in US: Live updates
by Kate Mayberry
20 minutes ago
The United States has registered more than 1,000 COVID-19 deaths as the country confirmed more than 69,000 cases.
The US Senate passed a sweeping $2 trillion measure to aid workers, businesses, and the healthcare system. It has gone back to the lower house for approval.
Meanwhile, United Nations chief Antonio Guterres has launched an appeal for $2bn in international humanitarian aid to help poorer countries tackle the coronavirus pandemic.
More than 472,000 people around the world have been diagnosed with COVID-19, according to data collected by Johns Hopkins University. More than 114,000 have recovered, while more than 21,000 people have died.
Spain recorded more than 700 fatalities in 24 hours. It is now the second-worst affected country in the world after Italy.
China's National Health Commission (NHC) said six more people died of the virus and 67 new cases were confirmed, but all of them were imported.
"Hubei reported no new cases of confirmed infection, no new cases of suspected infections, and 6 deaths, 5 in Wuhan," the NHC said.
This measure, which also includes the closure of restaurants, cafes and bars, will last from March 28 until April 5, Sobyanin said in a statement.
Nine doctors have died in the Philippines from the coronavirus, the country's top medical association said, as hospitals were overwhelmed and medics complained about a lack of protection on the front lines.
"If it were up to me, test the frontliners first and test them again after seven days. Doctors could be carriers themselves," Benito Atienza, vice president of the Philippine Medical Association, told AFP news agency.
Britain's health Minister Matt Hancock said 560,000 people had volunteered to help the National Health Service during the coronavirus crisis, more than double the number he had hoped to recruit.
Britain had on Tuesday issued a call for 250,000 volunteers to sign up to help the NHS and vulnerable people hit by the coronavirus crisis.
The Japanese capital of Tokyo reported more than 40 new cases of coronavirus infections for the second day running, Jiji News reported.
Tokyo Governor Yuriko Koike held an emergency news conference to warn of the risk of an explosive rise in infections, asking residents to avoid non-essential outings until April 12.
A 65-year-old man who had a recent travel history outside the region, became the first COVID-19 fatality in Indian-administered Kashmir, sparking fear and causing a stricter lockdown.
Rohit Kansal, the spokesperson of the region's government, said the "first death due to coronavirus is a 65-year-old man from Srinagar", he said, referring to the Srinagar man who tested positive two days ago.
Gas giant Gazprom said 20 workers have been quarantined at Bovanenkovo gas field, one of its largest in northern Russia, after contact with a person who has coronavirus.
Iran started an intercity travel ban, an Iranian official said in a televised news conference, amid fears of a second wave of coronavirus infections in the Middle East's worst-hit country.
Those who have travelled for the Iranian New Year holidays should immediately return to their cities without making any stop in the cities on their way back home," said Hossein Zolfaghari, a member of Iran's national headquarters for fighting the coronavirus.
It was a bit touch and go for a while, but the US Senate has finally passed a $2 trillion relief bill for those affected by the coronavirus. Now it goes back to the House of Representatives.
South Korea says it will deny entry to people travelling from overseas who refuse to download an app that tracks their self-isolation, while China says all its new cases continue to be "imported" - most of them Chinese nationals returning home.
With China's own outbreak of coronavirus appearing to have calmed, the country's state media is devoting considerable space to championing China's efforts to help Italy, Iran and other countries that are now struggling to control a disease that first appeared in the city of Wuhan late last year.
#China has sent seven groups of medical experts to five countries, including #Italy, #Iran, #Iraq, #Serbia, and #Cambodia, to help combat #COVID19, and locals warmly welcomed China's assistance: official
The Russian government has ordered the civil aviation authority to suspend all regular and charter flights to and from Russia from March 27, the government said on its website.
Russian airlines will still be allowed to fly to other countries to bring Russian citizens back or if they are authorised by special government decisions.
A little more detail on the $2 trillion relief bill that finally made its way through the Senate on Wednesday and should get final approval later this week.
$250bn in federal unemployment benefits of $600 per week for individual employees as well as gig workers and independent contractors
The Nigerian Army is preparing to forcibly transfer the sick to hospital and enforce strict curbs on movement to curb the spread of the coronavirus in Africa's most populous country, according to Reuters news agency.
A memo from army headquarters seen by the news agency outlines measures to protect government food storage from looters and says the military is also leasing equipment for "possible mass burial".
Thailand has announced 111 new confirmed cases of coronavirus, after declaring a state of emergency to come into effect at midnight (17:00 GMT).
The measures will include the closure of all border crossings except to Thai nationals, diplomats and their families and people with permission to work in Thailand.
After a series of last-minute hiccups, the US Senate has finally passed a $2 trillion package to support the health system, workers and business hurt by the coronavirus outbreak.
Spain's parliament has voted in favour of the government's request to extend the state of emergency - and a nationwide lockdown - by two weeks.
The number of confirmed coronavirus cases in the US is nearing 70,000 with more than 1,000 people now reported to have died from COVID-19, according to AFP news agency.
Japan's government is preparing to set up a special headquarters on coronavirus as early as Thursday afternoon, in a move that could set the stage for declaring a state of emergency over the outbreak, the Kyodo news agency reported.
The prime minister can declare a state of emergency if the disease is seen as posing a "grave danger" to lives and if its spread threatens the economy.
Yonhap news agency is reporting that South Korea will deny entry to people arriving in the country from overseas if they refuse to install an app to monitor them while they are in self-isolation.
South KoreaSouth Korea has been tightening restrictions on people who arrive in the country from overseas [Kim Hong-Ji/Reuters]
Countries around the world have advised their citizens overseas to return home as quickly as they can as lockdowns accelerate, borders are sealed off and even transit passengers banned.
https://www.aljazeera.com/news/2020/03/coronavirus-threat-humanity-live-updates-200326000412411.html
-----
The roots of the Christchurch mosque massacre gunman
Mar 26 2020
On March 15, 2019, a 28-year-old loner from small-town Australia committed New Zealand's worst mass shooting, killing 51 Muslims and injuring 49 others in Christchurch. What path took him there?
In the end, it came down to this: a mattress and a bookshelf, a colander and a dish rack, a few battered suitcases and a broken electric fan. A bottle of Steinlager and a family pack of Bluebird potato chips. A toaster and a worn vinyl computer chair.
A week after the March 15 mosque attacks in Christchurch, the material total of the gunman's New Zealand life was dumped into a caged trailer outside his unremarkable rental in Dunedin.
Police had already secured as evidence most of the other possessions the 28-year-old Australian, Brenton Tarrant, had brought with him when he moved across the Tasman 18 months before.
The first shots had been fired at 1.41pm, during Friday prayers at the Masjid An-Nur (also known as the Al Noor Mosque) in central Christchurch.
The gunman may have been en route to a third target, a mosque in Ashburton, when two experienced rural cops intercepted him by ramming his 2005 Subaru Outback off the road.
Forty-nine people were dead, another 51 injured. Within a couple of months the numbers had flipped, with 51 people dead and 49 injured.
Determining whether Tarrant was acting alone turned out to be complicated. He was the only shooter; but, equally, there as a web of online and real-world extremism that cheered him on as he went about his killing.
Though police ended his massacre less than 20 minutes after it started, the threat from the ideology that supported him lingers.
To understand this contradiction, it's worth tracing the path the gunman trod from a small town in Australia's New South Wales, out into the world, then back across the Tasman to New Zealand.
Brenton Tarrant was born in 1990, the second of two children to Rodney Tarrant, a fitness fanatic who worked the local garbage run, and Sharon, a teacher.
With a population of fewer than 20,000, Grafton skews a little older, a little poorer and significantly whiter than is average for Australia, with 87 per cent of its residents born in the country.
A brisk, white-haired woman in her 80s, Fitzgerald lives in a seniors' lifestyle community. Her modest living room is made homely with family photos, some of her now-infamous grandson.
Asked how the family are finding things, Fitzgerald says Tarrant's mother barely slept for 16 nights after the shootings. She, however, has had no such problems. "Everybody else in the family is saying, 'How the hell are you sleeping?' And I say, 'Well, I didn't do it.'"
She talks of Rodney and Sharon splitting up when the kids were little, blaming the divorce in part on Rodney's increasing obsession with fitness, including participating in marathons and triathlons both here and overseas, which strained the family's finances.
"You'd see him sitting on the sidelines or at the goalpost playing in the dirt, with everything going on around him," says Fitzgerald.
Things started to change at high school, however, when a knee injury prompted him to join a gym. Like his father before him, he became obsessed.
He recalls a year-10 prank in which he shredded newspapers and put them on top of the fans and air-conditioner. "When the teacher came in and turned the fans on, all this shredded paper flew out."
One of the regulars was John Heffernan, the former governor of Grafton Jail. He remembers the Christchurch shooter concentrating on free weights rather than machines.
"He used to grunt and throw the weights down, cutting into the carpet," he says. "He was oblivious to it. He did damage [the floor] on a couple of occasions. He pulled his back at one stage, which put him out of action for a while. For the size that he was and the age that he was, he had to take a bit more care in what he was lifting."
Heffernan remembers him as a loner. "He was friendly, but I got the impression his social skills were not that great. He didn't seem to be one that mixed very well. [But] there were no outbursts of anger or anything like that."
"He didn't show extreme views on religion, race … He never spoke ill of anyone behind their back based on race, appearance or beliefs or religion."
He pushed himself, sometimes training for two or three hours at a time. On occasion, Gray would have to prompt him to go home and shower, and once even bought him some work shirts.
Mitchell Firth and Aurey Marsh, two former classmates of the Christchurch shooter. Marsh said the shooter was "a bit of a bully and a bit of a bloody menace" in his younger years.
He was "on the outer of social circles", she says, "not the bubbly, chatty one that could stand here and talk to anyone". But his confidence grew with his fitness and body bulk.
Around this time, his father Rodney, who had spent his working life hurling building scrap into garbage trucks, fell ill with mesothelioma, a cruel killer of a disease most commonly caused by exposure to asbestos. He died in April 2010, aged 49, three years after diagnosis.
"I tend to think living with his father and watching him die must have been a terrible thing," says Fitzgerald. "I thought it must have played some part when his father died."
Rodney Tarrant received compensation for his illness, thought to be about $500,000, and believed to have been shared between his two children.
Under the name ferretbiter, his son turned to a website, Aussie Stock Forums, for advice on what he should do with the money; indeed, with his life.
Responding to someone who advised him to pursue career satisfaction, he wrote, "There is more to life than money. But while I work I do not have time to do what I truly enjoy doing … So whatever job gives me the largest amount of income in the shortest possible time is the job I will always choose. I work to retire, I do not work for fun."
He responded: "The only thing that stops me from joining the mining boom is that there is only one thing I believe is more important than wealth, and that's good health. No use being rich if you are dead from gas exposure."
Earlier in the same thread, he had listed the pros and cons of careers he'd considered. He wrote that he could move to the city to earn more as a personal trainer, or sign up with the RAAF's Airfield Defence Guard. With a bit of study he could break into finance or real estate, though he worried he might not succeed in such competitive industries.
"Ferret, you need to change your whole vibe, IMO," one online voice responded. "Based on what you're saying, you have no self-confidence or self-respect, but it's those very attitudes that are needed for success in any endeavour."
He replied: "Truthfully I am extremely confident in every situation but talking over the phone (still don't know what is up with that, I think it's the lack of body language that throws me off). I run fitness classes with 20+ people daily who do nothing but stare/ask questions and mimic my movements for 60 mins and I enjoy it. My self respect is through the roof, I can truly do anything I put my mind to.
"I wanted to lose weight, I lost 52kgs in 30 weeks. I wanted to be able to walk again, I can now leg press 1000lbs. I wanted to grow muscle, I've eaten the same thing every day for 3 years, gained 18kgs of muscle and have had 5 days off training out of 622. I am a goddamn monster of willpower, I just need a goal or object to work towards."
In a different thread, he confessed that he hadn't told people in Grafton about his inheritance. He also claimed to have made money from cryptocurrency investments. "In my pissant town, you are the next Bill Gates if you have half a million in liquid assets," he wrote. "Thus why no one must ever know I'm not a broke personal trainer living with my mother."
"You wouldn't have known there was anything wrong with him," she says. "Sharon was just happy that he came home, we could all give him a cuddle and say hello, because we never see him. We had a happy night down at the Jacaranda pub."
The full extent of her son's travels are not clear, though from his social media posts and later reports by police and intelligence agencies, an outline of his movements can be traced.
He began by driving a campervan through northern Australia in 2013 and 2014, before turning his attention to south-east Asia.
It's not clear how much of this Asian odyssey he ever undertook; within a year or so, his interests had moved towards the shifting and often bloody historical borders between the Ottoman Empire and European states, between Islam and Christianity.
He travelled in 2016 to Serbia and surrounding countries, visiting the sites of historic battles as well as the museum of Marko Miljanov Popovic, a Montenegrin Serb general who fought against the Ottomans in the 19th century and whose name he would later cite.
The following year, he visited a number of other European countries including France, which has the largest Muslim population in the Western World, primarily due to immigration.
He travelled again after settling in Dunedin. In 2018, he visited Pakistan, a place filled with "the most earnest, kindhearted, hospitable people in the world", according to a message attributed to him on a hotel owner's Facebook page.
He also travelled to North Korea, then returned to Europe where he visited Bulgaria, stopping in Pleven, the site of a battle of the Russo-Turkish War of 1877-78.
According to Julia Ebner, an Austrian researcher into new waves of extremism with the London-based Institute for Strategic Dialogue, Europe's new far Right is showing a keen interest in such destinations.
This is particularly so among those known as "Identitarians", who believe Europe is under attack by Muslims who seek to displace them in their "traditional lands" via "outbreeding" and immigration.
Author of the 2017 book The Rage: The Vicious Circle of Islamist and Far-Right Extremism, Ebner says that by emphasising an "inevitable" clash of civilisations, the Identitarian movement has been effective in recruiting young people who might be repelled by overt references to National Socialism and the Holocaust, and to circumvent laws in some European countries banning pro-Nazi rhetoric.
To do so, it has harnessed the language of computer gamers and their online forums. Like Islamic State, Ebner says, the Identitarian movement casts its members as victims of historical injustices and as warriors courageous enough to take up arms in defence of their people.
During this trip he visited Austria, home of Martin Sellner, a 30-year-old Identitarian leader. A fortnight after the Christchurch attack, Sellner's home was raided by police.
Sellner denied he and the Christchurch shooter ever met in person, but confirmed to the BBC that they'd exchanged emails. Some time in 2018, Tarrant donated €1500 (NZ$2806) to Sellner's cause.
Ebner thinks it unlikely Tarrant was drawn to the Identitarian cause by one particular person or in one specific location. Rather, she thinks his online world was driving his travels, and that his travels were fuelling his online conversations, each aspect of his life reinforcing the other.
As the Australian fitness trainer began his travels, the online ecosystem that has supercharged far-Right extremism around the world was beginning to explode. Close to its epicentre were two online forums, 4chan - created in 2003 by Christopher "Moot" Peel, a 15-year-old New Yorker - and its spin-off, 8chan, created a decade later by Fredrick "Hotwheels" Brennan.
The "chans", so-called "image boards" due to their focus on visuals rather than text, are virtual meeting places where like-minded members can socialise, gossip and share information.
The idea originated in Japan, where boards have long been used to discuss the graphic novels and cartoons known as manga and anime.
Typically, these boards are only loosely moderated by their administrators, if at all. Their members post anonymously and their contributions last for only a short period before they vanish.
The chans are the internet stripped of self-control and devoid of memory. They illustrate, too, all the restraint and sophistication for which adolescent boys are known.
4chan users were some of the earliest creators of what we now know as meme culture. Lolcats (funny cat videos) grew out of the 4chan ecosystem, as did rickrolling (sending surprise links of video clips by British singer Rick Astley).
Many of its boards were soon dominated by virulently sexist and racist conversation and imagery. Above all else, their members despised political correctness.
As higher standards of courtesy and respect were adopted in the wider world, their members responded with darker and more hateful language and imagery, normally laden with irony; it is always just a joke.
4chan was used to organise mass hacking or doxxing attacks (the latter involving posting personal information online) on institutions and individuals who dared criticise its ugly, freewheeling tone.
After memes, organised trolling became 4chan's second great cultural contribution. 4chan's influence soon started bleeding into the wider world.
In 2014, a handful of 4chan users organised online mob attacks on two prominent US women in the gaming industry. The women's lives were upended as personal information was hacked and published. They were inundated with rape and death threats.
The controversy exploded into a full-blown culture war that became known as GamerGate. 4chan's dark side - and the power of its troll armies - was suddenly exposed to the outside world.
Frustrated that all the negative attention was spoiling his attempts to attract advertisers to the site, its founder Peel finally sought to assert some restraint over 4chan and banned GamerGate discussions on its boards.
Furious at the imposition, hardcore users defected to 8chan, a site Brennan had conceived while on a psychedelic mushroom trip.
8chan would be like 4chan, he decided, but with an endless number of discussion boards - the 8 represents the infinity symbol on its side. Crucially, 8chan would have just one rule: no user could post, request, or link to content that was illegal in the United States. Here, 4chan refugees could run their hate campaigns in peace.
The cultural impact of the chans is hard to exaggerate. They would seed the bizarre QAnon conspiracy theories, including the claim that Hillary Clinton, Barack Obama and the FBI were involved in a "deep state" plot to destroy Donald Trump. Trump himself echoes parts of these theories to this day.
Steve Bannon, the alt-Right champion who became Trump's campaign CEO and then later White House chief strategist, lending a quasi-intellectual framework to Trump's reflexive ethno-nationalism, quickly recognised the power of this mob.
One rich topic of discussion on the chans was "replacement theory"; the Identitarian notion of "white" displacement. In its American guise, the "invaders" are characterised as either Latin American or Muslim.
A handful of messages left on other social media sites give clues about how Tarrant's politics were developing, and how his online and real-life travels were converging.
In 2016, he commented on Facebook with a post about Blair Cottrell, the Australian who led the anti-Islam white nationalist United Patriots Front (UPF). "Never believed we would have a true leader of the nationalist movement in Australia, and especially not so early in the game," he wrote of Cottrell.
Cottrell later told the ABC that he didn't know Tarrant, but confirmed the UPF had received a donation from someone in his name.
In December 2017, someone thought to be Tarrant went on Facebook under the name Barry Harry Tarry, using a photo of English footballer Wayne Rooney, to whom he bore a passing resemblance.
In this guise, he left a five-star review on the Facebook page of a Gold Coast machinist business belonging to 24-year-old "eco-fascist" Marcus Christensen, whose workshop bore a mural of 1930s British fascist leader Oswald Mosley.
Christensen, happy to pose for a photo in front of it, told reporters he "indirectly" knew the gunman through others but disavowed his violence.
Christensen is also a supporter of the Australian white nationalist group Lads Society, and has used imagery of the secretive neo-Nazi group Antipodean Resistance in his social media posts.
Social media screenshots obtained by the fascism monitoring group The White Rose Society show Christensen wearing a swastika armband, posting Third Reich memes and encouraging friends to join the Lads Society.
He once featured the death mask symbol of Antipodean Resistance - a skull associated with Hitler's SS, wearing an Akubra - on his business card.
Christensen confirms that in late 2017 he received a series of business reviews, including one from the shooter, after putting a call out for support in a private Facebook group.
"I don't believe I had him as a Facebook friend, but I remember seeing a few posts on various groups at the time and nothing since."
Christensen says he is not part of any far-Right group, dismissing his online Nazi references as "s...posting" - the practice of making chaotic and apparently meaningless posts designed to confuse, enrage or amuse
S...posting is also used to foster extremism, says Julian Feeld, an American writer and co-host of the podcast QAnon Anonymous, which explores online Right-wing conspiracy culture. It serves as a recruitment tool, and if called to account for the content, the poster can dismiss his actions as humour or irony.
Christensen admits some jokes were "in bad taste". "Honestly, most of the 'lads' that I've met have been wonderful guys and it's true that there is a lot of dark humour in that scene, but if anything, Lads Society is more of a de-radicalising force than anything," he says.
On the day of the shootings, however, Lads Society president Tom Sewell assured conspiracy theorists in a private Facebook group that the attack was genuine.
When contacted about the posts, Sewell says people in his circle knew of the gunman online going back about three years. In 2017, he even tried to recruit Tarrant over Facebook to his new Lads Society venture, to help create a white-only parallel society. He refused, Sewell says, as he was going to New Zealand.
On the morning of Friday, March 15, Tarrant left his home in Dunedin and drove alone to Christchurch, his car loaded with his guns and ammunition, his tactical gear and helmet, his camera and microphone rig.
The drive north takes nearly five hours if you push through without a break, across what were the lands of the Ngāi Tahu tribe before the Treaty of Waitangi made it British.
The single carriageway winds up the volcanic hills that ring Dunedin and meets the sea again on a plain so flat that the land itself seems to disappear into the Pacific, then twists through farmland marked by towering hedgerows.
In Christchurch the community he was driving towards was preparing for its weekly congregational prayer. Friday prayers are not only the most sacred of the week, but a time to catch up with friends and family.
Yama Nabi and his 71-year-old father Daoud had argued a few weeks earlier and not seen each other since. The falling-out was weighing on Yama's mind, and Daoud has been missing Yama's six-year-old daughter, Zahal.
Daoud is well known at the mosque. A leader in the Afghani community, he has a habit of greeting arriving Muslim refugees at the airport no matter where they've come from.
Dr Mohammad Alayan, the owner the An-Nur child care centre in Dunedin, was on time. The Alayan family split their time between Dunedin and Christchurch and on this day he arrived for prayers a few minutes before his son, Atta Elayyan.
Well known about town, Atta attended Christchurch Boys High and was coach of its soccer team. A successful young executive, a former competitive computer gamer and a prominent app developer, married with a two-year-old daughter, he was the starting goalkeeper for the New Zealand Futsal Whites.
At 1.34pm, the gunman drove through the leafy inner-suburbs near the Al Noor mosque. He pulled over to flick on the camera on his helmet, and turn on his car stereo. The live feed was by then on Facebook and he posted to 8chan to direct an audience to it.
"Well lads, it's time to stop s...posting and time to make a real life effort post," he wrote. "I will carry out and attack against the invaders, and will even live stream the attack via Facebook."
In a surprise court hearing, the man accused of the Christchurch mosque attacks has admitted charges of murder, attempted murder and terrorism.
A racist ditty bleeds out of the Subaru's stereo. The gunman's camera showed a pile of loaded magazines in his lap, three long arms on the passenger seat and an assault rifle by his right leg. All the hardware was scrawled with slogans and names of his Identitarian heroes.
Tarrant's entry into the mosque was so fast and violent that Dr Alayan was still on his knees at prayer when he was shot. One round goes through his shoulder and another hits him in the side of his head. He survived, but learned when he came out of surgery that his son Atta had not.
Yama and Zahal were still parking when the gunman arrived. Daoud, the man who greeted refugees at the airport, was by the front door. Tarrant approached, clad in his body armour, strapped with his guns. Still Daoud offered the customary welcome.
https://www.stuff.co.nz/national/christchurch-shooting/120573722/the-roots-of-the-christchurch-mosque-massacre-gunman
-----
URL: https://www.newageislam.com/islamic-world-news/azaan-trends-twitter-after-call/d/121410
New Age Islam, Islam Online, Islamic Website, African Muslim News, Arab World News, South Asia News, Indian Muslim News, World Muslim News, Women in Islam, Islamic Feminism, Arab Women, Women In Arab, Islamophobia in America, Muslim Women in West, Islam Women and Feminism