New Age Islam News Bureau
27 Nov 2015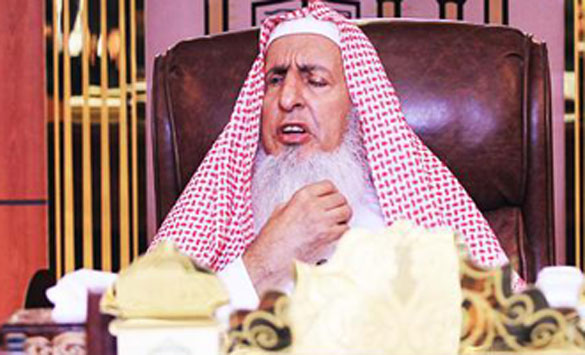 Photo: Grand Mufti Sheikh Abdul Aziz Al-Asheikh
-----------
Arab World
• Grand Mufti: Protecting nation 'Islamic duty of citizens'
• Saudi Arabia to execute over 50 convicted of terrorism
• ISIL Terrorists Retreat from Homs Town, Reinforcing Troops in Palmyra
• U.S. soldiers in Syria to back anti-ISIS Kurds
• France says UK air force needed in Syria to raise pressure on ISIS
• Syrian Army Prevailing over Entire Lattakia
• Russian Air Raids Hit Border Crossing in Idlib
• Army Hits Militants Hard in Damascus Countryside
• Senior Commanders of FSA Killed in Lattakia
• Clashes Intensify between Army, Nusra Militants in Homs
• Heavy Clashes Reported between Syrian Army, Jaish Al-Islam Terrorists in Damascus
• Army Recaptures Key Regions in Homs
----------
India
• Example of tolerant India: Muslims arrange Rs 50, 000 to secure bail for Hindu convicts
• Indian Muslims are different. Let's preserve Indian Muslimhood.
• In war against IS, clerics to add 1k Instagram accounts, FB pages
• Sufi Muslims to hold 'spiritual summit'
• Last thing Indian Muslims need: Naseer on Aamir's intolerance row
• Mamata Banerjee at Jamiat rally, says will always work for minorities
----------
Europe
• The Times corrects claim of UK Muslim support for IS
• Cameron says it's time to bomb militants in Syria
• Putin, Hollande agree to coordinate on IS fight but divisions remain
• France and Russia agree to exchange Intel on ISIS
• France sees Syrian regime participating in anti-ISIL fight
• Russia Seeks Economic Revenge Against Turkey Over Jet
• Putin pledges not to hit Syrian opp. areas
----------
Southeast Asia
• Kalla Calls for Emphasis on Moderate Islam
• Eight Islamic State supporters killed in Philippine clash
• Friday sermon: Islam facing psy-war, no proof Muslims linked to Paris attacks
• From Indonesia, a Muslim challenge to the ideology of the Islamic State
• We invite you to share your experience—Blender's Pride Tour
• No party should rule forever, Dr Mahathir tells international Muslim delegates
----------
North America
• Obama blamed for Islamisation of USA
• Anti-Islam Group Posts Muslims' Personal Info on Facebook
• Canada to give U.N. $750,000 for Syrian refugees
• US sanctions Syrians, firm facilitating ISIL oil sales
• West creates terrorism to topple anti-imperialist gov'ts: Morales
----------
Pakistan
• Mumtaz Qadri threatens to kill himself
• TTP man arrested for Mansehra polio team murders: CTD
• Dr Asim charged with aiding terrorists
• Christian TV office fire caused by arson attack, says owner
• Dr Soomro's assassins, accomplices will be exposed on 29th: JUI-F
• Uniform prayer timings issued
• Risk management, SME financing top Islamic banks agendas: survey
----------
South Asia
• Islamic State affiliate claims Bangladesh Shiite mosque attack
• Terrorism not the path for true Muslims
• Bangladesh Election Commission won't allow Jamaat to contest
• 4 ISIS terrorists arrested from capital Kabul
• Foreigners restrict movements in Bangladesh after ISIS-claimed killings
• Afghanistan supports Russia's initiative in fight against terrorism: Muslimyar
• Ghani assigns delegation to investigate alleged support by govt to ISIS
• 5 Afghan refugees killed in Syria conflict were buried in Iran
• BD police kill chief suspect in shrine blast
• Ghani sacks security officials over fall of Kunduz
• President Ghani sacks Kunduz intelligence chief with some other officials
----------
Mideast
• Russian Warplanes Target Turkish Weapons Convoy in Syria
• Israel to build new fence; two Palestinians shot dead
• Syrian Military Analyst: US Coaxing Turkey into Conflict to Assess Russia's Missile Power
• Turkey's Erdogan says Russia should apologize after jet downing
• Russian Pilot Rescued by Iran's General Soleimani
• Palestinian hits Israeli soldiers with car in West Bank, shot dead: police
• IRGC Quds Force Advisor: Iran Has 14 Underground Missile Depots, Automatic Launchers
• Iran criticizes Europe front-line states for refugee mistreatment
----------
Africa
• Niger: Boko Haram Attacks In South-East Kill 18 And Injure 11
• Algeria jails former counter-terror chief for 5 years
• Tunisia closes border with Libya
• Tunisia detains 30, identifies bomber after attack
• Mali says it arrests two suspects linked to Bamako hotel attack
• Pope urges religious tolerance during Kenya visit
• Nigeria told Boko Haram conflict deadline 'unrealistic'
Compiled by New Age Islam News Burea
URL: https://www.newageislam.com/islamic-world-news/new-age-islam-news-burea/grand-mufti-protecting-nation-islamic-duty-citizens/d/105441
----------
Arab World
Grand Mufti: Protecting nation 'Islamic duty of citizens'
27 November 2015
JEDDAH: It is the Islamic duty of all citizens to protect the security of their nation, according to Grand Mufti Sheikh Abdul Aziz Al-Asheikh.
Al-Asheikh said that scholars and preachers are required by Islamic law to address problems facing society, follow the directives of the Ministry of Islamic Affairs and ignore the messages of other groups and individuals.
During his weekly broadcast on Nida Al-Islam radio, he said that disobeying the decisions of the ministry was tantamount to defying the guardian, because the ministry has jurisdiction over imams and preachers on important religious issues.
He said some of the greatest contributions preachers can make are to guide people onto the straight path and warn them about those trying to undermine the country's security.
"We can see what has happened to countries that have lost their security, with people displaced, separated from their families and children, and living wild and in misery. So maintaining security is required by Islamic law, and we should respect our security and stability," he said.
He said that those failing to do so have a fundamental misunderstanding of their role in society. They must preach about the suffering of Muslims and the plots against them, he said.
http://www.arabnews.com/saudi-arabia/news/841746
----------
Saudi Arabia to execute over 50 convicted of terrorism
November 27, 2015
RIYADH : Saudi Arabia plans to execute more than 50 people convicted of terrorism, two Saudi newspapers reported this week, in what appears to be a warning to would-be militants at a time of militant attacks on the kingdom.
Fifty-five people were awaiting execution for "terrorist crimes" that killed more than 100 civilians and 71 security personnel, the newspaper Okaz reported on Thursday, without specifying when the executions would occur. On Monday, the semi-official newspaper al-Riyadh reported that 52 people would be put to death soon, but it later pulled the story from its website without explanation.
Some of those facing execution were affiliated with al Qaeda, Okaz said. Others are from Awamiya, a town in the oil-producing Eastern Province where the government has suppressed demonstrations for equal rights.
Awamiya residents responded to the news by closing off roads leading into the city with burning debris, local activists said.
The alleged al Qaeda militants stand accused of attempts to overthrow the government and carry out attacks using small weapons, explosives and surface-to-air missiles, Okaz said.
One prisoner was accused of trying to buy nuclear material in Yemen worth $1.5 million for use inside Saudi Arabia.
The charges against the Awamiya residents include sedition, attacks on security officials and interference in neighbouring Bahrain, which has also experienced unrest since 2011.
Saudi Arabia has already executed over 150 people this year, mostly by public beheading, the most in 20 years, rights group Amnesty International said this month.
The Saudi monarchy has in recent years sentenced to death dozens of people convicted of taking part in al Qaeda attacks in Saudi Arabia from 2003-06 and again in 2009.
Islamic State sympathisers have killed dozens in Saudi Arabia over the past 12 months with a string of mosque bombings and shootings aimed at members of the minority as well as security officers and Western expatriates.
The Syria and Iraq-based militant group has called on its followers in Saudi Arabia to stay home and conduct attacks there instead of travelling to join the caliphate it declared in 2014.
Saudi police have detained hundreds of the group's suspected sympathisers and have joined an international coalition carrying out air strikes against it in Syria. Riyadh has also deployed state-affiliated clergy to denounce militant ideology.
Saudi courts have also to death this year seven men convicted of sedition, for taking part in pro-democracy protests and attacks on police during demonstrations over discrimination from 2011-13.
Two of those men were minors at the time of the protests. Sentencing them to death to having bodies publicly displayed prompted an international outcry.
The last time Saudi Arabia carried out mass executions for security offences was after a group of Islamist militants seized Mecca's Grand Mosque in 1979.
The only people executed so far for al Qaeda attacks in the kingdom in the last decade, which have killed hundreds, were two men from Chad earlier this year.
http://nation.com.pk/international/27-Nov-2015/saudi-arabia-to-execute-over-50-convicted-of-terrorism
----------
ISIL Terrorists Retreat from Homs Town, Reinforcing Troops in Palmyra
Nov 26, 2015
Informed sources said on Wednesday that the army is on the outskirts of Al-Qaryatayn as ISIL started withdrawing militants from the town to Palmyra city.
The Syrian Army, National Defense Forces and Hezbollah have advanced against the ISIL militants near al-Hayyal and have deployed their units in the Southern side of Palmyra in Homs province. Pro-government forces are readying to launch the final attack on the city from three directions.
The Syrian army's 67th Brigade, in coordination with the 550th Regiment, the NDF of Homs, Hezbollah, and Harakat Al-Nujaba (Iraqi paramilitary), struck the ISIL defensive positions at al-Hayyal in the Southern side of Palmyra (Tadmur) on Tuesday morning, killing several ISIL militants before advancing towards the Southern districts of this ancient city.
In addition to their advance at Al-Hayyal, the Syrian Armed Forces and their allies captured more territory along the Homs-Deir Ezzur Highway that leads to Palmyra's Western side; this has paved the way for them to push towards the Qatari Royal Family's villa that is now used by the ISIL as a training base for their new recruits.
With their recent success on the Southern and Western flanks of Palmyra, the Syrian Armed Forces are now in a position to attack this ancient desert city from three different sides, while the Russian Air Force strikes the Palmyra Military Airport and the road leading to the East district.
Reports also said on Tuesday that ISIL has sent hundreds of fresh troops, weapons and equipment to the city in the last several days in anticipation of heavy battles with the Syrian army in a decisive war.
http://en.farsnews.com/newstext.aspx?nn=13940905000453
----------
France says UK air force needed in Syria to raise pressure on ISIS
26 November 2015
British air force capabilities would make a difference in the fight against Islamic State of Iraq and Syria (ISIS) in Syria, with precision strikes especially increasing pressure on the group, French Defense Minister Jean-Yves Le Drian said in a column on Thursday.
The opinion piece in Britain's Guardian newspaper was published after Prime Minister David Cameron urged parliament on Thursday to back British air strikes against Islamic State in Syria. Cameron told lawmakers Britain could not "subcontract its security to other countries."
"We need British defense capabilities to win this war. The Royal Air Force is already in action over Iraq. Its involvement over Syria would make a practical difference," Le Drian wrote in the column, published on the Guardian website.
"The RAF has significant capabilities for precision air strikes, aerial reconnaissance and air-to-air refueling support. On a daily basis, its Tornado aircraft and unmanned drones are causing very severe damage to ISIS in Iraq. The use of these capabilities over Syria would put additional and extreme pressure on the ISIS terror network."
http://english.alarabiya.net/en/News/world/2015/11/27/France-says-UK-air-force-needed-in-Syria-to-raise-pressure-on-ISIS.html
----------
Syrian Army Prevailing over Entire Lattakia
ov 26, 2015
The Syrian forces retook control of Tel Al-Satrak, North of Tel Al-Malouha in the countryside of Lattakia on Thursday.
On Wednesday, three senior commanders of the so-called Free Syrian Army were killed in military operations in Syria's province of Lattakia.
Rasheed Bikdash, one of "Mujahidin Army" leaders, was killed in clashes with the Syrian army in North of Lattakia.
Sources said Bikdash is the highest-ranking defector from the Syrian army that has been killed in Syria.
Full report at:
http://en.farsnews.com/newstext.aspx?nn=13940905000702
----------
Russian Air Raids Hit Border Crossing in Idlib
Nov 26, 2015
After hitting terrorists' positions in Bab Al-Salame and Azaz in Aleppo countryside, the Russian airstrikes hit their concentration centers in Bab Hawa border crossing in Idlib countryside, informed sources said.
There were no more details available.
On Wednesday, heavy fighting erupted between two rival Takfiri terrorist groups in Idlib province, leaving casualties on both sides.
Full report at:
http://en.farsnews.com/newstext.aspx?nn=13940905000714
----------
Army Hits Militants Hard in Damascus Countryside
Nov 26, 2015
According to al-Alam news channel, the Syrian forces intensified their military operations in Eastern Ghouta in Damascus countryside.
The Arabic-language news channel also said clashes resumed between the Syrian army and terrorists in Khan al-Shih farms in the province.
There were no immediate reports of the exact number of casualties among the terrorists.
The Syrian army is in heavy clashes with Jaish al-Islam terrorists in a region near Harasta in Damascus province.
Field sources said on Thursday that the army clashed with terrorists from Jaish al-Islam to the East of Harasta city.
A large group of terrorists were reportedly killed in the clashes. The Syrian forces also seized the building where they were hiding in.
The army also destroyed two vehicles of Jaish al-Islam terrorists in Alya farms to the North of Douma city, killing the terrorists, Aboud Abdoud and Moustafa Dahman.
Also on Wednesday, the Syrian army continued to advance in Eastern Ghouta in Damascus countryside, and regained control of Marj al-Sultan-Housh al-Noula road.
Full report at:
http://en.farsnews.com/newstext.aspx?nn=13940905000534
----------
Senior Commanders of FSA Killed in Lattakia
Nov 26, 2015
On Wednesday, Rasheed Bikdash, one of "Mujahidin Army" leaders, was killed in clashes with the Syrian army in North of Lattakia.
Sources said Bikdash is the highest-ranking defector from the Syrian army that has been killed in Syria.
Abbas Hijazi, the commander of Maher Hijazi Battalion, and Abu Salim Julaq were also killed in Lattakia.
The Syrian Army alongside the country's National Defense Forces (NDF) on Wednesday continued pushing back the militant groups in Lattakia province and restored full security to at least five more key regions in the Northern part of the coastal province.
The pro-government forces hit hard the militant groups in Por Abdullah region, Ketf al-Hareek, the fifth and sixth hills and Ketf al-Safeh and forced them to retreat the fighting areas after leaving behind scores of dead members.
Full report at:
http://en.farsnews.com/newstext.aspx?nn=13940905000335
----------
Clashes Intensify between Army, Nusra Militants in Homs
Nov 26, 2015
The Syrian army clashed with al-Nusra terrorists in East of Talbiseh town in the Northern countryside of Homs, the Arabic-language al-Mayadeen television reported Wednesday.
There were no immediate reports of possible casualties among the terrorists.
Earlier on Wednesday, Syrian fighter jets continued to carry out combat sorties over al-Nusra Front's defense lines in Homs province, and targeted them in heavy bombardment.
The Syrian warplanes traced the al-Qaeda-affiliated Nusra's movements in Jawalak and al-Ameriyeh villages and found two of their main military sites and bombed them heavily.
The Nusra sites' infrastructures were badly damaged and meantime scores of the militants were killed or wounded in the air attacks.
On Tuesday, the Syrian fighter jets heavily bombed terrorists' positions in the countryside of Homs.
Full report at:
http://en.farsnews.com/newstext.aspx?nn=13940905000270
----------
Heavy Clashes Reported between Syrian Army, Jaish Al-Islam Terrorists in Damascus
Nov 26, 2015
Field sources said on Thursday that the army clashed with terrorists from Jaish al-Islam to the East of Harasta city.
A large group of terrorists were reportedly killed in the clashes. The Syrian forces also seized the building where they were hiding in.
The army also destroyed two vehicles of Jaish al-Islam terrorists in Alya farms to the North of Douma city, killing the terrorists, Aboud Abdoud and Moustafa Dahman.
Also on Wednesday, the Syrian army continued to advance in Eastern Ghouta in Damascus countryside, and regained control of Marj al-Sultan-Housh al-Noula road.
According to the Arabic-language El-Nashra website, the Syrian army retook Marj al-Sultan - Housh al-Noula road in al-Marj area.
Full report at:
http://en.farsnews.com/newstext.aspx?nn=13940905000181
----------
Army Recaptures Key Regions in Homs
Nov 26, 2015
The Syrian forces regained control over Tlol Um Kadom, Dahrat al-Said, Jabal al-Ramila and Tolol al-Sood in the Southeastern countryside of Homs on Wednesday.
Earlier on Wednesday, the Syrian airstrikes destryed ISIL positions in Abu Alia, Unq al-Hawa, Masaada and Habra al-Sharqia to the East of Homs city. Terrorists' machinegun-equipped vehicles and other vehicles loaded with weapons and ammunition were also destroyed in the air attacks.
Full report at:
http://en.farsnews.com/newstext.aspx?nn=13940905000133
----------
India
Example of tolerant India: Muslims arrange Rs 50, 000 to secure bail for Hindu convicts
November 27, 2015
New Delhi, Nov 27: This incidence will silence all those critics who say that there is intolerance within the country. At a time when actor Bollywood superstar Aamir Khan has reignited intolerance debate, this is a perfect example which proves that people of different religions live with peace and harmony in India. Read more: Intolerant India? Why Aamir Khan should answer these 5 questions This incidence is of Bareilly district of Uttar pradesh. As per TOI report, a Muslim group arranged Rs 50, 000 for Hindus who were languishing in jail. All 15 Hindus were in jail on the charges of petty crime like ticketless travel. Reportedly their families didn't have enough money to secure them bail.
Full report at:
http://www.oneindia.com/india/tolerance-india-example-muslims-arrange-50-thousand-bail-hindus-jail-1939074.html
----------
Indian Muslims are different. Let's preserve Indian Muslimhood.
by Vivek Deshpande
November 26, 2015
The ISIS has said it – south Asian Muslims are not the martial kind. If people of any country need to take it on the face value as well as in the larger context of the situation prevailing in their country, it is us Indians. The stereotype of militancy and terrorism that has come to be attached with Muslims gets challenged in a way by this ISIS observation. It only strengthens the view of some of our leading intellectual lights that Indian Muslims have come to evolve as way different from the Arabic notions of Muslimhood. Having lived for centuries along with different religious communities in India, they are very much at peace with the liberal reality of possible co-existence. So forget a few wayward Muslim youths getting gravitated towards the obscurantist ISIS ideology, the vast majority of them understand the value of peace having been part of a democracy for over 65 years and having tasted its fruits.
Where else in the world would you find a Muslim called Yusuf Khan living all his life with Hindu name Dilip Kumar, a Shah Rukh Khan and a Salman Khan installing Ganesh idols in their homes and performing puja, a Muslim team of music director, lyricist and singer creating Hindu devotional songs? Where else did bold Muslim girls show themselves up in scantiest of clothes and perform intimate scenes on silver screen in as far back as 60s and 70s? And this is perhaps why India needs to not only zealously guard this separate identity of Indian Muslims but also dig it in deeper by creating an atmosphere of mutual faith and respect among them and other communities, mainly the Hindus. To be able to sustain the multi-religiosity of Indian people, what must be protected on priority is the idea of co-existence. This idea seems to be getting challenged from certain quarters that tend to paint all Muslims with the same brush. So, are we in for the most difficult challenge of intolerance today as is being made out by many? Going by the numerical strength of the Muslim-bashers currently raising their heads with a sense of emboldenment, it may not seem very serious – just as a vast majority of Muslims claims to be against the idea of Islamic terror, an overwhelming majority of Hindus has remained committed for hundreds of years against similar sentiments within their fold. A few sadhvis and mahants and protagonists from Hindutva ideology making objectionable statements is no threat to this well entrenched multi-religious togetherness in India. To that extent, the perception of rising intolerance may seem like an overstated myth but what some of the skeptics on the other side probably seem worried about is the mute response from the powers-that-be, who are ideological brethren of this shrill minority. So clearly, the alarm though must be raised, should not be overblown. But there is an apparent possibility of the myths catching the fancy of large multitudes of Hindus in this age of shallow and superficial social media wildfire campaign. And hence the need to keep talking about it and explaining the futility of this extreme posturing by either side. What must be immediately realized is the fact that such views do not stand the scrutiny of not only the facts but also the logic. The perception among a section of Hindus that Muslims have ruled Hindus with iron hand for centuries and hence the Hindus must now have an upper hand need to introspectively look within. Because if that logic is to be accepted, then what should Dalits and other backward classes should do with the minority of Brahmins? Is reaction and revenge the way forward? The upper castes that formed the biggest chunk of supporters of the Hindu right doesn't even seem to be comfortable with the idea of the backward classes enjoying certain socio-economic privileges over them. This despite the fact that Dalits have hardly gained any major political power yet like the upper castes have. The analogy, when extended to Hindu-Muslim comparison, however, gets turned on its head as the Muslims, unlike upper castes, have ceased to hold on the reins of power for over 200 years now.
Full report at:
http://indianexpress.com/article/blogs/indian-muslims-are-different-lets-preserve-indian-muslimhood/
----------
In war against IS, clerics to add 1k Instagram accounts, FB pages
November 27, 2015
SEVERAL Muslim organisations came together under the banner of the Mahim Dargah Trust on Thursday to announce that they will use the digital medium and the internet in the form of mobile applications, Instagram pages, Facebook and other social media accounts to send out the message to young Muslims that the ISIS is the "enemy of Islam" and that they should not be lured by its radical ideology. Choosing to use the very medium that the Islamic State (IS) has been using to radicalise impressionable youngsters, the religious leaders also said this message would be read out by Muslim clerics at the sermon during Friday prayers across the country.
The gathering, comprising Maulana Syed Moinuddin Ashraf known as Moin Miyan; Suhail Khandwani, Trustee of the Mahim and Haji Ali Dargahs; Narendra Rane, Chairman of Siddhivinayak Trust; Father Simon Borges of St Michael's Church in Mahim and DCP Mahesh Patil, among others, were unanimous in criticising the IS and stating that no religion would propagate acts of violence. Mufti Manzoor Ziayee, Chairman of Dar-ul-uloom Faizan-e-Raza, said,"The IS has hijacked the internet to influence impressionable minds." The leaders decided to use the same medium to inform people of what Islam actually stands for, he continued. "We are in the process of creating nearly 1,000 Instagram accounts, Facebook pages and other social media to spread the message of peace." He added, "As of now there will be a focus on three messages, 'Islam is not linked to terror'; 'there is no 'heaven' waiting for you if you follow such radical ideology' and 'join Sufism not terrorism'." Ziyaee is hoping to also collaborate with the Mumbai Police's cyber crime cell in the future.
Full report at:
http://indianexpress.com/article/cities/mumbai/in-war-against-is-clerics-to-add-1k-instagram-accounts-fb-pages/
----------
Sufi Muslims to hold 'spiritual summit'
by Mohd Faisal Fareed
November 27, 2015
A BODY of Sufi Muslims — All India Ulema and Mashaikh Board — has announced that it will hold the first World Islamic Spiritual Summit in New Delhi in March.
The organisers claimed that the conference aims at apprising the world that Indian Muslims are the followers of Sufism and Islam was not a religion propagating terror. The members of the board include clerics from the country's leading dargahs.
On August 27, founder and president of AIUMB, Syed Mohammad Ashraf Kichhowchhawi, had met Prime Minister Narendra Modi in New Delhi along with 40 other clerics pledging to work with the PM in countering terrorism and fundamentalism.
The four-day conference will be held between March 17 to 20 and will be attended by representatives from Central Asia, South East Asia, Africa, USA and Europe — particularly Egypt, Morocco, India, Bosnia, Pakistan, UAE and Syria. The inaugural function will be held on March 17 at Vigyan Bhawan, followed by conferences on March 18 and 19 at the Indo-Islamic Cultural Centre and a public meeting on March 20 at the Ram Leela Maidan.
The organisers said though several international authorities will attend the meet, they are yet to decide on inviting the PM for the event.
"Vice-President Hamid Ansari will be invited. Since several foreign ministers will attend the event, so obviously someone from the Union government will be present as per protocol," AIUMB spokesperson Maulana Abdul Moid Azhari said.
The PM, during his recent address at Wembley stadium in UK, had referred to the Sufi tradition of Islam as "the best antidote to terrorism".
"If Sufism had been propagated more in Islam, people would not have picked up guns…," he had said.
Full report at:
http://indianexpress.com/article/cities/lucknow/sufi-muslims-to-hold-spiritual-summit/
----------
Last thing Indian Muslims need: Naseer on Aamir's intolerance row
November 27, 2015
Veteran Bollywood actor Naseeruddin Shah has expressed concern over Aamir Khan's intolerance remark saying that it may cause further problems for the Muslims of India.
In an exclusive interview with India Today, the actor said that he has never thought of moving out of the country. "I don't think he [Aamir] should have said this. Regardless of what he feels, we Muslims do not need any further aggravation of our feeling of persecution," said Shah.
Wife suggested we leave India: Aamir Khan
"I think, a person like Aamir saying a thing like this is going to create a fear psychosis, and that's the last thing Muslims in India need at the moment," he added.
When asked if he felt discriminated and victimised at present, the 66-year-old actor said, "I do not feel I'm being hounded. There have been occasions when I have been victimised by certain interested parties. I have never paid much heed to that… There is no way I'm going to feel threatened," he stressed.
Earlier, Oscar-winning music composer AR Rahman expressed solidarity with Aamir Khan over growing intolerance in India and admitted that he too faced a situation similar to that of the actor recently.
"I had gone through something similar a couple of months ago," said AR Rahman at the International Film Festival of India, reported Times of India.
The music maestro spoke in relation to the fatwa issued against him by Mumbai-based Muslim academy for composing music for an Iranian film. Subsequently, his scheduled concerts in Delhi and Uttar Pradesh were cancelled.
The fatwa also prompted Hindu extremists to bring up the issue of religious conversions. They invited the composer to "re-convert to Hinduism" and said it was time for Rahman's "ghar wapsi".
"Nothing should be violent. We're all ultra-civilised people and we should show the world that we are the best civilisation," the composer added.
Indians lash out at Aamir Khan for statement on intolerance
Aamir Khan faced a similar reaction from Hindu political party, Hindu Mahasabha, after his statement that his wife suggested they move out of India due to the escalating religious intolerance in the country.
"Aamir Khan should either indulge in 'ghar wapsi' which will help him getting free of 'crimes of love jihad' of his previous as well as his present wife Kiran Rao or go to Pakistan for the benefit of India," Hindu Mahasabha's national general secretary Munna Kumar Sharma said.
"A case of treason should be filed against Khan for insulting India and traitors like Aamir Khan and Shah Rukh Khan should leave India," he added.
I never said India is intolerant: Shah Rukh Khan
Bollywood superstar Shah Rukh Khan also came under fire when he made a statement about intolerance in India.
Full report at:
http://tribune.com.pk/story/998106/last-thing-indian-muslims-need-naseer-on-aamirs-intolerance-row/
----------
Mamata Banerjee at Jamiat rally, says will always work for minorities
November 27, 2015
Chief Minister Mamata Banerjee on Thursday addressed over a lakh Muslims at a rally of the Jamiat Ulama-i-Hind (JUH) at Shahid Minar ground in Kolkata, triggering speculations of an understanding between the Jamiat and the Trinamool Congress in the run up to the Assembly polls next year.
Asked if Jamiat would enter into a seat-sharing agreement with Trinamool, Siddiqullah Chowdhury, general secretary of the Bengal unit of the party, said: "At the moment, nothing of this sort has been discussed but this can be a possibility. I have sent a message. She (Mamata) will have to decide how to react to it. Several meetings will have to be held before a consensus, if any, can be arrived on seat-sharing."
Chowdhury, who had earlier spoken openly against the Mamata and Trinamool, was all praise for the CM on Thursday. "I must admit she has done a lot more for Muslims compared to her predecessor, the Left Front, which had only been theoretical about Muslim welfare," he said.
However, later, speaking to The Indian Express on the sidelines of the rally, Chowdhury said: "We have been instructed not to enter into a clash with her at the moment… only cooperating with her will help meet our demands."
Addressing the rally, Mamata said she had and would always work for the development of the members of the minority community. "Siddiqullah Chowdhury had once come to invite me at Nabanna during the month of Ramzan. Since it was the time for namaz, he offered namaz in my office on the 14th floor," she said.
Mamata said she had taken note of the suggestions made by Siddiqullah and would do the needful after speaking to her officials.
Without naming the BJP, Mamata said many questions have been raised over her attending the rally. "My Constitution has given me the freedom to eat and wear what I choose or being with people I want to and going places I feel like. Who are they to decide these? Would someone be killed because he had beef? I have chicken, what will you do to me?" she asked.
Speaking on the development projects that her government had introduced for the Muslim community, the CM said the aim is to develop the minorities. "No one should point a finger and say that he is a terrorist… none of my minority brothers and sisters are terrorists… It was unfair to call all Muslims terrorists as terrorists have no castes or creeds. Anti-socials are anti-socials, criminals are criminals, terrorists are terrorists," she added.
Addressing the rally, Faruque Ahmed, editor of a magazine 'Udar Akash', said: "I would suggest that Murshidabad, which has the highest Muslim population, should get a university… this would fetch more Muslim support for the CM."
The rally, meanwhile, invited sharp criticism from the Opposition. State Congress president Adhir Chowdhury said it was a pity that Mamata had to join hands with Siddiqullah to get Muslim support. "This is a political defeat for Mamata Banerjee because she has held the hands of the person against whom she had lodged criminal cases last year for attacking the police. She understands that she is getting separated from the Muslim community," he said.
State BJP leader Ashim Sarkar too said: "How shameless can a person get if he or she has to share stage and join hands with those who had been charged with attacking her own police force."
Full report at:
http://indianexpress.com/article/india/india-news-india/mamata-banerjee-at-jamiat-rally-says-will-always-work-for-minorities/
----------
Europe
The Times corrects claim of UK Muslim support for IS
Nov 26, 2015
The Times on Thursday corrected a "misleading" headline that claimed a fifth of British Muslims had sympathy for the Islamic State, amid accusations Muslims have been demonised after the Paris attacks.
The newspaper said its headline this week "One in five British Muslims has sympathy for Isis" did not accurately reflect the results of an opinion poll that the story was based on.
The study by pollster Survation questioned 1,003 British Muslims by phone on behalf of The Sun newspaper, which like The Times is owned by tycoon Rupert Murdoch's media empire.
The survey found that 20% agreed that they had "some" or "a lot" of "sympathy with young Muslims who leave the UK to join fighters in Syria".
It did not specify which warring group they were joining in the complex civil war, which has killed over 250,000 people and displaced millions over more than four years.
The result was similar to levels of sympathy among non-Muslims.
The Sun caused a social media outcry when it reported the poll with a front-page headline Monday that read "1 in 5 Brit Muslims' sympathy for jihadis".
Over 30,000 signed a petition demanding The Sun apologise and Britain's press watchdog said it received about 3,600 complaints.
"This headline and article is not only an inaccurate lie but is also inflammatory and extremely damaging to our community cohesion," the petition on Change.org read.
The petition said the report -- which comes amid indications of rising levels of hate crime against Muslims -- "amounts to inciting religious and racial hatred and promotes Islamophobia".
Full report at:
http://www.hindustantimes.com/world/the-times-corrects-claim-of-uk-muslim-support-for-is/story-HWi6uyNn4eh44X4Mnduy2N.html
----------
Cameron says it's time to bomb militants in Syria
November 27, 2015
LONDON: Prime Minister David Cameron said on Thursday it was time to join air strikes against the militant Islamic State (IS) group in Syria because Britain could not "subcontract its security to other countries".
Many Britons are wary of entering into another war in the Middle East after Western intervention in Iraq, Afghanistan and Libya failed to bring stability to the region and some believe led to the rise of militant groups such as IS.
But after IS claimed responsibility for killing 130 people in Paris, some members of parliament who were reluctant to launch further military action in the Middle East now feel it is necessary to protect Britain from such attacks.
Cameron lost a vote on air strikes against Syrian President Bashar al-Assad's forces in 2013 and must persuade some wary members of his own Conservative Party and in the opposition Labour Party to back him if he is to win parliament's support for military action.
After setting out his case for action, Cameron appeared to have persuaded at least two of the 30 party 'rebels' who voted against him in 2013, but other opposition lawmakers said he had yet to answer questions about how the bombing would achieve peace.
"We do not have the luxury of being able to wait until the Syrian conflict is resolved before tackling ISIL (IS)," Cameron wrote in a response to the parliament's Foreign Affairs Committee, which had said a policy to extend air strikes was "incoherent" without a strategy to defeat the militants.
"It is wrong for the United Kingdom to subcontract its security to other countries, and to expect the aircrews of other nations to carry the burdens and the risks of striking ISIL in Syria to stop terrorism here in Britain," he added.
He said in the 24-page response that the campaign against IS was entering a new phase, focusing on command and control, supply lines and financial support — something that suited Britain's capabilities.
Full report at:
http://www.dawn.com/news/1222508/cameron-says-its-time-to-bomb-militants-in-syria
----------
Putin, Hollande agree to coordinate on IS fight but divisions remain
November 27, 2015
MOSCOW: French President Francois Hollande and Russian leader Vladimir Putin agreed Thursday to coordinate strikes against the militant Islamic State (IS) group, but differences over Syria's future hampered efforts to bring Russia into a wider alliance to fight the militants.
Putin indicated France and Russia would swap data to help identify IS targets in Syria, as opposed to other groups opposed to the country's leader, Bashar al-Assad.
The two countries agreed to "exchange information about which territories are occupied by the healthy part of the opposition rather than terrorists, and will avoid targeting them with our airstrikes," Putin said.
"The strikes against IS will be intensified and be the object of coordination," Hollande said at a press conference after their 90-minute meeting at the Kremlin.
The agreement to focus on IS targets was the most concrete progress from the final leg of Hollande's marathon push to weld together a broad alliance to crush IS after the November 13 terror attacks in Paris.
But the French leader failed to gain any pledge from Putin over helping the United States (US)-led coalition which is targeting IS.
Putin is fuming over Turkey's downing of a Russian fighter on the Syrian border and deep splits remain between Russia and the West over Assad's fate.
Hollande reiterated that Assad, a key Moscow ally, "has no place in the future of Syria".
Russia has been flying a bombing campaign in Syria since September 30 at Assad's request while a rival US-led coalition is carrying out strikes against IS.
Although both Russia and the US coalition oppose IS, Washington and its allies say Moscow is primarily targeting moderates fighting the regime in Damascus, rather than the militants.
Prior to his visit to Moscow, Hollande gained support from Britain, whose premier David Cameron set out his case Thursday for air strikes against IS in Syria.
Cameron said Britain should not "wait until an attack takes place here" before acting, saying it was "morally" unacceptable to be "content with outsourcing our security to our allies".
A vote is expected to be held early next week and MPs look set to approve the move, meaning the first British air strikes on Syria could come within days.
Cameron has also offered France the use of a British air base in Cyprus for flying missions against the militants.
In Berlin, Defence Minister Ursula von der Leyen on Thursday said Germany could offer France Tornado reconnaissance jets, a naval frigate, satellite images and aerial refuelling to back the fight against IS.
Full report at:
http://www.dawn.com/news/1222648/putin-hollande-agree-to-coordinate-on-is-fight-but-divisions-remain
----------
France and Russia agree to exchange intel on ISIS
27 November 2015
France and Russia will exchange intelligence on Islamic State of Iraq and Syria, as well as other militant groups to improve the effectiveness of their aerial bombing campaigns in Syria, French President Francois Hollande said on Thursday after talks with Vladimir Putin.
However, the two men remained at odds over the fate of Syrian President Bashar al-Assad, an ally of Russia whom Western and Sunni Arab countries blame for Syria's nearly five-year civil war and want removed from power.
Speaking after a working dinner in the Kremlin with Putin, Hollande said they had agreed to target only ISIS and similar militant groups in Syria. The West has accused Moscow of targeting mostly Western-backed rebel groups fighting Assad.
"What we agreed, and this is important, is to strike only terrorists and Daesh (ISIS) and to not strike forces that are fighting terrorism. We will exchange information about whom to hit and whom not to hit," Hollande told a joint news conference with Putin.
France will also increase its support to rebel groups battling ISIS on the ground in Syria, Hollande added.
Full report at:
http://english.alarabiya.net/en/News/world/2015/11/27/France-and-Russia-agree-to-exchange-Intel-on-ISIS-.html
----------
France sees Syrian regime participating in anti-ISIL figh
27 November 2015
French Foreign Minister Laurent Fabius said Friday he could envisage Syrian regime troops taking part in the fight to crush the ISIL that claimed responsibility for the Paris attacks.
In order to fight ISIL, "there must be two measures: bombings... and ground troops who cannot be ours, but who should be of the (opposition) Free Syrian Army, Sunni Arab forces, and why not regime forces too," Fabius told RTL radio.
The main military target remains Raqa, the Syrian city that is the stronghold of ISIL, Fabius said. Russian and French jets have targeted the town in recent days.
Full report at:
http://www.worldbulletin.net/europe/166768/france-sees-syrian-regime-participating-in-anti-isil-fight
----------
Russia Seeks Economic Revenge Against Turkey Over Jet
11/26/2015
By Humeyra Pamuk and Vladimir Soldatkin
ISTANBUL/MOSCOW, Nov 26 (Reuters) - Russia threatened economic retaliation against Turkey on Thursday and said it was still awaiting a reasonable explanation for the shooting down of its warplane, but Turkey dismissed the threats as "emotional" and "unfitting."
In an escalating war of words, President Recep Tayyip Erdogan responded to Russian accusations that Turkey has been buying oil and gas from Islamic State in Syria by accusing Syrian President Bashar al-Assad and his backers, which include Moscow, of being the real source of the group's financial and military power.
The shooting down of the jet by the Turkish air force on Tuesday was one of the most serious clashes between a NATO member and Russia, and further complicated international efforts to battle Islamic State militants.
World leaders have urged both sides to avoid escalation.
Russian Prime Minister Dmitry Medvedev ordered his government to draw up measures that would include freezing some joint investment projects and restricting food imports from Turkey.
Economy Minister Alexei Ulyukayev said Moscow could put limits on flights to and from Turkey, halt preparations for a joint free trade zone, and restrict high-profile projects including the TurkStream gas pipeline and a $20 billion nuclear power plant Russia is building in Turkey.
Russia's defense ministry meanwhile said it had suspended all cooperation with the Turkish military, including a hotline set up to share information on Russian air strikes in Syria, the TASS news agency reported.
"We are strategic partners ... 'Joint projects may be halted, ties could be cut'? Are such approaches fitting for politicians?," Erdogan said in a speech in Ankara.
"First the politicians and our militaries should sit down and talk about where errors were made and then focus on overcoming those errors on both sides. But instead, if we make emotional statements like this, that wouldn't be right."
Kremlin spokesman Dmitry Peskov said Russia was still awaiting a reasonable answer from Ankara on why it downed the fighter jet. Moscow insists it never left Syrian air space, but Ankara says it crossed the border despite repeated warnings.
The Turkish foreign ministry said diplomatic missions and Turkish business interests in Russia had come under attack and called on the Russian authorities to take security measures.
Erdogan said the Russian jet was shot down as an "automatic reaction" to the violation of Turkish air space, in line with standing orders given to the military.
Those instructions were a separate issue to disagreements with Russia over Syria policy, he said, adding Ankara would continue to support moderate rebels in Syria and Turkmen fighters battling President Assad's forces.
Erdogan told CNN that Russia, not Turkey, should be the one to apologize for the incident. And in an interview with France 24, he said he had called Putin after the jet was shot down but that the Russian leader had not yet called him back.
Medvedev on Wednesday alleged that Turkish officials were benefiting from Islamic State oil sales, while Russian Foreign Minister Sergei Lavrov said it was no secret that "terrorists" use Turkish territory.
"Shame on you. It's clear where Turkey buys its oil and gas ... Those who claim we are buying oil from Daesh like this must prove their claims. Nobody can slander this country," Erdogan said, using an Arabic acronym for Islamic State.
"If you are seeking the source of weaponry and financial power of Daesh, the first place to look is the Assad regime and countries that act with it," he said.
Moscow says its military involvement in Syria is aimed at battling terrorist groups including Islamic State, casting the campaign to a supportive Russian public as a moral crusade that must be completed despite obstruction from elsewhere.
Turkey and its allies say Russia's real aim is to prop up its ally Assad and that it has been bombing moderate opposition groups in areas of Syria like Latakia, where the jet was downed, and where there is little or no Islamic State presence.
Russian forces have shown no sign of backing down, launching a heavy bombardment against insurgent-held areas in Latakia on Wednesday, near where the jet crashed.
A Reuters correspondent on the Turkish side of the border saw rockets and tank shells being fired from government-controlled western Latakia eastwards into rebel-held territory, sending plumes of smoke rising from the wooded hillsides.
Turkey's action infuriated Russia, but Moscow's response has been carefully calibrated. There is little sign it wants a military escalation, or to jeopardize its main objective in the region: to rally international support for its view on how the conflict in Syria should be resolved.
But it clearly wants to punish Turkey economically.
The head of Russia's tourism agency, Rostourism, said cooperation with Turkey would "obviously" be halted. At least two large Russian tour operators had already said they would stop selling packages to Turkey after Russian officials advised holidaymakers against traveling to its resorts.
Full report at:
http://www.huffingtonpost.com/entry/russia-seeks-economic-revenge-against-turkey-over-jet_56574738e4b072e9d1c1d5eb?section=india&adsSiteOverride=in
----------
Putin pledges not to hit Syrian opp. areas
27 November 2015
Vladimir Putin has said Russian war planes will not target "moderate" opposition-held areas in Syria.
"We have agreed to contact the regional countries to learn in which areas moderate opposition exists. Russian Air Forces will not conduct operations there," the Russian president told a joint press conference with French President Francois Hollande.
The pair had held a bilateral meeting at the Kremlin.
Turkey summoned the Russian envoy in Ankara last week over the bombing of villages in Syria's predominantly Turkmen Bayirbucak region, demanding Moscow end the operation.
Almost 7,000 Turkmen have recently been displaced due to repeated air and ground assaults by Syrian regime forces and Russian warplanes.
Putin maintained that they want to establish a wider anti-terror coalition under the umbrella of the United Nations.
"Today we decided to bolster our cooperation in counter-terrorism, exchange information and enable joint work by our military authorities, which will make our anti-terror efforts more efficient," he said.
The Russian leader argued that the Syrian people should decide the fate of President Bashar al-Assad, describing his regime as a "natural ally" in the anti-terror fight.
"The fight against terrorism in Syria is impossible without ground operations. There is no alternate power in Syria but the Assad army that is capable of it, so Assad is a natural ally in the anti-terror fight," he said.
Putin also said that air offensives had intensified over Syria's northern region – close to Turkmen district of Bayirbucak – where a Russian warplane was downed on Tuesday after violating Turkish airspace.
The incident has been the source of a recent diplomatic spat between Ankara and Moscow.
Putin claimed there were no Turkmen in the region they hit but fighters that came from Russia to join terrorist groups.
Full report at:
http://www.worldbulletin.net/europe/166772/putin-pledges-not-to-hit-syrian-opp-areas
----------
Southeast Asia
Kalla Calls for Emphasis on Moderate Islam
November 27, 2015
Jakarta. Governments of countries with large Muslim populations must practice good and transparent leadership to avoid violence, radicalism and terrorism, Vice President Jusuf Kalla said at the close of an Islamic scholars' gathering in Malang, East Java, on Wednesday.
Kalla warned that if a government did not treat its people fairly, it would be setting the stage for its own destruction.
"It will also lead to the migration of millions of Muslims to other countries to gain protection," he told delegates at the 4th International Conference of Intellectuals, Scholars and Muslim Sufi, held by the International Conference of Islamic Scholars, or ICIS.
Kalla welcomed the conference's Malang Message – a commitment to nurture peaceful Muslim society – and encouraged Islamic scholars to continue providing guidance for people to attain education and prosperity. He urged ICIS to engage more closelywith Muslim youths and educate them about the values of a peaceful Islam.
Former Malaysian prime minister Abdullah Ahmad Badawi told the conference that Islam needed to show its tolerance and embrace reconciliation instead of violence.
Hassan Wirajuda, a former Indonesian foreign minister, said the Muslim community had to find its own solutions to its problems and end the violence espoused by radicals such as the Sunni militant group Islamic State.
He urged a greater role by the government and religious leaders in preventing extremism and promoting a moderate understanding of Islam through interfaith dialogue and internal discourse with the community.
Full report at:
http://jakartaglobe.beritasatu.com/news/kalla-calls-emphasis-moderate-islam/
----------
Eight Islamic State supporters killed in Philippine clash
November 27, 2015
Eight members of a criminal gang that pledged allegiance to Islamic State jihadists were killed in a firefight with the military in the southern Philippines, officials said today.
The hour-long battle took place yesterday in Palimbang, a remote town in the south — home to the predominantly Catholic nation's Muslim minority and the scene of decades of conflict.
The bandits were from Ansar al-Khalifa, a small group that declared its support for Islamic State in a video circulated on the Internet last year, regional military spokesman Major Filemon Tan said.
The military has said that support for Islamic State — which controls vast swathes of territory in Syria and Iraq — in the Philippines was limited to local bandits claiming allegiance to the group.
But it has said there is no evidence showing that such gangs were receiving support from the jihadists.
The larger Abu Sayyaf group, a United States-listed terrorist organisation that is holding at least four foreign nationals hostage and has demanded millions of dollars in ransom, has likewise pledged allegiance to IS.
Tan told AFP that five black flags similar to those used by Islamic State fighters were recovered from the bandits after the clash.
Full report at:
http://indianexpress.com/article/world/world-news/eight-islamic-state-supporters-killed-in-philippine-clash/
----------
From Indonesia, a Muslim challenge to the ideology of the Islamic State
Nov 27, 2015
JAKARTA: The scene is horrifyingly familiar. Islamic State soldiers march a line of prisoners to a riverbank, shoot them one by one and dump their bodies over a blood-soaked dock into the water.
But instead of the celebratory music and words of praise expected in a jihadi video, the soundtrack features the former Indonesian president, Abdurrahman Wahid, singing a Javanese mystical poem: "Many who memorize the Quran and Hadith love to condemn others as infidels while ignoring their own infidelity to God, their hearts and minds still mired in filth."
That powerful scene is one of many in a 90-minute film that amounts to a relentless, religious repudiation of the Islamic State, also known as ISIS, and the opening salvo in a global campaign by the world's largest Muslim group to challenge its ideology head-on.
The challenge, perhaps surprisingly, comes from Indonesia, which has the world's largest Muslim population but which lies thousands of miles away from the Islamic State's base in the Middle East.
"The spread of a shallow understanding of Islam renders this situation critical, as highly vocal elements within the Muslim population at large — extremist groups — justify their harsh and often savage behavior by claiming to act in accord with God's commands, although they are grievously mistaken," said A. Mustofa Bisri, the spiritual leader of the group Nahdlatul Ulama, an Indonesian Muslim organization that claims more than 50 million members.
"According to the Sunni view of Islam," he said, "every aspect and expression of religion should be imbued with love and compassion, and foster the perfection of human nature."
This message of tolerance is at the heart of the group's campaign against jihadism, which will be carried out online, and in hotel conference rooms and convention centers from North America to Europe to Asia. The film was released Thursday at the start of a three-day congress by the organization's youth wing in the Central Java city of Yogyakarta.
As world leaders call for Muslims to take the lead in the ideological battle against a growing and increasingly violent offshoot of their own religion, analysts say the group's campaign is a welcome antidote to jihadism.
"I see the counternarrative as the only way that Western governments can deal with the ISIS propaganda, but there's no strategy right now," said Nico Prucha, a research fellow at King's College London, who analyzes the Islamic State's Arab-language online propaganda.
And Western leaders often lack credibility with those most susceptible to jihad's allure. "They don't speak Arabic or have never lived in the Muslim world," Prucha said.
The campaign by Nahdlatul Ulama, known as N.U., for a liberal, pluralistic Islam also comes at a time when Islam is at war with itself over central theological questions of how the faith is defined in the modern era.
In a way, it should not be surprising that this message comes from Indonesia, the home of Islam Nusantara, widely seen as one of the most progressive Islamic movements in the world. The movement — its name is Indonesian for "East Indies Islam" — dates back more than 500 years and promotes a spiritual interpretation of Islam that stresses nonviolence, inclusiveness and acceptance of other religions.
Analysts say the theology developed organically in a place where Hinduism and Buddhism were the primary religions before Islam arrived around the 13th century. Indonesian Islam blended with local religious beliefs and traditions, creating a pluralistic society despite having a Muslim majority.
Indonesia today has more than 190 million Muslims, but also has a secular government and influential Christian, Hindu and Buddhist minorities. Such liberalism poses a counterargument to the Islamic State, analysts said.
"We are directly challenging the idea of ISIS, which wants Islam to be uniform, meaning that if there is any other idea of Islam that is not following their ideas, those people are infidels who must be killed," said Yahya Cholil Staquf, general secretary to the N.U. supreme council. "We will show that is not the case with Islam."
N.U. has established a nonprofit organization, Bayt ar-Rahmah, in Winston-Salem, North Carolina, which will be the hub for international activities including conferences and seminars to promote Indonesia's tradition of nonviolent, pluralistic Islam, Yahya said.
N.U. is also working with the University of Vienna in Austria, which collects and analyzes Islamic State propaganda, to prepare responses to those messages, which N.U. will disseminate online and at conferences.
A prevention center based in Indonesia, expected to be operational by the end of the year, will train male and female Arabic-speaking students to engage with jihadi ideology and messaging under the guidance of N.U. theologians who are consulting Western academia.
The film, "Rahmat Islam Nusantara" (The Divine Grace of East Indies Islam), has been translated into English and Arabic for global distribution, including online. The film explores Islam's arrival and evolution in Indonesia, and includes interviews with Indonesian Islamic scholars.
In scene after scene, they challenge and denounce the Islamic State's interpretations of the Quran and the Hadith, the book of the Prophet Muhammad's teachings, as factually wrong and perverse.
The Islamic State's theology, rooted in the fundamentalist Wahhabi movement, takes its cues from medieval Islamic jurisprudence, where slavery and execution of prisoners was accepted. The filmmakers accept the legitimacy of those positions for the time but argue that Islamic law needs to be updated to 21st-century norms.
Other sects and Muslim leaders have made this argument before. And non-Arab countries like Indonesia tend to have less influence on the practice of Islam, especially in the Middle East.
"The problem with Middle East Islam is they have what I call religious racism," said Azyumardi Azra, an Islamic scholar and former rector of the State Islamic University in Jakarta. "They feel that only the Arabs are real Muslims and the others are not."
Saudi Arabia, the birthplace of Islam and the main source of financial support for Wahhabism worldwide, has had more success in imposing its interpretation and has even made inroads in Indonesia. Analysts say a steady flow of money from Persian Gulf countries, including Saudi Arabia and Qatar, supports an active and growing Wahhabist movement here.
There are reservations here about the N.U. going global, rather than first tackling violent extremism at home. Indonesia has suffered several deadly terrorist attacks by Islamic militants in recent years that have killed hundreds, including bombings on the resort island of Bali in 2002 and 2005, and at five-star international hotels in Jakarta in 2003 and 2009.
----------
We invite you to share your experience—Blender's Pride Tour
Blenders Pride
November 27, 2015
ICICI Pru Wealth Builder II
ICICI Pru Life
Recommended By Colombia
The best known of the Indonesian jihadi groups, Jemaah Islamiyah, a onetime Southeast Asian branch of al-Qaida, has been crushed, but splinter groups still exist, as well as other militant Muslim groups like the Islamic Defenders Front, which occasionally smash up bars and attack religious minorities and their houses of worship.
Bonar Tigor Naipospos, vice chairman for the executive board of the Setara Institute for Democracy and Peace in Jakarta, said N.U.'s campaign applied equally to local radicals. "They want to show to Indonesian society, 'Look, we are Islamic and we have universal values, but we also respect local cultures,'" he said. "We are not like Islam in the Middle East."
Many lessons for Indian Muslims from Indonesia. Indonesia is proud of its Hindu-Buddhist history, they love Ramayana and... Read More
Others say the international public discourse has to start somewhere, even if it is thousands of miles away from Syria and Iraq.
Full report at:
http://timesofindia.indiatimes.com/world/rest-of-world/From-Indonesia-a-Muslim-challenge-to-the-ideology-of-the-Islamic-State/articleshow/49943129.cms
----------
No party should rule forever, Dr Mahathir tells international Muslim delegates
By JENNIFER GOMEZ
27 November 2015
In his keynote address at the Kuala Lumpur Summit 2015, Malaysia's longest serving prime minister said it was good for a country to have just two political parties, adding that otherwise, the people would be divided and no party would enjoy a majority.
"When forming a coalition, the bigger the better.
"This is because when one party pulls out, a big coalition would still have a majority and survive.
"The opposition plays a very important role but if it is too small, it will not be effective to ensure the government does not abuse its power.
"No party should rule forever," he told an audience of international Muslim delegates at the event which was held in a hotel in Kuala Lumpur today.
Qualifying that he was speaking in the context of Muslim countries all over the world, Dr Mahathir added that many Muslim governments failed to give their country and people stability and prosperity.
Instead, he said Muslims have become associated with terror.
"All these are due to our failure to practise the teachings of Islam, where Islam promotes brotherhood, but we fight each other instead.
"Even if we adopt democratic governance, failure to adhere to the teachings of Islam can make us fail.
Full report at:
http://www.themalaysianinsider.com/malaysia/article/no-party-should-rule-forever-dr-mahathir-tells-international-muslim-delegat
----------
North America
Obama blamed for Islamisation of USA
November 27, 2015
WASHINGTON: As Americans celebrated Thanksgiving on Thursday, an anti-immigration group published names and addresses of Muslims and Muslim sympathisers in a Texas town, urging people to force them out.
On a day when Americans offer thanks for migrating here from the old world, anti-immigration groups blamed President Barack Obama for legalising an "Islamic invasion" of the United States.
Reports posted on various right wing websites claimed that the Obama administration issued 680,000 green cards to migrants from Muslim-majority countries between 2009 and 2013, as part of a conspiracy to "make America Islamic."
The reports also claimed that since 1980, 1.5 million Muslims settled in the United States.
"To put this five-year tally – 680,000 – in context, it surpasses the total population of Washington, D.C., which is 660,000," said one such post.
What it did not mention is that many who work in Washington live in its suburbs and that's why the city has a small population.
Full report at:
http://www.dawn.com/news/1222509/obama-blamed-for-islamisation-of-usa
----------
Anti-Islam Group Posts Muslims' Personal Info on Facebook
11/26/2015
An anti-Islam group in the Dallas, Texas, suburb of Irving publicized the names and addresses of over 60 Muslims and Muslim "sympathizers" on its Facebook page.
The Bureau of American Islamic Relations' post targets those who spoke out against a controversial Irving City Council vote on Islamic tribunals. In March, the council backed a state bill that would limit Muslim influence.
Mayor Beth Van Duyne accused Irving's Muslim community of using Sharia law to bypass state and federal legislation to mediate disputes through an Islamic tribunal. The Islamic Center of Irving issued a statement that denies the existence of a Sharia court but confirms the existence of a tribunal.
BAIR describes itself on its Facebook page as an "organization that stands in opposition (on all levels)" to Islamic groups like the Council on American-Islamic Relations.
Alia Salem, executive director of the Dallas/Fort Worth branch of CAIR, said the publication marked the first time she had felt slightly alarmed over anti-Islamic sentiment. "As bad as things have gotten in the past, and especially recently, this is the first time where I see people taking this public," she told the Dallas Morning News.
Others on the list fear the consequences of their personal information getting into the wrong hands.
The post has yet to be taken down from Facebook, which goes against the website's Community Standards. Facebook policy is to remove content when it presents a "genuine risk of physical harm or direct threats to public safety."
Neither Facebook nor the Irving Police Department immediately returned requests for comment.
BAIR also protested outside of Irving's mosque Saturday, where they toted shotguns and held signs that stated, "Stop the Islamization of America" and "The solution to Islamic terrorism."
BAIR spokesman David Wright said they were also protesting Syrian refugees coming to America and that he believes that people are scared.
"They're scared to say anything about it," he told Fox 4 News. They're scared to come out to a place like this and stand in front of a mosque and protest Islam.
"People should recognize that we are peaceful and we are a group of self defense minded people. There's nothing wrong with that."
Full report at:
http://www.huffingtonpost.com/entry/islamophobic-group-posts-names-addresses-of-texas-muslims-on-facebook_56572f10e4b079b2818a5187?ncid=txtlnkusaolp00000592&section=india&adsSiteOverride=in
----------
Canada to give U.N. $750,000 for Syrian refugees
27 November 2015
Canada's Liberal government announced on Thursday a U.S.$75 million (CA$100 million) contribution to the United Nations High Commissioner for Refugees to help fleeing Syrians, fulfilling a campaign promise from its recent federal election.
The contribution includes U.S.$7.5 million (CA$10 million) for the U.N. refugee agency as part of the program to resettle thousands of Syrian refugees in Canada over the next few months.
International Development Minister Marie-Claude Bibeau said the government will move quickly to disburse the funds.
"We know that Syrian refugees are cutting on meals, taking on debt to meet their basic daily needs and risking their lives to leave Syria," she said. "This funding to UNHCR will help to make these decisions a little less difficult by helping to meet basic needs."
The government also announced it is honoring a commitment made by the previous Conservative government to match donations by Canadians to the international relief efforts. Officials say Canadians have until Dec. 31 to make donations, which will be equaled to a ceiling of U.S.$75 million (CA$100 million).
Earlier this week, recently elected Prime Minister Justin Trudeau announced that his government will resettle 10,000 Syrian refugees by the end of the year and another 15,000 by the end of February.
Full report at:
http://english.alarabiya.net/en/News/world/2015/11/27/Canada-to-give-U-N-750-000-for-Syrian-refugee-relief.html
----------
US sanctions Syrians, firm facilitating ISIL oil sales
26 November 2015
The U.S. on Wednesday announced new sanctions on 10 Syrian individuals and entities, including what it called a middleman working to facilitate ISIL oil sales to the Syrian government.
The Treasury Department said Syrian businessman George Haswani has been facilitating oil purchases for Damascus through the HESCO Engineering and Construction Company, which the department said he controls.
The company's website lists Michael Heswani and Mounir Heswani as the oil firm's owners.
"HESCO is a Syrian engineering and construction company that operates energy production facilities in Syria, reportedly in areas controlled by ISIL," the department said in a statement.
The EU previously sanctioned George Heswani in March. He and HESCO were sanctioned by the Treasury Department Wednesday.
The department also imposed economic penalties on three individuals and five entities in response to the Syrian government's violence against its citizens.
They include Mudalal Khuri, who "has had a long association with the Assad regime and represents regime business and financial interests in Russia," and Kirsan Ilyumzhinov, a Russian businessman and former president of the World Chess Federation who works with Khuri.
Full report at:
http://www.worldbulletin.net/america-canada/166734/us-sanctions-syrians-firm-facilitating-isil-oil-sales
----------
West creats terrorism to topple anti-imperialist gov'ts: Morales
Nov 26, 2015
Bolivian President Evo Morales says the Western powers create terrorism in an attempt to unseat governments which are against imperialism, warning, however, that such a policy would backfire.
Morales made the remarks in an interview with Iran's Spanish-language television channel Hispan TV in the Iranian capital city of Tehran.
The Bolivian leader said the Western states create terror threats and provide financial support to terrorists, who serve as their proxies, in a bid to depose anti-imperialism heads of state and governments.
Touching on the recent deadly terror attacks in the French capital city of Paris, he said the United States fuels such terror activities with the aim of "inflicting damage on human life."
On November 13, assailants struck at least six different venues in and around Paris, leaving 130 people dead and over 350 others wounded. In a statement the day after, the Takfiri Daesh terrorist group claimed responsibility for the fatal assaults.
The Bolivian president further noted that some Western states resort to military intervention whenever they face economic woes, citing the developments in Libya as an example.
Countries are capable of resolving their problems and there is no need for foreign intervention like what the North America is doing, he added.
Commenting on Bolivia's relations with Iran, Morales said he chose to improve relations with the Islamic republic when he was elected president despite Washington's pressure.
No one can determine with which countries we could or could not have relations, Morales further emphasized.
Full report at:
http://www.presstv.ir/Detail/2015/11/26/439290/Bolivia-Evo-Morales-Iran-US
----------
Pakistan
Mumtaz Qadri threatens to kill himself
November 27, 2015
RAWALPINDI: Mumtaz Qadri, the convicted killer of Salman Taseer, former governor of Punjab, has reportedly threatened to kill himself if he is not allowed to meet his family as per previous routine.
Qadri's death sentence was upheld by the Supreme Court and he was kept in Rawalpindi's Adiyala jail.
After the apex court's decision, the venue of his meeting with family was changed. He was allowed to see members of his family only though an 'iron fence', apparently because of security reasons and for being a dangerous prisoner.
According to a security official, Mumtaz Qadri, a former Elite Force commando and bodyguard of Salman Taseer, protested against the change and refused to follow the new rule. He threatened to commit suicide on Thursday and said the jail authorities would be responsible for his death.
Full report at:
http://www.dawn.com/news/1222596/mumtaz-qadri-threatens-to-kill-himself
----------
TTP man arrested for Mansehra polio team murders: CTD
ALI AKBAR
November 27, 2015
PESHAWAR: The Counter-Terrorism Department (CTD) Khyber Pakhtunkhwa (KP) on Friday announced the arrest of the suspected killer of three members of a polio team in Mansehra.
Two lady health workers and a police guard were shot dead in the mountainous Danna area of Man­sehra district in March 2015. The polio team had been vaccinating children on the second day of a three-day anti-polio drive in the district when they were attacked.
CTD officials claimed the arrest of Siraj alias 'Amir Sahab' on Friday from the village of Tanda in Mansehra.
The official said the accused had confessed to attacking the polio team in Mansehra along with his accomplice, Shahid Omer, during an initial interrogation with the CTD.
The 'militant' is suspected of affiliation with the Tehreek-i-Taliban Pakistan (TTP).
Polio workers have long been targeted due to rumours that the polio immunisation drive is a front for espionage or a conspiracy to sterilise Muslims. The rumours have made inhabitants of lesser-developed parts of the country more wary of allowing immunisation.
These claims were propagated by the TTP, who stepped up attacks targeting polio immunisation teams after Pakistani doctor Shakeel Afridi was recruited by the Central Intelligence Agency to set up a hepatitis immunisation drive as part of efforts to track down Al Qaeda chief Osama Bin Laden.
Earlier this week, the CTD KP in a summary report claimed it had arrested 567 militants during 876 targeted operations conducted in various parts of the province over the last 10 months.
Full report at:
http://www.dawn.com/news/1222656/ttp-man-arrested-for-mansehra-polio-team-murders-ctd
----------
Dr Soomro's assassins, accomplices will be exposed on 29th: JUI-F
November 27, 2015
LARKANA: Sindh Jamiat Ulema-i-Islam-Fazl (JUI-F) secretary general Maulana Rashid Mehmood Soomro has said he will disclose the names of facilitators, abettors and handlers of the assassins of his father and predecessor Dr Khalid Memdood Soomro at the Nov 29 Shaheed-i-Islam conference convened by the party at the Larkana municipal stadium.
Speaking at a press conference at Madressah Isha'atul Quran wal Hadees here on Thursday, Maulana Soomro, who was accompanying his brother and JUI-F Larkana district chief Maulana Nasir Soomro, said: "We in three consecutive meetings with PPP co-chairman Asif Ali Zardari conveyed to him the names of these suspects and he [Mr Zardari] promised to do something but without any practical step."
Maulana Soomro claimed that the very suspects were blocking the process of transferring the assassination case to a military court.
Quoting Federal Interior Minister Chaudhry Nisar Ali, he said the Sindh government was reluctant to refer the case to a military court.
"Now I am going to expose the assassins, their facilitators, abettors and handlers at the Nov 29 conference," he said, and warned that he and his party should not be held responsible for any situation arising out of the disclosing of the names "under compulsion".
"It is disgusting that out of seven witnesses not a single witness's statement has been completed in the case one year on. This speaks volumes of the pace of proceedings of the case," he said, adding that Mr Zardari, MNA Faryal Talpur and the Sindh government all had made commitment for a speedy investigation and trial of the case. He said the conference would be a major event where more than 3,000 JUI-F volunteers would help the law enforcement agencies in ensuring security during the proceedings. "It [the event] will be a surprise for the PPP," he said.
He said the conference would shed light on a personality [Dr Khalid Soomro] whose name was placed in top 500 Muslim influential figures of the world. The list was compiled by the Jordanian government, he said.
Maulana Soomro also announced his intention to contest against PPP chairman Bilawal Bhutto-Zardari for the NA-207 seat in the next general elections.
Grain market stays shut
The trade activities remained suspended at the main Anaj Mandi in Shahdadkot on Thursday over the issue of paddy procurement at the rate of Rs900 per 40 kilogram. Paddy growers and small khatidars have been demanding a reasonable rate to be fixed in the light of the Sindh High Court directives whereas the agriculture secretary has recently appeared in the case and informed that a summary of fixing procurement rate of paddy at Rs900 per 40 kilogram had been sent to the chief minister. The summary, according to him, will be signed within a fortnight.
Full report at:
http://www.dawn.com/news/1222605/dr-soomros-assassins-accomplices-will-be-exposed-on-29th-jui-f
----------
Christian TV office fire caused by arson attack, says owner
SAHER BALOCH
November 27, 2015
KARACHI: The owner of a web TV channel, whose office was damaged in a fire that broke out under 'mysterious' circumstances on Monday, believed it was an 'arson attack' and said on Thursday that he had been receiving threats for "the past six months".
Situated in a congested lane of a predominantly Christian neighbourhood in Akhter Colony's C-Sector, the web TV office is set up on the first floor of a four-storey building with a Catholic church, St Peter's Church, standing right across it.
Sarfaraz William, the web TV owner, was the first one to be informed by the Mehmoodabad police personnel when the fire broke out in its office between 2:30am and 3am on Monday.
Standing near a pile of burnt copies of the holy books in the three-room apartment, Mr William spoke about the threats he had been receiving since May.
Illuminated by one of the remaining studio lights, the owner explained the routine office work saying: "What we do over here is very simple. We hold Christian congregations and speak about God, followed by a sermon and the usual geet (songs). The sermon of the day is then uploaded on our website that reaches hundreds of other people. It was in May when we started receiving threats from some religious organisations to close down our office or to face consequences."
Threat, police complaint
The threat was followed by a complaint by the same organisation at the Mehmoodabad police station against "increasing tableegh by members of different religious groups". The police officers, according to Mr William, did not take any action but it "forced us to be cautious".
Working from the same neighbourhood for the past seven years, the office of Gawahi.tv is funded by the Gawahi Welfare Organisation, also owned by Mr William. Giving a tour of the three-room office, which was dark and filled with the smell of burnt plastic, Mr William pointed towards the missing database of the destroyed computers in the editing room.
Pointing to the walls which remained unharmed in the fire, he said that only some of the things caught fire "which makes me believe that it was a case of arson and not short-circuit as was previously mentioned in the fire department's initial inquiry report."
The fire brigade, which came to the rescue on a call of the Mehmoodabad police station at around 4am on Monday, in its initial inquiry reportedly stated that the fire was caused by 'a short-circuit'.
Full report at:
http://www.dawn.com/news/1222611/christian-tv-office-fire-caused-by-arson-attack-says-owner
----------
Dr Asim charged with aiding terrorists
November 27, 2015
KARACHI: An anti-terrorism court in Karachi remanded former federal minister Dr Asim Hussain to police custody for four days over his alleged involvement in facilitating terrorists at his private hospital. Sindh Higher Education Commission Chairman Dr Asim who has been in the custody of Rangers for three months was handed over to the police yesterday. Following the interrogation during the three-month detention, Sindh Rangers registered a case against Dr Asim at North Nazimabad police station.
Dr Asim served as federal minister for petroleum during the Pakistan Peoples Party government. Rangers arrested Dr Asim on August 26 under Section 11-EEEE of Anti-Terrorism Act, 1997, and conducted investigation during the three-month detention for his alleged involvement in facilitating the terrorists and corruption. The Rangers registered an FIR against Dr Asim for helping criminals and terrorists by providing them with medical facilities and sheltering them at his hospital in Karachi.
The FIR stated that Dr Asim facilitated criminals and terrorists belonging to banned organisations as well as the activists of Lyari gang war and political parties in his North Nazimabad and Clifton hospitals. Dr Asim was said to have also informed the probe team that he had committed the offence on the request of three leaders of a certain political party and also a leader of the ruling party in Sindh. Dr Asim was shifted to the district central police headquarters in the wee hours of Wednesday while heavy contingents of police and Rangers escorted him to the ATC in armed personnel carrier, where the judge allowed a four-day physical remand.
Full report at:
http://nation.com.pk/national/27-Nov-2015/dr-asim-charged-with-aiding-terrorists
----------
Uniform prayer timings issued
November 27, 2015
ISLAMABAD: The Ministry of Religious Affairs, in consultation with clerics from four mainstream Islamic sects, has issued uniform prayer timings for the whole year.
The summer timings calendar was released in May 2015, and with the addition of winter timings, the annual calendar for all five prayer timings was issued on Thursday.
Minister for Religious Affairs Sardar Mohammad Yousuf said that most mosques in Islamabad have been following the uniform timings for seven months.
"This is a success of the policy to develop coherence among all Muslims," he said.
The ministry had established a Nizam-e-Salat committee, comprising ulema from the Barelvi, Shia, Ahle Hadith and Deobandi sects and officials from the ministry.
He said the 'Nizam-e-Salat' had been implemented on a voluntary basis, and the model had been acknowledged by the city's residents.
Full report at:
http://www.dawn.com/news/1222624/uniform-prayer-timings-issued
----------
Risk management, SME financing top Islamic banks agendas: survey
November 27, 2015
Islamic banks around the globe view risk management, equity financing and deepening their client base as the most pressing issues facing the sector in coming years, a survey released on Friday showed.
The survey drew input from the heads of 83 Islamic finance institutions, the first comprehensive attempt to measure business sentiment in a growing-yet-diverse industry which holds around $2 trillion in assets globally.
The General Council for Islamic Banks and Financial Institutions (CIBAFI), a non-profit organisation headquartered in Manama, conducted the survey between April and June. Two-thirds of the respondents were full-fledged Islamic banks.
Commercial financing remains the top revenue driver, but financing to small and medium sized enterprises (SMEs) ranked second-highest, the survey showed.
SMEs are seen as leading revenue for Islamic banks in Asia, with trade finance ranking highest in sub-Saharan Africa.
In the Gulf region SMEs are also in focus, partly due to concerns about over concentration of business from large firms.
SME's could help expand the sector's customer base but they are also linked to its main challenges: strengthening risk management practices and a need to shift from debt-based to equity-based financing.
Islamic banks can struggle to manage certain risks, such as liquidity and default risks, because of the way they are designed, with elements of deposit-taking institutions, investment companies or collective investment schemes.
Optimism
The survey reflects the industry's core centres, with 39 respondents from the Middle East, 16 from Asia and 21 from Africa, yet the industry remains fragmented and there are few signs of this changing.
Full report at:
http://www.dawn.com/news/1222652/risk-management-sme-financing-top-islamic-banks-agendas-survey
----------
South Asia
Islamic State affiliate claims Bangladesh Shiite mosque attack
November 27, 2015
An Islamic State group affiliate in Bangladesh said Friday it was behind an attack on a Shiite mosque in the country's north that killed one man and wounded three others.
A statement posted on IS-affiliated Twitter accounts from Islamic State – Bangladesh said that the mosque was hit by a barrage of shots fired form machine guns.
At least five assailants fired on worshippers during evening prayers Thursday at the mosque in Haripur village in the Bogra district. A mosque official in his 70s who had been leading the prayers was killed.
Police on Friday detained two suspects for questioning, said local police official Arifur Rahman.
Full report at:
http://indianexpress.com/article/world/world-news/islamic-state-affiliate-claims-bangladesh-shiite-mosque-attack/
----------
Terrorism not the path for true Muslims
November 27, 2015
Noting that the path of terrorism and suicide bombing is not the right one for a true Muslim, Prime Minister Sheikh Hasina yesterday said some elements with a perverted mentality were engaged in such misdeeds.
"Terrorism and suicide [bombing] is not the path of a real Muslim... killing people inside a mosque is not the way of a genuine Muslim. Those who commit such crimes are of perverted mentality," she told a joint emergency meeting of the Awami League Parliamentary Board and the party's central working committee at the Gono Bhaban.
The PM called upon youths, students and general pious people to make all aware of such crimes so that nobody gets involved in such offences.
"If it happens, there'll be attacks on the Muslims and their lives would get tormented. So, all will have to stay alert about such offences," she said.
Hasina, also the AL president, said Ziaur Rahman and HM Ershad can no longer be called former presidents of Bangladesh as the country's apex court declared them illegal presidents.
"If Zia and Ershad are called former presidents, then it'll be a violation of the higher court's verdict," she noted.
Full report at:
http://www.thedailystar.net/frontpage/terrorism-not-the-path-true-muslims-178945
----------
Bangladesh Election Commission won't allow Jamaat to contest
November 27, 2015
The Election Commission has decided not to allow Jamaat-e-Islami to participate in the December 30 municipality polls as its registration with the EC was declared illegal by the High Court.
For the first time in the country's history, municipality polls will be held on partisan lines under the provisions of the newly enacted Local Government (Municipality) Amendment Act-2015.
The EC on Wednesday sent letters to all 40 registered political parties asking them to send returning officers the names of their authorised persons who would pick mayoral candidates.
But no letter was sent to Jamaat as the EC considered that the party was no longer registered with it.
"As the High Court declared Jamaat's registration illegal, we don't consider it as a registered political party," Sirazul Islam, secretary of EC Secretariat, told The Daily Star last evening.
The EC on November 14, 2008 had listed Jamaat as a registered political party. The HC on August 1, 2013 had declared the registration illegal as the party's charter contained provisions that contradicted the country's constitution and the Representation of the People's Order.
Sources at the EC said the commission didn't issue any circular or statement in this regard because an appeal against the HC verdict was pending with the Supreme Court.
Against such a backdrop, Jamaat's grassroots leaders are preparing to contest the December 30 polls as independent candidates.
Full report at:
http://www.thedailystar.net/frontpage/ec-wont-permit-jamaat-contest-178858
----------
4 ISIS terrorists arrested from capital Kabul
Nov 26 2015
At least four militants belonging to the Islamic State of Iraq and Syria (ISIS) terrorist group have been arrested from Paghman district of Kabul.
The Afghan Intelligence – National Directorate of Security (NDS) said the suspects were arrested during a special military operation conducted by intelligence operatives.
A statement by NDS said the detained militants have been identified as Nisar Ahmad, Nabullah, Obaidullah and Syed Sohail who were recruited by ISIS commander Rafiullah.
The statement further added that Rafiullah is leading a group of 20 militants in Achin district of eastern Nangarhar province.
NDS also added that the group was looking to assassinate police commander Sher Agha by detonating an Improvised Explosive Device (IED) planted under a culvert in Zarashkh area of Paghman.
The detained militants have confessed that they were affiliated with the ISIS terrorist group, NDS said.
Full report at:
http://www.khaama.com/4-isis-terrorists-arrested-from-capital-kabul-1740
----------
Foreigners restrict movements in Bangladesh after ISIS-claimed killings
By Annie Gowen
November 25
DHAKA, Bangladesh — Until a few weeks ago, Anne Merton, an Australian, traveled freely around her adopted country, taking a bicycle or rickshaw to work, where she runs a job service in Dhaka's slums.
But for Merton and many others, life in Bangladesh's crowded capital has changed significantly since a string of terrorist attacks this year, including shootings claimed by the Islamic State that left two foreigners dead and a third, an Italian missionary, seriously wounded.
Many have stopped walking or bicycling to work in favor of company cars. An international AIDS conference was postponed and other events canceled. Those that were held, such as this month's Dhaka Lit Fest, had heightened security. Aid organizations from Japan and Australia have begun quietly sending their workers and volunteers home.
Those who remain have been buying groceries online and going home before dark. The U.S. Embassy is no longer permitting its personnel and their families to be in most public places such as thoroughfares, sidewalks and large gatherings, including those held at international hotels.
"I'm trapped in my apartment," said Merton, 61. "I haven't felt safe."
She said the only places she can sit outside are the city's private clubs, where she socializes with other expatriates behind high walls with armed guards. She and her husband are considering leaving the country.
"It's changed my life," she said. "Turned it upside down, really. I don't know that I can return to what it was."
[Fears grow over killings claimed by Islamic State in Bangladesh]
In February, an Atlanta-based Bangladeshi American blogger named Avijit Roy was leaving a book fair in Dhaka with his wife when he was hacked to death by assailants wielding cleavers.
Police said the killers were Islamist fundamentalists who objected to Roy's secular writings on faith and culture. Since then, three other bloggers have been killed, as well as Roy's publisher, Faisal Arefin Dipan, who was slain in his office Oct. 31.
Fears that the security situation in Bangladesh is spiraling out of control intensified in recent days when the Islamic State asserted responsibility online for attacks on three foreigners, a Shiite religious procession and a police checkpoint.
An Italian aid worker was shot and killed Sept. 28 while jogging in the diplomatic enclave, and a Japanese agriculture worker was fatally shot Oct. 3 in a rural area. On Nov. 18, Piero Parolari, an Italian missionary, was shot and wounded in the northern district of Dinajpur. Other priests received death threats, and the Hindu leader of a religious forum was attacked by knife-wielding assailants Tuesday.
The Islamic State boasted of its alleged expansion into Bangladesh, which it calls "Bengal," in an article titled "The Revival of Jihad in Bengal" in its online English magazine, Dabiq, released last week.
"These blessed back-to-back attacks have caused havoc among the citizens of the crusader nations and their allies living in Bengal and forced their diplomats, tourists, and expats to limit their movements and live in a constant state of fear," the article said. It mocked the Bangladeshi government and called on all Muslims in the country to support the Islamic State's cause.
The government of Sheikh Hasina, the prime minister, has made an effort to play down the presence of the terrorist group in the country.
"We feel the Islamic State is not strong in Bangladesh," said Gowher Rizvi, an international affairs adviser to Hasina. "We have a very liberal Muslim society, and by and large, there is no extreme fundamentalism in this country. The idea that suddenly [the Islamic State] is active here has seemed remote."
He added, "We are, of course, alert to all possibilities, and we take any threat from terrorists very seriously."
Full report at:
https://www.washingtonpost.com/world/asia_pacific/foreigners-restrict-movements-in-bangladesh-after-isis-claims-killings/2015/11/25/3aa5d588-ab29-409e-a097-83c221419b34_story.html
----------
Afghanistan supports Russia's initiative in fight against terrorism: Muslimyar
Nov 26 2015
The Chairman of the Upper House of Parliament – Meshrano Jirga, Fazal Hadi Muslimyar said Wednesday that Afghanistan welcomes and supports the initiative by the Russian President Vladimir Putin to create an international coalition against terrorism.
In a plenary meeting at the Russian Federation Council Upper House of Parliament, Muslimyar said "We welcome and support the initiative of Russian President Vladimir Putin on a truly coordinated fight against terrorism and the creation of an international coalition against it."
Muslimyar further added that he was confident "only coordinated international efforts can save the world from the scourge of terrorism."
He also added that time has come for "all to agree on a common definition of terrorism and stop using terrorism as a means to achieve their strategic goals."
The remarks by Muslimyar comes as Russia's concerns are growing regarding the escalation of violence in Afghanistan by anti-government armed militant groups including the newly-emerged Islamic State of Iraq and Syria (ISIS) terrorist group.
According to the Russian intelligence estimates, some 3,500 militants loyal to the Islamic State of Iraq and Syria (ISIS) terrorist group are operating in Afghanistan.
Zamir Kabulov, President Putin's special representative for Afghanistan, said last month that "There are several camps operated by [Islamic State, previously ISIS/ISIL, in Afghanistan] that train people from Central Asia and some regions of Russia. They speak Russian there."
The United Nations released a report late in the month of September, warning that the terror group is making inroads in Afghanistan with the number of sympathizers and followers growing across the country.
Full report at:
http://www.khaama.com/afghanistan-supports-russias-initiative-in-fight-against-terrorism-muslimyar-1741
----------
Ghani assigns delegation to investigate alleged support by govt to ISIS
Nov 26 2015
President Mohammad Ashraf Ghani has assigned a delegation of high level government officials to launch an investigation regarding the alleged support the Islamic State of Iraq and Syria (ISIS) loyalists receive from the government.
A statement by ARG Presidential Palace said the delegation was assigned after deputy house speaker Mohammad Zahi Qadir claimed that the loyalists of the terror group are supported by the government.
The statement further added that the decree regarding the assignment of a delegation to investigate claims by deputy house speaker was taken considering the sensitivity of the claim and the negative impact it could create on public opinion.
Such claims could also have adverse effect on security forces by weakening their morale besides jeopardizing the national form of the country in national and global fight against terrorism, the statement said.
President Ghani has also urged the delegation to respect freedom of speech and immunity the deputy house speaker has while investigating his claims and documents.
The delegation include, Nasrullah Stanikzai, head of the advisory delegation in judiciary and legal affairs; Abdul Fatah Azizi, deputy military chief of the Afghanistan Attorney General Office and Mir Mohammad Anwar Sadat, director general handing government cases.
In his decree, President Ghani also instructed the delegation to investigate regarding the illegal recruitment and arming of irresponsible individuals as militia forces.
The deputy house speaker claimed that the ISIS leaders and commanders are living in Kabul, visit foreign embassies and security institutions.
Full report at:
http://www.khaama.com/ghani-assigns-delegation-to-investigate-alleged-support-by-govt-to-isis-1743
----------
5 Afghan refugees killed in Syria conflict were buried in Iran
Nov 27 2015
At least five Afghan refugees who were killed during the Syrian war have been buried in Iran, it has been reported. (File Photo of a funeral ceremony of Afghans killed in Syria)
The refugees were between 19 to 21-year-old and were part of Fatemyun division comprised of Afghan refugees and has been formed by Iran to fight in support of the Syrian President Bashar al-Assad.
The victims were living in Iran and were buried in Tehran – the capital city of Iran and Damavand, according to a report by Radio Farda which is a part of Radio Free Europe operation from Iran.
This comes as reports emerged late in August this year 3,500 Afghans are fighting in Syria in support of Bashar al-Assad.
The reports further added that Afghan nationals are lured by the month salary of $700 and Iranian residency permit.
The Afghan militants are fighting on both sides of the Syrian war, in support of the Syria Bashar al-Assad and the Islamic State of Iraq and Syria (ISIS) militants, with estimates earlier this year showing some 3,000 Afghan nationals have been deployed to take part in the ongoing conflict.
Full report at:
http://www.khaama.com/5-afghan-refugees-killed-in-syria-conflict-were-buried-in-iran-1744
----------
BD police kill chief suspect in shrine blast
November 27, 2015
DHAKA: Bangladesh police shot and killed a top militant who was the main suspect behind deadly bomb blasts at a Shia shrine during late-night raids, officers said on Thursday.
Five militants from banned local Islamist outfit Jamayetul Mujahideen Bangladesh (JMB) were also arrested during the raids carried out by police in Dhaka late on Wednesday.
Police accused the slain militant, a JMB commander who went by multiple aliases including "Albany", of hurling grenades into the capital's main Shia shrine which was packed with worshippers last month, killing two and injuring dozens.
The raids came as tensions ran high in Bangladesh following a spate of targeted killings and fears of mounting Islamist violence in the conservative country of 160 million.
"Albany was injured in an encounter with police on Wednesday night. Later he was brought to Dhaka Medical College Hospital where a duty doctor declared him dead," Dhaka police spokesman Monirul Islam said at a briefing.
Full report at:
http://www.dawn.com/news/1222502/bd-police-kill-chief-suspect-in-shrine-blast
----------
Ghani sacks security officials over fall of Kunduz
November 27, 2015
KUNDUZ : Afghan President Ashraf Ghani on Thursday dismissed national security agency officials who he said had neglected their duty to defend the northern city of Kunduz, which Taliban militants briefly captured in September.
The Taliban's seizure of the city was a major setback for the government, and prompted Washington to prolong the 14-year-old US military engagement in Afghanistan.
Government forces wrested back control of the city after days of fighting in which a US air strike destroyed a hospital run by the Medecins Sans Frontieres (MSF) aid group, killing 30 people.
"There was a lack of unified command, and even though there were many Afghan troops in Kunduz, we failed," Ghani said in a speech in Kunduz, an important trade gateway to Central Asia.
Ghani said the National Directorate of Security (NDS), the intelligence agency, had not been successful.
The agency's provincial chief was among those dismissed, Ghani's office said.
"I have issued an order to dismiss all NDS personnel who neglected their duties," he said to cheers from the crowd.
He did not specify how many officials would be removed, but said some would be prosecuted under the military code and some dismissed.
Meanwhile, pressure was growing Thursday for an international inquiry into a catastrophic US strike on an MSF hospital in Afghanistan, after the military detailed "tragic but avoidable" errors but refused to say if there would be an independent investigation.
Doctors Without Borders (MSF) slammed American forces for "gross negligence" Wednesday after the US commander in Afghanistan said the October 3 strike on the charity-run hospital in the northern city of Kunduz was "caused primarily by human error".
The raid killed 30 people and forced the charity to close the trauma centre - the only one in the region - while stirring an avalanche of global condemnation.
General John Campbell, speaking at NATO headquarters in Kabul Wednesday, blamed in part the fatigue of US troops who had been battling a Taliban offensive in Kunduz for five days, adding that the mistake was "compounded by process and equipment failures". The general said during Wednesday's press conference that individuals involved in the attack had been suspended pending "standard military justice", but refused to give details.
"The frightening catalogue of errors outlined today illustrates gross negligence on the part of US forces and violations of the rules of war," MSF general director Christopher Stokes said.
Human Rights Watch demanded an independent investigation, saying "serious questions" remained about "whether the attackers knowingly or recklessly fired on a functioning hospital".
The rights group added: "This warrants a criminal investigation into possible war crimes, but the Pentagon did not clarify today whether recommendations made to senior commanders include possible criminal charges.
"Moreover, we are deeply concerned that any decision making about possible criminal charges remains within the chain of command responsibility for military operations in Afghanistan.
"
Campbell's spokesman Wilson Shoffner refused to say if the US probe would be followed by an independent international investigation.
"We believe the investigation completed was full and impartial, and we stand by the findings and recommendations, and we support the process by which it was conducted," he said.
Stokes reiterated the charity's position, saying the investigation leaves "more questions than answers" and the attack "cannot only be dismissed as individual human error or breaches of the US rules of engagement".
MSF has called for the International Humanitarian Fact-Finding Commission (IHFFC) - an independent body created under international law but which has never been used - to investigate the attack.
However, it would need permission from the US and Afghanistan to proceed, and neither country has so far agreed.
In the aftermath of the strike last month MSF branded the incident a war crime.
Campbell said Wednesday Afghan forces had requested close air support from the US for a clearing operation that night, including on a former Afghan intelligence building they believed had been commandeered by Taliban forces.
From that point on he said, "multiple errors occurred".
The AC-130 gunship crew took off early, he said, and did not have time for a normal mission brief or to be given crucial material "including the no-strike designations".
Then, he said, the electronic systems on board the aircraft malfunctioned, "preventing the operation of essential command and control capability and eliminating the ability of the aircraft to transmit video, send/receive email, or send/receive electronic messages".
Next, Campbell said the crew "believed it was targeted by a missile", forcing the plane to deviate from its "normal orbit" which then degraded the accuracy of some of its targeting systems.
Full report at:
http://nation.com.pk/international/27-Nov-2015/ghani-sacks-security-officials-over-fall-of-kunduz
----------
President Ghani sacks Kunduz intelligence chief with some other officials
Nov 26 2015
President Mohammad Ashraf Ghani has dismissed the provincial Intelligence – National Directorate of Security (NDS) Chief along with a number of other high level government officials.
President Ghani arrived in Kunduz this morning on a second visit within the past one month to hold talks with the government officials and local residents.
The provincial NDS chief has been dismissed apparently due to negligence and being absent from the duty on the day the city fell to the Taliban control.
A number of district governors and other high level government officials have also been dismissed by the president.
The Taliban militants launched coordinated attack on Kunduz city late in the month of September and took control of the city after a day of heavy clash with the security forces.
The control of the strategic city was retaken by the Afghan security forces earlier last month with the support of the coalition airstrikes.
The Afghanistan Independent Human Rights Commission (AIHRC) released a report last month unveiling the horrific criminal activities committed by Taliban militants while they were holding the control of Kunduz city.
Full report at:
http://www.khaama.com/president-ghani-sacks-kunduz-intelligence-chief-with-some-other-officials-1742
----------
Mideast
Russian Warplanes Target Turkish Weapons Convoy in Syria
Nov 26, 2015
The airstrikes hit the trucks which were carrying weapons from Turkey to the Takfiri terrorists fighting in Syria near Azaz town in Aleppo on Wednesday.
Also on Wednesday, the Syrian and Russian warplanes intensified their air raids on positions of the Takfiri terrorists across Aleppo province.
The Russian and Syrian airstrikes hit the Takfiri militants' positions in the Southern countryside of Aleppo, the Arabic-language al-Mayadeen television said.
There were no immediate reports of possible casualties among the terrorists.
Earlier on Wednesday, sources said the Syrian Army and its allies have significantly advanced against the ISIL militants in the Eastern part of Aleppo province and have won back the important Humaymah hilltop.
The sources said that the Syria army, the country's National Defense Forces (NDF) and the Lebanese Hezbollah fighters continued their joint anti-terrorism operation near the town of Humaymah al-Kabeera, and seized control over the strategic Tal Humaymah after fierce clashes with the Takfiri terrorists.
Full report at:
http://en.farsnews.com/newstext.aspx?nn=13940905000392
----------
Israel to build new fence; two Palestinians shot dead
November 27, 2015
JERUSALEM: Two Palestinians were shot and killed in separate incidents on Thursday in the West Bank as Israel announced plans to build a new fence near the flashpoint city of Hebron in an effort to contain a two-month spate of violence.
In the first incident, the Israeli military said "a violent riot erupted" when troops raided the village of Qattana overnight to search for ammunition and arrest suspected assailants. The Palestinians hurled firebombs and stones at troops, according to the army.
Troops shot 21-year-old Yehya Taha in the head, according to Palestinian health ministry spokesman Mohammed Awawdeh, and the youth later died of his wounds in a Ramallah hospital.
Later on Thursday, Israeli border guards shot and killed a Palestinian attacker wielding a knife near the West Bank city of Nablus. Police spokeswoman Luba Samri said the man got out of a taxi near a military post and began running toward officers, brandishing a knife. No Israelis were hurt in that attack, Samri added.
The Palestinian health ministry identified the assailant as 51-year-old Samir Seresi. The two deaths were the latest in a two-month wave of violence. Since mid-September, 19 Israelis have died in Palestinian attacks, mostly stabbings and shootings. At least 93 Palestinians have also died, including 58 said by Israel to be attackers. The others died in clashes with Israeli forces.
In an effort to quell the violence, Defence Minister Moshe Yaalon announced on Wednesday that Israel will build a fortified fence near Hebron, a southern West Bank city that has been a flashpoint in the current unrest.
He said the fence would fill in a gap in the barrier Israel began building in the early 2000s in response to Palestinian attacks. Yaalon told lawmakers that construction of the fence will take a year.
Full report at:
http://www.dawn.com/news/1222500/israel-to-build-new-fence-two-palestinians-shot-dead
----------
Syrian Military Analyst: US Coaxing Turkey into Conflict to Assess Russia's Missile Power
Nov 26, 2015
"Turkey will never start a new adventure and confrontation against Russia's air defense systems even if the US persuades Ankara to do so since the Americans seek to assess the efficiency of the Russian defense systems," Issa al-Zahir told FNA on Thursday. He, meantime, underlined that Russia also doesn't intend to challenge Turkey but it wants to seal Syrian-Turkish borders as the first goal to purge the terrorists from Syria.
His remarks came after a Russian Sukhoi-24 was shot down by Turkey over Syria on Tuesday. The two pilots were able to eject from the plane. One of them is said to have been killed by the militants who sprayed bullets at the two pilots after they ejected. The other pilot who was held captive by the terrorists was freed by the Syrian commandos' special operations.
President Vladimir Putin warned on Tuesday that the tragedy with Russian Su-24 downed in Syria would have serious consequences for Moscow-Ankara relations.
The Russian president underscored that "either way, our pilots and our plane were not posing a threat to the Republic of Turkey".
"This tragic event will have serious consequences for Russian-Turkish relations. We have always regarded Turkey not only as a close neighbor, but also as a friendly state. I don't know who needed what was done today, but we didn't in any case," Putin said during a meeting with Jordanian King Abdullah II in Sochi.
Russia will analyze everything that happened with its crashed Su-24 military aircraft in Syria, Russian President Vladimir Putin said.
"We will, of course, carefully analyze everything that happened," Putin said at a meeting with Jordan's King Abdullah II.
"Instead of contacting us immediately Turkey addressed their NATO partners — as if it was us who downed their plane, not vice versa. Do they want to put NATO at the service of ISIL?" Putin said.
Full report at:
http://en.farsnews.com/newstext.aspx?nn=13940905000837
----------
Turkey's Erdogan says Russia should apologize after jet downing
26 November 2015
Russia should apologize for violating Turkey's airspace, Turkish President Tayyip Erdogan was quoted as saying on Thursday, days after a Russian jet was shot down near the Syria border.
"Those who violated our airspace are the ones who need to apologise," Erdogan was quoted as saying on the CNN website.
"Our pilots and our armed forces, they simply fulfilled their duties, which consisted of responding to ... violations of the rules of engagement. I think this is the essence."
Also on Thursday, Erdogan denied that Turkey bought any oil from the Islamic State of Iraq and Syria (ISIS) group, insisting his country's fight against the militants was "undisputed."
"Shame on you. Those who claim we buy oil from Daesh (ISIS) are obliged to prove it. If not, you are a slanderer," Erdogan said, lashing out at Russian charges after the downing of the warplane.
Tuesday's incident prompted a tough response from Moscow, a major trade partner and Turkey's second biggest energy supplier after Iran.
But Turkish Foreign Minister Mevlut Cavusoglu said Ankara did not need to apologise "on an occasion that we are right," adding that he had already said "sorry" in a phone call with Russian counterpart Sergei Lavrov.
Russian President Vladimir Putin has denounced the act as a "stab in the back" by "accomplices of terrorists."
But Erdogan denied Ankara was collaborating with ISIS.
"Our country's stance against Daesh has been clear since the very beginning," Erdogan said in a speech to local officials at his presidential palace in the Turkish capital.
"There is no question mark here. Nobody has the right to dispute our country's fight against Daesh or to incriminate us."
Turkey and Russia stand on opposing sides of the four-year Syrian conflict, with Ankara pushing for the ouster of President Bashar al-Assad by backing moderate opposition rebels.
Moscow is one of the few remaining allies of the Damascus regime.
Russia further enraged Turkey with the launch of its air campaign in Syria in September, accusing Moscow of focusing its fire on moderate rebels rather than ISIS militants.
"Those who carry out a military campaign with the pretext of fighting Daesh are targeting anti-regime opponents," Erdogan said.
"You say you are fighting Daesh. Excuse me, but you are not fighting Daesh. You are killing our Turkmen kinsmen hand-in-hand with the regime in order to clear areas north of Latakia," he said, referring to the Syrian port city.
ISIS extremists have severely damaged Islam and the Muslims, he said, but added there was no difference between "an organization's terror and state terror," referring to the Assad regime.
Erdogan called Russia a "strategic partner" which he said required solidarity rather threats. "We are saddened by this," he said.
"There is no reason for us to target Russia with which we have multi-faceted and very strong ties, without any border violation," he noted, saying that disagreements with Moscow over the Syrian crisis and Ankara's activating its military rules of engagement were two separate things.
Full report at:
http://english.alarabiya.net/en/News/middle-east/2015/11/26/Turkey-s-Erdogan-says-Russia-should-apologies-after-jet-downing.html
----------
Russian Pilot Rescued by Iran's General Soleimani
Nov 26, 2015
On Tuesday, a Russian Su-24 bomber jet crashed in Syria. Russian President Vladimir Putin said that the plane was downed by an air-to-air missile launched by a Turkish F-16 jet over Syrian territory, falling 4 kilometers (2.5 miles) from the Turkish border.
The crew of the plane ejected and one pilot was killed by fire from the ground, according to the Russian General Staff. The co-pilot Captain Konstantin Murahtin survived. But the story of how he survived in a land surrounded by various types of terrorist groups for tens of kilometers was unknown until today.
Emad Abshenas, a reporter for Russia's state-run Sputnik news agency, wrote a piece in the Persian-language website of the Russian agency quoting the entire story from a senior Syrian officer.
"I contacted one of the Syrian officers who is my old friend and is stationed in Lattakia and asked him to tell me the story, and here is what he said," Abshenas mentioned.
After the downing of the Russian fighter jet, the Russian helicopters took off immediately to save the pilot but they faced the heavy fire power of FSA (or the so-called moderate opposition, the Free Syrian Army, supported by the West) and the Turkey-back Turkmens who targeted the helicopter with missiles and advanced weapons that they have gained recently. During the operations one Russian aid worker was killed.
Credible information was obtained that a number of special Turkish units had been sent to the scene to take the Russian pilot captive to blackmail Russia later. While the Russians were planning for another operations to free the pilot immediately, General Soleimani contacted them and proposed them that a special task force unit be formed of Hezbollah's special forces and Syrian commandos who have been trained by Iran and are fully familiar with the geographical situation of the region to be tasked with the ground operations and Russia provide them with air cover and satellite intelligence.
Soleimani promised them to return the Russian pilot safe and sound; a promise that was kept in the end, according to the Syrian officer.
After tracing the place of the Russian pilot using his GPS, it was revealed that the pilot was being kept in a place 6km behind the frontline of the clashes between the Syrian army and the opposition.
Six fighters of Hezbollah's special operation unit and 18 Syrian commandos approached the frontline to carry out the operations and the Russian air force and helicopters concurrently created hellfire in the region and destroyed the terrorists' headquarters in a way that most of the enemy forces deployed in the region fled the scene and the ground was paved for the special unit's advance.
The Syrian officer added that every move of the special units was monitored and covered precisely by the Russian satellites in a way that the slightest moves made 100 meters away from the area of operation was reported to them and every moment of the operation was reported to a very high-raking official in the Kremlin (that he thinks was president Putin) and it was clear that he was monitoring the entire operations through satellites from Moscow.
According to the officer who called for anonymity, the operation later turned into a hunt of the terrorists in the operation zone by the Russian air force from the sky and by Brigadier General Soleimani's operations units on the ground.
The Syrian officer believed that the Russians also launched strong electronic warfare immediately to blind all enemies' satellites and communication equipment in areas several kilometers away from the operational zone and when the enemies came to realize something was underway, the operations had ended. The electronic warfare was launched since the Russians were concerned that the western satellites would leak the operation to the terrorists.
Finally, the special unit saved the pilot after infiltrating 6km behind the enemy lines, killing the terrorists operating in there and destroying their hi-tech equipment.
The interesting point is that all the 24 members of the special units along with the pilot returned to their base without even one injury after fulfilling the dangerous mission.
According to the senior Syrian officer, one of the reasons for the success of these operations was the difference between Turkey and the terrorists over the fate of the Russian pilot as the Turks wanted him alive to use him for political blackmailing against the Russia. While the terrorists stationed in the region intended to burn him alive like what did to the Jordanian pilot to fill the hearts of other Russian pilots with fright. And this rift paved the ground for rescue operations some golden hours. Since the opposition never imagined that such a rapid planning and action by the rescue squads would be possible, given the complicated nature of such operations.
Full report at:
http://en.farsnews.com/newstext.aspx?nn=13940905000553
----------
Palestinian hits Israeli soldiers with car in West Bank, shot dead: police
November 27, 2015
JERUSALEM: A Palestinian rammed his car into Israeli soldiers at a bus station in the occupied West Bank Friday before being shot dead, police said.
"A Palestinian car hit two Israelis standing by a bus station near Kfar Adumim. The terrorist was neutralised," police said. They later confirmed the suspect had died and the army said the two Israelis were soldiers.
Israel's Magen David Adom emergency medical service said the two soldiers were taken to hospital in Jerusalem conscious and with light to moderate wounds.
A senior police officer said the Palestinian exited his car and started to run after hitting the soldiers, before he was shot dead by a civilian.
Kfar Adumim is an Israeli settlement northeast of Jerusalem.
Police identified the Palestinian as Fadi Hassib, from Ramallah, whose brother was shot dead on Sunday after ramming his car into Israelis before charging at them with a knife.
Friday's incident raises the number of Palestinians killed since October 1 to 98, including an Israeli Arab.
Full report at:
http://www.dawn.com/news/1222662/palestinian-hits-israeli-soldiers-with-car-in-west-bank-shot-dead-police
----------
IRGC Quds Force Advisor: Iran Has 14 Underground Missile Depots, Automatic Launchers
Nov 26, 2015
"The Islamic Republic of Iran has 14 underground depots in the depth of 30m to 500m," Brigadier-General Karimpour said on Wednesday.
He warned that any country that dares to attack Iran will be riddled with missiles fired from these depots in large numbers automatically.
His remarks came after Iran's recent unveiling of a deep underground tunnel facility packed with missiles and launcher units a few days after the country tested a new long-range missile.
After unveiling the underground depot for the first time, Lieutenant Commander of the Islamic Revolution Guards Corps (IRGC) Brigadier General Hossein Salami said, "That was one of our oldest stockpiles and we haven't yet shown our modern missile depots, where missiles with big cross sections have been stockpiled."
On October 11, Iran successfully test-fired the country's new precision-guided long-range ballistic missile that can be controlled until the moment of impact. Emad carries a conventional warhead.
"This missile (Emad) which has been fully designed and made by Iranian Defense Ministry's scientists and experts is the country' first long-range missile with navigation and strike controlling capability; it is capable of hitting and destroying the targets with high-precision," Iranian Defense Minister Brigadier General Hossein Dehqan told reporters after the successful test of Emad missile.
The Iranian Defense Minister reiterated that the manufacture and successful testing of Emad missile is a technological and operational jump in a strategic field, and said, "We don't ask for anyone's permission for boosting our defense and missile power; we resolutely continue our defense programs, specially in the missile field, and Emad missile is a conspicuous example."
General Dehqan felicitated Supreme Leader of the Islamic Revolution Ayatollah Seyed Ali Khamenei, Iranian Armed Forces and the Iranian nation on the successful testing, and appreciated the scientists and experts of the Aerospace Industries Organization of the Defense Ministry.
Full report at:
http://en.farsnews.com/newstext.aspx?nn=13940905000454
----------
Iran criticizes Europe front-line states for refugee mistreatment
Nov 26, 2015
An Iranian official has criticized some European governments for their inappropriate treatment of refugees at their borders, saying the front-line states are required to respect the refugees' rights.
An Iranian Foreign Ministry official said on Thursday that some officers at European borders have meted out "inappropriate treatment" to refugees and asylum seekers.
"Some European border guards' inappropriate treatment of refugees and asylum seekers seeking entry into these countries does not comply with the recognized principles of refugees' rights and human rights," the unnamed official said.
The diplomat said Iran has been providing sanctuary to refugees from regional countries for more than three decades and has spared them no aid despite the tough conditions of the 1980-1988 Iraqi imposed war and unjust international sanctions slapped on the Islamic Republic.
Full report at:
http://www.presstv.ir/Detail/2015/11/26/439276/Iran-Europe-Greece-Macedonia
----------
Africa
Niger: Boko Haram Attacks In South-East Kill 18 And Injure 11
BY MISNA
NOVEMBER 27, 2015
Eighteen people were killed and 11 injured in an attack attributed to the Nigerian Boko Haram group in Wogom, near Bosso, in south-east Niger. According to the mayor, the militants torched hundreds of homes.
The attack was carried out Wednesday night by an armed commando that crossed the Yobe River, which marks the border with Nigeria. Boko Haram actions are frequent in this area: based on UN estimates, since February 6 the group carried out over fifty attacks.
Full report at:
http://www.eurasiareview.com/27112015-niger-boko-haram-attacks-in-south-east-kills-18-and-injures-11/
----------
Algeria jails former counter-terror chief for 5 years
27 November 2015
Algeria's former counterterrorism chief has been sentenced to five years in prison for destroying documents and disobeying military orders, his lawyer said.
Abdelkader Ait-Ouarabi, better known as General Hassan, was tried behind closed doors in a military court in second city Oran in the country's first ever prosecution of a high-ranking secret service officer.
Lawyer Khaled Bourayou described the sentence as "retribution", saying his client had "not benefited from extenuating circumstances such as his age, his health and his contribution to the anti-terrorist battle."
Journalists had not been allowed to attend the hearing, even before the judges ordered it held behind closed doors.
For two decades, General Hassan had embodied the army's fight against Islamist groups.
He was forcibly retired on the orders of a military judge at the end of 2013 and placed under surveillance, then arrested in August.
Analysts interpreted his removal as President Abdelaziz Bouteflika consolidating his hold over the intelligence services, which some considered a "parallel state" within Algeria.
In September, the president also replaced General Mohamed Mediene - better known as General Toufik - after 25 years at the head of the powerful DRS intelligence agency.
In a statement published in Algerian newspapers on Thursday, General Hassan's lawyers said that he was "a collateral victim of the ferocious clan war being waged at the highest level of politics."
Full report at:
http://english.alarabiya.net/en/News/middle-east/2015/11/27/Algeria-s-former-counter-terror-chief-gets-5-years-in-jail.html
----------
Tunisia closes border with Libya
26 November 2015
Tunisia said Wednesday it is closing its border with Libya, a hotbed of violent unrest, a day after a deadly suicide bombing claimed by the ISIL group.
No reason was given, but the interior ministry said earlier the explosive used in the attack that killed 12 presidential guards was the same used to make suicide belts illegally brought from Libya and seized last year.
The National Security Council, headed by President Beji Caid Essebsi, decided to close the frontier from midnight with "reinforced surveillance of maritime borders and in airports", a statement said.
It also decided to "step up operations to block (Internet) sites linked to terrorism".
And authorities would "take urgent measures regarding people returning from hotbeds of conflict, in line with the antiterrorist law," the statement added, without elaborating.
Earlier, the transport ministry said security would be reinforced at ports and only passengers would be allowed to enter Tunis's international airport.
The council also announced the government would recruit more security forces.
Thousands of Tunisians have travelled to Libya, as well as to Iraq and Syria, to fight alongside extremists, the authorities say.
Tunisia's oil-rich neighbour has been riven by chaos and warfare since the 2011 ouster of longtime dictator Moamer Kadhafi, opening the way for ISIL to gain a foothold there.
ISIL said a Tunisian, Abou Abdallah al-Tounissi, had boarded a bus wearing an explosives belt only a few hundred metres (yards) from the interior ministry as it picked up guards on their way to work Tuesday.
Full report at:
http://www.worldbulletin.net/africa/166726/tunisia-closes-border-with-libya
----------
Tunisia detains 30, identifies bomber after attack
27 November 2015
Tunisian authorities have detained 30 people suspected of having extremism links after a suicide bombing targeting presidential guards, and identified the bomber as a local street vendor.
The Interior Ministry said in a statement on Thursday that forensic police identified the attacker as 27-year-old Houssam ben Hedi ben Miled Abdelli by his DNA. It said he was from a working class neighborhood on the edge of Tunis.
ISIS claimed responsibility for Tuesday's attack on a bus in central Tunis, which left 12 dead plus the attacker.
Full report at:
http://english.alarabiya.net/en/News/middle-east/2015/11/27/Tunisia-detains-30-identifies-bomber-after-attack.html
----------
Mali says it arrests two suspects linked to Bamako hotel attack
26 November 2015
Mali authorities arrested two people on Thursday suspected of links to an attack on a luxury hotel in the capital that killed 20 people, the security ministry said.
At least two armed men launched a dawn raid on the Radisson Blu hotel in Bamako on Friday last week, killing six Russians, Three Chinese and an American among others, in the worst militant strike on the West African country in years.
The siege ended hours later when Malian commandos stormed the hotel and freed 170 hostages. Two attackers were killed.
"There are two suspects arrested," said Amadou Sangho, a spokesman for the ministry, without naming them.
Three Islamist militant groups - al Qaeda in the Islamic Maghreb (AQMI), its splinter group al Mourabitoun and Massina Liberation Front (MLF) - have claimed the strike. Security analysts say they could be collaborating.
A source close to the investigation said the suspects had been brought in for interrogation, based on information found in one of the attacker's mobile phones.
One of them had been regularly in touch with one of the gunmen since August while another sent telephone credit to an attacker, he said.
"It's only after questioning that we will find out if the second suspect sells phone credit or is an accomplice," said the source, requesting anonymity.
The attack comes amid deteriorating security in the country just two years after a French-led military operation to scatter Islamist militants who briefly occupied the desert north.
French troops and a 10,000-strong U.N. peacekeeping force (MINUSMA) are struggling to stabilise the former French colony and strikes on both Malian and Western targets have spread further south and far beyond traditional militant strongholds.
Full report at:
http://english.alarabiya.net/en/News/africa/2015/11/27/Mali-says-arrests-two-suspects-linked-to-Bamako-hotel-attack.html
----------
Pope urges religious tolerance during Kenya visit
26 November 2015
Pope Francis has urged Kenyans to respect all religions, reminding them that they all serve a god of peace.
In remarks made to religious leaders in the Kenyan capital Nairobi as part of his five-day trip to Africa, the pontiff highlighted the need for inter-religious understanding, friendship and collaboration in defending the dignity of individuals and peoples, and their right to live in freedom and happiness.
He urged religious leaders to respect their neighbor's religions as they play a vital role in forming consciences and instill the youth with profound spiritual values.
"Here, I think of the importance of our common conviction that the god whom we seek to serve is a god of peace. His holy name must never be used to justify hatred and violence," Pope Francis said, adding that the recent attacks on Westgate mall, Garissa University and Mandera in Kenya were still fresh in every Kenyan's life.
He urged all Kenyans to treat each other as brothers and sisters irrespective of their religious beliefs.
The pontiff noted that during his trips to foreign countries, it was vital for him to meet with leaders from different religions to preach on peaceful coexistence.
"It is my hope that our time together may be a sign of the church's esteem for the followers of all religions; may it strengthen the bonds of friendship which we already enjoy," Pope Francis said.
Full report at:
http://www.worldbulletin.net/africa/166755/nigeria-told-boko-haram-conflict-deadline-unrealistic
----------
Nigeria told Boko Haram conflict deadline 'unrealistic'
26 November 2015
Senior military, security and intelligence figures in Nigeria on Thursday questioned President Muhammadu Buhari's December deadline for an end to the Boko Haram conflict, calling it "unrealistic".
The Centre for Crisis Communication, a research and advisory body independent of government, said the deadline was "not tenable" given the continued wave of bombings in the northeast.
Buhari, who came to power in May, has made crushing the six-year rebellion a priority and in August gave his military commanders until the year-end to defeat the extremists.
But the CCC executive secretary, retired Air Commodore Yusuf Anas, told reporters in Abuja there was a real concern about Boko Haram's persistent targeting of civilian "soft targets".
Anas said he was not against imposing targets on the military but added: "It must also be stated that this target date might be unrealistic.
"This submission is predicated on the fact that asymmetric warfare which Boko Haram is prosecuting against Nigeria is not such that can be easily stamped out by the armed forces."
The Boko Haram insurgency, which has been raging for six years and has left at least 17,000 dead, has previously seen a succession of declarations predicting an end to the violence.
In March this year, the government under Buhari's predecessor Goodluck Jonathan said it had begun the "final onslaught" against the ISIL group affiliate.
Full report at:
http://www.worldbulletin.net/africa/166756/nigeria-told-boko-haram-conflict-deadline-unrealistic
URL: https://www.newageislam.com/islamic-world-news/new-age-islam-news-burea/grand-mufti-protecting-nation-islamic-duty-citizens/d/105441
New Age Islam, Middle East, ISIL, ISIS, Syria, Iraq, Islamic World News, African Muslim News, Arab World News, South Asia News, Indian Muslim News, World Muslim News, Islamic Website, Online Islam