New Age Islam News Bureau
14 Feb 2016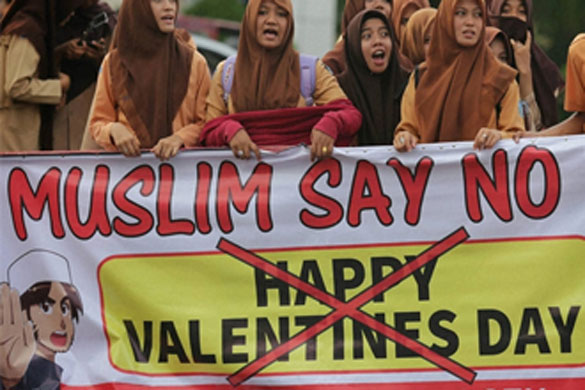 Dozens of students staged the protest calling on Muslims to avoid the celebration of the western holiday, saying that it's against Islamic teachings and could lead to forbidden sexual relations. (Source: AP/PTI photo)
---------
India
• 'LeT Expected Only Cosmetic Pak Action after 26/11 Strike': Headley
• BJP to Pakistan: Check jihadis or will push for terror state tag
• 5 jihadis, 2 jawans killed in J&K operation
---------
Southeast Asia
• Malaysia Checking Syrian Refugees for Daesh Links
• Indonesian Officials, Clerics Ban Valentine's Day Observance
• Indonesia Wants To Banish 'Gay' Emoji
---------
Pakistan
• Security Forces Kill 10 Suspected Militants in Pakistan
• Clause in draft Hindu marriage bill creates controversy
• Dentist with links to Al Qaeda, Safoora attackers arrested in Karachi: police
---------
South Asia
• Taliban Confirm Losing 13 Fighters in Paktika Drone Strikes
• Five Security Personnel Martyred In Helmand Suicide Attack
• "The Afghan Civilian Casualties Hit a Record 11,000 in 2015
• Foreign Ministry summons Pakistani Ambassador over Wahidi's abduction
• US general optimistic about peace in Afghanistan
• 2015 had highest number of civilian casualties in seven years, UN report shows
---------
Arab World
• Terrorists' Plans for Alliance against Syrian Army in Northern Aleppo Fail
• Syrian Army Eliminates Several Nusra Top Militants in Dara'a
• Syrian Army Continues to Crush ISIL in Deir Ezzur
• Militants Suffer Major Casualties in Syrian Soldiers' Offensive in Sweida
• Syrian rebels say they received ground-to-ground missiles from Assad foes
• Saudi Arabia confirms will send deployment to Turkey base
• Peace hopes fade as Syrian army tightens grip on Aleppo
• Yemeni Missiles Hit Saudi Airport, Military Base in Asir province
• Syria's Kurdish Fighters at Entrance to Strategic Town in Aleppo
• Syria: Militants' Fleeing Trend to Turkey Intensifies as Gov't Forces Advance in Lattakia
• Terrorist Group Admits Losing Elite Members in Aleppo
• Gov't Forces Advancing in Syria's Lattakia with Russian Air Back up
---------
Africa
• Shebab Claims Bomb Attack on Somali Plane
------------
Mideast
• Saudi Arabia Confirms It Sent Aircraft to Turkey for ISIL Fight
• Speaker: Iran Supports Palestinian Intifada against Israel
• Turkish army shells YPG positions in Syria for second day
• Turkey at odds with Russia and now the US on Syria
• Turkey, Saudi could launch anti-IS ground operation in Syria: Ankara
• Two Palestinian teenagers shot dead after alleged attack
• Iranian Commander Warns S. Arabia, Allies against Syria Troop Deployment
• Turkey sends aid ship to Yemen
---------
Europe
• Russia Casts Doubt on Syria Ceasefire Deal as Assad's Forces Gain Ground
• Putin, Obama Discuss Syria on Phone
---------
North America
• 'America to Zanzibar' Exhibit Brings Muslim Cultures to New York City
Compiled by New Age Islam Edit Bureau
URL: https://www.newageislam.com/islamic-world-news/new-age-islam-edit-bureau/youths-from-up-formed-al-qaeda-in-india's-nucleus/d/106342
---------
India
Youths from U.P. Formed Al-Qaeda in India's Nucleus
By Devesh K. Pandey
In Uttar Pradesh's Sambhal region known for producing menthol that could relieve minor irritations, a semi-urban cluster is struggling to find a cure for its unprecedented trouble.
According to Indian agencies, a former resident of Deepa Sarai in Sambhal is the leader of the al-Qaeda in Indian Subcontinent (AQIS) and five others from the locality are its active members. One of them reached Pakistan in 1995, the second joined him by 2000, and two more are now in Pakistan with them. The remaining two, who too have been to Pakistan, are in judicial custody in India.
Agencies began to work on AQIS after a video by al-Qaeda leader Ayman al-Zawahiri appeared in September 2014, announcing its formation. However, the breakthrough came only in August-September 2015, when they intercepted a phone call from Mohammad Asif (41), a resident of Deepa Sarai, to one Abdul Rehman Khan (38).
With double Ph.Ds in Arabic and Hadith, Khan was from Odisha's Cuttack, and was, the police say, actively engaged in recruiting for Al- Qaeda and Lashkar-e-Taiba. He was in Bangalore when he received the call from Asif.
Asif identified himself, mentioning his association with AQIS chief Maulana Asim Umar, later found to be Deepa Sarai resident Shaan-ul Haq, who had run away in 1995. As the agencies listened in closely, an unusual picture began to emerge.
Haq, who had fled the village after he was slapped by an uncle, was now based in Pakistan, and was working on building AQIS into a deadly terrorist organisation.
Another Deepa Sarai resident, Saeed Akhtar aka Qasim (42), who moved to Pakistan by 2000, was the second-in-command. In the last few years, two more from the same locality — Usman and Sarjil — have gone missing. Their families are unaware of their whereabouts.
Three-month-long hunt
Haq now operates as Maulana Asim Umar, has written several books on conspiracy theories, his favourite topic being Dajjal (Islamic equivalent of the Anti-Christ). Beginning November 2012, he has featured in several videos released by al-Qaeda.
The agencies zeroed in on the suspects and it took them almost three months to track down all the key members of the network. The crackdown began on December 14, 2015. Asif got picked up from Delhi, Khan from Cuttack and Zaffar Masood from Sambhal.
"Achhon mein bure ho jate hain, buron me acchhe ho jate hain (Among the good, some turn out bad, among the bad, there will be some good)", says 80-year-old Chhuttu Bhai, with a long silver haired beard and a poker face. He doesn't know where his son Haq, who ran away as a teen, is. The last news the family got about him was in 1998 when an intelligence officer told them not to grieve over him as he was alive in Pakistan.
Haq reconnected with some residents of Deepa Sarai through his deputy Qasim.
According to police records, until 1998, Qasim was in India and had told his neighbours, Masood and Usman, that he had joined Harkat-ul-Mujahideen (HuM), following Haq's advice. He exhorted them to undergo training in Pakistan's Mansehra.
Masood and Usman, both unemployed, carried betel leaves to Pakistan in 1999-end, reached Mansehra via Abottabad and then boarded a mini-bus to a training camp located in the high hills. Haq met them there.
After a fortnight-long training in the handling of weapons and explosives, Haq took them to Rawalpindi via Karachi, then to Lahore and arranged their air tickets to India in January 2000.
According to the interrogation report, Haq told them that two more youths from Deepa Sarai had already joined the outfit.
The duo, arrested later in 2007-08 on charges of aiding two Pakistani terrorists, was acquitted by a Delhi court in 2009 for lack of evidence.
Masood's mother Intekhab denies police claims. She says her son, who is now in judicial custody, never went to Pakistan. Intekhab bursts into tears saying: "My son has been framed. We all are being made to suffer without any reason. We are already under so much of debt and the police are accusing him of terror financing."
thehindu.com/news/national/other-states/youths-from-up-formed-alqaeda-in-indias-nucleus/article8235152.ece
---------
'LeT Expected Only Cosmetic Pak Action after 26/11 Strike': Headley
Rebecca Samervel | TNN | Feb 14, 2016
MUMBAI: Indicative of the close involvement of Pakistani agencies in the 26/11 attacks, Lashkar-e-Taiba commanders were confident that the terror strike on Mumbai would lead to only "superficial" action against the outfit and within months, it began planning a second strike in India.
As part of his testimony over video from the US, Lashkar operative David Coleman Headley said his concern for the safety of "old uncle" and "young uncle" - code for Lashkar chief Hafiz Saeed and operations head Zaki-ur Rehman Lakhvi - abated after he was assured by his Lashkar handler Sajid Mir that no harm would befall the Lashkar top duo.
The Lashkar assessment was spot on as after a few initial raids, Pakistan left Saeed and LeT untouched. Lakhvi was held in 'friendly' custody as the trial in an anti-terrorism court petered out amid frequent change of judges and prosecutors who reported threat to their lives. Lakhvi, who continued meeting visitors freely, finally walked out on bail.
In an important sequence in court, Headley said he recognised the voices of three LeT handlers when special public prosecutor Ujjwal Nikam played a CD of recordings of telephonic conversations between the terrorists who were at Taj Mahal hotel during the attack and the 'control room' in Karachi. Headley said he recognized three 26/11 handlers--Sajid Mir, Abu Qahafa and Abu Al Qama.
In one conversation, the handler was heard telling a terrorist, "Allah aapka kaam qabaool Kare. Bahut saare logon ke zakhm par marham rakha gaya hain. Jo duaa aapko batayi gayi thi woh bhoolni nahin hain. Jahan bhi baitho teen baar dua zarror padhni hain." In another conversation, David Headley recognised Qahafa's voice. He had said, "Mazboot rehna. Duniya chodon. Jannat behter hain."
David Headley's exchanges post-26/11 are captured in the emails he sent to his associates in LeT and Al Qaida in 2009. Though Lakhvi was then in custody in July 2009, Mir informed Headley about a new "investment plan" - code for a fresh attack in India.
So confident was Headley's handler that Lashkar made plans to use Headley yet again and made a reference to Rahul Bhatt, son of filmmaker Mahesh Bhatt, whom the US citizen had befriended during his stay in Mumbai before the terror attacks. This time, Mir said the attacks would not take place in "Rahul city" but some other part of India.
David Headley's five-day deposition as an approver in the 26/11attacks case came to an end on Saturday afternoon after Nikam ended the examination conducted before special judge Govind A Sanap.
timesofindia.indiatimes.com/india/LeT-expected-only-cosmetic-Pak-action-after-26/11-strike/articleshow/50979543.cms
---------
BJP to Pakistan: Check jihadis or will push for terror state tag
Rajeev Mani | TNN | Feb 14, 2016
ALLAHABAD: BJP national secretary Siddharth Nath Singh on Saturday said the depositions of Lashkar operative David Coleman Headley had made it clear that Pakistan today stands at a crossroads and it has to choose between fighting terror or getting itself declared as a terrorist state.
"If it fails to fight terror on its own, India would make all diplomatic efforts globally to have it declared as a terrorist state," Singh told TOI.
"Headley`s statement before a Mumbai court proved that there were no non-state actors in Pakistan, only crossborder terror funded by intelligence agency ISI," Singh elaborated.
timesofindia.indiatimes.com/india/BJP-to-Pakistan-Check-jihadis-or-will-push-for-terror-state-tag/articleshow/50980195.cms
---------
5 jihadis, 2 jawans killed in J&K operation
M Saleem Pandit | TNN | Feb 13, 2016
SRINAGAR: Five Lashkar-eTaiba (LeT) terrorists were gunned down in north Kashmir's Kupwara district on Saturday after an 18-hour operation that also cost two soldiers' lives.
The terrorists were holed up inside a house in Zonreshi village, Chowkibal, when Army and state police arrived on a tip-off, late on Friday. A defence spokesman said the terrorists rained gunfire and grenades on the raiding party from the upper floor when it tried to enter the house.
While the soldiers engaged the terrorists despite the disadvantage of being on lower ground, reinforcements cordoned off the house.
The Army party lost its le ad scouts who took the initial volley of gunfire but stood their ground, enabling the rest of their team to eliminate all five terrorists. Two soldiers who were injured in the operation were evacuated for medical attention and were reported stable.
The spokesman said all five terrorists were of Pakistani origin and had been active on this side of the border for the past few months. Five AK 47 rifles and a large quantity of ammunition were found in the house after the encounter.
The police account of the operation, however, differed from the Army's in some details. Police said the slain terrorists were holed up in the house of Ghulam Muhammad Wani, of Marsari in Chowkibal. SSP Kupwara, Ajaz Ahmad Bhat, said, "We suspected that three to four militants were hiding inside the house but when the encounter ended, we came to know about the presence of a fifth militant there." Bhat said the clothes and stores found on the terrorists suggested they had infiltrated recently .
A statement attributed to LeT chief Mehmood Shah on Saturday hailed the slain militants.
timesofindia.indiatimes.com/india/5-jihadis-2-jawans-killed-in-JK-operation/articleshow/50970703.cms
---------
Southeast Asia
Malaysia checking Syrian refugees for Daesh links
14.02.2016
By P Prem Kumar
Malaysia says it is conducting background checks on all incoming Syrian refugees to ensure they are not involved with any Daesh-linked groups, while also guaranteeing them a peaceful stay.
Deputy Prime Minister Ahmad Zahid Hamidi told reporters in capital Kuala Lumpur on Sunday that so far the checks had not detected any links to the terror group.
"The screening would be carried out through the Advance Passenger Screening System with the cooperation of Interpol and the United Nations High Commissioner for Refugees [UNHCR]," he said.
To date, the country has accepted five Syrian refugees families. Prime Minister Najib Razak told the United Nations in October that Malaysia would open its doors to 3,000 Syrian migrants over the next three years to help with the ongoing refugee crisis.
"The families were brought here temporarily to live in Malaysia for a certain period of time before returning to their homeland, once Syria is peaceful," Hamidi said.
He underlined that although the aim of the security checks is to guarantee Malaysia's safety and security, it was also to allow refugees to temporarily carry on with their lives.
"We prioritize families of students who are already studying here, those who are working here and also Syrian professionals like doctors and engineers working here in Malaysia," he added.
He requested that Malaysians be kind-hearted to their Syrian guests, offering them the same assistance rendered to those fleeing conflict in Bosnia Herzegovina in the 1990s.
Last month, Malaysia's police force said it had arrested 82 people with links to Daesh -- 73 of them Malaysians -- in 2015 alone.
More than 10 Malaysians, including at least 14 women, have been identified as fleeing Malaysia to join Daesh movements in Iraq and Syria using neighboring countries as transit points.
As of December last year, seven had returned home to arrest.
aa.com.tr/en/politics/malaysia-checking-syrian-refugees-for-daesh-links/520919
---------
Indonesian Officials, Clerics Ban Valentine's Day Observance
By THE ASSOCIATED PRESS JAKARTA, Indonesia — Feb 14, 2016,
Officials and clerics in the world's most populous Muslim nation have banned young Indonesian Muslims from celebrating Valentine's Day, arguing that the observance runs against Islamic teachings.
In Banda Aceh, the capital of the devout Muslim province of Aceh, thousands of high school students held rallies rejecting the celebration of Valentine's Day.
Banda Aceh's mayor, Illiza Sa'aduddin Djamal, and Shariah officials joined Saturday's rallies, held in four locations in the city's downtown area.
"The Valentine's Day celebration has become a culture," Illiza said. She added that the rallies were aimed at making young people aware that Valentine's Day is not part of Islamic culture.
The bans were imposed in many Indonesian cities. A similar rally by junior high school students was held in Surabaya, Indonesia's second-largest city.
In Makassar, the capital of South Sulawesi province, a noted Muslim youth group, Pemuda Muslimin Indonesia, called on Muslims in the province to stay away from the celebration.
The influential Indonesian Council of Clerics has repeatedly declared the Feb. 14 celebration as an observance stemming from another faith, saying that celebrating it would be the same as promoting faiths other than Islam.
Nearly 90 percent of Indonesia's 265 million people are Muslims, with most practicing a moderate form of the faith.
abcnews.go.com/International/wireStory/indonesian-officials-clerics-ban-valentines-day-observance-36928879
-------
Indonesia wants to banish 'gay' emoji
February 14th, 2016
A man browses the gay-theme emoji from an instant messaging application in Jakarta on Feb. 12. (Bay Ismoyo/AFP/Getty)
The government of Indonesia doesn't want any gay-themed emoji in the country, and it is asking messaging apps to remove them from their systems.
"Social media must respect the culture and local wisdom of the country where they have large numbers of users," Information and Communication Ministry spokesman Ismail Cawidu told the Associated Press this week.
This comes after Japan-based app LINE'S announcement this week that it would be removing LGBT-themed stickers from its Indonesian store after receiving complaints from Indonesians on social media, the AP reported. LINE Indonesia issued a statement apologizing for stickers considered sensitive by "many" and that the company was in the process of removing certain stickers.
Indonesia, which has the largest Muslim population in the world, doesn't ban homosexuality by law, although laws "generally do not recognize or support the rights of LGBT people," according to a 2013 United Nations report. One of the country's most conservative provinces began last year to enforce a strict law that punishes gay sex with caning.
Cawidu said the government would be asking WhatsApp, a competitor of LINE, to follow suit and remove LGBT-theme emoji from its system.
"Such contents are not allowed in Indonesia based on our cultural law and the religious norms, and the operators must respect that," Cawidu told AFP. He added that such emoji appealing to children was especially concerning to officials.
"Those things might be considered normal in some Western countries, while in Indonesia it's practically impossible," he told AFP.
LINE offers stickers in a store, but WhatsApp, owned by Facebook, has emoji built into the system's keyboard — meaning that removing them could be more difficult. Then there's the iPhone, which last year added emojis of same-sex couples to its keyboard, such as 👬 and 👭.
Human Rights Watch sent a letter Friday to Indonesian President Jokowi Widodo, calling attention to recent reports of discrimination against LGBT Indonesians.
"We write to express our grave concerns regarding the recent spate of hateful rhetoric by public officials against lesbian, gay, bisexual and transgender (LGBT) people in Indonesia, and urge you to send an unambiguous message that your administration will defend the fundamental rights of all Indonesians," the non-governmental organization wrote.
washingtonpost.com/news/worldviews/wp/2016/02/13/indonesia-wants-to-banish-gay-emoji/
---------
Pakistan
Security Forces Kill 10 Suspected Militants in Pakistan
Feb 14, 2016
QUETTA: The security forces claimed on Sunday to have killed 10 suspected militants during a targeted operation in Balochistan's Sibi district.
The security personnel reportedly conducted an operation in Sangaan area of Sibi district and apprehended 12 suspected militants following an exchange of fire in which 10 suspects were killed.
An official informed DawnNews that security forces also demolished three sanctuaries being operated by militants in Sangaan.
Full report at: dawn.com/news/1239294/forces-kill-10-suspected-militants-in-sibi
---------
Clause in draft Hindu marriage bill creates controversy
February 14th, 2016
ISLAMABAD: A clause in the draft Hindu Marriage Bill, which states that a marriage will be annulled if any of the spouses converts to another religion, is being vehemently contested by both its opponents and supporters.
However, seeking an end to the controversy, Senator Nasreen Jalil, the chairperson of the Senate standing committee on law and justice, has convened a meeting of the committee to take up the matter.
The draft bill has already been passed by the National Assembly standing committee on law and justice.
Senator Nasreen Jalil said: "We would like to discuss the matter and if there is a consensus the committee will forward its recommendations to the speaker National Assembly to get the clause deleted."
The NA standing committee at its meeting held on February 8 witnessed serious opposition to the deletion of the clause by Maulana Mohammad Khan Sheerani, the JUI-F MNA and chairman of the Council of Islamic Ideology (CII).
Full report at: dawn.com/news/1239400/clause-in-draft-hindu-marriage-bill-creates-controversy
---------
Dentist with links to Al Qaeda, Safoora attackers arrested in Karachi: police
February 14th, 2016
KARACHI: A dentist allegedly linked to militant group Al Qaeda as well as Safoora Goth accused Saad Aziz was arrested after an encounter early Sunday night, Preedy police station officials said today.
Preedy police booked suspect Dr Usman in two cases pertaining to attacking police and possession of illegal weapons.
Counter-Terrorism Department (CTD) head Raja Umer Khattab said Dr Usman was familiar with Saad Aziz, the main accused in the Safoora Goth massacre, but played no direct role in the attack.
Full report at: dawn.com/news/1239464/dentist-with-links-to-al-qaeda-safoora-attackers-arrested-in-karachi-police
---------
South Asia
Taliban confirm losing 13 fighters in Paktika drone strikes
By Khaama Press - Sat Feb 13 2016
Taliban have confirmed losing 13 fighters in two drone strikes in Barmal District of Paktika province.
A statement released by the group's spokesperson on Saturday states that their fighters came under drone attacks while they were in fighting with militants belonging to Daesh group in Warmama area.
According to the statement, five militants were killed in one strike and eight others in another one.
The statement does not contain exact date of the strikes.
Local officials and residents of Gomal District of Pakitika province have also reported severe clashes between Taliban and fighters loyal to Daesh.
According to local residents, clashes between the two rival groups left dozens of militants killed in Khand and Dinarkhil areas last week.
khaama.com/taliban-confirm-losing-13-fighters-in-paktika-drone-strikes-4575
---------
Five security personnel martyred in Helmand suicide attack
By Khaama Press - Sat Feb 13 2016
Five security personnel have embraced martyrdom in a suicide attack in southern Afghanistan.
The attack took place near a military installation in Sangin District of Helmand province this morning.
Officials say the suicide bomber who was driving a vehicle laden with explosives targeted a military installation leaving four policemen and an army soldier martyred.
Public Relations Officer of 215th Maiwand Military Corps in the country's south said that three other armed men were trying to enter into the battalion compound following the explosion but security forces gunned them down.
Mohammad Rasoul Zazai said an army soldier has also sustained injuries in the attack.
Taliban have claimed responsibility for the attack.
khaama.com/five-security-personnel-martyred-in-helmand-suicide-attack-4573
---------
"The Afghan civilian casualties hit a record 11,000 in 2015
14 Feb 2016
About 25 percent of Afghans killed and wounded in 2015 were children, the UN says [Jalil Rezayee/EPA]
The number of Afghan civilians killed and wounded surpassed 11,000 in 2015 - the highest number recorded since the US-led invasion more than 14 years ago.
The United Nations said in its annual report released on Sunday there were 3,545 civilian fatalities and 7,457 people wounded with children paying a particularly heavy toll, as Afghan security forces faced a surge in attacks by the Taliban and other armed groups.
The total of 11,002 civilian casualties marked a four percent rise over 2014, the previous record high, the report said.
Full report at: aljazeera.com/news/2016/02/afghan-civilian-casualties-hit-record-11000-2015-160214071436972.html
---------
Foreign Ministry summons Pakistani Ambassador over Wahidi's abduction
By Khaama Press - Sun Feb 14 2016
The Ministry of Foreign Affairs on Sunday summoned Pakistan's Ambassador to Afghanistan over the abduction of Sayed Fazlullah Wahidi in Islamabad.
"Mindful of this that Mr. Wahidi is a prominent personality of Afghanistan and this incident took place in a peaceful area and capital of the Islamic Republic of Pakistan, the Islamic Republic of Afghanistan asks the Islamic Republic of Pakistan to take immediate and strict measures and use all of its resources in identifying the kidnapping group and the release of Mr. Wahidi." Deputy Foreign Minister Hekmat Khalil Karzai told Sayed Ibrar Hussain, according to Foreign Ministry's press release.
Islamabad police say they have made progress the case and that Wahidi would be recovered soon.
Interior Minister Chaudhry Nisar Ali was told in a meeting over the development in the case on Saturday that law enforcers had achieved a key breakthrough.
Wahidi who had visited Islamabad along with his family for acquiring visas to UK from the British Embassy was shopping at a market place when unknown gunmen abducted him on Friday.
He has served as the governor of eastern Kunar and western Herat provinces of Afghanistan.
khaama.com/foreign-ministry-summons-pakistani-ambassador-over-wahidis-abduction-4575
---------
US general optimistic about peace in Afghanistan
February 14th, 2016
KABUL: The top US and Nato commander in Afghanistan was bullish on the country's future despite concerns over peace talks, as he confirmed his looming retirement at a press conference in Kabul on Saturday.
General John Campbell voiced confidence about the future of Afghanistan as he neared the end of an 18-month tour of the country, though he admitted any political solution could be jeopardised by divisions within the Taliban.
"Right now I'm not sure who's in charge" of the insurgents, he said when discussing hopes of bringing the Taliban to the negotiating table.
Full report at: dawn.com/news/1239336/us-general-optimistic-about-peace-in-afghanistan
---------
2015 had highest number of civilian casualties in seven years, UN report shows
Feb 14 2016
With the recorded deaths and injuries of 10534 civilians in Afghanistan in 2014, the United Nations Assistance Mission in Afghanistan (UNAMA) said in its annual report that this was the highest number of civilian casualties since 2009.
But last year recorded yet another rise in the number of civilians hurt or killed.
UNAMA in its 2015 Annual Report on Protection of Civilians in Armed Conflict says that the number of civilian casualties in Afghanistan during 2015 are the highest recorded.
The report released today is produced by UNAMA in coordination with the UN Human Rights Office.
Full report at: khaama.com/2015-was-the-deadliest-year-for-civilians-in-past-seven-years-shows-un-report-4576
---------
Arab World
Terrorists' Plans for Alliance against Syrian Army in Northern Aleppo Fail
Feb 14 2016
TEHRAN (FNA)- The militant groups' efforts to form an alliance to confront the Syrian army's advances in the Northern part of Aleppo province will fail similar to their other plans, media reports said.
The terrorist groups have proposed seven plans for their unity in Northern Aleppo, but none of them have succeeded so far, the Arabic-language al-Quds al-Arabi wrote on Sunday.
The paper said that despite different plans proposed by the militant groups to form a united front against the Syrian government forces, the differences among the terrorist groups' leaders have prevented their implementation.
Full report at: en.farsnews.com/newstext.aspx?nn=13941125000741
---------
Syrian Army Eliminates Several Nusra Top Militants in Dara'a
Feb 14 2016
TEHRAN (FNA)- Syrian army forces managed to eliminate a top commander of the Al-Nusra Front terrorist group during a mop-up operation in Daraa al-Balad district in the Southern city of Dara'a, military sources said on Sunday.
The sources on the ground said the Syrian army forces, while restoring security to a recently-liberated area of Dara'a al-Balad district in Dara'a city, spotted and surrounded a large number of Nusra group militants in the region, eliminating all of them after heavy clashes which broke out in early hours of Sunday.
Full report at: en.farsnews.com/newstext.aspx?nn=13941125000537
---------
Syrian Army Continues to Crush ISIL in Deir Ezzur
Feb 14 2016
TEHRAN (FNA)- The Syrian Army engaged in fierce clashes with the ISIL terrorists in different neighborhoods of the city of Deir Ezzur and the Eastern territories of the province, inflicting a heavy death toll on the militants.
The Syrian army troops stormed the ISIL gatherings in al-Roshdiyeh, al-Hwaiqa, al-Hamidiyeh, the old airport, al-Ma'amel roundabour and al-Rafasa, which ended in the killing or wounding of several militants.
Full report at: en.farsnews.com/newstext.aspx?nn=13941125000572
---------
Militants Suffer Major Casualties in Syrian Soldiers' Offensive in Sweida
Feb 14 2016
TEHRAN (FNA)- The Syria Army's commandoes in a special operation in the Northeastern part of Sweida province infiltrated into the defense lines of the militant groups and inflicted a heavy death toll on them.
The Syrian commandoes broke through the terrorist groups' defense lines in the village of Rajam al-Dawla near the Badiyeh desert, killed or wounded many militants and destroye dtehier military vehicles and weapons.
On Thursday, the Syrian fighter jets bombed an ISIL oil tanker and a number of major military facilities and hardware of the terrorist group in the Southern province of Sweida.
"The Syrian Air Force strikers bombed an ISIL oil tanker on a road Southeast of the province" the army said.
"The ISIL militants guarding the tanker were killed in the oil tanker's blast," the army added.
On the ground, the Syrian infantry forces struck and destroyed the ISIL terrorists' equipment, including two bulldozers and their cannon in Dara'a province in regions close to Sweida province, inflicting heavy casualties on them.
en.farsnews.com/newstext.aspx?nn=13941125000545
---------
Syrian rebels say they received ground-to-ground missiles from Assad foes
February 13, 2016
Syrian President Bashar al-Assad's foreign enemies have sent rebels new supplies of ground-to-ground missiles to confront a Russian-backed offensive by the government near Aleppo, stepping up support in response to the attack, two rebel commanders said.
The commanders told Reuters the missiles with a range of 20 kilometers (12 miles) had been provided in "excellent quantities" in response to the attack that has cut rebel supply lines from the Turkish border to opposition-held parts of the city of Aleppo.
Facing one of the biggest defeats of the five-year-long war, rebels have been complaining that foreign states such as Saudi Arabia and Turkey have let them down by not providing them with more powerful weapons, including anti-aircraft missiles.
Full report at: todayszaman.com/world_syrian-rebels-say-they-received-ground-to-ground-missiles-from-assad-foes_412230.html
---------
Saudi Arabia confirms will send deployment to Turkey base
February 14th, 2016
CAIRO: Saudi Arabia confirmed late on Saturday it would send aircraft to Nato-member Turkey's Incirlik air base for the fight against the militant Islamic State (IS) group.
Brigadier General Ahmed al-Assiri told pan-Arab Al Arabiya television that the kingdom was committed to stepping up the fighting against IS and that the move was part of those efforts.
Saudi Arabia has resumed its participation in air strikes against IS in recent weeks and United States Defence Secretary Ash Carter on Thursday welcomed its commitment to expand its role.
Turkish Foreign Minister Mevlut Cavusoglu told the Yeni Safak newspaper on Saturday that Saudi had carried out inspections at the air base in preparation to sending aircraft.
dawn.com/news/1239463/saudi-arabia-confirms-will-send-deployment-to-turkey-base
---------
Peace hopes fade as Syrian army tightens grip on Aleppo
14 Feb 2016
Syrian government forces continue to make military advances and tighten their grip around the key city of Aleppo, days after the main players in the nearly five-year conflict pledged a cessation of hostilities.
World leaders have admitted the likely success of a plan to cease "hostilities" in Syria within a week is roughly 50-50.
The Syrian army, backed by Russian air strikes and fighters loyal to Syrian President Bashar al-Assad, on Saturday regained control of al-Tamoura town and several surrounding hills located in Aleppo's northern suburbs, according to Syrian activists and the state news agency.
Full report at: aljazeera.com/news/2016/02/syrian-army-tightens-grip-aleppo-peace-doubts-160213125543440.html
---------
Yemeni Missiles Hit Saudi Airport, Military Base in Asir province
Feb 14 2016
TEHRAN (FNA)- The Yemeni forces pounded an important airport and a key military base in Asir province with ballistic and Scud missiles.
Yemen's Qaher-I ballistic missile precisely hit an airport in Abha region in Asir province.
Meantime, a Scud missile struck a military base in Khamis Mushait region in Asir province.
According to the eyewitnesses, several explosions were heard after the Qaher-I missile hit the Abha airport.
It is the second time in less than two months that Abha airport was struck by Yemen's missiles.
Scores of Saudi forces were killed and wounded in both incidents. The Abha airport and Khamis Mushait military base also sustained heavy damage.
In a relevant development on Saturday, a senior Yemeni commander disclosed that the Yemeni army and popular forces had killed over 70 Saudi military servicemen in Jizan province in the Southern parts of the kingdom in the past four days.
"At least 73 Saudi forces have been killed as a result of our forces' assaults on their military positions in Jizan province," a senior commander of Ansarullah, speaking on the condition of anonymity, told FNA.
Full report at: en.farsnews.com/newstext.aspx?nn=13941125000550
---------
Syria's Kurdish Fighters at Entrance to Strategic Town in Aleppo
Feb 14 2016
TEHRAN (FNA)- The Kurdish fighters, backed up by the Russian fighter jets, have significantly advanced against the terrorist groups and have now deployed forced only a hundred of meters from the Western entrance of a strategic town North of Aleppo province, battlefield sources said minutes ago.
"The Kurdish fighters have only one hundred of meters to access the Western gate of Tal Rifat," the sources said.
"A heavy battle is now underway near Tal Rifat and its surroundings," they further added.
"The militant groups have been surprised by the rapid offensive of the Kurdish fighters and have been pinned down behind their defense lines," the sources said.
Full report at: en.farsnews.com/newstext.aspx?nn=13941125000443
---------
Syria: ISIL Militants Face More Defeats in Hama Battlefields
Feb 14 2016
TEHRAN (FNA)- The Syrian Army troops and popular forces took back one more key hill from the ISIL following hours of heavy clashes Northeast of Hama province, advancing towards Tabaqa airbase in Raqqa province.
The Syrian army men, the National Defense Forces (NDF), Liwa Suqour al-Sahra (Desert Hawks Brigade), Fouj al-Joulan (Golani Regiment), and the pro-government Palestinian militia "Liwa Al-Quds" (Jerusalem Brigade) imposed full control over another hilltop near the Salamiyah-Raqqa Highway after a violent battle with the ISIL in the Ithriyah countryside.
The Syrian Armed Forces captured the small hilltop of Tal Masbah, which is located just 15 km Northeast of Ithriyah in the Hama province; it was one of the last ISIL strongholds along the Salamiyah-Raqqa Highway.
Full report at: en.farsnews.com/newstext.aspx?nn=13941125000647
---------
Syria: Militants' Fleeing Trend to Turkey Intensifies as Gov't Forces Advance in Lattakia
Feb 14 2016
TEHRAN (FNA)- Large groups of Takfiri terrorists are fleeing the battlefields in the Northern and Northeastern parts of Lattakia province and trying to cross the border into Turkey under the heavy offensives of the Syrian Army troops and their popular allies.
The terrorist groups have sustained major losses in the battlefronts as the Syrian army and its allies are hunting them down in the Northern and Northeastern territories of coastal province of Lattakia.
Tens of terrorists have been killed and dozens more have been injured in heavy clashes with the Syrian troops in Northern Aleppo in the recent weeks as the army conducted massive assaults to win back more villages and towns in the region.
The Syrian government forces have had eye-catching victories in Lattakia in the recent weeks.
Full report at: en.farsnews.com/newstext.aspx?nn=13941125000610
---------
Terrorist Group Admits Losing Elite Members in Aleppo
Feb 14 2016
TEHRAN (FNA)- One of the terrorist groups in the city of Aleppo admitted that two of its top commanders have been killed during the Syrian army operations in the Northern Syrian city.
Terrorist group called "Fajr al-Sham Islamic Movement" acknowledged on its social media that the group has lost scores of its militants in the Syrian Army attacks in Aleppo, among them were two top military commanders.
According to the group's pages on social media, the two top militants were "Nemr al-Shukri" and "Zakaraya Orfali".
The news on the militants' loss is circulating as the Syrian Army and its allies are making major advances against the terrorist groups in Aleppo province and pushing back the militants from more regions in the Northern parts of the bordering province.
In a recent development, the Syrian Army, National Defense Forces (NDF) and Hezbollah fighters, backed by Syrian and Russian Air Forces, captured more lands in Aleppo province after killing tens of Takfiri terrorists.
en.farsnews.com/newstext.aspx?nn=13941125000329
---------
Gov't Forces Advancing in Syria's Lattakia with Russian Air Back up
Feb 14 2016
TEHRAN (FNA)- The Syrian Army announced minutes ago that its soldiers and their popular allies, with the Russian air support, have significantly advanced against the militant groups in the mountainous battlefields of Lattakia province.
"The Russian warplanes bombed the militant groups' defense lines near Kinsibba, which inflicted major losses on the terrorist groups and pave the way for the Syrian government forces to move rapidly towards Kinsibba," the army said.
"The pro-government forces pushed the militants back from their position near Jabal al-Rous and retook full control over the strategic mountain.
The joint operation of the Syrian government forces and the Russian air force has inflicted major losses on the terrorists.
Full report at: en.farsnews.com/newstext.aspx?nn=13941125000500
---------
Africa
Shebab claims bomb attack on Somali plane
February 14th, 2016
MOGADISHU: Somalia's Shebab insurgents on Saturday claimed responsibility for a bomb attack which ripped a hole in a passenger plane shortly after takeoff from the capital Mogadishu earlier this month.
On Feb 2, Shebab "mujahideen carried out an operation targeting dozens of Western intelligence officials and Turkish Nato forces aboard an airplane bound for Djibouti," said a statement issued by the group.
The blast left a metre-wide (three-foot) hole in the fuselage of the Daallo Airlines plane shortly after it took off from Somalia's main airport, killing the suspected bomber and forcing an emergency landing. Two of the 74 passengers aboard were slightly injured.
A passenger believed to be the bomber, identified as Abdulahi Abdisalam, was killed, probably after being propelled out of the aircraft in the explosion, investigators said.
dawn.com/news/1239337/shebab-claims-bomb-attack-on-somali-plane
------------
Mideast
Saudi Arabia confirms it sent aircraft to Turkey for ISIL fight
February 14, 2016
Saudi Arabia confirmed late on Saturday it sent aircraft to NATO-member Turkey's İncirlik air base for the fight against the Islamic State of Iraq and the Levant (ISIL) militants.
Brigadier General Ahmed al-Assiri, adviser in the office of Saudi Arabia's minister of defense, told pan-Arab Al Arabiya television that the kingdom was committed to stepping up the fighting against ISIL and that the move was part of those efforts.
He also said that the current presence in the air base was limited to aircraft and no ground troops had been sent.
"What is present now is aircraft that are part of the Saudi Arabian forces," Assiri said in response to a question on whether ground troops were included.
Saudi Arabia has resumed its participation in air strikes against ISIL in recent weeks and US Defense Secretary Ash Carter on Thursday welcomed its commitment to expand its role.
Turkish Foreign Minister Mevlüt Çavuşoğlu told the Yeni Şafak newspaper on Saturday that Saudi Arabia had carried out inspections at the air base in preparation to sending aircraft.
todayszaman.com/diplomacy_saudi-arabia-confirms-it-sent-aircraft-to-turkey-for-isil-fight_412249.html
---------
Speaker: Iran Supports Palestinian Intifada against Israel
February 14, 2016
TEHRAN (FNA)- Parliament Speaker Ali Larijani underlined Iran's continued support for the Palestinian resistance and Intifada (uprising) against Israel, calling on the Muslim world to return the Palestinian cause to the main agenda of the Muslim world.
"The Islamic Republic supports the Palestinian Intifada and all Palestinian groups in their fight against the Zionist regime. We should turn this into the main issue in the Muslim world," Larijani said in a meeting with a number of members of Palestinian resistance groups in Tehran on Saturday night.
He said some measures taken by the western states, including the US, as well as certain regional countries, have marginalised and prevented the settlement of the Palestinian issue, adding that some countries are collaborating with enemies to sow discord among Shiites and Sunnis.
Larijani underlined that Iran doesn't differentiate between Shiites and Sunnis since they share many commonalities, and it has supported the Palestinian nation (although they are Sunnis) for the past 37 years.
Full report at: en.farsnews.com/newstext.aspx?nn=13941125000362
---------
Turkish army shells YPG positions in Syria for second day
February 14, 2016
The Turkish army shelled positions held by Kurdish-backed militia in northern Syria for a second day on Sunday, killing two fighters, the Syrian Observatory for Human Rights monitoring group said.
Turkey on Saturday demanded the powerful Syrian Kurdish YPG militia withdraw from areas that it had captured in the northern Aleppo region in recent days from insurgents in Syria, including the Menagh air base. The shelling has targeted those areas.
Turkey has been alarmed by the expansion of Kurdish sway in northern Syria since the start of the conflict in 2011. The YPG controls nearly all of Syria's northern frontier with Turkey, and has been a close ally of the United States in the campaign against Islamic State in Syria.
Full report at: todayszaman.com/diplomacy_turkish-army-shells-ypg-positions-in-syria-for-second-day_412248.html
---------
Turkey at odds with Russia and now the US on Syria
February 13, 2016
Turkey's faulty foreign policy choices in Syria since the beginning of the conflict, including supporting Sunnis in the sectarian strife, working for the removal of the Syrian regime from power, undermining the Syrian Kurds and downing a Russian jet, have dragged the country to such a point that today, it is at odds with not only Russia but its close ally the US as well.
After trying to impose its policies on other actors in the region for some time, it seems that Ankara will have no word in the future of Syria ahead of the Geneva peace talks, which have been postponed to Feb. 25.
Full report at: todayszaman.com/diplomacy_turkey-at-odds-with-russia-and-now-the-us-on-syria_412104.html
---------
Turkey, Saudi could launch anti-IS ground operation in Syria: Ankara
February 14th, 2016
ISTANBUL: Turkey and Saudi Arabia could launch a ground operation against the militant Islamic State (IS) militants in Syria, while Riyadh is also sending war planes to a Turkish base to fight the extremists, the Turkish foreign minister said Saturday.
"If there is a strategy (against IS) then Turkey and Saudi Arabia could enter into a ground operation," Foreign Minister Mevlut Cavusoglu was quoted as saying by the Yeni Safak and Haberturk newspapers after taking part in the Munich Security Conference.
"Some say 'Turkey is reluctant to take part in the fight against Daesh (IS)'. But it is Turkey that is making the most concrete proposals," he said.
Cavusoglu added that Saudi Arabia, which has become an increasingly close ally of Turkey in recent months, is also sending planes to the Turkish base of Incirlik to fight IS.
"They (Saudi officials) came, did a reconnaissance of the base. At the moment it is not clear how many planes will come," Cavusoglu said.
Full report at: dawn.com/news/1239284/turkey-saudi-could-launch-anti-is-ground-operation-in-syria-ankara
---------
Two Palestinian teenagers shot dead after alleged attack
14 Feb 2016
Israeli troops say they came under attack on Sunday before two 15-year-old boys were gunned down [Mussa Qawasma/Reuters]
The Israeli army has shot and killed two Palestinian teenagers near Jenin in the occupied West Bank, the Palestinian Health Ministry said, after the Israeli soldiers allegedly came under attack.
The Israeli army said in a statement on Sunday that one of the boys was armed with a rifle and shot at the soldiers.
Full report at: aljazeera.com/news/2016/02/palestinian-teenagers-shot-dead-alleged-attack-160214093101815.html
---------
Iranian Commander Warns S. Arabia, Allies against Syria Troop Deployment
February 14, 2016
TEHRAN (FNA)- Commander of Khatam ol-Anbia Air Defense Base Brigadier General Farzad Esmayeeli warned the US, Saudi Arabia and their partners against sending troops to Syria without the consent of Damascus.
"Any troop deployment to Syria without coordination with Damascus is doomed to failure," General Esmayeeli warned on Sunday.
In relevant remarks earlier this month, Commander of the Islamic Revolution Guards Corps (IRGC) Major General Mohammad Ali Jafari had also said that Saudi Arabia doesn't have the guts to send its armed forces to Syria.
Full report at: en.farsnews.com/newstext.aspx?nn=13941125000423
---------
Turkey sends aid ship to Yemen
February 14, 2016
Turkey has sent a relief ship from the port of Mersin to Yemen carrying 6,000 tons of humanitarian assistance consisting mainly of food.
The ship left Mersin on Friday to meet the needs of the people of Yemen.
The Turkish Foreign Ministry said in a statement issued over the weekend that Turkey desires the "the re-institution of stability and security in friendly and brotherly Yemen as soon as possible through the restoration of legitimate state authority and supports efforts in this direction.
Full report at: todayszaman.com/anasayfa_turkey-sends-aid-ship-to-yemen_412253.html
---------
Europe
Russia casts doubt on Syria ceasefire deal as Assad's forces gain ground
February 14th, 2016
MUNICH/BEIRUT: Russia said on Saturday a ceasefire deal for Syria agreed by major powers was more likely to fail than succeed, as Syrian government forces backed by further Russian air strikes gained more ground against rebels near Aleppo.
International divisions over Syria surfaced anew at a Munich conference where Russia rejected French charges that it was bombing civilians, just a day after world powers agreed on the "cessation of hostilities" due to begin in a week's time.
US secretary of state John Kerry reiterated accusations that Russia was hitting "legitimate opposition groups" and civilians with its bombing campaign in Syria and said Moscow must change its targets to respect the ceasefire deal.
Full report at: timesofindia.indiatimes.com/world/middle-east/Russia-casts-doubt-on-Syria-ceasefire-deal-as-Assads-forces-gain-ground/articleshow/50976550.cms
---------
Putin, Obama discuss Syria on phone
February 14, 2016
Russian President Vladimir Putin and US President Barack Obama discussed issues related to resolving the conflict in Syria, the Kremlin said in a statement on Sunday.
Both positively evaluated talks on Syria in Munich on Feb. 11-12 and supported efforts to implement a ceasefire, the Kremlin said.
todayszaman.com/world_putin-obama-discuss-syria-on-phone_412252.html
---------
North America
'America to Zanzibar' Exhibit Brings Muslim Cultures to New York City
February 14, 2016
A new exhibition about Muslim cultures in the United States and around the world is opening this weekend at the Children's Museum of Manhattan. "America to Zanzibar: Muslim Cultures Near and Far" is an interactive multimedia experience of a wide range of Muslim and Muslim-American art, architecture, culture, trade, travel, home life, and traditions.
Children feel ceramic tiles at a stall in the global marketplace at the Children's Museum of Manhattan's new exhibit, "America to Zanzibar: Muslim Cultures Near and Far." Photo by Aoommie Photography
Full report at: nbcnews.com/news/asian-america/america-zanzibar-exhibit-brings-muslim-cultures-new-york-city-n517731
URL: https://www.newageislam.com/islamic-world-news/new-age-islam-edit-bureau/youths-from-up-formed-al-qaeda-in-india's-nucleus/d/106342
New Age Islam, Islam Online, Islamic Website, African Muslim News, Arab World News, South Asia News, Indian Muslim News, World Muslim News, Womens in Islam, Islamic Feminism, Arab Women, Womens In Arab, Islamphobia in America, Muslim Women in West, Islam Women and Feminism, Moderate Islam, Moderate Muslims, Progressive Islam, Progressive Muslims, Liberal Islam, Liberal Muslims, Islamic World News