New Age Islam News Bureau
11 Feb 2016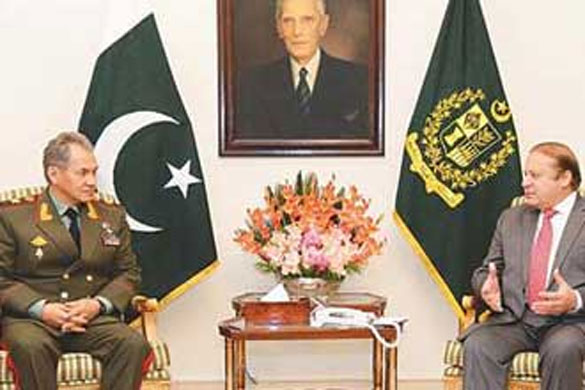 Photo: Prime Minister Nawaz Sharif meets Russian Defence Minister General Sergey Shoigu at the PM House.-Dawn/File Photo
----------
Pakistan
• Pakistan Ulema Council Declare Daesh 'Khawarij'
• 'Insult' To Islam: Pakistan May Ban Valentine's Day
• 'Russia attaches great importance to cooperation with Pakistan in fight against terrorism'
• Balochistan University teacher shot at, injured in Quetta
-------
South Asia
• Masoud Believes the Ongoing Process for Peace Talks with Taliban Is ISI's Game
• 130 Taliban Insurgents Killed, 95 Injured In Military Operations in Baghlan, Afghanistan
• Daesh-Taliban clash leaves six militants killed, 10 wounded in Nangarhar
• Several killed in Daesh, Taliban clashes in Paktika
• 5 policemen martyred, 6 wounded in an insider attack in Kandahar
• President Ghani: Afghan Air Force moving towards a new beginning
• Atmar says 2016 would be "the national stability year" in Afghanistan
• Mojaddedi: President Ghani has no experience of governance
---------
Arab World
• 37 Terrorists, Ringleader Killed in Western Ghouta
• Jeish al-Fatah Terrorists Caught Off Guard by Syria's Massive Air, Ground Strikes
• Al-Nusra Front Leaders Acknowledge Increasing Casualties in Aleppo
• Syrian Army Pounds Militants in Dara'a Province
• ISIL, Al-Nusra Pinned Down under Heavy Attacks by Syrian Warplanes in Aleppo
• General Soleimani Takes Part in Islamic Revolution Anniversary Rallies
• Syrian Army Keeps Pounding Militants in Ghouta
• Syrian Army, Allies Win Back Control of Strategic Village in Aleppo
• ISIL's Positions Razed by Syrian Jets South of Deir Ezzur
• '500 dead' in Syria regime's Aleppo assault this month
-------
India
• 26/11 Case: Headley Bares All On Terror Financing By ISI
• UAE Prince In India Set To Give Business Boost
• Revelations by David Headley: What we know so far
-------
Europe
• French Parliament Votes To Write Controversial State Of Emergency Powers Into Constitution As Counter-Terror Measures Spark Protests
• French FM Fabius quits, lashes out at US, Russia
-------
North America
• U.S. Says It Added Head of Al-Qaeda's Eastern Zone in Afghanistan to the List of Global Terrorists
• US's Carter: NATO to Draw up Plans to Counter People Smuggling
• NATO willing to support migrant naval operation in Aegean: US
-------
Mideast
• US Ignores Erdoğan's Call, Insists on Partnership with Syrian Kurds
• Erdoğan Says Told EU Turkey Could Open Gates for Migrants to Europe
• 2 alleged human smugglers on trial over Syrian toddler's death
• Students face up to 4 years in prison over banner promising 'no tea' for Erdoğan
• Iran to upgrade missile, get Russian defence system
• Commander Terms 'Samavat' Iran's Most Advanced Optical Air Defense System
• Iran Mounting Nasr Cruise Missiles on F-14 Fighter Jets
• Security operations against PKK in Cizre complete, minister says
Compiled by New Age Islam Edit Bureau
URL: https://newageislam.com/islamic-world-news/new-age-islam-edit-bureau/pakistan-ulema-council-declare-daesh--khawarij-/d/106312
----------
Pakistan
Pakistan Ulema Council Declare Daesh 'Khawarij'
February 11th, 2016
ISLAMABAD: Pakistan Ulema Council (PUC) on Wednesday termed the self-styled Islamic State (Daesh) as a 'Khawarij' (those who deviated from mainstream Islam).
This declaration was made at the international 'Paigham –i-Islam' conference organised by the PUC. Mufti-e-Azam Palestine Al-Sheikh Muhammad Ahmed Hussein presided over the event.
The declaration, passed during the conference, condemned the attacks on schools, colleges and worship places. It said Daesh and other such terrorist organisations were a challenge to the Muslim world and that they were defaming Islam and attacking Muslims based on their defective beliefs. The declaration further said there was a need for unanimous efforts to eradicate terrorism, extremism and sectarian violence from the society. Islam has nothing to do with terrorism and extremism and the elements that were fanning differences among believers of different religions and sects have vested interests, it stressed.
Speaking at the conference, Leader of the House in the Senate Raja Zafarul Haq said there was a need to differentiate between terror groups and genuine resistance.
"Pakistan has always supported the Palestinian cause and we will continue to support the justified stance of the Palestinian people, who are victims of state-sponsored terror and suppression," Raja Zafarul Haq said.
However, he said, following recent developments, the Muslim world was faced with a new kind of challenge.
He added that there were serious threats from terrorists that had to be countered through narratives and education.
"This is a serious threat and can be defied through ideology and reasoning to portray the real face of Islam," Raja Zafarul Haq added.
He also asked Ulema to stand up and face the threats from terror groups who were committing atrocities in the name of Islam. The participants, including senior clerics from various schools of thought, called for guiding and educating Muslim youth against menaces of terrorism, extremism and sectarianism.
They said all those organisations that were responsible for killings of people and weakening Islamic countries in the name 'Islam and Jehad' should be declared anti-Islam and anti-Muslim'.
PUC Chairman Allama Mohammad Tahir Ashrafi said: "All these terrorist organisations that attack schools, colleges and educational institutions are anti-Islam and anti-Muslims," adding that "we cannot allow any group or organisation to impose its will on any segment of the population in Pakistan".
He also criticised the current state of National Action Plan and said it should be implemented in true spirit.
"What we have is a small circle of illiterates who think it was in Sharia to ban 'girls' education' and try to force their own version of Islam on the society," Allama Tahir Ashrafi said. "And it was the duty of us Ulema, clerics and Mashaikh to stand up against these elements," he added.
dawn.com/news/1238738/ulema-declare-daesh-khawarij
-------
'Insult' to Islam: Pakistan may ban Valentine's Day
PTI | Feb 10, 2016
ISLAMABAD: Pakistan may ban all activities linked to the celebration of the Valentine's Day in the capital, Islamabad.
The day's celebration on February 14 had often been criticized by Islamists as 'insult' to Islam.
An official of the interior ministry said that the decision to ban the Valentine's Day celebrations was taken at the orders of interior minister Nisar Ali Khan.
The ban has, however, not been announced officially.
It will be enforced through capital administration and formal notification will be issued by Islamabad deputy commissioner, the official said.
The Valentine's Day activities have often been disrupted in the past by the supporters of hardline Jamaat-e-Islam, but it is for the first time that the state has intervened to ban the festivities of the day.
timesofindia.indiatimes.com/world/pakistan/Insult-to-Islam-Pakistan-may-ban-Valentines-Day/articleshow/50933912.cms
-------
'Russia attaches great importance to cooperation with Pakistan in fight against terrorism'
February 11th, 2016
MOSCOW: Kremlin spokesman Dmitry Peskov stated on Wednesday that Russia attaches great importance to counter-terrorist cooperation with Pakistan as a key player in the field, according to a report published on the Sputnik website.
"Pakistan is one of the key countries in the fight against terrorism. In this regard, Russia, of course attaches great importance to cooperation with Pakistan," Peskov told reporters.
Earlier in January this year, the Russian Army's Commander-in-Chief Oleg Salyukov had announced that Russian ground forces will hold its first ever military exercises with Pakistan in the coming year
A Russian delegation had also visited Pakistan last month to discuss the sale of military hardware and agreement to enhance defence cooperation between the two countries.
Read: Pak-Russia talks on delivery of Su-35, Mi-35s underway: Russian Deputy FM
Pakistan and Russia are in talks about the delivery of Sukhoi Su-35 fighter jets and the two countries have also previously agreed upon delivery of four Mi-35M helicopters, which followed a historic change in Russian policy towards Pakistan.
Russia and Pakistan have lately been working on enhancing defence cooperation and are believed to have already covered a lot of ground. Exchange of visits by military commanders in recent years is an indication of progress achieved in this regard.
Russia had lifted its embargo on arms supplies to Pakistan in June 2014 and signed a bilateral defence cooperation agreement with Pakistan to strengthen military-to-military relations in November 2014.
India's decision to enter into tighter embrace with the US had prompted Russia to rethink its defence relationship with Pakistan.
dawn.com/news/1238822/russia-attaches-great-importance-to-cooperation-with-pakistan-in-fight-against-terrorism
-------
Balochistan University teacher shot at, injured in Quetta
February 11th, 2016
QUETTA: A Balochistan University Assistant Professor Para Din was injured when unidentified assailants opened fire on his vehicle in the Almo Chowk area on Thursday.
The teacher was on his way home from work when gunmen fired at his vehicle, then sped away on a motorcycle following the attack, police said.
The victim, who sustained bullet wounds, was shifted to Combined Military Hospital (CMH) Quetta for treatment. A large number of teachers and students reached CMH to enquire about his health.
A heavy contingent of police and Frontier Corps (FC) personnel reached the site of the attack and initiated an investigation into the incident. The motive behind the attack could not be ascertained at the time, police said. There was no immediate claim of responsibility for the attack.
Quetta has seen a spate of attacks since 2016 began. A polio centre was attacked, killing at least 10 people, many of them police officers. FC men and police personnel have also been targeted in various attacks.
Balochistan Home Minster Mir Sarfaraz Ahmed Bugti's convoy was also targeted in a roadside blast. This is the first attack reported on an educationist in the province this year.
dawn.com/news/1238818/balochistan-university-teacher-shot-at-injured-in-quetta
-------
South Asia
Masoud believes the ongoing process for peace talks with Taliban is ISI's game
By Khaama Press - Wed Feb 10 2016
Ahmad Zia Masoud, the Special Envoy to President Mohammad Ashraf Ghani for reform and good governance, believes that the ongoing process for peace talks with Taliban is the game of Pakistan's intelligence agency Inter-Services Intelligence (ISI).
While talking to a gathering in Takhar province on Wednesday, Masoud said that the purpose of this process is to place Taliban in the government.
He went on to say that if Pakistan brings one group to the negotiation table it will strengthen another group for fighting.
During the government of former President Hamid Karzai's, High Peace Council came into shape, bombardment of foreign forces, night raids and the use of heavy weapons against Taliban stopped but nothing of this added up to the optimism for peace, Masoud added.
While criticizing government policies, Masoud expressed concerns over the country's future.
Full report at: khaama.com/masoud-believes-the-ongoing-process-for-peace-with-taliban-is-isis-game-4567
-------
130 Taliban Insurgents Killed, 95 Injured In Military Operations in Baghlan, Afghanistan
By Khaama Press - Wed Feb 10 2016
Over 200 Taliban insurgents have been killed or wounded during the ongoing military operations in northern Baghlan province of Afghanistan, the local officials said Wednesday.
Provincial governor Abdul Satar Barez said at least 130 Taliban militants have been killed and 95 others have sustained injuries during the operations so far.
Barez further added that the operations have suspended due to heavy snow fall in the area but the Afghan security forces are committed to clear the areas under the Taliban control.
The counter-terrorism operations were launched by the Afghan security forces late in the month of January from Dand-e-Ghori area close to Pul-i-Khumri city.
Full report at: khaama.com/130-taliban-insurgents-killed-in-ongoing-military-operations-in-baghlan-0104
-------
Daesh-Taliban clash leaves six militants killed, 10 wounded in Nangarhar
By Khaama Press - Thu Feb 11 2016
Six militants have been killed and 10 others wounded in a clash erupted between two rival insurgent groups in eastern Nangarhar province.
Spokesperson for the police headquarters of Nangarhar province said the clash erupted between fighters of Taliban and Daesh in Karkani area of Achin District yesterday.
According to Colonel Hazrat Hussain Mashriqiwal, five of the militants killed were loyalists of Daesh and the other one was from the Taliban group.
Seven of the 10 wounded belonged to Daesh and three to Taliban.
Nangarhar has become the battle ground of Taliban and Daesh where they have announced 'Jihad' against each other.
Full report at: khaama.com/daesh-taliban-clash-leaves-six-militants-killed-10-wounded-in-nangarhar-4568
-------
Several killed in Daesh, Taliban clashes in Paktika
By Khaama Press - Thu Feb 11 2016
Several militants have been killed in clashes between the loyalists of the terrorist group of the Islamic State (IS) which is also known by its Arabic name 'Daesh' and Taliban in Gomal District of Paktika province.
Local residents said on Thursday that the clashes have been erupting in Khand and Dinarkhil areas since last two days and that around 80 insurgents have been killed so far.
According to them, drone strikes were also carried out during these clashes in which 18 Taliban were killed and two vehicles belonging to the security guards of the group's shadow governor for Paktika province were destroyed.
Full report at: khaama.com/80-killed-in-daesh-taliban-clash-in-paktika-4568
-------
5 policemen martyred, 6 wounded in an insider attack in Kandahar
By Khaama Press - Thu Feb 11 2016
At least five policemen were martyred and six others sustained injuries in an insider attack in southern Kandahar province of Afghanistan.
The incident took place late on Wednesday evening in Abdul Rauf area of Zherai district, a local security official said.
The official further added that two policemen opened fire on their comrades while they were having dinner in a security check post.
The official further added that the two policemen were apparently affiliated with the Taliban militants.
Full report at: khaama.com/5-policemen-martyred-6-wounded-in-an-insider-attack-in-kandahar-0106
-------
President Ghani: Afghan Air Force moving towards a new beginning
By Khaama Press - Thu Feb 11 2016
President Mohammad Ashraf Ghani said Thursday that the Afghan Air Force (AAF) is moving towards a new beginning, reaffirming the government's commitment to invest in educating the new generation of the country.
Speaking during an exhibition of the Afghan Air Force (AAF), President Ghani thanked the Air Force personnel for dedication and hard work in defending the country.
He also hailed the commander of the U.S. forces and the NATO-led Resolute Support (RS) mission, Gen. John Campbell for assisting the Afghan security forces.
President Ghani further added that the capabilities of the Afghan Air Force will be bolstered in a bid to provide cover for the ground forces across the country.
Full report at: khaama.com/president-ghani-afghan-air-force-moving-towards-a-new-beginning-0107
-------
Atmar says 2016 would be "the national stability year" in Afghanistan
By Khaama Press - Thu Feb 11 2016
National Security Adviser (NSA) Mohammad Hanif Atmar says 2016 would be "the national stability year" in Afghanistan.
Atmar expressed these comments in a meeting with Alexander Mantytskiy, Ambassador of the Russian Federation to Kabul, on Wednesday.
The two sides also discussed Afghanistan's membership in the anti-Daesh international coalition, result of the third round of quadrilateral meeting and government policies for stability.
Full report at: khaama.com/atmar-says-2016-would-be-the-national-stability-year-in-afghanistan-4567
-------
Mojaddedi: President Ghani has no experience of governance
By Zabihullah Moosakhail - Thu Feb 11 2016
Professor Sibghatullah Mojaddedi, the former President of Afghanistan and a Jihadi leader who backed the incumbent President in his election campaign and asked the nation to vote for him, apparently regrets his support.
He has said that President Mohammad Ashraf Ghani has no experience of governance.
Full report at: khaama.com/mujadidi-president-ghani-has-no-experience-of-governance-4568
---------
Arab World
37 Terrorists, Ringleader Killed in Western Ghouta
Feb 11, 2016
TEHRAN (FNA)- At least 37 Takfiri terrorists, including their leader, were killed by the Syrian army and popular forces stationed in Darayya in Western Ghouta of Damascus countryside.
A military source said on Thursday that the army units carried out concentrated operations against bases and fortified positions of terrorist organizations in Darayya city, killing 37 of their members and destroying their arms and munitions in the past 24 hours.
Full report at: en.farsnews.com/newstext.aspx?nn=13941122000260
-------
Jeish al-Fatah Terrorists Caught Off Guard by Syria's Massive Air, Ground Strikes
Feb 11, 2016
TEHRAN (FNA)- Members of Jeish al-Fatah terrorist group were perplexed by the Syrian army's air and ground assaults against their positions in different parts of Hama province on Thursday.
Army units carried out intensive operations against the gatherings of 'Jeish al-Fatah' in al-Sarmaniya, al-Karkor, al-Latamina, al-Habit in the countryside of Hama.
Also the terrorists' vehicles, sites and fortified positions were destroyed during the operations and many terrorists were killed, field sources said on Thursday.
In addition to the ground operations, the Syrian air force also carried out strikes against the hideouts and gatherings of 'Jeish al-Fatah' terrorists in Kafar Zita city and Kafar Naboda town to the Northwest of Hama city.
Full report at: en.farsnews.com/newstext.aspx?nn=13941122000421
-------
Al-Nusra Front Leaders Acknowledge Increasing Casualties in Aleppo
Feb 11, 2016
TEHRAN (FNA)- Leaders of the Al-Nusra Front terrorist group confirmed death of dozens of their comrades in the Syrian air force strikes against their command centers in across Aleppo province.
The airstrikes had targeted fortified positions of the al-Nusra Front in al-Bawabia, Kamarin, al-Zarba, and Khan al-Assal towns in the Southern and Southwestern parts of Aleppo province on Thursday, destroying the terrorists' positions and military grid.
Field sources said that all terrorists inside the al-Nusra command centers were killed and their weapons were destroyed. Several social media pages of the al-Nusra leaders confirmed large casualties, saying that the death toll of the massive airstrikes on their positions is increasing.
Full report at: en.farsnews.com/newstext.aspx?nn=13941122000780
-------
Syrian Army Pounds Militants in Dara'a Province
Feb 11, 2016
TEHRAN (FNA)- The Syrian Army in a series of concerted operations on Thursday severely hit militants' positions on the outskirts of Dara'a city, Southern Syria, military sources said.
"One of the main command centers of the militant groups in one of the Southern neighborhoods of the city of Dara'a Ballad came under the heavy attacks of the Syrian Army," sources said Thursday, adding that the center was totally destroyed.
During the operation, Syrian army forces and their allies also managed to destroy several vehicles of the militants in different neighborhoods in the city.
Meantime, Russian jets carried out several airstrikes over the town of Saida in Dara'a province, destroying a number of terrorists' positions in the town. "Dozens of militants were killed or injured during the air raids," sources said.
Full report at: en.farsnews.com/newstext.aspx?nn=13941122000759
-------
ISIL, Al-Nusra Pinned Down under Heavy Attacks by Syrian Warplanes in Aleppo
Feb 11, 2016
TEHRAN (FNA)- The Syrian Air Force launched a series of massive airstrikes on ISIL and al-Nusra Front's main military grid and defense lines in Aleppo countryside on Thursday, according to a military source.
The source said that the ISIL gatherings and military hardware, including a depot of machinegun-equipped vehicles, were destroyed during the strikes in Tadef and Tiba al-Ism regions and nearby farms as well as al-Bab city in the Eastern and Northeastern parts of the province, respectively.
Dozens of ISIL and al-Nusra Front militants were killed and wounded during the attack, the military source added.
Full report at: en.farsnews.com/newstext.aspx?nn=13941122000675
-------
General Soleimani Takes Part in Islamic Revolution Anniversary Rallies
Feb 11, 2016
TEHRAN (FNA)- Commander of the Quds Force of Islamic Revolution Guards Corps Major General Qassem Soleimani joined the nationwide rallies on Thursday to commemorate the 37th anniversary of the victory of the Islamic Revolution in Iran.
General Soleimani was among the first of millions who took to the streets early morning on Thursday in the capital Tehran to commemorate the anniversary of the victory of the Islamic Revolution.
Full report at: en.farsnews.com/newstext.aspx?nn=13941122000533
-------
Syrian Army Keeps Pounding Militants in Ghouta
Feb 11, 2016
TEHRAN (FNA)- The Syrian Army on Thursday heavily pounded several militant positions in different regions around the capital, Damascus, keeping on their intensive operations against the militants in the region, reports said.
Military sources said the Syrian artillery unit, taking on against militants' lines in Zabdean and Bala villages in Southern Damascus province, managed to impose heavy losses on the Full report at: en.farsnews.com/newstext.aspx?nn=13941122000649
-------
ISIL's Positions Razed by Syrian Jets South of Deir Ezzur
Feb 11, 2016
TEHRAN (FNA)- Syrian Air force jets, in an intensive operation, heavily pounded terrorists' positions South of Deir Ezzur province, sources on the ground said on Thursday.
The sources said scores of militants were taken out in the surgical air assaults on al-Hamad town, during which many structures and vehicles of the militants were destroyed in the targeted areas.
Full report at: en.farsnews.com/newstext.aspx?nn=13941122000467
--------
'500 dead' in Syria regime's Aleppo assault this month
AFP | Feb 11, 2016
BEIRUT: A Russian-backed regime onslaught in northern Syria was reported on Wednesday to have killed more than 500 people this month, as Turkey faced new pressure to open its border to people fleeing the violence.
World powers urged Russia to end its air strikes, which a senior US official said were "directly enabling" the Islamic State group, and the UN Security Council met to discuss the conflict.
The meeting behind closed doors came ahead of crucial international talks Thursday in Munich to push for Syrian peace negotiations.
The Syrian Observatory for Human Rights said 506 people had died since the regime launched a major offensive against rebels in Aleppo province on February 1, including 23 children killed in Russian air strikes.
Full report at: timesofindia.indiatimes.com/world/middle-east/500-dead-in-Syria-regimes-Aleppo-assault/articleshow/50941264.cms
-------
India
26/11 Case: Headley Bares All On Terror Financing By ISI
PTI | Feb 11, 2016
MUMBAI: Making fresh disclosures on the brazen 26/11 attacks, Pakistani-American terrorist David Coleman Headley on Thursday exposed how ISI and LeT majorly funded terror operations in India and financed him from time to time and that Pakistan native Tahawwar Rana visited Mumbai before the terror strikes.
Resuming his deposition before a court here today via video-link after a day's break due to a technical glitch at the US end yesterday, the LeT operative also said that RBI has turned down a request to open a bank account for their office in India.
Giving details of his funding, he said, "Before coming to India in September 2006, he received $25,000 from ISI's Major Iqbal."
"I also got 40,000 in Pakistani currency from LeT operative Sajid Mir between April and June 2008," he told the court, adding that Major Iqbal used to regularly sent him money in instalments.
Full report at: timesofindia.indiatimes.com/india/26/11-case-Headley-bares-all-on-terror-financing-by-ISI/articleshow/50941879.cms
-------
UAE prince in India, set to give business boost
TNN | Feb 11, 2016
NEW DELHI: In a sign of the importance India attaches to its ties with the UAE, PM Narendra Modi on Wednesday received at the airport Abu Dhabi Crown Prince Sheikh Mohammed Zayed Al Nahyan, who is on a three-day visit to the country.
Al Nahyan will also be hosted by both President Pranab Mukherjee and the PM.
The UAE is already India's third largest trading partner with an annual trade volume of close to $60 billion. Both countries hope to sign several agreements, including one in civil nuclear energy, which could take the trade volume to over $100 billion in the near future. India is also looking at the Gulf nation, which has a sovereign wealth fund of close to $800 billion, to provide a major thrust to infrastructure development.
Modi had in the past received US President Barack Obama and Japan PM Shinzo Abe at the Delhi airport.
Full report at: timesofindia.indiatimes.com/india/UAE-prince-in-India-set-to-give-business-boost/articleshow/50938463.cms
-------
Revelations by David Headley: What we know so far
ANI | Feb 11, 2016
Revelations by David Headley: What we know so far
MUMBAI: The deposition of David Coleman Headley began before a special Mumbai court on Thursday where he is revealing the sequence of events and planning behind the 26/11 terror attacks. Here is what we know so far:
1. I opened an office in Mumbai's Tardeo AC market area on September 14, 2006.
2. On October 11, 2006, I received Rs 66,605 from Dr Tahawwur Rana when I was in Mumbai.
3. On November 7, 2006, I received 500 US dollars from Dr Tahawwur Rana.
4. I received Rs 17636 on November 30 and 1000 US dollars on December 4, 2006 from Tahawwur Rana.
5. I received all the amount through Nariman branch of IndusInd Bank.
6. Tahawwur Rana visited Mumbai before terror attack and I advised him to return back to the US, so that he won't be in any danger.
7. Before my visit to India, I received $25,000 from Major Iqbal and 40,000 Pakistan rupees from Sajid Mir.
8. I received Rs 2000 in April 2008 and Rs 1500 in June 2008 from Major Iqbal.
9. Major Iqbal gave me counterfeit Indian currency two-three times.
10. I received Rs 18000 from Abdur Rehman Pasha.
11. On November 1, 2006 I signed the agreement of my office in Tardeo area of Mumbai, with landlord Mr Bora.
12. The contents I had mentioned in the agreement of my office in Mumbai's Tardeo area, were true.
13. On July 16, 2008, I applied for extension of license (Mumbai office) to stay in premises and extension was granted.
14. An application was submitted to the Reserve Bank of India (RBI) to open a business account in India with signatures of Raymond Sanders.
15. The RBI refused to give permission to open a business account.
timesofindia.indiatimes.com/india/Revelations-by-David-Headley-What-we-know-so-far/articleshow/50940897.cms
-------
Europe
French Parliament Votes To Write Controversial State Of Emergency Powers Into Constitution As Counter-Terror Measures Spark Protests
Lizzie Dearden | The Independent | Feb 11, 2016
The French parliament has voted for controversial changes to its constitution to enshrine powers implemented under its state of emergency and removing citizenship for terror suspects.
Politicians voted by 317 votes to 199 to give a new status to emergency security powers, after previously supporting stripping convicted extremists' French citizenship by 162 votes to 148 against.
Full report at: timesofindia.indiatimes.com/world/europe/French-parliament-votes-to-write-controversial-state-of-emergency-powers-into-constitution-as-counter-terror-measures-spark-protests/articleshow/50937923.cms
-------
French FM Fabius quits, lashes out at US, Russia
February 11th, 2016
PARIS: French Foreign Minister Laurent Fabius bowed out of government on Wednesday after a career spanning more than three decades that saw an early string of scandals, but ended with him shepherding a complex climate deal as foreign minister.
And he didn't leave quietly, lashing out at Russia and Iran for "complicity" in the "brutality" of President Bashar al Assad's government and criticising the United States for a lack of commitment in resolving the Syrian war.
"It seems the United States lacks the commitment to resolve the conflict in Syria.
The words are there, but the action is missing," Mr Fabius said in a severe indictment of Washington's role.
Full report at: dawn.com/news/1238726/french-fm-fabius-quits-lashes-out-at-us-russia
-------
North America
U.S. says it added head of al-Qaeda's eastern zone in Afghanistan to the list of global terrorists
By Khaama Press - Thu Feb 11 2016
The Treasury Department of the United States says it has added Nayf Salam Muhammad Ujaym al Hababi who is also known as Farouq al-Qahtani, a senior al-Qaeda leader based in Afghanistan, to the list of specially designated global terrorists, The Long War Journal reports.
Hababi wears multiple hats for al Qaeda. And the government's dossier for him demonstrates that there is no firm dividing line between the jihadists' insurgency operations in South Asia and their plotting terrorist attacks in the West.
In his "key leadership role," Hababi "is responsible for planning attacks against US and Coalition forces in Afghanistan, contributing to al Qaeda's external operations planning, and fundraising on al Qaeda's behalf." External operations means terrorist plots in the West or against Western interests.
Full report at: khaama.com/afghanistan-urges-north-korea-to-halt-missile-tests-4567
-------
US's Carter: NATO to draw up plans to counter people smuggling
February 11, 2016
NATO military authorities will draw up plans for how the alliance could help shut down illegal migration and smuggling of people across the Aegean Sea, US Defense Secretary Ash Carter said Thursday.
Carter made the announcement at a press conference after three NATO allies -Turkey, Germany and Greece- requested alliance participation in an international effort to help ease Europe's gravest migration crisis since World War II.
The three countries made the request at a NATO defense ministers' meeting in Brussels. NATO ministers "tasked NATO military authorities to provide its advice for options for implementing it," Carter said.
NATO's Military Committee will review those recommendations and submit them to the Full report at: todayszaman.com/diplomacy_uss-carter-nato-to-draw-up-plans-to-counter-people-smuggling_412021.html
-------
NATO willing to support migrant naval operation in Aegean: US
Thu Feb 11 2016
BRUSSELS: NATO is willing to support a German, Greek and Turkish request for a maritime mission to help monitor Turkey's Aegean Sea coast for migrant smugglers, Pentagon chief Ashton Carter said Thursday.
"NATO and all the parties at the table this morning indicated a willingness for NATO to support and be a part of that operation," Carter said after a meeting of defence ministers at the alliance's headquarters in Brussels.
"All three of those countries emphasised the need for NATO to act quickly, with which the United States strongly agrees, because this are people's lives and destinies at stake here."
Carter said military planners will now look at the issue and report back to NATO for final approval.
Full report at: dawn.com/news/1238840/nato-willing-to-support-migrant-naval-operation-in-aegean-us
-------
Mideast
US ignores Erdoğan's call, insists on partnership with Syrian Kurds
February 11, 2016
The United States has insisted on backing Syrian Kurdish militias in their fight against the Islamic State in Iraq and the Levant (ISIL), dismissing the Turkish president's demand that Washington end its relationship with Syrian Kurds and recognize them as terrorists.
US State Department Deputy Spokesperson Mark Toner avoided responding directly to the comments of Turkish President Recep Tayyip Erdoğan and repeatedly highlighted the importance of Turkey, a major US ally, in efforts to destroy ISIL. Toner, who spoke to reporters in Washington, reiterated that the US has not changed its position in viewing Kurdish militias as their partners and not terrorists.
The war of words between the US and Turkey has continued for a third day straight, with Erdoğan bashing Washington for refusing to recognize the Democratic Union Party (PYD) and its armed wing, the People's Protection Units, (YPG) as terrorists. The intercontinental squabble was kicked off after US President Barack Obama's envoy Brett McGurk visited Kobani -- a Syrian border town that was a symbol of Kurdish resistance to ISIL's advance -- and met with Kurds there.
Full report at: todayszaman.com/diplomacy_us-ignores-erdogans-call-insists-on-partnership-with-syrian-kurds_412008.html
-------
Erdoğan says told EU Turkey could open gates for migrants to Europe
February 11, 2016
President Recep Tayyip Erdoğan said on Thursday he had previously told the European Union's two top officials, Jean-Claude Juncker and Donald Tusk, that the time could come when Turkey would open the gates for migrants to travel to Europe.
"In the past we have stopped people at the gates to Europe, in Edirne we stopped their buses. This happens once or twice, and then we'll open the gates and wish them a safe journey, that's what I said," Erdoğan said in a speech.
A Greek news website said on Monday that Erdoğan, in a meeting with Juncker and Tusk, had threatened in November to flood Europe with migrants if EU leaders did not offer a better deal to help Turkey manage the refugee crisis.
todayszaman.com/diplomacy_erdogan-says-told-eu-turkey-could-open-gates-for-migrants-to-europe_412028.html
-------
2 alleged human smugglers on trial over Syrian toddler's death
February 11, 2016
Two alleged people-smugglers have been on trial in Turkey accused of causing the death of 3-year-old Syrian migrant boy Aylan Kurdi and four other people.
The image of the boy - his lifeless body lying face down on a beach in Bodrum - galvanized world attention on the refugee crisis, graphically illustrating the magnitude of the suffering and the treacherous journeys the migrants' risk.
Full report at: todayszaman.com/national_2-alleged-human-smugglers-on-trial-over-syrian-toddlers-death_412014.html
-------
Students face up to 4 years in prison over banner promising 'no tea' for Erdoğan
February 11, 2016
Three students from Ege University in İzmir face up to four years in prison for allegedly insulting President Recep Tayyip Erdoğan, due to a humorous banner criticizing the increase in the price of tea in the university's cafeteria.
"I'm buying a glass of tea for everyone, except for Tayyip," the banner read, referring to a well-known scene from the Turkish comedy-drama movie titled "Çiçek Abbas," which was directed by prominent Turkish director Sinan Çetin in 1982. In the scene, the main character Abbas buys tea for everyone in a teahouse, except for Şakir, who does not want to drink a glass of tea from Abbas because they are not on good terms. After Şakir's refusal, Abbas says, "I'm buying a glass of tea for everyone, except for Şakir."
The banner, including photos of the fictional characters Abbas and Şakir, was hung between trees nearly two years ago, when students were protesting the increase in the price of tea in the university cafeteria. Students also handed out glasses of tea for free as part of the protest.
Full report at: todayszaman.com/national_students-face-up-to-4-years-in-prison-over-banner-promising-no-tea-for-erdogan_412032.html
-------
Iran to upgrade missile, get Russian defence system
February 11th, 2016
DUBAI: Iran will unveil an upgrade of its Emad ballistic missiles this year, its defence minister has been quoted as saying.
The missile programme has drawn criticism from the United Nations and sanctions from the United States.
Iran would also start taking delivery of an advanced Russian surface-to-air missile defence system in the next two months, Hossein Dehghan added. The delivery was blocked before a landmark nuclear deal with world powers.
Tehran agreed to the deal on curbing its nuclear work in July last year and international sanctions were lifted in January. But tensions with Washington have remained high as Tehran continues to develop its military capabilities.
Full report at: dawn.com/news/1238733/iran-to-upgrade-missile-get-russian-defence-system
-------
Commander Terms 'Samavat' Iran's Most Advanced Optical Air Defense System
Feb 11, 2016
TEHRAN (FNA)- Commander of the Khatam al-Anbiya Air Defense Base Brigadier General Farzad Esmaili said Samavat is one of the most advanced optical air defense systems in Iran.
Speaking to FNA on the sidelines of Thursday rallies in Tehran to mark the 37th anniversary of the victory of the Islamic Revolution, Esmaili said the 35mm towed anti-aircraft twin-cannon has also been delivered to Iran's Air Defense Base.
Earlier this year, he had also said that the Samavat smart artillery control system is dual-purpose, meaning it can function as both active and passive.
"When in active mode, the Samavat 35mm detects targets with its smart radar system and broadcasts the targets data to the artillery tubes located at several points. The weapons then automatically lock into the target with radar and provide us with air defense at low altitude," he explained.
Full report at: en.farsnews.com/newstext.aspx?nn=13941122000786
-------
Iran Mounting Nasr Cruise Missiles on F-14 Fighter Jets
Feb 11, 2016
TEHRAN (FNA)- The Iranian Air Force Deputy Chief Liaison Officer, General Aziz Nasirzadeh, announced on Thursday that the country is developing its smart bombs production program and plans to mount air-launched Nasr cruise missile on all its F-14 fighter jets.
Speaking to reporters on the sidelines of Thursday rallies in Tehran to mark the 37th anniversary of the victory of the Islamic Revolution, Nasirzadeh said the air-launched cruise missile has already been mounted on F-4 fighter jets.
Full report at: en.farsnews.com/newstext.aspx?nn=13941122000764
-------
Security operations against PKK in Cizre complete, minister says
February 11, 2016
Operations by Turkish security forces against Kurdistan Workers' Party (PKK) in the town of Cizre have been successfully completed but a curfew will remain in place, Interior Minister Efkan Ala said on Thursday in comments broadcast live by TRT television.
Authorities imposed a round-the-clock curfew on Cizre on Dec. 14 in a bid to root out PKK terrorists who had dug trenches and erected barricades to keep security forces at bay.
Dozens of PKK members, soldiers and police officers and civilians have been killed in the clashes in the mainly Kurdish town of Cizre which is situated near the Syrian and Iraqi borders.
todayszaman.com/national_security-operations-against-pkk-in-cizre-complete-minister-says_412043.html
URL: https://newageislam.com/islamic-world-news/new-age-islam-edit-bureau/pakistan-ulema-council-declare-daesh--khawarij-/d/106312
New Age Islam, Islam Online, Islamic Website, African Muslim News, Arab World News, South Asia News, Indian Muslim News, World Muslim News, Womens in Islam, Islamic Feminism, Arab Women, Womens In Arab, Islamphobia in America, Muslim Women in West, Islam Women and Feminism, Moderate Islam, Moderate Muslims, Progressive Islam, Progressive Muslims, Liberal Islam, Liberal Muslims, Islamic World News