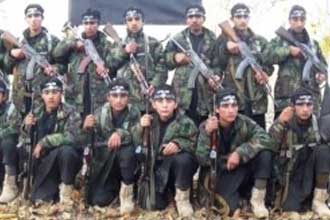 Photo: Over 10,000 ISIS Affiliates Based In Afghanistan and Pakistan: Report
-----------
India
Muslim Personal Law Flows from the Holy Quran, SC Can't Question It: Jamiat-Ulema-i-Hind
NIA Arrests Delhi Man for Instigating Youth To Form IS-Inspired Terror Outfit
Coast Guard intercepts Pakistani fishing boat in Kutch, arrests 11 onboard
-----------
South Asia
68 Militants Killed In Counter-Terrorism Operations Led By Afghan Army
Over 10,000 ISIS Affiliates Based In Afghanistan and Pakistan: Report
U.S. And Britain Suspend Financial Aid to Afghanistan Peace Council
Nearly 200 Pentagon photos show abuse of prisoners in Afghanistan and Iraq
Journalist in coma after being shot in head by gunman in Baghlan
Four-country talks resume on path to Afghan peace
-----------
Pakistan
Lal Masjid Lodged Complaint against Civil Society Activists
Pakistan Calls On World to Combat Islamophobia
18 senior Punjab police officers likely to be demoted in Pakistan
Third round of quadrilateral talks kicks off in Islamabad
-----------
Arab World
Saudi-Led Forces' Death Toll in Yemen's Missile Attack Exceeds 100
Military Strategist: Syrian Army to Use Nubl-Al-Zahra Tactics to Free Foua'a, Kafria
Syrian Army Captures More Lands at Dara'a Border with Jordan
Syria: Army Razes Terrorists Armoured Vehicles, Gathering Centres in Homs
Syrian Army Completes Siege of Key City Southwest of Damascus
Saudi Arabia Lacks Courage to Send Ground Troops To Syria: Head of Iran's Revolutionary Guard
Syria: Gov't Forces Continue to Advance against Militants in Aleppo
EC Secretary: Saudi Troops Deployment to Syria to Engulf Region
-----------
Mideast
Şırnak Governor's Office: 9 Terrorists Killed
Davutoğlu Announces 10-Part Action Plan to Fight Terrorism
Erdoğan says Russia must be held accountable for killings in Syria
HDP deputies claim 9 died in fire in Cizre building, as 2 policemen are killed in PKK attack
On Turkish side of border, Syrian refugees wait and worry
Official: Russian talk of Turkish incursion in Syria is propaganda
Protesters interrupt Turkish President Erdoğan's speech in Ecuador
Davutoğlu says questioned for listening to Kurdish music when young
Iran, Japan sign investment pact to lure wary Japanese firms
-----------
Africa
Malian Troops Retake UN Base from Militants; Five Killed
-----------
North America
UN Chief: 34 Groups Now Allied To Islamic State Extremists
Twitter Shuts Down Over 125,000 Accounts Linked To ISIS
President Obama's Speech at Islamic Centre of Baltimore: A Fact Check
Canadian Cops Preached Screwed-Up Islamic Doctrine to Bomb Plotters, Court Hears
Pentagon welcomes Saudi Arabia's anti-Islamic State troop proposal
Russia must stop bombing women, children in Syria: John Kerry
----------
Southeast Asia
The 'Battle of Ideas' to Defeat the Islamic State Begins in Indonesia
-----------
Australia
Australian with Suspected Islamic State Links Deported From India
-----------
Europe
German Security Chief Warns Of Islamic State Militants Posing As Refugees
Parents of 'Jihadi Jack' Letts claim he has mental health condition and is not fighting for a terrorist group in Syria
Compiled by New Age Islam Edit Bureau
URL: http://newageislam.com/islamic-world-news/new-age-islam-edit-bureau/muslim-personal-law-flows-from-the-holy-quran,-sc-can-t-question-it--jamiat-ulema-i-hind/d/106258
----------
India
Muslim Personal Law Flows From The Holy Quran, SC Can't Question It: Jamiat-Ulema-i-Hind
TNN | Feb 6, 2016
NEW DELHI: Jamiat-Ulama-i-Hind, the powerful body of Muslim clerics, has said that Muslim personal law flows from the Holy Quran and cannot be subjected to any scrutiny by the Supreme Court based on principles of the Constitution.
"Mohammedan law is founded essentially on the Holy Quran and this cannot fall within the purview of the expression 'laws in force' as mentioned in Article 13 of the Constitution, and hence its validity cannot be tested on a challenge based on Part-III of the Constitution (guaranteeing fundamental rights, including right to equality)," the JUH application filed through advocate Ejaz Maqbool said.
The assertion by the body marks a fierce challenge to the intent to extend the principle to gender equality to Muslim women and can open a fresh phase in the debate on whether personal laws based on religion can trump the Constitution. The debate will require the BJP-led government to spell out its stand on the fraught issue.
Last year, while entertaining a petition, a two-judge bench of Justices A R Dave and Adarsh Goel had directed registration of a separate PIL to consider the rights of Muslim women as there was no safeguard against arbitrary divorce (triple talaq) and second marriage by Muslim men during subsistence of their first marriage. The court had issued notice to the attorney general and National Legal Services Authority (Nalsa).
On Friday, a bench of Chief Justice T S Thakur and Justices A K Sikri and R Banumathi took up the petition titled 'Muslim Women's Quest for Equality' and agreed to make JUH a party to the proceedings and sought responses from the JUH, the AG and Nalsa on the questions posed by the SC in six weeks. All India Muslim Personal Law Board is also expected to request the SC to make it a party in the case.
The JUH also referred to Article 44, which figures as a provision in the Constitution, providing that the state shall endeavour to secure for the citizens a uniform civil code throughout the territory of India.
But the JUH said, "Article 44 envisaging UCC is only a directive principle and is not enforceable. This article by implication recognizes the existence of different codes applicable to different religions in matters of personal law and permits their continuance until the state succeeds in its endeavour to secure for all citizens a UCC."
It said the Muslim Women (Protection of Rights on Divorce) Act, 1986, a legislation brought by the Rajiv Gandhi government to step around the SC directed equality in maintenance for Muslim women in Shah Bano case, provided for the rights of Muslim women in matters of divorce and maintenance.
timesofindia.indiatimes.com/india/Muslim-personal-law-founded-on-Quran-SC-cant-question-it-Jamiat/articleshow/50873733.cms
----------
NIA arrests Delhi man for instigating youth to form IS-inspired terror outfit
Bharti Jain | TNN | Feb 6, 2016
NEW DELHI: The National Investigation Agency (NIA) on Friday arrested Abdus Sami Qasmi, a resident of Seelampur in Delhi, from Hardoi, Uttar Pradesh, for allegedly instigating and motivating youth across the country to form a terror outfit inspired by Islamic State (IS) for carrying out jihadi attacks across the country.
The arrest was made with the active support of UP's anti-terrorism squad (ATS) and has taken the number of total arrests made by NIA in the case relating to the pan-Indian, IS-inspired module, to 20.
A non-bailable warrant had been issued earlier against Abdus Sami by the special NIA court. He was produced before the NIA special court in Delhi on Saturday, which has remanded him to 10 days' custody for interrogation.
Abdus Sami, who hails from Rampur district in UP, was wanted for his involvement in the conspiracy to form an IS-inspired terror wing to launch jihadi attacks in the country. He has been delivering provocative and inflammatory speeches in the support of 'Caliphate'. He is also accused of launching a few websites wherein his speeches have been uploaded.
Abdus Sami had been instigating and motivating Indian youth for anti-national activities and has visited various parts of the country in order to deliver his 'takreer' and 'bayaan'. He runs a trust and madrassas and some of his financial transactions in this connection have been found to be of suspicious nature. These transactions are now under investigation.
timesofindia.indiatimes.com/india/NIA-arrests-Delhi-man-for-instigating-youth-to-form-IS-inspired-terror-outfit/articleshow/50877035.cms
-----------
Coast Guard intercepts Pakistani fishing boat in Kutch, arrests 11 onboard
PTI | Feb 6, 2016
AHMEDABAD: Indian Coast Guard (ICG) on Saturday intercepted a Pakistani fishing boat which illegally entered into Indian maritime boundary off Jakhau coast in Kutch district and arrested 11 fishermen onboard, officials said.
"A fishing boat from Pakistan measuring 40 feet in length was intercepted by Indian Coast Guard off Jakhau coast, five nautical miles into Indian waters," captain Abhishek Matiman, a defence spokesperson said.
"Eleven fishermen onboard the fishing boat have also been held," he said.
Indian and Pakistan marine security agencies often capture fishing boats for crossing into their respective maritime boundary.
Around 440 Indian fishermen are at present languishing in Pakistani jails, most of whom are from Gujarat, and around 860 Indian fishing boats in the custody of Pakistan.
Recently, a fishermen's organisation, in a letter to Prime Minister Narendra Modi, had requested him to initiate efforts to bring back jailed Indian fishermen and their boats from Pakistan.
The letter was written by president of the Porbandar Fishermen Boat Association Manish Lodhari, who is also the secretary of National Fishworkers' Forum.
timesofindia.indiatimes.com/india/Coast-Guard-intercepts-Pakistani-fishing-boat-in-Kutch-arrests-11-onboard/articleshow/50877508.cms
----------
South Asia
68 militants killed in counter-terrorism operations led by Afghan army
By KHAAMA PRESS - Sat Feb 06 2016
At least sixty eight anti-government militants were killed in latest counter-terrorism operations led by the Afghan National Army (ANA) forces in the past forty eight hours.
The Ministry of Defense (MoD) in two separate statements provided an operational update regarding ongoing counter-terrorism operations in different parts of the country.
In the first statement, the Ministry of Defense (MoD) said at least 36 militants were killed and 26 others were killed in the operations conducted in Nangarhar, Kunar, Ghazni, Herat, Baghlan, Helmand, and Badakhshan provinces.
The statement further added that seven militants were detained and various types of weapon and ammunition were confiscated by the security forces.
In the second statement, the Ministry of Defense (MoD) said at least 32 militants were killed and five others were wounded during the operations conducted in Paktia, Ghazni, Zabul, Baghlan andnangarhar provinces.
The statement also added that three commanders of the anti-government armed militants along with two producers of homemade improvised explosive device were among those killed and various homemade land mines were discovered and seized during the operations.
The anti-government armed militant groups have not commented regarding the reports so far.
khaama.com/68-militants-killed-in-counter-terrorism-operations-led-by-afghan-army-0085
----------
Over 10,000 ISIS affiliates based in Afghanistan and Pakistan: Report
By KHAAMA PRESS - Fri Feb 05 2016
ISIS Afghanistan and PakistanOver 10,000 loyalists of the Islamic State of Iraq and Syria (ISIS) terrorist group are based in the remote regions of Afghanistan and Pakistan, a new project report.
The project by the UK-based Royal United Services Institute (RUSI) has been launched amid concerns that the loyalists of the terror group have stepped up efforts to expand foothold in the region, including swaths of southern and central Asia under the terror group's so-called Khurasan province.
Funded by the Smith Richardson Foundation, the research project has recently been launched, drawing on interviews with Daesh members, village elders, members of other insurgent organisations in the area – mainly Taliban and Tehrik-e-Taliban Pakistan (TTP) – and local-level government officials.
Full report at: khaama.com/over-10000-isis-affiliates-based-in-afghanistan-and-pakistan-report-0082
----------
U.S. and Britain suspend financial aid to Afghanistan Peace Council
By KHAAMA PRESS - Fri Feb 05 2016
Afghanistan peace councilThe United States and United Kingdom governments have reportedly suspended financial aid to Afghanistan High Peace Council.
The Afghanistan High Peace Council (AHPC) confirmed Friday that the move by the major donors followed amid ongoing issues within the council, including the leadership of the council that lacks a chairman during the past one year.
AHPC officials said the major donors that have suspended financial aid includes the United States Agency for International Development and the government of the United Kingdom.
A senior member of the council, Mohammad Ismail Qasimyar, confirmed that the donors have suspended financial support to the Highe Peace Council since the beginning of the year.
Qasimyar further added that the main motive behind the suspension of the financial support by the international donors have been the lack of chairman for almost a year and issues within the secretariat of the council.
Without disclosing information on the amount of aid the council was receiving from the two main donors, Qasimyar said the new chairman and secretariat chief are expected to be assigned in coming days.
The current Minister of Foreign Affairs Salahuddin Rabani was previously serving as the chairman of the council while the acting Minister of Defense Masoom Stanikzai was the secretariat chief.
The Afghanistan High Peace Council was formed by the former President Hamid Karzai in mid 2010 to provide a platform for reconciliation talks between the Afghan government and the Taliban group.
khaama.com/u-s-and-britain-suspend-financial-aid-to-afghanistan-peace-council-0081
----------
Nearly 200 Pentagon photos show abuse of prisoners in Afghanistan and Iraq
By KHAAMA PRESS - Sat Feb 06 2016
Pentagon prisoners abuseThe Pentagon has released 198 photographs on February 5 showing abuse of prisoners in Afghanistan and Iraq by U.S. personnel.
Many of the photographs released by Pentagon show close-ups of cuts and bruises on the arms and legs of the prisoners.
According to Pentagon, the photographs came from investigations into 56 allegations of misconduct by U.S. personnel.
Pentagon also added that 14 of those allegations were sustained and led to disciplinary action against 65 U.S. service members, including life imprisonment.
Meanwhile, the Amnesty International, said hundreds more photographs and documents pertaining abuse of prisoners in the two countries, remain withheld.
The international rights organization said it has documented numerous cases of abuses at U.S. detention sites, including in Iraq and Afghanistan between the years of 2002 and 2006.
"Despite an overwhelming amount of public evidence, to date, senior U.S. officials have escaped investigation or prosecution by U.S. authorities even when they have themselves disclosed information about their own or others' alleged culpability for the use of torture," Amnesty International said.
It also added "While there have been some courts-martial of members of the U.S. military for certain abuses, these have been directed largely at low-level soldiers, and the fact remains that there has been continuing impunity for higher level officials."
Naureen Shah, director of Amnesty International USA's Security and Human Rights Program, said "Today's release illustrates just a small portion of the real-life horror story that was the U.S. government's practice of torture. Prosecutors should review these and other documents for evidence of torture and other ill-treatment. These photos are not only reminders of torture committed by U.S. personnel, they may provide potential new evidence of criminal wrongdoing."
Full report at: khaama.com/nearly-200-pentagon-photos-show-abuse-of-prisoners-in-afghanistan-and-iraq-0083
----------
Journalist in coma after being shot in head by gunman in Baghlan
By ZABIHULLAH MOOSAKHAIL - Sat Feb 06 2016
A local journalist has been in coma after a gunman shot him in the head in Pul-i-Khumri, the provincial capital of northern Baghlan province.
Mohammad Ibrahim Hashemi and Mohammad Musa Hashemi, both brothers and employees of Adib Radio, were attack on their way home in first police district of the city on Thursday night.
Mohammad Ibrahim sustained serious injuries and went to coma. His brother Mohammad Musa who survived the gun shots was wounded after severely beaten up.
Habib-ur-Rahman regional manager of Adib Radio said that the man who fired the gun has been detained by police.
Full report at: khaama.com/local-journalist-in-coma-after-shot-in-the-head-by-gunman-in-baghlan-4546
----------
Four-country talks resume on path to Afghan peace
AP | Feb 6, 2016
ISLAMABAD: China, the United States, Afghanistan and Pakistan have launched their third round of talks aimed at finding a way to get the warring Taliban to sit and talk peace with the Afghan government.
At the start of talks in the Pakistani capital of Islamabad on Saturday, Sartaj Aziz, Pakistan's special adviser on foreign affairs, said there should be no preconditions to negotiations yet the Taliban have already said they would not hold direct talks with the Afghan government until they first held talks with US officials.
Previous rounds of the four-country talks have ended with a promise to meet again but Aziz said this time he would like to see that roadmap to peace emerge by the end of Saturday's meeting.
timesofindia.indiatimes.com/world/south-asia/Four-country-talks-resume-on-path-to-Afghan-peace/articleshow/50876817.cms
----------
Pakistan
Lal Masjid lodged Complaint against civil society activists
February 6th, 2016
ISLAMABAD: Lal Masjid and The Shuhada Foundation (SFP) have lodged a complaint against civil society activists, at the Aabpara police station.
The complaint was lodged by SFP spokesperson Hafiz Ehtesham Ahmed on Friday.
The complainant stated that the "chief of so-called civil society Jibran Nasir and Khurram Zaki arrived from Karachi to spread hatred and violence against Lal Masjid, Jamia Hafsa, Maulana Abdul Aziz and Ahle Sunnat Wal Jamaat (Deoband)".
Full report at: dawn.com/news/1237747/complaint-against-civil-society-activists
----------
Pakistan calls on world to combat Islamophobia
February 6th, 2016
UNITED NATIONS: Decrying the rise of Islamophobia worldwide, Pakistan called on Thursday for action to combat the forces of xenophobia and warned that if timely steps were not taken to check this disturbing trend, it could threaten regional and global peace and security.
Speaking at an event organised at the UN by Pakistan Mission and the OIC on "Countering Xenophobia through Interfaith Cooperation", Ambassador Maleeha Lodhi said that Islamophobic acts were unfortunately taking place in countries known as traditional champions of human rights and humanitarianism.
Full report at: dawn.com/news/1237791/pakistan-calls-on-world-to-combat-islamophobia
----------
18 senior Punjab police officers likely to be demoted in Pakistan
February 6th, 2016
LAHORE: Eighteen senior police officers, two DIGs among them, are likely to be demoted after the Supreme Court verdict declaring "out-of-turn" promotions illegal.
These officers (mostly SPs) will get the rank of deputy superintendent of police and even inspector.
The Punjab police have been employing delaying tactics in implementation of two similar judgments the Supreme Court had passed in 2013 and 2015.
Full report at: dawn.com/news/1237729/18-senior-punjab-police-officers-likely-to-be-demoted
----------
Third round of quadrilateral talks kicks off in Islamabad
By KHAAMA PRESS - Sat Feb 06 2016
KarzaiThe third round of quadrilateral talks aimed at finalizing the roadmap to Afghan peace process has kicked off in Islamabad.
Deputy Foreign Minister Hekmat Khalil Karzai is representing Afghanistan in the 4-nation talks while Pakistan is represented by its Foreign Secretary Aizaz Chaudhry.
U.S. and China the two other stakeholders of the meeting are represented by their specials envoys for Afghanistan and Pakistan region.
Full report at: khaama.com/third-round-of-quadrilateral-talks-kicks-off-in-islamabad-4549
----------
Arab World
Saudi-Led Forces' Death Toll in Yemen's Missile Attack Exceeds 100
Feb 6, 2016
TEHRAN (FNA)- The number of the Saudi-led servicemen killed in Yemen's Tochka missile attack on the coalition's military base in Ma'rib province surpassed 100.
At least 104 Saudi-led forces, including 8 senior Saudi and UAE officers, were killed in Yemen's ballistic missile attack on Ma'as military base in Ma'rib province in Central Yemen.
On Friday, a Commander of Yemen's Ansarullah Movement confirmed the the missile attack at the Ma'as military base in Ma'rib in Central Yemen.
In a relevant development on Wednesday, the Yemeni army and popular forces rained down a barrage of missiles at the Saudi forces' military tower in Al-Dokhan region in Jizan province in Southern Saudi Arabia.
Full report at: en.farsnews.com/newstext.aspx?nn=13941117000319
----------
Military Strategist: Syrian Army to Use Nubl-Al-Zahra Tactics to Free Foua'a, Kafria
Feb 6, 2016
TEHRAN (FNA)- A retired Lebanese General underlined that the same tactics used by the Syrian army and its allies to take back Nubl and al-Zahra towns in Northwest of Aleppo province will be applied to free Foua'a and Kafria in Idlib.
"I think that attacks against Jasr al-Shaghour will continue from Sarmaniya, Ghaniya, Kanasba and Badama to Saraqib," Ali Maqsoud told FNA on Saturday.
Noting that Idlib city will collapse militarily after the liberation of Saraqib, he said that the army is not after the destruction of the city since it includes many towns.
"Finally, the same method used for winning back Nubl and al-Zahra will be used to free Saraqib in Idlib to be followed by breaking Foua'a and Kafria siege."
The Syrian army broke the terrorists' four-year-long siege of Nubl and al-Zahra in the Northern Aleppo province on Wednesday afternoon.
The siege of the strategic towns was removed after four years in an army offensive from the Eastern side of the two towns, while other units of the Syrian army also managed to purge terrorists from 80 percent of the village of Ma'arasta al-Khan.
The siege of Foua'a and Kafria has entered its 11th month while the terrorists have killed 600 Shiites in these two towns and prevent delivery of food and medical aid to their residents.
en.farsnews.com/newstext.aspx?nn=13941117000393
----------
Syrian Army Captures More Lands at Dara'a Border with Jordan
Feb 6, 2016
TEHRAN (FNA)- The Syrian Army troops and their popular allies drove the militant groups back from more territories in the Southern province of Dara'a near the border with Jordan and restored security to one more key village.
The Syrian army troops, the National Defense Forces (NDF) and the Palestine Liberation Army (PLA) imposed full control over the village of al-Naimah after a tough battle with al-Nusra and the Free Syrian Army (FSA).
The Syrian Armed Forces launched their powerful assault on al-Naimah on Friday evening, when they launched a barrage of mortar shells into this village located at the Eastern side of Dara'a City.
Full report at: en.farsnews.com/newstext.aspx?nn=13941117000427
----------
Syria: Army Razes Terrorists Armored Vehicles, Gathering Centers in Homs
Feb 6, 2016
TEHRAN (FNA)- The Syrian army continued destroying the military positions of the Takfiri terrorists in Homs province, inflicting heavy losses on the militants in fierce clashes.
The army units razed the gathering centers of the ISIL terrorists in Tuloul al-Soud, Tar al-Kharouba and Ramliyah located 80 kilometers to the Southeast of Homs city and also in the surrounding areas of Shaer oilfields.
A number of terrorists' armored vehicles and an arms depot were destroyed in the army attack, a military source said.
Full report at: en.farsnews.com/newstext.aspx?nn=13941117000505
----------
Syrian Army Completes Siege of Key City Southwest of Damascus
Feb 6, 2016
TEHRAN (FNA)- The Syrian Army troops have completed siege of a crucially important city in Eastern Ghouta, and are getting ready to launch the final phase of a massive operation to free the militant-held part of the city.
The Syrian Arab Army's 63rd Brigade of the 4th Mechanized Division arrived to the Four Seasons Neighborhood of Darayya in order to begin what is likely the final push to capture this strategic city in Western Ghouta.
The Syrian army has confirmed that its troops are making their final preparations before they launch the massive military operation to seize the city of Darayya from the terrorists of Ajnad al-Sham and al-Nusra Front.
Full report at: en.farsnews.com/newstext.aspx?nn=13941117000567
----------
Saudi Arabia Lacks Courage to Send Ground Troops To Syria: Head of Iran's Revolutionary Guard
February 6th, 2016
DUBAI: The head of Iran's elite Revolutionary Guard said on Saturday Saudi Arabia lacked the courage to go through with a plan to send ground troops to Syria, and warned they would be wiped out if they went in.
Mohammad Ali Jafari's blunt words on the Fars news agency were Iran's first official reaction to a statement from its regional rival Saudi Arabia this week that it was ready to join ground operations in Syria if a US-led military alliance decided to start them.
"(The Saudis) have made such a claim but I don't think they are brave enough to do so ... Even if they send troops, they would be definitely defeated ... it would be suicide," Jafari was quoted as saying.
Full report at: dawn.com/news/1237813/ksa-lacks-courage-to-send-ground-troops-to-syria-head-of-irans-revolutionary-guard
----------
Syria: Gov't Forces Continue to Advance against Militants in Aleppo
Feb 6, 2016
TEHRAN (FNA)- The militant groups continued to withdraw forces from more territories in the Northern parts of Aleppo province under the heavy offensives of the Syrian Army, the National Defense Forces (NDF) and other popular forces.
The Syrian government forces pushed the militant groups back from more lands in the Northern part of Aleppo and seized back town large farms of Abu Farid and al-Tahan in the Northern side of al-Babeli farms following hours of tough battle.
The militant groups left behind scores of the dead and wounded members and fled the battlefields.
Full report at: en.farsnews.com/newstext.aspx?nn=13941117000288
-----------
EC Secretary: Saudi Troops Deployment to Syria to Engulf Region
Feb 6, 2016
TEHRAN (FNA)- Secretary of Iran's Expediency Council (EC) Mohsen Rezayee warned that Saudi Arabia's decision to send ground troops to Syria will engulf the entire region, except for Iran.
"Saudi Arabia and the US have decided to dispatch troops to Syria to save the remnants of their Takfiri proxies. They want to continue the war on Syria after the failures of ISIL and al-Nusra Front in Iraq (Ramadi) and Syria (Aleppo)," Rezayee wrote on his Instagram page on Saturday.
He predicted that such measures could increase the possibility of clashes between Russia, Turkey, Saudi Arabia and Syria, as well as direct US involvement, all while triggering a major regional war.
"Undoubtedly, if the Saudi government decides to make such a crazy move, the entire region, including Saudi Arabia will go up in flames, while Iran will still remain intact and unscathed." Rezayee said.
On Thursday, the Saudi Defense Ministry said it stood ready to deploy ground troops to Syria to allegedly aid the US-led anti-ISIL, also known as Daesh, coalition.
Riyadh has been a nominal member of the US-led coalition that has been launching airstrikes against Daesh in Syria since September 2014, without the permission of Damascus or the United Nations. In December 2015, Saudi Arabia started its own Muslim 34-nation coalition to allegedly fight Islamic extremism.
Daesh or ISIL/ISIS is a Wahhabi group mentored by Saudi Arabia and has been blacklisted as a terrorist group everywhere in the world, including the United States and Russia, but Saudi Arabia.
en.farsnews.com/newstext.aspx?nn=13941117000455
----------
Mideast
Şırnak Governor's Office: 9 Terrorists Killed
February 06, 2016
The Şırnak Governor's Office made a statement on Friday denouncing claims that civilians were shelled and nine of them killed, saying that nine terrorists and two members of the police department were killed in fighting between security forces and terrorists.
"After a group of terrorists opened fire with rifles on the security forces, they responded with fire, leading to the death of nine terrorists and one police officer. The other terrorists who fled the scene set the building ablaze and fire trucks failed to enter the street where the building is located due to heavy gunfire from the terrorists," the statement noted.
A curfew was imposed in Cizre on Dec. 14 when a large-scale military operation against militants affiliated with the terrorist PKK was launched.
HDP deputies say more than 20 people injured in clashes have been trapped in another building in Cizre's Cudi neighbourhood since Jan. 23 awaiting medical care, but that ambulances cannot reach the building due to ongoing clashes.
President Recep Tayyip Erdoğan and Prime Minister Ahmet Davutoğlu have dismissed the HDP deputies' statements, questioning whether there are really injured people trapped in the locations they claim, and insisting that there are ambulances in the region ready to pick up the injured at all times.
----------
Davutoğlu announces 10-part action plan to fight terrorism
February 05, 2016
Prime Minister Ahmet Davutoğlu has announced a 10-point action plan to eliminate terrorism in Turkey, saying that from now on the government will treat people who do not resort to violence as partners in the settlement of Turkey's longstanding Kurdish issue and not those who attempt to negotiate with weapons in hand.
According to the strategy, the government will introduce democratic reforms while fighting to eradicate the terrorism of the Kurdistan Workers' Party (PKK), with which it had maintained a cease-fire with until last year. Davutoğlu announced the plan on Friday during a conference at Artuklu University in Mardin, a border province in the country's predominantly Kurdish Southeast. The plan also promises economic investment and financial aid to businesses and farmers in the underdeveloped Southeast, which has been negatively by the PKK's terrorist activity.
Full report at: todayszaman.com/national_davutoglu-announces-10-part-action-plan-to-fight-terrorism_411525.html
----------
Erdoğan says Russia must be held accountable for killings in Syria
February 05, 2016
Turkish President Recep Tayyip Erdoğan said Russia must be held accountable for the people it has killed in Syria, saying Moscow and Damascus were together responsible for 400,000 deaths there, Doğan News Agency reported on Friday.
Speaking at a joint press conference with his Senegalese counterpart while on a state visit to the West African country, Erdoğan also said Russia was engaged in an invasion of Syria and accused it of trying to set up a "boutique state" for its longtime ally President Bashar al Assad.
"Russia must be held accountable for the people it has killed within Syria's borders," Doğan quoted him as saying. "By cooperating with the regime, the number of people they have killed has reached 400,000."
todayszaman.com/latest-news_erdogan-says-russia-must-be-held-accountable-for-killings-in-syria_411596.html
----------
HDP deputies claim 9 died in fire in Cizre building, as 2 policemen are killed in PKK attack
February 05, 2016
Nine people were killed and more than 30 others sustained injuries when a fire broke out in a building in Cizre, a town in southeast Turkey that has been under curfew since mid-December, a news report said on Friday.
The incident came on the same day that two police officers were killed in clashes with the terrorist Kurdistan Workers' Party (PKK).
The private İhlas news agency said the fire broke out in a building in Cizre's Cudi neighbourhood.
Full report at: todayszaman.com/national_hdp-deputies-claim-9-died-in-fire-in-cizre-building-as-2-policemen-are-killed-in-pkk-attack_411537.html
----------
On Turkish side of border, Syrian refugees wait and worry
February 06, 2016
Tens of thousands of Syrians sought refuge in Turkey on Saturday, while those who have already made the crossing waited and worried about the fate of their families on the other side of the border.
The border gate at Öncüpınar, near the southern city of Kilis, was closed, but that did not stop dozens of Syrians from queuing to beg Turkish authorities to allow in their relatives from the other side.
Syrians are feeling an intensifying Russian assault around the city of Aleppo, and aid workers said on Friday it could soon fall under a full government siege.
Turkish Prime Minister Ahmet Davutoğlu has said 15,000 people fleeing Aleppo had arrived at Turkey's border, but some media reports put that number significantly higher.
Sitting in his car with his four children right inside the Turkish side of the border, 43-year-old Ahmet Sadul was hoping to get back into Syria so he could find his relatives. A native of Syria's Azaz, he now lives in Kilis.
Full report at: todayszaman.com/latest-news_on-turkish-side-of-border-syrian-refugees-wait-and-worry_411608.html
----------
Official: Russian talk of Turkish incursion in Syria is propaganda
February 05, 2016
Turkey is not planning a military incursion into Syria and Russian talk of such action is propaganda, a senior Turkish government official said on Friday.
"Turkey does not have any plans or thoughts of staging a military campaign or ground incursion in Syria," the official told Reuters, adding Russia was stepping up its own military campaign in Syria every day instead of working for a solution.
"Turkey is part of a coalition, is working with its allies, and will continue to do so. As we have repeatedly said, Turkey will not act unilaterally," the official said.
A Russian defense ministry spokesman said on Thursday that Moscow had serious grounds to suspect Turkey was preparing a military incursion in Syria.
todayszaman.com/diplomacy_official-russian-talk-of-turkish-incursion-in-syria-is-propaganda_411527.html
----------
Protesters interrupt Turkish President Erdoğan's speech in Ecuador
February 05, 2016
A group of protesters has interrupted a speech by Turkish President Recep Tayyip Erdoğan in Quito, Ecuador's capital, on Friday according to news reports.
Erdoğan, who is on a tour of Latin America, also faced a similar situation during his first stop, Chile, where Chilean activists protested the visit in front of the presidential palace in Santiago on Feb. 1.
During his visit to Ecuador, demonstrators protesting Erdoğan's policies on the Kurdish issue and his stance towards the Islamic State in Iraq and the Levant (ISIL) gathered in front of the National Higher Studies Institute where he was due to give a speech on Thursday. Scuffles erupted when some of the protesters managed to enter the conference room and interrupted Erdoğan's speech by chanting slogans.
Full report at: todayszaman.com/national_protesters-interrupt-turkish-president-erdogans-speech-in-ecuador_411587.html
----------
Davutoğlu says questioned for listening to Kurdish music when young
February 6th, 2016
Davutoğlu criticized the ban on the Kurdish language and pressure on Kurdish culture that were in place in the past, saying that he was even questioned by the police when he was young for listening to songs by Şivan Perwer, a renowned Kurdish singer.
The prime minister also noted that the year 2016, in which the government is launching its new initiative to fight terrorism, coincides with the 100th anniversary of the Sykes-Picot Agreement, a deal he said had had a very negative effect on the Middles East.
The Sykes-Picot Agreement was a secret deal between Britain, France and Russia that defined their proposed spheres of influence in the Middle East.
----------
Iran, Japan sign investment pact to lure wary Japanese firms
February 6th, 2016
TOKYO: Iran and Japan signed an investment agreement on Friday following the lifting of sanctions on Tehran last month, aimed at encouraging investment in the Iranian economy from Japanese companies wary of remaining US restrictions.
Major international companies have been rushing to establish themselves in Iran as the country re-opens for business after the lifting of international sanctions but Japanese companies have been cautious.
Full report at: dawn.com/news/1237656/iran-japan-sign-investment-pact-to-lure-wary-japanese-firms
-----------
Africa
Malian troops retake UN base from militants; five killed
February 6th, 2016
BAMAKO: Malian troops backed by UN helicopters stormed a UN police base in the city of Timbuktu and recaptured it from suspected Islamist militants who had seized it hours earlier on Friday, the United Nations said.
Malian Defence Minister Tieman Hubert Coulibaly told reporters that an army commander was killed in the rescue operation as well as three of the attackers, whom he called terrorists but did not identify. A fourth assailant blew himself up while others were being sought, he added.
The incident followed a series of bold attacks by Al Qaeda militants in West Africa, including a hotel siege in Burkina Faso's capital Ouagadougou last month in which 30 people including many foreigners were killed.
Full report at: dawn.com/news/1237776/malian-troops-retake-un-base-from-militants-five-killed
-----------
North America
UN chief: 34 groups now allied to Islamic State extremists
AP | Feb 6, 2016
UNITED NATIONS: Thirty-four militant groups from around the world had reportedly pledged allegiance to the Islamic State extremist group as of mid-December and that number will only grow in 2016, UN secretary-general Ban Ki-moon said in a report Friday.
Ban said UN member states should also prepare for an increase attacks by IS associated groups from countries such as the Philippines, Uzbekistan, Pakistan, Libya and Nigeria, traveling to nations.
Full report at: timesofindia.indiatimes.com/world/us/UN-chief-34-groups-now-allied-to-Islamic-State-extremists/articleshow/50874322.cms
----------
Twitter shuts down over 125,000 accounts linked to ISIS
Reuters | Feb 6, 2016
WASHINGTON: Twitter Inc has shut down more than 125,000 terrorism-related accounts since the middle of 2015, most of them linked to the Islamic State group, the company said in a blog post on Friday.
Twitter has said it only takes down accounts when they are reported by other users, but said that it has increased the size of teams monitoring and responding to reports and has decreased its response time "significantly."
Twitter's announcement comes as many tech companies -- led by Facebook -- have taken stronger steps to police controversial content online in the face of threats from legislators to force the companies to report "terrorist activity" on their sites to law enforcement.
Silicon Valley has been wary of engaging with government officials, concerned about endless demands for similar action from countries around the world as well as fears about being perceived by consumers as tools of government.
The announcement was also notable because Twitter has said little about its efforts to combat Islamic State, also known as ISIS, and similar groups even though it has been criticized for not doing enough.
Full report at: timesofindia.indiatimes.com/tech/tech-news/Twitter-shuts-down-over-125000-accounts-linked-to-ISIS/articleshow/50876351.cms
----------
President Obama's Speech at Islamic Center of Baltimore: A Fact Check
5 Feb 2016
Perhaps it's because he was making faces in Qur'an class instead of paying attention to his teacher. Or maybe he just has a selective memory about what he was taught as a young Muslim student in Indonesia.
Whatever the reason, President Barack Obama got a lot of things factually wrong in his 3 February 2016 speech at the Islamic Center of Baltimore. Things that are basic to doctrinal Islam are not only knowable because they are readily available in English but, it might be argued, obligatory that an American commander-in-chief should know in fulfillment of his oath to defend the Constitution against "all enemies foreign and domestic."
First, Mr. President, a mosque is not simply the Muslim version of a church, synagogue or temple. Because of the example of Muhammad, who is called the perfect man in the Qur'an (believed by Muslims to be the exact words of Allah), we know that mosques are established not only as places of prayer and worship, but also as centers for indoctrination, the dispensing of shariah justice, the stockpiling of weapons, and the launching of jihad. If in doubt about any of this, please check with the French police, who recently have been conducting raids on mosques and Islamic Centers in the wake of horrific jihadist attacks in Paris.
Full report at: breitbart.com/national-security/2016/02/05/presidents-speech-at-islamic-center-of-baltimore-a-fact-check/
----------
Canadian Cops Preached Screwed-Up Islamic Doctrine to Bomb Plotters, Court Hears
February 6, 2016 | 3:40 am
Undercover Canadian police officers presented a warped interpretation of Islam to a radicalized couple from British Columbia, possibly discouraging them from seeking out moderate Islamic views, a Vancouver courtroom heard this week.
John Nuttall and his girlfriend Amanda Korody, recent converts to Islam, were found guilty of conspiring to commit murder and possessing bombs for a terrorist group last June. They were approached in 2013 by undercover officers from the Royal Canadian Mounted Police (RCMP), posing as businessmen with Islamist extremist sympathies.
Full report at: https://news.vice.com/article/canadian-cops-preached-screwed-up-islamic-doctrine-to-bomb-plotters-court-hears
----------
Pentagon welcomes Saudi Arabia's anti-Islamic State troop proposal
Feb 6, 2016
Washington: Pentagon on Saturday welcomed Saudi Arabia's pledge to commit ground forces to fight Islamic State jihadists in Syria, should the US-led coalition ever send in combat troops.
The United States has for weeks been calling on partners in the 65-member coalition bombing the IS group in Iraq and Syria to contribute more, and last month Defense Secretary Ashton Carter chastised some countries for doing "nothing at all."
Full report at: deccanchronicle.com/world/america/060216/pentagon-welcomes-saudi-arabia-s-anti-islamic-state-troop-proposal.html
----------
Russia must stop bombing women, children in Syria: John Kerry
AFP | Feb 6, 2016
WASHINGTON: US secretary of state John Kerry has urged Russia to implement a ceasefire in Syria, saying its bombing campaign was killing women and children in large numbers and "has to stop."
"Russia has indicated to me very directly they are prepared to do a ceasefire," Kerry told reporters, fresh from a trip to Europe focused on resolving the five-year Syrian conflict. "The Iranians confirmed in London just a day and a half ago they will support a ceasefire now."
"We will have a much better sense in the next few days of how serious each party is," added Kerry yesterday, a day after he implicitly blamed Russia's bombing campaign against the Syrian opposition for the collapse of peace talks in Geneva this week.
Moscow, Damascus's main ally, has stepped up bombing around the Syrian city of Aleppo in recent days, facilitating a government offensive that has forced tens of thousands of civilians to flee to the Turkish border.
Full report at: timesofindia.indiatimes.com/world/middle-east/Russia-must-stop-bombing-women-children-in-Syria-John-Kerry/articleshow/50877768.cms
----------
Southeast Asia
The 'Battle of Ideas' to Defeat the Islamic State Begins in Indonesia
February 5, 2016
The Islamic State (IS) may have intended to repeat an attack similar to that in Paris with thebombings and shootings in Jakarta on January 14, but fortunately it failed. Indonesian security forces promptly fought against inexperienced attackers in a major shopping district where bombs exploded, and the casualties were few. Until now, the police have controlled very well the radical movements in the country, whose members can no longer train abroad and come back as old generations belonging to Jamaah Islamiyah did. But spreading terrorism and ideology cannot be won only with increased control and security.
IS has been fought until now mostly with bombings in Syria and Iraq, with unclear results, with increased security control in major cities around the world, and with more controls at the frontiers of the states.
Full report at: foreignpolicyjournal.com/2016/02/05/battle-ideas-defeat-islamic-state-begins-indonesia/
-----------
Australia
Australian with suspected Islamic State links deported from India
Feb 06 2016
The ABC has confirmed a report in the Indian Express that the Malay-Australian youth was deported after being detained for questioning at New Delhi's Indira Gandhi International Airport on Thursday night.
The paper reported that he had arrived on a flight from Perth and authorities acting on a tip-off questioned him and found jihadi literature, including Islamic State propaganda, on his laptop.
Full report at: abc.net.au/news/2016-02-06/australian-suspected-islamic-state-links-deported-from-india/7146202
----------
Europe
German security chief warns of Islamic State militants posing as refugees
February 06, 2016
The German national security service warned Friday that Islamic State militants are infiltrating Europe under the guise of asylum seekers.
The announcement comes after Berlin police arrested three Thursday in an investigation of four Algerian men who are suspected of planning terror attacks in Germany and having ISIS ties.
"We have seen repeatedly that terrorists are being smuggled in disguised or camouflaged as refugees," said Hans-Georg Maassen, the head of the Office for the Protection of the Constitution, according to the UK Daily Telegraph.
German authorities have tried to downplay the threat of Islamic State terrorists disguising themselves as refugees, according to the paper. Around one million asylum-seekers entered the country last year. Maasen reiterated that it was a "reality that the security agencies have to face."
Full report at: foxnews.com/world/2016/02/06/german-security-chief-warns-islamic-state-militants-posing-as-refugees.html
-----------
Parents of 'Jihadi Jack' Letts claim he has mental health condition and is not fighting for a terrorist group in Syria
Lizzie Dearden | The Independent | Feb 6, 2016
The parents of Jack Letts, the young British man dubbed "Jihadi Jack" after travelling to Syria, have said he is mentally ill.
The 20-year-old has denied fighting for Isis but told The Independent he supports Sharia law and left the UK to "take down the Syrian government" and leave dar al kufr - the "land of disbelievers".
His mother and father, from Oxford, have continually denied he is an extremist and insist he is carrying out humanitarian work.
In an interview with Channel 4 News, they revealed Jack suffers from obsessive compulsive disorder (OCD) and said they fear he "won't get out alive".
Fighting back tears, his mother Sally Lane said: "I'd like him to come home."
John Letts, his father, added: "I think it'll probably end really badly, I don't want it to end badly. He's my first son."
Full report at: timesofindia.indiatimes.com/world/uk/Parents-of-Jihadi-Jack-Letts-claim-he-has-mental-health-condition-and-is-not-fighting-for-a-terrorist-group-in-Syria/articleshow/50877061.cms
URL: http://newageislam.com/islamic-world-news/new-age-islam-edit-bureau/muslim-personal-law-flows-from-the-holy-quran,-sc-can-t-question-it--jamiat-ulema-i-hind/d/106258
New Age Islam, Islam Online, Islamic Website, African Muslim News, Arab World News, South Asia News, Indian Muslim News, World Muslim News, Womens in Islam, Islamic Feminism, Arab Women, Womens In Arab, Islamphobia in America, Muslim Women in West, Islam Women and Feminism, Moderate Islam, Moderate Muslims, Progressive Islam, Progressive Muslims, Liberal Islam, Liberal Muslims, Islamic World News