New Age Islam News Bureau
8 Feb 2016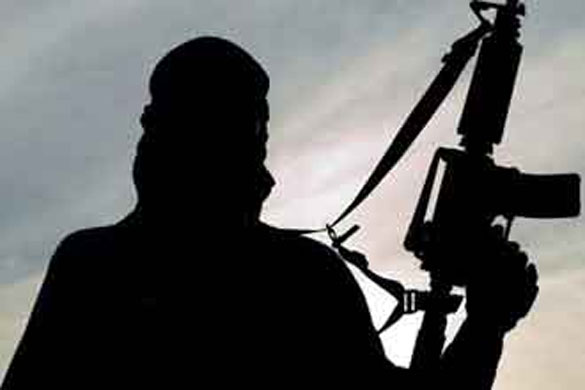 Photo: ISIS militants. (File photo)
-----------
India
• India Not Immune to ISIS Threat, Says UAE
• David Coleman Headley Deposes Before Mumbai Court, Says Two Attempts Failed Before 26/11 Attacks
• 'Pak-Based' Groups Hack IRS Website
• Lawyer who got 10 freed from terror charge is honoured in Azamgarh
-----------
South Asia
• MoD: 34 Militants Killed, 30 Wounded In Afghan Army Operations
• 3 Killed, 20 Wounded In Suicide Attack near Mazar-iSharif
• Pakistan Interference the Main Cause of Issues in Afghanistan: Taliban Leaders
• Faryab police rescue 80 passengers abducted by Taliban militants
• Afghanistan hopeful of direct talks with Taliban this month
• Nangarhar police arrest three suspects in murder of journalist Khaksar
• Presidential Palace guard gunned down in Nangarhar
• Lagham governor warns firing officials involved in poppy cultivation
• Jalalabad Predators provide 24/7 over watch in Afghanistan
-----------
Africa
• 'Deadly Air Strike Hits Hospital in East Libya' Killing Four People
• 'Somalia Plane Bomber Was Meant To Be On Turkish Flight'
-----------
Pakistan
• Pakistan behind Rise of International Jihadi Forces: Report
• Czech Govt Paid $6m Ransom for Two Women Kidnapped In Balochistan: Report
• Two Killed In IED Blast in Bannu
• U.S general praises anti-terror operation
-----------
Arab World
• Saudi Forces Shoot Down Scud from Yemen
• Kurdish Fighters Expel Militants from More Lands North of Syria's Aleppo
• Syria: Terrorists Sustain Heavy Defeats in Homs Province
• Kurdish PYD indirectly attends Syria peace talks
• Saudi Arabia, Venezuela focus on measures to stabilize oil prices
• Syrian Army Keeps on Advances across Eastern Ghouta
• Iranian Nuclear Negotiators Receive Medals from President Rouhani
• Iraqi Resistance Group Warns S. Arabia, Allies against Sending Forces to Syria
• Militant Centres in Dara'a Neighbourhoods Stricken Hard by Syrian Army
• Syria: Gov't Forces Win Back More Territories North of Lattakia
-----------
Mideast
• Erdoğan Says He Will Not Meet Sisi Unless Brotherhood Death Sentences Lifted
• 1 Dead, 1 Injured In Shooting at İstanbul Coffeehouse
• Şırnak Governor's Office: 10 PKK terrorists killed in Cizre
• Turkey Police Begin To Demolish Parts of 'Külliye', a Traditional Complex around a Mosque
• Chomsky Says Erdoğan's Policies Moving In Dangerous Direction
• President Rouhani Lauds Iranian Military Advisors in Syria, Iraq
----------
Europe
• Slain Italian Student in Egypt Suffered 'Inhuman, Animal-Like' Violence
• 'ISIS Men with Paris Attack Kingpin Now In UK'
• Seven arrested in Spain over 'jihad' links
• Germany's Merkel in Turkey for talks over migrants
-----------
North America
• Donald Trump Says He Has 'At Least 20 Muslim Friends' But Fails to Name Them
Compiled by New Age Islam Edit Bureau
URL: https://newageislam.com/islamic-world-news/new-age-islam-edit-bureau/india-not-immune-to-isis-threat,-says-uae/d/106267
-----------
India
India Not Immune to ISIS Threat, Says UAE
PTI | Feb 8, 2016
Abu DHABI: Warning that India is not immune to the threat from Islamic State (ISIS), the UAE, which has deported about a dozen Indians with suspected links to the terror group, said on Monday that its anti-terror cooperation with India is going to get "more institutionalized".
"There are no grey areas. We need to tackle this (ISIS) threat and nobody is immune. If you think you are immune (and) you are going to be negligent, you are going to be hit. Everybody ... whether India or the UAE," Dr Anwar Mohammed Gargash, UAE's minister of state for foreign affairs said here.
Ahead of the UAE Crown Prince Sheikh Mohamed bin Zayad Al Nahayan's three-day state visit to India starting Wednesday, Gargash told NDTV in an interview that strengthening bilateral cooperation against terrorism would be an important component of the royal visit.
Bilateral cooperation on terror was "working very well" and in the coming 12 months "it will be more institutionalized and work even better," he said in the backdrop of the Gulf nation having deported to India a dozen Indians with suspected links to ISIS in recent months.
Such cooperation was an important part of Prime Minister Narendra Modi's discussions with the UAE leadership during his visit here in August, Gargash said.
Underlining the threat posed by ISIS, the minister said, "no country was immune, no city is immune..... We need greater cooperation and zero tolerance for any sort of extremism, terrorism in order to confront this threat."
timesofindia.indiatimes.com/india/India-not-immune-to-ISIS-threat-says-UAE/articleshow/50903136.cms
------
David Coleman Headley deposes before Mumbai court, says two attempts failed before 26/11 attacks
Rebecca Samervel | TNN | Feb 8, 2016
MUMBAI: Lashkar-e-Taiba (LeT) operative David Coleman Headley, one of the main conspirators in the 2008 Mumbai terror attacks, said on Monday that Pakistani terrorists attempted twice to attack Mumbai before the 26/11 strikes, but didn't succeed.
Headley, an American national, was deposing as a witness before a Mumbai court via video conference from the US. He told the court that the LeT's two unsuccessful attempts were in September and October of 2008. The November 26, 2008 attacks killed 166 people.
Headley also said that he joined the LeT after being "influenced" by its head Hafiz Saeed and took his first "course" with the group in 2002 in Muzaffarabad.
Headley, who is currently serving a 35-year prison sentence in the US for his role in the terror attacks, also said he changed his name from Dawood Gilani to David Headley in 2006 so that he could enter India to set up a business.
"I applied for change in name on February 5, 2006 in Philadelphia. I changed my name to David Headley to get a new passport under that name. I wanted a new passport so that I could enter India with an American identity," he said.
Headley also said that in his Indian visa application he had furnished "wrong" information "to protect his cover".
"After I got a new passport I disclosed it to my colleagues in LeT of which one of them was Sajid Mir, the person with whom I was dealing with. The objective for coming to India was to set up an office/business so that I can live in India. Before the first visit, Sajid Mir gave me instructions to make a general video of Mumbai," Headley told the court here.
He said he visited Mumbai seven times before the attacks on November 26, 2008. He even visited Delhi in March 2009, after the attacks.
Headley's deposition took place in front of a special judge GA Sanap in a city civil and sessions court in Mumbai, via video conference, from an undisclosed location in the US. The proceedings commenced at 7 am and will continue until 12.30 pm with a break in between.
"This is the first time perhaps in the world's legal history that a terrorist will tender live evidence in a foreign country. Headley will likely divulge the larger aspect of the criminal conspiracy behind the 26/11 terror attacks. This would strengthen the present trial pending against Indian nationals. The US government has supported the endeavour taking into consideration the global challenge of terrorism," special public prosecutor Ujjwal Nikam said.
Headley's evidence might help the prosecution's bid to nail alleged LeT operative Zabihuddin Ansari, alias Abu Jundal, an alleged co-conspirator and handler of the 26/11 terrorists. He is currently the only person being tried in the case. Executed Pakistani gunman Ajmal Kasab identified Jundal as his handler. Jundal also attended the proceedings via video conference from Arthur Road jail where he is currently lodged. His plea to be physically present during the proceedings was rejected by the court.
Headley is scheduled to depose on Tuesday morning as well.
On December 10, judge Sanap accepted Headley's plea to turn approver and gave him a pardon in the case. Among conditions imposed to grant the pardon, the court had said that Headley would have to disclose the full and true facts within his knowledge, that led to the attacks . "He should also disclose his role and that of others'. He should disclose all the facts which he admitted before the court in the US. He should correctly answer the questions of the prosecution about the offences committed by him and others," judge Sanap had said.
Presenting his plea to the court, Headley had said, "I plead guilty in the past to the charges in the US and I admit I was a participant in these charges. I have accepted my role in those offences (relating to the 26/11 attacks) in my plea agreement. I appeared here ready to answer questions regarding these events if I received a pardon from this court. That's all. Thank you."
Over the last two months, Ujjwal Nikam has filed several applications seeking various documents and paraphernalia gathered as evidence against Headley by investigating agencies. Among these were the original registers of the hotels where Headley stayed prior to the 26/11 Mumbai attacks, email exchanges, visa applications and other personal items. Nikam also submitted a picture of alleged mastermind and Pakistani national Hafiz Saeed before the court.
Over the weekend, strict precautionary measures were taken to fortify the court premises. Inside the courtroom, in addition to the existing LED TV, a bigger one was set up for the deposition. The timings for the deposition are a departure from the usual, as courts usually begin proceedings at 11am.
timesofindia.indiatimes.com/india/David-Coleman-Headley-deposes-before-Mumbai-court-says-two-attempts-failed-before-26/11-attacks/articleshow/50898557.cms
-----------
'Pak-based' groups hack IRS website
PTI | Feb 8, 2016
New Delhi: Suspected Pakistan-based groups have hacked the official web portal of the Indian Revenue Service (IRS) belonging to the Income Tax department.
Officials said the website — irsofficersonline.gov.in — was hacked early Saturday and it has been rendered inaccessible since then. They said messages were posted on the link like "Pakistan Zindabad" and "we are team Pak cyber attacker".
The website, which acts as an official communicator between the Central Board of Direct Taxes and the I-T department field offices in the country, has put up a message saying, "We'll be back soon! Sorry for the inconvenience but we- 're performing some maintenance at the moment."
A report has been sent to the Computer Emergency Response Team of India (CERTIn), the nodal agency to combat hacking, phishing and to fortify security-related defences of the Indian internet domain.
timesofindia.indiatimes.com/india/Pak-based-groups-hack-IRS-website/articleshow/50894190.cms
-----------
Lawyer who got 10 freed from terror charge is honoured in Azamgarh
Written by Manish Sahu | Lucknow | Published:February 7, 2016
2008 Batla House encounter, indian mujahideen, lucknow lawyer, lawyer felicitation, Mohammad Shoaib, india news, nation news Mohd Shoaib (2nd from left) with Shadab Ahmed, father of alleged IM member Mohd Saif, in Sanjarpur Saturday. (Express photo)
Sanjarpur in Azamgarh, which gained notoriety after the 2008 Batla House encounter in Delhi where two alleged Indian Mujahideen operatives from the village were shot dead and another arrested, on Saturday felicitated a Lucknow lawyer responsible for the acquittal of ten young men in terror cases.
Mohammad Shoaib was honoured at a function attended by families of alleged IM operatives hailing from Sanjarpur and nearby villages.
"For several years, we had been hearing about Shoaib. He had been fighting cases of youths implicated on terror charges. I had also gone to meet him. We all salute him for the services rendered to families whose members had been booked on terror charges," Abu Saad, elder brother of absconding alleged IM operative Abu Rashid, said.
Sanjarpur is home to Mohammad Saif, arrested from Batla House. His brother Dr Shahnawaz, Mohammad Arif and Salman, Mohammad Sajid alias Sajid Bada, Mohammad Khalid, Abu Rashid, Mohammad Rashid are all absconding.
Shadab Ahmed alias Mister, father of Mohammad Saif and Dr Shahnawaz, handed over a memento to Mohammad Shoaib.
"Lawyer Shoaib has been fighting alleged terror arrests for a long time and deserves to be felicitated. The Rihai Manch organised the function and we all attended it," Shadab Ahmed said.
Shakir, elder brother of Sajid Bada who intelligence agencies believe died fighting for the Islamic State in Syria, said: "I went to the function to congratulate Shoaib for the good work he is doing. He has been fighting cases of suspects despite being attacked himself."
The ten men who Shoaib got acquitted of terror charges were Jalaluddin alias Babu Bhai, Sheikh Mukhtar Hussain, Mohammad Ali Akbar Hussain, Aziz-ur-Rehman, Noor Islam, Yakoob, Naushad, Kaleem Akhtar, Gulzar Ahmed Wani and Mohammad Iqbal.
Shoaib is also the lawyer of Tariq Qasmi, Mohammad Akhtar and Sajjadur Rehman, all booked for their alleged involvement in explosions in courts on November 23, 2007. He has been attacked twice by lawyers in Faizabad and Lucknow courts. After the blasts, the bar association had asked lawyers not to take up terror cases.
When his comments were sought, Shoaib said, "There were several ups and downs while fighting terror cases. I was assaulted by lawyers for taking up these cases. But I have always maintained that every person is innocent until proven guilty. As most of my clients come from poor families, I charge only expenses related to court proceedings."
indianexpress.com/article/india/india-news-india/lawyer-who-got-10-freed-from-terror-charge-is-honoured-in-azamgarh/99/print/
-----------
South Asia
MoD: 34 militants killed, 30 wounded in Afghan army operations
By KHAAMA PRESS - Mon Feb 08 2016
Afghan army operationsAt least 34 anti-government armed militants were killed in the latest counter-terrorism operations conducted by the Afghan National Army (ANA) forces.
The Ministry of Defense (MoD0 said the operations were conducted during the past 24 hours in the vicinity of Dangam district of Kunar, Maiwand district of Kandahar, Herawud district of Uruzgan, Dand-e-Ghori district of Baghlan, and Marja and Musa Qala districts of Helmand.
A statement by MoD said at least 30 anti-government armed militants were also wounded during the opertions and 4 others were arrested.
The statement further added that various types of weapons, ammunition along with Improvised Explosive Device (IED) were confiscated by the security forces during the operations.
MoD also added that three Afghan soldiers were also martyred during the same operations.
The Afghan national security forces have stepped up counter-terrorism operations amid deteriorating security situation across the country.
The Taliban-led insurgency has been rampant during the recent months despite efforts by the Afghan government and its international allies to end the ongoing violence through a peaceful settlement.
khaama.com/mod-34-militants-killed-30-wounded-in-afghan-army-operations-0096
-----------
3 killed, 20 wounded in suicide attack near Mazar-i-Sharif
By KHAAMA PRESS - Mon Feb 08 2016
Three people have been killed and 20 others wounded in a suicide attack near Mazar-i-Sharif, capital of northern Balkh province, this morning.
Abdul Razaq Qadiri, Deputy Police Chief of Balkh province said the blast took place in Nawabad area of Dehdadi District around 7 am.
He said the suicide bomber was waiting in the area and when the mini-bus of 209 Shaheen Corps of Afghan National Army (ANA) reached to him he detonated his explosives.
Including officers, 18 army personnel sustained injuries in the blast, the Deputy Police Chief added.
However, chief doctor of the regional hospital in Balkh province said that three dead bodies and 20 wounded have been brought to them from the attack site.
Taliban have claimed responsibility for the attack through a post on the twitter account of the group's spokesperson.
khaama.com/breaking-news-heavy-explosion-reported-in-balkh-province-casualties-feared-4557
-----------
Pakistan interference the main cause of issues in Afghanistan: Taliban leaders
By KHAAMA PRESS - Mon Feb 08 2016
A group of the Taliban leaders who recently pledged allegiance to Taliban leader Mullah Mohammad Rasool have blamed Taliban interference for the ongoing issues in Afghanistan.
The Taliban leaders have conveyed their concerns during a gathering somewhere in the western Farah province of Afghanistan.
According to Radio Free Europe (RFE) which obtained a copy of the video of the gathering, the Taliban leaders who have pledged allegiance Mullah Mohammad Rasool, have recently abandoned Pakistan due to the inappropriate behavior by the country.
The latest video shows persistent differences in the Taliban leadership despite optimisms that unity among the top Taliban leader could help revive the Afghan peace process.
The eleven Taliban commanders who have pledged allegiance to Mullah Rasool were previously serving with the group's newly appointed supreme leader Mullah Akhtar Mansoor.
They have also criticized the appointment of Mullah Mansoor as the new Taliban supreme leader, calling it against the current principles and conditions.
One of the Taliban commanders says the leadership of Mullah Mansoor is obsolete and his Emirate is against the principles of Islam as a Fatwa has been issued by them and has been endorsed by 150 religious scholars.
Another Taliban commander says the ongoing interference of Pakistan in internal affairs of Afghanistan is the main cause of issues in the country and urged the Taliban leaders to free themselves from the monopoly of Pakistan, accusing it of deception.
khaama.com/pakistan-interferencs-the-main-cause-of-issues-in-afghanistan-taliban-leaders-0094
-----------
Faryab police rescue 80 passengers abducted by Taliban militants
By KHAAMA PRESS - Sun Feb 07 2016
Faryab police rescue abducted passengersThe Afghan National Police (ANP) forces have managed to rescue 80 passengers abducted by the Taliban militants in northern Faryab province of Afghanistan.
The provincial police commandment in a statement said the abducted passengers were rescued during a military operation.
The statement further added that the passengers were kidnapped by Taliban militants around 5:00 pm local time from Maimana-Andkhoi highway in Qaramqol district.
The passengers were travelling in two buses when the Taliban militants stopped their buses and kidnapped the civilians, the statement said, adding that the police forces immediately launched the operation following the incident.
Provincial police chief Syed Aqa Andarabi said the Taliban militants managed to take six passengers with them but four of them were released later, however two others are still kept by the militants.
The Taliban militants group has not commented regarding the report so far.
Faryab is among the volatile provinces in northern Afghanistan where anti-government armed militant groups including the Taliban militants are actively operating in a number of its districts.
The anti-government armed militant groups frequently carry out insurgency activities including kidnapping of civilians in the restive districts in the north.
At least seven civilians were abducted by the anti-government armed militants in the summer of last year and were released after almost 13 in captivity.
khaama.com/faryab-police-rescue-80-passengers-abducted-by-taliban-militants-0093
-----------
Afghanistan hopeful of direct talks with Taliban this month
February 8th, 2016
KABUL: Afghanistan expects to hold direct talks with the Taliban by the end of this month, an official said on Sunday.
Foreign Ministry spokesman Ahmad Shakib Mostaghani told reporters that Afghanistan, Pakistan, China and the United States had agreed on a roadmap towards peace talks at a meeting in Islamabad the day before.
He said the government hoped to "put an end to the futile violence which is imposed on our people".
The last direct talks between Kabul and the Taliban broke down after just one session last summer when Kabul announced that Taliban's reclusive leader Mullah Mohammad Omar died two years ago.
The next four-country meeting is scheduled for Feb 23 in Kabul. The Taliban are not taking part in those talks, which aim to lay the groundwork for peace talks.
At the Saturday meeting, the third since the peace process was re-launched last month, the four countries called for direct negotiations between the government and the Taliban to take place soon, despite an escalation in the war since the drawdown of the international combat mission in 2014.
Afghan forces have struggled to fight off the Taliban, who have spread their footprint across the country, leading to high casualties among Afghan forces.
dawn.com/news/1238091/afghanistan-hopeful-of-direct-talks-with-taliban-this-month
-----------
Nangarhar police arrest three suspects in murder of journalist Khaksar
By KHAAMA PRESS - Mon Feb 08 2016
Nangarhar police have detained three suspects believed to be involved in the killing of journalist Haji Mohammad Zubair Khaksar.
Head of the Criminal Investigation Department (CID) of Nangarhar police headquarters said the suspects include father-in-law, brother-in-law and husband of Khaksar's sister-in-law.
Abdul Zahir Zahir added that the suspects are behind the bars and the case is under further investigation.
Khaksar who was working for the government-run Nangarhar Radio and Television network came under the attack of armed men while driving in his vehicle in Kharkarano Kala area of Surkh Road District last month.
Besides being a journalist he was also serving as the Cultural Adviser for Saleem Khan Kundozi, the governor Nangarhar province.
khaama.com/nangarhar-police-arrest-three-suspects-in-murder-of-journalist-khaksar-4557
-----------
Presidential Palace guard gunned down in Nangarhar
By KHAAMA PRESS - Mon Feb 08 2016
Unidentified armed men have gunned down a guard of the Presidential Palace 'ARG' in eastern Nangarhar province.
Ataullah Khogyani, Nangarhar governor's spokesperson said the incident took place in Behsood District in the wee hours of Monday morning.
He said gunmen attacked Salahuddin's house around 03:30 am killing him and wounded his mother.
Khogyani added that motive behind the incident is unknown but an investigation has been initiated into the case.
Nangarhar had been among the safe provinces of Afghanistan but the province is now going through some of its worst security.
Security situation worsened in Nangarhar after the loyalists of the terrorist group of the Islamic State in Iraq and Syria (ISIS) emerged in remote areas of the province about 14 months before.
At the meantime, Taliban have also increased their activities in this province.
khaama.com/presidential-palace-guard-gunned-down-in-nangarhar-4558
-----------
Lagham governor warns firing officials involved in poppy cultivation
By KHAAMA PRESS - Mon Feb 08 2016
Any government official involved in poppy cultivation in Laghman province would be fired and referred to judiciary, Governor Abdul Jabbar Naimi warns.
"Officials involved in poppy cultivation would be fired and given severe punishment," the governor said in the recent meeting of Counter-Narcotics Commission in Mehtarlam.
Naimi hailed efforts of the Counter-Narcotics Commission as insufficient and ordered all related government institutions to take concrete measures in preventing the poppy cultivation.
He said putting an end to the poppy cultivation would save the young generation from ruining their lives and increase budget for Laghman province.
Shir Agha, director of the Counter-Narcotics Directorate of Laghman province who was also present at the meeting said that the cultivation, production and traffic of drugs have been prevented in several areas but it should be brought to zero.
khaama.com/lagham-governor-warns-firing-officials-involved-in-poppy-cultivation-4559
-----------
Jalalabad Predators provide 24/7 overwatch in Afghanistan
By KHAAMA PRESS - Mon Feb 08 2016
JALABAD AIRFIELD, Afghanistan – In a small, fenced-in compound on Jalalabad Airfield, an equally small unit of Air Force pilots and sensor operators are playing a large role in the Department of Defense's intelligence, surveillance, and reconnaissance mission.
Although the Air Force is progressing toward an all-MQ-9 fleet by fiscal year 2019 as the MQ-1s are phased out, the 62nd Expeditionary Reconnaissance Squadron Detachment 1's mission is very much alive in Afghanistan.
The MQ-1B, an armed, multi-mission, medium-altitude, long-endurance remotely piloted aircraft is employed primarily as an intelligence-collection asset and secondarily against dynamic execution targets.
"We have two combat air patrols in support of Operation Freedom's Sentinel," said Capt. Steven, 62nd ERS Detachment 1 commander. "We provide full-motion video ISR as well as close air support capabilities to troops on the ground and feedback back to our home station and headquarters."
Full report at: khaama.com/jalalabad-predators-provide-247-overwatch-in-afghanistan-0095
-----------
Africa
'Deadly air strike hits hospital in east Libya'
AFP | Feb 8, 2016
BENGHAZI: An air strike hit a hospital in Derna in eastern Libya on Sunday, killing four people, including a woman and her child and two anti-government fighters, a doctor said.
"There are four dead -- a nurse, her 10-year-old son and two members of the Shura Council," radiologist Dr Mohamad al-Jeddayimi at Al-Wehda hospital told AFP.
In its own statement, the Mujahedeen Shura Council said the attack was in the area of the Faculty of Medical Technology Science in the Bab Tobruk district of eastern Derna came at 0400 GMT.
Full report at: timesofindia.indiatimes.com/world/middle-east/Deadly-air-strike-hits-hospital-in-east-Libya/articleshow/50891891.cms
-----------
'Somalia plane bomber was meant to be on Turkish flight'
February 08, 2016
A suspected suicide bomber who blew a hole in the fuselage of a Daallo Airlines plane last week and forced it to make an emergency landing in Mogadishu was meant to be on a Turkish Airlines flight, the Daallo chief executive said on Monday.
The bomber was sucked out of the plane through the one-meter wide hole when the blast ripped open the pressurized cabin in mid-air, officials said. The pilot landed the plane in the Somali capital, from where it had taken off.
No group has so far taken responsibility for the attack but a US government source last week said the United States suspects Islamist militant group al Shabaab, which is aligned to al Qaeda, was responsible for the blast.
Mohamed Yassin, Daallo Airlines chief executive, said most of the passengers who were on the bombed flight were scheduled to fly with Turkish Airlines, but were ferried to Djibouti by one of his planes after the Turkish carrier cancelled its flight, citing bad weather.
"That particular passenger (who was behind the blast) boarded the aircraft on a Turkish Airlines boarding pass and was on the list for the Turkish Airlines manifest," Yassin told Reuters by telephone from Dubai.
Full report at: todayszaman.com/anasayfa_somalia-plane-bomber-was-meant-to-be-on-turkish-flight_411728.html
-----------
Pakistan
Pakistan behind rise of international jihadi forces: Report
PTI | Feb 8, 2016
NEW YORK: Pakistan's powerful intelligence service has long acted as the "manager" of international jihadi forces and it may have been involved in the rise of the ISIS, a leading US daily said, in a stinging commentary on Pakistan's "intervention" in a number of foreign conflicts.
Underlining that experts have found "a lot of evidence" that Pakistan facilitated the Taliban offensive, an op-ed in the New York Times said, "This behaviour is not just an issue for Afghanistan. Pakistan is intervening in a number of foreign conflicts."
"Its intelligence service has long acted as the manager of international mujahedeen forces, many of them Sunni extremists, and there is even speculation that it may have been involved in the rise of the Islamic State."
Full report at: timesofindia.indiatimes.com/india/Pakistan-behind-rise-of-international-jihadi-forces-Report/articleshow/50899741.cms
-----------
Czech govt paid $6m ransom for two women kidnapped in Balochistan: report
Feb 8, 2016
PRAGUE: The Czech government paid a $6 million ransom to secure the release last year of two women kidnapped in Pakistan, the Respekt weekly reports in its Monday edition.
Czech psychology students Hana Humpalova and Antonie Chrastecka, both 24 at the time, were seized by armed men in March 2013 in Balochistan near the shared borders with Afghanistan and Iran.
The pair had entered from Iran as tourists and were escorted into Pakistan by a tribal policeman.
Full report at: dawn.com/news/1238172/czech-govt-paid-6m-ransom-for-two-women-kidnapped-in-balochistan-report
-----------
Two killed in IED blast in Bannu
Feb 8, 2016
BANNU: At least two people were killed in an Improvised Explosive Device (IED) blast in the Havid area of Khyber Pakhtunkhwa's Bannu district on Monday morning.
According to Station House Officer of Havid police station, Rizwan, the IED went off in front of a shop as a shopkeeper was about to open the door.
The shopkeeper, Dilnawaz, and a rickshaw driver were killed on the spot.
Police registered a first information report against unknown miscreants.
dawn.com/news/1238164/two-killed-in-ied-blast-in-bannu
-----------
US general praises anti-terror operation
February 8th, 2016
WASHINGTON: Last year, Pakistan took some concrete steps in the war against terrorism but its actions also pushed a large number of extremists into Afghanistan, says the outgoing US commander for Afghanistan.
"Pakistan has done a lot of stuff in the last year. It's very courageous of Gen Raheel Sharif, the Chief of Pakistani Army, to have Pakistani military operations," Gen John Campbell told the House Armed Services Committee.
"But the result of that has driven a lot of that into Afghanistan and the Afghan forces have had to deal with that as well," he added.
Full report at: dawn.com/news/1238090/us-general-praises-anti-terror-operation
-----------
Arab World
Saudi forces shoot down Scud from Yemen
AGENCE FRANCE PRESSE
8 February 2016
RIYADH: Saudi Arabian air defenses on Monday intercepted a Scud missile fired at Khamis Mushait city where a major airbase is located, the coalition fighting in Yemen said.
The interception occurred "this morning at about three o'clock," Brig. Gen. Ahmed Al-Assiri, spokesman for the Saudi-led coalition, told AFP.
"They are still targeting the cities," he said.
Roughly 100 kilometers (60 miles) from the Yemeni border, the King Khalid Air Base, near the city of Khamis Mushait, is at the forefront of Saudi-led air operations against Shiite Houthi rebels and their allies, elite troops loyal to former president Ali Abdullah Saleh in Yemen.
The kingdom has deployed Patriot missile batteries designed to counter tactical ballistic missiles, which have been fired occasionally since March when the coalition began air strikes in support of the Yemeni government after Iran-backed Houthis seized much of Yemen.
Full report at: arabnews.com/featured/news/877221
-------
Kurdish Fighters Expel Militants from More Lands North of Syria's Aleppo
Feb 8, 2016
TEHRAN (FNA)- The Kurdish "People's Protection Units" (YPG) continued to advance against the militant groups in the Northern part of Aleppo province and freed another key village near Minaq military airbase.
The YPG forces stormed the militant groups' strongholds in the village of Mar'anaz in the Southwestern part of the city of Azaz and took full control over the village and its surroundings.
Tens of militants were killed or wounded and their military grid also was damaged in the attack.
Full report at: en.farsnews.com/newstext.aspx?nn=13941119000257
-----------
Syria: Terrorists Sustain Heavy Defeats in Homs Province
Feb 8, 2016
TEHRAN (FNA)- Syrian Army forces, backed by their popular allies, inflicted heavy losses and damage on Takfiri militants, during a series of offensives on militant-held areas across the province of Homs.
The Syrian army, during a rapid surprise attack, destroyed a number of vehicles and other military equipment of the ISIL Takfiri terrorists near al-Bayarat East of Palmyra in Homs province.
The army troops also carried out concentrated operations against ISIL terrorists positions in Minter al-Kharouba and al-Rumaylah near Maheen-al-Quaryatayn in Southeastern Homs.
The Syrian army operations, in the northern regions of Homs province, also led to the destruction of a number of militant positions and large casualties among them in surrounding areas of Hayal mountain, al-Tafha village, in Tir Ma'ala, and, Talbiseh, North of Homs province.
Full report at: en.farsnews.com/newstext.aspx?nn=13941119000557
-----------
Kurdish PYD indirectly attends Syria peace talks
February 07, 2016
Although it has not received an official invitation to attend peace talks in Geneva, a main Syrian Kurdish political party is indirectly taking part in the UN-mediated talks, in a way that is designed to circumvent objections from the official Syrian opposition and Turkey, who are adamantly against inclusion of the Democratic Union Party (PYD) in the fragile negotiation process.
Full report at: todayszaman.com/diplomacy_kurdish-pyd-indirectly-attends-syria-peace-talks_411656.html
-----------
Saudi Arabia, Venezuela focus on measures to stabilize oil prices
SAEED AL-KHOTANI
8 February 2016
RIYADH: Saudi Arabia and Venezuela discussed on Sunday ways to stabilize the crude market.
Petroleum and Mineral Resources Minister Ali Al-Naimi and Venezuelan Oil Minister Eulogio Del Pino discussed the latter's recent talks with other crude producers and the results of those meetings that seek cooperation among suppliers to bring stability to the market.
"I'm very happy to meet and consult with my colleague from Venezuela," Al-Naimi said in the statement. "It was a successful meeting in a positive atmosphere," he said.
Del Pino met with Al-Naimi after visiting Russia, Iran, Qatar, and Oman on a tour to drum up support for Venezuela's attempt to buttress oil prices.
Full report at: arabnews.com/featured/news/877096
-----------
Syrian Army Keeps on Advances across Eastern Ghouta
Feb 8, 2016
TEHRAN (FNA)- Syrian army forces in a series of intensive operations against Takfiri militants delivered consecutive blows to them in Eastern Ghouta in Damascus countryside, military sources said on Monday.
According to the military sources, at least six militants were killed during fierce clashes and more than a dozen were injured after the Syrian army troops conducted several attacks against the takfiri terrorists' positions across Eastern Ghouta.
Field reports also indicated that the Syrian soldiers and their allies, keeping on their advances against militants in the fertile area on the outskirts of the capital, Damascus, in a surprise operation, trapped militants between Darayya and Moadhamiyah towns in Eastern Ghouta.
Full report at: en.farsnews.com/newstext.aspx?nn=13941119000253
-----------
Iranian Nuclear Negotiators Receive Medals from President Rouhani
Feb 8, 2016
TEHRAN (FNA)- President Hassan Rouhani lauded the country's negotiators for efforts to strike a nuclear deal with the six world powers, after decorating them with the National Medals of Merit and Courage. [+PHOTOS]
The medals were issued in a ceremony in Tehran on Monday to honor all members of the nuclear negotiating team as well as families of those nuclear scientists and officials killed in terrorist attacks in recent years.
Full report at: en.farsnews.com/newstext.aspx?nn=13941119000333
-----------
Iraqi Resistance Group Warns S. Arabia, Allies against Sending Forces to Syria
Feb 8, 2016
TEHRAN (FNA)- One of Iraq's most powerful Shiite resistance groups warned that Arab forces sent to Syria or Iraq would "open the gates of hell", in comments clearly aimed at Saudi Arabia and its allies that have said they might join such an operation.
"The Arab kingdoms tried Daesh (ISIL) mercenaries to implement their malicious plans in Iraq and Syria, and they failed," a statement from Katai'b Hezbollah said on Sunday.
It called on "the sons of Saud and those rulers who stand behind them not to take a risk and to learn (their) lesson," referring to the Saudi ruling family, Reuters reported.
Katai'b Hezbollah, whose leader Abu Mahdi al-Mohandes heads the Baghdad-sanctioned coalition of mainly Shi'ite resistance groups battling ISIL alongside Iraq's regular forces, has sent fighters to Syria to support the Syrian army in that country's five-year-old war against terrorists.
Full report at: en.farsnews.com/newstext.aspx?nn=13941119000233
-----------
Militant Centers in Dara'a Neighborhoods Stricken Hard by Syrian Army
Feb 8, 2016
TEHRAN (FNA)- The Syrian Army engaged in fierce clashes with the militant groups in different neighborhoods of the Southern city of Dara'a, inflicting a heavy death toll on the terrorists and damaging their military equipment.
Several vehicles of the militant groups in the Southern side of al-Abbasiyeh and Busra square and al-Karak neighborhood were destroyed in the Syrian army's offensives.
Full report at: en.farsnews.com/newstext.aspx?nn=13941119000436
-----------
Syria: Gov't Forces Win Back More Territories North of Lattakia
Feb 8, 2016
TEHRAN (FNA)- The militant groups withdrew forces from one more key village in the mountainous regions of the coastal province of Lattakia near the border with Turkey under the heavy attacks of the Syrian Army and popular forces.
The Syrian army troops and the National Defense Forces (NDF) pushed the militant groups back from the village of Bashoura and seized full control over the village and its surroundings.
Several militants were killed or wounded in the offensive.
In relevant developments in the coastal province on Sunday, the Syrian air force planes carried out several intensive raids on Takfiri militants' positions in mountainous areas in Lattakia.
Full report at: en.farsnews.com/newstext.aspx?nn=13941119000189
-----------
Mideast
Erdoğan says he will not meet Sisi unless Brotherhood death sentences lifted
February 07, 2016
Turkish President Recep Tayyip Erdoğan said he would not meet with Egyptian President Abdel Fattah el-Sisi unless the death sentences of ousted President Mohammad Morsi and other Muslim Brotherhood members are revised and lifted, Turkish media reports said.
Answering a question from reporters on any development in relationships between Egypt and Turkey, Erdoğan said his stance on the issue was clear. Saying that ministers could hold meetings with their Egyptian counterparts, Erdoğan stated that he, however, would not welcome the Turkish prime minister having meetings with Egyptian officials. The Turkish president answered questions while on his plane heading back to Turkey from his tour of Latin America on Saturday.
Full report at: todayszaman.com/diplomacy_erdogan-says-he-will-not-meet-sisi-unless-brotherhood-death-sentences-lifted_411638.html
-----------
1 dead, 1 injured in shooting at İstanbul coffeehouse
February 08, 2016
One person has been killed and another injured in an armed assault on a coffeehouse in İstanbul's Kağıthane district, with the suspects seen fleeing the scene in a vehicle.
The attack, which took place at 5 a.m. on Monday, is the third of its kind in the past week, as similar attacks have been carried out in İstanbul's Kanarya and Sultançiftliği neighborhoods.
One person died at the coffeehouse and another was taken to Şişli Etfal Hospital for treatment. Eyewitnesses were unable to see the license plate of the car when the suspects fled, but police found nine bullet casings at the scene and an investigation is currently under way.
Full report at: todayszaman.com/latest-news_1-dead-1-injured-in-shooting-at-i-stanbul-coffeehouse_411708.html
-----------
Şırnak Governor's Office: 10 PKK terrorists killed in Cizre
February 08, 2016
Ten terrorists from the Kurdistan Workers' Party (PKK) were killed in fighting on Sunday night in the southeastern district of Cizre, apparently in an operation targeting the building where around two dozen wounded people, possibly among them PKK terrorists, had been said to have taken refuge in a basement.
According to a statement by the Şırnak Governor's Office early on Monday, 10 PKK terrorists were killed during the operation in Cizre.
The statement by the governor's office did not contain any information on whether those killed were killed in an operation targeting the building in which the wounded were staying.
Full report at: todayszaman.com/anasayfa_sirnak-governors-office-10-pkk-terrorists-killed-in-cizre_411713.html
-----------
Turkey Police Begin To Demolish Parts of 'Külliye', A Traditional Complex Around A Mosque
February 08, 2016
Turkish police on Monday started the process of demolishing two buildings in a külliye, a traditional complex around a mosque that offers benevolent services for the community, on the grounds that their construction was unlicensed.
A decision to demolish the buildings in the külliye, which is named after the religious community's leader, Mahmut Ustaosmanoğlu, was issued by the Ministry of Forestry and Water Affairs in January.
Full report at: todayszaman.com/anasayfa_police-begin-to-demolish-parts-of-kulliye-belonging-to-religious-community_411715.html
-----------
Chomsky says Erdoğan's policies moving in dangerous direction
February 07, 2016
Renowned linguist, philosopher and activist Noam Chomsky has criticized Turkish President Recep Tayyip Erdoğan for pursuing dangerously repressive policies towards the Turkish and Kurdish people in Turkey.
In an email exchange with the Cihan news agency, Chomsky said: "The policies [of Erdoğan] are moving in a dangerous direction, towards harsh repression and increasing authoritarianism."
Erdoğan has been receiving growing criticism from pro-democratic circles both in Turkey and abroad for restricting personal freedoms in the country and cracking down on dissent.
Chomsky said in the early years of this century, it seemed that Erdoğan was moving Turkey towards greater openness and democracy, but his direction reversed a few years later.
"These are very sad and serious developments. The same is true of his increasing repression of the Kurds, and also his actions in Syria," he said.
Full report at: todayszaman.com/national_chomsky-says-erdogans-policies-moving-in-dangerous-direction_411693.html
-----------
President Rouhani Lauds Iranian Military Advisors in Syria, Iraq
Feb 8, 2016
TEHRAN (FNA)- President Hassan Rouhani expressed his gratitude to the country's military commanders who are advising the Syrian and Iraqi military forces in the ongoing war against terrorism and extremism.
"If our Armed Forces hadn't protected our national security, if our selfless generals hadn't been to the frontlines of national resistance in Baghdad, Samarra, Fallujah and Ramadi, if they hadn't helped the Syrian government in Damascus and Aleppo, and if the Army, the Islamic Revolution Guards Corps, the Basij Volunteer Force and the Law Enforcement Police hadn't been here to protect us, we would have never had a chance to negotiate (in the nuclear talks) so successfully," Rouhani said Monday, addressing a ceremony in Tehran during which the defense minister and the Iranian nuclear negotiating team received Medals of Merit and Courage.
Full report at: en.farsnews.com/newstext.aspx?nn=13941119000678
----------
Europe
Slain Italian student in Egypt suffered 'inhuman, animal-like' violence
AP | Feb 7, 2016
ROME: A second autopsy on the body of an Italian found slain in Egypt reveals that the doctoral student suffered "inhuman, animal-like" violence, Italy's interior minister said on Sunday as he pressed Egypt's president to fully cooperate with the criminal investigation.
Rome prosecutors have opened a murder investigation into the death of Giulio Regeni, whose battered corpse was found near a highway outside Cairo nine days after he was reported missing in the Egyptian capital.
Italy's ambassador, who viewed the body a few hours after Egyptian authorities told Italy about its discovery on Feb 3, had already said the victim showed signs of a brutal beating and torture, and a second autopsy, following one done in Egypt by authorities there, was performed late Saturday in Rome after the body was flown to Italy.
Full report at: timesofindia.indiatimes.com/world/europe/Slain-Italian-student-in-Egypt-suffered-inhuman-animal-like-violence/articleshow/50891843.cms?
-----------
'IS men with Paris attack kingpin now in UK'
PTI | Feb 7, 2016
LONDON: A number of Islamic State (IS) terrorists are believed to have left Syria and entered the UK with the ringleader of the Paris attacks in November last year, a media report said on Sunday.
According to 'The Sunday Times', counter-terrorism officials believe the suspects used the migrant crisis as a cover to travel across Europe and passed through Turkey before entering the European Union by sea or land and eventually heading to countries including the UK, France, Germany and Spain.
Full report at: timesofindia.indiatimes.com/world/uk/IS-men-with-Paris-attack-kingpin-now-in-UK/articleshow/50889529.cms
-----------
Seven arrested in Spain over 'jihad' links
Feb 7, 2016
MADRID: Spanish police said they arrested seven people on Sunday with suspected links to al-Qaida and the Islamic State groups and uncovered an operation to smuggle arms to jihadists under the guise of humanitarian aid.
The arrests were carried out in the eastern cities of Valencia and Alicante and in Spain's North African enclave of Ceuta, the police said in a statement.
"Five are Spanish nationals of Syrian, Jordanian and Moroccan origin, and two are Syrian and Moroccan nationals," it said.
The arrests were made in the context of an investigation launched in 2014 into "foreign structures" providing logistical support for Islamic State -- also called ISIL, ISIS or Daesh -- and the Al-Nusra Front, an Al-Qaeda affiliate in Syria, police said.
Full report at: timesofindia.indiatimes.com/world/europe/Seven-arrested-in-Spain-over-jihad-links/articleshow/50892097.cms
-----------
Germany's Merkel in Turkey for talks over migrants
February 08, 2016
German Chancellor Angela Merkel met with Prime Minister Ahmet Davutoğlu on Monday for more talks on reducing the influx of migrants to Europe.
Turkey, a key country on the migrant route to Europe, is central to Merkel's diplomatic efforts to reduce the flow. Germany saw an unprecedented 1.1 million asylum seekers arrive last year, many of them fleeing conflicts in Syria, Iraq and Afghanistan
In her weekly video message on Saturday, Merkel said European Union countries agree that the bloc needs to protect its external borders better, and that that is why she is seeking a solution with Turkey. She added that, if Europe wants to prevent smuggling, "we must be prepared to take in quotas of refugees legally and bear our part of the task.
Full report at: todayszaman.com/latest-news_germanys-merkel-in-turkey-for-talks-over-migrants_411711.html
-----------
North America
Donald Trump says he has 'at least 20 Muslim friends' but fails to name them
Ashley Cowburn | The Independent | Feb 8, 2016
WASHINGTON: Donald Trump has defended himself against accusations of Islamophobia by saying he has at least 20 friends who are Muslim - but stopped short of naming them.
The Republican presidential candidate has previously said "I love the Muslims" despite provocative polices that include calling for a temporary ban on Muslims entering the United States and a database to track the movements of those already living there.
Asked by the Telegraph who his Muslim backers were, Trump reportedly ducked the question. He said: "Oh, I could give you about 20 of them."
The newspaper added that Trump's son was also unable to shine light on any of his father's Muslim friends. He did, however, say they had "completed a lot of business deals" in the Middle East.
Full report at: timesofindia.indiatimes.com/world/us/Donald-Trump-says-he-has-at-least-20-Muslim-friends-but-fails-to-name-them/articleshow/50899602.cms
URL: https://newageislam.com/islamic-world-news/new-age-islam-edit-bureau/india-not-immune-to-isis-threat,-says-uae/d/106267
New Age Islam, Islam Online, Islamic Website, African Muslim News, Arab World News, South Asia News, Indian Muslim News, World Muslim News, Womens in Islam, Islamic Feminism, Arab Women, Womens In Arab, Islamphobia in America, Muslim Women in West, Islam Women and Feminism, Moderate Islam, Moderate Muslims, Progressive Islam, Progressive Muslims, Liberal Islam, Liberal Muslims, Islamic World News