New Age Islam News Bureau
17 Feb 2016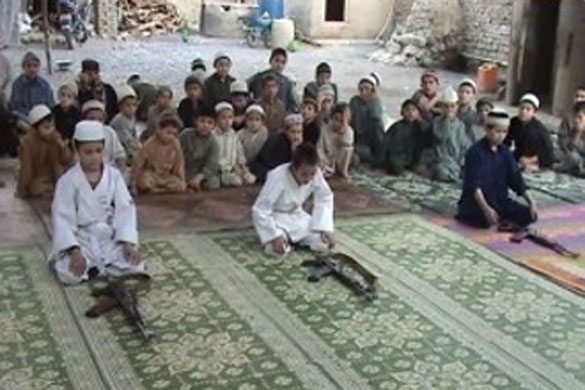 Photo: Human Rights Watch says Taliban child soldier recruitment surges
----------
South Asia
• Human Rights Watch Says Taliban Child Soldier Recruitment Surges
• NDS Detains Taliban Commander 'Dressed Like a Woman' In Paktika
• Abdullah calls on Taliban to come to negotiation table
• Unknown armed men gun down religious scholar in Nangarhar
• Afghanistan urges UN to consider removing ANSF from 'List of Shame'
----------
Arab World
• Suicide Bomber Kills At Least 10 Recruits at Yemeni Army Camp
• 15 Civilians Dead In Syria US-Led Coalition Air Raids
• ISIL, Nusra Terrorists Face Major Casualties in Syria's Central Province Of Homs
• Saudi Arabia, Russia Agree To Freeze Oil Output
• Turkey's Heavy Artillery Units Shell Syrian Army Positions in Lattakia
• Syria: Kurdish Fighters Storm Terrorist Centres in Aleppo Neighbourhoods
• Syrian Army, Allies Restore Security to Newly-Liberated Regions in Lattakia
• Syrian Army Continues to Crush Militants East of Damascus
• Army Destroys Militants' Defense Lines in Hama Province
• Young Saudis see cushy jobs vanish as oil prices plunge
----------
India
• Odisha: 4 SIMI Terrorists Arrested By Telangana Police
• Pakistan to Approach India to Allow Probe Team Visit Pathankot
----------
Pakistan
• Seven Suspected Terrorists Killed In Shootout with Police In Sharaqpur: CTD
• Pakistan: Swat Prayer Leader Joins Anti-Polio Drive
• Bomb hoax at Karachi University causes panic
----------
Mideast
• Hezbollah Chief Says Turkey, Saudi Arabia Prefer War over Political Agreement in Syria
• Turkey About To Conclude Deal with Israel on 'All Issues'
• Russia-Backed Syrian Offensive Aims to Forge Kurdish Militia Corridor, Erdoğan Says
• Turkey proposes joint ground operation in Syria
• Turkey's main opposition party quits constitution-making talks
• Turkey wants 'secure line' created 10km within Syria, including Azaz - deputy PM
• UNSC urges Turkey to 'comply with intl law' in Syria after Russia requests meeting
• Russia's campaign in Syria shifted balance of power in the region – Iran's defence chief
• Soldier dies, 2 others injured in clashes in Sur district
• Erdoğan, Saudi King Salman discuss Syria in telephone conversation
----------
Southeast Asia
• Uighurs Deny Bangkok Bombing, Lawyer Says Confession Forced
• New E-Commerce Sites Specialize in Halal Products for Muslims
• Indonesia to ban Tumblr, 476 other websites for sharing adult-rated content
----------
Africa
• Obama Vows to Stop Daesh from 'Digging in' In Libya
• Former NATO Commander Calls For Canada, U.S. To Act In Libya
----------
Europe
• Russian DM: Tehran, Moscow Fighting Common Threats
• Russia Rejects 'War Crimes' Claims In Syria
• Russia has no ship in Caspian Sea that could hit Syrian hospital with ballistic missile – MoD
• Russia, Iran to reinforce military cooperation
----------
North America
• US 'Schizophrenic' On Syria as Kurds, Govt Forces Advance
• Obama: Syria 'Not a Contest between Me And Putin'
• Canada looking to send military helicopters to Iraq
Compiled by New Age Islam Edit Bureau
URL: https://newageislam.com/islamic-world-news/new-age-islam-edit-bureau/human-rights-watch-says-taliban-child-soldier-recruitment-surges/d/106373
-----------
South Asia
Human Rights Watch says Taliban child soldier recruitment surges
By Khaama Press - Wed Feb 17 2016
Human Rights Watch (HRW) says Taliban forces in Afghanistan have added scores of children to their ranks since mid-2015 in violation of the international prohibition on the use of child soldiers.
The rights group's research shows that the Taliban have been training and deploying children for various military operations, including the production and planting of improvised explosive devices (IED).
In a report released on Wednesday, HRW writes that in Kundoz province, the Taliban have increasingly used madrasas, or Islamic religious schools, to provide military training to children between the ages of 13 and 17, many of whom have been deployed in combat.
"The Taliban's apparent strategy to throw increasing numbers of children into battle is as cynical and cruel as it is unlawful," said Patricia Gossman, senior Afghanistan researcher. "Afghan children should be at school and at home with their parents, not exploited as cannon fodder for the Taliban insurgency."
Human Rights Watch interviewed relatives of 13 children recruited as Taliban soldiers over the past year, and verified these claims through interviews with civil society activists, political analysts, and the United Nations. Despite Taliban claims that they only enlist fighters who have achieved "mental and physical maturity," and do not use "boys with no beards" in military operations, some of the children recruited from madrasas in Kunduz, Takhar, and Badakhshan provinces are 13 or younger. The Taliban have previously denied"the use of children and adolescents in Jihadic Operations," but its deployment of individuals under the age of 18 violates international law applicable in Afghanistan and in cases involving children under 15 is a war crime.
Kunduz residents and analysts say that the increase in recruitment and deployment of child fighters coincided with the Taliban's major offensive in northern Afghanistan that began in April 2015. Human Rights Watch interviews with activists and analysts indicate that the Taliban-run madrasas have been functioning in Kunduz, as well as other northern provinces, since at least 2012. As the Taliban made substantial inroads in 2013-2014, gaining ground in Kunduz's Chahardara and Dasht-e Archi districts, they gained more influence over education in the province. Taliban commanders increasingly used madrasas not only for indoctrination, but also for military training of children. Previously, Taliban commanders sent boys selected for military training to North Waziristan in Pakistan, where despite Pakistan's military operations, the Taliban operates freely in large swathes of territory. While such training still occurs, the Taliban has solidified its control over at least three districts in Kunduz and residents and analysts told Human Rights Watch that the group is carrying out more of the military training locally.
The Taliban recruit and train children in age-specific stages. Boys begin indoctrination as young as six years old, and continue to study religious subjects under Taliban teachers for up to seven years. According to relatives of boys recruited by the Taliban, by the time they are 13, Taliban-educated children have learned military skills including use of firearms, and the production and deployment of IEDs. Taliban teachers then introduce those trained child soldiers to specific Taliban groups in that district.
"The Taliban's increasing use of children as soldiers only adds to the horrors of Afghanistan's long conflict both for the children and their families," Gossman said. "The Taliban should immediately stop recruiting children and release all children in their ranks, even those who claim to have joined willingly."
Taliban Recruitment and Training of Children
The Taliban have recruited and used children as fighters since the 1990s, but Kunduz residents whose sons have been among those recruited, together with analysts who have monitored the recruitment drive, believe that recruitment increased in 2015 due to expanded Taliban operations against Afghan government forces. The establishment of training centers in madrasas in the Taliban's expanded zone of control in Kunduz also led to increases in child soldier recruitment. Kunduz residents told Human Rights Watch that the Taliban had recruited and deployed more than 100 children from Chahardara district alone in 2015.
Because the Taliban begin the indoctrination of children from an early age, they are easily persuaded to fight. Relatives of child soldiers in Kunduz told Human Rights Watch that the Taliban target children because it is easy to convince them of the righteousness of jihad, and because they are at an age where they do not feel responsible for providing for a family and so are easily persuaded to take on dangerous tasks. In general, children are not recruited by force. However parents who have tried to retrieve their children are usually unable to do so because the Taliban claim that the boys are of age, or are committed to jihad regardless of their age.
The Taliban madrasas attract many poor families because the Taliban cover their expenses and provide food and clothing for the children. In some cases they offer cash to families for sending their boys to the madrasas. An expert on Kunduz told Human Rights Watch that traditionally, even before the Taliban established madrasas in these areas, rural and village families sent at least one son to the local madrasa because of the prestige associated with the status of becoming a mullah (someone educated in the basics of Islamic law). In the cases of child soldiers Human Rights Watch investigated, some boys attended the madrasas in the early morning hours and then attended government schools later in the day. Other boys who had been recruited attended the madrasas full time. For example, "Razeq," (a pseudonym) 16, a resident of Chahardara district in Kunduz province, is a student in Class 6 at a government-run school, which he attends between 8 a.m. and noon every day. Between 5 a.m. and 8 a.m. he attends a madrasa controlled by Malawi Abdul Haq, a Taliban commander in the district. As of late 2015, the madrasa had about 80 students, most of them children between the ages of 13 and 17. All of them are vulnerable to recruitment.
According to some reports, children as young as 10 years old fought with Taliban forces in the battles that led to the Taliban's temporary takeover of Kunduz. Leila Zerrougui, the UN special representative of the Secretary-General for children and armed conflict, told Al-Jazeera that "children between the ages of 10 and 15 were used by the Taliban and dozens of them were deployed" during the fighting in Kunduz in September and October 2015.
International Law
International humanitarian law, or the laws of war, prohibits the recruitment or use of children under 15 by parties to a conflict. "Conscripting or enlisting children under the age of fifteen years into armed forces or groups or using them to participate actively in hostilities" is a war crime under the Rome Statute of the International Criminal Court (ICC), to which Afghanistan belongs. Those who commit, order, assist, or have command responsibility for war crimes are subject to prosecution by the ICC or national courts.
The Optional Protocol to the Convention on the Rights of the Child on the Involvement of Children in Armed Conflict ("the Optional Protocol"), which Afghanistan ratified in 2003, states that non-state armed groups may not, under any circumstances, recruit persons under 18 or use them in hostilities. The Optional Protocol also places obligations on governments to "take all feasible measures to prevent such recruitment and use, including the adoption of legal measures necessary to prohibit and criminalize such practices." Military forces also have an obligation to provide children with special respect and attention. The Convention on the Rights of the Child requires that governments "take all feasible measures to ensure protection and care of children who are affected by armed conflict."
Relatives and Friends of Taliban Child Soldiers Speak Out
The following accounts are based on Human Rights Watch interviews with the relatives of 13 boys recruited into the Taliban in 2015, and interviews with community elders who have worked with the families to try to get the boys released. The names of the boys and other identifying details have been changed for their families' security. In all cases, the parents tried unsuccessfully to secure the return of their sons. In some cases the children were killed during the fighting in Kunduz in 2015. In each of these cases the Taliban commanders responsible for recruiting the boys were based in Kunduz. Because it was not possible to contact the Taliban for their views on these allegations, we have not referred to these commanders by name.
-Qasem, 15, was a resident of Chahardara district, Kunduz province, where he attended a local madrasa. In June or July 2015, a Taliban military unit recruited him as a soldier. A community elder who has been assisting the families of boys who have been recruited told Human Rights Watch:
On three occasions in July, August, and September 2015, Qasem's parents contacted Taliban Commander A who was in charge of the unit, begging to have their son returned to them, but they were refused. They told Commander A: "We will send him to you after three years when he is of age. He should study until that time and be with his parents," but the commander refused to release their son.
-Ahmad was the son of a merchant in Chahardara district. In May 2015, when he was 14 years old, Taliban forces under a senior Taliban commander, Commander B, recruited Ahmad as a soldier. According to members of the family, about a week after her son was recruited, Ahmad's mother appealed to Commander B to release her son, but he refused.
In June 2015 Afghan government forces launched a clearing operation in Chahardara district, and both Qasem and Ahmad were deployed. According to a source close to the family who lived in the village where the operation took place:
When the government forces counter-attacked, both Qasem and Ahmad, along with a civilian woman named Zahra who was living nearby, were killed. The boys' families recovered their bodies.
-Mohammad, 15, was a resident of Chahardara district, Kunduz province. He was in Class 7 at the local government school, but also attended a local madrasa. In June 2015 an armed group under Taliban Commander A recruited him as a child soldier. Mohammad's parents have said that when they went to Commander A and asked for the return of their son, he refused to release him.
-Farhad, 17, is from a village in Chahardara district of Kunduz province. A family source said:
Farhad joined the Taliban over his father's objections. He is currently a fighter in Commander B's group. His parents together with local elders went to the Taliban several times and asked another commander in this group, Commander C, to free Qari [an honorific bestowed on someone who has learned to read the Quran ] Farhad. Commander C then asked Farhad if he wanted to go back to his family, but as Qari Farhad wanted to stay, Commander C told his parents and other local elders that "your sons are better Muslims than yourselves. They don't leave jihad."
-Atar, 17, is from Chahardara district. He was a student at a local madrasa, which he had attended from the time he was 6 years old. In May or June 2015, forces under Taliban Commander B recruited him as a soldier. His parents have unsuccessfully tried to secure his release.
-Mati, 15, was also the resident of a village in Chahardara district. In June 2015, after his father died, the Taliban recruited him into an armed group under the command of Commander D. A relative said:
They cheated him. Mati's uncle went to bring him back, but the Taliban would not let him go with his uncle. Then fighting [with Afghan government forces] erupted [in July 2015], and in the fighting Mati was killed in an airstrike. Friends who lived in Khotagert, the area he died, found the body and told his uncle, who came and buried him.
-Mansur, 15, was a resident of a village in Chahardara district, Kunduz province. In May 2015 he was recruited into an armed group. A relative said:
Commander A sent him to Waziristan in Pakistan for training in making explosives. His responsibility in the armed group is to plant IEDs in government agencies and government cars. The family has been unable to secure his release.
-Najib, 16, is from a village, in Chahardara district. A relative said that the Taliban recruited him against the family's wishes:
His father is not alive and his grandfather sent him to Turkey to avoid Taliban recruitment, but he came back and the Taliban recruited him into the group of commander B.
-Hesam, 16, is also from Chahardara district. Forces under Taliban commander A recruited him when he was 14 or 15. On May 5, 2015, he was injured in Kunduz while fighting for the Taliban, and treated in a clinic in Kunduz. When his father tried to bring him home after his treatment, he ran away and joined commander A's group again.
-Malek, 14, a student at a local madrasa, was recruited by his teacher, Commander E, one of the Taliban's principal recruiters in Chahardara district. A relative said:
Before recruiting Malek, the Taliban took his cousin Esmat by force over his father's objections. However, Esmat's father succeeded in getting Esmat released and sent him to Iran to save him. Currently Qari Malek is tasked with carrying RPGs [rocket-propelled grenades] in Commander B's unit.
-Burhan, 14, is also from Chahardara district. A relative told Human Rights Watch:
Qari Burhan was recruited in March or April 2015 into Commander B's armed group, where he is armed with a Kalashnikov [assault rifle]. After he was recruited, he was sent to Waziristan [in Pakistan] to be trained in using explosive materials. He came back to the front after three months training in July 2015 and is active in Commander B's armed group. Two of Burhan's uncles are with the Taliban.
-Emad, 16, is a resident of a village near Kunduz city center. He was a student in a local government-run school until he was recruited into commander E's armed group, over his family's objections. According to a family member, "Emad's widowed mother requested that the Taliban release him from their group, but they refused."
-Navid, 16, is a resident of Kunduz center. According to his family, he has been made part of commander B's bodyguard. He sits at the back of a Taliban commander's motorcycle and rides with him, carrying a Kalashnikov.
khaama.com/human-rights-watch-says-taliban-child-soldier-recruitment-surges-4586
----------
NDS detains Taliban commander 'dressed like a woman' in Paktika
By Khaama Press - Wed Feb 17 2016
The National Directorate of Security (NDS) – Afghanistan's intelligence agency has arrested a Taliban commander who had dressed himself like a woman in Paktika province.
A statement released by NDS on Wednesday identifies the terrorist as Khozar Ali son of Gul Sof.
According to the statement, Khozar Ali alias Chapai was arrested during a special operation in Barmal District.
A Kalashnikov and four magazines were also confiscated from the possession of the terrorist.
When Taliban wear women's dresses, they try to track security forces in order to escape from the target areas.
Statements released by NDS usually do not contain exact date of the achievements but they usually come after recent activities.
Khaama.com/nds-detains-taliban-commander-dressed-like-a-woman-in-paktika-4588
----------
Abdullah calls on Taliban to come to negotiation table
By Khaama Press - Tue Feb 16 2016
Chief Executive Officer (CEO) Abdullah Abdullah has called on Taliban to come to negotiation table saying that they can't reach to their hopes through war.
While talking to a gathering organized to celebrate the withdrawal of Red Army from Afghanistan, CEO Abdullah said the National Unity Government (NUG) has been trying to reach to a durable peace in Afghanistan.
He said if Taliban have a concept or ideology they need to come and talk as they cannot get anything with killing and violence.
Full report at: khaama.com/abdullah-calls-on-taliban-to-come-to-negotiation-table-4578
----------
Unknown armed men gun down religious scholar in Nangarhar
By Khaama Press - Tue Feb 16 2016
Unknown armed men have gunned down a religious scholar in Jalalabad city, capital of eastern Nangarhar province.
Spokesperson for the governor of Nangarhar said Mawlawi Ahmad Shah attended a religious class in a mosque in Angor Bagh area yesterday.
According to Ataullah Khogyaand, when the religious scholar came out of the mosque he came under armed attack and lost his life.
Motive behind the incident is unknown but Khogyani said that security agencies have launched an investigation into the incident.
Nangarhar had been among the comparatively safe provinces of Afghanistan but it is now going through some of its worst security.
khaama.com/unknown-armed-men-gun-down-religious-scholar-in-nangarhar-4579
----------
Afghanistan urges UN to consider removing ANSF from 'List of Shame'
By Khaama Press - Wed Feb 17 2016
Ministry of Foreign Affairs says Afghanistan has made a lot of progress in safeguarding children's rights in coordination and collaboration with other relevant organizations, Steering Committee Members, UNAMA and UNICEF and therefore the United Nations should consider removing the name of Afghan National Security Forces (ANSF) from its 'List of Shame'.
In a meeting with the Leila Zerrougui, Special Representative of the United Nations Secretary-General for Children in Armed Conflicts, UNAMA and UNICEF representatives in Kabul, Foreign Ministry officials said that government is committed to align the provisions of International Human Rights Instruments and the resolutions of the UN aimed at upholding and realizing children's rights with its national structures in the areas of legislation, policy making and institution building, monitor and report on its compliance.
Full report at: khaama.com/afghanistan-urges-un-to-consider-removing-ansf-from-list-of-shame-4587
----------
Arab World
Suicide bomber kills at least 10 recruits at Yemeni army camp
17 February 2016
A suicide bomber killed at least 10 recruits at a Yemeni army camp run by President Abd-Rabbu Mansour Hadi's government in the southern port city of Aden on Wednesday, medical sources and an official said.
They said several other recruits were also wounded in the explosion at the gate of Abbas camp in Buraiqa, a district of the city of Aden, which had been recently set up to absorb new conscripts to an a new army being set up by Hadi's government.
No one immediately claimed responsibility for the attack, the latest in a series of bombings that had rattled the city since Saudi-backed forces captured Yemen's second largest city from the Iran-allied Houthis in July last year.
Hundreds of new recruits were at the gate trying to register their names to join the Yemeni army, they said.
Residents said ambulances were seen transporting casualties out to hospitals as troops surrounded the area to keep onlookers away.
english.alarabiya.net/en/News/middle-east/2016/02/17/Suicide-bomber-kills-at-least-10-recruits-at-Yemeni-army-camp-.html
----------
15 civilians dead in Syria US-led coalition air raids
AFP | Feb 17, 2016
BEIRUT: At least 15 civilians have been killed in US-led coalition air strikes on a town in northeast Syria held by the Islamic State jihadist group, a monitor said.
"At least 15 civilians were killed and 20 wounded in coalition air strikes on Al-Shadadi yesterday" in the northeastern province of Hasakeh controlled by IS, said the Syrian Observatory for Human Rights, adding that the death toll was likely to rise.
timesofindia.indiatimes.com/world/middle-east/15-civilians-dead-in-Syria-coalition-air-raids/articleshow/51017636.cms
----------
ISIL, Nusra Terrorists Face Major Casualties in Syria's Central Province of Homs
17 February 2016
TEHRAN (FNA)- Concentration centers of the ISIL and al-Nusra Front in the Northern and Southeastern parts of Homs province came under the heavy attacks of the Syrian Ground and Air Forces, battlefield sources said Wednesday, adding the attacks inflicted a heavy death toll on the terrorists.
"In a joint mid-scale operation, the Syrian army and warplanes targeted the ISIL strongholds in Tuloul al-Soud, Mintar and Jabal al-Rmeileh in the Southeastern territories of Homs province, which not only left many terrorists dead or wounded, but destroyed their machinegun-equipped vehicles in large scale," the sources said.
Full report at: en.farsnews.com/newstext.aspx?nn=13941128000447
----------
Saudi Arabia, Russia agree to freeze oil output
February 17th, 2016
DOHA: Top global producers Saudi Arabia and Russia agreed on Tuesday to freeze oil output in a bid to shore up prices after a 70 per cent drop due to chronic oversupply.
Saudi Oil Minister Ali al-Naimi said the move — which is conditional on other major producers joining in — was designed to stabilise the market following the dramatic price fall since mid-2014.
Further talks involving Iran and Iraq are due in Tehran on Wednesday.
"We don't want significant gyrations in prices. We don't want a reduction in supply. We want to meet demand and we want a stable oil price," Naimi said.
The announcement followed a closed-door meeting in Doha between Saudi Arabia — the de facto leader of Opec — Venezuela, Qatar and Russia, which does not belong to the oil cartel.
Full report at: dawn.com/news/1239975/saudi-arabia-russia-agree-to-freeze-oil-output
----------
Turkey's Heavy Artillery Units Shell Syrian Army Positions in Lattakia
17 February 2016
TEHRAN (FNA)- The Turkish Army's artillery units targeted the Syrian Army troops' positions in the Northern part of Lattakia province to slow down the government forces' advances against the terrorist groups near the border with Turkey.
The Turkish artillery continued to shell the Syrian government forces' strongholds near the villages of Areh, Shalaf, Majd al-Kikhiya and Duweirkeh in the mountainous regions near border of Lattakia province with Turkey.
In the meantime, the Turkish artillery opened fire at the Kurdish fighters' centers near the city of Azaz in the Northern part of Aleppo.
Full report at: en.farsnews.com/newstext.aspx?nn=13941128000245
----------
Syria: Kurdish Fighters Storm Terrorist Centers in Aleppo Neighborhoods
17 February 2016
TEHRAN (FNA)- The Syrian Kurdish "People's Protection Units" (YPG) engaged in heavy fighting with the militant groups in at least two neighborhoods of the Northern city of Aleppo, and pushed the terrorists back from a medical center.
The YPG fighters, who have recently allied with the Syrian government, attacked the militants' centers in the neighborhoods of Bani Zeid and al-Ashrafiyeh and captured the hospital of Hanan following several hours of clashes.
The militant suffered a heavy death toll and retreated from their positions to evade more casualties.
Full report at: en.farsnews.com/newstext.aspx?nn=13941128000516
----------
Syrian Army, Allies Restore Security to Newly-Liberated Regions in Lattakia
17 February 2016
TEHRAN (FNA)- Syrian Army forces, backed by popular forces restored security to newly liberated areas in Northern Lattakia province, while kept marching on terrorists' positions in nearby regions.
Syrian army units who managed to push back militants from their positions in Basour valley and Ain al-Ghazal mountain on Tuesday, restored stability and security to the areas in the Northern province of Lattakia.
After pushing back militants from their positions in vast swathes of Rugged areas in Lattakia province, The pro-government forces are advancing further towards the regions which are still under the grip of terrorists.
Full report at: en.farsnews.com/newstext.aspx?nn=13941128000388
----------
Syrian Army Continues to Crush Militants East of Damascus
17 February 2016
TEHRAN (FNA)- The Syrian Army troops, Air Force and artillery units targeted the terrorist groups' gathering centers in Eastern Ghouta and inflicted major losses on the militants.
The Syrian army men attacked the militants' gatherings near the city of Harasta and the town of Balleh in Eastern Ghouta, which claimed the lives of many terrorists.
In the meantime, the Syrian warplane pounded concentration centers the militant groups in the village of al-Mohammadiyeh and al-Marj region, leaving several terrorists dead or wounded.
Full report at: en.farsnews.com/newstext.aspx?nn=13941128000608
----------
Army Destroys Militants' Defense Lines in Hama Province
17 February 2016
TEHRAN (FNA)- The Syrian army and air force backed by the popular forces destroyed the defense lines of the Takfiri terrorists in the Eastern part of Hama province.
The army units backed by the popular forces inflicted heavy losses on the militants in Hama province, killing scores of militants and injuring many more in heavy clashes.
The Syrian army and popular forces also hit hard the military positions of the Takfiri terrorists in other key provinces across Syria.
Hama
The Syrian Army and popular forces pushed their way further into militant-held areas and came closer to a key town in the Eastern part of Hama province, imposing heavy casualties in heavy clashes with militants in the region.
Military sources said pro-government forces took several hills overlooking the town of Zakiyeh on Ithriyah-Raqqa road in the Eastern part of Hama following heavy clashes with ISIL terrorists.
The ISIL militants sustained heavy casualties and huge damage on their hardware during the clashes that flared as Syrian soldiers are trying to win back more areas in the Western province.
Full report at: en.farsnews.com/newstext.aspx?nn=13941128000446
----------
Young Saudis see cushy jobs vanish as oil prices plunge
BEN HUBBARD | NYT News Service | Feb 17, 2016
RIYADH, Saudi Arabia — In pressed white robes and clutching crisp resumes, young Saudi men packed a massive hall at a university in the capital city this month to wait in long lines to pitch themselves to employers.
It was one of three jobs fairs in Riyadh in two weeks, and the high attendance was fueled in part by fear among the younger generation of what a future of cheap oil will mean in a country where oil is everything.
Full report at: timesofindia.indiatimes.com/world/middle-east/Young-Saudis-see-cushy-jobs-vanish-as-oil-prices-plunge/articleshow/51020167.cms
----------
India
Odisha: 4 SIMI terrorists arrested by Telangana police
February 17, 2016
Bhubaneswar, Feb 17: Telangana Police in co-ordination with their Odisha counterparts arrested 4 terrorists from the town of Rourkela in northern Odisha. The apprehended individuals are members of banned outfit Student Islamic Movement of India (SIMI) which reportedly works in tandem with terror outfit Indian Mujahideen. All the four accused are said to be between 20 to 30 years of age.
The arrest was made after the Intelligence Bureau released vital details of the terrorists' whereabouts in Odisha. It was found that they were hiding in Rourkela, located in northern part of the state. Following a five-hour long gun-battle with the miscreants, the team of Telangana and Odisha Police, along with personnel of Special operation Group (SoG) arrested the armed terrorists. From their hideout in Rourkela, five country made revolvers and explosives were recovered.
Full report at: india.com/news/india/odisha-4-simi-terrorists-arrested-by-telangana-police-954909/
-----------
Pakistan to approach India to allow probe team visit Pathankot
IANS | Feb 16, 2016
Security personnel guard Pathankot Air Force base after the end of the military operation against militants on Tuesday. (PTI File Photo)Security personnel guard Pathankot Air Force base after the end of the military operation against militants on... Read More
ISLAMABAD: Pakistan would approach India to allow a special investigation team to visit Pathankot to gather relevant information about the terrorist attack at an airbase in the Punjab town, Radio Pakistan reported.
Interior minister Nisar Ali Khan on Tuesday made the remarks after Pakistan earlier offered to send an SIT to probe the Pathankot attack that left seven security personnel killed.
Indian security personnel also killed six militants in the January 2 attack on the airbase, which is merely 50 km from Pakistani border.
The foreign office would formally contact India to seek permission for the visit of the team as answers to many questions and links can be identified there, he said.
Nisar said the investigation team has held many meetings and its work was proceeding.
timesofindia.indiatimes.com/india/Pakistan-to-approach-India-to-allow-probe-team-visit-Pathankot/articleshow/51013533.cms?
----------
Pakistan
Seven suspected terrorists killed in shootout with police in Sharaqpur: CTD
February 17th, 2016
LAHORE: At least seven suspected terrorists were killed during an exchange of fire with police officials early on Wednesday in Sharaqpur area of Punjab.
District Officer Counter Terrorism Department Nankana received a tipoff regarding 10 to 12 suspicious men riding on six motorcycles, who were seen travelling towards Sharaqpur for an attack on law enforcement personnel just after midnight on Feb 17.
On receiving this info, the DO contacted CTD teams from the Sheikhupura region for support.
Full report at: dawn.com/news/1240116/seven-suspected-terrorists-killed-in-shootout-with-police-in-sharaqpur-ctd
----------
Pakistan: Swat prayer leader joins anti-polio drive
February 17th, 2016
MINGORA: A local religious leader, Mufti Samiullah, has rolled up his sleeves to help eradicate the deadly poliovirus from Swat valley and he along with his team is actively taking part in the three-day anti-polio campaign that started on Feb 15.
The payer leader is on a transit duty at the main gate of Saidu Teaching Hospital where he not only personally immunises children, but also motivates parents to do so in future.
"When I saw so many volunteers taking part in the anti-polio drive I also wished to serve the humanity and take part in the campaign. I went to the polio vaccination office and learnt everything about the drops and found it essential for the children's health," the prayer leader told Dawn.
Full report at: dawn.com/news/1240088/swat-prayer-leader-joins-anti-polio-drive
----------
Bomb hoax at Karachi University causes panic
February 17th, 2016
KARACHI: Karachi University was evacuated on Wednesday after police received reports of three bombs on campus, DawnNews reported, but was declared clear after a sweep by the Bomb Disposal Squad (BDS).
Police control received reports of the bombs on their emergency 15 number, after which the BDS was called in to secure the university, police sources said.
Superintendent Police (SP) Gulshan Farhad Ahmad said police were alerted about a bomb targeting a book fair at the gymnasium hall. The BDS, after checking the hall, said it was clear.
Areas surrounding the building are also being checked for bombs, he said, adding that those spreading misinformation will be found.
Full report at: dawn.com/news/1240123/bomb-hoax-at-karachi-university-causes-panic
----------
Mideast
Hezbollah chief says Turkey, Saudi Arabia prefer war over political agreement in Syria
February 16, 2016
The leader of Lebanon's Hezbollah group said on Tuesday that Saudi Arabia and Turkey favored a prolonged war in Syria rather than agreeing to a settlement which would lead to President Bashar al-Assad staying in power.
Sayyed Hassan Nasrallah also said the talk that the two countries, which support insurgents fighting to topple Assad, were planning to send ground troops to Syria to fight the Islamic State of Iraq and the Levant (ISIL) was a pretext for them to "to gain a foothold" there.
"The armed groups supported by Saudi Arabia and Turkey did not deliver so the motive is not fighting Deash but to look for a foothold after all these disappointments that occurred so far," he said.
Full report at: todayszaman.com/diplomacy_hezbollah-chief-says-turkey-saudi-arabia-prefer-war-over-political-agreement-in-syria_412516.html
----------
Turkey about to conclude deal with Israel on 'all issues'
February 16, 2016
Turkey is about to conclude a deal with Israel on "all issues," a Turkish official said on Tuesday, signaling that the two former allies may be moving toward a compensation agreement for the killing of 10 Turkish activists by Israeli commandos in 2010.
The two countries have stepped up efforts in recent months to restore a relationship that was severely damaged after an Israeli raid on a Turkish ship, the Mavi Marmara, which was trying to deliver humanitarian aid to the Gaza Strip, which is under an Israeli blockade.
Full report at: todayszaman.com/diplomacy_turkey-about-to-conclude-deal-with-israel-on-all-issues_412450.html
----------
Russia-backed Syrian offensive aims to forge Kurdish militia corridor, Erdoğan says
February 16, 2016
Turkish President Recep Tayyip Erdoğan said on Tuesday Russia and the Syrian government's "brutal operation" in northern Syria, where their forces have advanced towards the Turkish border, was aimed at creating a corridor for Kurdish militia fighters.
Erdoğan condemned criticism from Turkey's allies for its shelling of the Kurdish YPG militia in Syria, saying the group and its PYD political wing were a creation of President Bashar al-Assad's administration.
Full report at: todayszaman.com/diplomacy_russia-backed-syrian-offensive-aims-to-forge-kurdish-militia-corridor-erdogan-says_412518.html
----------
Turkey proposes joint ground operation in Syria
February 17th, 2016
ISTANBUL: Turkey called on Tuesday for a ground operation in neighbouring Syria with its international allies, as a UN envoy held talks in Damascus aimed at saving a troubled ceasefire plan.
Tensions escalated over Russia's air war in support of Syrian President Bashar al-Assad, with Ankara branding it "vile, cruel and barbaric" and EU President Donald Tusk saying it "leaves little hope" of a solution.
Turkey sees the ouster of Mr Assad as essential to ending a five-year conflict that has killed more than 260,000 people, and is highly critical of Iran and Russia over their support for the Damascus regime. "We want a ground operation with our international allies," a senior Turkish official told reporters in Istanbul.
"There is not going to be a unilateral military operation from Turkey to Syria," the official said, but added: "Without a ground operation it is impossible to stop the fighting in Syria."
Saudi Arabia, another fierce critic of Mr Assad, has said it was ready to send special forces to Syria to take part in ground operations against the militant Islamic State (IS) group.
Iran warned on Tuesday that any troop deployment on Syrian soil without Damascus's authorisation would violate international law.
Full report at: dawn.com/news/1239959/turkey-proposes-joint-ground-operation-in-syria
----------
Turkey's main opposition party quits constitution-making talks
February 17, 2016
Turkey's main opposition party has declared that it is quitting negotiations with other parties to write a brand new Constitution, citing a deadlock over a demand to impose a presidential system.
Turkish political parties have sought to rewrite the country's military-era constitution since 2011, but talks went nowhere. Critics and opposition parties charge the government with pushing for a presidential system as the main reason for the stalemate. The last such talk over the Constitution was held after the 2011 general elections and soon collapsed.
The electoral victory last November of the incumbent Justice and Development Party (AK Party) government renewed its hopes that Parliament could endorse a Constitution that would change the country's 90-year-old parliamentary system. Turkey's leaders, including President Recep Tayyip Erdoğan, who served as prime minister before becoming president, claim that the current system is dysfunctional and that the presidential system will catapult Turkey into the league of advanced and democratic nations.
Full report at: todayszaman.com/national_turkeys-main-opposition-party-quits-constitution-making-talks_412524.html
----------
Turkey wants 'secure line' created 10km within Syria, including Azaz - deputy PM
17 Feb, 2016
Turkey wants to create a secure zone 10km within Syria, which would include the town of Azaz, Deputy Prime Minister Yalcin Akdogan stated, as cited by Reuters. The move comes after Ankara's shelling of Syrian Kurds for four successive days.
"What we want is to create a secure strip, including Azaz, 10km deep inside Syria and this zone should be free from clashes," Akdogan said in an interview on Turkey's AHaber television station, Reuters reports.
Turkey has shelled Syrian Kurdish forces in northern Syria for four consecutive days as Ankara tries to stop the YPG (Kurdish People's Protection Units) from claiming the town of Azaz, just 8km from the Turkish border.
Full report at: rt.com/news/332718-turkey-secure-line-syria/
----------
UNSC urges Turkey to 'comply with intl law' in Syria after Russia requests meeting
16 Feb, 2016
"UN Security Council members are concerned with the Turkish attacks on a number of Syrian regions," Venezuelan Ambassador Rafael Ramirez, who now chairs the UNSC, said after the meeting, as cited by TASS.
The UN Security Council received a letter from the Syrian government in which Damascus condemned Turkey's attacks in the north of Syria, Ramirez explained, noting that the entire council expressed "concern" about these violations.
"All members of the Security Council ... agreed to ask for Turkey to comply with international law," he added.
Full report at: rt.com/news/332682-unsc-turkey-fire-kurds/
----------
Russia's campaign in Syria shifted balance of power in the region – Iran's defense chief
17 Feb, 2016
The Russian anti-terror campaign in Syria has shifted the balance of power in the region, the Iranian Defense Minister stressed while visiting Moscow, eager to purchase billions of dollars worth of "defensive" weapons to secure its own position in the region.
"Russia's presence in Syria, of course, changed the security atmosphere, [and] changed the balance of power," Hosein Dehqan said in an interview with Rossiya 24 news channel.
Dehghan also stressed that Iran, which has "a unique position in its region" and is a "big, influential regional nation," wants to expand military, technical and industrial ties with Moscow. Iran is also seeking Russia's consultations on the "security of the region."
Calling the security situation in the region and the entire world "turbulent" and characterized by a "lack of stability" with different countries playing "their own role," especially Washington which wants to "destabilize the region," Dehqan stressed that Iran wants to purchase "defensive" weapons from Russia.
Full report at: rt.com/shows/crosstalk/331978-pentagon-budget-us-military/
----------
Soldier dies, 2 others injured in clashes in Sur district
February 17, 2016
One soldier died and two others were injured during clashes between Turkish security forces and the terrorist Kurdistan Workers' Party (PKK) in the Sur district of Diyarbakır province on Tuesday night.
According to media reports three soldiers were injured and were taken to Diyarbakır Military Hospital on Tuesday night, where one of them, Mehmet Ali Dinç, died.
Six neighborhoods of the Sur district have been under curfew for almost two months. Those neighborhoods have been the scene of intense clashes between the security forces and PKK terrorists ever since.
Dinç's body will be sent to his hometown, Malatya, following an official ceremony to be held in front of the hospital on Wednesday.
The General Staff released a written statement on Wednesday, saying that a PKK terrorist was killed during the same clashes on Tuesday.
Full report at: todayszaman.com/national_soldier-dies-2-others-injured-in-clashes-in-sur-district_412530.html
----------
Erdoğan, Saudi King Salman discuss Syria in telephone conversation
February 16, 2016
Turkish President Recep Tayyip Erdoğan and Saudi Arabia's King Salman spoke by phone late on Tuesday and said attacks by Russia and Syrian government forces north of Aleppo were worrisome, sources at Erdoğan's office said.
Saying there could be no solution to the Syrian conflict with President Bashar al-Assad remaining in power, the two leaders called for an end to strikes on civilians and the lifting of sieges.
They said the attacks were making the humanitarian situation in the region worse.
Erdoğan and King Salman also discussed attacks by Kurdish militia PYD on the northern Syrian town of Azaz, close to the Turkish border, and the shelling by the Turkish army in response.
todayszaman.com/anasayfa_erdogan-saudi-king-salman-discuss-syria-in-telephone-conversation_412522.html
----------
Southeast Asia
Uighurs deny Bangkok bombing, lawyer says confession forced
AFP | Feb 16, 2016
BANGKOK: Two Chinese Uighurs on Tuesday denied involvement in a deadly shrine bombing in the Thai capital, and a lawyer said one had been beaten up and threatened with deportation to force an earlier confession.
Investigators had also compelled Bilal Mohammed to dress up and wear a wig so he resembled a CCTV image of the prime suspect in the blast, according to a statement issued on his behalf.
Mohammed, also known as Adem Karadag, and Yusufu Mieraili arrived barefoot, handcuffed and shackled at their plea hearing in a military court. A judge read charges including premeditated murder and possession of illegal weapons to the pair through a Uighur translator. Both said they were not guilty of the bombing charges, although Mohammed -- the suspected bomber -- admitted one charge of entering the country illegally.
Full report at: timesofindia.indiatimes.com/world/rest-of-world/Uighurs-deny-Bangkok-bombing-lawyer-says-confession-forced/articleshow/51013334.cms
----------
New E-Commerce Sites Specialize in Halal Products for Muslims
February 17, 2016
An upsurge of new e-commerce firms are jostling to capitalize on the growing numbers of middle class Muslims who are now spending more than $100 billion a year shopping online.
From travel to fashion, many of the world's 1.6 billion Muslims want more choices as their incomes grow, but also need to be sure that what they buy is halal, or religiously permissible according to Islamic guidelines.
Full report at: blogs.wsj.com/digits/2016/02/17/new-e-commerce-sites-specialize-in-halal-products-for-muslims/
-----------
Indonesia to ban Tumblr, 476 other websites for sharing adult-rated content
Feb 17, 2016
Jakarta: Indonesia will block 477 websites, including social network and microblog Tumblr, over alleged "pornographic contents", a top official said on Wednesday.
"I have signed off the letter and sent it to the internet service provider. These websites should be blocked in the next two or three days," Xinhua quoted Azhar Hasyim, e-business director at the Communication and Information Ministry in Jakarta, as saying.
He said that these websites have violated the country's information and electronic law which prohibits sharing posts that contain vulgarity.
Full report at: firstpost.com/world/indonesia-to-ban-tumblr-476-other-websites-for-sharing-adult-rated-content-2630220.html
----------
Africa
Obama vows to stop Daesh from 'digging in' in Libya
February 17, 2016
Washington: US President Barack Obama vowed Tuesday not to let Daesh build a base in Libya, saying the United States would take action where there was a "clear target".
"We are working with our other coalition partners to make sure that, as we see opportunities to prevent [Daesh] from digging in in Libya, we take them," Obama said.
"We will continue to take actions where we got a clear operation and a clear target in mind."
The terror group has established a base with thousands of fighters in the coastal city of Sirte.
Full report at: gulfnews.com/news/mena/libya/obama-vows-to-stop-daesh-from-digging-in-in-libya-1.1674332
----------
Former NATO commander calls for Canada, U.S. to act in Libya
Feb 16, 2016
The clock is ticking for Western powers to intervene militarily against ISIS in Libya — and Canada has a responsibility to join a potential mission there, says NATO's former supreme allied commander.
"If we're going to have an impact in Libya, now is the time to get involved, over the next six months," retired U.S. navy admiral James Stavridis said on CBC News Network's Power & Politics.
"We have to act before the Islamic State becomes even stronger … otherwise we're going to have another massively failed state on the periphery of Europe."
As Libya marks the fifth anniversary of its revolution on Wednesday, the country remains torn by civil war, while ISIS continues to expand amid the political vacuum left behind after limited intervention by Western powers in 2011.
Full report at: cbc.ca/news/politics/admiral-stavridis-nato-canada-libya-isis-1.3450497
----------
Europe
Russian DM: Tehran, Moscow Fighting Common Threats
17 February 2016
TEHRAN (FNA)- Russian Defense Minister Sergei Shoigu said Tehran and Moscow must upgrade defense and security cooperation, as they are dealing with common threats such as terrorism and extremism.
"The two neighbours face common threats and challenges, so they have to adopt similar policies," Shoigu said in a meeting with his Iranian counterpart Brigadier General Hossein Dehqan in Moscow Tuesday afternoon.
He underlined the importance of meetings and consultations between the Iranian and Russian officials to further strengthen ties, and expressed the hope that General Dehqan's visit would help open a new chapter in defense ties.
Full report at: en.farsnews.com/newstext.aspx?nn=13941128000338
----------
Russia rejects 'war crimes' claims in Syria
AP | Feb 16, 2016
BEIRUT: Russia on Tuesday rebuffed claims that its warplanes bombed a hospital supported by Doctors Without Borders in northern Syria on Monday that killed at least nine as Syrian government forces and a predominantly Kurdish coalition made gains against rivals in the country's north.
In Moscow, President Vladimir Putin's spokesman Dmitry Peskov told reporters the hospital report was another case in which those who make accusations against Russia cannot back them up.
The Britain-based Syrian Observatory for Human Rights had said Russian warplanes targeted the hospital in Idlib province on Monday, destroying it and killing nine people.
The makeshift clinic was supported by the international aid group, also known by its French acronym MSF. France said that such attacks "could constitute war crimes".
Full report at: timesofindia.indiatimes.com/world/middle-east/Russia-rejects-war-crimes-claims-in-Syria/articleshow/51012833.cms
----------
Russia has no ship in Caspian Sea that could hit Syrian hospital with ballistic missile – MoD
17 Feb, 2016
Russia has no ships in the Caspian Sea fleet that could have hit the Syrian hospital in Idlib province with a ballistic missile, the Russian Ministry of Defense said in a statement, responding to accusations leveled by Turkish PM Ahmet Davutoglu.
"The Caspian Sea fleet has no ships capable of launches of ballistic missiles," MoD spokesman Igor Konashenkov told reporters on Tuesday.On Monday, during a visit to Kiev, Turkish PM Davutoglu said Russia had launched a ballistic missile from the Caspian Sea and hit a medical facility in the city of Idlib in northwestern Syria.
He reiterated that the Russian Air Force carries out strikes targeting terrorists only after repeated checks of received data, and following coordination with partners to exclude the risk of hitting civilians.
Full report at: rt.com/news/332626-russia-msf-hospital-turkey/
----------
Russia, Iran to reinforce military cooperation
17 February 2016
Russian Defense Minister Sergei Shoigu said Moscow and Tehran were ready to step up their military cooperation after meeting with his Iranian counterpart on Tuesday.
"I am convinced that our meeting is going to contribute toward reinforcing friendly relations between Russian and Iranian armed forces," said Shoigu in a statement.
Iran's Hossein Dehghan and Shoigu spoke about "the necessary measures for the progressive development" of their military cooperation, based on the accord signed in January between Tehran and Moscow, the statement said.
The two countries are also "ready to coordinate their approaches on a large number of global and regional issues", Shoigu added, speaking in the "context of the growing crisis in the Middle East.
Full report at: english.alarabiya.net/en/News/middle-east/2016/02/17/Russia-Iran-ready-to-reinforce-military-cooperation.html
----------
North America
US 'Schizophrenic' On Syria as Kurds, Govt Forces Advance
17 Feb, 2016
The US President has claimed that Russian involvement in Syria is a sign of weakness and has pressed for regime change in Damascus, brushing aside ongoing peace talks and ignoring steady gains by the Syrian army and Kurdish forces against terrorists.
"If somebody's strong, then you don't have to send in your army to prop up your ally," President Barack Obama said on Tuesday, taking a break from the ASEAN summit in California to speak to the press about the US Supreme Court and the Syrian crisis.
"They have legitimacy in their country, and they are able to manage it themselves, and then you have good relations with them," Obama added. "You send in your army when the horse you're backing isn't effective."
Full report at: rt.com/usa/332706-obama-syria-kurds-turkey/
----------
Obama: Syria 'not a contest between me and Putin'
17 February 2016
U.S. President Barack Obama insisted Tuesday that Russia had made a strategic error in propping up Syrian ruler Bashar al-Assad, but said the conflict was not about him and Vladimir Putin.
Predicting a "quagmire" that drains Russia's assets, Obama said "this is not a contest between me and Putin."
"The real question we should be asking is what is it that Russia thinks it gains if it gets a country that's been completely destroyed as an ally, that it now has to perpetually spend billions of dollars to prop up?" Obama said.
Full report at: english.alarabiya.net/en/News/middle-east/2016/02/17/Obama-Syria-not-a-contest-between-me-and-Putin-.html
----------
Canada looking to send military helicopters to Iraq
17 February 2016
A week after announcing the withdrawal of fighter jets from Iraq, Canada's defense minister on Tuesday said it is swapping in four armored tactical Griffon helicopters to ferry special forces.
"The Griffon helicopters are being deployed for the safety of our troops in northern Iraq," Defense Minister Harjit Sajjan told parliament.
Full report at: english.alarabiya.net/en/News/middle-east/2016/02/17/Canada-looking-to-send-military-helicopters-to-Iraq.html
URL: https://newageislam.com/islamic-world-news/new-age-islam-edit-bureau/human-rights-watch-says-taliban-child-soldier-recruitment-surges/d/106373
New Age Islam, Islam Online, Islamic Website, African Muslim News, Arab World News, South Asia News, Indian Muslim News, World Muslim News, Womens in Islam, Islamic Feminism, Arab Women, Womens In Arab, Islamphobia in America, Muslim Women in West, Islam Women and Feminism, Moderate Islam, Moderate Muslims, Progressive Islam, Progressive Muslims, Liberal Islam, Liberal Muslims, Islamic World News