New Age Islam News Bureau
25 Dec 2015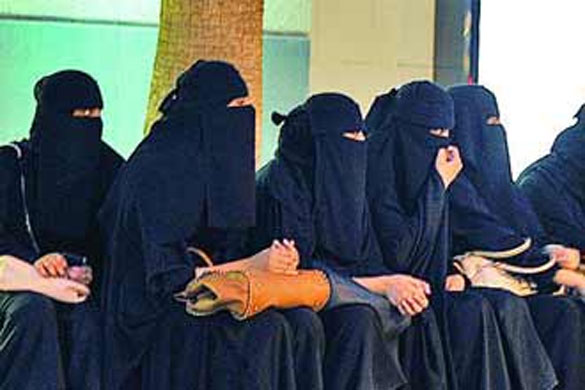 Photo: MULTI-FACETED ROLE: Female-owned businesses in Saudi Arabia are operating in a wide variety of fields such as fashion, jewelry, interior design, photography, and beauty, as well as professional services such as consulting, marketing, public relations, event management and education.
----------
• HAIA Seeks Funds to Hire Women
• Slain Muslim Students' Families Fight Grief to Honour Legacy
• When Will Punjab Also Have A Woman Speaker?
• Somali Women Assaulted By Kidnappers Posing As Policemen
• Reham Khan Has Leveled Baseless Allegations against Her Ex-Husband: Dr. Samavia Ijaz
• Don't Frame Me As Enemy of Women, Says Trump
• Malay Woman Remanded For Insulting Police on Facebook
• Japan Reported To Be Proposing 'Comfort Women' Solution
• Women, CNG Cars, Bikes Likely To Be Exempted From Delhi's Odd-Even Plan
Compiled by New Age Islam Edit Bureau
URL: https://www.newageislam.com/islamic-world-news/new-age-islam-edit-bureau/female-entrepreneurs-find-increased-success-saudi-arabia/d/105729
---------
Female entrepreneurs find increased success in KSA
AFSHAN AZIZ
Published — Friday 25 December 2015
JEDDAH: An increasing number of women in Saudi Arabia have begun to achieve tremendous success in the entrepreneurial field, tackling big businesses and male-dominated industries to make their unique mark on the economy.
In light of recent increases in female-friendly business opportunities, several female entrepreneurs have shown that they are both willing and able to step out of the box to find creative jobs that ignite their passions and challenge them.
Abeer Mohammed is one such inspiring woman: "Starting a handmade jewellery business with the help of social media while bringing up two children was not an easy task at first. But with my gradual increase in customers and the setting of a schedule for myself, I can now manage both of these tasks confidently. Several local accessories businesses even want to collaborate with me these days," she said. Continuing, she noted that "the traditional attitudes toward females starting their own businesses have changed for the better, and society is becoming very welcoming to us now."
Many local businesswomen have expressed that to start up a business, they had to go through several challenges such as official work delays, high expenses or cultural norm questions. Haya Sohail, an interior designer, said, "When I told my family members that I wanted to start a business they were all against for several reasons like the fact that the job requires meeting strangers. They questioned why I would want to do such work for the sake of money. But gradually people understood that the reason behind the idea was so that I could take my hobbies and excellent skills to the next level."
Similarly, a young Saudi fashion designer, Safiah Alaquil, now holds a prominent name in the fashion industry. Regarding recent economic and social shifts in society, she said that "things have changed now for women in the Kingdom. They are given the chance to be at the forefront in every sector. Besides, the idea of entrepreneurship has grasped the attention of everyone and is catching on like a fever!"
According to statistics from the Al-Sayedah Khadijah Bint Khuwailid Businesswomen's Center, 63 percent of Saudi women have unregistered yet successful businesses, and rely on mobile phones and personal computers to do business.
Noor Khaled, a business consultant, said: "Saudi businesswomen rely on personal savings to fund their businesses and do not seek external financing to start and manage their endeavours, which shows that it's not only about deploying money alone but about taking an interest in nurturing a business with efficient management."
Today, female-owned businesses in Saudi Arabia are operating in a wide variety of fields such as fashion, jewelry, interior design, photography, and beauty, as well as professional services such as consulting, marketing, public relations, event management and education.
The participation of women is not only restricted to entrepreneurial activity; indeed, women have now stepped up in the municipal election campaigns for the first time in Kingdom's history. Being able to not only vote, but also to run as candidates has come as a welcome change for women across the Kingdom.
Maha Zahrani, a social researcher, remarked: "This shows an excellent level of progress for Saudi women, and this decision will eventually make women even more confident and strong. We recognize that the political participation of women will pose several challenges to resistant strains of society, but with increased awareness programs to promote female representation, women can truly begin to make a difference."
The country has made an incredible progress in the last few years, with a number of girls setting an astonishing example in several fields including economics and culture. Zahrani added that the new opportunities at the government level will showcase the enthusiasm and capability of Saudi women to contribute to and lead their country, thus changing the often-stagnant views within Saudi society.
http://www.arabnews.com/saudi-arabia/news/855451
---------
Haia seeks funds to hire women
24 December 2015
RIYADH: Faleh Al-Sagheer, chairman of the Islamic and Judicial Committee, has said the Commission for the Promotion of Virtue and Prevention of Vice, or Haia, has filed an application with the Ministry of Finance for the fiscal year 1435/1436 to establish jobs for women.
The chairman was responding to a number of observations submitted by Shoura Council members during recent sessions. He asserted that the Haia recently started to accept new appointments for university graduates with high grades. All new members before assuming their field work must complete the diploma apprenticeship training to understand the nature of fieldwork.
Speaking on the issue of establishing guidance offices at shopping centers and markets, he said: "There currently is a request in this regard in place but not binding. Haia has established a number of platforms for the promotion of virtue, including its 'Shumoukh Campaign' to combat extortion."
Meanwhile, the Shoura Council approved a recommendation demanding the affirmation of a previous decision made five years ago to develop a curriculum included in the guideline for fieldworkers defining the preventions and bans that require the intervention of Haia members to avoid any personal judgments and discretions which might have negative outcomes.
This recommendation was adopted by the council following a speech by Shoura member Abdullah Al-Sadoun in which he demanded establishing a list of prohibitions, asserting that there are more than 7 million expatriates residing in the Kingdom with different religions and traditions who might exercise their worships inside their rooms and lodgings. When a dispute emerges with one of the roommates, one of the parties reports the other to the authorities, he added, demanding that intervention in the personal issues of the people should be banned.
The Islamic and Judicial Committee previously rejected this recommendation, saying that the general presidency of the commission formed an action team to develop a guideline on the prohibitions and its controls, and the draft was sent to a number of specialists for review before being approved.
http://www.arabnews.com/saudi-arabia/news/855006
---------
Slain Muslim students' families fight grief to honour legacy
December 25, 2015
RALEIGH: Shortly before they were gunned down, a young Muslim couple was eating out with relatives when the conversation turned to anti-Islamic attitudes in the United States.
It was January 2015, months before the massacres in Chattanooga, Paris and San Bernardino, California. Deah Barakat and Yusor Abu-Salha had just gotten married and started living together in an apartment near the University of North Carolina.
When Barakat's mother worried aloud that the family could be harmed because of their religion, "we were all laughing it off, like: 'Nothing bad is going to happen. This is America'", said Deah's brother, Farris. "'Watch it happen'", Farris Barakat recalled his sister-in-law saying. "'You guys won't be laughing.'" About 10 days later, the couple was killed in their apartment along with Yusor's younger sister, Razan.
A white neighbour, who described himself as an atheist and expressed disdain for religion, has been charged with capital murder.
The families believe the three were targeted because of their faith; the sisters' father says federal prosecutors recently told him they are still considering charging the defendant, Craig Hicks, with a hate crime.
The deaths of the three young Muslims lie at the intersection of themes that have gripped the American psyche in recent months: gun violence, attitudes toward Islam and the justice system's handling of racially charged slayings.
Yet as the anniversary of the killings draw near, the victims' families are channeling their grief elsewhere, into deeply personal philanthropic projects meant to honour them. "Deah, Yusor and Razan were very good representatives of Muslim-Americans," said Farris Barakat.
"We're not scary. We're not 'the other'. And I think people should see that." "The families see the charitable projects as a continuation of volunteer work the three victims were passionate about. It's work that's needed all the more, the grieving relatives say, since terror attacks in the US and Europe have ratcheted up anti-Muslim rhetoric, including calls to turn away Syrian refugees. There's this concept in Islam called a continuous charity," Farris Barakat said.
"The idea is that your good deeds don't have to end when you die." In August, Farris Barakat and his father, Namee, travelled to Turkey to complete a project that 23-year-old Deah Barakat had launched before his death: a dental clinic for Syrian refugees. Fifteen dentists and 40 or so other volunteers treated about 800 refugees, most of them children. "These kids are in so much need, and it's not by choice," said Namee Barakat, a native of Syria who came to the US in the 1980s.
"I cannot believe anyone would refuse these refugees" entry to the US. Reshaping negative attitudes about Muslims is a key goal of Farris Barakat's charity, The Light House Project. He is renovating a house his brother owned in Raleigh to serve as a community centre, host after-school programmes and provide office space for charities including United Muslim Relief, which tackles poverty and related conditions in developing countries.
Scholarships have been created to honour the victims at North Carolina State University, and at the UNC School of Dentistry, which held a day of service in their honor. Deah Barakat was a student at UNC's dental school; Yusor Abu-Salha, 21, had been accepted to study there.
Razan Abu-Salha was a 19-year-old student at N.C. State who had stopped by her sister and brother-in-law's apartment for dinner the night all three were killed.
Razan Abu-Salha volunteered alongside her sister and brother-in-law at dentistry clinics in rural North Carolina, her father has said.
Yusor Abu-Salha met her husband while the two helped run the Muslim Student Association at N.C. State, and she had planned to travel with him to Turkey for the free dental clinic.
She discussed growing up as a Muslim in the US in an interview recorded in 2014 as part of the StoryCorps oral history project and broadcast by North Carolina Public Radio.
"Although in some ways I do stand out, such as the hijab I wear on my head, the head covering, there's still so many ways I feel so embedded in the fabric that is our culture. ... There are so many people from so many different places, of different backgrounds and religions. But here we're all one — one culture," she said.
Hicks, the defendant, had been brazen in Facebook rants about his disdain for Islam, Judaism and Christianity. His attorneys didn't return messages seeking comment.
http://www.dawn.com/news/1228417/slain-muslim-students-families-fight-grief-to-honour-legacy
---------
When will Punjab also have a woman speaker?
December 25, 2015
Mubashir Hassan
LAHORE - There is at least one area Punjab is lagging behind smaller provinces.
It remains the only province which never had a woman speaker or a deputy speaker in its political history since 1918.
Balochistan and Khyber Pakhtunkhwa provinces recently had a woman speaker and a deputy speaker in their provincial assemblies.
Sindh is already having a woman deputy speaker in its legislature.
National Assembly also has a history of having a woman speaker and a deputy speaker.
Rahila Hameed Durrani was unanimously elected as the first-ever women speaker of the Balochistan Assembly yesterday.
She belongs to the ruling PML-N which also got elected its own chief minister the other day in line with the Murree Accord.
Rahila, who has replaced Jan Muhammad Jamali, became part of Balochistan Assembly in 2013 on a special seat for women.
She has also previously served as a member of the provincial assembly.
Only two days back, Khyber Pakhtunkhwa Assembly elected Dr Mehar Taj Roghani as its first-ever woman deputy speaker.
A lawmaker from Mardan on a reserved seat for women, Roghnai belongs to the ruling PTI who has vowed to end gender discrimination in the assembly.
Syeda Shehla Raza was elected deputy speaker of Sindh Assembly after 2013 general elections.
She has been a diehard PPP worker since the time of Mohtarma Benazir Bhutto.
National Assembly of Pakistan had its first women deputy speaker in 1973.
Mrs Ashraf Khatoon Abbasi, who died last year, served as deputy speaker from 1973 to 1977.
Dr Fehmida Mirza has the distinction of being elected as the first woman speaker of the National Assembly.
She occupied this position from 2008 to 2013.
"Now, it's Punjab's turn," said Azma Zahid Bokhari in a lighter vein.
She represents the ruling PML-N in Punjab Assembly.
"It seems Punjab would also have its woman speaker or deputy speaker in the next Assembly", she remarked while talking to The Nation.
Azma viewed that women have always proved their worth with their outstanding performance in different fields.
"It is, in fact, very encouraging that women are getting representation at the policy making level", she observed while commenting on the election of Mrs Durrani and Mrs Roghani as speaker and deputy speaker in their respective assemblies.
PTI lawmaker in Punjab Assembly Rahila Anwar also wants to see a woman sitting in the speaker's chamber.
"Yes, Punjab should also have a woman to conduct the assembly proceedings", she said, adding that women have always performed well when given the opportunity to serve on important positions.
Rahila alleged that Punjab rulers had dual standards when it came to assigning important portfolios to women.
She lauded the performance of former National Assembly Speaker Dr Fehmida Mirza.
PPP's Faiza Mailk called for an end to gender discrimination in the provincial legislatures and other state institutions.
She argued that a woman speaker was always in a better position to control the House.
"We have seen a more decent conduct from members, the majority of whom are men, when a woman is presiding over the assembly session".
Notwithstanding the absence of a women custodian of the House, the present Punjab Assembly stands tall for its pro-women legislation.
The provincial cabinet also has three women ministers.
Punjab had its first-ever woman finance minister only this year.
http://nation.com.pk/national/25-Dec-2015/when-will-punjab-also-have-a-woman-speaker
---------
Somali women assaulted by kidnappers posing as policemen
24 December 2015
JEDDAH: Two Somali women who were stopped by policemen for identity checks were horrified to discover the men had disguised themselves in police uniforms so they could kidnap and assault them.
In total, five men assaulted the women at two different locations after deceiving them by telling them they would be taking them to a shelter.
While the kidnappers requested that the two victims not inform authorities, one of the victims refused and filed a report with the police, leading a team of criminal investigators and police to capture all five attackers.
In her report, the victim said she and her friend were kidnapped by men dressed in police uniforms and taken to a home in East Jeddah where they were sexually assaulted. The attackers then took them to a rest house in Al-Harazat, where three other men assaulted them at the request of the kidnappers.
The police formed a working team to investigate, and upon questioning the second victim, who gave a similar story, were able to identify the rest house location. Upon attempts to search the premises, a man inside the rest house refused to cooperate, while attempting to help others to escape out the back door. One of the criminals was immediately arrested at the site.
The victim identified her kidnapper, while investigations revealed he was the mastermind of the operation. He admitted to the crime said he was influenced by the devil. He led police to the others involved in the crime, including one of his brothers, an Arab resident, and two African residents. Two others were arrested inside a rest house and the others in different homes in Qaweeza and Al-Harazat.
http://www.arabnews.com/saudi-arabia/news/855026
---------
Reham Khan Has Leveled Baseless Allegations Against Her Ex-Husband: Dr. Samavia Ijaz
December 25, 2015
Islamabad: Dr. Samavia Ijaz, the current wife of Dr. Ijaz Rehman has said that Reham Khan the ex-wife of Dr. Ijaz has leveled false and baseless allegations against her husband and clearly stated that her husband is kind hearted and broad minded person.
She stated this in an exclusive interview today. "Almost seven year has passed of my marriage with Dr. Ijaz and it is the golden period of my life and he kept me well aware of each and everything about matters' she explained.
"Reham Khan's deeds and actions were like illiterate and ignorant people and leveled the allegation of violence on a noble person living in Britain society and now in Afghanistan, nobody can subject to torture his wife and children", she added.
Responding to a question about black magic, Dr. Samavia stated that she cannot comment on it because it was the matter of Reham Khan and Imran Khan. "I know only those things which my husband told me about Reham Khan and that was true' she stated.
Replying to a question about voting of any political party, Dr. Samavia said that all the political parties were good and added that will discuss the matter with her husband at the time of voting.
She said that false allegation of Reham Khan has badly affected her life because her sister has raised a question that Ijaz did not care his children or violent. Similarly same questions were raised by my colleagues and propaganda was made on social media (Facebook), but I have absolutely rejected all these false allegations and told everyone that my husband is very loving and kind-hearted guy and very kind hearted for his children also.
Answering another question she said: "I do not know whether degrees of Reham Khan were original or fake but I know that Ijaz has always convinced and encouraged me to seek more knowledge. "Reham Khan absolutely says wrong in this regard", Dr. Samavia Ejaz concluded.
http://nation.com.pk/national/25-Dec-2015/reham-khan-has-leveled-baseless-allegations-against-her-ex-husband-dr-samavia-ijaz
---------
Don't frame me as enemy of women, says Trump
December 25, 2015
NEW YORK - Republican presidential front-runner Donald Trump has warned Hillary Clinton, the Democratic presidential hopeful, not to frame him as an enemy of women.
"Hillary, when you complain about 'a penchant for sexism,' who are you referring to?," Trump tweeted.
"I have great respect for women.
BE CAREFUL!"
The tweet follows another from Trump earlier Wednesday, where he warned Clinton to "be careful as you play the war on women or women being degraded card.
" Trump was referring to a Clinton rally Tuesday in Keota, Iowa, where a young girl who said she had asthma asked how to deal with bullies.
Clinton told the girl she'd had a lot of "terrible things" said about her and later added that the country "shouldn't let anybody bully his way into the presidency," in a seeming reference to Trump.
The incident came after Trump brought controversy Monday night by saying Clinton "got schlonged" in the 2008 presidential election against the the-then senator Barack Obama and made reference to the "disgusting" fact that Clinton missed a brief part of Saturday's Democratic presidential debate to go to the restroom.
Later, the mother of the girl, Lexie Tandy, pushed back at Trump's claim, saying her daughter Hannah wasn't prompted to ask the question.
She also said she wasn't in attendance because she didn't know Hannah planned to participate.
"I don't want to get in a big match-up with Donald Trump, but let me tell you, I will be in one if he makes comments about my daughter," Tandy said, according to The Des Moines Register.
"She's 10.
She's just a little girl.
" Following Trump's Wednesday tweet, the three students who invited Clinton to visit the school also hit back at Trump, responding on Twitter, "Sorry @realDonaldTrump, you can't stage passion & determination of young people.
Also, @ us next time.
#StopBullying.
Meanwhile, Trump, who wants to ban Muslims from entering the United States, now leads the Republican field with 39 percent support in a new poll, 21 points ahead of the next candidate in the race, Senator Ted Cruz, at 18 percent.
Trump's lead is up three points since Dec.
1, and Cruz's numbers show a two percentage point bump up, too.
Neurosurgeon Ben Carson and Senator Marco Rubio are tied in the still crowded Republican field with 10 percent support in the poll, conducted by CNN/ORC and released Wednesday.
Carson dropped four points since Dec.
1 in this poll, and Rubio also lost 2 points.
New Jersey Governor Chris Christie saw a slight rise of one point — he's now at five percent in the poll.
The CNN/ORC poll was taken after the Republican debate last week, hosted by CNN and Facebook.
Among Republicans who watched, 33 percent thought Trump did best, followed by Cruz at 28 percent, then Rubio with 13 percent.
Fifty-seven percent of Republicans surveyed feel that Trump is best equipped to handle the economy.
All other Republican competitors are in single digits.
A substantial plurality also feels that he would most ably handle the threat posed by ISIS, and 55 percent trust him to handle immigration.
Forty-six percent of Republican voters think that Republicans are most likely to win the election with Trump at the top of the ticket, compared with 50 percent who think the chances would be better with another candidate.
Ted Cruz has seen a big jump in his favourability, according to this poll.
It's up 22 points since September, at 45 percent, the highest favourability rating of any of the Republican candidates.
More Republican voters (62 percent) also think Cruz has the right experience to be president, compared with Trump, at 57 percent.
Trump has improved his standing with Republican college graduates in this poll.
Twenty-seven percent of Republican voters support Trump, up nine points since late November.
His support among non-college graduates remains the same, at 46 percent.
The CNN/ORC poll was conducted by telephone December 17-21 among a random national sample of 1,018 adults.
Results for the full sample have a margin of sampling error of plus or minus 3 percentage points.
For results among the 438 registered voters who are Republicans or independents who lean toward the Republican Party, the margin of sampling error is plus or minus 4.
5 percentage points.
http://nation.com.pk/international/25-Dec-2015/don-t-frame-me-as-enemy-of-women-says-trump
---------
Malay Woman Remanded For Insulting Police on Facebook
December 25, 2015
JOHOR BARU, Dec 25 — A woman was arrested early today in Kluang and then remanded for maligning the police through Facebook.
Kluang district police chief, ACP Mohamad Laham said the 44-year-old woman, a trader, was arrested at a house in Taman Seri Impian at 12.05am.
"The arrest was made because the woman had uploaded a remark over her dissatisfaction with the police, claiming the police had beaten up his son and asked for money.
"Her action could create bad public perception of the police force," he said in a statement today.
Mohamad said the woman's son was arrested on Nov 29 for possessing a stolen motorcycle and it was now a court case.
He said due to her action, the woman was being remanded for investigation under Section 4(1) of the Sedition Act 1948.
If convicted, she can be fined not exceeding RM5,000 or jailed for up to three years, or both.
Mohamad also advised the public not to use the social media to issue any statement that could have a negative implication on any party. — Bernama
http://www.themalaymailonline.com/malaysia/article/woman-remanded-for-insulting-police-on-facebook
---------
Japan reported to be proposing 'comfort women' solution
7 hours ago
Japan's Prime Minister Shinzo Abe arrives at his official residence in Tokyo (24 December 2015)Image copyrightAP
Japan is reported to have proposed setting up a government fund to resolve a longstanding disagreement with South Korea about sex slaves during World War Two.
The "comfort women" were forced to work in Japanese military brothels.
PM Shinzo Abe has instructed his foreign minister to sort out the issue during a visit to Seoul next week, Japanese media has reported.
The issue has dogged relations with South Korea for decades.
South Korea has previously maintained that Japanese apologies do not go far enough and has been critical of what it sees as Japan's reluctance to atone for its brutal wartime past.
But relations between the two counties have improved recently after they agreed to accelerate talks.
South Korean former 'comfort woman' Lee Yong-Soo (C), who was forcibly recruited to work in Japanese wartime military brothels, and her supporters demonstrate near the Japanese embassy in Seoul on 30 October 2015Image copyrightAFP
South Korean President Park Geun-hye, right, and Japanese Prime Minister Shinzo Abe pose for photos before their meeting at the presidential Blue House in Seoul, South Korea, Monday, 2 November 2015Image copyrightAP
Foreign Minister Fumio Kishida was reported on Friday to have arranged a surprise visit to South Korea in the hope of finding an early resolution.
He was speaking after Japanese media reports said that Mr Abe had instructed him to hold ministerial talks in Seoul as early as Monday to resolve the question.
Any fund will follow a similar one set up 1995 which ended after a decade. At that time it was made clear that the money was raised from donations, not from the Japanese government.
One proposal reported by the Nikkei Asian Review would involve Japan providing 10 years' worth of aid - more than 100 million yen ($830,000; £550,000).
It reports that South Korea is pushing for an apology from Mr Abe that includes recognition of Japan's responsibility.
The website says that some in the Japanese government support a plan which would entail Mr Abe sending letters to "comfort women" which will allude to Japanese "responsibility" and referring to an "apology".
It has also been suggested that Japan's ambassador in Seoul may meet former "comfort women".
In return, Japan seeks a guarantee that any conclusion reached will be the final word on the issue.
This year marks the 50th anniversary of the normalisation of diplomatic ties between the two countries.
Up to 200,000 women are estimated to have been sexually enslaved by Japan during WW2, many of them Korean.
Other women came from China, the Philippines, Indonesia and Taiwan.
Japan has apologised in the past for the "pain and suffering" of the women, but South Korea wants a stronger apology and compensation for victims.
http://www.bbc.com/news/world-asia-35178296
-----
Women, CNG Cars, Bikes Likely To Be Exempted From Delhi's Odd-Even Plan
Delhi | Press Trust of India | Updated: December 23, 2015
NEW DELHI: Women drivers and CNG-certified vehicles are likely to be given exemption from Delhi government's ambitious odd-even scheme coming into force from January 1 in the national capital.
During the 15-day trial, motorcycles and emergency vehicles including ambulance, PCR, fire tenders, will also not come under the ambit of road-rationing experiment.
Chief Minister Arvind Kejriwal will announce the blue print of the odd-even scheme tomorrow which aims to prevent rising pollution in the city.
"Women drivers will be exempted under the scheme but they will be penalised if any male member is travelling along. Women drivers travelling only with female members will also not be considered a violation," sources said.
They said that according to the plan, owners of CNG-fitted cars will need to show prescribed stickers.
Violation of the odd-even rule will attract a penalty of Rs. 2,000.
"Vehicles from other states entering Delhi will also come under the ambit of odd-even scheme. Government has also given an exemption to bikes from its ambitious plan," they also said.
Earlier this month, Mr Kejriwal had announced that he, his ministers and all government officials will follow odd-even scheme.
To curb rising pollution level in the national capital, the Delhi government has decided to introduce odd-even scheme to be implemented starting from January 1. A trial of the scheme will run till January 15.
According to the government's plan, it will run 6,000 additional buses to accommodate numbers of passengers after the implementation of odd-even scheme.
Nearly 10 lakh private cars will daily stay off Delhi roads once the odd-even formula is enforced with drastic reduction in traffic flow expected to significantly reduce the high-level of pollution in the city.
There are over 19 lakh private four-wheelers registered in Delhi and nearly half of these will go off the roads with the implementation of AAP government's ambitious odd-even formula.
http://www.ndtv.com/delhi-news/women-cng-cars-bikes-likely-to-be-exempted-in-delhis-odd-even-plan-1258387
URL: https://www.newageislam.com/islamic-world-news/new-age-islam-edit-bureau/female-entrepreneurs-find-increased-success-saudi-arabia/d/105729
New Age Islam, Islam Online, Islamic Website, African Muslim News, Arab World News, South Asia News, Indian Muslim News, World Muslim News, Womens in Islam, Islamic Feminism, Arab Women, Womens In Arab, Islamphobia in America, Muslim Women in West, Islam Women and Feminism