New Age Islam News Bureau
1 Feb 2016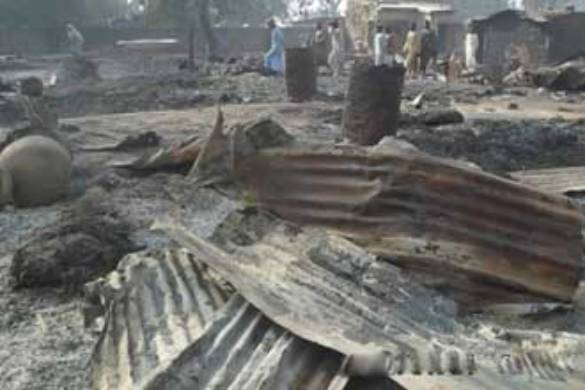 Photo: People walk past burnt out houses following an attack by Boko haram in Dalori village 5 kilometers (3 miles) from Maiduguri, Nigeria , Sunday Jan. 31, 2016. A survivor hidden in a tree says he watched Boko Haram extremists firebomb huts and listened to the screams of children among people burned to death in the latest attack by Nigeria' s homegrown Islamic extremists. (AP Photo/Jossy Ola)
------
• Boko Haram Burns Kids Alive In Nigeria, 86 Dead: Officials
• Top Yemeni Salafi Cleric Killed In Aden Following an Anti-Extremism Sermon
• Three Seminaries Sealed In Quetta, Four Clerics Detained For Interrogation
• ISIS Warns Of Severe Attack on Britain That Will 'Turn Children's Hair White'
----------
Arab World
• Top Yemeni Salafi Cleric Killed In Aden Following an Anti-Extremism Sermon
• Syria: ISIL Commander Detonates Himself among Al-Nusra Members in Damascus
• Syrian Children Found In Turkish Garment Factories Making British High Street Brands
• Al Qaeda Militants Seize Southern Yemeni Town: Residents
• Syrian opposition delegates may quit peace talks
• Yemeni Missiles Hit Power Station in Southern Saudi Arabia
• Syrian Warplanes Target Militants' Oil Tankers in Sweida
• Syrian Army, Popular Allies Launch Joint Offensives North of Aleppo
• Syrian Army Repels ISIL Attack on Deir Ezzur City, Kills Militant Commander
• Syrian Army, NDF Strike ISIL Hard East, Northeast of Aleppo
• Syrian Army Repels ISIL Attack in Quneitra Province
• Saudi police arrest 33 'terror' suspects: report
• OPEC irrelevant in oil's new world order
-----------
Pakistan
• Three Seminaries Sealed In Quetta, Four Clerics Detained For Interrogation
• 182 Pak 'Madrasas' Sealed Since 2014 Peshawar School Attack
• Six Arabs stopped from hunting houbara bustards in Pakistan
• 'Pak envoy to UN acted as messenger between US, Kayani'
-----------
Europe
• ISIS warns of severe attack on Britain that will 'turn children's hair white'
• Europe Is Training Financial Firepower on Terrorism
• Brave heart Muslim Scot reaches South Pole milestone
-----------
South Asia
• Ministry Of Interior Says Kabul Suicide Bombing Left 10 Killed, 20 Wounded
• Two Landmine Planters Killed By Own Explosives in Kandahar
• Afghanistan and India sign agreement on visa free travel for diplomats
• Armed men attack residence of local journalist in Mazar-i-Sharif
• NDS detains planners of terrorist attacks in Kandahar
• Afghan boy in plastic Messi jersey becomes internet star
• Qatar to help establish first standard football academy in Afghanistan
• Afghan Bollywood fan spent millions to have largest collection of Hindi movies
-----------
Mideast
• Individuals Holding Qurans Protest Alevi Foundation
• Israeli PM Pushing For Liberal Jewish Prayer at Holy Site
• 3 Soldiers Killed In PKK Attack In South-Eastern Turkey
• Turkey, Saudi Arabia to continue supporting moderate opposition in Syria
• Turkey's Nobel laureate Pamuk slams Europe for losing moral compass
• Russia pounds Turkmen areas in Syria, hundreds flee to Turkey
• Police officer kidnapped by PKK rescued in operation in southeastern Turkey
• Iran gives medals for capture of US sailors
• 4 security personnel killed in Egypt attacks
-----------
India
• Arrested Islamic State Men Were Using Matchsticks to Make Bomb
• Afghan chief executive arrives in India to attend counter-terrorism conference
-----------
North America
• Nine Americans among Terror Suspects Arrested In Saudi Arabia – Report
Compiled by New Age Islam Edit Bureau
URL: https://newageislam.com/islamic-world-news/new-age-islam-edit-bureau/boko-haram-burns-kids-alive-in-nigeria,-86-dead--officials/d/106191
-----------
Boko Haram Burns Kids Alive In Nigeria, 86 Dead: Officials
February 1st, 2016
DALORI: A survivor hidden in a tree says he watched Boko Haram extremists firebomb huts and heard the screams of children burning to death, among 86 people officials say died in the latest attack by Nigeria's homegrown Islamic extremists.
Scores of charred corpses and bodies with bullet wounds littered the streets from Saturday night's attack on Dalori village and two nearby camps housing 25,000 refugees, according to survivors and soldiers at the scene just 5 kilometers from Maiduguri, the birthplace of Boko Haram and the biggest city in Nigeria's northeast.
The shooting, burning and explosions from three suicide bombers continued for nearly four hours in the unprotected area, survivor Alamin Bakura said, weeping on a telephone call to The Associated Press.
He said several of his family members were killed or wounded.
The violence continued as three female suicide bombers blew up among people who managed to flee to neighboring Gamori village, killing many people, according to a soldier at the scene who insisted on anonymity because he is not authorised to speak to journalists.
Troops arrived at Dalori around 8:40 pm Saturday but were unable to overcome the attackers, who were better armed, said soldiers who spoke on condition of anonymity because they were not authorised to speak to the press.
The Boko Haram fighters only retreated after reinforcements arrived with heavier weapons, they said.
Journalists visited the carnage Sunday and spoke to survivors who complained it had taken too long for help to arrive from nearby Maiduguri, the military headquarters of the fight to curb Boko Haram.
They said they fear another attack. Eighty-six bodies were collected by Sunday afternoon, according to Mohammed Kanar, area coordinator of the National Emergency Management Agency.
Another 62 people are being treated for burns, said Abba Musa of the State Specialist Hospital in Maiduguri. Boko Haram has been attacking soft targets, increasingly with suicide bombers, since the military last year drove them out of towns and villages in northeastern Nigeria.
The 6-year uprising has killed about 20,000 people and driven 2.5 million from their homes.
dawn.com/news/1236753/boko-haram-burns-kids-alive-in-nigeria-86-dead-officials
-----------
Top Yemeni Salafi Cleric Killed In Aden Following an Anti-Extremism Sermon
AP | Feb 1, 2016
SANAA: The lifeless body of Yemen's top Salafi cleric in the southern port city of Aden was found disfigured today hours after he was abducted following an anti-extremism sermon, security officials said.
Government forces repelled Shiite rebels from Aden last July, but have been unable to restore order there ever since.
With government forces now pushing north toward the rebel-held capital, Sanaa, the vacuum in Aden has given rise to affiliates of extremist groups like al-Qaida and the Islamic State group, who have grabbed lands and exercised control in various parts of the city for months.
The influential cleric, Samahan Abdel-Aziz, also known as Sheikh Rawi, had delivered a fiery sermon against the al-Qaida and IS branches on Friday, the officials said.
His body was found bloodied and bearing signs of torture in Sheikh Othman, an area largely controlled by extremists, they added.
Abdel-Aziz was kidnapped by gunmen outside his mosque late yesterday in the pro-government neighbourhood of Bureiqa, they said.
The officials spoke on condition of anonymity because they are not authorized to talk to the media.
They remain neutral in the war that has splintered the Arab world's poorest country.
Also today, Saudi Arabia's Civil Defense said in a statement that a rocket fired from inside Yemen toward Saudi Arabia's southern border region of Najran landed on a Saudi home, killing an 11-year-old child and wounding nine others in the family.
Saudi forces frequently fire rockets at rebel positions in Yemen from just inside the kingdom's border and the Yemeni rebels frequently fire ballistic missiles at Saudi border guard positions, killing dozens of soldiers and civilians.
Yemen's conflict pits a loose array forces fighting on the side of the internationally recognized government against the Shiite rebels and troops loyal to a former president, who together control the capital and much of northern Yemen.
A Saudi-led coalition backed by the US intervened on the government's side last March.
Earlier in the day, Human Rights Watch said the rebels, known as Houthis, have for months restricted food and medical supplies to Yemen's third-largest city, Taiz, in what it described in a statement as "serious violations of international humanitarian law."
"The Houthis are denying necessities to residents of Taiz because they happen to be living in areas that opposition forces control," said Joe Stork, deputy Middle East director at Human Rights Watch.
timesofindia.indiatimes.com/world/middle-east/Top-Yemeni-Salafi-cleric-killed-in-Aden/articleshow/50803033.cms
-----------
Three Seminaries Sealed In Quetta, Four Clerics Detained For Interrogation
February 1st, 2016
QUETTA: Three madrasas were raided in Quetta's Eastern Bypass area on Monday morning, police said, adding that they were subsequently sealed over alleged involvement in 'suspicious' and 'illegal' activities.
The sealed seminaries include Madrassah Hussainia, Madrassah Taleemul Quran and Madrasas Abu Bakar Siddique.
The raiding party also picked up four clerics — Qari Saifur Rehman, Surat Shah, Habibullah, and Qari Wali — for interrogation.
Strict security measures were adopted by the district administration when the seminaries were being sealed.
Police said the madrassahs were sealed under the National Action Plan.
Like other parts of the country, Balochistan has started a scrutiny process of religious seminaries, the instructors employed in these as well as their students across the province.
Moreover, law enforcement agencies have intensified action in the aftermath of recent incidents of targeted killings in Quetta.
Read: 182 seminaries sealed under NAP
According to sources in the home and tribal affairs department, around 3,000 madrassahs were registered with the provincial government in all districts of Balochistan.
The registration drive began during the era of former president Pervez Musharraf. However, the number of non-registered madrassahs in the province is still in thousands.
dawn.com/news/1236772/three-seminaries-sealed-in-quetta-four-clerics-detained-for-interogation
-----------
ISIS Warns Of Severe Attack on Britain That Will 'Turn Children's Hair White'
PTI | 1 Feb., 2016
LONDON: The Islamic State terror group has warned Britain of an attack more severe than the Paris strikes, saying the country will receive the "lion's share" of the slaughter for its "declaration of war against Muslims".
In the latest edition of its Arabic newspaper 'al-Naba' (The News), ISIS warns that the UK should be prepared for an attack more severe than in Paris last November which claimed 130 lives.
According to 'The Sunday Times', the article eulogises Mohammed Emwazi, the British national dubbed Jihadi John who was killed by a US drone strike.
It said "his words will never die" and that his message of slaughter did not end "with the blood of the soldiers of the caliphate who sent it to France in their own special way".
Britain will receive the "lion's share" of the slaughter "in response to its declaration of war against the Muslims", the group said in reference to last month's UK Parliament vote on airstrikes against ISIS in Syria.
An attack on Britain will be so severe, it claims, "that it will turn children's hair to white". The warning refers to a Quranic verse outlining the horrors of the Judgement Day.
ISIS had released a video last week that featured nine of the Paris attackers, including ringleader Abdelhamid Abaaoud.
By examining the montage frame by frame, 'The Sunday Times' has identified a string of potential targets, including Buckingham Palace and the National Gallery in central London.
A palace spokesperson said, "We never comment on security matters."
The National Gallery in Trafalgar Square is visited by more than 6 million people a year.
The fact that ISIS may have the gallery in its sights is reinforced by a new Europol report that says the terrorist group prefers "soft targets with a potential to cause mass casualties".
"We routinely monitor and review our security procedures," the gallery said.
Scotland Yard said, "We want the public to be alert, not alarmed. The current threat level across the UK from international terrorism remains at severe, meaning an attack is highly likely."
"UK police and security and intelligence services are working tirelessly to confront this terrorist threat and keep the public safe," it said.
timesofindia.indiatimes.com/world/uk/ISIS-warns-of-severe-attack-on-Britain-that-will-turn-childrens-hair-white/articleshow/50795939.cms
-----------
Arab World
Syria: ISIL Commander Detonates Himself among Al-Nusra Members in Damascus
February 1st, 2016
TEHRAN (FNA)- A senior commander of the ISIL and several members of the al-Nusra Front were killed in an infighting between the two rival terrorist groups in Eastern Ghouta as militants continue to lose ground in Syria.
Abu Bakr al-Attar, a Jordanian national and a senior commander of the ISIL, detonated himself among a number of al-Nusra Front's members after the latter tried to arrest the ISIL commander in the village of Deir Moqren in the Eastern part of Damascus province.
Al-Attar and several Nusra militants were killed at spot in the incident.
Several more militants from both sides were injured too.
Also on Sunday, scores of ISIL militants, including the groups' lieutenant commander in the Southern battlefields of Damascus, were killed in the Syrian Armed Forces' anti-terrorism operations across the province.
Abu Salem al-Araqi, the second man of ISIL terrorist group in the Southern battlefront of Damascus, was killed in the Syrian army troops' attacks.
en.farsnews.com/newstext.aspx?nn=13941112001221
-----------
Syrian children found in Turkish garment factories making British high street brands
1 Feb, 2016
H&M and Next, two of Europe's biggest garment retailers, have found Syrian refugee children working in their supplier factories in Turkey, according to a report by a company ethics watchdog.
Of the 28 major brands questioned by the Business and Human Rights Resource Centre (BHRCC) about conditions at their supplier factories in Turkey and the potential exploitation of undocumented Syrian children and adults, only H&M and Next confessed to finding children working in the factories.
The admission has sparked concerns that the problem may be much more widespread and that many of the companies are keeping quiet about abuse.
Both H&M and Next said that after identifying the children they took action to return them to school and to support their families.
The BHRCC praised the two retailers "taking concerted action to protect child refugees found in their factories."
The ethics watchdog estimates that 250,000 to 400,000 Syrian refugees work illegally in Turkey – the third largest supplier of clothing to Europe after China and Bangladesh.
Other companies, including Primark and C&A, said they had identified undocumented adult Syrians in the factories, while M&S, Asos, Denhams and Superdry did not answer the question at all.
"Only a few brands appear to have engaged with the extent and the complexity of these issues in their Turkish supply base; even fewer report taking action to protect these vulnerable workers," the BHRRC said.
Turkey has taken in the largest number of Syrian refugees in the world, accepting some 2.5 million people who have fled the country in the wake of the five-year civil conflict. Just this month, Ankara finally announced it would be giving refugees the right to work as part of an effort to curb the number of refugees entering Europe.
Meanwhile, the UK continues to face criticism for its stringent refugee policy. More than 120 leading economists have penned a letter urging Prime Minister David Cameron to take in a "fair and proportionate share of refugees, both those already within the EU and those still outside it."
Last fall, Cameron pledged to resettle 20,000 refugees in the next five years, a figure lambasted by critics as being far too low compared with the amount of refugees taken in by other European countries. Germany accepted 1.1 million refugees last year, while Sweden has taken in 160,000.
The letter follows open appeals by 350 of the UK's top lawyers and 27 NGOs and charities, including Amnesty International and Oxfam, for the British government to do more to support refugees.
The economists argue the UK has in recent history taken in far larger numbers of refugees, at a greater rate, and yet managed it successfully. In 1972 the UK welcomed thousands of Ugandan and Asian refugees who went on to make an "extraordinary contribution" to the country, they said.
"Refugees should be taken in because they are morally and legally entitled to international protection, not because of the economic advantages they may bring. Nonetheless, it is important to note that the economic contribution of refugees and their descendants to the UK has been high," the economists wrote.
Last month, a report by the International Monetary Fund (IMF) found the refugee influx could deliver long term economic benefits to the EU if the refugees are properly integrated into the job market.
rt.com/uk/330849-syrian-refugee-children-factories/
-----------
Al Qaeda militants seize southern Yemeni town: residents
February 1st, 2016
ADENS: Dozens of Al Qaeda militants reclaimed the town of Azzan in Yemen's Shabwa province on Monday, residents said, exploiting a security vacuum in the country's south as a civil war rages.
Azzan is a major commercial hub of about 70,000 people in an arid and mountainous region and was controlled by Al Qaeda for around a year until the group was ejected in 2012 by an alliance of tribesmen and armed residents loyal to Yemen's since ousted central government.
"Dozens of Al Qaeda gunmen arrived in the early hours of the morning and set up checkpoints at the entrances to the town and in its streets. They planted their black flag on government buildings," one resident who declined to be named told Reuters by telephone.
"They faced no resistance or clashes," the resident said, adding that tribal militia forces quit the area as it was being taken over.
Al Qaeda in the Arabian Peninsula (AQAP) has expanded during Yemen's civil war, which triggered a military intervention by a Gulf Arab coalition last March, and also controls the major port of Mukalla in a neighbouring province.
AQAP is viewed by Western analysts as the most dangerous arm of the global militant organisation, and claimed responsibility for the deadly January 2015 attack in Paris on the satirical French magazine Charlie Hebdo.
It has made its advances in Yemen as the Saudi-led coalition forces ─ which back the ousted government ─ have clashed with Houthi rebels.
AQAP has suffered setbacks, losing its leader and several top officials to United States drone strikes, and is also facing competition from the new Yemen branch of the militant Islamic State group.
dawn.com/news/1236766/al-qaeda-militants-seize-southern-yemeni-town-residents
-----------
Syrian opposition delegates may quit peace talks
Reuters | 1 feb, 2016
Former Syrian Prime Minister Riad Hijab, now coordinator of the Syrian opposition team. (AP photo)Former Syrian Prime Minister Riad Hijab, now coordinator of the Syrian opposition team. (AP photo)
AMMAN: The Syrian opposition delegation in Geneva may walk out of peace talks if the government and its allies continue to escalate a bombing campaign in rebel-held areas and hamper delivery of humanitarian aid to besieged areas, the coordinator of the body said on Sunday.
Riad Hijab said in a statement online that without UN and international pressure to force the Syrian government to end these "violations" there would be no justification for the main Saudi backed opposition group to remain in Geneva.
timesofindia.indiatimes.com/world/middle-east/Syrian-opposition-delegates-may-quit-peace-talks/articleshow/50795908.cms
-----------
Yemeni Missiles Hit Power Station in Southern Saudi Arabia
February 1st, 2016
TEHRAN (FNA) - The Yemeni army and popular forces targeted a power plant in Jizan province, Southern Saudi Arabia, with several missiles.
There are yet no reports on the damage or death toll of the attack which was carried out last night.
According to al-Masirah, the Yemeni forces also fired several missiles at a Saudi military base in Riyalain region in the Southern province of Najran.
Also, al-Minar news channel reported last night that over 200 Saudi mercenaries affiliated to the Saudi-led coalition were wounded or killed in the Yemeni forces' missile attack against al-Anad military base in Lahij province.
Yemeni Army Spokesman Sharaf Luqman confirmed the news on Sunday, and said, "The Saudi forces sustained a great human loss in Yemen's Tochka missile attacks on Al-Anad military base in Lahij province today."
He reiterated that hundreds of Saudi-led forces, including over 200 Sudanese Blackwater mercenaries, were killed in the Saudi missile attack.
The Yemeni forces' attacks on the Saudi forces' positions in Lahij killed tens of Blackwater mercenaries, including their US commander, and destroyed several Apache and Typhoon helicopters.
The Tochka missiles hit a gathering of the Saudi forces at al-Anad military base, killing 200 Sudanese Blackwater mercenaries and their new commander US Colonel Nicolas Petras.
The Blackwater forces' military operations room and the houses of the Blackwater forces were also destroyed in Yemen's attack.
en.farsnews.com/newstext.aspx?nn=13941112000435
-----------
Syrian Warplanes Target Militants' Oil Tankers in Sweida
February 1st, 2016
TEHRAN (FNA)- The Syrian Army announced on Monday that the county's fighter jets have bombed a column of ISIL oil tankers in the Southern province of Sweida.
"The Syrian Air Force strikers bombed a convoy of ISIL oil tankers in the Southeastern part of the village of Sha'ef," the army said.
"In addition to explosion of most of the oil tanker, the ISIL militants guarding the convoy were also killed in the attack," the army added.
Last week, the Syrian air force struck and destroyed the ISIL terrorists' military positions in Sweida province, inflicting heavy casualties on them.
The Syrian fighter jets razed ISIL's gathering centers in Tal al-Sahen region which is located 40 kilometers to the Southeast of Sweida city.
Scores of militants were killed and their machinegun-equipped vehicles were also destroyed.
The Syrian warplanes also destroyed large amount of weapons and munitions of ISIL terrorists.
en.farsnews.com/newstext.aspx?nn=13941112000344
-----------
Syrian Army, Popular Allies Launch Joint Offensives North of Aleppo
February 1st, 2016
TEHRAN (FNA)- The Syrian Army and its popular allies launched a fresh round of joint offensives in the Northern part of Aleppo province to ultimately lift the 3-year-long siege imposed by the militants on the towns of Nubl and al-Zahra.
The Syrian army troops, National Defense Forces (NDF), Kata'eb Hezbollah, (Iraqi paramilitary) and Harakat al-Nujaba (Iraqi paramilitary) launched a preliminary offensive in the Aleppo province's Northern battlefield near Doweir al-Zaytoun and Bashkoy.
The Syrian soldiers and their allies struck the militant groups' defense line at the Afghan axis in Western Bashkoy, along with several farms surrounding the village of Doweir al-Zaytoun.
According to battle field sources the fighting has intensified between the Syrian Armed Forces and the terrorists of al-Nusra Front and Jeish Al-Mujahiddeen at the Afghan axis.
In relevant developments in the Northern province of Aleppo on Sunday, the terrorists in Aleppo city sustained heavy losses and casualties in Syrian airstrikes.
During the aerial attacks, the Syrian air force jets destroyed militants' positions in Aleppo city neighborhoods of Salahuddin, Ameriyeh, Sakhour, and Karm al-Tarab.
In a separate operation, militants' hideouts in the towns of Tal Rifat, Kefr Hamzeh, Manq and sheikh Issa on the outskirts of the city, came under the aerial attacks by the Syrian jets.
en.farsnews.com/newstext.aspx?nn=13941112000987
-----------
Syrian Army Repels ISIL Attack on Deir Ezzur City, Kills Militant Commander
February 1st, 2016
TEHRAN (FNA)- The Syrian Army and the National Defense Forces (NDF) fended off ISIL's offensives on government forces' defense lines in the Northwestern part of the city of Deir Ezzur, killing scores of the terrorists, including one of their top commanders.
Abu Hadhefah al-Maghrabi, one of the notorious commanders of the ISIL in the Eastern battlefield of Deir Ezzur, was killed by the Syrian army near Deir Ezzur.
Al-Maghrabi possessed an identification card that was issued to him by the so called "Caliphate".
The ISIL's large-scale offensives on the pro-government forces' positions near the village of al-Baqaliyeh near the Western bank of the Euphrates River, targeting the al-Jazeera University campus, al-Rawad Hill and the Firat al-Sham Hotel for the 3rd time in the last 4 days were thwarted by the Syrian army and the NDF.
The ISIL began its assault by storming the important hilltop of Tal al-Rawad, where they were confronted by the Syrian soldiers at the Northern perimeter. The ISIL failed to breakthrough the Syrian Armed Forces' 1st line of defense.
Also on Saturday, the Syrian army announced that its troops repelled ISIL's large-scale offensive on government forces' defense lines near the Eastern city of Deir Ezzur.
"The ISIL launched a powerful assault on the government forces' defense lines near Haweija in Deir Ezzur countryside, but the army soldier thwarted the terrorist group's attack, and forced them to retreat from the battlefield," the army said.
"The Syrian Army identified and destroyed two explosive-laden vehicles of the ISIL before the terrorist group could explode them near the government forces' positions, which claimed the lives of several terrorists," the army added.
en.farsnews.com/newstext.aspx?nn=13941112000791
-----------
Syrian Army, NDF Strike ISIL Hard East, Northeast of Aleppo
February 1st, 2016
TEHRAN (FNA)- The Syrian Army and popular forces continued to crush ISIL terrorists in the Eastern and Northeastern parts of Aleppo province, mainly near the newly-liberated village of Afash.
The Syrian army troops and the NDF stormed the ISIL positions in the Western part of Afash in the Northeastern part of the province and near Abu Danneh and Rasm al-Alam in the Eastern part of Aleppo province, killed or wounded several militants and destroyed their fortified position in the battlefield.
In the meantime, scores of the Takfiri terrorists were killed or wounded in the pro-government forces' offensives near the village of al-Ameriyeh in Tal al-Daman region Southeast of the city of Aleppo.
The Syrian artillery units, meanwhile, opened fire at the militant groups' logistic movements on the highway leading to Turkey near the town of Hayyan, which significantly slowed down the terrorist groups' supplying measures in the North.
Also on Sunday, the Syrian Army and popular forces continued to advance against the ISIL terrorists in the Eastern part of Aleppo province, and seized full control over one more height after hours of tough battle.
The Syrian army troops and the National Defense Forces pushed back the militant groups from Tal Maksour near Aleppo's thermal power plant.
The ISIL left behind tens of the dead and wounded members and fled the battlefront.
The Syrian government forces also gained control over several checkpoints of the ISIL near the power plant.
en.farsnews.com/newstext.aspx?nn=13941112000923
-----------
Syrian Army Repels ISIL Attack in Quneitra Province
February 1st, 2016
TEHRAN (FNA)- The Syrian Army pushed back an ISIL offensive on its positions in a mountainous area in Quneitra province.
The terrorists attempted to capture a strategic hilltop in Korom Jaba region in Quneitra province, but the Syrian troops pushed them back after inflicting heavy casualties on them.
The Syrian army destroyed the terrorists' vehicles equipped with heavy and high-caliber machine guns.
Scores of terrorists were killed and injured in the Syrian army's pursuing counterattack.
The Syrian air force backed the army during its ground operations.
In a relevant development on Saturday, the Syrian army and popular forces repelled the Al-Nusra Front terrorist group's attacks in Quneitra province, killing scores of the militants in fierce clashes.
A group of Al-Nusra Front terrorists were trying to capture Jaba strategic region and Bozaq and Korom Heights, but they were pushed back by the army.
The Syrian forces received intelligence on terrorists' plan to attack Quneitra's strategic regions which helped them to prevent the militants from achieving their goals.
The clashes between the Syrian troops and the terrorists lasted for 8 hours. Following the battle, the army said a large number of terrorists have been left dead in the battlefield.
en.farsnews.com/newstext.aspx?nn=13941112000783
-----------
Saudi police arrest 33 'terror' suspects: report
February 1st, 2016
RIYADH: Saudi authorities have arrested 33 'terror' suspects, including nine American citizens, over the past days, the Saudi Gazette newspaper reported on Sunday.
Four Americans were arrested on Monday and five others in the last four days, the paper reported.
Those arrested included 14 Saudis, three Yemenis, two Syrians, an Indonesian, a Filipino, an Emirati, a Kazakhstan national and a Palestinian, the paper said.
It did not say if any of the "terror suspects" was linked to the militant Islamic State (IS) group, which has claimed several deadly attacks against security forces and Shias in the kingdom in recent months.
On Friday, a suicide bomber attacked a Shia mosque in Eastern Province killing four people before worshippers disarmed and tied up his accomplice who had fired on them. IS did not claim that attack.
The Saudi Gazette said some 532 IS suspects accused of plotting attacks in the kingdom are being questioned ahead of their trial at the criminal court in Riyadh. They are members of six cells busted in "pre-emptive" raids across the kingdom and include a Saudi woman and a Filipina, according to the paper.
Also on Sunday, the Saudi interior ministry said they were searching for nine suspects allegedly involved in an August suicide bombing that targeted a mosque inside a police headquarters, killing 15 people.
dawn.com/news/1236687/saudi-police-arrest-33-terror-suspects-report
-----------
Pakistan
182 Pak 'madrasas' sealed since 2014 Peshawar school attack
PTI | Feb 1, 2016
ISLAMABAD: Pakistani authorities have sealed 182 'madrasas' since the deadly Peshawar school attack in 2014, in a countrywide crackdown on religious seminaries allegedly involved in extremism, a media report said on Monday.
The madrasas were closed in Punjab, Sindh and Khyber Pakhtunkhwa because of their involvement in promoting extremism and other suspicious activities, the Associated Press of Pakistan (APP) news agency reported.
The action was taken under the National Action Plan (NAP) that was put in place after militants stormed an army school in December, 2014 killing at least 150 people, mostly schoolchildren.
As part of the strategy to choke terror financing, the State Bank of Pakistan (SBP) has so far frozen Rs 1 billion in 126 accounts which have a link to banned militant groups.
Law-enforcement agencies have also recovered around Rs 251 million in cash. The government has put names of 8,195 people in the fourth schedule and 188 on the Exit Control List while movement of 2,052 hardcore militants has been restricted.
Similarly, the government has registered 1,026 cases and arrested 230 terror suspects. There were 64 banned organizations in the country while 74 have been declared unlawful by the UN.
Activities of some organizations are constantly being monitored and their activists are under surveillance.
With regard to hate speech, over 1,500 books and other hate material have been confiscated and 73 shops sealed.
Law-enforcement agencies have registered 2,337 cases for hate speeches and material and arrested 2,195 people.
timesofindia.indiatimes.com/world/pakistan/182-Pak-madrassas-sealed-since-2014-Peshawar-school-attack/articleshow/50805716.cms
-----------
Six Arabs stopped from hunting houbara bustards in Pakistan
February 1st, 2016
KARACHI: Six Arab hunters of houbara bustard with 11 falcons were held by wildlife staffers in Thatta district early on Sunday morning for lack of hunting permits but were released later and sent back to Karachi as they had not yet started hunting the bird, it is learnt here.
Sources said the hunters from Qatar were guests of a local host associated with the wildlife department in Sujawal and had political connections.
They arrived in the area on Saturday and after having enjoyed overnight hospitality the Qatari hunters with the 11 falcons and local host camped near the Keenjhar lake. But before they could venture to hunt the bird they were stopped by the wildlife staffers.
The sources said that local police who were also helping the hunters and their host issued threats to the wildlife staffers to scare them away but they refused to let them break the law and informed high-ups about the situation.
Hyderabad deputy wildlife conservator Ghulam Mohammad Gadani told Dawn that when the wildlife staffers saw the police providing protection to the hunters instead of helping them, they called him (Mr Gadani) and he immediately contacted the Thatta police chief, who ordered the police to assist the wildlife staffers.
The official said the Qatari hunters –– who were travelling in three land cruiser jeeps and two double cabin trucks –– did have permits for the falcons but they did not possess permit to hunt houbara bustards. They were therefore asked to leave the area accompanied by wildlife staffers.
He said the hunters' hosts were warned not to be part of such activity in future, else stern action would be taken against them. A report about the incident would be sent to the wildlife conservator on Monday, said Mr Gadani.
Houbara, a resident of colder Central Asian region, migrates southwards to avoid the harsh weather conditions at home and spend the winter in a relatively warm environment in South Asia.
The bird's meat is considered to be an aphrodisiac and is sought after by Arab hunters who are issued special permits to hunt the internationally protected bird.
The Supreme Court had imposed a ban sometime back on the issuance of special permits to Arab hunters but recently the SC reviewed its decision and allowed the issuance of permits.
dawn.com/news/1236626/six-arabs-stopped-from-hunting-houbara-bustards
-----------
'Pak envoy to UN acted as messenger between US, Kayani'
PTI | Feb 1, 2016
WASHINGTON: Pakistan's Ambassador to the UN Maleeha Lodhi acted as an informal messenger between the Obama Administration and the then army chief Gen Ashfaq Kayani, latest bunch of Hillary Clinton's emails indicate.
However, the entire message delivered by Lodhi to the State Department on behalf of Kayani has been redacted.
"I got a call from Maleeha Lodhi (former Pakistan Ambassador to US and UK) who is in London. She gave a message from Kayani," wrote Vali S Nasr - then a senior advisor in the Office of the Special Representative for Afghanistan and Pakistan - on January 21, 2011.
The readout of Kayani's message through Lodhi running into two paragraphs was sent to the then Secretary of State Clinton the same day.
She asked this message to be printed on January 30, three days after an American diplomat Raymond Davis was arrested in Lahore on charges of killing two Pakistanis. The incident immediately resulted in a crisis in US-Pak relationship.
"Please print," Clinton wrote to her aide Lauren C Jiloty on the email with the subject "latest from Pakistan on Kayani 3.0".
On Friday, the State Department released some 1,000 pages of emails of Clinton when she was the Secretary of State, during which she used a private email and a private server.
The emails are being released in phases at the direction of a US court.
While most of the portions of email related to Pakistan have been heavily redacted, it does contain in full the readout of the phone call between Clinton and the then Pakistan Foreign Minister Hina Rabbani Khar on July 3, 2012.
"I once again reiterated our deepest regrets for the tragic incident in Salala last November. I offered our sincere condolences to the families of the Pakistani soldiers who lost their lives. Foreign Minister Khar and I acknowledged the mistakes that resulted in the loss of Pakistani military lives. We are sorry for the losses suffered by the Pakistani military. We are committed to working closely with Pakistan and Afghanistan to prevent this from ever happening again," Clinton said as per the email.
"As I told the former Prime Minister of Pakistan days after the Salala incident, America respects Pakistan's sovereignty and is committed to working together in pursuit of shared objectives on the basis of mutual interests and mutual respect," she said.
"In today's phone call, Foreign Minister Khar and I talked about the importance of taking coordinated action against terrorists who threaten Pakistan, the US and the region; of supporting Afghanistan's security, stability and efforts towards reconciliation; and of continuing to work together to advance the many other shared interests we have, from increasing trade and investment to strengthening our people-to-people ties.
"Our countries should have a relationship that is enduring, strategic and carefully defined and that enhances the security and prosperity of both our nations and the region," Clinton said.
timesofindia.indiatimes.com/world/Pak-envoy-to-UN-acted-as-messenger-between-US-Kayani/articleshow/50799744.cms
----------
Europe
Europe is training financial firepower on terrorism
Liz Alderman | NYT News Service | Feb 1, 2016
PARIS: A phalanx of soldiers wearing bulletproof vests and wielding machine guns fanned out beneath the Eiffel Tower on a recent afternoon, scanning the crowd for potential terrorist threats. Across the country, nearly 10,000 more armed troops patrolled streets around landmarks, stores and government buildings.
France is spending nearly 1 million euros a day on the heightened security, part of a renewed surge in European military spending as governments declare terrorism a permanent risk.
Europe's current approach to fighting terrorism, after two deadly assaults carried out by Islamic militants in Paris last year, represents a shift from the austerity mantra that has dominated the region since the debt crisis in 2010. While countries are not abandoning their fiscal discipline, leaders are encouraging a more flexible approach to give them financial firepower to counter the growing threat.
"We need to track the terrorists, dismantle their networks, cut off their financing and stop propaganda and radicalization," President Francois Hollande said recently, after declaring France "at war" with terrorism. "The security pact takes precedence over the stability pact," he added, referring to the European Union's rules limiting member nations' deficits.
Although austerity has been losing favor as a cure-all for Europe's economic ills, a renewed financial crisis in Greece last year kept a focus on belt-tightening. European leaders threatened to let Greece exit the currency bloc if it did not stick with the budget cuts and economic overhauls required for a new bailout. European Union officials admonished France and other countries for failing to meet deficit reduction pledges.
Now, European leaders are acknowledging that security spending is a priority. After the attacks by the Islamic State in November in Paris that left 130 dead, the president of the European Commission, Jean-Claude Juncker, authorized France to receive special treatment under budget deficit rules to strengthen security programs.
"We are facing serious terrorist acts," he said. "France, as other countries, has to have at its disposal supplementary means."
The spending has the potential to provide a much-needed stimulus boost to a region that has struggled for years to kick-start growth.
France, Germany, Britain and neighboring countries sharply curbed military outlays while austerity was enforced. Since 2007, Western European military spending has slumped more than 13 percent, accelerating a decline that began earlier in the decade. As of last year, only four European member countries in the North Atlantic Treaty Organization met the mandated military spending target of 2 percent of gross domestic product.
As security concerns intensify, the trend is reversing.
Germany is hiring more police and intelligence officers, and in January the defense minister proposed increasing military spending by 130 billion euros over 15 years. The government may also divert part of its 12.1 billion euros budget surplus to managing the wave of refugees flooding into the country. France is expanding its military equipment arsenal, troops and police, as well as increasing surveillance and spending hundreds of millions of euros on new programs to counter radicalization among Muslim youth.
In Belgium, where militants planned the Paris attacks after training in Syria, nearly half a billion euros will be spent jailing returning jihadis, reinforcing borders and keeping hundreds of troops on the streets. And Britain recently authorized 12 billion pounds in new spending to purchase Boeing P8 maritime patrol aircraft, increase fighter squadron numbers and create new strike brigades.
"We can't exclude a new attack — no one can," said Michel Sapin, France's finance minister. "Here and elsewhere, the risk is present. We need to fight against the origin of this instability."
Total Western European military spending, led by France, Britain and Germany, is expected to jump by an extra 50 billion euros through 2019, to 215 billion euros, said Fenella McGerty, an analyst at IHS Jane's Defence Budgets in London. Europe's security spending, though, will still pale in comparison to that of the United States.
Even so, the shift could prove a windfall for security, military and arms manufacturers.
As the austerity mindset took hold, Europe's big military suppliers quickly felt the pinch. Contract negotiations with government procurement agencies stalled or orders were scaled back.
Some companies, like Airbus Group, downsized their military business. In 2013, Airbus Group announced plans to cut 5,800 jobs from its military and space divisions and to focus primarily on a booming commercial jet business.
Now, European armies are growing. In a reverse from planned cuts, France is preparing to add 23,000 positions to the army by 2019. A coalition to fight the Islamic State that includes France and Britain will soon intensify the campaign against militants in Iraq and Syria, prompting additional spending on missiles, drones, jets and surveillance.
Airbus is well positioned.
The company supplies European militaries with a broad range of flying hardware such as the NH90 helicopter, the A400M cargo and troop transporter and the A330 multi-role refueling tanker. Airbus also has high-tech satellite surveillance equipment as well as integrated border and coastal security systems, a particular focus in Europe as the migrant crisis swells.
"We need more cooperation and integration in foreign policy, in defense, in security policy — and by security I also mean, obviously, internal security," Thomas Enders, chief executive of Airbus, told reporters recently, citing the failure of some governments to adequately track and monitor potential jihadis traveling across Europe's internal borders.
In addition to new equipment, much of the increased spending will go toward closing intelligence and security gaps that have permitted Islamic State militants to travel through Europe and plan attacks.
France, Germany and Britain are hiring thousands of new intelligence officers and upgrading surveillance equipment and software for monitoring communications, especially on the so-called darknet of encrypted networks that terrorists use to communicate and recruit. Prime Minister David Cameron, who is now reversing years of military cutbacks, has authorized Britain's creation of a new National Cyber Centre to track jihadis.
At the same time, private corporations and big cities alike are ramping up surveillance spending.
In the days after the Paris attacks, Securitas, a leading provider of security agents in Europe, was swamped with calls from department stores, museums and other outlets scrambling to hire thousands of guards and intensify screening. Securitas, which already had 16,000 agents in France, could provide only 800 more, and has since accelerated hiring to meet demand.
At Visiom, a French maker of metal detectors, orders have jumped fourfold since the Paris attacks, especially from sports stadiums, concert halls and large stores.
French companies are expected to spend an additional 500 million euros this year for agents, while security firms and police departments will increase orders for everything from bulletproof vests to drones, said Patrick Haas, the director of En Toute Securite, one of the largest French security firms.
"What has changed after the attacks is that authorities now realize the threat is permanent," Haas said. "We are facing a radical shift."
(Nicola Clark contributed reporting)
timesofindia.indiatimes.com/world/europe/Europe-is-training-financial-firepower-on-terrorism/articleshow/50803327.cms
-----------
Braveheart Muslim Scot reaches South Pole milestone
21 January 2016
Mostafa Salameh, 44, completed the gruelling endurance trek across Antarctica over 54 days, 38 of which were spent on skis.
The former refugee set off in November, but was trapped at the Union Glacier base camp by fierce storms for 13 days before setting off across one of the harshest landscapes on earth.
Along the way he raised huge sums for charity, and carried a Scottish saltire for good luck which he flew over the Pole after finally reaching his goal earlier this month.
He had to cope with minor frostbite to his nose and toes, a swollen wrist caused by the weight of his sled and a sprained ankle on the last four days of the trek.
Mr Salameh, a Scottish-Jordanian Muslim, has previously climbed Everest, reached the peaks of the seven highest mountains on each of the continents, and made it to the North Pole.
During the South Pole trek he met another polar record breaker, Luke Robertson, who made it to the pole unaided despite previously suffering a brain tumour and having a pacemaker fitted.
Mr Salameh said: "It feels really good to have made it. I've done the grand slam of adventures.
"The toughest thing about crossing Antarctica was the cold, which made things very difficult at times. It was harder than I expected and it took a lot of getting used to.
"But every day you get fitter and more used to the sled you're pulling behind you. I wanted to do this to show a good image of Islam and give young people a better message than the one of radicalisation."
The 44-year-old was brought up in a refugee camp before coming to the UK to study at Edinburgh University. He has received a number of awards for his adventures, and was knighted by the King of Jordan for his services to charity.
The South Pole trip is his final challenge, and raised £2 million for Jordan's King Hussein Cancer Centre and $100000 dollars for the United Nations Relief and Works agency to rebuild a school in Gaza.
He came to Britain in 1998 and was inspired by Braveheart to become an adventurer.
His trek across Antarctica was dedicated to raising charity cash and raising awareness of the dangers of radicalisation to vulnerable young Muslims in Britain and elsewhere.
The father of three, who was knighted by the King of Jordan for his services to charity, will be reunited with Scottish partner Krissy Gormley, from Edinburgh, and their three kids after a Royal reception in Jordan, where he is to be hailed as a hero.
He added: "I never learned to ski until 2014 but I had to ski for nine hours a day.
"I have frostbite on my nose and I sprained my ankle and damaged my wrists. I lost 17 kg, around 20 per cent of my body weight, because we were on dried supplies and using so many calories every day.
 "But the mission was a success and I feel blessed to have had the support of so many people."
He added that he was inspired to meet Luke, 30, who completed his solo challenge earlier this month – the first Scot to do so.
He said: "That man is a wonder and to do what he did alone is an amazing feat. Of all the places to find another man in a kilt, you would not expect the South Pole."
Along with a Saltire and a Jordanian flag, Mostafa took a copy of the Bible and Koran on his trek.
He said: "I want to spread the word that the world does not have to have so much conflict. I have met young Muslims while I was in London who had nothing in their lives to look forward to because of poverty and deprivation.
"That makes people very vulnerable to being brainwashed and I want to highlight the problems British Muslims face. I regard my trip as representing a different type of Jihad, something that tries to make a positive difference rather than a destructive one.
"I did it for Islam and the peaceful message this beautiful religion came to offer as i become also the first Muslim to do so. I did it for the Palestinian people and hope for peace.
"I did it for the environment and the message my main sponsor wants to spread, did it for Education especially in Gaza, I did it for refugees all over the world and off course to all Jordanians and Arabs, to Scotland and specially Edinburgh where my adopted home is.
"To my mum and dad and to my wife Krissy and best mother to my children, my boys Zaidan, Ayman, Yacob and Sami Everest, my friends and everyone that believed in me."
scotsman.com/news/braveheart-muslim-scot-reaches-south-pole-milestone-1-4007402#ixzz3ylnCLdj1
-----------
South Asia
Ministry of Interior says Kabul suicide bombing left 10 killed, 20 wounded
By Khaama Press - Mon Feb 01 2016
A suicide blast rocked Kabul city around 01:45 PM (local time) on Monday.
The blast took place in Dehmazang area where compounds of border and civil order police are located.
Initial reports suggest that the suicide bomber was on foot who planned to get to the entrance of one of the police compounds but security forces fired on him after he was recognized.
It is yet unknown whether the blast occurred as the result of the firing or the terrorist himself detonated his vest.
Senior Deputy Interior Minister General Mohammad Ayoub Salangi said it left 10 people killed and 20 others wounded.
"In the suicide attack that took place an hour before in Dehmazang square, 10 people have been reportedly martyred and 20 wounded. Most of the martyrs and wounded are civilians," reads a post on the official twitter account of Gen. Salangi.
No group has yet said it had sent the suicide bomber.
However, Taliban carried out several explosions in Kabul city last month including a suicide bombing that claimed the lives of seven journalists.
khaama.com/breaking-news-heavy-explosion-on-border-police-hq-in-kabul-4536
-----------
Two landmine planters killed by own explosives in Kandahar
By Khaama Press - Sun Jan 31 2016
Two landmine planters have been killed in the explosion of their own explosives in southern Kandahar province.
Zia Durani, spokesperson for the police headquarters of Kandahar said the incident took place in Khojak Baba area of the provincial capital, Kandahar city, this afternoon.
He said the militants were placing explosives on a roadside that exploded on them.
According to Durani, both militants died on the spot while a civilian sustained injuries in the explosion.
No group has yet commented on the report but most of the bomb blasts in Kandahar province have been carried out by Taliban militants in the past.
khaama.com/two-landmine-planters-killed-by-own-explosives-in-kandahar-4535
-----------
Afghanistan and India sign agreement on visa free travel for diplomats
By Khaama Press - Mon Feb 01 2016
Afghanistan and India agreement visa freeAfghanistan and India signed an agreement granting the diplomats of the two nations visa free travel permission, the Ministry of External Affairs of India said.
The agreement was concluded during Chief Executive Officer (CEO) Abdullah Abdullah's visit to India where he had separate meetings with the Indian Prime Minister Narendra Modi and External Affairs Minister Sushma Swaraj.
CEO Abdullah arrived in Delhi on Sunday a 5-day visit preliminary aimed at attending conference on counter-terrorism in Jaipur state of India.
The conference has been organized by India Foundation in association with Sardar Patel University of Police Security and Criminal Justice.
Earlier reports suggested that enhanced defense assistance to Afghanistan, including lethal weapons will be part of the security cooperation negotiations between CEO Abdullah and Indian officials.
India took a major step in enhancing the capabilities of the Afghan security forces by supplying three Mi-25 gunship helicopters to the Afghan Air Force late last year.
India has played a crucial role by participating in the rebuilding of Afghanistan following the fall of the Taliban regime in 2001.
Since 2002, the Government of India has committed around USD 2 billion dollars to the socio-economic rebuilding of the Afghan state and society in accordance with the development priorities of the Government and the people of Afghanistan.
khaama.com/afghanistan-and-india-sign-agreement-on-visa-free-travel-for-diplomats-0063
-----------
Armed men attack residence of local journalist in Mazar-i-Sharif
By Khaama Press - Mon Feb 01 2016
gunmanA group of unidentified armed men attacked the residence of a local journalist in Mazar-e-Sharif, capital of Balkh province last night.
They intruded into the house of Yahya Jawahari and severely beaten him.
The intruders fled after damaging some stuff inside the house.
Motive behind the attack is unknown.
This comes as President Mohammad Ashraf Ghani has issued orders to the security institutions to use every mean in protecting journalists.
The Ruling was issued after a Taliban suicide bombing claimed the lives of eight journalists in capital Kabul and later an armed attack took the life of another journalist in eastern Nangarhar province.
Haji Mohammad Zubair Khaksar who was working for the government-run Nangarhar Radio and Television network came under the attack of armed men while driving in his vehicle in Kharkarano Kala area of Surkh Road District on Friday night.
khaama.com/armed-men-attack-residence-of-local-journalist-in-mazar-i-sharif-4536
-----------
NDS detains planners of terrorist attacks in Kandahar
By Khaama Press - Mon Feb 01 2016
The National Directorate of Security (NDS) – Afghanistan's intelligence agency has arrested planners of terrorist attacks in southern Afghanistan.
A statement released by NDS on Monday states that the 4-member group was busted in the jurisdiction of the capital city of Kandahar province.
The terrorists are identified as Abdul Ghani S/O Abdul Baqi, Mohammad Zarif S/O Abdul Karim, Ezatullah S/O Musa Jan and Rahmatullah S/O Asadullah.
According to the statement, the group has accepted involvement in a number of attacks.
In a footage released by NDS, the detainees say they were assigned by Taliban for anti-government activities.
NDS statements usually do not contact exact date of the achievement but they usually come after recent operations.
khaama.com/nds-detains-planners-of-terrorist-attacks-in-kandahar-4537
-----------
Afghan boy in plastic Messi jersey becomes internet star
AFP | 1 feb, 2016
JAGHORI (AFGHANISTAN): A five-year-old Afghan boy living in an insurgency-prone area has become an online sensation after pictures of him dressed in an improvised Lionel Messi jersey - made out of a plastic bag - went viral.
Murtaza Ahmadi idolises the Argentine soccer star but a jersey of his favourite player is beyond the means of his poor family in rural Ghazni province southwest of Kabul.
His elder brother Homayoun, 15, made him the plastic shirt with Messi's named scrawled in marker pen and posted the photos of Murtaza wearing it on Facebook two weeks ago.
"Our neighbour had thrown away grocery bags and Murtaza brought me one to make a Messi jersey," Homayoun, a high school student and himself a FC Barcelona fan, said.
Jorge Messi, Lionel's father, said the footballer was aware of the photos that made waves on social media and "wants to do something" for his young fan.
Murtaza, whose father admitted he could not afford to buy him a replica jersey, said he only had a punctured ball to play with in his village in Taliban-infested Ghazni.
"We do not have a football playground near our house and the only ball I have is punctured," Murtuza said.
"I love Messi, he plays really well, and I love the shirt my brother made for me."
Kicking the deflated football in his snow-covered village, he added, "I want to be like Messi when I grow up."
Murtaza sits with his father as they eat breakfast. (AFP photo)
Mohammad Arif Ahmadi, his father who works as a farmer, said he hopes that his son turns into a great football player one day.
"I want my son to become the Messi of Afghanistan," he said.
"Murtaza wants to meet Lionel Messi in person one day. He asked me to buy him a jersey but I cannot afford it," Ahamdi, a father of six, said.
When his photos were first posted, Internet users scrambled to identify the boy and it was initially claimed he was an Iraqi Kurd.
But Murtaza's uncle Azim Ahmadi, who lives in Australia, revealed to the media that his nephew was the unwitting star of the story.
His father only learned about Murtaza's newfound fame from relatives when he recently visited Kabul for medical treatment.
Sport was rarely played under Taliban rule, and the football stadium in Kabul was a notorious venue for executions, stonings and mutilations.
Football and cricket are the two most popular sports in the war-ravaged country.
timesofindia.indiatimes.com/world/south-asia/Afghan-boy-in-plastic-Messi-jersey-becomes-internet-star/articleshow/50796225.cms
-----------
Qatar to help establish first standard football academy in Afghanistan
By Khaama Press - Sun Jan 31 2016
An agreement was concluded between Afghanistan and Qatar officials for the establishment of first standard football academy in the country.
The agreement is part of a five-year Memorandum of Understanding (MoU) signed between the Afghanistan Football Federation (AFF) and Qatar Football Association.
According to AFF, preliminary negotiations regarding the establishment of first standard football federation concluded during the signing of the MoU by the Afghan and Qatar authorities.
Afghanistan Football Federation President General Keramuddin Karim along with Secretary General of the Afghanistan Football Federation Sayed Alireza Aghazada visited Qatar to sign the MoU.
AFF also added that the establishment of the first standard football academy is the most important part of the five-year Memorandum of Understanding (MoU).
Qatar has agreed to help Afghanistan establish the first standard academy, AFF said, adding that Qatar will also provide all Afghan national teams with training camps during the next five years.
This comes as the Afghanistan football had major achievements during the recent years and claimed title of the South Asia Football Federation (SAFF) championship two years ago.
The Afghanistan football finished second during the 2015 SAFF championship and the establishment of the first standard football academy is expected to further boost the performance of the Afghanistan football team in the upcoming championships.
khaama.com/qatar-to-help-establish-first-standard-football-academy-in-afghanistan-0061
-----------
Afghan Bollywood fan spent millions to have largest collection of Hindi movies
By Khaama Press - Mon Feb 01 2016
An Afghan multi-millionaire has spent millions to create the largest individual collection of Hindi movies released between 1940 to 1980.
The 63-year-old Amanullah Nezami surprised the Indian authorities as he recently arrived to the country possessing a five-year visa which is rare among the non-diplomat foreigners.
With the security agencies suspicious regarding his visa, Mr. Nezami managed to obtain clearance from the airport with the intervention of a senior officer.
His story was reflected in local media for his unprecedented love to Hindi movies with and acquiring the identity of an unofficial brand ambassador of Hindi movies outside India.
He is currently living in Saudi Arabia where he runs a chain of restaurants under the brand of Al-Khalifa and visits India for at least a month every year.
His collection includes movies released between 1940 to 1980 and over 70,000 songs from the same movies, according to The New Indian Express.
Nezami said "I have 5,670 films to be precise. Barring a few I have almost every film in this period."
To collect a rare song from Ambar from a Pakistani national, Nezami once travelled all the way from Jeddah to Berlin. "I paid him `1 lakh for the song but the person was more delighted that someone had travelled such a long distance just to collect the song," Nezami said.
He says Hindi films have turned him half Indian. He has installed three flags at the 'darbar' in his residence. "Mera khoon hain Afghani par dil hain Hindustani (I come from Afghanistan but my heart lies in India)," he proclaimed with a smile.
Afghanistan was one of the biggest foreign markets for Bollywood films until the early 1990s. Amitabh Bachchan, Dharmendra and Hema Malini still have a fan-following here.
Newer actors like Shah Rukh Khan, Hrithik Roshan, John Abraham and Katrina Kaif too have developed vast admirers among Afghan youngsters who watch Hindi movies on local TV channels and through DVDs in bigger cities like Kabul, Kandahar and Mazar-e-Sharif.
Bollywood broke new ground in Afghanistan in 2006 with the release of Kabul Express, the first international movie filmed in post-Taliban Afghanistan. India's traditionally friendly ties with Afghanistan have been on a high since the fall of the Taliban in 2001.
India is the sixth largest donor to the country with an aid budget of more than $1.5 billion, and Indian companies are rebuilding roads and schools in this country despite constant security threats. India and Afghanistan have established a strong relationship based on their historical and civilisational ties and strengthened New Delhi's role in the reconstruction of the war-scarred nation.
khaama.com/afghan-bollywood-fan-spent-millions-to-have-largest-collection-of-hindi-movies-0062
-----------
Mideast
Individuals holding Qurans protest Alevi foundation
January 31, 2016
Six people stormed into an Alevi foundation in the southern province of Adana following an Alevi cem on Thursday night bearing copies of the Quran and saying the cem has no place in Islam.
Alevi communal worship is called a cem, meaning a congregational or assembly meeting.
The incident took place at a branch of the Hacı Bektaş Veli Culture and Promotion Foundation in Seyhan following the end of the cem. Most participants of the ritual had already left the building at the time of the attack.
Holding out their copies of the Quran to those remaining, the assailants said: "The cem has no place in Islam. This is not Islam. No such worship is mentioned in the Quran." They then left the area.
The head of the association, Murtaza Moroğlu, told news outlets formal complaints have been filed with the prosecutor's office against those who attacked the foundation.
todayszaman.com/national_individuals-holding-qurans-protest-alevi-foundation_411069.html
-----------
Israeli PM pushing for liberal Jewish prayer at holy site
AP | Jan 31, 2016
Israel's Prime Minister Benjamin Netanyahu at the weekly cabinet meeting in Jerusalem on Sunday. (AP photo)Israel's Prime Minister Benjamin Netanyahu at the weekly cabinet meeting in Jerusalem on Sunday. (AP photo)
JERUSALEM: Israeli Prime Minister Benjamin Netanyahu pushed forward on Sunday with a far-reaching plan to allow non-Orthodox Jewish prayer at the Western Wall in Jerusalem, a move advocates say would mark unprecedented government support for liberal streams of Judaism.
The issue is of particular importance to the Jewish community in the United States, where the more liberal Reform and Conservative streams of Judaism are dominant. Netanyahu's attempt to please American Jews, a key source of support for Israel, faces stiff opposition by ultra-Orthodox and religious nationalist elements in Israel who are key members of his own government.
"I know this is a sensitive topic, but I think it is an appropriate solution, a creative solution," Netanyahu said at the start of Sunday's Cabinet meeting, where members were to vote on the plan.
According to the government plan, a copy of which was obtained by The Associated Press, Israel would build a new plaza for mixed gender prayer at the Western Wall, adjacent to the Orthodox prayer plaza.
The Western Wall, a remnant of the ancient Jewish Temple complex, is the holiest site where Jews may pray. It is currently administered by ultra-Orthodox rabbinic authorities, who have a monopoly over religious affairs in Israel. The site now designates separate men's and women's prayer sections and forbids non-Orthodox prayer, like mixed-gender services and women-led prayers.
A leading women's prayer group, Women of the Wall, has caused controversy for holding monthly non-Orthodox prayers at the site. Police have arrested women carrying Torah scrolls and wearing religious articles traditionally reserved for men, practices ultra-Orthodox Jews oppose and consider a provocation.
The Reform and Conservative movements of Judaism have supported the group's cause and demanded representation at the holy site. Netanyahu appointed a committee in 2013, led by the quasi-governmental Jewish Agency, to seek solutions for non-Orthodox prayer there. Shortly after, a temporary prayer platform was erected for mixed-gender prayer, but advocates say it was not an official site and that it was not always open.
The $9 million initiative would call for building a permanent mixed-gender prayer area where the temporary platform is today. It would also create a new entrance to the Western Wall area so both Orthodox and non-Orthodox prayer areas will be given equal prominence. The pluralistic prayer area would not be managed by the ultra-Orthodox rabbi of the Western Wall, but by a committee including representatives of the Reform and Conservative movements. The new prayer area would allow Women of the Wall to hold women's prayers.
If the plan is approved, "It stands to open the floodgates of women's rights in the public sphere in Israel ... and opens the floodgates for Jewish pluralism in Israel," said Shira Pruce of Women of the Wall. "This is unprecedented change."
Uri Ariel, a hard-line Cabinet minister from the Orthodox-leaning Jewish Home party, said he opposed the initiative. It "gives standing to the Reform. Their intention is to create conflict and dispute. It's not appropriate. The Western Wall is a place of unity," Ariel said on Israeli Army Radio.
Arieh Deri, head of the ultra-Orthodox Shas party, also opposed it. "Israel for all of its years has been administered by devout Judaism. All this problem with Reform and Conservatives never existed in Israel, and there is no reason it should now," Deri told Army Radio.
Israel's Orthodox rabbinical establishment wields a monopoly over key aspects of religious life in the country, such as marriage, divorce and burials while Reform and Conservative rabbis are not recognized and their movements are largely marginalized. Unlike in the US, most Jews in Israel, while secular, follow Orthodox traditions.
These long-simmering tensions between the world's two-largest Jewish communities have been aggravated by a series of steps by religious elements in Netanyahu's coalition government meant to halt attempts by the liberal streams to win recognition in Israel.
The religious-nationalist government last year canceled reforms meant to ease conversion to Judaism, unraveling painstaking efforts by the previous government to weaken the grip of Israel's Orthodox establishment. That was followed by inflammatory rhetoric from the Cabinet minister responsible for religious affairs, saying he does not consider Reform Jews to be Jewish. Netanyahu distanced himself from the comments.
timesofindia.indiatimes.com/world/middle-east/Israeli-PM-pushing-for-liberal-Jewish-prayer-at-holy-site/articleshow/50796567.cms
-----------
3 soldiers killed in PKK attack in southeastern Turkey
February 01, 2016
Three members of the Turkish security forces were killed and two others were heavily wounded in an armed attack by Kurdistan Workers' Party (PKK) terrorists in the Sur district of the southeastern province of Diyarbakır on Monday.
In a statement released on its website, the Turkish Armed Forces (TSK) said three soldiers and two police officers were injured in a PKK attack and were immediately taken to a military hospital, adding that two of the soldiers died of their wounds despite emergency treatment. The military released another written statement later on Monday, announcing that the death toll of Sur attack has increased to three after an injured soldier died in the hospital despite all medical efforts.
The statement said the injured soldier died at about 10:40 a.m. on Monday.
Turkey's Southeast has seen the worst violence in two decades since a two-and-a-half-year cease-fire between the government and the PKK collapsed in July of last year, reviving a conflict that has killed 40,000 people since 1984. The historic Sur district, enclosed by Roman city walls, has suffered extensive damage in the fighting and much of it has been under a round-the-clock curfew since Dec. 2, 2015.
todayszaman.com/national_3-soldiers-killed-in-pkk-attack-in-southeastern-turkey_411128.html
-----------
Turkey, Saudi Arabia to continue supporting moderate opposition in Syria
January 31, 2016
Turkey and Saudi Arabia will continue to support "moderate" opposition groups in Syria, Turkish Prime Minister Ahmet Davutoğlu said after talks with top Saudi officials in Riyadh on Sunday.
"[The] policies of Turkey and Saudi Arabia in Syria are based on a shared perspective," Davutoğlu said at a press conference, adding that Ankara and Riyadh are determined to act together against terrorism and sectarianism.
Davutoğlu, on a visit to Saudi Arabia, had talks with King Salman bin Abdulaziz and met with Saudi investors on Sunday. He was also expected to meet with Saudi Defense Minister Prince Mohamed bin Salman and Foreign Minister Adel al-Jubeir before returning home.
He said the Islamic State in Iraq and the Levant (ISIL) extremist group and the Syrian regime are "equally guilty" in Syria. "We, together with Saudi Arabia, will continue to support [the] moderate opposition in Syria," he said.
Davutoğlu started his three-day trip in Jeddah, then visited Mecca and later Riyadh. Deputy Prime Ministers Yalçın Akdoğan and Lütfi Elvan, as well as Economy Minister Mustafa Elitaş and Interior Minister Efkan Ala, and spy chief Hakan Fidan are accompanying Davutoğlu.
The prime minister's visit comes at a time when tensions are running high between Riyadh and Tehran after Saudi's execution of prominent Shiite cleric Nimr al-Nimr in early January. Saudi diplomatic missions in Tehran and Mashhad were later torched by Shiite protesters after the execution. Saudi Arabia announced that it was cutting all diplomatic ties with Iran. President Recep Tayyip Erdoğan said the execution was an internal matter for Saudi Arabia and accused Iran of not taking measures to protect the Saudi Arabian diplomatic missions in its country.
todayszaman.com/diplomacy_pm-turkey-saudi-arabia-to-continue-supporting-moderate-opposition-in-syria_411061.html
-----------
Turkey's Nobel laureate Pamuk slams Europe for losing moral compass
January 31, 2016
Turkey's most internationally renowned literary figure, Nobel prizewinner Orhan Pamuk, has criticized Europe for abandoning its democratic values and respect for human rights in the recent deal on refugees between the European Union and Turkey.
Turkey and the EU have agreed that the latter will give the former a 3-billion-euro package in exchange for Turkey agreeing to host Syrian refugees fleeing from the civil war in their home country and prevent them from trying to enter Europe. The move has come at a time when Turkey's government has been increasingly accused of resorting to authoritarian measures, especially in the country's Kurdish-majority Southeast.
In an interview published by the Hürriyet daily on Saturday, Pamuk condemned the EU for turning a blind eye to the human rights violations committed by the Turkish government in order to secure the refugee deal and said that Europe had "lost all of its values" and is operating with the mindset "If they do what we want, then they can do whatever they want."
"[The EU] will turn a blind eye to the human rights violations and jailing of journalists [in Turkey]," the novelist said.
Pamuk also said that "the biggest problem [in Turkey] is freedom of thought, and especially freedom for journalists to engage in political commentary." He compared the current political situation in Turkey to that of the Soviet Union under Stalin, saying: "There has been a huge attack on political commentators. The government is working through the newspapers."
When asked how he sees Turkey today, Pamuk said: "The situation looks bad, and I feel sad about it. If I were a deputy from the ruling party, I would feel uncomfortable about the pressure being placed on university professors."
Pamuk, who won the 2006 Nobel Prize in Literature and teaches comparative literature and creative writing at Columbia University in the US, was referring to the recent government operations targeting academics who signed a petition denouncing the effects of the Turkish security forces' operations in the Southeast on the local Kurdish population. Several academics who signed the petition have since been detained or fired from their positions. "It is unacceptable to target professors and … insult them and call them 'traitors.' And to put [the Cumhuriyet daily's Editor-in-Chief] Can Dündar in jail, what can I say?" the writer added.
Condemning President Recep Tayyip Erdogan's desire to change Turkey's parliamentary system of government to one featuring an executive presidency, Pamuk said: "We are already living in a presidential system. When the president says 'I will hold Can Dündar to account,' the judges do what he wants them to do. The civil service and the judiciary are too scared of the president, and no one is raising their voice in opposition."
The Nobel laureate continued: "Just like everyone else who has similar views to me, I was disappointed by the result of the November [2015 general] election. However, is this the first time this has happened? There was [the case of former Prime Minister and President Süleyman] Demirel when I was a child. Am I the first leftist liberal and supporter of freedom to be disappointed? This is the story of our lives. But this time, it is just too much."
todayszaman.com/national_nobel-laureate-pamuk-slams-europe-for-losing-moral-compass_411078.html
-----------
Russia pounds Turkmen areas in Syria, hundreds flee to Turkey
January 31, 2016
Hundreds of civilians in northern Syria fled to Turkey over the weekend following Russian air strikes in a Turkmen populated area at the border.
Turkish media reports say that about 1,600 Turkmens and Arabs crossed the border in two days at the Yayladağı border gate.
Some of the Turkmen families in Yayladağı were settled with their relatives in Turkey. The rest are being held in schools in the Yayladağı district. Speaking to the press, Yayladağı Mayor Mehmet Kalkan said they are not going to allow anyone remain outside in the cold winter weather.
todayszaman.com/diplomacy_russia-pounds-turkmen-areas-in-syria-hundreds-flee-to-turkey_411096.html
-----------
Police officer kidnapped by PKK rescued in operation in southeastern Turkey
February 01, 2016
A police officer who had been kidnapped by members of the Kurdistan Workers' Party (PKK) almost two months ago in the Cizre district of the southeastern province of Şırnak was rescued by the Turkish security forces on Sunday, the Doğan news agency reported.
According to Doğan, Ayhan Kaya, who was working as a bodyguard for Cizre district Governor Ahmet Adanur, was kidnapped by PKK terrorists on Dec. 10, 2015 on the way to his home from Cizre State Hospital. Adanur was reportedly rescued during an operation in Cizre's Cudi neighborhood on Sunday evening and returned safely to his home.
todayszaman.com/national_police-officer-kidnapped-by-pkk-rescued-in-operation-in-southeastern-turkey_411129.html
-----------
Iran gives medals for capture of US sailors
Reuters | Feb 1, 2016
Supreme Leader Ayatollah Ali Khamenei greets a group of Revolutionary Guard officers who were involved in the detention of US Navy sailors.Supreme Leader Ayatollah Ali Khamenei greets a group of Revolutionary Guard officers who were involved in the ... Read More
DUBAI: Iran's supreme leader has awarded medals to navy commanders for capturing US sailors who entered Iranian territorial waters this month, Iran's state media said on Sunday.
Ayatollah Ali Khamenei, who has said Iran should remain wary of its arch-enemy the United States even after a landmark accord over Tehran's nuclear programme, awarded the Fath (Victory) medal to the head of the navy of the Revolutionary Guards and four commanders involved in the seizure of two US Navy boats.
Iran has awarded the Fath medal since 1989 to war heroes, military commanders and politicians, especially those linked to the eight-year Iran-Iraq war in the 1980s.
Iran freed the ten US sailors on Jan. 13, a day after detaining them aboard the two US Navy patrol boats in the Gulf, bringing a swift end to an incident that had rattled nerves shortly before the expected implementation of the nuclear accord with world powers.
The Revolutionary Guardss said it had determined the patrol boats had entered Iranian territorial waters by mistake.
The quick resolution contrasted with previous cases in which British servicemen were held by Iran for considerably longer, in once case almost two weeks.
timesofindia.indiatimes.com/world/middle-east/Iran-gives-medals-for-capture-of-US-sailors/articleshow/50804881.cms
-----------
4 security personnel killed in Egypt attacks
PTI | Feb 1, 2016
CAIRO: Two Egyptian policemen and two soldiers were killed and four others were injured in two separate bomb attacks in the restive North Sinai region.
A roadside bomb went off when a police vehicle carrying security forces passed by early Sunday in Rafah, killing two policemen and injuring four others, security sources said.
In a separate attack in Sheikh Zuwaid city in North Sinai, an army officer and a conscript were killed in a bomb attack which targeted their vehicle, the sources added.
There was no immediate claim of responsibility by any terrorist group. At the same time, militants torched two houses of two policemen in North Sinai without any casualties, the sources said.
North Sinai has witnessed many violent attacks by militants since the January 2011 revolution that toppled former dictator Hosni Mubarak.
The attacks targeting police and military increased after the ouster of Islamist ex-president Mohamed Morsi in 2013 by the military following massive protests against his rule.
Over 700 security personnel have been reported killed since then.
timesofindia.indiatimes.com/world/middle-east/4-security-personnel-killed-in-Egypt-attacks/articleshow/50802235.cms
-----------
India
Arrested Islamic State men were using matchsticks to make bomb
Rahul Tripathi | ET Bureau | Feb 1, 2016
NEW DELHI: The suspected Islamic State terrorists arrested by the National Investigation Agency were collecting chemicals used in matchsticks and explosive of firecrackers for the past seven months with an aim to launch attacks in different parts of the country, officials said.
The preliminary reports of the explosive seized from the arrested suspects indicate that the chemicals are potassium chlorate and potassium nitrate, said one of the officials, who did not wish to be identified.
The NIA has recently arrested 16 people on suspicion of being part of the IS module that was recruited online. While potassium chlorate is used at the tip of matchstick, potassium nitrate is commonly used in firecrackers.
"Due to the recent restrictions by the government on purchase of ammonium nitrate, the modus operandi of the group here appears to be to collect the other easily available explosives," said a senior official. The final laboratory report is still awaited, he said. The module headed by Mumbra-based Mudabbir
Mushtaq Shaikh has instructed others to collect matchbox and firecrackers and use the low grade explosives to make bombs, another person said. At the time of the arrests, the NIA claimed to have seized materials used for making improvised explosives devices (IEDs) including timers from Mumbai and Hyderabad.
The group, according to investigators, was learning bomb-making techniques from al-Qaida's Inspire magazine which is available online and teaches how to make IEDs from easily available chemicals. Earlier, the homegrown jihadis of Indian Mujahideen (IM) used to rely on commonly available ammonium nitrate that was used in blasts in Delhi, Mumbai, Ahmedabad and Jaipur in 2008.
The handler of the IS module in India, Shafi Armar is a former IM member who is now associated with IS chief Abu-Bakr-Al-Baghdadi, another official said. The NIA has also identified three youths from Andhra Pradesh and Telangana who are believed to be fighting with IS in Syria.
timesofindia.indiatimes.com/india/Arrested-Islamic-State-men-were-using-matchsticks-to-make-bomb/articleshow/50801281.cms
-----------
Afghan chief executive arrives in India to attend counter-terrorism conference
Feb 1, 2016
Afghanistan Chief Executive Abdullah Abdullah arrived in New Delhi on Sunday on a five-day visit to discuss bilateral issues, according to a statement on Afghan news agency Khamaa Press..
The Afghan leader also called on Indian Prime Minister Narendra Modi on Monday and is scheduled to meet Indian External Affairs Minister Sushma Swaraj later today, according to the Indian Ministry of External Affairs website.
Talks on 'bilateral issues' are expected to take place during the meetings.
During his stay Abdullah Abdullah will also attend the Counter Terrorism Conference 2016 in Jaipur.
The two-day conference is organised by India Foundation which is led by Indian National Security Advisor Ajit Doval's son Shaurya Doval.
dawn.com/news/1236756/afghan-chief-executive-arrives-in-india-to-attend-counter-terrorism-conference
-----------
North America
Nine Americans among terror suspects arrested in Saudi Arabia – report
1 feb, 2016
Nine US citizens have been arrested on terror charges in Saudi Arabia, local media report. The Americans were among a total of 33 terror suspects detained over the past week.
The arrests come following a string of attacks against Shia targets claimed by Sunni jihadists that have killed 50 people over the past year.
Among the suspects are 14 Saudi citizens, nine Americans, three Yemenis, two Syrians, a Filipino, an Indonesian, a citizen of Kazakhstan, a Palestinian, and a citizen of the United Arab Emirates, Saudi Gazette, an English-language daily, reported on Sunday, referencing an unnamed source.
Two US officials have told Reuters that Washington cannot immediately confirm that American citizens are among the 33 suspects. However, one of the officials said that US authorities are still checking the names against their databases.
Riyadh declared Islamic State (IS, formerly ISIS/ISIL) a terrorist organization in 2014. In July of 2015 alone, Saudi Arabia announced the arrest of 431 suspected members of the terrorist group.
IS responded with a series of terror acts, performed mostly by suicide bombers. The latest attack took place last Friday, when a bombing and shooting attack on a Shia mosque in the al-Ahsa district of Eastern Province left at least four people dead and 18 injured.
rt.com/usa/330810-saudis-arrested-americans-terrorism/
URL: https://newageislam.com/islamic-world-news/new-age-islam-edit-bureau/boko-haram-burns-kids-alive-in-nigeria,-86-dead--officials/d/106191
New Age Islam, Islam Online, Islamic Website, African Muslim News, Arab World News, South Asia News, Indian Muslim News, World Muslim News, Womens in Islam, Islamic Feminism, Arab Women, Womens In Arab, Islamphobia in America, Muslim Women in West, Islam Women and Feminism, Moderate Islam, Moderate Muslims, Progressive Islam, Progressive Muslims, Liberal Islam, Liberal Muslims, Islamic World News