New Age Islam News Bureau
11 May 2022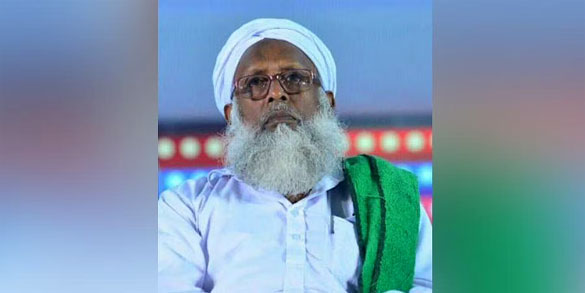 M T Abdulla Musaliyar
----
• Danish Kaneria Hits Back At Shahid Afridi for Calling India 'Enemy Country'
• The UN Security Council Convenes to Discuss the Taliban's Edict for Women to Cover Their Faces
• Illegal Pakistani Migrants Collect Donations in Indonesia Unlawfully
• Islamic Emirate: "More Than 100 Adversaries in Panjshir Surrendered" Through the Mediation of Tribal Elders
India
• Vishwa Hindu Parishad to take up Kashi Vishwanath Temple-Gyanvapi mosque after Ram Temple comes up in Ayodhya in 2024
• Pro-Muslim Parties Gear Up For Big Push In Karnataka Assembly Polls, It Could Spell Trouble For Congress
• Survey of over 300 mosques in Kanpur to end prayers on roads
• ISI has new outfit manned by Khalistani, Kashmiri ultras: Intel
• Yasin Malik pleads guilty in 2017 terror case
• Lashkar duo killed in Anantnag encounter
• In new trend, terrorists targeting civilians to flee from encounter sites: IGP Kashmir
• NIA charges ex-Hizbul man, his brother, 6 more in Pak MBBS seat bribery case
--------
Pakistan
• Massoud-Led Resistance Puts Taliban on the Backfoot, Vows To Inflict More Damage
• Pakistan Army faces daunting task as mudslinging against all powerful institutions continues
• '25 Chinese Companies In Pak Threaten To Stop Ops As Dues Of Rs 300bn Stuck'
• Pak to fill up trade minister post in Delhi vacant for 5 years
• Pakistan PM Shehbaz Sharif going to UK to visit Nawaz Sharif for political consultations: Reports
• ECP may seize illegal funds but can't dissolve party: PTI counsel
• Imran Khan warns Pakistan government against arresting him
--------
Europe
EU Blasts Israeli Plan To Evict Palestinian Families In Occupied West Bank
'We Are Far From Political Solution In Syria,' Says UN Envoy
Turkish-Kazakh relations to reach level of 'enhanced strategic partnership'
--------
Southeast Asia
• Jakim to investigate alleged breaches of halal slaughtering protocols in Australia
• 'Chill', Muslims won't be split by lack of political cooperation, Shabery tells PAS
• I've informed Mahathir on terms of settlement in Apandi's suit, says AG
--------
South Asia
• The EU Special Representative met Sirajuddin Haqqani
--------
Arab World
• International Donors Raise $6.7B for Syria, Host Communities
• Sunni preachers in 'vote to save Lebanon' plea
• Al Jazeera reporter dies from Israeli army gunfire in West Bank
• Israeli 'aggression' targeted Syria's Quneitra: Report
• Iraq records 12 deaths from Congo fever
• High-profile UAE team in India to explore joint investment following CEPA agreement
• Saudi Arabia's King Salman orders transfer of Yemeni conjoined twins to Riyadh
• Tadamon massacre exposé lifts veil of secrecy over Syrian war atrocities
• Refugees returning home key to resolving Syrian crisis: Turkish diplomat
--------
Africa
• President's Brain Not Dead – Islamic Group Reacts as Buhari Pardons Convicted 54 Soldiers
• We'll meet in court – Ortom dares Miyetti Allah
• Libyan parliament says Bashagha government should start work in Sirte
• Somali military kills at least 11 al-Shabaab terrorists
--------
North America
• Police Investigating Hate-Motivated Mischief at North York Mosque
• US Targets Islamic State Financiers in Turkey, Syria, Indonesia
• Won't let 'lies' get in way of ties with Pakistan, says US on Imran's conspiracy allegations
• US still considers Iran's IRGC a terrorist group: State Department official
• Canada announces $175 million in aid for Syrians
--------
Mideast
• EU Decries Israel Eviction of Over 1,000 Palestinians to Make Way For Military Zone
• Iran Provides Free Measles Vaccination for Afghan, Pakistani Nationals
• Iran's Revolutionary Guards attack 'terrorist bases' in Iraq's Erbil: Iranian TV
• Human Rights Official: Sweden Collaborating with Israel against Iran
• VP: Iran Ready to Meet Part of Energy Demand in Europe
• AEOI Head: Iranian Scientists Making Screening Kits for Newborns
• Bennett says Israel not seeking military confrontation
Compiled by New Age Islam News Bureau
URL: https://newageislam.com/islamic-world-news/musaliyar-samastha-kerala-jamiat-ulama/d/126978
--------
M T Abdulla Musaliyar of Samastha Kerala Jamiat Ul Ulama Chides Event Organisers For Inviting Girl On Stage, Draws Flak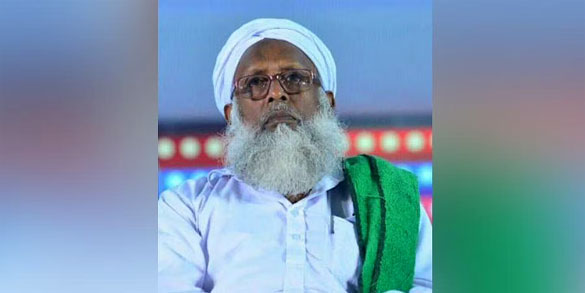 M T Abdulla Musaliyar
----
10th May 2022
MALAPPURAM: A video, which purportedly showed a Muslim scholar reprimanding the organisers of an event in the district, for inviting a girl on stage has gone viral, sparking protests on the social media.
In the video clip aired by news channels, M T Abdulla Musaliyar, a senior functionary of Samastha Kerala Jemiyyathul Ulama, a body of Muslim scholars, is seen chiding one of the organisers for calling a class 10 girl student on the dais to receive an award.
The incident occurred during the inauguration of a 'Madrasa' building in the district, where students were felicitated recently.
The memento was handed over to the girl by Indian Union Muslim League (IUML) leader Panakkad Sayed Abbas Ali Shihab Thangal.
Soon after the award was handed over, Musaliyar questioned the organisers as to why the girl was invited on stage.
"Who invited a Class 10 girl to the stage…? Don't call such girls here,… Don't you know the rules of Samastha? Were you the one who called her?… Ask her parents to come to the stage to collect the award. Don't do such things while we are sitting here. This will appear in photos and be telecast," a visibly angry Musaliyar was seen telling the organisers, while Thangal was standing next to him.
The person who announced the name of the girl was seen apologising to Musaliyar.
Reacting to the incident, Fathima Thahiliya, former national vice president of the Muslim Students Federation (MSF) took to Facebook and said removing girls from stages and insulting them will have far-reaching consequences in society.
"The leadership should ensure that the girls with talents are held close to the religion and are encouraged. We should be able to use their abilities for the betterment of society and religion. Keeping them away from the stage and insulting them would result in far-reaching consequences in society. Those who endure such insults may later hate the religion and its leaders," Thahiliya said.
Meanwhile, PK Navas, the state President of MSF came out in support of Musaliyar and blamed certain communal elements for the attack on him.
"The (online) lynching of honourable M T Usthad is not an innocent one. Such content in the guise of an Islamophobic manner is being spread by certain communal elements. Those who are trying to distort the image of Musaliyar must be isolated," Navas said on his Facebook page.
Cine actor Hareesh Peradi criticised the incident and sought to know if the LDF and the UDF will condemn the issue and proclaim that they don't want the vote of Samastha in the upcoming Thrikkakara bypoll.
Social media is filled with trolls and criticism against the Samastha leadership.
Source: New Indian Express
Please click the following URL to read the text of the original story:
https://www.newindianexpress.com/states/kerala/2022/may/10/kerala-muslim-scholar-chides-event-organisers-for-inviting-girl-on-stage-draws-flak-2451976.html
--------
Danish Kaneria Hits Back At Shahid Afridi For Calling India 'Enemy Country'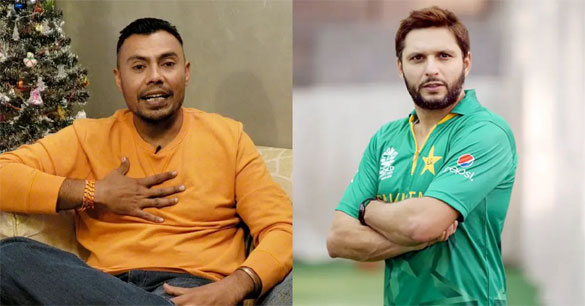 Danish Kaneria and Shahid Afridi
-----
MAY 11, 2022
KARACHI: Former Pakistan spinner Danish Kaneria has said that "India is not an enemy", instead those who try to influence others through religion are. The statement comes in response to former cricketer Shahid Afridi's anti-India statement. Afridi rejected allegations levelled by Kaneria that he mistreated him for being Hindu and pressurised him to convert to Islam, saying that the latter "is giving interviews to our enemy country which can incite religious sentiments." Taking to Twitter, Kaneria said: "India is not our enemy. Our enemies are those who instigate people in the name of religion." He also criticised Afridi by suggesting him not to interview with any Indian channel if he sees India as an enemy.
"If you consider India as your enemy, then don't ever go to any Indian media channel," Kaneria wrote while mentioning Afridi in his Tweet. Kaneria claimed "when I raised my voice against forced conversion, I was threatened that my career would be destroyed." The sixer king recently broke silence over Kaneria's allegations, saying that he himself was trying to fully understand the religion at the time to which the former player is referring. Criticising the former leg-spinner, the 42-year-old said that Kaneria defamed the country's name by spot-fixing and ended his career himself. "He is accusing me to get cheap fame and money," added Afridi. Afridi said that Kaneria was like a brother to him and he always supported him. "Why is he placing allegations against me now? Why did he not complain to the Pakistan Cricket Board and Habib Bank Limited about my behaviour towards him at that time?" asked the cricketer, adding that everyone knows about "his character". He said that Kaneria did spot-fixing in England and was convicted there. Former league spinner Kaneria is facing a ban for his involvement in a spot-fixing case.
Source: Daily Times
Please click the following URL to read the text of the original story:
https://dailytimes.com.pk/932666/danish-kaneria-hits-back-at-shahid-afridi-for-calling-india-enemy-country/
--------
The UN Security Council Convenes to Discuss the Taliban's Edict for Women to Cover Their Faces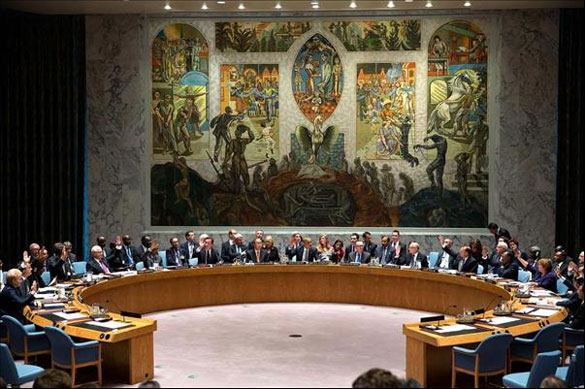 Photo: MenaFN
-----
11 May 2022
The United Nations Security Council is convening to consider the Taliban's recent decision to impose additional restrictions on women, including the mandate that they cover their faces in public and travel restrictions.
The meeting will take place tomorrow, Thursday, the 12th of May, at the request of Norway mission.
The discussion is expected to focus on the human rights situation, as well as the release of girls and women and Taban's imposition of new restrictions on them.
According to Norway's UN mission, Deborah Lyons, the UN's special envoy for Afghanistan, will brief the 15-member council on the intensification of restrictions.
From 1996 to 2001, women were obliged to cover their faces and were unable to work, while girls were barred from attending school.
The group promised to respect women's rights after assuming power in August.
However, in March, the Taliban reversed their declaration that girls' high schools would open, claiming they would remain closed until a plan was developed to reopen them.
It marks a return to the Taliban's previous hardline rules.
Source: Khaama Press
Please click the following URL to read the text of the original story:
https://www.khaama.com/the-un-security-council-convenes-to-discuss-the-talibans-edict-for-women-to-cover-their-faces56289/
--------
Illegal Pakistani Migrants Collect Donations In Indonesia Unlawfully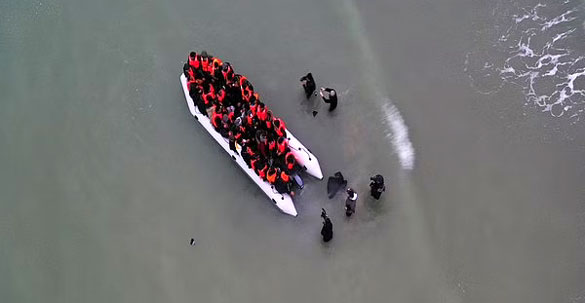 Representative Image (Photo Credit: Reuters)
----
10 May, 2022
Islamabad [Pakistan], May 10 (ANI): Several Pakistani immigrants on wrong permits were found to be collecting donations from mosques in Indonesia, bringing a bad name to the Islamic practice of Zakat (donations), media reports said.
The activities of illegal migrants from Pakistan are proving to be challenging for Indonesia.
Zakat which is considered to be one of the pillars of Islam and a noble practice is a form of obligatory charity that has the potential to ease the suffering of millions.
Indonesia, being the most populous Muslim-majority country, is a shining enabler of these virtues including Zakat but the existence of illegal networks from Pakistan is now making the country suffer.
According to local officials, they were found visiting various mosques for collecting unauthorized donations. The authorities plan to deport the individuals to Pakistan soon, reports said.
It was further learnt that the individuals were arrested (April 21) after receiving information from the public that two foreigners were asking local mosques for donations. Both the miscreants were handed over to the police for transfer to the immigration authorities.
As per local media reports, this was the third instance of Pakistanis found to be involved in illegal fund collection in Indonesia, within two months. Earlier, four Pakistanis had already been deported on the same charge.
However, Indonesians are not the only ones to have suffered due to such networks operated by Pakistanis, The Singapore Post reported.
India, which is another major Asian country with a sizeable Muslim population, also became a victim of illegal aid networks. (ANI)
Source: The Print
Please click the following URL to read the text of the original story:
https://theprint.in/world/illegal-pakistani-migrants-collect-donations-in-indonesia-unlawfully/950897/
--------
Islamic Emirate: "More Than 100 Adversaries in Panjshir Surrendered" Through the Mediation of Tribal Elders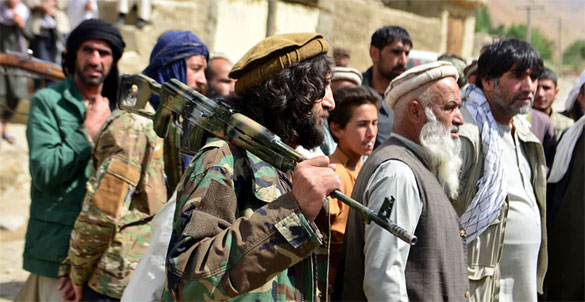 Afghan resistance movement and anti-Taliban uprising forces gather in Khenj District in Panjshir province on August 31, 202 | AFP Photo
-----
11 May, 2022
The Islamic Emirate said that more than 100 of their opponents have surrendered through the mediation of tribal elders.
Meanwhile, the Resistance Front claimed that many civilians have been targeted by the Islamic Emirate in Andarab district of Baghlan.
The Islamic Emirate denied the civilian casualties.
"50 forces of the opponents put down their weapons and surrendered to the Islamic Emirate in the mountains of Abshar district and also 60 other individuals in the mountains of Dara district of Panjshir surrendered to the Islamic Emirate," said Abubakar Sediqqi, a spokesman for the governor of Panjshir province.
Earlier, Panjshir officials said that at least 5 forces of the Islamic Emirate had been killed and two others wounded in clashes in Dara district of the province.
The Resistance Front claimed Islamic Emirate forces targeted civilians in Qassan village in Andarab district of Baghlan province.
Salahuddin Rabbani, former Minister of Foreign Affairs, said he is concerned by the reports of civilian casualties in Panjshir province and Qasan village of Andarab district in Baghlan.
Analysts said that the parties involved in the fighting must uphold human rights.
"The involved parties in the war should consider human rights and prevent civilian casualties," said Hamid Azizi Mujadidi, a university instructor.
Source: Tolo News
Please click the following URL to read the text of the original story:
https://tolonews.com/afghanistan-177954
--------
India
Vishwa Hindu Parishad to take up Kashi Vishwanath Temple-Gyanvapi mosque after Ram Temple comes up in Ayodhya in 2024
May 10, 2022
LUCKNOW: The Vishwa Hindu Parishad (VHP) has said that it will not "step" into the Kashi Vishwanath Temple-Gyanvapi mosque issue in Varanasi till it completes the task of placing the idol of Ram Lalla in the upcoming Ram Temple in Ayodhya, which is expected just before 2024, when Lok Sabha elections will be due.
"We have put the issue of (KVT-Gyanvapi mosque) on hold till Ram Lalla occupies his seat in the temple and a high mast is unfurled in Ayodhya," VHP working president Alok Kumar said, while speaking to TOI on Tuesday.
Kumar's observations come amid a raging legal tussle over the issue after a local court in Varanasi ordered a survey of the temple-mosque complex under the supervision of the court-appointed advocate commissioner Ajay Kumar Mishra. The Muslim side represented by the Anjuman Intezamia Masjid Committee (AIMC) – the managing committee of the Gyanvapi mosque – filed an application in the court seeking the replacement of Mishra, accusing him of being "biased".
Sources said that the VHP, the religious arm of the RSS, did not wish to show any sign of urgency and get involved into the issue until green-flagged by the seers and saints of the country. VHP sources said that the KVT-Gyanvapi mosque case may, however, figure in the forthcoming Margdarshak Mandal meeting of seers in Haridwar in June. "Any further action will be taken thereafter," a VHP leader said.
Kumar categorically maintained that the KVT-Gyanvapi mosque case has nothing to do with something inside the mosque. "Women want unrestricted access to the Shringar Gauri site which is located at the back of the mosque's western wall. They are not demanding entry into the mosque," he said. Women are allowed to worship the deity once a year – the fourth day of Chaitra Navratri. As per earlier practice, women coming out of KVT used to worship Shringar Gauri on a regular basis. The practice was discontinued after security was beefed up post-Babri Masjid demolition in 1992.
The VHP president maintained that it was "unfortunate" that the other party (AIMC) is not abiding by the order of the court. The survey relates to a decades-old dispute in the courts that began with a suit filed in 1991, which sought permission to worship at an ancient temple on the mosque premises.
Source: Times Of India
Please click the following URL to read the full text of the original story:
https://timesofindia.indiatimes.com/india/vhp-to-take-up-gyanvapi-mosque-issue-after-ram-temple-comes-up-in-ayodhya-in-2024/articleshow/91475119.cms
--------
Pro-Muslim Parties Gear Up For Big Push In Karnataka Assembly Polls, It Could Spell Trouble For Congress
May 11, 2022
BENGALURU: In a move that could spell trouble for Congress and JD(S), two pro-Muslim parties are preparing to foray into next year's assembly elections.
While Hyderabad-based All-India Majlis-e-Ithehadul Muslimeen (AIMIM) plans to contest some seats in Kalyana Karnataka and Kittur Karnataka, the Social Democratic Party of India (SDPI) is eyeing constituencies across the state barring Kittur Karnataka. Osman Ghani Humnabad, state president, AIMIM, said they will decide on a poll strategy and the number of seats to contest at a meeting with party Chief Asaduddin Owaisi in Hyderabad later this week.
"We plan to field candidates in select areas of north Karnataka," said Ghani. In 2018, AIMIM did not directly contest seats but instead supported JD(S). It says it has a support base in seven districts in HyderabadKarnataka — now called Kalyana Karnataka. A move to contest Bruhat Bengaluru Mahanagara Palike polls in 2015 was spiked by the Siddaramaiah-led Congress, but it contested civic elections last year in Hubballi-Dharwad, Belagavi, and Kalaburagi. It won four seats on debut — three in Hubballi-Dharwad and one in Belagavi. It also contested the assembly bypolls of Basavaklayana and Sindgi but failed to make a mark.
"We have a significant presence in Kittur Karnataka region too, especially in segments bordering Maharashtra," said Syed Aminul Hasan Zafri, senior AIMIM functionary and Telangana MLC.
"Results of municipal polls last year proves this. The party leadership will select assembly seats where we will contest. " SDPI is better placed compared to AIMIM but only slightly. It fielded candidates in three seats in 2018 — Narasimharaja in Mysuru, Chickpet in Bengaluru, and Kalaburagi North. Its performance in Narasimharaja was impressive as its candidate came third bagging 34,000 votes.
The party has a significant presence in several urban local bodies, including Mangaluru City Corporation, where it has two councillors, and Shivamogga City Corporation (1). It had one councillor in BBMP. It has a cumulative 34 seats in city municipalities. "We plan to contest at least 100 seats this time," said Afsar Kudlipet, SDPI general secretary. "Except Kittur Karnataka, we will field candidates in all other regions. We will shortlist candidates by June. " While these parties may not win seats outright, Congress and JD(S) are concerned since they could split the minority vote. This would play right into the hands of BJP. Saleem Ahmed, KPCC working president, suggested as much when he said: "If these parties are sincere about politics, they should not venture into this misadventure as they would end up helping BJP. "
Source: Times Of India
Please click the following URL to read the full text of the original story:
https://timesofindia.indiatimes.com/city/bengaluru/pro-muslim-parties-gear-up-for-big-push-in-karnataka-assembly-polls/articleshow/91482226.cms
--------
Survey of over 300 mosques in Kanpur to end prayers on roads
Simer Chawla
Kanpur
May 10, 2022
All India Sunni Ulema Council has been holding surveys in over 300 mosques across Kanpur district to explore the possibility of expanding their space.
Recently, a problem came to the fore that Muslims have to offer prayers, especially on Fridays, on roads due to less space in various mosques.
To solve the issue, the Sunni Ulema Council, one of the biggest bodies of religious clerics, began the survey.
A total of 15 teams are looking into how to expand the mosques to accommodate more people," said convener of the council Haji Mohammad Salees.
If the plan works out in Kanpur, suggestions for implementation of this model would be sent across the state.
The teams made by the Sunni Ulama Council are in talks with the maulvis of various mosques.
The teams write down details of each mosque, like the current capacity and how much it can be expanded. If there is a need for a one or two-storey extension, then the same can be done after taking permission from the authorised departments.
Source: India Today
Please click the following URL to read the full text of the original story:
https://www.indiatoday.in/india/story/survey-of-over-300-mosques-in-kanpur-to-end-prayers-on-roads-1947723-2022-05-10
--------
ISI has new outfit manned by Khalistani, Kashmiri ultras: Intel
May 11, 2022
NEW DELHI: The Pakistani spy agency ISI has formed a new outfit that will employ a deadly cocktail of Khalistani and Kashmiri terrorists to carry out strikes in the country.
An intelligence note accessed by TOI suggests a new outfit, "Lashkar-e-Khalsa", has been formed by the K2 (Kashmir-Khalistan) desk of ISI, which is aggressively attempting to recruit youths on social media.
The agencies started digging deeper after they stumbled upon an ID in the name of "Amar Khalistani" that was running Facebook pages like "Azad Kashmir & Khalistan" to influence youths.
Their plan seems to be to use the cadres interchangeably and train the recruits by Afghan-origin handlers, the intel suggests. The ISI has been trying aggressively to bridge the gap between Kashmiri groups and Punjabbased extremists and using both their networks to its advantage.
ISI, through its "K2 desk", has also been funding the targeted killings of right-wing leaders and opponents of terrorism by using gangsters in a hope to revive militancy, the intel suggests.
Source: Times Of India
Please click the following URL to read the full text of the original story:
https://timesofindia.indiatimes.com/india/isi-has-new-outfit-manned-by-khalistani-kashmiri-ultras-intel/articleshow/91481883.cms
--------
Yasin Malik pleads guilty in 2017 terror case
May 11, 2022
NEW DELHI: Separatist leader Mohammad Yasin Malik on Tuesday pleaded guilty to charges under the stringent anti-terror law, Unlawful Activities Prevention Act (UAPA), before a Delhi court in a case related to terrorism and secessionist activities in Jammu & Kashmir in 2017.
Malik pleaded guilty to charges under Sections 16 (terrorist act), 17 (raising funds for the terrorist act), 18 (conspiracy to commit terrorist act), and 20 (being member of terrorist gang or organisation) of the UAPA and sections 120-B (criminal conspiracy) and 124-A (sedition) of the IPC.
The court also framed charges against separatist leaders Farooq Ahmed Dar alias Bitta Karate, Shabbir Shah, Masarat Alam, Md Yusuf Shah, Aftab Ahmad Shah, Altaf Ahmad Shah and eight others.
Source: Times Of India
Please click the following URL to read the full text of the original story:
https://timesofindia.indiatimes.com/india/yasin-malik-pleads-guilty-in-2017-terror-case/articleshow/91477000.cms
--------
Lashkar duo killed in Anantnag encounter
May 11, 2022
SRINAGAR: Two Lashkar-e-Taiba terrorists were gunned down in an anti-terror operation in Kreeri area of Dooru belt in south Kashmir's Anantnag district on Tuesday. The search for a third terrorist continued till the time of going to press. "The encounter took place on the highway close to the route of Amarnath Yatra, thus an imminent threat was averted," IGP (Kashmir Range) Vijay Kumar said while lauding the security forces for taking extreme precautions to ensure zero collateral damage.
The operation assumes significance as the slain duo — identified as Arif Hussain Bhat of Dooru and Suhail Ahmad Lone of Kulgam's Awgam — was part of the group that managed to escape from the encounter spot in Watnar, Kokernag, on April 16, in which Army jawan Nishan Singh lost his life. Both categorised terrorists were part of groups involved in several terror crimes including attacks on police, security forces and civilian atrocities, the IGP told reporters in Srinagar.
Arif was involved in killing ASI Mohammad Ashraf of Awantipora near Bijbehara PS on December 22, 2021; and in murdering head constable Ali Mohammad Ganie in Hasanpora Tabeela on January 29 this year. Suhail, meanwhile, had joined the organisation at the behest of active terrorist Raja Nadeem Rather of Ashmuji, Kulgam, said IGP Kumar.
The IGP said security forces have intensified anti-terror operations along the Yatra routes to ensure a smooth pilgrimage. "The Yatra routes are safe and will be safer in the days ahead," he assured.
Based on intelligence inputs about the presence of three Lashkar terrorists in Dooru area, a joint team of the Army's 19RR and J&K Police launched a cordon-and-search operation. "As the search party zeroed in on the suspected hideout, terrorists opened fire on the security forces, triggering an encounter. Two terrorists were shot dead in the fire exchange and their bodies were recovered along with two AK rifles, a pistol, and two grenades besides other incriminating material," IGP Kumar said.
Source: Times Of India
Please click the following URL to read the full text of the original story:
https://timesofindia.indiatimes.com/india/lashkar-duo-killed-in-anantnag-encounter/articleshow/91476870.cms
--------
In new trend, terrorists targeting civilians to flee from encounter sites: IGP Kashmir
May 11, 2022
SRINAGAR: In a new trend, it is observed of late that terrorists, once surrounded, are targeting civilians to engage security forces in evacuation so that they can breach the cordon and escape as was evident from the Pandoshan encounter in Shopian on Monday, IGP Kashmir Vijay Kumar said.
Kumar on Tuesday said: "The trend has been observed in some recent encounters in Shopian, Kulgam and Anantnag districts. In all these encounters, Pakistani terrorists started firing on civilians as security forces closed in on them while laying cordon, and eventually managed to escape."
In the Pandoshan village instance, a joint cordon and search operation was launched on Monday evening by Shopian police and Army based on specific input about the presence of terrorists in a house there. While security forces established the cordon around the area, the hiding terrorists started indiscriminate firing upon the search party as well as civilians. In order to save the civilians present in the area, the joint team, exercising maximum restraint, started evacuating them, Kumar said.
During the evacuation process, the hiding terrorists managed to escape. Although the evacuation was a success, due to heavy firing by the terrorists, one soldier, Lance Naik Sanjib Das, and two civilians — Shahid Gani Dar and Suhaib Ahmad — received gunshot injuries, the IGP said.
All the injured were immediately airlifted to 92 Base Hospital, Srinagar, for treatment. However, civilian Dar succumbed to his injuries. The other injured civilian and the Lance Naik are under treatment, he said, adding that efforts are on to track down the terrorists.
Source: Times Of India
Please click the following URL to read the full text of the original story:
https://timesofindia.indiatimes.com/india/in-new-trend-terrorists-targeting-civilians-to-flee-from-encounter-sites-igp-kashmir/articleshow/91476821.cms
--------
NIA charges ex-Hizbul man, his brother, 6 more in Pak MBBS seat bribery case
May 11, 2022
SRINAGAR: An NIA special court framed charges on Tuesday against a former Hizbul Mujahideen terrorist, his fugitive brother, and six more suspects in a college admission bribery case that showed up in 2018 when a racket in J&K was found "selling" medical and engineering seats in Pakistani institutes to children of influential and affluent Kashmiris, and the proceeds were allegedly ploughed into terrorism.
The Pakistan government had reserved and sponsored 200 MBBS seats for victims of terrorism in Kashmir and the Hurriyat Conference was given the responsibility of selecting eligible candidates for fully-funded professional education in colleges across the border.
It was alleged that Hurriyat members and their associates used the scheme to collect millions of rupees paid by parents to bribe their children's way into Pakistani colleges. The money was consequently spent to bankroll terrorism in J&K. Some of these parents were police officers and bureaucrats, investigators have found.
According to sources, special NIA judge Manjeet Singh Manhas framed charges against Srinagar-based Zaffar Akbar Bhat, a former member of the banned Hizbul outfit who had surrendered some years ago and became the chairman of J&K Salvation Movement.
His brother Altaf Ahmad Bhat was also charged. Pakistani authorities recently arrested the fugitive Hurriyat member in Karachi for allegedly embezzling more than Rs 140 crore from funds for a cooperative housing project in Rawalpindi.
The six others charged by the court are Fatima Shah, Qazi Yasir, Mohammad Abdullah Shah, Sabzar Ahmad Sheikh, Manzoor Ahmad Shah of Kupwara, who is also currently in Pakistan, and Mohammad Iqbal Mir, a member of the Mahaz Azadi Front.
The NIA court's ruling concurred with an FIR filed by the State Investigation Agency (SIA) in July 2020 against the accused.
An SIA spokesman said documents and other material seized during searches conducted at homes and offices of the suspects revealed that "deposits made in the bank accounts of the accused were for providing admission in Pakistani colleges". The money thus received was passed on to terrorists, stone-throwers, and people linked to separatist groups, he said.
Source: Times Of India
Please click the following URL to read the full text of the original story:
https://timesofindia.indiatimes.com/india/nia-charges-ex-hizbul-man-his-brother-6-more-in-pak-mbbs-seat-bribery-case/articleshow/91476441.cms
--------
Pakistan
Massoud-Led Resistance Puts Taliban on the Backfoot, Vows To Inflict More Damage
May 11, 2022
ISLAMABAD: Relentless attacks by a resurgent National Resistance Front (NRF) appear to have forced the mighty Taliban into a corner, prompting a call for a meeting of "all factions" to firm up a strategy to stave off the anti-Taliban collaborative led by Ahmad Massoud, son of the erstwhile Northern Alliance's slain commander Ahmad Shah Massoud.
Residents of Panjshir in northeastern Afghanistan reported heavy fighting between Taliban and NRF fighters in parts of the region for the tenth successive day. "People are leaving the area because of the fighting. They are terrified as both sides are involved in firing and heavy shelling at night," Fareydoon, a Panjshir resident who moved his family to neighbouring Baghlan province, told TOI over the phone.
In the latest assault, NRF claimed to have killed over a dozen Taliban fighters in Dara district of Panjshir on Monday. Over the last few weeks, the armed anti-Taliban resistance has picked up momentum in northern Afghanistan in response to a call from Massoud for a renewed fight against the Taliban amid increasingly distressing circumstances for Afghans — from hunger to security.
NRF said it had "liberated" three large districts from Taliban control. "We are present in many areas of Dara, and Abshar and as well as in many areas of Andarab," Afghan news channel TOLONews quoted NRF spokesperson Sibghatullah Ahmadi as saying.
Ahmadi said six of NRF fighters were killed in the clashes late Monday.
All three areas supposedly reclaimed by NRF are in the Panjshir Valley, where the resistance forces had launched the first armed offensive against the Taliban when it seized power in August 2021 after toppling the previous US-backed regime.
Abdul Hameed Khurasani, commander of the Nasir Badri troops of the Taliban, denied his outfit suffered casualties in the fighting. These claims are untrue. There was some gunfire from the mountains. We have taken steps to suppress them."
Afghan journalist Abdulhaq Omari told TOI the Taliban had "proved they cannot govern" over the past few months. "It is much more difficult for them to govern than it was for them to wage an insurgency against the erswthile Ashraf Ghani government," he said.
Abubakar Sedeqqi, a spokesperson for the Panjshir governor's office, said six Islamic Emirate troops died in the clashes so far and two others were wounded. "The wounded were evacuated to hospital and the martyrs' bodies sent to their provinces. The claims of much higher casualties made by opponents of the Islamic Emirate are untrue," he said, adding at least 10 fighters of the resistance force had been killed.
NRF has claimed its presence in 12 Afghan provinces and vowed to surprise the Taliban with offensives beyond Panjshir in the coming days.
Reports of clashes between the forces of the Islamic Emirate and the resistance have been doing the rounds of social media for several days, including videos that purportedly show members of either side being taken prisoners.
Source: Times Of India
Please click the following URL to read the full text of the original story:
https://timesofindia.indiatimes.com/world/pakistan/massoud-led-resistance-puts-taliban-on-the-backfoot-vows-to-inflict-more-damage/articleshow/91476677.cms
--------
Pakistan Army faces daunting task as mudslinging against all powerful institutions continues
10 May, 2022
Islamabad [Pakistan], May 10 (ANI): In response to mudslinging against all powerful institutions, the Pakistan Army has issued stern warnings to social media activists, journalists and others.
The Pakistan army has taken "strong exception" to the mud being thrown at them relentlessly.
Hashtags against the Pakistan army generated over 69,000 tweets and a similar one over 410,000 tweets and in total there were 17 million tweets against Imran's critics, the Islam Khabar reported citing Twitter statistics.
By May 6, the number of such tweets, such as "Imported Hukumat na Manzoor", trended in 20 countries numbered 126,607,905.
Pakistan military on Sunday warned politicians and journalists against dragging the armed forces in ongoing political discourse in the country.
In a rare statement, the media wing of the Pakistan military said "unsubstantiated, defamatory and provocative statements" were extremely damaging.
"Recently there has been intensified and deliberate attempts to drag Pakistan Armed Forces and their leadership in ongoing political discourse in the country," said the Inter-Services Public Relations (ISPR) in a statement.
"These attempts are manifest through direct, insinuated or nuanced references to Armed Forces as well as their senior leadership, made by some political leaders, a few journalists and analysts on public forums and various communication platforms including social media," the ISPR added.
According to the Pakistan military, this practice of unsubstantiated, defamatory and provocative statements/remarks is extremely damaging.
A day after the Pakistan army's statement, the Pakistan Electronic Media Regulatory Authority (PEMRA) on Monday warned TV channels against airing content against the country's armed forces and judiciary.
The media watchdog said that legal action under the relevant laws would be pursued in case of any violation by the private electronic media, The Express Tribune newspaper reported.
"It has been observed that a few satellite TV channels are airing content which tantamount to casting aspersions against state institutions i.e. armed forces and judiciary," the regulatory authority said in its directives posted on its Twitter handle.
Source: The Print
Please click the following URL to read the full text of the original story:
https://theprint.in/world/pakistan-army-faces-daunting-task-as-mudslinging-against-all-powerful-institutions-continues/950688/
--------
'25 Chinese companies in Pak threaten to stop ops as dues of Rs 300bn stuck'
May 11, 2022
ISLAMABAD: Nearly 25 Chinese firms operating in Pakistan under the flagship CPEC have warned that they would be forced to shut down their operations this month unless payments worth 300 billion Pakistani rupees is made up front to them, a media report said on Tuesday.
The warning was made the Chinese Independent Power Producers (IPPs) during a meeting presided over by minister for planning and development Ahsan Iqbal with over 30 Chinese companies operating under the flagship multi-billion-dollar China-Pakistan Economic Corridor (CPEC) in various areas including energy, communication, railways and others, Dawn newspaper reported.
Source: Times Of India
Please click the following URL to read the full text of the original story:
https://timesofindia.indiatimes.com/world/pakistan/25-chinese-companies-in-pak-threaten-to-stop-ops-as-dues-of-rs-300bn-stuck/articleshow/91480587.cms
--------
Pak to fill up trade minister post in Delhi vacant for 5 years
May 11, 2022
NEW DELHI: In a sign that Pakistan may consider resuming trade ties with India, the new government has decided to appoint a trade minister in the Pakistan high commission here. The post had been lying vacant for close to five years, or since well before Pakistan snapped all trade ties because of India's decision to revoke the special status of the erstwhile state of Jammu & Kashmir in August, 2019.
According to reports from Islamabad, the decision to appoint Qamar Zaman as trade minister in India was taken in a cabinet meeting chaired by Pakistan PM Shehbaz Sharif. Known as minister (trade) in the high commission, the official handles issues related to trade and investments. In his response to a congratulatory message from his counterpart Narendra Modi, after Sharif took over as PM, he had said peaceful and cooperative ties between the two countries are imperative for the progress and "socio-economic uplift of our people and for the region".
Official sources here described the development as positive, recalling that it was Pakistan's decision to call off all trade with India. While Modi called for an atmosphere free to violence and terrorism, Sharif too raised the issue of J&K in his letter to Modi.
Source: Times Of India
Please click the following URL to read the full text of the original story:
https://timesofindia.indiatimes.com/india/pak-to-fill-up-trade-minister-post-in-delhi-vacant-for-5-years/articleshow/91477750.cms
--------
Pakistan PM Shehbaz Sharif going to UK to visit Nawaz Sharif for political consultations: Reports
May 10, 2022
ISLAMABAD: Pakistani Prime Minister Shehbaz Sharif is going to London on a private trip to meet his older brother and former premier Nawaz Sharif for political consultations, it emerged on Tuesday.
Information minister Marriyum Aurangzeb told the media that the Prime Minister would be part of a group of Pakistan Muslim League-Nawaz (PML-N) leaders who would travel to the UK for meeting with the party supremo Nawaz Sharif.
"PML-N members are going on a private visit to London to meet with Nawaz Sharif," she said, adding that PM Shehbaz would also be travelling for this purpose.
She underplayed the hype created by the News TV channels about the visit by saying that it was a "private visit" being undertaken with the purpose of holding consultations with the elder Sharif.
The composition of the delegation was not announced but Dawn News quoted a source in London as saying that the premier would be travelling with five or six ministers late on Tuesday so that he could arrive by tomorrow morning.
Three-time premier Nawaz Sharif, 72, against whom several corruption cases were launched by the government of former prime minister Imran Khan, had left for London in November 2019 after the Lahore High Court granted him four-week permission to go abroad for his heart treatment.
Source said Shehbaz would remain in London for two to three days to meet Nawaz.
However, the source was not privy to the names of the people who would be accompanying the prime minister.
The Express Tribune reported, quoting the party "insiders", that Nawaz Sharif summoned an "emergency meeting" of the party leaders to discuss matters related to the economy and prevailing political situation of the country among crucial issues facing the country.
The insiders further said the ruling party is expected to make some 'big decisions' regarding the fate of the coalition government led by PML-N, according to the paper.
The key meeting would take place as ousted prime minister Imran Khan has increased pressure on the government with back-to-back big rallies in order to force the government to announce early elections.
He has also announced to launch a protest march toward Islamabad after May 20 to achieve his objective of early elections.
Khan was removed in April through a no-trust vote but refused to accept his defeat and instead accused Shehbaz Sharif and other opposition leaders as "traitors" for allegedly cooperating with the US to dislodge his government.
The consultations in London may try to find a way to tackle the political and economic challenges.
Khan, 69, who was removed from office in early April through a Parliament vote, accused the US of conspiring to dislodge his government, citing communication from the country's ambassador in Washington. The US government has bluntly denied the allegations multiple times.
PML-N leader Shehbaz, 70 assumed the office of the prime minister on April 11. The term of the current House ends in August, 2023.
Nawaz Sharif was removed from power in 2017 after a decision by the Supreme Court against him. He was later convicted separately in two corruption cases in 2018.
Sharif was given a 10-year prison sentence for owning property in London called the Avenfield case, but was released two months later when the court suspended the sentences, pending a final judgement.
But in December 2018 he was jailed for corruption again, this time for seven years, related to his family's ownership of steel mills in Saudi Arabia called the Al-Azizia Steel Mills case.
In both cases, he failed to provide the money trail to procure these foreign assets.
Source: Times Of India
Please click the following URL to read the full text of the original story:
https://timesofindia.indiatimes.com/world/pakistan/pakistan-pm-shehbaz-sharif-going-to-uk-to-visit-nawaz-sharif-for-political-consultations-reports/articleshow/91475653.cms
--------
ECP may seize illegal funds but can't dissolve party: PTI counsel
Iftikhar A. Khan
May 11, 2022
ISLAMABAD: Conceding that the law prohibits collecting funds from foreign nationals, the PTI's lawyer in the foreign funding case argued on Tuesday that the party's agents were responsible for any illegal funding.
Continuing his arguments in the foreign funding case against PTI before a three-member bench of the Election Commission of Pakistan (ECP), defence counsel Anwar Mansoor said the agents had clear instructions to collect funds under the Political Parties Order (PPO) of 2002, and therefore they would be responsible for any violations, if proven.
The PTI lawyer said that if the party had collected funding illegally, it could be forfeited. However, he clarified that the ECP had no jurisdiction to dissolve the party.
He said there was a difference between foreign funding and prohibited funding, pointing out that when a state funded a political party, it was called foreign funding.
Party shifts blame onto agents for any prohibited funding; election commission rejects plea to suspend PTI dissidents' membership
Mr Mansoor, presenting his arguments in response to the ECP's scrutiny committee report, asked whether the funds sent by an overseas Pakistani could be termed "foreign funding".
The lawyer contended that a "false narrative" was being created that the PTI was being run on foreign funds. "Several political parties have not shown their funding, but they are openly holding rallies," he said, without specifying any party.
He insisted that funds coming from Pakistanis residing abroad did not fall under foreign funding.
Chief Election Commissioner Sikandar Sultan Raja heads the three-member ECP bench hearing the case. The last hearing was held on April 27, when the PTI refused to continue arguments. It argued that the April 25 order of the intra-court appeal suspending the 30-day deadline directive to the ECP to decide the case also meant that all foreign funding cases should be clubbed together and heard and decided simultaneously.
However, the election commission rejected the plea, after which the PTI sought more time to make further arguments.
This was the third day of PTI's arguments that were limited to the legal aspects of the case. The party has yet to argue against the findings of the scrutiny committee report regarding foreign and prohibited funding from foreign nationals, including Indians, and foreign companies, and concealing accounts from the ECP.
The PTI lawyer emphasised that all parties should be treated equally. To this, the CEC stated that scrutiny of political financing was an important task of the ECP. He said its political finance wing had recently been strengthened and augmented to fulfil its constitutional responsibilities.
He said the ECP had scrutinised accounts of more than 100 political parties and that questions about financing 17 political parties are being processed.
Mr Mansoor, the PTI lawyer, read out the US Foreign Registration Act that demands the registration of agents designated to collect donations by foreign political parties in the United States.
He said the funding collected in the United States was according to US law and if any prohibited funding was received, the responsibility rested with the agent.
He admitted that PTI had been funded by companies registered abroad but advised the ECP that the maximum action it could undertake was to confiscate prohibited funding.
When an ECP member inquired that the PPO 2002 stated that receipt of funds from any foreign nationals put the party in question as a "foreign-aided political party", the PTI lawyer said he would address the issue later.
Talking to the reporters outside the ECP, the petitioner and PTI founding member, Akbar S. Babar, criticised the recent statements made by PTI Chairman Imran Khan.
He said Mr Khan's statements were tantamount to undermining the constitutional bodies, including the judiciary, the ECP and the establishment.
Dissidents' membership
Meanwhile, the ECP on Tuesday rejected a request made by the PTI to suspend the membership of its dissident lawmakers in the Punjab Assembly.
When PTI counsel Azhar Siddique sought the suspension of 25 PTI MPAs in Punjab, a member of the ECP bench simply asked, "Under which law?"
Advocate Faisal Hussain Chaudhry of the PTI also endorsed the view that dissidents' membership should be suspended.
Source: Dawn
Please click the following URL to read the full text of the original story:
https://www.dawn.com/news/1689090/ecp-may-seize-illegal-funds-but-cant-dissolve-party-pti-counsel
--------
Imran Khan warns Pakistan government against arresting him
10 May, 2022
Islamabad [Pakistan], May 10 (ANI): Former Pakistan Prime Minister Imran Khan has launched an all-out attack on the current government and warned that all plans against arresting him would backfire.
Speaking to his party workers at a rally, Imran Khan said criminals were sitting in the Pakistan Parliament and said his party only wanted early elections – which had been the PTI's demand, the Daily Times reported.
Alleging that Shahbaz Sharif plans to arrest him, Imran said he would give a call for the Islamabad march after May 20 and asked the workers to protest in their respective cities once the march begins.
The PTI chairman said it was incumbent on his party workers to reach out to the people, engage them, and ask them to participate in the anti-government protest.
Addressing the Abbottabad public gathering, Imran Khan on Sunday warned Shehbaz Sharif's government that no power could stop them from entering the federal capital during the long march to be held on May 20.
He warned the federal government led by Pakistan Muslim League Nawaz (PML-N) that over 2 million people will reach Islamabad to get real independence and to protest against the "imported government", ARY News reported.
Imran Khan said two million people will come to the federal capital irrespective of how many containers are put up to create hindrances.
Source: The Print
Please click the following URL to read the full text of the original story:
https://theprint.in/world/imran-khan-warns-pakistan-government-against-arresting-him/950692/
--------
Europe
EU blasts Israeli plan to evict Palestinian families in occupied West Bank
Agnes Szucs
10.05.2022
BRUSSELS
The European Union on Tuesday condemned Israel's plans to evict Palestinian families in the occupied West Bank.
"Settlement expansion, demolitions, and evictions are illegal under international law," Peter Stano, the chief spokesperson for the EU diplomatic service, said in a statement, which came as a response to the Israeli Supreme Court's decision in the Masafer Yatta eviction case.
On May 5, the court ended a legal dispute between the Israeli state, which designated the territory in the South Hebron Hills a firing zone in 1981, and the Palestinians who lived there for decades.
The decision practically approves the eviction of 1,200 Palestinians from eight villages in the region.
"The EU condemns such possible plans and urges Israel to cease demolitions and evictions," Stano said, urging Israel to respect its international obligations.
He warned that evictions and demolitions, forced population transfers, including of Bedouins, threaten the two-state solution and "only escalate an already tense environment."
He also pointed out that the establishment of a firing zone cannot be considered an "imperative military reason" to transfer the population under occupation.
The West Bank, including East Jerusalem, is seen as occupied territory under international law, making all Jewish settlements there illegal.
Like Turkiye and much of the international community, the EU does not recognize Israel's sovereignty over the territories it has occupied since 1967.
Source: Anadolu Agency
Please click the following URL to read the full text of the original story:
https://www.aa.com.tr/en/europe/eu-blasts-israeli-plan-to-evict-palestinian-families-in-occupied-west-bank/2584050
--------
'We are far from political solution in Syria,' says UN envoy
Peter Kenny
10.05.2022
GENEVA
The UN special envoy for Syria said that the regime and opposition sides negotiating a constitution are "far from a political solution" to end the 11 years of conflict.
Geir O. Pedersen was speaking at the EU's Sixth Brussels Conference on "supporting the future of Syria and the region" and said talks will resume in Geneva again at the end of May.
"As the conflict in Syria has developed over the past 11 years, we have witnessed suffering and abuses on an immense scale; terrible violent conflict that went beyond all norms," Pedersen said.
It is a "humanitarian catastrophe that has devastated the lives of well over half the population; a displacement crisis on a scale with few comparisons," he added.
Pedersen said it is "a crisis of detention, abduction, and the missing; an economic disaster that has immiserated millions of Syrians; the fragmentation of the country; and the continued threat of terrorism."
The UN envoy moderates talks aimed at securing peace in the war-torn country but said that displacement continues and only a few Syrians return as the economic crisis and violence continues, "with the constant risk of escalation – even if there is something of a military stalemate."
He said that Syrians have never needed the EU's support more than they do right now.
Call for cease-fire
"Over these years, my predecessors and I have continuously called for a nationwide cease-fire and a comprehensive Syrian-led and owned political solution - one that meets the legitimate aspirations of the Syrian people, that respects Syria's sovereignty, unity, independence, and territorial integrity," said Pedersen.
"But let me be frank. We are far from that political solution."
He said that the "Constitutional Committee's Small Body," consisting of members of the regime, opposition, and NGOs, will meet again in Geneva at the end of this month.
The previous seven rounds have not brought about the results he would have liked, but he hoped that the upcoming round can at least bring some progress.
Pedersen said he has appealed to all members to approach the session with "a sense of compromise and constructive engagement" and focus on things on which Syrians can begin to agree.
"Of course, I hope that ultimately the Committee can help establish a new social contract to help heal the wounds of a devastating conflict.
"But even were Syrians to agree on the substance of a constitutional reform or a new constitution, it could not unfold inside of Syria in a truly meaningful way, with conditions the way they are today," the UN envoy warned.
Source: Anadolu Agency
Please click the following URL to read the full text of the original story:
https://www.aa.com.tr/en/europe/-we-are-far-from-political-solution-in-syria-says-un-envoy/2584069
--------
Turkish-Kazakh relations to reach level of 'enhanced strategic partnership'
Zafer Fatih Beyaz
11.05.2022
Relations between Turkiye and Kazakhstan will be raised to the level of an "enhanced strategic partnership," according to a joint declaration signed Tuesday in the capital Ankara by Turkish President Recep Tayyip Erdogan and his Kazakh counterpart Kassym-Jomart Tokayev.
Tokayev's visit to Turkiye contributed significantly to further strengthening the strategic partnership between the two countries, the declaration said.
The joint declaration noted that the meeting between the two leaders was an important input in strengthening ties in the areas of politics, the military, defense, security, economy, trade, investment, industry, mining and tourism.
It also contributed to the further development of relations in the fields of energy, the environment, transportation and transit transportation, aviation, family and social services, working life and employment, as well as agriculture and forestry.
The joint declaration constitutes an important step in strengthening cooperation based on common interests in the fields of disaster management and emergencies, culture, education, science and technology, innovation, press and communication, health, youth, sports and archives.
The parties stressed the importance of the top-level intergovernmental meetings and noted with satisfaction the mechanisms that constitute a useful basis for the development of new areas of cooperation and projects for boosting relations between the two countries both at the regional and international level.
During the meetings held in the atmosphere of mutual friendship and understanding, the current situation of Turkiye-Kazakhstan relations and the possibilities of further development and deepening of relations in all fields were evaluated in detail, and ideas were exchanged on current regional and international issues.
Turkiye's strong support and solidarity for Kazakhstan's independence, sovereignty, territorial integrity, political stability and prosperity was once again underlined in the declaration.
Turkiye reiterated its strong support for the comprehensive reforms carried out in the Central Asian country under the leadership of Tokayev.
Both leaders expressed their satisfaction with the existing ties of friendship and brotherhood based on common historical roots, language and culture, as well as close political dialogue and multidimensional cooperation.
Emphasizing the importance of taking the necessary steps to increase the steadily increasing bilateral trade volume to $10 billion in the coming years, it was agreed to take the necessary steps to encourage bilateral trade and support mutual direct investments.
While it was decided to explore cooperation opportunities, including private sector activities in Turkiye, Kazakhstan and in third countries, as well as to improve regional energy security, the declaration also touched on the intention to conduct joint work and consultations, especially in the field of alternative energy sources, hybrid technologies and energy storage.
By pointing out the importance of the construction sector and contracting services in the further development of economic and commercial relations, it was decided to take the necessary steps to develop cooperation in this field.
Source: Anadolu Agency
Please click the following URL to read the full text of the original story:
https://www.aa.com.tr/en/europe/turkish-kazakh-relations-to-reach-level-of-enhanced-strategic-partnership/2584394
--------
Southeast Asia
Jakim to investigate alleged breaches of halal slaughtering protocols in Australia
10 May 2022
PUTRAJAYA, May 10 — The Department of Islamic Development Malaysia (Jakim) director-general Datuk Hakimah Mohd Yusoff says it is investigating alleged violations of slaughtering procedure by a company in Australia which has been certified halal by Malaysia.
In a statement today, Hakimah said the investigation was being carried out by the Jakim Halal attaché officer in Australia and also the country's Department of Agriculture, Water and the Environment (DAWE).
She said discussions between Jakim and the Counsellor (Agriculture) of the Australian Embassy in Malaysia were also held on April 28 to ensure that the findings of the investigation can be submitted to the Malaysian government as soon as possible.
"I would like to stress that Jakim will not compromise with any party if there are any errors and non-compliance involving the halal certification and accreditation process," she said.
She also said Jakim was prepared to fully cooperate with the authorities to investigate allegations of misconduct in the matter, including those involving Jakim officers if any, as well as to meet with any party with strong evidence on the issue for the sake of all.
Recently, the Malaysia Muslim Consumers Association (PPIM) together with Pertubuhan Kemasyarakatan Rakyat (Pekemas) and Sahabat 99 alleged that a company in Australia which is approved by Jakim has breached the halal slaughtering protocols.
Pekemas president Faizan Mohd Nor said the disclosure of halal slaughter standard operating procedure violations in Australia was based on video and photo evidence as well as witnesses' accounts.
Source: Malay Mail
Please click the following URL to read the full text of the original story:
https://www.malaymail.com/news/malaysia/2022/05/10/jakim-to-investigate-alleged-breaches-of-halal-slaughtering-protocols-in-au/2058160
--------
'Chill', Muslims won't be split by lack of political cooperation, Shabery tells PAS
May 9, 2022
PETALING JAYA: Umno Supreme Council member Ahmad Shabery Cheek says that the Muslim community will not be divided by the lack of political cooperation between the party and PAS.
He said this in response to PAS deputy president Tuan Ibrahim Tuan Man who said uniting the ummah was more important than political alliances.
The comment from the PAS leader comes amid renewed talks about the fate of Muafakat Nasional (MN), the political alliance formed in September 2019 between Umno and PAS.
"Chill, relax," Shabery said, adding that the unity of the ummah was indeed greater than political cooperation among parties.
He said while he agreed with Tuan Ibrahim's statement, he noted that PAS had chosen Perikatan Nasional (PN) to go against Barisan Nasional (BN) in the 15th general election (GE15).
"Let BN be with BN. We (PAS and BN) have already faced each other in Melaka and Johor. No hard feelings. Nothing personal," he said in a statement.
He added that Bersatu is looking to form political alliances "under the big tent" to win the prime ministership again.
"Hopefully, PAS will not be left behind. If they are lucky, PAS will remain in the government."
Umno had decided last year that it would not cooperate with Bersatu in GE15.
This was despite both parties being in the current federal government.
On Saturday, Umno president Ahmad Zahid Hamidi had described PAS as "two-faced" and dismissed the possibility of working with the Islamic party again in GE15 as partners under MN.
However, Tuan Ibrahim said the situation differed according to different states, pointing out that the Umno chapter in Selangor seemed to be going against the party president's stand on the issue.
Last week, Selangor Umno chief Noh Omar said the two parties had decided to cooperate in Selangor through MN, with the Islamic party said to be snubbing it's ties with Bersatu under PN in the state.
Zahid has often spoken against reviving the alliance, while PAS leaders have tried to keep MN alive.
PAS secretary-general Takiyuddin Hassan recently said MN was the best formula to unite the Muslim ummah.
Umno and PAS leaders have been at odds for a year over the future of the MN alliance, formed to challenge Pakatan Harapan, which was then in power.
Source: Free Malaysia Today
Please click the following URL to read the full text of the original story:
https://www.freemalaysiatoday.com/category/nation/2022/05/09/chill-muslims-wont-be-split-by-lack-of-political-cooperation-shabery-tells-pas/
--------
I've informed Mahathir on terms of settlement in Apandi's suit, says AG
May 7, 2022
KUALA LUMPUR: Attorney-General Idrus Harun said today that he had already informed Dr Mahathir Mohamad of the terms of settlement pertaining to a lawsuit filed by Apandi Ali against the former prime minister and the Malaysian government.
He said following the settlement, Apandi withdrew his suit on the termination of his contract as the attorney-general.
Idrus added that the court then struck out the plaintiff's claim with no liberty to file afresh.
"I can only confirm that Tun (Mahathir) wrote recently seeking information on the terms of the settlement.
"I've already replied to inform him of the terms of settlement," he told Bernama via WhatsApp when asked to comment on the matter.
Yesterday, Mahathir, in his Facebook post, expressed surprise and disagreement with the way the suit was settled out of court, claiming that he was not told of the terms of settlement despite being the main witness in the case.
"I have written to the attorney-general. I feel that the government should not have given in as the termination of Apandi's service was done according to procedures and with the power vested in the government.
"When I gave a statement to the Attorney-General's Chambers in preparation for Apandi's suit against me, I was told that the process of terminating the service was proper and in accordance with procedures and the rule of law," he added.
The Langkawi MP also questioned the need to pay compensation if Apandi's service had been terminated in accordance with the law.
The former prime minister asked why the terms of settlement were kept confidential, saying that the people had the right to know, especially since it involved compensation.
Mahathir stressed that he did not admit any wrongdoing and was prepared to face Apandi in court.
On April 13, the High Court here struck out the suit after the government agreed to settle the case without any admission of liability, and agreed that the terms of settlement could not be disclosed publicly.
Source: Free Malaysia Today
Please click the following URL to read the full text of the original story:
https://www.freemalaysiatoday.com/category/nation/2022/05/07/ive-informed-mahathir-on-terms-of-settlement-in-apandis-suit-says-ag/
--------


South Asia
The EU Special Representative met Sirajuddin Haqqani
11 May 2022
By Saqalain Eqbal
Tomas Niklasson, EU Special Envoy for Afghanistan, met Sirajuddin Haqqani, the Acting Taliban Interior Minister.
According to Bakhtar News Agency, the two sides discussed security matters on Tuesday 10 of May, where Haqqani stated that the world should not support any armed group in Afghanistan.
Haqqani stated that the Afghan soil will not be allowed to pose a threat to the other countries under the Doha Agreement.
Addressing the opponents, Haqqani also stated that the doors of reconcilliation are open.
Niklasson, on the other hand, agreed to help the Taliban produce passport papers.
The recent interview came as the Taliban's acting interior minister said that the fighting in Panjshir, Andarab and Takhar had intensified over the past week and that the Taliban were sending troops daily to confront National Resistance Front forces.
Source: Khaama Press
Please click the following URL to read the full text of the original story:
https://www.khaama.com/the-eu-special-representative-met-sirajuddin-haqqani34789/
--------
Arab World
International donors raise $6.7B for Syria, host communities
Agnes Szucs
10.05.2022
BRUSSELS
International donors on Tuesday pledged a total of €6.4 billion ($6.7 billion) in support for the Syrian people and host communities at the Brussels Syria conference.
"The pledge amounts to €6.4 billion or $6.7 billion, out of which in 2022 €4.1 billion or $4.3 billion" will be granted, EU Commissioner for Enlargement and Neighborhood, Oliver Varhelyi announced in his remarks closing the sixth Brussels conference supporting the future of Syria.
"In Europe, despite the COVID pandemic, donors are sending now very strong signals to Syria and its region that we're ready to do even more than before for the peace," he asserted.
Varhelyi also explained that 75% of the pledges come from the EU or its member states, underlining the message of solidarity with the Syrian people and its host communities.
Representatives from 55 governments, 22 international organizations in addition to the UN and the EU, as well as members of the civil society participated at the donor conference.
Syria has been in civil war since early 2011 when the regime cracked down on pro-democracy protests.
Over 400,000 people were killed, and more than 12 million needed to flee their homes becoming refugees or internally displaced over the past ten years, according to the EU.
Source: Anadolu Agency
Please click the following URL to read the full text of the original story:
https://www.aa.com.tr/en/europe/international-donors-raise-67b-for-syria-host-communities/2584209
--------
Sunni preachers in 'vote to save Lebanon' plea
NAJIA HOUSSARI
May 10, 2022
BEIRUT: Lebanon's Sunni preachers have been told to issue a call in their Friday sermons for people to take part in the country's parliamentary elections on May 15.
Grand Mufti Sheikh Abdel Latif Derian, the Sunnis' supreme religious authority, instructed preachers to urge Lebanese to head to the polling stations on Sunday, and elect those who would "preserve Lebanon, and the future of its children, its Arab identity and its legitimate institutions."
Many Sunnis have said they will boycott the elections following a decision by the head of the Future Movement, former prime minister Saad Hariri, to step down from politics and not contest the poll.
Some say that the many electoral lists and numerous candidates in Beirut, Tripoli and Akkar make it difficult to choose Sunni MPs, with most voting only for the Future Movement in previous elections.
Derian has previously declared that "election is a duty and a necessity," and warned of the "extremely dangerous" effects of a voter boycott on the representation of Sunnis in parliament.
Meanwhile, Saudi Ambassador to Lebanon Walid Bukhari visited several election hopefuls on Tuesday, including the Sunni candidate on the Zahle Sovereignty list, Bilal Hoshaimy. This electoral list includes activists who took part in the Oct. 17 protests.
Bukhari also visited current MP and candidate Michel Daher, who is running with the Independent Sovereigns list, which includes nonpartisan figures.
The incoming parliament will elect a new president to succeed Michel Aoun.
For the second day, Hezbollah Secretary-General Hassan Nasrallah addressed party supporters in the southern suburb of Beirut and singled out voters "who support the resistance, but do not want to vote because of the living crisis."
Nasrallah described the upcoming election as a "political July war" — a reference to the July 2006 conflict with Israel — and said: "You must get out of your homes to exercise political resistance in order for us to have armed military resistance; if the resistance abandons its weapons, who will protect Lebanon?"
Parliament Speaker Nabih Berri also urged his supporters to vote on Sunday. Before Berri's speech, the Amal Movement candidate Qabalan Qabalan criticized the "clamor, chaos and madness" that accompanies election campaigns.
Qabalan said that his party hopes to renew political life and constitutional institutions in Lebanon in order to get the country out of the "deep pit" it is in.
"There is no need to raise the ceiling in political discourse, nor to provoke sectarian and political fanaticism in the hope of a vote or a seat or a majority here or there. We must admit that the country does not function by a system wherein a majority rules over a minority. A majority cannot subjugate a minority, no matter how powerful it is, because the foundations of this country are based on understanding among all its components and groups," Qabalan said.
Samir Geagea, head of the Lebanese Forces party — which is engaged in a fierce battle against the Free Patriotic Movement — addressed supporters during an electoral meeting in which he criticized Aoun, saying that the presidency has become "a title for undermining Lebanon's sovereignty, destroying its institutions and eroding the state; a title of hunger, poverty, humiliation and power cuts."
The FPM is a Lebanese Christian group founded by Aoun in 2005.
Source: Arab News
Please click the following URL to read the full text of the original story:
https://www.arabnews.com/node/2079341/middle-east
--------
Al Jazeera reporter dies from Israeli army gunfire in West Bank
May 11, 2022
An Al Jazeera reporter was killed by Israeli army gunfire in the occupied West Bank on Wednesday, the Qatar-based news channel said.
According to Al Jazeera, Shireen Abu Akleh was hit by a live bullet, while videos of the incident showed that Abu Akleh was shot in the head.
One Palestinian official said she had been "assassinated" by Israeli forces while reporting on a raid in the city of Jenin, which has seen intensified army raids in recent weeks as violence has surged.
The Palestinian health ministry has confirmed Abu Akleh's death and said a second reporter, Ali Samodi, who works for the Jerusalem-based Quds newspaper, had been wounded.
However, in a statement, the Israeli military claimed its troops had shot back after coming under "massive fire" in Jenin and that "there is a possibility, now being looked into, that reporters were hit — possibly by shots fired by Palestinian gunmen".
Meanwhile, a journalist working with Akleh, Nida Ibrahim, said Akleh was a "very well respected journalist" who had been working with Al Jazeera since the beginning of the second Palestinian Intifada in 2000. "As you can imagine, this is a shock to the journalists who have been working with her."
Immediately after the news was reported, human rights activists, fellow journalists and politicians took to Twitter condemning the incident and expressing their condolences.
Palestinian ambassador to the United Kingdom Husam Zomlot said Akleh was the "most prominent Palestinian journalist and a close friend".
Palestinian American activist Huwaida Arraf demanded the Israel should be held accountable.
TV anchor Hamid Mir also demanded justice for the slain journalist.
AJ+ journalist Sana Saeed wrote Israel "had long targeted press and not been held accountable".
Source: Dawn
Please click the following URL to read the full text of the original story:
https://www.dawn.com/news/1689123/al-jazeera-reporter-dies-from-israeli-army-gunfire-in-west-bank
--------
Israeli 'aggression' targeted Syria's Quneitra: Report
11 May ,2022
Syrian state news agency SANA reported early on Wednesday that an act of "Israeli aggression" was carried out with missiles over the vicinity of the Quneitra governate's countryside in southern Syria.
The missile attack resulted in only physical damage, SANA added.
The Israeli military declined to comment.
Source: Al Arabiya
Please click the following URL to read the full text of the original story:
https://english.alarabiya.net/News/middle-east/2022/05/11/Israeli-aggression-targeted-Syria-s-Quneitra-Report
--------
Iraq records 12 deaths from Congo fever
10 May ,2022
Iraq has recorded at least 12 deaths from Crimean-Congo hemorrhagic fever since the start of the year, health authorities said Tuesday amid efforts to contain the spread of the virus.
"The total number of cases of hemorrhagic fever is 55, including 12 recorded deaths," health ministry spokesman Seif al-Badr told a news conference.
The tick-borne disease, also known as Congo fever, causes severe hemorrhaging, with people usually catching it through contact with the blood of infected animals, according to the World Health Organization.
The disease has a fatality rate of between 10 and 40 percent of all cases.
The southern province of Dhi Qar, a center for breeding cattle and other livestock, has accounted for 29 of the cases and six of the deaths.
The northern province of Kirkuk announced its first death from the disease on Friday.
"We have not yet reached the stage of an epidemic, but the infections are higher than last year," Badr told AFP Tuesday.
"The procedures adopted by the different authorities are not up to par, particularly with regards to unregulated slaughters," he added.
Source: Al Arabiya
Please click the following URL to read the full text of the original story:
https://english.alarabiya.net/News/middle-east/2022/05/10/Iraq-records-12-deaths-from-Congo-fever
--------
High-profile UAE team in India to explore joint investment following CEPA agreement
11 May ,2022
A high-profile UAE delegation led by Abdullah bin Touq al-Marri, Minister of Economy, is visiting India to explore prospects of joint investment and cooperation within the framework of the recent UAE-India Comprehensive Economic Partnership Agreement (CEPA).
Others in the delegation are Dr. Ahmad Belhoul al-Falasi, Minister of State for Entrepreneurship and SMEs; Dr. Ahmed al-Banna, UAE Ambassador to India; Juma Mohammed al-Kait, the Assistant Under-Secretary for Foreign Trade Affairs, Ministry of Economy; Faisal al- Hammadi, Acting Assistant Under-Secretary for Entrepreneurship and SMEs; Abdulla Mohamed Almazrui, Chairman of the Abu Dhabi Chamber of Commerce and Industry; Osama Amir Fadhel, Assistant Under-Secretary for the Industrial Accelerators Sector at Ministry of Industry and Advanced Technology. Along with these senior officials will be over 80 representatives of the government and private sectors.
For the latest headlines, follow our Google News channel online or via the app.
The visit, according to Emirates New Agency (WAM), aims to lay down sustainable mechanisms that empower the business community in both countries to maximize their benefit from the CEPA signed by the two countries in February 2022 and came into effect early this month.
The UAE delegation's visit will enable both sides to familiarize with the facilities and services that the CEPA will provide to companies and businesses the opportunities for building new sustainable partnerships that will leverage the UAE-India relations to greater heights across various sectors.
They will focus on priority sectors for cooperation that remain key dynamic drivers for boosting ties: industrial production, civil aviation, financial services, ICT, food security, transport and infrastructure, logistical services, agri-technology, entrepreneurship, and other future economic areas.
Doubling non-oil trade
The visiting delegation will hold a series of discussions with Indian ministers, senior government officials, and private sector leaders on the best ways to facilitate and double non-oil trade exchange under the CEPA.
The delegation will hold expanded meetings with leading Indian businessmen, entrepreneurs, and start-ups in New Delhi.
In Mumbai, the Emirati-India public and private representatives will gather for the UAE-India Economic Partnership Summit.
The UAE's delegation includes representatives of 41 government and private entities, most notably: the Ministry of Economy, Ministry of Foreign Affairs and International Cooperation, Ministry of industry and Advanced Technology, General Civil Aviation Authority, Abu Dhabi Department of Economic Development, Abu Dhabi Chamber of Commerce and Industry, Dubai Department of Economy and Tourism, DMCC, the Sharjah Investment and Development Authority (Shurooq), and Ras Al Khaimah Economic Zones (RAKEZ), the Department of Economic Development in Fujairah, the UAE International Investors Council, Abu Dhabi Ports Group, Masdar, DP World, Wizz Air Abu Dhabi, flydubai, Lulu Group International, Sharaf Group, Kanoo Group, Silal Company, and others.
Source: Al Arabiya
Please click the following URL to read the full text of the original story:
https://english.alarabiya.net/business/economy/2022/05/11/High-profile-UAE-team-in-India-to-explore-joint-investment-following-CEPA-agreement
--------
Saudi Arabia's King Salman orders transfer of Yemeni conjoined twins to Riyadh
10 May ,2022
Saudi Arabia's King Salman bin Abdulaziz ordered the transfer of conjoined twins from Yemen to the Kingdom to examine their case for a possible separation surgery, the official Saudi Press Agency (SPA) reported on Tuesday.
The female twins, Mawda and Rahma, will be flown to King Abdulaziz Medical City in Riyadh where they will be examined by a medical team headed by Dr. Abdullah bin al-Rabiah who has successfully separated conjoined twins under the Saudi National Program for Separating Conjoined Twins.
According to al-Rabiah, Mawda and Rahma are attached at the lower chest and abdomen.
Conjoined twins are identical twins joined in utero. A very rare phenomenon, the occurrence is estimated to range from 1 in 49,000 births to 1 in 189,000 births.
Mawda and Rahma will be the 119th twins from 22 countries around the world who have been transferred to Saudi Arabia for potential separation surgery.
Source: Al Arabiya
Please click the following URL to read the full text of the original story:
https://english.alarabiya.net/News/gulf/2022/05/10/Saudi-Arabia-s-King-Salman-orders-transfer-of-Yemeni-Siamese-twins-to-Riyadh
--------
Tadamon massacre exposé lifts veil of secrecy over Syrian war atrocities
May 10, 2022
DUBAI: Forty-one civilians in all were murdered in the single coldblooded incident in 2013. One by one, the blindfolded detainees were brought to the edge of a freshly dug pit in the Damascus suburb of Tadamon and systematically shot. The bodies, piled one on top of the other, were later set on fire.
Footage of the massacre, carried out by Syrian militia members loyal to Bashar Assad's regime, emerged only in April this year following an expose by the UK's Guardian newspaper and the online New Lines Magazine.
The amateur video, taken by the killers themselves, was discovered by a militia recruit in the laptop of one of his seniors. Sickened by what he had seen, the rookie passed the video on to researchers, who later confronted one of the killers identified in the footage.
Journalists and activists from southern Damascus, speaking to Arab News following online circulation of the video, said that the Tadamon massacre was unlikely to have been the only atrocity committed in the area during that period.
Throughout 2012 and 2013, pro-regime militias would shoot random passers-by at checkpoints in Tadamon, Yalda and the Yarmouk camp, and also gun down people in their homes. Bodies of the victims were often left to rot, according to local residents.
"We would hear about these massacres and the burning of corpses," Rami Al-Sayed, a photographer from the Tadamon neighborhood, told Arab News. "We knew that anyone arrested by the shabiha of Nisreen Street would be disappeared and, in most cases, executed."
Shabiha is a Syrian term for militias sponsored by the Assad government that carried out extrajudicial killings during the civil war that broke out in the wake of the 2011 uprising.
Nisreen Street was notorious as a stronghold of one such militia, which at the start of the uprising violently repressed protests, and later began detaining and executing residents of southern Damascus.
"All the victims identified so far are not known to have participated in protests or military activity against the regime," Al-Sayed said.
"In fact, the presence of a strong pro-regime contingent in Tadamon forced most people opposed to the regime to flee the neighborhood entirely, or to reside in an area that was still under the control of the opposition in 2013."
Syrian human rights monitors say entire families that attempted to cross checkpoints in southern Damascus went missing in 2013, including children and the elderly. In many cases, their fate remains unknown even today.
These families constitute a small fraction of the 102,000 civilians who have vanished since the uprising began in 2011, according to the Syrian Network for Human Rights, which believes regime forces are responsible for the forced disappearance of almost 85 percent of the total number of missing Syrians.
Most of the victims of the Tadamon massacre are yet to be publicly identified since their families, fearing further reprisals, are reluctant to come forward and acknowledge their relationship.
"Many of the relatives are afraid to announce that they recognized their loved one in the video because they are afraid of persecution by the Syrian secret police, especially if they live in regime-held areas," Mahmoud Zaghmout, a Syrian-Palestinian from Yarmouk camp, told Arab News.
Residents of southern Damascus expect neither the perpetrators of this specific massacre nor those responsible for overseeing countless others to be held to account any time soon, despite the incriminating video evidence.
"This is not the first time such clear evidence of the involvement of Syrian regime personnel in crimes of genocide has been exposed," said Zaghmout. "But the regime remains protected by the Russians, enabling it to avoid any accountability."
When footage of the massacre first emerged online, the families of Syrians and Palestinians who had disappeared in 2013 frantically scanned the video for clues to the whereabouts of their loved ones.
Even if the horrific images confirmed their worst fears, at least they might find some semblance of closure that would end the uncertainty concerning their loss and allow them to mourn properly.
Families endured the same trauma while trawling through thousands of photographs smuggled out of Syria by a military defector code-named Caesar in 2013. The images contained horrifying evidence of rape, torture and extrajudicial executions inside regime jails.
Evidence provided by Caesar was used to help prosecute Anwar Raslan, a former Syrian intelligence officer, who in January was sentenced to life in prison by a court in Germany for the horrific abuses he inflicted on detainees.
The Koblenz trial offered a glimmer of hope to Syrians eager to see their tormentors face justice. Despite this small victory, the Tadamon families doubt the militiamen who murdered their loved ones will ever have their day in court.
One couple who sat through the gruesome footage were the parents of Wassim Siyam, a Palestinian resident of the Yarmouk camp, who was 33 when he vanished.
"I watched it a few times, then the way a man was running caught my attention. It was my son. It's his way of running. I knew it was him," Wassim's father told Arab News.
Many families had held out hope that their children might still be alive somewhere in the regime's prison system and would someday be released under one of the government's occasional amnesties.
On May 2, about 60 detainees were released by the regime under a new presidential decree granting amnesty to Syrians who had committed "terrorist crimes" — a term authorities often use for those arbitrarily arrested.
Some had spent more than a decade in facilities described by the rights monitor Amnesty International as "human slaughterhouses."
Large crowds gathered in Damascus in the days following the amnesty, hoping to find their relatives. Some held photos of their missing loved ones and asked the freed detainees whether they had seen them alive in jail.
Wassim's mother had long held out hope that her son might still be alive, almost a decade after his disappearance. "I kept my faith in God. I thought he was probably detained but still alive," she was quoted as saying.
"I don't know how they were able to do this to the civilians. One avoids even stepping on an ant while walking. How were they able to do this?"
She added: "The community loved my son. We never harmed anyone to be hurt this way. I expected to see him out of prison — meek, tortured, maybe missing an eye — but I did not expect this."
The clip of the Tadamon massacre ruled out the possibility of Wassim and the other men being still alive.
"The hope that they had, even if a small one, was gone," Hazem Youness, a Palestinian-Syrian researcher and former diplomat who has interviewed several of the families, told Arab News.
The daughters of one of the victims told Youness that since her father disappeared, "whenever I would hear a knock on the door, I hoped it would be my father, and now I can't be hoping anymore."
Aware of the brutal and subhuman conditions inside regime jails, some families admitted they were relieved to see their relatives in the video. At least, they reasoned, their loved ones had not suffered for long.
"It's better this way," said Youness, quoting one of the families. "We were reassured that he is not being tortured now. It was harder for us when we would keep thinking: 'What is he doing? Is he being tortured now? What is he eating? How is his health? Is he sick? Where is he?'"
The release of the footage had another important effect: It validated the claims of survivors and confirmed that killings had indeed taken place in the area.
"Everyone knew massacres were happening," said Youness. "People in Tadamon and the areas of the camp said that there was a smell of blood and then of rotting corpses coming out from houses.
"But, you know, it's one thing to suspect something or know it; you still don't want to believe it's true, and then you have the proof."
Some local residents were not surprised to learn that war crimes had been committed in Tadamon. Rather what they found shocking was the cruelty and inhumanity of the militiamen in the video.
Source: Arab News
Please click the following URL to read the full text of the original story:
https://www.arabnews.com/node/2079441/middle-east
--------
Refugees returning home key to resolving Syrian crisis: Turkish diplomat
Selen Temizer
11.05.2022
A top Turkish diplomat on Tuesday stressed the importance of facilitating the return of Syrians to their homeland to resolve the Syrian crisis.
"While addressing the needs of Syrian refugees and host countries, we should also aim at creating conditions conducive to the return of refugees in a safe, voluntary and dignified manner," said Turkiye's Deputy Foreign Minister Sedat Onal, speaking at the sixth Brussels Conference on 'Supporting the future of Syria and the Region' in the Belgian capital.
Onal noted that Turkiye has facilitated the voluntary return of nearly 500,000 Syrians to stabilized areas and efforts are underway to increase collaboration with neighboring countries as well as with the UN Refugee Agency (UNHCR).
"The return of refugees cannot be taken up in isolation from the larger political context. A rigid sequential and conditional approach between the two tracks has not proven to be useful so far. Therefore, facilitation of the return of refugees should be an integral part of the overall efforts for the settlement of the Syrian crisis," he added.
Onal also called on all Turkiye's partners to seize the moment and step up efforts to revitalize the political process in line with UN Security Council resolution 2254.
"In order for this to happen, we should be able to address all aspects of the Syrian settlement in a synchronized and holistic approach, including the humanitarian dimension," he said.
Recalling that Turkiye is providing temporary protection to nearly 3.7 million Syrians through assistance in various fields such as education, health care and shelter, he underlined that "the scale and magnitude of this effort calls for greater international solidarity and burden-sharing."
Meanwhile, pointing out that the humanitarian conditions in Syria have worsened, he emphasized that the UN cross-border mechanism has proven itself as a life-saving instrument.
Source: Anadolu Agency
Please click the following URL to read the full text of the original story:
https://www.aa.com.tr/en/middle-east/refugees-returning-home-key-to-resolving-syrian-crisis-turkish-diplomat/2584360
--------
Africa
President's brain not dead – Islamic group reacts as Buhari pardons convicted 54 soldiers
May 11, 2022
By John Owen Nwachukwu
The Muslim Rights Concern, MURIC, has reacted to the reported presidential pardon granted to the 54 convicted soldiers by President Muhammadu Buhari.
The 54 soldiers are said to be among the 24 convicts and 86 ex-convicts recently pardoned by Buhari for different reasons.
And MURIC, in a message of gratitude signed by its director, Prof Ishaq Akintola, hailed the President's decision, noting that the group had been pleading for the pardon.
Recall that back in 2014, a military court sitting in Abuja had sentenced 54 soldiers to death after they were found guilty of mutiny.
The soldiers were convicted on a two-count charge of criminal conspiracy to commit mutiny, while four other soldiers were acquitted.
The convicted soldiers, who were mostly in front of the war against the Boko Haram terrorists in Northeast Nigeria were meant to die on stakes, by firing squad.
MURIC hailed President Buhari, wondering how a President, who is said to be suffering from a dead brain could take such a decision just a few weeks after its director had a tete-a-tete with the President.
The rights group said that the pardon means that "one, Muhammadu Buhari will grant audience without discrimination, even to the hoi polloi.
"Two, the claim that Buhari is brain dead is absolutely false and luciferously malicious.
"A man whose brain is dead cannot grant a plea or implement a request presented to him within seven weeks.
"The director of MURIC met the president alone on Wednesday, 23rd March, 2022. There was no third party. Therefore, nobody could have reminded him later about the issues raised.
"Yet the plea was granted within seven weeks. We, therefore, confirm that our president is not only very much alive, he is also 'compos mentis'.
"By including the soldiers among those pardoned, President Buhari has pitched his camp with those who show mercy to the oppressed.
Source: Daily Post Nigeria
Please click the following URL to read the full text of the original story:
https://dailypost.ng/2022/05/11/presidents-brain-not-dead-islamic-group-reacts-as-buhari-pardons-convicted-54-soldiers/
--------
We'll meet in court – Ortom dares Miyetti Allah
May 10, 2022
By Yemi Itodo
Governor of Benue State, Samuel Ortom has insisted that the law banning open grazing in the state is irrevocable just as he told the Miyetti Allah Kautal Hore that he is prepared to meet them in court for any legal battle.
Secretary-General of the group, Saleh Hassan at a press conference in Abuja on Monday, May 9th, 2022 threatened that they will take legal action against the Benue State Government over what he claimed were illegal seizures of cows belonging to their members on account of violation of the ban on open grazing of cattle in the state.
Governor Ortom in a swift reaction dismissed claims by the group that the cattle seized in the state by the Livestock Guards for violating the anti-open grazing law in the state were done illegally.
"There is a law in place. And it is very clear that anyone who allows his or her cattle to roam freely in the state violates the law. When such herds are seized by the Livestock Guards, a time frame is given for owners to come forward and claim. When the time given by law elapses, we are left with no option but to auction. And that is what has taken place."
He stated that "As a state, we are law-abiding and we cannot allow lawlessness," explaining that the law came into force in 2017 and was reviewed this year after it underwent every legislative process. "So anybody or group who violates it will bear the consequences."
He stated: "We are prepared to meet them in court. The law is made to be obeyed so that we can have an orderly society. This law protects the interest of everyone irrespective of tribe or religion. It protects herders against rustling and also protects farmers who suffer the loss of their crops."
Governor Ortom maintained that "Everyone is free to ply his or her legitimate business in this state in so much as they do not infringe on the provisions of this law against open grazing."
Source: Daily Post Nigeria
Please click the following URL to read the full text of the original story:
https://dailypost.ng/2022/05/10/well-meet-in-court-ortom-dares-miyetti-allah/
--------
Libyan parliament says Bashagha government should start work in Sirte
10 May ,2022
Libya's parliament wants the government it has appointed under Fathi Bashagha to be based for now in Sirte, it said on Tuesday, amid a stalemate over control of the capital Tripoli where another administration refuses to hand over power.
The move represents the clearest acknowledgement since the parliament appointed Bashagha in March that he cannot take over in Tripoli yet with Libya paralyzed by its crisis of two governments.
Deadlock between Bashagha and Abdulhamid al-Dbeibah, who was appointed prime minister last year, risks igniting a new round of conflict in Libya after two years of comparative peace, or splitting its territory again between rival camps.
For the latest headlines, follow our Google News channel online or via the app.
Both sides are backed by armed factions and any attempt by Bashagha to force his way into Tripoli could trigger fighting across western areas of Libya.
The parliament will hold its own next session in Sirte, a central coastal city close to the frozen frontline from Libya's last conflict, in support of Bashagha's government, said the chamber's spokesperson Abdullah Belhaiq.
Libya has had little peace since the 2011 NATO-backed uprising against Muammar Gaddafi and it split in 2014 between warring factions in the west, where Tripoli is located, and in the east, where the parliament moved.
Dbeibah's government was installed last year to run all of Libya for an interim period as part of a peace process that was meant to include national elections in December.
However, after the election process collapsed amid disputes over the rules, the eastern-based parliament said Dbeibah's term had expired and moved to appoint its own administration.
Source: Al Arabiya
Please click the following URL to read the full text of the original story:
https://english.alarabiya.net/News/north-africa/2022/05/10/Libyan-parliament-says-Bashagha-government-should-start-work-in-Sirte
--------
Somali military kills at least 11 al-Shabaab terrorists
Mohammed Dhaysane
11.05.2022
MOGADISHU, Somalia
Elite soldiers from the Somali National Army conducted a military operation Tuesday against the al-Qaeda-affiliated al-Shabaab terrorist group in the southern province of Lower Juba, killing at least 11 terrorists.
The special operation was conducted near El-Ade village on the outskirts of the port city of Kismayo, which also is the administrative capital of the southern state of Jubaland.
The Somali National News Agency (SONNA) reported that the group's hideouts were also destroyed during the army operation.
"Units from Somali National Army's commandos (DANAB) have killed 11 #Alshabab terrorists and destroyed their hideouts in special operation near El-Ade village under #Kismayo district on Tuesday," SONNA said on Twitter.
The district's capital, Kismayo, is a major port city located 500 kilometers (310 miles) south of the capital Mogadishu.
Separately, the army's 60th Division forces conducted security operations on a highway linking the city of Baidoa and the town of Burhakaba in the Bay region that had recently seen a rise in al-Shabaab attacks against the Somali military and the African Union Transition Mission in Somalia.
A military official in the Bay region told Anadolu Agency by phone that during the operations, the army destroyed al-Shabaab secret bases.
Somalia is in the midst of an election period and its long-delayed presidential election is scheduled to take place on Sunday.
Source: Anadolu Agency
Please click the following URL to read the full text of the original story:
https://www.aa.com.tr/en/africa/somali-military-kills-at-least-11-al-shabaab-terrorists/2584363
--------
North America
Police investigating hate-motivated mischief at North York mosque
May 10, 2022
Toronto police are searching for three people after what investigators are calling a hate-motivated incident of mischief at a North York mosque on Sunday.
It happened around 9:30 p.m., police said in a news release, near Sentinel Road and Finch Avenue West.
Police say three males entered the mosque around that time, but then hurried back out after seeing people inside.
A man who was inside locked the doors after seeing the three suspects, but they returned a short time after and began banging on the locked doors, police say.
According to the news release, the suspects were then heard yelling threatening comments to the people inside of the mosque.
Investigators say they are looking for three suspects between 15 and 18 years old who are described as:
A white male, five feet, two inches tall, who was last seen wearing a red hooded sweater, black pants, white shoes, a black and white side bag and a black mask.
A light-skinned Black male, five feet, two inches tall, with afro-style hair, who was last seen wearing a black sweater, red baseball hat, black pants, and a black side bag.
A Black male, five feet, two inches tall, last seen wearing a green hooded sweater, blue jeans and white shoes.
Source: CBC
Please click the following URL to read the full text of the original story:
https://www.cbc.ca/news/canada/toronto/toronto-police-hate-motivated-mischief-mosque-1.6447721
--------
US Targets Islamic State Financiers in Turkey, Syria, Indonesia
May 10, 2022
The Biden administration imposed economic sanctions on five Islamic State financiers in Turkey, Syria and Indonesia on Monday night.
Members of the network played key roles in helping IS recruits join the group, and moved funds to help IS fighters obtain weapons and for children to be smuggled out of IS detention camps in Syria, the US Treasury Department said in a statement.
One member of the network, Dwi Dahlia Sustani, is accused of assisting IS members with money transfers from all three countries. Sustani helped her husband deliver nearly $4,000 and weapons to an IS leader, distributing roughly $500 of that money to fellow IS supporters, the department said.
Why it matters: The new sanctions show that despite IS's military defeat in 2019, the group retains ardent sympathizers willing to lend assistance from abroad.
Supporters in more than 40 countries around the world have sent funds to IS detainees in northeast Syria, the US Treasury Department said in its press release.
At the al-Hol detention camp in northeast Syria, IS affiliates have obtained up to $20,000 per month via the local hawala currency transfer system. A majority of that money originated from outside Syria, according to the Treasury.
The group has continued to smuggle affiliates out of prison camps run by Kurdish-led forces in northeast Syria to Idlib (where two subsequent IS leaders were found and died during US Special Forces raids), Deir Ezzor and Raqqa provinces.
"ISIS is particularly focused on smuggling children out of displaced persons camps for recruitment as fighters," with much of the latest funding having been gathered in Turkey and Indonesia, the Treasury said in Monday's statement.
Counter-IS strategy: The sanctions came just two days before a foreign ministers' meeting of US-led anti-IS coalition member states is to be held in Morocco's capital.
In January, the jihadist militants staged a massive prison break at a detention facility in the northeast Syrian city of Hasakah.
Hundreds of imprisoned IS fighters were initially estimated to have escaped, and the ensuing fighting left some 370 jihadis and more than 150 Syrian Kurdish-led forces dead.
The majority of escapees were either killed or captured in street battles and house-to-house searches by Kurdish-led forces backed by the US, according to a Pentagon inspector general's report which was published last week.
The group's second leader, Abu Ibrahim al-Hashimi al-Qurayshi, took an active role in planning the operation, US officials said at the time. Al-Qurayshi blew himself up when Delta Force operators surrounded his residence in Idlib province less than two weeks later, dealing what the Pentagon then called "a significant blow" to the jihadi group.
However, Qurayshi's death has had no appreciable impact on IS's operational capabilities, last week's inspector general report noted. The group maintains a low-level insurgency in rural areas of Iraq and Syria.
What's next: With few easy options, Washington's Syria policy appears to be in a holding pattern.
The US announced $800 million in humanitarian aid for Syrians on Tuesday as a July deadline looms for the UN Security Council to renew cross-border aid into Syria.
But there's little outward sign of a renewed diplomatic effort to resolve the indefinite detention of more than 10,000 IS fighters and more than 60,000 family members in makeshift facilities across northeast Syria, a situation which US military officials have described as unsustainable. The Biden and Trump administration have repeatedly called on foreign states to repatriate citizens interned in the camps.
Asked during a Senate hearing on Tuesday by US Senator Jeanne Shaheen whether his agency has a strategy to deal with radicalization among the tens of thousands of detainees, Lt. Gen. Scott Berrier, the head of the Pentagon's intelligence branch, balked.
Source: Al Monitor
Please click the following URL to read the full text of the original story:
https://www.al-monitor.com/originals/2022/05/us-targets-islamic-state-financiers-turkey-syria-indonesia
--------
Won't let 'lies' get in way of ties with Pakistan, says US on Imran's conspiracy allegations
May 11, 2022
State Department Spokesperson Ned Price has said the United States will not let "lies get in the way" of its bilateral ties with Pakistan, a relationship he stressed it values.
Price made these remarks during a press briefing on Tuesday while answering a question about former prime minister Imran Khan blaming the US for his ouster from office and running an "anti-America campaign".
"Sir, former prime minister Imran Khan is still blaming US efforts from — for his ouster from prime minister office and leading an anti-American campaign. So, do you think that his anti-American campaign [is] creating fractures among the structure of the diplomatic relation between Pakistan and [the] US or — or it doesn't matter?" a reporter asked Price.
In response, Price said: "We are not going to let propaganda, misinformation, and disinformation — lies — get in the way of any bilateral relationship we have, including with the bilateral relationship we have with Pakistan, one we value."
Imran, who was voted out of the top office last month via a no-confidence vote, alleges the move was masterminded by the US through the help of local collaborators over his pursuance of an independent foreign policy.
On March 27, days before his ouster, the former PM had brandished a letter at a rally in Islamabad, claiming it contained evidence of a "foreign conspiracy" hatched to topple his government. Imran had kept a mum about the contents of the letter when he first mentioned it, however, he spilled the beans days later by naming the US when the exit of the government appeared imminent.
His allegation that the US spearheaded his exit from power was based on a cable received from Pakistan's then-ambassador to the US, Asad Majeed Khan, in which he had reported about a meeting with Assistant Secretary of State for South and Central Asia Affairs Donald Lu.
Majeed had reportedly said Lu had warned that Imran Khan's continuation in office, who was set to face a vote of no confidence, would have repercussions on bilateral relations between the US and Pakistan.
The Pentagon and the State Department have rejected the accusations, saying there is no veracity to them.
The National Security Committee (NSC), which includes all services chiefs as well as the head of Pakistan's top intelligence agency ISI, took up the matter on March 31 and decided to issue a "strong demarche" to a country that it did not name over what was termed "blatant interference in the internal affairs of Pakistan".
However, the forum has clarified that no foreign conspiracy had been at play to topple the Imran Khan-led government.
Meanwhile, Imran and his party maintain that a foreign conspiracy was behind the PTI government's ouster and he went on to allege during a video message on May 7 that the "conspiracy" to topple his government started after he refused the demand for military bases. He has repeated those claims on various occasions, including at public rallies, following his exit.
Blinken-Bilawal call
During Tuesday's briefing, Price was also asked about a call made by US Secretary of State Antony Blinken to Pakistan's newly appointed Foreign Minister Bilawal Bhutto-Zardari last week, during which the US official invited Bilawal to Washington to attend a United Nations food security summit on May 8 (tomorrow).
According to a Dawn report, which cites diplomatic sources, it so far remains unclear whether Bilawal will attend the meeting physically or address it virtually.
Speaking on the matter, Price said: "I don't have any bilateral meetings to preview during the — next week's food security gathering in New York.
"What I can say is that Secretary Blinken did have an opportunity to speak with his new Pakistani counterpart, Foreign Minister Bilawal Bhutto-Zardari, last week — May 6, I believe it was," he added.
The State Department spokesperson said during the call, Blinken and Bilawal had "an opportunity to reflect on the 75th anniversary of US-Pakistani relations, to talk about how we can strengthen that cooperation going forward.
"It is a broad-based bilateral relationship. The Secretary underscored the resolute US-Pakistan commitment to Afghan stability and to combating terrorism as well. They also discussed ongoing engagement when it comes to our economic ties, trade and investment, climate, energy, health, and education," Price further said, adding that the conversation was "wide-ranging", as these introductory conversations oftentimes were.
Source: Dawn
Please click the following URL to read the full text of the original story:
https://www.dawn.com/news/1689124/wont-let-lies-get-in-way-of-ties-with-pakistan-says-us-on-imrans-conspiracy-allegations
--------
US still considers Iran's IRGC a terrorist group: State Department official
10 May ,2022
The US still considers Iran's Islamic Revolutionary Guard Corps (IRGC) a terrorist group, State Department Spokesman Ned Price said Tuesday.
"You've heard from the Secretary [of State Antony Blinken] that the IRGC has conducted terrorist attacks. Clearly, we're concerned by the threat that the IRGC poses," Price told Al Arabiya in an interview from the State Department.
Reports have suggested that one of the major sticking points that has prevented a return to the 2015 nuclear deal between Iran and the West has been Tehran's demand to have the IRGC's terror designation revoked.
Price suggested that steps taken by the State Department proved that the Biden administration was working to counter threats by the IRGC.
"Of the 107 sanctions that this administration has imposed on Iran since January 2021, until the present, 86 of them have been on the IRGC or its affiliates," Price said. "We are working closely, using our own authorities, also with partners in the region, to counter the IRGC and the threat it poses potentially to our personnel and to our partners in the region as well."
Nevertheless, the US is still hoping to reach a deal with Iran to revive the deal.
Biden administration officials believe a return to the deal would "verifiably and permanently" prevent Iran from acquiring a nuclear weapon.
And despite a weekslong halt to the talks, the US still thinks a deal is in its best interests.
"As of May 2022, we continue to believe that if the restrictions that the nuclear deal imposed were re-imposed on Iran, Iran's nuclear program would be put back in a box, that breakout time that now stands at weeks would be lengthened significantly," Price said.
He added: "It's unacceptable that the breakout time is so low. President Biden has a commitment that Iran will not acquire a nuclear weapon."
Price also said that a return to the so-called JCPOA would be one way to prevent Iran from getting nuclear weapons.
But he also said that the US and its allies would "pursue other means," if needed, to ensure this would never happen.
The US has been discussing alternative plans with partners and allies in the event that no deal is reached.
"It was never certain, it was never clear to us whether we'd be able to achieve a mutual return to compliance, so we've always been engaged in contingency planning with our partners," Price said.
Asked about comments by the UN nuclear watchdog chief that Iran was not forthcoming on past nuclear activities, Price said the US would be in close touch with the agency on the matter.
Source: Al Arabiya
Please click the following URL to read the full text of the original story:
https://english.alarabiya.net/News/middle-east/2022/05/10/US-still-considers-Iran-s-IRGC-a-terrorist-group-State-Department-official
--------
Canada announces $175 million in aid for Syrians
Barry Ellsworth
10.05.2022
TRENTON, Canada
Canada announced Tuesday it will give CAN$229.15 million (US$175.99 million) for humanitarian and development assistance to Syria this year.
Accompanying the announcement from Global Affairs Canada was a message of "thanks" to Turkiye and a few other countries for "their generous support in hosting so many Syrian refugees."
The Refugees Association reported that Turkiye has provided aid to almost 4 million Syrians.
"As of April 21, 2022, the number of Syrians under temporary protection registered in Turkey increased (to) a total of 3,762,385 million people," the association reported on its website.
The funds from Canada target CAN$169.15 million (US$130 million) in humanitarian aid to "help crisis-affected people meet their basic needs, including by providing food assistance, protection, water sanitation and hygiene and health services."
The balance of the funds will support "development assistance in the region."
Canada Minister of International Development and Pacific Development Harjit Sajjan said the funds are urgently needed.
"As we enter another year of conflict in Syria, millions of people still require urgent help," Sajjan said in a statement. "From providing clean water and nourishing food to providing support for sexual and reproductive health and rights, Canada will be there for those who have been impacted by this conflict.
"We must work to end this terrible humanitarian disaster."
The new money brings to over CAN$4 billion (US$3 billion) for the Syrian regions committed by Canada since 2016, the Global Affairs release said.
The announcement was made as Canada attended the sixth conference in Brussels, Belgium on supporting the future of Syria and the region, May 9-10.'
Source: Anadolu Agency
Please click the following URL to read the full text of the original story:
https://www.aa.com.tr/en/americas/canada-announces-175-million-in-aid-for-syrians-/2584161
--------
Mideast
EU decries Israel eviction of over 1,000 Palestinians to make way for military zone
10 May ,2022
The European Union on Tuesday condemned a ruling from an Israeli court approving the eviction of over 1,000 Palestinians to make way for a military training zone.
"The Israeli Supreme Court issued last week (May 4) a decision on the Masafer Yatta eviction case in the South Hebron Hills in the occupied West Bank, increasing the risk of the forced transfer of some 1,200 Palestinians and the demolition of their homes," a spokesperson for the bloc said in a statement.
"Settlement expansion, demolitions and evictions are illegal under international law. The EU condemns such possible plans and urges Israel to cease demolitions and evictions, in line with its obligations under international humanitarian and international human rights law."
The statement said that "the establishment of a firing zone cannot be considered an 'imperative military reason' to transfer the population under occupation."
The case of Masafer Yatta – or Firing Zone 918 – an agriculture area near Hebron in the occupied West Bank, has been one of Israel's longest running legal battles.
Residents of eight villages had been in court for around 20 years fighting Israeli government efforts to evict them.
In the early 1980s the army declared the 3,000-hectare (30 square kilometer) territory a restricted military area and claimed it was uninhabited.
The roughly 1,000 Palestinians living there said it was their people's home long before Israeli soldiers set foot in the West Bank, which Israel has occupied since 1967.
Source: Al Arabiya
Please click the following URL to read the full text of the original story:
https://english.alarabiya.net/News/middle-east/2022/05/10/EU-decries-Israel-eviction-of-over-1-000-Palestinians-to-make-way-for-military-zone
--------
Iran Provides Free Measles Vaccination for Afghan, Pakistani Nationals
2022-May-10
"Illegal Afghan migrants are worried that they would be arrested and returned to their country if they try to get their children vaccinated, while others are concerned about the costs," Director of the Iranian Health Ministry's Preventable Diseases Department Mohsen Zahrayee said.
Zahrayee said this has led to the spread of measles, specially among the Afghan population that has flooded Iran.
"Thanks to a good coordination with the Interior Ministry, Afghan and Pakistani nationals can visit all health centers, irrespective of their legal or illegal residence in Iran, and get their children vaccinated against the measles and other diseases," he said. "Most of those suffering from measles are under 10 years old. It is necessary that all families get their children in the 12 to 18-months age group vaccinated against the measles."
The World Health Organization has commended Iran for succeeding in getting the measles eliminated despite affected neighboring countries.
The Iranian health ministry has identified 3,000 cases suspected of having the measles in a month, but the number of infections is on the rise with120 cases confirmed by early last week.
Source: Fars News Agency
Please click the following URL to read the full text of the original story:
https://www.farsnews.ir/en/news/14010220000539/Iran-Prvides-Free-Measles-Vaccinain-fr-Afghan-Pakisani-Nainals
--------
Iran's Revolutionary Guards attack 'terrorist bases' in Iraq's Erbil: Iranian TV
11 May ,2022
Iran's Revolutionary Guards attacked what it claimed were "terrorist bases" in the northern Iraqi city of Erbil on Wednesday, Iranian state television reported without giving further details.
"No casualties have been reported so far," state TV said, adding that details of the attack would be announced shortly.
In March, the Guards carried out an attack against what Iranian state media described as "Israeli strategic centers" in Erbil, suggesting it was revenge for Israeli air strikes that killed Iranian military personnel in Syria.
Source: Al Arabiya
Please click the following URL to read the full text of the original story:
https://english.alarabiya.net/News/middle-east/2022/05/11/Iran-s-Tasnim-says-Revolutionary-Guards-fired-on-positions-in-Iraq-s-Erbil
--------
Human Rights Official: Sweden Collaborating with Israel against Iran
2022-May-10
Sweden, in collaboration with Israel, has been implementing a hostile approach towards Iran over the past few years, Qaribabadi said on Tuesday.
"The Swedish government, certainly with the support of some other European countries, specially the British government, was seeking to put the Islamic Republic of Iran on trial because Sweden's approach has been a hostile approach against the Islamic Republic of Iran for several years regarding national security issues," he said.
Qaribabadi said that the case of former Iranian official, Hamid Nouri, is not just a simple trial of an Iranian citizen, because the basis for the formation of this case in Sweden is not judicial, technical or legal, but has a purely political nature.
"Sweden has always formed a political front against Iran…in terms of hardware, it has also acted against our national security by hosting terrorist groups," Qaribabadi added.
"We are currently facing three cases related to Sweden in matters related to the national security of the Islamic Republic of Iran."
The first issue is that Sweden is hosting the anti-Iran Al-Ahwaziya terrorist group which has been using Sweden as its main base, he said.
The second issue regarding relations with Sweden is the anti-Iran Mojahedin-e Khalq Organization (MKO also known as MEK, NCRI or PMOI) terrorist group which has been using Sweden as one of its good bases in Europe, Qaribabadi said.
Isn't Sweden claiming to be a defender of human rights, fighting terrorism, and establishing a world full of peace, security and stability? So why does it host terrorist groups? he asked.
The official said the third issue in relations with Sweden is the case of Iranian national Ahmad Reza Jalali who was arrested for espionage charges a few years ago.
Qaribabadi said the intelligence he had provided to Israel's spy agency Mossad led to the assassination of two Iranian nuclear scientists.
"We have the documents of the case of Ahmad Reza Jalali in Sweden, who met with Mossad agents at bases provided to Mossad by the Swedish secret service," he explained.
"Sweden has been Mossad's intelligence partner in recruiting agents and taking action against our national security. What does this behavior mean in international relations?" Qaribabadi said.
In relevant remarks on Monday, Iran's Foreign Ministry Spokesman Saeed Khatibzadeh referred to the trial of an ex-Iranian official in Sweden, and cautioned the Swedish government to stop developing a quid pro quo case to free Ahmad Reza Jalali, who is waiting execution for spying and terrorism charges in Iran.
Speaking to reporters in a press conference in Tehran, Khatibzadeh referred to the case of Hamid Nouri, who has been tried in Sweden on alleged abuse of prisoners charges in 1988, and the case of Jalali, and said that the two cases are not related at all.
The defeated MKO terrorist group tries to politicize Nouri's trial in Sweden, he said, adding, that the Swedish government allows the MKO to do so raises suspicion.
Khatibzadeh rejected competence of the Swedish court to consider Nouri's case, and said basic rights of the Iranian national were not respected in Sweden.
The Swedish government should not think that the case of Jalali will be ignored by taking the case hostage; his case has been espionage and being followed up, he underlined.
Swedish prosecutors have requested the maximum penalty of life imprisonment for Hamid Nouri, accusing the former Iranian judiciary official of prisoner abuse in 1988.
The charges against Nouri stem from allegations leveled against him by members of anti-Iran MKO terrorist group.
He was arrested upon arrival in Sweden at Stockholm Airport in 2019 and was immediately imprisoned. Nouri, now 61, has been held in solitary confinement for over two years and his family has not been allowed to visit him in prison.
His accusers allege that Nouri was involved in the execution and torture of MKO members in 1988. Nouri vehemently rejects the allegations.
During the 89th session of his trial on Friday, Swedish prosecutors read a summary of Nouri's indictment in court, a day after submitting a request for life imprisonment for him.
The MKO is listed as a terrorist organization by much of the international community. Its members fled Iran in 1986 for Iraq, where they received support from then dictator Saddam Hussein.
The notorious outfit has carried out numerous attacks against Iranian civilians and government officials for several decades.
In 2012, the US State Department removed the MKO from its list of designated terrorist organizations under intense lobbying by groups associated to Saudi regime and other regimes adversarial to Iran.
A few years ago, MKO members were relocated from their Camp Ashraf in Iraq's Diyala Province to Camp Hurriyet (Camp Liberty), a former US military base in Baghdad, and were later sent to Albania.
Those members, who have managed to escape, have revealed MKO's scandalous means of access to money, almost exclusively coming from Riyadh.
The MKO terrorist group specified the targets as martyred Lieutenant General Qassem Soleimani, who commanded the Quds Force of the Islamic Revolution Guards Corps (IRGC), and Iranian President Seyed Ebrahim Rayeesi.
The terrorist organization said it would "welcome" their assassination, adding that it desired for the ranking officials to "join" Asadollah Lajevardi, Tehran's former chief prosecutor, and Ali Sayyad-Shirazi, a former commander of the Iranian Army's Ground Forces during Iraq's 1980-88 war against Iran.
Earlier in June 2019, a leaked audio of a phone conversation between two members of MKO, revealed Saudi regime has colluded with the MKO elements to frame Iran for the tanker attacks in the Persian Gulf.
In the audio, which is being released by the Iran Front Page for the first time, Shahram Fakhteh, an official member and the person in charge of MKO's cyber operations, is heard talking with a US-based MKO sympathizer named Daei-ul-Eslam in Persian, IFP news reported.
In this conversation, the two elements discuss the MKO's efforts to introduce Iran as the culprit behind the tanker attacks in the Persian Gulf, and how the Saudis contacted them to pursue the issue.
"In the past week we did our best to blame the [Iranian] regime for the (oil tanker) blasts. Saudis have called Sister Maryam (Rajavi)'s office to follow up on the results, [to get] a conclusion of what has been done, and the possible consequences," Fakhteh is heard saying.
"I guess this can have different consequences. It can send the case to the UN Security Council or even result in military intervention. It can have any consequence," Daei-ul-Eslam says.
Attacks on two commercial oil tankers in the Gulf of Oman on June 13, 2019 and an earlier attack on four oil tankers off the UAE's Fujairah port on May 12, 2019, escalated tensions in West Asia and raised the prospect of a military confrontation between Iran and the United States.
The US, Saudi Arabia, and the UAE have rushed to blame Iran for the incidents, with the US military releasing a grainy video it claimed shows Iranian forces in a patrol boat removing an unexploded mine from the side of a Japanese-owned tanker which caught fire in 2019.
It later released some images of the purported Iranian operation after the video was seriously challenged by experts and Washington's own allies.
The MKO which is said to be a cult which turns humans into obedient robots, turned against Iran after the 1979 Islamic Revolution and has carried out several terrorist attacks killing senior officials in Iran; yet the West which says cultism is wrong and claims to be against terrorism, supports this terrorist group officially.
After the Islamic Revolution in 1979, the MKO began its enmity against Iran by killing over 17,000 Iranians and terrorist activities. Several members of the terrorist group and its leaders are living in France now, freely conducting terrorist activities.
Source: Fars News Agency
Please click the following URL to read the full text of the original story:
https://www.farsnews.ir/en/news/14010220000739/Hman-Righs-Official-Sweden-Cllabraing-wih-Israel-agains-Iran
--------
VP: Iran Ready to Meet Part of Energy Demand in Europe
2022-May-10
Mirkazemi, who leads Iran's Plan and Budget Organization, made the announcement during a meeting with Polish Foreign Minister Zbigniew Rau in Tehran.
"The European governments will be able to access supplies of energy from Iran if they change their political and economic approach," he added.
Mirkazemi said that if Europe wants to ensure the security of its energy supply it should review its strategy.
"Iran will meet part of the energy demand in Europe on the condition that the other side shows lasting commitment and avoid being influenced by third parties," he added.
During the meeting with Rau, Mirkazemi, who also chairs the joint cooperation committee between Iran and Poland, said that the two countries can expand their trade and economic ties by holding regular forums between private and government sector representatives.
Rau, for his part, said that Poland views Iran as a country with huge economic potentials, adding that the two countries can significantly boost their economic exchanges in the near future.
The Polish foreign minister said his country is opposed to the perception of some European capitals from Iran and said that deep rooted historic and cultural ties between Iran and Poland can help the two countries boost their cooperation in various fields.
He said that Poland is seeking to establish a direct flight route between Warsaw and Tehran as part of its efforts to increase trade ties with Iran.
In a relevant development on Sunday, Iranian Foreign Minister Hossein Amir Abdollahian said that Iran and Poland have a long-standing and historical relationship that dates back to 540 years ago, and this is a great asset in the relations between Tehran and Warsaw.
"Poland played an important humanitarian role in the Ukraine crisis in recent months, both for the displaced people of Ukraine and on the issue of the immediate transfer of Iranian nationals at the onset of the crisis from different parts of Ukraine to Poland and from there to Iran," he added.
Referring to the great economic potential between Iran and Poland, Amir Abdollahian highlighted that both sides agreed that the joint political committee of the two states will hold a new round of meetings at the level of political deputies of ministries and general political directors within the next three months.
They discussed science and technology, production of heavy vehicles, nuclear medicine, science, and teacher exchange, he added.
Source: Fars News Agency
Please click the following URL to read the full text of the original story:
https://www.farsnews.ir/en/news/14010220000582/VP-Iran-Ready-Mee-Par-f-Energy-Demand-in-Erpe
--------
AEOI Head: Iranian Scientists Making Screening Kits for Newborns
2022-May-10
Iran is among top five countries in manufacturing screening kits for neonatal metabolic disorders, Eslami said.
He added that thanks to efforts made by the Iranian scientists in the AEOI and the cooperation of the Technology Development Center of Azad University in Markazi Province, the country has acquired Oxygen-18 along with producing heavy water in molecular engineering.
The Oxygen-18, which is a natural and stable isotope of oxygen, has been achieved by Iranian researchers on the basis of result-oriented studies; Iranians have reached the point that they can produce screening kits for newborn kids, Eslami said.
The project took one year, he added, noting that Iranian researchers made extra efforts and there were some investments, so today, the Iranian people can use the kits to diagnose metabolic disorders in babies at birth.
The Food and Drug Administration of Iran has issued permissions for the kits to be distributed, Eslami said, stipulating given the fact that the amount of production of this kit is much more than consumption requirements in the country, there are some plans to export it to other states.
The West adopted hostile stance when it came to heavy water project in Iran and put excessive pressures on the Islamic Republic in order to stop this development in the country, he said, arguing that they have displayed such a behavior when some East European countries tried to develop this technology.
Eslami stated that thanks to wise stances taken by Supreme Leader of the Islamic Revolution Ayatollah Seyed Ali Khamenei to protect the nuclear technology, the Iranian people can witness the outcomes of this everyday progress in their daily life.
Neonatal screening or Newborn Screening involves the screening of newborns in the first days of their lives for inborn errors of metabolism and certain disorders that can hinder the normal development of the baby.
Source: Fars News Agency
Please click the following URL to read the full text of the original story:
https://www.farsnews.ir/en/news/14010220000655/AEOI-Head-Iranian-Scieniss-Making-Screening-Kis-fr-Newbrns
--------
Bennett says Israel not seeking military confrontation
Zain Khalil
10.05.2022
JERUSALEM
Israeli Prime Minister Naftali Bennett said on Tuesday that Tel Aviv is not seeking a military confrontation.
"We are not looking for a confrontation, and we do not want a confrontation, but we are ready for any scenario if it exists," Bennett said while inspecting the Israeli army's annual month-long exercise dubbed "Chariots of Fire."
"The enemy knew that if we were dragged into confrontation – he would pay an unbearable price," he added, without giving further elaboration.
For his part, Israeli Defense Minister Benny Gantz, who also escorted Bennett to the military exercise, said Israel's security is maintained by "the use of force, and the continuous and long-term building of force."
"I can say that this exercise surpasses all that came before it. It is deep, and continuous, on all fronts," Gantz added.
Source: Anadolu Agency
Please click the following URL to read the full text of the original story:
https://www.aa.com.tr/en/middle-east/bennett-says-israel-not-seeking-military-confrontation/2584293
--------
URL: https://newageislam.com/islamic-world-news/musaliyar-samastha-kerala-jamiat-ulama/d/126978
New Age Islam Islam Online, Islamic Website, African Muslim News, Arab World News, South Asia News, Indian Muslim News, World Muslim News, Women in Islam, Islamic Feminism, Arab Women, Women In Arab, Islamophobia in America, Muslim Women in West, Islam Women and Feminism