New Age Islam News Bureau
31 Dec 2019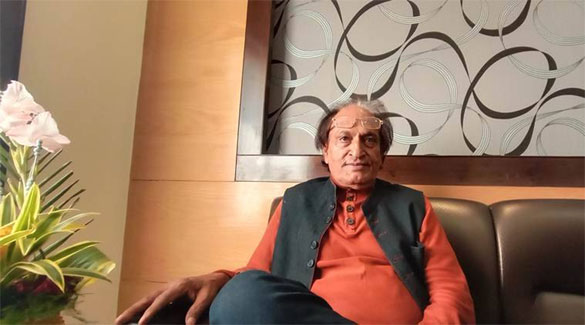 Raghu Rai (in pic) warned that "wrong policies" to communally segregate India might end up further dividing the country. (Express Photo: Debraj Deb)
----------
• Kerala Assembly Passes Resolution Demanding Withdrawal of CAA
• Did Not See Any Hindus Or Muslims… Just Students Protesting: Raghu Rai
• Urdu Daily Journalist Sent Behind Bars for Five Years in Religious Hatred Case By Antiterrorism Court
• Bangladesh Closes Breast Milk Bank after Islamist Protests
• The Imam of Chesham, Whose Work Focuses on Peace, Tolerance and Acceptance of One • Another, Receives Queen's New Year Honours
• How The Crackdown On Muslims Has Worsened Around The World This Decade
• Islamic Fintechs Are Becoming A 'Global Phenomenon': Report
• Inside China's Push to Turn Muslim Minorities Into an Army of Workers
• Florida Attorney and Self-Described '100% Trump Supporter' Is Suspended From Practicing • Law for Tweeting 'Never Trust A Muslim' and Homophobic Rants
• Turkey's Main Opposition Refuses Plan to Send Troops to Libya, Shedding of 'Muslim Blood'
• Killing Of Aid Workers Barbaric, Against Tenets Of Islam – ACF
Compiled By New Age Islam News Bureau
URL: https://www.newageislam.com/islamic-world-news/kerala-assembly-passes-resolution-demanding/d/120672
------
India
• Muslims Pray In Church during Citizenship Protest In Kerala
• Muslim Scholars Condemn SP's 'Go To Pak' Remark, Call For Judicial Probe
• Uttar Pradesh Govt Identifies Plots for Ayodhya Mosque
• Shiv Sena Gets Muslim Face, Allies Add Three Minority Leaders to Cabinet
• India: Doors shut for return of Muslim migrants of Kashmir
• CCA cause of worry: Indian Catholic Church leaders
------
Pakistan
• Imran Khan Jihad against Corruption Continues With Full Force: Firdous Ashiq
• Fresh diplomatic outreach planned on rights abuses in occupied Kashmir
• PML-N wants prisoners freed in wake of NAB law
• Jami names Dawn CEO Hameed Haroon as alleged rapist; Haroon rejects accusation
------
South Asia
• Taliban's 5,000 Prisoners Will Be Released As US, Taliban Peace Deal Is Signed
• 'No Ceasefire Plans' In Afghanistan, Say Taliban
• Crude bomb blast again on DU campus
• Border Killings by BSF: 43 Bangladeshis killed this year
------
Europe
• Muslim Donors Fill Need for St. John's Blood Clinic over Christmas Break
• Man to stand trial over 'attempted murder at mosque'
• Putin congratulates Assad on New Year
• Mysterious 'It's OK to be Muslim' and 'It's OK to be black' flyers appear in Edinburgh phone box
• Russia brings in artificial snow to beat its hottest year on record
• Pompeo to visit Ukraine as Senate weighs impeachment trial
------
Arab World
• Iraq warns US ties at stake after deadly strikes
• Saudi rights body: Blocking government services should be used sparingly
• Amir receives chief, members of Islamic heritage society
• Startup of the Week: Saudi startup provides the right learning tools for children to think 'Outside the Box'
------
Southeast Asia
• Visit Xinjiang ourselves? Stop playing propaganda with Uighurs, Malaysian Muslim youth group tells Beijing
• Malay, Islamic characteristics of Kg Baru will be preserved: Khalid
• Kit Siang says Jawi controversy has eclipsed hope for new Malaysia under Pakatan
• Iran seizes ship, arrests 16 Malaysian crew members: State TV
• Kadir Jasin takes swipe at 2 ministers over billboard adverts
------
North America
• The unexpected alliance between Muslims and Jews in Congress
• Islamist militants kill 18 in attack in eastern Congo
• Second Circuit Court of Appeals orders resentencing in Islamic State case
• SP Funds Launches its First Family of Sharia-Compliant ETFs
• Striking Photographs Capture Ornate Patterns of Historic Iranian Mosques and Palaces
• CNN's Jake Tapper Challenges Trump's Commitment to Religious Freedom: What About Muslim Travel Ban?
• Iraqi-US Ties in Jeopardy as Baghdad Blasts US Over Strikes on Shia Militia Group
• Washington says Baghdad failed to 'protect' Americans
------
Mideast
• Jews and Muslims donate blood together at Golders Green Islamic Centre
• Syrian families take refuge in mosque from bombings
• Gold Coins Dating To Early Islamic Era Delight Archaeologists At Yavne Dig
• Assyrian MP condemns Dutch politician's insult to Islam's prophet
• At least 124 people suspected of links to the Islamic State detained in Turkey
• Iraq Says US Airstrikes on Shia Militias "Unacceptable, Violation"
• Ayatollah Yaqubi calls for International Chastity Day in birthday of Lady Zeynab (A.S)
• Syrian regime forces shelled a mosque in Mhambel town in Idlib suburbs, on December 28.
• Iraq: Call for Extraordinary Parliament Session after US Strikes Shia Militias
------
Africa
• Muslim, Christian groups differ over U.S.' inclusion of Nigeria on watchlist
• Nigerian government must end oppression against Sheikh Zakzaky
• Four Islamic terror suspects appeal against remand
• True Muslims will not take anyone's life – Apostle Suleman attacks ISWAP
------
Kerala assembly passes resolution demanding withdrawal of CAA
Dec 31, 2019
THIRUVANANTHAPURAM: Kerala assembly on Tuesday passed a resolution demanding the scrapping of the controversial Citizenship Amendment Act (CAA).
The resolution was moved by chief minister Pinarayi Vijayan in the state assembly.
Though the one-day special session+ was convened to ratify the extension of the reservation for SC and ST in the assembly and the Parliament for another decade, the resolution against CAA was also taken up in view of the the widespread concerns among public in this regard, official sources said.
While presenting the resolution, Vijayan said the CAA was against the "secular" outlook and fabric of the country and would lead to religion- based discrimination in granting citizenship.
"The Act contradicts the basic values and principles of the Constitution.
Kerala governor booed, forced to leave IHC venue as politics trumps history
In view of the anxiety among the people of the country, the Centre should take steps to drop the CAA and uphold the secular outlook of the Constitution," he said.
Noting that the Act had triggered widespread protests among various stratas of society, the chief minister said it had dented India's image in front of the international community.
Vijayan also ensured the assembly that there wont be any detention centres in the southern state.
Urge Centre not to notify CAA: Congress to speaker
When the session began, O Rajagopal, the lone BJP member in the assembly, objected to the resolution stating that it was "illegal" as both Houses of the Parliament had passed the CAA Act.
The opposition Congress -led UDF had demanded the Left government to convene a special session and pass a resolution against the CAA during an all-party meeting convened by the Chief Minister on December 29 to discuss the issue.
https://timesofindia.indiatimes.com/india/kerala-cm-tables-anti-caa-resolution-in-assembly/articleshow/73041245.cms
------
Did not see any Hindus or Muslims… just students protesting: Raghu Rai
December 30, 2019
Veteran photojournalist and Padmashri awardee Raghu Rai said he feels people who have lived for three or four decades in India should not be thrown out by any system. He also warned that "wrong policies" to communally segregate India might end up further dividing the country.
"I think there is no reason we should throw out those who have spent many years in his country. Those who have lived here for 20, 30 or 40 years are part of us now. Like it or not, they are here. I don't know why they (government) are applying NRC, unless they have different agenda behind it," Rai told indianexpress.com explaining his experience covering the recent protests against CAA and NRC and equating them to what he saw covering refugees over the years, especially in Tripura during the Bangladesh crisis.
Rai said a whole lot of unrest, dissatisfaction is prevalent in India at various levels and the government should take youths protesting on the streets into confidence instead of trying to 'teach them a lesson'. "I have been to Jamia Milia Islamia University, the Red Fort, Jantar Mantar etc. to see the protest. Those were innocent school, college-going students protesting there. I didn't see any Hindu or any Muslim protesting. The (central) government should realise the mess they are making," he said.
"Don't teach them a lesson. Last time when Pakistan tried to teach them (students) a lesson, a Bangladesh was created. Take them into confidence, understand their grievances," he said.
Describing CAA and NRC as 'wrong decisions', Rai said: "If you begin to segregate communities 72 years after Independence, you are destroying the fabric of this secular country. By taking such drastic measures, you will divide India yet into another piece of land."
"India is making progress in some areas. We are doing some good things as well. But this country is so big and there are so many religions that it will need a cohesive, meaningful blueprint for development. Mahatma's India and Vivekananda's India has always had this policy of welcoming people."
https://indianexpress.com/article/india/caa-nrc-hindus-muslims-students-citizenship-law-protests-raghu-rai-6192012/
------
Urdu Daily Journalist Sent Behind Bars for Five Years In Religious Hatred Case By Antiterrorism Court
Naeem Sahoutara
December 31, 2019
KARACHI: An antiterrorism court has awarded five-year imprisonment to journalist Nasrullah Chaudhry in a case pertaining to possessing literature against the state and spreading religious hatred.
Mr Chaudhry, a journalist associated with Urdu-language daily Nai Baat, was found guilty of committing offences punishable under Section 11-F (i) of the Anti-Terrorism Act of 1997 (a person is guilty of an offence if he belongs, or professes to belong, to a proscribed organisation), Section 11-W(i) (printing, publishing or disseminating any material to incite hatred or giving projection to any person convicted for a terrorist act or any proscribed organisation or an organisation placed under observation or anyone concerned in terrorism) and Section 7 (punishment for acts of terrorism).
The ATC-VI judge, who conducted trial in the judicial complex inside the central prison, pronounced his verdict reserved after recording evidence and final arguments from both sides on Dec 21.
The judge awarded him five-year imprisonment and Rs10,000 fine under Section 11-W(i) with the direction to serve one month imprisonment on default.
He was also sentenced to six-month imprisonment and Rs5,000 fine under Section 11-F(i) with the direction to serve 15 days imprisonment on default.
The court cancelled his bail and sent him to the prison to serve out his sentences. However, all the sentences will run concurrently.
He was extended the benefit of Section 382-B that means the period spent in detention will be deducted from the sentence.
According to a charge sheet filed by the CTD, Nasrullah Khan Chaudhry was arrested in Karachi's Garden area on Nov 11, 2018 on the allegations of carrying some journals and booklets about Afghan Jihad and the Punjabi Taliban which contained material intended to sow discord on sectarian grounds as well as to motivate people to take part in "Jihad".
The charge sheet repeatedly cited the name of Khalid Mukshi, alleging that he was a leader of Al Qaeda and that the detained journalist had links with him. However, the IO did not name Mukshi as an accused or absconder in the charge sheet.
In his statement, under the Section 342 of the Criminal Procedure Code, Nasrullah Chaudhry denied the allegations and claimed that the three prosecution witnesses falsely deposed against him and in favour of the law enforcement agencies.
He claimed to be innocent having nothing to do with the alleged offence and also denied the recovery of the alleged hate material from him.
On the other hand, state prosecutor Farhana Parveen contended that a joint investigation team interrogated the accused and collected all the material evidence, including Nasrullah Chaudhry's confession.
She further contended that the accused was well connected to commissioning of the offence of facilitator of Khalid Makashi, a terrorist of proscribed organisation Al-Qaeda. She added that four magazines recovered from his possession, "and this act of accused has incited hatred and projected persons and proscribed organisation to commit terrorist activities".
Defence counsel Muhammad Farooq argued that the accused was a senior journalist, who was taken away by law enforcement agencies personnel from his house on Nov 9, 2018 and subsequently handed over to the CTD, which implicated him in the present case.
Such news was published in the Washington Post, Daily Mail of the United Kingdom and the Karachi Press Club also issued a press release regarding the arrest of the accused at the hands of the law enforcement agency prior to the date of his alleged arrest shown in the FIR, he added.
Concern over conviction
The Pakistan Federal Union of Journalists (Dastoor) and the Karachi Union of Journalists (Dastoor) have expressed grave concern over the conviction of senior journalist Nasarullah Chaudhry for allegedly possessing banned literature.
In a joint statement, the journalist bodies noted that the government through law enforcement agencies and other tactics, which include torture, threats and harassment, had been trying to pressure the journalists with impunity.
https://www.dawn.com/news/1525282/journalist-sent-behind-bars-for-five-years-in-religious-hatred-case
------
Bangladesh closes breast milk bank after Islamist protests
30 December 2019
A Bangladesh hospital has suspended plans to give donated breast milk to babies after a backlash by Muslim clerics who said the scheme violated Islamic law.
The programme aimed to feed up to 500 orphans and infants of working mothers in the Muslim-majority country, which has high rates of child malnutrition and stunted growth.
Bangladesh's top Islamic leadership has not yet made a ruling on the milk bank, but it was halted after critics said the plan could lead to breaches of Sharia law if two babies drank milk from the same mother and later married.
"Their entire marriage and lineage would become illegal," said Gazi Ataur Rahman, a spokesman of the influential Islami Andolan Bangladesh political party.
Another Islamist, Ahmed Abdul Kaiyum, said Sharia law did not allow for milk banks.
"It would go against Islam," he said, suggesting that the authorities should have discussed this "very sensitive issue" beforehand with clerics.
- Strict safeguards -
Prominent Islamic cleric Fariduddin Masoud struck a conciliatory note, however, saying authorities should find out if and how Muslim majority nations such as Pakistan, Iran, Iraq and Malaysia have set up human milk banks.
"We should see how they have solved the issue. We should sit together to find a solution," he said.
The milk bank in Dhaka was slated to start this month, but project co-ordinator Mojibur Rahman said it had been delayed indefinitely because of the "widespread criticism".
He added that the hospital had set up strict safeguards for the scheme.
"We collect and preserve milk separately and rigorously record (donor) identities," he told AFP on Monday, a day after the milk bank's suspension was announced.
Top child specialists had backed the milk bank, saying it was needed to help save child lives as well as aid their growth.
"Human milk banks are essential for orphans and critically ill children, especially to save the lives of the babies who are being treated at the hospital's intensive care unit and whose mothers are not available," said Mahbubul Haque, a top doctor at Dhaka's main children's hospital.
"Milk banks are established in major hospitals in the West. We should set up more such banks in all our top hospitals for children," he told AFP.
Some 90 percent of Bangladesh's 168 million people are Muslim.
https://www.dailymail.co.uk/wires/afp/article-7837207/Bangladesh-closes-breast-milk-bank-Islamist-protests.html
------
The Imam Of Chesham, Whose Work Focuses On Peace, Tolerance And Acceptance Of One Another, Receives Queen's New Year Honours
30th December
Chesham Imam among those who have received a Queen's honour
The Imam of Chesham, a former Thames Valley Chief Constable, and a community leader from Winslow are among 24 from Buckinghamshire who have been named in the Queen's New Year Honours.
The list includes Buckinghamshire celebrities, among them politician Iain Duncan-Smith, Tony Hadley, and television sports presenter Gabby Logan.
Imam Arif Hussain, of Chesham, has been made a Member of the Order of the British Empire (MBE) for services to the Muslim community in the UK and abroad during the past 35 years.
Mr Hussain, whose work focuses on peace, tolerance and acceptance of one another, became the youngest Imam in the UK at the age of 25 and is the only Imam in the country to have given this length of service to the faith.
Former Thames Valley Police Chief Constable, Francis Habgood, has been knighted for his services to policing, and now serves the county as the independent chairman of Buckinghamshire Safeguarding Children Board (BSCB) and the Buckinghamshire Safeguarding Adults Board (BSAB).
Sir Francis, whose role is to ensure all local services work together well to promote and safeguard the welfare of Buckinghamshire's children and adults, retired from the police force after 32 years.
https://www.bucksfreepress.co.uk/news/18128391.chesham-imam-receives-queens-honour/
------
How the crackdown on Muslims has worsened around the world this decade
2019-12-30
By Mariam Nabbout
We live in a world of inexplicable paradoxes, on a planet where nations call for tolerance and coexistence but turn their heads away from blatant abuses of these exact concepts. Communities of different faiths and backgrounds across the world continue to be subjected to grave injustices that are being exposed on a daily basis.
In the past decade, it has become evident that an increasing number of Muslim communities are being targeted in specific. From Myanmar's Rohingya to Muslims in China, India, Ethiopia, and even Europe and the U.S., those who adhere to the Islamic faith have been experiencing one brutal crackdown after the other.
Here is a closer look at how the violent attacks on Muslim communities have intensified over the past 10 years:
1. Myanmar's RohingyaMyanmar's government has long been passing racist policies against the country's Rohingya Muslim community, forcing hundreds of thousands of them to flee their homes in the predominantly Buddhist country.
Violence against the community significantly escalated in this past decade. In 2012, longstanding tensions between the Rohingya Muslims and ethnic Rakhine Buddhists erupted in violent rioting, killing nearly 200 people and displacing 140,000 others.
In 2017, the most expansive exodus of the community started after violence broke out in Myanmar's Rakhine State in response to a Rohingya insurgent group attacking local police stations and an army base.
Prior to this violent episode, there were an estimated 307,500 Rohingya refugees, a number that doubled since the 2017 events.
Rohingya refugees mainly flee to neighboring Bangladesh, where they live in refugee camps and lack the most basic of human necessities.
2. China's Uyghur Muslims
Source: Radio Free Europe
China's Uyghur Muslim community has been subjected to horrific torture and violence for decades but the crackdown against them has certainly become worse over the last 10 years. So much so that activists and human rights groups have called the Chinese government's conduct a form of "campaign of ethnic genocide."
This decade, it was revealed that the Asian country's government has locked up over a million Muslims in concentration camps in an attempt to brainwash them. The entire Muslim community in the country is constantly harassed, monitored, spied on, and denied their most basic rights.
In October, a Muslim woman who escaped one of China's "re-education camps" - after being detained in November 2017 - said inmates were "gang raped, subjected to torture and medical experiments and forced to eat pork." State-sponsored oppression doesn't stop at that and extends to the most private aspects of Chinese Muslims' lives.
The country bans parents in the community from choosing specific Islamic names for their newborn children. Wearing burqas and donning "abnormal beards" is also prohibited across the nation. Regulations passed in recent years have meant that Muslims are forced to watch state television and are provided with guidelines on how their children can be educated.
In 2017, Xinjiang's Muslims were reportedly ordered to turn in all religious items to police including prayer mats and copies of the Quran.
3. Muslim communities in India
Nearly 15 percent of India's 1.3 billion population is Muslim, yet the country has been increasingly discriminating against the religious community.
Earlier this month, the Indian government approved a law that grants citizenship based on religion in what has been described as a violation of India's international legal obligations, Human Rights Watch said.
The amended law seeks to grant citizenship to "persecuted minorities" from Bangladesh, Afghanistan, and Pakistan with the exception of Muslims. It has also been said to go against the country's secular constitution with many raising concerns that India is becoming a "Hindu state that treats Muslims as second-class citizens."
Mass protests were launched across the country since the bill was passed on Dec. 12. Riots against the legislation have turned deadly, leaving at least 27 people dead.
Local police have also cracked down on Muslim protestors, violently beating them and arresting hundreds in a move that has been condemned by several human rights organizations.
4. Muslims in Ethiopia
Source: Twitter/SeifGebre
Muslims make up around a third of Ethiopia's population and have long co-existed in peace alongside Christians and other religious groups.
Sectarian strife resurfaced in the country earlier this year and violent incidents have been on the rise. In February, five mosques were set on fire in two separate attacks reported in the country's South Gondar zone, located in Amhara regional state.
In December, the country witnessed another series of attacks on four other mosques in an incident that has shaken Muslims in the country into protests. Several Muslim-owned businesses were also targeted in the most recent attacks.
Muslim and Christian leaders in Ethiopia have since spoken out against the incidents, warning that action must be taken against perpetrators to prevent further escalations.
5. Muslims in Europe
Muslims in Europe have been on the receiving end of hate and Islamophobic attacks for years and things have only gone downhill for them this past decade.
The increase in racist and discriminatory incidents taking place in European countries coincides with the rise of Islamophobic politicians ascending to power in the region. Far-right parties and leaders have been doing exceptionally well in Europe in recent months. From France to Germany, Sweden and Britain, their rise to power means one thing: More vile attacks on Muslim communities.
Studies have also revealed that a staggering number of Europeans do not want to co-exist with Muslims and do not believe people who adhere to the faith can integrate into local communities.
This probably explains why Muslims in Europe continue to face discrimination on all levels including in workplaces. Women who adhere to the faith have been particularly targeted with bans on the head veil and burqa (full-face veil) being passed in several countries.
6. Muslims in the U.S.
Muslims have had it tough in the U.S. since the 9/11 attacks on the World Trade Center in 2001. Things have escalated in the past 10 years and continued to worsen after Donald Trump became the country's president.
The now-impeached leader is Islamophobic himself and shows absolutely no restraint when it comes to attacking Muslims. His Twitter tirades on the community appear to have a disturbing real-world effect on anti-Muslim hate crime rates. The numbers of these crimes has skyrocketed across the states since Trump ascended to power.
Under his reign, several anti-Muslim bills took effect, namely what has been dubbed the "Muslim ban." The original ban, which was officially signed in 2017, denies citizens of Iran, Iraq, Somalia, Sudan, Yemen, Syria and Libya from getting U.S. visas. Though it has been blocked by local courts several times, the ban continues to affect Muslims traveling into the country from these nations.
Trump also signed another ban targeting refugees and immigrants from Muslim majority countries. Though the president's administration and supporters have constantly argued that bans passed by him do not specifically target Muslims, all countries included in them have Muslim-majority populations.
https://stepfeed.com/how-the-crackdown-on-muslims-has-worsened-around-the-world-this-decade-0890
------
Islamic fintechs are becoming a 'global phenomenon': Report
December 30 2019
By Arno Maierbrugger/ Gulf Times Correspondent / Bangkok
Islamic financial technology firms, or Islamic fintechs, are moving centre stage in the global Islamic finance industry when it comes to innovation and serving unmet needs in Muslim jurisdictions. These are some of the core finding of the newly-released Global Islamic Fintech Report 2019 produced by UK-based digital finance advisory firm Elipses Group Ltd together with the UK Islamic FinTech Panel, an independent group of Islamic finance and fintech practitioners.
It is only the third annual report on the Islamic fintech industry after previous research on this sector, namely the Islamic FinTech Landscape in 2017 by Islamic business portal IFN and the Islamic FinTech Report 2018 by Islamic advisory DinarStandard.
The new report notes that over the past three years or so, the digital economy has been adapted by Islamic economies and there particularly by Islamic finance, leading to the development of a new segment of financial technology in the industry where innovation is happening.
"Recent developments in financial technology have led to a massive increase in electronic money institutions which have captured much of what was previously the preserve of traditional bricks and mortar banks," says Harris Irfan, chairman of the UK Islamic FinTech Panel.
"It is therefore inevitable that Islamic fintech firms represent the next wave of growth in the Islamic finance industry," he adds. The study is based on a survey of 180 companies worldwide, half of them fintechs and the others being incubators and accelerators, consultancies, financial institutions and investors, with respondent being based in the UK, Middle East, other Europe, Southeast Asia, North America and other Asia.
Currently, most of the Islamic fintechs are in their early stages, gearing up to solve challenges of financial inequality, exclusion, underservice or bad customer experience, facing a 1.8bn-people opportunity and growing, the report found. A large part is still in the process of getting regulatory approval and Shariah certification and is in the seeding finance stage.
But the report also notes that progress is quick and 2019 has been a milestone year for Islamic fintechs, with financial intelligence and investing platform IslamicMarkets.com, online halal investment platform Wahed Invest and property crowdfunding platform Yielders all had major funding rounds. In terms of innovation, Indonesian Islamic microfinance fintech Blossom Finance started issuing smart sukuk, while conventional Islamic banks have begun partnering with or creating themselves digital banks such as Meem, ila Bank, CDB Now, Insha and Liv Bank.
Other findings in the report include the perceived growth areas in the Islamic fintech sector. The top five expected growth sectors for 2020 are peer-to-peer and crowd funding, challenger banking, blockchain, robo-advisory and digital personal finance management, as well as online and crowd lending.
However, most Islamic fintechs identified a lack of access to capital as the biggest barrier to growth. Around 70% Islamic fintechs will be seeking to raise equity funding in 2020 with an average round size of $7mn. More mature companies would also pursue other forms of funding namely debt, bridge or mezzanine finance and other forms of funding such as pre-finance in exchange of stocks at a later point of time, the so-called simple agreement for future equity, or SAFE.
In terms of regulation and certification, 85% of Islamic fintechs have been or are seeking direct or indirect regulated status or expect to be regulated in some form in the near future. Around 76% of Islamic fintechs are already or are expecting to be Shariah-certified, however, whereby 68% felt certification was not necessarily compulsory to be considered Islamic.
The preferred method of market engagement of Islamic fintechs is partnerships, with more institutions expecting to enter such in 2020, the report found. Partnerships are a key growth strategy for Islamic fintechs, with other Islamic fintechs and Islamic banks being the most sought-after partners.
Geographically, Muslim Southeast Asian countries are expected to provide the highest growth potential in 2020 for Islamic fintech, with particularly Indonesia coming into the limelight. The next strongest growth regions are the Middle East and the UK.
"Ultimately, the winner from all this Islamic fintech innovation ought to be the consumer, both the existing consumer who now has more choice, as well as the previously unserved consumer across the Muslim world," says Abdul Haseeb Basit, co-founder and principal of Elipses Goup. "Perhaps most encouragingly, these developments span Southeast Asia, the Middle East, Europe and North America. Islamic fintech is truly a global phenomenon," he adds.
https://www.gulf-times.com/story/652077/Islamic-fintechs-are-becoming-a-global-phenomenon-
------
Inside China's Push to Turn Muslim Minorities Into an Army of Workers
By Chris Buckley and Austin Ramzy
Dec. 30, 2019
KASHGAR, China — The order from Chinese officials was blunt and urgent. Villagers from Muslim minorities should be pushed into jobs, willing or not. Quotas would be set and families penalized if they refused to go along.
"Make people who are hard to employ renounce their selfish ideas," the labor bureau of Qapqal, a county in the western region of Xinjiang, said in the directive last year.
Such orders are part of an aggressive campaign to remold Xinjiang's Muslim minorities — mostly Uighurs and Kazakhs — into an army of workers for factories and other big employers. Under pressure from the authorities, poor farmers, small traders and idle villagers of working age attend training and indoctrination courses for weeks or months, and are then assigned to stitch clothes, make shoes, sweep streets or fill other jobs.
These labor programs represent an expanding front in a major effort by China's leader, Xi Jinping, to entrench control over this region, where these minorities make up about half the population. They are crucial to the government's strategy of social re-engineering alongside the indoctrination camps, which have held one million or more Uighurs and Kazakhs.
The labor bureau of Qapqal ordered that villagers should undergo military-style training to convert them into obedient workers, loyal to employers and the ruling Communist Party. "Turn around their ingrained lazy, lax, slow, sloppy, freewheeling, individualistic ways so they obey company rules," the directive said.
The government maintains that the Uighur and Kazakh villagers are "rural surplus labor" and are an underemployed population that threatens social stability. Putting them in steady, supervised government-approved work, officials say, will erase poverty and slow the spread of religious extremism and ethnic violence.
The government describes the laborers as volunteers, though critics say they are clearly coerced. Official documents, interviews with experts, and visits by The New York Times to Xinjiang indicate that local plans uproot villagers, restrict their movements and pressure them to stay at jobs.
Experts say those harsh methods can amount to forced labor, potentially tainting the global supply chain that uses Xinjiang workers, particularly for cotton goods. The Japanese retailers Muji and Uniqlo say they have used cotton from the region, while Walmart has bought goods from a company that until recently used workers from Xinjiang.
Given the tight control on Xinjiang, "we have to assume for the moment that there's a very significant risk of coercion," said Amy K. Lehr, director of the human rights initiative at the Center for Strategic and International Studies and the co-author of a study on Xinjiang's labor programs.
Forced labor could arise "even if the coercion was implicit or the programs offered workers a decent income," she added.
The labor programs operate in parallel with the indoctrination camps in Xinjiang, that have drawn condemnation from Western governments. Camp inmates also receive job training, and officials say that many will be sent to work in factories.
Taken collectively, the policies are designed to make the region's Muslim minorities more secular and urbanized like China's Han majority. Many Chinese people see that as laudable. Uighur critics see it as ethnic subjugation.
"What they are trying to do is assimilate the Uighur people," said Mustafa Aksu, a program coordinator at the Uyghur Human Rights Project.
'Foster a sense of discipline'
The factory run by the Jinfujie Clothing Company on the sandy edge of Kashgar, a city in southern Xinjiang, has been a star in the government's labor campaign.
Jinfujie, which calls itself Golden Future in English, trained and employed 2,300 workers from villages. It also opened a branch factory in an indoctrination camp, where it would put to work more than 500 inmates, a company executive told officials last year.
The executive, Sun Yijie, a former soldier, said the company ran a tight ship to turn villagers into workers. "Beginning with military drills before they start their jobs, we foster a sense of discipline," he said.
Video footage posted online shows Jinfujie workers in gray-and-orange uniforms lined up for a pep rally. "A successful future," they shouted in unison.
The company has said it won an order from Germany to make hundreds of thousands of ski pants. Jinfujie would not answer questions about the claimed order. During a recent visit, Times reporters were barred by guards from visiting the Jinfujie factory or the surrounding industrial zone.
Dozens of factory zones have emerged across Xinjiang, attesting to the government's ambitions to remake the region. Mr. Xi, China's leader, has vowed to end poverty nationwide by late 2020, and Xinjiang officials face intense pressure to create jobs.
"The offensive to eradicate poverty has reached the crucial stage in a decisive battle," Chen Quanguo, the Communist Party secretary of Xinjiang, said early this month on a tour of southern Xinjiang. "Transmit the pressure down, level by level."
The labor programs depend on luring companies from China's wealthier eastern seaboard, where fewer young people want to work on production lines. Xinjiang has offered manufacturers inexpensive labor, as well as generous tax breaks and subsidies.
"They're still not as fast as workers from other parts of China," said He Tan, a businessman who owns a small factory on the outskirts of Hotan, a city in Xinjiang.
The government's goals are sweeping. One plan issued in 2018 called for putting to work 100,000 people from the poorest parts of southern Xinjiang, a heavily Uighur area, by the end of 2020. The government recently said that target was met a year ahead of schedule. By late 2023, another plan says, Xinjiang wants one million working in its textile and garment industries, up from about 100,000 in 2017.
At Mr. He's factory, dozens of Uighur women from nearby villages sat wordlessly in rows sewing school uniforms. Guzalnur Mamatjan, a 20-year-old Uighur, said she made about $200 a month.
"I'd like to work here for two or three years and then open my own clothes shop," she said in a brief interview in the presence of officials.
'A great deal of pressure'
Jutting out against desert dunes, the new industrial zones in Xinjiang are often surrounded by high walls, barbed wire and security cameras. Some are built near indoctrination camps and employ former inmates.
Xinjiang's drive to put minorities in jobs often feels less like a jobs fair and more like a military call-up.
Trainee laborers often first attend political courses similar to those used in the indoctrination camps. They practice military drills, learn patriotic Chinese songs, and listen to lectures warning against Islamic zeal and preaching gratitude to the Communist Party. New laborers are sometimes shown in Chinese media reports wearing military-type uniforms and standing to attention as they are escorted to their employers.
Many are separated from their families. A directive from the Qapqal government ordered children of working couples to be put in care — home villages for the young, boarding schools for older ones — so their parents could move for work.
Workers' movements are highly controlled if they are far from home. In Yanqi County in the region's north, workers sent from the south are not allowed to quit unless they get written permission from several officials, according to rules by the local government.
Labor recruits undergo "political vetting" to determine if they are a security risk. In Qapqal County, officials imposed rules to grade potential recruits from most to least trustworthy. The least trustworthy had to attend indoctrination classes in the evenings, while only the most trusted could leave the county for work.
"There is a great deal of pressure placed on individuals to sign work contracts," said Darren Byler, an expert on Xinjiang at the University of Colorado Boulder.
Mr. Byler said many residents believed that resisting work transfers could prompt detention. "The threat of the camps hangs over everyone's heads, so there is really no resistance to assigned factory work," he said.
Chinese official media reports that workers make $400 and up a month, a decent income. The reality may differ, especially in smaller, struggling factories. In a township in southern Xinjiang, two thirds of 43 factory employees whose wages were included in online records earned $114 a month, according to Adrian Zenz, an expert on Xinjiang who has studied the labor programs.
Amanzhol Qisa, a 31-year-old Xinjiang resident, spent a year in an indoctrination camp and in April was sent to work at a clothing factory for three months. She was paid $115 a month, less than half the minimum wage, according to her husband, Muhamet Qyzyrbek.
Mr. Qyzyrbek, a Kazakh citizen, said by phone from Shymkent, a city in southern Kazakhstan, that his wife had no choice but to take the job. "After being released, you need to work according to their policies," he said.
Ethical risks
Starting in late summer, villagers in Xinjiang file onto buses taking them to cotton farms, sometimes hundreds of miles away. For a few intense weeks under the sun, they hunch over in fields, picking the crop that ends up in Chinese clothing factories.
Teams of Communist Party officials in villages hold "mobilization meetings," pressing farmers to sign up. The pay is good, they say.
"Head out boldly and bring back the cash," a village official in Dol Township in southern Xinjiang told dozens of farmers, according a local government report last year. The village officials urged team leaders to take special care of three villagers in their 60s who had signed up to pick cotton, the report said.
Xinjiang grows 85 percent of China's cotton, by official estimates, and is pushing to make more textiles and garments. And nearly every link in the supply chain intersects with the government's labor programs.
Large Chinese textile makers, such as Huafu Fashion Company, based in eastern China, have promoted their role in employing minorities from the countryside, while denying that any were forced to take the work.
Some global companies have advertised high-quality Xinjiang cotton as a selling point. The Japanese retailer Muji describes that its flannel uses "hand harvested" cotton from the region.
The international concern over human rights in Xinjiang is putting pressure on global retailers to vet their suppliers. The United States recently banned clothing from Hetian Taida, a company in Xinjiang suspected of using workers from an indoctrination camp.
The parent company of the Japanese retailer Uniqlo said the brand stopped working with production partners in Xinjiang. Muji of Japan did not respond to emails requesting comment. In August, its parent company, Ryohin Keikaku, said it was committed to banning forced labor, including among its business partners.
Until recently, Qapqal County had sent a total of over 440 workers to east China to work for a factory that makes inflatable paddle pools and beds for export to the United States and other countries. The factory is owned by the Bestway Leisure Products Company, which has sold such products to Walmart, Kmart and other retailers, according to export records.
Pat Fumagalli, a chief strategic officer for Bestway who is based in the United States, said the company ended the program to take workers from Xinjiang in October, after managers in the United States noted reports about the region's labor programs.
Marilee McInnis, a spokeswoman for Walmart, said in email: "Responsible recruitment and voluntary labor are two very important issues for Walmart."
Transform Holdco, the parent company of Kmart, declined to comment.
After The Times made inquiries, inspectors acting for Walmart visited the factory. The inspectors from the ICTI Ethical Toy Program examined records and spoke to managers. They found no disparity between the pay and conditions of workers from Xinjiang and other places, said Mark Robertson, a senior vice president for the inspection program.
"We did not have the opportunity to interview workers from Xinjiang as none were working at the factory when we conducted our visit," he said.
https://www.nytimes.com/2019/12/30/world/asia/china-xinjiang-muslims-labor.html
------
Florida attorney and self-described '100% Trump supporter' is suspended from practicing law for tweeting 'never trust a Muslim' and homophobic rants
By ASSOCIATED PRESS and SNEJANA FARBEROV FOR DAILYMAIL.COM
30 December 2019
A retired Florida lawyer and former judicial candidate has been disciplined for making offensive comments on social media about Muslims and the LGBTQ community.
Florida Supreme Court, which handles discipline against lawyers and judges, handed Donald McBath a 91-day suspension from practicing law and a fine of more than $1,380 for his Islamophobic and homophobic remarks.
The Florida Bar, which announced the court's decision on Friday, documented 15 objectionable posts that McBath, 61, made on Facebook or Twitter, including 'Never trust a Muslim' and 'Muslims are deranged.'
McBath's other comments addressed LGBTQ people, including: 'Abstain, if you really have that mental illness. It's not love.'
A Facebook status update dated February 25 read in part: 'homosexuality is condemned by Jesus and if the homosexual continues committing that sin of sodomy, his soul faces ETERNAL damnation!'
Some of his other screeds decried abortion, while others were supportive of President Donald Trump's travel ban, among them, 'They´re leaches on our system.'
As Tampa Bay Times first reported, the Bar also noted McBath's Twitter profile stated: '100% Trump supporter #MAGA; #KAG; proud DEPLORABLE; Pro-God; Christian; Pro-Life; Pro-Gun; Anti-Sharia; Constitutional Conservative; Former Major US Army.'
McBath ran for a judgeship last year in the Sixth Judicial Circuit, which comprises Pinellas and Pasco counties and comes with a $160,000-a-year salary. He lost in the primary to former prosecutor Doneene Loar.
During his candidacy, McBath told the newspaper the comments were his, but said they wouldn't prevent him from treating a Muslim or LGBTQ citizen fairly if one appeared before him as a judge.
'I absolutely can still be fair no matter what kind of beliefs that I may have,' he told the paper in May 2018.' We all have our own personal beliefs based on what's happened in our lives, and as long as it doesn't interfere with how we treat a person, that's the goal.'
According to his biography, McBath is a retired US Army major and Operation Desert Shield veteran who earned his law degree from Western Michigan University's Cooley Law School in 1993. For 25 years, his practice revolved around matrimonial and family law.
Over the course of his career, McBath faced disciplinary actions at least a half-dozen times, including in 2007, when he had his license suspended for 21 days for mishandling a divorce case.
In 2014, he was admonished for threatening a woman with deportation in a cease and desist letter.
https://www.dailymail.co.uk/news/article-7837553/Ex-judicial-candidate-disciplined-anti-Muslim-comments.html
------
Turkey's Main Opposition Refuses Plan to Send Troops to Libya, Shedding of 'Muslim Blood'
Monday, 30 December, 2019
Ankara- Asharq Al-Awsat
Turkey's main opposition party said Monday it does not support the government's plans to deploy troops to Libya, saying the move would embroil Turkey in another conflict and make it a party to the "shedding of Muslim blood."
Turkish President Recep Tayyip Erdogan has said the UN-supported government in Libya asked Ankara to send troops to help authorities in Tripoli defend the city from an offensive by rival forces.
The Turkish government is expected to submit a motion to parliament Monday allowing the deployment of Turkish forces to the conflict-torn country. A vote could take place as early as Thursday.
Although the details concerning the possible deployment have not been revealed, the main opposition Republican Peoples' Party, or CHP, made clear its lawmakers would vote against it.
"We don't want this terrible picture that unfolded in Syria to unfold in yet another country," Unal Cevikoz, the CHP's deputy chairman told reporters after a meeting with Foreign Minister Mevlut Cavusoglu.
"We will never accept Turkey to be a part of the proxy war in Libya and, by siding with one of the sides of the conflict, for it to be a cause of the shedding of Muslim blood," Cevikoz said.
Cevikoz said Turkey must instead "give priority to a diplomatic solution" in Libya.
However, Erdogan's ruling party is in an alliance with a nationalist party, and together the two have sufficient votes to pass the deployment motion.
Cavusoglu, the foreign minister, later also held talks with the leader of another opposition party, to seek support for the motion. That party has not made up its mind about backing the motion, he said.
Erdogan said last week that the government of Libyan Prime Minister Fayez Sarraj in Tripoli "invited" Turkey to send troops after the two recently signed a military cooperation agreement. Ankara and Tripoli have also signed a maritime deal. Both agreements have met with criticism across the region and beyond.
Sarraj's administration has faced an offensive since April by the rival government based in eastern Libya and forces loyal to commander Gen. Khalifa Haftar, who is trying to take Tripoli.
https://aawsat.com/english/home/article/2058941/turkeys-main-opposition-refuses-plan-send-troops-libya-shedding-muslim-blood
------
Killing of aid workers barbaric, against tenets of Islam – ACF
DECEMBER 30, 2019
Ben Agande – Kaduna. The Arewa Consultative Forum (ACF) said on Monday it was "shocked and saddened" by the sad news of another killing of aid workers including a woman by the Boko Haram terrorists in Borno State. The Forum urged the Federal Government to ensure that all those in Boko Haram captivity are released immediately.
In a statement issued by its National Publicity Secretary, Mohammed Ibrahim Biu, the ACF said the "action of the terrorists was callous, barbaric and inhuman and totally against the tenets of Islam and humanity. The Forum said: "The killing is a clear desecration of Islam which preaches sacred inviolability of the individual.
"The Federal Government's assurances that it has been working with some friendly countries and other international organizations to save the lives of the innocent aid workers and other kidnapped female students have not yielded the desired result. "ACF, therefore, urges the federal government to review its negotiation strategy with the terrorists and ensure that all kidnapped persons still in the captivity of the Boko Haram including Leah Sharibu and the Chibok girls are rescued and released to their families. "ACF urges the federal government to intensify its rescue operations in order to assuage the fears of Nigerians of what may happen to those still in captivity. "ACF extends its condolences to the families of people brutally executed by the terrorists for serving humanity and equally commiserates with the families of those still captivity.
https://www.vanguardngr.com/2019/12/killing-of-aid-workers-barbaric-against-tenets-of-islam-acf/
------
India
Muslims pray in church during citizenship protest in Kerala
December 29, 2019
Kothamangalam, Dec. 29, 2019: This could be the first such incident when the Maghrib (evening) prayer was recited from a church and hundreds of Muslims offered Namaz in a church compound.
It happened in Kothamangalam, in Kerala's Ernakulam district on December 28.
It was a massive rally organized by the All India Professional Congress, against the Citizenship Amendment Act (CAA). The rally from Muvattupuzha to Kothamangalam also saw the participation of leaders from various political parties.
By the time the march reached Kothamangalam, it was time for the Maghrib prayers. And, without any hesitation, the authorities at the St. Thomas Church, Kothamangalam (Mar Thoma Cheriapally) opened its campus and welcomed the Muslims to offer their prayers there.
The priest of Marthoma Cheriapally offered water to perform Wudhu (the ritual washing performed by Muslims before prayer) to IUML leader Sayyid Munavvar Ali Thangal who was part of the march.
"It was such nice gesture to see the priests and Christian devotees welcome us there," Munavvar Ali wrote on Facebook.
Sharing the video of Muslims offering prayers at the church Munavvar Ali further wrote: "This is a reflection of the desire of lakhs of people who want to see our country remain how it is now".
"Friends, let love be our weapon and unity our shield. We cannot let them destroy this country. We will overcome this," he said in the Facebook post.
Last week, another church in Kerala, the Marthoma Church, Kozhencherry had extended solidarity with the Muslim community by singing a Christmas Carol song in the tune of Mappilappattu (traditional Muslim folk song) while wearing hijabs and skull caps.
Over the past few weeks, several others in the state too had come up with creative ways to make their voices heard against the CAA and NRC.
Several couples used their 'Save the date' photoshoots to spread the message.
There were even Christmas Carols where Santa went around with anti-CAA and NRC messages.
Kerala was one of the first states to come out against the NRC and said that both CAA and NRC won't be implemented in the state.
Unlike most states, in Kerala, both the Ruling CPIM-led LDF and the opposition, Congress-led UDF are on the same page when it comes to protests against CAA and NRC.
Kerala had also suspended the work of NPR considering "apprehension among the general public" following the National Register of Citizens and Citizenship Act.
https://www.indiatimes.com/news/a-church-in-kerala-opened-its-gates-for-muslims-to-offer-namaz-during-anti-caa-protest-503234.html
http://mattersindia.com/2019/12/muslims-pray-in-church-during-citizenship-protest-in-kerala/
------
Muslim scholars condemn SP's 'go to Pak' remark, call for judicial probe
Dec 30, 2019
Muslim scholars of Meerut condemned SP Akhilesh Narayan Singh's purported 'go to Pakistan' remark for people who were protesting against the amended Citizenship Act (CAA) on December 20 and demanded a judicial inquiry into the matter while speaking to media persons on Monday.
Shahar Qazi Zainus Sajeedin, a revered figure among Muslims in Meerut and a former professor of Islamic theology at the Aligarh Muslim University, said that he was a big supporter of communal harmony but felt that the SP's remark was an insult to the entire Muslim community.
"We condemn those who indulged in violence on December 20. We remained by the side of the police throughout that troublesome time. However, there are no videos in which people can be heard raising anti-India slogans. People were protesting against the CAA and the NRC (National Register of Citizens) to live in this country. The police should present evidence if any such slogans were raised," said Sajeedin.
He said that if the police didn't have any evidence to support their claims, then senior officials should initiate action against the Meerut superintendent of police. "They (senior police officers) should order a judicial inquiry into this incident. Otherwise, we will take the matter to court," he added.
Expressing dismay over the controversy, Qari Shafiq-Ur-Rehman of Milli Council said, "What is happening in the country, including Meerut, is worrisome." He, however, did not elaborate on his comment.
City president of Jamiat Ulema-e-Hind Zainur Rasheedin also called for a judicial probe into the incident. "The police should release some video of the protesters who had raised pro-Pakistan or anti-India slogans," he said.
https://www.hindustantimes.com/cities/muslim-scholars-condemn-sp-s-go-to-pak-remark-call-for-judicial-probe/story-4XNxFS2lXtdFHlfEnR58zL.html
------
Uttar Pradesh Govt Identifies Plots For Ayodhya Mosque
Kumar Abhishek
December 31, 2019
The Uttar Pradesh government has identified possible plots for a mosque in Ayodhya, in compliance with the recent Supreme Court order green lighting the construction of a temple at the former site of the Babri Masjid -- which Hindus consider to be Lord Ran's birthplace.
Kar sevaks destroyed the Babri Masjid in 1992, sparking deadly nationwide riots.
The UP government has identified five plots in Mirzapur, Shamshuddinpur and Chandpur, all outside the "panchkosi parikrama", a 15-km periphery enclosing an area considered sacred.
The government will offer these plots to the Sunni Waqf Board once a board of trustees is formed to deal with temple construction and other issues -- as mandated by the Supreme Court order.
The Supreme Court said in its November 9 ruling that the Sunni Waqf Board should receive an alternate 5-acre plot of land within Ayodhya.
Eighteen review pleas were filed against the verdict in the top court, but all of them were dismissed on December 12.
https://www.indiatoday.in/india/story/ayodhya-mosque-up-govt-identifies-plots-1632763-2019-12-31
------
Shiv Sena gets Muslim face, allies add three minority leaders to cabinet
Dec 31, 2019
AURANGABAD: Four Muslim faces in the Uddhav Thackeray ministry have come as a major boost for Congress and NCP considering the challenge from AIMIM in the state.
The Hyderabad-based party had dented Congress-NCP's prospects over the past few elections, including Lok Sabha and assembly, by eating into Muslim votes.
Shiv Sena, too, has extended an olive branch to the Muslim community by appointing Abdul Sattar, a firebrand MLA from Sillod in Aurangabad district, as a junior minister. The other Muslims inducted into the cabinet are Nawab Malik, Aslam Shaikh and Hasan Mushrif.
Malik, a Pawar acolyte and NCP's key minority leader, was re-elected to the state assembly from Mumbai. Mushrif is also a force to reckon with in NCP. Kagal, near Kolhapur, is his bastion. Aslam Shaikh is a Congress MLA from Malad West.
A senior MIM functionary said the presence of four ministers from the minority community has certainly breathed new life into Congress and NCP. "Usually, people tend to go with power. This will impact MIM and help strengthen the Congress-NCP base among the minorities."
Gaffar Qadri, a former NCP functionary who lost the last assembly polls from Aurangabad East constituency by a narrow margin as an MIM nominee, said, "It is good to have four Muslim faces in the ministry, but they won't have any impact, particularly in the Marathwada region."
"Though the Congress and NCP have opted for Muslim representatives from Kolhapur and Mumbai region, these ministers will have to forge a connect with the minority community across the state to bring back the lost vote base," said Mushtaq Ahmed, a senior NCP functionary.
Sattar's appointment has given Sena leaders hopes of attracting Muslims. Former MP and senior Sena leader Chandrakant Khaire said, "We work a lot for Muslims but at the time of voting they drift away. Now with Sattar's appointment they will be reassured that Sena is for all. They should join and strengthen Sena's hands. They don't have a reason to fear the Sena."
https://timesofindia.indiatimes.com/city/aurangabad/sena-gets-muslim-face-allies-add-three-minority-leaders-to-cabinet/articleshow/73037203.cms
------
India: Doors shut for return of Muslim migrants of Kashmir
30.12.2019
Hilal Mir
SRINAGAR, Jammu and Kashmir
India has scrapped a 37-year-old law in Jammu and Kashmir that permitted the return of its residents who fled to Pakistan from 1947-1954, says a government notification.
After revoking special provision of Indian constitution, granting special status to Jammu and Kashmir and Ladakh regions on Aug. 5, the government has announced the scrapping of further 152 laws, that also included the Jammu and Kashmir Grant of Permit for Resettlement in the State Act.
The law adopted by the state legislature in 1982, though never operational, was providing a glimmer of hope for Kashmiri Muslim migrants to return and resettle in their homes.
Many divided families living in Pakistan-administered Kashmir and Pakistan were awaiting operationalization of this law over the past 37-years to return to their homes.
But after its scrapping, the hopes have been shattered, says Khalid Wasim, a Srinagar-based journalist. His uncle Khalid Iqbal, living in Pakistan was awaiting operationalization of this law to return to Srinagar, till he passed away recently as an immigrant.
"Closing doors on thousands of Muslim families and at the same time granting citizenship in Kashmir to Hindus who had fled under similar circumstances, clearly indicates that abolition of this law is motivated by ideological and religious reasons," said Wasim.
"Abolition of this law is also in sync with their vicious policy of undermining the Muslim-majority character of Jammu and Kashmir. History testifies to the fact that Jammu had a sizeable population of Muslims who were driven out by murderous mobs," he added.
The Jammu region of the erstwhile state had witnessed one of the bloody communal riots soon after India and Pakistan were granted independence in 1947. British historian Alex Von Tunzelmann records that more or less the entire Muslim population of Jammu, amounting to half a million people, was displaced.
Legal battle
Soon after the law was adopted by the state legislature in 1982, then President of India Giani Zail Singh had referred it to the Supreme Court for its opinion, thus staying its operationalization. In 2001, the Indian apex court declined to give its opinion.
When the law was now about to be implemented, a Jammu-based politician Harsh Dev Singh filed a writ petition, seeking quashing of the law. The Supreme Court stayed its implementation in February 2002, till the final adjudication.
According to the law, victims of religious violence could have reclaimed their properties. The properties are currently under the custody of the government, under the Evacuees Property Act.
"Some of these properties have been allotted to Hindu refugees who had settled in Jammu. Reclaiming the properties will create law and order problems," Dev argued in his petition.
On Dec. 13, 2018, months before Kashmir was divested of its autonomy, the Supreme Court asked the Jammu and Kashmir government to file details about the number of migrants or their descendants, who had applied for the permission to return to Kashmir.
A month later, the state replied that so far nobody had applied for the return, as the law was never notified, a necessary step before seeking applications.
According to Abdul Rahim Rather, a former lawmaker who had piloted the law in the Assembly in 1980, the legal battle has now become infructuous, since the law no longer exists in the statute book.
According to the Delhi Agreement of 1952 enacted between Indian Prime Minister Jawaharlal Nehru and leader of Jammu and Kashmir Sheikh Mohammad Abdullah, Kashmiri citizens, who were forced to migrate to Pakistan in the wake of disturbances, were entitled to seek rights and privileges to return to their homes.
Hasnain Masoodi, a former judge of Jammu and Kashmir High Court, currently a member of Indian parliament, said the recent events that included scraping of special status would not affect the litigation process.
The court has already admitted a petition challenging scrapping of autonomy and is slated to hear it on Jan. 21.
https://www.aa.com.tr/en/asia-pacific/india-doors-shut-for-return-of-muslim-migrants-of-kashmir/1688002
------
CCA cause of worry: Indian Catholic Church leaders
December 28, 2019
By Matters India Reporter
New Delhi, Dec 28, 2019: After weeks of silence, leaders of the Catholic Church have commented on the controversial Citizenship Amendment Act and countrywide protests against it.
On December 27, Cardinal Oswald Gracias, president of the Catholic Bishops' Conference of India, said the ongoing controversy and demonstrations and counter demonstrations against the new law is a cause of "great anxiety" for all as they would harm the country.
"There is a danger that there could be a polarization of our peoples along religious lines, which is very harmful for the country," warned the cardinal, who turned 75 on December 24.
The cardinal, the archbishop of Bombay and one of the six advisers of Pope Francis, says religion should never become the criterion for citizenship of a country. "Nor is violence a solution when there is a difference of opinion," he said in a press release.
He urged the government to dialogue with those opposing the Act, and come to an agreement about the way forward with justice, equity and fairness.
"There is no harm in backtracking: changing course if this is necessary for the good of the country and our people," the cardinal repeated what he had told his friends and admirers who had come to celebrate his birthday in the Archbishop's House on December 24.
Earlier on December 23, Cardinal George Alencherry, head of the Syro-Malabar Church, urged the federal government to 'carry out necessary revision' of the new Act before implementing it.
Issues related to the Act should not be allowed to cause communal divide in society and differences between religions, asserted the cardinal, who was recently elected the president of the Kerala Catholic Bishops Council.
Necessary deliberations are also required to solve the confusion about the manner in which the Act is going to be implemented, said the cardinal who is based in Kochi, the commercial capital of Kerala, southern India.
He was speaking at a Christmas gathering organized at his Church's headquarters, Mount St Thomas, Kakkanad, a Kochi suburb.
Cardinal Alencherry says the new Act lacks clarity in many areas and the Church usually doesn't take a stand in public.
"Our country is going through a turbulent condition. The farmers and fishermen in Kerala are having issues too. What we need to realize is that the birth of Jesus happened after overcoming so many hurdles. He fought and overcome all hurdles in his lifetime. So as humans, we will have to face many hardships, but we can overcome them," the cardinal added.
Meanwhile people cutting across religions continue to protest the Act in various parts of the country.
On December 20, more than 200 Christian leaders from across India condemned the Act and the "brutal repression" of protests by youth and civil society against the legislation.
"We express our solidarity with the students and others who have been grievously injured and pray for their speedy recovery," said the statement signed among others by Father George Pattery, head of the Jesuits in India, former theology professor T K John, human rights activist John Dayal, and Evangelical Fellowship of India general secretary Reverend Vijayesh Lal.
The statement noted several controversial legislations passed by the Parliament since the new government came to power in May. They have led to the collapse of the democratic institutions of India built "carefully and painstakingly" by "enlightened leaders" over the last seven decades, the Christian leaders bemoaned.
The new law, they say, is deeply divisive, discriminatory and violative of human rights. In particular, this legislation discriminates against Muslim communities in India, who constitute over 14 percent of the population of India, and therefore, it is totally unacceptable in a secular democratic republic of India.
"The letter and spirit the Constitution, framed by men and women who had participated in the freedom struggle, cannot be thrown out at the whims of a particular ideology. We are deeply saddened at the haste in which the President of India gave his assent," the statement added.
The Act became a law on December 12 when the president signed it. However, it would become effective only when the government notifies it.
The Lok Sabha, the lower house of parliament passed it on December 10 and the Rajya Sabha, the upper house, two days later.
The protests against the law started on December 12 at the campus of New Delhi's Jamia Millia Islamia University.
http://mattersindia.com/2019/12/cca-cause-of-worry-indian-catholic-church-leaders/
------
Pakistan
Imran Khan jihad against corruption continues with full force: Firdous Ashiq
30 December, 2019
ISLAMABAD: Special Assistant to Prime Minister on Information and Broadcasting Dr Firdous Ashiq Awan said Prime Minister Imran Khan's jihad against corruption continues with full force. In a series of tweets, she said the National Accountability Bureau (NAB) is supposed to carry out action against mega corruption scandals and it will do its job with a reinforced commitment. She said action will definitely be taken against those government employees who have secured personal interests through procedural flaws or departmental lacunas. She said public office holders, who have increased their assets manifold by misusing authorities, will not be spared of the action.
Dr Firdous said under the National Accountability (Amendment) Ordinance, 2019, honest public office holders will be able to make decisions in public interest fearlessly to perform their constitutional responsibilities. She regretted that Pakistan Muslim League-Nawaz spokespersons, who would frequently speak against NAB, are doing politics on NAB ordinance. She said even the strongest opponents of Imran Khan have failed and will fail in levelling allegations of corruption against him. She said Imran Khan has no fear of accountability as the country's apex court has declared him truthful and righteous.
Special Assistant to Prime Minister on Accountability Shahzad Akbar held a detailed press conference on Sunday to explain the changes in the NAB ordinance made by the government through a presidential ordinance promulgated earlier in the week. He said that besides turning around the economy, the government has focused on the restoration of the people's confidence in state institutions. "An example before us is NAB (National Accountability Bureau) whose laws were amended to bring in improvements," he said, as he began to clarify why the law had been amended and what the amendments exactly entail.
"It was seen as extremely important to bring in changes to existing laws so that no one is wrongly made to suffer," he said. "You will all agree with me that the NAO,1999 is a very stringent law. And rightly so, to effectively address the menace of corruption rampant in our society. But clarification is needed so the law is understood better," he said.
Akbar said one of the aims of bringing in the amendments is to address the clause of 'misuse of authority'. He said previously the law was such that a person could be embroiled in a NAB case simply for having made a wrong decision. "So an addition to the clause has been made whereby when a person is using their authority – whether it's a public office holder or a minister or a businessman – and they are charged with having misused it, it will be examined whether there was personal monetary benefit attached to their decision," he said. "If such an advantage emerges only then will it be considered corruption."
The second amendment was made for the issue of taxation, he said, and elaborated that in several cases, the overriding of jurisdictions of several institutions was noted. He clarified that tax related issues will be dealt by the Federal Board of Revenue (FBR) and not by NAB.
The PM's aide said that the Section 4 of the four-page amendment draft deals with application of the ordinance. He said that Section 4(2) says that the provision of this ordinance will not apply to the matters pertaining to federal and provincial taxation, levies and impost. "It is very important to draw the distinction between the issues of corruption and taxation," he said. "Section 4(2) B is also a very important section. Under it, it has been outlined that the NAB law will not be applicable to any person who himself is not a public officer holder, has no relation with a public office holder, and does not have any means of using authority," he said. "Cases in which government office holders have used their authority for kickbacks already do fall within the scope of NAB's investigations. In cases of assets beyond known sources of income, a government official can be probed by NAB but not a common man. In the case of the common man, he will be investigated by FBR," he explained.
Akbar, however, warned that there are three exceptions when it comes to the implication of a common man. He said if a common man or businessman cheats the public at large, for example with a modarba scam, the case will fall within NAB's jurisdiction. Also, if there is criminal breach of trust by an ordinary man whereby, for example, he cheats someone out of money kept with him for safekeeping, it will be a case NAB will investigate. The third exception is breach of trust in the capacity of merchant, attorney, bank or agent. If any of these professionals cheat the public, they will be held accountable by the NAB.
He also explained a sub-section of the ordinance pertaining to procedural lapses. "If there is a procedural lapse, if a rule has been violated but there is no element of corruption and no undue advantage, [it won't be taken up by NAB]," he said. "NAB's task is to probe corruption allegations. Its job is not to fix departments and any procedural lapses within them. For that, departments have their own laws, for example, the termination of service of an employee," he said.
Akbar then explained a sub-section which states that no action will be taken against any public office holder over the rendition of any advice, opinion or report by them unless proof of corruption or benefit is provided. He said that another sub-section also explains that assets when assessed will be valued according to whichever is higher among the DC (government) rate or the FBR rate. He said that everyone knows FBR rates are updated.
The PM's aide also explained another clause regarding 'defence of good faith' contained in Section 36 of the existing law. "For example, NAB makes a case against a person who is later exonerated. He will have to take the action in good faith. He will not be able to file a case against NAB officers and allege that they committed injustice. If they had evidence and went forward with the case, they had no ill will. Unless the person can prove personal enmity," he said, adding that the same good faith defence is available to civil service officers and bureaucrats unless corruption is proved against them.
http://paktribune.com/news/Imran-Khan-jihad-against-corruption-continues-with-full-force-Firdous-Ashiq-283598.html
------
Fresh diplomatic outreach planned on rights abuses in occupied Kashmir
Baqir Sajjad Syed
December 31, 2019
ISLAMABAD: The government is planning to launch a fresh diplomatic outreach and an accompanying media campaign to nudge the world to end its silence on the Indian government's human rights abuses.
Foreign Minister Shah Mehmood Qureshi on Monday chaired meetings of the Advisory Council on Foreign Affairs and an inter-ministerial committee to discuss the worsening humanitarian crisis in occupied Kashmir, intensified cea­se­fire violations by Indian forces along the Line of Control (LoC), and raging protests against contentious citizenship law in India.
These meetings followed last Friday's consultative session with former foreign secretaries on the developing situation in India and the threat of a military misadventure by Indian armed forces against Pakistan.
The advisory committee meeting, which was att­end­ed by former foreign secretaries, retired diplomats, and foreign policy experts, recommended reinvigorating diplomatic contacts for highlighting the worsening humanitarian crisis in occupied Kashmir due to the curfew that has been continuing since Aug 5 annexation of the valley by India.
Meanwhile, a meeting of the inter-ministerial committee, which was attended by Adviser to the Prime Minister on Institutional Reforms Dr Ishrat Husain, Special Assistant to Prime Minister on Information Dr Firdous Ashiq Awan, SAPM on National Security Dr Moeed Yousuf, and Foreign Secretary Sohail Mahmood deliberated on ways for promoting Pakistan's narrative on key foreign policy issues particularly the Kashmir dispute through media.
Speaking at the meeting, Mr Qureshi said that the government was determined to highlight the plight of Kashmiris living in occupied valley. In this regard, all steps would be taken to raise the voice of Kashmiris at major forums including the UN Security Council.
The international media coverage, he observed, is inviting the world attention to sufferings of Kashmiris.
In a separate statement, the foreign minister, while discussing the anti-Citizenship Amendment Act (CAA) and National Register of Citizens protests, said that India today stands clearly divided between two ideologies — those supporting the ideal of secular India and proponents of Prime Minister Modi's Hindutva agenda.
"This fight is no more restricted to any particular religion, ethnicity, or region, it has spread all over India," he said.
Urging the world to speak about the predicament of Indian minorities, Mr Qureshi said that remaining silent was no more an option. "I understand that some governments may be compelled by exigencies of commercial ties with India, but I want to remind them that they also have to honour their democratic values," he added.
People, the foreign minister said, were already talking about the world's double standards. These countries, he believed, would have to stop prioritising their narrow interests and talk about suffering humanity in India.
dawn.com/news/1525344/fresh-diplomatic-outreach-planned-on-rights-abuses-in-occupied-kashmir
------
PML-N wants prisoners freed in wake of NAB law
Amir Wasim
December 31, 2019
ISLAMABAD: The main opposition Pakistan Muslim League-Nawaz (PML-N) has called for the release of all those opposition members being detained by the National Accountability Bureau (NAB) for no reason after the promulgation of the new ordinance which has curtailed certain powers and limited jurisdiction of the accountability watchdog.
In a statement on Monday, PML-N's information secretary Marriyum Aurangzeb also asked Prime Minister Imran Khan and NAB chairman retired Justice Javed Iqbal to apologise to the nation for holding its elected representatives "hostage through illegal abductions".
The government had last week promulgated the National Accountability (Second Amendment) Ordinance 2019, providing relief not only to bureaucrats and business community, but also to the politicians from across the aisle.
The two major opposition parties — the PML-N and the Pakistan Peoples Party (PPP) — are critical of the government's move to curtail powers of NAB, alleging that the prime minister has introduced the ordinance to save himself, his cronies and allies from facing the accountability.
Asks prime minister, NAB chairman to apologise to nation
Ms Aurangzeb had stated that the ordinance had been brought to "dry-clean the PTI regime and to halt all inquiries into their mega corruption scandals in all projects". The ordinance, she had said, was a recipe cooked by the "selected prime minister" to grant limitless NROs to his blue-eyed beneficiaries and his corrupt regime.
"After promulgation of this ordinance, all the innocent opposition members, including those belonging to the PML-N, should immediately be released," Ms Aurangzeb said in her latest statement on Monday.
When contacted, Ms Aurangzeb, refuted the impression that she was seeking any relief for the opposition members under the new ordinance, saying that she was simply questioning NAB for placing the innocent people under detention for no reason.
She said the PML-N and its leaders did not agree with any law that was made to benefit a specific group and not for the greater positive reformation of the country and society.
"The PML-N has braved all channels of accountability, no matter how politicallymotivated. The PTI regime failed to prove any of its fictitious allegations in courts. The PML-N does not seek any relief through any such law, especially the one that comes without thorough parliamentary approval and proper constitutional procedure for parliamentary legislation.
"Who shall account for these precious months and years of the lives of these opposition leaders? Who shall be held responsible for this abduction and illegal imprisonment? Who will make the perpetrators of this brutal political victimisation pay?" she asked.
She said the opposition leaders were already getting bails from courts on merit and, therefore, there was no question of seeking any kind of relief through the new ordinance. She said a number of PML-N leaders, including Nawaz Sharif, Shahbaz Sharif, Maryam Nawaz, Shahid Khaqan Abbasi, Hamza Shahbaz, Saad Rafique and Miftah Ismail, had already faced NAB and its jails. Moreover, she said, the new ordinance did not provide any relief at all to the opposition members as none of them had been accused of corruption or misuse of authority.
She said that on the one hand, the "incompetent government" had introduced the ordinance to save its own people and, on the other, the innocent opposition members had been languishing in jails for 15 months.
Ms Aurangzeb said the PML-N wanted to bring drastic reforms in NAB on permanent basis which was possible only through legislation in parliament. The PML-N, she said, wanted to change the laws in such a way that no one could use NAB as a political tool to victimise opponents.
She said government officials were coerced into becoming approvers against politicians to malign them and make false references.
"People are being forced to commit perjury which is destroying the social fabric while corrupting and rendering the system of public service delivery dysfunctional.
Ms Aurangzeb, who had served as the information minister in the previous PML-N government, regretted that party secretary general Ahsan Iqbal had been arrested without any justification and illegally just two days before promulgation of the ordinance.
"Why Ahsan Iqbal has been arrested? Does the NAB chairman have any reply?" she asked.
She said there were no charges of corruption, kickbacks, commission or misuse of the authority against Ahsan Iqbal, adding that he had been picked up only because of his loyalty to former prime minister Nawaz Sharif and for rendering public service. She alleged that Mr Iqbal had been arrested for exposing the present "incapable and incompetent government".
https://www.dawn.com/news/1525364/pml-n-wants-prisoners-freed-in-wake-of-nab-law
------
Jami names Dawn CEO Hameed Haroon as alleged rapist; Haroon rejects accusation
December 30, 2019
Filmmaker Jamshed Mahmood, who in October came forward with the accusation that he was raped by a "media tycoon" 13 years ago, has named Dawn CEO Hameed Haroon as his alleged rapist.
The director, popularly known as Jami, made the accusation in a tweet on Saturday night from a new Twitter account he created, allegedly due to his previous account being hacked. He also shared the accusation on his Facebook page.
In response, Haroon on Monday issued a statement categorically rejecting the rape accusations. "The story is simply untrue and intentionally fabricated at the instance of those who wish to silence me and through me, to compel the newspaper that I represent to support their repressive narrative," said Haroon, adding that he will initiate legal action.
"I am initiating legal action to clear my name and reputation, and to safeguard the freedom of the press by bringing to justice all those responsible for these false and malicious allegations against me," said Haroon. (Full statement further below)
Later in the day, Jami posted another tweet responding to the Dawn CEO's statement.
He shared that he had feared "this entire plot that I'm part of Establishment to bring Dawn down" would be used against him. The director clarified that coming forward with his story was not about "Dawn vs Jami. It's personal issue raised now (because) I'm doing all this for few years to help victims."
He rejected the notion that he was acting on the behest of anyone, despite having been approached by some hoping "to bring down Dawn".
"We refused every single time as I told them I'm from a family where we don't use any illegal means to serve any purpose at all. Rest we will see in court. This is for victims and survivors. We put our neck out (because) #metoo died here in Pakistan (because) of all these dirty tricks."
"I'm giving my word to Dawn management that I would never hurt Dawn ever [...] issue is sexual assault, not Dawn."
Complete statement by Hameed Haroon
The following statement has been issued by Hameed Haroon: "For some three months now, tweets in the social media and some print media, some of which have been authored or prompted by Jami Raza, have alleged that Jami was subjected to rape many years ago but was 'coming out' only now because the rapist was an 'influential and powerful media personality'. Hitherto fore, strangely the alleged rapist was never specifically named, even though hints and innuendos were dropped from time to time that could be taken as suggesting that it was the CEO of Dawn, Hameed Haroon. "But since I had not been specifically named in the tweets, I was advised, that even though I had a fair idea of who was prompting Jami Raza, I should exercise restraint until I was specifically named. On 28th December, Jami Raza specifically named me and it has therefore become necessary to respond.
"At the outset, I reiterate my commitment to come to the aid and support of victims of rape, sexual assault and harassment. I unequivocally condemn such dastardly acts whenever and wherever these occur and in whatever shape or form and whether they occur at the workplace or outside. I have always demonstrated sympathy and support for all rape, sexual assault and harassment victims regardless of whether the perpetrator is powerful or not.
"In the same breath, I am conscious that false and malicious allegations are sometimes leveled by powerful groups to serve their own social and political agendas with the calculated motive of destroying the reputation and dignity of a person and thereby to shatter one's credibility for collateral purposes.
"I categorically deny the allegation of rape leveled against me by Jami Raza. The story is simply untrue and intentionally fabricated at the instance of those who wish to silence me and through me, to compel the newspaper that I represent to support their repressive narrative.
"I first met Jami Raza when he was a freelance photographer and aspiring filmmaker in the 1990s or the early 2000s, which was the time that Jami had produced photographs of the Sir Jehangir Kothari bandstand for the purposes of architectural documentation and conservation. Impressed with Jami's work, I enlisted him in 2003-04 to collaborate with me on a photo essay in the catalogue of the Sadequain exhibition at the Mohatta Palace Museum. I do recall going to his house sometime thereafter to condole on his father's death but was unable to personally meet him. I do not recall ever being alone with Jami Raza. This has been the sum total of my interaction with Jami.
"I am convinced that the false and malicious allegation has been leveled at the instigation of powerful interests in the state and society who, for their own motives and the promotion of their own repressive narrative, wish to destroy my credibility and as a consequence thereof, the credibility of the newspaper group that I am associated with. It is not a mere coincidence that this particular tweet comes at a time when groups are being organized to demonstrate against Dawn and mysterious wall chalking is appearing, with both demanding the hanging of Dawn's CEO and also its editorial staff.
"I am determined to expose those behind these false and malicious allegations and pledge to keep aloft the banner of fair and accurate reporting without fear or favour. So far as the tweets and some newspaper reports are concerned, I am initiating legal action to clear my name and reputation, and to safeguard the freedom of the press by bringing to justice all those responsible for these false and malicious allegations against me."
https://www.dawn.com/news/1525264/jami-names-dawn-ceo-hameed-haroon-as-alleged-rapist-haroon-rejects-accusation
------
South Asia
Taliban's 5,000 prisoners will be released as US, Taliban peace deal is signed
Monday, 30 Dec 2019
The release of 5,000 prisoners of Taliban has been written in to the peace agreement draft which is going to be soon signed between United States and Taliban, AP reported.
A Taliban official familiar with the on-again, off-again talks taking place in Qatar, confirmed to AP that the release of around 5,000 prisoners of Taliban has been written in to the agreement which is under discussion.
But some analysts say freeing prisoners could undermine peace in Afghanistan.
"There's a need for Afghan and U.S. officials to do their due diligence on any Taliban prisoners they're planning to release, in order to minimize the likelihood that they'll set free jihadists that can do destabilizing things and undercut a fledgling peace process," warned Michael Kugelman, deputy director of the Asia Program at the U.S.-based Wilson Center.
Analysts and even the United States' own Special Inspector General for Afghanistan Reconstruction John F. Sopko said neither Afghanistan nor the U.S. is ready for the Taliban prisoners' release.
Every past attempt at re-integration has been costly and a failure.
A report released in September — one of several "Lessons Learned" treatises done by Sopko's team during America's 18-year and $1 trillion involvement in Afghanistan — said Afghans on both sides of the conflict need to avoid the missteps of the past.
Sopko said Congress should consider funding reintegration only if a peace deal provides a framework for reintegrating ex-combatants, there is strong monitoring of the process and violence is dramatically reduced.
This comes as three senior Taliban leaders including Anas Haqqani who was sentenced to death in Afghanistan, was released back in the second week of November 2019 in exchange of two lecturers of the American University of Afghanistan who were abducted by Taliban in 2016.
https://www.khaama.com/talibans-5000-prisoners-will-be-released-as-us-taliban-peace-deal-is-signed/
------
'No ceasefire plans' in Afghanistan, say Taliban
December 30, 2019
AhlulBayt News Agency (ABNA): The Taliban have rejected reports that the militant group has agreed to observe a brief ceasefire in Afghanistan amid ongoing peace talks with the United States.
"In the past few days, some media have been releasing untrue reports about a ceasefire," said the Taliban in a statement on Monday, adding that the group "has no ceasefire plans."
The truce agreement was reported by the Associated Press on Sunday evening. The report said the Taliban's ruling council had not yet decided when the ceasefire would begin.
According to the report, it was suggested that the ceasefire would last for 10 days. The AP added that the Taliban chief was expected to approve the temporary ceasefire agreement.
The report also said four members of the Taliban negotiating team had met for a week with the council before the agreement was reached.
The negotiating team returned on Sunday to Qatar, where the Taliban maintain a political office and where US representative for Afghanistan Zelmay Khalilzad has been holding talks with the militants' negotiators since September 2018.
The Taliban group refuses to negotiate with the Kabul government, which it regards as being illegitimate and a US puppet.
In September, the peace process in Doha came to a halt while both sides seemed close to a deal, with President Donald Trump declaring the talks with Taliban "dead" after the militant group killed a US soldier in a Kabul bombing.
Talks resumed after Trump made a surprise visit to Afghanistan at the end of November.
So far, there has been no immediate response from Washington regarding the temporary truce with the Taliban. A ceasefire had been demanded by Washington before any peace agreement could be signed.
The Taliban has been demanding that all foreign forces — US troops included — leave Afghanistan and end the invasion of the country, which began in 2001 under the pretext of fighting terrorism.
Even as the Taliban are engaged in talks about ceasing hostilities, the militant group has kept up it attacks across Afghanistan.
Earlier on Monday, a Taliban raid killed at least 14 Afghan forces and injured five others in the northern province of Jowzjan, local sources said. Two government troops have also been missing.
Last week, the Taliban targeted a US convoy in a bomb attack in Afghanistan's northern Kunduz Province, killing an American soldier.
https://en.abna24.com/news//no-ceasefire-plans-in-afghanistan-say-taliban_997590.html
------
Crude bomb blast again on DU campus
December 31, 2019
Two more crude bombs went off near the Dhaka University's Madhur Canteen yesterday a day after four exploded at the same place.
Yesterday's explosions occurred a little before 11:00am, leaving canteen waiter Hridoy with minor splinter wounds.
Police and DU authorities have yet to say who could be behind the incidents.
On Sunday, four crude bombs went off in the morning and evening at the same place while an unexploded one was found there on Thursday.
Visiting the spot, DU Proctor Prof AKM Golam Rabbani told reporters, "Some organisations, that exist in name only and do not have any ideology but have motives, are behind this."
There are several conflicting organisations, he said, "Rather than confronting [the opponent] politically, they want to make political gains by creating panic."
Witnesses said they didn't see anyone throwing the bombs.
https://www.thedailystar.net/frontpage/news/crude-bomb-blast-again-du-campus-1847449
------
Border Killings by BSF: 43 Bangladeshis killed this year
December 31, 2019
Muntakim Saad
There has been a sharp rise in border killings as 43 Bangladeshis were either shot dead or tortured to death this year by the Indian Border Security Force (BSF), according to Ain o Salish Kendra data.
Last year, the number was 14.
"Of the 43 Bangladeshis, 37 were shot dead and six others tortured to death," Abu Ahmed Faijul Kabir, ASK's senior coordinator, told The Daily Star yesterday, citing the rights body's annual report, to be launched at the capital's Jatiya Press Club today.
ASK data show that 46 people were killed along the Bangladesh-India border allegedly by the BSF in 2015. The number came down to 31 in 2016 and 24 in 2017.
Rights defenders describe such killings of unarmed and defenceless people as cold-blooded murders.
The Indo-Bangla border is routinely crossed by locals for trade and commerce.
The latest border killing was reported on December 25, at a time when a director general level conference between Border Guard Bangladesh (BGB) and the BSF was still underway in New Delhi.
Killing or injuring innocent Bangladeshi citizens and firing on them on the border was one of the agendas of the meeting from the BGB.
Earlier in June at another DG-level talks in Dhaka, the then BSF director general Rajni Kant Mishra had termed border killings as "unfortunate deaths" and said the number of such incidents increased.
Border killings have continued for years despite a commitment from top BSF officials that the number of such deaths would be brought to zero.
Apart from killings, torture frequently takes place on the borderline.
During the last week of April, BSF members tortured a Bangladeshi man by pulling out all 10 of his fingernails with pliers after he was caught for "illegal entry".
Such incidents of torture have caught media attention and the BSF has been heavily criticised by human rights defenders.
Talking to this newspaper, Mizanur Rahman, former chairman of National Human Rights Commission, termed such incidents "high-handedness of India".
"…Unfortunately our government is not that vocal about this issue. Our ministers or secretaries always say that they bring up the issue for discussion with their Indian counterpart. But we don't see any improvement.
"Our government will keep on saying that the bilateral relationship with India is better than any time in the past. On the other hand, such border killings will go on … It's very unfortunate," he said, adding that now the government should step up its efforts to address the issue.
Talking to The Daily Star earlier, Brad Adams, executive director of Human Rights Watch's Asia Division, had said despite promises by successive Indian governments to end abuses and hold its forces accountable, there appeared to be complete impunity for BSF soldiers.
He mentioned that there has been a renewed push by the Indian government to stop illegal cattle trade at the border since 2014. "However, a duty to prevent cattle smuggling or other illegal activities at the border does not give the BSF a licence to kill," he said.
Since 2000, more than 1,000 Bangladeshi nationals have been killed in border areas, according to rights defenders who described the areas as "killing fields".
Of the killings, the Felani murder caught everyone's attention. The 15-year-old was gunned down by some BSF members on January 7, 2011, when she, along with her father, was returning home from India through Anantapur border along Phulbari upazila of Kurigram.
The photo of Felani's body hanging upside down from barbwire fence sparked outcry and condemnation throughout the country. Nearly nine years on, her family's wait for justice seems far from over.
https://www.thedailystar.net/frontpage/news/bsf-shooting-border-43-bangladeshis-killed-year-1847452
------
Europe
Muslim donors fill need for St. John's blood clinic over Christmas break
Dec 30, 2019
Blood clinics take no days off — so when a lot of donors are taking Christmas holidays, life-threatening shortages can happen.
In St. John's, the Muslim Association of Newfoundland and Labrador stepped in to help.
Abdelsalam Abugharara, a volunteer imam at the local mosque, organized a blood drive with 20 people on Boxing Day — one of the most vulnerable times of the year for Canadian Blood Services.
"The Muslim Association of Newfoundland and Labrador wanted to fill in shortages and bridge gaps and work very positively with the other communities when they are busy with their holidays," Abugharara said, adding the idea was about "supporting one another and bringing happiness to people in hospitals."
Gord Skiffington, a manager for Canadian Blood Services in St. John's, said it was a remarkable gesture.
The clinic wouldn't have had any donations on Boxing Day if not for the association's efforts.
"It was just incredible. It was amazing," he said. "We need all blood types every day of the year, and certain times of the year it's a little more challenging."
At any given time, the province has a 3-5 day supply of blood on hand, making shortages in donations for days at a time especially challenging.
Open on Christmas Day to meet constant needs
There are dedicated donors in the city, but most were tied up with the holidays throughout December — spending time with families, shopping or travelling.
The period between Christmas Day and New Year's Day is the most precarious, Skiffington said.
"The need for blood doesn't take a holiday," he said. "Children at the Janeway still need regular blood products as a result of chemo treatments. Accident victims still need blood products. That need doesn't stop."
To match the needs of those patients, blood clinics around the country stay open 365 days a year. The St. John's donation centre was even open on Christmas Day.
Abugharara volunteered with Canadian Blood Services while he was studying at Memorial University. He said his efforts are inspired by sections of the Qur'an, including one that states saving a life is equal to saving all of humanity.
Another tough day for the St. John's clinic is Regatta Day in August, when the city shuts down for a day of boat races.
The Muslim Association also stepped in to fill that void this year.
Abugharara said they will make the Regatta Day blood drive an annual event in the province, and are hoping to go even further with the Boxing Day drive.
"We will make it a national blood donation day throughout Canada, sponsored by the Muslim communities all over Canada."
https://www.cbc.ca/news/canada/newfoundland-labrador/muslim-association-st-johns-blood-donations-1.5410406?cmp=rss
------
Man to stand trial over 'attempted murder at mosque'
30th December 2019
Zohib Hussain, 20, is accused of assaulting Haroom Abassi in August this year at Masjid-E-Khazra Muslim mission in Glasgow's Govanhill.
Prosecutors claim Hussain stabbed Mr Abassi with a knife to his severe injury and permanent disfigurement in an attempt to kill him.
The charge claims that Hussain was on bail at the time of the alleged offences.
Hussain was also charged with acting in a threatening or abusive manner by brandishing a blade at the mission.
He faces another charge of possession of a knife.
Hussain pleaded not guilty and has lodged a special defence of self-defence for the attempted murder charge.
The 20-year-old will stand trial in June.
https://news.stv.tv/west-central/man-to-stand-trial-over-attempted-murder-at-mosque/?top
------
Putin congratulates Assad on new year
December 30, 2019
AhlulBayt News Agency (ABNA): Syrian President Bashar al-Assad and Russian President Vladimir Putin have exchanged two cables of congratulation on the occasion of the New Year, in which they affirmed the necessity to develop the bilateral relations to serve the interests of the two countries.
In his cable, President al-Assad conveyed heartfelt congratulations to President Putin and the Russian friendly people, wishing that the new year will be full of progress and prosperity for their country.
President al-Assad also expressed the Syrians' deep thanks for all the efforts exerted by the Russian Federation and in all domains for supporting the sovereignty, unity and territorial integrity of Syria and for helping the Syrian people to get rid of the evil of terrorism and to be able to live again in peace and security and to rebuild what has been destroyed by this terrorism.
The President hoped that the bilateral relations will be further upgraded so as to achieve the best interest of the two friendly countries and peoples.
President Putin, for his part, in his cable of congratulation to President al-Assad renewed commitment to continuing to develop the friendly relations and cooperation with Syria and the continued support to Syria's sovereignty, unity and territorial integrity.
He expressed hope that through the joint efforts in the next year, it will be possible to achieve the return of permanent peace to the Syrian territories.
https://en.abna24.com/news//putin-congratulates-assad-on-new-year_997601.html
------
Mysterious 'It's OK to be Muslim' and 'It's OK to be black' flyers appear in Edinburgh phone box
By Joe Cawthorn
Monday, 30th December 2019
Mysterious flyers saying "It's OK to be Muslim" and 'It's OK to be black" have appeared in an Edinburgh phone box.
The two flyers, on white A4 paper with black lettering, appeared attached to a public phone box on Queensferry Road today (December 30).
It is not known who is responsible for the production and distribution of the messages, which could be in response to neo-Nazi related slogans which were spotted in Scottish cities such as Perth and Dundee earlier in the year.
'It's okay to be white'
Flyers bearing the slogan "It's okay to be white" appeared in Perth city centre recently, and it could be the ones popping up in the Capital are in response.
Scotland's deputy first minister condemned the appearance of stickers in Perth.
The stickers were posted on lampposts and drainpipes throughout the city.
John Swinney, who is also MSP for Perthshire North, said the "atrocious" stickers had "no place in Perth or any other part of our country."
Posting on Twitter, Mr Swinney said: "We must stand together to resist this unacceptable material."
Stickers bearing the same slogan popped up in Dundee earlier in the year.
The slogan was originally on a 2017 poster campaign in America with the aim of provoking a reaction, but was hijacked by neo-Nazi groups.
Have you seen any more of the flyers stuck around Edinburgh? If so, you can snap a picture and send to joe.cawthorn@jpimedia.co.uk
https://www.edinburghnews.scotsman.com/news/people/mysterious-its-ok-be-muslim-and-its-ok-be-black-flyers-appear-edinburgh-phone-box-1351760
------
Russia brings in artificial snow to beat its hottest year on record
Dec 31, 2019
MOSCOW: This year was the hottest ever registered in Russia, the country's weather chief said on Monday, as climate change pushes global temperatures to record highs.
"This year in Russia was the hottest for the entire period of instrumental observations," the head of the Gidromedtsentr weather service, Roman Vilfand, said. He said Moscow's average temperature for 2019 had hit 7.6°-7.7° Celsius, beating the previous record by 0.3°. He said January will continue to be warmer than usual in almost all regions of Russia.
Weather records have been kept since 1879 in Moscow and since 1891 in Russia as a whole. Global warming has sent temperatures rising around the world, with the United Nations noting that 2019 was on course to be one of the three hottest years on record. Moscow has seen its warmest December in a century this year. While some flurries fell on Monday, Moscow — normally blanketed with snow by mid-December — has seen a largely snowless December.
Spring buds were beginning to show on trees — three or more months too early.
The capital usually puts on winter celebrations during the national holidays over the first eight days of January and this year is resorting to unusual measures like dumping artificial snow in central Moscow. Muscovites ridiculed city hall last week when piles of snow appeared out of nowhere on Tverskaya avenue, and officials explained they were constructing a snowboarding hill from snow gathered at the capital's ice skating rinks.
Even in Siberia, anomalously warm Decembers have become a recurring phenomenon in the last decade, said Anna Lapchik, who heads the Western Siberian weather service. "We can say that winters are becoming milder."
President Vladimir Putin has always been reluctant to acknowledge the link between human activity and global warming. Earlier this month, he insisted that "nobody knows" the causes of climate change. But he acknowledged the consequences of global warming could be catastrophic for a country that is one of the world's biggest producers of carbon fuel and with a fifth of its land within the Arctic circle. He said the rate of warming for Russia was 2.5% higher than elsewhere on the planet.
https://timesofindia.indiatimes.com/world/europe/russia-brings-in-artificial-snow-to-beat-its-hottest-year-on-record/articleshow/73040168.cms
------
Pompeo to visit Ukraine as Senate weighs impeachment trial
Dec 30, 2019
WASHINGTON: Secretary of State Mike Pompeo will visit Ukraine this week, making his first trip to the country at the heart of President Donald Trump's impeachment.
As the Senate weighs options for a trial, Pompeo will depart Thursday on a five-nation tour of Europe and Central Asia. Ukraine will be the first stop on the trip, the State Department said Monday.
Trump's impeachment on charges of abuse of office and obstruction of Congress hinges on his policy toward Ukraine. Witnesses told House investigators that Trump wanted Ukraine to announce an investigation into former Vice-President Joe Biden's son in return for releasing critical military aid to Ukraine.
One of those witnesses, William Taylor, is the current acting US ambassador to Ukraine although he will leave Kyiv shortly before Pompeo's arrival in the capital. Pompeo appointed Taylor to the post over the summer to take over from Marie Yovanovitch, whose tour was abruptly cut short in May after Trump's personal attorney Rudolph Giuliani made unsubstantiated allegations against her. Taylor's position was temporary and time-limited by law.
In Kyiv, Pompeo will meet with Ukraine's President Volodymyr Zelenskiy, whose July 25 phone call with Trump triggered the whistleblower complaint that led to Trump's impeachment. In that call, Trump disparaged Yovanovitch and asked Zelenskiy for "a favor," suggesting he wanted Ukrainian authorities to investigate Biden's son, Hunter Biden, for corruption. Trump has said the call was "perfect" and has denied doing anything wrong.
In his meetings, Pompeo will "reaffirm US support for Ukraine's sovereignty and territorial integrity" as the country continues to battle Russia-backed separatists in the east, the State Department said in a statement. Pompeo also will honor Ukrainians who have died in the conflict, which intensified after Russia annexed Ukraine's Crimea peninsula in 2014, in a move condemned and rejected by most of the international community.
In addition, Pompeo plans to meet Ukrainian religious, civic and business leaders for talks on human rights, investment and economic and political reform, the department said.
https://timesofindia.indiatimes.com/world/us/pompeo-to-visit-ukraine-as-senate-weighs-impeachment-trial/articleshow/73036028.cms
------
Arab World
Iraq warns US ties at stake after deadly strikes
Dec 31, 2019
BAGHDAD: Iraq's government warned Monday that its relations with the United States were at risk after deadly American air strikes against a pro-Iran group sparked anger on the streets, with protesters torching US flags.
Baghdad said it would summon the US ambassador while Washington responded by accusing Iraqi authorities of having failed to "protect" US interests.
At least 25 fighters were killed in Sunday night's attacks, which saw US planes hit several bases belonging to the Hezbollah Brigades, one of the most radical factions of Hashed al-Shaabi, a Tehran-backed Iraqi paramilitary coalition.
The attacks came as Iraq is caught up in mounting tensions between its allies Tehran and Washington while it also grapples with huge street protests against corruption and Iran's growing political influence in the country.
The strikes "killed 25 and wounded 51, including commanders and fighters, and the toll could yet rise," said the Hashed, which holds major sway in Iraq.
Victims were still being pulled from the rubble of bases near Al-Qaim, an Iraqi district bordering Syria, on Monday, it said.
The Hezbollah Brigades said they will hold a mass funeral ceremony on Tuesday in Baghdad near the high-security Green Zone, where the US embassy is located.
Iraq's government, acting in a caretaker capacity following the resignation of prime minister Adel Abdel Mahdi in the face of street protests, denounced the strikes and warned they could affect ties with Washington.
"American forces acted on their political priorities, not those of the Iraqis," a statement said, adding that such strikes "violate the sovereignty of Iraq".
The attacks "force Iraq to review its relations and its security, political and legal framework to protect its sovereignty", the government added.
The warning came as demonstrators torched US flags in the Shiite-dominated southern cities of Basra and Najaf as well as in Kirkuk, north of Baghdad, while lawmakers called for US troops to be booted out of Iraq.
In a phone call on Monday, Saudi Crown Prince Mohammed bin Salman and US Secretary of State Mike Pompeo "agreed that the Iranian regime and its proxies continue to be a destabilizing force in the region and that nations have a right to defend themselves in the face of these threats," State Department spokeswoman Morgan Ortagus said.
Pompeo "underscored that attacks by the Iranian regime, or their proxies of any identity, that harm Americans, our allies, or our interests will be answered with a decisive response, as demonstrated yesterday."
Dozens of lawmakers called on the government to review an agreement allowing the deployment of 5,200 US soldiers in the country, saying the strikes amount to a violation that renders the pact obsolete.
US Assistant Secretary of State David Schenker said the strikes were a "proportionate" response for the death Friday of a US civilian contractor in Kirkuk in a Hezbollah Brigades rocket attack.
"We don't want an escalation here, we want a de-escalation," he added however.
Abdel Mahdi said he had been forewarned by US Defense Secretary Mark Esper that the US would carry out the attacks.
"He told me the United States would strike the Hezbollah Brigades and I told him it would be a very dangerous act that could lead to an escalation," Abdel Mahdi said.
Tensions have soared between the United States and Iran since Washington pulled out of a multilateral nuclear agreement with Tehran last year and imposed crippling sanctions
Iraqi leaders fear their country could become a battleground between Tehran and Washington.
US sources say pro-Iran armed factions now pose a greater threat than the Islamic State group, whose rise saw the US freshly deploy troops on Iraqi soil.
Sunday night's strikes revived calls from Iraq and beyond for US troops to leave.
The Hezbollah Brigades demanded the "withdrawal of the American enemy", a call echoed by the pro-Iran groups Badr and Assaib Ahl al-Haq -- whose leaders were recently hit with US sanctions.
"The American military presence has become a burden for the Iraqi state and a source of threat against our forces. It is therefore imperative for all of us to do everything to expel them by all legitimate means," the Assaib Ahl al-Haq said.
Iran's foreign ministry spokesman Abbas Mousavi said the US had "shown its firm support for terrorism and its neglect for the independence and sovereignty of countries" by carrying out the attacks.
Russia called for restraint saying the "exchange of strikes" in Iraq were "unacceptable".
https://timesofindia.indiatimes.com/world/middle-east/iraq-warns-us-ties-at-stake-after-deadly-strikes/articleshow/73041756.cms
------
Saudi rights body: Blocking government services should be used sparingly
December 31, 2019
LOJIEN BEN GASSEM
RIYADH: Following the case of a citizen who was blocked from using government services through the Absher service, the Saudi Human Rights Commission (HRC) said on Monday that it would make recommendations to the authorities to ensure such actions did not affect the basic rights of individuals.
The commission said it would study the implications of such drastic measures on the lives of citizens or residents.
Ahmed Abdulrahman, a 32-year-old Saudi, was reportedly blocked from using government services for delaying the payment of a loan to a bank.
He said: "I have never in my life felt as useless as I was when I was blocked from (using the) services.
"My advice is to not get into trouble and pay all of your debts," he added.
Esam Gamgamjy, a Saudi businessman, was also blocked from government services for a year and a half.
He argued that there were other ways to deal with different cases without blocking citizens from using them.
"Blocking services is like not living, it prevents you from doing anything," he said.
Gamgamjy told Arab News that he was accused of refusing to pay a debt. "The person who accused me of not paying a debt forged my signature on three different promissory notes worth $266,666."
He argued that anybody could ask for money by forging an unsuspecting person's signature in such a manner, and upload the complaint online, getting the victim blocked.
"It's that simple. Promissory notes don't need to be approved by any government entity, which is an issue of concern," he said.
Gamgamjy filed an appeal and is still waiting for a hearing date. He cannot travel out of the country and needs a sponsor to help him get government matters done.
"My family has not been affected by this action. Only I am the victim. I cannot travel or get my passport renewed," he added.
In a statement, the HRC stressed the importance of streamlining procedures to ensure matters were properly governed by specific authorities and under judicial orders.
https://www.arabnews.com/node/1606396/saudi-arabia
------
Amir receives chief, members of Islamic heritage society
30/12/2019
KUWAIT: His Highness the Amir Sheikh Sabah Al-Ahmad Al-Jaber Al-Sabah received at Bayan Palace yesterday Chairman of the Revival of Islamic Heritage Society Tareq Al-Issa and members of the society's board. Minister of the Amiri Diwan Affairs Sheikh Ali Jarrah Al-Sabah attend the meeting. His Highness the Crown Prince Sheikh Nawaf Al-Ahmad Al-Jaber Al-Sabah also received Issa and members of the society's board at Bayan Palace. Meanwhile, His Highness the Crown Prince received Ambassador of Kuwait to Morocco Abdullatif Al-Yahya.
In the meantime, His Highness the Amir Sheikh Sabah Al-Ahmad Al-Jaber Al-Sabah sent cable of condolences to US President Donald Trump over the recent shooting in Texas plus the stabbing accident that occurred in New York. In the cable, His Highness the Amir voiced Kuwait's condemnation of these horrible acts that targeted innocent people, wished mercy for those who lost their life and swift recovery to those injured. His Highness the Crown Prince Sheikh Nawaf Al-Ahmad Al-Jaber Al-Sabah and His Highness the Prime Minister Sheikh Sabah Al-Khaled Al-Hamad Al-Sabah sent similar cables to President Trump.
Separately, His Highness the Amir Sheikh Sabah Al-Ahmad Al-Jaber Al-Sabah sent a cable of condolences to President of Bangladesh Mohammad Abdul Hamid on deaths caused by a wave of severe cold sweeping the friendly country, where people lost their lives, were hurt or became ill. His Highness the Amir wished leaders in this friendly country would cope with consequences of the harsh cold. His Highness the Crown Prince Sheikh Nawaf Al-Ahmad Al-Jaber Al-Sabah and His Highness the Prime Minister Sheikh Sabah Al-Khaled Al-Hamad Al-Sabah addressed cables of identical content to President Abdul Hamid. – KUNA
https://news.kuwaittimes.net/website/amir-receives-chief-members-of-islamic-heritage-society/
------
Startup of the Week: Saudi startup provides the right learning tools for children to think 'Outside the Box'
DEEMA AL-KHUDAIR
December 31, 2019
JEDDAH: Every child is a creative genius with an explorer's curiosity when given the right tools. Children today, though, are distracted by technology and are not using many forms of sensory activity.
Outside the Box is bringing back the right learning tools to stimulate children's senses, expand their creativity and strengthen their language skills.
Outside the Box is a book-based activity box that comes in different themes, containing a story book, arts and crafts supplies, an instruction leaflet and a certificate of completion, all in Arabic.
The target age group is between three and 10 years old.
It was established by Raneem Fadul, a Saudi graphic designer and the mother of a four-year-old girl in early 2019.
"I love spending meaningful quality time with my daughter away from TV and the iPad, especially on weekends. It was difficult to plan something that would grasp her attention for a long time, and that's how the idea of Outside the Box came to be," she told Arab News
Arts and crafts are very important learning tools.
"These activities create a sense of achievement for children and increases their self-confidence," she said.
"It also encourages them to think and become innovative, and helps them acquire decision-making and problem-solving skills."
Each illustrated book is carefully handpicked and is related to the theme of the box.
"We make sure that the book is interesting and motivates the child to learn and get to know more about different concepts such as openness, flexibility, overcoming obstacles, positivity and caring for others."
The boxes aim to teach children to love reading books in Arabic and expand their vocabulary.
"It also teaches them about environmental awareness, uses sensory play, helps cognitive development and encourages creativity and imagination."
Check them out on Instagram (@outsidethebox.sa) and direct message them for orders.
https://www.arabnews.com/node/1606341/saudi-arabia
------
Southeast Asia
Visit Xinjiang ourselves? Stop playing propaganda with Uighurs, Malaysian Muslim youth group tells Beijing
Tuesday, 31 Dec 2019
KUALA LUMPUR, Dec 31 — The Muslim Youth Movement Malaysia (Abim) today called on the Chinese government to stop "playing with political propaganda" concerning the treatment of Uighurs in Xinjiang by inviting Malaysians to visit the province.
Abim president Muhammad Faisal Abdul Aziz said the Xinjiang minority Muslim community were widely known to be under Chinese persecution and faced atrocities that had been well documented by recognised international bodies.
"As far as this issue is concerned, we from the international communities analyze carefully the international reports by international bodies such as United Nations (UN) and Amnesty International, and the international mainstream media which have recorded the gross infringement of fundamental rights of the Uighur people," he said in a statement.
Faisal was responding to an open invitation from a Chinese government official Tang Tang, to visit China and see the "beautiful, peaceful and prosperous real Xinjiang with your own eyes" following a mass demonstration by Malaysians near the embassy here last Friday.
Faisal also said Abim has taken time to study the "draconian" laws enforced in the Xinjiang Uighur Autonomous Region Regulation on De-extremification 2017, pointing out that several of its provisions include prohibiting Muslims from wearing hijabs, keeping beards, or promoting the claim that the concept of halal interfered with the secular lives of others.
"These oppressive provisions of law have given space for the Chinese authorities to abuse the fundamental rights of the Uighur by interpreting any religious practice as equivalent to the definition or as a symbol of extremism and radicalism.
"Similarly, Article 4 of said provision also indicates the government's persistence in making the religion of Islam more Chinese, which is totally against the spirit of religious freedm and belief of the people when there are unreasonable interferences of Muslim religious affairs," he said.
Faisal also suggested an alternative for the Chinese authorities to resolve Xinjiang's issues by allowing the UN to independently observe all situations in Xinjiang with reasonable access to all sources of information without any interference from the state.
"Abim is open to a frank dialogue and positive engagements with the Chinese government if the issues raised above are to be addressed transparently and in good faith. In fact, the stuffed panda and flowers brought by Abim during the protest the other day symbolised our peaceful intention to achieve those commitments," he said.
On December 27, some 600 Malaysian Muslims marched to Jalan Ampang near the Chinese Embassy in Kuala Lumpur after Friday prayers to protest China's alleged abuse of Uighur Muslims in Xinjiang.
The demonstration saw five NGOs participating, with Abim leading three others and taking a moderate, reconciliatory tone, while the other standalone was by hardline pro-caliphate group Hizbut Tahrir Malaysia, who demanded the Malaysian government sever ties with Beijing and declare jihad if China refuses to listen.
https://www.malaymail.com/news/malaysia/2019/12/31/visit-xinjiang-ourselves-stop-playing-propaganda-with-uighurs-malaysian-mus/1823498
------
Malay, Islamic characteristics of Kg Baru will be preserved: Khalid
Federal Territories Minister Khalid Abd Samad gave the assurance that the identity of Kampung Baru would be maintained, with its Malay and Islamic characteristics that have existed for more than 100 years to be preserved.
He said the ministry also planned to set up a Malay heritage park, including providing a venue for the staging of Malay theatre, in the development of Kampung Baru.
"Several buildings such as the Kampung Baru Mosque and the Sultan Sulaiman Club will be preserved, with the names of roads there to be maintained.
"What is important for us is to develop the Malay community in the area. We want to build a Malay settlement that is modern, fully-equipped, comfortable and well-planned," he said when appearing as a guest on the TV1 talk show Bicara Naratif last night.
On the development of Kampung Baru, he said town hall meetings will continue to be held with landowners or their beneficiaries to get their approval to develop their property and to explain the objective of the development.
"So far the ministry has received feedback from 40 percent of the residents of Kampung Baru," he added.
The government had offered RM1,000 per square foot as the final price to buy over land in Kampung Baru.
In another development, Khalid said efforts will be made to implement the Kuala Lumpur City Development Plan 2040.
"There are problems to get it (Kuala Lumpur City Development Plan 2040) implemented because of the development that had been carried out which was not done according to the master plan.
"So, we want to correct this situation, which is going to take a lot of work and is impossible to be done in a short time," he added.
https://www.malaysiakini.com/news/505435
------
Kit Siang says Jawi controversy has eclipsed hope for new Malaysia under Pakatan
Tuesday, 31 Dec 2019
BY JUSTIN ONG
KUALA LUMPUR, Dec 31 — Diminishing optimism since Pakatan Harapan's (PH) unlikely general election victory was a sign of failure the coalition must address, DAP's Lim Kit Siang conceded today.
The DAP leader noted that sections of the country were increasingly polarised, as evidenced by the recent controversy over the introduction of Jawi lessons in vernacular schools.
Lim asserted that fake news and falsehoods were also becoming increasingly ubiquitous online, leading the country's communities into believing they were each facing existential threats.
"We seem to have lost confidence in ourselves as a plural society, where our diversity should be our asset, fearful and suspicious of each other and unable to leverage on the best values and qualities of the Islamic, Chinese, Indian and Western civilisations which meet in confluence in Malaysia to build a great Malaysian nation," Lim said in a statement today.
Lim asked who was responsible for spreading the fear but did not provide any suggestions.
He went on to say it was critical for Pakatan Harapan to promote a "moderate Malaysian centre", in part by delivering its election manifesto pledges that remain unfulfilled.
"Malaysia will not achieve Vision 2020 in 2020. But it will be a make-or-break year for the Pakatan Harapan government in Putrajaya to reset nation-building policies for Malaysia!"
In August, the Education Ministry announced that vernacular schools would teach the Jawi script in place of the plan to introduce khat calligraphy that was aborted following public protest.
Chinese education coalition Dong Zong had planned a congress on December 28 to oppose the policy but the police secured a court order barring this after rival groups threatened to hold counter-rallies outside.
PH won unexpectedly against Barisan Nasional in the 13th general election but the euphoria of victory has given way to disappointment over undelivered promises and reforms as well as prolonged infighting among the ruling parties.
https://www.malaymail.com/news/malaysia/2019/12/31/kit-siang-says-jawi-controversy-has-eclipsed-hope-for-new-malaysia-under-pa/1823462
------
Iran seizes ship, arrests 16 Malaysian crew members: State TV
Iran' Revolutionary Guard Corps (IRGC) has seized a ship suspected of fuel smuggling and arrested 16 Malaysian crew members, state media reported late on Monday.
The website of IRIB state television said the IRGC confiscated 1.3 million litres of "smuggled fuel" from the unnamed vessel 15 nautical miles from Abu Musa island.
"The ship's 16 crew who are of Malaysian nationality were arrested," the IRGC's naval commander for the region, Brigadier General Ali Ozmayi, was quoted as saying.
Abu Musa is one of three islands in the southern Gulf that are under Iranian control but claimed by the United Arab Emirates.
"This is the sixth ship smuggling fuel that (the IRGC) navy has confiscated," added Ozmayi.
In September, Iran seized a boat and arrested 12 Filipino crewmen from a suspected fuel-smuggling ring in the Strait of Hormuz, state media reported.
The IRGC detained a "foreign tanker" in Gulf waters on July 14 for allegedly smuggling contraband fuel.
Iran also seized another ship on July 31 with seven foreign crew aboard over fuel smuggling, but it never revealed the vessel's identity or the nationality of its crew.
Tensions have been high in the Gulf this year, after the United States stepped up a stated campaign of "maximum pressure" on Iran following US withdrawal from a landmark nuclear deal in 2018.
The escalation saw ships mysteriously attacked, drones downed and oil tankers seized in the Strait of Hormuz - a chokepoint for one-third of the world's seaborne oil.
On July 19, the IRGC seized the British-flagged oil tanker Stena Impero for allegedly hitting a fishing boat and released it two months later.
https://www.aljazeera.com/news/2019/12/iran-seizes-ship-arrests-16-malaysian-crew-members-state-tv-191231071658597.html
------
Kadir Jasin takes swipe at 2 ministers over billboard adverts
December 31, 2019
PETALING JAYA: A Kadir Jasin, the prime minister's special adviser on media and communications, has taken Education Minister Maszlee Malik and Rural Development Minister Rina Mohd Harun to task over billboard advertisements featuring the two ministers.
Kadir said the government was supposed to be about the people rather than building the "personality cults" of ministers.
"Better to promote the government's agenda than the faces of ministers.
"Better to feature the people taking part in the government's agenda than the ministers posing for the photographers," he said in a Facebook post today, with two pictures featuring Maszlee and one of Rina attached.
Kadir also said Putrajaya should be promoting greater values such as humanity and humility instead of bureaucracy and feudalism.
"Don't blame the people if they perceive the Pakatan Harapan government as just the same as Barisan Nasional," he added.
One of the billboards featuring Maszlee can be seen along the Federal Highway.
https://www.freemalaysiatoday.com/category/nation/2019/12/31/kadir-jasin-takes-swipe-at-2-ministers-over-billboard-adverts/
------
North America
The unexpected alliance between Muslims and Jews in Congress
By KENNETH BANDLER
DECEMBER 30, 2019
As the second decade of the 21st century ends with heightened partisanship descending to new depths of divisiveness, the positive evolution of Jewish-Muslim interactions and cooperation in the United States are a welcome and hopeful indication that seemingly irredeemable rivals can transform.
Muslims and Jews, some who are visibly identifiable by the clothes and headgear they wear, are together, increasingly visiting elected officials in Congress and state legislatures. This "unexpected alliance" is garnering interest among elected officials and their staffs, says Becky Ruby Swansburgh, a Jewish leader in Louisville. "Our elected officials need guidance because Jews and Muslims are not a natural constituency in Kentucky."
Rosenberg is co-chair of the newly established Louisville region Muslim-Jewish Advisory Council. Together with Dr. Muhammad Babar, the council's other co-chair, they authored five years ago an op-ed article in The Courier-Journal, in which they pointed out that "Muslims and Jews both know what it means to be a religious minority in this country, and standing together makes us that much stronger."
They noted that "our two communities in Louisville – Jewish and Muslim – collaborate on dozens of common issues every year. In fact, on many of most important priorities, we stand shoulder to shoulder." A year later that mutual commitment was activated in rapid responses by the Jewish community to a vandalized mosque and by the Muslim community to threats against the Jewish Community Center.
The foundation of cooperation led the national Muslim-Jewish Advisory Council (MJAC), housed at the American Jewish Committee (AJC) headquarters in New York, to select Louisville as its latest regional affiliate. Ten others are in Dallas, Detroit, Houston, Kansas City, Los Angeles, Miami, New Jersey, New York, Philadelphia, and Washington, DC.
The national MJAC, co-convened by the AJC and the Islamic Society of North America, marked its third anniversary last month. When the council's founding members gathered at a New York City apartment ahead of the 2016 US elections to finalize plans to launch the group, inflammatory and threatening rhetoric and hate crimes targeting religious minorities already were rising, with Jews and Muslims topping the lists of victims.
All agreed at the outset that their joint mission would be to advocate together, as Americans, on US domestic policy issues of concern, principally antisemitism and anti-Muslim bigotry.
"We are not an interfaith dialogue group. We are a Muslim-Jewish group dedicated to making this country better," says Ari Gordon, AJC's US director of Muslim-Jewish relations.
THREE YEARS later, MJAC is thriving and growing. Its Muslim and Jewish members played a key role in securing passage of the Protecting Religiously Affiliated Institutions Act, strengthening measures to deter, as well as punish, perpetrators of attacks on religious institutions. The bipartisan legislation enjoyed overwhelming support in both the House and Senate, and President Donald Trump signed it into law in September 2018.
Building on that success, MJAC is currently a leading advocate for the No Hate Act, an important piece of legislation that aims to address inherent weaknesses in the system of collecting data for the annual FBI Hate Crimes Statistics report. It currently depends on voluntary reporting by local law enforcement agencies, and thus is not as comprehensive as it could be.
A key reason MJAC is alive and well today is its membership. Nearly 50 civil society, religious and business leaders from across the US are actively involved with the national council, and hundreds more with the 11 local affiliates. They have stood firm with the group's mission to focus exclusively on American domestic policy concerns. They have studiously avoided, as a group, engaging the Israeli-Palestinian, Kashmiri or other conflict situations.
"We must learn to work through the tensions that threaten to divide us, so that we can yield the fruit of working on a common agenda," says Gordon.
The Louisville branch of MJAC was launched at an event held at the Muhammad Ali Center, a large complex in downtown Louisville that is walking distance from the famed Slugger baseball bat factory and several bourbon distilleries, and a short taxi ride from Louisville's international airport, renamed earlier this year in honor of the legendary world heavyweight boxing champion.
For many Jews and other Americans, Ali's engagement with the Nation of Islam when he converted, and his years of sharp criticism of Israel and Zionism, were painfully troubling. However, Ali always had Jewish friends, and his attitude toward the Jewish people evolved positively over time. The Ali Center is a tribute to one man's extraordinary athletic career as well as to his lifetime efforts, as an African American Muslim leader, to confront racism, bigotry and injustice, and to help make the world better. Lonnie Ali, Muhammad's widow, will serve as honorary chair of the Louisville MJAC, "to do the work my husband would want me to do," she said.
"This work has never been more important. People of good faith have to stand together and speak out," said Louisville Mayor Greg Fischer at the MJAC Louisville launch. "We have been working in our community to create social muscle. It is essential to the health of our city, and from time to time it will be called upon to respond to acts of hatred. When you don't respond to hate it gets stronger."
MJAC, nationally and locally, is tapping into a desire among some in Jewish and Muslim communities across the US to get involved, engage and act to promote civility and strengthen America's democratic society.
The writer is the American Jewish Committee's director of media relations.
https://www.jpost.com/Diaspora/The-unexpected-alliance-between-Muslims-and-Jews-in-Congress-612582
------
Islamist militants kill 18 in attack in eastern Congo
DECEMBER 31, 2019
GOMA, Democratic Republic of Congo (Reuters) - Islamist militants have killed 18 people in an attack on a village in eastern Congo, a regional official and a local human rights group said on Monday, the latest in a 60-day counter-offensive that has killed nearly 200 civilians.
The attack occurred in Apetina, in a remote forested area a few miles from the Ugandan border where attacks by the Allied Democratic Forces (ADF), a Ugandan Islamist group, have increased since Oct. 30, when the army launched a campaign to root them out.
Democratic Republic of Congo President Felix Tshisekedi has said the campaign has dismantled nearly all of the ADF's sanctuaries, but attacks continue unabated. Earlier this month, 22 were killed in ambushes on two villages in the same region.
"There was a raid by ADF rebels in...Apetina on Sunday night. These rebels killed 18 people and burned down eight houses," said Donat Kibwana, the administrator of Beni territory.
He said that the army was alerted to the attack but arrived after the killings had occurred. CEPADHO, a human rights group, also said that 18 had been killed.
The Congolese government has blamed the ADF for attacks going back years, including dozens of night-time massacres since 2014 that have killed hundreds of civilians. But repeated military operations have failed to fully eradicate the group.
The recent surge in violence has complicated efforts to stamp out an Ebola outbreak in the area. Infections have started to rise in areas health workers have been unable to access because of insecurity.
The U.S. Treasury this month imposed sanctions on six members of the ADF, including its leader Musa Baluku. Islamic State has claimed some ADF attacks this year, but researchers say there is a lack of hard evidence linking the two groups.
https://www.reuters.com/article/us-congo-security/islamist-militants-kill-18-in-attack-in-eastern-congo-idUSKBN1YY1F6?rpc=401&
------
Second Circuit Court of Appeals orders resentencing in Islamic State case
DECEMBER 30, 2019
Cassandra Maas
The US Court of Appeals for the Second Circuit found on Friday that the District Court for the Eastern District of New York erred in sentencing Fareed Mumuni to 17 years of imprisonment rather than the 85 years recommended by federal guidelines.
Mumuni, an American-born citizen, pledged allegiance to ISIS and pleaded guilty in February 2017 to conspiring to and attempting to provide material support to ISIS; conspiring to assault federal officers; attempted murder of federal officers; and assault of a federal officer with a deadly or dangerous weapon. The District Court judge sentenced Mumuni to 17 years of imprisonment and an additional 10 years of supervised release.
The government appealed the substantive reasonableness of the sentence, referencing the United States Sentencing Guidelines. The guidelines recommend an advisory sentence of life imprisonment, which was lowered to the statutorily authorized maximum sentence of 85 years.
The Second Circuit Court of Appeals identified three errors that rendered the sentence substantively unreasonable. The District Court relied on an account of the attack on a federal officer that was unsupported by the record and contradicted the court's findings at the hearing. Furthermore, the court's rationale for sentencing Mumuni to less time than Munther Omar Saleh, Mumuni's co-conspirator, was unsupported by the record and appeared to contradict the District Court's earlier suggestion that a more severe sentence than Saleh was justified. Lastly, the District Court placed undue weight on factors that should not have contributed to the sentencing calculation.
Overall, the Second Circuit Court found that these errors cumulatively resulted in a sentence that was "shockingly low and unsupportable as a matter of law." The case was remanded for resentencing.
https://www.jurist.org/news/2019/12/second-circuit-court-of-appeals-orders-resentencing-in-islamic-state-case/
------
SP Funds Launches its First Family of Sharia-Compliant ETFs
December 30, 2019
SPUS provides exposure to S&P 500 companies that meet strict screening requirements, including low leverage and debt-to-equity ratios; SPSK provides exposure to sukuk, Islamic financial certificates with unique risk profiles
SP Funds approach is geared towards advisors with clients focused on faith-based investing, others who are seeking unique socially responsible and ethical investing solutions
Bellevue, WA, Dec. 30, 2019 (GLOBE NEWSWIRE) -- SP Funds, a boutique asset management firm specializing in socially responsible and halal investing, has launched the first family of Sharia-compliant equity and fixed income ETFs.
Initially made up two funds, SP Funds' ETF family is designed to provide investors of all types with exposures that can help diversify both equity and fixed income portfolios and help investors avoid the types of over-levered companies that may be particularly susceptible to volatile performance during a market downturn.
The SP Funds S&P 500 Sharia Industry Exclusions ETF (ticker: SPUS), which launched on the New York Stock Exchange on December 18th, tracks the S&P 500 Sharia Industry Exclusions Index, which is designed to provide value-conscious exposure to those S&P 500 companies that meet the guidelines of the Accounting and Auditing Organization for Islamic Financial Institutions (AAOIFI). The ETF and its underlying index use an exclusion methodology to arrive at the underlying portfolio. All of the following are removed from consideration:
"We designed our initial equity ETF not only for investors who might be looking for halal exposure, but for any investor who looks at their portfolio through a value-focused lens as well as those who seek to avoid over-levered enterprises, which can encounter serious turbulence in choppy markets," said Naushad Virji, CEO of SP Funds.
SP Funds has also launched a first-of-its-kind income-focused ETF, the SP Funds Dow Jones Global Sukuk ETF (ticker: SPSK). This fund is the first to provide targeted exposure to sukuks, which are financial certificates, similar to bonds, issued in the global markets and structured to comply with Islamic religious law and investment principles. Unlike conventional bonds, sukuks are based on a variety of contracts to create financial obligations and the returns to investors are considered to be profit sharing, not interest. At the end of 2018, global sukuk issuance stood at $123.2 billion up 5.5% from the previous year.1
SPSK seeks to track the performance, before fees and expenses, of the Dow Jones Sukuk Total Return (ex-Reinvestment) Index. The index is currently comprised of 85 constituents, all of which are investment grade and denominated in U.S. Dollars, representing investments in seven foreign countries, and had an average weighted maturity of 5.92 years. To be eligible for inclusion, sukuks must have an outstanding issue size of at least U.S. $200 million, a minimum time to maturity of one year, and a credit quality rating of at least BBB-/Baa# by S&P, Moody's or Fitch Ratings.
"The global sukuk marketplace is very robust but to this point there had not been an ETF solution for investors looking to add this type of exposure to their income-focused portfolios. We're very pleased to be first to market with this approach," added Virji. "Not only is this a diversifier in terms of the underlying holdings in SPSK, but the fund is also designed to provide investors with decreased exposure to duration risk and interest rate risk, important considerations as investors are finding it ever more difficult to access yield from the traditional sources."
SPUS has an expense ratio of 0.49% while SPSK has a gross expense ratio of 0.65%. SP Funds partnered with the team at Tidal ETF Services to bring these funds to market.
Additional information can be found at sp-funds.com.
1Source: International Islamic Financial Market (IIFM) in its Annual Sukuk Report 2019
About SP Funds
SP Funds is dedicated to offering an ethical approach to investing that avoids companies with significant debt. By adhering to AAOIFI guidelines, we ensure the securities in our ETFs avoid investments in businesses such as tobacco, pornography, gambling and interest-based finance. The end result is a collection of socially responsible investments that are in well capitalized companies. For more information, visit sp-funds.com.
About Tidal ETF Services
Formed by ETF industry pioneers and thought leaders, Tidal sets out to disrupt the way ETFs have historically been developed, launched, marketed and sold. With a transparent, partnership approach, Tidal offers a comprehensive suite of services, proprietary tools, and methodologies designed to bring lasting ideas to market. As advocates for ETF innovation, Tidal helps institutions and organizations launch the most interesting and viable ETFs available today. For more information, visit tidaletfservices.com.
Before investing you should carefully consider each Fund's investment objectives, risks, charges and expenses. This and other information is in the prospectus. A prospectus may be obtained by visiting sp-funds.com or calling (425)409-9500. Please read the prospectus carefully before you invest.
As with all ETFs, Fund shares may be bought and sold in the secondary market at market prices. The market price normally should approximate the Fund's net asset value per share (NAV), but the market price sometimes may be higher or lower than the NAV.
The Funds are new with a limited operating history.
Islamic religious law commonly known as Sharia has certain restrictions regarding finance and commercial activities permitted for Muslims, including interest restrictions and prohibited industries, which reduces the size of the overall universe in which the Fund can invest. The strategy to reduce the investable universe may limit investment opportunities and adversely affect the Fund's performance, especially in comparison to a more diversified fund.
Equity securities, such as common stocks, are subject to market, economic and business risks that may cause their prices to fluctuate.
The strategy to reduce the investable universe may limit investment opportunities and adversely affect the Fund's performance, especially in comparison to a more diversified fund. Investments in foreign securities may involve risks such as social and political instability, market illiquidity, exchange-rate fluctuations, a high level of volatility and limited regulation. Investing in emerging markets involves different and greater risks, as these countries are substantially smaller, less liquid and more volatile than securities markets in more developed markets. Because no collateral is pledged as security for sukuk, purchasers of sukuk are subject to the risk that an issuer may not meet its payment obligations or that an underlying asset may not perform as expected or lose value. There may be times when the market is illiquid and it is difficult for the Fund to make an investment in or dispose of sukuk.
Diversification does not ensure a profit or protect against loss in declining markets.
Shares of the Fund are distributed by Foreside Fund Services, LLC.
Media Contact:
Chris Sullivan
MacMillan Communications
(212) 473-4442
chris@macmillancom.com
https://www.globenewswire.com/news-release/2019/12/30/1965113/0/en/SP-Funds-Launches-its-First-Family-of-Sharia-Compliant-ETFs.html
------
Striking Photographs Capture Ornate Patterns of Historic Iranian Mosques and Palaces
DECEMBER 30, 2019
Iran-based artist Fatemah Hosein Aghaei takes mesmerizing photographs that showcase the intricate patterns inside the country's ancient buildings. The artist mostly features mosques in the Iranian city of Isfahan, which is located about 250 miles south of Tehran and is known for its Perso–Islamic designed structures, boulevards, covered bridges, palaces, tile-filled mosques, and minarets. In her photographs, Hosein Aghaei often looks upward to frame the building's domes and arches complete with complex colorful designs, sometimes even adding glimpses of the city's blue skies. The artist tells Colossal that she wants her work to capture and share the beauty of Iran's historic architecture. Keep up with Hosein Aghaei's captivating images on Instagram.
https://www.thisiscolossal.com/2019/12/iran-mosque-photographs-fatemah-hosein-aghaei/
------
CNN's Jake Tapper Challenges Trump's Commitment to Religious Freedom: What About Muslim Travel Ban?
December 30, 2019
CNN's Jake Tapper on Monday pushed back on President Donald Trump's commitment to religious freedom, citing the administrations early efforts to implement a Muslim travel ban.
In the wake of weekend attacks on a New York Hanukkah celebration and a Texas church service, Secretary of State Mike Pompeo tweeted, "Grateful to @realDonaldTrump and @VP for their commitment to protect #religiousfreedom at home and abroad. Thankful for the work of @IRF_Ambassador carrying the mantle on these issues. The fight to secure a religiously free world is urgent, and the U.S. will continue to lead."
In under five minutes, Tapper responded to Pompeo: "The president proposed banning Muslims from entering the country and then his administration worked to make a legal version of such an order. That's not a commitment to protecting #religiousfreedom."
Trump himself tweeted in response to the Saturday stabbing that took place in a rabbi's New York home, calling it "horrific" and offering thoughts on behalf of himself and the first lady. "We must all come together to fight, confront, and eradicate the evil scourge of anti-Semitism," he wrote Sunday.
Three died in the Sunday attack at the West Freeway Church of Christ in White Settlement, Texas, including the suspected shooter. CNN aired the church's livestreamed service footage, which showed the moment the gunman opened fire and a church security guard returned fire. No one died during the Hanukkah celebration stabbing.
In 2017, Trump faced nationwide protests over an executive order banning visitors from seven Muslim-majority countries. He denied that the move was a "Muslim ban" and blamed the media. "To be clear this is not a Muslim ban, as the media is falsely reporting," said Trump in a statement released by the White House at the time. "This is not about religion — this is about terror and keeping our country safe."
https://www.thewrap.com/cnns-jake-tapper-challenges-trumps-religious-freedom-muslim-travel-ban/
------
Iraqi-US Ties in Jeopardy as Baghdad Blasts US Over Strikes on Shia Militia Group
30.12.2019
US forces carried out airstrikes against five facilities belonging to Iraqi Shia militia group Kata'ib Hezbollah on Sunday, killing over two dozen people and injuring over 50 more following Friday's deadly rocket attack on a US military base in northern Iraq.
Iraqi President Barham Salih has condemned the US airstrikes on Iraq's Kata'ib Hezbollah militia movement, describing the strikes as "unacceptable," the Iraqi News Agency has reported.
Iraqi Prime Minister Adel Abdul-Mahdi also expressed his disapproval of the strikes, with an Iraqi military spokesman saying that the prime minister told Pentagon Chief Mark Esper that Iraq rejects any unilateral military action that has not been approved by the Iraqi government.
Sunday's airstrikes, thought to have killed 25 militia members and left 51 others injured across three locations in Iraq and two more facilities in Syria, were described by the Pentagon as a response to Iraqi militias' alleged attack on a US base near the northern Iraqi city of Kirkuk on Friday. In that attack, one US civilian contractor was killed, and several US service members received injuries. No group claimed responsibility for the Kirkuk attack.
'Successful' Strikes
Defence Secretary Esper praised Sunday's strikes, saying they were "successful" and that he would advise President Trump on possible "additional actions as necessary to ensure that we act in our own self-defence and we deter further bad behaviour from militia groups or from Iran".
Israeli Foreign Minister Yisrael Katz welcomed the US action, calling it "a turning point in the regional response to Iran and its proxies". Iran, meanwhile, condemned the attacks as "direct evidence of US terrorism."
Kata'ib Hezbollah released a statement in which it called the attacks an act of blatant "disregard and humiliation for the sovereignty and honour of the Iraqi nation." In a statement, Asaib Ahl al-Haq, another Iraqi Shia militia group, expressed solidarity with the group, saying that "ending US military presence in Iraq is essential, by all means necessary, before it lasts any longer".
Kata'ib Hezbollah is an Iraqi Shia paramilitary group formed in the aftermath of the 2003 US invasion of Iraq, and took part in the insurgency against US forces in the late 2000s. From 2014-2017, the group joined other Shia militias under the umbrella Baghdad-allied 'Popular Mobilisation Forces' coalition in the battle against Daesh (ISIS).* The US classifies Kata'ib Hezbollah as a terrorist entity, and says it has links to Hezbollah in Iran and Lebanon.
The Iraqi-US security agreement has become strained in recent months. Earlier this year, the Fatah Coalition, a major Shia-led bloc of deputies in Iraq's parliament, called on the US to withdraw its estimated 5,000 or so remaining troops from the country. Parliament deputy speaker Hasan al-Kaabi has also called for legislation to terminate Baghdad's 2008 security agreement with Washington.
https://sputniknews.com/middleeast/201912301077901510-iraqi-us-ties-in-jeopardy-as-baghdad-blasts-us-over-strikes-on-shia-militia-group/
------
Washington says Baghdad failed to 'protect' Americans
Dec 31, 2019
WASHINGTON: Washington has accused Iraqi authorities of having failed to "protect" US interests, the day after deadly American air strikes against a pro-Iran group sparked anger.
At least 25 fighters were killed in Sunday night's attacks, which were in retaliation for the death last week of a US civilian contractor.
"We have warned the Iraqi government many times, and we've shared information with them to try to work with them to carry out their responsibility to protect us," a senior US state department official told reporters in Washington on Monday.
He noted that the US military and diplomats are in the country "upon the invitation of the Iraqi government." "So it's their responsibility and duty to protect us. And they have not taken the appropriate steps to do so," he said, speaking on condition of anonymity.
Multiple attacks have in recent weeks targeted Iraqi bases where Americans are present. The United States has blamed the attacks on pro-Iran factions.
On Sunday, the US-led air strikes were directed at several bases belonging to the Hezbollah Brigades, one of the most radical factions of Hashed al-Shaabi, a Tehran-backed Iraqi paramilitary coalition.
The strikes "killed 25 and wounded 51," according to the Hashed, which holds major sway in Iraq.
The attack was in retaliation for the death Friday of a US civilian contractor in Kirkuk in a Hezbollah Brigades rocket attack.
In a phone call on Monday, Saudi Crown Prince Mohammed bin Salman and US secretary of state Mike Pompeo "agreed that the Iranian regime and its proxies continue to be a destabilizing force in the region and that nations have a right to defend themselves in the face of these threats," State Department spokeswoman Morgan Ortagus said.
Pompeo "underscored that attacks by the Iranian regime, or their proxies of any identity, that harm Americans, our allies, or our interests will be answered with a decisive response, as demonstrated yesterday." Iraq's government denounced Sunday's strikes and warned they could affect ties with Washington.
The attacks "force Iraq to review its relations and its security, political and legal framework to protect its sovereignty," the government said in a statement.
The warning came as demonstrators torched US flags in the Shiite-dominated southern cities of Basra and Najaf, and in Kirkuk north of Baghdad, while lawmakers called for US troops to be booted out of Iraq.
"We have frequent and robust exchanges with the Iraqi government about these threats," the State Department official said earlier Monday. "We absolutely told them that we were going to be taking action against" Friday's attack.
https://timesofindia.indiatimes.com/world/us/washington-says-baghdad-failed-to-protect-americans/articleshow/73041393.cms
------
Mideast
Jews and Muslims donate blood together at Golders Green Islamic Centre
By JACK MENDEL
December 30, 2019
Golders Green's Jewish and Muslim communities united on Sunday for an interfaith blood donation drive.
More than 100 people attended the event at the Centre for Islamic Enlightening, formerly known as the Hippodrome, in Golders Green.
Ali Madani, one of the organisers from the Islamic centre, said it arranged the blood drive because "there's currently a shortage of blood donors from diverse ethnic backgrounds. The centre is proud to open its doors and welcome everyone."
This blood drive shows that people can really come together during a time when there is so much division and we are honoured that so many people from across the whole community have come here today to donate."
Rabbi Natan Levy attended and donated blood, because he wanted "to meet my neighbours and give blood at the Markaz Hippodrome because there are people right here in Golders Green who feel that this generous and open hearted community does not belong here."
Not only do they most certainly belong, but their warmth, their charity, and their willingness to work with people of other faiths like me is inspirational."
And I, my family, and my community are each deeply enriched by sharing Golders Green with a thriving Muslim faith centre in our midst."
In November 2017, shortly after the Islamic Centre was set up in Golders Green, members of the Muslim community turned up at Golders Green United Synagogue in order to donate blood for Mitzvah Day.
https://jewishnews.timesofisrael.com/jews-and-muslims-donate-blood-together-at-golders-green-islamic-centre/
------
Syrian families take refuge in mosque from bombings
Burak Milli
31.12.2019
IDLIB, Syria
At least 49 families have taken refuge in a mosque in the Syrian city of Idlib to escape attacks on civilians by the Bashar al-Assad regime and Russian forces.
The severe winter weather is also making life difficult, although the Turkish Red Crescent is supplying food and blankets to the displaced.
Speaking to Anadolu Agency, Abdullah Sharaf al-Din, who is among those sheltering in the mosque, said they had to leave their homes to escape the violent bombings by Russia and the Syrian regime in their area.
He said he took refuge in the mosque with his wife and his six children nine days ago, adding they are struggling to survive amid the harsh winter.
Sharaf al-Din's wife said her children are sick due to the cold weather.
She said she hopes the war will be over soon so they can return home.
Fatima Ahmadi explained that she took refuge in the mosque two days ago with her children to escape the severe bombing in her city, Maarat Al-Numan.
She pointed out that living conditions for them are very poor and that she could not find a place other than the mosque to protect her children.
Ahmadi thanked all the organizations and bodies that are supporting them, especially amid the frigid weather.
Since November, a wave of attacks by the Syrian regime and its supporters has resulted in the displacement of more than 264,000 civilians from Idlib to areas near the Turkish border, according to field reports.
On Dec. 20, the Assad regime and its allies launched a military campaign mainly in the cities of Maarat Al-Numan and Saraqib as well as the surrounding rural areas, capturing 35 residential areas.
Airstrikes on the region were halted following a visit to Moscow by a Turkish delegation led by Deputy Foreign Minister Sedat Onal on Dec. 23.
Turkey and Russia agreed in September last year to turn Idlib into a de-escalation zone in which acts of aggression are expressly prohibited.
Since then, more than 1,300 civilians have been killed in attacks by the regime and Russian forces in the de-escalation zone as the cease-fire continues to be violated.
Over a million Syrians have moved near the Turkish border due to the intense attacks this year.
According to the National Coalition for Syrian Revolutionary and Opposition Forces, Idlib province is home to around three million civilians, 75% of them women and children.
Since the eruption of the bloody civil war in Syria in 2011, Turkey has taken in some 3.7 million Syrians who fled their country, making it the world's top refugee hosting country.
Ankara has so far spent $40 billion to provide for the refugees' needs, according to official figures.
https://www.aa.com.tr/en/middle-east/syrian-families-take-refuge-in-mosque-from-bombings/1688147
------
Gold coins dating to early Islamic era delight archaeologists at Yavne dig
12-30-2019
A trove of gold coins dating back 1,200 years touched human skin for the first time in centuries this weekend after they were spotted at an archaeological excavation in Yavne, in central Israel.
Archaeologists excavating an ancient manufacturing area that was active for hundreds of years were surprised to find a small clay vessel containing gold coins from the 9th century CE. Researchers currently think that the treasure might have belonged to a potter.
"All of I sudden I heard shouting," says Liat Nadav-Ziv, who is directing the dig with Dr. Eli Haddad of the Israel Antiquities Authority.
"I went out and saw Mark Mullokandov, a veteran IAA archaeologist, running toward the camp, all excited. We followed him and were surprised to see the treasure," she said.
Dr. Robert Cole, an IAA numismatics expert, gave the coins the once-over and the initial inspection indicates that they date to the beginning of the Abbasid Caliphate in the 9th century. The coins include one gold dinar of the Caliph Harun a-Rashid.
"The trove contains coins that we rarely see here in Israel. They are gold dinars from the Aghlabid dynasty – who ruled North Africa on behalf of the Abbasid caliphs in Baghdad. This is undoubtedly a Hanukkah present for us," Cole said.
Other discoveries at the dig, which is located southeast of Tel Yavne, include a "field of furnaces" that operated around the end of the Byzantine and early Islamic era, from the 7th century CE to the 9th century CE. These furnaces were used to make jugs, cooking pots, and bowls, all to be sold commercially. The gold coins were discovered inside a tiny jug that rested at the mouth of one of the furnaces. Archaeologists think they might have been payment for one of the potters, who used the jug as his personal cash register.
On the other side of the Tel Yavne site, the dig has uncovered the remnants of a large industrial facility dating back to the Persian Era (5th-4th centuries BCE) that was apparently used to make wine.
Haddad explained that an initial examination of the findings had revealed traces of grape seeds.
"The size of the compartments and the number of them indicate that wine was manufactured in commercial quantities, much more than would be needed to meet local demand of the residents of ancient Yavne," he observed.
The Israel Antiquities Authority is carrying out the Yavne dig as part of preparations to lay the groundwork for a new residential neighborhood.
https://www.israelhayom.com/2019/12/30/gold-coins-dating-to-early-islamic-delight-archaeologists-at-yavne-dig/
------
Assyrian MP condemns Dutch politician's insult to Islam's prophet
December 30, 2019
TEHRAN - Representative of the Iranian Assyrians at the Parliament on Monday strongly condemned a Dutch politician for publishing a blasphemous cartoon of Islam's Prophet Mohammad (PBUH).
"The immoral and derogatory act of Greet Wilders was nothing but fanaticism and stupidity," Yonathan Betkolia said in his statement.
Dutch far-right politician Geert Wilders announced on Sunday what he called the winner of a contest for caricatures of Islam's Prophet, more than a year after he shelved a similar event . The drawing Wilders called the "winner" was a dark image of a bearded man with a wrinkled brow wearing a black turban and black shirt.
Freedom of speech must prevail over violence and Islamic fatwas," said Wilders, who heads the largest opposition party in the Dutch parliament.
In August last year, Wilders canceled a similar contest after Dutch police arrested a 26-year-old man who had threatened to kill him over his anti-Islam stance.
Wilder's previous plan to hold the cartoon contest prompted huge demonstrations in some Muslim-majority countries.
Images of the Prophet are traditionally forbidden in Islam, and many Muslims regard caricatures as highly offensive.
https://www.tehrantimes.com/news/443574/Assyrian-MP-condemns-Dutch-politician-s-insult-to-Islam-s-prophet
------
At least 124 people suspected of links to the Islamic State detained in Turkey
Suzan Fraser
December 30 2019
Police in Turkey have detained at least 124 people suspected of links to the so-called Islamic State.
At least 33 foreign nationals were detained in the capital Ankara in a joint operation by anti-terrorism police and the national intelligence agency, according to the Anadolu Agency.
In Istanbul, police raided 31 houses, detaining 24 suspects, including four foreign nationals.
Police conducted simultaneous, pre-dawn raids in the city of Batman, in south-east Turkey, where 22 suspects were detained.
Raids were also conducted in the cities of Adana, Kayseri, Samsun and Bursa where 45 people, including six foreign nationals were detained.
Anadolu said the Islamic State suspects apprehended in Ankara were from Iraq, Syria and Morocco. Police were searching for 17 other suspects.
The country was hit by a wave of attacks in 2015 and 2016 blamed on Islamic State and Kurdish militants that killed over 300 people.
The Islamic State group also claimed responsibility for an attack at an Istanbul nightclub during new year celebrations in the early hours of 2017. The attack killed 39 people, most of them foreigners.
Meanwhile, Turkey deported a total of 778 Islamic State or other jihadists back to their home countries in 2019, interior minister Suleyman Soylu said.
Turkey has stepped up its efforts to expel foreign fighters back to their countries of origin in recent months, accusing many European countries of not taking responsibility for their nationals and saying Turkey was "not a hotel" for foreign fighters.
https://www.independent.ie/world-news/middle-east/at-least-124-people-suspected-of-links-to-the-islamic-state-detained-in-turkey-38823024.html
------
Iraq Says US Airstrikes on Shia Militias "Unacceptable, Violation"
30/12/2019
ERBIL - Iraq has been concerned over the US airstrikes against the pro-Iranian militia groups in the country on Sunday, saying that the attacks are "unacceptable and violations."
The comments were made by Adil Abdul Mahdi, the resigned PM of Iraq who is leading the cabinet until a successor is approved, while chairing a meeting of the country's Council of Ministers on Monday.
Abdul Mahdi, also warned that such attacks would have "dangerous consequences".
"The prime minister described the American attack on the Iraqi armed forces as an unacceptable vicious assault that will have dangerous consequences," his office said in a statement, as quoted by Reuters.
According to the press release, the government will announce its official position after the National Security Council convenes later on Monday.
US forces targeted five bases of Kataib Hezbollah - a militia group operating under the umbrella of pro-Iranian Hashd al-Shaabi - in Iraq and Syria on Sunday evening, killing over 20 militiamen, while 51 others were injured.
http://www.basnews.com/index.php/en/news/iraq/570919?__cf_chl_jschl_tk__=205e2637dae6e48d22fe977199699c0327bd5e84-1577773437-0-ARoGtd5tPficIV4UOQOX-8gGKwIMahPVH-4E-aEuyHxn6ri-G3JqifaQJ024CXmbbgHecijgcjvFhfG6Drv3CUIYURgR5moURYsQaE-dp3ftluyP2sbYQNJlVfpy2XRWVqzTeScOXKIDfPR4RB87RaPvFSosULa39fbUrvagdyzfhltwgGU31CIT-r8U_1-SJI7B8rKMPkNjwroGEITI2GMSei2X150fHvg3nHqgqhY35Al9sNUSqdIgEZ4l0CYLmyxhB8_3R8xPts3ZRJypCyAx8FynXelTN_GRW01_xy_k
------
Ayatollah Yaqubi calls for International Chastity Day in birthday of Lady Zeynab (A.S)
December 30, 2019
AhlulBayt News Agency (ABNA): Ayatollah Yaqubi calls for International Chastity Day in birthday of Lady Zeynab (A.S).
Accordig to the correspondent of Rasa News Agency in Najaf Ashraf, in a speech in al-Rahman mosque in Iraq, Sheikh Heidar al-Azirjavi, one of Ayatollah Yaqubi's representatives said, "As you know, ayatollah Yaqubi has called for considering a day as the International Chastity Day and best time for this event is the birthday of Lady Zeynab (A.S)."
"In Karbala event, despite enduring many calamities including martyrdom of her family especially her brother Imam Hussain (A.S), Lady Zeynab (A.S) kept completely her veil and chastity and turned to a role model for this issue", al-Azirjavi added.
"Ayatollah Yaqubi had said in a meeting with the youth that the Hijab is not just for women and is not just covering the body, but also it has a more general meaning and includes keeping hand, eye and tongue away from sins", Ayatollah Yaqubi's representative outlined.
Lady Zaynab bint Ali, was the daughter of the Imam Ali ibn Abi Talib and Ldy Fatimah. Prophet Muhammad was her maternal grandfather, and thus she is a member of his household. She is considered to be a figure of sacrifice, strength, and piety in both the Sunni and Shia sects of Islam.
During Karbala event, she played an important role and because of this, she became known as the "Heroine of Karbala". Lady Zaynab died in 681 CE, and her holy shrine is located in Damascus, Syria.
https://en.abna24.com/news//ayatollah-yaqubi-calls-for-international-chastity-day-in-birthday-of-lady-zeynab-a-s_997573.html
------
Syrian regime forces shelled a mosque in Mhambel town in Idlib suburbs, on December 28.
December 30, 2019
SNHR: Syrian regime forces fired a missile loaded with cluster munitions near al Kabir Mosque in Mhambel town in the western suburbs of Idlib governorate, partially damaging its building and furniture, on December 28, 2019.
http://sn4hr.org/sites/news/2019/12/30/syrian-regime-forces-shelled-mosque-mhambel-town-idlib-suburbs-december-28/
------
Iraq: Call for Extraordinary Parliament Session after US Strikes Shia Militias
30/12/2019
ERBIL — Head of Iraq's parliamentary committee for defense and security affairs has called for an "extraordinary session" on the US airstrikes against multiple positions of pro-Iranian Shia militias in Iraq.
In a statement on Monday, MP Mohammed Raza Al Haider said targeting Hashd al-Shaabi was targeting the whole military structure of Iraq by the US.
He said the parliament is required to convene immediately, discuss the situation, and take immediate measures to prevent such actins from repeating again.
Overnight Sunday, US airpower pounded five positions belonging to pro-Iranian Kataib Hezbollah in Iraq and Syria, killing and injuring several dozens, including high-ranking commanders.
Washington said the strikes were in response to the group's rocket attacks on US military installations in Iraq.
Earlier on Friday, a rocket attack on Kirkuk's K1 military base killed one US contractor and left several US and Iraqi troops wounded. Washington blamed Iraqi Hezbollah for the loss.
http://www.basnews.com/index.php/en/news/iraq/570867
------
Africa
Muslim, Christian groups differ over U.S.' inclusion of Nigeria on watchlist
By Eniola Daniel
31 December 2019
The Nasrul-Lahi-I-Fatih Society (NASFAT) has decried the United States (U.S.) Government's inclusion of Nigeria on its Special Watch List of countries encouraging 'severe violations of religious freedom'.
National Publicity Secretary of NASFAT, Alhaji Akeem Yusuf, made its position known yesterday in Lagos.
Yusuf said the society drew the U.S. Government's attention to the narrative of Nigerians who have been enjoying religious freedom, as enshrined in the country's constitution.
"NASFAT cited its recent 5th Biennial Conference with the theme, "Peaceful Coexistence: Panacea for Unity, Growth and Development," which hosted a Catholic Priest as one of the panelists and walk for peace and harmony with other religious adherents.
"NASFAT recall that it had organised an international conference on peaceful co-existence among tribes and religions in Nigeria at Abuja which the U.S. supported," he said.
Yusuf said NASFAT, however, urged the Federal Government to conduct its affairs transparently based on the rule of law and within the ambits of the Nigerian constitution and address its response with facts, stressing the sovereignty of Nigeria and the supremacy of the nation's constitution and Sharia legislation.
But the Para-Mallam Peace Foundation, Nigeria Christian Graduates Fellowship, Southern Kaduna Christian Elders Forum, Emmanuel Ogebe and 18 others, have applauded the U.S. Secretary of State, Mike Pompeo and the U.S. government for placing Nigeria on its watch list for religious persecution.
In their letter, the groups asked the U.S. government to fully designate Nigeria as a country of Particular Concern (CPC) due to its inability to end insecurity and the existential threats Christians face in the country.
They maintained that Christians in the Northern part of the country were targeted for violence on account of their faith and social identity, ethnicity, gender, occupation and issues of land ownership.
Specifically, the coalition recalled how two Reverend Fathers, Joseph Gor and Felix Tyolaha were murdered along with 17 other worshippers at St. Ignatius Parish in Mbalom, Benue State on April 24, 2018.
"While we commend the placing of Nigeria on the watch list, we submit that Nigeria is eminently qualified to be designated as a Country of Particular Concern (CPC).
"Our assessment of the report, which recommended that the U.S. designates Nigeria a full CPC, has again shown the need for more thorough reporting, which might have otherwise convinced you of the gravity of the persecution of Christians in Nigeria," the coalition added.
https://guardian.ng/news/muslim-christian-groups-differ-over-u-s-inclusion-of-nigeria-on-watchlist/
------
Nigerian government must end oppression against Sheikh Zakzaky
December 30, 2019
AhlulBayt News Agency (ABNA): Shia Marja (source of emulation) Ayatollah Naser Makarem Shirazi said that the Nigerian government must end atrocity against Sheikh Zakzaky.
Ayatollah Naser Makarem Shirazi stated on Sunday that the Nigerian government must take responsibility for the Leader of the Islamic Movement in Nigeria (IMN) Sheikh Ibrahim Zakzaky, and end the atrocity against him.
Ayatollah Makarem Shirazi further called Sheikh Zakzaky as a heroic and warrior figure who has dedicated his six children to Islam.
Makarem Shirazi also expressed regret over the humiliating silence of human rights claimants and heads of Islamic countries over the situation of Sheikh Zakzaky and his wife, saying: "The Islamic Republic of Iran condemns this outrageous injustice behaviour against Sheikh Zakzaky and his family and calls on the Nigerian government to take responsibility for the consequences of its actions."
During a meeting with members of the family of the Nigerian cleric, a member of the Assembly of Experts Ayatollah Mohsen Araki, and a senior Marja in Qom Ayatollah Abdollah Javadi Amoli also called on the international community to ask for the release of Sheikh Zakzaky.
Sheikh Zakzaky and his wife were arrested on December 13, 2015, in a Nigerian military attack in Zaria city. After efforts, protests and domestic and international pressure, the Nigerian court allowed Sheikh Zakzaky and his wife to travel to India for treatment in August 2019, but due to dissatisfaction with the treatment process, security restrictions, and the lack of trustworthy doctors, Sheikh Zakzaky and his wife left India for Nigeria after spending two days in that country.
A High Court ordered the Department of State Services on December 5 to transfer the cleric and his wife, Zinat, to the Correctional Center in Kaduna state, northwest of the country. The unsanitary conditions in Kaduna prison have only heightened concerns about the state of health of Sheikh Zakzaky.
https://en.abna24.com/news//nigerian-government-must-end-oppression-against-sheikh-zakzaky_997568.html
------
Four Islamic terror suspects appeal against remand
By Hudson Kuteesa
December 30, 2019
Four Muslim men that are suspected of plotting terror activities on Rwandan territory through an Islamic fundamentalist movement have appealed against a ruling that sent them on a 30-day remand.
The quartet is part of a group of five that were earlier this month remanded by Kicukiro Primary Court on charges of plotting against an established government or the President of the Republic, conspiracy to plot against the government and terrorism.
According to prosecution, the five suspects—Amran Rumanzi, Abdalla Kabendera, Yazid Nizeyimana, Ibrahim Rurangwa, and Justine Omar Uwimana—conducted research, held meetings and discussions about the Hizb ut-Tahrir (translated as Party of Liberation), a movement of Muslim fundamentalists bent on "liberating" itself from governments and establishing an Islamic State governed in accordance with Islamic principles.
The five were residents of Kicukiro and Bugesera districts.
The Hizb ut – Tahrir describes itself as an international pan-Islamic political organisation with an aim the re-establishment of the Islamic caliphate to resume Islamic ways of life in the Muslim world.
According to prosecution, in 2012, Amran Rumanzi who is one of the five suspects made a research on the internet and found many books talking about Islam, among which he found information about the Hizb ut – Tahrir movement.
Rumanzi later made a plan of implementing the idea of establishing principles of the movement in Rwanda through three ways, first by holding one-on-one sensitisation, hold communal gatherings, and finally conquer the government as a result of the dialogues.
The prosecution added that the suspects conducted meetings in their respective homes on a rotational basis and kept their meetings secret from both the religious and government authorities.
The Primary Court's decision to remand them was based on the seriousness of the crimes for which they are being prosecuted, as well as strong reasons for their culpability to the crimes they are accused of.
According to the presiding judge the suspects themselves did not deny that they had held discussions about Hizb ut – Tahrir; where two of them Rumanzi and Zaidi Nizeyimana said they sensitized others on the principles of the movement.
Four of the suspects appealed, except Ibrahim Rurangwa.
Appearing before Nyarugenge Intermediate Court on Monday morning, the four suspects and their two lawyers seemed set for the appeal hearing, however, it did not materialise since the court decided to postpone it upon the request of the prosecution.
According to prosecution, the accused while filing their appeal submitted an incomplete file because it lacked the judgement by the lower court.
However, the lawyers representing the defendants said that they had fed all the information into the system on the 10th of December and it contained the verdict of the previous ruling.
The prosecutor insisted that she did not see the ruling from the system, and asked for more time to look at it.
All litigants file their submission through the Integrated Case Management System which can be accessed by all parties in the case.
The presiding judge accepted to adjourn the hearing to January 7 during which the appeal will be heard.
hkuteesa@newtimesrwanda.com
https://www.newtimes.co.rw/news/four-islamic-terror-suspects-appeal-against-remand
------
True Muslims will not take anyone's life – Apostle Suleman attacks ISWAP
December 30, 2019
By Fikayo Olowolagba
Apostle Johnson Suleman of Omega Fire Ministries has condemned the killings of Christians by the Islamic State West Africa Province (ISWAP).
According to him, the Muslims are not known for taking lives and such inhuman actions do not portray the ideology of Muslims.
DAILY POST had reported that Christian captives were executed by the Islamic State West Africa Province (ISWAP) during the week.
The execution has been condemned both international and local bodies, while some people have also totally assign the responsibility for the unfortunate situation to the Muslims.
Apostle Suleman added that the Quran is not in support of killing but peace, hence any true Muslim will not take lives of anyone.
Hide quoted text
On his Twitter page, he wrote: "The Quran says whoever kills a soul has killed the entire mankind.
"ISWAP is evil and will get punished by God almighty..you behead 11 Christians?
"Years ago,I read the Quran over six times, No true Muslim will take lives..Islam is peace."
https://dailypost.ng/2019/12/30/true-muslims-will-not-take-anyones-life-apostle-suleman-attacks-iswap/
------
URL: https://www.newageislam.com/islamic-world-news/kerala-assembly-passes-resolution-demanding/d/120672
New Age Islam, Islam Online, Islamic Website, African Muslim News, Arab World News, South Asia News, Indian Muslim News, World Muslim News, Women in Islam, Islamic Feminism, Arab Women, Women In Arab, Islamophobia in America, Muslim Women in West, Islam Women and Feminism