New Age Islam News Bureau
09 March 2021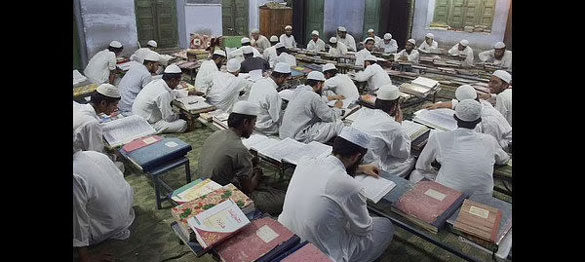 Photo courtesy: Twitter
-----
• Chief of Jamaat-e-Islami Demands Complete Ban on Dowry, Un-Islamic Traditions
• Pope Francis Says His Next Visit Will Be To 'Suffering' Lebanon: Report
• ICC War Crimes Probe In Palestine Angers US and Israel
• Absence of Peace Deal May Allow Taliban Rapid Territorial Gains, Washington Warns Kabul
• Visa Applicants Denied Due To Trump 'Muslim Ban' Can Reapply: US
• No Regrets, Says Dutch Anti-Islam Leader Wilders
• Addressing Child Marriage Will Help Malaysia Meet 8 United Nations Sustainable Development Goals
India
• If Gita, Ramayan Mandatory in Madrasas, Make Quran Mandatory in RSS Schools, Say Clerics
• Madhya Pradesh Passes 'Love Jihad' Bill Amid Jai Shri Ram Chants
• Miffed, Muslims Await TMC Word On Poll Candidate
• Iran warns against 'efforts to destabilise' ties with India
• Uttar Pradesh: Man arrested under 'love jihad' law
• Batla House encounter: Delhi court convicts Ariz Khan for killing inspector Mohan Chand Sharma
--------
Pakistan
• Chief of Jamaat-e-Islami Demands Complete Ban on Dowry, Un-Islamic Traditions
• Protecting women's rights not a priority of government, laments JI
• Sindh Assembly calls to end violence, discrimination against women
• 'State must protect women, minorities and transgenders'
• After Senate upset, PM pushes for reforms to ensure 'transparent' polls
• ECP to hear PTI's plea for Gilani's disqualification today
--------
Arab World
• Pope Francis Says His Next Visit Will Be To 'Suffering' Lebanon: Report
• Inside The Rise of the Shadowy Iran-Backed Militias In Iraq
• Qatari Delegation in Egypt Reviews Alula Declaration, Restore Ties In Stages
• Lebanon political deadlock puts country at risk of Syria-like scenario
• US military denies reports of attack on Iraq's Al-Asad airbase
• Arab Coalition destroys explosive drone targeting Saudi Arabia's Khamis Mushait
• Hezbollah, Lebanese army target Israeli spy drones violating airspace
• Rights group, US senator call for release of Bahraini political activists
• One killed, many wounded in terrorist attack north of Baghdad
--------
Mideast
• ICC War Crimes Probe In Palestine Angers US and Israel
• Iran Urges Int'l Red Cross to Help Lift Yemen Siege
• 'Ending Saudi-led aggression, blockade key to lasting peace in Yemen'
• Iranian FM: US Airstrikes against Syrian Territories to Escalate Insecurity in Entire Region
• Senior MP: Iran Concerned about Presence of ISIL Terrorists in Karabakh Region
• Iran enriching with new set of advanced machines at Natanz, says IAEA
--------
South Asia
• Absence of Peace Deal May Allow Taliban Rapid Territorial Gains, Washington Warns Kabul
• Bangladesh bought phone-hacking tools from Israel, documents show
• Bangladesh Militants Use Bitcoins for Laundering Money to Kashmir
• US Envoy for Afghan peace to remain in Doha: State Department
• 3 Taliban killed in Ghor, clashes inflict losses to gov't forces
--------
North America
• Visa Applicants Denied Due To Trump 'Muslim Ban' Can Reapply: US
• US Presents Warring Afghan Sides with Draft Peace Agreement
• US President Biden Lauds Pope's 'Historic' Visit To Iraq
• US 'alarmed' by escalating attacks against Saudi Arabia by Yemen's Houthis
• US looking for more ways to aid Saudis against attacks
• Turkey to keep pressing US to stop supporting PYD/YPG
--------
Europe
• No Regrets, Says Dutch Anti-Islam Leader Wilders
• Abp of Birmingham: Pope's Iraq visit an impetus for dialogue and hope
• Russia says militants planning false flag chemical attack in Syria's Idlib
• Algerian arrested in Italy on suspicion of assisting Paris terrorist attackers
• UK premier condemns terrorist PKK to Turkish president
--------
Southeast Asia
• Addressing Child Marriage Will Help Malaysia Meet 8 United Nations Sustainable Development Goals
• Malaysia allows rights groups to challenge deportation of Myanmar nationals: Lawyer
• Robust Processes in Place to Certify Halal Meat
• Born Without A Womb, Malaysian Artist Sparks Conversation On Sexual Health
• Muhyiddin's visit to spur Riyadh-KL ties to new heights, says Saudi foreign minister
• Indonesia: Muslim body calls to help hunger-hit Yemenis
--------
Africa
• Somali Migrant Left To Survive On Streets of France
• African Union urges end to violence against women
• IMF says Sudan made tangible progress toward establishing strong reforms
• Somali commandos trained by Turkey back home
• Nigerian security forces arrest 56 armed gang members
Compiled by New Age Islam News Bureau
URL: https://www.newageislam.com/islamic-world-news/if-gita-ramayan-mandatory-madrasas/d/124498
--------
If Gita, Ramayan Mandatory in Madrasas, Make Quran Mandatory in RSS Schools, Say Clerics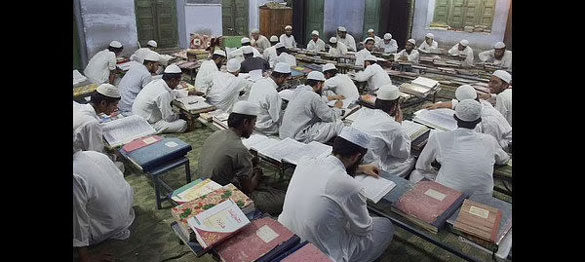 Photo courtesy: Twitter
-----
09 Mar 2021
Muslim clerics have opposed the government's decision to make teaching of Hindu epics like Bhagavad Gita and Ramayana mandatory in 100 autonomous madrasas. Maulana Khalid Rasheed, Chairman, Islamic Centre of India and chairman of Darul Uloom Farangi Mahal, said Madrasas were established with the sole aim of imparting Islamic education.
"Teaching other religious scriptures is against the tenets of Madrasas," he told this reporter on Tuesday.
Under the New Education Policy (NEP), the National Institute of Open School (NIOS) has ordered teaching of Hindu epics like Bhagavad Gita and Ramayana mandatory in 100 autonomous Madrasas. This has been included as a part of the new curriculum on ancient Indian knowledge and heritage in the New Education Policy (NEP).
The NIOS has prepared 15 courses for elementary classes which include classes for 3, 5 and 8th standards. The courses include Bharatiya Jnana Parampara (ancient Indian knowledge) under which the teachings of Ramayana, Bhagavad Gita, Vedas, yoga, science, vocational skills, Sanskrit and Panini-propounded Maheshwara Sutras are covered.
The Muslim clerics have opposed the NIOS decision saying it has no jurisdiction to take decisions on Madrasa curriculum.
Maulana Khalid Rasheed pointed out that there are two types of madrasas in India, one governed by the Madrasa Board and others run by the community on its own.
"This NIOS decision is not bound on community- sponsored Madrasas while the Madrasas governed by the Board are bound to implement this decision," he said.
Another Muslim cleric, Maulana Yasoob Abbas, says NIOS decision was anti-Islam and against the principles on which Madrasas were set up. "Madrasas were set up with an aim to propagate Quran. "If NIOS wants that students in Madrasas learn Gita and Ramayana, it should also introduce Quran in the curriculum of Rashtriya Swayamsevak Sangh-funded Saraswati Shishu Mandirs," he said.
Maulana Yasoob Abbas, who is also an executive member of Madrasa Sultan Al Madaris, said if anyone tried to impose something which is un-Islamic on madrasas, we will stage a protest against it.
Prominent academician Nadeem Hasnain, Head of Anthropology department in Lucknow University, said such decisions should come voluntarily. There is no harm in Muslims learning scriptures of other religions. But the problem starts when the government makes it mandatory.
The NIOS has planned to introduce the new curriculum in 100 madrasas initially and extend it to 500 madrasas in future.
https://www.nationalheraldindia.com/india/if-gita-ramayan-mandatory-in-madrasas-make-quran-mandatory-in-rss-schools-say-clerics
--------
Chief of Jamaat-e-Islami Demands Complete Ban On Dowry, Un-Islamic Traditions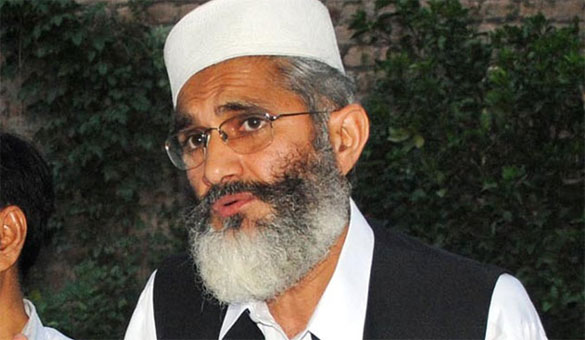 Chief of Jamaat-e-Islami Sirajul Haq
-----
09 Mar 2021
LAHORE: Chief of Jamaat-e-Islami Sirajul Haq has demanded complete ban on dowry and other un-Islamic and anti-constitutional traditions in Pakistani society on occasion of International Women's Day on Monday.
Addressing "Istehkam-e-Khandan-Growth Protection of Family Institution" rally at Lahore's Mall Road, he also called for ensuring protection of women at workplaces and educational institutions.
The JI women chapter organized rallies in all major cities including Lahore on women day. A large number of women from all walks of life attended the rallies with the commitment to counter the attempts of westernization of Pakistani society.
The JI chief said only Islam could guarantee the protection and rights of women. He appealed the nation not to pay attention to the conspiracies launched by a small section of the society in the name of women rights.
He said attempts to damage the ideological base of Pakistan had been started soon after the independence but they were died on their own as Pakistani society was not ready to accept them.
The JI women chapter, he said, launched the "Protection of Family Institution" campaign on February 11 and it would continue till March 11. He requested the Pakistani women to be part of the campaign to create awareness among the masses about the sacred cause.
https://www.brecorder.com/news/40071549/siraj-demands-complete-ban-on-dowry-un-islamic-traditions
--------
Pope Francis Says His Next Visit Will Be To 'Suffering' Lebanon: Report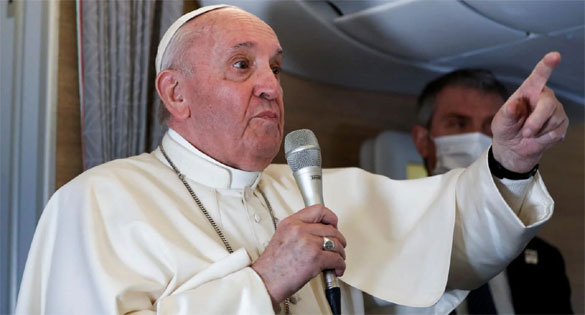 Pope Francis speaks to reporters during a news conference while in the air aboard the Alitalia papal plane on his flight back from Iraq (AFP)
-----
08 March, 2021
Rawad Taha
Pope Francis said Monday that his next visit would be to "suffering" Lebanon, Sky News Arabia quoted the pope as saying during his return flight to the Vatican from Iraq.
"Lebanon's Patriarch Rai asked me on this trip to stop in Beirut. The matter seemed small to me. This is a crumble in front of what Lebanon is suffering from. I wrote to him a letter and promised to visit Lebanon. Lebanon today is in crisis, and here I do not want to detract from anyone. It is an existential crisis. My next trip will be to Lebanon," Pope Francis said.
The Pope concluded a historic visit to Iraq, which lasted for four days.
"Lebanon is a message. Lebanon is in pain. Lebanon represents more than just a balance. Lebanon has some weakness resulting from diversity, some of this diversity that has not reconciled, but Lebanon has the strength of a reconciled people, like the power of a Cedar tree," Pope Francis added.
https://english.alarabiya.net/News/middle-east/2021/03/08/Pope-Franics-says-his-next-visit-will-be-to-suffering-Lebanon-Report
--------
ICC war crimes probe in Palestine angers US and Israel
09 March 202
The ICC probe into war crimes committed by the United States and Israel in Palestine, headed by chief prosecutor Fatou Bensouda, has concluded war crimes were committed by Israel, the US and their allies.
In December 2019 Bensouda announced that such crimes have been, or were being committed in the West Bank and the Gaza Strip. She named the Israeli military, which has for years unleashed a reign of terror on Palestinians, as a perpetrator of war crimes.
The ICC prosecutor further noted that there was a reasonable basis to launch a probe into Israeli military actions in the besieged Gaza Strip, as well as illegal settlements in the occupied West Bank.
Bensouda then asked the judges to rule on the extent of the court's jurisdiction in the case. And the court last month established that it had jurisdiction.
The announcement was not received well by Washington and Tel Aviv.
The US Vice President, Kamala Harris, told Israeli Prime Minister, Benjamin Netanyahu, in a phone call that the US opposes any such probe as the court has no jurisdiction over the matter.
The phone call followed a statement by US Secretary of State Antony Blinken that Washington firmly opposes, and is deeply disappointed, by the decision.
If the state is very certain and very secure that the Israeli regime ...these occupiers have not committed war crimes. So, why not give a chance to the investigators, the bipartisan group, that will be coming in, that is not biased? And they will be investigating, all the cases that they have in their files in their system. And to prove that they're innocent, right and then at that point, we don't have this issue as a problem, coming up and arising again.
Firas al-Najim, Canadian Defenders for Human Rights, Ottawa
US and Israeli bullying and intimidation of ICC
The US and Israel have repeatedly shown their opposition to being held accountable for their actions over the years.
The ICC, which has often sought to expose war crimes committed by the Israeli regime and the US around the world, has faced bullying and intimidation from both Tel Aviv and Washington.
The Trump administration imposed sanctions on The Hague based tribunals staff last year, targeting them with asset freezes and travel bans, accusing them of violating US national sovereignty by launching a probe into war crimes committed by US troops in Afghanistan.
The Biden administration took no immediate action to reverse the move, despite promising to put overruling Trump's damaging measures at the top of the agenda.
The new US administration did announce it would rejoin the United Nations Human Rights Council, which its predecessor withdrew from in 2018, citing an anti Israeli bias, but it said upon re engaging with the UN body it would press to eliminate a disproportionate focus on its Israeli ally.
I mean, this shows essentially from the beginning that they're not going there really for human rights, they're going there to secure and support Israel and to bury their war crimes and to get people away from holding the Israeli regime accountable. I mean, why is there all these resolutions in the first place against Israel? Obviously because there are continuous developments, there are continuous war crimes, there is continuous bombardment, there are continuous blockades and there is continuous crime.
Firas al-Najim, Canadian Defenders for Human Rights, Ottawa
America is back
We will be back. And I'm a man of my word. America's back. I speak today as President of the United States, at the very start of my administration, and I'm sending a clear message to the world. America is back.
US President, Joe Biden
Joe Biden has repeated this sentence multiple times since becoming president, taking a veiled sideswipe at his predecessor's isolationist foreign policy, and promising a return to multilateralism in a bid to win over estranged US allies, and revive the frosty transatlantic relations.
While European partners of Washington have largely expressed support for the Biden administration, divisions between them still persist.
In the latest example an EU spokesperson said the block supports the ICC as an independent and impartial judicial institution with no political objectives to pursue. Peter Stata was responding to a request for comment on Neythanyahu's recent diatribe against the court, who had blasted the war crime probe as "the essence of anti-Semitism".
President Biden says he will bring back what he calls America's moral leadership in the world. The question which comes to mind is how the US can advocate such leadership while it continues to penalize those who work to expose crimes instead of the true culprits?
https://www.presstv.com/Detail/2021/03/09/646872/ICC-probe-Israeli-war-crimes-in-Palestine
--------
Absence of peace deal may allow Taliban rapid territorial gains, Washington warns Kabul
Mar 9, 2021
ISLAMABAD: The Biden administration wrote letters to Afghan President Ashraf Ghani and the head of the Afghan peace council, Dr Abdullah Abdullah, in which a four-point strategy was presented to the Afghan government seeking an end to war in Afghanistan.
The letter, written by US secretary of state Antony Blinken, was handed to both leaders by the US special envoy for Afghanistan, Zalmay Khalilzad, during his recent visit to the war-torn country. There was also a chilling message in the letter for the Afghan leaders — that the absence of a peace deal may allow the Taliban to make "rapid territorial gains".
The letter shared by TOLOnews, an Afghan news outlet, suggested the Biden administration wants to accelerate peace efforts.
As part of the four-point strategy, the US has proposed a UN-sponsored meeting of the foreign ministers of Iran, China, Russia, Pakistan and India to discuss a "unified approach" for Afghan peace.
"It is my belief that these countries share an abiding common interest in a stable Afghanistan and must work together if we are to succeed," Blinken wrote.
Blinken wrote that Turkey will be asked to host a senior-level meeting of both sides in the coming weeks to finalise a peace agreement and urged Ghani or his nominees to attend the meeting.
The letter said Khalilzad was directed to share specific proposals both with the Afghan government and the Taliban aimed at accelerating discussions on a negotiated settlement and ceasefire.
These proposals, the letter read, would enable the Afghan government and the Taliban to move urgently to the task of developing foundational principles that would guide Afghanistan's future constitutional and governing arrangements, a road map to a new inclusive government, and the terms of a permanent and comprehensive ceasefire.
Blinken also expressed concerns over the increased level of violence in Afghanistan, saying: "We have prepared a revised proposal for a 90-day reduction in violence, which is intended to prevent the spring offensive by the Taliban to coincide with our diplomatic efforts to support a political settlement between the parties."
Secretary Blinken made it clear that these proposals were not meant to dictate terms to the parties but added the US expected a positive response from the Afghan government.
The Afghan side was also informed that the Biden administration had not ruled out any options at this stage. The letter added that the US was considering full withdrawal from Afghanistan by May 1, the deadline set in the February 29, 2020 Doha deal, as it pondered other options.
The letter concluded with a warning for the Ghani administration: "Even (after) continuation of the financial assistance of the United States to your forces after the American military withdrawal, I am concerned that the security situation will worsen and the Taliban could make rapid territorial gains."
Responding to the letter, Afghan vice-president Amrullah Saleh warned there would never be any compromise on Afghanistan's constitution and on the people's right to vote. He said the US could hold a conference and decide on the presence of its troops in Afghanistan or negotiate with the Taliban but that it was the legitimate right of the Afghan government to not compromise over the fate of 35 million people in Afghanistan.
Abdullah Abdullah, however, cautiously supported the US remarks in the letter, saying, "Although I don't want to defend the letter, there are important issues that have been brought up in it."
Mohammad Mohaqiq, an Afghan politician and senior adviser to Ghani, said, "The weakness in the message of the US state department is that they have not recognised Afghanistan's structure, and it has coercive language and a coerced and tailored peace will not lead anywhere."
https://timesofindia.indiatimes.com/world/us/absence-of-peace-deal-may-allow-taliban-rapid-territorial-gains-washington-warns-kabul/articleshow/81399127.cms
--------
Visa applicants denied due to Trump 'Muslim ban' can reapply: US
Mar 9, 2021
WASHINGTON: Most US visa applicants who were denied because of former President Donald Trump's travel ban on 13 mostly Muslim-majority and African countries can seek new decisions or submit new applications, the State Department said on Monday.
President Joe Biden overturned Trump's so-called Muslim ban on Jan. 20, his first day in office, calling it "a stain on our national conscience" in his proclamation.
State Department spokesman Ned Price said applicants who were refused visas prior to Jan. 20, 2020, must submit new applications and pay a new application fee. Those who were denied on or after Jan. 20, 2020, may seek reconsideration without re-submitting their applications and do not have to pay additional fees, Price said.
Applicants selected in the diversity visa lottery prior to the current fiscal year are barred by US law from being issued visas if they have not gotten them already, he said. The diversity lottery aims to accept immigrants from countries that are not normally awarded many visas.
Since December 2017, after a revised version of the original travel ban was upheld by the US Supreme Court, some 40,000 people have been barred from entering the United States under the ban, according to State Department data.
During the Trump administration some countries were added and others dropped from the list. At the end of Trump's presidency it comprised Myanmar, Eritrea, Iran, Kyrgyzstan, Libya, Nigeria, North Korea, Somalia, Sudan, Syria, Tanzania, Venezuela and Yemen.
https://timesofindia.indiatimes.com/world/us/visa-applicants-denied-due-to-trump-muslim-ban-can-reapply-us/articleshow/81403347.cms
--------
No regrets, says Dutch anti-Islam leader Wilders
March 9, 2021
THE HAGUE: Dutch anti-Islam leader Geert Wilders has said he has no regrets and is ready to "step up" his campaigning against immigration, despite the coronavirus set to dominate next week's general election.
Once dubbed the "Dutch Trump" for his bleached-blonde hair and incendiary rhetoric, Wilders has focused more during the election campaign on healthcare and opposing lockdown restrictions.
But while he hopes to improve on the 2017 showing that made his Freedom Party (PVV) the second largest in parliament, the 57-year-old admits that Prime Minister Rutte is on course to win.
"The current government is rather popular now — at least, the prime minister is — but then again, in time of crisis people tend to rally around the flag," Wilders told AFP in an interview at the Dutch parliament.
"Other issues such as immigration are still important. For my voters, it's still number one. But if you look at the average Dutchman, corona is the number one issue indeed."
Despite that, Wilders said he saw no need to drop the anti-immigration and anti-Islam rhetoric that has defined his two-decade political career.
"The immigration of non-western immigrants is an existential problem," said Wilders. "I believe we should even step up, to invest more in realising this policy (of opposing immigration)."
'Leave Islam'
Rutte and other parties have vowed to exclude Wilders from any coalition, a move that the Freedom Party chief calls "very undemocratic".
"The more people vote for my party, the more difficult it will be to exclude us," said Wilders.
He was also unrepentant about past actions, including plans for a cartoon competition of the Prophet Mohammed in 2018 that he cancelled after receiving death threats.
He was also convicted of collectively insulting Moroccan people at a 2014 rally — though he was later cleared of discrimination.
Wilders lives in a safe-house and has been granted 24-hour protection by the Dutch state.
"I don't regret fighting for freedom," he said. "Of course I take a stand, I am under attack, my country is under attack."
"I fight for every Muslim, I wish that they would choose for freedom and leave Islam."
'Nexit' lost popularity
Unlike his populist rival Thierry Baudet of the Forum for Democracy, Wilders has however avoided embracing openly Covid-sceptic politics and conspiracy theories.
Baudet's party surged in Senate elections in 2019 but imploded amid recent allegations of racism and anti-Semitism.
With the Netherlands still under a coronavirus curfew, Wilders urged Rutte to "open our nation far more than we are doing today", but added that "I am criticising him but not out of a conspiracy type of theory."
The situation is different from the last elections in 2017 when Europe watched anxiously as Wilders seemed set to ride the populist wave that brought Donald Trump to power and drove Britain to vote for Brexit.
Wilders said he still wanted the Dutch to follow Britain's example.
"I acknowledge that Nexit, because of Brexit, has lost some popularity," he said. "If we would have a referendum I would lose it, but I still think it's unfortunately the only way."
As for Trump, Wilders refused to back the tycoon's claims to have won re-election.
"America is a democracy with a full democratic process, and I believe in the American institutions," he said.
"So I believe it's unfortunate, but I believe he did lose the election."
https://www.freemalaysiatoday.com/category/world/2021/03/09/no-regrets-says-dutch-anti-islam-leader-wilders/
--------
Addressing Child Marriage Will Help Malaysia Meet 8 United Nations Sustainable Development Goals
09 MAR 2021
KUALA LUMPUR: Malaysia is committed to addressing child marriage as part of efforts to meet at least eight of the Sustainable Development Goals (SDGs) relating to poverty, food security and health, said Women, Family and Community Development Minister Datuk Seri Rina Harun.
She said Malaysia's commitment to the SDG Goal 5 (Achieve Gender Equality and Empower All Women and Girls) refers to eliminating all harmful practices, including a child, early and forced marriage.
"Malaysia is committed to addressing child marriage, as seen in the ratification of the United Nations Convention on the Elimination of All Forms of Discrimination against Women (CEDAW) in 1995 and the subsequent removal of the reservation to Article 16(2) about child marriage in 2010.
"The Malaysian government also ratified the United Nations Convention on the Rights of the Child (CRC) in 1995, in which we committed under Article 24(3), to take all effective and appropriate measures with a view to abolishing traditional practices prejudicial to the health of the children," she said.
Rina said this in her opening remarks during online launch of the United Nations International Children's Fund (Unicef)'s Advocacy Brief entitled 'Towards Ending Child Marriage' here, today.
She said in Malaysia, an average of 1,500 children, regardless of racial and religious background, involved in child marriages and this practice happens in both urban and rural areas; Muslim and non-Muslims, even among the Orang Asli community as well as migrant and refugee communities.
Due to this, the government has previously introduced a five-year National Strategy Plan in Handling the Causes of Child Marriage last year, containing short, medium and long-term actions, involving government agencies, civil society and communities from 2020 to 2025.
"Both the National Strategy Plan and the Advocacy Brief recognise that the enactment of laws alone is insufficient to combat child marriage effectively, and should be supplemented with a comprehensive set of measures to facilitate their implementation and enforcement, along with a follow-up, monitoring and evaluation of the results achieved.
"Today's launch provides an opportunity for the government and all stakeholders to renew our commitment to addressing child marriage together through the implementation of the National Strategy Plan and other complementary efforts," she said.
Meanwhile, Unicef Representative to Malaysia and Special Representative to Brunei Darussalam Dr Rashed Mustafa Sarwar said the National Strategy Plan in Handling the Causes of Child Marriage, launched in January last year was a positive indication of Malaysian government's commitment in addressing the issue.
The advocacy brief launched today outlined recommendations for the way forward in nine key areas in particular, legal reforms; centrality of data; addressing social and cultural norms, and capacity development; sexual and reproductive health education; specific girl empowerment programmes and engaging men and boys. — Bernama
https://www.thesundaily.my/local/addressing-child-marriage-will-help-malaysia-meet-8-united-nations-sdgs-BJ7139210
--------
India
Madhya Pradesh Passes 'Love Jihad' Bill Amid Jai Shri Ram Chants
Mar 9, 2021
BHOPAL: The Madhya Pradesh assembly on Monday passed the MP Freedom of Religion Bill 2021 — the so-called 'love jihad' law — by voice vote amid chants of 'Jai Shri Ram'.
The bill aims to check religious conversions through fraudulent means and contains provisions of 10 years of imprisonment and hefty fines. MP home minister Narottam Mishra hailed the passing of the bill and said the government was "not against love but jihad".
"We are against every such form of love that leads to 'jihad', hurts our sentiments and puts our daughters at risk. We are happy that the bill was cleared by the House on Women's Day," Mishra said.
https://timesofindia.indiatimes.com/india/mp-passes-love-jihad-bill-amid-shri-ram-chants/articleshow/81402557.cms
--------
Miffed, Muslims Await TMC Word on Poll Candidate
Manas R Bannerjee
March 9, 2021
An issue raised by the Trinamul Congress about top BJP leaders being "outsiders" in Bengal seems to have fizzled out after TMC chief Mamata Banerjee on Friday made public the list of 291 party candidates contesting the Assembly elections.
While a section of the people has branded Banerjee an "outsider" after she decided to contest the polls from Nandigram, which is not her home turf, the candidate pick for the high-profile Siliguri constituency in the form of Om Prakash Mishra, who is being considered an "outsider" here, has also not gone down very well with senior TMC leaders and workers.
TMC and religious leaders belonging to the Muslim community in Cooch Behar district have also expressed unhappiness over the decision to field a Hindu candidate from Alipurduar district for the Tufanganj seat.
There are nine Assembly constituencies in Cooch Behar, and four of them are general. Political parties have been usually nominating more than one or two Muslim candidates in Cooch Behar.
Though the TMC had nominated Muslim candidate Fazal Karim Miah and he was elected the MLA from Tufanganj in 2016, this time around, Banerjee has nominated a Hindu, Pranab Kumar Dey (Manik), for the same seat.
Protesting against the decision, several religious organisations recently held a meeting and urged the TMC leadership to reconsider their demand for their candidate for the Tufanganj segment and set up a seven-day deadline.
"If the TMC does not consider their demand, they would be forced to think in another way," a source there said.
Asked to comment, secretary of the Nashyo Sheikh Unnayan Parishad, Aminal Haque, said: "Chief Minister Mamata Banerjee is now trying hard to prove herself as a real Hindu just to share the vote bank controlled by the BJP. Committing blunders by appeasing Muslims unethically, now she is trying hard to retain power, and she has removed all Muslim leaders from top posts in all block committees. Mamata Banerjee thinks Muslims will cast votes in favour of the TMC to prevent the BJP. As a result, she does not address problems of our community properly. A people's representative from our community is required to raise our real issues. We urged her to nominate our representative, but the TMC did consider this."
He further added, "Muslims in North Bengal are anti-BJP. Religious leaders and activists will be waiting for seven days to know about the TMC leadership's decision, while also keeping an eye on the decision of the Left and the Congress, in association with the Indian Secular Front."
Notably, the TMC government has issued a notification about forming the Sheikh Development Board just a few days before the Election Commission issued the election notification.
The TMC leadership in Cooch Behar is looking into the matter, but no one knows what the party chief will decide, even as Dey alias Manik is very close to TMC leader and MP Subrata Bakshi, sources said.
https://www.thestatesman.com/india/miffed-muslims-await-tmc-word-poll-candidate-1502956279.html
--------
Iran warns against 'efforts to destabilise' ties with India
Mar 9, 2021
NEW DELHI: Amid speculation about the alleged role of Iranian agencies in the Israel embassy bomb attack, Iran on Monday warned against efforts to destabilise its growing ties with India. The Iranian embassy here said both countries won't allow "third parties" to achieve their "sinister wishes".
"While respecting the honourable government and authorities of India in their endeavour to thoroughly investigate and probe into the abovementioned incident in order to identify the orchestrators of such actions and to bring them to justice, this embassy strongly repudiates any unsubstantiated allegations or irresponsible comments in this regard and considers them as steps towards realising the sinister intentions of the enemies of Iran- India relations," it said in a statement.
Meanwhile, the statement added, the Iranian authorities have always expressed their readiness to cooperate "with the Indian friends in order to unravel the wicked intentions of the spoilers of bilateral relations".
"Emphasising on need to maintain these relations, Iran has always expressed its readiness to clarify the spoilers intentions," tweeted the Iranian embassy. Without naming Israel, the Iranian embassy said Iran had itself been a victim of "terrorism waged by some terrorist governments and their agents".
https://timesofindia.indiatimes.com/india/iran-warns-against-efforts-to-destabilise-ties-with-india/articleshow/81402555.cms
--------
Uttar Pradesh: Man arrested under 'love jihad' law
March 8, 2021
A 29-year-old shopkeeper was arrested under the new anti-conversion law in Gorakhpur on Sunday after a woman alleged that he had married her in a temple on a false identity.
Police said that the woman, who is in her 20s, filed a complaint on Sunday after she came to know that Mainuddin was marrying again with a woman from his community.
"The woman approached the police on Saturday evening and filed a complaint against Mainuddin, who runs a shop at Bhelapur village. The woman alleged that Mainuddin introduced himself as Mannu Yadav and the two got married in a temple a year ago. Few weeks after their marriage, she came to know about his real identity and confronted him. The woman alleged that Mainuddin then started harassing her. He was pressuring her to get converted. When she refused to do so, Mainuddin allegedly started beating her. Following regularly harassment, the woman left Mainuddin's house and started staying with her parents in Gorakhpur city," Station Officer (Harpur Budhat) Devendra Singh said.
The woman showed photographs of her marriage with Mainuddin as proof, police said.
The woman said that after she came to know of Mainuddin planning to marry a Muslim woman, she decided to approach the police.
Police arrested Mainuddin from near his house at Bhelapur village on Sunday. Besides anti-conversion law, Mainuddin has been booked for criminal intimidation, cheating and criminal conspiracy.
"We are trying to trace Mainuddin's cousin who was allegedly involved in misleading the woman," Circle Officer (Khajni) Yogendra Krishna Narayan said.
https://indianexpress.com/article/india/uttar-pradesh-muslim-man-arrested-under-love-jihad-law-7219755/
--------
Batla House encounter: Delhi court convicts Ariz Khan for killing inspector Mohan Chand Sharma
March 8, 2021
A Delhi Court on Monday convicted Ariz Khan, allegedly associated with terror outfit Indian Mujahideen, for killing inspector Mohan Chand Sharma of Delhi Police's Special Cell in the Batla House encounter that took place in the national capital in September 2008.
According the Live Law, Additional Sessions Judge Sandeep Yadav, while pronouncing the judgment, said, "The evidence adduced on record by the prosecution leaves no doubt that the prosecution has proved the case and that the accused is liable to be convicted. It has been proved that the accused Ariz Khan managed to escape during shootout and failed to appear before court despite proclamation. Accordingly, the accused is held guilty and convicted under Sections 186, 333, 353, 302, 307, 174A, 34 of Indian Penal Cone and 27 of the Arms Act."
The court will hear arguments on the quantum of sentence on March 15.
The encounter had taken place between Delhi Police Special Cell and alleged terrorists at a flat (L-18) in south Delhi's Batla House, on September 19, 2008 — six days after serial blasts ripped through the capital, killing 26 people. The encounter left Inspector Sharma, and two alleged terrorists dead.
A trial court in July 2013 had sentenced Indian Mujahideen terrorist Shahzad Ahmed to life imprisonment in connection with the case. His appeal against the trial court's verdict has been pending in the high court. Ariz, who had fled from the encounter, was arrested from Nepal in February 2018.
https://indianexpress.com/article/india/delhi-court-convicts-ariz-khan-for-killing-inspector-during-batla-house-encounter-7219424/
--------
Pakistan
Protecting women's rights not a priority of government, laments JI
March 9, 2021
The Jamaat-e-Islami's Women Wing on Monday held a walk at the Karachi Press Club in connection with International Women's Day and as part of their 'Strong Family, Safe Women and Stable Society' campaign.
A large number of female doctors, teachers, lawyers, journalists, students and workers from different parts of the city participated in the walk, in which women held banners and placards inscribed with various slogans.
JI Karachi chief Hafiz Naeem-ur-Rehman said on the occasion that steps should be taken at government level to provide all the rights to women in accordance with Islamic teachings. "In the current capitalist system, the rights of both men and women are being exploited. These incidents take place mostly in the areas of Waderas and Jagirdars."
He lamented that protecting the rights of women as well as providing them with equal opportunities of development are not among the priorities of the current government. "The government is not willing to provide basic facilities to working women. It is the responsibility of the government to take immediate steps to provide facilities such as medical coverage to women in the private sector."
He claimed that the Pakistan Tehreek-e-Insaf, the Pakistan Peoples Party, the Pakistan Muslim League-Nawaz, the Muttahida Qaumi Movement, the Pakistan Muslim League-Quaid and other parties had blocked the Zainab Alert Bill, proving that they did not want to provide protection to female members of society.
"In a society based on justice and Islam, both men and women are respected. The so-called social activists who have [other] ambitions under the guise of women's emancipation will never succeed," he said.
"We will never be blind to the imitation of the West. We can achieve success only by connecting with our religion, family and society, and not by following in the footsteps of others." JI Women Wing Sindh Deputy Nazima Atiya Nisar said that a family is the foundation of a society. "Islam has given women the responsibility to build generations. The number of divorces, Khula and orphans is increasing due to distance from Islam and imbalance
in society."
JI Women Wing Karachi Nazima Asma Safir said that Islam gives all rights to women, but no woman is more important than Islam. "Some so-called liberal women influenced by the Western civilisation are violating the sanctity of women through immoral slogans and demands under the guise of women's rights."
https://www.thenews.com.pk/print/801239-protecting-women-s-rights-not-a-priority-of-government-laments-ji
--------
Sindh Assembly calls to end violence, discrimination against women
Tahir Siddiqui
March 9, 2021
KARACHI: The Sindh Assembly on Monday paid rich tributes to women and reaffirmed to end violence and discrimination against them to mark the International Women's Day.
The thinly attended house unanimously adopted three clubbed and identical resolutions for women's fundamental rights and against violence.
The resolutions were moved by Women Development Minister Syeda Shehla Raza, Muttahida Qaumi Movement-Pakistan's Rana Ansar and Mohammad Hussain Khan and Adeeba Hassan of Pakistan Tehreek-i-Insaf.
The resolution moved by Shehla Raza reads, "On the eve of International Women's Day, this house reaffirms the commitment to end all kinds of discrimination and violence against women and pursue policies that guarantee fundamental human rights for women."
Speaker's decision to allot 'disgruntled' PTI lawmaker Abro seat on treasury benches sparks noisy protest
The house also vowed to provide equal opportunities of jobs, education, financial freedom, independence, security and respect.
Speaking on her resolution, she said that women could raise their voice in effective manner only if they were financially strong.
"The provincial government has started a women economic empowerment programme in main cities," urging the need to expand the same to entire parts of the province.
Absence of male MPAs termed deplorable
PPP's Marvi Fasih pointed out the thin attendance in the house and said that the absence of male members was deplorable.
Paying rich tributes to mothers, sisters, daughters and party's 'missing' workers, Rana Ansar of the MQM-P said that women were harassed at workplaces.
"There should be some policy for working women," she urged.
PTI's Adeeba Hassan said that a special session of the assembly should be held on the eve of International Women's Day in which only women-related agenda be taken up.
The speaker agreed with her and said it would be a good tradition.
Tehreek-i-Labbaik Pakistan's Sarwat Fatima said the Sindh Assembly had passed numerous bills to ensure eradication of violence against women but the same had to be implemented.
Paying rich tributes to women and stressing upon the need for women empowerment, PPP's Tanzila Umm-i-Habiba said that she was proud of being the member of a party whose leader was a woman.
Those who also spoke included PPP's Mohammad Ismail Rahu, Kulsoom Chandio, Sadia Javed, Heer Soho, Ghazala Sial and Imdad Pitafi and MQM-P's Khawaja Izharul Hassan and Rabia Khatoon.
There were only half a dozen or so opposition members in the house when the resolutions were adopted as earlier the assembly witnessed chaos amid PTI's protest.
Another day of pandemonium
It all started during Question Hour when PTI's Khurram Sher Zaman was allowed by the speaker to ask a supplementary question, but instead he asked why 'disgruntled' PTI lawmaker Aslam Abro was sitting on the treasury benches.
"You are allowed to ask supplementary question only, and it is my discretion to allot seat to any member," a visibly irked speaker snapped.
The PTI members left their seats pasting pictures of lota on them and stood in front of the speaker protesting over the presence of MPA Abro on treasury benches.
Speaker Durrani warned the PTI members that he might approach the Election Commission of Pakistan against their "bad" behaviour.
"The way PTI members behave in the assembly, it is not acceptable," he said.
The speaker said angrily that the PTI lawmakers had planned to disturb the house, asking Khawaja Izhar of the MQM-P to read out Rule 8 of the Rules of Procedure of the Sindh Assembly.
"No doubt, as per rules, the speaker has discretion to allot seat to anyone but those who change party should resign first," Khawaja Izhar replied.
As PTI's Sher Zaman tore the copies of agenda amid a noisy protest, the speaker adjourned the house for 10 minutes.
Later, the proceedings were resumed after half an hour.
The speaker said that he and his secretary were threatened of dire consequences. "I will not tolerate this ... don't force me to take strict action."
Question Hour
Responding to a question by PPP's Ghazal Siyal during Question Hour, Excise and Taxation Minister Mukesh Kumar Chawla said that during the year 2017-18 92,078 non-commercial and 41,936 commercial vehicles and 687,702 motorcycles were registered.
To a verbal question by Ms Siyal, he said that auto-rickshaws and Qingqi rickshaws were included in commercial vehicles.
In reply to a question by another PPP member, Sadia Javed, he said that the provincial government did not have any plan to establish registration counters in vehicle showrooms.
However, to a supplementary question, he said a proposal to set up registration counter at the offices of the car dealers' association could be considered if official requirements were fulfilled by the dealers.
To a query by MQM-P's Rana Ansar, Mr Chawla said that the bed tax on hotels used to be collected by the excise department, but it was abolished through the Sindh Finance Act on July 16, 2013.
To a verbal question, he said that the bed tax was now being collected by the Sindh Revenue Board.
In reply to a question by GDA's Arif Mustafa Jatoi, the minister said that the record of all government vehicles registered with the excise department was fully computerised and available.
He said that there were total 11,623 official vehicles registered with the excise department.
To a question by PPP's Tanzila Umm-i-Habiba, the excise minister said that presently standardised registration number plates were being issued by the department and they were not readable by camera.
https://www.dawn.com/news/1611485/sindh-assembly-calls-to-end-violence-discrimination-against-women
--------
'State must protect women, minorities and transgenders'
Sumaira Jajja
March 9, 2021
KARACHI: "My name is Neha and on this International Women's Day I appeal to the government to end forced conversions and pass strong legislation so that this does not happen to another girl," said the visibly emotional teenager as she gasped for air.
Trying to gather courage as she addressed a subdued crowd and reporters at the Aurat March event on Monday, she said, "I was 14 years old. What was my fault? My family, my education was taken away from me."
The young girl was abducted from Karachi's Ittehad Town in 2019 and was a victim of forced conversion and child marriage. Sharing that her case lingered on for two years, she urged the government to look into the issue.
The Aurat March 2021 saw fewer participants than previous years, with the ongoing Covid-19 pandemic and strict security checks at the event being cited as reason for lesser numbers.
This year's Aurat March witnesses fewer participants because of Covid-19 restrictions
Though no untoward incident took place at the event, accusations were hurled at the role of a shelter home and the role of the judiciary when it came to dealing with the cases of forced conversions and marriages.
On the occasion, a representative of the shelter home in question refuted serious allegations levelled by an Aurat March participant, who accused the shelter of siding with the abductors of another Christian girl who was converted and married off to an older man.
"Thousands of girls have taken refuge at the centre in the last 20 years," she said, adding that her 40-year struggle focussed on safeguarding the rights of women and minorities.
"Arzoo came to us through a court order. Shelter's role is to protect her, counsel her and give her legal help. She has been living with us for the last three months. If the court asks us to produce her, we are bound to produce her," she said.
"We are against child marriage and will never take any steps that are detrimental to a child. If she has given a statement and is refusing to go with her parents, how is the shelter responsible for it," she asked and stressed that the shelter could not hand over the child to her parents as the courts have to decide.
Discrimination against transpersons highlighted
Sharing the discrimination faced by the transgender community amid the ongoing pandemic, transwoman Shahzadi said, "So many hospitals refused to admit khawaja siras, so many doctors refused to treat us because we are out on the streets and carrying the virus."
She urged the government to formulate a policy for transgender persons, including the implementation of a two per cent job quota for them.
Along with representation of women from the Hindu community and fisherfolk, the Aurat March also had families of Baloch missing persons in attendance.
Sami Din Mohammad Baloch, the daughter of a missing person, narrated her ordeal. She was 10 years old when her father was allegedly picked up.
"My father was a government servant. He was picked up at 1am, they covered his eyes and dragged him away," she said, adding that her sibling "does not know if she is an orphan or not".
She said her mother did not know if she was a widow or not. "If they [missing persons] have done something present them in courts, why are we being punished? Why are my mother and sister being punished?"
Sami reminded the audience that she walked 3,000 kilometres to get to Islamabad to raise the issue of missing persons.
Fatima Majeed from the fisherfolk community said: "Our women are treated as izzat (honour), our women are not treated as insaan (humans). A woman is not honour, she is a human, deserves equality. Any legislation that takes place, women must be part of it."
"We have been left out in the name of development. Gizri was a small village, today it's DHA. The fisherfolk village is lost in DHA," said Majeed as she narrated how the fishing community in Karachi lost out on its land.
Gender-based violence reporting centres demanded
As part of its 15-point agenda, the Aurat March demanded child protection bureaus and gender-based violence reporting centres across Sindh.
It further demanded help desks for women, transgender and non-binary people to report violence and induction of more female medico-legal officers (MLOs).
The participants of the march demanded enforcement of the Protection against Harassment of Women at the Workplace Act, 2010 as well as decriminalisation of Section 499 and 500 of the Pakistan Penal Code.
It called for child protection bureaus to be set up across Sindh and that the provincial bill proposed by the transgender community be passed and adopted.
They demanded the federal government end extrajudicial killings in provinces and release all missing persons.
The 15-point agenda condemned the citywide demolition of houses in the name of an anti-encroachment drive.
They protested the sexist treatment of transgender and non-binary individuals in the media and demanded a gender-inclusive policy on media from the Pakistan Electronic Media Regulatory Authority.
https://www.dawn.com/news/1611489/state-must-protect-women-minorities-and-transgenders
--------
After Senate upset, PM pushes for reforms to ensure 'transparent' polls
March 9, 2021
Prime Minister Imran Khan on Tuesday told the federal cabinet that he wanted regular updates on mechanisms being developed to ensure overseas Pakistanis can vote, in addition to the use of technology such as electronic voting machines (EVM).
The premier made the comments during the beginning of a session of the federal cabinet which was telecast live by state-run broadcasters.
"We can't have the kind of elections which have happened in the past," the prime minister said. "We need to use EVM technology for transparent elections and I want regular updates on it," he told his cabinet.
The prime minister said that he wanted to avoid any excuses of "we're not prepared for this technology" when the time came to use EVMs.
He stated that elections in Pakistan should be similar to the US and cited the example of former US president Donald Trump who could not find any evidence of rigging "despite all his efforts".
'Frightening report'
During the address, PM Imran also mentioned a "frightening report" by the Financial Accountability, Transparency and Integrity (FACTI) panel.
According to the report, every year $1,000 billion are transferred from poor countries to rich countries and tax havens through money laundering. "Money belonging to poor countries, stolen through corruption, is lying in tax havens."
He said that the ruling elites and office holders of such countries have to send the ill-gotten wealth abroad otherwise it becomes noticeable. "They do this by weakening the institutions responsible for monitoring money laundering and illicit financial flows.
"They bring in [development] projects not because the country needs them but because they get a lot of kickbacks. Mega projects with mega kickbacks," said the prime minister, adding that the kickbacks were then transferred abroad.
"The nation has to pay for this by incurring debt and the price of that debt has to be paid through inflation."
https://www.dawn.com/news/1611566/after-senate-upset-pm-pushes-for-reforms-to-ensure-transparent-polls
--------
ECP to hear PTI's plea for Gilani's disqualification today
Iftikhar A. Khan
March 9, 2021
ISLAMABAD: The Election Com­mission of Pakistan (ECP) on Monday accepted a PTI petition seeking early hearing of its plea for disqualification of senator-elect Yousuf Raza Gilani and fixed the case for Tuesday (today).
The decision came hours after PTI lawmakers Farrukh Habib, Maleeka Bokhari and Kanwal Shauzab in their petition asked the ECP not to issue a notification of Mr Gilani's victory in the recently held Senate polls and sought early hearing of the case which was earlier scheduled for March 11 — a day before the election for the coveted slot of Senate chairman.
"The matter is extremely important as a senator elected with corrupt practices is now aspiring to become the chairman of Senate," the petition said.
"It is a matter of utmost importance, which will have far-reaching consequences," it read.
Petition has been filed by lawmakers Farrukh Habib, Maleeka Bokhari and Kanwal Shauzab
"The election of Yousuf Raza Gilani has been a rare incident in the national political history," the plea further said. "Hopefully, the election commission will hear the matter urgently, as it heard the issue related to by-election in NA-75, Daska."
The PTI lawmakers had on Saturday filed a petition in the Election Commission of Pakistan, asking it not to issue the notification about Mr Gilani's victory in the Senate election.
The petition filed on the basis of a leaked audio clip of Sindh Minister Nasir Hussain Shah purportedly bargaining with four PTI lawmakers for their votes in Senate elections and a video of Mr Gilani's son Ali Haider in which he is showing some PTI MNAs techniques how to waste their votes.
"The issuance of the notification should be stopped till the action on the video scandal is completed," the petition said.
"Ali Haider Gilani kept bribing members of the National Assembly," the petitioners claimed. They also alleged that PML-N vice president Maryam Nawaz, in her speeches, made promises of giving lawmakers PML-N ticket in the next general elections if they voted for Mr Gilani in the Senate polls.
In the video that went viral on social media, Ali Haider Gilani is allegedly instructing PTI lawmakers how to waste their votes.
Ali Haider Gilani admitted to his conversation with the PTI lawmakers, but said he was just responding to their question as to what to do if the votes were made traceable by a barcode. He, however, said he had made no attempt to 'buy' votes.
Yousuf Raza Gilani defended his son, saying they were seeking votes from all MNAs as they formed the electoral college for the Senate elections. He said he had also contacted Prime Minister Imran Khan in this connection.
Mr Gilani has been chosen as the PDM's candidate for the office of Senate chairman against sitting Chairman Sadiq Sanjrani, who has been fielded by the PTI.
https://www.dawn.com/news/1611520/ecp-to-hear-ptis-plea-for-gilanis-disqualification-today
--------
Arab World
Inside the rise of the shadowy Iran-backed militias in Iraq
09 March ,2021
Mona Alami
On March 3, ten Iranian-made rockets struck Ain al-Asad air base in western Anbar province, the attack was the fourth to target US. interests in Iraq since February 15.
Since the US killing of Iran commander Qassem Soleimani and Kata'ib Hezbollah leader Abu Mahdi al-Mohandes in January 2020, Iran and its Iraqi proxies have conducted a covert war against western interests in Iraq that experts believe was mapped by Soleimani before his death.
Under the Trump administration, Iran escalated its kinetic action against western interests in Iran, by relying heavily on Iraqi militant groups. Such groups, including Kata'ib Hezbollah and Asaib Ahl al-Haqq received direct funding and training from Iran.
"Between May and October 2019, Qassem Soleimani and Abu Mahdi al-Mohandes increased the number of new "brands" or "facades" used to disguise the groups undertaking different kinds of attacks – against coalition, protestors and foreign embassies. This was an effort to avoid blame for mistakes or unpopular actions, especially approaching elections," Michael Knights, fellow at the Washington Institute for Near East Policies told Al Arabiya English.
For all the latest headlines, follow our Google News channel online or via the app.
Asaib Ahl al-Haqq alongside Kata'ib Hezbollah led the campaign for the ouster of the United States from Iraq. The State Department designated Asaib Ahl al-Haqq and its leader, Qais al-Khazali, as a terrorist organization in 2020. According to a paper by Michael Knights for CTC, from October 2019 onwards, Kata'ib Hezbollah ensured delivery from Iran, through the Iran-Iraq border, of at least four truck containers of unguided rockets of 107mm-, 122mm-, and 240mm-caliber, Manportable Air Defense Systems (MANPADS), and 70 anti-materiel rifles.
Kata'ib Hezbollah appears to have been behind several attacks against the United States namely a November 7, 2019, rocket attack on US forces, and then the December 27, 2019, killing of an American and the December 31, 2019, assault on the US Embassy in Baghdad.
"Such groups were trained and armed by Iran and adhere completely to its regional agenda and are behind most of the attacks targeting coalition troops," said Iraqi strategic expert Muayed Juaych.
These attacks were a contributing factor to the US decision to kill al-Mohandes and Soleimani on January 3, 2020. Since the assassination of al-Mohandes, Kata'ib Hezbollah's attacks against US interests have become increasingly covert in nature. Knights believes nonetheless that some of the 57 known rocket attacks on US and coalition forces in the first nine months of 2020 have been undertaken by Kata'ib Hezbollah, though to what proportion remains unclear.
Previously unheard-of shadowy groups have also emerged, continuing to claim responsibility for attacks against western interests. This has allowed pro-Iran militant groups within the Popular Mobilization Units affiliated to the Iraqi state to maintain their legitimate role within the state's institutions while avoiding political backlash.
"New specialized networks were also built in Iran, using Iraqis with no previous criminal record, for assassinations. One is called Al Warithoon," Knights said.
Since May 2019, several fake groups have endorsed western attacks, including Usbat al-Thaereen (League of the Revolutionaries), Saraya al-Muntaqim (Avenger Companies); Ashab al-Kahf (People of the Cave); Thar Muhandis (Revenge for Muhandis); Saraya Thawra Al-Ashreen Al-Thaniya (The Second 1920 Revolution Companies); and Qasim al-Jabbarin (Defeaters of the Global Arrogance, the latter referring to the United States). The latest attack in February of US positions at the Erbil airport, killing one coalition contractor and injuring several others, was claimed by Saraya Awliya al-Dam, "the Guardians of Blood," a group experts link to Asaib Ahl al-Haqq.
According to Knights, Soleimani is the one to have proposed these new branding tactics to make it harder for militias to be held accountable by international players, the Iraqi government, or Iraqi public opinion. These new groups, he says, should be thought of brands for certain types of activities similar to "operations rooms" Middle Eastern extremists create to coordinate certain campaigns.
Juhaych explained that Iran is escalating its targeting of US troops and interests to put pressure on Washington, which has made clear its intent to rejoin the nuclear deal with Iran.
"All of the militia networks are now using their numbers in the Popular Mobilization Units to hand off the cost of salaries to the Iraqi government, so they need less money from Iran," Knights said.
This opinion was shared by Juhach, who believes that the PMU existing as part of the Iraqi military government infrastructure provides these militias with both the possibility to finance their troops, as well as territorial control – necessary for lucrative smuggling operations.
"As a result, they can survive even if Iran cut them off – but there is no reason for Iran to back away from them," Knights said.
https://english.alarabiya.net/features/2021/03/09/Inside-the-rise-of-the-shadowy-Iran-backed-militias-in-Iraq
--------
Qatari delegation in Egypt reviews AlUla Declaration, restore ties in stages
Ismaeel Naar
08 March ,2021
A delegation of officials from Qatar is currently visiting Egypt to review the implementation of new provisions under the AlUla Declaration and will work with Cairo to fully restore diplomatic ties in stages, according to Al Arabiya sources.
The delegation is currently in Egypt where they are expected to meet with their counterparts at the Egyptian Ministry of Foreign Affairs to review and implement the next steps toward restoring diplomatic ties.
The AlUla Declaration signed at the conclusion of the GCC Summit in Saudi Arabia in January marked a definitive end to the Gulf dispute with Qatar and restored full ties with Doha.
Sources confirmed to Al Arabiya that the Qataris will meet with Egyptians to discuss further steps, including an increase of flights between their countries during the coming period.
As part of ongoing negotiations, efforts are being arranged for the Egyptian embassy to fully operate in Qatar without any obstacles, the sources added.
Sources also confirmed that a delegation from Egypt's Ministry of Foreign Affairs will also coordinate to arrange a visit by Egyptian officials to Doha to confirm the implementation of the terms of the AlUla Declaration.
https://english.alarabiya.net/News/middle-east/2021/03/09/Qatari-delegation-in-Egypt-reviews-AlUla-Declaration-r
--------
Lebanon political deadlock puts country at risk of Syria-like scenario
08 March ,2021
Mona Alami
Lebanon remains in political deadlock as Prime Minister-designate Saad Hariri refusing to give up on nominating a new government, while the country marches closer to a Syria-like scenario.
Nearly six months after his nomination to lead a new government, Hariri continues to struggle with demands from the Free Patriotic Movement (FPM) for veto power and Hezbollah's call to enlarge the cabinet.
Hariri was tasked last October to form a technocratic government, championing a French initiative to resolve the country's economic crisis. The new technocratic cabinet is supposed to carry out an economic reform plan set out by an initiative spearheaded by French President Emmanuel Macron.
However, Hariri has thus far failed to form a government, and has refused to resign, continuing the deadlock. Even if he is successful and forms a cabinet, however, he might fail to form a technocratic one that is also far from being independent from Hezbollah.
Former MP Ahmad Fatfat explained that he remains worried that the hegemony of Hezbollah's external sponsors, namely Iran, will allow the party to continue to dominate the country, while slowly eradicating its opponents, turning Lebanon into the likes of Syria.
"Lebanon would be dominated by one single party [Hezbollah] like in Syria where the Baath prevails," explains Fatfat.
Experts and close associates of Hariri told Arabiya English that the PM-designate is banking on the support of French president Emmanuel Macron and intends to return Lebanon to the Arab fold.
"PM Hariri is persevering in the cabinet formation because his candidacy is supported by the French initiative, which is the only way forward for the country's salvation. He does not intend to resign from that responsibility," Moustapha Allouch a former MP and a member of the Future movement political bureau said. The Future movement is led by Hariri.
Difficulties facing the formation of the new government over ministerial quotas are related to the FPM's demands for veto power, which would allow the party to block government decision by securing one third of ministerial seats. Hezbollah has proposed the formation of government of 22 or 24 ministers in which no single party would have a one-third-plus-one share.
Allouch added that Hariri believes he can form a government of technocrats that do not include associates of Hezbollah. Yet, the current government of PM Hassan Diab, which includes technocratic figures, has clearly so far served the interests of the pro-Hezbollah Iran and Syria axis.
Last year, police openly resorted to violence, wounding and arresting dozens of protesters. This February, authorities escalated crackdown in response to crimes committed by protesters, with the military court bringing terrorism charges against 35 people in relation to the violent protests held in Tripoli in January.
Additionally, threats and violence against activists and journalists have been on the rise, the latest being the killing of anti-Hezbollah activist Lokman Slim in southern Lebanon, a Hezbollah bastion. A massive explosion in Beirut, which shook Lebanon to its core in August last year, was recently linked to 2,750 tons of Ammonium nitrate imported by close associates of Syrian President Bashar al-Assad. A Lebanese court on Thursday dismissed a judge who had been working on the investigation and had charged top politicians over last year's Beirut port explosion,
"The PM sees that Lebanon should return to the Arab fold. His trip to the Gulf was one way to send that message out. PM Hariri sees his role as a way to counterbalance that of president Aoun and his son-in-law Gebran Bassil that have allowed for the Iranian destruction of Lebanon," says former MP Ahmad Fatfat. Both Aoun and Bassil are aligned with Hezbollah.
The group's mouthpiece Al Akhbar has nonetheless accused Hariri of delaying government formation because it was waiting for Saudi Arabia's blessing. Hariri's close associates argue that Gulf support is not necessary from a geopolitical and economic standpoint. Lebanon has historically been largely reliant on Arab countries investment and funding.
Rached Sayed a political analyst close to the Future movement, said Hariri is maintaining his current positioning, because Lebanon has reached a turning point.
"Lebanon is at the worst phase in its history and what is done now will define the face of Lebanon in the future," he concluded.
https://english.alarabiya.net/News/middle-east/2021/03/08/Lebanon-political-deadlock-puts-country-at-risk-of-Syria-like-scenario-
--------
US military denies reports of attack on Iraq's Al-Asad airbase
08 March ,2021
The US military Monday played down reports of an attack on an Iraqi airbase hosting troops.
Reports circulated that the Al-Asad airbase, which has been targeted on multiple occasions by Iran-backed militias, came under attack late Monday.
However, the US Central Command denied these reports. "This is a training event, not indirect fire at Al-Asad Airbase," a CENTCOM spokesperson told Al Arabiya English.
Just last week, Al-Asad was hit by several Katyusha rockets. No group has claimed responsibility for the attack, nor has the US attributed the barrage of missiles to a specific group.
A US civilian contractor died during the attack, the Pentagon confirmed.
After a similar attack hit a separate base housing US troops and personnel last month, President Joe Biden ordered an airstrike against Iran-backed militias on the Syria-Iraq border.
US forces have come under increased attacks from Iranian proxies in the region as Biden seeks to persuade Tehran to re-engage in direct talks over the now-defunct nuclear deal.
Biden has made many foreign policy moves, including releasing billions of dollars in frozen funds and removing Iran-backed militias from the US terror list. Still, Iran continues to refuse to talk to the Biden administration.
Earlier Monday, a White House spokeswoman said there were no updates on talks with Iran. Washington has been waiting on Iran for weeks after sending an invite for direct negotiations hosted by the European Union.
https://english.alarabiya.net/News/middle-east/2021/03/09/US-military-denies-reports-of-attack-on-Iraqi-airbase
--------
Arab Coalition destroys explosive drone targeting Saudi Arabia's Khamis Mushait
09 March ,2021
Joanne Serrieh
The Arab Coalition intercepted and destroyed an explosive-laden drone launched by Yemen's Iran-backed Houthi militia toward Saudi Arabia's Khamis Mushait, the official Saudi Press Agency (SPA) reported on Tuesday.
Khamis Mushait is a southwestern city home to the King Khalid Air Base.
Yemen's Houthi movement regularly launches drones and missiles into Saudi Arabia, many of which Riyadh says it intercepts.
Monday night, the Coalition announced it had intercepted and destroyed a ballistic missile fired by the Houthi militia targeting Khamis Mushait. Another explosive drone was also intercepted and destroyed.
The attacks on Monday come one day after the Arab Coalition confirmed that Iran supplied the weapons that were used in the attack on Aramco's oil port and facilities in Saudi Arabia.
Some attacks have previously hit Abha International Airport which is about 120 kilometer (75 miles) from the border with Yemen.
In February, the Houthis claimed an attack on the Abha airport which caused a civilian plane to catch fire. The militia said the airport was a military target, according to AFP.
https://english.alarabiya.net/News/gulf/2021/03/09/Arab-Coalition-destroys-explosive-drone-targeting-Saudi-Arabia-s-Khamis-Mushait
--------
Hezbollah, Lebanese army target Israeli spy drones violating airspace
09 March 2021
The Lebanese resistance movement Hezbollah says it has intercepted and targeted two Israeli unmanned aerial vehicles, which crossed into Lebanon's airspace near the border village of Blida in the south of the Arab country.
Hezbollah said in a brief statement carried by Lebanon's Arabic-language al-Manar television network that it had intercepted an Israeli drone that had entered the Lebanese skies at 22:40 p.m. local time (2040 GMT) on Monday.
The aircraft was targeted with "appropriate weapons," according to the statement, which was followed by Israeli forces firing flares in the area.
"Another drone that had also trespassed the Lebanese airspace in the same area on Monday afternoon, was confronted with appropriate weapons and forced to retreat to occupied Palestinian territories," the Hezbollah statement added.
Additionally, the Lebanese army fired at an Israeli drone flying over an army post in Meiss Ej Jabal village of the country's southern Marjeyoun district.
Israeli forces fired flares at the border with Lebanon, but no injuries were reported, according to witnesses.
Israeli drones frequently violate Lebanon's airspace on spying missions. Lebanon's government, Hezbollah and the United Nations Interim Force in Lebanon (UNIFIL) have repeatedly condemned Israel's overflights, saying they are in clear violation of UN Security Council Resolution 1701 and the country's sovereignty.
The resolution, which brokered a ceasefire in the war Israel launched against Lebanon in 2006, calls on the Israeli regime to respect Lebanon's sovereignty and territorial integrity.
Tensions have been running high between Israel and Hezbollah since July 20 last year, when Tel Aviv killed Hezbollah member Ali Kamel Mohsen in an airstrike in Syria.
The Israeli military has placed its forces near the Lebanese and Syrian borders on high alert after Hezbollah promised retaliation.
Israeli forces shelled the Lebanese village of Habaria in late July to stop an alleged Hezbollah offensive, but the Lebanese movement dismissed the allegation, calling it the result of tension and confusion among Israeli forces.
https://www.presstv.com/Detail/2021/03/09/646882/Hezbollah-strikes-intruding-Israeli-reconnaissance-drones-over-southern-Lebanon
--------
Rights group, US senator call for release of Bahraini political activists
09 March 2021
A human rights group has called for the release of six political activists who have been arbitrarily arrested in Bahrain.
In a statement published on its website on Monday, the Americans for Democracy & Human Rights in Bahrain (ADHRB) rights group called for the immediate release of Ali Mahdi Alaiwi, Hasan Nesaif, Habib Hasan Yusuf, Ali Fakhrawi, Mohamed Fakhrawi, and Nooh Abdulla Al Amroom, who were arrested between May 2011 and September 2015.
The rights group cited an opinion adopted by the United Nations Working Group on Arbitrary Detention (WGAD) on November 26, 2020 as saying that the six individuals, who are currently incarcerated at Jau Prison, "have been unlawfully convicted and have suffered a slew of illegal human rights violations," including arrests without a warrant, enforced disappearances, and torture.
Back then, the WGAD urged the Bahraini authorities to "take the steps necessary to remedy the situation without delay and bring it into conformity with the relevant international norms," including with the immediate and unconditional release of the six prisoners, and to ensure "a full and independent investigation of the circumstances surrounding the arbitrary deprivation of liberty of the six individuals with the view to hold the perpetrators to account."
"ADHRB fully supports the WGAD's recommendations and echoes its calls for the immediate release of the six individuals still currently detained," the group said Monday.
Demonstrations have been held on a regular basis in Bahrain since a popular uprising began in mid-February 2011.
Manama, however, has been harshly cracking down on any sign of dissent. Scores of people have been killed and hundreds of others injured or arrested in the country.
Also on Monday, the ADHRB commended and supported Democratic US Senator Ron Wyden's statement on the 10th anniversary of the Bahraini uprising.
Addressing Bahrain's crackdown on the popular uprising and the ongoing human rights violations in the country, the senator, in a statement for the Congressional Record, urged US President Joe Biden and Vice President Kamala Harris to push Manama to adopt reforms.
"I call on the Biden-Harris administration to urge Bahrain's King [Hamad bin Isa Al Khalifah] to release political prisoners, including human rights defenders and members of the political opposition, and to engage them in a credible dialogue about a more inclusive future for all Bahrainis," Wyden said.
The ADHRB said in a report last week that "the last five years in Bahrain have seen a particular uptick in the government's repression of political and civil rights."
According to the report, the Bahraini regime continues to bar its citizens from exercising any political agency that contrasts with the Al Khalifa regime's interests.
The rights group also referred to the laws devised by the regime to prevent free and fair elections.
Weeks ahead of elections in 2018, a law was passed in Bahrain forbidding individuals who have previously been prosecuted from seeking political office.
"This law essentially targets the candidacies of prominent political Shia figures, as many had been prosecuted in the past on fraudulent and politically motivated bases," ADHRB said on March 5. "The legislation continues to affect the remaining thousands of prisoners of conscience who were arrested for their political opposition or human rights beliefs."
"Virtually every opposition political leader has been targeted by the authorities, including, for example: Sheikh Ali Salman, leader of the dissolved Al-Wefaq, [who] was sentenced to life imprisonment in November 2018," the group said.
The ADHRB further said the Bahraini government continued to defame and imprison human rights defenders.
"In 2017 alone, an estimated 100 people saw their freedom of movement de facto restrained by the authorities because of their engagement with human rights mechanisms and their advocacy for democratization," it said, adding the Al Khalifa regime also blackmailed exiled human rights activists by subjecting their family members to reprisals.
According to the ADHRB, hundreds of prisoners remain imprisoned since the 2011 protests.
"The majority of these individuals will have spent 10 years behind bars in horrendous conditions, and many will have experienced repeated and deliberate medical negligence by the prison staff," the group said.
The ADHRB described the Bahraini authorities' promises of reforms as a "smokescreen," calling on the international community "to recognize the regression of human rights in Bahrain," and to urge the Bahraini authorities "to implement real and lasting change."
https://www.presstv.com/Detail/2021/03/09/646880/Rights-group-calls-for-release-of-6-Bahraini-political-activists
--------
One killed, many wounded in terrorist attack north of Baghdad
08 March 2021
At least a woman has been killed and 30 other people sustained injuries after an explosion hit an area near the al-Aimmah bridge north of Baghdad, according to Iraqi sources.
The Iraqi security media cell said security forces are investigating the incident that happened on Monday evening.
The explosion was caused by two hand grenades that detonated in a garbage dump near the bridge, sources said.
The Iraqi news website Al-Ma'aloumah says the explosion struck the path used by Shia pilgrims to visit the holy shrine of their seventh imam, Musa al-Kadhim (PBUH), whose martyrdom anniversary falls on March 9 this year, in al-Kadhimiya region.
Iraq's intelligence agency said it had arrested three members of a terror cell earlier in the day who were planning a suicide attack on pilgrims of Imam al-Kadhim.
Baghdad's Operation Command said the pilgrims will continue their annual march to the mosque.
A few hours after the incident, Iraqi Prime Minister Mustafa al-Kadhimi also visited the scene of the explosion.
The Monday explosion came the same day Pope Francis left Baghdad after a historic three-day visit to Iraq.
https://www.presstv.com/Detail/2021/03/08/646861/baghdad-explosion-kadhimiya-pilgrims
--------
Mideast
Iran Urges Int'l Red Cross to Help Lift Yemen Siege
2021-March-8
Irlou made the remarks during his meeting with the representative of the ICRC Katrina Raines on Monday, stressing that the siege has affected every aspect of the people's lives and has created the world's worst humanitarian crisis.
He called on the ICRC to focus its endeavors on alleviating the intensity of the humanitarian crisis in Yemen by putting pressure on the international community to end the siege of the impoverished country by criminal Saudi-led coalition.
Katrina Raines, for her part, emphasized that she will do her best to reduce the problems of Yemeni people.
In relevant remarks on Sunday, Irlou said the invading countries do not care about the fate of the Yemeni nation and are merely intent to satisfy the Saudi regime.
"The countries that waged a war against Yemen do not care about the humanitarian crisis in the country," Irlou wrote on his Twitter account on Sunday, adding that they want an agreement which fulfills the ambitions of Al-e Saud.
He added that the Yemeni people are determined to achieve peace, end the war and the siege.
https://www.farsnews.ir/en/news/13991218000494/Iran-Urges-In%E2%80%99l-Red-Crss-Help-Lif-Yemen-Siege
--------
'Ending Saudi-led aggression, blockade key to lasting peace in Yemen'
09 March 2021
A member of Yemen's Supreme Political Council says a cessation of the Saudi-led military aggression and its crippling naval and air blockade against the Arab country is the absolute prerequisite for the establishment of peace there.
"Establishment of real peace in Yemen depends on lifting the [Saudi-led] siege, stopping aggression and fighting on all fronts," Lebanon-based and Arabic-language al-Mayadeen television news network quoted Mohammed Ali al-Houthi as saying at a ceremony in the Yemeni capital, Sana'a, on Monday evening.
He called on US officials to "abandon racism and arrogance, and embrace peace instead."
Houthi further noted that the Yemeni nation has placed high hopes on fighters from Popular Committees, and strongly relies on them in the face of the Saudi-led military campaign.
Addressing Saudi and Emirati officials, he added, "You will not manage to break down our steadfastness, and we will not capitulate at all. We will eventually attain independence and establish sovereignty over the entire Yemeni lands."
"I caution (Saudi Crown Prince Mohammed) bin Salman that your continued war on our country will spell the end of your monarchy and rule. The Yemeni nation, ahead of the seventh year of the [Saudi-led] aggression, will continue its stiff resistance and struggle against the coalition of aggression and its mercenaries until final victory," Houthi said.
He also praised the victories of Yemeni military and security forces, describing the country's missile force and combat drone capabilities as the fruit of the Yemeni nation's steadfastness.
Ansarullah: Yemeni operations against Saudi regime purely defensive
Earlier in the day, the spokesman for Yemen's Ansarullah movement underlined the defensive nature of attacks by Yemeni armed forces, saying those who stand in solidarity with the Saudi-led coalition are more likely to get the alliance further bogged down in the Yemen quagmire.
"Those who sympathize with the coalition of aggression are more likely to further drown the latter in the Yemen quagmire and push them to go down the wrong path. They simply pay them lip service. We tell them: You will never be a peacemaker by provoking aggressors to continue their aggression and siege of Yemen," Mohammed Abdul-Salam tweeted.
The remarks came as the United States expressed alarm at Yemeni retaliatory actions after attacks on the heart of the Saudi oil industry.
"We continue to be alarmed by the frequency of Houthi attacks on Saudi Arabia. Escalating attacks like these are not the actions of a group that is serious about peace," White House press secretary Jen Psaki said.
State Department spokesman Ned Price also condemned an attack by Yemeni armed forces on Saudi oil facilities, saying the Ansarullah movement needed to show seriousness about Yemen's peace process.
"We condemn the egregious Houthi drone and missile attack against Saudi Aramco facilities," Price told reporters.
"The frequency of Houthi attacks on Saudi Arabia is not the actions of a group that is serious about peace," he said.
"The Houthis, in our view and in the view of our allies and partners, have to demonstrate their willingness to engage in a political process. They need to, quite simply, stop attacking and start negotiating," the US official said.
Backed by the US and a number of other Western states, Saudi Arabia and a number of its regional allies launched the war on Yemen in March 2015, with the goal of bringing the government of former president, Abd Rabbuh Mansur Hadi, back to power and crushing the popular Ansarullah movement.
The Yemeni armed forces and allied popular groups have, however, gone from strength to strength against the Saudi-led invaders, and left Riyadh and its allies bogged down in the country.
https://www.presstv.com/Detail/2021/03/09/646876/Peace-establishment-in-Yemen-hinges-upon-ending-Saudi-led-aggression-siege-Houthi
--------
Iranian FM: US Airstrikes against Syrian Territories to Escalate Insecurity in Entire Region
2021-March-8
"It seems that Mr. Biden still continues to pursue the maximum pressures policy through sanctions and regional mistakes despite officially acknowledging the failure of Mr. Trump's policy of maximum pressure. Their move against Syria's territorial integrity and sovereignty was highly dangerous and will yield no results but spreading insecurity in the region," Zarif said in an interview with the Persian-language Mardom Salari (Democracy) on Monday.
"I feel that Mr. Biden's administration has not yet reached a conclusion on foreign policy," he said, adding that he is also pressured by different groups, including the extremists in the US, Israel, and certain regional countries.
"I think that they have not yet been able to make a decision because of the pressures and that they are not yet convinced that the maximum pressure is a failed policy. Of course, they have stated this, but they don't show convinced in practice yet. A good result cannot be expected from a wrong policy," Zarif underlined.
Iran had also earlier condemned the US air raid on Eastern Syria, calling it a flagrant violation of human rights and international law and in line with the aggressive moves of Israel.
Iranian Foreign Ministry Spokesman Saeed Khatibzadeh said in a statement late last month that the airstrikes against Syria are in blatant violation of international law, adding, "Such attacks against Syria are a continuation of the Israeli regime's unabated aggression on the Arab country's territories."
"The attacks … have taken place in a context in which US forces have illegally entered Syrian territory in recent years, occupying parts of the country and looting its natural resources, including oil," Khatibzadeh continued.
"Illegal US bases on Syrian soil also train terrorist forces and use them as tools," he further said.
Khatibzadeh also blasted the US attacks as a clear violation of Syria's sovereignty and territorial integrity that would accelerate military conflicts and further destabilize the region.
The Pentagon released a statement confirming earlier reports that the US had carried out airstrikes inside Syrian territory. The statement said the strikes, conducted at President Joe Biden's behest, targeted multiple facilities used by Shia groups, including Kata'ib Hezbollah and Kata'ib Sayyid al-Shuhada.
The US Department of Defense called the strikes a "proportionate military response" in the wake of rocket attacks on US forces in Iraq by unknown assailants.
The administration of Donald Trump similarly blamed Kata'ib Hezbollah for attacks on US forces in late 2019, and responded by striking its positions in Eastern Syria and Western Iraq, before assassinating Iranian Commander Lieutenant General Qassem Soleimani in Baghdad in January 2020.
Later Iraqi intelligence and military personnel told US media that the original attack on US forces was likely carried out by the ISIL remnants, not Kata'ib Hezbollah.
https://www.farsnews.ir/en/news/13991218000425/Iranian-FM-US-Airsrikes-agains-Syrian-Terriries-Escalae-Insecriy-in
--------
Senior MP: Iran Concerned about Presence of ISIL Terrorists in Karabakh Region
2021-March-8
"The reports released about transfer of the ISIL terrorists from Syria to use them in the recent conflicts are concerning," Zonnouri said in a meeting with Armenian Ambassador to Tehran Artashes Toumanian on Monday.
He noted that presence of terrorists in the region does not benefit either Azerbaijan or Armenia or other regional states, and added, "The regional states, themselves, are able to protect the interests and security of the region, and the use of destructive streams that serve the interests of the West and the Zionists will only lead to the promotion of insecurity and instability."
Zonnouri underscored the need for maintaining stability in the region and Armenia and respect for the international borders, and hoped for the immediate ending of turmoil in the region.
Toumanian, for his part, described Iran as an important and old neighbor of Armenia, saying, "Therefore, we welcome the Islamic Republic of Iran's bigger role in regional developments."
In relevant remarks in October, Iranian Army Commander Major General Seyed Abdolrahim Mousavi had voiced concern about the presence of Takfiri terrorists in Karabakh region, warning that the Iranian Armed Forces would show a strong and crushing response to any Takfiri and ISIL terrorists and Zionist that appeared at the country's bordering areas.
The war in Nagorno-Karabakh re-erupted in late September 2020 between Armenia and Azerbaijan, becoming the worst fighting in the region in decades.
The two sides signed a ceasefire agreement to end the conflict in November 2020.
Under the agreement, Yerevan and Baku agreed on November 9 to end hostilities under a Moscow-brokered deal that secured territorial advances for Azerbaijan in Karabakh and seven surrounding districts.
Nagorno-Karabakh is internationally recognized as part of Azerbaijan but has been populated by ethnic Armenians.
https://www.farsnews.ir/en/news/13991218000844/Senir-MP-Iran-Cncerned-ab-Presence-f-ISIL-Terrriss-in-Karabakh-Regin
--------
Iran enriching with new set of advanced machines at Natanz, says IAEA
08 March ,2021
Iran has started enriching uranium with a third set of advanced IR-2m centrifuges at its underground plant at Natanz, the UN nuclear watchdog told its member states on Monday, a further breach of Tehran's 2015 deal with major powers.
The move is part of a recent acceleration by Iran of its violations of restrictions under that deal, which granted Iran relief from financial sanctions in return for curbs to its nuclear activities.
It began breaching limits after then-US President Donald Trump quit the deal and re-imposed sanctions in 2018.
The acceleration of breaches appears aimed at raising pressure on Trump's successor Joe Biden. The new US president wants to revive the accord, but Washington and Tehran are locked in a standoff over which side should move first.
The deal allows Iran to enrich uranium only with first-generation IR-1 centrifuges at the underground, commercial scale Fuel Enrichment Plant (FEP) at Natanz. In November Iran started enriching there with a first set of IR-2m machines, which are far more efficient, and has since been adding to it.
"On 7 March 2021, the Agency verified at FEP that: Iran had begun feeding natural UF6 into the third cascade of 174 IR-2m centrifuges," the International Atomic Energy Agency said in a report obtained by Reuters, referring to uranium hexafluoride, the form in which uranium is fed into centrifuges to purify it.
"The fourth cascade of 174 IR-2m centrifuges was installed but had yet to be fed with natural UF6; installation of a fifth cascade of IR-2m centrifuges was ongoing; and installation of a sixth cascade of IR-2m centrifuges had yet to begin," it added.
In addition to its IR-1 machines, Iran is now using 522 IR-2m centrifuges to enrich uranium to up to 5 percent fissile purity at the FEP, the IAEA added. That is more than the 3.67 percent purity allowed under the deal but less than the 20 percent it is enriching to at another facility, Fordow. Uranium enriched to 90 percent purity can be used to make an atomic weapon.
https://english.alarabiya.net/News/middle-east/2021/03/08/Iran-nuclear-deal-Iran-enriching-with-new-set-of-advanced-machines-at-Natanz-says-IAEA
--------
South Asia
Bangladesh bought phone-hacking tools from Israel, documents show
By Yarno Ritzen and Al Jazeera Investigative Unit
8 Mar 2021
Documents obtained by Al Jazeera's Investigative Unit (I-Unit) and Israeli newspaper Haaretz reveal how the Bangladesh government spent at least $330,000 on phone-hacking equipment made by an Israeli company, even though the two countries do not have diplomatic relations.
Developed by the Cellebrite security firm, UFED is a product that is capable of accessing and extracting data from a wide range of mobile phones. Its ability to hack encrypted phone data has worried civil rights campaigners, who have long called for its use to be more strictly regulated.
Bangladesh does not recognise the state of Israel, forbids trade with it and prevents its citizens from travelling there. The Muslim-majority country officially stands in solidarity with the Palestinians on the basis they are denied civil rights and live under Israeli military occupation.
It is unclear whether UFED was provided to Bangladesh directly by the Israeli company or via a Cellebrite subsidiary based elsewhere in the world, presumably with the intention to mask its origins.
In February, Al Jazeera revealed how the Bangladesh military in 2018 signed a contract to acquire mobile phone interception equipment from Israeli firm Picsix Ltd. In February 2019, Bangladeshi officers received training by Israeli intelligence experts in the Hungarian capital, Budapest.
Do you have knowledge of governments using hacking tools to stifle dissent or want to share another tip? Contact Al Jazeera's Investigative Unit on +974 5080 0207 (WhatsApp/Signal), or find other ways to reach out on our Tips page.
The Ministry of Defence in Bangladesh said the equipment, a passive mobile phone monitoring system called P6 Intercept, was made in Hungary and was purchased for use on United Nations missions – a claim that was rejected by the world body.
The contract listed the manufacturer of P6 Intercept as Picsix Ltd Hungary, yet no public record of such a company exists and all Picsix equipment is made in Israel.
Training in Singapore
The latest documents obtained by I-Unit, which Al Jazeera also found on the Bangladesh home ministry's own website, relate to contracts signed in 2018 and 2019. They are from the Public Security Division, a department in the Ministry of Home Affairs that is in charge of domestic security and whose agencies include the Bangladesh police force and border guards.
The paperwork details how nine officers from the country's Criminal Investigations Department were given the approval to travel to Singapore in February 2019 to receive training on UFED to allow them to unlock and extract data from mobile phones. It outlines how the Bangladeshi staff would ultimately qualify as Cellebrite Certified Operators and Cellebrite Certified Physical Analysts.
The documents also say the Rapid Action Battalion (RAB), a paramilitary force that has a well-documented record of abductions, torture and disappearances, would be trained on the usage of Cellebrite's hacking systems under an ongoing project that began in 2019 and is set to be completed in June 2021.
The Bangladesh government appears to be investing heavily in electronic surveillance systems and the leaked documents also outline the use of a wide range of devices – from WiFi interceptors and surveillance drones to IMSI-catchers, a tool that emulates cell towers to trick cellular devices into revealing their locations and data.
The latest revelation that Bangladesh security services are being equipped with highly intrusive devices capable of accessing encrypted phones that contain private messages comes amid growing concerns over the country's human rights record.
Bangladesh has faced international criticism over its 2018 Digital Security Act (DSA), which gives security forces broad powers to arrest and detain journalists and political activists who are critical of the state online.
Last week, ambassadors from 13 countries called for an urgent inquiry into the death of Mushtaq Ahmed, a writer who died on February 25 after being held for nine months without charge under the DSA for criticising, on Facebook, the government's response to the coronavirus pandemic.
Halting exports to Bangladesh
Eitay Mack, an Israeli human rights lawyer who has been fighting the export of Israeli defence technology that could be used for human rights violations – including in Hong Kong, where pro-democracy protesters in 2019 took to the streets for months – explained how intrusive the technologies that Bangladesh has bought from Israel really are.
"You're able to take all information about the person's life, about their relationships, medical records, name of friends and in the case of journalists the names of a source," Mack told Al Jazeera.
"In the case of Hong Kong, the police used Cellebrite's systems to access the phones of 4,000 protesters."
Cellebrite eventually stopped its exports to Hong Kong after public outcry and a court case brought by Mack. Now, he is doing the same with Bangladesh. On Monday, Mack filed a petition with the Israeli courts, asking them to retract the export licenses of Cellebrite and Picsix to Bangladesh.
"Even if a company like Cellebrite or Picsix has branches operating in Singapore, it's still under Israeli law," Mack told Al Jazeera. "As long as the company is owned by Israeli citizens they need an export license from the Ministry of Defence."
Mack argued that Israel uses the exports of these tools to build relationships with countries with poor human rights records such as Bangladesh, South Sudan and the United Arab Emirates.
"Exporting these tools is easier than, for example, selling Bangladesh Israeli rifles. These kinds of systems are less present and this is how Israel is able to create secret relationships with these countries," Mack said.
"But it's important to note that this is not a relationship between the Israeli people and the Bangladeshi people, or the Emirati people. It's a relationship between the Israeli government and the local regime.
"This kind of relationship means that Israeli is helping local repression in many places around the world."
I-Unit reached out to the Bangladesh Ministry of Home Affairs as well as Cellebrite. Neither provided any comments at the time of publication.
https://www.aljazeera.com/news/2021/3/8/bangladesh-bought-hacking-tools-from-israel-documents-show
--------
Bangladesh militants use Bitcoins for laundering money to Kashmir
March 09, 2021
Banned Bangladeshi militant outfits, Ansar Al Islam (AI) and Ansarullah Bangla Team (ABT), have sent a huge amount of money to another extremist group in Kashmir in the form of cryptocurrency, a senior police official said. The official confirmed the development while speaking to IANS.
According to the official, a Special Action Group of the Dhaka Metropolitan Police's (DMP) Counter-Terrorism and Transnational Crime Unit (CTTC), had arrested two AI militants, Awal Newaz alias Sohel Newaz and Fazle Rabbi Chowdhury, in September 2019.
During interrogation, they said the militant groups had been receiving huge funds through the Bitcoin system since 2014.
The two also mentioned that they collected huge sums of money from Pakistan and Gulf countries also in the form of cryptocurrency.
The militants claimed that earlier they used to collect money through 'hundi', but that is now under the surveillance of the law enforcers.
Due to this, they shifted to Bitcoin, which according to the militants, is an easier method to exchange the illegal funds used in organising radical activities.
Ahmedul Islam, the Additional Deputy Commissioner of the Special Action Group, told IANS that terror financing is largely being carried out with the help of cryptocurrency.
"It's very tough to monitor the illegal transaction of Bitcoin as we have not advanced technical devices to monitor it.
"It'll be a big challenge for the law enforcers to check the virtual currency in the future," he added.
In August 2020, the US government had announced that hundreds of cryptocurrency accounts, four websites, and four Facebook accounts were seized, adding that it thwarted attempts by militant groups to raise funds using digital currency.
According to US officials, about $2 million in cryptocurrency had been recovered.
In Bangladesh, virtual currency is banned.
In December 2017, the Bangladesh Bank issued a notice asking everyone to refrain from such transactions.
The Criminal Investigation Department (CID), DMP, and some other police units are working to check illegal virtual transactions in the country.
A cryptocurrency is a digital asset designed to work as a medium of exchange wherein individual coin ownership records are stored in a ledger existing in a form of computerised database.
https://www.indiatvnews.com/news/india/bangladesh-militants-use-bitcoins-money-laundering-kashmir-689746
--------
US Envoy for Afghan peace to remain in Doha: State Department
09 Mar 2021
FILE PHOTO: U.S. State Department Spokesman Ned Price speaks to reporters during a news briefing at the State Department in Washington, U.S., February 17, 2021. REUTERS/Kevin Lamarque/Pool/File Photo
On Monday U.S Department said that it is very early to discuss how afghan peace process is going, but the U.S believes this is the moment a and progress is possible, Reuters reported
Ned Price, spokesman to the State Department said in a regular press briefing that U.S special envoy for Afghan reconciliation, Zalmay Khalilzad will remain in Doha for some time.
"We have continued to encourage all sides to take part constructively and with a degree of alacrity, knowing that this is a moment in time where progress is possible," Reuters quoted Price.
He added, that "We want to do everything we can to facilitate that progress, to support dialogue, the inter-Afghan dialogue between the various parties. That's precisely why we're there".
Khalilzad, who has already met with Afghan leaders in Kabul and the Taliban in Qatar, arrived in Pakistan on Monday, along with Resolute Support Commander General Scott Miller.
This comes as Khalilzad along with Resolute Support Commander General Scott Miller met with Pakistan's Chief of Army Staff, Gen. Javed Bajwa in Rawalpindi.
US and Pakistani officials had talks on mutual interests, the Afghan peace process, and regional security.
Khalilzad, who is on a regional trip, to help push for a peace deal between the Afghan government and the Taliban had has handed over a transitional government plan to various stakeholders.
https://www.khaama.com/us-envoy-for-afghan-peace-to-remain-in-doha-state-department-42424111/
--------
3 Taliban killed in Ghor, clashes inflict losses to gov't forces
09 Mar 2021
Security officials in Ghor province say that the Taliban insurgents clashed with the Afghan national security and defense forces in the Saghar district of the province on Monday night.
Amirdad Parsa, spokesman for the Ghor police command reported Eight Taliban fighters and an Afghan security force member were wounded in the clash.
According to him, the clashes took place in Deh-Shir area of the Saghar district of Ghor province.
Security officials in Ghor province also said that a few days ago, ANDSF launched a clean-up operation in the Saghar district of the province and five villages were cleared of Taliban militants.
The Taliban have not yet commented.
Meanwhile, Afghan local officials confirmed that at least four security forces were killed when Taliban militants attacked their outpost in the Pato district of Daikundi province.
The deputy governor of Daikundi, Muhammad Ali Uruzgani said that the Taliban launched their attack in the Tapa-e Afghan Bisim area of Pato district at around 01:00 a.m today.
At least two security forces were also wounded in the incident, he said.
Uruzgani added that the Taliban attack was repulsed and now the area is under the control of the government forces.
This comes as Ghazni police said Abul Rahman Fateh, acting police chief for Deh-Yak district was killed in a roadside bomb blast in the Tasang area of the provincial district.
Tabassom told the media that the incident happened on Monday evening in Ghazni province.
However, Taliban spokesman, Zabiullah Mujahid confirmed the attack on the district's acting police chief, the Taliban spokesman claimed that at least four more security forces were killed in the incident.
Ghazni Police rejected the Taliban's claim, adding that no other security force members were harmed in the incident.
https://www.khaama.com/3-taliban-killed-in-ghor-clashes-inflict-losses-to-govt-forces-354222/
--------
North America
US presents warring Afghan sides with draft peace agreement
March 9, 2021
Frustrated by a stalled peace process and escalating violence, the US has presented an eight-page draft peace agreement to Afghanistan's warring sides for review.
The US told the parties to come to Turkey in the coming weeks ready to move on it, according to Afghans on both sides of the table.
The draft was obtained by The Associated Press on Monday. The document outlines the terms of a ceasefire and its enforcement, calls for the protection of the rights of women, children and minorities and envisions a truth and reconciliation commission aimed at healing 42 years of conflict.
US State Department spokesman Ned Price would not confirm the draft, saying: "It's often important for our diplomatic efforts that were able to conduct them in private."
The Taliban received the draft and were reviewing it, said spokesman Mohammad Naeem.
There was no immediate comment from Afghan President Ashraf Ghani on the draft proposal or a sternly worded letter from US Secretary of State Antony Blinken.
In the letter, Blinken said Washington wanted to see progress on peace talks and mentioned the draft peace agreement, which calls for a new, inclusive government which Ghani has resisted.
In recent speeches, Ghani has said no interim government would be formed "as long as I am alive".
But Blinken was uncompromising in his letter, which was released by Afghanistan's TOLO TV. "I am making this clear to you so that you understand the urgency of my tone regarding collective work," he wrote.
In the letter, Blinken said a May 1 deadline for a final withdrawal of US troops stipulated in a Taliban-US deal last year is still on the table.
Even with America's $4 billion in aid to Afghanistan's National Security Forces, a US withdrawal could mean quick territorial gains for the Taliban.
Ghani's first vice president, Amrullah Saleh, said the president had received the letter and was unmoved by its contents. He said Ghani was not ready to embrace the secretary of state's accelerated pace toward a settlement.
"We are neither concerned about the letter nor has it changed our position," Saleh said. He thanked the US for its sacrifices and financial assistance over the past 20 years but said the Afghan government won't succumb to dictation.
"We will make peace with dignity, but never [...] an imposed peace," he said at a ceremony on the anniversary of the death of a former defense minister. Ghani has been accused by his political opponents of trying to cling to power at all cost.
Fawzia Koofi, one of only four women at the negotiation table in Doha, warned against haste and a May 1 withdrawal of US troops, saying it would cause chaos. She confirmed that all sides had received the US-crafted draft agreement.
"One thing that is important is that Afghan ownership and Afghan leadership must be respected," she said in a phone interview from Doha. "The process should not be rushed."
Blinken's letter proposes a revised plan for a 90-day reduction in violence that would prevent the start of a spring offensive by the Taliban and would be followed by a permanent ceasefire laid out in the draft peace agreement.
Both sides would stop fighting within hours of the agreement being signed, according to the draft. The Taliban would remove all its military and military structures from neighboring countries — a reference to Pakistan, where the leadership currently resides. The draft agreement also calls for an independent commission to oversee ceasefire violations.
The preamble of the US document says the draft peace agreement is intended to jump-start negotiations.
It sets forth principles for governance, security, and rule of law and presents options for power sharing that could help the two sides reach a political settlement that ends the war, it says.
The preamble portrayed the draft as a compilation of ideas and priorities of Afghans on all sides of the political spectrum.
The draft lays out an ambitious road map that protects the rights of all, guarantees elections, demands transparency and a fight against corruption and the illicit drug trade. It demands guarantees of non-interference from Afghanistan's neighbors and guarantees from Afghanistan that the country won't be used to attack or interfere with another.
It proposes the establishment of a peace government that would oversee the writing of a new constitution and elections held immediately afterward. The new constitution is to protect the rights gained in the last 20 years since the toppling of the Taliban.
According to the draft, the peace government would include separate, but equal branches, including the judiciary, and executive branch.
The draft also said there will be one national government, no parallel governments and no parallel security forces, which would mean an end to Taliban fighters and the many militias loyal to warlords holding sway in Kabul.
It promises to protect Islamic values and while an independent judiciary would have the ultimate authority, the High Council for Islamic Jurisprudence would have an advisory role.
"The new peace plan offers a chance for a ceasefire, it offers a chance to bring the Taliban from the battlefield to the talks table to discuss thorny issues of religion and its role in (the state), without giving them all the power," said Torek Farhadi, former Afghan government adviser.
"Afghanistan is bordering on a failed state status and is sure to enter the category immediately after the withdrawal of the foreign forces absent a better political arrangement," he said.
"That is the reality of Afghanistan."
https://www.dawn.com/news/1611550/us-presents-warring-afghan-sides-with-draft-peace-agreement
--------
US President Biden lauds pope's 'historic' visit to Iraq
Joseph Haboush
08 March ,2021
US President Joe Biden Monday lauded the pope's recent visit to Iraq, saying it sent an "important message."
"Pope Francis' visit was a historic and welcome first for the country. It sent an important message, as Pope Francis said himself, that 'fraternity is more durable than fratricide, that hope is more powerful than death, that peace more powerful than war,'" a statement from Biden read.
Pope Francis made the first-ever visit by a pope to the crisis-hit country of Iraq, where he visited sites and churches that ISIS and other terrorist groups had decimated.
During his trip, the pope met with Iraq's top Shia cleric Ali al-Sistani. Biden said the meeting between the two senior religious authorities was a "symbol of hope for the entire world."
Biden, speaking of the country being home to "one of the oldest and most diverse Christian communities in the world," also congratulated the Iraqi government for the Pope's safe visit.
On his return to the Vatican, Francis said he hoped to visit Lebanon next.
https://english.alarabiya.net/News/middle-east/2021/03/08/US-President-Biden-lauds-pope-s-historic-visit-to-Iraq
--------
US 'alarmed' by escalating attacks against Saudi Arabia by Yemen's Houthis
Joseph Haboush
08 March ,2021
The US is "alarmed" by the escalating attacks by Yemen's Houthi militia against Saudi Arabia, a senior White House official said Monday.
"We continue to be alarmed by the frequency of Houthi attacks on Saudi Arabia. Escalating attacks like these are not the actions of a group that is serious about peace," Psaki said in response to a question from Al Arabiya.
She condemned the attacks as "unacceptable and dangerous," adding that the US was working in close cooperation with Saudi Arabia "given the threat … that they are facing on a frequent basis from these attacks."
"As a part of our interagency process, we'll look for ways to improve support for Saudi Arabia's ability to defend its territory against threats," Psaki said.
Separately, the State Department condemned the Houthis for attacking Saudi Arabia and called for the Iran-backed militia to show that it was "serious about peace."
"These attacks are unacceptable and dangerous and put lives of civilians at risk, including those of US citizens," State Department Spokesman Ned Price told reporters.
https://english.alarabiya.net/News/gulf/2021/03/08/US-foreign-policy-US-alarmed-by-escalating-attacks-against-Saudi-Arabia-by-Yemen-s-Houthi-militia
--------
US looking for more ways to aid Saudis against attacks
Michael Hernandez
08.03.2021
WASHINGTON
The US is exploring additional ways it can help Saudi Arabia fend off attacks from outside of its borders, the Biden administration said Monday
The announcement comes one day after two oil infrastructure sites were targeted in a series of drone and ballistic missile attacks over the weekend.
White House spokeswoman Jen Psaki said the US is "alarmed" by the "unacceptable and dangerous" attacks, which imperil the lives of civilians working at the facilities, including Americans.
"As part of our interagency process, we'll look for ways to improve support for Saudi Arabia's ability to defend its territory against threats," she said.
Psaki did not specify what additional measures the US is contemplating.
On Sunday, key oil infrastructure in the eastern Saudi cities of Ras Tanur, and Dhahran were targeted by a ballistic missile and drone strikes.
Speculation regarding the perpetrators has largely focused on Yemen's Houthi rebels, who have been responsible for waves of such attacks in the past.
But an anonymous advisor to the Saudi royal court told the Wall Street Journal that the attack on Ran Tanura did not emanate from Yemen, but instead came from either Iraq or Iran.
"All indications point to Iran," the advisor said.
Yemen has been beset by violence and chaos since 2014, when Yemen's Iran-backed Houthi rebels overran much of the country, including the capital Sanaa.
The crisis escalated in 2015 when the Saudi-led coalition launched a devastating air campaign aimed at rolling back rebel territorial gains.
According to UN estimates, the conflict has claimed at least 233,000 lives, with millions facing starvation and in need of humanitarian assistance.
https://www.aa.com.tr/en/americas/us-looking-for-more-ways-to-aid-saudis-against-attacks/2169100
--------
Turkey to keep pressing US to stop supporting PYD/YPG
Serife Cetin
08.03.2021
Turkey will continue to ask the US to stop supporting the PYD/YPG terror group as it is affecting relations between the two countries, the Turkish presidential spokesperson said over the weekend.
"The US side must understand Turkey's national security concerns regarding the PKK," Ibrahim Kalin said in an interview with Bloomberg on Saturday, referring to the parent group of the Syria-based PYD/YPG.
"Our relationship can function in a very constructive way where we can empower each other mutually and can address joint issues or concerns together," Kalin added.
US support to the PYD/YPG also threatens Syria's territorial and political integrity and causes other tensions and problems within the country, he said.
If Washington and Ankara work with the "right partners," there will be no need for the PYD/YPG, Kalin said, adding everyone knows this, including US officials.
"To have that relationship working for both sides, it has to be based on mutual respect and mutual interests. The US side must understand Turkey's national security concerns regarding the PKK. We want to see concrete action by our allies."
Support for the YPG continues to be a concern for Turkey, he said.
Kalin emphasized that the main issues that harm Turkey-US relations are the case of the US support for the PYD/YPG, Countering America's Adversaries Through Sanctions Act (CAATSA) sanctions due to Turkey's purchase of Russian-made S-400 defense systems, and the presence in the US of Fetullah Gulen, the leader of the FETO terror group, which orchestrated the defeated coup of July 15, 2016 in which 251 people were martyred and 2,734 injured.
He said that unfortunately, not much progress has been made or actions taken on these issues so far.
The YPG and its political wing, the PYD, are the Syrian offshoots of the PKK, a designated terrorist organization in the US and Turkey. In its more than 35-year terror campaign against Turkey, the PKK has been responsible for the deaths of some 40,000 people, including women, children and infants.
Turkey has repeatedly objected to US support for its "reliable ally" the PKK/PYD in Syria, including the supply of arms and equipment.
'Constructive dialogue' on S-400 issue
Addressing US objections to Turkey acquiring missile defense systems from Russia, Kalin said Turkey could acquire the US-made Patriot missile system in addition to Russia's S-400 system.
"We believe we can have the Patriots. We can have these S-400s that will not be integrated into the NATO defense system," he added, rebuffing concerns that the S-400s would compromise the alliance's defenses.
Kalin stressed that such issues can be resolved through "constructive dialogue, by being open and candid," but added that US policymakers should also understand how serious these issues are for Turkey.
"They go to the very heart of our national security concerns. Turkey's S-400 decision wasn't taken overnight," he said.
On the US argument that the S-400s pose "a threat" to US F-35 jet fighters, Kalin said Turkey has repeatedly proposed examining the issue from a technical point of view.
"They refused and then said it's not a technical issue but a political issue. OK, so what is the political issue? The fact that we are buying this from Russia? Let's talk about that and how we can address this issue together," he said.
He also said that when Turkey purchased the S-400, there were also "some points of disagreement" with Russia, but they were overcome through "constructive dialogue."
Kalin asked why the same approach cannot be taken in settling issues with the US.
"If another country comes to us with a maximalist position and demands you know, 'It's either my way or the highway,' that kind of attitude pushes you in other directions," he said.
In April 2017, when its protracted efforts to buy the Patriot air defense system from the US proved fruitless, Turkey signed a contract with Russia to acquire the S-400 system.
US officials have voiced opposition to its deployment, claiming it would be incompatible with NATO systems and would expose F-35 jets to possible Russian subterfuge.
Turkey, however, stressed that the S-400 would not be integrated into NATO systems and poses no threat to the alliance or its armament.
It has repeatedly urged a working group to clear up the technical compatibility issues.
Block of helicopters' sale
Kalin stressed that the US blocked Turkey's sale of combat helicopters to Pakistan, which will likely lead to the latter purchasing it from China and cause more detriment to Washington down the line.
On Dec. 14, 2020, through CAATSA, the US imposed sanctions on Turkey over its acquisition of the Russian S-400 missile defense system.
The sanctions target Turkey's Defense Industries Presidency (SSB), including Ismail Demir, the head of the SSB, and three other officials.
In July 2018, the SSB announced that Turkey and Pakistan signed a deal for the sale of 30 T129 ATAK helicopters -- the biggest single export in the history of the Turkish defense industry.
The T129 ATAK Multirole Combat Helicopter, developed by Turkish Aerospace Industries, has been optimized for specific hot and high performance requirements of the Turkish Armed Forces.
Relations with Arab world
Kalin said a "new chapter can be opened" in Turkey's relations with Egypt and other Gulf countries "to help regional peace and stability."
"Egypt is an important country in the Arab world and remains the brain of the Arab World, is the heart of the Arab world," he said.
"We want to cooperate with Egypt in the Eastern Mediterranean, Libya and on the Palestine issue, which seems to be forgotten by the world. If we could take bilateral constructive steps, it may help stabilize the region from North Africa to the Eastern Mediterranean," Kalin added.
The presidential spokesperson highlighted that Turkey is aware of Cairo's economic and security problems.
"Having dialogue may develop our bilateral and regional relations. This also applies to the other four Gulf countries. We don't have insolvable problems with any Arab country. We could turn a new page with Egypt and Gulf countries for regional peace and stability," he said.
On Saturday, Turkish National Defense Minister Hulusi Akar said it is a very important development that Egypt has made a tender on hydrocarbon exploration in the Eastern Mediterranean respecting Turkey's continental shelf limits
"We have many historical and cultural values in common with Egypt. When they are put in use, we consider that there may be different developments in the coming days," Akar said.
On Wednesday, Turkish Foreign Minister Mevlut Cavusoglu said his country could sign an agreement on maritime jurisdictions with Egypt after taking part in negotiations.
"Depending on the course of our ties, as two countries with the longest land and sea borders in the Eastern Mediterranean, we could also sign an agreement with Egypt by negotiating maritime jurisdictions," Cavusoglu told a joint news conference with his Georgian counterpart Davit Zalkaliani in the Turkish capital Ankara.
When Egypt signed an agreement with Greece last year on the boundaries in the Eastern Mediterranean, it respected the southern borders of Turkey's continental shelf, Cavusoglu said.
Ties with EU
Kalin said Turkey has "positive momentum" right now in its relationship with the EU, adding that his country wants to see more progress.
"We have a much larger agenda with the EU then just exploratory talks with the Greeks. We have the updating of the migration deal. Everybody knows that it needs to be updated," he said, referring to the migration agreement's fifth year, which expires on March 18.
"After five years, things have changed, and needs are still there. They are even deeper and we need to do more. It's not just about money. By the way, that money doesn't come into our coffers. It goes straight to the Syrian refugees, to non-governmental organizations and international organizations."
Turkey hosts some 3.6 million Syrian refugees, more than any other country in the world.
"It's just a matter of giving the Syrian people a sense of confidence and trust that they are not alone, that the world hasn't turned its back on these people. Burden-sharing has been the missing part in this deal, and they know they need to do more," he added.
Kalin also said that the larger agenda also includes issues such as the provision of visa liberalization and the renewal of the Customs Union Agreement.
The 2016 deal allowed for the acceleration of Turkey's EU membership bid and visa-free travel for Turkish nationals within the Schengen area.
Despite its EU candidate status, Turkey's progress towards accession has been stalled for years.
https://www.aa.com.tr/en/americas/turkey-to-keep-pressing-us-to-stop-supporting-pyd-ypg/2168776
--------
Europe
Abp of Birmingham: Pope's Iraq visit an impetus for dialogue and hope
Mar 09, 2021
By Lydia O'Kane
"It has been a truly remarkable and extremely important Apostolic Visit." Those were the words of the Archbishop Bernard Longley of Birmingham in England, as he described Pope Francis' journey to Iraq, which concluded on Monday with the Pope bidding farewell to the nation at Baghdad's International Airport.
The path of dialogue
During his visit, the Pope met privately with Grand Ayatollah Ali al-Sistani, one of the leading figures in Shia Islam.He also travelled to Ur of the Chaldeans where he held a meeting with representatives of the three Abrahamic religions—Judaism, Christianity, and Islam.The Archbishop, who is Assistant General Secretary of Catholic Bishops' Conference of England and Wales with responsibilities for Ecumenism and Interreligious Affairs, said these meetings had their own "intrinsic value, but also I think they have a hugely symbolic significance."He went on to say that Pope Francis and those whom he met in Iraq have demonstrated that there "is a way of dialogue that is possible and it is the way that we choose."As the curtain comes down on this historic journey, Archbishop Longley said that it would give "enormous encouragement, not only to the Christian communities in Iraq and those who have connections with them… but I think also in our local settings too, it will also give an impetus to our own dialogues; our own interreligious faith work locally."
The Christian community
Years of conflict has taken its toll on Iraq's Christian community, which has fallen to about 300,000 from about 1.5 million in less than twenty years. Speaking about their plight, the Archbishop said that this visit has firmly put the spotlight on this issue. "The message that came through so clearly was that the Christian communities are important in the countries of the Middle East."
Signs of hope
Over the course of the four days, the Papal journey produced many powerful images. One in particular was the Pope's visit to Mosul on Sunday morning, where he prayed amid the ruins of four Churches destroyed by war.Archbishop Longley described the scene as "extraordinary" and a "tremendous sign of hope" for those who have seen their country wracked by conflict.Asked if he thought the fruits of this visit would be felt for a long time to come, the Archbishop said that "with any symbolic gesture it's something that lasts but the impact is immediate."He added that the Pope went to this country despite all the challenges, not least those of security and the Covid-19 pandemic. By doing so, noted the Archbishop, Pope Francis "has emphasized the priorities to be one in solidarity with the Christians of these regions."Archbishop Longley said that in making this visit, the Pope was also recalling the long history of faith in this part of the world.––Vatican News
http://www.heraldmalaysia.com/news/abp-of-birmingham-popes-iraq-visit-an-impetus-for-dialogue-and-hope/58420/2
--------
Russia says militants planning false flag chemical attack in Syria's Idlib
Tuesday, 09 March 2021
The Russian Defense Ministry says militants in Syria's northwestern province of Idlib are planning to stage a chemical attack there and blame it on the Syrian government.
Rear Admiral Alexander Karpov, the deputy head of the Russian Defense Ministry's Center for Reconciliation of the Opposing Parties in Syria, said on Monday that the center had received information that militants from the Hayat Tahrir al-Sham terrorist group were preparing a chemical attack in Kabana Village in Idlib.
"The terrorists are planning to conduct a staged chemical attack in a specially built camp in the village of Kabana, the Idlib Province, involving the residents of the province as victims and the injured people in order to accuse the Syrian government forces of using chemical weapons against civilians," Karpov said at a news briefing on Monday.
Western governments and their allies have swiftly blamed Damascus after alleged chemical attacks in Syria in the past.
Syria has always denied the deployment of chemical weapons. The government handed over its entire chemical stockpile to a joint mission led by the United States and the Organization for the Prohibition of Chemical Weapons (OPCW) back in 2014. The mission subsequently made sure that the weaponry were totally annihilated.
Russia's Permanent Representative to the OPCW Alexander Shulgin on Sunday urged the global chemical weapons watchdog to conduct an impartial investigation into an alleged chemical attack in the Syrian city of Douma, near the capital, Damascus, that was carried out on April 7, 2018.
Washington and its allies blamed Damascus for the Douma attack, an allegation roundly rejected by the Syrian government. On April 14, 2018, the US, Britain, and France carried out a string of airstrikes against Syria over the alleged chemical attack.
A former OPCW senior investigator and other informed sources have suggested that the organization's report on Douma — which was used to rationalize the airstrikes on Syria — had been doctored and key evidence in the case ignored and distorted.
Syria has been gripped by foreign-backed militancy since March 2011. The Syrian government says the Israeli regime and its Western and regional allies are aiding the militant and terrorist groups that are wreaking havoc in the country.
Russia is a Syrian ally.
https://www.presstv.com/Detail/2021/03/09/646883/Russia-says-militants-planning-false-flag-chemical-attack-in-Syria%E2%80%99s-Idlib
--------
Algerian arrested in Italy on suspicion of assisting Paris terrorist attackers
08 March 2021
Italian police have arrested a 36-year-old Algerian man on suspicion of belonging to the Daesh terrorist group and aiding the operators of the November 2015 Paris attacks.
A police statement released on Monday said that based on the findings of anti-terrorism investigators, the man gave direct support to the "suicide bombers and gunmen," to whom he "guaranteed the availability of forged documents."
Investigators believe the arrested man, along with his two brothers, was part of a Daesh terror cell operating in France and Belgium, Italian media said.
According to a report by La Repubblica daily, the suspect, named Athmane Touami, was previously charged for carrying false documents and had allegedly been in prison in Bari. However, he was due to be released in June.
Touami and his brothers were reportedly in touch with Amedy Coulibaly and Cherif Kouachi since 2010.
Coulibaly and Kouachi are two extremists who participated in the Paris attacks, and also attacked a Jewish supermarket and the Charlie Hebdo newsroom respectively.
At least 130 people were killed and 350 injured in terrorist attacks on November 13, 2015 in the French capital when suicide bombers and gunmen, armed with rifles and other weapons, attacked the Bataclan concert hall, the Stade de France stadium and the bar Le Carillon.
The incident which marked the worst peacetime atrocity in decades, involved three groups of extremists who coordinated the attacks on three different sites.
https://www.presstv.com/Detail/2021/03/08/646814/Algerian-Man-Arrested-On-Suspicion-Of-Assisting-Paris-Terrorist-Attackers
--------
UK premier condemns terrorist PKK to Turkish president
Iclal Turan
08.03.2021
In a phone call with Turkish President Recep Tayyip Erdogan on Monday, British Prime Minister Boris Johnson offered condolences over February's massacre of Turkish citizens, condemning the PKK terrorists responsible, according to Johnson's office.
Johnson "offered his condolences following the deaths of 13 Turkish citizens in northern Iraq and condemned killings by PKK terrorists," said the readout by Johnson's office.
The discovery of the massacre was announced on Feb. 14, after 13 bodies were found during Turkey's anti-terror operation in Gara, northern Iraq. One of the victims of the terrorist PKK was later found to be an Iraqi citizen, but the rest were Turkish nationals.
In its more than 35-year terror campaign against Turkey, the PKK – listed as a terrorist organization by Turkey, the US, and the EU – has been responsible for the deaths of 40,000 people, including women, children, and infants.
Also according to the readout, the two leaders discussed the importance of Turkish-EU relations and trade.
"Both leaders welcomed the agreement of the UK-Turkey Free Trade Agreement in December and agreed that it should form the basis of further trade and investment between our countries," it said.
Cyprus, Syria, Libya
Upcoming UN-led Cyprus talks on Cyprus were also on the agenda, as Johnson expressed support for a "comprehensive, just and lasting settlement of the Cyprus issue, based on the internationally accepted model of a bi-zonal, bi-communal federation."
Turkey and Britain, along with Greece, are the three guarantor countries for the island of Cyprus.
Next month the UN is due to hold informal 5+1 talks on the Cyprus issue, including the president of Turkish Cyprus and the Greek Cypriot administration leader, along with the three guarantor countries, plus the UN.
"The Prime Minister and President Erdogan agreed on the importance of the UN Security Council Resolution facilitating cross-border humanitarian access from Turkey to north west Syria being renewed," Johnson's office added.
Johnson also underlined the importance of implementing the cease-fire agreement in Libya as well as reducing the tensions there, the readout added.
https://www.aa.com.tr/en/europe/uk-premier-condemns-terrorist-pkk-to-turkish-president/2169018
--------
Southeast Asia
Malaysia allows rights groups to challenge deportation of Myanmar nationals: Lawyer
09 March ,2021
A Malaysian court on Tuesday granted Amnesty International and Asylum Access the right to challenge the deportation of more than 1,000 Myanmar nationals to their homeland, a lawyer for the rights groups told Reuters.
The Malaysian government deported the Myanmar nationals last month, just hours after an interim court order banning their departure ahead of a legal hearing on a bid by Amnesty International and Asylum Access to halt the plan.
The ruling by the Kuala Lumpur High Court on Tuesday came despite a Malaysian law that prevents anyone from challenging a decision made by immigration authorities.
"It's a very important decision because it recognizes the function of non-government organizations like Asylum Access and Amnesty International and their standing in bringing judicial review to hold the authorities accountable," New Sin Yew, the lawyer for the human rights groups, told Reuters.
The immigration department did not immediately respond to a request for comment on the court ruling.
The rights groups had taken court action amid fears that the group to be sent back could include asylum-seekers or refugees fleeing persecution in Myanmar, where the military seized power last month.
Malaysia's immigration department had said those repatriated did not include Rohingya refugees or asylum-seekers.
But concerns have persisted, as the UN refugee agency has not been allowed to interview immigration detainees for more than a year to verify their status.
The rights groups in their court filing had said three UN-registered people and 17 minors with at least one parent in Malaysia were on the deportee list. It was unclear if those were sent back.
https://english.alarabiya.net/News/world/2021/03/09/Malaysia-allows-rights-groups-to-challenge-deportation-of-Myanmar-nationals-Lawyer-
--------
Robust processes in place to certify halal meat
Hariz Baharudin
MAR 9, 2021
The authorities are not aware of the background to claims that mislabelling of halal meat has taken place here, said Minister-in-charge of Muslim Affairs Masagos Zulkifli, who rejected allegations reported by overseas media outlets.
"For certifying food, Muis has ensured there are robust processes," he said, adding that the Islamic Religious Council of Singapore (Muis) takes a holistic and proactive approach in monitoring compliance with requirements. "This applies to the recognition of foreign bodies certifying food as we need to ensure their credibility and processes."
Workers' Party MP Faisal Manap (Aljunied GRC) noted that an officer from Malaysia's Department of Islamic Development (Jakim) was cited in December saying non-halal meat had been smuggled into Singapore and sold off as halal.
Mr Masagos said Muis had sought clarification from Jakim, but has not heard back.
Mr Masagos also addressed allegations of questionable halal certification practices by Muis, which Mr Faisal had brought up.
The allegations, surfaced last year by Asia Sentinel, said Muis had showed favouritism in its recognition of foreign halal certification bodies.
Muis formed an internal investigation team and set up an independent review panel to review the matter.
In December, Muis said it had completed investigations and that the allegations were unfounded.
It had also referred the matter to the Corrupt Practices Investigation Bureau (CPIB).
The minister told Parliament: "Having reviewed the report, I can assure Members that the investigation process was robust and deliberate, with opportunities provided to all interested parties to put submissions."
He said the findings had been submitted to the Ministry of Culture, Community and Youth, adding: "Muis has been open and transparent in referring the matter to the CPIB and police for further investigations, even as it found no evidence to support the allegations of improper conduct or abuse of power by its officer in handling the cases."
https://www.straitstimes.com/singapore/robust-processes-in-place-to-certify-halal-meat
--------
Born Without A Womb, Malaysian Artist Sparks Conversation On Sexual Health
March 4, 2021
When she was 17, Malaysian writer and performer Wani Ardy consulted doctor after doctor when she failed to begin menstruating. They all told her the same thing: she did not have a uterus.
Twenty years later, Wani remembers how the diagnosis baffled doctors and left her unable to relate to her peers.
"As a teenager, I felt very isolated because at that moment, I knew I was different," she said.
It wasn't until her 20s that Wani finally learned that her rare condition had a name – Mayer-Rokitansky-Küster-Hauser syndrome (MRKH) – when internal sex organs such as the womb or the vagina are either absent or underdeveloped at birth.
MRKH affects about one in 5,000 women and its causes are unknown.
Wani, who is Muslim, said cultural barriers and taboos surrounding sexual health in Malaysia often leave women with MRKH feeling ashamed or unwilling to seek support or treatment.
For years, she kept her condition a secret even as she embarked on a career as a singer, poet, author and scriptwriter.
But after joining a U.S.-based online support group for MRKH women, Wani felt compelled to reach others closer to home.
"I thought if I could feel this way with a person who was basically across the globe, just imagine how I would feel if I could find an MRKH person in my own country, who would be more relatable in terms of upbringing, background and culture," she said.
As International Women's Day approaches, Wani said she hoped she could help women – and society – reshape motherhood.
In 2014, Wani went public with her condition and soon after, she founded a Malaysian support group that has grown to over 200 members, including from neighbouring Indonesia and Singapore.
She has also acted in and consulted on "Rahimah Tanpa Rahim" ("Rahimah Without A Womb"), a television series whose lead character has MRKH, which aired in January.
Doctors have credited Wani's advocacy with increasing awareness of MRKH and other sexual health matters.
"Because of her … many more girls have the courage to come up and talk and get diagnosed," said gynaecologist Dr Harizah Hatim.
https://indianexpress.com/article/lifestyle/health/born-without-a-womb-malaysian-artist-sparks-conversation-on-sexual-health-7214262/
--------
Muhyiddin's visit to spur Riyadh-KL ties to new heights, says Saudi foreign minister
09 Mar 2021
KUALA LUMPUR, March 9 — Saudi Arabian Foreign Minister Prince Faisal bin Farhan Al-Saud believes Prime Minister Tan Sri Muhyiddin Yassin's official visit to this kingdom will push forward Riyadh-Kuala Lumpur ties to new heights and a promising future.
"It is important that we have a strong bilateral relationship that can serve the interest of both countries, and also the Muslim world as a whole," he told Malaysian media at his ministry here today.
Prince Faisal said the visit will provide a burst of energy to this relationship.
Muhyiddin is on a four-day official visit to this country that began on Saturday.
Prince Faisal said both countries wanted to establish a high-level strategic committee that would help institutionalise the cooperation, rather than relying on ad-hoc modes of collaboration between both nations.
"We now have a firmly established institutional process that will deliver results for both countries, and make sure we follow up on the opportunities," he said.
He said there are a lot of opportunities to be pursued by the two countries such as investment, joint commission, education and scientific development.
This mechanism, he said, will help both nations follow up on agreements and discussions and continue having strong momentum in bilateral ties.
On the memoranda of understandings (MoUs) to be inked between the two countries tomorrow, Prince Faisal said they include the 'Mecca Road Service' which would make it easier for hajj pilgrims from Malaysia to visit the kingdom by clearing Saudi passport control in Malaysia.
The Saudi foreign minister also touched on the roles both countries could play in helping the Muslim ummah, and also with combating Islamophobia.
"We are very challenged in the world today by all forms of discrimination, of hate and misunderstanding. One of those targets are Muslims," he said.
He said both countries could help the global community to understand that Islam is really a force for good, and a force for peace.
"Malaysia has been a leader in this because Malaysia is a beacon of tolerance and of moderate Islam. And this is the same case with the Kingdom of Saudi Arabia.
"We can help reinforce the message that the Muslim ummah is united for peace and progress and that we are ready to cooperate with all faiths and all people," he said. — Bernama
https://www.malaymail.com/news/malaysia/2021/03/09/muhyiddins-visit-to-spur-riyadh-kl-ties-to-new-heights-says-saudi-foreign-m/1956060
--------
Indonesia: Muslim body calls to help hunger-hit Yemenis
Pizaro Gozali Idrus
08.03.2021
JAKARTA, Indonesia
Indonesia's top religious authority has called on Muslims in the country to raise funds to help hunger-hit Yemenis.
The Indonesian Ulema Council (MUI) asked the wealthy Muslims in general, and Islamic and humanitarian organizations in Indonesia in particular, to raise funds to help people in Yemen who are starving due to war, Bunyan Saptomo, chairman of the council's Commission on Foreign Relations and International Cooperation, said in a statement late Sunday.
The statement said the council appreciates the UN's call to help Yemenis who are suffering from hunger as a result of a prolonged war.
"The MUI, as the representative of Indonesian Muslims, expresses its highest appreciation to the UN for its commitment to continue providing humanitarian assistance to the people of Yemen since the war," said Saptomo.
The council urged all parties to settle disputes peacefully through a cease-fire and negotiations in accordance with the Islamic spirit of peace.
The council also stressed the Indonesian government coordinate with the Organization for Islamic Cooperation (OIC) and the UN to help resolve the conflict in Yemen peacefully and overcome hunger in the country.
Yemen has been wracked by violence and instability since 2014, when Iran-aligned Houthi rebels captured much of the country, including the capital Sanaa.
A Saudi-led coalition aimed at reinstating the Yemeni government has worsened the situation, causing one of the world's worst man-made humanitarian crises with nearly 80% or about 30 million of its people needing humanitarian assistance and protection and more than 13 million in danger of starving to death.
https://www.aa.com.tr/en/asia-pacific/indonesia-muslim-body-calls-to-help-hunger-hit-yemenis/2168809
--------
Africa
Somali migrant left to survive on streets of France
Alaattin Dogru
09.03.2021
A Somali migrant who had to flee his country due to violence has been forced to live on the streets after two European countries refused to grant him asylum.
Ahmed Muhammed, who is using a different name due to security concerns, told Anadolu Agency his asylum request was rejected by France after two years of waiting and he was evicted from an asylum center.
Muhammed said he initially applied for asylum in Belgium and stayed 11 months in an overcrowded asylum center, but his request was rejected.
He said that although he brought his case to the court of appeal, he was rejected again and moved to France in 2017.
He also applied for asylum in France, and after a long wait, the asylum interview was held in January last year but he was rejected again.
Muhammed said that although he appealed the decision with a volunteer lawyer to defend him, his application was rejected in a second interview in October.
"I'm in a very bad situation. They left me on the street in the middle of the [coronavirus] pandemic. My life, my health are in danger. I cannot return to my country either," he said.
"My asylum applications have always been declined. I don't understand what's going on. I'm doing my best," said Muhammed, adding he did not know what to do or where to go in the middle of the pandemic as he had no opportunity to work and earn money in Europe.
Muhammed said his family in Somalia has no idea about his situation and they would be very upset if they knew.
"Europe is saying they are helping and supporting refugees. But I have been in many different countries in the last six years, and what they say and do are totally different," he said.
Stating that the French authorities did not allow him to return to Somalia because it was dangerous, Mohammed said: "Well, if they refuse my asylum application and throw me out on the street, how can I continue my life here?"
He said he follows news reports of bombings coming from the Somali capital Mogadishu with great sorrow and feels like he has lost everything.
"For everyone who helps me today, I want to help someone tomorrow," he added.
Muhammad said he was very sorry that he was abandoned to the streets.
He temporarily took refuge at the As-Sufa association in the Yvelines region.
https://www.aa.com.tr/en/africa/somali-migrant-left-to-survive-on-streets-of-france/2169209
--------
African Union urges end to violence against women
08.03.2021
The African Union (AU) on Monday stressed the participation and representation of women in all decision-making bodies, calling for putting an end to violence against women.
"On this International Women's Rights Day, I have a special and affectionate thought for all the African women in cities, and especially in the rural areas, who live in pain, suffer in silence, and are victims of physical or sexual violence," Moussa Faki Mahamat, chairperson of the AU Commission, said in a statement marking March 8, International Women's Day.
"The African Union has made gender equality and the empowerment of women one of its priorities," Mahamat said.
Mahamat went on to say that the equality and empowerment of women are seen as an opportunity to get African women "out of their deplorable conditions, made up of violence, exclusion and prejudice.
"Unfortunately, these wrongs exist and persist in most African countries. Women and girls continue to be the primary victims of the conflicts and crises afflicting our continent."
The AU's top official said the coronavirus pandemic marked a worrying setback in "gender equality and the empowerment of women."
Mahamat called for putting an end to acts of violence against women, hailing South African President Cyril Ramaphosa for proposing an African convention on violence against women.
Mahamat praised the AU's new Chairman Felix Tshisekedi Tshilombo, president of the Democratic Republic of the Congo, for his commitment to pursue this action.
https://www.aa.com.tr/en/africa/african-union-urges-end-to-violence-against-women/2168951
--------
IMF says Sudan made tangible progress toward establishing strong reforms
09 March ,2021
The International Monetary Fund (IMF) managing director approved the first review of Sudan's Staff-Monitored Program (SMP), which supports the government's home-grown program of reforms aimed at stabilizing the economy, strengthening social protection, boosting the private sector, and strengthening governance, a statement by the IMF said on Monday.
"The Sudanese authorities have made tangible progress toward establishing a strong track record of policy and reform implementation - a key requirement for eventual debt relief", the statement added.
https://english.alarabiya.net/News/middle-east/2021/03/09/IMF-says-Sudan-made-tangible-progress-toward-establishing-strong-reforms
--------
Somali commandos trained by Turkey back home
Mohammed Dhaysane
09.03.2021
MOGADISHU, Somalia
A Turkish military aircraft carrying a contingent of Somali commandos who had completed their training in Turkey landed in the Somali capital Mogadishu on Monday.
Somali Defense Minister Hassan Hussein Haji, Army Chief Gen. Odawa Yusuf Rageh and other senior Somali officials welcomed the troops at Adan Adde International Airport, according to Somali national television.
The trainees will join the famous and most effective army force called Gorgor (The Eagles) in the country, all trained by Turkey.
Turkey has been a reliable partner in rebuilding Somalia across all sectors, Abdullahi Ahmed Sheikh, a former Somalia's special forces commander, told Anadolu Agency by phone.
"Apart from infrastructure such as schools, hospitals and roads, Turkey has been a crucial strategic partner in training and equipping Somali troops, particularly the Gorgor Commando Brigade of the national army and the Haramcad (Cheetah) Special Police Unit," Sheikh added.
https://www.aa.com.tr/en/africa/somali-commandos-trained-by-turkey-back-home/2169184
--------
Nigerian security forces arrest 56 armed gang members
Adam Abu-bashal
08.03.2021
Nigerian security forces have arrested 56 people in operations against armed gangs in Lagos due to escalating violence in the state, an official said Sunday.
Speaking to the local press, Lagos State Police Command spokesman Muyiwa Adejobi said there have been operations against armed gang members in the Ikorodu region of Lagos due to the violence.
A significant amount of ammunition belonging to the gangs was also seized, Adejobi added.
Those caught will be referred to court, he said.
Last year, 3,188 people were killed in clashes between armed gangs in the country.
As part of Operation Puff Adder conducted between April and July last year, a total of 2,504 gang members were captured and 207 people who were kidnapped for ransom were rescued.
https://www.aa.com.tr/en/africa/nigerian-security-forces-arrest-56-armed-gang-members/2168022
--------
URL: https://www.newageislam.com/islamic-world-news/if-gita-ramayan-mandatory-madrasas/d/124498
New Age Islam, Islam Online, Islamic Website, African Muslim News, Arab World News, South Asia News, Indian Muslim News, World Muslim News, Women in Islam, Islamic Feminism, Arab Women, Women In Arab, Islamophobia in America, Muslim Women in West, Islam Women and Feminism