New Age Islam News Bureau
24 May 2014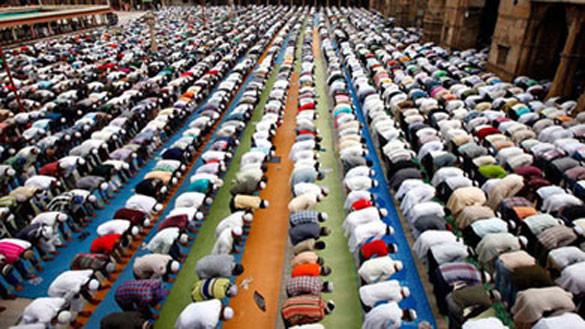 Photo: Germany 'kept records' of mosque attendees in Lower Saxony
-------------
Africa
• Al-Qaida Linked Group Attacks Somali Parliament, Four Killed
• Nigeria's Army Holding up Hunt for Taken Girls
• Libya's Haftar vows hand over of Brotherhood leaders to Egypt
• At least 28 dead in Sudan ethnic clash: Tribes
Arab World
• Syria Infighting Leaves 50 Takfiri Terrorists Dead
• Syria: Hundreds of Tunisians Undergoing Al-Qaeda Training
• Grand Mosque graduates told to be Islam's torchbearers
• Toll from Syria rebel attack on Daraa rally up to 37: NGO
• El-Sisi urges Egyptians to vote in televised message
• Syria video shows chlorine gas floating in streets
• Saudi efforts ease Syrians' suffering
• ISIL Seeks Revenge against Commander of Liwa al-Islam
• Sisi praises Saudi Arabia, vows strong Gulf ties
• Iraq: Shiite Shrine Imam Kadhim Attracts Millions of Shia Muslim Pilgrims
South Asia
• 36 Taliban militants killed, 18 others injured in Afghan operations
• China launches crackdown after bombing kills 43
• Beijing, Kunming, Urumqi and Guangzhou: The Changing Landscape of Anti-Chinese Jihadists
• 11 militants arrested for coordinating suicide attacks in Kandahar
Europe
• Seven militants die in battle with Russian forces in North Caucasus
• Germany 'kept records' of mosque attendees in Lower Saxony
• Dagestani Leadership Oversees Campaign of Unrelenting Violence
• Mali government, rebels sign ceasefire deal: UN
• Police in Stavropol Push Muslims toward Radicalism
• UN Security Council condemn attack on Indian consulate in Herat
• Ban Ki-Moon happy over Malaysia's candidacy for United Nations seat
• Pope thanks Jordan for welcoming Syrian refugees
Pakistan
• 'Army will never sabotage Pak-India ties'
• Military pounds Taliban hideouts for third day
• Pakistani Government Feels under Siege from Military
• Mohmand Agency blast kills six security officials, injures one
• Blasts hit heart of Pakistani capital, one killed
• Nawaz accepts invitation to visit India to appease US and India: PAML and Hafiz Saeed
• Pakistan believes in non-interference policy: MoD
• Fazl welcomes Nawaz's decision to visit India
North America
• Old CIA links return to haunt Libya's Haftar
• US judge allows force-feeding of Guantanamo prisoner
• Kerry to testify in US House Panel on Benghazi attack
• US urges Israel, Palestinians to refrain from unilateral steps
• Egypt needs a more open, democratic path moving forward: US State Department
Mideast
• Al Qaeda gunmen storm Yemeni city, at least 27 people killed
• 15 Militants, 10 Soldiers Killed in Yemen Attack
• Two Islamic Jihad members killed in Gaza blast
• 'Extremism is detriment to Shias and Sunnis': Ayatollah Araki
• PM Erdoğan is banging 'the war drums,' main opposition leader says
• Iran billionaire executed over $2.6 bn fraud, says report
• Iran Is Providing Information on Its Detonators, Atomic Agency Says
India
• Regional 'anxiety' on Afghan transition: U.S. Assistant Secretary of State
• BJP delighted at Nawaz Sharif's nod, Congress wants terror issues raised
• Herat Strike Timed To Scuttle Sharif's Trip And Modi's Move To Improve Relations?
• Hope Sharif's visit marks new start in ties: Omar Abdullah
Southeast Asia
• Civil society must fight back to counter extremism, says Suaram
• Indonesian Govt Urged to Stick to 'ASEAN Way' After Thai Military Coup
• Jihadists in Syria and their implication for Southeast Asia
Compiled by New Age Islam News Bureau
URL: https://www.newageislam.com/islamic-world-news/new-age-islam-news-bureau/al-qaida-linked-group-attacks-somali-parliament,-four-killed/d/87179
-----------
Africa
Al-Qaida linked group attacks Somali parliament, four killed
Reuters | May 24, 2014
MOGADISHU: A car bomb at parliament in the Somali capital killed at least four people on Saturday, police and Reuters witnesses said. Al-Qaida linked al-Shabaab militants claimed responsibility for the blasts.
Gunfire was heard after the blasts inside the parliament compound, a Reuters witness said. He saw four bodies at the site.
"Two explosions went off inside the Somali parliament house compound," police officer Major Nur Ali told Reuters. Some members of parliament were inside the building at the time, one lawmaker said. Gunfire was also heard from a mosque opposite.
Police confirmed at least four people had been killed.
Mogadishu has been hit by a series of suicide bomb attacks claimed by al Shabaab militants, who were pushed out of the capital about two years ago and have waged a sustained guerrilla campaign since then.
A lawmaker said some of his colleagues were in the compound.
"I am now in the town but I know some of my colleagues are having talks inside the house," the lawmaker, who asked not to be identified, told Reuters.
http://timesofindia.indiatimes.com/world/rest-of-world/Al-Qaida-linked-group-attacks-Somali-parliament-four-killed/articleshow/35557567.cms
-----------
Nigeria's Army Holding up Hunt for Taken Girls
May 24, 2014
ABUJA, Nigeria — Intelligence agents from all over the globe have poured into this city, Nigeria's capital, to help find the nearly 300 Nigerian schoolgirls abducted by the Islamist extremist group Boko Haram more than a month ago — but there has been little or no progress in bringing the young women home.
The problem, many involved in the rescue effort say, is the failings of the Nigerian military.
There is a view among diplomats here and with their governments at home that the military is so poorly trained and armed, and so riddled with corruption, that not only is it incapable of finding the girls, it is also losing the broader fight against Boko Haram. The group has effective control of much of the northeast of the country, as troops withdraw from vulnerable targets to avoid a fight and stay out of the group's way, even as the militants slaughter civilians.
Boko Haram's fighters have continued to strike with impunity this week, killing dozens of people in three villages in its regional stronghold, but also hitting far outside its base in the central region. Car bombs have killed well over 100, according to local press reports.
One recent night, Boko Haram fighters ambushed a patrol that had sought to leave Chibok, the town where the girls were kidnapped, killing 12 soldiers. The next day, when the bodies were brought to the Seventh Division — the main army unit taking on Boko Haram — soldiers angry about the loss of their comrades opened fire on the car carrying their commanding officer, Maj. Gen. Ahmadu Mohammed, as he was heading to an armory. The commander was unharmed and the soldiers were arrested.
"It's been our assessment for some time that they are not winning," said one Western diplomat in Abuja, speaking anonymously in keeping with diplomatic protocol.
For the moment, assistance from France, the United States, Israel and Britain is focused on answering questions that ultimately might guide a rescue attempt. Where exactly are the girls? Have they been split up into groups? How heavily are they guarded?
Desperate for clues, the United States has dispatched drones to scan the 37,000 square miles of Sambisa Forest, a scrubby semidesert tangle of low trees and bushes in the corner of northeastern Nigeria where the girls are believed to be held.
"You have a lot of guys in town right now," said the diplomat, referring to foreign intelligence and security personnel. But, he added, "A lot of this is assessment, and this is a pretty steep learning curve." And one senior diplomat offered a sober picture of the prospect, for now: "Realistically I don't think we've seen anything to indicate that we are on the verge of a huge breakthrough."
That the hopes of many across the globe rests on such a weak reed as the Nigerian military has left diplomats here in something of a quandary about the way forward. The Nigerian armed forces must be helped, they say, but are those forces so enfeebled that any assistance can only be of limited value? "Now it's a situation where the emperor has no clothes, and everybody is scratching their heads," another diplomat here said.
Military officials in the northeast, Boko Haram's stronghold, insisted that patrols are already underway in the Sambisa Forest, and that 10 days ago one even came close to where some of the girls were being held. It was attacked by Boko Haram, these officials said, and two officers were killed.
But the military presence on some of the region's most dangerous roads is light, with only a handful of checkpoints in places where villages have been attacked repeatedly and the burned-out shells of buildings are much in evidence. Sometimes, the soldiers manning the checkpoints are not even wearing protective gear.
Diplomats here in the capital expressed serious reservations about the likelihood that any military operation would return the young women safely. "We're concerned that a kinetic action" — meaning an armed intervention — "would result in deaths," a senior diplomat here said. "What are the good potential outcomes? It's not going to be easy or quick."
Instead, the government may have its best shot with a negotiated settlement with the Islamists, possibly including a prisoner release, said a military officer in the region. Nigerian officials have hinted of a deal as well, though President Goodluck Jonathan has publicly ruled out a deal.
Some other diplomats here were more pessimistic, saying it was unlikely that all of the victims would be saved. Already, in the region and in the capital of Borno State, Maiduguri, 80 miles from Chibok, there are some credible accounts suggesting that some of the girls may already have been killed. "I think it's going to be a slow burn," one diplomat said.
Adding to the diplomats' worry is a sense that officials in Mr. Jonathan's administration are dangerously out of touch with the realities of a vicious insurgency that for years had been minimized in the distant capital, until the abductions made that impossible.
Last fall Boko Haram rampaged around the town of Benisheik for 10 hours before the army even arrived. When it was over, about 150 people were dead. In February, when Boko Haram struck a college in Yobe State, in the northeast, it was unguarded by soldiers and a nearby military post was unstaffed, even though it had been attacked in the past.
Still, Mr. Jonathan's aides were looking to the group to simply free the young women.
"I have reason to believe Boko Haram will see reason and let these girls go," said Oronto Douglas, special adviser on strategy to Mr. Jonathan, in an interview this week. "I think they will have a conscience to let these girls go."
Mr. Douglas also suggested the recent Boko Haram video showing some of the kidnapped girls may actually show another group of young women — even though parents have identified many of their own daughters on the video.
Other officials here, stung by Washington's criticism of the military, have looked to place blame elsewhere. They defensively point to the United States' withdrawal from Afghanistan, saying that Nigeria is not the only country that has had difficulty with an Islamist insurgency. Terrorism is a global scourge, and "No one person, agency, or country can stamp out terror," said Sarkin-Yaki Bello, a retired major general and one of the country's leading counterterrorism officials.
Yet few outside the president's close circle accept such explanations. Daily antigovernment demonstrations and increasingly critical news media coverage point to widespread anger at the government.
"Now we know the army doesn't function," said Jibrin Ibrahim, one of the country's leading political scientists. "Many people are getting alarmed and frightened."
http://www.nytimes.com/2014/05/24/world/africa/nigerias-army-holding-up-hunt-for-taken-girls.html?_r=0
-----------
Libya's Haftar vows hand over of Brotherhood leaders to Egypt
May 24, 2014
Promising to exercise security cooperation with Egypt, Libya's General Khalifa Haftar asserted his country's right to build a strong army and support its neighbour's, the Russia Today news website reported on Thursday.
Haftar, who leads what he calls the "National Army" that began to use force against Libya's Islamist militants early last week, promised to hand over to Egypt leading members of the Muslim Brotherhood currently based in Libya.
The general praised the reaction of Egypt's ex-military chief and presidential candidate Abdel-Fattah El-Sisi towards the 30 June protests which led to the ouster of Islamist president Mohamed Morsi.
Haftar lived in exile in the United States before returning home to lead ground forces in the 2011 NATO-backed uprising against Muammar Gaddafi's ousted regime.
"With forces from the navy, air force, air defence and, definitely, the ground forces, almost 70,000 soldiers have now joined our ranks," he asserted.
Haftar stated that the restructuring of the Libyan military and its provision with training and advanced weapons was underway, noting the importance of national reconciliation and the legal pursuit of those who "killed the Libyan people or stole their money."
Haftar said he aims to restore Libyan security and stability and "cleanse the country of jihadists and radicals."
"I may run for the presidency under one condition: in response to the public will," the general concluded.
The Egyptian foreign ministry on Monday announced its rejection of foreign intervention in Libya, calling on the neighbouring country's domestic parties to "end divisions and cease bloodshed."
The statement came after the Libyan army had initially decided to impose a no-fly zone last Saturday -- a direct challenge to Haftar after he'd relied on airpower to press a campaign against Islamist militants.
Backed by warplanes and helicopters, his paramilitary force pounded Islamist militiamen on Friday in fought pitched battles with the ex-rebels.
Prime Minister Abdullah Al-Thani denounced Haftar's forces as "outlaws" and called on all parties to observe restraint.
However, Haftar vowed to continue his war against Islamists whom he blamed for attacks that have killed dozens of members of the security forces, judges and foreigners since the end of the uprising in October 2011.
Gunmen stormed parliament in southern Tripoli on Sunday, hot on the heels of an anti-Islamist offensive launched by Haftar in the eastern city of Benghazi.
After the attack on parliament, a colonel claiming to speak on behalf of the National Army declared that the General National Congress (GNC) had been suspended.
Cairo condemned "attempts from inside and outside" Libya to push Egypt into the conflict and regarded the situation as an internal Libyan matter.
The Egyptian-Libyan border is rife with arms smuggling and both countries have worked together in recent years to limit such activity.
Weapon smuggling out of Libya surged after its 2011 civil war that led to the ouster of long-time dictator Gaddafi.
With interim authorities failing to build a regular army and police forces, militias have imposed a stronghold over Libya, with large numbers of arms for export freed up.
Egypt's interim President Adly Mansour held a meeting Thursday with cabinet head Ibrahim Mahlab and other officials to discuss securing the country's borders with Libya, Al-Ahram's Arabic news website reported.
An operations team was formed to work on means to secure the country's western borders.
Attending the meeting were the ministers of defence, interior, foreign affairs, transport, media and the head of General Intelligence.
http://english.ahram.org.eg/NewsContent/2/8/102021/World/Region/Libyas-Haftar-vows-hand-over-of-Brotherhood-leader.aspx
-----------
At least 28 dead in Sudan ethnic clash: Tribes
24 May 2014
At least 28 people have been killed in renewed fighting between two Sudanese ethnic groups, tribal sources said on Saturday.
Battles between the Hamar and Maaliya tribes began Thursday in the border region of West Kordofan and East Darfur states, tribal leaders from each side told AFP.
Over the past two years, as Sudan's economy weakened, inter-communal clashes over resources have intensified in Sudan's Darfur region, a February report by United Nations chief Ban Ki-moon said.
Tribal militias have become involved in those conflicts, he said.
"Thirty-two people from both sides were killed," a Hamar leader said, but a Maaliya source reported 28 deaths up to Friday night.
"Fighting might start again at any time," the Maaliya chief said, adding tensions were sparked by the theft of some cattle.
"Local leaders contained the situation but then unknown people came on camels and burned a Maaliya village, killing six, so fighting started again," the Maaliya source said.
The Hamar leader said certain parties, whom he did not identify, want to disrupt reconciliation efforts planned for late May between the two tribes.
In December, the UN said Hamar-Maaliya fighting killed 38 people in West Kordofan, just over the border from East Darfur. A dispute over grazing rights apparently sparked the clashes.
Fighting between the tribes erupted again in March and April in North and East Darfur, leading people to flee their homes into West Kordofan, the UN's Office for the Coordination of Humanitarian Affairs said on Thursday.
http://english.ahram.org.eg/NewsContent/2/8/102069/World/Region/At-least--dead-in-Sudan-ethnic-clash-Tribes.aspx
---------
Arab World
Syria Infighting Leaves 50 Takfiri Terrorists Dead
May 24, 2014
Dozens of foreign-backed insurgents were killed and several others severely injured in violent clashes between rival terrorist groups in Syria.
Al-Qaeda-linked al-Nusra Front insurgents killed on Friday at least 50 rival insurgents from the so-called Islamic State of Iraq and the Levant (ISIL) in the Eastern Deir Ezzur Governorate near the border with Iraq, Al-Alam reported.
Reports say the al-Nusra Front has taken control of the Shoula district and is advancing in other areas of the province. The surge in infighting highlights the divisions between militants making unrest in the war-torn country.
Rival militant groups have been lately engaged in fierce fighting.
The infighting has escalated in the past months, amid gains by the Syrian army across the country. In recent months, the Syrian army has managed to liberate a number of cities and towns from militant control.
Clashes between the militant groups still continue despite a recent order by Al-Qaeda leader Ayman al-Zawahiri to stop the infighting.
Months of violent conflicts among different terrorist groups have killed thousands of Takfiri militants in Syria.
Full report at:
http://english.farsnews.com/newstext.aspx?nn=13930303000577
-----------
Syria: Hundreds of Tunisians Undergoing Al-Qaeda Training
May 24, 2014
Hundreds of Tunisian nationals are receiving military trainings in Syria by Al-Qaeda-linked terrorist groups, independent sources said.
The sources said around 2,000 Tunisian militants most of them aged under 30 are present in terrorist bases throughout Syria.
In the last 24 hours, the Syrian air force gave a 10-hour deadline to the militants in Daraa province to leave the region.
The air force has warned that it will bombard the militants' positions in case they continue staying there.
Meantime, the Syrian Army stormed militants' strongholds in the countryside of Lattakia, killing large numbers of militants, including several non-Syrians, and wounding several others.
Syrian forces targeted gatherings for rebels in the villages of Mashtal Kikha, Marj Khoukheh and Wadi Azraq in the Northern countryside of Lattakia, leaving many terrorists dead, including non-Syrian perpetrators.
Full report at:
http://english.farsnews.com/newstext.aspx?nn=13930303000500
-----------
Grand Mosque graduates told to be Islam's torchbearers
May 24, 2014
The 44th group of students from the prestigious Grand Mosque Institute graduated Thursday.
Makkah Gov. Prince Mishaal bin Abdullah attended the graduation ceremony at the Grand Mosque.
Sheikh Abdul Rahman Al-Sudais, imam and khatib at the Grand Mosque and president of the Affairs of the Two Holy Mosques, urged the graduates to serve as ambassadors of Islam and to shy away from extremist ideologies.
Students of the institute come from different parts of the world. About 2,500 students from 70 countries are currently studying at the two institutes in Makkah and Madinah, said Al-Sudais.
Full report at:
http://www.arabnews.com/news/576066
-----------
Toll from Syria rebel attack on Daraa rally up to 37: NGO
May 24, 2014
The death toll from an attack by Syrian rebels on a campaign rally for President Bashar al-Assad's re-election bid has risen to 37, a monitor said Saturday.
"The death toll from the Daraa attack has risen to 37," said Rami Abdel Rahman, director of the Syrian Observatory for Human Rights.
"Among them were 19 civilians, including four children, 12 members of the popular defence committees (pro-regime militia) and six soldiers," Abdel Rahman told AFP.
Rebel mortar hit a tent where Assad supporters had gathered in the southern city late Thursday.
Full report at:
http://english.ahram.org.eg/NewsContent/2/8/102073/World/Region/Toll-from-Syria-rebel-attack-on-Daraa-rally-up-to-.aspx
-----------
El-Sisi urges Egyptians to vote in televised message
May 24, 2014
On Friday night, Egypt's popular presidential hopeful, ex-military commander Abdel-Fattah El-Sisi, urged Egyptians to flock to polling stations on Monday and Tuesday in their millions, saying that elections are a feat Egyptians must undertake to build their future.
Under Egyptian law, Saturday and Sunday will see a halt in public campaigning of any kind for 48 hours prior to the opening of the polls.
In the brief televised address on Friday, El-Sisi made particular plea for young people and women to vote, regardless of their choice, insisting that the love for Egypt binds Egyptians whatever their differences.
"The significance of the ballot box is that there is a consensus on a national level that reflects the strength of the will to depart to the future," he stated. He gave the example of voting by Egyptian expatriates abroad last week – in which he won 95 percent of votes cast – to show that Egyptians have a will and are moving to achieve it.
The former defence minister stressed that state institutions will exert maximum effort to ensure the safety of voters.
Full report at:
http://english.ahram.org.eg/NewsContent/1/64/102059/Egypt/Politics-/ElSisi-urges-Egyptians-to-vote-in-televised-messag.aspx
-----------
Syria video shows chlorine gas floating in streets
May 24, 2014
Syrian opposition activists have posted a video of what they say is chlorine gas floating through the streets of a village, the first such footage of they say is a chemical weapon campaign by President Bashar al-Assad.
The village of Kfar Zeita, in the central province of Hama 125 miles (200 km) north of Damascus, has been the epicentre of what activists and medics call a two-month-old assault in which chlorine gas canisters have been dropped out of helicopters.
Damascus denies that forces loyal to Assad have used chlorine or other more poisonous gases and blames all chemical attacks on rebels fighting them in a three-year-old uprising.
Text accompanying the video, posted on Thursday by a user called Mustapha Jamaa, said it was filmed on Thursday in Kfar Zeita by the Revolution General Commission, an opposition group.
Full report at:
http://www.worldbulletin.net/headlines/137124/syria-video-shows-chlorine-gas-floating-in-streets-video
-----------
Saudi efforts ease Syrians' suffering
May 24, 2014
Syrian residents in the Kingdom have expressed appreciation for Saudi efforts aimed at enhancing health services to Syrian refugees in the Zaatari Camp in Jordan. More than 12,871 patients have been treated there since January this year.
They also lauded the makeshift Saudi-sponsored clinics and medical teams in the camp that is home to around 150,000 Syrian refugees according to official figures revealed by the Jordan government.
The Saudi specialized clinics are part of the national campaign efforts aimed at supporting the Syrian refugees and to provide health care to the camp residents.
Dr. Bader Samhan, regional director of the Saudi national campaign to support the Syrian brothers, said these clinics have conducted 569 laboratory tests, 121 X-rays and issued 80,416 medical prescriptions since the beginning of 2014, adding that the Saudi clinics have also provided medical treatment to over 1,500 patients suffering from chronic diseases.
Full report at:
http://www.arabnews.com/news/575986
-----------
ISIL Seeks Revenge against Commander of Liwa al-Islam
May 24, 2014
The Islamic State of Iraq and the Levant (ISIL) – an Al-Qaeda offshoot in Syria - vowed retribution against the Commander of the Brigade of Islam - Liwa al-Islam - Zahran Aloush on account he allegedly defiled Sheikh Abu Bakr Al Baghdadi's reputation by spreading lies, sources on the ground said.
ISIL issued a warning statement against Aloush in which its leadership stressed that whoever would attempt to act or replace Al Baghdadi will know sorrow and pain, Islam Times reported.
Militias linked to Al-Qaeda in Syria have splintered into a myriad of sub-groups over the past months, all competing against each other. Such opposition has created layers upon layers of frictions, tensions and changing allegiances, adding complication to an already impossible situation.
Full report at:
http://english.farsnews.com/newstext.aspx?nn=13930303000876
---------
Sisi praises Saudi Arabia, vows strong Gulf ties
May 24, 2014
Egypt's presidential frontrunner Abdel Fattah al-Sisi on Friday praised Saudi Arabia and vowed to forge strong security ties with Arab Gulf states, in an interview with Asharq Al-Awsat Editor-in-Chief Adel Al-Toraifi.
Egypt's former army chief told the London-based pan-Arab daily that Saudi Arabia would be the first on his list of countries to officially visit if elected president.
"The first country I will visit will be Saudi Arabia and we will go to express our gratitude to the Custodian of the Two Holy Mosques for we will not forget his supportive stances and his statement backing the Egyptian people that led to a change in the [political] equation," Sisi said.
Sisi also stressed that the security in the Gulf region and Egypt were interlinked. He said the security of the Gulf "is part of Egypt's security."
"We will not allow anyone to tamper [with the Gulf's security]," he added. "If there is any threat to any Gulf state, Egypt will not stand and watch."
Full report at:
http://english.alarabiya.net/en/News/middle-east/2014/05/24/Sisi-praises-Saudi-Arabia-vows-strong-Gulf-ties.html
-----------
Iraq: Shiite Shrine Imam Kadhim Attracts Millions of Shia Muslim Pilgrims
May 24, 2014
Millions of Shia Muslim pilgrims have gathered in Iraq for the annual Shiite pilgrimage at the Imam Kadhim shrine that culminates on Saturday.
The shrine, located in Baghdad's neighbourhood Kadhimiya, houses the tomb of Imam al-Kadhim (AD 745-799), who was the seventh of the 12 imams, the successors to the Islamic prophet Muhammad, of Shiite Islam.
Every year, Shia Muslims from across the country gather at the shrine to commemorate the death of Imam al-Kadhim.
The Kadhimiya region is also a holy place for Shiite Islam's ninth imam, Muhammad Taqi Al-Jawad (AD 811-835). During the pilgrimage, faithful pilgrims touch the tombs of the imams in an act to seek healing, forgiveness of their sins and the fulfilment of their needs.
Full report at:
http://www.ibtimes.co.uk/iraq-shiite-shrine-imam-kadhim-attracts-millions-shia-muslim-pilgrims-1449885
----------
South Asia
36 Taliban militants killed, 18 others injured in Afghan operations
May 24 2014
At least 36 Taliban militants were killed and 18 others were injured following military operations conducted by Afghan national security forces.
The operations were conducted by jointly by Afghan national police, Afghan national army and Afghan intelligence – National Directorate of Security (NDS) operatives.
Interior ministry following a statement said the operations were conducted in Nangarhar, Badakhshan, Kunduz, Maidan Wrdak, Logar, Ghazni, Paktia and Herat provinces.
The statement further added nine Taliban militants were arrested and various types of weapons, ammunition and explosives were confiscated during the operations.
Afghan national police forces also discovered and seized five improvised explosive devices (IEDs) during the operations in Laghman, Takhar, Paktika and Herat provinces.
Interior ministry said the IEDS were recently planted by Taliban militants to carry out insurgency attacks.
http://www.khaama.com/36-taliban-militants-killed-18-others-injured-in-afghan-operations-8136
-----------
China launches crackdown after bombing kills 43
May 24, 2014
URUMQI, China: Chinese authorities launched a yearlong anti-terrorism crackdown Saturday in China's Muslim northwest after a bombing in the region killed at least 43 people, while also announcing the first arrest in the attack.
Police announced names of five people blamed for Thursday's attack in a vegetable market in the city of Urumqi, and accused them of forming a ''terrorist gang'' at the end of 2013, the official Xinhua News Agency said.
Four of the suspects were killed and the fifth was captured Thursday night in an area about 250 kilometres south of Urumqi, Xinhua said.
The group ''took part in illegal religious activities, watched and listened to terrorist violence video and audio materials'', according to the news agency.
It said an anti-terrorism campaign with Xinjiang ''as the major battlefield'' started Friday. Authorities would target religious extremist groups, gun and ''explosive manufacturing dens and terrorist training camps''.
Full report at:
http://www.dawn.com/news/1108347/china-launches-crackdown-after-bombing-kills-43
-----------
Beijing, Kunming, Urumqi and Guangzhou: The Changing Landscape of Anti-Chinese Jihadists
May 24, 2014
During the roughly six months since China suffered its first-ever car bombing in Beijing's Tiananmen Square on October 31, 2013, China has witnessed a series of other terrorist attacks on its territory. Such attacks included a mass stabbing at a train station in Kunming that killed 29 people, a double suicide bombing at a train station in the Xinjiang Uighur Autonomous Region's capital of Urumqi and a mass stabbing at a train station in Guangzhou that injured six people. The car bombings in Urumqi on May 22 made it all the more clear that the recent attacks in China are part of coordinated militant campaign against China, which is likely organized from outside China and that employs the tactics of jihadists in neighboring Afghanistan and Pakistan.
Full report at:
http://www.jamestown.org/programs/chinabrief/single/?tx_ttnews%5Btt_news%5D=42416&tx_ttnews%5BbackPid%5D=25&cHash=d0bef6b0df632cb01ee9698af67862c3#.U4BC0nJdU4U
-----------
11 militants arrested for coordinating suicide attacks in Kandahar
May 24 2014
At least 11 suspected militants were arrested for coordinating suicide attacks in southern Kandahar province of Afghanistan.
The Afghan intelligence – National Directorate of Security (NDS) said Saturday that the suspects were operating in various parts of Kandahar city.
NDS following statement said the suspected militants were arrested along with a suicide bombing vest, 2 PK machine guns, 3 AK047 rifles, 2 pistols, 50 kg of explosives, 20 remote controls and 3 motorcycles.
Full report at:
http://www.khaama.com/11-militants-arrested-for-coordinating-suicide-attacks-in-kandahar-8138
-----------
Europe
Seven militants die in battle with Russian forces in North Caucasus
May 24, 2014
MOSCOW - Seven militants in the North Caucasus province of Ingushetia died in a three-hour gun battle with Russian security forces after which their hide-out was consumed by fire, the Russian authorities said on Saturday.
Russia is battling insurgents in its largely Muslim North Caucasus region where Islamist groups want to carve out an Islamic state.
A spokesman for Russia's Anti-Terrorism Committee said the militants, who were hiding in a house in the village of Sogopshi, had opened fire on the Russian troops who had surrounded them.
The cause of the blaze may have been an improvised explosive device, he said in a statement.
On Friday, Russia said four militants and a member of Russia's security service were killed during clashes in Karbadino-Balkaria.
In recent years militants from North Caucasus have carried out attacks in other parts of Russia, including a suicide bombing in 2011 in Moscow's Domodedovo airport in which scores died.
http://uk.reuters.com/article/2014/05/24/uk-russia-caucasus-fighting-idUKKBN0E40B720140524
-----------
Germany 'kept records' of mosque attendees in Lower Saxony
May 24, 2014
It has been revealed that Germany's Verfassungsschutz (Constitution Protection Organization) has been taking a record of all Muslims attending Friday congregational prayers in the Lower Saxony province, Green Party lawmaker Belit Onay said.
The German interior intelligence gathering agency Verfassungsschutz, which is currently undergoing reform since the SPD/Green coalition came to power after the local elections, kept records of 100 Muslims in the province simply because they attended Friday prayers regularly.
The organization had been under fire for its unjustified tracking of innocent individuals before the elections. It is believed up to 40% of individuals on their watch list were not involved in anything illegal.
Full report at:
http://www.worldbulletin.net/headlines/137154/germany-kept-records-of-mosque-attendees-in-lower-saxony
-----------
Dagestani Leadership Oversees Campaign of Unrelenting Violence
May 24, 2014
Against the backdrop of persistent tension in Dagestan, rumors are spreading in the republic that Ramazan Abdulatipov will be replaced sometime in May. Zakir Magomedov, a commentator with the Dagestani newspaper Novoe Delo, argued Dagestan's present leadership is solving Dagestan's problems but that replacing Abdulatipov will not fix them. "If anything needs to be developed in the republic, it is first of all the civil society," he wrote. "Let people feel and understand that they possess the real power and that their prosperity and the future of the place where they live are in their own hands. But who needs this? In Dagestan, it is not the presidents that need to be changed, but the system of power that was formed at the time of the Soviet Union's demise" (http://ndelo.ru/politika-5/3125-narod-bez-tsarya-v-golove).
Full report at:
The Jamestown Foundation
-----------
Mali government, rebels sign ceasefire deal: UN
May 24, 2014
The Mali government and the three main rebel groups in the northern desert signed a ceasefire deal Friday, the United Nations said, after dozens of soldiers were killed or wounded.
Around 20 Malian soldiers have been killed and 30 wounded since Wednesday as Tuareg and Arab insurgents captured the flashpoint town of Kidal and the smaller settlement of Menaka, according to the defence ministry.
The army has been pinned back by a coalition of several armed groups, including Tuareg separatists.
Kidal is the cradle of Mali's Tuareg separatist movement, which wants independence for a vast swathe of northern desert it calls "Azawad" and which has launched several rebellions since the 1960s.
Full report at:
http://english.ahram.org.eg/NewsContent/2/9/102067/World/International/Mali-government,-rebels-sign-ceasefire-deal-UN.aspx
-----------
Police in Stavropol Push Muslims Toward Radicalism
May 24, 2014
Russia is an extremely diverse country, but unlike in the United States, legislation is uniform across its entire territory. In the Russian Federation, the distinct features of regions and ethnic differences are often ignored. Nevertheless, Moscow treats different regions quite differently in terms of its relationship with its appointees on the ground. In Chechnya, Ramzan Kadyrov builds several mosques every year, including large ones that can accommodate up to 10,000–15,000 people (http://www.regnum.ru/news/society/1802579.html). At the same time, in some of the nearby territories, it is almost impossible for local Muslims to receive permission to build a mosque.
Full report at:
The Jamestown Foundation
-----------
UN Security Council condemn attack on Indian consulate in Herat
May 24 2014,
The members of the Security Council condemned in the strongest terms the attack on 23 May on the Indian consulate in Herat province, Afghanistan.
The Security Council members also condemned acts of violence against diplomatic and consular representatives, which endanger or take innocent lives and seriously impede the normal work of such representatives and officials.
The Security Council commended the Afghan National Security Forces for their effective action and reiterated their serious concern at the threats posed by the Taliban, Al-Qaida and other terrorist and extremist groups and illegal armed groups to the local population, national security forces, and international military and international assistance efforts in Afghanistan, particularly in light of recent terrorist attacks elsewhere in the country.
Full report at:
http://www.khaama.com/un-security-council-condemn-attack-on-indian-consulate-in-herat-8135
-----------
Ban Ki-Moon happy over Malaysia's candidacy for United Nations seat
May 24, 2014
United Nations (UN) secretary-general Ban Ki-Moon has expressed his happiness over Malaysia's candidacy for a non-permanent seat in the UN Security Council.
Foreign Minister Datuk Seri Anifah Aman said this was conveyed to him during his courtesy call on the secretary-general at his office in the UN in New York.
"He was very pleased that Malaysia is vying for the non-permanent seat of the Security Council," he told a press conference after the meeting.
Also present was Malaysia's Permanent Representative to the UN Datuk Hussein Haniff.
Anifah said various issues were discussed during the meeting including the situation in Thailand, Syria and Ukraine.
Full report at:
http://www.themalaysianinsider.com/malaysia/article/ban-ki-moon-happy-over-malaysias-candidacy-for-united-nations-seat-bernama
-----------
Pope thanks Jordan for welcoming Syrian refugees
May 24, 2014
AMMAN, Jordan (AP) — Pope Francis has thanked Jordan for welcoming hundreds of thousands of refugees fleeing the civil war in Syria, calling for an "urgent," peaceful solution to the conflict.
His comments come as he began a three-day visit Saturday to the Middle East
Pope Francis also lauded Jordan for the "serene coexistence" enjoyed by Christians and Muslims here and called for greater protections for minority Christians across the region in prepared remarks to King Abdullah II and Jordanian political and religious leaders at the royal palace.
Full report at:
http://www.dailymail.co.uk/wires/ap/article-2638017/Pope-thanks-Jordan-welcoming-Syrian-refugees.html#ixzz32dQez9WJ
--------------
Pakistan
'Army will never sabotage Pak-India ties'
May 24, 2014
LAHORE – Federal Minister for Information and Broadcasting Senator Pervaiz Rashid on Saturday said that the army is standing by the government to improve bilateral relations with India.
Speaking to journalists here, the minister said the army understands national interests and it stands with the government to safeguard national interest. "The army had never intervened to sabotage Pakistan-India relationship and I am sure the army would not do it in future too," he said in response to a question.
He said that it was not the army but an individual Musharraf who planned adventure on Kargil but later touched knees of Vajpayee in Katmandu. He said that it's better to hold hands than touch the knees. "We have to move forward putting bitter past behind to a better future of new generations of Pakistan and India," he said.
Full report at:
http://www.dailytimes.com.pk/national/24-May-2014/army-will-never-sabotage-pak-india-ties
-----------
Military pounds Taliban hideouts for third day
May 24, 2014
Miranshah/Islamabad: Four suspected terrorists were killed on Friday as the armed forces hit insurgent targets in a third day of action in a restive tribal area close to the Afghan border.
Meanwhile, in clear indication that the peace talks with Taliban would not be pursued until they mend their fences by announcing an unconditional ceasefire and pledge to give up violent activities, the government has reiterated that the use of force against the militants would remain high on the agenda. Ahead of leaving for Moscow on Thursday to participate in the 3rd Conference on International Security, Defence Minister Khawaja Asif said that the targeted offensives, both aerial and ground, would be periodically continued in different parts of the Federally Administered Tribal Areas, in response to the militant violence.
"When and where the surgical missions and targeted ground actions are to be launched is up to the Pakistan Army to decide. Our policy is to target the miscreants," he told Daily Times by phone. On the disruption of peace talks with the Tehreek-e-Taliban Pakistan (TTP), the minister said the terrorist organisation needed to change its ways. "We have shown a lot of patience and generosity, but unfortunately the Taliban did not mend the fences and the militant violence kept on increasing. This shall not be tolerated." Asif said the peace talks would only make progress if the militants give up arms and announce an unconditional ceasefire.
Full report at:
http://www.dailytimes.com.pk/national/24-May-2014/military-pounds-taliban-hideouts-for-third-day
-----------
Pakistani Government Feels under Siege from Military
May 24, 2014
At Pakistani Prime Minister Nawaz Sharif's palatial offices in Islamabad this week, the army chief sat down to deliver the head of government a message he did not want to hear: The time for talks with the troublesome Pakistani Taliban was over.
Sharif came to power a year ago promising to find a peaceful settlement with the militant group, but as round after round of talks failed, the powerful armed forces favoured a military solution.
Late on Tuesday afternoon, during a tense meeting, the army effectively declared it would override a crucial plank of the government's strategy and take matters into its own hands.
"The army chief and other military officers in the room were clear on the military's policy: the last man, the last bullet," a government insider with first-hand knowledge of the meeting told Reuters.
Asked to sum up the message General Raheel Sharif wanted to convey at the gathering, he added: "The time for talk is over."
Full report at:
http://www.worldbulletin.net/headlines/137144/pakistani-government-feels-under-siege-from-military
-----------
Mohmand Agency blast kills six security officials, injures one
May 24, 2014
PESHAWAR: At least six security officials were killed and one injured on early hours of Saturday when an improvised explosive devise (IED) targeted a security forces' convoy in Mohmand Agency.
According to official sources, In Mohmand Agency's Pindiali tehsil, a security forces' convoy was hit by a roadside bomb.
The injured soldiers were later shifted to a hospital.
After the incident, security forces cordoned off the area and began a search operation.
According to Pakistan Army's Inter Service Public Relations (ISPR), the security forces were dispatched to Pindiali earlier for a search operation as the militants had blown up a school in Sher Malik village situated in the Utmanzai area of Pindiali.
Full report at:
http://www.dawn.com/news/1108345/mohmand-agency-blast-kills-six-security-officials-injures-one
-----------
Blasts hit heart of Pakistani capital, one killed
May 24, 2014
(Reuters) - Two small bomb explosions hit the heart of the Pakistani capital in the early hours of Saturday, killing a security guard and wounding two people.
The guard was killed when a small blast went off at a popular complex of shops in Islamabad, police said.
Shortly afterward, another small blast in a different shopping centre destroyed a car but no one was injured, police said.
The blasts came after a week when Pakistani military jets pounded suspected militant hideouts. Ground troops also moved into a small portion of North Waziristan, an area on the Afghan border considered the main stronghold of Taliban forces.
Islamabad has been relatively peaceful in recent years, but in the past few months it has been hit by an attack on the district court and a bombing at a vegetable market that killed 22 and wounded scores of others.
http://uk.reuters.com/article/2014/05/24/uk-pakistan-blast-idUKKBN0E40B120140524
---------
Nawaz accepts invitation to visit India to appease US and India: PAML and Hafiz Saeed
May 24, 2014
ISLAMABAD/KARACHI- A section of political and religious leaders have flayed Prime Minister Nawaz Sharif acceptance of invitation to participate in swearing in ceremony of Indian Prime Minister-elect Narendra Modi saying the invitation has been accepted to appease US and India.
Reacting to the matter, chairman of Pakistan Awami Muslim League (AML) Sheikh Rasheed Ahmad said the matter of PM Nawaz Sharif visit to India had been decided in the meeting between Army Chief and Chief Minister Punjab Shahbaz Sharif a day before. Criticizing PM Nawaz Sharif acceptance of invitation he said, an international agenda has been given to the PM Nawaz Sharif that improve ties with India at every cost. Fight with your army and normalize ties with India.
Full report at:
http://www.nation.com.pk/national/24-May-2014/nawaz-accepts-invitation-to-visit-india-to-appease-us-and-india-sheikh-rasheed-and-hafiz-saeed
-----------
Pakistan believes in non-interference policy: MoD
May 24, 2014
MOSCOW- Federal Minister for Defence Khawaja Asif has said Pakistan strongly believes in the policy of non-interference and peaceful coexistence with neighbouring countries.
Federal Minister for Defence Khawaja Asif is on a three day official visit to attend 3rd Moscow Conference on International Security on special invitation from Minister of Defence of the Russian Federation Army General Sergei Shoigu.
"We have lost lives, suffered monetarily but are determined to the cause of peace," said Minister for Defence Khawaja Mohammad Asif.
Full report at:
http://www.nation.com.pk/national/23-May-2014/pakistan-believes-in-non-interference-policy-khawaja-asif
---------
Fazl welcomes Nawaz's decision to visit India
May 24, 2014
ISLAMABAD - Jamiat Ulema-e-Islam-F chief and parliamen's Kashmir Committee Chairman Fazlur Rehman on Saturday welcomed the decision of Prime Minister Nawaz Sharif to attend oath taking ceremony of Narendra Modi as new Indian prime minister.
Talking to journalists, Fazl said that the Pakistan government has given good will gesture by accepting Modi's invitation for his oath taking ceremony, being held on Monday. He said Islamabad and New Delhi were serious to resolve their long awaiting disputes by negotiations.
He said Pakistan should observe the behaviour of new Indian government and he hopes bilateral ties between the two countries would move forward in the BJP-led government in near future. Fazl said that the government should take steps to improve relationship with all neighbouring countries. Pakistan should link its future with Asia, he said.
Full report at:
http://www.dailytimes.com.pk/national/24-May-2014/fazl-welcomes-nawaz-s-visit-to-india
-----------
North America
Old CIA links return to haunt Libya's Haftar
24 May 2014
Libya's renegade General Khalifa Haftar is leading a military campaign against the country's Islamist-led government and militants; however, his past life in America and old ties to the CIA are likely to be a stumbling block on his road to power.
Following his botched February coup attempt –when he appeared on television announcing the dissolution of the government only to be scoffed at by the-then Prime Minister Ali Zeidan as "ridiculous" – launched this week "Operation Dignity" to rid Libya of "terrorists" and "corrupt" officials.
He was able to bring together Qaddafi-era officers and rebel militias from the east and the west of the country to build his self-proclaimed Libyan National Army, which launched attacks on Islamist militias in Benghazi last week and stormed the Islamist-dominated parliament in the capital Tripoli.
Adel al-Dabashi, a former member of Tripoli interim security committee, told Al Arabiya News that Haftar was leading an "officers' movement" that seeks to put an end to the lawlessness gripping the country since Qaddafi's ouster in 2011.
Full report at:
http://english.alarabiya.net/en/perspective/profiles/2014/05/24/Old-CIA-links-return-to-haunt-Libya-s-Khalifa-Haftar.html
-----------
US judge allows force-feeding of Guantanamo prisoner
May 24, 2014
A U.S. judge allowed the military to resume force-feeding a prisoner at Guantanamo Bay, saying she was in no position to make the complex medical decisions needed to keep the prisoner alive.
In an order issued late Thursday, U.S. District Judge Gladys Kessler said the physical condition of Syrian prisoner Abu Wa'el Dhiab was rapidly deteriorating and she would not reissue a temporary order from last week that stopped the military from force-feeding him.
Dhiab's lawyers have argued that the practice of forcibly extracting him and other prisoners from their cells, restraining them and feeding them through a tube inserted into their noses, was illegal and abusive.
Earlier this week, Kessler said she urged the government and Dhiab's lawyers to reach a compromise on the procedure used to feed Dhiab, but that the Defense Department has "refused to make these compromises."
Full report at:
http://www.worldbulletin.net/headlines/137194/us-judge-allows-force-feeding-of-guantanamo-prisoner
-----------
Kerry to testify in US House Panel on Benghazi attack
May 24, 2014
Secretary of State John Kerry has agreed to testify on June 12 before a House committee investigating the 2012 attack on the U.S. diplomatic compound in Benghazi, Libya, resolving a contentious dispute with Republicans in Congress.
Kerry had been subpoenaed to testify on May 29, but the State Department said prior commitments would prevent his appearance. Kerry offered two other dates and the House of Representatives Oversight Committee accepted his offer to appear on June 12.
In a letter to the committee, the State Department said if Kerry testifies before the Oversight panel, it should remove any need for him to appear before a House Select Committee that was formed recently to look into the Benghazi incident.
Full report at:
http://www.worldbulletin.net/headlines/137166/kerry-to-testify-in-us-house-panel-on-benghazi-attack
-----------
US urges Israel, Palestinians to refrain from unilateral steps
May 24, 2014
The United State reiterated its opposition to any unilateral step made by either Israel or the Palestinians amid the absence of peace negotiations, State Department spokeswoman Marie Harf said on Friday in response to remarks made by Prime Minister Binyamin Netanyahu in a BloombergView interview earlier Friday.
Harf said the US "would like to resume peace negotiations" and was urging both sides to refrain from actions that would undermine the groundwork for restarting the talks that broke down in late April.
She state that: "we don't think either side should do anything to complicate efforts right now to build the trust necessary to resume negotiations."
The State Department's comments came following Netanyahu's comments in the interview dismissing the possibility of unilateral territorial withdrawals and appeared open to annexation plans for portions of the West Bank in the absence of a peace process.
"The idea of taking unilateral steps is gaining ground, from the center-left to the center-right," Netanyahu said in the interview with Jeffrey Goldberg.
Full report at:
http://www.jpost.com/Diplomacy-and-Politics/US-urges-Israel-Palestinians-to-refrain-from-unilateral-steps-353211
-----------
Egypt needs a more open, democratic path moving forward: US State Department
May 24, 2014
Egypt needs a take a different path moving forward, one that is more open, more transparent and doesn't entailing locking people up simply for expressing dissent, US State Department Deputy Spokesperson Marie Harf said Friday ahead of Egypt's presidential elections.
Harf said, during a State Department daily press briefing, that the US has noted over many months the "shrinking space for dialogue, for peaceful protest, for freedom of the press" in Egypt.
Egyptians are expected to cast their ballots 26-27 May in the country's second presidential elections in two years. Former military chief Abdel-Fattah El-Sisi and Leftist politician Hamdeen Sabahi are the only two contenders in the presidential race, with El-Sisi expected to win by a landslide.
Full report at:
http://english.ahram.org.eg/NewsContent/1/64/102070/Egypt/Politics-/Egypt-needs-a-more-open,-democratic-path-moving-fo.aspx
---------
Mideast
Al Qaeda gunmen storm Yemeni city, at least 27 people killed
May 24, 2014
(Reuters) - At least 27 people were killed in an overnight raid by gunmen on a city in southeastern Yemen, residents and a local official said on Saturday, as al Qaeda continues its fightback against a government offensive in the country.
Armed with rocket-propelled grenades, mortars and explosives, attackers drove in from the surrounding desert on 15 pickup trucks into Seyoun after detonating a car bomb at the entrance to the city in Hadramout province.
Al Qaeda has carried out many hit-and-run attacks since the Yemeni army drove it from its southern strongholds in Abyan and Shabwa provinces last month. The West is concerned the group could use Yemen, which borders major oil producer Saudi Arabia, as a base for international attacks.
The militants targeted at least seven locations, including the main military posts, the local police headquarters, bank branches and the airport.
Residents said the city's electricity supply was cut during the attack and they heard explosions and gunfire throughout the night. The militants briefly captured some buildings before withdrawing early on Saturday.
Full report at:
http://in.reuters.com/article/2014/05/24/uk-yemen-militants-raid-idINKBN0E403F20140524
-----------
15 Militants, 10 Soldiers Killed in Yemen Attack
May 24, 2014
Yemeni soldiers killed 15 al-Qaida fighters in fierce fighting with militants who launched a major attack overnight targeting army, security and government buildings in a southern city, authorities said Saturday.
The Defense Ministry said in a statement that the army foiled the attack and now completely controls Sayoun, a city in southern Hadramawt province. It said the fighting killed 10 soldiers and wounded others. Security and military officials earlier said that the attackers killed 16 troops.
The attack struck an army headquarters, the central security headquarters, the Central Bank building, the traffic police department, the post office and the agricultural bank. The attackers, however, failed to storm the army command and the security headquarters due to the fierce resistance put up by the government troops, the officials said. They said the attackers used car bombs at the beginning of their assault.
Full report at:
http://abcnews.go.com/International/wireStory/yemen-al-qaida-leader-killed-south-23849226
-----------
Two Islamic Jihad members killed in Gaza blast
May 24, 2014
Two members of Saraya Al-Quds Brigades, the military arm of Islamic Jihad movement, were killed Saturday in an explosion in southern Gaza Strip, medical and security sources said.
Ahmed Sahjan, 32, and Abdel-Salam Dahlan, 31, were killed in the blast, Health Ministry spokesperson Ashraf al-Qudra said.
"Medics had moved the remains of the two members to hospital," he told Anadolu Agency.
A third group member was injured in the blast.
The reason of the blast remains unclear.
Islamic Jihad sources, however, said the explosion took place inside a training site in the southern city of Khan Younis.
The sources denied local media reports that the blast was caused by an Israeli raid.
http://www.worldbulletin.net/todays-news/137201/two-islamic-jihad-members-killed-in-gaza-blast
-----------
'Extremism is detriment to Shias and Sunnis': Ayatollah Araki
May 24, 2014
Head of the World Forum for Proximity of the Islamic Schools of Thought, Ayatollah Mohsen Araki leveled criticism at extremist measures committed in any Islamic religions and schools of Thought including the denominations of Shia and Sunni.
Ayatollah Araki at the Head of a religious delegation to Isfahan Province visited the officials and clerics in this province, sitting at talks over the unity related issues and setbacks.
Speaking with the Islamic Jurisprudent Ayatollah Mazaheri, Head of the World Forum briefed on the Unity body's activities in this province and said, "presently we have a special religious and Feqhi school in the holy city of Qum and we hope that another branch of this school in Isfahan will be run by the guidance of Ayatollah Mazaheri.
Full report at:
http://abna.ir/english/service/iran/archive/2014/05/24/610885/story.html
-----------
PM Erdoğan is banging 'the war drums,' main opposition leader says
May 24, 2014
Main opposition Republican People's Party (CHP) leader Kemal Kılıçdaroğlu has accused Prime Minister Recep Tayyip Erdoğan of "setting the country on fire" and "deepening polarization" in society, following the latest clashes between police and protesters in Istanbul left two dead.
"We are facing a philosophy that has vowed to take revenge, at least from part of its own society. It is not only at odds with its own people, but the whole world. It is at odds with Egypt, Iran and the European Union. Our belief is based on the philosophy of peace in the nation, peace in the world. But now Erdoğan is banging the war drums," Kılıçdaroğlu said on May 23.
Full report at:
http://www.hurriyetdailynews.com/pm-erdogan-is-banging-the-war-drums-main-opposition-leader-says.aspx?pageID=238&nID=66887&NewsCatID=338
-----------
Iran billionaire executed over $2.6 bn fraud, says report
Associated Press | Tehran | May 24, 2014
Authorities put Mahafarid Amir Khosravi, also known as Amir Mansour Aria, to death at Evin prison, just north of the capital, Tehran, the station reported. The report said the execution came after Iran's Supreme Court upheld his death sentence.
The fraud involved using forged documents to get credit at one of Iran's top financial institutions, Bank Saderat, to purchase assets including state-owned companies like major steel producer Khuzestan Steel Co.
Khosravi's business empire included more than 35 companies from mineral water production to a football club and meat imports from Brazil. According to Iranian media reports, the bank fraud began in 2007.
Full report at:
http://indianexpress.com/article/world/middle-east-africa/iran-billionaire-executed-over-2-6-bn-fraud-says-report/
-----------
Iran Is Providing Information on Its Detonators, Atomic Agency Says
May 24, 2014
WASHINGTON — For six years, international nuclear inspectors have been demanding that Iran turn over evidence of experiments that they suspect could have been part of a secret effort to solve the complex science of detonating a nuclear weapon.
On Friday, the International Atomic Energy Agency, the monitoring arm of the United Nations, said that it was finally beginning to see the information it had long sought — but that Iran insisted that the detonators were for non-nuclear purposes.
The disclosure was buried in a report by the atomic agency that detailed major progress Iran had made in diluting most of its stockpile of medium-enriched uranium, nuclear fuel that the West has long feared could be converted relatively quickly into weapons-grade material. Getting Iran to dilute that uranium was perhaps the biggest single accomplishment of the interim deal struck last year, creating room for the current negotiations, which hit their first major roadblock last week.
Full report at:
http://www.nytimes.com/2014/05/24/world/middleeast/iran-is-providing-information-on-its-detonators-atomic-agency-says.html?hpw&rref=world
-----------
India
Regional 'anxiety' on Afghan transition: U.S. Assistant Secretary of State
May 24, 2014
Hours ahead of the terror attack against the Indian consulate in Herat, U.S. Assistant Secretary of State Nisha Desai Biswal said that there was "a certain amount of anxiety across the region.
Hours ahead of the terror attack against the Indian consulate in Herat, Afghanistan, a top U.S. official said that there was "a certain amount of anxiety across the region about what the transition in Afghanistan means," and that America's trilateral dialogue with New Delhi and Kabul gained additional currency in this context.
Especially given India's "important equities," in Afghanistan, U.S. Assistant Secretary of State for South and Central Asia Nisha Desai Biswal said, "I understand the anxiety, but we are also working very closely to make sure that we are sharing information."
In a discussion with Indian media in Washington, Ms. Biswal also spoke warmly of the incoming Indian administration led by Narendra Modi and the BJP, saying, "We see… a Modi government coming in with a very strong mandate to revitalise the Indian economy and to create strength and prosperity… as one that we very much want to support [and] partner with."
Full report at:
http://www.thehindu.com/news/international/world/regional-anxiety-on-afghan-transition-biswal/article6041783.ece
-----------
BJP delighted at Nawaz Sharif's nod, Congress wants terror issues raised
PTI | May 24, 2014
NEW DELHI: BJP on Saturday expressed "delight" at the decision of Pakistan Prime Minister Nawaz Sharif to attend the oath-taking ceremony of Narendra Modi as prime minister while Congress asked the new government to raise issues such as cross-border terrorism, slow pace of trial of 26/11 attacks and handing over of Dawood Ibrahim with the Pakistan premier.
"This is a delightful piece of news that Pakistan Prime Minister has accepted Narendra Modi's invitation ... this is the beginning of a new relationship. It is good news," BJP spokesperson Prakash Javadekar said here.
He said Pakistan, China, Nepal, Bhutan, Sri Lanka, Myanmar are India's neighbours. "And neighbours cannot be changed," he said.
Full report at:
http://timesofindia.indiatimes.com/india/BJP-delighted-at-Nawaz-Sharifs-nod-Congress-wants-terror-issues-raised/articleshow/35555006.cms
-----------
Herat Strike Timed To Scuttle Sharif's Trip And Modi's Move To Improve Relations?
TNN | May 24, 2014
NEW DELHI: Friday's pre-dawn attack on the Indian consulate by Taliban in Herat in western Afghanistan, just three days before Narendra Modi's swearing-in, underscored the extremely tough task for the new Prime Minister as he opens up a new channel of communication with the Nawaz Sharif government in Pakistan.
The attack came just days after Modi invited all SAARC leaders, including Sharif, for his swearing-in ceremony in a gesture that signals his desire to build better relations with all neighbours.
All nine Indians in the consulate, including Consul General Amit Mishra, were safe, but the eight-hour encounter with the heavily armed terrorists indicated their deadly intent. The attack was repulsed by a contingent of ITBP personnel and Afghan security forces.
However, the Taliban attack and the support that Taliban is known to enjoy from Pakistani agencies indicates the complexity of dealing with India's western neighbour. It makes plain that there are many players in Pakistan who are inimical to any kind of normalization of ties between the two countries. To that extent, it also reduces Modi's elbow room for his diplomatic outreach to Islamabad.
Full report at:
http://timesofindia.indiatimes.com/india/Herat-strike-timed-to-scuttle-Nawaz-Sharifs-trip-and-Narendra-Modis-move-to-improve-relations/articleshow/35528763.cms
-----------
Hope Sharif's visit marks new start in ties: Omar Abdullah
PTI | May 24, 2014
SRINAGAR: Jammu and Kashmir chief minister Omar Abdullah on Saturday said he was glad that Pakistan premier Nawaz Sharif has accepted the invitation to attend Narendra Modi's oath-taking ceremony as Prime Minister and hoped that this would mark a new beginning in India-Pakistan relations.
"Very glad to hear Pak PM has accepted invite, shows that he can prevail over forces inimical to good relations with India," Omar wrote on micro-blogging site twitter.com.
Abdullah said the people of Jammu and Kashmir will be closely watching the developments.
"I hope that this will mark a new beginning in ties between our two countries. The people of J&K will be watching closely," he said.
The chief minister also opined that the Modi-Sharif handshake will overshadow the presence of other foreign dignitaries attending Modi's swearing in ceremony on Monday.
"Can't help feel sorry for others taking oath or attending because the only photo op that will matter now will be the Modi-Sharif handshake," he said.
A spokesperson of the Pakistan Prime Minister Office and Foreign Ministry today confirmed that Sharif will travel to Delhi to attend Modi's oath taking ceremony on Monday.
http://timesofindia.indiatimes.com/india/Hope-Sharifs-visit-marks-new-start-in-ties-Omar-Abdullah/articleshow/35552492.cms
-----------
Southeast Asia
Civil society must fight back to counter extremism, says Suaram
May 24, 2014
Civil society must up the ante to defend human rights while groups like Perkasa and Ikatan Muslimin Malaysia (Isma) are promoting racial and religious extremism, Suara Rakyat Malaysia (Suaram) executive director Yap Swee Seng said.
He said yesterday their action only benefited a group of elite at the expense of the majority.
"In such a scenario, we, (civil society), have no other option but to redouble our efforts in promoting and defending human rights to counter the divisive racial and religious politics."
Today, Malaysians were facing even more daunting challenges as racial and religious sentiments were politicised to entrench a divide-and-rule mentality, he said.
"Non-state actors like Perkasa and Isma are allowed a free hand to roam around and fan up extremist sentiments to the extent of inciting hatred and violence with impunity," he said in his speech at a fundraiser to commemorate Suaram's 25th anniversary in Petaling Jaya last night.
Full report at:
http://www.themalaysianinsider.com/malaysia/article/civil-society-must-fight-back-to-counter-extremism-says-suaram
-----------
Indonesian Govt Urged to Stick to 'ASEAN Way' After Thai Military Coup
May 24, 2014
Jakarta. Foreign affairs experts said Indonesia should stay out of Thailand's domestic affairs despite the escalating situation in the country after that country's military's announcement on Thursday that it was taking power in a coup d'etat.
"We have made a commitment based on the ASEAN [Association of Southeast Asian Nations] charter that we will not intervene with other country's domestic affairs unless we have been asked to by that country," Hikmahanto Juwana of the University of Indonesia told the Jakarta Globe on Thursday evening. "Indonesia should also urge other ASEAN countries to practice self-restraint to not intervene, stay true to the ASEAN charter."
He added that the situation in Thailand could be volatile depending on how the Thai people reacted to the coup.
"My concern is that if Thai people are not willing to accept the coup, a civil war might erupt and the stability of the whole region would be affected," he said. "The most important thing right now for the Indonesian government is to ensure the safety of Indonesians living in Thailand, make sure they stay away from dangerous areas and they have what they need."
Foreign Minister Marty Natalegawa said Indonesia would keep a watchful eye on the situation.
Full report at:
http://www.thejakartaglobe.com/news/indonesian-govt-urged-stick-ASEAN-way-despite-thai-military-coup/
---------
Jihadists in Syria and their implication for Southeast Asia
MAY 24, 2014
London-based International Centre for the Study of Radicalisation (ICSR) estimates that about 11,000 people from 74 countries are joining the Syrian opposition fighters. Among them are Indonesian jihadists, who have been involved in the conflict since it started on January 26, 2011.
The Indonesian jihadists consider Syria al-Sham, the holy place for jihad, home to a battle between good and evil. The call for the fight against the Bashar al-Assad regime in Syria is stronger than that during the Afghan war, where many Indonesian jihadists fought the Soviet Union in 1980s-1990s. As we know, the Afghan veterans planned and perpetrated the Bali bombings in 2002 and 2005.
The call for war in Syria has been openly sounded in Indonesia within certain religious circles as well as at a number of book events recently. The groups have also recruited volunteers from universities, including hard-line Muslim students from rich families.
Other Indonesian jihadists who fight in Syria are students in Middle Eastern, South Asian and Southeast Asian universities.
Full report at:
http://www.themalaysianinsider.com/sideviews/article/jihadists-in-syria-and-their-implication-for-southeast-asia-tia-mariatul-ki
-----------
URL: https://www.newageislam.com/islamic-world-news/new-age-islam-news-bureau/al-qaida-linked-group-attacks-somali-parliament,-four-killed/d/87179