New Age Islam News Bureau
16 May 2014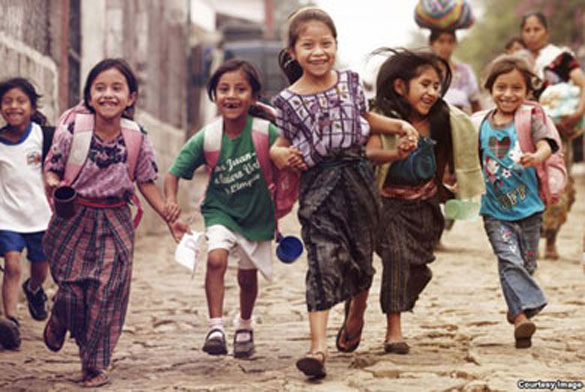 Students who attend a Pencils of Promise school in Guatemala, May 2011. (Courtesy Pencils of Promise)
-----------
Pakistan
• Blasphemy Attempt: Geo Condemned By Religious Leaders for Disrespecting Islamic Personalities
• Council of Islamic Ideology Chairman defends stance on second marriage
• Jamaat-i-Islam won't join PTI's agitation: Siraj
• Blast targeting police van injures 10 in Pakistan
• Demand for mid-term elections not justified, says Maulana Fazl ur Rehman
• Taliban negotiator seeks Army inclusion in peace talks: Taliban negotiating committee
• PM Nawaz Sharif takes notice of non-issue of visas to 90,000 Chinese
• Sami says govt-Taliban talks suspended for time being
Mideast
• President says Yemen in 'open war' with Al-Qaeda
• Zarif: Iran Would Not Give up 'Even an Iota' of Nuclear Rights
• Palestinians bury two men killed by Israel on Nakba Day
• Iran pursues ballistic missile work, complicating nuclear talks
• Report: Iran recruits Afghans for Syria war
• Israeli Livni Given UK Immunity for War Crimes
• Peres: No nation can fill role of US as world's peacemaker
Arab World
• Egypt's Mufti Welcomes EU Decision to Follow Up Presidential Polls
• A Fresh Terrorist Mortar Attack Kills 13 Civilians in Aleppo
• Violent tendencies among students cause for concern
• Kurds could opt out of next Iraqi govt: Barzani
• Syrian Army Foils Militants' Infiltration Attempts in Daraa
• Thousands flee Iraq army assault on rebel-held Falluja
India
• Supreme Court acquits all six persons in 2002 Akshardham temple terror attack case
• Dalrymple ranks Top Three Afghan leaders over Top Three Indian ones
• Appeal to Pakistan to renew visas of 2 Indian journalists
Africa
• Kenya: 10 Killed by Twin Nairobi Gikomba Market Blasts
• Child Beggar Who Asked for Pencil Inspires Man to Build 206 Schools
• Fierce clashes in Libya's Benghazi: AFP
• Suspect in Boko Haram Nigeria attack 'arrested in Sudan'
• Kidnap girls' town attacked again by Islamic militants
• Islamic Trade Finance Corporation to Strengthen Ties With Gambia
South Asia
• Maldivian Party suggests extremist ideologies prevalent within the security services
• Three Chinese officials knifed to death in Xinjiang -report
• Afghan police kills his commander, 4 family members in Kandahar
• Jamaat-e-Islami greets Modi
• War victim's family member testifies against Qaisar
• Bangladesh Minister: Govt will have good ties with India's new govt
• Sheikh Hasina congratulates Modi, invites him to visit Bangladesh
North America
• US says Brunei Sharia violates international norms
• Freeing Nigerian girls 'is top US priority'
• Obama visits 9/11 museum, says terrorism can't break us
• Syrian presidential election a 'farce': John Kerry
• US Secretary says is not aware of Israel spying on US
• US Will Ramp up Support for Gunmen in Syria
• US releases 10 Pakistanis from Bagram prison
Southeast Asia
• Ahmadiyah Mosque sealed off in Bekasi
• Clarify or withdraw your comments on human rights, Proham tells Najib
• Kassim Ahmad questions validity of KL Shariah arrest warrant enforced in Kedah
• Indonesia bestowed Islamic development bank`s award
• Malaysian police foil terror plot
Europe
• Bosnian Muslims complain of increasing attacks
• Gulf prisoners of conscience should be freed: Rights group
• UK concerned about "closure of political space" in Egypt
• UK's William Hague attacks Assad's Syria elections plan
• British journalists shot and beaten in Syria kidnapping
• Turkish government played with people's lives: Amnesty International
• HRW urges Saudi to release two Islamic converts
Compiled by New Age Islam News Bureau
URL: https://newageislam.com/islamic-world-news/blasphemy-attempt-geo-condemned-religious/d/77050
------------
Pakistan
Blasphemy Attempt: Geo Condemned By Religious Leaders for Disrespecting Islamic Personalities
May 16, 2014
Religious leaders of Pakistan have strongly condemned Geo TV for hurting the religious sentiments of Muslims by playing Manqabat ' Ali ke Saath hai Zahra ki Shaadi' during the wedding reenactment of film Actress Veena Malik in its morning show, a private news channel reported on Thursday.
In the morning show, hosted by Dr. Shaista Wahidi on Wednesday, a live music band played the Sufi number during the wedding reenactment of Veena Malik while the attendants at the event danced to it and continued with conducting Joota Chupai during the manqabat.
In a talk show hosted by Mubasher Lucman, religious leaders including Sunni Ittehad Council leader Shahibzada Hamid Raza, Allama Abbas Kumaili, Allama Tahir Ashrafi, Shia Ulma Council leader Allama Mazhar Abbas Rizvi, Vice President of Tahaffuz e Azadari Council Ali Raza Bukhari and others have strongly condemned Geo TV for disrespecting Islamic personalities and hurting the sentiments of their followers.
Sunni Ittehad Council leader Shahibzada Hamid Raza said that the actions going on during the Manqabat constituted of disrespect to the Manqabat as well as the Islamic personalities. He also lamented the ignorance of Pakistan Electronic Media Regulation Authority (PEMRA) over allowing broadcast of such content.
The religious leaders have demanded an apology from the TV network, threatening of a boycott as well as legal action against the channel.
Ali Raza Bukhari, VP of Tahaffuz e Azadari Council, while talking to the news channel, said that Geo TV has attempted blasphemy by disrespecting the family of the Prophet Muhammad (PBUH) and demanded a legal action.
'Ali ke Saath hai Zahra ki Shaadi' is a renowned Manqabat sung by Qawaal Amjad Sabri. It is about the wedding of Hazrat Fatima Zehra (AS), daughter of Prophet Muhammad's (PBUH), with Hazrat Ali (AS), Muhammad's (PBUH) cousin and closest companion.
http://www.pakistantoday.com.pk/2014/05/15/national/blasphemy-attempt-geo-condemned-by-religious-leaders-for-disrespecting-islamic-personalities-in-morning-show/
------------
Council of Islamic Ideology Chairman defends stance on second marriage
May 16, 2014
BAHAWALPUR: Council of Islamic Ideology (CII) Chairman Maulana Muhammad Khan Sheerani has defended the council's stance that man does not require his first wife's permission for second marriage and he may seek permission only from union council (UC) chairman/secretary.
He says the National Assembly is the forum for implementation of CII's recommendations and it may discuss and approve them for their incorporation into the Constitution.
Maulana Sheerani, who is also MNA and chief of JUI-F Balochistan, was talking to Dawn at the Islamia University Bahawalpur after presiding over the concluding session of the three-day International Quran Conference on Wednesday.
Explaining the role of the CII, he said the council, under the Constitution, had no power to implement its recommendations to make them part of the Constitution and all powers lay with the NA. However, he added, the president, public and the Supreme Court could exert pressure on the assembly for approval of CII's recommendations and incorporating them into the Constitution.
He said the public might pressurise their respective elected representatives to approve CII's recommendations.
As regards the Supreme Court, Maulana Sheerani said it had taken a suo motu notice for the non-implementation of the CII's recommendations.
He said he had cleared a backlog of hundreds of the CII recommendations to the NA, adding that recommendations pertained to 1997-2009 period regarding CII's viewpoints to Islamise the Constitution. Now he would submit the CII's recommendations to the NA for 2011-12, he added.
Mr Sheerani said the Pakistan government had a contradictory stance on the war on terror as on one side the country fought against the US war while on the other side, it also received coalition support fund worth millions of dollars. He observed the western countries were out to prove that Islam is a religion of terrorism.
Earlier, delivering his presidential address in the conference, the CII chairman said the council would further improve its contacts with the IUB and other universities across the country to increase its consultation on Islamic issues.
Saudi Arabian cultural attaché Dr Hazzah Bin Abdullah Al-Ghamdi, who was the chief guest on the occasion, said his country would establish a modern language laboratory at the university for promoting Arabic to help people understand the Quran better.
Faculty of Islamic Learning dean Saleem Tariq said 200 Arabic books were available at the department's website for the facility of students and teachers of the university.
About 100 delegates from the United States, Kuwait, Bangladesh and from across the country participated in the conference.
http://www.dawn.com/news/1106685/sheerani-defends-stance-on-second-marriage
------------
Jamaat-i-Islam won't join PTI's agitation: Siraj
May 16, 2014
LAHORE: Although the Jamaat-i-Islami reaffirms the 'democratic credentials' of its ally in Khyber Pakhtunkhwa government, Pakistan Tehreek-i-Insaf, it fears any agitation in the current scenario may lead to wrap-up of the democratic system.
None of the political parties, including the PTI, wanted an end to democratic rule to pave way for martial law or a dictatorial regime, JI emir Sirajul Haq told the media at his party's headquarters here on Thursday. He said the JI was refraining from the anti-government movement launched by the PTI.
He said though the JI also wanted reforms in electoral system, it won't join any movement that could harm the democratic order. The electoral reforms, he said, were also in ruling party's interest.
Replying to a question about polio vaccination campaign in KP, Haq who is also a senior minister in the province's cabinet, said the drive was continuing and it was wrong that the ulema (religious scholars) were against it. He said that in order to negate this impression, JUI-S chief Maulana Samiul Haq had personally begun the campaign from his madressah at Akora Khattak.
Earlier, at a ceremony, Haq said the country was under the siege of the "enemy" and ulema and Khatibs (orators) should start a vigorous campaign against it. He said the mosques and the madressahs were the custodians of the country's ideological boundaries, as none of the ulema had supported the forces against Islam and Pakistan.
He said the government should patronise madressahs and allocate budget for these institutions for the benefit of the teachers and the students.
http://www.dawn.com/news/1106704/ji-wont-join-ptis-agitation-siraj
------------
Blast targeting police van injures 10 in Pakistan
May 16, 2014
At least 10 persons, including four police personnel, were injured on Friday when a bomb planted on a motorcycle ripped through a police van in northwestern Pakistan.
The improvised explosive device blast occurred near Mandan Chowk in Bannu district bordering North Waziristan agency when a police vehicle was passing through the area.
"The explosive materials were planted on a motorcycle parked there that targeted a police vehicle," police said.
"Ten people including four police officials sustained injuries in the blast," police said.
"Assistant Sub-Inspector (ASI) Amin Marwat was also among the injured," they added.
Police and rescue teams were dispatched to the blast site. The injured have been shifted to the District Headquarters Hospital for medical aid.
http://www.thehindu.com/news/international/south-asia/blast-targeting-police-van-injures-10-in-pakistan/article6016063.ece
----------
Demand for mid-term elections not justified, says Maulana Fazlur Rehman
May 16, 2014
RAWALPINDI: Jamiat Ulema-i-Islam-Fazl (JUI-F) chief Maulana Fazlur Rehman has said that a democratically and constitutionally elected government is in place and there is no justification for demanding mid-term elections.
"It is not appropriate time to come on the roads with an aim to derail democracy," he said at a news conference on Thursday. The maulana said all institutions were working within their parameters and it was the responsibility of all to allow the country's nascent democratic system to flourish.
He said the nation would not accept any imported revolution, adding that Israeli, Canadian and Indian agendas would not be allowed to be imposed on people.
Full report at:
http://www.dawn.com/news/1106641/demand-for-mid-term-elections-not-justified-says-fazl
------------
Taliban negotiator seeks Army inclusion in peace talks: Taliban negotiating committee
May 16, 2014
PESHAWAR- Professor Ibrahim, a member of Taliban negotiating committee, has blamed the government for non-seriousness in the peace dialogue process and called for army's inclusion in the talks.
"We are concerned over a deadlock-like situation in peace talks. It due to government's lack of interest and non-seriousness which is raising questions," said Prof. Ibrahim, who is also Jamaat-e-Islami's central leader said while speaking to a Private TV. He said the military should play its role and army's representatives should be included in the negotiations. "There would be dangerous consequences if peace talks were sabotaged. We will not backdown despite hurdles," he said.
Full report at:
http://www.nation.com.pk/national/16-May-2014/taliban-negotiator-seeks-army-inclusion-in-peace-talks
------------
PM Nawaz Sharif takes notice of non-issue of visas to 90,000 Chinese
May 16, 2014
ISLAMABAD: Prime Minister Nawaz Sharif has taken serious notice of the delay in issuance of visas to Chinese nationals who are required by different Chinese companies in different projects in Pakistan.
According to top-level official sources, bureaucracy has been creating hurdles in issuing as many as 90,000 visas for Chinese professionals who are required by their employers to come to Pakistan to work on different projects launched by the Chinese companies in Pakistan. Some of major Chinese multinational companies (MNCs) whose personnel are being denied visas include Huawei Telecom, ZTE and Zong.
Full report at:
http://www.dailytimes.com.pk/national/16-May-2014/pm-takes-notice-of-non-issue-of-visas-to-90-000-chinese
------------
Sami says govt-Taliban talks suspended for time being
May 16, 2014
KARAK: Chief of his own faction of Jamiat Ulema-i-Islam and head of Taliban negotiation committee Maulana Samiul Haq has said that the negotiation process between the govern-ment and tehreek-i-Taliban has been suspended for the time being.
Addressing to a gathering on Wednesday night at Madinatul Uloom in Warana area, he said that some powerful elements were trying to derail the peace process to pave the way for operation in tribal areas.
The JUI-S chief said that operation was no solution to any problem. He said that negotiation was the only way for restoration of peace in the country. He added that bringing the government and Taliban to negotiation table was their great success.
Maulana Samiul Haq asked the prime minister to play his role in making the negations a success. It would not be good for the government and Taliban if another way was adopted for restoration of peace, he added.
Full report at:
http://www.dawn.com/news/1106649/sami-says-govt-taliban-talks-suspended-for-time-being
------------
Mideast
President says Yemen in 'open war' with Al-Qaeda
May 16, 2014
SANAA, Yemen: Yemeni President Abed Rabbo Mansour Hadi said Thursday that his country is in an "open war" with Al-Qaeda as one of the country's largest offensive against the terror group in south has been pushing militants out of their strongholds.
In a statement aired on state television, Hadi said that the military will expand its operations to include areas other than Shabwa and Abyan, the southern provinces which witnessed a strong Al-Qaeda presence before the offensive. He said it will include others like Baida and Marib, where Al-Qaeda militants have been retreating to over the past weeks.
Hadi acknowledged that the offensive has sparked "retaliatory attacks" against the capital, Sanaa, adding that the military must "uproot" the terror group wherever its militants are. He said the offensive was triggered by the "very negative economic impact on the country. It is no longer possible to wait in our places until the day comes and they attack us all."
As for the revenge attacks in the capital, he said: "We don't want these assaults to take place again."
Full report at:
http://www.arabnews.com/news/571656
------------
Zarif: Iran Would Not Give up 'Even an Iota' of Nuclear Rights
May 16, 2014
Iran: Nuclear talks in ViennaIran's Foreign Minister said Wednesday that Iran would not give up even an iota of its nuclear rights at the working dinner session with the EU foreign policy chief Catherine Ashton.
Heading Iran's negotiating team to Vienna, Zarif met Ashton and told the press after the meeting that if the Powers enter negotiation with good will, he predicts the success of the negotiations sooner than the six-month deadline.
"We discussed the way the negotiations would turn to go forward. Both sides emphasized and agreed that it was necessary to cooperate in addressing the issues as joint venture," Zarif told reporters.
Full report at:
http://www.almanar.com.lb/english/adetails.php?fromval=1&cid=19&frid=19&eid=151688
------------
Palestinians bury two men killed by Israel on Nakba Day
World Bulletin / News Desk
May 16, 2014
Thousands of Palestinians on Friday took part in a massive funeral for two Palestinians killed by Israeli troops in the West Bank city of Ramallah one day earlier.
Mohamed Odeh Abu Thaher, 22, and Nadeem Siyam Nowara, 17, were killed in clashes with Israeli forces near Ofer Prison during a rally marking the 66th anniversary of Nakba ("catastrophe"), which marks Israel's creation in 1948.
Mourners chanted slogans for taking revenge for Israeli "crimes" against the Palestinians.
Ibrahim Nowara, a relative of the two dead Palestinians, called on the Palestinian Authority to join U.N. agencies to pave the way for trying Israel before international courts.
Thousands of Palestinians on Thursday marked the passing of 66 years since the "Nakba," when hundreds of thousands of Palestinians were driven from their land to make way for the nascent Israeli state.
Full report at:
http://www.worldbulletin.net/headlines/136497/palestinians-bury-two-men-killed-by-israel-on-nakba-day
------------
Iran pursues ballistic missile work, complicating nuclear talks
May 16, 2014
VIENNA, May 16 : Despite apparently reducing illicit purchases that breach UN sanctions, Iran is pursuing development of ballistic missiles, a confidential UN report says, posing an acute challenge to six powers negotiating with Tehran to rein in its nuclear program.
On Sunday, Iranian Supreme Leader Ayatollah Ali Khamenei described as "stupid and idiotic" Western expectations for his country to curb its missile development. He decreed mass production of ballistic weapons, striking a defiant tone just before nuclear talks resumed on Wednesday in Vienna.
The high-stakes negotiations aim for a deal by a July 20 deadline to end a long stand-off that has raised the risk of a wider Middle East war.
Tehran's often repeated view that missiles should not be part of the nuclear talks appears to enjoy the support of Russia, one of the six global powers.
Full report at:
http://www.arabnews.com/news/571661
------------
Report: Iran recruits Afghans for Syria war
May 16, 2014
Iran is recruiting Afghan refugees to fight in Syria, the Wall Street Journal reported late Thursday.
In exchange, Iran is offering them stipends of $500 a month and residency permits, the paper said, quoting Afghans and Western officials.
Details of their recruitment efforts were confirmed by the office of Grand Ayatollah Mohaghegh Kabuli, an Afghan religious leader in the Iranian holy city of Qom. A member of the IRGC also confirmed the details, reported the newspaper.
"They [IRGC] find a connection to the refugee community and work on convincing our youth to go and fight in Syria," said the office administrator of Ayatollah Kabuli. "They give them everything from salary to residency."
The paper reported that Iran is also offering the refugees school registration for their children.
Full report at:
http://english.alarabiya.net/en/News/middle-east/2014/05/16/Iran-recruiting-Afghans-to-fight-in-Syria-report-.html
------------
Israeli Livni Given UK Immunity for War Crimes
May 16, 2014
Zionist Justice Minister Tzipi Livni Zionist Justice Minister Tzipi Livni is visiting the U.K. on Thursday, after the U.K. government granted her temporary immunity from prosecution for war crimes in Gaza.
Livni was granted "Special Mission" status for a visit which includes a meeting with Foreign Office officials and a speech at a Jewish National Fund event on Thursday night. The purpose of the Jewish National Fund meeting has not been revealed and the organizers would not reveal any information about its location.
Pro-Palestinian groups are expected to demonstrate outside the event, which will be held at a Central London hotel.
Full report at:
http://www.almanar.com.lb/english/adetails.php?fromval=1&cid=22&frid=22&eid=151622
------------
Peres: No nation can fill role of US as world's peacemaker
May 16, 2014
President Shimon Peres met with visiting US Secretary of Defense Chuck Hagel on Friday and thanked him for the deep cooperation between the US and Israel and told him that the US is the most suitable nation to bring peace to the world.
"President Obama [US President Barack Obama] said that the US does not need to be the policeman of the world. I think that the US must be the world's peacemaker, no one can fill this role in your place," Peres said.
"Your armed forces are spread all over the world inorder to maintain peace. You have fought for peace and freedom more than anything else," the president said.
Hagel arrived in Israel on Thursday. Besides Peres he has met with Defense Minister Moshe Ya'alon and Prime Minister Binyamin Netanyahu.
In the meeting with the Hagel, Peres said that in the last year the relations between the two countries reached "new and unprecedented heights."
Full report at:
http://www.jpost.com/Diplomacy-and-Politics/Peres-No-nation-can-fill-role-of-US-as-worlds-peacemaker-352497
------------
Arab World
Egypt's Mufti Welcomes EU Decision to Follow Up Presidential Polls
May 16, 2014
Egypt's Mufti Shawki Allam welcomed the decision taken by the European Union (EU) to follow up the presidential elections in Egypt and get acquainted with the current situation in the country.
The distorted image about Egypt runs counter to the reality, Allam said in his meeting on Wednesday 14/5/2014 with representative of the EU Election Observation Mission Anne Marlborough.
He further affirmed that all citizens are equal before law.
Meanwhile, Allam said that Dar Al-Iftaa urges all Egyptians to massively participate in the presidential elections.
For her part, Marlborough voiced optimism over what is taking place in Egypt. Egypt is witnessing positive changes, she added.
http://allafrica.com/stories/201405160270.html?aa_source=sptlgt-grid
------------
A Fresh Terrorist Mortar Attack Kills 13 Civilians in Aleppo
May 16, 2014
13 civilians were killed and 17 others were injured .by mortar shells fired by terrorists on al-Ashrafiyeh neighborhood in Aleppo city on Friday.
A source in the province told SANA that mortar shells hit al-Ashrafiyeh neighborhood, killing 13 citizens and injuring 17 others, in addition to destroying two houses and causing material damage in the site.
Two citizens killed, six others injured in terrorist explosive device blast in Damascus
On Thursday, two citizens were killed and six others got injured as terrorists detonated an explosive device near Dar al-Shifaa Hospital in Damascus.
A source at the police command told SANA reporter that terrorists detonated an explosive device attached to a bicycle near al-Shifaa Hospital in Damascus killing two citizens and injuring six others.
http://www.almanar.com.lb/english/adetails.php?fromval=1&cid=23&frid=23&eid=151787
------------
Violent tendencies among students cause for concern
May 16, 2014
A growing culture of violence at schools, including the carrying of knives and others weapons by boys and teenagers, is starting to worry government officials, psychologists and parents.
Fighting among students, attacks on teachers, many of them expatriates, have been highlighted on social media sites. They also depict the trauma of impressionable adolescent students witnessing this thuggery.
Attempts are now being made to determine what is causing this unhealthy phenomenon, including assessing the influence of movies, home life and tribal affiliation.
It appears young males carry concealed knives to boast in front of their classmates, defend themselves from bullies, or settle tribal scores.
"There are several reasons for young people carrying knives and other weapons at school," said Ali Al-Roumi, associate professor of social science at Imam Muhammad University.
Al-Roumi blamed parents and teachers for not monitoring students. There is also a growing machismo, which includes the carrying of arms, being encouraged and condoned by society in general, he said.
Full report at:
http://www.arabnews.com/news/571631
------------
Kurds could opt out of next Iraqi govt: Barzani
May 16, 2014
THE president of Iraqi Kurdistan, Masoud Barzani, said Iraq had been led in an authoritarian direction by Prime Minister Nouri Al-Maliki and threatened to end the oil-rich autonomous region's participation in the federal government.
Iraq held elections on April 30. The results have yet to be announced but Kurdish support is crucial to Maliki's ambitions for a third term. The incumbent premier's rivals, both Shi'ite and Sunni, are hoping Barzani and the Kurds will help them thwart Maliki's bid to stay in office for four more years.
Barzani said Kurdish parties would meet as soon as the results of the election were officially announced, expected in the next few days, to decide how to proceed in negotiations over the government formation.
The talks could drag on for months and Barzani declined to give any more details of the Kurds' position but said the political situation in Iraq was unsustainable and one option would be to fully withdraw Kurdish participation in the government unless there was the prospect of change.
Full report at:
http://www.saudigazette.com.sa/index.cfm?method=home.regcon&contentid=20140516205232
----------
Syrian Army Foils Militants' Infiltration Attempts in Daraa
May 16, 2014
Syrian Army thwarted infiltration attempts of anti-government groups into its strongholds in Nawa town in Daraa countryside, killing and wounding many rebels in the battlefield.
Military sources told the State news agency that the Syrian soldiers also targeted a long convey of insurgents' vehicles loaded with weapons and ammunitions near al-Masarah town.
Several insurgents were also killed in a series of operations by the Syrian armed forces on al-Sabil-Edwan road in the Western countryside of Daraa.
The conflict in Syria started in March 2011, when sporadic pro-reform protests turned into a massive insurgency following the intervention of western and regional states.
The unrest, which took in terrorist groups from across Europe, the Middle-East and North Africa, has transpired as one of the bloodiest conflicts in recent history.
As the foreign-backed insurgency in Syria continues without an end in sight, the US government has boosted its political and military support to Takfiri extremists.
Washington has remained indifferent to warnings by Russia and other world powers about the consequences of arming militant groups.
http://english.farsnews.com/newstext.aspx?nn=13930226000326
------------
Thousands flee Iraq army assault on rebel-held Falluja
World Bulletin/News Desk
May 16, 2014
Thousands of civilians have fled Falluja since last week after the Iraqi military intensified shelling in a new bid to crush a five-month old Sunni uprising, killing scores of people in what residents describe as massive indiscriminate bombardment.
The mortars, artillery and what residents call "barrel bombs" rained for at least seven days on Falluja - a city that was the nemesis of U.S. troops a decade ago and is now the main battle ground in a war pitting the Shi'ite-led government against rebellious Sunni tribal chiefs and fighters.
More than 420,000 people have already escaped the two main cities of western Anbar province, Falluja and Ramadi, in fighting since the start of the year. Residents say the new pounding of Falluja's residential neighbourhoods appears aimed at driving out all remaining civilians in preparation for an all-out assault to defeat armed groups once and for all.
Prime Minister Nouri al-Maliki, who is trying to cobble together a coalition to keep himself in office for a third term after an April 30 parliamentary election, has vowed to destroy fighters who seized parts of Anbar province last year.
Full report at:
http://www.worldbulletin.net/headlines/136470/thousands-flee-iraq-army-assault-on-rebel-held-falluja
------------
India
Supreme Court acquits all six persons in 2002 Akshardham temple terror attack case
Written by Utkarsh Anand | New Delhi | May 16, 2014
In a major setback to the Gujarat government, the Supreme Court on Friday acquitted all six persons, including two on the death row, in the 2002 Akshardham temple terror attack case.
Allowing their appeals against the conviction and sentencing, a bench comprising Justices A K Patnaik and V Gopala Gowda held that the prosecution failed to establish their guilt beyond reasonable doubt and they deserved exoneration from all the charges.
The bench nixed their confessional statements being invalid in law and also said that the prosecution could not establish they participated in any conspiracy.
It allowed the appeals of Adambhai Sulemanbhai Ajmeri and Abdul Kayum, who were given death penalty, challenging the conviction under POTA and Section 302 of Indian Penal Code.
Mohd Hanif Shaikh, Abdullamiya Yasinmiya Kadri amd two others were sentenced to jail terms varying between 10 years to life imprisonment.
The petitioners had sought to draw parallels between investigations into the alleged fake encounter killing of Sohrabuddin and that of Akshardham terror attack in which both the Fidayeen were killed by NSG commandos on September 25, 2002.
Full report at:
http://indianexpress.com/article/india/india-others/supreme-court-acquits-all-six-persons-in-2002-akshardham-temple-terror-attack-case/
------------
Dalrymple ranks Top Three Afghan leaders over Top Three Indian ones
Kounteya Sinha,TNN | May 16, 2014
EDINBURGH (SCOTLAND): Award winning author William Dalrymple has said that the top three electoral candidates in Afghanistan during their recent general elections are far superior intellectually to India's three leading political figures - Narendra Modi, Rahul Gandhi and Arvind Kejriwal.
In an exclusive interview to TOI at the Scottish Parliament on the sidelines of the inaugural conference of the Edinburgh India Institute, Dalrymple expressed his "deep apprehension" about Modi and said he finds Modi "frightening" and a "big mystery".
Dalrymple said that Afghanistan's three leading contenders, Ashraf Ghani, Abdullah Abdullah and Zalamai Rassoul were all doctorates and had hugely cosmopolitan CVs.
"The three front runners in Afghanistan were deeply sophisticated men. All of them were highly educated and held doctorates. Ghani is a former World Bank official, a PhD from Columbia, a finance minister, and an ex-university chancellor. Compare that to the intellectual level of three of India's top candidates," Dalrymple said.
Full report at:
http://timesofindia.indiatimes.com/world/uk/Dalrymple-ranks-Afghan-leaders-over-Indian-ones/articleshow/35176161.cms
------------
Appeal to Pakistan to renew visas of 2 Indian journalists
TNN | May 16, 2014
MUMBAI: The Mumbai Press Club and the Indian Chapter of the Pakistan-India Peoples Forum for Peace & Democracy have urged the Pakistan government to renew the visas of the two Indian journalists in Pakistan who have been asked to leave the country.
"The Press Club Mumbai has noted with regret that the two Indian journalists, Meena Menon of The Hindu and Snehesh Alex Phillip of PTI, stationed in Islamabad, have been denied renewal of visas, and have been asked to leave the country. The Press Club has recorded its protest with the High Commissioner of Pakistan, Abdul Basit, urging him to help reverse the decision, " said an official statement.
Full report at:
http://timesofindia.indiatimes.com/city/mumbai/Appeal-to-Pakistan-to-renew-visas-of-2-Indian-journalists/articleshow/35173911.cms
---------
Africa
Kenya: 10 Killed by Twin Nairobi Gikomba Market Blasts
Jack MooreBy Jack Moore
May 16, 2014
Twin bomb blasts have struck Gikomba market in the Kenyan capital of Nairobi, leaving 4 dead and up to 70 wounded, according to the Kenyan Red Cross.
The first explosion took place in a minibus and the second detonated in the large Gikomba market, according to the Kenyan National Disaster Operation Centre.
"Very many people are injured. I don't know how many are dead but for sure there are fatalities," Mwangi Maina, a trader at Gikomba Market, told Reuters.
Five red cross ambulances are reportedly at the scene to treat victims of the blasts.
Kenyan President Uhuru Kenyatta issued a statement in reaction to the blasts which said: "Many countries are faced with this particular problem (terrorism). All of us must be united to ensure that we fight it."
Full report at:
http://www.ibtimes.co.uk/kenya-scores-injured-by-twin-nairobi-market-blasts-1448873
-------------
Child Beggar Who Asked for Pencil Inspires Man to Build 206 Schools
May 16, 2014
Before he turned 25, Adam Braun had a vision of what he wanted to do in life, and the legacy he wanted to leave behind.
In 2008, he founded Pencils of Promise, a non-profit he prefers to call a "for-purpose" organization, to ensure all children have access to education. Six years later, Braun's organization has built 206 schools, breaking ground on a new building every 90 hours, reaching more than 22,000 children in Africa, Asia and Latin America.
Boy and a pencil
It all started when Braun visited India as a college student and a boy begging on the street approached him to ask for money. Braun asked the boy what he would want, if he could have anything in the world.
"I thought the answer was going to be 'a house' or 'a car'," Braun said. "His answer was 'a pencil'. So I gave him my pencil and he just lit up with joy. I realized he never had been to school before, and that was the reality for 57 million children around the world."
After graduation, Braun was on the path to a successful Wall Street career, but he never forgot that boy and the problem he represented.
Full report at:
http://www.voanews.com/content/child-beggar-who-asked-for-pencil-inspires-man-to-build-206-schools-/1913037.html
-----------
Fierce clashes in Libya's Benghazi
May 16, 2014
Fierce clashes erupted in Libya's eastern city of Benghazi Friday between Islamists and forces led by a retired general seeking to purge it of "terrorists", an AFP journalist and witnesses said.
The witnesses said a group led by Khalifa Haftar, a former rebel chief in the 2011 uprising that toppled Muammar Gaddafi, was backed by warplanes that pounded a barracks occupied by the Islamist "February 17 Brigade" militia.
Militiamen responded by opening up with anti-aircraft fire.
The two groups also clashed in the Sidi Fradj area of south Benghazi, the AFP journalist said.
Haftar's group calls itself the "National Army" and a spokesman for the force, Mohammed Al-Hijazi, told a local broadcaster it has launched "a large-scale operation to flush terrorist groups out of Benghazi".
However, the chief of staff of the regular army, Abdessalem Jadallah al-Salihin, denied the force was involved in clashes in Benghazi.
Full report at:
http://english.ahram.org.eg/NewsContent/2/8/101443/World/Region/Fierce-clashes-in-Libyas-Benghazi-AFP.aspx
------------
Suspect in Boko Haram Nigeria attack 'arrested in Sudan'
May 16, 2014
A suspect wanted for the deadliest-ever attack in Nigeria's capital -- a blast blamed on Boko Haram Islamists -- has been arrested in Sudan, a source close to the case said on Thursday.
Aminu Sadiq Ogwuche was detained on Tuesday as he tried to get a visa from the Turkish embassy in central Khartoum, the source told AFP, requesting anonymity.
"There wasn't any resistance" to the arrest, said the source, who added that the suspect was still in Sudan on Thursday.
Seventy-one people died and 124 were wounded in the April 15 bomb blast at a packed Abuja bus station.
President Goodluck Jonathan blamed Boko Haram, much of whose previous violence had been in the country's northeast.
Full report at:
http://english.ahram.org.eg/NewsContent/2/9/101376/World/International/Suspect-in-Boko-Haram-Nigeria-attack-arrested-in-S.aspx
------------
Kidnap girls' town attacked again by Islamic militants
16 MAY 2014
Islamic militants have again attacked the remote Nigerian town from which nearly 300 schoolgirls were kidnapped.
Nigeria's military said 12 soldiers died in a firefight and angry troops opened fire on a commanding officer. Soldiers said the troops fired at a senior officer who came to pay respects to the killed soldiers, whose bodies were brought to a barracks in Maiduguri.
The failure of Nigeria's Government and military to find the girls after the April 15 mass abduction has triggered national and international outrage and forced Nigeria to accept international help to trace the abductees.
http://www.belfasttelegraph.co.uk/news/world-news/kidnap-girls-town-attacked-again-by-islamic-militants-30278119.html
------------
Islamic Trade Finance Corporation to Strengthen Ties With Gambia
May 16, 2014
The deputy chief executive officer of the International Islamic Trade Finance Corporation (ITFC) on Tuesday met with the vice president and Women's Affairs minister.
Speaking to journalists at the end of the meeting, Hani Salem Sonbol affirmed that their discussion centered on how his office and the government of The Gambian could expand their relationship. He said the ITFC activities in The Gambia include offering support to important strategic development sectors like energy and agriculture.
Sonbol commended the Gambia's leadership for its development strides, and expressed hope that in the not too distance future, the country will be making more progress in her development endeavour. Author: Amadou Jallow
http://allafrica.com/stories/201405151158.html
------------
South Asia
Maldivian Party suggests extremist ideologies prevalent within the security services
By Ahmed Rilwan | May 15th, 2014
Concerning levels of extremist ideology are present within the Maldives military and police forces, the opposition Maldivian Democratic Party (MDP) has said.
In a statement issued today, the party said it has been noted that most militants travelling from the Maldives to foreign countries "in the name of jihad" are members of the Maldives National Defence Force (MNDF) and Maldives Police Services (MPS).
The Ministry of Defence and National Security has responded to the MDP's remarks, describing the accusations as "baseless and untrue" comment intended to "discredit and disparage" military.
"Therefore we condemn in the strictest terms this irresponsible act of the Maldivian Democratic Party. And call on the Maldivian Democratic Party to stop spreading misinformation in ways which could confuse the public and become a responsible political party," the ministry's statement read.
Full report at:
http://minivannews.com/politics/mdp-suggests-extremist-ideologies-prevalent-within-the-security-services-84886
------------
Three Chinese officials knifed to death in Xinjiang -report
World Bulletin/News Desk
May 16, 2014
Three Chinese government officials were knifed to death and their bodies dumped in a lake, in the restive far western region of Xinjiang, Radio Free Asia reported.
The report said the officials were killed during a visit to Xinjiang (East Turkestan) last month by President Xi Jinping, in an incident that also featured in the state-backed Global Times newspaper on Friday. Reuters could not independently verify the reports.
The officials were county-level representatives, Radio Free Asia said in its report on Thursday, but did not name them.
Officials contacted by Reuters at the town public security department and the external affairs office of the Xinjiang government said they could not comment on the case, but gave no reason why.
Full report at:
http://www.worldbulletin.net/todays-news/136494/three-chinese-officials-knifed-to-death-in-xinjiang-report
------------
Afghan police kills his commander, 4 family members in Kandahar
May 16 2014
According to reports, an Afghan policeman has killed his four family members along with his commander in southern Kandahar province of Afghanistan.
The incident took place in Arghandab district of Kandahar province late Thursday, a local security official said.
The official further added that preliminary reports suggest the police officer had some arguments with his family and therefore opened fire on his family members.
He said at least four others belonging to the family of the assailant police officer were also injured following the attack.
The police officer also opened fire on his commander while he was investigating the incident, the security official said, adding that the police assailant policeman was killed by the other policemen.
Arghandab district chief confirmed that he is aware of incident however he did not disclose further information.
http://www.khaama.com/afghan-police-kills-his-commander-4-family-members-in-kandahar-6110
------------
Jamaat-e-Islami greets Modi
May 16, 2014
Jamaat-e-Islami has offered congratulations to Narendra Modi, who is set to be the next prime minister of India, for his party's landslide victory in the Lok Shabha election.
Acting ameer of the party Makbul Ahamad issued a written statement in this regard on Friday.
The statement read: "We are congratulating Narendra Modi for his historic victory in the election. We hope that India will uphold its tradition of keeping religious harmony among the people under the leadership of Modi.
Our party always wants to keep good relationship with India," he added.
He expressed hope that Modi would consider the bi-lateral issues between Bangladesh and India seriously and solve those by holding fruitful discussions.
http://www.dhakatribune.com/bangladesh/2014/may/16/jamaat-e-islami-greets-modi
------------
War victim's family member testifies against Qaisar
May 16, 2014
Golam Noor, 65, testified against the accused on charge number 11
A new prosecution witness in the trial against former Jatiya Party state minister Syed Mohammad Qaisar placed his deposition yesterday saying that the accused and members of "Qaisar Bahini" had abducted his family members and tortured them.
Golam Noor, 65, testified against the accused on charge number 11 – abduction, confinement and torture of Golam Rasul and his family members at Haripur in Nasirnagar, Brahmanbaria in the last part of June in 1971.
Noor said he had heard from family members that his father died due to the torture. The witness said he had been in India at that time. He also said his brother's body bore many torture marks.
Full report at:
http://www.dhakatribune.com/law-rights/2014/may/16/war-victim%E2%80%99s-family-member-testifies-against-qaisar#sthash.3Q6598f0.dpuf
------------
Bangladesh Minister: Govt will have good ties with India's new govt
May 16, 2014
The Kazir Bazar Bridge over the Surma river in Sylhet would be opened for traffic movement in December next year
The regime change in India will not affect the ties with Bangladesh, said Communications Minister Obaidul Quader yesterday.
"The present government will have good ties with India, no matter which party comes to power in the neighbouring country," he said, replying a reporters' query in Sylhet.
India's BJP, a major Hindu nationalist party, is believed to be coming to power this time, when Bangladesh government is led by the Awami League that is known to keep ties with the Congress better than the BJP.
Full report at:
http://www.dhakatribune.com/politics/2014/may/16/obaidul-govt-will-have-good-ties-india%E2%80%99s-new-govt#sthash.0JLPPEgZ.dpuf
------------
Sheikh Hasina congratulates Modi, invites him to visit Bangladesh
May 16, 2014
Bangladesh Premier Sheikh Hasina on Friday felicitated BJP's prime ministerial candidate Narendra Modi on the resounding victory in Lok Sabha elections,
inviting him to visit the country as his first foreign destination.
Reaching out to Modi in a warm letter, Hasina said that with the kind of people's mandate given to their respective parties they can work together to take the bilateral relationship to "increasingly greater heights."
"I am delighted to see a great friend of Bangladesh leading an extremely friendly country, India, in the coming days," Hasina said in her letter to Modi, BJP's prime ministerial candidate.
Full report at:
http://indianexpress.com/article/world/neighbours/sheikh-hasina-congratulates-modi-invites-him-to-visit-bdesh/
------------
North America
US says Brunei sharia violates international norms
May 16, 2014
Brunei would violate international standards on human rights if the oil-rich sultanate presses ahead with stoning and other punishments under sharia law, an incoming US official has said.
Nina Hachigian, nominated to be the US ambassador for the 10-nation ASEAN bloc, told her Senate confirmation hearing yesterday that it was "important that a nation's laws conform with its international obligations on human rights."
"Some of the physical, corporal punishments associated with law, if implemented as you point out, would be inconsistent with international obligations," she said in response to a question by Senator Chris Murphy.
The sultan of the tiny petro-state announced last month that he would go ahead with enforcement of Islamic sharia law that will eventually include flogging, severing of limbs and death by stoning.
Full report at:
http://www.business-standard.com/article/pti-stories/us-says-brunei-sharia-violates-international-norms-114051600272_1.html
----------
Freeing Nigerian girls 'is top US priority'
May 16, 2014
WASHINGTON: A US official says that freeing 276 Nigerian girls from Boko Haram is a top US priority.
The State Department's Robert Jackson says the militant group "has no regard for human life."
He says the US is helping Nigerian intelligence and law enforcement, and seeking global sanctions on Boko Haram.
Jackson is testifying before the Senate Foreign Relations Committee.
His written testimony was posted online.
The girls' recent abduction from a remote Nigerian school has triggered global outrage.
Jackson said Washington has urged Nigeria to reform its approach to the group.
"When soldiers destroy towns, kill civilians and detain innocent people with impunity, mistrust takes root," he said.
Full report at:
http://www.arabnews.com/news/571636
------------
Obama visits 9/11 museum, says terrorism can't break us
AP | May 16, 2014
NEW YORK: President Barack Obama praised the new September 11 museum on Thursday as "a sacred place of healing and of hope" that captures both the story and the spirit of heroism that followed the attacks.
"Like the great wall and bedrock that embrace us today, nothing can ever break us. Nothing can change who we are as Americans," he told an audience of victims' relatives, survivors and rescuers at the ground zero museum's dedication ceremony.
The museum, which commemorates the 2001 terrorist attack, as well as the 1993 World Trade Center bombing, opens to the public on May 21.
After viewing some of the exhibits, including a mangled fire truck and a memorial wall with photos of victims, Obama touched on stories of courage amid the chaos 13 years ago: the passengers who stormed a hijacked plane's cockpit over a Pennsylvania field and first responders who rushed into the burning World Trade Center towers in New York City. He also honored military members "who have served with honor in more than a decade of war."
Full report at:
http://timesofindia.indiatimes.com/world/us/Obama-visits-9/11-museum-says-terrorism-cant-break-us/articleshow/35175141.cms
------------
Syrian presidential election a 'farce': John Kerry
May 16, 2014
LONDON: US Secretary of State John Kerry said on Thursday the US and other nations supporting the Syrian opposition agree that Bashar Assad's planned presidential election is a "farce" because tens of thousands of Syrians have been displaced by fighting.
British Foreign Secretary William Hague said the "Friends of Syria," an alliance of mainly Western and Gulf Arab countries who oppose Bashar Assad, has agreed to increase support for the moderate Syrian opposition.
"We've also agreed unanimously to take further steps together through a coordinated strategy to increase our support for the moderate opposition, the national coalition and for its supreme military council and associated moderate armed groups," Hague told reporters in London.
Full report at:
http://www.arabnews.com/news/571526
------------
US Secretary says is not aware of Israel spying on US
May 16, 2014
TEL AVIV: US Secretary of Defense Chuck Hagel said on Thursday he was unaware of any truth to a media report that Israel has been spying on the United States.
Asked during a press conference in Tel Aviv about a Newsweek magazine story quoting unnamed US officials as saying Israel was conducting major spying operations against the United States, Hagel said: "I have heard of that report. I'm not aware of any facts that would substantiate the report."
Israeli Defense Minister Moshe Yaalon said: "As former head of intelligence, I wasn't allowed to spy in the United States whatsoever. And as defense minister I don't allow to spy in the United States whatsoever."
Israeli officials had reacted furiously to the Newsweek story, with Foreign Minister Avigdor Lieberman calling it a "malicious calumny."
Full report at:
http://www.arabnews.com/news/571506
------------
US Will Ramp up Support for Gunmen in Syria
May 16, 2014
US President Barack ObamaUS Secretary of State John Kerry said that the US may increase its support to the opposition armed groups operating in Syria, although he did not say whether this would include sending them weapons.
During a meeting with Western and Gulf allies on Syria held in London, Kerry indicated there has not been a decision on changing US aid strategy to Syria, claiming that he has seen raw data that suggests the Syrian army may have used chlorine gas on its own people.
The French Foreign Minister Laurent Fabius also said that chlorine may have been used 14 times in recent months. Although Kerry stressed that the data has not been verified.
http://www.almanar.com.lb/english/adetails.php?fromval=1&cid=18&frid=18&eid=151666
------------
US releases 10 Pakistanis from Bagram prison
May 16, 2014
ISLAMABAD - US authorities have quietly released 10 Pakistani detainees from Bagram Prison in Afghanistan, lawyers said on Thursday, after the men had spent years in prison without trial.
One had been held for 10 years after being captured by British forces in Iraq and transferred to Afghanistan, said legal charity Reprieve.
US authorities say that the detentions are necessary to keep potentially dangerous men off the battlefield.
It was not immediately clear where the 10 released men had been taken.
Justice Project Pakistan, which is providing representation to some of the detainees, said the International Committee of the Red Cross had informed their families that the prisoners had been released, but not where they were.
Another batch of six prisoners was released in December, only to be secretly transferred to Pakistani prisons and held incommunicado for several weeks. Pakistani authorities did not tell the families the US had freed the six and only acknowledged holding them after Justice Project Pakistan won a series of court orders.
Full report at:
http://www.nation.com.pk/national/16-May-2014/us-releases-10-pakistanis-from-bagram-prison
----------
Southeast Asia
Ahmadiyah Mosque sealed off in Bekasi
May 16 2014
The Bekasi city government locked down the Al-Misbah mosque, a place of worship for Ahmadiyah Muslims, on Friday in Bekasi, West Java.
According to Sudiana, the head of the legal department of the Bekasi city administration, there had been several protests from the general public about the Ahmadiyah activities being held in the mosque, as reported by tempo.co.
Sudiana added that the government responded by deploying several personnel from the Public Order Agency (Satpol PP) to lock the mosque.
According to Sudiana, this was the government's way of enforcing several regulations that stipulate that Ahmadiyah activities in the mosque are prohibited. This was further emphasized by the fact that the Bandung State Administrative Court had approved their move to lock the mosque.
Full report at:
http://www.thejakartapost.com/news/2014/05/16/ahmadiyah-mosque-sealed-bekasi.html
------------
Clarify or withdraw your comments on human rights, Proham tells Najib
May 16, 2014
A human rights body wants Datuk Seri Najib Razak to clarify or withdraw his comments on "extreme human rights" which the prime minister had said was a new threat against Islam and Muslims.
Expressing shock at Najib's statement, the Association for the Promotion of Human Rights (Proham) said the remark raised "greater concerns" about Putrajaya's commitment to fostering human rights in Malaysian society.
In a statement today, Proham chairman Datuk Kuthubul Zaman and secretary-general Datuk Dr Denison Jayasooria (pic) called on the prime minister to make a clear commitment towards a strong political commitment on human rights, democracy and good governance.
"As a nation we might have certain reservations on the basis of religion and culture but this must be clarified, justified and reasoned out in public policy discussions, both locally and abroad.
Full report at:
http://www.themalaysianinsider.com/malaysia/article/clarify-or-withdraw-your-comments-on-human-rights-proham-tells-najib
------------
Kassim Ahmad questions validity of KL shariah arrest warrant enforced in Kedah
May 16, 2014
If Islam is a state matter in Malaysia, can an arrest warrant issued by one state be valid in another state? Or are state religious authorities similar to the federal police which is responsible for the entire nation?
Former political and social activist Dr Kassim Ahmad (pic) is going to court with these questions, saying he was "abducted" from his Kulim home in Kedah and brought to Putrajaya to face charges in a Shariah Court with a state warrant that was in violation of his constitutional rights.
His lawyers said such a warrant could not be used as state Islamic authorities had limited jurisdiction compared to a federal law enforcement agency like the police.
They said a warrant issued by the Federal Territory Religious Department was only enforceable in that jurisdiction.
In his judicial review action filed in the Kuala Lumpur High Court early this month, the 80-year-old Kassim said the warrant of arrest was null and void and that he was falsely imprisoned.
Full report at:
http://www.themalaysianinsider.com/malaysia/article/kassim-ahmad-questions-validity-of-kl-shariah-arrest-warrant-enforced-in-ke
-----------
Indonesia bestowed Islamic development bank`s award
May 16 2014
Jakarta (ANTARA News) - Indonesias Bandung Institute of Technologys Research and Community Service Center (LPPM-ITB) has received the Islamic Development Banks (IDB) Award in the science and technology category.
Ministry of Finances Head of Communication and Information Center Yudi Pramadi stated here on Friday that the award was the result of a comprehensive cooperation between the Finance Ministry, Fiscal Policy Department, and LPPM-ITB during the nomination and diplomacy process ahead of the event.
Yudi, on behalf of the ministry, also delivered a congratulatory message to LPPM-ITB on receiving the award.
"The Ministry of Finance will facilitate all students, academicians, and research centers in Indonesia to continue the tradition of receiving international awards in the future," he remarked.
Full report at:
http://www.antaranews.com/en/news/94084/indonesia-bestowed-islamic-development-banks-award
------------
Malaysian police foil terror plot
May 16, 2014
A plot to attack foreign missions in Chennai and Bangalore has been foiled with the arrest here of a South Asian suspect for terror activities, the Malaysian police said on Thursday.
The man was believed to be involved in a plan to attack foreign consulates in the two Indian cities, Deputy Inspector-General of Police Bakri Zinin said.
A Special Branch Counter Terrorism Unit arrested the man at 11.15 a.m. (local time) on Wednesday following a raid in a housing area at Kepong near Kuala Lumpur.
He has been detained under the Immigration Act.
The unit had been monitoring the man since December last, after "we discovered that he was involved in planned terror attacks," Mr. Bakri was quoted by The Star as saying.
He said information obtained from surveillance of the suspect was channelled to Indian authorities on April 9. On April 29, three men were detained in India, all believed to be major players in a terrorist network.
http://www.thehindu.com/news/international/world/malaysian-police-foil-terror-plot/article6013385.ece
------------
Europe
Bosnian Muslims complain of increasing attacks
World Bulletin / News Desk
May 16, 2014
Muslims in Bosnia-Herzegovina have complained about the increasing incidents of abuse they encounter in the town of Zvornik after a young man was attacked in front of the local Rijecanka Mosque.
In a seperate incident, an 81-year-old ethnic Serb killed a Muslim man with an axe after a public dispute after the latter refused to receive Easter eggs during the Christian festivities. The next day, the Muslim man, Ahmed Hasanovic, was found dead in front of his home in Kozluk, near Zvornik.
"In the urban area of Zvornik in recent times several incidents were reported, which have disturbed Muslims in the town," the Islamic Community in Tuzla said in a press release statement.
Full report at:
http://www.worldbulletin.net/todays-news/136496/bosnian-muslims-complain-of-increasing-attacks
------------
Gulf prisoners of conscience should be freed: Rights group
May 16, 2014
A Gulf rights group has called for the release of thousands of prisoners of conscience in the oil-rich Gulf states as it marked what it called Gulf Detainees Day to highlight their plight.
The Gulf monarchies do not allow political parties and criticism of rulers can easily land someone in jail.
"We call for the release of prisoners and detainees who have been put behind bars for simply expressing their opinion," Anwar al-Rasheed, head of the Gulf Forum for Civil Societies, said Thursday night.
Rasheed said there are "between 30,000 and 40,000 opinion prisoners and detainees," in the six-nation Gulf Cooperation Council, which groups Bahrain, Kuwait, Oman, Qatar, Saudi Arabia and United Arab Emirates.
He said the numbers are based on data compiled by Gulf rights activists, international organisations and rights groups.
The overwhelming majority of the prisoners are held in Saudi Arabia followed by Bahrain, Rasheed said.
Rasheed said his group has arranged with a number of lawyers from Europe and the United States to form a legal team to visit prisons in Gulf states when governments allow it.
The detainees include doctors, teachers, writers, parliamentarians, activists, politicians and others, according to the group.
Full report at:
http://english.ahram.org.eg/NewsContent/2/8/101441/World/Region/Gulf-prisoners-of-conscience-should-be-freed-Right.aspx
------------
UK concerned about "closure of political space" in Egypt
May 16, 2014
The UK has expressed its concern about the current political situation in Egypt, pledging to continue helping Egyptians to move to full democracy.
In a statement after meeting with his Egyptian counterpart, Nabil Fahmy, William Hague, the UK foreign secretary, called for the independence of the judiciary in Egypt.
"Among other issues, I raised my concern with Minister Fahmy about the general closure of political space in Egypt in recent months," the statement said.
During his two-day visit to London, Fahmy met UK Minister for International Development Alan Duncan and National Security Adviser Sir Kim Darroch.
The talks concentrated on the bilateral Egypt-UK relationship, foreign policy and security issues, and Egypt's transition process.
London has been calling for an inclusive political process since the ouster of Islamist president Mohamed Morsi in July 2013.
Full report at:
http://english.ahram.org.eg/NewsContent/1/64/101362/Egypt/Politics-/UK-concerned-about-%E2%80%9Cclosure-of-political-space%E2%80%9D-in.aspx
------------
UK's William Hague attacks Assad's Syria elections plan
May 16, 2014
Presidential elections in Syria will be a "parody of democracy", UK Foreign Secretary William Hague has said.
Mr Hague said Syria's government had an "utter disregard" for life, and President Bashar al-Assad decision to call an election for 3 June "disgusted" the international community.
The foreign secretary also announced the Syrian opposition would have its diplomatic status in the UK upgraded.
Syria's three-year conflict has left some 150,000 people dead.
The UK is continuing to push for President Assad to stand down, but he has sought a third seven-year term in the elections.
'Illegitimate'
Mr Hague hosted a meeting of the The Friends of Syria group - made up of Egypt, France, Germany, Italy, Jordan, Qatar, Saudi Arabia, Turkey, the United Arab Emirates, the UK and the US - in London.
Full report at:
http://www.bbc.com/news/world-middle-east-27419552
------------
British journalists shot and beaten in Syria kidnapping
May 16, 2014
LONDON: A reporter and a photographer for The Times were recovering in Turkey after being kidnapped, shot and beaten while covering the Syrian conflict, the British newspaper said.
Writer Anthony Loyd and photographer Jack Hill, who have both won awards for their coverage of conflicts including Syria, were seized with their guide as they were returning to Turkey after several days in Aleppo, which has been severely damaged by three years of fighting.
Loyd was shot twice in the leg while being held captive and both men suffered severe beatings after Hill and the guide tried to escape, the newspaper said.
It reported that they were eventually freed under the orders of a local rebel commander, and managed to cross the border into Turkey yesterday after receiving treatment in a Syrian hospital.
Full report at:
http://timesofindia.indiatimes.com/world/middle-east/British-journalists-shot-and-beaten-in-Syria-kidnapping/articleshow/35169152.cms
------------
Turkish government played with people's lives: Amnesty International
May 16, 2014
Amnesty International has released a statement on the Soma mine accident that killed over 250 workers, saying the government was "playing with people's lives" by rejecting a recent investigation into work-related accidents.
"This was a tragedy that should have been avoided. The long history of deaths in mines in Turkey raises chilling questions over workers' safety. The fact that the government rejected recent calls by parliamentarians to investigate serious work-related accidents is nothing short of shocking. They are playing with people's lives," said Andrew Gardner, Researcher on Turkey at Amnesty International.
Full report at:
http://www.hurriyetdailynews.com/turkish-government-played-with-peoples-lives-amnesty-international.aspx?pageID=238&nID=66513&NewsCatID=341
------------
HRW urges Saudi to release two Islamic converts
May 16, 2014
Human Rights Watch on Thursday urged Saudi Arabia to free two citizens held without trial for two years after converting to an offshoot of Islam banned in the conservative Sunni kingdom.
Sultan al-Anzi, aged 33, and Saud al-Anzi, 35, were arrested and jailed in May 2012, three months after joining the Ahmadiyya group and refusing to abandon their belief, New York-based HRW said.
The group said it urged Saudi King Abdullah back in August 2012 to release the pair, but never received a response.
"Not only have Saudi authorities interfered with the personal beliefs of these two men, but they've left them sitting in jail for two years in legal limbo with no end in sight," said Sarah Leah Whitson, HRW's Middle East director.
Full report at:
http://www.globalpost.com/dispatch/news/afp/140515/hrw-urges-saudi-release-two-islamic-converts
------------
URL: https://newageislam.com/islamic-world-news/blasphemy-attempt-geo-condemned-religious/d/77050