New Age Islam News Bureau
7 Aug 2012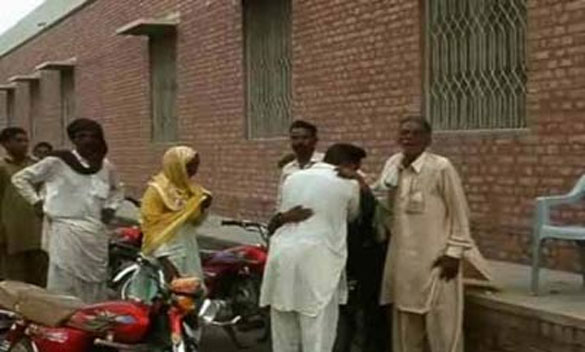 Arab World
• Terrorists in Syria Hang Shiite Child after Killing Family Members
• Forces massacre 40 in central Syria
• Sinai Attack Tests New Egyptian President's Relationship With Israel
• Assad sees Iran envoy as troops battle Aleppo rebels
• Syria plays down PM's defection
India
• Fleeing violence, Assam's displaced face disease, death in camps
• Hamid Ansari is elected Vice President again
• Pune blasts: Hindu groups want mosque row probed
• India seeks assurance from US on safety of Indian community
• Assam Govt. recommends CBI probe into violence
• India, Pak discussing ways to avert conflict on high seas
• Cops await Govt. nod, plan Kasab-Jundal face-off
• Curfew in Kashmir village after clashes
• India protests Israel's refusal for NAM meet at Ramallah
• 3 killed in fresh Kokrajhar violence, toll 64
• Delhi high court blast accused killed in Kishtwar
Pakistan
• Four of a Family Killed For 'Honour' In Pakistan
• Pakistan Islamic Insurance Rules to Attract New Firms
• Pakistan government takes on Supreme Court
• At least three killed in Karachi violence
• Three Extremists Killed In Peshawar Police Operation
• Sherpao gets transit bail in Bugti murder case
South Asia
• Roadside bomb kills eight in Kabul
• Explosive-laden truck rams into gate of NATO base in Kabul
• Afghan defence minister resigns after parliamentary censure
Southeast Asia
• Malaysian toddler killed in suspected exorcism
• French soldier, 10 Taliban killed in Afghan fire fight
• Plan Announced to Make Indonesian Mosques Sound 'More Peaceful'
• Defiant Preacher Insists He Did 'What Allah Has Commanded'
Mideast Asia
• More than 1300 Syrians, including general, flee to Turkey
• Iran's anti-Semitism makes it the greatest threat to Jews
• US drone raid in Yemen kills 2 al Qaeda suspects
• Israel returns bodies of Egypt attackers: Military
• US responsible for hostages' lives in Syria: Iran
• 'Our Streets Are Islamic': Sharia on the West Bank
• Activists: Israel Stopping Palestinians From Suing
• Stoning in Iran can be stopped through human rights, global advocacy & action
North America
• US mosque destroyed in suspected arson attack
• Tennessee Islamophobia Trumps the U.S. Constitution
• Gurdwara shooter was leader of racist band, attended hate events
• 65-year-old Gurdwara head saved several lives before being killed
• Gurdwara shooting: Obama slams 'ethnicity' behind massacre of innocents
• Obama orders US flag at half mast after gurdwara killing
• White House says Syrian President Assad losing his grip on power
• Sikh Temple Shooting: Of Martian Rovers and Terror in Holy Spaces
Europe
• Regulator Says British Bank Helped Iran Hide Deals
Africa
• Gunmen kill 19 people in attack on Nigerian church
• Despite losses, Somalia's Shebab remain major threat
• Oxfam Says Hundreds Being Killed in East Congo
Australia
• Jihad Julia's war with her critics
Compiled by New Age Islam News Bureau
Photo: Four of a Family Killed For 'Honour' In Pakistan
URL: https://newageislam.com/islamic-world-news/terrorists-syria-hang-shiite-child/d/8186
----------
Arab World
Terrorists in Syria Hang Shiite Child after Killing Family Members
Aug 7, 2012
Terrorists in Syria hanged a small Shiite child after killing all his family members in Damascus, human rights activists in Iraq unveiled on Monday.
(Ahlul Bayt News Agency) - Terrorists in Syria hanged a small Shiite child after killing all his family members in Damascus, human rights activists in Iraq unveiled on Monday.
According to a report by Iraq's Qanon news website, Iraqi human rights activists said that armed rebel groups attacked the house of a Shiite Iraqi family in the Seyede Zainab neighborhood in the capital city of Damascus, killed all members of the family and hanged the last one, a little child.
The footages and pictures of the rebels' brutality which surfaced online in the last few days are revealing the terrorist nature and the war crimes of the opposition fighters in Syria.
The massacre is said to have badly damaged the western-backed rebels and opposition forces' ability to claim the moral high ground in their fight against Damascus and showed their accusations that Syrian President Bashar Assad's forces are conducting war crimes are nothing but lies.
Meantime, Saudi Wahhabi cleric Mohammad al-Arifi has called on Syrian armed groups to prevent leakage of the pictures and footages of their attacks against Syrian army and civilians.
In his Tweeter page, Arifi asked rebel groups to continue their attacks and intimidation against Syrian people but do not allow a release of the pictures and footages of their operations.
In a similar crime last week, terrorists in Syria brutally executed 15 civilians in the Northwestern city of Aleppo on charges of supporting the Bashar al-Assad government.
The terrorist members of the so-called Free Syrian Army on Tuesday attacked Al Berri family in Bab al-Neirab neighborhood in Aleppo who are famous for their pro-government stances, and kidnapped 15 family members and executed them in front of a local school.
Syria has been experiencing unrest since March 2011 with organized attacks by well-armed gangs against Syrian police forces and border guards being reported across the country.
Hundreds of people, including members of the security forces, have been killed, when some protest rallies turned into armed clashes.
The government blames outlaws, saboteurs, and armed terrorist groups for the deaths, stressing that the unrest is being orchestrated from abroad.
http://www.abna.ir/data.asp?lang=3&Id=334932
----------
Forces massacre 40 in central Syria
Aug 7, 2012
Syria's exiled opposition on Monday accused the government of killing 40 people in a massacre in a central town in a bid to terrorize people into flight to change the confessional balance of the region. The Syrian National Council said that a further 120 people were wounded in the attack by troops and militia on Harbnafsa, in Hama province.
http://timesofindia.indiatimes.com/world/middle-east/Forces-massacre-40-in-central-Syria/articleshow/15383331.cms
----------
Sinai Attack Tests New Egyptian President's Relationship With Israel
By JODI RUDOREN
Aug 7, 2012
JERUSALEM — With the relationship between Egypt's new Islamist leader and Israel still in its fragile infancy, the terrorist attack on the border that the two countries share with Gaza over the weekend presented a critical opportunity — and a crucial test.
Several high-ranking officials inside Israel's government and numerous independent experts on Israel-Egypt relations said Monday that the attack — in which masked gunmen killed 16 Egyptian soldiers on Sunday night and then barreled into Israeli territory in a stolen truck and armored vehicle — is the best evidence yet that the two countries are both threatened by lawlessness in the Sinai Peninsula. Now the question is whether Egypt's new president, Mohamed Morsi, will make the Sinai a priority amid other challenges, and whether Israel will make concessions in modifying the 33-year-old peace treaty between the nations to allow for a more aggressive Egyptian military presence.
"Now it is obvious also to him that there is a real convergence of interests here, and this may get us closer to him," Danny Ayalon, Israel's deputy foreign minister, said of Mr. Morsi.
Hillel Frisch, a political science lecturer at Bar-Ilan University and senior research fellow at its Begin-Sadat Center for Strategic Studies, said the attack underlined the differences between Islamists like Mr. Morsi who support the international system of states and others who are trying to challenge it.
Full report at:
http://www.nytimes.com/2012/08/07/world/middleeast/sinai-attack-a-test-for-israel-egypt-and-gaza.html?_r=1&ref=global-home
--------
Assad sees Iran envoy as troops battle Aleppo rebels
August 07, 2012
Syrian President Bashar al-Assad held unannounced talks with a top envoy from closest ally Iran on Tuesday as his troops engaged rebels in fierce fighting in key battleground city Aleppo.
Iran, which has voiced growing criticism of support by the United States, Turkey, Saudi Arabia and Qatar for the rebels fighting Assad's forces, also sent its foreign minister to Ankara and a stern letter to Washington holding them responsible for the fate of 48 of its citizens kidnapped by the rebels.
Saeed Jalili, a top aide to Iran's supreme leader Ayatollah Ali Khamenei, went straight into his meeting with Assad on his arrival from neighbouring Lebanon, a day after Syria's prime minister abandoned the regime.
"The Islamic Republic of Iran believes in national dialogue between all domestic groups to be the solution, and believes foreign solutions are not helpful," Iran's state media quoted him as saying on arrival in Damascus.
Full report at:
http://www.thejakartaglobe.com/afp/assad-sees-iran-envoy-as-troops-battle-aleppo-rebels/536288
----------
Syria plays down PM's defection
Aug 7, 2012
DAMASCUS: Information minister Omran al-Zohbi on Tuesday said defections at whatever level would have no impact on the Syrian state, implicitly acknowledging that of prime minister Riad Hijab.
"Syria is a state of institutions and the defection of individuals, whatever their rank, does not change the policy of the state," Zohbi said without naming Hijab, quoted by official news agency SANA.
But Zohbi denied that other government members had also switched sides in the almost 17-month revolt which has swept Syria, saying "all information on ministerial defections are baseless."
He was speaking after a cabinet meeting chaired by deputy Prime Minister Omar Ghalawanji, who was appointed caretaker premier following Hijab's defection, the agency reported.
The Syrian opposition in Jordan said that Hijab and his family had slipped over the border on Sunday night together with two government ministers and three army officers.
Hijab was "dismissed" and replaced by Ghalawanji, according to state television.
A leading Sunni Muslim in Assad's minority Alawite-dominated regime, Hijab announced through his spokesman that he was joining the rebels after escaping to neighbouring Jordan.
He said his defection comes at a time "when Syria is passing through the most difficult war crimes, genocide, and barbaric killings and massacres against unarmed citizens."
http://timesofindia.indiatimes.com/world/middle-east/Syria-plays-down-PMs-defection/articleshow/15385344.cms
--------
India
Fleeing violence, Assam's displaced face disease, death in camps
Aug 6, 2012
GUWAHATI: Hundreds of thousands of people sheltering in squalid, overcrowded camps in Assam desperately need food, water and medicines after fleeing some of the worst communal violence in a decade, officials and aid workers said on Monday.
At least 12 people, including four children, have died and thousands are sick with diseases such as diahorrea and malaria caused by poor conditions in government-run camps in Assam , where up to 400,000 people have taken refuge.
"We are in a state of high alert," said Assam's health minister Himanta Biswa Sarma. "People in the camps are suffering from diahorrea, dysentery, malaria and high fever. We are concerned about the condition of the babies and pregnant women."
Violence between Bodo tribes people and Muslim settlers from neighbouring Bangladesh erupted on July 20 when unidentified men killed four Bodo youths. In retaliation, armed Bodos - which dominate Assam's Kokrajhar district - attacked Muslims, suspecting them of being behind the deaths.
The fighting has tested the ability of India's security forces to restore order in Assam, famed for its tea plantations and home to the constituency of Prime Minister Manmohan Singh, who visited the state in late July to appeal for calm.
So far 61 people have died - some hacked to death with machetes, while dozens of villages have been razed to the ground, forcing both Bodos and Muslims to flee to schools and community centres which have been converted into relief camps.
Sarma said around 8,000 children under two-years-old are sick, while hundreds of others have tested positive for malaria. There are also around 4,000 pregnant women in the camps who need medical support, he added.
Full report at:
http://timesofindia.indiatimes.com/india/Fleeing-violence-Assams-displaced-face-disease-death-in-camps/articleshow/15377234.cms
----------
Hamid Ansari is elected Vice President again
August 07, 2012
New Delhi: Hamid Ansari, 75, is the country's 14th Vice President. He was also the 13th; this is a second term for him.
The soft-spoken, erudite Mr Ansari is only the second person to get a second term as Vice President. The first was Dr Sarvepalli Radhakrishnan.
Mr Ansari polled 490 of the valid votes cast today. His opponent, the NDA's Jaswant Singh, a BJP leader and former Union Minister, got only 238. Eight votes were found invalid.
A total 788 Lok Sabha and Rajya Sabha MPs were eligible to vote today. Mr Ansari's poll managers had said they expected him to get at least 500 of those, he came close with his 490. He would have needed 396 to win, a number reduced by abstentions - 34 MPs abstained, 21 of the Biju Janata Dal, 11 of the TDP and two of the RSP.
All partners in the ruling alliance were on board to support Mr Ansari's candidacy. Parties like Mulayam Singh Yadav's Samajwadi Party, Mayawati's Bahujan Samaj Party and Lalu Yadav's RJP readily supported him too. As did two Left parties.
Jaswant Singh, who was also supported by the AIADMK, was cheerful till the end. He said as voting began this morning, "We know how many Kauravas were there and how many Pandavas were there and who won ultimately."
Attendance was high today. By 1 pm, about 600 MPs had already voted. By 5 pm, end of voting, there were reports that almost all MPs had turned up to go behind pale peach curtains in a room in Parliament House cast their secret ballot. Prime Minister Manmohan Singh, Sonia Gandhi and Rahul Gandhi voted early. Union Minister Vilasrao Deshmukh could not vote. He is critically ill.
New MP and actor Rekha voted as did Sachin Tendulkar, dapper in a pin-striped shirt.
http://www.ndtv.com/article/india/hamid-ansari-is-elected-vice-president-again-252377
----------
Pune blasts: Hindu groups want mosque row probed
Chandan Haygunde
Aug 07 2012
Pune, Mumbai : Hindu organisations Monday asked the Pune police to investigate if a Hindu-Muslim row over the construction of a mosque near Jangli Maharaj Road could have provoked last week's low-intensity serial bomb blasts. The groups said they suspected the attack could be a message to Hindus opposed to the mosque.
Representatives of seven groups — Samasta Hindu Aghadi, Pune Nagar Hindusabha, Shri Shiv Prathishtan, Hindu Janjagruti Samiti, Patil Pawan Sanghatna, Abhinav Nirman Pratishthan, Rahe Shivrai Pratishthan — accompanied by a Shiv Sena and a BJP corporator, submitted an application to DCP (Zone I) Makrand Ranade expressing their fears.
Speaking after Ranade met the groups, police sources said the mosque controversy was among the many angles they were pursuing and members of radical Hindu and Islamist organisations were being questioned. They had no leads yet to blame any group, they added.
The site of the disputed mosque is about half-a-km from Jangli Maharaj Road on which six bombs were placed on August 1. While four of them exploded and injured one person, two were defused.
Full report at:
http://www.indianexpress.com/news/pune-blasts-hindu-groups-want-mosque-row-probed/984769/
----------
India seeks assurance from US on safety of Indian community
Aug 7, 2012
NEW DELHI: India has sought an assurance from the United States over the safety of the Indian community there in the wake of the shooting at a Wisconsin gurudwara that left seven people, including the gunman, dead.
External affairs minister SM Krishna, who had a telephonic conversation with the US secretary of state Hillary Clinton last night, today said that he has conveyed India's concerns over the "heinous crime''.
"I had the chance to talk to secretary Clinton who is touring South Africa and I have conveyed our concerns about the attack and loss of previous lives in this heinous crime against the place of religious worship," he said.
Krishna said that "an assurance to the Indian community has to come out from the Obama administration that their interests are going to be safe''.
The minister said he also suggested to Clinton that the places of worship in the US cutting across religious denominations must be given full protection.
"On both accounts, I found secretary Clinton more than willing to do it. And she is as disturbed as anyone of us in India," he said.
Full report at:
http://timesofindia.indiatimes.com/india/Gurdwara-shooting-India-seeks-assurance-from-US-on-safety-of-Indian-community/articleshow/15386478.cms
----------
Assam Govt. recommends CBI probe into violence
Aug 7, 2012
GUWAHATI: Assam chief minister Tarun Gogoi on Tuesday said that his government has recommended a CBI probe into the clashes in BTAD and Dubri districts where "internal and external forces were at work".
"I have recommended a CBI probe into the incidents and now it is up to the Centre to take a final decision on instituting it," Gogoi told reporters here.
The chief minister said that "both external and internal forces are at work" and hoped that the probe would identify the forces behind the violence.
On complaints that Bangladeshi migrants were in relief camps, Gogoi said, "We have got reports that people from other states and areas near BTAD are illegally taking shelter in the camps. Their antecedents will be checked and we will not allow rehabilitation of outsiders. Only genuine Indian citizens will be rehabilitated."
He said that illegal arms would be confiscated.
173 people have been arrested besides preventive arrests made as and when required, he said.
Full report at:
http://timesofindia.indiatimes.com/india/Assam-Govt.-recommends-CBI-probe-into-violence/articleshow/15387658.cms
----------
India, Pak discussing ways to avert conflict on high seas
Aug 07 2012
New Delhi : To avert military confrontations on high seas, India and Pakistan are discussing the establishment of a mechanism of direct contact between the navies of the two countries.
The mechanism could involve a communication system like hotline between senior officers of the two navies akin to that between the armies.
"These are issues we are discussing and certainly with respect to Pakistan, it forms part of the discussion between the two foreign ministries which is the protocol to prevent incidents at sea," Navy Chief Admiral Nirmal Verma told reporters.
The development comes in the backdrop of incidents involving Pakistan Naval Ship Babur and INS Godavari where the former had brushed the Indian warship without any provocation in the Gulf of Aden last year.
Full report at:
http://www.indianexpress.com/news/india-pak-discussing-ways-to-avert-conflict-on-high-seas/985000/
----------
Cops await Govt. nod, plan Kasab-Jundal face-off
Aug 7, 2012
MUMBAI: The crime branch has sought home department permission for custodial interrogation of lone Pakistani 26/11 terror accused Ajmal Kasab. Although Kasab is lodged in the special cell in Mumbai, a decision regarding his custody stays with the Central government.
"The Bombay high court has convicted him but his case is pending with the Supreme Court. Hence, any decision on him must to be taken by the central government," an officer said.
Last week, the crime branch wrote to the home department seeking his custody as they are likely to get the deported 26/11 conspirator Sayed Zabiuddin alias Abu Jundal face-to-face with Kasab next week. Sources said they will seek permission from the special court so that they can take either Kasab to the police headquarters, where Jundal is, or take Jundal to the high security cell at Arthur Road jail, where Kasab is.
The police said there were contradictions in the versions regarding the six unknown handlers and Pakistani ISI officials' involvement in the 26/11 Mumbai terror attacks. They said Ansari, who got the nickname 'Abu Jundal' after he completed "physical and spiritual training" in Pakistan, is a key accused in 26/11.
Full report at:
. Jundal, being in a core group, may be knowing the others well," said an official.
http://timesofindia.indiatimes.com/india/Cops-await-Govt.-nod-plan-Kasab-Jundal-face-off/articleshow/15382109.cms
----------
Curfew in Kashmir village after clashes
Aug 7, 2012
SRINAGAR: Curfew has been imposed in a Kashmir village after one person was killed in clashes between two groups over the use of a mosque loudspeaker on Monday night.
Shabir Ahmad Bhat, 20, was killed and two people were injured when followers of two different schools of Islamic thought clashed in Sindhbal village of Ganderbal district, 22 km from here.
"Curfew has been clamped in Sindhbal to maintain law and order. The situation is peaceful now", said a senior police officer.
Reports from the village said a simmering tension between followers of two schools of Islamic thought erupted when followers of the two groups clashed with each other.
Shabir Ahmad Bhat was badly injured in the clashes and died in the hospital. The condition of the other injured youth is stable, said doctors.
Police have registered a case after the clashes.
Senior civil and police officers also visited the village and assured of action against those responsible for Shabir's death.
http://timesofindia.indiatimes.com/india/Curfew-in-Kashmir-village-after-clashes/articleshow/15386350.cms
----------
India protests Israel's refusal for NAM meet at Ramallah
Aug 7, 2012
NEW DELHI: India protested against Israel's decision to deny permission to envoys of five nations from crossing over to Ramallah for a NAM meeting on Sunday. "We have taken strong objection to the fact that we were unable to express solidarity with the Palestinian people by holding this meeting in Ramallah," said MEA spokesman Syed Akbaruddin.
The meeting of 12 representatives of NAM's Palestine committee, which would have supported a Palestinian bid for an upgraded UN membership, was cancelled. According to the Israeli foreign ministry, Tel Aviv decided not to permit entry by officials from countries with which it does not have diplomatic relations. The foreign ministers of Cuba, Bangladesh, Indonesia, Malaysia and Algeria, who were planning to cross from Jordan with their delegations, were denied entry. NAM members with which Israel does have relations are cleared to enter the country, the ministry said. These include Egypt, India, Columbia, South Africa, Senegal, Zambia and Zimbabwe.
Full report at:
http://timesofindia.indiatimes.com/india/India-protests-Israels-refusal-for-NAM-meet-at-Ramallah/articleshow/15382061.cms
----------
3 killed in fresh Kokrajhar violence, toll 64
August 07, 2012
A woman breaks down at a relief camp set up on the premises of a college in the violence-hit Kokrajhar district. The death toll from ethnic violence in Assam rose to 40 on Wednesday, as military reinforcements were called in to quell more than four days of clashes. (PTI Photo)
At least three more persons were killed while two others injured as fresh violence erupted in strife-torn Kokrajhar district, taking the death toll in the violence to 64.
"The Bodo miscreants indiscriminately fired in Ranibuli village under Kokrajhar police station late last night
killing three persons and seriously injuring two others," Assam IGP (Law and Order) LR Bishnoi said.
Full report at:
http://www.hindustantimes.com/India-news/Assam/3-killed-in-fresh-Kokrajhar-violence-toll-64/Article1-909521.aspx
----------
Delhi high court blast accused killed in Kishtwar
August 06, 2012
A 2011 Delhi high court blast accused, Amir Kamal, was among two Hizb-ul-Mujahideen militants killed on Monday in a shootout with security forces in the mountainous Kishtwar district of Jammu and Kashmir, police said.
A senior police officer said that, based on a tip-off, they
launched an operation to nab top militants reported to be hiding in Dachan areas, about 270 km north-east of Jammu.
"We launched an operation today (Monday) morning by throwing a cordon around the area. As we closed in on the hideout of the militants, a fire fight began that continued for over an hour," he said.
Full report at:
http://www.hindustantimes.com/IndiaSectionPage/JammuSec/Delhi-high-court-blast-accused-killed-in-Kishtwar/Article1-909138.aspx
--------
Pakistan
Four of a Family Killed For 'Honour' In Pakistan
Aug 7, 2012
BAHAWALNAGAR: A man with the help of his two sons allegedly killed his wife, two daughters and another person, and injured three others in the name of honour in Basti Sardar Akuka, Dunga Bunga, late Sunday night.
According to the police, Muhammad Hanif suspected that his wife and daughters had illicit relations with their neighbour Muhammad Afzal. Accompanied by his sons Ahmed Ali and Hakim Ali, Muhammad Hanif slit the throats of his wife Sharifan and daughters Pathani and Reshman. Later, the accused entered the house of Muhammad Afzal and attacked him and three others, Abdul Razzaq, Ali Raza, and Tahir, and injured them seriously. Dunga Bunga Police and rescue parties rushed to the spot after getting information and shifted the dead bodies and the injured to the District Headquarters (DHQ) Hospital Bahawalnagar. Ali Raza succumbed to injuries while the condition of other injured was stated to be serious. Dunga Bunga Police arrested the three accused and started investigation.
http://www.dailytimes.com.pk/default.asp?page=2012\08\07\story_7-8-2012_pg7_12
-------
Pakistan Islamic Insurance Rules to Attract New Firms
Aug 7, 2012
DUBAI: Pakistan's regulator has introduced new takaful (Islamic insurance) rules designed to boost competition and lift the sector's market share by allowing the entry of conventional players, prompting a legal challenge from takaful providers.
The rules, launched last month, make Pakistan the second country after Indonesia to officially allow takaful windows, which enable firms to offer Sharia-compliant and conventional products side by side, provided client money is segregated.
Takaful has operated without conventional competitors in Pakistan since the first rules were introduced in 2005, but those rules said windows could be allowed after a five-year period.
Conventional insurance firms could serve a broader share of the takaful market "with their larger sales force and vast branch network", the securities commission said in a statement last month.
Full report at:
http://dawn.com/2012/08/07/pakistan-takaful-rules-to-attract-new-players/
----------
At least three killed in Karachi violence
Aug 7, 2012
KARACHI: At least three people, including a woman lost their lives on Tuesday in firing incidents in Karachi, DawnNews reported.
It was reported that within 24 hours, the east police arrested 27 suspects during their operation.
In the morning, one person was killed at a flea market.
In another incident, an Islamic scholar Maulana Saleem Abbas Naqshbandi was injured and a person along with him was killed when an unidentified person opened fire near the Chiragh Hotel in the area of Lyari.
According to the sources, he was shifted to the hospital and is in critical condition.
Moreover, the Sunni Tehreek leaders and other party workers reached the hospital and condemned the attack, demanding strong actions against those who were involved.
In another incident, one person was killed and two others injured in an incident of firing during a football match in Mansehra Colony in the area of Sharafi Goth.
http://dawn.com/2012/08/07/at-least-three-people-killed-in-karachi-violence/
----------
Three Extremists Killed In Peshawar Police Operation
Aug 7, 2012
PESHAWAR: During a search operation in Peshawar's Cantt Bazaar on Tuesday, security forces killed three extremists.
According to the police, the search operation was conducted after a few terrorists who escaped from the custody of the security forces. After a prolonged search for the fugitives, security forces found and killed three extremists.
Meanwhile, a roadside blast in Khyber Agency's Jamrud Bypass area damaged to Nato containers passing over into Afghanistan.
According to the security officials, the blast occurred at the Jamrud Bazaar Bypass after the Nato supply convoy had already passed.
http://dawn.com/2012/08/07/three-killed-in-peshawar-police-operation-nato-tankers-attacked-in-jamrud/
----------
Sherpao gets transit bail in Bugti murder case
Aug 7, 2012
PESHAWAR: The Peshawar High Court on Monday granted transit bail to former interior minister Aftab Ahmad Khan Sherpao in the murder case of Baloch leader Nawab Akbar Bugti.
A single-bench comprising Justice Shahjehan Khan Akhundzada allowed the transit bail until Aug 30 directing Mr Sherpao (petitioner) to approach the relevant court in Balochistan until them.
The ex-minister, also an MNA, was also told to furnish two surety bonds worth of Rs100,000 each.
Abdul Samad Khan, lawyer for Mr Sherpao, said a court in Balochistan had issued warrants for his client's arrest and therefore, he should be given a transit bail so that he could appear before Balochistan court for pre-arrest bail.
Initially, the bench allowed 20 days time to the petitioner but later extended it after the lawyer said the next few days were very sensitive in Balochistan due to the death anniversary of Nawab Bugti on Aug 26.
The lawyer said there was a dispute between police of Kohlu and those of Dera Bugti over the place of the incident as they were not sure where exactly Nawab Bugti was killed. He added that the FIR was registered after a delay of three years.
Mr Abdul Samad said the petitioner was not aware that the trial had begun in the case and he came to know about the issuance of warrants for his client's arrest by the trial court by newspaper reports only.
Full report at:
http://dawn.com/2012/08/07/sherpao-gets-transit-bail-in-bugti-murder-case-2/
----------
South Asia
Roadside bomb kills eight in Kabul
Aug 7, 2012
A militant detonated a remote-control bomb Tuesday morning, killing at least eight Afghan civilians who were travelling in a bus just northwest of the Afghan capital, police said.
The bomb was placed under a bridge and was detonated when the bus travelled over the span, said Mohammad Zahir, the criminal director for Kabul police.
Five other people were wounded in the bombing, which occurred at around 7 a.m. in Paghman district of Kabul province as Afghans were making their way to work.
"The person who pushed the button on the remote-controlled bomb was captured by villagers who saw him running," said Abdul Razaq, an Afghan police official in the Kabul area.
Initial reports were that the bus was ferrying government employees to an Afghan ministry, but those reports could not be confirmed.
Police speculated that the bomber might have been targeting a bus full of government workers, but blew up a civilian bus by mistake.
http://www.thehindu.com/news/international/article3737411.ece
----------
Explosive-laden truck rams into gate of NATO base in Kabul
Aug 7, 2012
Police in Afghanistan say a truck bomb has rammed into the gate of a NATO base in the country's east.
An official says several Afghans were wounded but no deaths have been reported so far from the Tuesday morning attack. The Taliban claimed responsibility for the blast.
The police chief of Logar province says a suicide attacker rammed the explosives-laden pickup truck into a gate at the NATO base near the provincial capital. He says at least 11 Afghan civilians are wounded. There was no word of any casualties among international troops.
The police chief, Ghulam Sakhi Roogh Lawanay, says the truck belonged to a local contractor who was authorised to work on the base.
Taliban spokesman Zabiullah Mujahid said insurgents launched the attack.
http://www.thehindu.com/news/international/article3737778.ece
--------
Afghan defence minister resigns after parliamentary censure
Aug 7, 2012
KABUL: Afghan defence minister Abdul Rahim Wardak resigned on Tuesday after losing a no-confidence vote in parliament in handling security and being relegated to an acting role by President Hamid Karzai.
Wardak, one of the country's two key security ministers, told reporters he respected parliament's decision, which could complicate NATO plans to hand security responsibilities to Afghan forces before the end of 2014.
The fractious parliament voted on Saturday to remove Wardak and interior minister Bismillah Muhammadi after recent insurgent assassinations of senior officials, as well as cross-border fire incidents blamed on Pakistan.
http://timesofindia.indiatimes.com/world/south-asia/Afghan-defence-mnister-resigns-after-parliamentary-censure/articleshow/15388114.cms
----------
Southeast Asia
Malaysian toddler killed in suspected exorcism
2012/08/07
Police in Malaysia say a toddler has died after seven of her family members and a maid piled on top of her in a suspected exorcism.
The three-year-old girl's parents were among the adults who carried out the ritual late on Sunday in the town of Bukit Mertajam, a police chief said.
A local newspaper said the ritual lasted 20 hours, but police could not confirm the length of time.
The eight have been arrested, the local police Chief Azman Abdul Lah said.
Police broke into the house after receiving a tip-off and found the eight piled on top of the toddler, he said.
The adults - including the girl's grandmother, uncle, aunt and two cousins - were in a dark room under a blanket, he added.
"They were chanting in the room. Police believe they were involved in an exorcism ritual to drive away evil spirits," he told reporters.
The girl died of suffocation, police said, and investigations were ongoing.
http://www.bbc.co.uk/news/world-asia-19159967
--------
French soldier, 10 Taliban killed in Afghan fire fight
August 07, 2012
PARIS — A French soldier and around 10 Taliban fighters were killed in an early morning ambush and subsequent fire fight during a joint operation on Tuesday with the Afghan army in Kapisa province, officials said.
A statement from Prime Minister Jean-Marc Ayrault's office said a French soldier died and another was wounded "during a clash with insurgents" and that the wounded soldier was expected to survive.
The statement said the soldiers were from the elite 13th Chasseurs Alpin Battalion. The dead soldier was "part of an assistance team advising Afghan units," a statement from President Francois Hollande's office said.
The French military in Paris said that around 130 French soldiers came under small-arms and rocket-propelled grenade attack at around 6:00 am while securing an area near a bridge outside Tagab village.
Full report at: Copyright © 2012 AFP. All rights reserved.
--------
Plan Announced to Make Indonesian Mosques Sound 'More Peaceful'
August 07, 2012
The Indonesian Board of Mosques wants to work with local radio stations to make Koran recitations sound more peaceful at the country's 800,000 mosques, its chief said on Tuesday.
Jusuf Kalla, chairman of the council known as the DMI and the country's former vice president, said Koran recitations were often annoying because some mosques played cassette recordings rather than broadcasting live versions.
Under a partnership, he said, one radio station in each city would be required to air Koran recitations performed by qaris, or people fluent in Koran recitations.
Any mosque could broadcast the radio version if it did not have its own qari present at the facility, he said.
Full report at:
http://www.thejakartaglobe.com/home/plan-announced-to-make-indonesian-mosques-sound-more-peaceful/536262
----------
Defiant Preacher Insists He Did 'What Allah Has Commanded'
Ronna Nirmala | August 07, 2012
Despite shedding a few tears, "king of dangdut" Rhoma Irama on Monday refused to apologize or express any regret for his religious slurs which were targeted at Jakarta vice gubernatorial candidate Basuki Tjahaja Purnama.
Rhoma, known for his religious-themed songs, was summoned by the Jakarta Elections Supervisory Committee (Panwaslu) on Monday to explain his sermon made last week at the Al Isra Mosque in Tanjung Duren, West Jakarta, where he attacked Basuki's religious background.
"Why should I apologize? I have done nothing wrong because I never said bad things about Jokowi-Ahok," Rhoma said, referring to gubernatorial candidate and Solo Mayor Joko Widodo and running mate Basuki by their nicknames.
"I never said that Jokowi is a Javanese and a Muslim or Ahok is a Chinese and a Christian," he said, adding that he was only quoting the Koran which he claimed instructed Muslims to only vote for Muslim leaders. "I must do what Allah has commanded."
That call would greatly favor incumbent Governor Fauzi Bowo and running mate Nachrowi Ramli, who are both Muslims.
Full report at:
http://www.thejakartaglobe.com/home/defiant-rhoma-insists-he-did-what-allah-has-commanded/536040
---------
Mideast Asia
More than 1300 Syrians, including general, flee to Turkey
Aug 7, 2012
REYHANLI, Turkey: A Syrian brigadier-general was among more than 1,300 refugees who fled to Turkey to escape escalating violence in Syria overnight, the Turkish foreign ministry said on Tuesday.
Another 11 military officers were also among the arrivals, bringing the number of Syrian refugees in Turkey to 47,500 people, the ministry said on Twitter.
The latest numbers compared with 44,000 Syrian refugees in Turkey at the end of July.
"These numbers, along with the numbers of those seeking shelter in other countries, show how dire the situation in Syria is," the ministry said.
Turkish officials are concerned about a possible flood of refugees from Syria's biggest city Aleppo as President Bashar al-Assad's forces use warplanes and artillery to pound rebel fighters there.
The 17-month uprising against Assad's rule in Syria has created a refugee crisis in Turkey and other neighbouring countries. Opposition sources say at least 18,000 people have been killed since the revolt began in March 2011.
http://timesofindia.indiatimes.com/world/middle-east/More-than-1300-Syrians-including-general-flee-to-Turkey/articleshow/15387733.cms
----------
Iran's anti-Semitism makes it the greatest threat to Jews
Colbert I. King, Published: August 4
Blame it on my upbringing, or what I learned in school, or what I saw when I visited the Dachau concentration camp in 1968. The Holocaust was the most evil event of the 20th century.
So it is abhorrent to me that a government in today's world would advocate a repeat of that horror. And it is almost beyond belief that the rest of the world would hear such an outrage and look the other way.
I am referring, of course, to the leaders of today's Iran and the global ho-hum response to the most virulent form of state-sponsored anti-Semitism since Nazi Germany.
I say this as a great-grandson of slaves, as the son of parents whose potential was stifled by unrelenting racism, as a man whose youth was stymied by Jim Crow and racial prejudice, as a father who aches with anger and sorrow that he has failed to give his children and grandchildren an America that will not regard their skin color as a blemish on their humanity.
And yet I know in my heart that we are not the only ones to bear the cross of bigotry and hate.
Full report at:
http://www.washingtonpost.com/opinions/colbert-king-irans-anti-semitism-makes-it-the-
----------
US drone raid in Yemen kills 2 al Qaeda suspects
August 07, 2012
Sanaa: A US air raid hit a suspected al Qaeda target in Yemen's central province of al-Bayda late on Monday, killing at least two people, a security official and eyewitnesses said on Tuesday.
"A US unmanned warplane killed al Qaeda local leader Abu Osama al-Marebi and one of his fellows while they were on a motorbike in al-Masanih area in central Radda city on Monday night, " a provincial security official told Xinhua by phone, requesting anonymity.
Residents who rushed to the scene following the explosion said they recognized the sound of the drone, which they said had flown over the area for hours before firing the missile.
The al Qaeda group seized parts of Radda, some 170 km southeast of the capital Sanaa, in mid January, but they left the town after reaching a deal with the central government.
The United States has beefed up anti-terror cooperation with the Yemeni government since Yemeni President Abd-Rabbu Mansour Hadi took office in February, after a year of political upheaval that allowed the al Qaeda in the Arabian Peninsula to capture several cities in the south.
Full report at:
http://zeenews.india.com/news/world/us-drone-raid-in-yemen-kills-2-al-qaeda-suspects_792242.html
---------
Israel returns bodies of Egypt attackers: Military
Aug 7, 2012
JERUSALEM: Israel has returned the bodies of six gunmen, involved in the killing of 16 Egyptian troops during a raid on both sides of the border, to its Arab neighbour, Israeli military sources told AFP on Tuesday.
The six were sent back overnight Monday, they said.
The Israeli army said in a statement that the Kerem Shalom border crossing between Israel, Egypt and Gaza, which the attackers breached in Sunday's raid, was reopened on Tuesday morning.
Full report at:
http://timesofindia.indiatimes.com/world/middle-east/Israel-returns-bodies-of-Egypt-attackers-Military/articleshow/15385859.cms
----------
US responsible for hostages' lives in Syria: Iran
Aug 7, 2012
TEHRAN: Iran said on Tuesday that it was holding the United States responsible for the lives of 48 of its citizens taken hostage in Syria, following an unconfirmed report by a Syrian rebel group that three of them had been killed by shelling.
The foreign ministry, which transmitted its message through the Swiss embassy in Tehran that handles US interests in the absence of Iran-US diplomatic relations, insisted the 48 were pilgrims, not Revolutionary Guards as the rebels claimed.
"Because of the United States' manifest support of terrorist groups and the dispatch of weapons to Syria, the United States is responsible for the lives of the 48 Iranian pilgrims abducted in Damascus," Deputy foreign minister Hossein Amir Abdollahian quoted the letter as saying.
Full report at:
http://timesofindia.indiatimes.com/world/middle-east/US-responsible-for-hostages-lives-in-Syria-Iran/articleshow/15386127.cms
----------
'Our Streets Are Islamic': Sharia on the West Bank
Mark Tapson Bio
Aug 6th, 2012
The Palestinian newspaper Al-Hayat Al-Jadida reported last week that six people have been arrested in the West Bank and one of them sentenced to a month in prison for "desecrating the holiness of the month of Ramadan by eating in public during daytime." "Our streets are Islamic," said the chairman of the Palestinian sharia court, and legislation should be enacted to "severely punish" anyone who eats publicly during the Muslim holy month.
Fasting during Ramadan is one of the five pillars of Islam, and under Islamic law, eating and drinking, smoking, and sexual relations are prohibited from sunrise until sunset during that month. According to the Times of Israel, article 274 of the Palestinian penal code states that citizens who violate Ramadan by eating or smoking in public can be punished by a month in prison or a fine of 15 Jordanian dinars – about 21 U.S. dollars.
In addition to his warning about the gravity of violating Ramadan, Sheikh Ida'is, the Chairman of the Palestinian Authority Supreme Court for Sharia Law, said even non-Muslims and those who cannot fast for health reasons should be prohibited from eating in public. He explained in a Palestinian TV interview:
Full report at:
http://frontpagemag.com/2012/mark-tapson/%E2%80%9Cour-streets-are-islamic%E2%80%9D-sharia-on-the-west-bank/2/
----------
Activists: Israel Stopping Palestinians From Suing
Aug 7, 2012
JERUSALEM (AP) — Human rights lawyers say Israel's Justice Ministry is making it tough for Palestinians and migrants to file suit in an Israeli court.
Under an amended regulation taking effect Sept. 1, petitioners must include their Israeli identification number or a foreign passport number.
Critics say this would in effect bar Palestinians or stateless individuals without passports from filing suit in Israel.
The Justice Ministry says the amendment is "only technical," because regulations already require submission of an identification number.
But human rights lawyer Sari Bashi of the Gisha organization said Tuesday the amendment would prevent court personnel from accepting alternative forms of identification currently taken by the courts.
She says that could put the courts off limits to Palestinians, migrants and others who cannot supply the needed type of ID.
http://www.nytimes.com/aponline/2012/08/07/world/middleeast/ap-ml-israel-
--------
Stoning in Iran can be stopped through human rights, global advocacy & action
2012/08/06
The U.N. Convention against Torture and Other Cruel, Inhuman or Degrading Treatment or Punishment was adopted by the General Assembly of the United Nations on December 10, 1984 through resolution 39/46. The Convention entered into force on June 26, 1987.
This United Nations Convention against Torture defines torture as "… any act by which severe pain or suffering, whether physical or mental, is intentionally inflicted on a person for such purposes as obtaining from him or a third person information or a confession, punishing him for an act he or a third person has committed or is suspected of having committed, or intimidating or coercing him or a third person, or for any reason based on discrimination of any kind, when such pain or suffering is inflicted by or at the instigation of or with the consent or acquiescence of a public official or other person acting in an official capacity."
Stoning surely fits this definition. It is a slow and painful process by which the victim eventually dies by blunt impact injury and blood loss.
Global human rights agencies have long delayed their response to the spirit of international human rights treaties in taking a stand against stoning, which is one of the cruelest forms of torture that is used to punish men and women, often for adultery and other `improper' sexual relations.
Full report at:
http://womennewsnetwork.net/2012/08/06/stoning-iran-can-be-stopped/
----------
North America
US mosque destroyed in suspected arson attack
Aug 7, 2012
WASHINGTON: A mosque burned to the ground in the midwestern United States on Monday, in what worshippers suspect was a hate attack, less than a day after a deadly shooting at a Sikh temple.
Firefighters and police were called to the Islamic Center in Joplin, Missouri at 3:40am (0840 GMT) -- about an hour before local Muslims were about to pray during Ramzan -- according to the FBI.
"The building was completely destroyed," said Sharon Rhine, a spokeswoman for the local Jasper County Sheriff's office.
No one was hurt in the incident, according to a statement by the office that referred to the mosque as an "Islamic Church."
"No-one was apprehended. They don't want to call it a hate crime without information or knowledge of having someone to charge," Rhine said.
Monday's blaze followed an attack on July 4, when an unidentified suspect threw a petrol bomb onto the roof of the same mosque, causing minor damage.
The mosque's surveillance cameras captured an image of the assailant's face, and the FBI recently offered a $50,000 reward for information leading to the arrest of the man behind the July incident, but no one has been apprehended.
Full report at:
http://timesofindia.indiatimes.com/world/us/US-mosque-destroyed-in-suspected-arson-attack/articleshow/15382801.cms
----------
Tennessee Islamophobia Trumps the U.S. Constitution
Sheila Musaji
Posted Aug 5, 2012
In Murfreesboro, Tennessee, the long struggle to build and open a mosque is almost over. After three years of legal battles, vandalism, threats and arson, the mosque is almost completed and ready to open. And now, we see the face of the bigotry underlying the mosque opposition come to the surface in Murfreesboro's newest battle against "creeping Sharia", this time in the public schools.
As reported by Asma Uddin and Ashley McGuire, the battle to stop the mosque from being built took some strange twists:
But in a novel twist, the plaintiffs also made the claim that Islam, the world's second largest religion, is in fact, not a religion, and thus undeserving of First Amendment religious freedom protections. The argument went like this: because Islam is not a religion but a political ideology and the mosque would be used for political not religious assembly, the mosque is not subject to the same zoning treatment as churches.
The move against the mosque is part of the larger anti-Sharia movement in the state and across the nation, with a prominent leader of the movement, Frank Gaffney, introduced as an "Islam expert" at trial. The anti-sharia and anti-mosque protests culminated in numerous acts of anti-Muslim animus during the course of the mosque construction. For example, a large construction vehicle at the construction site was intentionally set on fire. There was even a bomb threat, which resulted in a federal indictment. ... The Murfreesboro mosque case exemplifies how the winds can blow when one group who cares little for the religious freedom of another takes action.
Full report at:
http://theamericanmuslim.org/tam.php/features/articles/murfreesboro-has-a-new/0019280
----------
Gurdwara shooter was leader of racist band, attended hate events
Aug 7, 2012
NEW YORK: The 40-year-old ex-army veteran who killed six people at a gurdwara in the US regularly attended hate events, was an ardent believer in the white supremacist movement and was associated with rock bands whose violent music talked about murdering Jews and black people.
Wade Michael Page was shot and killed by a police officer in the parking lot of the Oak Creek gurdwara after he wounded another police agent and killed six persons as the preparations were underway for Sunday morning prayers.
According to the profile of Page that has emerged through people and civil organisations which monitored his actions, he was a "frustrated neo-Nazi" who had been the leader of a racist white-power band known as 'End Apathy'.
Director of Southern Poverty Law Center's intelligence project Heidi Beirich told the Milwaukee-Wisconsin Journal Sentinel that her group had been tracking Page since 2000, when he tried to purchase goods from well-known hate group National Alliance.
Beirich said there was "no question" Page was an ardent follower and believer in the white supremacist movement.
Full report at:
http://timesofindia.indiatimes.com/world/us/Gurdwara-shooter-was-leader-of-racist-band-attended-hate-events/articleshow/15385597.cms
----------
65-year-old gurdwara head saved several lives before being killed
August 07, 2012
The 65-year-old head of the small US town gurdwara turned out an unlikely hero of the Wisconsin shooting incident as he confronted the 'neo-Nazi' gunman with his kirpan to save dozens of women, children and other worshippers from being shot down.
Sadwant Singh Kaleka's unequal battle may not have lasted long as the 40-year-old former US Army 'psy-ops' veteran Wade Michael Page killed him mercilessly by his 9mm handgun.
But his heroism slowed down the racist killer, providing vital moments for women and children to flee the attacker and bolt themselves in rooms round the complex, US media reports said.
The women and children who were preparing meals for the congregation were in direct line of attack of the the gunman, but Kaleka's brave effort to stab Page to slow him down has won widespread acclaim and praise in Wisconsin.
"He turned into an unlikely hero to save the place which he had devoted to build," said Amardeep Kaleka, his son.
Full report at:
http://www.hindustantimes.com/world-news/NorthAmerica/Gurdwara-head-fought-shooter-with-kirpan-turns-into-hero/Article1-909677.aspx
----------
Gurdwara shooting: Obama slams 'ethnicity' behind massacre of innocents
Aug 07 2012
Washington : If ethnicity of those attending the gurdwara in Wisconsin, where six persons were shot dead two days back, comes out to be the reason behind the massacre then Americans should "immediately recoil against those kinds of attitudes", US President Barack Obama has said.
"If it turns out, as some early reports indicate, that it may have been motivated in some way by the ethnicity of those who were attending the temple, I think the American people immediately recoil against those kinds of attitudes," he said yesterday.
Obama also raised alarm over the regularity of such incidents in the US.
I think all of us recognise that these kinds of terrible, tragic events are happening with too much regularity for us not to do some soul-searching and to examine additional ways that we can reduce violence."
Full report at:
http://www.indianexpress.com/news/gurdwara-shooting-obama-slams-ethnicity-behind-massacre-of-innocents/984923/
----------
Obama orders US flag at half mast after gurdwara killing
Aug 7, 2012
WASHINGTON, As federal investigators searched for a motive for Sunday's attack on a Sikh gurdwara in Wisconsin, President Barack Obama ordered the US flag to be flown at half mast until Aug 10 in honour of the victims.
He also called for a "soul searching" to find ways to reduce violence in America as these kinds of terrible, tragic events were happening with too much regularity.
"All of us are heartbroken by what's happened," Obama told reporters Monday after a bill signing ceremony at the Oval office when asked if he would push for further gun control measures in the wake of the killings at the gurdwara in Oak Creeks.
"I think all of us recognize that these kinds of terrible, tragic events are happening with too much regularity for us not to do some soul-searching and to examine additional ways that we can reduce violence," he said.
Full report at:
http://timesofindia.indiatimes.com/world/us/Obama-orders-US-flag-at-half-mast-after-gurdwara-killing/articleshow/15384874.cms
----------
White House says Syrian President Assad losing his grip on power
Aug 7, 2012
WASHINGTON: The White House said on Monday the defection of Syria's prime minister showed that President Bashar al-Assad's government was "crumbling from within" and repeated the US call for him to step aside and end the violence gripping the country.
"This is a sign that Assad's grip on power is loosening. If he cannot maintain cohesion within his own inner circle, it reflects on his inability to maintain any following among the Syrian people that isn't brought about at the point of a gun," White House spokesman Jay Carney told a news briefing.
"The momentum is with the opposition and with the Syrian people. It's clear that these defections are reaching the highest levels of the Syrian government and Assad cannot restore his control over the country because the Syrian people will not allow it," he said.
The latest defection "only reinforces that the Assad regime is crumbling from within and that the Syrian people believe that Assad's days are numbered," Carney said.
In one of the highest-profile desertions from Damascus, Syrian Prime Minister Riyad Hijab on Monday fled the country. While not part of Assad's inner circle, his departure provides a powerful morale boost to the opposition.
Like the rebels, Hijab is from Syria's Sunni Muslim majority, while Assad is from the Alawite minority.
Full report at:
http://timesofindia.indiatimes.com/world/middle-east/White-House-says-Syrian-President-Assad-losing-his-grip-on-power/articleshow/15382189.cms
----------
Sikh Temple Shooting: Of Martian Rovers and Terror in Holy Spaces
By JODI EICHLER-LEVINE
At some point during my elementary school years, I noticed that there was always a police car parked outside of our synagogue in suburban New Jersey during services on Rosh Hashanah and Yom Kippur. I cannot remember now if my mother said the car was there to help direct parking, or if she actually said the "S" word: Security, that hush of fear and adrenaline that seeped into our Hebrew school lessons as videos about Entebbe and memories of Munich in 1972 accompanied the alef-bet.
In the way that both children and adults sometimes do, I took the car as a sign that we were not safe because we were different. As Jay Michaelson argues, we can "recognize millennial thinking in our own minds," and mine seemed to always expect—briefly, quite irrationally—an undoing of the world. I imagined armed men entering the quiet sanctuary, always marking the nearest exit door, just in case.
Full report at:
http://www.religiondispatches.org/archive/atheologies/6262/
--------
Europe
Regulator Says British Bank Helped Iran Hide Deals
By JESSICA SILVER-GREENBERG
Aug 7, 2012
Using its New York-based operations, a major British bank schemed with the Iranian government for nearly a decade to launder $250 billion, leaving the United States financial system vulnerable to terrorists and corrupt regimes, New York's top banking regulator charged on Monday.
The New York State Department of Financial Services accused Standard Chartered, which the agency called a "rogue institution," of masking more than 60,000 transactions for Iranian banks and corporations, motivated by the millions of dollars it reaped in fees.
Senior management at the 150-year-old bank used the New York branch "as a front for prohibited dealings with Iran — dealings that indisputably helped sustain a global threat to peace and stability," according to a regulatory order sent to the bank. The order requires the bank to explain the apparent violations of law in a hearing later this month and justify why its license to operate in New York shouldn't be revoked.
The bank said Monday night that it "strongly rejects the position and portrayal of facts" by the agency.
Full report at:
http://www.nytimes.com/2012/08/07/business/standard-chartered-bank-accused-of-hiding-
--------
Africa
Gunmen kill 19 people in attack on Nigerian church
Aug 7, 2012
LAGOS: Gunmen have opened fire on an evangelical church during a service in central Nigeria, killing at least 19 people in the latest such attack in the country, the military said on Tuesday.
"The attack was at 8:20 pm yesterday night. The attack was from unknown gunmen at the Deeper Life Church," said Lt. Col. Gabriel Olorunyomi, head of the military's Joint Task Force (JTF) in Kogi state,
"They were doing their normal Monday evening service. When we went there we discovered the church had been attacked. Instantly we saw 15 people dead, including the pastor," he explained.
The military has since learned that an additional four people had died from their injuries, Olorunyomi explained.
There was no immediate claim of responsibility. The JTF commander said an investigation had been launched and that it was premature to speculate as to the culprits.
Islamist extremist group Boko Haram has claimed scores of attacks on churches in northern and central Nigeria in recent months as part of an insurgency that has killed hundreds.
The group has also attacked Muslim figures as well as a range of other targets, including the United Nations building in the capital Abuja.
A number of Boko Haram members are alleged to have come from Kogi state.
In mid-July, a bomb went off near another church in Okene, but caused no casualties.
Nigerian President Goodluck Jonathan said in June that Boko Haram was seeking to incite a religious crisis by attacking churches in an attempt to destabilise the government.
Jonathan described how the group had moved from targeting local rivals to government institutions and now churches.
Full report at:
http://timesofindia.indiatimes.com/world/rest-of-world/Gunmen-kill-19-people-in-attack-on-Nigerian-church/articleshow/15387684.cms
----------
Despite losses, Somalia's Shebab remain major threat
Aug 7, 2012
MOGADISHU: Sitting in the ruins of what was once Somalia's most exclusive hotel, skinny ex-child soldier Mohamed Abdi Khadar recounts the months he spent fighting with al-Qaida-allied Shebab insurgents.
Convinced by a friend to join up, 14-year-old Khadar was trained for several weeks to fire rocket launchers and other weapons before being sent to attack government and African Union forces he was told were enemies of Islam.
"In the day they used to teach us the Koran, then at night they took us back to Mogadishu to fight," says Khadar, captured in July, his gaze flicking out over the Indian Ocean lapping below.
Full report at:
http://timesofindia.indiatimes.com/world/rest-of-world/Despite-losses-Somalias-Shebab-remain-major-threat/articleshow/15384334.cms
----------
Oxfam Says Hundreds Being Killed in East Congo
Aug 7, 2012
GOMA, Congo (AP) — With Congo's army diverted to fighting a new rebel group in eastern Congo, new militia groups have arisen as older ones reassert themselves, killing hundreds of defenseless civilians, the British charity Oxfam reported Tuesday.
"Vast swathes of the east have descended into chaos with no government or security presence," Oxfam country director Elodie Martel said in a statement.
Underscoring the severity of the situation, U.N. humanitarian chief Baroness Valerie Amos arrived in Goma on Tuesday and is to visit some of the 280,000 people who have fled their homes since mutinying soldiers launched the M23 rebellion in April. But security is so poor that Amos was forced to cancel planned trips to the mining town of Walikale and the seat of the rebellion at Rutshuru town, 75 kilometers (50 miles) north of Goma.
The rebels now control huge swathes of mineral-rich eastern Congo.
As the 150,000-strong Congolese army, backed by 20,000 U.N. peacekeepers, has redeployed against M23 rebels in North Kivu province, fighting has spread to villages and towns, with the combatants often aiming to gain control of mines.
Full report at:
http://www.nytimes.com/aponline/2012/08/07/world/africa/ap-af-congo-rebellion.html?ref=africa
---------
Australia
Jihad Julia's war with her critics
The Daily Telegraph
August 06, 2012
THE federal government is waging a 'jihad' against mining magnates for criticising its mining tax and plans to muzzle its critics in the media, Opposition Leader Tony Abbott claimed yesterday.
Mr Abbott used a speech to the Institute of Public Affairs in Sydney to argue for the axing of racial vilification laws and reject Labour's bid to set up a "political correctness enforcement agency" overseeing the Australian media.
The government is considering recommendations from an inquiry by former Federal Court judge Ray Finkelstein calling for a news media council to oversee journalism standards. Media owners could also face a public interest or suitability test.
Mr Abbott said the Coalition opposed both ideas and called on Labour to do the same.
"It is not - repeat not - the role of government to manage the day-to-day practices of journalism, to dictate who can and who can't control Australian media outlets or to 'score' media coverage against unavoidably subjective standards of fairness," he said.
"The job of the government is to foster free speech - not stifle it.
"It's to increase the number and the range of people who can participate in public debate, not reduce it."
Full report at:
http://www.heraldsun.com.au/news/national/jihad-julias-war-with-her-critics/story-fndo317g-1226444187892
----------
URL: https://newageislam.com/islamic-world-news/terrorists-syria-hang-shiite-child/d/8186