New Age Islam News Bureau
12 Aug 2012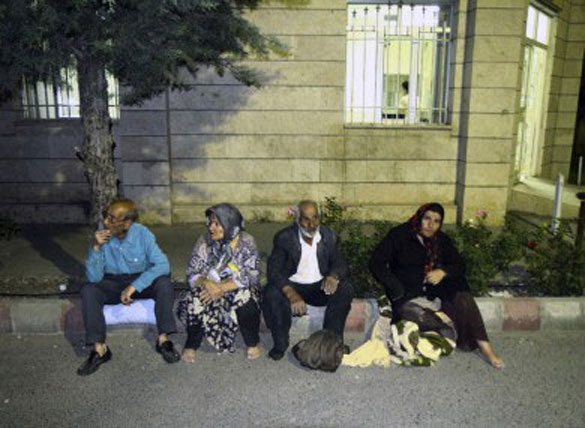 Mideast Asia
• Rescuers Dig for Survivors After Twin Quakes Kill 250 In Iran
• Iran says quake rescue over, mourning begins
• Turkey Holds Talks with Myanmar on Rohingya Muslims
South Asia
• Afghan officials met key Taliban figure in Pak
• Yiwu is the 'fastest growing Muslim community' in China
• China media warns of attack from Pak Taliban
India
• Muslim groups denounce Mumbai violence
• 'Mumbai Miscreants not associated with Raza Academy'
• Why so many visas issued to Hindus? Pak asks Indian mission
• Married to a Muslim Girl, Escaped Biju recounts Philippines horror
• Situation of Muslims worst than Dalits, reservation needed: UP Minority Minister
• Fifth ceasefire violation by Pakistan in a week, BSF personnel injured
Pakistan
• Minorities Day celebrated in Pakistan
• 'Pak authorities have failed to allay minority concerns'
• Kabul more important for Pakistan than Washington: Khar
• Minorities in Sindh enjoying equal rights: Senator
• MQM supports general seats for minorities, says Sattar
• Pak must protect minority Hindus
• Businessmen being encouraged to invest in Pak: Turkish president
• Pakistan blocks 15 websites featuring clips of politicians
• Pakistan offers help to quake-hit Iran
• Special Envoy conveys Zardari's message to Turkish President
• Pakistan asks India to provide Parmar's details by September
• US support Pakistan's efforts to strengthen judicial system
• Pakistan does not support Haqqani network: officials
Europe
• Young Muslims in Russia more devout than older generation
• Muslim nations 'should host Games'
Arab World
• Egypt paper censored faces probe over insult to Prez Morsi
• Arab League postpones Syria talks
• Abdullah bin Zayed demands world major powers to end Rohingya tragedy
• 10 civilians executed in Homs round-up: Syria opposition
Southeast Asia
• World recognises Malaysia as Islamic financial centre — Minister
• Disease alert in aftermath of Philippine floods
North America
• Mosque burning alarms US Muslims
• US, Egypt 'negotiate' new aid after Sinai clashes
• Hezbollah may strike in Europe at any time: US
Africa
• Journalists Reject Ethiopia Media Crackdown
Compiled by New Age Islam News Bureau
Photo: Residents sit at the side of a street after the earthquake
URL: https://newageislam.com/islamic-world-news/by-new-age-islam-news-bureau/rescuers-dig-for-survivors-after-twin-quakes-kill-250-in-iran/d/8249
--------
Mideast Asia
Rescuers dig for survivors after twin quakes kill 250 in Iran
PTI
VARZAQAN (IRAN), Aug 12, 2012: Grieving women wailed over dozens of bodies of dead relatives and men armed with shovels dug frantically for survivors today, in the wake of twin earthquakes in northwest Iran that killed at least 250 people and injured 2,000.
AFP journalists in the disaster zone, northeast of the city of Tabriz, saw rescuers working desperately in the rubble of shattered villages whose mud and concrete brick dwellings had collapsed in the strong temblors that struck yesterday.
The bodies, many of which were of women and children, were grouped together. Men nearby took turns to dig graves for them.
Every now and then, the earth trembled from one of more than 55 aftershocks that had continued through the night, jarring the nerves of survivors and exhausted emergency workers.
The quakes came within 11 minutes of each other, yesterday afternoon, as many in the region were at home observing Ramadan fasting.
Tehran University's seismological centre put the first at a magnitude of 6.2 and 11 minutes later the second, a strong aftershock, at 6.0.
The US Geological Survey, which monitors seismic activity worldwide, ranked them as more powerful, at 6.4 and 6.3 on the moment magnitude scale, respectively.
The epicentre was 10 kilometres underground some 60 kilometres northeast of Tabriz, close to the towns of Ahar and Varzaqan.
While Tabriz, with its more solid buildings, escaped relatively unscathed, some 60 villages in the region were decimated, half a dozen of them completely flattened.
"The number of dead has reached 250 and the number of injured has topped 2,000 people," Khalil Saie, the head of the regional natural disasters centre, was quoted as saying by the ISNA news agency.
Earlier he had said that "all the deaths are from rural areas."
http://timesofindia.indiatimes.com/world/middle-east/Rescuers-dig-for-survivors-after-twin-quakes-kill-250-in-Iran/articleshow/15457610.cms
----------
Iran says quake rescue over, mourning begins
By: AFP | August 12, 2012,
Officials in Iran on Sunday called a halt to rescue operations following twin quakes that devastated scores of north-western villages, killing 250 people and injuring hundreds, saying all survivors had been located and saved.
"There are no people left to recover from under the rubble in any village, and all necessary aid is currently being distributed," an interior ministry official in charge of disaster management, Hossein Ghadami, told state television.
He said he hoped the death toll would not rise further. Some of those critically injured had already succumbed to their wounds.
The earthquakes struck on Saturday afternoon within 11 minutes of each other.
The first registered a strong 6.4 on the moment magnitude scale while the second, a strong aftershock, registered 6.3, according to the US Geological Survey, which monitors seismic activity worldwide.
While the biggest city in the region, Tabriz, and nearby towns escaped with only relatively minor damage, outlying villages made of mud and concrete bricks were flattened.
AFP journalists in the zone saw exhausted residents mourning their loved ones.
Grieving women wailed over the bodies of the dead, many of whom were women and children. Residents said many of the villages' men had been working their fields when the disaster struck.
"I was working on my farm, on my tractor, and I felt the earth shake and I was thrown off the vehicle," a 40-year-old farmer in one hamlet, Qanbar Mehdizade, told AFP.
His family, who had been working with him, survived, but in many villages it was a different story.
"This village is a mass grave," said Alireza Haidaree, an emergency worker who supervised a bulldozer working in the village of Baje Baj, where 33 of the 414 inhabitants died.
"There are so many other villages that have been completely destroyed," he added.
Rescue personnel who had worked through the night to free trapped survivors switched to assisting the estimated 16,000 homeless, providing tents, blankets, food, water and medical help.
Full Report at:
http://www.nation.com.pk/pakistan-news-newspaper-daily-english-online/international/12-Aug-2012/iran-says-quake-rescue-over-mourning-begins
--------
Turkey Holds Talks with Myanmar On Rohingya Muslims
8/10/2012
(RTT News) - A Turkish delegation led by Foreign Minister Ahmet Davutoglu on Thursday held talks with Myanmar leaders on boosting bilateral relations as well as the plight of Rohingya Muslims in that South Asian country.
The delegation that includes Prime Minister Recep Tayyip Erdogan's spouse and daughter, several Deputies and bureaucrats was received by President Thein Sein who expressed pleasure over Turkey opening an Embassy in his country. He told the delegation that Myanmar would also open an Embassy in Ankara as soon as possible, Turkish media reported.
Davutoglu met with his Myanmar counterpart Wunna Maung Lwin in capital Naypyidaw during which he said his visit had been the first high-level one from Turkey to Myanmar. Davutoglu is also scheduled to meet Opposition leader Aung San Suu Kyi.
Davutoglu later told reporters that they arrived in Myanmar to boost bilateral relations and to visit Arakan where the Rohingya Muslims faced large scale violence from extremist Buddhists. "We would like to carry on with both of our aims," he said.
Davutoglu said Myanmar granting entry to the delegation reflected Turkey's influence in the international field. "Myanmar did not do the same for any other countries. Our Ambassador worked hard," the reports quoted him as saying.
Full Report at:
http://www.rttnews.com/1944954/turkey-holds-talks-with-myanmar-on-rohingya-muslims.aspx?type=in&utm_source=google&utm_campaign=sitemap
----------
South Asia
Afghan officials met key Taliban figure in Pak
August 12 08 12
Afghan officials have held secret talks with the Taliban's former second in command who is in detention in Pakistan in a move which could help rekindle stalled peace talks with the insurgents, according to senior officials from both countries.
Rangin Spanta, the national security adviser to Afghan President Hamid Karzai and an architect of peace-building efforts, said an Afghan delegation had met Mullah Baradar in Pakistan two months ago.
Baradar has been in detention since he was captured in Karachi in 2010.
"We have met Mullah Baradar," Spanta told Reuters in Kabul. "Our delegation has spoken to him to know his view on peace talks."
Afghan officials have publicly been demanding access to Baradar, the Taliban's top military commander until he was captured in Karachi, but Spanta's revelation shows preliminary contact has already been made.
Rehman Malik also said that Pakistan had granted Afghan officials access to Baradar.
"They had access at the required and appropriate level," Malik told Reuters.
"We are fully cooperating with Afghanistan and whatever they are asking for the peace process, for developing peace in Afghanistan. We are giving every kind of help."
Afghan officials hope Baradar could play a key role in any negotiations to end the Afghan conflict, acting as a go-between with senior Taliban leaders including Mullah Mohammed Omar.
Pakistan and Afghanistan agreed last month to resume regular talks on Afghanistan's peace process, with the new Pakistani prime minister promising to help arrange meetings between Afghan and Taliban representatives.
http://www.nation.com.pk/pakistan-news-newspaper-daily-english-online/international/12-Aug-2012/afghan-officials-met-key-taliban-figure-in-pak
-------
Yiwu is the 'fastest growing Muslim community' in China
Daniel Bardsley
Aug 12, 2012
As their numbers increased from about 100, they moved to a rented car park - but soon they had outgrown that, too, and worshippers spilt into the nearby street.
Today, the finishing touches are being put on a 25 million yuan (Dh14.4 million) mosque that is already being used by Yiwu's Chinese, Arab and South Asian Muslim residents and visitors.
Yet despite the construction of the mosque, one thing has not changed. Such has been the growth of the city's Muslim population that at busy periods, there is still not enough room for everyone inside and some worshippers have to find space outside to pray.
"It is really spectacular," the mosque's imam, Aisin-Gioro Baoquan, said of the increase in the number of Yiwu's Muslims.
He said the city "undoubtedly" has the fastest-growing Muslim community in China.
There are an estimated 35,000 Muslims in Yiwu, almost one-third of whom can be found at the mosque during its busiest periods. About half the city's Muslims are thought to be from overseas, with many from Arab countries.
Yiwu's markets, which sell goods made in China's factories, are said to be the largest in the world and it is these markets that, over the last decade, have attracted growing numbers of Arab and South Asian traders who buy items to ship abroad.
This, in turn, has drawn in Chinese Muslims, mostly Hui people and members of the Turkic Uighur minority, to work in restaurants and as store assistants or interpreters, turning this city south-west of Shanghai into a key centre for Islam in eastern China.
"It's an organic blend between commerce and religious life. It's quite unique," said Mr Aisin-Gioro, a member of China's Manchu minority.
Full Report at:
http://www.thenational.ae/news/world/asia-pacific/yiwu-is-the-fastest-growing-muslim-community-in-china
----------
China media warns of attack from Pak Taliban
Saibal Dasgupta, TNN
BEIJING: Aug 12, 2012, The Chinese official media is distributing a commentary that warns China of attacks on its territory by Pakistan's Taliban jihadist networks.
This is seen as a sign that the Chinese leadership is losing faith in Islamabad's ability to curb the flow of Taliban to its border province Xinjiang.
"Pakistani support of the Taliban as well as other militant networks has led to many terrorist attacks in Pakistan and India.
In the future, jihadist networks may undertake major attacks in Xinjiang and other parts of China," said an article by a US-based scholar in Global Times, Communist Party-owned media.
http://timesofindia.indiatimes.com/world/china/China-media-warns-of-attack-from-Pak-Taliban/articleshow/15453979.cms
--------
India
Muslim groups denounce Mumbai violence
Reetika Subramanian, Hindustan Times
Mumbai, August 12, 2012, Even as the city condemned Saturday's violence in south Mumbai, several Muslim organisations raised questions about the need for the protest. "Though Saturday's incident was unfortunate, I am perplexed by the issues that were raised in the protest," said Javed Anand, member
of Muslims for Secular Democracy.
"While international issues such as violence in Myanmar and controversy surrounding a Danish cartoon have witnessed thousands of protests, agitations to condemn deaths in the 2002 Gujarat riots have always seen a poor turnout," he said.
Saturday's protest was organised by members of the Raza Academy, purportedly to condemn violence against Muslims in Assam and Myanmar.
Muslim leaders said that while every citizen has a fundamental right to protest, care should have been taken to ensure the safety of protesters.
"While planning such a protest, organisers should have taken utmost care about the security of the attendees," said Noorjehan Safia Niaz, founder member, Bharatiya Muslim Mahila Andolan. Niaz also added that the issue in north-east India needed to be understood from a human rights point of view, and not merely based on religion.
Islamic scholar Zeenat Shaukat Ali said conservative ideologies did not imply violence and bloodshed. "Just because Raza Academy is conservative, does not mean it believes in violence," Ali said.
http://www.hindustantimes.com/India-news/Mumbai/Muslim-groups-denounce-violence/Article1-912308.aspx
-------
'Mumbai Miscreants not associated with Raza Academy'
Swatee Kher
Mumbai, Aug 12 2012, Raza Academy that organised the protest against killings of Muslims in Myanmar and Assam is an Islamic organisation founded in 1978 by Alhaj Mohammed Saeed Noori Sahab. At 4.30pm, less than an hour after the riot started, president of Raza Academy Alhaj Mohammed Saeed Noori Sahab told The Indian Express the "miscreants" were not associated with Raza Academy. "Our protest was peaceful," he said.
Two hours later, after it emerged that the violence began after a speech condemning "poor coverage" by the media of the Assam situation, the Maulana admitted that an "irresponsible" speech had been made and steps had been taken to ensure calm prevails.
Noori has been president of Raza Academy since its inception. The organisation routinely condemns acts of violence against Muslims, has worked with mohalla committees in Mumbai to maintain peace in the post-riot days of 1993 and, more recently, called for celebrations when Pakistani gunman Ajmal Kasab was given the death sentence in the 26/11 terror attacks case. The organisation also works on Islamic research, liaises with the city's ulema and is considered to have a sizeable support in the community.
"There were several persons on the stage and one irresponsible person made statements on media coverage of Assam riots and Burma killings. He was immediately stopped. We did not have any idea this will happen," he said. He condemned the attack on media.
Sources said the speech against the media was made by Maulana Sayid Moin Ashraf, who reportedly complained that the media that reports small human rights violations from elsewhere had blacked out the Assam and Myanmar incidents. When contacted, Ashraf, however, denied having made the speech against the media. He said people began dispersing at 3.30 pm after a prayer, and the protest was peaceful until then. "Some posters were shown outside but no provocative speech was made," he said.
Photographs show the Maulana and former police officer Shamsher Khan Pathan on stage along with a little girl holding a placard that said. "Media, Media, help us." Pathan had floated Awami Vikas Party after retirement.
Noori said Maulana Azhar of the All India Ulema Association tried to control the situation. "I spoke to the crowd saying the media is not to be blamed. Some sections may not be showing what is happening in Assam, but many have helped the community during Gujarat riots," said Azhar.
Retired assistant commissioner of police Pathan said they had informed police about expecting a large crowd numbering about 20,000. He said the protest was going on peacefully but admitted that one speaker made remarks about media coverage following which the situation became tense.
However, all through this time, members of the media were present at the venue and no attempt had been made to attack them. Pathan said four speakers including a police officer addressed the crowd in the presence of media. A small prayer meet was also held. Later, some men gathered outside Azad Maidan, distributed pamphlets and photographs of the Assam violence, and attacked media vans, Pathan said.
Pathan also said that a person named Rizwan Pathan from Kurla had sought the initial permission for the protest and asked other organisations to participate.
http://www.indianexpress.com/news/miscreants-not-associated-with-raza-academy/987245/0
--------
Why so many visas issued to Hindus? Pak asks Indian mission
TNN
NEW DELHI: Aug 12, 2012, Brushing aside Islamabad's allegations that Indian high commission had issued too many visas at one go to Hindu pilgrims, who were detained in Pakistan before being allowed to enter India, officials sources here said that all visas were given in keeping with the Indo-Pak visa agreement. Pakistani interior minister Rehman Malik had earlier said that the entire issue suggested a conspiracy and asked Indian high commission to explain why so many visas were issued.
Pakistani authorities had detained around 200 Hindus on their way to India apprehending that they may never return for fear of violence against them in upper Sindh. "These were all short term, city-specific visas which were given after exercising all due diligence and within the framework of the Indo-Pak visa agreement," said a source, adding that it was wrong to say that all of them were together given visas.
"Pakistan has an exit control policy which empowers them to detain any traveller if the visas were not issued in proper categories and following the prescribed system," said sources. Foreign minister S M Krishna had earlier this year taken up the issue of persecution of Hindus saying that it was the responsibility of the government of Pakistan "to discharge its constitutional obligations towards its citizens, including those from the minority community''.
Ironically, Pakistan on Saturday observed its annual minorities' day celebrations with President Asif Ali Zardari saying in a speech that it cannot be unmindful of hopes and fears of minorities in the country. "We cannot be oblivious of our responsibility to continue making efforts for bringing into the main stream of national life peoples of all faiths and allay their concerns about their rights and privileges as guaranteed by our religion and the constitution,'' he said.
Malik refused to let the Hindus proceed beyond Jacobabad in Sindh, unless he was satisfied they would not take asylum in India. Eventually, after some hours, Hindus were allowed to go after their representatives pledged to return to Pakistan.
http://timesofindia.indiatimes.com/world/pakistan/Why-so-many-visas-issued-to-Hindus-Pak-asks-Indian-mission/articleshow/15454173.cms
--------
Married to a Muslim Girl, Escaped Biju recounts Philippines horror
Shenoy Karun, TNN |
KOCHI: Aug 12, 2012, His escape was as dramatic as his kidnapping. But Biju Kolara Veetil dismisses all theory that he was released because he had converted to Islam under captivity.
"I'm not a Muslim,'' Biju said. Talking to TOI from the safety of an accommodation provided by the police in the Sulu province, he said that he hadn't converted to Islam after marrying Aleena, a Philipino-Muslim belonging to the Moro ethnicity.
"You know the kind of traditional background I am coming from. My wife is a Muslim, but I haven't converted to Islam officially," Biju said.
Biju's ordeal began when somebody nudged his knee with a rifle butt to wake him up on a June midnight last year.
There were four or five uniformed men who introduced themselves as police. They comforted my wife Aleena saying that they just wanted to talk to me, Biju remembered.
"Six days into my capture, they contacted the Indian Embassy to break the news. However, they didn't contact my wife's family initially, even though my relatives tried to contact them.
But when they finally made a contact after two and a half months', it was to bomb the house. They were pretty irritated that family had complained to the military for restarting the search for me.
Full Report at:
http://timesofindia.indiatimes.com/city/kochi/Escaped-Biju-Kolara-Veetil-recounts-Philippines-horror/articleshow/15453267.cms
--------
Situation of Muslims worst than Dalits, reservation needed: UP Minority Minister
Lucknow, Aug 11 2012, The Centre should bring in a Constitution amendment Bill to provide for reservation to Muslims in government jobs, UP Minority Welfare Minister Azam Khan today said.
The way an amendment Bill is being brought to ensure reservation in promotion for Dalits even after Supreme Court had quashed it, the Centre should bring a legislation to ensure quota for the minority community, he said.
The Centre is bringing a Constitution amendment Bill for ensuring reservation in promotion of SCs and STs in government jobs in this Monsoon session.
"An assurance has come from Congress that an amendment will be made in the Constitution for reservation in promotion for Dalits," said Azam.
He said that situation of Muslims, which was the second largest population, was worse than Dalits as per Sachar committee report.
"It is my demand that when the Centre tables bill for amendment in the Constitution for reservation in promotion for Dalits, then it should also bring a bill for reservation in jobs for Muslims," he said.
"Otherwise, it will be considered that whatever was done in the name of Sachar committee was farce and Muslims are being ditched again," he added.
Azam said his logic was only that if an amendment could be made for Dalits then it could also be done for Muslims.
"If Congress does injustice with the second largest population then it should consider itself away from the next government," he said.
On being asked whether it was his personal demand or SP's stand, Khan said the party has promised reservation for Muslims in its manifesto and it cannot back away from it.
"When reservation was done on religious grounds the High Court and the Supreme Court termed it unconstitutional. When the court gave its judgement in the case of promotion then an amendment has been announced," he said.
The Supreme Court had on June 14 rejected the Centre's proposal to create a 4.5 per cent minority sub-quota within the 27 per cent OBC quota.
The Supreme Court had also quashed the policy of reservation in promotion and also the practice of giving "consequential seniority" to SC/ST employees which, it was alleged, was discriminatory and gave employees of the reserved category an advantage over other employees in promotion.
http://www.indianexpress.com/news/situation-of-muslims-worst-than-dalits-reservation-needed-azam-khan/987088/0
--------
Fifth ceasefire violation by Pakistan in a week, BSF personnel injured
Press Trust of India
Jammu: Aug 12, 2012, In fifth incident of ceasefire violence within a week, a BSF jawan was on Saturday injured after Pakistani troops opened fire on Indian posts along the Indo-Pak border in Arnia sector of Jammu district.
"There was a cross border heavy firing on Indian posts of Pindi and Pital along International Border (IB) in Arnia sector of Jammu district around 1630 hours today," Deputy Inspector General (DIG), BSF, JS Oberoi, told PTI.
The heavy firing continued for over two hours and is intermittently going on, Oberoi said adding one BSF jawan was injured in the firing and has been hospitalised. He is injured but his condition is stable, the DIG said.
BSF troops, guarding the borderline with Pakistan, effectively replied to the Pakistan firing, he said adding it is another ceasefire violation. This is the fifth ceasefire violation in past one week.
On August 7, India has lodged a strong protest with Pakistan over ceasefire violations along the Line of Control and the International Border in the state in which two Jawans were injured.
Nearly 21 ceasefire violations have taken place this year followed by 51 cases in 2011, 44 cases of ceasefire violations along the LoC in Jammu and Kashmir were registered in 2010 and 28 were in 2009.
http://ibnlive.in.com/news/pak-violates-ceasefire-5th-time-in-a-week/281426-3-245.html
---------
Pakistan
Minorities Day celebrated in Pakistan
Staff Report
KARACHI: August 12, 2012, All Pakistan Minorities Alliance-Founders (APMA-F) Chief and Pakistan People's Party (PPP) MPA in Punjab Assembly, Pervez Rafique, vowed on Saturday to continue efforts for discouraging religious extremism, and promoting harmony among all religious communities in the country.
He expressed these views while addressing APMA-F workers at mausoleum of Quaid-e-Azam Muhammad Ali Jinnah. He arrived here to pay tribute to the founder of the nation in connection with Minorities Day celebrations. Anwar Lal Deen, Special Assistant to Sindh Chief Minister, and others were also present on the occasion.
He said the minorities believe in equality of religious, constitutional and economic rights for all religious communities in the country. He vowed to support the present government's policy to run the country according to Quaid-e-Azam's vision. The PPP lawmaker said that he believed in Quaid's vision under which all people living in this country would have equal opportunities without any discrimination on basis of religion, colour and caste.
He thanked and appreciated the present government and President Asif Ali Zardari for steps taken for minorities, including allocation of four percent seats in the Senate for first time in the country and allocation of five percent job quota for minorities in all federal government departments besides the cabinet's decision to increase minorities' seats in national and provincial assemblies.
Rafique said the minorities would continuously play their role for peace and prosperity of the country which they had played during creation of the country. He vowed the minorities would continue their efforts collectively at national and international level in this regard with other national level parties.
On the occasion, he paid tribute to 'Shaheed-e-Jamhooriat' Benazir Bhutto, 'Shaheed-e-Insaf' Salman Taseer and 'Shaheed-e-Haq' Shahbaz Bhatti for their sacrifices and services rendered for democracy, discouraging religious extremism, promotion of religious harmony and equal rights to minorities.
He also vowed to continuously strive for abolishment of all discriminative laws in the country and said minorities would not hesitate in rendering any sacrifice for the purpose.
http://www.dailytimes.com.pk/default.asp?page=2012%5C08%5C12%5Cstory_12-8-2012_pg12_1
--------
'Pak authorities have failed to allay minority concerns'
Lahore: Aug 11, 2012, Pakistan's leading human rights organisation has expressed "alarm and outrage at the continued exodus of religious minorities" and said that authorities had consistently failed to allay the concerns of these communities despite repeated reminders from civil society.
The Human Rights Commission of Pakistan said in a statement that reports of Pakistani Hindus migrating to India "have been coming from Sindh and Balochistan (provinces) fairly regularly".
Spokespersons for minorities have argued that vested interests are threatening and frightening non-Muslim citizens with a view to forcing them to migrate, the HRCP said.
"Some of these elements are said to be religious extremists while others have plans to grab the minorities' property. In any case, there is little doubt that the minorities have been driven to despair," the statement said.
Hindus celebrate Holi in Pakistan.
The continued migration of religious minorities from Sindh and Balochistan is a "reflection of the state's failure to save these citizens from violence, discrimination and disgusting excesses such as the forced conversion of young women", the HRCP said.
Referring to the recent conversion of a young Hindu man during the live telecast of a special show to mark the Islamic holy month of Ramzan, the HRCP said this was a "particularly reprehensible and indefensible manifestation of the attitude towards non-Muslims".
"HRCP desperately hopes that the government shares its distress in this respect and reiterates its call for the state to address, in consultation with the communities in question, the reasons forcing religious minorities to flee the country," the statement added.
The rights body also took notice of the "anger and panic" caused by reports this week that that several hundred Hindus from Sindh and Balochistan were migrating to India and said these feelings had "subsided somewhat after the disclosure that they were on a pilgrimage".
"Most of them said they would return to Pakistan while some said they might not," the statement said.
Pakistani authorities detained the Hindus at the Wagah land border for almost seven hours yesterday before allowing them to cross over to India after ascertaining that they were going on a pilgrimage.
The HRCP urged civil society groups and the media to "keep the spotlight firmly trained on the raw dea" the minority communities were getting.
"Ahead of the forthcoming elections, the political parties have an opportunity, through their manifestos, and more than that through their actions now, to articulate their vision for religious minorities in Pakistan," it added.
http://www.firstpost.com/world/pak-authorities-have-failed-to-allay-minority-concerns-414866.html
--------
Kabul more important for Pakistan than Washington: Khar
2012-08-12
ISLAMABAD: Foreign Minister Hina Rabbani Khar on Saturday said that Kabul is more important for Pakistan than Washington.
In an interview to Arab TV channel, the foreign minister ascertained that the fate of Pakistan attached with Afghanistan being a neighbour and Pakistan always seeks friendly and close relations with its neighbouring polities.
Khar said that anything happens in Afghanistan it directly influence affairs of Pakistan, adding she said that on daily basis at least 53,000 people travel on Pak-Afghan border.
She claimed, it is fact that if Taliban come into power, it would not be in the best interest of Pakistan. She said that the Afghan elders are well aware of their interests in the region, adding, "We cannot dictate or inform them that what should be their interests."
To a question regarding India, the minister expressed that the relations between Pakistan and India has improved and moreover the trust level has also developed between both the countries.
http://www.onlinenews.com.pk/details.php?newsid=199611
---------
Minorities in Sindh enjoying equal rights: Senator
By Parvez Jabri
HYDERABAD: 11 August 2012, The Federal Minister Senator Moula Bux Chandio has said that anti-Sindh elements have been engaged in defaming the people of the province by launching false propaganda injustices with the minorities.
Some of Non-Governmental Organizations and a group of media also become the part of the said propaganda, which posing a negative image of Pakistan to the world community, he added.
Talking to APP before proceeding to Sukkur on Saturday to enquire the problems of Hindu community, Senator Moula Bux Chandio said that the President Asif Ali Zardari has taken serious notice of such negative propaganda and formed the members Parliamentary Committee under his supervision to probe into the facts of alleged migration of Hindu Community from Pakistan.
He said that during talks with some of the representatives of Hindu community, the initial findings have been revealed the fact that some Hindu families have left to India for "Yatira" of their holy places, however, some NGOs and a group of media have started posing it as migration from Pakistan following injustices, being committed with them allegedly.
The reports of migration of Hindu community are being propagated without any research from media, the minister said and added that Hindu families who left India for "Yatira" of their holy places have also shown surprised by learning the news about their migration from Pakistan.
http://www.brecorder.com/pakistan/general-news/73238-minorities-in-sindh-enjoying-equal-rights-chandio.html
-------
MQM supports general seats for minorities, says Sattar
Lahore, Aug 12,12, Federal Minister for Overseas Pakistanis Dr Farooq Sattar said on Saturday, that it was important to understand the philosophy and ideology of Quaid-e-Azam Muhammad Ali Jinnah regarding the rights of minorities. He expressed these views at a ceremony arranged on the International Day for Minorities at Alhamra Hall.
He said that the minorities had a right to vote and all political parties should issue party tickets to minorities in the upcoming elections.
http://www.pakistantoday.com.pk/2012/08/12/city/lahore/mqm-supports-general-seats-for-minorities-says-sattar/
-------
Pak must protect minority Hindus
August 12, 2012
Unlike some Islamic countries where religious minorities do not enjoy legal protection against discrimination, Pakistan does have equality laws for people of different faiths. In practice, however, Hindus and Christians in this overwhelmingly Muslim-majority country — created for the Muslims of the subcontinent — have had many grounds for complaint.
Not so long ago, in a case that had hit the headlines, a poor Christian woman was attacked on the patently false charge of blaspheming the Prophet. Even as the minuscule liberal sections of opinion in the country stood by her and civil society organisations spoke up in her defence, official Pakistan watched uninterestedly. Subsequently, Pakistan Punjab governor Salman Taseer, who cautioned against the misuse of the country's anti-blasphemy law, was killed by his own bodyguard who was lionised across the country, including the high court lawyers of Lahore. The only Christian minister in the government at the time was also assassinated. Of late, it is the Hindus, mostly residents of Sindh and Balochistan, who appear to be coming under threat, with little genuine assistance coming from the government or the courts.
When about 250 Hindu families attempted to cross over to India through the Wagah border on short-term visas recently, Pakistan interior minister Rahman Malik criticised India — without naming it — for hatching a "conspiracy" to make Hindus flee Pakistan in order to defame it. This is the "yatra" season and many Pakistani Hindus visit India at this time each year for religious reasons, their spokesmen have pointed out. But they have also detected the tendency of late for many Hindus to stay back in India on a permanent basis.
The causes relate to a noticeable rise in the incidence of abduction and forcible conversion of Hindu girls, which sometimes end in marriage under duress. The cases of Rinkle Kumari, Dr Asha and Lata were widely reported in the Pakistan media, and internationally, following their abduction and forced marriages in February this year. Their cases went up to the Supreme Court, but the system could not help these young women. They now carry Muslim names.
Many Hindu families have sold their businesses in Upper Sindh areas and have fled to Karachi, but it is hard to say if they are safe. It will not be surprising if such people, facing constant religious persecution, entertain thoughts of migrating to India. President Asif Ali Zardari has done well to order an inquiry into these unfortunate incidents. We hope Mr Malik will now be more restrained in his utterances. The religious issue is always sensitive. New Delhi cannot avoid the responsibility of drawing Islamabad's attention to the plight of Pakistan's Hindus and urging it to take measures to restore confidence.
http://www.deccanchronicle.com/editorial/dc-comment/pak-must-protect-minority-hindus-544
--------
Businessmen being encouraged to invest in Pak: Turkish president
ANKARA: August 12, 2012, Turkish President Abdullah Gul on Saturday said the Turkish leadership was encouraging businessmen to further expand their investment ventures in Pakistan, especially in the energy and infrastructure sectors.
He said this while talking to the president of Pakistan's special envoy and Minister of State for Foreign Affairs Nawabzada Malik Amad Khan, who had called on Gul to deliver a special message from President Asif Ali Zardari.
Conveying the greetings of President Zardari to Abdullah Gul, Malik Amad appreciated Turkey's positive role for bringing peace and stability in the Middle East. He added that Pakistan and Turkey were pillars of strength in the broader region. Malik Amad stated that Pakistan and Turkey shared similar objectives for peaceful resolution of the Syrian conflict.
A prolonged civil unrest in Syria would not only be painful for the Syrian people but would also adversely affect the neighbouring countries in the region and beyond.
The Turkish president said he would attend the forthcoming summit meeting of the Organisation of Islamic Cooperation being held in Makkah next week, where the Syrian issue would also be discussed. Gul stated that he looked forward to meeting Zardari on the sidelines of the summit. Gul agreed with Malik Amad that both countries needed to place greater emphasis on bilateral economic cooperation. They hoped for early implementation of agreements signed during the Turkish prime minister's recent visit to Pakistan.
Pakistan's Ambassador to Turkey Muhammad Haroon Shaukat, Istanbul Consul General Dr Yusuf Junaid and other senior officials of the Pakistan Embassy also attended the meeting.
http://www.dailytimes.com.pk/default.asp?page=2012%5C08%5C12%5Cstory_12-8-2012_pg7_27
-------
Pakistan blocks 15 websites featuring clips of politicians
August 12, 2012
Pakistan on Saturday moved to block more than a dozen websites over YouTube clips featuring two prominent parliamentarians, and allegations of a secret marriage of the boss of the country's state-run television. The order, from the Pakistan Telecommunication Authority (PTA), affects some 15 sites, which featured recordings of mobile phone conversations between a male and female politician of the breakaway faction of the ruling coalition partner, Pakistan Muslim League.
They also contained clips of a press conference by a television artist, talking about her apparent secret marriage with the managing director of Pakistan Television. When contacted, PTA official Muhammad Ali, who issued the orders, refused to discuss the matter, saying he was not authorised to speak to the media. However, another official of the watchdog told dpa on anonymity that the orders were issued because the clips involved "influential persons". Internet service providers expressed reservations, calling it a bid to censor internet traffic in the country.
"Blocking of websites containing general or political information is not in the domain of PTA; this is like censoring the internet, which is against the law," said spokesman Wahajus Siraj. "We will take up the matter with PTA and if our reservations aren't attended, we'll challenge it in the court.
http://www.brecorder.com/market-data/stocks-a-bonds/0/1226441/
------
Pakistan offers help to quake-hit Iran
ISLAMABAD: August 12, 2012, Prime Minister Raja Pervez Ashraf in a message of condolence to President of Iran, Mahmoud Ahmadinejad, has expressed his sympathies for the victims of earthquake that struck Tabriz on Saturday killing around 180 people.
He said, "Our prayers are with our brothers and sisters in Iran affected by this natural calamity".
The Prime Minister offered to extend assistance to the Government and people of Iran at this hour of trial.
The Prime Minister has issued directives to the concerned authorities in Pakistan to immediately establish contact with their counterparts in Iran and determine the nature and the kind of assistance, which Pakistan can extend to the people of Tabriz.
He said, "Natural calamities pose a serious challenge to all our countries. No region is immune to it. We need to develop a comprehensive strategy at the national, regional and international levels in order to deal with natural disasters".
Earlier, two strong earthquakes struck northwest Iran on Saturday, killing 180 people and injuring more than 1,300 as buildings were reduced to rubble, Iranian officials said.
Thousands fled their homes and remained outdoors as at least 20 aftershocks hit the area.
Casualty numbers could well rise, Iranian officials feared, as some of the injured are in a critical condition, others are still trapped under the rubble and rescuers have yet to reach some of the affected villages.
Full report at:
http://www.thenews.com.pk/article-63003-Pakistan-offers-help-to-quake-hit-Iran
-------
Special Envoy conveys Zardari's message to Turkish President
ANKARA, Aug 11 (APP)President of Pakistan's Special Envoy and Minister of State for Foreign Affairs Nawabzada Malik Amad Khan here on Saturday called on Turkish President Abdullah Gul and delivered a special message from President of Pakistan Asif Ali Zardari.Conveying the greetings of President Zardari to Abdullah Gl, Malik Amad appreciated Turkey's positive role for bringing peace and stability in the Middle East. He added that Pakistan and Turkey are pillars of strength in the broader region. Malik Amad stated that Pakistan and Turkey share similar objectives for peaceful resolution of the Syrian conflict. A prolonged civil unrest in Syria would not only be painful for the Syrian people but would also adversely affect the neighbouring countries in region and beyond.Turkish President informed that he will attend the forthcoming Summit meeting of Organization of Islamic Cooperation being held in Makkah, Kingdom of Saudi Arabia next week where Syrian issue will be also deliberated.Gul stated that he looked forward to meeting brother Zardari on the sidelines of the Summit. He said both Turkey and Pakistan have unanimity of views on major issues.
http://app.com.pk/en_/index.php?option=com_content&task=view&id=204909&Itemid=1
-------
Pakistan asks India to provide Parmar's details by September
Yudhvir Rana, TNN
AMRITSAR: Aug 11, 2012, Pakistan's foreign ministry has written to Indian high commission in Islamabad for providing identification proof of young Indian engineer Bhavesh Parmar who was presently lodged in Kot Lakhpat jail, Lahore, informed, Parmar's council Awais Sheikh while talking to TOI on late Saturday night.
"If Indian high commission provides Parmar's identification papers to Pakistan government by September 28th, Parmar could be released soon" said Sheikh. Sheikh who had met Parmar on July 16 said according to information provided to him by inspector general, prisons, Bhavesh Parmar was arrested in 2007 and was booked under section 14 of Foreign Act vide FIR number 545/2007.
He was sentenced for 3 years with penalty of Rs 5000 for non payment of penalty he was ordered to undergo further imprisonment for three months, he said. Sheikh informed that Parmar had completed his sentence on July 4, 2012 after which he was declared internee He said Bhavesh Parmar, a Mumbai based architect, was physically fit. He was not sure how he reached Pakistan from Mumbai.
However according to reports Parmar was under depression after death of his father in 2005. He boarded a train to Amritsar from where he somehow boarded Samjhauta Express and reached Lahore where he was arrested.
http://timesofindia.indiatimes.com/india/Pakistan-asks-Indian-high-commission-in-Islamabad-to-provide-Parmars-details-by-September/articleshow/15452622.cms
--------
US support Pakistan's efforts to strengthen judicial system
LAHORE: August 12, 2012, US Consul General in Lahore Nina Fite on Saturday said that the American government supports the capacity of Pakistani institutions to strengthen judicial access and to build a responsive, transparent, and cohesive civilian-led rule-of-law system. She was addressing an international conference on 'Global Trends in Legal Education', jointly organised by the US embassy and Centre for Law and Policy. She said that she was proud to be a part of this event, which brought together Americans, Pakistanis, and Indians working jointly in the legal profession and legal education profession to expand the opportunities and experience of law students, lawyers, judges, and legal institutions. She said, "Through our Rule of Law office at the embassy in Islamabad, we work with our Pakistani partners to enhance confidence in Pakistan's courts, police, and other key agencies, as impartial protectors of the rights of all individuals. We do this through training for law enforcement and prosecutors in forensic science and other evidence techniques, enhancing access for women in courts, and training female law enforcement professionals." Fite said during the last 10 years, the Lahore Consulate General had sponsored six International Visitor Leadership programmes sending Pakistani advocates, court administrators and judges to the United States to learn about the American justice system. staff report
http://www.dailytimes.com.pk/default.asp?page=2012%5C08%5C12%5Cstory_12-8-2012_pg7_22
------
Pakistan does not support Haqqani network: officials
ISLAMABAD: August 12, 2012, Pakistan does not support the Haqqani Network for their operations inside Afghanistan, authoritative sources in the federal capital have asserted.
Elaborating on Pakistan's position on the Haqqani Network on Saturday, the sources said that Pakistan had informed the US several times that it did not support the Haqqani Network by any means for their operations inside Afghanistan. "We have told the US on several occasions that the Haqqanis are not our proxy warriors against the US-led Nato forces," said the officials.
At the same time, they made it clear that no operation was going on against the Haqqani Network in North Waziristan.
They also expressed surprise over reports of a possible joint operation with the US forces in Waziristan. "The policy of not allowing foreign boots on Pakistan soil remains the same and there is no change in it," an official said, questioning the authenticity of reports about the reported operation Corkscrew. "How could it be that the foreign media announces that an operation is to be launched against the Haqqani Network and also reveals its top-secret code-name. They should get their facts straight," they said.
Talking about the ISI chief's recent visit to the US, they said the contemporary accounts about the DG ISI's visit to the US were mostly inaccurate.
Providing an insight into the visit, the sources said that it provided an opportunity to Pakistan to reiterate its stance on the Global War on Terror (GWOT) and the drone attacks in Fata. "The ISI chief elaborated the sacrifices made by Pakistan in the GWOT and asked for an end to drone attacks, which have been counter-productive as they have swelled the anti-US feelings in the country."—Waqar Ahmed
http://www.thenews.com.pk/Todays-News-13-16749-Pakistan-does-not-support-Haqqani-network-officials
--------
Europe
Young Muslims in Russia more devout than older generation
09 August 2012, 16:07
Washington DC, August 9, Interfax - Young Muslims in Russia are more devout than the older generation, while Muslims older than 35 adhere to Islamic commandments better than young in the Middle East and North Africa, says a report of the U.S. Pew Research Centre.
The centre said that many Muslims by birth grew up as atheists in the former Soviet Union and many young people growing up in non-religious families turn to religion on their own initiative.
Islam fundamentals are common for all Muslims (belief in Allah and Prophet Mohammed, prayer, fasting, poor due and hajj) but Muslims differ greatly by the degree of their belief and tolerance for other religions.
Eighty-nine percent of Muslims by birth believe in Allah and Prophet Mohammed, but only half of Muslims in former Soviet republics say religion holds an important place in their lives, while more than 60% of Muslims by birth are religious people in Arab countries and 80% in African countries south of Sahara.
Believers are more tolerant for other religions where various religious groups have to co-exist. For instance, 41% of Sunnis in the predominantly Sunni Pakistan do not call Shiites true believers, while the percentage is much smaller in multi-religious Lebanon and Iraq.
The center polled more than 38,000 Muslims of 80 nationalities living in 39 countries.
http://www.interfax-religion.com/?act=news&div=9677
---------
Muslim nations 'should host Games'
Simon Mann, August 12, 2012
WITH the sun setting on London, Olympic officials are readying to pass the baton to Rio de Janeiro, which will host South America's first ever Games in 2016.
But what of the Islamic world? Never before has an Olympics been held in a majority Muslim nation.
An Oxford University academic has identified 10 Muslim-majority cities that he says could realistically pitch for a summer Games from 2020 and beyond, despite cultural, political and climatic hurdles.
Near-top of his list is Istanbul, which has bid in vain on four previous occasions, while he cites several other potential city bids as also having merit. The International Olympic Committee's acknowledged preference for an African Games soon, could also lend impetus to a bid from Morocco's Rabat. ''From the perspective of the broader international community, engagement with the Muslim world could not be more necessary or timely … and sport has historically been demonstrated as an effective tool in achieving similar goals,'' argues Kasim Randeree, a researcher at the internationally renowned Said Business School.
Although the lasting benefits of hosting the world are greatest sporting spectacle remains a subject of fierce debate, ''it is potentially in their long-term geopolitical and socio-economic interests for a [Muslim] nation to host the Olympics'', he adds.
In his research, Dr Randeree sought to identify the key ingredients of previously successful Olympic bids since the 1960s, including Sydney's, with which he melded the IOC's technical criteria. He then applied his template to 47 of the 56 member states of the Organisation of Islamic Conference that have Muslim majority populations. He drew a line through several for obvious reasons. Religious conservatism disqualified Saudi Arabia, Iraq is war-ravaged, while political instability eliminated Syria, Lebanon and Iran. Several nations were simply too small (Bahrain and the Maldives, for example), while Dr Randeree also excluded nations with no ''substantive Olympic record'' - Albania, Brunei, Oman, Jordan, Turkmenistan and Libya.
Of Indonesia's prospects, ''regional al-Qaeda supported terrorism remains a major obstacle'', he observed.
Dr Randeree's boiled down list, which he first produced two years ago, included three Persian Gulf cities (Doha, Kuwait City, Dubai), along with three in Africa (Cairo, Rabat and Tunis), two in Asia (Almaty and Kuala Lumpur), and the Eurasian cities of Istanbul and Baku.
None of those listed were a lay down misere to triumph in the politically charged bidding war. Fierce summer temperatures would work against the Gulf cities (a factor in Doha's failed 2016 bid) and even though the oil-rich states could climate-proof venues, signature Olympic events such as the marathon would still be adversely affected.
The IOC was also likely to wait and see how Qatar fares when hosting soccer's 2022 World Cup before sanctioning a Gulf Olympics. The aftermath of the Arab Spring, meanwhile, makes less certain a bid from the emerging democracies of Egypt and Tunisia, giving Morocco a leg-up as Africa's front-running Muslim bidder.
''I think Istanbul rates highly because of Turkey's history of Olympic participation,'' said Dr Randeree yesterday. But the IOC may need to be convinced that Turkey is less vulnerable to terrorism before Istanbul can triumph.
http://www.theage.com.au/olympics/news-london-2012/muslim-nations-should-host-games-20120811-241kw.html
----------
Arab World
Egypt paper censored faces probe over insult to Prez Morsi
Press Trust of India
Cairo August 12, 2012, An Egyptian court has asked authorities to confiscate editions of a newspaper and open a probe against it over the allegations of insulting Islamist president Mohammed Morsi and instigating sectarian discord.
The order came yesterday after Saturday's editions of privately owned Al-Dustour daily featured a long front-page article warning of a Brotherhood emirate seizing Egypt and calling on Egyptians to join ranks with the military to oppose Islamists, state-run news agency MENA reported.
Editions of daily were seized and a probe has been launched after several individuals filed lawsuits accusing it of "fueling sedition" and "harming the president through phrases and wording punishable by law," it said.
Though it was not clear whether the paper was barred from publishing completely. However, the Al-Masry Al-Youm newspaper said that authorities have removed al-Dustour from newsstands.
Gamal Fahmy, a member of the journalists' syndicate, told Al-Dostour that the investigation was part of a Muslim Brotherhood scheme to limit press freedoms, local media said.
Other press freedom advocates also condemned the raid, saying the Brotherhood was moving to silence its critics.
The tabloid Al-Dustour, owned by a Christian businessman, has been known to criticise Morsi and the Muslim Brotherhood while showing strong support for the military council.
Earlier, a TV network was shut down due to the charges that it suggested the killing of the Morsi.
http://www.business-standard.com/generalnews/news/egypt-paper-censored-faces-probe-over-insult-to-prez-morsi/43323/
----------
Arab League postpones Syria talks
12 August 2012
As the fighting goes on, the UN and Arab League are debating how best to engage with Syria
Arab League foreign ministers have postponed a meeting in Saudi Arabia to debate the crisis in Syria.
The ministers had been due to discuss a new envoy to Syria to replace Kofi Annan, who resigned earlier this month.
The US Secretary of State Hillary Clinton has said the US and Turkey are working together on detailed plans to support the Syrian opposition.
Fighting has continued in the Syrian capital, Damascus, and the second city of Aleppo.
Speaking on a visit to Istanbul, Mrs Clinton said both the US and Turkey were making preparations to respond to the possible collapse of President Bashar al-Assad's government, the use of chemical weapons and increases in the number of cross-border refugees.
UN mission
Mr Annan resigned from his position as UN-Arab League envoy to Syria earlier this month, after his proposed six-point peace plan failed to come into effect and violence escalated.
His replacement had been due to top the agenda for foreign ministers who had been due to gather on Sunday in the Saudi city of Jeddah.
But the Arab League's deputy secretary general, Ahmed Ben Helli, told reporters the meeting has been postponed, and no new date had yet been set.
He did not say why the meeting had been delayed.
The man tipped by diplomats to be given the job is veteran Algerian diplomat Lakhdar Brahimi.
The mandate of the United Nations observer mission in Syria - which now comprises some 150 observers - is due to run out in a week's time.
But UN Secretary-General Ban Ki-moon says there still need to be people on the ground to make impartial assessments of the military situation.
Full Report at:
http://www.bbc.co.uk/news/world-middle-east-19230641
--------
Abdullah bin Zayed demands world major powers to end Rohingya tragedy
(WAM) / 11 August 2012, The UAE has called on the international community to step in to put an end to the tragedy the Rohingya Muslim minority is undergoing on in Myanmar.
"The UAE is deeply concerned about the ethnic violence in Myanmar which claimed hundreds of lives of the Rohingya Muslim minority group and left thousands of them homeless, bringing a renewed chapter of severe suffering," Shaikh Abdullah bin Zayed Al Nahyan, Foreign Minister, said in a letter addressed to foreign ministers of the UN Security Council's member states, the Association of Southeast Asian Nations (ASEAN), New Zealand, Canada, Japan and India as well as to Catherine Ashton, High Representative of the European Union for Foreign Affairs, Dr. Ekmeleddin Ihsanoglu, Secretary-General of Organisation of Islamic Cooperation (OIC), Dr. Nabil Al Araby, Secretary General of the League of Arab States and Dr. Abdullatif Rashid Al Zayani, Secretary-General of the Gulf Cooperation Council (GCC).
Shaikh Abdullah said the international community should urge the government of Myanmar to take adequate measures to cease infringements of Rohingya's rights and refrain from acts that disregard principles of universal basic human rights and international conventions. He stressed that Rohingya's basic rights should be respected in a responsible manner. The UAE foreign minister urged the international community to reach a prompt end to this targeting in a way that achieves reconciliation and arrives at a final solution to the crisis.
http://www.khaleejtimes.com/kt-article-display-1.asp?xfile=data/nationgeneral/2012/August/nationgeneral_August147.xml&section=nationgeneral
----------
10 civilians executed in Homs round-up: Syria opposition
AFP
BEIRUT: Aug 12, 2012, The opposition Syrian National Council and activist groups charged on Sunday that pro-government militia summarily executed 10 civilians during a round-up in the flashpoint central city of Homs.
"Militiamen detained nearly 350 people from the Shamas district, assembled them in a courtyard and executed 10 of them," activist group, the Syrian Revolution General Council, said.
"The fate of the nearly 340 others is unknown and we fear greatly that they have met the same fate as the 10 martyrs," the group added.
The opposition SNC issued a similar statement.
"Ten young men were executed in the Shamas neighbourhood of Homs city after the army and pro-regime gunmen stormed the area and rounded up 350 young people," it said.
"The army called from the mosques surrounding the district for all the young men to come out into the streets with their hands behind their heads," it said.
Rebel spokesman Kassem Saadeddine issued a statement overnight warning of an impending massacre in the Shamas neighbourhood.
"The Joint Command of the Free Syrian Army in Syria warns of a massacre by the criminal regime in the Shamas neighbourhood of Homs, the capital of the glorious Syrian Revolution," the rebel colonel said.
Saadeddine accused "the Iranian regime and its gangs on Syrian territory" of playing a role in the massacre and threatened to strike back at "the heart of the Syrian and Iranian regimes."
The Syrian Observatory for Human Rights said that many residents of Shamas had fled in the face of persistent shelling by the army and clashes between troops and rebels.
It said that pro-government forces had carried out a round-up in the neighbourhood but it made no mention of any executions.
http://timesofindia.indiatimes.com/world/middle-east/10-civilians-executed-in-Homs-round-up-Syria-opposition/articleshow/15459042.cms
----------
Southeast Asia
World recognises Malaysia as Islamic financial centre — Minister
IPOH: August 12, 2012, The invitation by Sudan for Malaysia to set up Islamic banks in that country has proven that the world has recognised Malaysia as an Islamic financial centre and hub.
Second Finance Minister Datuk Seri Ahmad Husni Hanadzlah said the government however has to discuss the invitation with the banks involved.
"With regards to the request from Sudan, we have to discuss the matter with the banks on whether they are ready to go to Sudan or not," he told reporters after a 'shopping with orphans' programme at a hypermarket, here yesterday.
In a press conference on 'Business Opportunities in Sudan' recently, Sudan's ambassador to Malaysia, Nadir Yousif Eltayeb invited Malaysia to set up Islamic banks in the country to facilitate trade and investment financing between the two countries.
Ahmad Husni said Malaysia is ready to expand and widen the Islamic banking system to other countries.
"This is in line with what is implemented by the Islamic Development Bank which launched the 'Nation Partnership Concept' in which Malaysia is one of the countries selected to assist other Islamic countries to increase their economies," he said.
He said in the first stage, Malaysia has promoted Islamic banking and halal products in Tunisia.
"There are a few countries that have asked us to undertake discussions and increase their countries' economies," he said. — Bernama
http://www.theborneopost.com/2012/08/12/world-recognises-malaysia-as-islamic-financial-centre-minister/
----------
Disease alert in aftermath of Philippine floods
AFP
Manila: Aug 12, 2012,, Emergency relief officials and doctors were deployed to flood devastated communities in the Philippines today to prevent outbreaks of disease as the death toll jumped to 85.
While floods have gone down significantly around the capital Manila, many areas in nearby provinces remained inundated as overflowing dams continued to release water, the national disaster coordinating agency said.
"As the waters receded they left behind clogged pipelines and trash everywhere. Sanitation has emerged as a key problem," Red Cross secretary general Gwendolyn Pang told AFP.
"We have deployed health officers in evacuation centres and in flood-hit communities with the likelihood of diseases erupting."
The Red Cross put up huge rubber bladder tanks for clean water, while local officials sent portable latrines to packed evacuation Centres.
Food packs were also rushed to some 769,999 people displaced by the floods that submerged about 80 percent of Manila last week.
Civil defence office head Benito Ramos said more than half were living in dire conditions in 948 evacuation centres, which are mostly schools and churches converted into temporary shelter areas.
"Many have returned to their homes as the waters subsided, but it is far from a normal situation," Ramos said.
"We are trying to help them return to their normal lives with a massive clean-up operation. There is muck everywhere, and it would take some time."
Full Report at:
http://timesofindia.indiatimes.com/world/rest-of-world/Disease-alert-in-aftermath-of-Philippine-floods/articleshow/15458344.cms
-------
North America
Mosque burning alarms US Muslims
Omar Karmi
WASHINGTON, Aug 9, 2012, Muslim communities in the United States have been cautioned to be extra vigilant after two apparent mosque attacks in two days.
The warning from the Council on American-Islamic Relations (Cair) also came after the mass killings at a Sikh temple on Sunday, with Sikhs often mistaken for Muslim due to their turbans and beards.
Cair's Ibrahim Hooper said the advocacy group had released an advisory since mosques are busier during Ramadan, especially the Holy Month draws to a close.
"We felt it was necessary to put something out there," Mr Hooper said, suggesting mosques in isolated communities were particularly vulnerable.
The advisory was issued after a man armed with a hammer was caught on video apparently destroying a sign at a mosque in Rhode Island on Tuesday.
On Monday morning, a mosque burnt to the ground in Joplin, Missouri. Local authorities and the FBI were trying to determine whether the fire at the Joplin Islamic Center was arson.
Cair has also called for more police protection at mosques and other houses of worship following the attacks and has offered a US$10,000 (Dh36,700) reward for information about the mosque fire.
Full Report at:
http://www.thenational.ae/news/world/mosque-burning-alarms-us-muslims
-------
US, Egypt 'negotiate' new aid after Sinai clashes
12 August 2012
The United States and Egypt are trying to put together a new security assistance package to address the worsening situation on the Sinai Peninsula, The New York Times reported.
The Egyptian military has been bolstering its presence in the Sinai with tanks and helicopters after Sunday's unprecedented ambush on a border guard outpost near the borders of Gaza and Israel, which left 16 Egyptian soldiers dead.
The Islamic militants, who carried out the attack, are believed to be affiliated with the Army of Islam, a small radical Islamist group which Egypt has blamed for several attacks in past years.
Citing unnamed officials, the US newspaper said the US Department of Defence is discussing with Egyptians a series of options for sharing intelligence with Egypt's military and police in Sinai.
This intelligence includes intercepts of cell phone or radio conversations of militants and overhead imagery provided by both piloted aircraft, drones, and satellites, the report said.
"We continue to discuss ways of increasing and improving the Egyptians' situational awareness in the Sinai," the paper quotes a Pentagon official as saying.
According to The Times, the talks are taking place through military and intelligence channels as well as with the government of President Mohamed Morsi.
Secretary of State's Hillary Clinton, who was travelling in Africa last week, spoke by telephone with new Egyptian Prime Minister Hesham Qandil to discuss assistance, the paper noted. The date of the conversation was not disclosed.
Egypt receives $1.5 billion a year in military assistance from the United States.
http://www.rnw.nl/africa/bulletin/us-egypt-negotiate-new-aid-after-sinai-clashes
----------
Hezbollah may strike in Europe at any time: US
AFP
WASHINGTON: Aug 11, 2012,The United States fears the Iranian-backed Lebanese militant group Hezbollah may be planning imminent attacks in Europe and around the world, a senior security official in Washington said on Friday.
"Our assessment is that Hezbollah and Iran will both continue to maintain a heightened level of terrorist activity and operations in the near future," said Daniel Benjamin, the US State Department's counter-terrorism coordinator.
"We are increasingly concerned about Hezbollah's activities on a number of fronts, including its stepped up terrorist campaign around the world," he said.
"And we assess that Hezbollah could attack in Europe or elsewhere at any time with little or no warning," he warned, in a conference call with reporters to announce new US sanctions against Hezbollah, Iran and Syria.
Hezbollah is a Shiite armed faction that within Lebanon operates as a political party and as a "resistance" force to counter Israel, and which Western powers says runs an international militant network.
It is backed by Damascus and Tehran, and has been accused both of carrying out recent bomb attacks on Israeli targets in Europe and Asia and of backing Syrian strongman Bashar al-Assad's brutal crackdown on an armed revolt.
Benjamin warned Hezbollah might step up violent action as international economic sanctions turn the screw on its backers in Iran and Western-backed Syrian rebels threaten to overthrow its sponsor in Damascus.
Full Report at:
http://timesofindia.indiatimes.com/world/europe/Hezbollah-may-strike-in-Europe-at-any-time-US/articleshow/15441696.cms
----------
Africa
Journalists Reject Ethiopia Media Crackdown
OnIslam & News Agencies
Local journalists believe the Muslim press in Ethiopia is being targeted for its coverage of protests by the Muslim community.
CAIRO, 11 August 2012, A journalist's rights committee has blasted Ethiopian government over its recent crackdown on Islamic media and local journalists who have been covering the recent protests of the country's Muslim population.
Ethiopian "authorities must release a journalist who has been detained for almost three weeks, and allow three Muslim news outlets to resume publishing immediately," Committee to Protect Journalists said on Friday, August 10, Bikyamasr website reported.
The committee's calls followed the raid of eight police officers on the home of Yusuf Getachew, editor of YeMuslimoch Guday (Muslim Affairs).
According to local journalists, Getachew was taken to the Maekelawi Federal Detention Center in the evening of July 20 in the capital, Addis Ababa.
The police also confiscated four of Yusuf's mobile phones, his wife's digital camera, books, and 6,000 birr (US$334), the same sources said.
Local journalists believe the Muslim press in Ethiopia is being targeted for its coverage of protests by the Muslim community.
Along with arrests, the Ethiopian government has blocked access to OnIslam.net and Aljazeera over their coverage of Muslim protests against government interference in their religious affairs.
Full Report at:
http://www.onislam.net/english/news/africa/458499-journalists-reject-ethiopia-media-crackdown.html
---------
URL: https://newageislam.com/islamic-world-news/by-new-age-islam-news-bureau/rescuers-dig-for-survivors-after-twin-quakes-kill-250-in-iran/d/8249