New Age Islam News Bureau
5 Aug 2012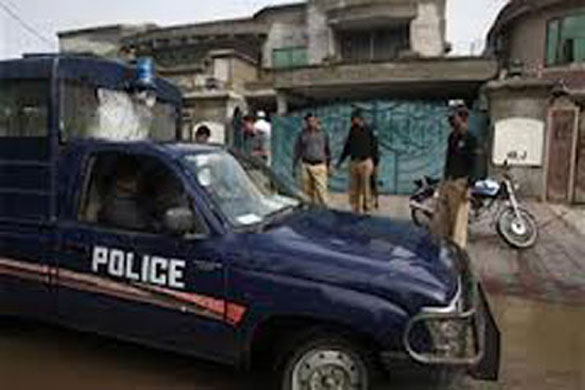 Pakistan
• Pakistan Police Parades Couple Naked For Intent to Commit Adultery
• A suspected militant killed himself and two children in Pakistan
• Pakistan accuses Afghanistan of backing Taliban enemy
• Pak groups 'exaggerating' killing of Myanmar Muslims
• Pakistan police suspended after parading naked couple
• Pakistan will continue support to Kashmir cause: Pak PM
• Pakistan ruling parties dig in heels on contempt law despite verdict
• Pakistan arrests Taliban planning attacks: police
• Pakistan resumes NATO supply into Afghanistan
• Missing people's issue being played up to malign Pakistan: Pak Interior Minister
• US, Pakistan appear to make little headway in intelligence chief's talks
• US providing civilian aid to Pakistan: CG
• Five activists of banned outfit arrested
• Pakistani, Danish climbers make history by scaling 'Malika Parbat'
Southeast Asia
• Philippine Catholic school bans use of hijab
Mideast Asia
• Yemen suicide bombing kills 42
• Fighting in southeast Turkey kills 19
• Yemen drone strike kills 5 Qaeda members
• 48 Iran pilgrims abducted in Damascus
• Muslims urged to counter human rights violation, Islamophobia
• Israel to Arabs: No Recognition of Israel? No Entry
• Iran offers cash aid to Myanmar Muslim refugees in India: report
India
• 5 killed in fresh violence in lower Assam, toll rises to 61
• Pak businessmen want legal cover their investment in India
• Jundal questioned about Bhatkal brothers, terror suspects in German bakery case
• Demand for AMU test centre in KSA
Arab World
• Riyadh deports 35 Ethiopian Christians for praying
• Syria conflict: Troops 'mass for Aleppo assault'
• Saudi Arabia: Soldier shot dead in Eastern Province
• Dubai residents' social project revives Islamic traditions
• Riot leaves an Egyptian village without Christians
• Egypt's Christian leader slams "unfair" new cabinet
Africa
• 2 killed, 4 kidnapped in Nigeria
• Explosions rock restive Nigerian city as troops raid homes
• Shariah Penalties Anger Mali Muslims
• Nigeria sect leader slams Obama over 'terrorist' label
Southeast Asia
• Rohingyas Muslims face 'severest' discrimination, restrictions: US Report
South Asia
• Looted Afghan artefacts returned to Kabul
Europe
• Discrimination complaint lodged against French municipality against Being • Sacked for fasting during Ramadan
North America
• U.S. Muslim Groups Declare 'Day of Solidarity with the Syrian People'
Compiled by New Age Islam News Bureau
Photo: Pakistan Police Parades Couple Naked For Intent to Commit Adultery
URL: https://newageislam.com/islamic-world-news/by-new-age-islam-news-bureau/pakistan-police-parades-couple-naked-for-intent-to-commit-adultery/d/8167
----------
Pakistan
Pakistan Police Parades Couple Naked For Intent to Commit Adultery
Press Trust of India
Islamabad: August 04, 2012, In a shocking incident, a man and a woman arrested on charges of "intent to commit adultery" were paraded naked by police through a town in Sindh province of southern Pakistan, according to a media report today.
Mumtaz Mirbahar, a trader, and a woman were arrested by police in Gambat town in Sindh on July 27. They were forced to walk naked through the town to the police station.
Police and local residents filmed the incident, BBC Urdu reported.
Grainy footage on the BBC Urdu website showed policemen preventing Mirbahar and the woman from putting on their clothes after being arrested.
Mirbahar said he was the victim of a conspiracy and that the woman had been brought by the policemen. He said they were both made to walk for over half a kilometre while several persons, including policemen, filmed them.
Mirbahar subsequently obtained bail from a local court though the woman continues to be in jail, the report said. He filed a petition in the Sindh High Court that will be heard on August 8.
Residents of Gambat told BBC that they had tried to stop the policemen from forcing Mirbahar and the woman to walk naked through the town but they did not listen. The report said another woman was arrested along with the duo but she was not paraded naked.
The policemen acted as both complainants and witnesses in the case registered against Mirbahar. The policemen claimed they were informed by an informant that Mirbahar had invited two women to his home for "sexual favours".
Witnesses said the naked woman was forced into a police van while Mirbahar was made to walk in front of the vehicle all the way to the police station. The second woman was fully clothed, they said.
After reports of the incident emerged today, three policemen were suspended in connection with the incident. Gambat is part of Khairpur district, which is home to Sindh Chief Minister Qaim Ali Shah.
http://www.ndtv.com/article/world/pakistan-police-parades-couple-naked-for-intent-to-commit-adultery-251329
-------
A suspected militant killed himself and two children in Pakistan
(AFP)
QUETTA, Pakistan, Aug 5, 12 A suspected militant killed himself and two children on Sunday in southwest Pakistan when a bomb in the car he was driving exploded before he reached his intended target, police said.
A woman was also killed and 12 people wounded when the bomb detonated close to the home of the militant on the outskirts of Quetta, capital of the insurgency-hit province of Baluchistan. The rented house was badly damaged.
"We have recovered the bodies of a woman and two children from the debris and also found a severed head, believed to be of a militant who was killed in the blast," police officer Mukhtar Ahmed told AFP.
The injured included seven children, some of them related to the dead, he said.
"The target was not clear. We have launched an investigation to identify the militant. Police were also interrogating the owner of the house," he said.
Abdul Razzaq, in charge of the bomb-disposal squad in Quetta, told AFP the car was carrying between 80 and 100 kilos (180-220 pounds) of explosives.
Baluchistan, which borders Afghanistan and Iran, is one of the most deprived areas of Pakistan.
Baluch rebels rose up in 2004, demanding political autonomy and a greater share of profits from the oil, gas and mineral resources in the region.
The province also suffers from Taliban attacks and is a flashpoint for sectarian violence involving Sunni and Shiite Muslims which has left thousands of people dead since the late 1980s.
http://www.news.com.au/breaking-news/world/pakistan-car-bomb-kills-two-children/story-e6frfkui-1226443449929
-------
Pakistan accuses Afghanistan of backing Taliban enemy
By Michael Georgy and Matthew Green
ISLAMABAD, Aug 5, 2012 (Reuters) - Pakistan's interior minister has said elements of the Afghan government are likely supporting a senior Pakistani Taliban leader who is fighting to topple the Islamabad government, accusations which could further raise tensions over cross-border raids by militants.
Pakistani officials say the Taliban commander known as Fazlullah has been orchestrating raids on Pakistani security forces from Afghanistan, where he fled several years ago after a Pakistani army offensive against his stronghold in the Swat Valley.
Pakistan has repeatedly called on Afghanistan to hunt down Fazlullah, whose fighters cross the border in their hundreds, set up ambushes and attack army checkpoints.
"If somebody is living in somebody's house and you ask him 'who is giving you food, who is giving you all this shelter?' You know he is in Afghanistan," Pakistani Interior Minister Rehman Malik told Reuters in a weekend interview.
"I think some of the elements (of the Afghan government) there are supporters. Maybe state actors, maybe non-state actors."
Afghan officials see Pakistan's suggestion that Afghans are supporting cross-border attacks as an attempt to distract attention from what they say is Pakistan's long history of supporting Afghanistan's Taliban movement and other insurgent factions.
U.S. and Afghan officials say there is no comparison between the relatively small and recent presence of Fazlullah's men in eastern Afghanistan and what they describe as long-standing ties between elements of Pakistani intelligence and the Afghan Taliban.
Pakistan's intelligence agencies backed the emergence of Afghanistan's Taliban movement in the mid-1990s and Western officials believe that parts of the security establishment continue to tolerate or actively abet Afghan insurgents.
Malik provided no evidence to support his assertion that elements within Afghanistan were supporting Fazlullah, nor did he give further details.
"These comments made by the Pakistani Interior Minister are irresponsible and a baseless allegation," said Afghan Interior Ministry spokesman Sediq Sediqqi.
"Afghanistan has been under attacks from safe havens of insurgents inside Pakistan, and we are quite sure that Mullah Fazlullah is somewhere in Pakistan."
TRADING ACCUSATIONS
Fazlullah and other militant leaders based along the frontier complicate U.S. efforts to stabilise the region before most NATO combat troops withdraw from Afghanistan by the end of 2014.
The issue has strained ties between Islamabad and Kabul.
Afghanistan has long accused Pakistan of backing militants said to be based on its soil who cross the border to attack Afghan and NATO forces, including the Haqqani network, blamed for a series of high-profile attacks on Kabul.
Islamabad denies the allegations.
Pakistan's reluctance to bow to U.S. pressure to take tougher action against sanctuaries used by Haqqani insurgents and other Afghan fighters has been one of the major reasons for a sharp deterioration in relations with Washington.
Full Report at:
http://in.reuters.com/article/2012/08/05/pakistan-afghanistan-fazlullah-interview-idINDEE87405M20120805
-------
Pak groups 'exaggerating' killing of Myanmar Muslims
August 04, 2012,
Washington: Islamist groups in Pakistan are exaggerating the incidences of ill-treatment of Muslims in Myanmar to recruit people for their cause and fund their own agenda, a report has said.
The international community recently raised concerns about human rights abuses against Muslim Rohingyas following their clashes in June with the Buddhist community.
Human rights activists slammed the Burmese government for failing to protect Rohingyas and to stop the violence that left 78 dead.
But on the streets of Pakistan, the rhetoric runs much hotter with protesters claiming 'thousands' of Rohingyas are being slaughtered in western Myanmar, The Christian Science Monitor reports.
According to the report, a series of doctored and misidentified photographs are circulating widely in Pakistani social media that show violence against Rohingyas.
It cited one photo posted on a Facebook page originating from Pakistan showing Buddhists dressed in their traditional red robes standing in the middle of two rows of dead bodies, with the caption reading: "Bodies of Muslims killed by Buddhists."
In reality, this picture was from an earthquake incident in China in 2010, where Tibetan monks came to help with the rescue efforts, the report said.
Shahzad Ahmad, the Pakistan country director for the global online activism group called Bytes for All, pointed out that stories of Muslim victimisation around the world are exaggerated in Pakistan by Islamist groups on the Internet.
"They use such campaigns not only to fund themselves but also to gain more political ground and recruit people for their cause," the paper quoted Ahmad, as saying.
"Our research shows that there are many fake photographs being used to propagate [stories of] atrocities against Muslims on many of the Facebook pages which originate from Pakistan," he added.
According to the paper, among the groups involved in stirring the activism are Jamat-ud-Dawa, Jamat-e-Islami and Jamiat-e-Ulema Islam, three Islamist groups which hold significant street power in the country.
http://zeenews.india.com/news/south-asia/pak-groups-exaggerating-killing-of-myanmar-muslims_791683.html
--------
Pakistan police suspended after parading naked couple
4 August 2012
Several Pakistani police officers have been suspended after they were accused of parading a couple naked in public.
According to witnesses, police in the Sindh town of Gambat forced the man and woman to walk to the police station naked as punishment for trying to have sex outside marriage.
Mobile phone footage shows a naked man being beaten by police and a woman begging them to let her cover herself.
After a public outcry, officials suspended the officers involved.
The BBC's Shahzeb Jiliani says incidents of public dishonouring are not uncommon in Pakistan, but this incident is particularly shocking because it was carried out by police and filmed on mobile phones.
Last year, several men were arrested for stripping a middle aged woman naked and parading her round the village as punishment for her son allegedly having an affair with a woman in their family.
Shahnaz Bibi told the BBC at the time that her life had been ruined by the ordeal, and she could never go home.
'Deeply scarred'
The footage of this latest incident shows the man, Mumtaz Mirbahar, being pushed around and abused by police officers on his property.
He is then forced to walk naked to the police station, alongside his alleged partner, as a large crowd looks on.
Mr Mirbahar said he has been "deeply scarred" by the incident. He has been released on bail, but the woman involved is still in detention.
Local police said they took action in response to several public complaints against Mr Mirbahar, who has been reportedly holding drink and dance parties during the Muslim holy month of Ramadan.
Neighbours confirmed to the BBC that there had been an issue, but said the police did not have the right to humiliate anyone in that manner.
Pakistani activists say unless stern action is taken against the officers involved, police abuses of their power are unlikely to end here.
http://www.bbc.co.uk/news/world-asia-19132089
--------
Pakistan will continue support to Kashmir cause: Pak PM
ISLAMABAD: August 05, 2012, Prime Minister Raja Pervez Ashraf reiterated Pakistan's commitment to extend moral and diplomatic support to the people of Kashmir in their just struggle for the right of self-determination. Raja said this while talking to former Azad Jammu and Kashmir (AJK) prime minister Barrister Sultan Mehmood Chaudhry at the Prime Minister's House on Saturday.
Mehmood thanked the government of Pakistan for its continuous support to Kashmir cause. The prime minister also appreciated Mehmood for his services for the cause of Kashmir.
Mehmood also apprised the prime minister about the ongoing development projects in AJK. He said that the development projects initiated by the Pakistan People's Party (PPP) government in AJK would help to increase the living standards of the local people.
Mehmood also praised the prime minister about the work of Earthquake Reconstruction and Rehabilitation Authority (ERRA) in the earthquake-hit areas of the AJK.
The prime minister said that the success of PPP in AJK owed much to the endeavours of Mehmood. Raja also commended Mehmood's efforts for strengthening PPP in AJK. app
http://www.dailytimes.com.pk/default.asp?page=2012%5C08%5C05%5Cstory_5-8-2012_pg7_21
--------
Pakistan ruling parties dig in heels on contempt law despite verdict
ANITA JOSHUA
ISLAMABAD, August 4, 2012, 'Will defend legislative powers at any cost'
Hours after the Supreme Court on Friday struck down the Contempt of Court Act, 2012, as "unconstitutional'', the Pakistan Peoples Party-led coalition made it clear that the current dispensation would not cede the power to legislate to any other institution; whatever the odds.
Leaders of the ruling coalition met at the Presidency late on Friday night and from all indications the civilian government has still some fight left in it despite the regular run-ins with the judiciary. After the meeting, the presidential spokesman Farhatullah Babar said party leaders resolved that the right of Parliament to legislate will be upheld and this right will not allowed to be compromised no matter what the odds and the cost.
The power to legislate under the Constitution belongs to elected representatives alone, the leaders reiterated unequivocally, he said; adding that in the context of the present situation, there was an even greater need to remain united and firm. All the coalition partners resolved to remain united and firm and face the emerging challenges with unity, force and conviction.
Though he did not dwell on whether the Government would rethink on the issue of writing to the Swiss authorities to reopen graft cases against President Asif Ali Zardari, there was speculation in a section of the press that some kind of letter may be written to get out the stalemate with the judiciary.
The Supreme Court has been insisting that the letter be written and the Government's refusal to do so on the premise that Mr. Zardari enjoys presidential immunity while in office has already cost former Prime Minister Syed Yusuf Raza Gilani his job. His successor Raja Parvez Ashraf faces a similar fate unless the letter is written by August 8, the next date of hearing in the case.
http://www.thehindu.com/news/international/article3727581.ece
--------
Pakistan arrests Taliban planning attacks: police
(AFP)
MULTAN, Pakistan, Aug 5, 2012, Pakistani police said on Saturday they had arrested five Taliban militants who were planning "terror attacks" in the central city of Multan and other towns in the region.
"The terrorists belonging to Noor Gul group of Tehreek-e-Taliban Pakistan (TTP) were arrested on an intelligence tip off," city police Chief Aamer Zulfikar told reporters.
The 'Noor Gul' group has not been heard of previously, and Zulfikar did not say where or when the arrests were made.
"They were planning to carry out terrorist activities on the eve of the martyrdom anniversary of Hazarat Ali, the fourth caliph of Islam, falling next week," he said.
He added that the group was active in the southern part of the Punjab province, and had planned to target other towns and cities in the region.
The police also seized heavy weapons and ammunition including pistols and assault rifles from the militants.
Pakistan has battled home-grown insurgents including Taliban in the tribal belt for years but has resisted US pressure to do more to eliminate havens used by insurgents fighting the Americans in Afghanistan.
Meanwhile, six people were killed in an explosion triggered in fireworks material stored in a house in Multan on Saturday.
Zulfikar said several nearby buildings were damaged in the blast, which also wounded at least 10 people.
"We are trying to ascertain what triggered the explosion in the factory," he said.
http://www.google.com/hostednews/afp/article/ALeqM5iBU0IwOfbxSnVBFvf4QdFXYD7LHg?docId=CNG.f92b1f99540ae4c7bda16be249b1c97a.481
---------
Pakistan resumes NATO supply into Afghanistan
AFP
PESHAWAR: Aug 5, 2012, Pakistan on Saturday resumed NATO supplies, allowing 14 containers to cross into Afghanistan from its north-western border at Torkham, officials said.
Pakistan had temporarily stopped NATO supplies over security concerns on July 24 after gunmen attacked a convoy of NATO trucks, killing a driver, in the town of Jamrud on the outskirts of the main north-western city Peshawar.
"The NATO supplies have been resumed from today and we sent 14 containers" for international troops in Afghanistan," a local administration official told AFP on condition of anonymity because he is unauthorised to speak to media.
A local intelligence official also confirmed resumption of supplies and the departure of 14 Nato containers to Afghanistan.
A senior local customs official, Ubaidullah Khan, however, put the figure of containers, which left for Afghanistan, at seven, adding that they carried food stuff and clothes.
http://dawn.com/2012/08/04/pakistan-resumes-nato-supply-into-afghanistan/
-------
Missing persons issue being played up to malign Pakistan: Pak Interior Minister
By APP
ISLAMABAD: August 4, 2012, The issue of missing persons in Balochistan was being unnecessarily played up to malign Pakistan, Interior Minister Rehman Malik informed the Senate on Saturday.
"In total, 2,390 people were suspected to be abducted, out of which addresses of 135 were incomplete, particulars of 241 were incorrect and 31 among them were working in the Middle East," Malik said presenting the data on missing persons. "We scrutinised each and every case and found 32 people in jails. Today, there are only 36 cases of missing persons in Balochistan."
He added that much hue and cry was made about Balochistan to create an impression that the government has failed, although the number of missing persons in the province was lesser than others. "The federal and provincial governments are working efficiently."
"We all love Pakistan except for those enemies who are killing our innocent citizens and security personnel," Malik said in what has fast become his best answer to explain the situation in Pakistan.
Presenting a clear picture of the estranged Baloch youth, Malik called them patriots before reaching out to them, enticing them to return home with promises of jobs.
He said the Baloch people wanted to live with Pakistan.
Referring to the Aghaz-e-Haqooq-e-Balochistan package and other initiatives launched in the province to assist the Baloch people, Malik said that the Pakistan Peoples Party-led coalition government was doing what was demanded by late Nawab Akbar Bugti and that all necessary steps would be taken for the prosperity of the province.
Malik also informed the media about the cabinet's committee on Balochistan's upcoming visit to the province on Tuesday.
He said that no operation would be conducted in the province, however, those involved in disrupting the peace would not be spared.
Malik claimed that some Gilgit residents were trained to launch subvertive activities in Balochistan and Karachi but "I warn them that we are determined to foil their bids. We have the blueprints prepared to create unrest in Chitral and fuel Shia-Sunni confrontation."
The minister added that measures were being taken at all levels to curb terrorism and that agencies should not be blamed for the killings in Balochistan.
Also sharing a 'facts book' with the media, containing details of terrorist incidents conducted by militant organizations during the current year, Malik said that all the attacks were claimed by organizations, including the Balochistan Liberation Army (BLA) and other terrorist groups.
"We have complete details, regarding activities of BLA and other terrorist groups."
The Balochistan-Lyari nexus
For Full Report:
http://tribune.com.pk/story/417571/missing-persons-issue-being-played-up-to-malign-pakistan-rehman-malik/
--------
US, Pakistan appear to make little headway in intelligence chiefs talks
By Abdus-Sattar Ghazali
August 4, 2012
Pakistani and US intelligence chiefs held their official meeting in Washington on Thursday but it was unclear if the two uneasy allies made any progress to end deep divisions on militants living in Pakistani tribal areas or on US drone strikes.
Lieutenant-General Zaheer ul-Islam, who was named to head the Inter-Services Intelligence (ISI) in March last , on his first official visit to Washington met on Thursday with CIA Director David Petraeus at CIA headquarters.
The US State Department said that the US and Pakistani spy masters held "substantive, professional and productive" talks Thursday on ways to work together to fight extremists, in a new sign of easing tensions between the two countries. "The talks provided an opportunity to discuss a number of proposals for how we can enhance our joint efforts against terrorism."
"Both leaders reaffirmed their commitment to work together to counter the terrorist presence in the region that threatens both US and Pakistani national security," the department said without going into further details.
Commenting on the talks between the two intelligence chiefs, the Voice of America radio noted that "little is expected to come out of the latest closed-door discussions on anti-terrorism cooperation".
Underlining the differences between the two sides, the official VOA reported that "Washington refuses to stop using drones against militants in Pakistan or share the technology with Islamabad. At the same time, US officials continue to pressure Pakistan to go after militant safe havens in its territory."
Full Report at:
http://www.opednews.com/articles/US-Pakistan-appear-to-mak-by-Abdus-Sattar-Ghaza-120804-757.html
--------
US providing civilian aid to Pakistan: CG
KARACHI: August 05, 2012, New US Consul General (CG) Michael Dodman visited the Mausoleum of Quaid-e-Azam Mohammad Ali Jinnah Saturday morning to pay homage to the father of the nation and laid floral wreath. He recorded his impressions on the visitors' book and responded to some question of the media. He was accompanied by cultural affairs officer Kristine Haworth and press officer Richard Silver.
In visitors' book, he wrote that Jinnah had inspiring vision for Pakistan. "This vision is not only for Pakistanis but it is for American people as well. We share lot of value for this vision. We share common respect for democracy and freedom as embodied by Jinnah".
Talking to media, he said that US was providing civilian assistance to Pakistan, focused on energy, health and education sectors and this assistance would continue. He said the United States would also continue to provide assistance under Coalition Support Fund (CFS).
"We provide this assistance because we support strong and prosperous Pakistan. As far as our cultural exchanges are concern these will continue", he added.
Responding to a question whether assistance under CFS was sufficient, Dodman said that for US this was sufficient. Let Pakistan tell us whether it is sufficient, he noted.
To another question, he said that he wanted to see closer economic ties between USA and Pakistan, business connections and more people to people connection. "I have always focussed on economic cooperation, health and education in my career of 25 years and I will be working on these areas here in Karachi." app
http://www.dailytimes.com.pk/default.asp?page=2012%5C08%5C05%5Cstory_5-8-2012_pg12_3
-------
Five activists of banned outfit arrested
KARACHI: August 05, 2012, Five activists of a banned outfit have been arrested in targeted operations of the law enforcing agencies in various areas of the city. The activists have been arrested on the charges of attack on rangers. According to Ranger sources, five members of a banned organisation were rounded up in targeted operation in Bin Qasim, Baldia Town and various areas of Landhi. Weapons were also recovered from them. On contact, the rangers authorities confirmed the arrest and said that the criminals were from a banned outfit while interrogations were being continued. They have been arrested on the charges of attacking Rangers mobile in Quaidabad on 15 and 16 July and in Buffer zone on July 18. agency
http://www.dailytimes.com.pk/default.asp?page=2012\08\05\story_5-8-2012_pg12_5
-------
Pakistani, Danish climbers make history by scaling 'Malika Parbat'
Our correspondent
Islamabad, August 04, 2012, A Pakistani and Danish Climber have marked history by reaching the peak of 'Malika Parbat' (North Peak) at 5,290 meter, which is the highest mountain in the Hazara
Division. It is the first ever time that a Pakistani climber, Imran Junaidi, has climbed this peak.
The five-day climbing expedition was initiated as part of both climbers' interest in expressing the growing friendship between Denmark and Pakistan. This expedition is not only the first ever joint Pakistan-Danish climbing expedition, but it also the first ever Pakistani ascent of the North Peak.
Danish climber and also Deputy Head of Mission at the Danish Embassy in Islamabad, Jens J. Simonsen stated upon his return that "It was really important for me to do this ascent with a Pakistani climber, not only as an expression of my friendship with Pakistani climbers, but also as a small concrete expression of the friendship between Denmark and Pakistan." "Pakistan is a country of so many strengths and beautiful natural resources, which is breathtaking, especially for us who come from abroad and knew very little about Pakistan. Our relations have never been stronger and we would like to continue working together and extend Pakistan the support it needs to grow and prosper," he said.
'Malika Parbat' is the highest mountain in the Hazara Division, and it is clearly visible from the popular tourist spot of Lake Saiful Maluk in Kaghan Valley.
The mountain is however, considered non-climbable among the local population due to steepness and other mountain hazards. Pakistani climber of the two-man team, Imran Junaidi also shared that he was extremely happy to have taken on this challenge and to have climbed together with his Danish friend and climber, Simonsen. "The climb was no doubt quite challenging at times, but sometimes you have to fight a little for your friendships and for your dreams."
Only eight climbers have reached the top of 'Malika Parbat' (North) Peak until now. The North Summit was firstly reached by Captain B.W. Battye and four Gurkha soldiers in 1920 followed by a second ascent made by Trevor Braham, Norman Noris and Gene White in 1967. Two Pakistanis Rashid Butt and Omer Aziz climbed the South Peak in 1998, but Rashid Butt unfortunately died during the descent. Imran Junaidi is the first Pakistani to have climbed the North peak.
http://www.thenews.com.pk/Todays-News-6-124575-Pakistani-Danish-climbers-make-history-by-scaling-Malika-Parbat
------
Southeast Asia
Philippine Catholic school bans use of hijab
August 04, 2012
ZAMBOANGA CITY (Mindanao Examiner / Aug. 4, 2012) – The Catholic-run Pilar College in Zamboanga City in the southern Philippines has flatly rejected appeals by various Muslim groups to allow its Muslim students to use hijab.
The National Commission on Muslim Filipinos (NCMF) and local politicians also appealed to Pilar College to allow students to wear hijab.
NCMF Secretary Mehol Sadain, in an open letter to Pilar College, wrote: "I am writing, not to argue, but to enlighten; and not to object, but to appeal for your kind reconsideration and compromise, in behalf of the hijab-wearing Muslimah enrolled in Pilar College."
The school, run by the Congregation of the Religious of the Virgin Mary, has stood firm on its decision. In said the core of curriculum of Pilar College is Christian living and it is also the reason why it has Theology and Religious Studies subjects.
"Our origin is Roman Catholic and we cannot deviate from that origin. It is true we cater to students of different religions, but before they are officially enrolled, during interviews of student applicant, rules and regulations are explained to them particularly the non-wearing of the hijab or veil."
"This way, we are giving freedom to students to choose a school which best fits them. They deemed to have agreed to the rule if after having been informed of the restriction, they still chose to enrol," Pilar College said, adding it has the right to freely adopt its own policies, standards, regulations and sets forth its conditions for those wishing to join the community as students.
"This is part of academic freedom in connection with which the school has the right to choose whom to teach," it said.
Full Report at:
http://www.mindanaoexaminer.com/news.php?news_id=20120804104400
---------
Mideast Asia
Yemen suicide bombing kills 42
ADEN:August 05, 2012, A suicide bombing in a south Yemen town recently recaptured by the army from Al-Qaeda forces killed 42 people and wounded 37, hospital and local government sources said on Sunday.
The bomber struck on Saturday in Jaar, one of a string of towns in Abyan province that were retaken by government troops in June after being held by Al-Qaeda loyalists for more than a year.
"An Al-Qaeda suicide bomber detonated his explosives belt during a mourning ceremony organised by the Popular Resistance Committees," a local militia that fought alongside the army in its month-long counter-offensive, said provincial governor Jamal al-Aqal.
An official at the Razi hospital in Jaar said it had received the bodies of 24 of the dead, while medics said 12 people died of their wounds in three hospitals in the main southern city Aden.
Relatives took the bodies of six of the dead directly from the scene of the attack for burial, local official Mohsen bin Jamila told AFP. The 37 wounded were being treated in hospitals in Jaar and Aden.
The bombing stoked fears the militants could retake Jaar. On Wednesday, an attack on a police station in the town killed four soldiers and a civilian.
http://www.thenews.com.pk/article-62088-Yemen-suicide-bombing-kills-42--
------
Fighting in southeast Turkey kills 19
ANKARA: August 05, 2012, Fighting between Turkish soldiers and outlawed Kurdish rebels killed 19 people in the southeast of the country on Sunday, the local governor told the Anatolia news agency.
Six soldiers, two village guards and 11 Kurdish rebels were killed following an overnight rebel attack on an army post in a village in Hakkari province which borders Iraq, the governor Orhan Alimoglu said. Another 15 soldiers were wounded.
The raid on the army post follows similar assaults in the Kurdish-dominated southeast which have prompted the army to launch an all-out offensive against Kurdistan Workers' Party (PKK) bases in the area. The Turkish ground and air operation, one of the biggest in years, was launched about two weeks ago to drive out the rebels in the town of Semdinli, also in Hakkari province.
About 2,000 soldiers are involved in the offensive, private NTV television reported Sunday. "A serious and strong operation is under way in Semdinli," Deputy Prime Minister Besir Atalay said last week.
The PKK, considered a terrorist organisation by Turkey and much of the international community, took up arms in Kurdish-majority southeast Turkey in 1984, sparking a conflict that has claimed some 45,000 lives.
http://www.thenews.com.pk/article-62091-Fighting-in-southeast-Turkey-kills-19
---------
Yemen drone strike kills 5 Qaeda members
ADEN: August 05, 2012, A suspected US drone strike killed five members of al Qaeda travelling in the same vehicle late Saturday in eastern Yemen, a local official told AFP.
"A drone fired two missiles at an all-terrain vehicle... killing its five occupants, all members of al Qaeda," said the official, who requested anonymity.
The attack happened near the village of Al-Qotn, in the province of Hadramut, he added.
Security forces had deployed around the site of the strike and sealed it off, said witnesses.
The United States is the only country that has drones in the region and in recent months has been carrying out strikes on al Qaeda targets in the south and east of the country and in the Arabian peninsula.
Al Qaeda militants have carried out several deadly attacks against Yemeni security services since President Abdrabuh Mansur Hadi, who has repeatedly vowed to battle extremists, came to power this year.
In July, Yemen announced it had placed its security services on high alert to prevent "terrorist" attacks after it uncovered a plot to launch assaults against security and military checkpoints.
The Yemen-based al Qaeda in the Arabian Peninsula is believed to be the most effective and lethal branch of the global network. (AFP)
http://www.thenews.com.pk/article-62048-Yemen-drone-strike-kills-five-Qaeda-operatives
-------
48 Iran pilgrims abducted in Damascus
TEHRAN:August 05, 2012, Forty-eight Iranian pilgrims were kidnapped from a bus in the Syrian capital on Saturday, their embassy's consular chief in Damascus told Iran's state television.
"Armed terrorist groups kidnapped 48 Iranian pilgrims on their way to the airport," Majid Kamjou told the IRIB network, which gave the report on its website.
"There are no reports about the fate of the pilgrims. The embassy and Syrian officials are trying to trace the kidnappers," he said.
Syria's state news agency SANA later gave the same account, without giving a number for those kidnapped, and added that "authorities are working to resolve the situation." (AFP)
http://www.thenews.com.pk/article-62063-48-Iran-pilgrims-abducted-in-Damascus:-Iran-state-TV
-------
Muslims urged to counter human rights violation, Islamophobia
Iran's Islamic Human Rights Commission, in a statement on Saturday, urged world Muslims to counter human rights violation and spread of Islamophobia through advocating human rights.
(Ahlul Bayt News Agency) 2012/08/05, The statement was published on the occasion of the "Islamic Human Rights and Human Dignity Day."
Regretting the inaction of international circles including legal bodies and well-known media towards the violation of Muslims rights in certain Arab states such as Bahrain and Saudi Arabia, the statement noted that their silence would lead to continuation of violation of Muslims' human rights.
Referring to terrorist attacks against defenseless Muslims worldwide particularly in Iraq, Syria and Afghanistan, it said many innocent people have been killed, a large amount of properties destroyed and stability of Muslims communities has been damaged by those attacks.
Urging world Muslims to preserve their unity, the commission called for a reasonable cooperation among regional and international advocates of human rights to avoid violation of Muslims' rights.
http://abna.ir/data.asp?lang=3&id=334449
-------
Israel to Arabs: No Recognition of Israel? No Entry
Israel is getting tough with Arab countries that do not recognize Israel and bars them from crossing Jordan to Ramallah.
By Tzvi Ben Gedalyahu
8/5/2012,
Israel is getting tough with Arab countries that do not recognize Israel and bars them from crossing Jordan to Ramallah.
The Foreign Minister explained that diplomats from Cuba, Indonesia, Malaysia and Bangladesh are not being allowed to attend a mini-Non-Aligned Movement conference in the Palestinian Authority headquarters because their governments do not have diplomatic ties with Israel.
A delegation from Algeria was to be barred, but the country told its officials to return home before Israel could bar therm.
The conference was to be held to back PA Chairman Mahmoud Abbas; renewed attempt to win recognition from the United Nations, this time as an observer state, but the PA said it will cancel the meeting because of Israel's action.
Other countries that were to attend include those who have ties with Israel, such as Egypt, Jordan, India, Colombia and South Africa.
Abbas is expected to have no trouble winning a virtually guaranteed majority in the General Assembly, unlike last years' failed bid for full membership, which requires two-thirds approval from the United Nations Security Council.
The Non-Aligned Movement of 120 countries still is scheduled to hold a meeting in Iran at the end of this month.
Iranian President Mahmoud Ahmadinejad is expected to ask the conference for a resolution recognizing the right of developing countries to enrich uranium and develop nuclear power, regardless of limits set out in the nuclear Non-Proliferation Treaty.
http://www.israelnationalnews.com/News/News.aspx/158599#.UB5mCPYgeYU
--------
Iran offers cash aid to Myanmar Muslim refugees in India: report
TEHRAN, 05 August 2012, Iran has offered financial help to a group of Muslim refugees in Hyderabad, India, the UPI reported on Friday.
The group of 250 Rohingya Muslims fled to Dargah Ali Shah Qadri in Hyderabad to escape persecution in their home country of Myanmar.
Mahmoud Safari, Iran's consul general at Hyderabad, delivered a check for 6,500 Indian rupees (about $1,166) on Thursday to the Confederation of Voluntary Organizations, which works with the UN Human Rights Commission, to help refugees.
Safari condemned the persecution of Muslims in Myanmar and expressed regret that their treatment was going unnoticed by the international community.
He also urged Myanmar government officials to work for a fair solution to the unrest, including a permanent solution for the hundreds of thousands of stateless Rohingya Muslims he said were living in makeshift refugee camps.
Musfa Fazlulrehman, spokesperson of Myanmar Refugees and M. Qaderi, Trustee Dargah Ali Shah Qadri thanked the Iranian authorities for extending a helping hand to the Rohingya Muslims during their times of crisis, Oneindia.in reported on Thursday.
Qaderi said that Iran is the first country to have come forward to stand by the refugees.
He said that Iran's support has helped boost the morale of the victims of the ethnic clashes in Myanmar.
He also thanked the Indian government for giving shelter to the victims.
According to Oneindia.in, thousands of Rohingya Muslims, including women and children, were slaughtered while millions were displaced during the ethnic violence in Rakhine state.
The refugees said that they were being targeted by the Buddhists for refusing to give up Islam.
The UN and Amnesty International have expressed concern over the ethnic tension and the victimization of the Rohingyas.
http://www.tehrantimes.com/politics/100271-iran-offers-cash-aid-to-myanmar-muslim-refugees-in-india-report
--------
India
5 killed in fresh violence in lower Assam, toll rises to 61
PTI
GUWAHATI: Aug 5, 2012, After a calm of ten days fresh violence broke out in parts of lower Assam claiming five lives and pushing the overall toll to 61 today.
Three bodies bearing bullet wounds were found in Chirang and two from Kokrajhar district, where one person is reported missing, police said.
Chirang Superintendent of Police Kumar Sanjiv Krishna said the three - father and his two sons - had left the camp for displaced persons at Kawatika village of Chirang district in the afternoon yesterday and their bodies were found today.
"They left the camp without informing anybody and without any security. Since then they were untraced. Today we found their bodies at Borlangshu village at Chirang district," he said.
Tension prevails in Chirang districts following recovery of the bodies and there are reports of minority community protesting on the streets against the death of the three men.
Inspector General of Police (Bodoland Territorial Areas District) S N Singh told PTI that two more bodies have been recovered from Kokrajhar, while one person was reported missing.
Additional reinforcements of police and para military forces have been rushed to the affected areas, where forces are already deployed since the outbreak of Bodo-Muslim clashes in July, Singh said.
Night curfew continues in Kokrajhar and Chirang, which are part of Bodoland Territorial Autonomous Districts, and Dhubri, which is outside it.
http://timesofindia.indiatimes.com/india/5-killed-in-fresh-violence-in-lower-Assam-toll-rises-to-61/articleshow/15363583.cms
--------
Pak businessmen want legal cover their investment in India
PTI
ISLAMABAD: Aug 5, 2012, Pakistani businessmen who intend to invest in India should be given legal cover to ensure that no future government in Delhi reverses the decision to allow investments from Pakistan, a leading trade lobby has said.
The Pakistan-India Business Council (PIBC) urged the Indian government to "provide legal and constitutional cover to investors from Pakistan so that no government in future could reverse" the move to allow the entry of Pakistani investments.
The Indian government's recent move to permit direct investments from Pakistani investors is "a big decision for which the leadership of both countries deserves appreciation", the PIBC said in a statement.
"The decision is in line with the vision of Indira Gandhi, Jawaharlal Nehru and other leaders of India," said PIBC chairman Noor Muhammad Kasuri.
Kasuri said the Pakistan People's Party-led coalition has been working to normalise relations with India and the decision on investments "will not only bring the two nations close to each other but also pave the way for finding solutions to longstanding disputes".
Pakistan's Commerce Secretary Muneer Qureshi said last week that the two countries will have to ink a bilateral investment treaty to resolve emerging issues related to investments.
"When investments are made, issues will emerge and then some kind of arrangement will be required to resolve bilateral issues. In order to resolve these issues on the investment front, Pakistan and India will have to sign a bilateral investment treaty," Qureshi said.
Qureshi said Pakistan's major players in the textiles sector may invest in India though it would be difficult for small and medium enterprises to make a breakthrough in the Indian market.
PIBC chairman Kasuri further said that President Asif Ali Zardari's proposal for setting up joint economic zones on the India-Pakistan border should be considered by India and a committee set up for working on the matter.
He proposed that the Indian government should set up special economic zones for Pakistani investors and give them concessions. This should be reciprocated in Pakistan by accommodating Indian investors in industrial zones, he said.
http://timesofindia.indiatimes.com/business/international-business/Pak-businessmen-want-legal-cover-their-investment-in-India/articleshow/15364683.cms
-------
Jundal questioned about Bhatkal brothers, terror suspects in German bakery case
Vijay V Singh, TNN
MUMBAI: Aug 5, 2012, The crime branch of Mumbai police are interrogating terror suspect, Zabiuddin Ansari alias Abu Jundal, about the Bhatkal brothers Riyaz and Iqbal who are hiding in Pakistan. Jundal told the interrogator that Bhatkal brothers are in Pakistan but he doesn't know much about them.
The Bhatkal brothers are involved in several serial blasts across the country and had fled to Pakistan in 2009. The crime branch and central agencies are interrogating Jundal about the Bhatkals.
Riyaz, is a founder member of Indian Mujahideen (IM), involved in most of the planning for the Indian Mujahideen. Prominent among blasts for which the IM is blamed are the ones in Ahmedabad and at the German Bakery in Pune.
An officer said that though Jundal is associated with the Lashkar-e-Taiba (LeT) and the Bhatkals are the brains behind most IM operations, officials say Jundal could provide them specific and authentic information about Bhatkal brothers.
The officers believe that Bhatkal brothers had created new identities and are hiding in Pakistan. An officer said, "Some time back, Iqbal Bhatkal, had shifted to Sharjah, but he found it risky to stay there and returned to Karachi." Pakistan authority has always denied the presence of Bhatkal brothers in their country.
http://timesofindia.indiatimes.com/india/Jundal-questioned-about-Bhatkal-brothers-terror-suspects-in-German-bakery-case/articleshow/15364841.cms
---------
Demand for AMU test centre in KSA
MENAFN - Arab News - 04/08/2012
India's Aligarh Muslim University (AMU) has been urged to open an entrance test center in the Kingdom to facilitate admission of non-resident Indian students living in this country.
"The move will benefit over 2.2 million non-resident Indians living and working in Saudi Arabia," said a memorandum sent to the newly appointed AMU Vice Chancellor Zameeruddin Shah, on the occasion of Shah's felicitation in New Delhi recently.
The memorandum said that Saudi Arabia has had special relation with the AMU, which is one of finest educational institutions not only in India but at the global level too. The late King Saud Bin Abdulaziz, who was conferred an honorary doctorate of law by the AMU on Dec 3, 1955, made a substantial financial donation to build the AMU's J. N. Medical College at that time.
The felicitation for the new rector organized by the Duty Society and led by professor Abul Hassan Siddiqui, former AMU pro vice chancellor, was attended by a delegation of AMU alumni living in the Kingdom.
A Riyadh-based businessman Nadeem Tarin, who is also an AMU alumni, attended the felicitation ceremony at the India Habitat Center in New Delhi together with other old boys of the university. M. A. A. Fatmi, former minister of state for human resources and Noor-E-Zehra, assistant professor at India's Sharda University and life member of Duty Society, were present with Indian academics and scholars.
New AMU rector Shah, who was posted at the Indian Embassy in Riyadh as military attache in 1994, said that he would "strive hard to uplift the academic standard of the university." Shah also spelled out his priorities as the new vice chancellor of AMU. He spoke in detail about his perception of new centers of AMU, which are being set up in different provinces of India. He said that "he would lay special emphasis on curriculum development, academic standards and discipline on the campus."
Siddiqui said that Shah, who holds a master's degree in defense studies and another in philosophy, had the distinction to serve as deputy chief of Indian Army Staff. A message of congratulation from the president of Duty Society Khurshid Alam Khan was also read out by Noor-E-Zehra on this occasion. President Khan could not attend the event because of his illness.
Full Report at:
http://www.menafn.com/menafn/1093541877/Demand-for-AMU-test-center-KSA
---------
Arab World
Riyadh deports 35 Ethiopian Christians for praying
By BENJAMIN WEINTHAL, JERUSALEM POST CORRESPONDENT08/05/2012
29women, 6 men assaulted while in jail for months after being detained for holding an all-night prayer vigil in Saudi Arabia. PHOTO: BAZ RATNER / REUTERS BERLIN – Saudi Arabia deported 35 Ethiopian Christians last week after incarcerating them for over seven months for praying in advance of the Christmas season in December 2011, according to Christian media outlets and NGOs.
International Christian Concern wrote on its website that "Saudi Arabia deported the last of the 35 Ethiopian Christians who were detained for holding an all-night prayer vigil.
Saudi security officials assaulted, harassed and pressured the Christians to convert to Islam during their incarceration."
"We have arrived home safe. We believe that we are released as the result of the pressure exerted by ICC and others," one of the Ethiopians told ICC.
"The Saudi officials don't tolerate any other religions other than Islam. They consider non-Muslims as unbelievers. They are full of hatred towards non-Muslims."
On December 15, Saudi authorities raided a private religious function in Jeddah, a city on the Red Sea coast in western Saudi Arabia, and arrested 35 Ethiopian Christian workers.
According to human rights groups and the US government's Commission on International Religious Freedom, the 29 women and six men faced beatings and sexual assault.
The commission noted that "some of the men detained have alleged that they were physically abused during interrogations and the female detainees reportedly were subjected to intrusive and humiliating body cavity searches. While no formal charges have been made, the detainees reportedly were charged with 'illicit mingling' with the opposite sex. Saudi authorities informed sponsors of some of the detainees that their employees were being held because of illegal religious activities. The detainees also reportedly face imminent deportation."
Since 2004, the US State Department has described Saudi Arabia as a "country of particular concern" for its repression of religious freedom.
The imprisonment of the 35 Ethiopians garnered scarce media attention.
The ICC spearheaded a campaign in Washington to force the Saudis to release them.
"This incident underscores the troubling reality that there is no religious freedom in Saudi Arabia. The fact is that in Saudi Arabia a person is not free to practice their faith even in the privacy of their own home. While Saudi Arabia strictly bans all public displays of faith that are not Islamic, storming into a private home and imprisoning immigrants exposes the real nature of religious freedom in the kingdom – it doesn't exist unless you're a Muslim who practices a government-approved Islamic faith," Jordan Sekulow, executive director of the Washington- based American Center for Law and Justice, wrote to The Jerusalem Post by email on Saturday.
Full Report at:
http://www.jpost.com/International/Article.aspx?id=280081
-------
Syria conflict: Troops 'mass for Aleppo assault'
5 August 2012
More than 20,000 Syrian troops are massed around Aleppo, military sources say, as fighting rages for control of the country's second city.
Fighter jets, helicopters and artillery have pounded rebel positions ahead of a feared full-scale assault within days.
In Damascus, another key battleground in the war, army sources said rebels had been pushed from a last stronghold. The rebels said they had withdrawn.
Meanwhile, Iran is seeking the release of 48 Iranians kidnapped on Saturday.
Iranian diplomats and Syrian state television blamed the abduction, which took place near the shrine of Sayyida Zainab in a suburb of Damascus, on "armed groups".
Iran has now asked Turkey and Qatar, both of whom have good relations with the Syrian opposition, to help win the release of the Iranians who it says are pilgrims.
Rebels claimed on Sunday that some of those taken were members of Iran's elite Revolutionary Guards, according to al-Arabiya television.
Separately, Syria's first astronaut is reported to have joined the opposition and fled to Turkey, the latest in a series of high-profile defections.
Muhammed Faris met Free Syrian Army (FSA) commanders in Aleppo and gave them his support before crossing the border, the Turkish news agency Anatolia reported.
Meanwhile, a British photojournalist who was kidnapped and wounded by Islamist militants in northern Syria has told the BBC up to 15 of his captors were from the UK.
Full Report at:
http://www.bbc.co.uk/news/world-middle-east-19137637
------
Saudi Arabia: Soldier shot dead in Eastern Province
4 August 2012
A soldier has been shot dead and another injured during a clash with protesters in eastern Saudi Arabia, according to state media.
An interior ministry spokesman said that a security patrol was fired at by rioters on motorbikes in Qatif.
A protester was also killed in a firefight following the incident, according to news agency AFP.
The oil-rich Eastern Province is home to a Shia majority that has long complained of marginalisation.
Speaking to state media, Interior Ministry spokesman Mansour al-Turki said the shooting took place at 11pm on Friday evening.
"A security patrol was exposed to heavy fire from four armed rioters on a motorbike when pausing at a street intersection in Qatif", he is reported to have said.
He named the dead soldier as Hussein Bawah Ali Zabani and the wounded soldier, who was taken to hospital, as Saad Miteb Mohammed al-Shammari.
AFP quotes Mansour al-Turki as saying a "rioter" had been killed in a firefight following the incident.
Last week, state media said security forces detained a number of protesters in Qatif after tyres were set on fire during an overnight demonstration.
Protests erupted in the region in March 2011 when a popular uprising in neighbouring Bahrain, which has a Shia majority and a Sunni royal family, was crushed with the assistance of Saudi and other Gulf troops.
http://www.bbc.co.uk/news/world-middle-east-19124805
-------
Dubai residents' social project revives Islamic traditions
By Carolina D'Souza Staff Reporter
Dubai:August 4, 2012, A group of UAE Muslim residents are working to reintroduce old and forgotten Islamic traditions and characters through retail products launched during the month of Ramadan.
Syrian-Canadian Lina Salhi, one of the four founders of the social project company Hilalful, told Gulf News that she realised several customs were missing and that Arab children are growing up disconnected from traditional observances like Ramadan, Eid Al Fitr, Eid Al Adha, Isra Wal Meraj, and the New Hijri Year.
The loss of understanding behind the festivity prompted her to interview elderly Arab men and women for research on Islamic customs. She said the research was used to design products that capture and communicate the essence of Islamic celebrations.
For the past 10 years, Salhi has been closely tied with social causes from her student days at a university in Dubai, and later partnering with the Red Crescent, Unesco and Manar Al Iman Charity School, among others.
"Values and meaning just aren't there. Kids today tend to associate celebrations with good food, sleeping in late and watching television. They know little about the most loved characters tied to our celebrations. People need to be reminded of these," said Salhi.
Through Islamic product designs, the founders have reintroduced characters and moral lessons from the Quran in the form of riddles and illustrations. "We have revived a few cheerful characters from our rich heritage," she said.
Full Report at:
http://gulfnews.com/news/gulf/uae/dubai-residents-social-project-revives-islamic-traditions-1.1057531
-------
Riot leaves an Egyptian village without Christians
By SARAH EL DEEB — Associated Press
DAHSHOUR, EGYPT, August 5 2012, When the angry mob was rampaging through town, storming her home and those of other Christians, the 70-year-old woman hid in her cow pen, pushing a rock against the door. There she cowered for hours, at one point passing out from tear gas being fired by police that seeped in.
When Sameeha Wehba emerged just before dawn, she found she was the only Christian left in this small Egyptian village just south of Cairo.
Dahshour's entire Christian community - as many as 100 families some estimate - fled to nearby towns in the violence earlier this week. The flock's priest, cloaked in a white sheet to hide him, was taken out in a police van. At least 16 homes and properties of Christians were pillaged and some torched and a church damaged.
The violence was ultimately rooted in a dispute over a badly ironed shirt that escalated into a fight in which a Christian burned a Muslim to death, in turn sparking the rampage by angry Muslims.
"It was a devil's moment," Wehba said Thursday at the home of her Muslim neighbors, who have taken her in. "Whoever caused this was the devil's son."
The unprecedented exodus underscores how sectarian divisions that festered under decades of Hosni Mubarak's rule are taking a turn to the worse, complicated by the problems of post-revolution Egypt, a country where 10 percent of the population are Christian.
Police forces have been weakened and often don't carry out their duties. Islamists have been emboldened, with rhetoric fanning hatreds. In an atmosphere of lawlessness, Muslims and Christians alike feel freer in unleashing prejudices that in the past were kept barely under the surface.
Most notably in Dahshour, police did nothing as tensions spiraled following the burning of the Muslim man late last month.
Full Report at:
http://www.bradenton.com/2012/08/04/4143526/riot-leaves-an-egyptian-village.html
-----------
Egypt's Christian leader slams "unfair" new cabinet
By Yasmine Saleh
CAIRO, Aug 4, 2012, (Reuters) - Egypt's new government fails to fairly represent Christians, the acting head of the Coptic church said on Saturday, saying one cabinet seat was not enough to reflect a community that accounts for a tenth of the Muslim country's population.
Islamist President Mohamed Mursi appointed his first cabinet on Thursday that drew heavily on career bureaucrats and included three Islamist politicians, one of whom was given the politically sensitive post of education minister.
Christians who joined Muslims in the 18-day revolt that toppled long-time ruler Hosni Mubarak last year had wanted a more inclusive government to balance the growing influence of Mursi's Muslim Brotherhood.
Prime Minister Hisham Kandil's cabinet appointed two women to his team but disappointed women's groups. Salafi Muslims who performed strongly in parliamentary elections were not included in the lineup at all..
Bishop Bakhomious, who replaced Pope Shenouda following his death in March after four decades as head of the Coptic Orthodox Church, told Egypt's Al-Shorouk newspaper he had expected Christians to be better represented.
Full Report at:
http://in.reuters.com/article/2012/08/04/egypt-government-copts-idINL6E8J40NA20120804
--------
Africa
2 killed, 4 kidnapped in Nigeria
LAGOS: August 04, 2012, Gunmen attacked a barge belonging to an oil services company off the coast of Nigeria on Saturday, killing two Nigerian sailors and kidnapping four foreigners, officials said.
The suspected sea pirates stormed the vessel in the Gulf of Guinea, an area that has seen a sharp spike in the number of reported marine attacks over the last six months.
A spokeswoman for Sea Trucks Group, which provides support vessels to oil companies operating in Nigeria, said that one of the company's ships came under fire and that the firm's employees were taken in the raid.
"At this time Sea Trucks Group is making every effort to ascertain the whereabouts of its personnel," the spokeswoman, Corrie van Kessel, said.
Nigeria's navy spokesman Commodore Kabir Aliyu said during the attack "four expatriates are reported to have been kidnapped from the vessel; two sailors were killed."
He said those kidnapped were from Indonesia, Iran, Malaysia and Thailand.
The attack, which also left two other seamen injured, took place at roughly 0100 on Saturday, 35 nautical miles off Nigeria's oil-rich Niger Delta coastal area, the navy and company said.
Aliyu said that the motive of the attack had not yet been established and that so far there has not been any communication with the gunmen.
Full Report at:
http://www.thenews.com.pk/article-62035-Gunmen-kill-2-sailors,-kidnap-4-foreigners-in-Nigeria--
----------
Explosions rock restive Nigerian city as troops raid homes
4 August 2012
Explosions rocked parts of the northeastern Nigerian city of Maiduguri Saturday as troops engaged suspected Islamic radicals and raided homes, residents said.
The explosions, which began late Friday, occurred in three neighbourhoods notorious for attacks blamed on the Boko Haram sect, and residents fled as troops went door-to-door arresting people suspected of complicity, they said.
"Last night, there were explosions in Gwange area which went on till the late hours and today the explosions continued in Kalari and Budum neighbourhoods," Modu Ari, a Budum resident, told AFP by phone from the city.
"Soldiers moved from house to house arresting people, forcing residents to flee their homes to escape arrest," said Ari, who had left his house with his family on Saturday.
Ali Faltaye, a resident of Kalari, said troops battled suspected sect members in the area, sending residents fleeing to avoid being caught up in the fighting or arrested by soldiers.
"Since morning loud explosions have been going on in the area and soldiers have been breaking into homes making arrests", Faltaye said.
Military and police authorities were not available for comment.
Troops from Nigeria's Joint Task Force who were deployed in the city two years ago to combat Boko Haram have been accused of burning homes and committing rights violations against residents whom they accuse of complicity with Boko Haram whenever there is an attack blamed on the sect.
The soldiers have denied such accusations.
The group has stepped up bomb and gun attacks since the start of the Muslim fasting month of Ramadan.
Boko Haram has killed hundreds in an insurgency that has been focused in Nigeria's mainly Muslim north, with attacks also occurring in the country's religiously and ethnically divided centre.
The country, Africa's most populous nation and largest oil producer, is roughly divided between a mainly Muslim north and predominantly Christian south.
Maiduguri, capital of Yobe state, is considered the base of the sect.
http://www.rnw.nl/africa/bulletin/explosions-rock-restive-nigerian-city-troops-raid-homes
-------
Shariah Penalties Anger Mali Muslims
OnIslam & News Agencies
BAMAKO, 05 August 2012, The flogging and stoning of locals in northern Mali by Islamists for violations are inviting a storm of condemnation from Muslim scholars and intellectuals as a harassment of people in the name of Islamic Shariah.
"What is happening is harassment of people in the name of Sharia," Abu Bakr Al-Ansari of the Kal Ansar tribe of Timbuktu told Magharebia news agency.
Islamists, who seized control of northern Mali, have announced the application of hudud (Islamic penalties).
Last week, a young couple were stoned to death on accusations of committing adultery.
Hudud (Penalties) in Contemporary Legal Discourse
It came two months after another couple were lashed for having a child out of wedlock.
"The couple still live in Timbuktu. And the same practices are still in use against the population," said local journalist Yaya Tandina.
"People here are forced to accept this reality because they do not want violence."
Reports were also circulated that residents had then hands cut off for theft and beaten for smoking.
Activists reported that a girl from the village of Goundam was recently flogged for wearing a dress seen by Islamists as "indecent".
"They chased the girl and flogged her in front of her own children and family," Timbuktu mayor Halle Ousmane told Magharebia.
Mali, once regarded as a fine example of African democracy, collapsed into chaos after soldiers toppled the president in March.
The chaos has left a power vacuum in northern Mali that enabled Islamist rebels to take control of nearly two-thirds of the country.
Muslims make up more than 90 percent of Mali's nearly 12 million population.
Harassment
Muslim scholars have condemned the extreme version of Shari`ah Islamists are applying in northern Mali.
Full Report at:
http://www.onislam.net/english/news/africa/458395-shariah-penalties-anger-mali-muslims.html
---------
Nigeria sect leader slams Obama over 'terrorist' label
By: Aminu Abubakar
KANO, Nigeria , 05/08/2012, The suspected leader of Nigerian Islamist group Boko Haram criticised US President Barack Obama in...
The suspected leader of Nigerian Islamist group Boko Haram criticised US President Barack Obama in an online video over Washington's decision to label him a "global terrorist".
It was unclear when the video was made, but it marked the first time Abubakar Shekau publicly addressed the terrorist designation slapped on him by the United States in June.
The clip, more than 38 minutes long, could not be independently verified as authentic, but it was similar to previous videos of Shekau.
"You said I'm a global terrorist, then you are a terrorist in the next world," Shekau said in the Hausa language in the video posted on YouTube while speaking of Obama.
Earlier in the video, Shekau says, "I call on you (Nigerian President Goodluck) Jonathan, you should abandon this ungodly power, you should repent and forsake Christianity, including Obama, who said I have business interests in the United States."
Speaking in a sarcastic tone, an AK-47 leaning against the wall next to him, he also says, "I know the United States exists, but I don't know which part of the world it is located in, whether in the west or the north, the south or the east.
Full Report at:
http://www.starafrica.com/en/news/detail-news/view/nigeria-sect-leader-criticises-obama-ove-246435.html
-------
South Asia
Rohingyas Muslims face 'severest' discrimination, restrictions: US Report
WASHINGTON, Aug 3 (APP): The constitution, laws and policies in Myanmar (formerly Burma) restrict religious freedom and Rohingyas Muslims face 'severest' form of discrimination and restrictions including on access to education and health, a US report on the state of religious freedom said. Released this week, the annual International Religious Freedom Report 2011 noted that Muslims across Myanmar, as well as ethnic Chinese and Indians, often were required to obtain permission from township authorities to leave their hometowns. Authorities often denied Rohingya and other Muslims living in Rakhine State permission to travel for any purpose, the report says. However, it adds, permission was sometimes obtained through bribery.
Muslims in other regions were granted more freedom to travel, but still faced restrictions. For example, Rohingyas living in Rangoon needed permission from immigration authorities to travel into and out of Rakhine State.
"Muslims in Rakhine State, particularly those of the Rohingya minority group, continued to experience the severest forms of legal, economic, educational, and social discrimination," the State Department report said, documenting the plight of Rohingya Muslims during last year.
There were reports that Buddhist physicians would not provide Muslims the endorsement required by the Ministry of Health that permits Muslims to travel outside Rakhine State to seek advanced medical treatment.
Full Report at:
http://app.com.pk/en_/index.php?option=com_content&task=view&id=204167&Itemid=2
---------
Looted Afghan artefacts returned to Kabul
5 August 2012
Hundreds of archaeological artefacts looted from Afghanistan have been handed over to the country's national museum during a ceremony in the Afghan capital, Kabul.
Many of the 843 pieces were stolen during Afghanistan's civil war in the 1990s and ended up on the black market.
Some of the items, which include stone statues of Buddha and intricate ivory carvings, are up to 4,000 years old.
The British Museum in London has helped to complete their return.
Some of the stolen artefacts were recovered by British border forces and police, while others were found in private collections and bought back by generous donors.
One stone Buddha, thought to be around 1,800 years old, was stolen from the museum in Kabul and recovered in Japan.
The British Ministry of Defence flew the pieces back to Afghanistan in large crates, landing at their military base in Camp Bastion.
Afghan archaeologists say the repatriation of the treasures, which had been feared lost forever, is a source of national pride.
More than two thirds of the exhibits at the National Museum in Kabul were stolen or destroyed during the civil war.
The BBC's correspondent in Kabul, Aleem Maqbool, says there will be concerns about the fate of the artefacts, given the unpredictability surrounding Afghanistan's future.
But archaeologists in Afghanistan say having so many of their treasures back on home soil is a source of great national pride, our correspondent adds.
http://www.bbc.co.uk/news/world-asia-19134330
--------
Europe
Discrimination complaint lodged against French municipality against Being Sacked for fasting during Ramadan
By RFI
A community group has lodged a formal complaint against a municipal council in a Paris suburb after it sacked four summer camp instructors for fasting during Ramadan. The coordinator of the group told RFI the complaint will help protect Muslim employees in France
The complaint was logded with the mayor of Gennevilliers on Saturday by the organization, Front des Banlieues Independant Association that works to alleviate poverty.
The organization's president Hassan Ben M'Barek said he lodged the complaint as the town's reason for the dismissal, children's safety, "masks discrimination against a Muslim practice".
France introduced a law in September 2010 banning people from covering their face. Critics of the law say it targets Muslim women who wear burqas.
"There has been an increase in Islamophobia here in France in recent years, which started with the law that bans Muslim women wearing burqas," Ben M'Barek told RFI.
The four summer camp employees were dismissed on July 20, the first day of Ramadan, after an inspector visited the camp and told the staff they were endangering the children's safety by not eating or drinking during daylight hours.
An aide to the mayor said the decision was influenced by an episode three years ago when a fasting camp worker was taken ill while driving, leading to an accident which seriously injured a child.
The town council later backtracked on its decision to fire the workers, but the damage was done, with Muslim leaders denouncing the move.
Mayor Jacques Bourgoin said in response Gennevilliers had long hired members of the Muslim community.
The town decided Friday to set up a permanent committee to address issues Muslims may have with the community, he added.
One of the dismissed workers said he thought every person should be able to tell for himself whether he can handle fasting.
"I hope this debate will take place, with people who can move things forward," said the worker who asked to be identified only by his first name, Samir.
Currently there is no law banning Muslim employees in France from fasting during Ramadam. Ben M'Barek says he is concerned that sacking of the four summer camp workers may prompt some companies to avoid hiring Muslims.
"We are lodging this complaint to send a message throughout society that Muslims have the right to fast during Ramadam in France," Ben M'Barek told RFI.
http://www.english.rfi.fr/france/20120805-discrimination-complaint-lodged-against-french-municipality
---------
North America
U.S. Muslim Groups Declare 'Day of Solidarity with the Syrian People'
WASHINGTON, Aug. 4, 2012 /PRNewswire/ -- On Friday, August 10, mosques and Islamic centers nationwide will take part in a "Day of Solidarity with the Syrian People" to raise awareness about the growing humanitarian disaster created by that nation's dictatorial regime and to raise funds for civilian relief assistance.
WHAT: National Day of Solidarity with the Syrian People at U.S. Mosques
WHEN: Friday, August 10, (Prayer times will vary.)
WHERE: Mosques Nationwide
The "Save Syria" coalition of national Muslim and Syrian-American organizations,* is asking mosque religious leaders (imams) to dedicate their sermons (khutbas) during the normal Friday congregational prayers to urge support for the Syrian people and their desire for freedom.
Worshippers will be provided with information about accredited relief organizations serving civilians who have suffered at the hands of the Syrian regime. American Muslims and other people of conscience will also be asked to contact their elected representatives to urge action to help stop attacks on civilians.
http://www.prnewswire.com/news-releases/cair-us-muslim-groups-declare-day-of-solidarity-with-the-syrian-people-165000286.html
------------
URL: https://newageislam.com/islamic-world-news/by-new-age-islam-news-bureau/pakistan-police-parades-couple-naked-for-intent-to-commit-adultery/d/8167