New Age Islam News Bureau
5 Sept 2012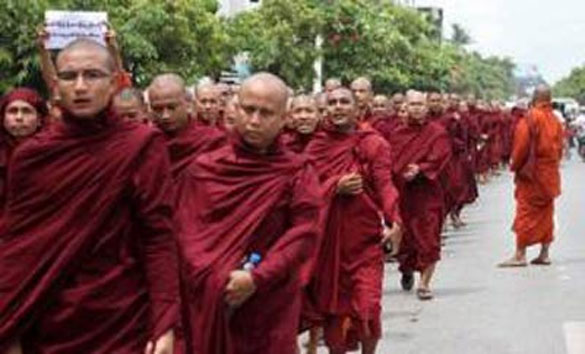 Pakistan
• Pak police vandalise 23 Ahmadi graves, remove Quranic verses
• Hate content against Hindus, Sikhs, and Christians in Pak textbooks increases manifold
• CCP condemns perjury against Rimsha, Hazara killings
• Suicide bomber blows himself up in Khyber Pakhtunkhwa
• Pak realises it is time to befriend India: Political activist
• Person arrested for burning religious book to face strict punishment: PA told
• Banned outfit helps in vaccinating Tirah children
• President vows not to allow anyone endanger Pakistan's existence
• Karachi violence claims six lives
• US investigators to lead Peshawar blast probe
• Balochistan case: File final response, SC tells provincial govt
• Zardari's dual office case: LHC issues notice to Pak Prez
• 'Interpol not approached for Musharraf warrants'
• Parliamentary committee on migration of Hindus submits report
• Ranking of 100 prominent Pakistanis
• Pakistan central bank aims to strengthen Islamic finance sector
India
• India calls on Syrian parties to dissociate from terror groups
• No report of Chinese incursion in J&K: Antony
• Educated professionals in terror network
• Judge rejects theory that Bajrangi killed foetus
• No community can claim majority status in India: Congress leader
• India looking at opening two border points with Pakistan
• BSF maps vulnerable spots along border with Pak, Bangladesh
• 2002 Riots: Gujarat seeks death for Ode massacre accused
• NIA to probe Pak 'hand' in cross-border smuggling racket
• 14 youths from Kashmir joined militant groups: Govt
• Sharp Criticism for Mamata Banerjee in Muslim Officer's Book
• New visa regime to top India-Pakistan talks
South Asia
• Burma Monks March for Rohingya Expulsion
• Abuses rise in Maldives under new regime: Amnesty
• China confirms takeover of Pak's Gwadar port
• NATO expresses 'deep concern' to Karzai
• Afghan army arrests 'hundreds' over insider attacks
• Two NATO personnel killed in Afghanistan helicopter crash
• 42 child soldiers 'released from Myanmar army'
Southeast Asia
• I am in no position to decide on Shia 'heresy': Indonesian Minister
• UK responsible for massacre of Malaysian citizens in 1948
• Malaysia's Mahathir calls on voters to not support government that "favours war"
• Slain activist gains younger fans on Twitter
• Book launched on leader of the Darul Islam's unpublished execution
Mideast Asia
• US drone attack kills 5 suspected militants in Yemen
• Israel: Trappist Monastery Is Vandalized
• Iran Supplying Syrian Military via Iraqi Airspace
• Turkey Accuses Assad of 'State Terrorism'
• Israeli "skunk" fouls West Bank protests
• Israeli leader angrily breaks up key meeting on Iran, citing leaks
• First day of Yemen Donor Conference concludes in Riyadh
• Global donors pledge $ 6.4 bn for Yemen
Arab World
• 19 killed as Syrian troops batter Aleppo: watchdog
• Syrians fleeing war start to trickle into Europe
• Six soldiers killed in north Iraq bombings
• Syrian rebels claim downing of another Assad warplane
• New UN-Arab League peace envoy says Syria death toll 'staggering'
• Morsi calls on Syrian regime to step down
• Egypt to Try Ex-Official on Charge of Corruption
• The soundtrack of the Syrian revolution
• Fresh investments to create 12,000 jobs for Saudis
North America
• Democrats on convention eve: Osama is dead and General Motors is alive
• Islamic Society of North America Convention...Finding Muslim Soul Mates
• Clinton: 'Disappointed' with China, Russia on Syria
• US has common cause with Pak on war against terror: Pentagon
• SEALS were told to catch Osama alive, if possible: Ex-commando
• US gives $21 million more to help Syrian refugees
Europe
• Gunman kills 1 at rally for new Quebec premier
Africa
• Mali jihadists enforce Sharia law after seizing new town
• Tunisia: Salafist Muslims Ransack Hotel for Serving Alcohol
• Mauritania sends ex-Muammar Gaddafi spy chief to Libya
• Somalia: Residents Flee Rebel-Held City as Kenyan Ground Troops Approach
Compiled by New Age Islam News Bureau
Photo: Burma Monks March for Rohingya Expulsion
URL: https://newageislam.com/islamic-world-news/pak-police-vandalise-23-ahmadi/d/8570
-----------
Pakistan
Pak police vandalise 23 Ahmadi graves, remove Quranic verses
Sep 05 2012
Lahore: In another incident targeting the minority Ahmadi sect in Pakistan, police in Punjab province removed plaques with Quranic verses from graves at a community following a complaint from clerics.
Policemen vandalised 23 graves at the cemetery in Faisalbad district, 80 km from the Punjab capital of Lahore, by smashing the plaques, spokesman for leading Ahmadi body Jamat-e-Ahmadiya Pakistan, Salimuddin, said.
This was the second such incident in three weeks.
Punjab Police earlier vandalised another Ahmadi cemetery in Hafizabad district, 90 km from Lahore, by using black paint to cover Quranic verses on 64 graves.
According to Salimuddin, police in Faisalabad smashed or removed the plaques of 23 graves in Jeranwala sub-division following a request from local clerics.
He said police called local Ahmadis and "ordered" them to remove the plaques inscribed with Quranic verses as they were "hurting" the emotions of Muslims.
"We told them it was a sin to remove the plaques, and if you want to do it, do it yourself," Salimuddin said.
He said it was "very unfortunate" that the administration was playing into the hands of anti-Ahmadi elements.
Salimuddin said a 1992 ruling by the Supreme Court had allowed Ahmadis to inscribe some Quranic verses on their graves.
"Police are even violating the apex court's order," he said.
Pakistan's Ahmadis consider themselves Muslim but were declared non-Muslims through a constitutional amendment in 1974.
A decade later, they were barred from proselytising or identifying themselves as Muslims in Pakistan.
Some 1.5 million Ahmadis live across the country.
Police in Punjab have taken action against several Ahmadi mosques this year.
They demolished the minarets of an Ahmadi mosque at Kharian city, 200 km from Lahore, last month.
In March, couplets from the Quran written on tiles at an Ahmadi mosque at Sultanpura in Lahore were removed by police.
http://www.indianexpress.com/news/pak-police-vandalise-23-ahmadi-graves-remove-quranic-verses/998279/
--------
Hate content against Hindus, Sikhs, Christians in Pak textbooks increases manifold
Sep 5, 2012
LAHORE: At a time when Pakistan is plagued by terrorism, its official academia has been unable to stop the inclusion of hate material targeting Hindus, Christians and Sikhs and fanning sectarian hatred in school curriculum.
This hate material included in textbooks being used in Punjab and Sindh provinces mainly targets the country's religious minorities - Hindus, Christians and Sikhs - and India and Westerners, says the NGO National Commission for Justice and Peace.
"The latest textbooks have more hate content than those written previously," the NGO said in a statement.
According to a content analysis of books published by the Punjab and Sindh textbook boards that was done by the NCJP, the hate content has increased manifold with the passage of time.
"Many textbooks that had no hate material in their earlier versions, now carry such material in Punjab and Sindh provinces. The issue of religious intolerance should be discussed openly and that must lead to some action to save younger students from such influences at the outset," the NCJP said in a report entitled "Education or Fanning Hate".
The report said there were 45 lines containing hate material in books published in Punjab during 2009-11, and the figure increased to 122 lines this year.
The textbooks for Urdu and Pakistan Studies for Classes VII, VIII, IX and X were found to be the "most affected", as hate material increased from 15 lines to 86 lines.
In all, 22 lessons in the current curriculum for primary and secondary schools have hate content, the report said.
Rights and civil society groups have often blamed such contents in textbooks for fanning sectarian hatred and animosity towards countries like India.
http://timesofindia.indiatimes.com/world/pakistan/Hate-content-against-Hindus-Sikhs-Christians-in-Pak-textbooks-increases-manifold/articleshow/16264096.cms
-----------
Suicide bomber blows himself up in Khyber Pakhtunkhwa
05 Sep, 2012
PESHAWAR: A suicide bomber blew himself up outside a police station in north-western Pakistan after officers opened fire on him on Wednesday, police said, adding that there were no other casualties.
The incident took place outside Jandol police station in the mountainous Lower Dir district, one of the tribal areas bordering Pakistan.
"A man was coming towards the police station, when police shouted to stop him he began running and blew himself up when police started firing," senior police official Akhtar Hayat Gandapur told AFP.
There were no other casualties or damage, he said.
Nobody immediately claimed responsibility for the attack, but Taliban militants have been carrying out similar bombings and suicide attacks in Peshawar.
http://dawn.com/2012/09/05/suicide-bomber-blows-himself-up-in-khyber-pakhtunkhwa/
-----------
CCP condemns perjury against Rimsha, Hazara killings
05 Sep, 2012
LAHORE: Concerned Citizens of Pakistan (CCP) condemned those who recently killed 12 Hazaras in cold blood and the conduct of prayer leader Imam Khalid Jadoon, who committed perjury by fabricating evidence in the Rimsha Masih case.
CCC said there had been repeated killings of Hazaras but none had yet been brought to book. "Such criminal negligence on the part of law enforcement authorities is tearing asunder the very fabric of society," CCP added.
Police has arrested Jadoon, who accused Rimsha Masih of committing blasphemy by burning pages from the Quran.
Hafiz Zubair, a witness, stated before the court that Jadoon had added pages of the holy Quran to the burnt material saying that this would strengthen blasphemy case against Rimsha, a mentally challenged girl.
http://www.dailytimes.com.pk/default.asp?page=2012\09\05\story_5-9-2012_pg7_12
-----------
Pak realises it is time to befriend India: Political activist
Sep 05 2012
London : Pakistan's establishment has realised that it is now time for it to befriend India so that it may thrust forward in central Asia, a leading Pakistani intellectual and political activist has said.
"Pakistan establishment has realized that it is time now to befriend India so that they may thrust forward in Central Asia," Professor Amin Mughal said at a function organised to launch Subhash Chopra's book 'Partition, South Asia after bin Laden, Jihad and Peace' at the Nehru centre here.
Mughal said: "a large section of the society in Pakistan has been theocratised. It is not only the army but also the civil society itself."
Full report at:
http://www.indianexpress.com/news/pak-realises-it-is-time-to-befriend-india-political-activist/998210/
-----------
Person arrested for burning religious book to face strict punishment: PA told
05 Sep, 2012
PESHAWAR: Provincial Minister for Law and Parliamentary Affairs, Barrister Arshad Abdullah informed the Khyber Pakhtunkhwa assembly on Tuesday that the person involved in burning of a religious book in Lower Dir district has been arrested and charged under Anti Terrorism Act.
Speaking in response to a call attention notice raised by MPA Hafiz Akhtar Ali of JUI(F), Barrister Arshad Abdullah said a cleric of a religious seminary instigated students in the madrassa that Fazal-e-Aamal, a religious book mostly read by Tableeghi Jamat, contains wrong Hadeez.
The cleric, who belongs to Afghanistan, later burned the book in the seminary. Soon after the incident the district administration took action over at and arrested the persons who is presently facing charges under ATA.
Earlier, MPA Hafiz Ahkar Ali raised the issue and said great resentment is found among people of the area who wanted strict action against the culprit for hurting the sentiments of fellow Muslims.
Provincial Minister, Hidayatullah, who also belongs to Dir, also informed the house that district administration has taken strict action over the incident and the culprit will face sever punishment.
http://dawn.com/2012/09/05/person-arrested-for-burning-religious-book-to-face-strict-punishment-pa-told/
-----------
Banned outfit helps in vaccinating Tirah children
05 Sep, 2012
PESHAWAR, Sept 4: The government vaccinated children in inaccessible areas of Tirah for the first time during the last four years with the help of Ansarul Islam, a banned outfit in Khyber Agency, officials said.
They said that cooperation by Ansarul Islam led to vaccination of children in 95 per cent area of Tirah. "It is a major breakthrough as many efforts to vaccinate children in the Taliban-controlled areas had failed," officials told Dawn, crediting the vaccinators and Ansarul Islam for protecting 32,641 children against polio.
They said that 11,626 children also got vaccine against measles while another 3,889 newborns and below the age of one month were vaccinated to safeguard them from five ailments. The vaccinators covered those children on Monday and Tuesday, they said.
"Ansarul Islam and religious leaders attached to the group understand that the poliovirus can cause life long disability so they are ready to support the initiative," said officials. Only four families refused to vaccinate their children, however, efforts were afoot to convince them, they said.
Full report at:
http://dawn.com/2012/09/05/banned-outfit-helps-in-vaccinating-tirah-children/
-----------
President vows not to allow anyone endanger Pakistan's existence
05 Sep, 2012
ISLAMABAD: President Asif Ali Zardari has said that the dark forces of extremism, militancy and sectarianism are posing a serious challenge to the integrity of the nation, but no one will be allowed to endanger its existence.
The President, in a message on the Defence Day of Pakistan, said that Pakistan was a moderate, tolerant and peaceful nation, where political choices were made by the ballot.
"Let us, therefore, pledge that we will never allow anyone to endanger our existence as a moderate, tolerant and peaceful nation," he said.
Stressing an urgent need for clarity of purpose and national unity to confront the challenges, the President said that the demonstration of unprecedented cohesion among the people, singularity of purpose at the national level and valour of the armed forces made September 6, a memorable day in the national calendar.
Full report at:
http://dawn.com/2012/09/05/president-vows-not-to-allow-anyone-endanger-pakistans-existence/
-----------
Karachi violence claims six lives
05 Sep, 2012
KARACHI: Karachi once again witnessed deteriorating law and order situation as targeted killings continued in which eight people lost their lives on Wednesday, DawnNews reported.
As a result of firing, two policemen were killed in the city's North Karachi area.
In another incident of firing, a father and son were killed in the Ittihad Town area of Karachi's Baldia Town.
A man's dead body was found from the Defence graveyard whereas another body bearing marks of torture was found from Lyari's Khadda Market.
An unknown person opened fire in the city's Napier area, killing one person.
One person was also killed in the city's New Karachi area due to firing.
At least three people were injured in the areas of Landhi, Moach Goth, and Jahangir Road respectively.
http://dawn.com/2012/09/05/karachi-violence-claims-six-lives-including-two-policemen/
-----------
US investigators to lead Peshawar blast probe
05 Sep, 2012
PESHAWAR: The US Federal Bureau of Investigation will lead the probe into a suicide car bomb attack on an American diplomatic car in Pakistan that killed two people, officials said Wednesday.
The FBI team will work alongside Pakistani investigators as they search for clues to who was behind Monday's blast in the northwestern city of Peshawar, in which an attacker rammed his explosives-laden car into US consulate vehicle.
Two American and two Pakistani consulate employees were wounded in the bombing, the deadliest attack targeting Americans in the country in more than two years.
No group has yet claimed responsibility, but militants linked to the Taliban and al-Qaeda have targeted the consulate and its staff at least twice before since April 2010.
"An FBI team is leading the investigation of the Peshawar blast on behalf of the US government. We are closely coordinating with the Pakistan government," a US official in Peshawar told AFP, confirming what US State Department spokesman Patrick Ventrell told reporters in Washington on Tuesday.
FBI agents have arrived in Pakistan and will work with Pakistani counterparts to inspect the blast site and vehicles damaged in the explosion, diplomatic sources said.
http://dawn.com/2012/09/05/us-investigators-to-lead-peshawar-blast-probe/
---------
Balochistan case: File final response, SC tells provincial govt
05 Sep, 2012
QUETTA: During the the hearing of a petition on the law and order situation and human rights violations in Balochistan on Wednesday, the Supreme Court directed the Balochistan government to file a final response over the missing persons' issue tomorrow (Thursday), DawnNews reported.
The court moreover issued summons for the federal interior and defence secretaries to appear for Thursday's hearing.
A three-judge bench of the apex court, comprising Chief Justice Iftikhar Muhammad Chaudhry, Justice Khilji Arif Hussain and Justice Jawwad S. Khawaja, was hearing at the court's Quetta registry the petition filed by the Balochistan Bar Association on the law and order situation in Pakistan's largest province.
The bench said that the federal and provincial governments and the Frontier Corps (FC) had assured the court of resolving the missing persons issue but had failed to do so in spite of the fact that a period of three months had lapsed.
On which, FC's counsel Raja Irshad said that the court had "forcefully" taken the assurance from the said institutions.
Full report at:
http://dawn.com/2012/09/05/balochistan-case-sc-resumes-hearing-8/
-----------
Zardari's dual office case: LHC issues notice to Pak Prez
Sep 05 2012
Lahore : Amid controversy over Pakistan President Asif Ali Zardari's dual office, the Lahore High Court Wednesday issued a notice to him to explain by September 14 why he had not followed its direction to relinquish the political post of co-chairman of the ruling PPP.
A four-judge bench headed by the High Court Chief Justice Umar Atta Bandial issued the notice to the President through his Principal Secretary.
"We ask the President to tell the court as to why he did not follow the High Court's direction of leaving political office of his party," Bandial said.
He further said, "The President should inform the court if he thinks that the petition against his holding of two offices is not maintainable."
The petition challenging the holding of two offices by Zardari was to be heard by a five-member bench but one of the judges, Mansoor Ali Shah, went on leave hours before the hearing.
Full report at:
http://www.indianexpress.com/news/zardaris-dual-office-case-lhc-issues-notice-to-pak-prez/998175/
-----------
'Interpol not approached for Musharraf warrants'
05 Sep, 2012
ISLAMABAD: Interior Minister Rehman Malik told the Upper House of parliament on Tuesday that Interpol has not been approached for issuance of red warrants against General (r) Pervez Musharraf in pursuance of an order of the Balochistan High Court in the Akbar Bugti murder case.
The minister stated this in the Senate in reply to a question by Senator Nawabzada Saifullah Magsi. "Interpol's NCB have not received any request for issuance of red warrants against General (r) Pervez Musharraf in pursuance of a direction of the Balochistan High Court in the Akbar Bugti murder case," he said.
The Senate was further told that the Pakistan Railways leased out 10,157 acres, including agricultural and commercial, during the last 10 years and the total amount collected from the said lease so far was Rs 6.1 billion. The railways minister told the House in another written reply that three officers of Pakistan Railways of BS-17 and above and their spouses held dual nationality. He added Rana Abrar Anwar (BS-19), Pakistan Railways Mughalpura, Lahore divisional superintendent workshops, and his wife possessed Canadian nationality; Waseem Ahmad (BS-19), Pakistan Railways HQ Office, Lahore deputy CPO-II, and his wife also possessed Canadian nationality; while the wife of Muhammad Nasir Khalili (BS-18), Pakistan Railways Mughalpura works manager, possessed British nationality.
In a written reply, the Senate was told further that 753 officers and 1,837 officials had been appointed in the Pakistan International Airlines Corporation since 2008.
http://www.dailytimes.com.pk/default.asp?page=2012\09\05\story_5-9-2012_pg7_4
-----------
Parliamentary committee on migration of Hindus submits report
05 Sep, 2012
'No one will be allowed to impose its agenda upon minorities'
* President says govt is committed to protect rights of minorities as equal citizens of the state
By Razzak Abro
KARACHI: The parliamentary committee appointed by the president to look into the grievances of Hindu community Tuesday called on President Asif Ali Zardari here at Bilawal House.
Those who called on the president include Senator Maula Bux Chandio, MNA Lal Chand and Senator Hari Ram Kishori Lal.
The committee presented to the president a preliminary report on the grievances of the Hindu community living in the country. Sindh Chief Minister Syed Qaim Ali Shah was also present on the occasion.
President Zardari had appointed a four-member committee comprising of Senator Maula Bux Chandio, MNA Lal Chand, Senator Hari Ram Kishori Lal and Dr Khatumal Jeewan on August 10 to visit various districts of Sindh and meet the people from Hindu community and report on their grievances.
According to president's spokesperson Senator Farhatullah Babar the committee informed the president about its visits and the meetings held with members of the Hindu community.
Senator Chandio informed the president that some Hindus had complained about abduction of their girls and their forcible conversion to Islam, which had caused resentment and sense of insecurity among them.
Full report at:
http://www.dailytimes.com.pk/default.asp?page=2012\09\05\story_5-9-2012_pg12_2
-----------
Ranking of 100 prominent Pakistanis
05 Sep, 2012
LAHORE: Carter-Anderson, the publishers and editors of the Global Power 100, have announced the launch of the Pakistan Power 100, a unique ranking of the most influential and successful Pakistanis across the globe.
A press release said on Tuesday over 33,000 nominations were received online, identifying prominent and successful Pakistanis from all walks of life, including business, sports, entertainment, philanthropy, popular arts and culture in October 2010.
The four most nominated people in each category are automatically included in the final list. All other nominees in each category will be short-listed by a panel of judges led by Dragon James Caan.
The nominees include Abdul Sattar Edhi, Imran Khan, Syed Babar Ali, Mian Mohammad Mansha, Sherry Rehman, Mona Kasuri, Seema Aziz, Monis Rahman, Rashid Rana, Tehmina Durrani, Farrokh Captain and others. Alongside honouring the 100 most-influential Pakistani men and women, the nomination committee will also be presenting special awards to 15 of the most outstanding achievers of the past year.
Full report at:
http://dawn.com/2012/09/05/ranking-of-100-prominent-pakistanis/
-----------
Pakistan central bank aims to strengthen Islamic finance sector
05 Sep, 2012
DUBAI: Pakistan's central bank has announced it will develop rules defining the roles and responsibilities of all those involved in the sharia compliance process of Islamic banks, including scholars.
The rules aim to strengthen governance of the Islamic finance sector in the world's second most populous Muslim nation, the central bank said in a statement on Tuesday. It did not give details of the new rules.
There are growing calls in the Islamic finance industry globally to improve the credentials and certification process of sharia boards at Islamic banks, to reduce the potential for conflicts of interest and increase transparency.
The central bank also said it was developing a five-year plan for Pakistan's Islamic banking sector in the 2013-2017 period.
Full report at:
http://dawn.com/2012/09/05/pakistan-central-bank-aims-to-strengthen-islamic-finance-sector/
-----------
India
India calls on Syrian parties to dissociate from terror groups
Sep 5, 2012
UNITED NATIONS: As the crisis in Syria worsens, India has asked all parties in the troubled nation to dissociate themselves from terrorist groups, which it said are exploiting the increasingly militarised conflict.
Strongly condemning the terrorist acts that continue to be perpetrated in Syria against state institutions and public infrastructure, India's permanent representative to the UN ambassador Hardeep Singh Puri said the Syrian conflict has become increasingly more militarised, which is being exploited by well-known terrorist groups.
"We call upon all parties, Syrian as well as foreign, to dissociate themselves from terrorist groups and ensure that no space or justification is provided for terrorist acts," Puri said at an UN General Assembly meeting on Syria on Tuesday.
He expressed concern that the Syrian parties have pursued a military approach to realise their objectives instead of seriously commencing a Syrian-led political process.
With the international community failing in its efforts to address the crisis, he said, there is an urgent need for countries to "close ranks and send a united message to the Syrian parties."
The parties in Syria must be urged to recommit themselves to resolving the crisis peacefully through a Syrian-led inclusive political process that can meet the legitimate aspirations of all Syrian citizens.
"There is no other way to bring about a sustained cessation of violence in all its forms by all parties," he added.
The nearly 18-month long crisis has affected the region as a whole and the deteriorating security situation has exacerbated the humanitarian sufferings of the Syrian population, Puri said.
http://timesofindia.indiatimes.com/world/middle-east/India-calls-on-Syrian-parties-to-dissociate-from-terror-groups/articleshow/16261741.cms
-----------
No report of Chinese incursion in J&K: Antony
Sep 5, 2012
NEW DELHI: There is no report of any Chinese incursion in Jammu and Kashmir but the areas along the Line of Actual Control (LAC) are under constant Army surveillance, the Rajya Sabha was informed on Wednesday.
"No report of Chinese incursion has been received from the government of Jammu and Kashmir...The areas along LAC are kept under constant surveillance by regular patrolling by troops and other aerial, optronic and electronic means," defence minister A K Antony told the Upper House in a written reply.
On naval exercise with Japanese maritime self defence force, he said, "The first Japan-India maritime bilateral exercise was conducted on June 9, off Yokosuka, during deployment of Indian naval ships to Southeast Asian countries during May-July 2012...It benefited Indian Navy in operational skills, doctrinal expertise...search and rescue procedures and in enhancing maritime domain awareness."
Full report at:
http://timesofindia.indiatimes.com/india/No-report-of-Chinese-incursion-in-JK-Antony/articleshow/16264533.cms
-----------
Educated professionals in terror network
Sep 5, 2012
BANGALORE: A DRDO engineer, doctor, journalist, MBA...The profile of the arrested LeT and HuJI operatives on Thursday has sent shock waves.
The trend of educated professionals on the terror network began to surface in the state in 2006. It heralded the changing face of terror and the magnitude of their planning and involvement, which ranged from train bombings to terror attack on a foreign soil.
It began with the arrest of Muzammil Sheikh, a software engineer with a MNC in Bangalore, in connection with the 2006 train bombings in Mumbai.
Next was the turn of Ahmed brothers from Bangalore - Dr Sabeel Ahmed, a MBBS doctor, and Kafeel Ahmed, a PhD scholar in aeronautical engineering - to get arrested in connection with the terror plot and the attack on the Glasgow Airport in the United Kingdom in June-July 2007.
A few months later, in January 2008, the state police stumbled upon a network of SIMI and LeT activists at Honnali in Davangere district and Hubli. Of the more than a dozen persons arrested, there were students of medicine, doctors and engineers, besides a LeT operative.
The terror modules busted in the state include the LeT, SIMI, Al-Badr, Deendar-Anjuman and HuJI. The investigators have also found some links to the al-qaida in the past.
http://timesofindia.indiatimes.com/city/bangalore/Educated-professionals-in-terror-network/articleshow/16265121.cms
-----------
Judge rejects theory that Bajrangi killed foetus
MANAS DASGUPTA
05 Sep, 2012
"Neither alleged witness, nor Bajrangi's 'bragging' can be relied upon as they are not gynaecologists"
The special fast track court, which tried the Naroda-Patiya massacre of the Gujarat 2002 riots case, has rejected the theory that the former State Bajrang Dal president, Babu Bajrangi, removed a foetus from a victim and killed it after "swirling it on the tip of his sword" during the riots.
Special court judge Jyotsna Yagnik, who delivered her voluminous judgment last week, said neither the sole witness who talked about the foetus being taken out — the then 14-year-old brother of the victim, Javed Sheikh — nor a "bragging" to the effect by Babu Bajrangi himself during a sting operation could be relied upon.
Ms. Yagnik said the evidences available before the court proved that Babu Bajrangi did kill the nine-months-pregnant woman Kausar banu with a sword but that he could not have taken out the foetus. "She was slashed in the stomach with the sword and she died with the foetus in her womb," the judge said in her verdict. She said neither the witness nor Babu Bajrangi were gynaecologists and would not have been able to remove a foetus, which only experienced persons could do. She said the stomach flesh of the victim may have been mistaken for the foetus.
Full report at:
http://www.thehindu.com/news/states/other-states/article3859939.ece
-----------
No community can claim majority status in India: Congress leader
Sep 4, 2012
NEW DELHI: No community, including Hindus, can claim majority status in India as it is essentially a country of people with various beliefs, Congress leader and former Union minister Shashi Tharoor said here on Tuesday.
"There is no community in the country which can claim to be a majority. It is true that Hindus are majority but within the community there are castes, regional and linguistic differences. So within Hindu community also there are people with minority status and they experience it," he said.
He was speaking at the fifth annual lecture of National Minority Commission (NCM).
Tharoor gave several examples of diversity within a common regional or caste belief.
"Brahmins in Karnataka and West Bengal share the same regional belief but have distinct identities of their regions. They get along better with people of their own places and origin even though if the other person follows a different religion," he said.
Full report at:
http://timesofindia.indiatimes.com/india/No-community-can-claim-majority-status-in-India-Shashi-Tharoor-says/articleshow/16252688.cms
-----------
India looking at opening two border points with Pakistan
Sep 5, 2012
NEW DELHI: Fresh from the successful opening of the Wagah-Attari border trading post, India said it was keen to throw open the Khokhrapar-Munabao border point as well. Addressing a group of Pakistani parliamentarians, Union commerce minister Anand Sharma said on Tuesday that India was also willing to start talks with Pakistan to open the Husseiniwala-Sialkot border point.
The Attari-Wagah border post was recently opened for traffic, though he said, some structures was still needed to be put in place.
Meanwhile, foreign minister S M Krishna, on the eve of his departure to Pakistan, said, "I will take with me the message of serious intent of the government and people of India to resolve outstanding issues between India and Pakistan through dialogue in an atmosphere free from terror and violence".
India and Pakistan have started talks on exporting electricity to Pakistan, the minister said. The first step, Sharma said, would be grid connectivity with Pakistan. This has been done between India and Bangladesh in the past couple of years, and the Indian concept could be replicated on the Indo-Pak border. India, the minister said, was willing to sell 500mw of electricity as the first step. Arvind Mehta, joint secretary in the commerce ministry, said the two sides, in their recent meetings, were looking to fast-track the process.
Full report at:
http://timesofindia.indiatimes.com/india/India-looking-at-opening-two-border-points-with-Pakistan/articleshow/16258145.cms
-----------
BSF maps vulnerable spots along border with Pak, Bangladesh
Sep 5, 2012
NEW DELHI: The Border Security Force (BSF) identified spots along India's boundary with Pakistan and Bangladesh vulnerable to crime, illegal migration and border firing. The highest number of such spots is in West Bengal on the eastern side and Jammu and Punjab on the western border.
Along the 2,308 km border with Pakistan, there are 51 vulnerable BOPs — 28 in Jammu and 23 in Punjab.
Jammu's BOPs are vulnerable to firing from Pakistan, said a senior BSF officer. Between July 27, when a 450m tunnel was detected in J& K's Samba district, and August 21, there were 10 instances of ceasefire violations by Pakistan along the international border.
Smuggling of narcotics and weapons were detected through Punjab's vulnerable BOPs.
The BSF plans to build 286 more border outposts — 198 along India's border with Bangladesh and 88 with Pakistan.
Full report at:
http://timesofindia.indiatimes.com/india/BSF-maps-vulnerable-spots-along-border-with-Pak-Bangladesh/articleshow/16258230.cms
-----------
2002 Riots: Gujarat seeks death for Ode massacre accused
Sep 5, 2012
AHMEDABAD: The state government has sought death sentence in its appeal against 27 people, sentenced to life by an Anand court for their involvement in the 2002 Ode massacre. Two appeals were filed before a division bench headed by Justice R R Tripathi in the Gujarat high court on Tuesday. This is the first time that the state government has asked for capital punishment in post-Godhra riot cases.
The 27 were convicted for their involvement in two separate massacres in Ode in which 26 people were killed. The Supreme Court-appointed special investigation team (SIT) and the victims have also sought to enhance the punishment. The state government was late by almost 40 days in filing its appeal in the Piriwali Bhagol case of Ode, in which 23 people were killed, but requested the high court to condone the delay.
In all 23 people were convicted for the Pirawali Bhagol killings and 18 were sentenced to life for criminal conspiracy and murder by special judge Poonam Singh. The state government has sought capital punishment for these 18.
Full report at:
http://timesofindia.indiatimes.com/india/Gujarat-seeks-death-for-Ode-killing-accused/articleshow/16257786.cms
-----------
NIA to probe Pak 'hand' in cross-border smuggling racket
Sep 5, 2012
NEW DELHI: A case of seizure of arms, narcotics, fake currency and Pakistani phones from Amritsar in July has been transferred to the National Investigation Agency (NIA) by the home ministry for investigation into a suspected larger conspiracy by the ISI.
In July, Punjab Police had seized 11kg of heroin valued at around Rs 55 crore in international market, Rs 5 lakh in Fake Indian Currency Notes (FICN), one Italian Breta pistol and 38 live cartridges, and a Pakistani phone with Pakistan Telecommunications Company Limited connection following the arrest of three cross-border smugglers.
Sources said the proposal to hand over the case to NIA was moved by Punjab Police. "The home ministry has given its nod and a fresh case will now be filed by the NIA," said an official.
The home ministry, said sources, wants NIA to investigate a larger conspiracy by Pakistan to push fake currency, narcotics and arms into India using smuggling networks. "The fact that a Pakistani phone has been recovered from the accused is proof of the fact that the entire network is being funded and supported by Pakistan," said the official.
Full report at:
http://timesofindia.indiatimes.com/india/NIA-to-probe-Pak-hand-in-cross-border-smuggling-racket/articleshow/16258439.cms
-----------
14 youths from Kashmir joined militant groups: Govt
Sep 05 2012
New Delhi : Fourteen youths from Kashmir Valley have reportedly joined militant groups this year, government told Parliament today.
"Reports received from central agencies indicate that some Kashmiri youth have joined militancy. During the year 2012 only 14 youths of the Valley have reportedly joined militant groups," Minister of State for Home Jitendra Singh told Rajya Sabha in a written reply.
The government, he said, had adopted various counter terrorism methods to neutralise the efforts and capabilities of militants and to watch the activities of those supporting such groups.
"The government has also encouraged policies to mainstream the youth and discourage them from joining militancy," he said.
The minister said a total of 67 "successful" infiltration attempts, out of the total 139, have taken place till July this year across the border in Jammu and Kashmir.
Similar "successful" attempts, during the same period last year, stood at 26.
The total infiltration attempts upto July last year were 93, he said.
http://www.indianexpress.com/news/14-youths-from-kashmir-joined-militant-groups-govt/998192/
-----------
Sharp Criticism for Mamata Banerjee in Muslim Officer's Book
By ANURADHA SHARMA
05 Sep, 2012
KOLKATA - In just over a week since its launch, Musalamander Koroniyo (What Muslims Should Do), a book in written in Bengali by a senior police officer, has attracted national attention and raised new questions about intolerance in West Bengal, where Mamata Banerjee is chief minister.
The police raided the College Street office of the book's Kolkata publisher, Mitra & Ghosh, on Friday, closing it for hours and sparking fresh allegations of Ms. Banerjee's "autocratic style of functioning."
The book, a mere 102 pages, written in a straightforward and proscriptive style, is unsparing in its criticism of the policies of Trinamool Congress, Ms. Banarjee's party, regarding Muslims. It particularly criticizes new promises that Ms. Banerjee has made, including stipends for imams and muezzins, who give the call to prayer, and the state's plan to recognize 10,000 madrasas , which would allow the religious schools to get some state benefits.
"She knows Muslims are uneducated, unaware and unorganized," the book says of these policies. "Therefore, they will not be able to understand the trick."
The author, Nazrul Islam, is a senior Indian Police Service officer, currently serving as the additional director general of the West Bengal police. (Check back with India Ink later today for an interview with Mr. Islam).
Full report at:
http://india.blogs.nytimes.com/2012/09/05/sharp-criticism-for-mamata-banerjee-in-muslim-officers-book/?ref=asia
-----------
New visa regime to top India-Pakistan talks
05 Sep, 2012
New Delhi: India and Pakistan will discuss the roadmap of bilateral relations when their foreign ministers meet in Islamabad Saturday, with a new visa regime likely to top the agenda.
Indian External Affairs Minister S.M. Krishna arrives in Islamabad Friday for talks with his Pakistani counterpart Hina Rabbani Khar.
A high point of the three-day visit could be the signing of a visa pact, but the two sides have not given a final confirmation.
Krishna and Rabbani will review the second round of the dialogue process revived in February 2011 after a long hiatus following the 26/11 Mumbai terror attack.
The two ministers are expected to discuss all bilateral issues including those related to terrorism and Kashmir. They will co-chair the plenary of the India-Pakistan Joint Commission Saturday.
Full report at:
http://zeenews.india.com/news/nation/new-visa-regime-to-top-india-pakistan-talks_797905.html
----------
South Asia
Burma Monks March for Rohingya Expulsion
04 September 2012
YANGON – In a move that incites hatred against a persecuted Muslim minority, thousands of Buddhist monks have marched across Burma to demand the expulsion of Bengali-ethnic Muslims, known as Rohingyas, from the country.
The protest was to "let the world know that Rohingya are not among Myanmar's ethnic groups at all," Wirathu, the monk who led the march, told Agence France-Presse (AFP) on Tuesday, September 4.
Wearing their traditional deep red robes, thousands of monks marched in Mandalay, the country's second-largest city, on Sunday to demand the expulsion of Rohingya Muslims from the country.
"Protect Mother Myanmar by supporting the President," read one banner, referring to President Thein Sein's suggestion to deport Rohingyas to a third country.
In July, the Burmese president commented on the website of UN High Commissioner for Refugees Antonio Guterres that it was "impossible to accept the illegally entered Rohingya, who are not our ethnicity".
He even suggested sending Rohingya Muslims to a third country or to UN-administrated camps.
"We have lived peacefully among different religions and ethnicities for years. But we now have these illegal Bengali immigrants demanding to be recognized as a native ethnic group and asking to be granted citizenship," Wirathu said.
"We want people to know the truth, that the Rohingya are not Burmese and that they are not a peaceful group."
Described by the UN as one of the world's most persecuted minorities, Rohingya Muslims are facing a catalogue of discrimination in their homeland.
They have been denied citizenship rights since an amendment to the citizenship laws in 1982 and are treated as illegal immigrants in their own home.
The Burmese government as well as the Buddhist majority refuse to recognize the term "Rohingya", referring to them as "Bengalis".
Thousands of Rohingya Muslims were forced to flee their homes after ethnic violence rocked the western state of Rakhine in July after the killing of ten Muslims in an attack by Buddhist vigilantes on their bus.
Full report at:
http://www.onislam.net/english/news/asia-pacific/458901-burma-monks-march-for-rohingya-expulsion.html
-----------
Abuses rise in Maldives under new regime: Amnesty
5 September 2012
COLOMBO — Security forces in the Maldives have stepped up attacks against peaceful demonstrators since the resignation of its first democratically elected president, Amnesty International said Wednesday.
The crackdown included the detention, beating and sexual harassment of four women participating in an anti-government rally, other beatings, pepper-spraying and arrests, the London-based rights watchdog said.
Survivors told Amnesty that troops and police used unnecessary force and arbitrarily arrested and tortured them with impunity, according to a report entitled "The other side of paradise: a human rights crisis in the Maldives".
"The picture they paint is completely at odds with the tranquillity of the waters and scenic islands of this elegant archipelago," Amnesty said, referring to the atoll nation which is better known for its luxury tourism.
Full report at: Copyright © 2012 AFP. All rights reserved.
-----------
China confirms takeover of Pak's Gwadar port
Sep 4, 2012
BEIJING: Ahead of Pakistan Premier Raja Pervez Ashraf's visit here, China today tacitly confirmed reports that it was taking over the strategic Gwadar deep water port in Balochistan, which it may convert into an oil pipeline hub to augment its energy supplies from the Gulf.
Asked about Pakistan Shipping Minister Babar Khan Ghauri's remarks that China may take over the port operations with USD 10 billion investment following pullout of Singapore Port Authority (SPA), Foreign Ministry spokesman Hong Lei said both countries are engaged in cooperation to build infrastructure projects. "China and Pakistan are neighbours of traditional friendship. Over the years, China and Pakistan have engaged in wide-ranging cooperation in all fields including infrastructure construction with a view to helping Pakistan improve people's well-being and promote social and economic development," Hong said in a written response to a query from . "Such cooperation is also beneficial to regional stability and development," he said, without directly referring to Babar's comments.
Full report at:
http://timesofindia.indiatimes.com/world/china/China-confirms-takeover-of-Paks-Gwadar-port/articleshow/16252909.cms
-----------
NATO expresses 'deep concern' to Karzai
05 Sep, 2012
NATO's top official has expressed deep concern to Afghan President Hamid Karzai over the surge of assaults by Afghan troops on their foreign allies.
Spokesperson Carmen Romero said Mr. Karzai had assured Secretary-General Anders Fogh Rasmussen in a phone conversation on Wednesday that he was doing all he could to stop the attacks.
The spike of insider attacks has sparked concerns that Afghan forces will not be capable of taking over security by 2014 as planned.
U.S. Gen. John R. Allen, who commands NATO's 129,000-strong force, briefed the alliance's top decision-making body on Wednesday about the attacks.
http://www.thehindu.com/news/international/article3862160.ece
-----------
Afghan army arrests 'hundreds' over insider attacks
05 Sep, 2012
KABUL: Hundreds of Afghan soldiers have been arrested or expelled over a rising number of attacks on NATOcolleagues, the defence ministry said on Wednesday.
On more than 30 occasions so far this year, members of the Afghan security forces have opened fire on their Western allies, killing at least 45 foreign troops — the majority of them American.
Defence ministry spokesman General Zahir Azimi told a news conference on Wednesday that the attacks were "a matter of concern" for the Afghan government.
"So far, hundreds of people have either been arrested or expelled from the army. We have found evidence against some people and some suspicious people have been arrested," he said.
Full report at:
http://dawn.com/2012/09/05/afghan-army-arrests-hundreds-over-insider-attacks/
-----------
Two NATOpersonnel killed in Afghanistan helicopter crash
05 Sep, 2012
KABUL: A NATOhelicopter crashed in eastern Afghanistan on Wednesday, killing two coalition personnel, the military said.
Taliban insurgents claimed to have shot down two helicopters in Logar province, just south of the capital Kabul, but NATOsaid the cause of the crash was under investigation. The militants are known to exaggerate their claims.
"An Isaf helicopter has crashed in eastern Afghanistan, resulting in two Isaf fatalities. We are investigating the cause," a spokesman for Nato's US-led International Security Assistance Force told AFP.
The administration in Logar said the area is largely under Taliban control and 13 kilometres (eight miles) north of the provincial capital Puli Alam.
"There was a helicopter incident in Baboos area, which is an area largely under the Taliban control," said provincial spokesman Din Mohammad Darwish.
The area was "inaccessible" to Afghan forces, he added.
http://dawn.com/2012/09/05/at-least-two-nato-killed-in-afghanistan-helicopter-crash-military/
-----------
42 child soldiers 'released from Myanmar army'
05 Sep, 2012
YANGON: Dozens of child soldiers have been discharged from the Myanmar military, state media said Tuesday, months after the country agreed with the United Nations to curb the use of underage recruits.
Forty-two minors were allowed to resign from the armed forces and were handed over to their parents in Yangon on Monday, according to the official New Light of Myanmar newspaper. There are believed to be thousands of under-18s in Myanmar's state army and ethnic armed groups, although the exact figure is unknown. In June Myanmar signed an agreement with the UN pledging to prevent the use of child soldiers and allow access to military units to check for underage recruits.
The agreement was part of efforts by Myanmar's reformist government to shed its international pariah image following the end of decades of military rule last year.
http://www.dailytimes.com.pk/default.asp?page=2012\09\05\story_5-9-2012_pg14_4
---------
Southeast Asia
I am in no position to decide on Shia 'heresy': Indonesian Minister
Margareth S. Aritonang
September 05 2012
Religious Affairs Minister Suryadharma Ali has claimed he is unable to make a declaration that the Shia Islamic sect is not heretical in order to prevent future attacks against the community in Sampang, East Java, and elsewhere.
According to Suryadharma, neither he, nor any other government official, was in a position to make such a judgment about any religious minority group.
"I don't have the authority to judge whether or not the Shiites are heretical, or a certain food is Halal or not. We need a comprehensive understanding before making a judgment about such things, because differences in faith, which may or may not be heresy, will keep growing," Suryadharma told reporters on the sidelines of a meeting with the House of Representatives Commission VIII overseeing religious and social affairs.
In regard to solving the problem suffered by the Shia community in Sampang, Suryadharma said that his ministry would hold a dialogue to bring all parties to the conflict in the area sit together to talk about their differences.
"Many things can happen after a dialogue," he said, citing the conversion of Ahmadiyah followers in Banten to 'true' Islam an example.
http://www.thejakartapost.com/news/2012/09/05/i-am-no-position-decide-shia-heresy-religious-affairs-minister.html
----------
UK responsible for massacre of Malaysian citizens in 1948
Alisha Hassan | 5 September 2012
KUALA LUMPUR: A London court on Tuesday ruled that the British government and its military was responsible for the massacre of 24 unarmed Malaysian civilians in a 1948 incident that saw troops shoot dead the people.
The court ruling contradicts the official UK government position and could result in heightened tensions, as Britain does not appear ready to deliver an apology to Malaysia over the matter.
A British foreign ministry official told Bikyamasr.com on condition of anonymity that the court's ruling "is not what the military's investigations into the incident has shown and we are currently looking at how to proceed."
The killings occurred at a rubber plantation in Batang Kali, which was then part of the UK Protected State of Selangor and had been a major controversy for the past 60 years.
Malaysians believe the killings were murder and called on the British government to apologize for its brutal crackdowns during its occupation of the country.
Full report at:
http://www.bikyamasr.com/76821/uk-responsible-for-massacre-of-malaysian-citizens-in-1948/
----------
Malaysia's Mahathir calls on voters to not support government that "favors war"
Alisha Hassan | 5 September 2012
KUALA LUMPUR: Malaysia's outspoken former Prime Minister Mahathir Mohamed has called on Malaysians not to elect a government "that supports war in an effort to create a more peaceful situation in the world."
His comments come as campaigning by the government appears to be in full swing, even though an election has yet to be called.
Elections in Malaysia must take place before April next year.
The former PM, who ruled Malaysia for 22 years, and is the president of the Perdana Global Peace Fund (PGPF), urged citizens to choose leaders who would declare war a crime.
"The change through the people's votes could create countries which would no longer resort to war as a solution to conflicts," he said at a dialogue with Universiti Muhammadiyah students on Tuesday.
Full report at:
http://www.bikyamasr.com/76856/malaysias-mahathir-calls-on-voters-to-not-support-government-that-favors-war/
-----------
Slain activist gains younger fans on Twitter
September 05 2012
The unresolved murder of leading human rights activist Munir Said Thalib is gaining higher attention from youngsters, according to a campaigner using the popular Twitter micro-blogging site.
On Sunday, journalist-cum-writer Dandhy Dwi Laksono started inviting people to feature an image of Munir Said Thalib as their Twitter profile picture, or avatar. Via his account, @dandhy_laksono, he asked followers to put the picture up for eight days to commemorate the eighth anniversary of the activist's death, which falls this Friday.
The movement, entitled "Resist Forgetting" (Melawan Lupa), quickly gained attention as many Twitter users, who are mostly teenagers, changed their avatar to the activist's photo.
"We invite the young generation to learn more about Munir. Hopefully, these teenagers will continue to demand the resolution of his murder case in the future," Dandhy told The Jakarta Post Digital on Wednesday.
Full report at:
http://www.thejakartapost.com/news/2012/09/05/slain-activist-gains-younger-fans-twitter.html-0
----------
Book launched on leader of the Darul Islam's unpublished execution
Sita W. Dewi
September 05 2012
University of Indonesia scholar and the Great Indonesia Movement (Gerindra) politician Fadli Zon launched a book Wednesday containing unpublished pictures of the execution of Sekarmadji Maridjan Kartosoewirjo, leader of the Darul Islam (DI) movement and the Indonesian Islamic State (NII) leader, 50 years after his execution in September 1962.
The book, titled Hari Terakhir Kartosoewirjo (Kartosoewirjo's Last Day), is the first to reveal visual evidence of the last day of the West Java-based cleric, sentenced to death for subversion and executed on Ubi island, Thousand Islands, just north of Jakarta, rebutting speculation that he was executed and buried in Onrust island, three kilometers away from Ubi island.
"The history was written by the victors. But we need to know who Kartosoewirjo really was and this book will complete the puzzle," Fadli said during the book launch in Taman Ismail Marzuki, Cikini, Jakarta.
Full report at:
http://www.thejakartapost.com/news/2012/09/05/ri-scholar-launches-book-kartosoewirjo-s-unpublished-execution.html
----------
Mideast Asia
US drone attack kills 5 suspected militants in Yemen
05 Sep, 2012
ADEN: Five suspected militants were killed in a US drone attack on Wednesday in Yemen's eastern province of Hadramout, a Yemeni security official said.
The strike targeted a house where the suspected militants were hiding in the Wadi al-Ain area, said the security official.
"Five militants were dead and three were injured and managed to escape".
The United States, which fears the spread of militants in Yemen, has stepped up attacks by unmanned aircraft this year.
This is the fourth strike in two weeks in Hadramout province.
Al Qaeda in the Arabian Peninsula is based in Yemen and has mounted operations in neighboring Saudi Arabia as well as attempting to launch attacks against the United States.
On Sunday, ten civilians including a 10-year-old girl were killed by a Yemeni government air strike that apparently had missed its target.
Full report at:
http://dawn.com/2012/09/05/us-drone-attack-kills-5-suspected-militants-in-yemen/
-----------
Israel: Trappist Monastery Is Vandalized
By ISABEL KERSHNER
05 Sep, 2012
Vandals burned the door of a Trappist monastery at Latrun, near Jerusalem, early Tuesday and scrawled anti-Christian slogans on the walls. The Israeli authorities said they suspected it was the work of Jewish extremists avenging recent moves against unauthorized settlement outposts in the West Bank. The graffiti included "Jesus is a monkey" and the names of two small outposts where security forces have destroyed structures several times. The vandals also wrote "mutual concern," code in settler circles for the policy of exacting a price for army and police actions against the outposts. Prime Minister Benjamin Netanyahu and other Israeli leaders condemned the act, as did regional leaders of the Roman Catholic Church.
http://www.nytimes.com/2012/09/05/world/middleeast/trappist-monastery-is-vandalized-near-jerusalem.html?ref=middleeast&gwh=97023E5B1F59435F015505B0CD17A4B9
-----------
Iran Supplying Syrian Military via Iraqi Airspace
By MICHAEL R. GORDON
05 Sep, 2012
WASHINGTON — Iran has resumed shipping military equipment to Syria over Iraqi airspace in a new effort to bolster the embattled government of President Bashar al-Assad of Syria, according to senior American officials.
The Obama administration pressed Iraq to shut down the air corridor that Iran had been using earlier this year, raising the issue with Prime Minister Nuri Kamal al-Maliki of Iraq. But as Syrian rebels gained ground and Mr. Assad's government was rocked by a bombing that killed several high officials, Iran doubled down in supporting the Syrian leader. The flights started up again in July and, to the frustration of American officials, have continued ever since.
Military experts say that the flights have enabled Iran to provide supplies to the Syrian government despite the efforts Syrian rebels have made to seize several border crossings where Iranian aid has been trucked in.
Full report at:
http://www.nytimes.com/2012/09/05/world/middleeast/iran-supplying-syrian-military-via-
-----------
Turkey Accuses Assad of 'State Terrorism'
05 Sep, 2012
ANKARA, Turkey (AP) — Turkey's prime minister says Syrian President Bashar Assad's regime is engaged in "state terrorism" and is criticizing the world for just watching the "slaughter of Muslims" there.
Prime Minister Recep Tayyip Erdogan also said Wednesday that Syria's 18-month-long conflict had killed close to 30,000 people, including 2,200 children. He said some 76,000 people were missing.
Erdogan said inaction by the U.N. Security Council and the international community was giving Syria the "strength to continue its massacre."
Turkey has become the Assad regime's strongest critic and is host to Syrian opposition groups as well as some 80,000 refugees.
Earlier, Egyptian President Mohammed Morsi said Assad must learn from "recent history" and step down before it is too late.
http://www.nytimes.com/aponline/2012/09/05/world/middleeast/ap-ml-
-----------
Israeli "skunk" fouls West Bank protests
Sep 4, 2012
NABI SALEH, WEST BANK: Imagine taking a chunk of rotting corpse from a stagnant sewer, placing it in a blender and spraying the filthy liquid in your face. Your gag reflex goes off the charts and you can't escape, because the nauseating stench persists for days.
This is "skunk", a fearsome but non-lethal tool in Israel's arsenal of weapons for crowd control. It comes in armored tanker trucks fitted with a cannon that can spray a jet of stinking fluid over crowds who know how to cope with plain old tear gas.
While the army calls skunk an attempt to minimize casualties, rights groups dismiss it as a fig-leaf for the use of deadlier force against protesters in the occupied West Bank.
For although recent years have been among the quietest of the 45-year-old occupation, Israel has been unable to stop an epidemic of local grassroots demonstrations that often turn into clashes.
Full report at:
http://timesofindia.indiatimes.com/world/middle-east/Israeli-skunk-fouls-West-Bank-protests/articleshow/16254388.cms
-----------
Israeli leader angrily breaks up key meeting on Iran, citing leaks
05 Sep, 2012
JERUSALEM (AP) — Israel's prime minister has angrily cut short a key gathering of top security officials, accusing an unnamed participant of leaking details of the sensitive meeting to the media.
Netanyahu says the leak occurred after a daylong meeting of his Security Cabinet on Tuesday. The forum was briefed by top security officials about various regional threats.
When the group resumed its discussions Wednesday, Netanyahu sent everyone home. He said Israeli security requires the ability to hold confidential meetings, and whoever spoke to the media violated "the most basic trust."
Netanyahu did not identify any suspects or what information was leaked.
But the Yediot Ahronot daily, citing unnamed participants, said in a report Wednesday that Israeli intelligence organizations disagreed over Israel's ability to damage Iran's suspect nuclear program in a military strike.
http://www.nytimes.com/aponline/2012/09/05/world/middleeast/ap-ml-israel-
-----------
First day of Yemen Donor Conference concludes in Riyadh
Sep 4, 2012
WAM Riyadh, Sep 04th, 2012 (WAM) - The first day of the Yemen Donor Conference, co-chaired by Saudi Arabia, Yemen and the World Bank Group concluded yesterday in the Saudi capital, Riyadh. Dr Abdulrahim Al Awadi, Assistant Minister for Legal Affairs at the Ministry of Foreign Affairs, headed the UAE's delegation.
The conference aims to offer an opportunity for the international community to take stock of recent developments in Yemen and see how development partners can best support Yemen's recovery during a critical period.
Yemen has been wracked by unrest recently and is beset by the long term challenges of economic crisis, including fast-depleting oil and groundwater reserves and food insecurity.
Speaking at the conference, Dr Al Awadi said that the UAE recognizes the urgent economic and humanitarian challenges facing Yemen.
"It is important that Yemen's friends and partners come together to assist the government in responding to the needs of the Yemeni people", he said.
Full report at:
http://www.wam.org.ae/servlet/Satellite?c=WamLocEnews&cid=1290000594291&p=
----------
Global donors pledge $ 6.4 bn for Yemen
GHAZANFAR ALI KHAN
5 September 2012
RIYADH: International donors yesterday pledged $ 6.4 billion in cumulative aid to Yemen to help the impoverished country rebuild after it was hit by political unrest and an insurgency waged by Al-Qaeda, the World Bank said.
The new figure is up from $ 4 billion pledged to the state at a meeting of the Friends of Yemen in May. Saudi Arabia had solely promised $ 3.25 billion of the $ 4 billion raised in May.
"The total number is $ 6.396 billion, to fund the short term and portions of the long term," Inger Andersen, the World Bank's Vice President for the Middle East and North Africa said at the end of the first day of the donors meeting.
The World Bank gave "a grant of $ 400 million on top of existing $ 700 million, of which $ 200 million have been dispersed," she said.
Full report at:
http://www.arabnews.com/global-donors-pledge-64-bn-yemen
----------
Arab World
19 killed as Syrian troops batter Aleppo: watchdog
September 05, 2012
Syrian forces shelled rebel-controlled zones of Aleppo before dawn on Wednesday, killing at least 19 people, among them seven children, the Syrian Observatory for Human Rights said.
Ten civilians were killed in the southern neighbourhood of Bustan al-Qasr while a total of nine
bodies, including those of the children, were found in the Marjeh and Hanano neighbourhoods, the Britain-based watchdog said.
Activists have reported relentless bombardments and food shortages in rebel-held neighbourhoods of the country's commercial capital, while an AFP reporter said life in the centre of the city was relatively normal.
Rebels fighters on July 20 opened a new front in the Syrian conflict by launching an attack on Aleppo.
Full report at:
http://www.hindustantimes.com/world-news/RestOfAsia/19-killed-as-Syrian-troops-batter-Aleppo-watchdog/Article1-924855.aspx
-----------
Syrians fleeing war start to trickle into Europe
Sep 4, 2012
KOPINGEBRO, SWEDEN: Ali Jamal travelled thousands of miles on foot, by train and road to flee violence in Syria while Jomaah piled his family into a camper van to smuggle them north to Europe.
They have now reached safety in Sweden, some of the growing thousands of Syrians who are evading the European Union's frontier controls to escape the turmoil of the past 18 months.
That is raising calls for a more focused European response to a refugee crisis that has seen over 200,000 Syrians flee to Jordan, Iraq, Lebanon and, especially, Turkey. From there, a determined, and usually richer, few press on to the EU borders, mainly into Greece, with most hoping for asylum further north.
Sweden alone, 2,500 km (1,500 miles) from Turkey's European frontier, is expecting 17,000 Syrians to show up seeking refuge this year and next, reflecting a sharply rising trend across the continent; barely a tenth of that number reached Sweden in the first half of this year - itself a marked increase on 2011.
Full report at:
http://timesofindia.indiatimes.com/world/europe/Syrians-fleeing-war-start-to-trickle-into-Europe/articleshow/16253940.cms
-----------
Six soldiers killed in north Iraq bombings
Sep 4, 2012
KIRKUK, IRAQ: Bombings which targeted security forces in northern Iraq on Tuesday left six soldiers dead, including an officer, security and medical officials said.
Two near-simultaneous explosions went off as a convoy was passing along the main road between the towns of Tuz Khurmatu, 175 kilometres (110 miles) north of Baghdad, and Al-Adhaim, a military intelligence officer said.
Six soldiers were killed and two others wounded, the officer said, giving a toll confirmed by Dr Mehdi Abdullah al-Bayati at Tuz Khurmatu's hospital.
Violence in Iraq is down dramatically from its peaks in 2006 and 2008, but attacks remain common -- 278 people were killed in August, according to a tally based on reports from security and medical officials.
http://timesofindia.indiatimes.com/world/middle-east/Six-soldiers-killed-in-north-Iraq-bombings/articleshow/16254646.cms
-----------
Syrian rebels claim downing of another Assad warplane
5 September 2012
BEIRUT: Syrian rebels said on Wednesday they had shot down a fighter jet in northern Syria as part of their campaign to weaken the army's overwhelming air power.
President Bashar Assad, who is struggling to put down a 17-month-old uprising against his rule, has been relying increasingly on aircraft to attack the rebels, who are comparatively lightly armed with machine guns and rockets.
The rebels stepped up their attacks on air bases last week.
Opposition fighters in northern Idlib province said they shot down the aircraft on Tuesday with heavy machine gun fire as it was taking off from the Abu Thuhur air base.
"They brought it down as it was taking off from the airport using 14.5 millimeter anti-aircraft machine guns," said Abu Majad, a spokesman from the rebel Ahrar Al-Sham (Free Men of Syria) brigade.
Full report at:
http://www.arabnews.com/middle-east/syrian-rebels-claim-downing-another-assad-warplane
---------
New UN-Arab League peace envoy says Syria death toll 'staggering'
Sep 5, 2012
ALEPPO: New UN-Arab League envoy Lakhdar Brahimi has said the death toll in Syria is "staggering" and the destruction "catastrophic" and called for a united stance from the international community.
In his first comments to the United Nations General Assembly since replacing Kofi Annan as special envoy on Saturday, Brahimi warned that the 18-month old war was "deteriorating steadily".
The former Algerian foreign minister said that a coordinated international approach on Syria was "indispensable and very urgent" and that he would travel to Damascus in a few days.
"The death toll is staggering, the destruction is reaching catastrophic proportions and the suffering of the people is immense," he said in a speech Tuesday to the 193-member assembly in New York.
UN chief Ban Ki-moon in his address to the assembly denounced countries sending arms to Syria.
Full report at:
http://timesofindia.indiatimes.com/world/middle-east/New-UN-Arab-League-peace-envoy-says-Syria-death-toll-staggering/articleshow/16261034.cms
-----------
Morsi calls on Syrian regime to step down
05 Sep, 2012
Egypt's president says Syrian leader Bashar Assad must learn from "recent history" and step down before it is too late.
Mohamed Morsy's reference to "recent history" appeared to allude to the fate of authoritarian regimes in Tunisia, Libya, Egypt and Yemen that have been overthrown by Arab Spring uprisings.
Mr. Morsy spoke Wednesday at a meeting of Arab foreign ministers in Cairo.
http://www.thehindu.com/news/international/article3862156.ece
-----------
Egypt to Try Ex-Official on Charge of Corruption
By SCOTT SAYARE
05 Sep, 2012
CAIRO — Farouk Hosni, who for more than two decades served as culture minister under President Hosni Mubarak, was charged with corruption on Tuesday, the state news media reported, joining a number of other former government officials and businessmen accused of using their positions and connections to enrich themselves.
Justice Ministry officials also announced an investigation into new corruption claims against the deposed leader, Mr. Mubarak, and his sons, Gamal and Alaa — all currently imprisoned — along with his wife, Suzanne, who was released from custody last year after agreeing to turn over about $4 million in assets alleged to have been stolen from the state.
Mr. Hosni, who was made culture minister in 1987 and was close to Mrs. Mubarak, failed to convincingly explain how he had gotten about $3 million in assets, the state news media said, and has been referred to court for trial. In a slightly different account, Al Ahram, a semiofficial newspaper, said Mr. Hosni was asked to return about $1.5 million in state assets and was fined the same sum.
Full report at:
http://www.nytimes.com/2012/09/05/world/middleeast/ex-official-farouk-hosni-charged-
-----------
The soundtrack of the Syrian revolution
05 Sep, 2012
Syria: It's more of an incantation than a song but it's as ubiquitous as the sound of gunfire on Syria's frontlines and has become the undisputed anthem of the revolution.
In Syria's rebel-held areas, the words are spray-painted on walls, blared on minibus radios and exchanged as mobile phone ringtones: "Yalla erhal ya Bashar" (It's time to leave, Bashar).
Huddled fighters intone the song-cum-slogan as a battle cry before mounting military operations against Syrian army forces.
And in Syria's street protests, demonstrators chant it to open and close marches against the regime of President Bashar al-Assad.
"Get out Bashar!", demands the song, a rageful drumroll of attacks calling the Syrian president a "liar" and an "ass" and his brother Maher a "coward".
Its creator paid dearly, however. Ibrahim Qashush, a singer from the central city of Hama, was little-known before the Arab Spring reached Syria in March 2011.
Full report at:
http://dawn.com/2012/09/05/the-soundtrack-of-the-syrian-revolution/
---------
Fresh investments to create 12,000 jobs for Saudis
GHAZANFAR ALI KHAN
5 September 2012
RIYADH: Almarai has announced plans to increase its investments to SR 15.6 billion and employ 12,000 Saudi nationals at its various factories and sectors within five years.
CEO Abdulrahman A. Al-Fadley said the company's total investment had reached SR 8 billion. This includes SR 2 billion to expand the dairy sector, SR 4 billion for the development of the poultry sector and SR 1 billion to set up the Kingdom's first baby milk plant.
"The total output of Saudi dairy companies meets only 45 percent of the local demand while Saudi poultry farms meet 56 percent of demand," he told a press conference.
Currently, Almarai has more than 4,700 Saudi employees on its payroll, said the CEO.
He said career development programs equip Almarai employees with more technical skills to enable them to increase their efficiency.
Full report at:
http://www.arabnews.com/fresh-almarai-investments-create-12000-jobs-saudis
---------
North America
Democrats on convention eve: Osama is dead and General Motors is alive
Sep 4, 2012
WASHINGTON: One of the earliest figures to tie the United States to India was Lord Cornwallis. The British soldier-administrator left America in ignominy after being routed by George Washington in the Siege of Yorktown in 1781, repaired to England, and on being reassigned to India, salvaged his reputation at the tail end of his career by defeating Tipu Sultan in the Battle of Srirangapatnam in 1799.
Buried in Ghazipur outside Varanasi after he died in India, Cornwallis had found America a thorny proposition. The realization pricked him most in the city of Charlotte, North Carolina, which he described as a ''hornet's nest.'' It is in this city, United States' second biggest financial center after new York City, close to the very intersection where Cornwallis was ambushed (scene now of the Bank of American headquarters and sundry protests), that the Democratic National Convention (DNC) kicked off this morning in a political atmosphere fraught with poisoned arrows after a series of barbs from the Republican Convention that concluded in Tampa last week.
Full report at:
http://timesofindia.indiatimes.com/world/us/Democrats-on-convention-eve-Osama-is-dead-and-General-Motors-is-alive/articleshow/16253260.cms
-----------
Islamic Society of North America Convention...Finding Muslim Soul Mates
04 September 2012
CAIRO – Looking for Mr. and Mrs. Right, young Muslims are using the annual convention of the Islamic Society of North America (ISNA) to search for their soul mates.
"Our networks are not as strong as they once were," Altaf Husain, an assistant professor of social work at Howard University and an ISNA trustee, told The Washington Post.
"Young Muslims tell me, 'My parents can't help me because they don't know anyone where I live'," said Huasin, an organizer of ISNA's annual speed dating and socializing known as the Matrimonial Banquet.
Hundreds of single men and women, ranging in age from 21 to 50, gathered at two matrimonial banquets organized during this year's convention.
Young women sat on one side of a long rectangular table, while men close to their age sat across from them.
Full report at:
http://www.onislam.net/english/news/americas/458894-isna-matrimonial-draws-single-muslims.html
---------
Clinton: 'Disappointed' with China, Russia on Syria
05 Sep, 2012
The United States is disappointed by the failure of China and Russia to agree to tougher sanctions against Syria, U.S. Secretary of State Hillary Clinton said on Wednesday.
"It is no secret that we've been disappointed with Russia's and China's actions blocking tougher UN Security Council resolutions, and we hope to continue to unite behind a real path forward to end the violence in Syria," Ms. Clinton told reporters.
Diplomats were "discussing additional ways" to end the violence in Syria, she said following talks with Chinese Foreign Minister Yang Jiechi.
"The best course of action remains to unite the United Nations Security Council," Ms. Clinton said.
Full report at:
http://www.thehindu.com/news/international/article3861275.ece
-----------
US has common cause with Pak on war against terror: Pentagon
Sep 5, 2012
CHARLOTTE (NORTH CAROLINA): The Pentagon has said that it has common cause with Pakistan on war against terror, and hoped that the two countries would continue to work together on this issue.
"We believe that the Pakistani government shares our view that terrorists threaten both countries, both Pakistan and the United States.
"Scores of Pakistanis have regrettably been killed by terrorists inside Pakistan," Pentagon press secretary, George Little, told reporters at a news conference on Tuesday.
"We, of course, have suffered losses as well, inside Pakistan and elsewhere, from al-Qaida and from other terrorist groups operating along the Afghan-Pakistan border," he said.
"So we have common cause with the Pakistanis. We're working closely with the Pakistanis on the counterterrorism issue, and we will continue to do so," Little said.
Full report at:
http://timesofindia.indiatimes.com/world/pakistan/US-has-common-cause-with-Pak-on-war-against-terror-Pentagon/articleshow/16261572.cms
-----------
SEALS were told to catch Osama alive, if possible: Ex-commando
Sep 5, 2012
WASHINGTON: The raid on Osama bin Laden's hideout in Pakistan was "not a kill-only" mission as commandos were told to capture the dreaded al-Qaida chief alive if possible, a former Navy SEAL has claimed.
Former commando Matt Bissonnette, who has written a book titled 'No Easy Day: The Firsthand Account of the Mission That Killed Osama bin Laden', using the pseudonym "Mark Owen," has made the claim in an interview to CBS news.
"This was absolutely not a kill-only mission. It was made very clear to us throughout our training for this that, 'Hey, if given the opportunity, this is not an assassination. You will capture him alive... if feasible'," Bissonnette said.
A makeup artist was employed to disguise his appearance and sound manipulation was used to mask his real voice for the interview.
Full report at:
http://timesofindia.indiatimes.com/world/us/SEALS-were-told-to-catch-Osama-alive-if-possible-Ex-commando/articleshow/16264873.cms
---------
US gives $21 million more to help Syrian refugees
Sep 5, 2012
JAATARI, Jordan: The head of the US Agency for International Development says Washington is providing an additional $21 million to help Syrian refugees, raising its overall contribution to $100 million.
Rajiv Shah says the money will be funneled through the UN World Food Program to hundreds of thousands of Syrians displaced inside their country, to others in desperate humanitarian need and to refugees who fled to Turkey, Jordan, Lebanon and Iraq.
Shah says $14.3 million of the new funds will provide food assistance to conflict-affected people inside Syria and $6.7 million to support Syrians refugees in neighboring states.
He spoke Wednesday during a tour of Jordan's Zaatari camp, which hosts 27,000 Syrians who fled their homeland's civil war.
There are some 160,000 additional Syrians living in Jordan but not in the camps.
http://timesofindia.indiatimes.com/world/middle-east/US-gives-21-million-more-to-help-Syrian-refugees/articleshow/16266604.cms
-----------
Europe
Gunman kills 1 at rally for new Quebec premier
Sep 5, 2012
MONTREAL: A masked gunman opened fire during a midnight victory rally for Quebec's new premier, killing one person and wounding another. The new premier, Pauline Marois of the separatist Parti Quebecois, was whisked off the stage by guards while giving her speech and uninjured.
It was not clear if the gunman was trying to shoot Marois, whose party favors separation for the French-speaking province from Canada.
Montreal police Cmdr. Ian Lafreniere identified the gunman only as a 50-year-old man and said he opened fire in the back of the hall while Marois was giving her victory speech to hundreds of supporters at the Metropolis auditorium. She had just declared her firm conviction that Quebec needs to be a sovereign country before she was pulled off the stage.
"What's going on?" Marois told her security detail as they grabbed her arms and took her off the stage during the celebration of her party's victory in Tuesday's provincial election.
The gunman then fled outside where he set a small fire before he was captured, police said.
Police said they didn't know the gunman's motive. As the suspect was being dragged toward the police cruiser, he was heard shouting in French, "The English are waking up!"
Marois returned to the stage after the shooting and asked the crowd to peacefully disperse and then seemed to finish her speech. She left the hall amid a tight cordon of provincial police bodyguards.
Full report at:
http://timesofindia.indiatimes.com/world/rest-of-world/Gunman-kills-1-at-rally-for-new-Quebec-premier/articleshow/16263847.cms
---------
Africa
Mali jihadists enforce sharia law after seizing new town
September 4 2012
Mali jihadists have forced women to cover their heads and banned cigarettes, alcohol and music in the newly-captured town of Douentza, bordering the government-controlled south, they said Tuesday.
"All those who can't stand these rules of good conduct are free to leave the town," said a leader of the Movement for Oneness and Jihad in West Africa (MUJAO) on condition of anonymity, outlining the strict Islamic laws.
"They asked all girls and women to cover their heads, smokers not to smoke, alcohol drinkers to stop, and youths to no longer listen to music in the street," said a young man identifying himself only as Boura.
Douentza became the Islamic extremists' farthest position south after they seized it Saturday in a bloodless confrontation with a local militia who had held it since the takeover of the country's north by armed groups five months ago.
The takeover is believed to be due to a disagreement with the self-defence group whom they dubbed "traitors", according to a teacher in the town Moussa Dicko.
Full report at:
http://www.nation.co.ke/News/africa/Mali+jihadists+enforce+sharia+law/-/1066/1496724/-/r1kp9g/-/index.html
-----------
Tunisia: Salafist Muslims Ransack Hotel for Serving Alcohol
05 Sep, 2012
Dozens of hard-line Salafist Muslims attacked a hotel in Sidi Bouzid, the birthplace of Tunisia's revolution, because it was serving alcohol, the hotel's owner said Tuesday. About 100 Salafists attacked the hotel on Monday night, destroying furniture and smashing bottles of alcohol, the owner, Jamil Horcheni, said. In May, the ultraconservative Salafists staged a protest against alcohol in Sidi Bouzid, demanding that hotels and bars be relocated outside the city. In recent weeks, Salafist groups have prevented several concerts and plays from taking place in Tunisian cities, saying they violate Islamic principles. Since Tunisia overthrew an authoritarian president last year, there have been several attacks on cultural and tourist sites.
http://www.nytimes.com/2012/09/05/world/africa/tunisian-hotel-ransacked-for-serving-
-----------
Mauritania sends ex-Muammar Gaddafi spy chief to Libya
05 Sep, 2012
NOUAKCHOTT (Reuters) - Mauritania extradited Muammar Gaddafi's former spy chief Abdullah al-Senussi to Libya on Wednesday, a Mauritanian government source and the state news agency said, after months of wrangling over who would put him on trial.
Senussi, among the most feared members of Gaddafi's regime before rebels toppled it last year, was captured in the West African state in March, triggering a tug of war among Libya, France and the International Criminal Court for his extradition.
A spokesman for the ICC, which has wanted to try him on charges of crimes against humanity including murder and persecution, said it had received no information about Senussi's handover to Libyan authorities in Tripoli.
"He was extradited to Libya on the basis of guarantees given by Libyan authorities," a Mauritanian government source told Reuters, without giving details on the guarantees.
A high-level Libyan delegation was in Mauritania on Tuesday where it held meetings with Mauritanian authorities, he said. It was not clear if there was a court decision sanctioning the extradition.
Full report at:
http://www.nytimes.com/reuters/2012/09/05/world/africa/05reuters-libya-mauritania-
-----------
Somalia: Residents Flee Rebel-Held City as Kenyan Ground Troops Approach
05 Sep, 2012
Hundreds of residents have fled the southern port of Kismayo after the Kenyan Navy shelled the town in preparation for a ground operation to capture it, officials and residents said Tuesday. Kismayo is the main remaining stronghold of the Shabab, a rebel group linked to Al Qaeda. Residents say the militants have ordered them not to leave Kismayo, but the prospect of being caught in a war between the militants and the Kenyan forces is outweighing whatever brutal punishment they could get for disobeying. Col. Cyrus Oguna, a Kenyan military spokesman, said seven people believed to be members of the Shabab were killed in shelling on Saturday and Monday. He said that Kenyan ground troops were about 50 miles from Kismayo and moving closer for their assault.
http://www.nytimes.com/2012/09/05/world/africa/residents-flee-rebel-held-city-in-
-----------
URL: https://newageislam.com/islamic-world-news/pak-police-vandalise-23-ahmadi/d/8570