New Age Islam News Bureau
28 Aug 2012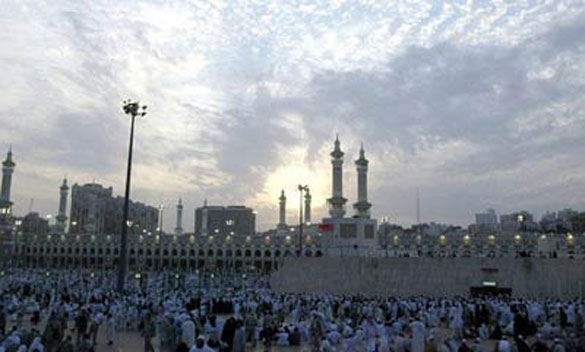 Arab World
• Misuse of mosque for manufacturing explosives condemned
• Syria Foreign Minister Accuses US of Stoking Violence
• Iraq announces 21 executions in single day: Justice ministry
• Egypt President Mohamed Morsi appoints Christian as assistant
• 'Army bombardment on eastern Damascus kills 62'
• 390 People Involved in Recent Events Released
• Islamic movements must not be distracted by hecklers
• World 'must share Syria refugee burden'
• Saudi delegation heads for Iran NAM summit
• WAMY distributes zakat al-fitr in Mali, Chad and Iraqi Kurdistan
I• IROSA demands humane solution to the problem of African migrants to Europe
• An Image of Tolerance Still Manages to Flicker in Old Movie Theaters
• Iraq: Minister Quits Over Maliki's Meddling
• 3 Killed in Attacks Targeting Iraq Security Forces
India
• Muslim-Christian Interfaith dialogue is going strong in the West: Dr. Ataullah Siddiqui
• CBI preliminary probe shows bigger conspiracy behind Assam violence
• Mirwaiz under fire as Hurriyat cracks show
• GEELANI SEES A 'DIVINE CONSPIRACY'
• Sohrabuddin case: SC wants trial to be shifted to Maharashtra
• Court to look into plea for compensation for Muslim victims
• SC refuses to direct Centre for deportation of Indian Mujahideen member Fasih Mohammed
• Indian Muslims should learn to achieve their democratic rights peacefully: Zafaryab Jilani
• PM to remind Zardari of his 26/ 11 promise
• Assam gunbattle rages on as seven bodies are found
• India to call for "trans-national action" on Syria crisis: PM
• Sarabjit's kin to take signature campaign to Pakistan
• Firing in Kokrajhar on a day Bajrang Dal calls for bandh
• 43 Indians in custody of Somali pirates: Govt
• Exodus of northeast Indians: Morphed pictures India's local issue, Pak envoy says
• Each issue on Indo-Pak bilateral agenda is doable: Salman Bashir
• Assam violence unacceptable: Sonia
• One held for desecrating war memorial during violence
Pakistan
• Right-wing leaders want Islamic body to set up TV guidelines
• Fearful Pakistani Christians make home in forest
• Pak fears Iran nuclear conflict may fuel regional instability
• Taliban, Pakistani security forces clash in Bajaur; 36 killed
• Duped by Pak man, Indian woman yearns to return home
• Violence in Karachi claims 18 lives
• Farhatullah Babar elected to chair commission on new provinces
• Pakistani Christian girl accused of blasphemy ruled minor: lawyer
• Six die in rocket, gun attacks on village
• Attack on political party's office in Karachi wounds six
• MQM chief slams killing of Christian boy, party worker
• No amendments in blasphemy law despite recommendations
• MQM moves adjournment motion against Lulusar killings
• Pakistan SC gives 3-week ultimatum to PM Raja Pervez Ashraf in graft case
• Zardari likely to meet Manmohan on margins of NAM Summit in Iran
South Asia
• Differing Theories in Killing of 17 in Taliban Stronghold
• Taliban team in Qatar for negotiations with US
• Bangladesh jails 665 soldiers for 2009 mutiny
• Muslim minister representing coalition partner of Sri Lanka ruling party will not resign
• Afghan Beheadings Could Signal Confusion in Taliban Ranks
• Afghan truck bomb kills four, wounds police chief
• Muslim hotel owner, found guilty of discrimination, condemns anti-Semitism
• Taliban brutality turns Afghans away
• Sri Lanka minister gets bail in fishing settlement case
• Afghanistan: colour coded chaos
Southeast Asia
• Indonesia hit on rise in religious attacks
• Attack on Shiites Stemmed from Family Conflict: Government
• Non-Aligned Movement Needs Boldness to Rediscover Its Purpose
• Only One Named as a Suspect in Attack Against Shiites
• Koran Teacher Admits Molesting 13 Students Over Last Two Years
Mideast Asia
• Gaza not 'liveable' by 2020 barring urgent action: UN
• NAM ministerial conference opens in Tehran
• Israeli court rejects US activist's family's lawsuit
• Iran offers its own fully-insured ships for crude shipments
• Iran might let diplomats visit suspected nuclear site
• Don't drop ball on nuclear safety: IAEA chief
• Big Radiation Risk Unlikely if Israel Strikes Iran: Experts
• Court Rules Israel Wasn't at Fault in U.S. Activist's Death
North America
• Mullah Omar, aides living in Pakistan: US General
• US punishes 6 soldiers for burning Quran in Afghanistan
• Speaking Urdu or Bengali a Cause for Police Suspicion in NYC
• Assad shows 'wanton disregard' for life: US
• Quran burning incident not motivated by hatred, says Watson report
• U.S. Military Disciplines 9 Over Video and Koran Burning
Europe
• France Urges Creation of Interim Syrian Government, Pledging Recognition
• Up to 200,000 Syrians Could Flee to Turkey, UNHCR Says
• France would recognise Syrian opposition govt
Africa
• Kenya: Protests Continue Over Death Muslim Cleric
• Libyan Terrorist Relates Details of How Terrorists are Trained in Libya with Funding from Arab Gulf Countries and Sent to Syria
Compiled by New Age Islam News Bureau
Photo: Misuse of mosque for manufacturing explosives condemned: Saudi Arabia
URL: https://newageislam.com/islamic-world-news/misuse-mosque-manufacturing-explosives-condemned/d/8453
-----------
Arab World
Misuse of mosque for manufacturing explosives condemned: Saudi Arabia
28 August 2012
JEDDAH: A number of religious scholars and academics have stressed the need for the Ministry of Islamic Affairs, Endowment, Call and Guidance to beef up monitoring of places of worship. It followed the recent report of a Riyadh mosque serving as a facade for manufacturing explosives.
The Interior Ministry said in a statement on Sunday that it discovered explosive substances and devices at a lean-to of a quiet mosque in Riyadh. Mosques normally use attached rooms to accommodate workers or for library service.
The scholars also demanded deterrent punishments to those who exploit the spiritual atmosphere in mosques to promote chaos in the country, Al-Madinah daily reported on Monday.
"Those who seek to destabilize the country and fight against security forces come under the category of 'those who rebel against Allah and His Messenger' and a country's legitimate government and hence should be punished severely," said Sheikh Abdullah Al-Manie, who is a member of the Council of Senior Religious Scholars and adviser at the Royal Court.
The scholar also congratulated the Interior Ministry for its successful preemptive strike against the Riyadh cell and protecting the people from such heinous deeds.
"The Islamic Affairs Ministry should ensure that imams and muezzins inspect the mosque premises regularly and thoroughly, so that the facilities are not misused for subversive activities. The sacred houses of worship should not be converted into dens of destructive acts," he said.
Member of the Fiqh Academy Muhammad Al-Nojaimi stressed the duty of the worshipers and residents in nearby buildings apart from imams and muezzins to see that mosques are not exploited for subversive activities. "Officials concerned should also investigate why some expatriates are unofficially undertaking duties at mosques. They should also launch campaigns and raids at such mosques," he said.
Head of Islamic studies at the Umm Al-Qura University Muhammad Al-Sahli said it was a matter of deep pain for all Muslims, especially students and teachers of religious knowledge and preachers, that a mosque had been used as a cover for destructive activities.
Director of the Makkah branch of the International Islamic Relief Organization Ahmed Al-Muwarraie urged parents and teachers to protect their children or students from vicious ideologies they might be exposed to in the present circumstances.
Professor of Political Studies at King Saud University Abdullah Al-Lehaidan said the uncovering of a terror cell in Riyadh was not a matter to be taken lightly. "The latest discovery shows that the terror menace is still existing in the country and could be uprooted only after flushing it out from the neighboring Yemeni territories, just as terrorist activities were flushed out from the Kingdom."
An academic specialized in political sciences at King Abdulaziz University in Jeddah, Waheed Hashim, said Al-Qaeda in Yemen facilitated terrorists to infiltrate into the Kingdom. Another political science expert at the university said Al-Qaeda in Yemen changed its strategy of sending explosives to the Kingdom from outside. "Now they make explosives in the Kingdom, unlike what they did in the past."
The academics also viewed that the political and economic failure of Yemen provided a breeding ground for terrorists. "The terrorist ideology thrived in Yemen because of rampant poverty, hunger, and endless disputes between religious or tribal sects, insecurity, and a weak central government. The country's strategic geographical position enables terrorists to secretly enter Saudi Arabia and other Gulf countries."
Meanwhile, a former Saudi fighter in Afghanistan, Sheikh Siraj Al-Zahrani, warned against the dangers of Saudi youths being carried away by the temptation to be martyrs in Syria. Siraj said he joined the Afghan Taleban fighters on the assumption that they were fighting on the straight religious path, but experience made him disillusioned and prompted him to return home. "No youth should go to Syria or other war fronts without the permission from their guardians. A family should be cautious about its sons being lured to war zones for jihad," the sheikh said.
http://www.arabnews.com/misuse-mosque-manufacturing-explosives-condemned
-----------
Syria Foreign Minister Accuses US of Stoking Violence
August 28, 2012
Syria's foreign minister accused the United States of being the "major player" encouraging anti-government rebels, but vowed the regime would not deploy chemical weapons in an interview published Tuesday.
Walid Muallem suggested to Britain's Independent newspaper that the US may be using Syria to curb Iran's influence in the Middle East and that it had exaggerated Tehran's nuclear capabilities in order to sell weapons to Gulf countries.
"We believe that the US is the major player against Syria and the rest are its instruments," he told journalist Robert Fisk.
When asked whether the US was using the Syria crisis against Iran, Muallem cited a recent study by influential Washington think-tank the Brookings Institution which concluded that "if you want to contain Iran, you must start with Damascus".
"We were told by some Western envoys at the beginning of this crisis that relations between Syria and Iran, Syria and Hezbollah, Syria and Hamas are the major elements behind this crisis," he told Fisk.
"But no one told us why it is forbidden for Syria to have relations with Iran when most if not all the Gulf countries have very important relations with Iran."
UN chief Ban Ki-moon demanded an independent inquiry Monday into the killings of hundreds of civilians in the Syrian town of Daraya as world outrage mounted over the "massacre" by pro-government forces.
The Syrian Observatory for Human Rights said that 334 bodies had now been found in Daraya after what activists described as brutal five-day onslaught of shelling, summary executions and house-to-house raids by pro-government forces.
The Sunni Muslim town of some 200,000 people is seen as a stronghold of opposition to the minority Alawite-led regime of President Bashar al-Assad.
Muallem accused the US of assisting the rebels' military effort by supplying them with telecommunication equipment, adding that it was supporting terrorism.
The minister played down suggestions that the Assad regime would resort to using chemical weapons if its authority was further weakened, saying the government's "responsibility is to protect our people."
http://www.thejakartaglobe.com/international/syria-foreign-minister-accuses-us-of-stoking-violence/540776
-----------
Iraq announces 21 executions in single day: Justice ministry
Aug 28, 2012
BAGHDAD: Iraq has executed 21 people convicted of terror-related charges, including three women, on the same day, a justice ministry spokesman said on Tuesday.
"The justice ministry carried out 21 executions against those condemned of terrorist charges, including three women terrorists," Haidar al-Saadi said in a text message. He did not give any further details.
A justice ministry official said the executions were carried out on Monday morning.
Amnesty International in June condemned the "alarming" increase in executions in Iraq, which had at that point put at least 70 people to death this year, more than all of 2011.
Iraq has carried out several mass executions in 2012, including one in which 14 people were put to death on February 7, and another in which 17 were executed on January 31.
UN High Commissioner for Human Rights Navi Pillay expressed shock earlier this year at the number of executions, criticising the lack of transparency in court proceedings and calling for an immediate suspension of the death penalty.
http://timesofindia.indiatimes.com/world/middle-east/Iraq-announces-21-executions-in-single-day-Justice-ministry/articleshow/15885228.cms
-----------
Egypt President Mohamed Morsi appoints Christian as assistant
Aug 27, 2012
CAIRO: Egypt's Islamist President Mohamed Morsi on Monday appointed a Coptic Christian intellectual and a woman university professor as presidential assistants, his spokesman Yasser Ali announced.
Samir Morcos, a liberal Coptic writer engaged in the dialogue between Islam and Christianity, has been named "assistant for democratic transition", Ali said.
Pakinam al-Sharkawi, a political sciences professor at Cairo university, was appointed "assistant for political affairs," he added.
The president also chose two assistants from the Islamist camp.
Emad Abdel Ghafour, the leader of the ultra-conservative Al-Nur Salafist party, was named "assistant in charge of relations with civil society" while Essam al-Haddad from the Muslim Brotherhoood's Freedom and Justice Party becomes assistant for "external relations and international cooperation."
Morsi, who was fielded for the presidential elections by the Freedom and Justice Party, had pledged during his campaign to include Copts in his administration.
But the Coptic community, which represents 14 percent of Egypt's 82 million people, was unhappy over the composition of the country's new cabinet which was sworn in in early August and includes only two women, one of them a Copt.
Sharkawi, who wears the veil despite not being affiliated with any Islamist party, told the independent Al-Masri al-Youm newspaper on Monday that the Muslim Brotherhood is an "expression of a moderate Islam."
The Salafist party Al-Nur had surprised everyone by wining nearly 20 percent of the seats in multi-phase parliamentary elections that concluded earlier this year.
Haddad is a member of the Freedom and Justice Party which had won most seats in the legislative polls.
These four assistants, who are destined to be close associates of the president, are part of a broader group of 17 people chosen to become "presidential advisers."
Morsi, who took office on June 30, is the first president of Egypt to come from an Islamist camp and also the first civilian head of state since the overthrow of the monarchy in 1952.
He won the first presidential election since the fall of Hosni Mubarak in February 2011 with a short margin in the second round after clashing with Ahmed Shafiq, the last premier of the deposed regime.
On August 12, Morsi significantly strengthened his powers by retiring veteran Defence Minister Field Marshal Hussein Tantawi and scrapping a constitutional document that gave the military legislative and other powers.
http://timesofindia.indiatimes.com/world/middle-east/Egypt-President-Mohamed-Morsi-appoints-Christian-as-assistant/articleshow/15839564.cms
-----------
'Army bombardment on eastern Damascus kills 62'
August 27, 2012
Syrian army shelling and helicopter attacks on suburbs of the capital Damascus killed at least 62 people on Monday, Opposition activists said.
Eleven of the dead were killed in the district of Jobar, where activists said a Syrian helicopter was downed earlier in the day, they
said.
Five of the Jobar victims were captured in Dayer Jdayeh Street and summarily executed by security forces, and the others died when their homes were hit, opposition activists said.
Syrian authorities have banned entry to most foreign media, making it impossible to verify accounts by activists and residents.
Fighting in Damascus between the army and rebels fighting to topple President Bashar al-Assad has grown increasingly violent in recent months.
Assad's seat of power, once seen as immune to the violence, has now become a focus of the 17-month conflict.
"Shells hit a row of flats. We pulled out four bodies from inside, including a child," said one resident of Jobar, who did not want to be named for fear of reprisals.
Rebels have intensified guerrilla attacks on Assad's forces in the capital. The army has responded with artillery, mortar and aerial bombardment, as well as arrest raids.
"It appears that eastern Damascus is being subjected to collective punishment," Yasmine, one of the activists, said from the capital.
Full report at:
http://www.hindustantimes.com/world-news/RestOfAsia/Army-bombardment-on-eastern-Damascus-kills-62/Article1-920321.aspx
-----------
390 People Involved in Recent Events Released
Aug 27, 2012
PROVINCES, (SANA) – 390 people who were involved in the recent events and didn't shed Syrian blood were released on Monday.
In Damascus, 332 people were released, in addition to 20 in Hama and 38 in Homs who had turned themselves in, with the released individuals pledging not to return to bearing arms, carrying out vandalism or doing anything that harms Syria's security in the future.
A number of the release people said that this marks a fresh start for them, allowing them to return to their normal lives.
Earlier in July, 100 people turned themselves in to the authorities in Hama and were released after pledging to refrain from bearing arms or committing vandalism.
http://sana.sy/eng/21/2012/08/27/438239.htm
-----------
Islamic movements must not be distracted by hecklers
27 August 2012
By Khalid Amayreh
The recent ascendancy of Islamic forces, especially the Muslim Brotherhood, to the political forefront in parts of the Arab world has generated many enemies.
Secularists, pseudo-liberals, anti-Islam Arab nationalists as well as heretical sectarians have all suddenly emerged from their protracted dormancy to fight the Islamic movements' efforts to re-Islamize societies, end political tyranny and despotism, stem the tide of corruption and achieve economic development and prosperity.
Such a phenomenon would be perfectly normal were not for the fact that these generally marginal forces conceal a real rejection of democracy and popular will in their hysterical endeavor to tarnish the Islamic movement. They easily forget that the Islamists earned, not arrogated, their achievements.
In Egypt this week, some secularist intellectuals called for a million-man strong demonstration to vilify the Muslim Brotherhood and President Muhammed Mursi. However, to the secularists' chagrin, only a few hundred protesters showed up, a majority of whom were followers of the Coptic Church.
The protesters sounded so frustrated, so irate and so disillusioned that they called the Brotherhood "murderers" and "traitors."
Needless to say, the highly-charged and manifestly mendacious epithets used in reference to Egyptian Islamists underscore the desperation and bankruptcy of the anti-Islamic forces.
It also illustrates the fact that these people are unable to come to terms with the fact that the people of Egypt have elected an Islamic president and an Islamic parliament, although the latter was dissolved by the so-called Constitutional Court, which we all know would never ever have adopted that infamous decision had the liberals or secularists or Mubarak's men won the elections.
Full report at:
http://www.alresalah.ps/en/index.php?act=post&id=1059
-----------
World 'must share Syria refugee burden'
28 August 2012
French President Francois Hollande warned yesterday that the use of chemical weapons by the Syrian regime would be a legitimate reason for a foreign intervention.
"We with our allies remain very watchful to prevent the use of chemical weapons by the regime, which would be for the international community a legitimate cause for direct intervention," Hollande said in a speech to French diplomats.
Hollande's warning came as Turkey's Foreign Minister Ahmet Davutoglu called for more help from other countries with a growing Syrian refugee crisis and said Ankara would stress this at a UN Security Council meeting on Syria this week.
The number of Syrian refugees in Turkey has nearly doubled over the past two months to more than 80,000 and this weekend Turkey begun temporarily holding thousands of people on the border while they scrambled to erect shelters.
Full report at:
http://www.arabnews.com/world-%E2%80%98must-share-syria-refugee-burden%E2%80%99
-----------
Saudi delegation heads for Iran NAM summit
GHAZANFAR ALI KHAN
28 August 2012
RIYADH: Deputy Foreign Minister Prince Abdul Aziz bin Abdullah will leave for Tehran today to attend the 16th Non-Aligned Movement (NAM) summit amid mounting pressure from Western nations and the Gulf bloc on Iran over its nuclear program, said Alauddin A. Al-Askary, deputy foreign minister for protocol affairs, in Riyadh yesterday. Prince Abdul Aziz and his accompanying delegation will also attend the ministerial meeting of the NAM member states to be held on Thursday in the Iranian capital.
The summit's agenda is rich in political contents. It was not immediately clear whether regional organizations like the Organization of Islamic Cooperation (OIC) or the six-nation Gulf Cooperation Council (GCC) would share any common plan or agenda with the NAM as a bloc.
According to reports, OIC Secretary-General Ekmeleddin Ihsanoglu will be attending the NAM summit. "The GCC General Secretariat will not be represented at the summit," said GCC spokesman Saleem S. A. Al-Alwi. He, however, pointed out that almost all Gulf states would send their delegations to Tehran to attend the summit and preparatory meetings preceding the summit-level talks. The NAM foreign ministers, including the foreign ministers of the GCC, will arrive in Tehran on Monday and Tuesday.
Full report at:
http://www.arabnews.com/saudi-delegation-heads-iran-nam-summit
-----------
WAMY distributes zakat al-fitr in Mali, Chad and Iraqi Kurdistan
27 August 2012
JEDDAH: The World Assembly for Muslim Youths (WAMY) has distributed sizable quantities of in-kind Zakat Al-Fitr (Eid Alms) over thousands of needy families in Mali, Chad and Iraqi Kurdistan, it was reported here today.
In a press release, WAMY said quantities of rice and other foodstuffs were distributed by its representatives in Mali, Chad and the Kurdistan part of Iraq with poor families, orphans, the displaced, elderly and drought-hit people benefiting from the gesture which is collected from fasting Muslims on the eve of Eid Al-Fitr.
http://www.arabnews.com/wamy-distributes-zakat-al-fitr-mali-chad-and-iraqi-kurdistan
-----------
IIROSA demands humane solution to the problem of African migrants to Europe
27 August 2012
JEDDAH: International Islamic Relief Organization of Saudi Arabia, an affiliate of the Muslim World League (MWL) called today on the concerned authorities to swiftly intervene to stop the tragedies faced by African migrants to Europe in search of better living conditions.
IIROSA's Secretary-General Dr. Adnan bin Khalil Basha said in a statement issued this morning that the drowning and mistreatments being faced by some migrants require solutions by humanitarian organizations and called for a special international meeting to discuss this urgent issue at the earliest.
http://www.arabnews.com/iirosa-demands-humane-solution-problem-african-migrants-europe
-----------
An Image of Tolerance Still Manages to Flicker in Old Movie Theaters
By DAMIEN CAVE
28 August 2012
BEIRUT, Lebanon — The red velvet curtains opened and a fantasy of Lebanon emerged, devoid of disputes over sect, politics or nationality.
A Mexican-Lebanese singer belted out a pair of songs in Spanish. Arabo-Cuban performers followed, then a woman thundering through Adele, a longhaired Gypsy guitarist, an Egyptian singing in French and an imposing military man singing patriotic songs about Lebanon. Somewhere in there, the 10-piece band also looped in a little "Stairway to Heaven."
"It's like D.J.-ing, but it's live," said Michel Elefteriades, the owner of the nightclub, Music Hall. "This is a country where we don't have a lot of things, where we don't have parks or a zoo for the kids. What we have are cinemas, restaurants and nightclubs."
Music Hall is a bit of all three, a restored movie palace whose past can be seen in the sloped floor and high ceilings, where the food is rich and dancing inevitable. It is an example of the Lebanon that many here want to project to the world: open, tolerant and fun, all in the heart of the Muslim Middle East.
Full report at:
http://www.nytimes.com/2012/08/28/world/middleeast/old-beirut-cinemas-recall-more-
-----------
Iraq: Minister Quits Over Maliki's Meddling
28 August 2012
Iraq's communications minister has resigned to protest interference by Prime Minister Nouri al-Maliki in the work of his ministry, another sign of disarray in the leadership. The communication minister, Mohammed Allawi, said he sent a letter to Mr. Maliki last month demanding that he stop meddling and reinstate some officials or accept his resignation. Mr. Allawi is a member in the Sunni-backed Iraqiya bloc. Mr. Maliki, a Shiite, put together a broad-based coalition after neither major bloc won a majority in elections. Since then, his opponents have been accusing him of hoarding power and sidelining his partners.
http://www.nytimes.com/2012/08/28/world/middleeast/iraqi-minister-quits-over-nouri-al-malikis-meddling.html?ref=middleeast&gwh=D0E9D2582565CC1FB92D4E489ACD8802
-----------
3 Killed in Attacks Targeting Iraq Security Forces
28 August 2012
BAGHDAD (AP) — Iraqi authorities say three people, including two soldiers, have been killed in a pair of attacks targeting the country's security forces.
Police officials say the first attack took place early Tuesday in the city of Fallujah, where a bombing on the house of a police major killed a neighbor and wounded seven people, including four of the officer's relatives.
Fallujah is 65 kilometers (40 miles) west of Baghdad.
In the second attack, police says gunmen shot dead an army officer and a soldier at a security checkpoint in northern Baghdad.
Hospital officials confirmed the casualties.
All officials spoke on condition of anonymity because they were not authorized to speak to the media.
Security forces are a top target for insurgents seeking to destabilize Iraq.
http://www.nytimes.com/aponline/2012/08/28/world/middleeast/ap-ml-
----------
India
Muslim-Christian Interfaith dialogue is going strong in the West: Dr. Ataullah Siddiqui
New Age Islam News Bureau
August, 28, 2012
New Delhi: "There is a welcome sign of change for understanding Islam among Western Christians. A growing tendency towards Islam-Christianity dialogue can be seen in the West today. Though common misconceptions about Islam are still deep-rooted in different Western countries, but on the other hand, highly commendable efforts are being made to foster co-existence between the two religious traditions on both the intellectual and common grounds, which have proven entirely fruitful."
As reported by Urdu Daily Inquilab and Rashtriya Sahara, the above views were expressed by Dr. Ataullah Siddiqui who was invited to deliver his extension lecture at Jamia Millia Islamia in a program organized by Zakir Husain Institute of Islamic Studies. Dr. Ataullah Siddiqui is a Visiting Professor at Leicester University of England and former Director of the Markfild Institute of Higher Education.
In his erudite lecture, he delved upon Islamic Studies in Britain saying that the Islamic Studies have been included in the British educational curriculum with the approval of influential Muslim leaders. He further said that there is huge dearth of such competent and skilful Muslim scholars who can introduce Islam to the West in a manner that is consistent with the Western mindset.
In his introductory speech, Director of Zakir Husain Institute of Islamic Studies, Professor Akhtarul Wasey said: "Dr. Siddiqui hails from Allahabad and has been engaged in promoting interfaith dialogue between Islam and Christianity in England and other Western countries for almost three decades." He added saying that one need not leave one's own religion to promote interfaith dialogue; rather he has to look for common points among different religions to come closer to one another"
The program was presided over by Father Thomas Coughlin, who has been actively promoting Christian understanding of Islam as the Head of Islamic Studies Association run by Catholic Christians. In his speech, he laid emphasis on mutual understanding between Muslims and Christians to bridge the gap of misunderstanding between the two larger communities. This extension lecture was attended by a large gathering of those keenly interested in Islam-Christianity dialogue apart from many professors, lecturers, research scholars and students.
-----------
CBI preliminary probe shows bigger conspiracy behind Assam violence
Aug 28, 2012
NEW DELHI: The CBI's preliminary investigation into the lower Assam violence has pointed to a bigger conspiracy behind the ethnic clashes. More arrests are expected soon as the agency is learnt to have zeroed in on certain people who might have been involved in the July 20 incident that sparked off the communal conflagration.
The agency, probing seven of the total 1,442 cases registered, has found enough evidence which shows that the first incident — that occurred on July 6 when the Kamtapuri Liberation Organization (KLO) militants killed two Muslims — had nothing to do with what happened later on July 19 onwards.
Two persons — Mahibul Haque Ratul and Mohammed Abu Siddique — were injured in an incident of indiscriminate firing by motorcycle-borne attackers in the same area in Kokrajhar on July 19. Both the incidents were more due to personal animosity and were unconnected. Details of both these incidents and statement of one arrested KLO militant were shared with local Muslim residents.
Still, four Bodo youth were attacked and killed at Jaipur under Kokrajhar Police Station by some unidentified Muslims with sharp weapons on July 20. That incident acted as a trigger that turned out to be a full-fledged communal violence, killing 88 people over the next one month.
Full report at:
http://timesofindia.indiatimes.com/india/CBI-preliminary-probe-shows-bigger-conspiracy-behind-Assam-violence/articleshow/15857173.cms
-----------
Mirwaiz under fire as Hurriyat cracks show
By Saurabh Shukla
28 August 2012
ONCE regarded as the poster boy of the All- Party Hurriyat Conference ( APHC), Mirwaiz Umar Farooq, the chairman of the separatist conglomerate, is facing flak from its key constituents.
Fissures seem to have appeared in the APHC, according to a secret note sent by the intelligence agencies to the government.
Specific instances have been detailed in the note, pointing to a bitter war of words between key separatist leaders.
According to the note accessed by M AIL T ODAY : " Mirwaiz Umar Farooq, chairman, All- Party Hurriyat Conference, faced flak from professor Abdul Ghani Bhat of the Muslim Conference ( a constituent of the APHC)". In a meeting of the executive committee on July 9, Bhat chided the Mirwaiz for his " indecisiveness and his inability to maintain discipline within the forum". Bhat wanted the Mirwaiz to ensure that the Hurriyat would play an important role in the Indo- Pakistan dialogue, especially in the meeting of foreign ministers of the two countries in Islamabad next month.
The differences came to the fore again at a combined meeting of the executive and general council of the APHC. Shabbir Shah of the Jammu and Kashmir Democratic Freedom Party raised the issue of restructuring the Hurriyat and demanded creation of a Majlis- e- Shoora in place of the present two- tier system.
Full report at: Mail Today
-----------
Geelani Sees A 'Divine Conspiracy'
28 August 2012
HARDLINE Hurriyat Conference leader Syed Ali Shah Geelani has alleged a " plot" behind the increasing number of pilgrims visiting the Amarnath cave.
Geelani on Sunday accused New Delhi of sending yatris to the shrine in Kashmir to " consolidate the occupation of J& K and boost the morale of the Indian Army". " In the 90s, some hundred yatris undertook the yatra . This year, 6.3 lakh yatris visited the shrine. The Supreme Court wants a road constructed up to it.
The BJP said it would raise infrastructure en route and around it. The Congress's plans are no different.
They want to convey to us that they are here and they are not going to leave," he said on Monday. It is the first time Geelani has spoken against the construction of a road to the shrine. He said yatris are being pushed to the Valley to overawe the Kashmiris.
Mail Today
-----------
Sohrabuddin case: SC wants trial to be shifted to Maharashtra
PAug 28, 2012
NEW DELHI: The Supreme Court on Tuesday said it would consider allowing former Gujarat minister Amit Shah, an accused in the Sohrabuddin Sheikh fake encounter case, to enter the state in view of the upcoming assembly polls but would like the trial of the case to be shifted to Maharashtra.
"That is one aspect. That must come to an end (keeping him outside the state)," a bench comprising justices Aftab Alam and Ranjana Prakash Desai said.
However, the bench said it has strong reservation over holding the trial of the case in the state.
"We have strong reservation about the trial to be conducted in the state. Trial has to go to Maharashtra," the bench said.
The bench posted the matter for September 4 after senior advocate Ram Jethmalani said he would like to make short oral arguments and will also place written submissions on the issue of bail and transfer of case of the BJP leader.
Jethmalani had submitted that the court should lift the condition imposed on Shah, when he was granted bail, that he would keep himself out of Gujarat.
Jethmalani submitted that Shah should be permitted to be in Gujarat under the surveillance of CBI officials in view of the upcoming assembly elections.
"Don't keep him away from political activities," he submitted.
Meanwhile, the court also asked the CBI to take a decision within couple of days on its probe relating to the killing of Tulsiram Prajapati, who was one of the key witness in the killing of Sohrabuddin Sheikh.
The bench stated this after CBI counsel Vivek Tankha said that the CBI probe in Prajapati killing case was complete and the agency would file the charge sheet within a week or so.
http://timesofindia.indiatimes.com/india/Sohrabuddin-case-SC-wants-trial-to-be-shifted-to-Maharashtra/articleshow/15886511.cms
-----------
Court to look into plea for compensation for Muslim victims
28 August 2012
The Jamiat Ulema-e-Hind, espousing the cause of Muslims, has knocked on the doors of the Supreme Court, seeking compensation for community youth who were incarcerated in jails for years as accused in bomb blast cases but were let off subsequently.
A Bench of Justices T. S. Thakur and Ibrahim Kalifulla, after hearing senior counsel Amarendra Saran, agreed to examine the plight of such youth who were jailed for six or seven years in some cases, on suspicion of involvement in terrorist activities and bomb blasts in the country since 2002.
Mr. Saran said the court's intervention would go a long way in assuaging the feelings of the community, which was feeling alienated. Giving the instance of the Malegaon blasts in 2006 and 2008, he said a number of young persons were detained for years after the Maharashtra ATS conducted the investigations. They were, however, let off later as they were found innocent by the National Investigation Agency.
The PIL petition, filed by Gulzar Ahmed Azmi of JUEH, Maharashtra, cited the States of Haryana, Gujarat, Maharashtra, Rajasthan, Andhra Pradesh, Delhi, Karnataka and Tamil Nadu as respondents.
Full report at:
http://www.thehindu.com/news/national/article3829000.ece
--------
SC refuses to direct Centre for deportation of Indian Mujahideen member Fasih Mohammed
Aug 27, 2012
NEW DELHI: The Supreme Court today refused to direct the Centre to get alleged Indian Mujahideen member Fasih Mohammed, detained by Saudi Arabia authority, extradited or deported to the country.
After going through all the correspondence between the Centre and the Saudi Arabia government, a bench of justices P Sathasivam and Ranjan Gogoi said it is for the Centre to pursue the case further as it cannot pass any direction for bringing him back.
"We are convinced on the basis of these correspondences that the government has taken steps. We cannot direct the Saudi Arbia government in this regard," the bench said.
Additional solicitor general Gourav Banerjee informed the court that Bihar native Fasih Mohammed, alleged to be involved in several terror acts in the country, is in the custody of Saudi Arabia police and the government is trying to get access to him through diplomatic channel.
Full report at:
http://timesofindia.indiatimes.com/india/SC-refuses-to-direct-Centre-for-deportation-of-
-----------
Indian Muslims should learn to achieve their democratic rights peacefully: Zafaryab Jilani
MD MUJAHID SYED
28 August 2012
JEDDAH: Indian Muslim youth should refrain from attacking the media, a leader activist on Muslim issues has said.
In a telephone interview, Zafaryab Jilani, who is the convener of the All India Babri Masjid Action Committee and the advocate general of Uttar Pradesh state in India, said the state of Assam, due to its difficult terrain and jungles, had become a safe haven for the opponents of the Assamese Muslims.
The state is almost inadmissible for the outside media, so for any news one has to depend on the local media that is sympathetic or influenced by the Bodos tribe, according to Jilani.
He recalled the 2002 Gujarat massacre of Indian Muslims, when India's national media did expose the nefarious designs of the communal outfits and the wholesale massacre of the defenseless Muslims.
The activist advised Muslim organizations to train and educate Muslim youths to know their democratic rights and duties.
Full report at:
http://www.arabnews.com/activist-indian-muslims-should-learn-achieve-their-democratic-rights-peacefully
-----------
PM to remind Zardari of his 26/ 11 promise
By Saurabh Shukla
28 August 2012
REMINDING Pakistan President Asif Ali Zardari of his promise to fast- track the 26/ 11 trial will be on top of Prime Minister Manmohan Singh's agenda when the two leaders meet on the sidelines of the Non- Aligned Movement ( NAM) summit in Iran on Thursday.
With the UPA's domestic policies not yielding dividends, sources say Manmohan is keen on making foreign policy the high point of UPA- II. Pakistan had recently said that evidence provided by India against the perpetrators of 26/ 11 was not admissible and by and large, the progress in the case has been slow with key accused such as Hafiz Saeed still at large.
During their meeting at the NAM summit, Zardari is expected to reiterate his invitation to Manmohan to visit Pakistan for Gurpurab on November 28, and to take a trip to Nankana Sahib, the birthplace of Guru Nanak. A visit to Gah, the PM's birthplace, is also likely.
Manmohan is also scheduled to meet Iranian President Mahmoud Ahmadinejad and ask him to import wheat, besides offering project consultancy to Iran to offset the 45 per cent of bilateral trade that is being conducted in Indian rupees now. The two countries have a bilateral trade worth $ 15 billion, with India importing oil worth $ 12.5 billion from Iran.
Mail Today
-----------
Assam gunbattle rages on as seven bodies are found
Kaushik Deka in Chirang
28 August 2012
SEVEN persons were injured, four of them critically, when unidentified miscreants fired indiscriminately, exploded grenades and burnt some houses in two villages of Assam's strife- torn Kokrajhar district late on Monday, the police said.
The incidents took place in the Pakritala area and security personnel from a CRPF camp located close to the attack site retaliated with bullets. The encounter was on till late in the night.
The 12- hour strike called by the Bajrang Dal on Monday, demanding the arrest of AIUDF chief and Dhubri MP Baduruddin Ajmal, was partially successful.
Meanwhile, seven bodies were recovered in the Chirang and Kokrajhar district in the past 48 hours.
While five persons from the minority community, taking cows to sell in the Bijni market, were hacked to death near Mongolia Bazar in Chirang on Saturday, another 70- year- old was found dead at the Kokrajhar- Dhubri border the next morning. The body of a five- yearold girl was found on the banks of Ai river at Japaguri in Bongaigaon on Sunday.
The violence in the region showed no signs of abating with a family of eight being attacked near Salakati station. Four were seriously injured.
Mail Today
-----------
India to call for "trans-national action" on Syria crisis: PM
Aug 28, 2012
India will call for "trans-national action" on the Syrian crisis during the forthcoming NAM Summit, Prime Minister Manmohan Singh said on Tuesday.
In a statement before travelling out to Iran, PM stressed that the "geo-political landscape continues to be transformed in uncertain and unpredictable ways".
Describing the worsening Syrian conflict as a challenge on par with the persistent global economic slowdown, PM said it was imperative to reform global institutions.
This is India's diplomatic speak for reforming the UN Security Council.
"I will stress that our movement should provide a strong political impetus to the ongoing efforts to reform and democratize global governance structures, which are critical to tackle these challenges more effectively," the Prime Minister said.
The PM's characterisation of the Syrian crisis is significant, because it would appear to differ from the Iranian stand of letting the Assad government take the lead. Although loath to impose externally driven regime change, the Syrian conflict is transforming itself into a regional proxy war, which, India believes, could end in disaster. India recently abstained on a UNGA vote on Syria that endorsed an Arab League position seeking an end to the Assad regime.
Iran, as Syria's only backer, is under a lot of pressure. But Tehran has doggedly maintained that the conflict was a result of outside intervention by the Sunni Arab states. While India believes that there is indeed a lot of external involvement in Syria, Iran is equally responsible.
http://timesofindia.indiatimes.com/india/India-to-call-for-trans-national-action-on-Syria-crisis-PM/articleshow/15891396.cms
-----------
Sarabjit's kin to take signature campaign to Pakistan
Aug 28, 2012
AMRITSAR: The family of Indian prisoner in Pakistan jail, Sarabjit Singh, has decided to take clothes and papers bearing signatures of more than 1.5 lakh people to Pakistan, so as to generate a wave of sympathy and secure his early release.
"We collected these signatures with the help of Tiranga Abhiyan Apna Sangh, an NGO in Indore, and will take them to Pakistan so that the sympathies of people of India reach the people and president of Pakistan," Sarabjit's sister Dalbir Kaur told to TOI on Monday.
The family had earlier decided to give the cloth and paper bundles to Sarabjit's counsel Awais Sheikh, who is currently on visit to India. "Now we are hopeful of getting visa to visit Pakistan in September. So we decided to take these along with us," she added.
Swapandeep Kaur, Sarabjit's daughter, she was hopeful of meeting her father and had bought two kurta pajamas, T-shirts, a track suit, medicines and spices for her father. Her mother Sukhpreet added, "The family is knocking at every door for the release of my husband. I fail to understand why nothing has happened so far. He is dying every second, please let him come home now."
http://timesofindia.indiatimes.com/india/Sarabjits-kin-to-take-signature-campaign-to-Pakistan/articleshow/15871043.cms
-----------
Firing in Kokrajhar on a day Bajrang Dal calls for bandh
Aug 28, 2012
GUWAHATI: Armed miscreants on Monday night hurled three grenades and set fire to several houses in Pakharital area under Fakiragram police station in the trouble-torn Kokrajhar district of the BTC. Fierce gun battle was on between police and miscreants, although there was no report of any miscreant being killed until the filing of this report.
Another incident of violence took place in Salakati area under Kokrajhar district on Monday night. Sources said that in both the incidents at least five people are reported to be injured. There were also reports of miscreants trying to set afire a bridge in Tamulpur under Baksa district of BTC.
The relief camps were tense on a day the Hindu right-wing group Bajrang Dal called for an Assam Bandh in protest against the violence in the Bodoland Tribal Council areas, whereas the indefinite curfew clamped in Chirang continued.
Five Bengali-speaking Muslims were killed in Chirang and two in Dhemaji on Saturday while two more bodies were found, one in Chirang on Saturday and another in Dhubri on Sunday. A woman and a child were injured during an attack at Salakati in Kokrajhar on Sunday. Such was the fear of violence that inmates at Bhawraguri relief camp refused to step out.
A total of 1,82,505 people have taken shelter in 49 relief camps in Kokrajhar; 1,04,064 in 22 camps in Chirang; and, 1,75,829 in 132 camps in Dhubri. The Army stepped up counter-insurgency operations in Bodoland Territorial Autonomous Districts (BTAD) as the government feared militants could create trouble. Sources said security forces have already started an operation against militants in the forests of Chakrasila in Kokrajhar.
Full report at:
http://timesofindia.indiatimes.com/india/Firing-in-Kokrajhar-on-a-day-Bajrang-Dal-calls-for-bandh/articleshow/15859585.cms
-----------
43 Indians in custody of Somali pirates: Govt
Aug 28, 2012
NEW DELHI: Shipping minister G K Vasan on Monday informed Lok Sabha that 43 Indian citizens were in the custody of Somali pirates.
He said the Centre has taken several steps for the release of hostages and to deal with the menace. These steps include setting up of an inter-ministerial group of officers (IMGO) to deal with hostage situation arising out of the hijacking of merchant vessels with Indian crew on board.
The shipping ministry has issued guidelines for deployment of armed security guards on board Indian flagged merchant ships. Indian ship owners can also deploy armed security guards. Naval escort is provided to the ships in the Gulf of Aden. The Indian Navy is providing enhanced vigil in the Indian EEZ and westward up to 65 degrees east longitude.
Moreover, the government has banned sailing of vessels in waters south or west of the line joining Salalah and Male.
http://timesofindia.indiatimes.com/india/43-Indians-in-custody-of-Somali-pirates-Govt/articleshow/15859055.cms
-----------
Exodus of northeast Indians: Morphed pictures India's local issue, Pak envoy says
Aug 28, 2012
NEW DELHI: With the government barely producing any evidence to back its claims that morphed images instigating violence against northeasterners originated in the neighbourhood, Pakistan's high commissioner to India, Salman Bashir, on Monday cautioned New Delhi that internationalizing the issue may not be in its interest. In an exclusive interview to TOI, Bashir offered full cooperation from his government on the issue, but added that recrimination in public was not going to help.
"I have three points to make on this issue...personal opinion in some sense and the first is that I don't think that it would be appropriate for any country to internationalize their domestic situation," he said. He was responding to a query about the allegations made by the Union home secretary R K Singh on TV last week.
"Secondly, as far as the accusations are concerned, I must say that the interior minister of Pakistan called the Indian home minister and offered to extend full cooperation into what had been attributed to the Indian home secretary. The third point is that it is extremely important that instead of getting into an accusatory mode, the two countries must learn to cooperate because recrimination, especially in public domain, doesn't help anyone," he added.
Full report at:
http://timesofindia.indiatimes.com/india/Exodus-of-northeast-Indians-Morphed-pictures-
-----------
Each issue on Indo-Pak bilateral agenda is doable: Salman Bashir
Aug 27, 2012
Every issue on Indo-Pak bilateral agenda is a doable and it is in Islamabad's interest to solve difficult ones, says Pakistan High Commissioner to India Salman Bashir in an exclusive interview to Sachin Parashar.
What are your expectations from the Manmohan-Zardari meeting in Tehran and what is one major takeaway you can assure the PM of if he indeed visits Pakistan in November?
I would say that the meeting would be very good and very much in the line of the process of high-level meetings on the margins of important functions. We believe that the visit by the PM, who is held in high esteem in Pakistan, would certainly be very productive and help in not only consolidating the process that he himself had initiated but also in giving it the requisite political impetus. Pakistan is committed to doing whatever is necessary to develop stable, sustainable relationship with India.
The last time foreign minister S M Krishna went there he was involved in a public spat with his counterpart. Much has happened in the bilateral relationship since the last visit. Both sides have been upbeat and worked to build trust and come to a better understanding of each other. Some areas have seen movement like in the people to people domain, new visa agreement and trade. There are good spin-offs from this process. On more difficult issues, we certainly need to work more... On J&K, there is an in-principle agreement from both sides to create more comfort for Kashmiris. The Kashmir issue cannot be relegated to the sidelines. We are willing to do more in terms of facilitating cross-LoC trade travel. On the issue of terrorism, I must say that the visit of previous Indian home minister was productive. The new minister (Shinde) has been invited to visit as soon as convenient. This reflects the desire of Pakistan to work on this matter with India.
Full report at:
http://timesofindia.indiatimes.com/india/Each-issue-on-Indo-Pak-bilateral-agenda-is-doable-Salman-Bashir/articleshow/15838322.cms
-----------
Assam violence unacceptable: Sonia
Aug 28 2012
New Delhi : Condemning as "unacceptable" the ethnic violence in Assam, Congress President Sonia Gandhi on Tuesday said no government can ignore such "treacherous
activities" and pitched for "strictest possible action" against those who targeted people from the northeast.
Addressing a meeting of the Congress Parliamentary Party (CPP), she termed as "unacceptable" the "painful" targeting of people from northeast in Mumbai, Bengaluru and in other parts of the country in the wake of the Assam violence.
"The strictest possible action must be taken against those who deliberately seek to divide us, incite and provoke people by their incendiary speeches and aggressive actions," Gandhi said.
Noting that such persons have misused the social media for their hate-mongering, causing havoc and spreading mass panic, the Congress President said, "No government can stand by and ignore such treacherous activities".
At a time when the Assam violence has courted a political controversy with the BJP seeking to portray it as an inhabitant versus foreigner issue, Gandhi said, "This is not
the time for partisan finger pointing. The immediate need is for healing wounds and bringing about reconciliation among the communities that have been hurt so grievously."
She said that every effort should be made to ensure that people still living in camps return to their homes as quickly as possible.
Full report at:
http://www.indianexpress.com/news/assam-violence-unacceptable-sonia/994330/
-----------
One held for desecrating war memorial during violence
Aug 28 2012
Mumbai : One of the two alleged rioters, suspected to have damaged the Amar Jawan memorial during the August 11 violence in Mumbai, has been detained, police said today.
"Abdul Quadir, who is suspected to have damaged Amar Jawan memorial, is being interrogated. We strongly believe he is one of the two rioters involved in desecrating the memorial," a crime branch official said.
So far police have arrested 51 alleged rioters for the Azad Maidan mayhem, in which two persons were killed and over 50 were injured, including 44 policemen, when a rally called to protest the alleged atrocities on Muslims in Assam and Myanmar turned violent.
Incidentally, a metropolitan court yesterday discharged three of the accused arrested in connection with the violence after the crime branch moved an application saying that the investigation showed they were not the part of the mob.
The court discharged Anees Davare, Aslam Sheikh and Abbas Ujjainwala after the crime branch moved an application under Section 169 (release of accused when evidence is deficient) of the Criminal Procedure Code.
On August 11, the protesters went on a rampage, attacking police, including women constables, torching media and police vans, smashing cameras of photo journalists and damaging buses.
http://www.indianexpress.com/news/one-held-for-desecrating-war-memorial-during-violence/994308/
-----------
Pakistan
Right-wing leaders want Islamic body to set up TV guidelines
Aug 28 2012
Islamabad : Right-wing political leaders and columnists have suggested that Pakistan's Council of Islamic Ideology should define the standards for obscenity in television programming, sparking concern among liberals who believe the move could affect freedom of expression.
The suggestion was made at a consultative meeting convened Monday by the Pakistan Electronic Media Regulatory Authority to discuss parameters of obscenity for TV channels.
On August 13, the Supreme Court gave PEMRA four weeks to submit a report on "obscene and vulgar" TV shows.
Jamaat-e-Islami leaders Qazi Hussain Ahmed and Muhammad Hussain Mehanti, right wing columnist Ansar Abbasi and Lt Gen (retired) Abdul Qayyum were among those who suggested that the Council of Islamic Ideology and parliament should define "obscenity and vulgarity".
They said Pakistan was created in the name of Islam and its Constitution clearly envisages that there can be nothing against the Quran and Shariah or Islamic law.
They criticized news channels for "spreading vulgarity in the guise of entertainment and news". They also objected to the showing of "vulgar mujra, dances and songs" in the headlines of TV channels.
Javed Jabbar, a well-known writer and former minister, and Mehdi Hasan, a leading media commentator, defended the media, which they said is not all about vulgarity.
Ten per cent of the total content may be objectionable but the rest of the content is fine, they said.
Jabbar opposed involving the Council of Islamic Ideology in defining obscenity, saying it would be difficult to evolve consensus on such a complex issue.
Hasan said, "If something is undesirable to watch, you have the option of switching the channel or completely switching off your TV."
Omar R Quraishi, the editorial pages editor of The Express Tribune, said it was "troubling" that an attempt was being made to rope in the Council of Islamic Ideology to set the standards for television programming.
"A suggestion to ask the Council of Islamic Ideology to define vulgarity is troubling, indeed asking any state or non- state body to define it is, because the term is relative. It changes over cultures, and even within countries and classes, and over time," Quraishi told.
He said that over the years, Pakistan's state and establishment had "more or less brainwashed most ordinary people into thinking a certain way" and that much of this was driven by religion-based indoctrination.
Full report at:
http://www.indianexpress.com/news/rightwing-leaders-want-islamic-body-to-set-up-tv-guidelines/994344/
-----------
Fearful Pakistani Christians make home in forest
August 28, 2012
Having fled their homes in the latest spasm of Pakistani religious strife, a few hundred Christians have camped in a forest in the Pakistani capital, cut down trees and are using the branches to build a church. Their ordeal began when a Christian girl in their poor Islamabad neighborhood
was accused by a neighbor of burning pages of the Quran — a blasphemy by Pakistani law that can mean life in prison.
A week after the girl's arrest, much remains in question: her age — 11 to 16 in conflicting reports; mental condition — Down syndrome has been mentioned; and what exactly she was burning — there's little evidence that Quran pages were involved.
But as word spread, hundreds of people gathered outside her house demanding action, and on Aug. 20 police arrested the girl pending an investigation. (The Associated Press is withholding her name because it does not generally identify underage suspects.)
Most Christians in the neighborhood fled — some 600 families according to one interfaith group. Some said their landlords evicted them. A few have returned.
One of those who moved into the forest on Sunday was Sumera Zahid, who was busy feeding her three children and her parents.
"We used to come here to collect wood for fuel so we find it a suitable place for shelter," she said. "Here it is not anybody's home, nobody's land. Let us live here in safety."
On Monday their pastor, Arif Masih, spoke to them by the frame of branches they were lashing together for their church.
Full report at:
http://www.hindustantimes.com/world-news/Pakistan/Fearful-Pakistani-Christians-make-home-in-forest/Article1-920619.aspx
-----------
Pak fears Iran nuclear conflict may fuel regional instability
28 August 2012
ISLAMABAD: Foreign Minister Hina Rabbani Khar said on Tuesday that growing confrontation over Iran's nuclear programme threatens further instability in the broader region.
"In our view, dialogue and diplomacy should be the only instruments to resolve outstanding issues," she said while addressing a debate on 'Lasting Peace through Global Governance' on Tuesday in Tehran ahead of the Non Aligned Movement (NAM) Summit.
"We believe that peaceful resolution of this issue is still possible on the basis of reciprocal confidence building measures."
Khar said Pakistan believes that founding principles of NAM, including peaceful co-existence sovereignty, territorial integrity of all states and non-interference in internal affairs of other countries, provide firm basis for enduring peace and stability in the world.
"In our region Afghanistan will need support of NAM fraternity as it moves towards transition phase in the year 2014," she said.
Calling for peace, security and prosperity in the Palestine region, the foreign minister urged a just solution of the issue on the basis of the "Palestinian people's right to self-determination".
Moreover, she also called for an immediate end to ongoing bloodshed by all sides in Syria in the interest of regional peace and stability.
The foreign minister also called for collective efforts in order to address issues of energy crisis, water shortage and environmental degradation.
http://dawn.com/2012/08/28/pak-fears-iran-nuclear-conflict-may-fuel-regional-instability/
-----------
Taliban, Pakistani security forces clash in Bajaur; 36 killed
Aug 28, 2012
ISLAMABAD: Clashes between Pakistani security forces and Taliban militants have left 36 people, a majority of them rebels, dead in Bajaur tribal region over the past three days, military sources said on Monday.
Two members of a tribal militia, which is backed by the army, and three soldiers were killed during the clashes with militants in Batwar area of Bajaur Agency.
A total of 31 militants were killed in the fighting, the sources said.
Five security personnel were injured, the sources said. "Most of the areas have been cleared of militants. However, the operation is still continuing to evict a few remaining militants in Batwar area," a military source said.
The sources said the militants launched attacks on Pakistani border posts and villages from bases on the Afghan side of the border.
The Pakistan Army says several militant leaders fled to Afghanistan following military operations in 2008-09.
Full report at:
http://timesofindia.indiatimes.com/world/pakistan/Taliban-Pakistani-security-forces-clash-in-Bajaur-36-killed/articleshow/15853109.cms
-----------
Duped by Pak man, Indian woman yearns to return home
Aug 27 2012
Karachi : An Indian woman, who left her country and religion to marry a Pakistani man but was betrayed and virtually imprisoned by him for 13 years, finally has hope of returning home, with the human rights commission here taking up her case.
Shabnam, who was originally called Shirley Ann Hodges, met Gul Khan in India, whom she married before travelling to Karachi with her new-born child to meet his family on a six-month visa 13 years ago.
However, in Karachi she was introduced to Khan's first wife and her six children, and was never allowed to return.
After her case came to light, the Human Rights Commission of Pakistan (HRCP) and noted human rights lawyers, Asma Jahangir and Ansar Burney, have started efforts to help her return home.
Full report at:
http://www.indianexpress.com/news/duped-by-pak-man-indian-woman-yearns-to-return-home/993923/
-----------
Violence in Karachi claims 18 lives
28 August 2012
KARACHI: Different incidents of violence during the past two days claimed the lives of 18 people in Karachi, DawnNews reported on Tuesday.
A political worker lost his life to firing in New Karachi, sector 5-J.
A body was found in Orangi Town area.
Two people were killed by firing in Karachi's Lines area. The situation in the area turned tense after the incident.
Another political activist died of gunshot wounds by unknown persons near Baghdadi Masjid in Martin Quarters area of Karachi.
One person was killed in Korangi No. 2-1/2. Police sources claimed that the victim was associated with a criminal gang.
Two political party workers were killed in Orangi town, after a firing incident. The killing spread panic in the area and as a result shops and business were shut down.
Two people were gunned down and one other person was injured, when unknown gunmen opened fire on them in Kharadar.
Full report at:
http://dawn.com/2012/08/27/violence-in-karachi-claims-12-lives/
-----------
Farhatullah Babar elected to chair commission on new provinces
28 August 2012
KARACHI: Senator Farhatullah Babar, who is also the presidential spokesperson, was elected chairperson of the parliamentary commission for carving out of new provinces out of Punjab during its first meeting which was held at the Parliament House in Islamabad on Tuesday, DawnNews reported.
The Pakistan Muslim League – Nawaz (PML-N) stuck to its decision of boycotting the session.
Speaking to media representatives after the commission's meeting, Babar said the commission had been mandated to reinstate the province of Bahawalpur and to carve out a province out of southern Punjab.
Babar moreover said that the commission would prepare a report in a month's time on the matter and present it in the parliament.
He said that efforts were underway to convince the PML-N to participate in the commission's proceedings.
Speaking to media representatives, Pakistan People's Party (PPP) leader Khurshid Shah said that the National Assembly would pass a resolution by a two-thirds majority for the creation of new provinces.
Full report at:
http://dawn.com/2012/08/28/farhatullah-babar-elected-to-chair-commission-on-new-provinces/
-----------
Pakistani Christian girl accused of blasphemy ruled minor: lawyer
28 August 2012
ISLAMABAD: An official medical review of a Pakistani Christian girl accused of desecrating the Holy Quran has determined that the girl is a minor, a lawyer for the girl said on Tuesday.
The finding, which means the girl will be tried in the juvenile court system, could possibly defuse what has been a highly contentious case in Pakistan, where blasphemy can be punished with life in prison or even death.
The accusations against the girl have inflamed religious tensions in Pakistan, and sparked a mass exodus of Christians from the girl's neighborhood fearful of retribution from their Muslim neighbors.
The attorney, Tahir Naveed Chaudhry, said a report by a medical board investigating the age and mental state of the girl determined she was 14 years old.
He also said the board determined her mental state did not correspond to her age. It was not clear whether that meant she was mentally impaired. Some Pakistani media reports have said the girl has Down syndrome.
Full report at:
http://dawn.com/2012/08/28/pakistani-christian-girl-accused-of-blasphemy-ruled-minor-lawyer/
-----------
Six die in rocket, gun attacks on village
28 August 2012
KHAIRPUR: Six members of the Kalhora clan were killed in rocket and gun attacks in Kingri taluka on Monday evening.
Three victims were burnt alive when their thatched hut caught fire after being hit by a rocket in Bindi village.
Police said the rocket had been fired by members of the rival Narejo clan.
They identified the victims as Waheed Ali, 25, Rajib Ali, 23 and Zain-ul-Abideen. The rocket attack was followed by firing that left another three members of the clan dead.
The victims were identified as Ahsan Ali, 27, Sajid, 22 and Veengas, 25.
The police said the firing — apparently carried out by those who had mounted the rocket attack — left two villagers wounded.
Khairpur SSP Irfan Baloch told reporters that members of the Narejo clan, locked in a long-running feud with the Kalhoras, had carried out the two attacks.
No FIR was registered at the Abdul Rehman Unnar police station till late Monday night.
http://dawn.com/2012/08/28/six-die-in-rocket-gun-attacks-on-village/
-----------
Attack on political party's office in Karachi wounds six
28 August 2012
KARACHI: At least six people were wounded Tuesday as unidentified assailants attacked the office of a political party in Karachi's Kemari area, DawnNews reported.
According to initial unconfirmed media reports, the attackers hurled a hand grenade at the office, injuring six people. Another news channel reported that the people were injured as a result of gunshot wounds as the attackers opened fire at the office.
The injured were shifted to Civil Hospital.
http://dawn.com/2012/08/28/attack-on-political-partys-office-in-karachi-wounds-six/
-----------
MQM chief slams killing of Christian boy, party worker
28 August 2012
KARACHI: Muttahida Qaumi Movement (MQM) chief Altaf Hussain has strongly condemned the inhumane killing of Sunil Masih, a 14-year-old Christian boy of Faisalabad.
In a statement issued here on Monday, he said that few days ago a case was registered against Christian girl living near Islamabad causing great unrest in the Christian community.
The surfacing of kidnapping and burning alive of 14-year-old boy soon after was highly condemnable. He condoled with the family members of Sunil. He appealed to the Supreme Court of Pakistan to take suo moto notice and order investigation into the horrific killing.
Meanwhile, Hussain expressed his profound grief and sorrow on the martyrdom of Muhammad Rafique, an activist of the MQM.
Unknown terrorists attacked Rafique on Sunday night. Joint Sector In-charge Muhammad Arshad Qureshi had also sustained bullet injuries in the incident.
Hussain lauded the services of Rafique and said that the selfless sacrifices made by the deceased worker would bear fruit. He condoled with the grief-stricken family members and said that he and each worker of the MQM equally felt their grief.
Moreover, Coordination Committee of the MQM also condemned the brutal killing of Rafique.
The committee said that the elements behind sectarian violence and bloodshed would not be able to diminish the strong resolve of the MQM workers.
The committee demanded of President Zardari, Prime Minister Raja Pervez Ashraf, Interior Minister Rehman Malik and Sindh Chief Minister Syed Qaim Ali Shah to take notice of the killing of Rafique and bring the perpetrators to book.
http://www.dailytimes.com.pk/default.asp?page=2012\08\28\story_28-8-2012_pg12_6
-----------
No amendments in blasphemy law despite recommendations
28 August 2012
* Council suggests capital punishment for 'incorrect complainant and witnesses in blasphemy case'
By Manzoor Qadir
ISLAMABAD: Recommendations by the Council of Islamic Ideology of Pakistan (CIIP) on the country's most discussed blasphemy law which have been presented to parliament await the government's response for the last several years.
Apparently the government is reluctant to give a final nod due to unknown reasons. Some believe that clerics are pressing the government not to consider these recommendations.
The CIIP has made these recommendations on a reference sent by the federal government in the wake of increasing complaints about the misuse of the law. According to religious scholars, the misuse of the blasphemy law was tantamount to blasphemy, and therefore a person who was guilty of misuse of this law should be punished under the same law. The council has recommended death penalty for anybody misusing the blasphemy law.
"The incorrect complainant and witnesses in a blasphemy case should be handed similar punishment (capital punishment) as a guilty person," the recommendations read. "The government should not allow anyone to misuse the blasphemy law and it should take all appropriate measures whether administrative, procedural or legislative to stop incidents of mishandling the blasphemy law."
Full report at:
http://www.dailytimes.com.pk/default.asp?page=2012\08\28\story_28-8-2012_pg7_20
-----------
MQM moves adjournment motion against Lulusar killings
28 August 2012
ISLAMABAD: MQM parliamentary leader in Senate, Senator Col (r) Syed Tahir Hussain Mashhadi on Monday moved an adjournment motion to discuss the massacre of 26 Shias in Lulusar area of Mansehra District.
Senator Mashhadi, in the motion, said that the incident has caused great concern and terror amongst the people of Pakistan and may be debated in the Senate in detail.
http://www.dailytimes.com.pk/default.asp?page=2012\08\28\story_28-8-2012_pg7_28
-----------
Pakistan SC gives 3-week ultimatum to PM Raja Pervez Ashraf in graft case
Aug 27, 2012
ISLAMABAD: Pakistan's apex court gave a three-week ultimatum to prime minister Raja Pervez Ashraf on Monday to write a letter to Swiss authorities for reopening graft cases against his boss, President Asif Ali Zardari.
Ashraf appeared before the court following a show-cause notice regarding non-compliance of its earlier order to write a letter to Switzerland. The prolonged struggle between the government and the judiciary has already sent Ashraf's predecessor Yousaf Raza Gilani home in June.
PM Ashraf pleaded before the five-member bench that he required at least four to six weeks in order to consult his legal team and cabinet members to resolve the issue. "I need time to understand the matter...as it involves certain legal and Constitutional points," the premier told the court.
He also requested the court to withdraw the show-cause notice saying that it harms the country's sovereignty. "I am going to China and if I visit with a show cause notice, it will give a negative impact to the international community," Ashraf told the court. However, the court did not oblige him.
Full report at:
http://timesofindia.indiatimes.com/world/pakistan/Pakistan-SC-gives-3-week-ultimatum-to-
-----------
Zardari likely to meet Manmohan on margins of NAM Summit in Iran
Aug 28, 2012
ISLAMABAD: Pakistan President Asif Ali Zardari is expected to meet Prime Minister Manmohan Singh on the sidelines of the NAM Summit in Tehran, officials said today.
Zardari, who will lead the Pakistani delegation to the summit, is expected to hold several bilateral meetings in the Iranian capital during August 29-31, the officials said.
Zardari last met Singh in April during a day-long private visit to India to pray at a Sufi shrine in Ajmer.
Besides Zardari, Singh is expected to hold meetings with Iranian President Mahmoud Ahmadinejad and leaders of Nepal and Bangladesh, Indian officials have said.
Zardari will be accompanied by foreign minister Hina Rabbani Khar, who will use the multinational forum to project Islamabad's position on key international and regional issues, including the situation in Afghanistan.
During the two-day summit on August 30-31, leaders and delegates from other countries will exchange views on the latest global developments and issues related to Non-Aligned Movement.
http://timesofindia.indiatimes.com/world/pakistan/Zardari-likely-to-meet-Manmohan-on-margins-of-NAM-Summit-in-Iran/articleshow/15890972.cms
---------
South Asia
Differing Theories in Killing of 17 in Taliban Stronghold
By RICHARD A. OPPEL Jr. and TAIMOOR SHAH
28 August 2012
KABUL, Afghanistan — When the killing ended in northeast Helmand Province on Sunday, the only thing Afghan officials knew for certain was that the beheaded bodies of 15 men and 2 women lay in the desert, in Taliban territory, after a startling spasm of brutality. The question now dogging them is why.
Government officials scrambled for more than a day to explain the carnage. Hajji Naimatullah Khan, the governor of the Musa Qala district, initially reported that the Taliban had executed the 17 for attending a risqué party. But in a telephone interview he later revised his account, saying that witnesses believed the men had been identified as informers and dragged away from villages in his district. The two women, he added, had pleaded for the men's lives, but this angered the Taliban, who killed them, too.
"The Taliban learned that these are the people who had links with government," Hajji Khan said of the victims. "They were detained in their homes and taken away."
Musa Qala and the nearby district of Kajaki, where the bodies were reported found, are both longtime Taliban strongholds and scenes of heavy fighting with American and British troops over the years. The lasting Taliban presence has long marginalized government officials there, perhaps explaining the incoherent array of explanations for the beheadings.
The Helmand governor's office offered differing theories as well. It first released a statement suggesting that the two Taliban commanders had gotten into a fight over the two women that spiraled into a wider gun battle. Then the governor's spokesman, Dawood Ahmadi, speculated that the victims might have been suspected of planning an anti-Taliban uprising. But that was only a very hopeful hypothesis, he admitted.
Full report at:
http://www.nytimes.com/2012/08/28/world/asia/attacks-on-soldiers-and-civilians-leave-
-----------
Taliban team in Qatar for negotiations with US
28 August 2012
* Backdoor diplomacy going on after Taliban suspended talks in mid-March
By Imdad Hussain
ISLAMABAD: Taliban negotiating team has returned to Qatar for talks with the US after consulting with key Shura members to finalise an agenda of negotiations with Washington, Taliban sources said on Monday.
Members of the negotiating team; Shahabuddin Dilawar, ambassador in Pakistan during Taliban's regime, Jan Muhammad Madni, former first secretary in Afghan embassy in UAE, and their former diplomat in Pakistan, Sohail Shaheen, interacted with Taliban Shura and returned to Qatar, the sources said.
A senior Taliban member said that negotiations were to start last month, but hit snags.
Some sources claimed that the Taliban negotiators met Abdul Qayyum Zakir, Taliban Shura chief, and his deputy Akhtar Muhammad Mansoor as well as Amir Khan Mutaqi, head of the Information and Culture Council.
However, head of the negotiating team Tayyab Agha stayed in Qatar and never visited Afghanistan or the region due to some reasons.
The backdoor diplomacy between the US and Taliban was going on after Taliban suspended talks in mid-March in Qatar, but Taliban say Washington is dragging feet on its promises.
At present there is no direct contact between the US and Taliban though efforts are afoot to resume the talks. Though publicly the direct contact between the two sides was denied once the negotiation process was suspended, but Taliban sources said that there was no third party between Taliban and the US which was indirectly sustaining contacts between the two parties.
Full report at:
http://www.dailytimes.com.pk/default.asp?page=2012\08\28\story_28-8-2012_pg7_9
-----------
Bangladesh jails 665 soldiers for 2009 mutiny
28 August 2012
DHAKA: A Bangladesh court Tuesday jailed 665 border guards for their role in a bloody 2009 military mutiny, bringing the total number of soldiers imprisoned for the unrest to over 5,000, a prosecutor said.
Fifty-seven senior army officers were killed during an uprising that began when soldiers at the Bangladeshi Rifles (BDR) headquarters in the capital Dhaka went on a killing spree, later dumping victims' bodies in sewers and shallow graves.
A special military court in Dhaka found 665 border guards from the force's 44th Battalion guilty of "masterminding, joining and leading the mutiny", state prosecutor Lieutenant Colonel Zakir Hossain said.
"Of the 673 soldiers charged, eight were acquitted and the rest were handed out prison terms starting from four months to seven years. A total of 113 soldiers were sentenced to maximum seven years in jail," Hossain said.
Full report at:
http://dawn.com/2012/08/28/bangladesh-jails-665-soldiers-for-2009-mutiny/
-----------
Muslim minister representing coalition partner of Sri Lanka ruling party will not resign
Aug 28, 2012
Aug 28, Colombo: Leader of Sri Lanka's governing party ally, the Sri Lanka Muslim Congress (SLMC) says he would not resign from the government.
SLMC Leader, Justice Minister Rauf Hakeem has put an end to speculation that he would resign from his ministerial portfolio saying there was no such plan.
He has also denied that the party's High Command had pressured him to resign from the ministerial portfolio.
Hakeem has told the media that he was a part of the government and there was no need for him to resign.
He has pointed out that the SLMC had supported the government on many occasions including the passage of the 18th Amendment to the Constitution.
According to Hakeem, he is participating in the SLMC's election campaign while being a member of the government.
Speculation about Hakeem's resignation from the government came following the resignation of SLMC Chairman Basheer Segu Dawood from the deputy ministerial portfolio of Cooperatives and Internal Trade.
http://www.colombopage.com/archive_12A/Aug28_1346124938CH.php
-----------
Afghan Beheadings Could Signal Confusion in Taliban Ranks
28 August 2012
LASHKAR GAR/KABUL (Reuters) - It was meant to be another night of music and dance, a brief distraction from life in the searing heat and dust of Afghanistan's conservative rural south for a small group of boys and girls in Helmand province's Roshan Abad village.
Instead it ended in brutality that even the Taliban's austere leadership are unwilling to be linked with amid off-again, on-again peace moves and signs that grassroots insurgent fighters may not be in a mood for any compromise.
All seventeen revelers - 15 boys and two girls - were shot or beheaded by their own villagers and insurgents enraged by their "immorality".
"Inside the room there was only a smashed electric keyboard powered by a car battery, as well as a broken tabla (drum) and blood stains around the room," said district elder Juma Gul, who later visited the mud-walled compound where the slaughter unfolded.
The central Taliban leadership is trying to improve the group's image in case it wants to push forward tentative reconciliation steps and perhaps even enter mainstream politics. But some militant units are hard to control, roaming the countryside and slaughtering those deemed immoral.
Full report at:
http://www.nytimes.com/reuters/2012/08/28/world/asia/28reuters-afghanistan-beheadings.html?hp
-----------
Afghan truck bomb kills four, wounds police chief
August 28, 2012
A massive suicide truck bombing in Afghanistan's southern city of Kandahar killed four civilians and wounded the provincial police chief overnight, authorities said on Tuesday.
The bombing targeted was General Abdul Raziq, the provincial police chief of Kandahar, who has a strong
anti-Taliban background. Raziq survived the bombing with minor injuries to his face, arms and a leg.
"His injuries are not serious and he will soon be discharged from the hospital," a statement from the provincial governor's office said.
"He suffers from burns on his face, arms and leg, it's not serious," said Jawed Faisal, a spokesman for the provincial administration.
Faisal also said that four civilians had been killed and about 20 others, mostly civilians and members of the same family, were wounded in the blast. The spokesman described the explosion as massive and very, very huge. He said the truck bomb was detonated by a suicide attacker as the vehicle of the police chief passed through a neighbourhood in Kandahar city.
There was no immediate claim of responsibility for the bombing but Taliban insurgents have been known to use suicide attacks against the Afghan government and its Western military backers.
http://www.hindustantimes.com/world-news/RestOfAsia/Afghan-truck-bomb-kills-four-wounds-police-chief/Article1-920524.aspx
-----------
Muslim hotel owner, found guilty of discrimination, condemns anti-Semitism
Aug 27, 2012
Owner of California facility will also donate to two pro-Israel organizations after illegally shutting down IDF fundraiserAugust 27, 2012
JTA — A Muslim hotel owner in Southern California condemned anti-Semitism and agreed to donate money to two pro-Israel groups in order to head off a protest rally.
Tehmina Adava, the owner of the Hotel Shangri-La in Santa Monica, said Friday that she would donate $3,600 each to the Koby Mandell Foundation, which helps families of terrorism victims, and the Zahal Disabled Veterans Organization, which helps disabled Israeli veterans.
Earlier this month, a jury in Santa Monica Superior Court found that Adaya had discriminated against the nonprofit Friends of the Israel Defense Forces when it held a fundraising event at the hotel.
Full report at:
http://www.timesofisrael.com/muslim-hotel-owner-found-guilty-of-discrimination-condemns-anti-semitism/
-----------
Taliban brutality turns Afghans away
Aug 27, 2012
KANDAHAR, Afghanistan (USA TODAY) — The Taliban's beheading of 17 people at a celebration of music and dancing is the latest in a litany of crimes that may turn Afghans away from the Islamic group, some locals say.
The killers attacked a large party Sunday in the Musa Qala district of Helmand province in southern Afghanistan, said government official Neyamatullah Khan. Khan said the victims were beheaded for flouting the Taliban's view of proper Muslim behavior.
Afghan President Hamid Karzai condemned the killings as an "unforgivable crime," and recent interviews with Afghans in the south show that many have grown increasingly intolerant of the Taliban.
"The bad behavior of the Taliban with the local people — when they use their fields, houses, mosques and streets as their battlefield, when they put landmines in roads and in their fields — has shifted the sympathy of the people toward the government," says Haji Fazel Mohammad, district governor of Panjwayi. "People are very unhappy with the Taliban about these issues."
The anger has not necessarily pushed people to support Karzai's government. The Afghan government is often viewed as a distant, corrupt power, experts say.
"As long as there is no legitimate and transparent government and institutions, there will be a gap between the people and the government," says Ahmad Shah Spar, an independent political analyst in Kandahar.
Full report at:
http://www.democratandchronicle.com/usatoday/article/57354890?odyssey=mod%7Cnewswell%7Ctext%7CLocal%20News%7Cs
-----------
Sri Lanka minister gets bail in fishing settlement case
Aug 27, 2012
A court in northern Sri Lanka has granted bail to a cabinet minister accused of interfering in a dispute between Muslims and Catholics.
Rishad Bathiudeen denied threatening a magistrate for ruling in favour of the Catholics, who have been occupying a fishing settlement in Mannar.
The settlement was once owned by Muslims, but they were chased out by Tamil Tigers rebels in the civil war.
The minister faces a two-year prison sentence if found guilty.
Rishad Bathiudeen, the minister of industries and commerce, has also been charged with insulting and interrupting the magistrate during the legal sittings.
He was granted bail on Monday after 23 lawyers argued in his favour. The case has been adjourned until early next month.
The BBC's Charles Haviland in Colombo says the case is complicating efforts to restore normality after the war.
Full report at:
http://www.bbc.co.uk/news/world-asia-19392456
-------
Afghanistan: colour coded chaos
27 August 2012
Reality keeps on intruding into the official narrative of the war, which is being allegedly wound down
The first account of what happened in a remote part of southern Helmand under Taliban control ticked all boxes: 15 men and two women had been found beheaded as punishment for attending a mixed-sex party, with music and dancing. Subsequent accounts muddied the water: the heads of the victims were not cut off, the dead may have been caught up in a fight between two Taliban commanders over the women, and may have included some of the Taliban themselves. The executions were only the start of a bloody 24 hours. Ten Afghan soldiers died in a Taliban assault on a checkpoint and two US soldiers were killed by their Afghan allies after a dispute broke out during a joint patrol.
Reality keeps on intruding into the official narrative of the war, which is being allegedly wound down. The theory being that as Afghan army and police "stand up" to the fight, their western allies and mentors can draw down and go home. The Taliban routinely claim every Isaf death, but it was the incident in which they were not involved which has the potential to destroy the heart of Isaf's withdrawal; 42 coalition soldiers have been shot this year by the men they are supposed to be training, 12 this month alone. Each time one of these "green on blue" attacks occurs, a phrase which makes the deaths sound like the instructions in a knitting pattern, coalition spokesmen play down their significance. They have, we are continually told, no wider significance. There is no common thread, little evidence of infiltration and the majority of such attacks are the result of personal grudges.
Full report at:
exercise in flag-waving, with foreign troops still deployed in their homeland?
http://www.guardian.co.uk/commentisfree/2012/aug/27/afghanistan-colour-coded-chaos
-------
Southeast Asia
Indonesia hit on rise in religious attacks
By Ben Bland in Jakarta
August 27, 2012
Human rights campaigners have condemned the Indonesian government for failing to tackle the rising tide of religious intolerance in the world's most populous majority-Muslim nation, after a fatal mob attack on a group of minority Shia Muslims on Sunday.
Two members of a small Shia community on Madura island, east of Java, were killed and more than a dozen wounded when they were set upon by several hundred anti-Shia fanatics armed with machetes, according to human rights campaigners.
High quality global journalism requires investment. Please share this article with others using the link below, do not cut & paste the article. See our Ts&Cs and Copyright Policy for more detail. Email ftsales.support@ft.com to buy additional rights. http://www.ft.com/cms/s/0/b5191818-f02d-11e1-93fa-00144feabdc0.html#ixzz24pzEPxKm
Indonesia had been singled out by world leaders such as Barack Obama, the US president, and David Cameron, the British prime minister, as a model of the compatibility of Islam, democracy and modernity.
Full report at:
http://www.ft.com/cms/s/0/b5191818-f02d-11e1-93fa-00144feabdc0.html#axzz24pgGAtYi
-----------
Attack on Shiites Stemmed from Family Conflict: Government
Jakarta Globe | August 28, 2012
Surabaya. Home Affairs Minister Gamawan Fauzi announced Monday night that the attack in Sampang on a group of Shiites by Sunni Muslims was not a religious conflict, but a family conflict.
"The Sampang incident is a purely criminal case that developed out of a family conflict and later gained momentum within the local community," Gawaman told Antara news agency on Monday night. "It is not an anti-Shiite situation."
This most recent conflict stemmed from a sibling rivalry between Shiite leader Tajul Muluk and his brother Roisul Hukuma that has been brewing since 2004.
"It just so happens that the two are of different sects — one is a Shiite and the other is a Sunni," Gamawan said. "They also each have many followers. It is not a religious problem, but rather a personal problem between two brothers."
Iklil Al-milal, the eldest brother of Tajul and Rois, confirmed that the two were feuding. Iklil told Tempo.co that his siblings each founded an Islamic boarding school associated with their respective sect located closely to one other in Karanggayam village, Sampang.
"There was no problem at the beginning," Iklil told Tempo.co. "But the quarrel reached its apex when a female student whom Rois was intending to marry was taken by Tajul to be wed to one of his school's students."
On Sunday morning, a mob consisting of 500 Sunni Muslims attacked a group of Shiite students and teachers with swords and machetes in Sampang. Two Shiites died in the attacks while seven more were injured. The mob also torched dozens of homes belonging to the Shiite community forcing more than two hundreds Shia members to live as refugees at Sampang sport center.
Full report at:
http://www.thejakartaglobe.com/home/attack-on-shiites-stemmed-from-family-conflict-government/540731
-----------
Non-Aligned Movement Needs Boldness to Rediscover Its Purpose
Rajeev Sharma | August 28, 2012
Indonesia, home to the world's largest Muslim population, and India, the world's largest democracy, were among the five countries that played a pivotal role in forming Non-Aligned Movement in Belgrade in 1961. It is time now that they team up once again to resuscitate and reinvent NAM and make it relevant in today's world. Their chance to do that comes in the Iranian capital of Tehran this month end when the outfit holds its 16th summit.
The 120-nation NAM is a behemoth, the biggest organization after the 193-nation United Nations. This is perhaps a bane rather than a boon for NAM. Its biggest achievement is that it has survived over half a century, despite sweeping changes in international politics and geography and a plethora of new organizations rising up.
NAM's detractors may not be far off the mark in their criticism of the body. It is neither non-aligned nor a movement. It is like a chariot being driven to nowhere by 120 horses. It has no voice, no weight on the world stage.
Full report at:
http://www.thejakartaglobe.com/opinion/non-aligned-movement-needs-boldness-to-rediscover-its-purpose/540648
-----------
Only One Named as a Suspect in Attack Against Shiites
Jakarta Globe | August 28, 2012
Surabaya. The National Police have only named one suspect out of hundreds of people that participated in an attack on a group of Shiites in Sampang, East Java on Sunday.
"Out of the eight people that have been investigated, one person, whose first initial is 'R,' has been declared a suspect," National Police chief Gen. Timur Pradopo said on Monday night, as quoted by Antara news agency. "The other seven are still being questioned."
His most recent statement amended an earlier announcement that seven people had been named as suspects in the case.
Timur said that the number of suspects may increase if the police are able to uncover new evidence.
On Sunday morning, a mob consisting of 500 Sunni Muslims attacked a group of Shiite students and teachers with swords and machetes in Sampang. Two Shiites died in the attacks while seven more were injured. The mob also torched dozens of homes belonging to the Shiite community.
Full report at:
http://www.thejakartaglobe.com/home/only-one-named-as-a-suspect-in-attack-against-shiites/540716
-----------
Koran Teacher Admits Molesting 13 Students Over Last Two Years
Vento Saudale | August 27, 2012
Bogor. The police arrested a Koran recitation teacher in Wanaherang village in Bogor after he admitted to having sexually molested 13 of his students over the course of two years.
The case was revealed after the parents of a 9-year-old child reported the teacher, Nana Suryana, 47, to the police. The mother said she learned about the alleged molestation from the child's younger sister.
"She first heard about it from the sister, then she talked to the alleged victim for confirmation," First Insp. FX Suyadi said in Bogor on Saturday. "Then she reported the teacher to the police."
"[Nana] admitted to molesting 13 children during the past two years, with the ages of the victims ranging from 5 to 9 years old."
In the case of the 9-year-old child, Nana reportedly offered Rp 2,000 (20 cents) after the act. "He also threatened her, warning her not to tell anybody about it," the police officer said.
He said Nana was being detained at Bogor Police headquarters and would be charged with violating two articles of the 2002 Law on Child Protection. The maximum sentence is 15 years in jail.
Full report at:
http://www.thejakartaglobe.com/news/koran-teacher-admits-molesting-13-students-over-last-two-years/540443
-------
Mideast Asia
Gaza not 'liveable' by 2020 barring urgent action: UN
28 August 2012
GAZA: Gaza will no longer be "liveable" by 2020 unless urgent action is taken to improve water supply, power, health, and schooling, the United Nations' most comprehensive report on the Palestinian enclave said on Monday.
"Action needs to be taken now if Gaza is to be a liveable place in 2020 and it is already difficult now," UN humanitarian coordinator Maxwell Gaylard told journalists when the report was released yesterday.
Five years into an Israeli blockade supported by Egypt, and living under one-party rule, Gaza's population of 1.6 million is set to rise by 500,000 over the next eight years, say the authors of the UN's most wide-ranging report on the territory.
Gaza has one the youngest populations in the world, with 51 percent of people under the age of 18.
"Action needs to be taken right now on fundamental aspects of life: water sanitation, electricity, education, health and other aspects," Gaylard said.
Since 2007, Gaza has been under the control of the Islamist Hamas organization, an armed political movement, which rejects permanent peace with Israel. They fought a three-week war in January 2009, and Israel is resisting international pressure to lift its blockade, which it says prevents arms reaching Hamas.
Gaza has no airport and no sea port. The border is tense, with frequent clashes over rocket or mortar fire from Gaza and air strikes by Israel. Gaza rockets hit Israeli land on Sunday, damaging a factory in the town of Sderot, east of the enclave.
Full report at:
http://www.arabnews.com/gaza-not-%E2%80%98liveable%E2%80%99-2020-barring-urgent-action-un
-----------
NAM ministerial conference opens in Tehran
Aug 28, 2012
TEHRAN: Amid a major row between Iran and the West over its nuclear programme, foreign ministers from NAM members states are set to discuss issues like peaceful use of atomic energy at their crucial meet that began here on Tuesday.
The two-day NAM Ministerial Conference, in which India is represented by external affairs minister S M Krishna, is to review the draft document that would be adopted at the end of the 16th Summit of their leaders, which is slated for August 30-31.
The draft statement includes issues like fight against imperialism and racism, avoiding occupation and military aggression against Non-Aligned Movement (NAM) states, stressing on the need for a world free of nuclear weapons and weapons of mass destruction and respecting the rights of all countries across the globe to pursue peaceful use of nuclear energy.
The document has been ratified by experts of some 120 NAM member states.
The emphasis on peaceful use of nuclear energy in the NAM Summit is crucial as Iran, which is hosting the event, has been slapped with numerous sanctions by the US and other western countries over its nuclear programme.
US and its allies, including Israel, accuse Iran of running a clandestine nuclear weapons programme, a charge vehemently denied by the Tehran, which claims that its atomic programme is for peaceful purpose.
Iran's nuclear programme has become a big thorn in its relations with the West. Israel has even threatened to carry out a direct strike on Iranian nuclear assets.
http://timesofindia.indiatimes.com/world/middle-east/NAM-ministerial-conference-opens-in-Tehran/articleshow/15890551.cms
-----------
Israeli court rejects US activist's family's lawsuit
Aug 28, 2012
HAIFA, ISRAEL: An Israeli court on Tuesday rejected a lawsuit brought against the military by the parents of a US activist crushed to death by an army bulldozer during a 2003 demonstration, ruling the army was not at fault for her death.
The bulldozer driver has said he didn't see 23-year-old Rachel Corrie, a pro-Palestinian activist, who was trying to block the vehicle's path during a demonstration in the Gaza Strip against the military's demolition of Palestinian homes. The military deemed her March 2003 death to be accidental, but Corrie's parents were not satisfied by the army investigation and filed a civil lawsuit two years later.
Explaining the district court's ruling, Judge Oded Gershon said Corrie "put herself in a dangerous situation" and called her death "the result of an accident she brought upon herself." He said the military conducted a proper investigation, and rejected the Corrie family's request for a symbolic $1 in damages and legal expenses.
Corrie's parents, Craig and Cindy Corrie of Olympia, Washington, did not speak immediately after the verdict, but clasped each other's hands.
Their lawyer, Hussein Abu Hussein, lamented the court's ruling, saying "the verdict blames the victim."
Full report at:
http://timesofindia.indiatimes.com/world/middle-east/Israeli-court-rejects-US-activists-familys-lawsuit/articleshow/15887268.cms
-----------
Iran offers its own fully-insured ships for crude shipments
Aug 28, 2012
TEHRAN: Faced with problems of its customers not being able to import oil due to lack of adequate insurance for ships, National Iranian Oil Company has offered India and other countries the use of fully-insured Iranian vessels.
The countries purchasing Iranian oil can ship supplies through Iranian oil tankers that have full insurance cover, Mohammad-Ali Khatibi, director of National Iranian Oil Company for International Affairs, said here.
He said factors like fundamental supply and demand issues, geopolitical issues and psychological concerns have had an impact on global market of crude oil.
Of these three, the geopolitical factor has had the most impact on the market, especially in recent days, he added.
While Iran is one of the main oil suppliers for India, the recent sanctions imposed by the US and Europe have severely affected the shipments.
Even though India does not recognise these international sanctions, the financial sanctions have affected shipments to the country as ships carrying oil from Iran were previously insured by insurance companies from Europe.
All those international insurance companies have stopped insuring oil tankers coming from Iran.
http://timesofindia.indiatimes.com/world/middle-east/Iran-offers-its-own-fully-insured-ships-for-crude-shipments/articleshow/15885824.cms
-----------
Iran might let diplomats visit suspected nuclear site
Aug 27, 2012
DUBAI: Iran indicated on Monday it might allow diplomats visiting Tehran for this week's Non-Aligned Movement (NAM) summit to go to the Parchin military base, which UN nuclear experts say may have been used for nuclear-related explosives tests.
When asked about the possibility, Deputy Foreign Minister Mohammad Mehdi Akhoundzadeh said: "Such a visit is not customary in such meetings...However at the discretion of authorities, Iran would be ready for such a visit," the Iranian government-linked news agency Young Journalists Club reported.
The tentative offer was made just three days after the International Atomic Energy Agency (IAEA) again requested access to Parchin for its inspectors at a meeting in Vienna.
Iran is hosting the NAM summit, which ends on Friday, at a time when the West is trying to isolate the Islamic Republic over suspicions it is seeking a nuclear weapons capability. Tehran says its atomic program has only peaceful aims.
Any visit to Parchin by NAM representatives would do little to calm Western concerns or those of the IAEA whose talks with the Iranians ended on Friday without agreement.
"Any tour the Iranians conduct for visiting NAM officials would be nothing more than a very, very bad publicity stunt," a senior Western diplomat in Vienna told Reuters. "It is the IAEA that should have been given access to Parchin."
The UN body suspects that Iran has conducted explosives tests in a steel chamber at Parchin relevant for the development of nuclear weapons, possibly a decade ago.
Citing satellite pictures, Western diplomats say they believe Iran in recent months has been cleansing the site where the experiments are believed to have taken place of any evidence of illicit nuclear activity.
Full report at:
http://timesofindia.indiatimes.com/world/middle-east/Iran-might-let-diplomats-visit-suspected-nuclear-site/articleshow/15839880.cms
-----------
Don't drop ball on nuclear safety: IAEA chief
28 August 2012
* Nuclear chief says safety has improved but much to be done
* IAEA hosts conference aimed at enhancing nuclear standards
VIENNA: Improving global nuclear safety after last year's Fukushima disaster must remain an urgent concern, despite improvements already made, the UN atomic agency chief said on Monday.
"Much work remains to be done and we must not relax our guard," said Yukiya Amano, director general of the International Atomic Energy Agency, at the start of an IAEA-hosted conference aimed at enhancing international standards to prevent any repeat of Japan's reactor meltdowns. "The accident may have faded from international headlines but it is essential that all of us - member states, the IAEA and other key stakeholders - maintain our sense of urgency," the veteran Japanese diplomat said.
He was addressing delegates at the extraordinary meeting of the 75-nation Convention on Nuclear Safety (CNS), which was negotiated after the 1986 Chernobyl nuclear disaster. Li Ganjie of China's National Nuclear Safety Administration, president of the week-long meeting, said nuclear safety "must know no boundaries", even though this may raise costs. "Without nuclear safety there can be no nuclear power development."
Full report at:
http://www.dailytimes.com.pk/default.asp?page=2012\08\28\story_28-8-2012_pg4_1
-----------
Big Radiation Risk Unlikely if Israel Strikes Iran: Experts
28 August 2012
OSLO/VIENNA (Reuters) - Any Israeli attacks on Iran's nuclear facilities are unlikely to cause a Fukushima-scale disaster unless a Russian-built reactor is destroyed, experts say.
They could, however, release toxic chemicals - rather than high levels of radiation - causing local contamination affecting health and the environment. That was also the case from U.S.-led strikes on nuclear facilities in Iraq during the Gulf Wars.
"I doubt that the radiation effects would be great," said Hans Blix, a former head of U.N. nuclear watchdog the International Atomic Energy Agency (IAEA).
Iran says all its facilities are for peaceful purposes. Israel, which in 1981 bombed Iraq's Osirak nuclear reactor before it came online, has led international accusations that Tehran is secretly developing atomic bombs.
"There could be some chemical hazard (from an Israeli attack on Iran's uranium refining plants) but I'd think it would be limited to any nearby communities," said Edwin Lyman, a nuclear expert at the Union of Concerned Scientists in Washington.
The Vienna-based IAEA and Iran failed on Friday to strike a deal aimed at allaying concerns about Tehran's nuclear program. Diplomatic sources say Iran has installed many more uranium enrichment centrifuges at Fordow, a fortified underground site and a likely target in any attack.
Full report at:
http://www.nytimes.com/reuters/2012/08/28/world/middleeast/28reuters-iran-nuclear-
-----------
Court Rules Israel Wasn't at Fault in U.S. Activist's Death
By DANIELLE ZIRI and JODI RUDOREN
28 August 2012
HAIFA, Israel — An Israeli judge ruled on Tuesday that the state bore no responsibility for the death of Rachel Corrie, the young American woman who was run over by a military bulldozer in 2003 as she protested housing demolitions in the Gaza Strip.
The lengthy verdict in the civil case, read to a courtroom packed with supporters of Ms. Corrie's family here, called the death an accident that occurred during "a military activity meant to prevent terrorist activity."
"She chose to put herself in danger," said the judge, Oded Gershon. "She could have easily distanced herself from the danger like any reasonable person would."
Since her death, Ms. Corrie has become an international symbol of the Palestinian resistance. A play based on her writings has been performed in 10 countries, and a ship in an aid flotilla to Gaza bore her name. Numerous books and documentaries have told of how Ms. Corrie, a 23-year-old student, stood in an orange vest with a bullhorn between a bulldozer and the home of a Palestinian family in March 2003 during the height of the second intifada, or uprising.
Full report at:
http://www.nytimes.com/2012/08/29/world/middleeast/court-rules-israel-wasnt-at-fault-in-
-----------
North America
Mullah Omar, aides living in Pakistan: US General
Aug 28 2012
Washington : In a direct repudiation of repeated claims of Pakistan, a top American general based in Afghanistan has said reclusive Taliban leader Mullah Omar is hiding in Pakistan along with his commanders.
The statement contradicts Islamabad's stand that the Taliban leader lives across the border in his own country.
"Omar lives in Pakistan, as do many of his commanders. From that safe vantage point, they've sent hundreds of young, impressionable, largely spiritual and helpless youths to their deaths and detention in Afghanistan. For this, they must forfeit their honor and any claim to Islamic virtue," General John Allen, Commander of US and NATO forces in Afghanistan, wrote in an article.
Allen's article focused on the recent increase in attack on US troops from the Afghan security force, which the Taliban has been claiming it has infiltrated and carrying out such attacks.
"The focus on 'green-on-blue' attacks obscures the callous slaughter of Afghan civilians by insurgents led by Mohammad Omar. He has the blood of innocents on his hands even though he hypocritically tells his subordinates not to attack civilians," Allen said, holding that Omar is either out of touch, or his forces are out of control.
Full report at:
http://www.indianexpress.com/news/mullah-omar-aides-living-in-pakistan-us-general/994278/
-----------
US punishes 6 soldiers for burning Quran in Afghanistan
Aug 28 2012
Washington : The US will hand over administrative punishment to its six soldiers for their role in desecration of Holy Quran in Afghanistan early this year, an incident that had caused wide-spread protests and riots in the country and forced President Barack Obama to apologise.
The report of the investigation, conducted by a senior army official and released by the US Central Command yesterday, found some 100 Qurans and religious texts were burnt by US soldiers who found the holy literature being used by detainees for violent extremism.
The report by Army Brigadier General Bryan G Watson found that US servicemen mishandled the Muslim holy book and other religious materials, to include their disposal at an incinerator.
Noting that the "tragic incident" took place due to poor communication between "leaders and commands" and "lack of involvement of any senior leader", the probe, however, "rejected" any suggestion that those involved acted with malicious intent to disrespect the Quran of defame the faith of Islam, the report said.
It also blamed junior and mid-grade leaders of "choosing the easy way" instead of the "right way" to address a problem and found distrust among service members and their ignorance with respect to the importance and handling of Quran as well as other religious material as other key reasons behind the incident.
Full report at:
http://www.indianexpress.com/news/us-punishes-6-soldiers-for-burning-quran-in-afghanistan/994260/
-----------
Speaking Urdu or Bengali a Cause for Police Suspicion in NYC
28 August 2012
"Earlier this summer, Thomas P. Galati, commanding officer of the New York Police Department's elite intelligence division, sat for an unusual legal interrogation, during which he talked of his keen interest in Urdu-speaking New Yorkers," Michael Powell wrote in The New York Times.
" 'I'm seeing Urdu,' Assistant Chief Galati said of the data generated by his eight-person demographics unit," Mr. Powell wrote, "which has eavesdropped on thousands of conversations between Muslims in restaurants and stores in New York City and New Jersey and on Long Island." The officer told Mr. Powell: "I'm using that information for me to determine that this would be a kind of place that a terrorist would be comfortable in."
Assistant Chief Galati expressed similar sentiments about Bengali speakers:
"The fact that they are speaking Bengali is a factor I would want to know," he said, adding that the information was used solely to be able to determine where "I should face a threat of a terrorist and that terrorist is Bengali."
But here is the problem for those eager spies among us. Asked if all of this compiling of Urdu- and Bengali- and Arabic-language hangouts, and all of this listening in on the chatter, had resulted in tips about potential terrorist plots, Chief Galati conceded it had not.
http://india.blogs.nytimes.com/2012/08/28/speaking-urdu-or-bengali-a-cause-for-police-suspicion-in-nyc/?ref=asia
----------
Assad shows 'wanton disregard' for life: US
Aug 27, 2012
WASHINGTON: Reports of a massacre near Damascus that left hundreds dead are the latest evidence of Syrian President Bashar al-Assad's 'wanton disregard for human life,' the White House said on Monday
"He has lost all legitimacy and every day that goes by, it becomes more urgent for the international community to press him to leave power so that a political transition can begin," Tommy Vietor, a spokesman for the National Security Council, said, referring to Assad.
The Syrian Observatory for Human Rights reported on Sunday that 320 bodies were found in the town of Daraya after what opposition militants said was a brutal onslaught of shelling, summary executions and house-to-house raids by government troops.
"These reports, if accurate, are the latest horrible evidence of Assad's brutal crackdown and wanton disregard for human life," Vietor said.
http://timesofindia.indiatimes.com/world/us/Assad-shows-wanton-disregard-for-life-US/articleshow/15839288.cms
-----------
Quran burning incident not motivated by hatred, says Watson report
28 August 2012
The US will hand over administrative punishment to its six soldiers for their role in desecration of Holy Quran in Afghanistan early this year, an incident that had caused widespread protests and riots in the country and forced President Barack Obama to apologise.
The report of the investigation, conducted by a senior army official and released by the US Central Command yesterday, found some 100 Qurans and religious texts were burnt by US soldiers 'who found the holy literature being used by detainees for violent extremism'.
The report by Army Brigadier General Bryan G Watson found that US servicemen mishandled the Muslim holy book and other religious materials, to include their disposal at an incinerator.
'Tragic incident'
Noting that the "tragic incident" took place due to poor communication between "leaders and commands" and "lack of involvement of any senior leader", the probe, however, "rejected" any suggestion that those involved acted with malicious intent to disrespect the Quran or defame the faith of Islam, the report said.
It also blamed junior and mid-grade leaders of "choosing the easy way" instead of the "right way" to address a problem and found distrust among service members and their ignorance with respect to the importance and handling of Quran as well as other religious material.
The report also noted that the US service members did not listen to the advice of soldiers from the Afghan National Army.
Full report at:
http://www.thehindu.com/news/international/article3830700.ece
-----------
U.S. Military Disciplines 9 Over Video and Koran Burning
By ELISABETH BUMILLER
2012/08/28
WASHINGTON — American military authorities disciplined nine service members on Monday for two episodes this year — the burning of Korans and the posting of a video showing Marines urinating on dead insurgents — that prompted nationwide outrage in Afghanistan. The punishments did not include criminal charges or jail time, and they fell short of what President Hamid Karzai of Afghanistan had demanded.
Army officials said that four Army officers and two enlisted soldiers received letters of reprimand for sending boxes of Korans from a prison library to a burn pit at Bagram Air Base in Afghanistan. Although an Army investigation that was made public on Monday found that the soldiers did not act out of "malicious intent" to disrespect the Koran or defame Islam, investigators concluded that they did not follow proper procedures, were ignorant of the importance of the Koran to Afghans and got no clear guidance from their leaders in a chain of mistakes.
Full report at:
http://www.nytimes.com/2012/08/28/world/asia/us-military-disciplines-9-for-koran-
----------
Europe
France Urges Creation of Interim Syrian Government, Pledging Recognition
By STEVEN ERLANGER
28 August 2012
PARIS — France will recognize a provisional Syrian government as soon as it has been formed, President François Hollande said on Monday, urging Syria's fractured political opposition to establish one as soon as possible.
Mr. Hollande also said that France, like the United States and Britain, would view any use of chemical weapons by President Bashar al-Assad of Syria as a legitimate justification for military intervention, even without a United Nations Security Council resolution.
"With our partners we remain very vigilant regarding preventing the use of chemical weapons, which for the international community would be a legitimate reason for direct intervention," Mr. Hollande said during an annual foreign policy speech to French ambassadors, his first as president.
The statements by Mr. Hollande represented the most forceful attempt by the group of Western nations calling for Mr. Assad's ouster to nudge Syria's marginalized and often squabbling opposition groupings toward unity.
Despite repeated attempts, those groups, which include many exiled figures, have failed to agree on a common approach to ending Mr. Assad's rule, or to gain credibility, especially with Syrians inside the country. As the violence reaches deadlier peaks, attention has shifted to armed rebel groups, which have become the most prominent face of a rebellion that started almost 18 months ago with street protests.
Full report at:
http://www.nytimes.com/2012/08/28/world/middleeast/rebels-claim-to-shoot-down-syrian-
-----------
Up to 200,000 Syrians Could Flee to Turkey, UNHCR Says
28 August 2012
GENEVA (Reuters) - Up to 200,000 Syrian refugees could flee to Turkey if the conflict continues to deepen, the U.N. refugee agency said on Tuesday.
"We are already looking at potentially up to 200,000 and are working with the Turkish government to make the necessary plans," Sybella Wilkes, spokeswoman of the U.N. High Commissioner for Refugees (UNHCR), told Reuters in Geneva. "We are ready to send in stocks at very short notice."
Some 74,112 Syrian refugees have registered in Turkey, which is building at least five new camps in addition to the existing nine, the UNHCR said.
http://www.nytimes.com/reuters/2012/08/28/world/middleeast/28reuters-syria-crisis-
-----------
France would recognise Syrian opposition govt
Aug 28, 2012
PARIS: French President Francois Hollande called on Syria's opposition to form a provisional government, saying on Monday that France would recognize it once such a government is formed.
The announcement from Hollande, in a speech to France's ambassadors, amounts to an attempt to ratchet up diplomatic pressure on Syrian President Bashar Assad's regime amid escalating bloodshed in the country.
Syria's opposition remains badly fragmented, and it is far from clear whether such a provisional government could be formed anytime soon.
But Hollande's statement, believed to be the first of its kind, appeared aimed to give an impetus to the creation of such a government.
"France asks the Syrian opposition to form a provisional government, inclusive and representative, that can become the legitimate representative of the new Syria," Hollande said.
Full report at:
http://timesofindia.indiatimes.com/world/middle-east/France-would-recognise-Syrian-opposition-govt/articleshow/15848612.cms
---------
Africa
Libyan Terrorist Relates Details of How Terrorists are Trained in Libya with Funding from Arab Gulf Countries and Sent to Syria
28 August 2012
In confessions broadcast by the Syrian Arab TV on Sunday after the 8:30 PM news, Libyan terrorist Ibrahim Rajab al-Farajani said that societies and organizations funded by Arab Gulf countries and affiliated with Al Qaeda train terrorists in Libya then send them to Syria via Turkey.
Al-Farajani, a Libyan from the city of Benghazi born in 1993, said that he joined a militant group after the events in Libya, and that during his time with this group he became aware that its members were in contact with people in al-Zantan area where Qatari and Emirati planes loaded with weapons, Toyota SUVs and Qatari officers who trained militants in the use of AK-47 rifles and machineguns of various calibers and gave them monthly payments of 2000 Libyan dinars.
He revealed that sheikhs from Qatar and the Emirates funded Jihadists in order to establish an Islamic emirate in Libya, while some mosque Imams in Libya urged people to bear arms and go to places like Chechnya and Algeria to take part in their version of Jihad.
Al-Farajani said that eventually he joined a battalion affiliated with Al Qaeda which trained Syrians in the use of rocket launchers and grenades then sent them to Syria gradually to fight the Syrian army.
He pointed out that the battalion made a passport for him without even telling him that he was to be sent to Syria, then he was sent to Turkey by plane and arrived in Antioch, where a Syrian took them to a house containing people from Tunisia, Morocco, Libya and Syria, all of them wearing masks and well-trained.
One of these men, a Syrian from Damascus referred to as Abu al-Bara'a, showed them videos and gave them books to prepare them mentally for fighting in Syria, then al-Farajani was sent into Syria along with people from Saudi Arabia and Kuwait, arriving in a house in the village of Atma in Idleb which contained RPG launchers and PKC machineguns, with a car equipped with a DShK machinegun parked outside.
Afterwards, al-Farajani accompanied four terrorists into the town of Saraqeb in a pickup truck to where a group of Syrians were using a girls' highschool to train in the use of DShK and PKC machineguns and RPG launchers.
He went on to say that he went with two terrorists into the a number of towns then headed towards Aleppo, ending up in Tel Rifa'at in Aleppo countryside where they met Syrian militants hiding in a school, and later met terrorists from Kuwait, Tunisia, Saudi Arabia, Turkmenistan and Syria in a house in the town of Mare'a.
He concluded by saying that he left that house with the terrorists and was given weapons and USD 50,000 to be given to people in Damascus and its outskirts.
http://hamsayeh.net/world/2196-libyan-terrorist-relates-details-of-how-terrorists-are-trained-in-libya-with-funding-from-arab-gulf-countries-and-sent-to-syria.html
-----------
Kenya: Protests Continue Over Death Muslim Cleric
28 August 2012
NAIROBI, Kenya (AP) — Police and protesters fought running battles as a violent backlash to the killing of a radical Islamic preacher continued Tuesday in Kenya's second-largest city of Mombasa, which left several people hospitalized, police and human rights officials said.
The killing Monday of Aboud Rogo Mohammed, who was shot to death as he drove in his car with his family, falls into a pattern of extrajudicial killings and forced disappearances of suspected terrorists, allegedly being orchestrated by Kenyan police, human rights groups say. The attack has brought to the surface tensions in a city established centuries ago by Muslim traders from the Arabian peninsula and the Indian subcontinent, now home to hundreds of thousands of people of Arab descent and a large Somali population.
Police officers teargased youths on their second day of protests. Hussein Khalid of the Muslim for Human Rights group said police were using teargas against stone-throwing protesters. Khalid said one person was stabbed and hospitalized Tuesday.
Regional Police boss Aggrey Adoli said officers were forced to keep violent protests from spreading after protests they led to the death of one person and the vandalism of two churches and businesses on Monday.
"We are trying to contain them so that we don't create more deaths. Deaths and destruction of property will not help with anything," Adoli said.
Mohammed was recently sanctioned by the U.S. government and the U.N. for his alleged connection to an al-Qaida-linked Somali militant group, al-Shabab. He is the fifth alleged Muslim extremist who has been killed or who disappeared in the last four months, according to human rights campaigners. One corpse was found mutilated and the other four men vanished
Full report at:
http://www.nytimes.com/aponline/2012/08/28/world/africa/ap-af-kenya-slain-muslim-
-----------
URL: https://newageislam.com/islamic-world-news/misuse-mosque-manufacturing-explosives-condemned/d/8453