New Age Islam News Bureau
10 Aug 2012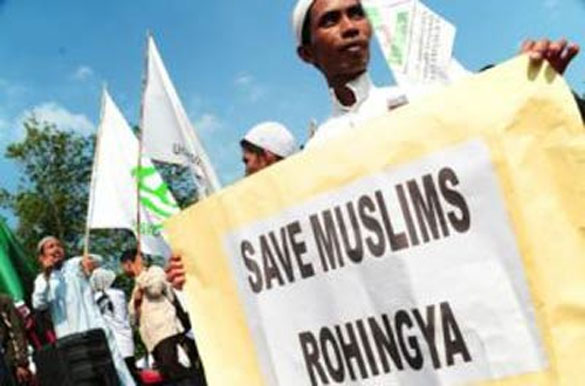 Southeast Asia
• Indonesian Ulema Council wants a non-Muslim candidate for 2014
• Lengthy Sentences Handed down to 20 Uyghurs Incite Climate of Fear
• Indian escapes from Qaeda-linked captors in Philippines
• Deportation of Uyghurs to China stopped
-------
South Asia
• Islamic Front in Jakarta Attacks Buddhist Temples during Rohingya Protest
• Myanmar invites OIC probe of sectarian unrest
• Bangladesh PM launches digital version of Al-Quran
• Taliban welcomes Jihadi Afghan soldier who murdered U.S. troops
• NATO container torched, two injured in Mastung
• Man in Afghan uniform kills 3 US soldiers: Military
-------
India
• Lashkar Using Kids for Terror Attacks in India
• Presbyterian Church calls for steps to resolve Assam conflict
• India attends Iran meet on Syria war
• Pak violates ceasefire again, targets Indian posts in Poonch
• India envoy raises questions about gun use in US
• Hyderabad's Charm Found in Ramadan Delights
• Fresh chargesheet filed in Samjhauta Express blast case
• Kasab brought face to face with 26/11 handler Abu Jundal
• Fasting poses health risks to diabetics
--------
Pakistan
• Girls' kidnappings fuel Hindu exodus to India - Pak stops 130 people
• Cross-border attack repulsed; nine militants dead
• Pakistan's FATA area reports significant increase in school enrolment
• We don't like Imran Khan, say Pakistan Taliban
• Pak allows about 250 Hindus to cross into India after hiccups
• Tunnel from Pak for major induction into India
• Violence erupts in Orangi after killing over Eid donations
• Two injured in attack on NATO truck in Pak
• Pakistani film industry is evolving at a remarkable rate: Sharmeen Obaid
• Pak PM to defy top court's summons on Zardari cases
• PSO becomes Pakistan's first trillion rupee company
• TTP wants clerics to issue fatwa against democracy
• No proposal by Pak govt to commute death sentences into life imprisonment, Burney says
-------
Arab World
• Suicide Bomber Targets North Iraq Mosque, Two Killed
• Egypt Arrests 9 Militants Linked to Sinai Attacks
• Crime Wave Engulfs Syria as Its Cities Reel From War
• Three police killed by Iraq roadside bomb
• Officials: Attacks Kill 10 in Iraq
• Morsi fires intel chief over killings in Sinai
• Heavy shelling forces rebels out of key Aleppo district
• Salehi warns against abrupt political change in Syria
• Report: Army of Islam Behind Egypt Terror Attack
-----------
Mideast Asia
• Iran holds Syria conference, pushes for peace talks
• In Gulf, a missile shield against Iran
• Yemeni military official killed in Hadramut bombing
• Iran playing 'nefarious' role in Syria: Rice
• Tehran conference: Khar opposes coercive measures in Syria
• Ramadan Fast Dodgers Indulge in Secret
• Algerian Brahimi seen replacing Annan as Syria envoy
• Israel media talk of imminent Iran war push
-------
North America
• Teens arrested for lobbing lemons at Hayward mosque during prayer time
• Christie calls anti-Muslim conservatives "bigots"
• US wants bio-weapon to destroy human brain: Report
• Gov jabs at NYPD again over spying on Muslims
• New US study finds diverse beliefs in Muslim world
--------
Africa
• Islamist extremists cut off thief's hand in northern Mali
• Pro-Islamist elected Libya assembly chief
• Tunisia's Islamist-secular divide gives a new meaning to the battle
• Clinton in Nigeria as Islamist attacks worsen
--------
Mideast Asia
• Iran holds Syria conference, pushes for peace talks
• In Gulf, a missile shield against Iran
• Yemeni military official killed in Hadramut bombing
• Iran playing 'nefarious' role in Syria: Rice
• Tehran conference: Khar opposes coercive measures in Syria
• Ramadan Fast Dodgers Indulge in Secret
• Algerian Brahimi seen replacing Annan as Syria envoy
• Israel media talk of imminent Iran war push
--------
Europe
• British executive facing jail in Dubai after calling Prophet Mohammad a 'complete paedophile'
• Radical Islam raises tension in Russia's Tatarstan
• Britain to give £5 million to Syria rebels
Compiled by New Age Islam News Bureau
Photo: Islamic Front in Jakarta Attacks Buddhist Temples during Rohingya Protest
URL: https://newageislam.com/islamic-world-news/by-new-age-islam-news-bureau/indonesian-ulema-council-wants-a-non-muslim-candidate-for-2014/d/8221
-----------
Southeast Asia
Indonesian Ulema Council wants a non-Muslim candidate for 2014
Endy M. Bayuni
August 10 2012
The Indonesian Ulema Council (MUI) can hardly be regarded as a progressive institution, but its chairman Amidhan this week made a startling statement allowing Muslims to vote for a non-Muslim in an election, provided the candidate has a proven track record of being a just leader.
Amidhan must surely have his reasons for bucking the ultra-conservative MUI trend and coming across as a very progressive Muslim leader. He was part of the MUI team that came out with conservative and often ridiculous fatwas (legal opinions). Whatever motivated his statement, he may have opened up a Pandora's box that could unleash all kinds of possibilities in Indonesia's next presidential election in 2014, and beyond.
Although the constitution does not stipulate that a president must be a Muslim, it is generally taken for granted that non-Muslims stand very little chance of ever being elected — now, in 2014 and for the foreseeable future. Political analysts believe that sectarian sentiments, driven by religion, race and ethnicity, still influence the way people vote, although by how much is anybody's guess.
With Muslims accounting for up to 88 percent of Indonesia's population of 240 million people, it is unthinkable that the majority would give their votes to a non-Muslim. A non-Javanese also has equally little chance of getting elected, given that more than two-thirds of voters are Javanese or Sundanese, both the major ethnic groups in Java. An individual of Chinese descent can also run for president now that the constitution only requires a candidate to be born in the country, instead of being "indigenous", but again it is unlikely that a Chinese-Indonesian candidate will win a presidential election in Indonesia.
If being a Muslim is considered to be an important qualification of a presidential candidate, voters don't necessarily want them to be too devout. All of Indonesia's first six presidents were Muslims, but they were not known for their religious piety.
Going by history, Indonesians probably don't want their presidents to be too devout. The nation's two longest serving presidents, Sukarno and Soeharto, were not known for their Islamic credentials. Neither was Megawati Soekarnoputri nor current President Susilo Bambang Yudhoyono. Abdurrahman Wahid may have come from Nahdlatul Ulama, but he was the most liberal ulema Indonesia has ever had. And BJ Habibie was considered more of a technocrat than a Muslim leader, although he was the first chair of the Association of Indonesian Muslim Intellectuals (ICMI).
So basically, Indonesian voters want their president to be a Muslim, but one that is a true nationalist and does not a have strong Islamist political agenda.
Now Amidhan is saying that being a Muslim is not an important criterion to be a leader in Indonesia. Granted, he was referring to the Jakarta gubernatorial election in response to questions of whether Muslims should give their votes to a non-Muslim candidate — in this case, Basuki "Ahok" Tjahaja Purnama, a Chinese Christian, who is running for the deputy governor job as Joko "Jokowi" Widodo's running mate.
The controversy was sparked by Rhoma Irama, the dangdut superstar, who is now being investigated by the Jakarta Election Supervisory Committee (Panwaslu Jakarta) for telling Muslims that they should not give their votes to a non-Muslim. The committee is looking into whether Rhoma's statement amounted to campaigning for the incumbent governor Fauzi Bowo outside the campaign period, which is illegal.
Fauzi and Joko, along with their respective running mates will square off in the second round on Sept. 20.
It is unclear whether Amidhan is supporting Ahok in the Jakarta election, but his argument could be equally applied to the national election. His statement, as quoted in Republika, said: "If Muslims are confronted with a choice of electing a non-Muslim who is just and a Muslim who is cruel and unjust, then go for just."
A number of local polls have seen non-Muslims getting elected, but they are rare and usually confined to areas where Muslims are not dominant. Ahok, for example, won the election to serve as regent of East Belitung from 2005 to 2010.
With the next presidential election just two short years away, and with all the current frontrunners carrying baggage from the past that hardly makes them "just leaders", Amidhan's fatwa may have opened a small window of opportunity for non-Muslims to contest the 2014 race.
If America can elect a member of a minority as its president, Indonesia should be able to select a non-Javanese, non-Malay/Melanesian and non-Muslim for president too. It is not impossible. After all, Indonesia already has had a woman president.
It may seem like a long shot but it is still worth a try, if only to test how far Indonesians have come in the way they vote in the 2014 elections. All we need now is to find a non-Muslim with a strong track record of being a just leader, and he or she could be well on her way to beating all the unjust Muslim leaders.
http://www.thejakartapost.com/news/2012/08/10/commentary-wanted-a-non-muslim-candidate-2014.html
---------
Lengthy Sentences Handed down to 20 Uyghurs Incite Climate of Fear
2 August 2012
20 Uyghurs have been handed prison sentences yesterday of up to 15 years in prison for their alleged involvement in "terrorism" and "separatism", according to Chinese media. The sentences occur as the Chinese crackdown intensifies on religious activities, including bans on fasting and participation in other religious activities by government employees, students, teachers and retirees, during the holy month of Ramadan. The World Uyghur Congress (WUC) believes that these harsh sentences, stemming from judicial procedures that fall below international standards, are additional measures designed to silence Uyghurs and impose state control over the Uyghur population. The WUC calls on international community to insure China meets its obligation on religious freedom and condemn the ongoing repression of religion in East Turkestan.
The People's Daily, reported that 20 Uyghur individuals from "five terrorist" organisations were imprisoned for "[spreading] separatism" via the internet and "[plotting] violent attacks in an attempt to split" East Turkestan. In a widely-circulated statement to Agence France Presse, WUC Spokesman Dilxat Raxit shed light on these charges by asserting that, "China is meting out heavy sentences to Uyghurs who use the Internet to access information that is not controlled by the authorities and who are expressing opposing political views." These are charges that are routinely levelled against Uyghurs by the Chinese authorities in attempts to silence critics of the government and curb freedom of religion.
Their sentencing falls against the backdrop of Regional Communist Party chief Zhang Chunxian's affirmation that he would "strike with an iron fist at the forces of separatism, religious extremism and terrorism". In the run up to and during Ramadan, repression of religion, increased security presence and, among other things, denial of religious rites, such as fasting, have been reported in East Turkestan by news agencies, including Radio Free Asia (RFA). These reports have draw scorn in a recent statement by the US Commission on International Religious Freedom (USCIRF) and from the US State Department, who described the repression of Uyghurs as "severe" in its annual report on global religious freedom.
These sentences and charges should come as no surprise given this context, as China continues its campaign to terrorise legitimate human rights concerns. Each year, Uyghurs undergo severe restrictions on their right to freely practice their religion at the behest of the Chinese authorities who often view overt, legitimate and peaceful expressions of their religion as a threat to national security and territorial or ethnic unity.
Rather than celebrating the long-standing history and contribution that Islam has made to the territory of the People's Republic of China, the Chinese authorities opt to repress all aspects of Uyghurs religious heritage, culture and language, propagating ethnic tensions that need not exist, thus de-legitimising its misguided ethnic unity policy. Having already commented recently on the devastating effects of China's repressive policies during Ramadan on the Uyghur people, WUC President Rebiya Kadeer remarked that, "Whilst recent statements by the international community recognising the severity of the situation on the ground in East Turkestan and the need for China to allow for full enjoyment of religious freedom is welcomed, the time has come – If there never was a time before – to turn this rhetoric into a reality."
The international community, including Uyghurs, recognise the legitimate right of states to legitimately tackle terrorism. However, to level charges of such proportions against 20 individuals must be substantiated with the highest degree of due process and transparency before handing down lengthy imprisonments can begin to gain legitimacy. Too often before have Uyghurs been sentenced without a lawyer of their choosing or no lawyer at all, with falsified evidence, or in hasty trials. Ms Kadeer continued: "It is our understanding that the 20 Uyghurs who were sentenced today were not represented by a lawyer throughout the process and sentenced on spurious grounds in which the authorities had twisted their desires to seek freedom and challenge institutional persecution. I call again upon the international community to urge China to ascertain whether a full, comprehensive and transparent investigation was afforded to the 20 Uyghurs in accordance with international legal standards and norms."
International law clearly affirms the necessity for trials to be free from political interference. China consistently ranks as one of the lowest states by many independent analysts in regards to freedom of the judiciary. The judiciary acts as a pawn which the Chinese Communist Party (CCP) has used to carry out its repression and discrimination of Uyghurs. As a result, many Uyghurs live in fear of expressing their culture, enjoying their religion, and speaking their mind due to the consequences that they would face should they do so.
http://www.uyghurcongress.org/en/?p=17157
-----------
Indian escapes from Qaeda-linked captors in Philippines
Aug 10, 2012
MANILA: An Indian man escaped from al-Qaida-linked militants on Friday after being held captive in the southern Philippines for nearly 14 months.
Bijo Kolara Veetil escaped before dawn Friday as his Abu Sayyaf captors were preparing breakfast, said Sulu provincial police chief Antonio Freyra.
A heavily bearded Veetil, 37, later told reporters at a hospital that after he slipped out of the militants' encampment in the hinterlands of Patikul township, a villager brought him to a provincial official, who handed him to police. He was then taken to the hospital.
Veetil, who worked as an operations manager for a garment company in Kuwait, said he was kidnapped in June 2011 while visiting his wife's family in Patikul.
The kidnappers demanded about 300,000 pesos ($7,100) in ransom, but his family refused to pay. He said he wasn't harmed because he is a Muslim.
The Abu Sayyaf is notorious for kidnappings, beheadings and bombings, and is on the US list of terrorist groups. The group is believed to currently be holding Australian, Malaysian and Japanese nationals in their jungle hideouts in the south.
A veteran Jordanian TV reporter, Baker Atyani, and his two Filipino crew members are still in the custody of the militants they had gone to interview two months ago.
http://timesofindia.indiatimes.com/india/Indian-escapes-from-militants-in-Philippines/articleshow/15431485.cms
-----------
Deportation of Uyghurs to China stopped
Aug 10 2012
The Migration Board has temporarily stopped sending ethnic Uyghurs back to China. Some 30 Uyghurs have left China for political reasons and then been denied asylum in Sweden.
Makhinur Hazanova, chairperson of the Swedish Uyghur Committee, told Swedish Radio News that the Uyghurs affected by the decision were both sad and happy.
"Happy because they can calm down for a while since they're not going to be sent back immediately, but sad because they still haven't been given residence permits. They still may not be able to stay," Hazanova said.
Two weeks ago Swedish Radio sent several reports about some 30 Uyghurs waiting to be deported from Sweden back to China.
Several of them said friends and family members had been sentenced to prison after participating in demonstrations in the Xinjiang region in 2009.
This winter two Uigurs were deported from Sweden. Since then it has has not been possible to reach, Swedish Radio News reports.
Now the Migration Board temporarily decided to stop deporting Uyghurs to China.
Cecilia Gylling Lindkvist, head of the legal affairs department at the Migration Board, said the board has always been particularly cautious when it comes to the Uyghurs.
"We have new information that gives us reason to be even more cautious, which is why we have made this decision," Gylling said.
Asked what kind of new information the board possessed, Gylling said, "The information is classified."
The Migration Board will examine each of Uyghur cases again. The agency is not allowed to send back anyone at risk of inhuman treatment or torture.
https://sverigesradio.se/sida/artikel.aspx?programid=2054&artikel=5190780
---------
South Asia
Islamic Front in Jakarta Attacks Buddhist Temples during Rohingya Protest
Rahmat | August 10, 2012
Makassar. A rally by the Islamic Defenders Front against the killing of Rohingya Muslims in Myanmar turned violent in Makassar on Friday, as protesters attacked two Buddhist temples in the South Sulawesi capital.
The Islamic Defenders Front (FPI) began the rally after finishing their Friday prayer at Al-Markaz Al-Islami Mosque, forming a convoy and travelling down some of the city's main streets.
On Jalan Sulawesi, they stopped and threw stones at Kwang Kong Buddhist temple. A few protesters were seen banging the door of the temple with wooden sticks.
The group also went to throw stones at Xian Ma temple, which is a secretariat office for the South Sulawesi branch of the Council of Buddhist Communities (Walubi).
Police officers stopped the attack by facilitating a meeting between the FPI protesters and Yongris, head of the Walubi branch.
Yongris told the FPI that Walubi regretted the killings of Rohingya Muslims, including those allegedly conducted by Myanmar security forces. He asked the protesters to urge Myanmar authorities to end the atrocity.
"We really regret the slaughtering," he said. "We truly don't approve of violence."
The FPI demanded that the Indonesian government cut bilateral ties with Myanmar if the country's authorities failed to end the violence.
Violence erupted in June in Rakhine state in western Myanmar between Buddhists and Muslim Rohingya, leaving about 80 people dead from both sides, according to official estimates.
According to New York-based Human Rights Watch, Myanmar security forces have opened fire on Rohingya Muslims, committed rape and stood by as rival mobs attacked each other during the recent wave of sectarian violence.
http://www.thejakartaglobe.com/home/fpi-attacks-buddhist-temples-during-rohingya-protest/537278
-------
Myanmar invites OIC probe of sectarian unrest
August 10, 2012
YANGON: Myanmar has invited an influential Islamic body to visit a state rocked by sectarian violence, official media said Friday, in an effort to diffuse mounting outcry over the treatment of the Muslim Rohingya.
In a rare conciliatory move over the issue, President Thein Sein said he welcomed a visit by the Saudi-based Organisation of Islamic Cooperation (OIC), the world's largest Muslim grouping, which has urged a probe into violence between Buddhist Rakhine and Rohingya that left scores dead.
"The president said he hoped the OIC secretary could witness the reality (in Rakhine)," state mouthpiece the New Light of Myanmar said, adding tens of thousands of displaced people from both sides are being given food and shelter.
Thein Sein's comments came as the visiting foreign minister of Muslim-majority Turkey offered aid to the strife-stricken Rakhine state.
He also urged "the Turkish minister to explain the realities in Myanmar" to the OIC, the report added.
Full report at:
http://tribune.com.pk/story/420229/myanmar-invites-oic-probe-of-sectarian-unrest/
-----------
Bangladesh PM launches digital version of Al-Quran
10 August 2012
Prime Minister Sheikh Hasina has described the holy Quran as a guide of complete code of life urging all to understand its inherent knowledge and proper utilisation of the messages of the scripture for welfare of the humanity.
"The Quran is very much a scientific book, as well it's a guideline for our personal, family and social life. It preaches message for people's right, justice, equality, brotherhood, religious fraternity and harmony," she said.
The prime minister said this while launching the website "Al Quran: Digital" at a function at Osmani Memorial auditorium here today.
She expressed gratitude to the Almighty for having the opportunity to inaugurate the digital version of the Quran in the month of holy Ramadan, also the month of the advent of the holy book.
Full report at:
http://www.thedailystar.net/newDesign/latest_news.php?nid=39866
-----------
Taliban welcomes jihadi Afghan soldier who murdered U.S. troops
August 7, 2012
Meanwhile, Obama is urging Karzai to come to a settlement with the Taliban, has secretly dropped charges in the case of a Florida man accused of funding the Pakistani Taliban, and is considering sending Taliban detainees back to Afghanistan as a gesture of good will.
Note also that Mahmood characterizes the Americans as enemies of his religion. Yet American authorities insist that this conflict has nothing to do with religion, and that even to study Islam in order to understand the motives and goals of people like Mahmood is unacceptable. Thus have Muslim Brotherhood elements in the U.S. rendered us complacent and defenseless before the advancing jihad which we refuse to understand.
aliban Welcomes Rogue Afghan Who Shot US Soldiers as a Hero," by Muhammad Lila and Aleem Agha for ABC News, August 7 (thanks to Block Ness):
A new online video shows a rogue Afghan soldier receiving a hero's welcome from Taliban commanders, after returning from a mission where he killed an American soldier in cold blood.
The video, released by the Taliban's media propaganda wing, shows the soldier returning to a Taliban village in Ghaziabad in Kunar province, with dozens of Taliban men lined up to greet him. The soldier, wearing an Afghan Army uniform, identifies himself as Ghazi Mahmood, or "Warrior Mahmood."
Full report at:
http://www.jihadwatch.org/2012/08/taliban-welcomes-jihadi-afghan-soldier-who-murder-us-troops.html
---------
NATO container torched, two injured in Mastung
Aug 10 2012
MASTUNG: Two people suffered injuries in an armed attack on NATO container in the Dasht area of Mastung district near Quetta on Friday, DawnNews reported.
"Unknown armed men riding a motorbike opened fire at a NATO container carrying logistics for Isaf forces in Afghanistan on national highway," said a Levies official.
The truck driver and cleaner sustained gunshot wounds in the attack.
The assailants later set container on fire and fled from the scene.
Local administration reached the site and cordoned off the area as investigations into the incident went underway.
The injured were shifted to district headquarter hospital for medical aid.
http://dawn.com/2012/08/10/NATO-container-torched-two-injured-in-queta/
-----------
Man in Afghan uniform kills 3 US soldiers: Military
Aug 10, 2012
KABUL: Three American soldiers were killed on Friday when a man in an Afghan uniform turned his weapon against them, the US military said, in the third so-called green-on-blue attack in less than a week.
A spokeswoman said "an individual in an Afghan uniform fired on US Forces Afghanistan services members in Sangin district of Helmand province. There were three US Forces Afghanistan FATAlities.
"We're investigating to determine the facts," she said, without giving details of whether the shooter had been killed, captured or escaped.
The Sangin district chief in the southern province, Mohammad Sharif, told AFP that four foreign special forces soldiers had been killed by an Afghan policeman after he had invited them to dinner.
"Last night, a police checkpost commander invited four foreign special forces soldiers to a dinner party at the checkpost. He later killed them and ran away," Sharif said.
Apart from Americans, NATO soldiers from other countries, including Britain, serve in the restive province.
An increasing number of Afghan soldiers and police have turned their weapons against NATO colleagues helping them fight a decade-long Taliban insurgency.
On Tuesday, an American soldier was killed in the east when two men in Afghan army uniform opened fire, and on Thursday an Afghan soldier was killed after turning his weapon on NATO troops.
http://timesofindia.indiatimes.com/world/south-asia/Man-in-Afghan-uniform-kills-3-US-soldiers-Military/articleshow/15432974.cms
-----------
India
Lashkar Using Kids for Terror Attacks in India
Toufiq Rashid
August 09, 2012
It was an offer they could not refuse. Poorest of the poor – children of vegetable vendors – Rs. 500 meant a lot to them. So when the man handed them two Rs. 500 notes, just for lobbing a few bombs, the two boys just could not say no. The rest was history. Caught on CCTV cameras, the incident of August 2 gained notoriety overnight — two teenage boys lobbing grenades at a police post in Sopore town. They were pushing a handcart. They took cover while throwing a grenade and then melted away into a narrow lane.
It gave nightmares to security agencies in the Valley. This was the first time Lashkar-e-Taiba used children for terror acts, they said. And the fact that the boys were paid for it – something that has come to light now -- has only made matters worse.
"Children from weaker sections can be easily influenced this way," said Imtiaz Ahmad, superintendent of police, Sopore, who investigated the case and caught the boys.
A few other boys have been identified who are hired stone pelters, he said. In time, they can even take up militancy as a livelihood.
"Children are very vulnerable," agreed BN Ramesh, inspector general of CRPF based in Srinagar. "There are around 2,000 children in Sopore area alone."
The boys involved in the Sopore attack were barely in their teens -- one of them was 12 years old, the other 13. Sons of vegetable vendors, they never went to school. The two were released after their families gave personal bonds.
"We gave them counselling too," said Ahmed.
But the bigger question of dealing with children like them, remain.
"We are taking steps. The local police are getting in touch with parents and NGOs are helping us," said Ramesh.
http://www.hindustantimes.com/India-news/Srinagar/Lashkar-using-kids-for-terror-attacks/Article1-911155.aspx
-----------
Presbyterian Church calls for steps to resolve Assam conflict
Aug 10, 2012
SHILLONG: The Presbyterian Church of India on Friday asked the Union and Assam government to expedite measures for restoring confidence among people and resolve the conflict which has displaced more than four lakh people recently.
The church executive committee, which met here on Thursday evening, resolved to send a joint peace mission team to visit the affected communities in the relief camps in both Assam and neighbouring areas of West Bengal.
Expressing grief and sympathy at the loss of lives, destruction of properties and displacement of such a large population in the clash, the committee asked both the Centre and state government of Assam to take prompt measures with tangible and long lasting solutions.
The committee has also asked its constituent units and members to pray for restoring peace and normalcy among different communities in Kokrajhar, Dhubri, Chirang and adjoining districts of lower Assam.
http://timesofindia.indiatimes.com/india/Presbyterian-Church-calls-for-steps-to-resolve-Assam-conflict/articleshow/15433876.cms
--------
India attends Iran meet on Syria war
Aug 10, 2012
NEW DELHI: India was represented by a mid-level official at a last-minute international meeting on Syria organized by Iran in Tehran on Thursday. The hurriedly-convened meeting is ostensibly aimed to help stop the continuing violence and start a political dialogue. But since Iran is Damascus' principal backer, the effort is also being seen as an initiative to shore up support for beleaguered Syrian President Basher-al Assad, who the West want out of power.
Rajeev Shahare, joint secretary in the West Asia North Africa (WANA) division of the MEA, arrived in Tehran on Thursday morning to join 27 countries at the meeting, including China and Russia. The others at the table included a motley crew of nations from Asia, Africa and Latin America. As a member of the UN Security Council, MEA officials said it was important for India to get a rounded view of events and developments relating to Syria. The meeting was at the foreign ministers' level, with Pakistan, Iraq and Zimbabwe sending their foreign ministers.
Full report at:
http://timesofindia.indiatimes.com/india/India-attends-Iran-meet-on-Syria-war/articleshow/15427783.cms
-----------
Pak violates ceasefire again, targets Indian posts in Poonch
Aug 10, 2012
JAMMU: In yet another ceasefire violation, Pakistani troops targeted several Indian posts with small arms firing along the Line of Control in Poonch district of Jammu & Kashmir on Wednesday night.
Sources said the firing was unprovoked. "The small arms firing was resorted to from their posts Daku, Shiv, Battal on Indian posts of Kripan, Kranti and Kranti 1 from 2215 hours till 2230 hours," a source said. "There was no loss of life or damage to property." Sources said firing from the other side started again hours later.
Army sources said Indian troops initially observed restrain but later retaliated.
This is the fourth ceasefire violation in last four days.
http://timesofindia.indiatimes.com/india/Pak-violates-ceasefire-again-targets-Indian-posts-in-Poonch/articleshow/15427855.cms
-----------
India envoy raises questions about gun use in US
Aug 10, 2012
WASHINGTON: Echoing President Barack Obama's call for "soul searching" over Sunday's rampage in a Wisconsin gurdwara, Indian ambassador Nirupama Rao has raised questions about the free use of guns in the United States and problems Sikhs have faced in the country whether "in schools or in the workplace".
While as a foreign diplomat she could not take a position on gun control over the incident that left six worshippers dead, people in India did raise questions about why Sikhs should become "collateral damage" in such violent incidents, she said in an interview with National Public Radio Thursday.
"But I wanted to say that in India, you know, when we see violence of this nature and we see Sikhs somehow becoming some kind of collateral damage in many senses, obviously, you know, questions do arise about the use of guns in the United States and why all this should happen," she said.
Full report at:
http://timesofindia.indiatimes.com/world/us/Gurdwara-shooting-India-envoy-raises-questions-about-gun-use-in-US/articleshow/15433136.cms
-----------
Hyderabad's Charm Found in Ramadan Delights
By APARNA ALLURI
Aug 10 2012
Hyderabad, the Scottish historian William Dalrymple wrote, hides "its charms from the eyes of outsiders, veiling its splendors from curious eyes behind nondescript walls and labyrinthine backstreets." But some secrets, like Hyderabad's sinfully rich food, perhaps its greatest charm, are hard to keep. And the month of Ramadan is ideal for discovering the city's most indulgent dishes.
A graceful, 400-year-old city, Hyderabad's aristocratic order has given way to wealth born of industry, real estate and entrepreneurship. Once it became the capital of Andhra Pradesh, families from the traditionally Hindu coastal belts to the east populated the infertile, rocky city; then, with the boom in software and outsourcing, people began pouring in from all over India seeking jobs. Today's Hyderabad is a curious mix of Hindu and Muslim, of native and settler, of old and new.
But the month of Ramadan, known as Ramzan in India, offers a peek into the city's culinary past. When dusk arrives during Ramadan, with a shrill siren that signals the end of fasting, the narrow streets of Hyderabad's old city fill up fast with vendors, shoppers and food buffs. What awaits the hungry are simmering pots of biryani with a distinctly Hyderabadi flavor; endless bowls of haleem -- a thick, spicy paste of lamb and wheat, cooked to perfection; dried apricots and fresh cream served together as the wildly popular qubani-ka-meetha; and other flavors that carry the richness of a sultan's sumptuous meal although they have been prepared in humbler kitchens.
Obscure restaurants light up their signboards promising the city's best haleem - certainly the most sought-after dish at this time, partly because it's not easily available for the rest of the year.
Full report at:
http://india.blogs.nytimes.com/2012/08/10/hyderabads-charm-found-in-ramadan-delights/?ref=asia
-----------
Fresh chargesheet filed in Samjhauta Express blast case
Aug 10, 2012
NEW DELHI: The National Investigation Agency (NIA) on Thursday filed a supplementary chargesheet in the 2007 Samjhauta Express blast case in a Panchkula, Haryana, court. The chargesheet, second in the case, was filed against former RSS activist Kamal Chauhan and Amit Chauhan alias Amit Totala and for the first time mentions Lokesh Sharma and Samunder alias Rajender Chaudhary as bomb planters along with Kamal and Amit.
Sharma, who was arrested in 2010, is mentioned only as a conspirator in the previous charge-sheet in the case that was filed in June 2011 against him, Naba Kumar Sarkar alias Aseemanand, Ramji Kalsangra, Sandeep Dange and Sunil Joshi. While Joshi is dead, Dange, Kalsangra, Amit and Samunder are absconding.
Full report at:
http://timesofindia.indiatimes.com/india/Fresh-chargesheet-filed-in-Samjhauta-Express-blast-case/articleshow/15427656.cms
-----------
Kasab brought face to face with 26/11 handler Abu Jundal
Aug 10, 2012
MUMBAI: In a major development the Mumbai crime branch on Thursday confronted the deported 26/11 conspirator Sayed Zabiuddin alias Abu Jundal with the alone arrested Pakistani terrorist Ajmal Kasab at headquarter at high security cell at Arthur road.
Sources said that around two dozen policemen of Mumbai crime branch took Jundal admist high security at Arthur road jail at around 2 pm. The entire affair was kept highly secret for the security reasons. The police said that the confrontation of the two went for nearly two and half hour in presence of the senior officials of Jail.
The Home department had on Wednesday given the police a go ahead for the interrogations after they got a nod from the central government as Kasab is a convicted by the Bombay high courtt.
His conviction is pending before the supreme court. Police said that confrontation was fruitful as several descrepancies were soughted out regaridng the unknown Pakistani handlers and Pakistan's ISI officials involvement in the 26/11 Mumbai terror attack.
Police said Ansari who got the nick name 'Abu Jundal' after he completed the physical and spiritual training in Pakistan is a key accused in the 26/11 terror attack in which 166 persons were killed and more than 260 were injured in Mumbai. While Kasab had told police that Jundal had given him arms and ammuition training, Jundal said that he didnot part the training but only gave Hindi and Marathi lessons to Kasab and nine others.
Full report at:
http://timesofindia.indiatimes.com/india/Kasab-brought-face-to-face-with-26/11-handler-Abu-Jundal/articleshow/15425519.cms
-----------
Fasting poses health risks to diabetics
Umesh Isalkar
Aug 10, 2012
PUNE: Despite serious health risks that fasting could pose to diabetics, research shows that more than 79% of world's Muslims or 50 million people with diabetes worldwide, continue to fast during Ramadan against the advice of healthcare professionals, said diabetologist Abhay Mutha of Ruby Hall Clinic here on Thursday.
Ramadan is one of the five pillars of Islam and takes place in the ninth lunar month of the Islamic calendar (linked to the sighting of the new moon). This year Ramadan is observed between July 20 and August 18.
During Ramadan, people with type 2 diabetes who fast abstain from eating, drinking, and using oral medications from pre-dawn to after sunset. Most people consume two meals per day during this month, one after sunset and the other before dawn.
"Research shows that the changes in eating patterns experienced during fasting can put people with type 2 diabetes at risk of complications including low blood sugar ( hypoglycemia), high blood sugar (hyperglycemia), diabetic ketoacidosis, thrombosis and dehydration," Mutha said.
Full report at:
http://timesofindia.indiatimes.com/life-style/health-fitness/health/Fasting-poses-health-risks-to-diabetics/articleshow/15434955.cms
--------
Pakistan
Girls' kidnappings fuel Hindu exodus to India - Pak stops 130 people
Aug 10 2012
Lahore/Islamabad : Immigration authorities today stopped 130 Pakistani Hindus from crossing over to India at the Wagah land border following a controversy over reports of an exodus of the minority community from Sindh province.
The Hindus were told by immigration officials that they could not cross the border despite having valid visas as they did not have "security clearance," sources said.
The immigration authorities had reportedly received directions from the Interior Ministry not to let any Hindus go to India even for pilgrimage, the sources said.
The Hindu families reached Wagah at 8am but most of them were not given clearance to cross the border till noon.
Only two families from Karachi that had "no objection certificates" were allowed to cross over to India, the sources said.
However, Federal Investigation Agency official Waqar Haider said in Lahore that his organisation was not stopping anyone possessing valid travel documents from going to India.
The kidnapping of a teenage Hindu girl, Manisha Kumari, and her reported rape in Jacobabad city of Sindh province on August 7 has caused widespread concern in the minority community - report say of an exodus of some 250 Hindus from the region has taken place.
Kidnapping of Hindu girls has become rampant in Pakistan over the last few years.
Hindus from Sindh and Balochistan had decided to migrate to India because of forced conversions, extortion and kidnapping, TV channels reported.
The Hindus were travelling to India on 30-day visas for a pilgrimage to Haridwar and Vaishno Devi but many were not expected to return, the channels reported.
Taking notice of these reports, Interior Minister Rehman Malik yesterday said the Hindus would be stopped from going to India.
He said they would be allowed to travel only after a probe by the FIA.
Malik claimed the reports of the migration of the Hindus were part of a "conspiracy to defame Pakistan."
The Indian High Commission should explain why visas were issued to the 250 Hindus, he said.
Reports from Jacobabad said seven Hindu families comprising 90 people had yesterday left for Lahore to travel to India.
"We are businessmen but have been compelled to leave our motherland because of harassment, lawlessness, looting, kidnapping of girls and their forced conversion to Islam," said Amesh Kumar of Bakhshapur area in Jacobabad.
Another unnamed Hindu man from Quetta told the Dawn newspaper: "Pakistan is our homeland and at the moment we are going to India for visiting our sacred places. But if I find the situation in India better than in Pakistan, I will prefer to settle there and others also think the same way."
There were also reports that 52 Hindu families from Jacobabad had migrated to India about six months ago.
Sindh Chief Minister Qaim Ali Shah too took notice of the reports of the migration of Hindus and formed a three-member committee of provincial ministers to assess the situation in Jacobabad and submit a report.
http://www.indianexpress.com/news/girls-kidnappings-fuel-hindu-exodus-to-india-pak-stops-130-people/986588/
----------
Cross-border attack repulsed; nine militants dead
Aug 10 2012
TIMERGARA: Nine militants were killed and 13 others injured when security forces repulsed a cross-border attack in Dir Lower tribal region on Thursday.
According to official sources, a large number of militants intruded into Pakistan from Afghanistan shortly before sunset and attacked a security check-post near Teripao Kandao.
A gunbattle between the attackers and security personnel took place which continued for over half an hour, the sources said, adding there were no casualties among troops.
However, two security personnel died when a landmine exploded near the border area.
The report could not be confirmed from independent sources.According to a recent report of ISPR, there have been more than 70 such attacks by militants during the past two years in which several security men lost their lives.
http://dawn.com/2012/08/10/cross-border-attack-repulsed-nine-militants-dead/
-----------
Pakistan's FATA area reports significant increase in school enrolment
Banjaur has experienced a major rise in new students – but with another 80,000 still out of education, much remains to be done
Zofeen Ebrahim
9 August 2012
Bajaur, one of the seven administrative units in Pakistan's federally administered tribal area (FATA), on the border with Afghanistan, has experienced a marked rise in school enrolment since the beginning of the year. "Enrolment has increased and this year we enrolled 39,000 new students," says Muhammad Gul, an education officer in Bajaur. "Yet 80,000 remain out of school."
Gul believes poverty and illiteracy can be a potent combination in fuelling extremism. "If these kids don't have a pen in their hands, they will grow up and take up the Kalashnikov," he says.
Part of the reason for the increased level of enrolment in the area is the return of families displaced by conflict in 2008-09. Around 250,000 people were still displaced from Bajaur at the end of 2009, according to the UN Office for the Co-ordination of Humanitarian Affairs. But for many the incentive is the ration of four litres of cooking oil (worth around £3, or just under $5) distributed every second month by the World Food Programme's (WFP) Back to School, Stay in School programme. To obtain the oil ration, students – who also receive locally manufactured high-energy biscuits daily from the WFP – must attend school 22 days each month.
Full report at:
http://www.guardian.co.uk/global-development/2012/aug/09/pakistan-FATA-area-increase-school-enrolment?newsfeed=true
-----------
We don't like Imran Khan, say Pakistan Taliban
August 10, 2012
The Pakistani Taliban on Thursday said they had not threatened to kill cricketer-turned-politician Imran Khan if he holds a march to Waziristan, and blamed a Western news agency for falsely reporting the threat.
While denying the report, however, the Taliban made it clear they had no love
for Khan, whom they view as a "liberal".
The Associated Press had claimed that Tehrik-e-Taliban spokesman Ahsanullah Ahsan said they would target Khan because he calls himself a "liberal". Ahsan also warned they would attack anyone who participates in upcoming elections.
"If he comes, our suicide bombers will target him," Ahsan said in an interview in the militant group's South Waziristan stronghold. "We will kill him."
"We will not accept help or sympathy from any infidel," said Ahsan, according to AP. "We can fight on our own with the help of God," he said.
Ahsan, denying the interview, said a militant 'shura' (council) will decide on a response to the march planned by Khan's Pakistan Tehrik-e-Insaf party only a week before it reaches the tribal areas.
In a statement emailed to the media, Ahsan claimed a reporter of a Western news agency had interviewed him and then "added the death threat himself bypassing the norms of journalism".
But the Taliban spokesman made it clear that his organisation has no sympathy for Khan.
http://www.hindustantimes.com/world-news/Pakistan/We-don-t-like-Imran-Khan-say-Pakistan-Taliban/Article1-911191.aspx
-----------
Pak allows about 250 Hindus to cross into India after hiccups
Aug 10, 2012
LAHORE/ISLAMABAD: A group of abour 250 Pakistani Hindus were on Friday allowed to cross over to India for a pilgrimage after being detained at the Wagah land border crossing due to a controversy over reports that they planned to migrate to the neighbouring country.
The Hindus protested at the Wagah border crossing after they were detained for almost seven hours.
Immigration authorities finally allowed the Hindus to cross the frontier at about 2.30pm.
"We were given the go-ahead from the interior minister to allow about 250 Hindus to travel to India. They all have valid travel documents," a senior official of the Federal Investigation Agency in Lahore told PTI.
"The Hindus have 33-day visas for different Indian cities. We stopped them temporarily after media reports said they would not return because of some problems they were facing here," the official said.
The FIA sent a special team to Wagah to interview the Hindus.
"The Hindus dismissed media reports about them and assured the team that they would not speak against Pakistan in India," the official said.
The official said the team had not asked the Hindus to provide any sort of undertaking. "They promised not to defame Pakistan," he said.
Though the Hindus gathered at the border crossing at 8 am, only two doctors and their families were initially allowed to cross to India.
Both doctors had "no-objection certificates" and authorities had earlier said they would only allow people with NOCs to cross the border.
http://timesofindia.indiatimes.com/world/pakistan/Pak-allows-about-250-Hindus-to-cross-into-India-after-hiccups/articleshow/15435072.cms
-----------
Tunnel from Pak for major induction into India
August 09, 2012
A long underground tunnel dug from Pakistan into Jammu and Kashmir was meant to push a large body of people into India and not small groups of infiltrators, say experts.
Military experts who have been studying the still to be completed tunnel also admitted it was the Border Security
Force's (BSF) failure not to have stumbled upon it.
The tunnel, once completed, could have been used as a permanent induction route for a large body of people and not just to send small groups of militants to India, a senior official said.
"The size of the tunnel suggests it was to be used as an induction route for large scale manpower," the official told IANS on the condition of anonymity.
These experts said the tunnel was not meant for people to come crawling.
Big groups could walk bending themselves all through the tunnel, which had even oxygen pipes.
They said it must have taken the Pakistanis a long time to dig such a tunnel, which was discovered when a Kashmiri farmer reported on July 28 that a piece of land in his field was mysteriously sinking.
Geological experts found the tunnel's end just 15 metres from the point where it was discovered.
Full report at:
http://www.hindustantimes.com/IndiaSectionPage/JammuSec/Tunnel-from-Pak-for-major-induction-into-India/Article1-911045.aspx
-----------
Violence erupts in Orangi after killing over Eid donations
Aug 10 2012
KARACHI: A young factory worker was killed, three other persons were wounded in firing and two buses and a shop torched on Thursday in Orangi Town violence that erupted after a man was killed in a clash over collection of Zakat and Fitra in Bangla Bazaar, police said.
The violence was sparked on Wednesday evening when three people, including an activist of the Pakistan People's Party, were attacked in the market in a dispute over collection of money by a group distributing Zakat and Fitra slips in the market, said a senior police officer of the area.
"The dispute was over how another group was distributing slips of 'Fitra' to collect money from the market," the officer added.
Karachi PPP leaders said that the party worker, Javed Behari, was shot dead for refusing to take the slip for payment of Fitra.
Immediately following the incident, the area reverberated with intense firing forcing closure of all markets within the remit of the Pakistan Bazaar police station.
In the early hours of Thursday, Mr Behari died during treatment at a private hospital.
In the morning, almost all the markets and shops remained shut and as the news of the death spread, violence broke out in the area. Sector 13 and 15 of Orangi Town were the worst-hit areas, with reports of complete market closure and heavy firing.
Full report at:
http://dawn.com/2012/08/10/violence-erupts-in-orangi-after-killing-over-eid-donations/
-----------
Two injured in attack on NATO truck in Pak
Aug 10, 2012
ISLAMABAD: Armed men attacked and set on fire a NATO container truck in Balochistan province of southwest Pakistan on Friday, leaving two persons injured.
The truck carrying supplies for foreign forces in Afghanistan was attacked in Dasht area of Mastung district, 45 km southeast of the provincial capital of Quetta, police said.
The men, who were riding a motorcycle, fired at the truck and two men were hit by several bullets.
The attackers escaped after setting the truck on fire. Security forces cordoned off the area and launched a search operation to trace the attackers.
The injured men were taken to a nearby hospital.
http://timesofindia.indiatimes.com/world/pakistan/Two-injured-in-attack-on-NATO-truck-in-Pak/articleshow/15433843.cms
-----------
Pakistani film industry is evolving at a remarkable rate: Sharmeen Obaid
Meenakshi Sinha
Aug 9, 2012
Pakistan's Oscar-winning Sharmeen Obaid Chinoy's documentary, Saving Face, was screened at The Habitat Festival in the capital recently. The 33-year-old Chinoy spoke to TOI about the documentary, her journey so far and future projects.
When and what made you pick on the subject of acid attack for your documentary Saving Face?
Daniel Junge, the co-director of Saving Face, contacted me early in 2011. He wanted me to collaborate with him on this project. He had heard an interview of Dr Jawad on BBC and had reached out to him with regard to his reconstructive work with British model and acid attack victim, Katie Piper. Upon hearing about Dr Jawad's extensive work with acid violence victims in Pakistan, Daniel decided to make a film that highlighted and celebrated his efforts. The film was in pre-production stage when I came on board. Saving Face is a film about the way in which Pakistani communities are battling the rising issue of acid violence. The film features Zakia and Rukhsana who survived acid attack by their husbands, as they traverse the path towards recovery and fight for justice. It also features the countrymen that rallied together to help them.
To what extent is acid attack a reality in Pakistan?
When I learnt that Saving Face was going to be a film documenting acid attacks in Pakistan, I immediately decided to come on board. About 150 acid attacks occur in Pakistan annually but they are rarely covered by the media. I was confident that this film would go a long way in spreading awareness about the issue and facilitating critical discourse. The film started a difficult conversation in Pakistan and helped bring acid violence to the forefront in terms of pertinent issues faced by the country today.
What is the current state of acid attacks in Pakistan, especially after your documentary release?
Full report at:
http://timesofindia.indiatimes.com/entertainment/bollywood/news-interviews/Pakistani-
-----------
Pak PM to defy top court's summons on Zardari cases
Aug 10, 2012
LAHORE: Pakistan PM Raja Pervez Ashraf has been advised by his aides not to appear in the supreme court in response to a notice summoning him for failing to act on its orders to revive graft cases against the president.
The ruling PPP believes that Ashraf 's appearance in the supreme court will make no difference and that he is unlikely to get any relief from the judges who on Wednesday issued the notice to the PM and directed him to personally appear on August 27, Ashraf 's aides said on Thursday.
"The PM is not a section officer that he can be summoned by the apex court every now and then. Seeing the judges' mood, we advised the PM not to appear before the apex court and to raise the dignity of parliament," said Fawad Chaudhry, the prime minister's special assistant on political affairs.
Chaudhry said the PM should save parliament from being further ridiculed by the judiciary. "Like the judiciary, the parliament will protect its rights as well."
http://timesofindia.indiatimes.com/world/pakistan/Pak-PM-to-defy-top-courts-summons-on-Zardari-cases/articleshow/15429376.cms
-----------
PSO becomes Pakistan's first trillion rupee company
Aug 10 2012
KARACHI: Board of Management of Pakistan State Oil (PSO) meeting Thursday at Karachi reviewed performance for year ended June 30, 2012, in which it achieved a major milestone by becoming Pakistan's first company with revenues exceeding a trillion rupees.
For the year ended June 30, 2012, PSO's revenue exceeded Rs1,199 billion as compared to Rs 975 billion in FY11, representing 23 per cent growth.
It announced after tax earnings of Rs9.06 billion in FY12 as compared to Rs14.78 billion in last year.
Profitability was severely impacted by rapid devaluation of Pak rupee along with reduction in inventory gains. These losses absorbed improvement in margins of Furnace Oil and HSD along with recovery of financial income from power sector.
Earnings in FY12 are lower as compared to FY11 due to a deferred tax adjustment made in previous year amounting to Rs2.29 billion which had resulted from reinstatement of rate of turnover tax by tax authorities.
Further, financial cost resulting from accumulation of highest ever receivables continue to constrain both profitability and liquidity of PSO.
In period under review, industry's volumes for Black Oil reduced by 8 per cent, whereas, White Oil grew by 4 per cent reflecting increase in PMG consumption of 22 per cent while a decline of 1 per cent was recorded in HSD demand.
In spite of reduction in market size of HSD, PSO has been able to increase its market share from 54.9 per cent to 56 per cent. It also continued its overall domination of market with its share in Black Oil and White Oil segments standing at 78.1 per cent and 55.1 per cent respectively, thereby contributing to an overall market share of 65.4 per cent.
Based on this performance, the company's Board declared a final cash dividend of Rs2.5 per share in addition to already paid interim dividend of Rs3 per share.
It was also decided that the company will issue 20 per cent bonus share for year ended June 30, 2012.
Full report at:
http://dawn.com/2012/08/09/pso-becomes-pakistans-first-trillion-rupee-company/
-----------
TTP wants clerics to issue fatwa against democracy
Aug 10 2012
PESHAWAR: The banned Tehreek-e-Taliban Pakistan (TTP) has purportedly written a letter to senior clerics of the country seeking an edict against democratic system and security forces, and explaining why the TTP had rebelled against the state.
A copy of the letter was obtained by the Daily Times on Thursday. "Please go through this letter and help the Muslims know the Taliban stance," read the six-page letter in Urdu, sent by TTP spokesman Ehsanullah Ehsan.
Senior security officials described the letter as part of "the propaganda tools" of the TTP, saying the group would not gain much from it.
The letter asked how the members of parliament of the country could be called Muslims if they had failed to legislate for enforcement of Shariah.
The letter appealed to the sentiments of clerics by mentioning how the army was killing the "mujahideen" who, it said, were fighting for enforcement of God's law in Pakistan.
However, it did not explain what steps the TTP had taken to enforce Shariah in the Tribal Areas where it held the ground.
The letter did not mention when it was written and delivered to the clerics. It was also not clear if it was sent to clerics from all sects.
"Do you know how many mujahideen were killed or arrested?" the letter asked the clerics. It informed them that thousands of "mujahideen" had been killed in army-led operations. The TTP letter also complained about the clerics who were "silent" when the government was publicly acknowledging being a "front-line ally of America and NATO". It, however, admitted that the TTP had "provided shelter" to Uzbek, Arab, Chechen and other militants after the US-led bombings ousted the government of Mullah Muhammad Omar in late 2001 in Afghanistan.
http://www.dailytimes.com.pk/default.asp?page=2012\08\10\story_10-8-2012_pg1_3
-----------
No proposal by Pak govt to commute death sentences into life imprisonment, Burney says
Aug 9, 2012
AMRITSAR: Pakistan's former federal minister for human rights and chairman of Ansar Burney Trust International, Ansar Burney, has once again demanded from the president of Pakistan to immediately convert all death sentences including that of Indians and other nationals into life in the country.
Talking to TOI on Thursday evening, he said that according to his sources Pakistan government had not even prepared or forwarded any proposal to commute death sentences into life imprisonment.
Burney said that former Prime Minister Yousuf Raza Geelani had made announcement during his address to the National Assembly on the 21st of June 2008 that his government would soon forward a proposal to the presidency to convert all death sentences into life imprisonment; however he rued that no such proposal had been prepared or forwarded so far.
He said that despite assurances the government of Pakistan had failed to deliver on their promises to help condemned prisoners. He warned that if Pakistan government failed to provide relief to these ill-fated persons, he would raise this issue at all international forums and organizations including the United Nations.
According to him 60 to 65 percent of condemned prisoners in the death cells waiting to be hanged were innocent or prisoners of circumstances.
In a fresh appeal and letter sent to President Asif Ali Zardari, Ansar Burney said that despite the fact that up to 60 to 65% of all condemned prisoners in Pakistan were most likely innocent or victims of a faulty justice system, the government had failed to take any positive action to save these thousands of innocent lives.
"We have no sympathy what so ever with hardened criminals and terrorists but how can we allow hanging innocents" he clarified. He said Indian death sentence awardees Sarabjit Singh and Kirpal Singh had spent more than 2 decades in jail and should be sent back to their homes on humanitarian grounds.
He said out of nearly 7,500 condemned prisoners including women and children in Pakistani jails were either innocent or victims of a faulty justice system. "I have personally met condemned prisoners in jails awaiting their death sentence who don't' even know who they had been charged them of killing" he said.
http://timesofindia.indiatimes.com/india/No-proposal-by-Pak-govt-to-commute-death-sentences-into-life-imprisonment-Burney-says/articleshow/15423266.cms
-------
Arab World
Suicide Bomber Targets North Iraq Mosque, Two Killed
Aug 10 2012
MOSUL, Iraq (Reuters) - A suicide bomber attacked a Shi'ite mosque near the northern Iraqi city of Mosul as Friday prayers ended, killing at least two people, police and health officials said.
Government officials and police said two people had been killed and more than 50 wounded in the blast at the mosque belonging to the Shabak minority in Mosul, 390 km (240 miles) north of Baghdad. A local Shabak community leader said five people had been killed.
A wave of attacks on mainly Shi'ite pilgrims and religious sites in recent months has increased worries about sectarian violence as Iraq's Shi'ite, Sunni and Kurdish leaders struggle to end a crisis over their fragile power-sharing agreement.
Insurgents have carried out at least one major bombing a month since Americans troops left in December. July was the bloodiest month in two years, including one day of attacks that left more than 100 dead.
http://www.nytimes.com/reuters/2012/08/10/world/middleeast/10reuters-iraq-violence.html?hp
-----------
Egypt Arrests 9 Militants Linked to Sinai Attacks
Aug 10 2012
EL-ARISH, Egypt (AP) — An Egyptian security official says troops have arrested nine Islamic militants in northern Sinai believed to be behind a deadly attack last weekend that killed 16 Egyptian soldiers.
The official told Associated Press that early Friday the troops stormed a house in Sheik Zweid, close to Rafah border crossing with Gaza Strip, and caught the nine while they were asleep. Among them was Selmi Zeyoud, whom the official described as a "dangerous element" and a brother to a slain jihadist. The official spoke on condition of anonymity because he was not authorized to speak to the press.
The arrests are the first since Sunday's surprise attack in which gunmen stormed an army checkpoint by the borders with Gaza and Israel, killed 16 soldiers, then drove into Israel.
http://www.nytimes.com/aponline/2012/08/10/world/middleeast/ap-ml-egypt-sinai.html?ref=middleeast
-----------
Crime Wave Engulfs Syria as Its Cities Reel From War
By an employee of THE NEW YORK TIMES and DAMIEN CAVE
Aug 10 2012
ALEPPO, Syria — The consequences of the war here have become familiar: neighborhoods shelled, civilians killed and refugees departed. But in the background, many Syrians describe something else that has them cowering with fear: a wave of lawlessness not unlike the crime wave Iraq experienced during the conflict there.
From Dara'a, near the Jordanian border, to Homs, Damascus and here in Syria's commercial capital — the fighting has essentially collapsed much of the civilian state. Even in neighborhoods where skirmishes are rare, residents say thieves prey on the weak, and police stations no longer function because the officers have fled.
Kidnapping, rare before, is now rampant, as a man named Hur discovered here last month. He simply wanted to drive home. The man shoving a pistol into his back had other plans. "Keep walking," the gunman told Hur, 40, a successful businessman, as they approached his car. "Get in."
Full report at:
http://www.nytimes.com/2012/08/10/world/middleeast/crime-wave-engulfs-syria-as-its-cities-reel-from-war.html?_r=1&hp
-----------
Three police killed by Iraq roadside bomb
August 10, 2012
roadside bomb against an Iraqi police patrol in a restive town north of Baghdad killed three policemen and wounded two others on Friday morning, security and medical officials said. "Three policemen were killed and two others wounded by a bomb targeting their patrol in Al-Muqdadiyah
his morning," a police lieutenant colonel in the town said.
Dr Ahmed Ibrahim, from the main hospital in the nearby provincial capital Baquba, 60 kilometres north of Baghdad, confirmed the toll.
hile violence has decreased from its peak in 2006 and 2007, attacks remain common across Iraq. There were attacks on 27 of the 31 days in July.
Official figures put the number of people killed in attacks in July at 325, the highest monthly death toll since August 2010.
http://www.hindustantimes.com/world-news/RestOfAsia/Three-police-killed-by-Iraq-roadside-bomb/Article1-911375.aspx
-----------
Officials: Attacks Kill 10 in Iraq
Aug 10 2012
BAGHDAD (AP) — A string of insurgent attacks, including a car bomb targeting a Shiite mosque, killed 10 people in Iraq on Friday, officials said.
The strikes highlight the challenges still facing Iraq's Shiite-led government as it struggles to maintain security over the country.
The car bomb struck a Shiite mosque as worshippers were performing Friday prayers in a village near the former al-Qaida stronghold of Mosul, a city 225 miles (360 kilometers) northwest of Baghdad. Three people were killed and 35 wounded in that attack, police officials said.
Hours earlier, gunmen opened fire on a group of so-called Sahwa fighters manning a checkpoint near the town of Dujail, 50 miles (80 kilometers) north of the Iraqi capital.
The Sahwa are Sunni Arabs who joined forces with the U.S. military to fight al-Qaida's Iraq branch at the height of the country's insurgency. They have since been regularly targeted by Sunni insurgents who seem them as traitors.
Elsewhere, a roadside bomb exploded on a police patrol in Muqdadiyah, 60 miles (90 kilometers) north of Baghdad. Three policemen were killed and two were wounded in that blast, the officials said.
Medics confirmed the casualty figures. All officials spoke on condition of anonymity because they were not authorized to talk to the media.
Violence has ebbed in Iraq, but insurgents frequently attack security forces and Shiites in an attempt to undermine the government's authority.
http://www.nytimes.com/aponline/2012/08/10/world/middleeast/ap-ml-iraq.html?ref=middleeast
-----------
Morsi fires intel chief over killings in Sinai
Aug 10 2012
President Mohamed Morsi fired his intelligence chief, Mourad Mowafi, and other top security officials Wednesday in a sweeping response to the killings of 16 soldiers in the Sinai.
The far-reaching purge affected officials accused of lapses that contributed to the deaths of the soldiers, and others who probably played no role but were seen as too closely tied to remnants of Egypt's old order. Morsi announced that he would replace the head of the military police, several Interior Ministry officials and the head of the presidential guard.
He also fired the governor of North Sinai, distancing himself, at least symbolically, from the government's hated legacy in the region, remembered as much for its brutality as its neglect.
The moves represented Morsi's latest attempt to reclaim authority from the generals who took power after the fall of Hosni Mubarak. At the same time, the shake-up reflected the outcome of what analysts said was probably a carefully brokered deal, by a president and a military willing to make concessions to blunt their critics after the soldiers' deaths.
Early Wednesday, the military was eager to show how seriously it was prepared to deal with the attack on its soldiers, sending troops and armored carriers through Sinai in a hunt for the perpetrators. Helicopters fired repeatedly, in the first airstrikes by Egypt's military in the region in decades, though it was unclear to residents what, if anything, the strikes had hit.
Officials leaked reports that 20 militants were killed during the operation, but there was no corroboration of that from residents in the towns where patrols occurred or from Interior Ministry officials who said they were in contact with hospitals.
http://cdn.indianexpress.com/news/morsi-fires-intel-chief-over-killings-in-sinai/986244/
-----------
Heavy shelling forces rebels out of key Aleppo district
Aug 9, 2012
DAMASCUS: Rebels retreated from the key Aleppo district of Salaheddin under a deadly rain of shellfire on Thursday, with the showdown battle for Syria's commercial capital raging into a second day.
"We have staged a tactical withdrawal from Salaheddin. The district is completely empty of rebel fighters. Regime forces are now advancing into Salaheddin," said Hossam Abu Mohammed, a commander of the Free Syrian Army (FSA).
"The fighters are withdrawing to (nearby) Sukari district, where they are preparing a counter-attack," he told AFP by telephone.
Abu Mohammed cited heavy shelling and the army's use of thermobaric bombs, which throw out a wall of fire to incinerate targets in enclosed spaces.
"A large number of civilians were killed, as were some 40 rebels," he said. "Forty buildings have been flattened."
State television said: "Our special forces have cleansed Salaheddin district of terrorists."
But Rami Abdel Rahman, head of the Syrian Observatory for Human Rights, said "there are still some fighters inside Salaheddin; it seems they are there to fight to the death."
Abu Mohammed said the shelling "was so heavy that we have a cloud of dust above Salaheddin."
Full report at:
http://timesofindia.indiatimes.com/world/middle-east/Heavy-shelling-forces-rebels-out-of-key-Aleppo-district/articleshow/15423594.cms
-----------
Salehi warns against abrupt political change in Syria
Aug 10, 2012
WASHINGTON: Iranian foreign minister Ali- Akbar Salehi has warned that an abrupt political change in conflict-ridden Syria without a roadmap for managed political transition will lead to destabilisation in one of the world's most sensitive regions.
Salehi made the comment in an article in The Washington Post, just as his country started an international consultative meeting on Syria under the banner of "Stop Violence, National Dialogue", Xinhua reported.
"Abrupt political change without a roadmap for managed political transition will lead only to a precarious situation that would destabilise one of the world's most sensitive regions," Salehi wrote, recalling civil war in the Levant, including the 15- year Lebanese civil war, as "frightening lessons".
"Some world powers and certain states in the region need to stop using Syria as a battleground for settling scores or jostling for influence," he remarked, noting "The only way out of the stalemate is to offer Syrians a chance to find a way out themselves."
Declaring Iran "part of the solution, not the problem," the minister noted that the consultative meeting of over 20 like-minded countries in Tehran Thursday aimed at three essential points -- ensuring an immediate ceasefire to stop the bloodshed, dispatching humanitarian aid to the Syrian people and preparing the ground for dialogue to solve the crisis, an echo of the six- point peace plan envisaged by Kofi Annan, the UN-Arab League joint envoy for Syria.
http://timesofindia.indiatimes.com/world/middle-east/Salehi-warns-against-abrupt-political-change-in-Syria/articleshow/15431169.cms
-----------
Report: Army of Islam Behind Egypt Terror Attack
8/10/2012
The terror group Army of Islam is behind Sunday's terror attack in the Sinai Peninsula, a Qatari website reported on Thursday.
According to the report in the Bawaba Ash-Sharq website, Egyptian security forces investigating the attack in which 16 Egyptian officers were killed, have concluded that Army of Islam members carried it out. Army of Islam is an Al-Qaeda inspired Gaza-based terrorist group that wishes to see Gaza run by Muslim Sharia law.
According to the report, the terrorists came to an Egyptian army position in Rafiah in three vehicles and were dressed in olive-colored uniforms and shoes similar to those worn by Egyptian soldiers. Four terrorists emerged from the first vehicle and between eight and ten emerged from the other two.
The four terrorists opened fire at Egyptian soldiers who were eating the meal marking the end of the Ramadan fast day and shot them in the head, said the report. They then entered one of the armored vehicles, forcing one of the Egyptian soldiers to drive it and shooting him dead after a few kilometers.
Full report at:
http://www.israelnationalnews.com/News/News.aspx/158766#.UCSzlfYgccY
--------
North America
Teens arrested for lobbing lemons at Hayward mosque during prayer time
By Natalie Neysa Alund
08/09/2012
HAYWARD -- Four teenagers who police say threw lemons at a local mosque and struck at least one person inside have been arrested on suspicion of vandalism that interferes with civil rights.
It was the fourth time vandals targeted the Hayward mosque during the last eight months, police said.
At about 10 a.m. Friday about 40 congregants had gathered inside the American Muslim Association, at 26320 Gading Road when four male teenagers threw lemons at the building and then ran, said Hayward Police Lt. Roger Keener.
At least one person was hit in the arm.
Officers determined four Hayward males, ages 13 to 16 were responsible for the attack, Keener said.
The teens were arrested on suspicion of defacing property "interfering with the civil rights of those attending the mosque."
Full report at:
http://www.mercurynews.com/top-stories/ci_21266516/police-teens-arrested-lobbing-lemons-at-hayward-mosque
-----------
Christie calls anti-Muslim conservatives "bigots"
AUGUST 9, 2012
The following video hasn't gotten any attention in the mainstream press, but it has lit a fire on right-wing web sites.
The shaky, grainy 16-minute speech was shot by an attendee during an Iftar dinner - the evening meal during Ramadan - at the governor's mansion two weeks ago.
"In many publications around this country I'm now called an Islamist," Christie told the crowd of New Jersey Muslims. "Ya know, listen, I've been called worse things -- usually on the boardwalk on Seaside Heights. Y'all saw my reaction to that."
It is an extraordinary video, in part because you don't often hear Republicans calling out elements of their own party for being "bigots" against Muslims. The issue of Islamic extremism is wrought with potential political pitfalls, and yet here is a guy on the short-list for GOP vice-presidential nominees who are directly confronting the topic in the backyard of his own house.
"I'll tell you that there is a gaze of intolerance that is going around our country that is disturbing to me," Christie said. "This is something that as a political leader you can think you understand as an objective observer, but you don't really understand until you become part of the story."
Full report at:
http://www.philly.com/philly/blogs/christie_chronicles/Christie-reaches-out-to-Muslims-calls-out-anti-Islam-bigots.html
-----------
US wants bio-weapon to destroy human brain: Report
August 09, 2012
Tehran: A prominent political analyst has said the US has proposed a bio-weapon that would destroy the part of the human brain associated with spirituality, Iran's Press TV reported Thursday.
"An apparent Pentagon video, leaked by hacker group Anonymous details US military plans to develop and deploy a biological weapon that would destroy people's receptivity to religion in targeted Muslim populations," Kevin Barrett told Press TV.
Barrett said the proposed bio-weapon would be distributed in flu vaccines and would "alter human genomic expression to produce a sort of chemical lobotomy".
He described the Pentagon project as a "clear act of genocide" under international law.
"The culture of Islamic societies is an intensely religious culture. Indeed, it is strong religiosity that holds these societies together. The murder of the central feature of the culture of 1.5 billion people would be by far the worst genocide ever attempted or even contemplated," he said.
Therefore, the US plans to erase all religious and spiritual resistance in the world in order to gain more power and invade nations, Press TV said.
"The Pentagon, whose job is to massacre the just on behalf of the wicked, would be happy - even ecstatic - if there were no-one left on earth who cared about justice."
"If they cannot kill off the just, the Pentagon psychopaths will be happy to give everyone a bio-chemical anti-spirituality lobotomy so that nobody will ever again work for justice in this world. This would, of course, signal the end of humanity," the analyst said.
http://zeenews.india.com/news/world/us-wants-bio-weapon-to-destroy-human-brain-report_792694.html
-----------
Gov jabs at NYPD again over spying on Muslims
August 8, 2012
NEWARK, N.J. — Gov. Chris Christie has reassured Muslim leaders he remains troubled by the way the New York Police Department conducted surveillance of Muslim communities in New Jersey — even though his administration has said it was legal — but again stopped short of criticizing the spying itself.
The governor has said little publicly about his administration's findings in late May that the NYPD did not violate state laws in its multistate surveillance, which included infiltrating student groups, videotaping mosque-goers or collecting license plates when they prayed. The findings angered Muslim leaders.
But at a Ramadan dinner he hosted in late July at the governor's residence in Princeton, he did repeat his limited criticism of the operations, focusing on the lack of communication with law enforcement agencies in New Jersey, according to a cellphone video of his remarks posted online by an attendee.
"As much as the folks in New York may think they know us, they don't," the governor said. "Nor would they hesitate for a moment in raising the same objections I'm raising if the shoe were on the other foot. If we were to be going into New York all the time, invading their space, and not advising the almighty NYPD, you can imagine the ruckus we would hear from Commissioner (Raymond) Kelly and Mayor (Michael) Bloomberg and the gang on the other side of the Hudson River."
After stories by The Associated Press detailed the covert activities, Christie accused the NYPD of acting like "masters of the universe." When the attorney general reviewed the operations at his request and concluded in May that no New Jersey laws were broken, the governor said only that "if that's what he determined, it's good enough for me." The NYPD has vigorously defended the program as justified and legal.
Full report at:
http://online.wsj.com/article/AP9a8e4574209c481892f60926a9619050.html
-----------
New US study finds diverse beliefs in Muslim world
August 9, 2012
WASHINGTON: The global Muslim community of 1.6 billion people agree on the core principles of their faith, but differ widely in religiosity and religious tolerance, according to a poll published Thursday.
"Muslims are unified by core beliefs and in core practices" like faith in a single God, believe in the Prophet Mohammed (PBUH) and fasting during Ramazan, but "there are differences, sometimes widely" in religious interpretation, James Bell, the principal author of the new Pew Research Centre study, told AFP.
The report, which Bell said was "unprecedented" in scope, was conducted in over 80 languages in 39 countries that account for 67% of the world's Muslim population.
Researchers interviewed around 38,000 people in 2008-2009 and 2011-2012 as part of a larger project on changes in global religions.
Between 85 and 100% of Muslims believe in God and revere Prophet Mohammed (PBUH), the survey said.
Eight of 10 people interviewed in sub-Saharan Africa as well as South and Southeast Asia say religion is "very important."
Full report at:
http://tribune.com.pk/story/419776/new-us-study-finds-diverse-beliefs-in-muslim-world/
---------
Africa
Islamist extremists cut off thief's hand in northern Mali
Aug 9, 2012
BAMAKO: Jihadists occupying northern Mali today said they had cut off the hand of a thief in accordance with strict Islamic law which they have imposed on the population.
"Yes, I confirm it. We applied sharia in Ansongo yesterday (Wednesday). The hand of a thief was cut off. Sharia demands it," a leader of the Movement for Oneness and Jihad in West Africa (MUJAO), Mohamed Ould Abdine, told AFP.
A local government official in the town south of Gao, one of the capitals of the vast desert region, said he witnessed the amputation.
"I am in Gao now, but yesterday I was in Ansongo. There was a lot of blood when the hand was cut. It was the hand of a thief who stole a motorbike," he told AFP.
He added that dozens of people had witnessed the public amputation.
Abdine said the sentence was "the law of God." On Sunday scores of protesters swarmed the main square in Gao to prevent Islamists from cutting off the hand of a thief, but Abdine said the sentence had only been postponed.
Full report at:
http://timesofindia.indiatimes.com/world/rest-of-world/Islamist-extremists-cut-off-thiefs-hand-in-northern-Mali/articleshow/15424026.cms
--------
Pro-Islamist elected Libya assembly chief
Aug 10, 2012
TRIPOLI: Libya's new national assembly has elected as its president Mohamed al-Megaryef, a staunch opponent of Muammar Gaddafi's overthrown regime who is seen as being pro-Islamist.
Megaryef, who had led the Libyan National Salvation Front that grouped exiled opponents of Gaddafi, won with 113 votes in the General National Congress (GNC) against liberal independent Ali Zidane, who got 85.
Full report at:
http://timesofindia.indiatimes.com/world/middle-east/Pro-Islamist-elected-Libya-assembly-chief/articleshow/15432355.cms
-----------
Tunisia's Islamist-secular divide gives a new meaning to the battle
Noha El-Hennawy
09/08/2012
TUNIS - Right in the heart of Tunis, a dozen of bearded men, some dressed in robes, others in tunics, sat outside the Salafi-controlled al-Fateh mosque to sell various Islamic products such as religious books, men's hand-knitted caps and prayer carpets as the full female Salafi outfit of dark robes and the niqab was on display.
Across the street, an ad for Tunisia's first Salafi party hung between two streetlights. "The Sharia is our path and reform is our choice," read the white banner.
The scene was unthinkable under the rule of the deposed president Zine al-Abidine Ben Ali. Like his predecessor Habib Bourguiba, Ben Ali sought to derive legitimacy from secularizing the Tunisian society and combating Islamism.
But as soon as last year's popular uprising forced him to flee, Tunisia's six-decade-old secularization project has found itself face to face with a robust Islamist movement that sells itself as the actual representative of Tunisia's Muslim society and as the antithesis of the ancien regime's staunch westernization.
The vigor of this movement was well manifested in the elections of the National Constituent Assembly tasked with drafting the constitution. The nation's oldest and most moderate Islamist organization, Ennahda, won 89 out of 217 seats, scoring the highest number of votes and emerging as the key player in post Ben Ali Tunisia. To prove its commitment to consensus-building, it formed an interim coalition government with another two secular parties, which has been dubbed as the Troika.
Egyptian pundits have long looked up to Tunisia, contending that its Islamists and secularists could overcome their ideological differences to move forward with democratization. They usually cite Ennahda's progressive outlook. Yet, the situation in Tunisia today is not necessarily as rosy.
Full report at:
http://www.egyptindependent.com/news/tunisia-s-islamist-secular-divide-gives-new-meaning-battle
-----------
Clinton in Nigeria as Islamist attacks worsen
9 August 2012
US Secretary of State Hillary Clinton meets Nigeria's president Thursday on her African tour as the continent's largest oil producer faces an Islamist insurgency raising deep concern among Western powers.
Clinton is due to arrive Thursday afternoon in Nigeria, Africa's most populous nation and a major supplier of US oil imports, for a brief stopover before travelling to Ghana for the funeral of president John Atta Mills.
Her visit comes as President Goodluck Jonathan is under growing pressure to stop the violence, with Islamist militant group Boko Haram having killed more than 1,400 people in northern and central Nigeria since 2010, according to Human Rights Watch.
Some US lawmakers have been pushing President Barack Obama's administration to label Boko Haram a terrorist organisation, but diplomats have resisted the designation, stressing the group remains domestically focused.
In June, the United States labeled suspected Boko Haram leader Abubakar Shekau and two other Nigerian militants "global terrorists," allowing any US assets they may have to be blocked.
Full report at:
http://www.rnw.nl/africa/bulletin/clinton-nigeria-islamist-attacks-worsen
---------
Mideast Asia
Iran holds Syria conference, pushes for peace talks
Aug 10, 2012
TEHRAN: Iran on Thursday backed moves to start peace talks between the Syrian regime and opposition groups as it hosted a 29-nation conference on the conflict gripping its key ally.
Iranian foreign minister Ali Akbar Salehi told reporters after the meeting that "a major part of the opposition has announced that it is ready to negotiate with the Syrian government in Tehran without any preconditions."
But there was no confirmation from the Syrian opposition, which, like Syria's government, did not attend the Tehran conference.
Salehi offered few other details about the initiative, other than that Iran would coordinate soon with Syria's government on how to move forward.
Thursday's four-hour meeting gathered several countries, notably Russia, China, Cuba, Iraq and Venezuela, that are friendly to Iran. Others included Afghanistan, Algeria, India, Indonesia, Pakistan and Zimbabwe.
Most of the nations that took part were represented by ambassadors residing in Tehran, not foreign ministers.
Countries that Iran has accused of arming the Syrian opposition -- the United States and its European allies, Turkey, Saudi Arabia and Qatar -- were excluded.
The participants expressed "serious concern over the continuation of clashes and violation of human rights in Syria" and rejected any foreign intervention, Salehi said.
He added that the discussions focused on a ceasefire for Syria, humanitarian aid, and preparing the ground for national dialogue.
The meeting agreed to establish a contact group on Syria that would hold another meeting at a time and place to be notified, he said.
Iran offered no change in its stalwart support for the regime of Syrian President Bashar al-Assad.
Instead Salehi indicated that Tehran intended any Syrian national dialogue to focus on furthering political reforms Assad had promised, but which the opposition seeking his ouster has dismissed as insincere and meaningless.
"We want them (the opposition) to sit down with the Syrian government and cooperate so that the implementation of the reforms can be hastened and help the violence stop," Salehi said.
He also warned that Western nations backing Syria's rebels risked stoking "extremism" and repeating "the same error" as in Afghanistan, where US and NATO troops have struggled against a tenacious Taliban enemy.
"It is an error to think that by keeping up pressure that the Syrian regime will change," he said.
http://timesofindia.indiatimes.com/world/middle-east/Iran-holds-Syria-conference-pushes-for-peace-talks/articleshow/15428087.cms
-----------
In Gulf, a missile shield against Iran
Aug 10 2012
Washington : The US and its Arab allies are knitting together a missile defense system across the Persian Gulf to protect cities, oil refineries, pipelines and military bases from an Iranian attack, according to officials and public documents.
It is an enterprise that is meant to send a pointed message to Tehran, and that becomes more urgent as tensions with Iran rise. But it will require partner nations in the gulf to put aside rivalries, share information and coordinate their arsenals of interceptor missiles to create a defensive shield encompassing all the regional allies.
Secretary of State Hillary Rodham Clinton, among the first to raise the need for the missile shield three years ago, sought to spur the gulf allies on during a recent visit to Saudi Arabia. "We can do even more to defend the gulf through cooperation on ballistic missile defense," she said during a session in March of the Gulf Cooperation Council, which includes Bahrain, Kuwait, Oman, Qatar, Saudi Arabia and the UAE. "Sometimes to defend one nation effectively you might need a radar system in a neighboring nation."
That would include deploying radars to increase the range of early warning coverage across the gulf, as well as introducing command, control and communications systems that could exchange that information with missile interceptors whose triggers are held by individual countries.
For that purpose, the Pentagon last year announced a contract for the sale of two advanced missile defense radars to the UAE. And early this year, officials disclosed that a similar high-resolution, X-band missile defense radar would be located in Qatar.
The objective in the gulf is shared by a more widely publicised missile defense shield being installed in Europe: to deter any Iranian attack and, if required, to blunt the effect of missiles launched against allied territory and US forces.
But the similarities end there. The US' European initiatives have been embraced by NATO and are being put into place after formal negotiations with countries that will host early warning radars, ground-based interceptors and Navy warships equipped to track ballistic missiles and shoot them down.
In contrast, the Persian Gulf effort is mostly behind the scenes with billions of dollars in arms sales negotiated bilaterally between the US and nations in the region. Thus, the next challenge is coaxing gulf nations to put aside their rivalries and share early warning radar data, and then integrate the capabilities of their unilateral interceptor systems to extend defenses over the entire region.
If the planned European missile shield is growing from a full engineering blueprint, the approach in the Persian Gulf is more like assembling a jigsaw puzzle. And with the latest of arms sales — to Kuwait, Saudi Arabia, UAE — important pieces are coming together that, when connected, will bring toward fruition a project that US officials have pursued for years.
The US' own forces provide a core capability for ballistic missile defenses in the gulf, in particular the Navy vessels with advanced Aegis missile defense systems.
http://cdn.indianexpress.com/news/in-gulf-a-missile-shield-against-iran/986248/
-----------
Yemeni military official killed in Hadramut bombing
Aug 10 2012
ADEN: A top Yemeni military official was killed late Thursday when a bomb went off in his car in the eastern region of Hadramut, a military source told AFP.
The dean of the military academy, Brigadier General Omar Barashid, died with his bodyguard when the bomb exploded on a street in Mukallah, capital of Hadramut, the source said.
The officer's son, who was driving the vehicle, was wounded.
Police and soldiers in Yemen are frequently the targets of armed attacks attributed by authorities to al Qaeda.
http://dawn.com/2012/08/10/yemeni-military-official-killed-in-hadramut-bombing/
-----------
Iran playing 'nefarious' role in Syria: Rice
Aug 10 2012
UNITED NATIONS: The United States on Thursday accused Iran of playing a "nefarious" role in the Syria conflict, one that strengthens the case for President Bashar al-Assad to be forced out of office.
Susan Rice, US ambassador to the United Nations said the alliance of Iran, Lebanese Hezbollah and Assad's government, a group that boasts of being the Middle East's "an axis of resistance" was "bad for the region."
Rice was speaking to NBC television shortly after Assad met a top Iranian envoy in his war-torn capital this week and as Tehran hosted a conference on the conflict designed to shore up the beleaguered Syrian regime.
"They view this as an axis of resistance along with Hezbollah, so there is no question that Iran is playing a nefarious role, not only in Syria but more broadly in the region, actively supporting the Assad regime," she said.
"One of the reasons why we are quite clear that the end result must be and will be the departure of Assad, is because this alliance, so to speak, is bad not only for Syria, but it is bad for the region and bad for our interests."At its hastily-arranged international conference, Iran appealed to Syria's government and armed opposition to open peace talks.
Foreign Minister Ali Akbar Salehi told diplomats from Russia, Pakistan, Afghanistan, Cuba, Venezuela and other nations that Iran opposes "any foreign interference and military intervention in resolving the Syrian crisis."
Full report at:
http://dawn.com/2012/08/10/iran-playing-nefarious-role-in-syria-rice/
-----------
Tehran conference: Khar opposes coercive measures in Syria
August 10, 2012
ISLAMABAD: With violence engulfing major cities in Syria, including Damascus and Aleppo, Pakistan has voiced its opposition to any "coercive" measures in Syria which could worsen an already volatile situation in the troubled country.
Foreign Minister Hina Rabbani Khar made these remarks at a hurriedly called ministerial level consultative meeting on Syria which opened in the Iranian capital on Thursday. The meeting, held a few days before an extraordinary summit of the Organisation of Islamic Cooperation (OIC) called by Saudi Arabia on Syria, demonstrates the strained relations between the two Middle East powers.
Attended by delegates from 28 countries, the conference is seen as Iran's attempt to garner support against regime change in Syria. The conference is seeking to find a sustainable solution to the burgeoning humanitarian crisis after the United Nations failed to rein in the warring parties.
In her opening statement, Foreign Minister Khar reiterated the need to find mutually agreeable political solution to the impending crisis saying that prolonged instability in Syria would have serious consequences for the Muslim Ummah.
Khar explained why Pakistan abstained from voting for the UN resolution on Syria last month, saying that Pakistan opposed any outside intervention which could worsen an already complex situation.
Full report at:
http://tribune.com.pk/story/420106/tehran-conference-khar-opposes-coercive-measures-in-syria/
-----------
Ramadan Fast Dodgers Indulge in Secret
August 10, 2012
Ramallah, West Bank. Alongside hundreds of millions of Muslims observing the sunrise-to-sundown fast of Ramadan, a minority in the community goes underground each year during the holy month, sneaking sandwiches and cigarettes when no one is looking.
They include Muslims ambivalent about their faith or outright atheists, nicotine addicts too hooked to quit for 15 hours straight or those who simply don't want to deal with a day of being hungry.
The Ramadan dodgers indulge in secret — mostly to avoid offending those who are fasting or to avoid embarrassment. Community pressure is powerful. Many say they don't break the rules openly because they fear the disapproval of wives, neighbors and colleagues, or want to set a good example for their children.
"I tried to fast, but it's pointless. I need to smoke," said Ahmed, a 28-year-old electrician, puffing on a cigarette at midday in the privacy of a windowless office in an industrial park in the West Bank city of Ramallah.
He said he didn't want his fiancee or his mother to know he wasn't fasting. "I'm saving myself a headache," he said, laughing.
Full report at:
http://www.thejakartaglobe.com/home/ramadan-fast-dodgers-indulge-in-secret/537293
-------
Algerian Brahimi seen replacing Annan as Syria envoy
10 August 2012
Veteran Algerian diplomat Lakhdar Brahimi is expected to replace Kofi Annan as the UN-Arab League joint special envoy for Syria barring a last-minute change, diplomats said on Thursday.
The former Algerian foreign minister, who has a long history as a diplomatic troubleshooter, will have his work cut out for him in Syria, where President Bashar Al Assad is using his security forces to try to crush a 17-month-old pro-democracy rebellion.
Annan, a former UN secretary-general and Nobel Peace Prize laureate, said last week he would step down as the special envoy because he was unable to do his job with the UN Security Council hopelessly deadlocked over Syria.
Brahimi's appointment could be announced as early as next week but the diplomats, who spoke on condition of anonymity, said there are sometimes last-minute changes if a key government has concerns about the choice or the candidate has misgivings.
Brahimi, 78, has served as a UN special envoy in a series of challenging circumstances, including in Iraq after the US invasion that toppled Saddam Hussein, in Afghanistan both before and after the end of Taliban rule and in South Africa as it emerged from the apartheid era.
Syria, however, may present an unusually vexing assignment, in part because international action to try to end the violence has been stymied by the disagreements between the five veto-holding permanent members of the UN Security Council.
While the council united in April to approve the deployment of 300 monitors to Syria to observe a failed ceasefire as part of Annan's peace plan, Russia and China vetoed three other resolutions that criticized Syria and threatened sanctions against Damascus.
In announcing his resignation, Annan explicitly blamed "finger-pointing and name-calling" at the Security Council for his decision to quit, but suggested his successor may have better luck.
Full report at:
http://www.khaleejtimes.com/kt-article-display-
-------
Israel media talk of imminent Iran war push
Aug 10, 2012
By Dan Williams
JERUSALEM (Reuters) - Israel's prime minister and defence minister would like to attack Iran's nuclear sites before the U.S. election in November but lack crucial support within their cabinet and military, an Israeli newspaper said on Friday.
The front-page report in the biggest-selling daily Yedioth Ahronoth came amid mounting speculation - fuelled by media leaks from both the government and its detractors at home and abroad - that war with Iran could be imminent even though it might rupture the bedrock ties between Israel and the United States.
"Were it up to Benjamin Netanyahu and Ehud Barak, an Israeli military strike on the nuclear facilities in Iran would take place in the coming autumn months, before the November election in the United States," Yedioth said in the article by its two senior commentators, which appeared to draw on discussions with the defence minister but included no direct quotes.
Full report at:
http://af.reuters.com/article/worldNews/idAFBRE8790ID20120810
-------
Europe
British executive facing jail in Dubai after calling Prophet Mohammad a 'complete paedophile' in text message to Muslim colleague
9 August 2012
A high-flying British executive accused of calling the Prophet Mohammad a 'complete paedophile' is facing up to three years in a Dubai jail.
Deep Marwaha allegedly texted a Muslim colleague with a volley of abuse after he performed a holy ritual while the pair were working in Saudi Arabia.
The 35-year-old, a manager at UK-based conference organising firm Informa, was said to have texted fellow Brit Khalid Shafique with the words: 'F*** you, f*** your Islam and f*** your prophet. Your Prophet Mohammad is a complete paedophile. Now show what you can do. I know lots of sheikhs.'
Fellow Informa colleague Mr Shafique, 34, complained to police that Marwaha was angry when he went to perform Umrah, a form of pilgrimage in Mecca, when their business meetings were over for the day.
He resigned from the company and claimed he received the insulting text message two days later at 1.15am.
But Marwaha, who went to £15,000-a-year Latymer Upper School in west London before studying at Middlesex University, denied sending the abuse and said he was sleeping when the messages were sent.
His lawyer persuaded judge Zakariah Abdulaziz to postpone his trial so he could conduct a technical experiment to show how text messages could have been sent from the defendant's phone remotely by someone else.
Both Marwaha and Mr Shafique, who are British but live in Dubai, are frequent visitors to Saudi Arabia.
Full report at:
http://www.dailymail.co.uk/news/article-2186194/British-executive-facing-jail-Dubai-
-----------
Radical Islam raises tension in Russia's Tatarstan
By Olga Ivshina
Aug 10 2012
There are signs that radical Islam has taken root in Russia's prosperous republic of Tatarstan, east of Moscow, after attacks which left one Muslim leader dead and another severely injured last month.
Russian police have detained seven suspects, officials say. But local security sources told the BBC that more than 100 people had been questioned and according to some Tatar Muslim groups, the number of detainees is as high as 500.
A former pro-Kremlin Muslim leader, Valiulla Yakupov, was shot dead in the republican capital Kazan on 19 July. Later that day the Mufti of Tatarstan, Ildus Fayzov, was seriously wounded when his car was blown up in the city.
One of those arrested ran a body called Idel-Khadzh, organising Hajj pilgrimages to Mecca. He was allegedly in dispute with the mufti.
"The explosions and the gunfire that just rang out are only the beginning," a well-known theologian, Mufti Farid Salman, told the BBC.
He thinks there are already more than 3,000 radical Islamists in Tatarstan, many of them opposed to peaceful dialogue.
Radical Muslim internet forums have already called for the murder of people who frequently and openly criticise the spread of Wahhabism in Russia. Valiulla Yakupov's name had appeared on one of their lists.
Full report at:
http://www.bbc.co.uk/news/world-europe-19179399
-----------
Britain to give £5 million to Syria rebels
Aug 10, 2012
LONDON: Britain will give Syrian rebels a further £5 million to buy communications equipment and medical supplies to use in their fight against President Bashar al-Assad, the foreign office said on Friday.
Foreign secretary William Hague was due to announce the aid alongside an increase in contacts with the opposition, especially the Free Syrian Army, but Britain will still not supply weapons.
A foreign office spokesman told AFP that Hague was expected to announce the extra £5 million ($7.82 million, 6.3 million euros) at a press conference later Friday.
Hague said in an article in The Times newspaper that Britain was stepping up its non-lethal aid because the "people of Syria cannot wait while the wheels of diplomacy turn".
"This week, on my instructions, my ambassador-level representative to the Syrian opposition has contacted and is meeting political elements of the Free Syria Army," he said.
Hague said Britain's contacts with the often fractious Syrian rebel movement were aimed at helping them unite against Assad.
"This is not taking sides in a civil war. The risk of total disorder and a power vacuum is so great that we must build relationships now with those who may govern Syria in the future," he said.
Hague said Britain would give the rebels a "tough message that they must observe human rights standards, whatever horrors are perpetrated by the regime".
The extra equipment supplied by Britain would include paramedic kits, water purification equipment and portable power generators, Hague said.
Activists say the conflict in Syria has claimed more than 21,000 lives.
http://timesofindia.indiatimes.com/india/Britain-to-give-5-million-to-Syria-rebels/articleshow/15433531.cms
-----------
URL: https://newageislam.com/islamic-world-news/by-new-age-islam-news-bureau/indonesian-ulema-council-wants-a-non-muslim-candidate-for-2014/d/8221