New Age Islam News Bureau
18 Sept 2012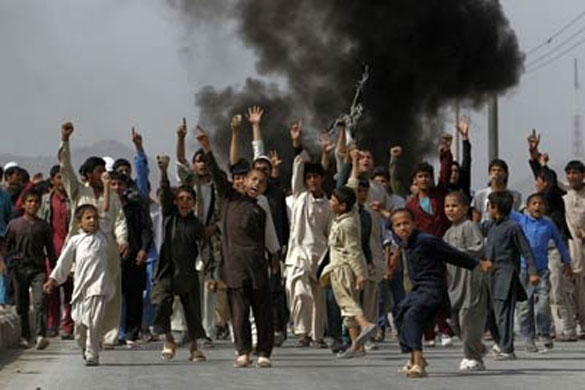 India
• Hindus, Muslims swap shrine gifts in Assam
• Delhi Police exposed: Jamia Teachers' report reveals framing of several innocents
• Film Provided Kashmiris a Fresh Vent To Express Their Resentment against the US
• Ambala to host Indo-Pak Mushaira after 14 years
• Six riots in six months in Uttar Pradesh
• The sordid saga of a 'nationalist' branded terrorist
• Intolerance spreading in India: Salman Rushdie
• Mumbai terror attack convict Ajmal Kasab petitions President for mercy
• Assam deported only 134 Bangladeshi illegal immigrants in past 2 yrs
• Curfew relaxed in violence-hit Ghaziabad area
• Soz pitches for Sarpanches honorarium in Delhi
• US consulate in Chennai closed till Wednesday
• Job snatched from a blind beggar's son
• The 'foldable' Taj Mahal of Bhopal
• UP govt moves court to withdraw rioting case against Mohammad Azam Khan
• Pak targets five Indian posts in Poonch, violates ceasefire
North America
• US diplomats in Beirut burning classified material
• California religious leaders condemn anti-Islam video
• Anti-Muslim video – one more reason for independent scholarship on the Quran
• Muslims in Virginia addressing fears of Islamophobia
• 'US will think twice before supporting Islamic radicals'
• Community stands united at Harrisonburg mosque
• Murfreesboro mosque clash is exception in TN
• U.S. Warns Judge's Ruling Impedes Its Detention Powers
• U.S. aid to Egypt stalled
• FBI joint local authorities in investigating mosque graffiti in Virginia
Arab World
• Bahrain: 7 Officers Charged Over Claims of Abuse
• Egypt cleric issues fatwa against 'Innocence of Muslims' cast, crew
• Hezbollah leads massive anti-US protest in Lebanon
• Syria stuck in 'grim spiral of violence', UN envoy says
• Egypt to emulate India's election management practices
• 36 runaway maids caught from house
• Assad deeds 'crimes against humanity'
• OIC: It was deliberate incitement
• Retail shops going green ahead of Saudi National Day
• 299,000 Saudis join civil service
• Egypt: 142 to be charged for US Embassy breach
• Islam, education and the principles of jihad
Pakistan
• Christian community demands to UN to tag blasphemy as terrorism
• Pakistan requests Interpol to criminalise 'sacrilegious material'
• Torrential rains, floods kill 262 in Pakistan: NDMA
• Shia Ulema Council to hold nationwide protest against the anti-Islam American movie
• Pakistan's blasphemy law 'vaguely formulated and arbitrarily enforced'
• Pak PM paves way for reopening of graft cases against President Zardari
• Anti-Muslim film: Pakistan blocks YouTube as two killed in violence
• Bill seeking removal of Pak's major non-NATOally status moved
• Enforced disappearances: 40% of K-P's missing men back home, UN panel told
• Anti-Islam film: Desperate govt moves to quell simmering protests
• QUETTA: Lawyers, students protest against blasphemous film
• Christians are with Muslims against blasphemous film'
South Asia
• China against vilifying Islam, calls for respect between religions
• Hezb-i-Islami claims Kabul attack to avenge anti-Islam film
• Post-2014: Taliban cadre warns of civil war in Afghanistan
• Muslim protesters rage at United States in Asia
• Afghan Militants Say Deadly Blast Was Revenge for Film
• Panetta: US Concerned About Afghan Insider Attacks
• Afghan soldier wounds foreign contractors; mob tries to storm U.S. base in Kabul
• Prince Harry moved to safety in Afghan attack: minister
• NATO announces arrest over major base attack
• NATO restricts joint operations with Afghans: officials
• Bangladesh blocks YouTube over anti-Islamic video
Southeast Asia
• Indonesian president urges UN to issue rules on religions defamation
• Legal Scholars Back Shiite Cleric Jailed for Blasphemy
• Densus 88 Arrest Two Terrorism Suspects Outside Tangerang Mosque
• Malaysia culture minister: "YouTube insensitive to anguish of Muslims"
• The Netherlands: Dutch Muslim protests at US anti Islam film pass off peacefully
• At 15, Bali Boy Claims Record as World 'Grand Master of Memory'
• Death Penalty for Corruption Convicts Gains Traction in Indonesia
• Chaos at FUI protest over anti-Islam movie
Europe
• UN demands appropriate action as Syria abuses soar
• Salman Rushdie ups ante, says there's need for blasphemy
• 'Hate preacher' of Hizb ut-Tahrir hits back at Tony Abbott
• Germany mulls ban on screening of anti-Islam film
• Russia prepares to outlaw hate movie
• Rushdie releases memoirs as anti-Islam film protests rage
• U.N. Nuclear Watchdog Ready for Talks with Iran in 'Near Future'
• Paris Prosecutors Open Inquiry into Protest at U.S. Embassy
• Birmingham Islamic Society condemns embassy attacks
Australia
• Muslim leaders in Australia to call for peace at this Friday's sermons
• Singer Dan Sultan says Australia is 'racist'
Mideast Asia
• Financial Strains Said to Threaten Stability of Palestinian Authority
• Pro-Hamas Bloc Wins Control of UN Agency Union
• Israeli attack on Iran, stupidest idea: Former Mossad chief
• Iran writes to UN over anti-Islam film
• Iran-Turkey strategic ties can contribute to Islamic Awakening: Jalili
• Enemies' chagrin over Islamic Awakening behind blasphemous film: Iran's Supreme Leader
• Palestine: Five injured by Israeli army fire near Ramallah
• Turkey: Islamist salvation makes way to prime time with TV series
• Israeli Diplomat Is Man in Middle
• Iranian Official Says Blasts Targeted Nuclear Sites
Africa
• Nigerian military says alleged Boko Haram spokesman killed
• South Africa Says Citizens Killed in Kabul Blast
• Libyan witness: US envoy was still breathing when found
• Qaeda in North Africa Urges Killing of More U.S. Envoys
Compiled by New Age Islam News Bureau
Photo: Afghan protesters shout anti-US slogans during a rally in Kabul
URL: https://www.newageislam.com/islamic-world-news/by-new-age-islam-news-bureau/hindus,-muslims-swap-shrine-gifts-in-assam/d/8709
-----------
India
Hindus, Muslims swap shrine gifts in Assam
Rahul Karmakar
September 18, 2012
A battle for space has pitched man against man in Assam: Migrant Muslims versus the rest of the state. But in a tiny corner of Sivasagar district, a group of Hindus and Muslims has taken a small step towards amity by making space for each other's god. On Sunday, the Hindus in Mornoikinar — 360km east of Guwahati — donated an 800 sq ft plot for a mosque. In adjoining Amguri, Muslims reciprocated by taking up a project to reconstruct a 73-year-old Vaishnavite prayer hall for their neighbours in Raang Chalihagaon, a hamlet of 12 Hindu families.
The gesture is all the more remarkable, since over the last fortnight, vandals destroyed a Kali temple in Dhubri town and damaged 20-odd idols of Vishwakarma in Bongaigaon district's Jogighopa.
The crumbling Namghar, a community prayer hall conceptualised by 15th century saint-reformer Srimanta Sankardeva, was established in 1939. On Sunday, Muslim leaders of the village, led by cleric Abidur Rahman, laid its foundation stone.
"This is another example of communal harmony typical of Assam since the medieval period," said a local, Ashok Dutta, who retired recently from the post of a joint director of the health department.
http://www.hindustantimes.com/India-news/Guwahati/Hindus-Muslims-swap-shrine-gifts-in-Assam/Article1-931613.aspx
-----------
Delhi Police underbelly exposed: Jamia Teachers' report reveals framing of several innocents
GAURAV VIVEK BHATNAGAR
September 18, 2012
Jamia Teachers' report reveals framing of several innocents
The Jamia Teachers' Solidarity Association has in its latest report titled "Framed, Damned, Acquitted: Dossiers of a Very Special Cell" chronicled 16 cases in which most of those arrested were accused of being operatives and agents of various terrorist organisations, only to be acquitted later of all charges by the courts. In some of these cases the courts even held the police officers responsible for fabricating evidence to frame the accused.
The JTSA, which had earlier released two reports, "Encounter at Batla House: Unanswered Questions (2009)" and "The Case that Never Was: The 'SIMI' Trial of Jaipur (2012)", has in its third report, an advance copy of which was made available to The Hindu, noted how "the acquittals were not simply for want of evidence".
The report charges that "what judgment after judgment comments on is the manner in which the so-called evidence provided by the police and the prosecution was tampered with and fabricated, how story after story as presented by the prosecution was unreliable, incredulous and concocted".
It said while "fabrication of evidence is a serious offence under the Indian Penal Code", there were "instances where the courts clearly indict the Special Cell for framing innocents; reprimand them for violating due process and fabricating evidence; order a CBI probe against the Special Cell, as well as direct the filing of FIR and the initiation of departmental enquiries against them".
In the Dhaula Kuan fake encounter case, the report said, the court was of the opinion that "there cannot be any more serious or grave crime than a police officer framing an innocent citizen in a false criminal case. Such tendency in the police officers should not be viewed or dealt with lightly but needs to be curbed with a stern hand".
In another case, while acquitting an alleged terrorist of the People's Liberation Army in Manipur, the court concluded that "the police got him targeted to become a victim of this crime".
Similarly, the report delves into how the CBI, while investigating the arrest of alleged operatives of Al Badr by the Special Cell, had sought "legal action against Sub-Inspectors Vinay Tyagi, Subhash Vats and Ravinder Tyagi" for fabrication of evidence.
As for action against the named police personnel, the report said: "…not a single officer in any of the operations described here has suffered criminal proceedings for the framing of innocents".
On the contrary, it noted, adverse observations, strictures and censures from the courts did not also come in the way of "promotions, gallantry awards and President's medals" to such police personnel.
"Even after the National Human Rights Commission indicted ACP Sanjeev Yadav for staging an encounter in Sonia Vihar in 2006, he continues to head probes as crucial and sensitive as the attack on the Israeli diplomat in Delhi," the report pointed out.
The report also questioned the manner in which the low rate of conviction in such cases – a mere 30 per cent – was attributed to "inefficiency, to bad investigating skills or poor infrastructure" and held that a closer look reveals "an uncanny, almost scripted pattern in the cases".
As for the men who were acquitted, the report notes that while "they all unjustly suffered the most harrowing of experiences for varying lengths of time, their businesses were destroyed, family members underwent humiliation and trauma of being associated with 'terrorists', children had to abandon their studies and the normality of everyday life, parents passed away in grief and despair, no apology, no rehabilitation has come their way".
These cases, the report insists, are only the "proverbial tip of the ice berg, and simply indicative of the extent of the malaise affecting our policing and criminal justice system".
http://www.thehindu.com/news/cities/Delhi/article3910004.ece
--------
Film Provided Kashmiris a Fresh Vent To Express Their Resentment against the US
Why Kashmiri Muslims Blame America for Anti-Muslim Film
By BETWA SHARMA
2012/09/18
SRINAGAR-- Three young men picked a shady, grassy spot, out of earshot from the crowds bustling about the University of Kashmir campus, to talk on Saturday afternoon.
A day earlier, they had helped organize an on-campus protest against the anti-Islam video that has sparked viole
nt protests in several Muslim countries. The students asked that only their first names be used because they feared punishment by the university. "We don't want to get caught," said Faraz, 21.
For these students, the film has provided a fresh vent to express their deep-rooted resentment against the United States. "We see it as one more deliberate insult toward the Muslim world after invading our lands for 10 years," said Tanveer, 24, as his friends nodded.
The "Innocence of Muslims," an amateur trailer for a film that does not appear to exist, depicts the Prophet Muhammad as a womanizer, child molester and crook. The trailer led to international protests after it was uploaded on YouTube and translated into Arabic. Kashmiri Muslims described the video as "unbearable," and thousands flooded the streets of Srinagar to protest against the film on Friday.
The demonstrations have broken a relatively peaceful period in Kashmir, which has seen a two-decade-long conflict between militants and the Indian Army. Violent protests, which wracked Srinagar a few years ago, have subsided. Tourists, especially Indians, are flooding in. The valley is divided between those who pray for stability and others who describe the calm as a temporary illusion imposed by the military boot.
Some believe that anti-Americanism is on the rise in Kashmir because of the United States' continued presence in Afghanistan and countries in the Middle East, and a feeling that right-wing Christian and Jewish groups have outsize influence in the United States.
Nakoula Basseley Nakoula, a resident of California, has been identified as the one of the people behind the film, although most Kashmiris interviewed referred to him as "Sam Bacile" - the name used to upload the film to You Tube.
The students are supporters of Syed Ali Shah Geelani, a hard-line Kashmiri separatist, who said in an interview that he blames the United States for the film because it was made on American soil. The 82-year-old leader, who is often placed under house arrest at his home in Srinagar, also criticized Britain, Israel and India, along with the United States, for being "involved" in acts that hurt Muslim sentiments.
"The strike is also against their attitude, against their policies and against their actions against the Muslim Ummah (community) and against Islam," he said. "We can give our life, but we cannot tolerate anything which will be against the respect of our lovely Prophet."
Last week, four Americans, including Ambassador J. Christopher Stevens, were killed when Islamist militants attacked the American diplomatic mission in Benghazi, Libya, over the film. Protests spread over the weekend to about 20 countries, and on Monday to Afghanistan.
Kashmiri leaders have condemned the killings. "We are not liking these things," said Mr. Geelani. "Innocent people who are not directly involved in any film or any injuries toward the Muslim community should not be targeted."
Still, some young Kashmiris found it logical to blame the actions of the filmmaker on the United States. "After all, Osama bin Laden's 9/11 was blamed on the entire Muslim world," said Junaid, 23, the third student. "Sam Bacile is one American, but then we can take it as all of America," he said.
Arguments in favor of free speech do not carry much weight here. Junaid pointed to India, where the cartoonist Aseem Trivedi was recently slapped with sedition charges for insulting the national emblem in a cartoon about corruption. "When this arrest can be done for nationalism, then why not religion?" he asked. "To us, religion is the most important because the whole Muslim nation is one."
Tanveer added that he doesn't care if the West makes fun of Jesus Christ in books or movies. "Their society may now be secular, but we have retained our allegiance to God," he said. "Why are they imposing their ways on us?"
Young people in Kashmir are being influenced by Wahhabism, a conservative form of Islam dominant in Saudi Arabia, said Muhammad Shafi Pandit, the first Kashmiri Muslim to join the Indian Administrative Service in 1969. Kashmir has seen a perceptible rise of Wahhabism, he said, and more young Kashmiris are taking hard-line positions. "Their ways are not part of Kashmir," he said. "Our pluralistic ethos should not be lost."
For separatist groups, the film has also triggered anger against the United States because it has not pressured India for Kashmir's independence. They recalled that the United States supported Kashmir's cause for self-determination in United Nations Security Council during the 1950s and 1960s. Since the turn of this century, though, the United States and the Indian government have grown closer, they say, as have India and Israel.
Gul Mohammad Wani, a well-known political science professor at the University of Kashmir, sees the film as a harbinger of future troubles. It is one example of a "right-wing deviation of United States foreign policy," which he said is reflected in statements made by the Republican presidential candidate Mitt Romney, who called Jerusalem the "capital of Israel" while visiting the city in July. "This is so wrong at a time when it's in the United States' interest to engage with the Muslim world," he said.
The video, however, has produced a stronger reaction among young people than among their leaders. For instance, Mr. Geelani's supporters expressed surprise that he hasn't called for stronger action.
"We have not said, enough is enough," the elderly separatist leader told India Ink. "We do not give any strike, any program without necessity."
Jammu and Kashmir Mutahida Ulmayee Aehlay Sunnah, an umbrella group for several Muslim organizations, has appealed to all Kashmiris for a complete shutdown on Tuesday.
During the press conference on Sunday, its leaders spoke more about the United States- Israeli nexus than about the film. They shared plans to boycott American and Israeli goods in Kashmir as well. "The American and Israeli machinery is working against Muslims," said Mirwaiz Qazi Ahmed Yasir, a spokesman for the group.
In an interview, Kashmir's top religious leader, Grand Mufti Bashiruddin Ahmad, mentioned the possibility of issuing a fatwa of death against the filmmaker after a full investigation. "It could be of death or it could be some other punishment," Mr. Ahmad said. "If a person has insulted the Prophet Mohammed and if he remains adamant on the disrespect, then the punishment is death."
But not all Kashmiris are preoccupied by these religious matters. Hilal, a young driver who declined to give his last name, was too busy driving tourists around to have participated in the protests. "The number of people who visited this year is unbelievable," he said.
The relative peace over the past few years has been a huge boost for the hospitality business in the valley. After the hotels filled up in the summer, people offered makeshift accommodation to the tourists streaming in.
Last week, Mr. Ahmad called for American tourists to leave. The religious leader, whose order found little support with other Kashmiri leaders, now insists that he only asked Americans to leave for their own safety. "I welcome all tourists, any tourist. Even Israelis come here," he said. "I can give a statement against them to not allow them here, but I haven't done it because I am not an extremist."
http://india.blogs.nytimes.com/2012/09/17/why-we-blame-america-for-anti-muslim-film/?ref=asia
-----------
Ambala to host Indo-Pak mushiara after 14 years
Sep 18, 2012
AMBALA : 14 years after it was discontinued due to estrange relations between India and Pakistan, Ambala will once again play host to an Indo-Pak mushiara. Though the event has been resumed, only two poets from Pakistan have been able to get visa clearance this time to join the event scheduled to be held in the auditorium of the local SD College on September 23.
The event holds great importance for the city as it is home to a sizeable population of people who migrated from Pakistan in 1947. "The first mushiara was hosted in 1977 and after that it was held every year till 1998 when Pakistan put visa restrictions," said Shakti Rani Sharma, the trustee of Haryana Institute of Fine arts (HIFA), on Monday.
Full report at:
http://timesofindia.indiatimes.com/india/Ambala-to-host-Indo-Pak-mushiara-after-14-years/articleshow/16443256.cms
-----------
Six riots in six months in Uttar Pradesh
Sabyasachi Dasgupta
September 18, 2012
Lucknow: When Akhilesh Yadav took charge as the Chief Minister of Uttar Pradesh six months ago, he promised to act tough against communal forces in the state. In these six months, the state saw six major riots. In Bareilly district, some localities were under curfew for days. In Ghaziabad, the most recent, six people died in police firing after a mob turned violent hearing rumours about a copy of the Quran being desecrated.
So far, 14 people have died in the violence across the state. Many more have been injured and property destroyed by angry mobs.
Most of the riots have taken place in the last three and a half months. In June, violence broke out in Kosi Kalan near Mathura over a place of worship. Four people died and several vehicles were destroyed. In Partapgarh, houses of Muslims were burnt down after a Dalit girl was raped and murdered. Local villagers began rioting to protest police inaction. Bareilly district saw rioting twice in two months, both times over communal issues and curfew that extended for over a month. And the latest was in capital Lucknow and Allahabad, this time protests against the "atrocities" against Muslims in Assam and Myanmar.
Full report at:
http://www.ndtv.com/article/india/six-riots-in-akhilesh-s-six-months-as-chief-minister-in-uttar-pradesh-268721
-----------
The sordid saga of a 'nationalist' branded terrorist
GAURAV VIVEK BHATNAGAR
September 18, 2012
"Jai Hind!" rings out the voice of Abdul Majeed Bhat as a call is made to him in Srinagar from New Delhi. He had spent nearly five and a half years in the Tihar Central Jail here in connection with a case of terrorism, but while there is a sense of injustice being done, the national fervour and patriotism has not withered away.
"My father, Wali Mohammad Bhat, was a Congress block president and helped the government catch several kabalis [rebels]. Back home at Wanpora in Pulwama then, people used to gather outside our house and pronounce "tarki mawalat" or social boycott on us by declaring us Indian agents," says Mr. Bhat.
Full report at:
http://www.thehindu.com/news/states/other-states/article3908312.ece
-----------
Intolerance spreading in India: Salman Rushdie
Dipankar De Sarkar
September 18, 2012
Writer Salman Rushdie, whose new book charts his years in hiding, admits that his famous battle for free speech notched up only a partial victory because intolerance has spread - particularly in the country of his birth, India.
The global row over his 1988 novel The Satanic Verses
led to a limited victory for the right to free speech "if you look at the kind of narrow story of my own circumstances," said Rushdie, who is in London promoting the new book Joseph Anton, which hits the bookstores on Tuesday.
"There was an attempt to suppress a book which was not suppressed, which is still freely available in around 50 languages, and there was an attempt to suppress an author who is also not suppressed."
Full report at:
http://www.hindustantimes.com/world-news/Europe/Intolerance-spreading-in-India-Salman-Rushdie/Article1-931618.aspx
-----------
Mumbai terror attack convict Ajmal Kasab petitions President for mercy
Sep 18, 2012
MUMBAI: Mumbai terror attack convict Mohammed Ajmal Amir Kasab has moved a mercy petition before the President Pranab Mukherjee, almost a fortnight after the Supreme Court upheld his death sentence in the 26/11 case.
"We have sent a mercy petition to the President filed by Kasab," a senior official at the high-security Arthur Road Jail said.
However, the officer did not reveal as to when he had filed the petition.
Kasab had been given a certified copy of the Supreme Court verdict confirming his death sentence last week.
Full report at:
http://timesofindia.indiatimes.com/india/Mumbai-terror-attack-convict-Ajmal-Kasab-petitions-President-for-mercy/articleshow/16447481.cms
-----------
Assam deported only 134 Bangladeshi illegal immigrants in past 2 yrs
Sep 18, 2012
NEW DELHI: Illegal Bangladeshi immigrants seem to having a free run in Assam. The border state has deported only 134 illegal immigrants to Bangladesh in the past two years, even though the Tribunals, tasked with detecting the foreigners, had found as many as 5,652 offenders between 2010 and 2012.
Assam government has recently informed the Union home ministry that 36 existing Tribunals had declared 4,787 as "illegal immigrants" who came to the state on or after March 25, 1971.
Besides, 865 people — who were part of pre-1971 stream of illegal migration — were also declared "foreigners" by the Tribunals under the Foreigners Act, 1946. But, nearly 97% of them went missing after being declared "illegal migrants".
Full report at:
http://timesofindia.indiatimes.com/india/Assam-deported-only-134-Bangladeshi-illegal-immigrants-in-past-2-yrs/articleshow/16441711.cms
-----------
Curfew relaxed in violence-hit Ghaziabad area
Sep 17, 2012
GHAZIABAD: Curfew was relaxed for five hours Monday in Ghaziabad's Masuri area where six people were killed in police firing three days ago and the kin of two victims sought action against an official. No one has been arrested.
"During the relaxation of curfew no untoward incident was reported from 11 am to 4 pm," said District Magistrate Aprana Upadhyay.
Masuri police station in-charge PK Singh, a senior sub-inspector and a sub-inspector with the local intelligence unit (LIU) have been suspended, while suspension of circle officer-LIU has been recommended to the state government, she said.
Full report at:
http://timesofindia.indiatimes.com/india/Curfew-relaxed-in-violence-hit-Ghaziabad-area/articleshow/16439394.cms
-----------
Soz pitches for sarpanches honorarium in Delhi
September 17, 2012
Jammu and Kashmir (J&K) Pradesh Congress Committee president Saifuddin Soz on Monday said he discussed measures with union home minister Sushil Kumar Shinde to strengthen panchayats in Kashmir.
"We discussed about the political situation in Jammu and Kashmir. These subjects
included measures that are needed to strengthen sarpanches and panches in the state," said Soz in a statement.
Full report at:
http://www.hindustantimes.com/India-news/Srinagar/Soz-pitches-for-sarpanches-honorarium-in-Delhi/Article1-931573.aspx
-----------
US consulate in Chennai closed till Wednesday
September 17, 2012
The US consulate in Chennai has been closed for three days starting Monday following the protests outside its premises on the US-made anti-Islam film, it was announced.
"The US Consulate in Chennai will be closed Monday-Wednesday, Sep 17-19, 2012. Please check this website for
Full report at:
http://www.hindustantimes.com/India-news/Chennai/US-consulate-in-Chennai-closed-till-Wednesday/Article1-931537.aspx
-----------
Job snatched from a blind beggar's son
By Naseer Ganai in Srinagar
September 18, 2012
ABLIND beggar's efforts to educate his six children in the hope of respectably earning a livelihood came a cropper as nepotism prevented his son from getting a teacher's job in Pir Panjal's Rajouri district.
Tufail Hussain had since childhood seen his father, Mohammad Fakir, sustain the family through begging.
His father would ask for alms at the main bridge of Gujjar Mandi area in Rajouri town, some 15 km from his village Bhundlata.
However, Mohammad Fakir made it a point to educate all his children, including two daughters.
Full report at: Mail Today
-----------
The 'foldable' Taj Mahal of Bhopal
By Anup Dutta in Bhopal
September 18, 2012
IT IS ONE of the wonders of the world. It has stood the test of time and every year attracts thousands of visitors. More pictures are perhaps clicked of the monument of love than anything else in this country. For centuries, the Taj Mahal has continued to dazzle visitors and now a miniature Taj is promising a similar effect.
A Bhopal- based company is coming up with a miniature Taj, which the firm's owner feels will be quite a draw in itself. The foldable Taj, which will be 100 times smaller than the original one, will be made of brass, copper, silver, gold and diamond, Saiyed Hanif, director of Star Gems, a diamond jewellery designing and manufacturing company, said.
"In the coming two months, our Taj Mahal will be in public domain. If Shah Jahan's Taj Mahal attracts four- million visitors a year, I think our foldable masterpiece will become the talking point among art- lovers, architects and jewellers," Hanif said.
Full report at: Mail Today
-----------
UP govt moves court to withdraw rioting case against Mohammad Azam Khan
Sep 17 2012
Lucknow: The state government has moved an application in a Moradabad court to withdraw a case lodged against Urban Development Minister Mohammad Azam Khan, Minister of State for Textile and Sericulture Mehboob Ali and others in 2008.
The case was lodged after Azam Khan and others blocked the Moradabad-Haridwar highway for over four hours and held a demonstration outside Chhajlet police station in January 2008. The ministers allegedly led a mob of 1,000 persons, according to the then Station Officer Asif Ali Khan. After investigation, the police filed the chargesheet on May 29, 2008.
Moradabad's Special Prosecuting Officer A K Kaushik said the case was pending in the court of Additional Chief Judicial Magistrate. He confirmed that an application to withdraw the case had been filed in court.
Full report at:
http://www.indianexpress.com/news/up-govt-moves-court-to-withdraw-rioting-case-against-mohammad-azam-khan/1003615/
-----------
Pak targets five Indian posts in Poonch, violates ceasefire
Sep 18 2012
Jammu : Violating the ceasefire yet again, Pakistan troops targetted five Indian posts with rockets and heavy machine gun fire along the LoC in Poonch district of Jammu and Kashmir.
"Pakistani troops fired Rocket Projectile grenades and opened indiscriminate small and heavy weaponry firing on Indian posts in Krishangati forward areas along LoC late last night," PRO, Defence (Jammu) S N Acharya said on Tuesday.
The Pakistani troops fired 1,800 rounds from light and heavy machine guns besides other weapons from 10.15 pm, he said, adding the firing continued till 11.15 pm.
Pakistani troops from their posts of Daku, Roza, Khair and Battal fired on five Indian Posts of Dogra, Chajamun, Gorda, Kripan and Kranti.
Full report at:
http://www.indianexpress.com/news/pak-targets-five-indian-posts-in-poonch-violates-ceasefire/1004310/
-----------
North America
US diplomats in Beirut burning classified material
Sep 17, 2012
WASHINGTON: Diplomats at the US Embassy in Beirut have started to destroy classified material as a security precaution amid anti-American protests in Lebanon and elsewhere in the Middle East and north Africa.
A state department status report obtained Monday by Associated Press said the Beirut embassy had "reviewed its emergency procedures and is beginning to destroy classified holdings." It also said that local Lebanese employees were sent home early due to protests by the militant Shiite group Hezbollah over an anti-Muslim film produced in the US
In Washington, a state department official said there was no imminent threat to the heavily fortified Beirut embassy, which is about an hour away from where the nearest demonstration is planned.
The official, who spoke on condition of anonymity because he was not authorized to discuss security procedures, said the decision to "reduce classified holdings" was routine and made by embassy staff.
Protesters have breached the walls or compounds of several US diplomatic missions, including the consulate in Benghazi, Libya where the ambassador and three other Americans were killed, Cairo and Tunis since last Tuesday.
Full report at:
http://timesofindia.indiatimes.com/world/middle-east/US-diplomats-in-Beirut-burning-classified-material/articleshow/16439144.cms
--------
California religious leaders condemn anti-Islam video
18-09-2012
Religious leaders in southern California are calling for an end to the religious defamation caused by an anti-Islam video produced near Los Angeles.
Federal authorities have identified Nakoula Basselly Nakoula as the key figure behind the film.
Authorities say Nakoula used the false name Sam Bacile when he posted the video on YouTube back in July.
Nakoula lives in this house located about 30 miles south of Los Angeles. This past weekend, Nakoula was taken by authorities to a local jail for questioning. Now, authorities say Nakoula has left the area and will not be returning home.
Nakoula is one of the estimated 14-thousand Coptic Christians in southern California. Bishop Serapion is with the Los Angeles Diocese of the Coptic Orthodox Church. Bishop Serapion says he condemns the video and the violence it has sparked.
Full report at:
http://www.presstv.com/detail/2012/09/18/262186/california-leaders-anti-islam-video/
-----------
Anti-Muslim video – one more reason for independent scholarship on the Quran
By Gabriel Said Reynolds and Emran El-Badawi / September 14, 2012
Interest in the Quran has risen dramatically. Yet no independent association for Quranic study exists in the US – nothing like the Society of Biblical Literature, for instance. That will soon change, and as violent protests over an anti-Muslim video show, the need for scholarly insight is great.
In 1726, when the Ottoman Empire promulgated a fatwa – a legal declaration – permitting the printing of books, the Quran was excluded. Textbooks, novels, and military manuals soon began to be printed in the Middle East, but the Quran continued to be copied by hand. The reason was religious: Pious scholars argued that printing would be a sort of disrespect to the Quran, a text which – according to traditional Islamic teaching – is the very word of God brought down from heaven by the angel Gabriel.
Full report at:
http://www.csmonitor.com/Commentary/Opinion/2012/0914/Anti-Muslim-video-one-more-reason-for-independent-scholarship-on-the-Quran/(page)/2
-----------
Muslims in Virginia addressing fears of Islamophobia ?
18-09-2012
Members of the Muslim community in the state of Virginia react to a neighborhood mosque targeted by vandals.
Members of the Dar-El-Hijrah mosque found more than two dozen cars smashed in with a blunt object.
Authorities say they cannot be positive if the acts were hate crimes or if the cars were randomly selected. There were other cars vandalized and broken into within a nearby radius. Police are conducting an investigation. Area Muslims are addressing fears of Islamophobia.
Dar El Hijrah wasn't the only target of attack. Members of the Islamic Center of Harrisonburg in Virginia called police after finding slurs spray painted on the outside of the building. Many are voicing frustration after being targeted.
Full report at:
http://www.presstv.com/detail/2012/09/17/262013/muslims-virginia-fears-islamophobia/
-----------
'US will think twice before supporting Islamic radicals'
17 September, 2012
The recent outbreak of violent anti-American protests in the Muslim world will make US politicians think twice before supporting Islamic radicals, political analyst and ex-jihadist Tawfik Hamid said in an interview with RT.
The US has funded Islamists groups throughout the world for decades, and the death of the American ambassador to Libya is just one more example of how militants backed by radical Islamic ideology will eventually turn their weapons against their patrons in Washington.
In this light, Hamid believes that the idea of toppling Syria's President Bashar Assad and replacing him with rebels known to have connections to Al-Qaeda should no longer seem like such a winning idea to the West.
Full report at:
http://rt.com/news/ambassador-killing-syria-hamid-306/
-----------
Community stands united at Harrisonburg mosque
Sep. 16, 2012
HARRISONBURG — A member of the Islamic Association of the Shenandoah Valley offered Chris Wilcox and his son Carter two seats in the rapidly filling hall of the Harrisonburg mosque Sunday.
Chris thanked him but declined. After all, he and Carter had been riding his motorcycle for the past two hours.
When Carter, 13, saw some images on Facebook via a Charlottesville friend of Chris', he became upset and asked his dad if they could make the trip to Harrisonburg to show support for the Muslim community in wake of hate-filled messages spray-painted on their building.
Chris said yes, even if it meant driving from Washington, D.C.
"I just wanted to be here to support the people," Carter said.
Full report at:
http://www.newsleader.com/article/20120916/NEWS01/309160013/Community-stands-united-Harrisonburg-mosque?odyssey=nav%7Chead
-----------
Murfreesboro mosque clash is exception in TN
Several others have opened with friendly support
Sep 17, 2012
The two-year struggle between the Islamic Center of Murfreesboro and a group of residents who have fought a losing battle to keep it from being built paints a distorted picture of Muslim life in Tennessee, where several other mosques have opened in recent years with little or no controversy.
Although there's likely no single cause for the conflict in Murfreesboro, the reaction of local leaders — both opponents of the mosque and those who stayed silent — may have helped extend and exacerbate it. Meanwhile, the experience of Muslims in Memphis, Chattanooga, Nashville and elsewhere in Tennessee shows that what happened in Murfreesboro is not the inevitable consequence of being Muslim in the Bible Belt.
In some ways, the mosques in Murfreesboro and Memphis are similar. Both are planned as large community centers on a big tract of land in the suburbs. And both are next to Christian churches. The Memphis Islamic Center gained its own international media attention, for the opposite reason of that in Murfreesboro.
Full report at:
http://www.tennessean.com/viewart/20120917/NEWS06/309170026/Murfreesboro-mosque-clash-exception-TN
-----------
U.S. Warns Judge's Ruling Impedes Its Detention Powers
By CHARLIE SAVAGE
2012/09/18
WASHINGTON — The Obama administration warned Monday that a judge's ruling last week blocking a statute authorizing the indefinite detention of terrorism suspects has jeopardized its ability to continue detaining certain prisoners captured during the war in Afghanistan.
In an emergency appeal of the ruling, the government asserted that United States District Court Judge Katherine B. Forrest went beyond enjoining the statute — enacted last year as part of the National Defence Authorization Act — and potentially curtailed detention powers it has been exercising for years under its interpretation of the authorization to use military force against the perpetrators of the Sept. 11, 2001, attacks.
Judge Forrest's order "threatens irreparable harm to national security and the public interest by injecting added burdens and dangerous confusion into the conduct of military operations abroad during an active armed conflict," the government wrote in a 38-page filing with the federal appeals court in New York.
Full report at:
http://www.nytimes.com/2012/09/18/us/politics/us-warns-judges-ruling-impedes-its-
-----------
U.S. aid to Egypt stalled
By Anne Gearan and Michael Birnbaum
September 18, 2012
Anti-American protests that started in Cairo and spread across the Muslim world have stalled negotiations to provide crucial U.S. economic assistance to Egypt, U.S. officials said Monday.
The violent demonstrations sparked by an anti-Islam video, and Egypt's initially clumsy response, have temporarily halted talks about a proposed $1 billion in debt relief and how to speed millions in other aid to Egypt, according to several U.S. officials who spoke on the condition of anonymity because they were not authorized to speak to the news media.
No new aid is likely to be approved for Egypt until after the U.S. presidential election, and talks aimed at breaking a logjam on spending funds already approved are on hold, the officials said. Several U.S. officials said that the delays are expected to be temporary and that there is no major reevaluation of U.S. aid to Egypt.
"Folks are going to wait and see how things materialize both with the protests and on Capitol Hill," a congressional aide said.
Full report at:
http://www.washingtonpost.com/world/national-security/us-aid-to-egypt-
-----------
FBI joint local authorities in investigating mosque graffiti in Virginia
September 18,
HARRISONBURG, Va. — The FBI is investigating vandalism at a mosque that was spray-painted with obscene graffiti that included a misspelled reference to Iraqis and the phrase, "This is America."
Lawrence Barry of the FBI office in Richmond said Monday that the agency is helping local authorities investigate. He said the FBI joined the investigation at the request of officials at the Islamic Center of the Shenandoah Valley, one of three Harrisonburg buildings targeted by vandals late last week.
The Washington-based Council on American-Islamic Relations also had called on the FBI to investigate. The American Muslim advocacy group said there was clear evidence of a bias motive in the mosque incident.
"From the vulgar language and the racist language, it was very clear that the mosque was the target," CAIR executive director Nihad Awad said.
Full report at:
http://www.washingtonpost.com/local/group-asks-fbi-to-investigate-mosque-graffiti-police-
-----------
Arab World
Bahrain: 7 Officers Charged Over Claims of Abuse
2012/09/18
Bahrain said Monday that it had charged seven police lieutenants in connection with claims of abuse against people arrested during antigovernment protests last year. Two of the officers are accused of using torture to obtain confessions that were later thrown out in court. The others face lesser charges. A hearing is set for Oct. 1. The charges against the officers are the most sweeping action so far against security forces in the 19-month-old unrest as the majority Shiites call for democratic changes to limit the powers of the Sunni monarchy.
http://www.nytimes.com/2012/09/18/world/middleeast/bahrain-7-officers-charged-over-claims-of-abuse.html?ref=middleeast&gwh=10E702E4DFEFAF3D9CDDBA3ADAFA9C9C
-----------
Egypt cleric issues fatwa against 'Innocence of Muslims' cast, crew
ASep 18, 2012
WASHINGTON: A Salafist cleric in Egypt is calling for the deaths of all those involved in the making of an anti-Muslim film that has outraged the Islamic world, SITE Intelligence Group said on Monday.
In a statement, the terrorism monitoring service said Ahmad Fouad Ashoush issued his fatwa, or religious edict, against the cast and crew of " Innocence of Muslims" via jihadist internet forums over the weekend.
"Those bastards who did this film are belligerent disbelievers," Ashoush said, according to SITE's translation of the lengthy Arabic statement.
"I issue a fatwa and call on the Muslim youth in America and Europe to do this duty, which is to kill the director, the producer and the actors and everyone who helped and promoted the film," he said.
Full report at:
http://timesofindia.indiatimes.com/world/middle-east/Egypt-cleric-issues-fatwa-against-Innocence-of-Muslims-cast-crew/articleshow/16442577.cms
-----------
Hezbollah leads massive anti-US protest in Lebanon
Sep 18, 2012
BEIRUT: In a rare public appearance, the leader of the militant Hezbollah group exhorted hundreds of thousands of supporters on Monday to keep up the campaign against an anti-Islam video that has unleashed deadly violence and anger at the United States across the Muslim world.
Although the massive, well-organized rally in Beirut was peaceful, protesters in Afghanistan set fires near a US military base, clashed with police in Pakistan, where one demonstrator was killed, and battled with officers outside the US Embassy in Jakarta, Indonesia, the world's most populous Muslim country.
The turmoil surrounding the low-budget video that mocks the Prophet Muhammad showed no sign of ebbing in the week after protesters first swarmed the walls of the US Embassy in Cairo. Four Americans, including the US ambassador to Libya, died amid a demonstration in the eastern Libyan city of Benghazi.
Full report at:
http://timesofindia.indiatimes.com/world/middle-east/Hezbollah-leads-massive-anti-US-protest-in-Lebanon/articleshow/16443581.cms
-----------
Syria stuck in 'grim spiral of violence', UN envoy says
Sep 18, 2012
UNITED NATIONS: President Bashar al-Assad's government forces have stepped attacks on civilian areas in Syria, a UN envoy said on Monday, warning that the conflict had now become stuck in a "grim spiral of violence."
The United Nations fears "dangerous implications" for Syria's neighbours as the civil war worsens, Robert Serry, UN special coordinator for the Middle East peace process, told the UN Security Council.
Full report at:
http://timesofindia.indiatimes.com/world/middle-east/Syria-stuck-in-grim-spiral-of-violence-UN-envoy-says/articleshow/16441899.cms
-----------
Egypt to emulate India's election management practices
September 18, 2012
Celebrating its 'Arab Spring' and free elections, Egypt is all set to emulate some of the best election management practices of India.
Egypt has also evinced keen interest in Electronic Voting Machines (EVMs) used in India and would be studying them for use in their country in future elections.
Egypt's Secretary General of Supreme Election Committee Hatem Bagato, who is here on a three-day visit to India, will sign an MoU with Chief Election Commissioner V.S. Sampath on Tuesday.
Full report at:
http://www.thehindu.com/news/international/article3907399.ece
-----------
36 runaway maids caught from house
Afkar Abdullah / 18 September 2012
The Sharjah Police recently arrested 36 maids who had allegedly absconded from their sponsors from a traditional Arab house.
They include 33 Ethiopians, one Indian, one Sri Lankan and one Indonesian. It was found out that they had been using the traditional house as their hideout after running away from their sponsors.
The Criminal Investigation Department received a notification about the house that seemed to be illegally sheltering a huge number of domestic helpers. Investigation by the police confirmed that the maids were absconders and their sponsors had reported them missing.
After completing all legal procedures, the house was raided and the maids were arrested for allegedly flouting the residency rules.
Full report at:
http://www.khaleejtimes.com/kt-article-display-
-----------
Assad deeds 'crimes against humanity'
18 September 2012
Saudi Arabia yesterday denounced the human rights violations being committed by the Bashar Assad regime against the Syrian people and described the regime's atrocities as crimes against humanity.
Addressing the Human Rights Council in Geneva, the Kingdom's Ambassador and Permanent Delegate to the United Nations Abdul Wahab Attar called for urgent steps to stop the deteriorating situation in Syria.
"Saudi Arabia has stated very clearly that what is happening in Syria cannot be accepted or justified and has strongly condemned acts of violence, murder and heinous crimes committed by the Syrian government and its militias," said Attar.
Full report at:
http://www.arabnews.com/assad-deeds-%E2%80%98crimes-against-humanity%E2%80%99
-----------
OIC: It was deliberate incitement
JASSIM ABUZAID
Tuesday 18 September 2012
The Organization of Islamic Cooperation (OIC) has stressed the fact that the freedom of expression and opinion cannot be used to denigrate religions under international law. The organization said the tragic killing of US Ambassador to Libya Christopher Stevens is a loss not only to America, but also to international diplomatic vitality.
In an exclusive interview with Arab News, Rizwan Sheikh, OIC spokesman and director of cultural affairs, said the recent incidents are a source of deep concern for the organization, as they are for the rest of the world.
"The OIC has for long been concerned about the increasing trend of Islamophobia," said Sheikh.
Full report at:
http://www.arabnews.com/oic-it-was-deliberate-incitement
-----------
Retail shops going green ahead of Saudi National Day
SARAH ABDULLAH
Tuesday 18 September 2012
Green flags, hats, T-shirts, stickers, hair accessories and ribbons are just a few items beginning to grace the windows of shops in preparation for the Kingdom's 82nd National Day, which will be held on Sunday.
"We have just received a shipment of merchandise we had especially ordered for National Day," said Muhammad K., a manager at Hidaya Center in Jeddah.
He stated that this year the store has gone all out with items that are aimed especially at Saudi youth.
"We anticipate that many children will require these items to wear to school and older youth would like to purchase them to decorate their cars. This is why we have invested heavily in these types of products this year," he said, adding that they had already sold many items.
Car accessory shops have also been stocking for National Day, such as bumper stickers, posters and green spray paint, which has increased in price from SR 5 to SR 25 for a small can.
Most shops Arab News visited stated that 75 percent to 80 percent of National Day supplies are being purchased by youth wishing to celebrate their heritage.
Full report at:
http://www.arabnews.com/retail-shops-going-green-ahead-saudi-national-day
-----------
299,000 Saudis join civil service
18 September 2012
More than 299,000 Saudi men and women have joined the civil service during 2012 as a result of new employment programs introduced by Custodian of the Two Holy Mosques King Abdullah. The figure was announced during the weekly Cabinet meeting yesterday.
The Cabinet, which was chaired by Vice Custodian of the Two Holy Mosques Prince Salman, endorsed an agreement with Argentina for the peaceful use of nuclear energy which was signed in Riyadh on June 28 last year.
Prince Salman earlier briefed the ministers on the messages he received and the talks he held with foreign dignitaries during the past week to strengthen bilateral ties and promote global peace and stability.
Full report at:
http://www.arabnews.com/299000-saudis-join-civil-service
-----------
Egypt: 142 to be charged for US Embassy breach
17-09-2012
The Public Prosecution has said 142 people would be indicted for their alleged involvement in storming the US Embassy in Cairo, a spokesperson from the Interior Ministry's media department said Sunday.
The spokesperson said police had arrested 431 people since the start of clashes between security forces and protesters outside the embassy. Most of the demonstrators said they were protesting against a film produced in the US they deemed offensive to Islam and the Prophet Mohamed.
Full report at:
http://www.egyptindependent.com/news/interior-ministry-142-be-charged-us-embassy-breach
-----------
Islam, education and the principles of jihad
Rauf Aregbesola
17 September 2012
I must thank the Habibiyyah Islamic Society, Abuja, for the great privilege to address this distinguished assemblage of Muslims and Islamic scholars on a subject that is of concern to all genuine Muslims. This is a time of perturbation for me, as it should be for every true Muslim, about the state of the Ummah in Nigeria and the world over.
To be sure, the West and the Christian world have always had an uneasy relationship with Islam. This is partly because they are competing faiths and partly due to gross misunderstanding of what Islam really represents. However, since September 11, 2001 when some terrorists flew fuel laden planes into buildings in the United States, killing about 3000 people in the worst terrorist attack in the country, there has been an unprecedented upsurge in what scholars now refer to as 'Islamophobia'.
Full report at:
http://tribune.com.ng/index.php/politics/47646-islam-education-and-the-principles-of-jihad
--------
Pakistan
Christian community demands to UN to tag blasphemy as terrorism
September 18, 2012
FAISALABAD: Christian community has sympathised with the Muslim majority on blasphemy issue condemning a work of little artistic value and offensive to Islam.
The Diocesan Commission for Interreligious Dialogue in Faisalabad organised a special sitting regarding the issue, which was attended by at least 50 prominent figures, Christian and Muslim.
They unanimously condemned the blasphemous film and branded its authors as "agents of Satan" who deserve exemplary punishment.
Full report at:
http://dawn.com/2012/09/18/christian-community-demands-to-un-to-tag-blasphemy-as-terrorism/
-----------
Pakistan requests Interpol to criminalise 'sacrilegious material'
By Zahid Gishkori
September 18, 2012
ISLAMABAD: Pakistan has requested the world's largest police organisation, Interpol, to draft legislation which would effectively block "sacrilegious materials" available on the internet. The move came in the wake of the anti-Islam film 'Innocence of Muslims' on YouTube, which has sparked violence across the Muslim world.
Officials told The Express Tribune on Monday that a formal request has been sent to the Interpol secretary general. The aim of the request, according to the officials, is to decrease religious tensions across the globe.
"Interpol may work out a draft legislation to effectively counter such moves by criminals, which disturbed interfaith harmony and ultimately hurt world peace," reads a letter the interior ministry sent out to Interpol Secretary General Ronald K Noble.
Full report at:
http://tribune.com.pk/story/438338/pakistan-requests-interpol-to-criminalise-sacrilegious-material/
-----------
Torrential rains, floods kill 262 in Pakistan: NDMA
September 18, 2012
KARACHI: A total of 262 people have been reported killed and 815 injured so far this year as torrential monsoon rains and flash floods wreak havoc throughout the country, Pakistan's National Disaster Management Authority (NDMA) said Monday.
Over 70, 000 houses have also been reportedly damaged, with 51,027 partially and 19,465 completely damaged, said the official statistics which are updated until Sept 16.
Approximately 3,883 villages, spreading over an area of over 1,345,531 acres, have been affected by the torrential rains.
Full report at:
http://dawn.com/2012/09/17/torrential-rains-floods-kill-262-in-pakistan-ndma/
-----------
Shia Ulema Council to hold nationwide protest against the anti-Islam American movie
September 18, 2012
Islamabad: Announcing a nationwide protest on September 21, Shia Ulema Council Central General Secretary Allama Arif Hussain Wahidi has said that Jewish and Christian lobbies are involved in conducting and propagating blasphemous actions against Islam, throughout the world.
He said that the Shia community would hold a demonstration on Friday, under the leadership of Allama Syed Sajid Naqvi, against the anti-Islam American movie. He demanded immediate sessions of OIC and UN to look into the matter of increasing frequency of blasphemous attacks and initiation of various steps to permanently root out this menace.
Full report at:
http://www.dailytimes.com.pk/default.asp?page=2012\09\18\story_18-9-2012_pg7_18
-----------
Pakistan's blasphemy law 'vaguely formulated and arbitrarily enforced'
September 18, 2012
GENEVA: With Muslim leaders in many countries calling for a global law barring what they call insults to Islam, the main non-Catholic world Christian grouping on Monday said just such a law in Pakistan is used to persecute other religions.
Pakistan's "Blasphemy Law" has driven the country's religious minorities – Christians, Hindus and Ahmadis, a dissenting Islamic group – into "a state of fear and terror", said the World Council of Churches (WCC), organisers of a 3-day conference on the law.
"The Blasphemy Law, while purporting to protect Islam and religious sensitivities of the Muslim majority, is vaguely formulated and arbitrarily enforced by the police and judiciary in a way which amounts to harassment and persecution," the WCC said in a position paper.
Pakistani religious figures from those minorities told the conference in Geneva that the law had led to false imprisonment, mob killings and compulsory conversion to Islam.
Full report at:
http://dawn.com/2012/09/17/pakistans-blasphemy-law-vaguely-formulated-and-arbitrarily-enforced/
------
Pak PM paves way for reopening of graft cases against President Zardari
Sep 18, 2012
ISLAMABAD: Prime Minister Raja Pervez Ashraf on Tuesday informed Pakistan's Supreme Court that the government would revoke a former attorney general's letter to Swiss authorities for the closure of graft cases against President Asif Ali Zardari.
Appearing before a five-judge bench headed by Justice Asif Saeed Khosa to face a contempt charge for failing to reopen the cases against the President, Ashraf said he had instructed law minister Farooq Naek to revoke the letter that was written by former attorney general Malik Qayyum in late 2007.
With the revocation of the letter written during the regime of former military ruler Pervez Musharraf, it will be up to the Swiss authorities to decide whether the cases against Zardari should be reopened, legal experts said.
Full report at:
http://timesofindia.indiatimes.com/world/pakistan/Pak-PM-paves-way-for-reopening-of-graft-cases-against-President-Zardari/articleshow/16446304.cms
-----------
Anti-Islam film: Desperate govt moves to quell simmering protests
September 18, 2012
ISLAMABAD: While the furore surrounding an anti-Islam amateur film, "Innocence of Muslims", persisted on Monday, the movie's trailer continued to mushroom on the internet – pushing the government of Pakistan to take a sweeping step to block a popular video-sharing website, YouTube, in its entirety across the country.
In addition, Interior Minister Rehman Malik weighed in with another threat to Google Inc, the company that owns YouTube: remove the anti-Islam material, or visas of Google officials would be cancelled. He also said he will approach Interpol for the arrest of those involved in the film.
Full report at:
http://tribune.com.pk/story/438363/anti-islam-film-desperate-govt-moves-to-quell-simmering-protests/
-----------
Bill seeking removal of Pak's major non-NATOally status moved
September 18, 2012
A bill seeking removal of the major non-NATOally status to Pakistan has been introduced in the US Congress, calling for stoppage of expedited supply of America's sophisticated weaponry to Islamabad.
"It's time to break ties with Pakistan, but at the very least, we should stop
providing them the eligibility to obtain our own sophisticated weaponry in an expedited process. Too many of our own men and women have died because of Islamabad's treachery," Texas Congressman Ted Poe said after introducing HR 6391, the bill to remove the major non-NATOally (MNNA) status from Pakistan.
In 2004, the then-President George Bush granted Pakistan MNNA status in an effort to get Islamabad's help to fight Al-Qaeda and the Taliban.
MNNA status is significant, granting critical benefits in the areas of foreign aid and defence cooperation.
Full report at:
http://www.hindustantimes.com/world-news/Americas/Bill-seeking-removal-of-Pak-s-major-non-NATO-ally-status-moved/Article1-931686.aspx
-----------
Enforced disappearances: 40% of K-P's missing men back home, UN panel told
By Umer Farooq
September 18, 2012
PESHAWAR: Authorities in Khyber-Pakhtunkhwa (K-P) on Monday told a UN delegation currently in the country to examine the issue of enforced disappearances that 40% of missing persons have already returned home.
Four members of the United Nations Working Group on Enforced or Involuntary Disappearances arrived in Peshawar and held an hour-long meeting with two officials of the Home and Tribal Affairs Department including Home Secretary Muhammad Azam Khan.
The UN delegation presented a list of around 100 to 120 missing persons, which also included the names of 25 to 30 foreigners. They were, however, informed by the K-P administrators that 40% of those mentioned in the list have already returned home, said an official source requesting anonymity.
Full report at:
http://tribune.com.pk/story/438333/enforced-disappearances-40-of-k-ps-missing-men-back-home-un-panel-told/
-----------
Anti-Prophet Muhammad film: Pakistan blocks YouTube as two killed in violence
Sep 17, 2012
ISLAMABAD: Two persons died in violent protests against an anti-Islam film in Pakistan even as Prime Minister Raja Pervez Ashraf on Monday directed authorities to block YouTube for hosting "blasphemous material", including clips from the movie.
A man was killed and two more were injured in a reported exchange of fire with police during a protest in Upper Dir district of Khyber-Pakhtunkhwa province in the northwest.
A mob of nearly 1,000 people also set on fire a press club and a police station during the protest.
Another man who was seriously injured in a protest outside the US consulate in Karachi died on Moday in hospital, officials said.
Full report at:
http://timesofindia.indiatimes.com/world/pakistan/Anti-Prophet-Muhammad-film-Pakistan-blocks-YouTube-as-two-killed-in-violence/articleshow/16439577.cms
-----------
QUETTA: Lawyers, students protest against blasphemous film
September 18, 2012
QUETTA: Lawyers and students held a protest demonstration in the city on Monday to condemn the blasphemous film.
Lawyers' associations boycotted the proceedings of the Balochistan High Court (BHC) and other local courts. They took out a rally to condemn the blasphemous movie. The lawyers' rally marched through various roads of the city and culminated in a protest demonstration outside Quetta Press Club.
While addressing the protesters, lawyers regretted the silence of the Muslim leaders throughout the world against the blasphemous movie. They rated the blasphemous act unpardonable.
Full report at:
http://www.dailytimes.com.pk/default.asp?page=2012\09\18\story_18-9-2012_pg7_14
-----------
Christians are with Muslims against blasphemous film'
September 18, 2012
KARACHI: National Peace Committee for Interfaith Harmony Government of Pakistan Central Vice Chairman and renowned social activist Javed Yousuf has said that all religions are respectable. In a statement issued here on Monday, he said that a ban should be imposed on blasphemous film because such kind of acts could not be tolerated. He maintained that all countries should have to play an important role for avoiding such acts in the future as the film had hurt emotions of Muslims throughout the globe. "It was high time to promote interfaith harmony," he said, adding that Christian community is along with Muslims in their protest against blasphemous movie. Vice Chairman Khalid Raheem Khattak, Arshad Johya, Naveed Bhatti, William Sadiq, Ayub Sabir, Javeed Hameed and others were also present on the occasion.
http://www.dailytimes.com.pk/default.asp?page=2012\09\18\story_18-9-2012_pg12_11
-----------
South Asia
China against vilifying Islam, calls for respect between religions
16-09-2012
BEIJING, (Xinhua): China opposes any vilification to Islam and called for dialogue and communication between different civilizations and religions, Foreign Ministry spokesman Hong Lei said Saturday.
Hong made the remarks in response to the continuous protests against a U.S. movie deemed insulting Islamic Prophet Mohammed, which resulted in bloodshed in some countries.
China has consistently advocated dialogue and communication between different civilizations and religions in the spirit of mutual respect and treating others as equals, said Hong.
"We are against of any actions to vilify the image of Islam or to hurt the feelings of Muslims," said Hong. "We believe the dignity of a religion should not be vilified or defamed."
"We also hope that relevant countries can protect the life and property of diplomats and diplomatic institutions under the Vienna Convention on Diplomatic Relations," he said.
http://news.xinhuanet.com/english/china/2012-09/16/c_123720330.htm
-----------
Hezb-i-Islami claims Kabul attack to avenge anti-Islam film
Sep 18, 2012
KABUL: A spokesman for an Afghan militant Islamist group says they carried out a suicide attack near Kabul airport that killed at least nine people in reprisal for an anti-Islam film that ridicules the Prophet Muhammad.
Haroon Zarghhon claimed responsibility for Tuesday's attack near Kabul airport in an email to The Associated Press. He said the attack was carried out by a 22-year-old woman named Fatima.
He is with the group called Hezb-e-Islami led by former warlord Gulbuddin Hekmatyar.
Police say a suicide bomber rammed a small sedan heavily laden with explosives into a mini-bus believed to be carrying foreign aviation workers to the airport at dawn.
http://timesofindia.indiatimes.com/world/south-asia/Hezb-i-Islami-claims-Kabul-attack-to-avenge-anti-Islam-film/articleshow/16445514.cms
--------
Post-2014: Taliban cadre warns of civil war in Afghanistan
By Tahir Khan
September 18, 2012
ISLAMABAD: Launching an appeal for a ceasefire in Afghanistan, a senior Taliban leader on Monday warned of a possible civil war following the withdrawal of US-led coalition forces from the war-torn country.
Mullah Agha Jan Mutasim – who once headed the powerful political commission of the Afghan Taliban – said Afghanistan has bled for over three decades because "alien conspirators" used the Afghans against each other. He, however, did not name any foreign country.
Mutasim was critically injured in a firing incident in Karachi in August last year – apparently for his quest for peace.
After receiving treatment at a Karachi hospital he proceeded to Turkey for further treatment. Afghan sources told The Express Tribune that Mutasim has initiated efforts to unite some former senior Taliban cadres in a bid to launch a peace initiative.
Full report at:
http://tribune.com.pk/story/438361/post-2014-taliban-cadre-warns-of-civil-war-in-afghanistan/
-----------
Muslim protesters rage at United States in Asia
Sep 18 2012
Kabul : Police fired in the air to break up a crowd marching on the U.S. consulate in the Pakistani city of Karachi while in Afghanistan and Indonesia people burnt U.S. flags and chanted "Death to America".
Indonesian police fired tear gas and water cannon to disperse hundreds of demonstrators who massed outside the U.S. Embassy in Jakarta, capital of the most populous Muslim nation.
In Kabul, protesters set fire to cars and shops and threw stones at police.
"We will defend our prophet until we have blood across our bodies. We will not let anyone insult him," said one protester in the Afghan capital. "Americans will pay for their dishonor."
Thousands also marched in Beirut, where a Hezbollah leader accused U.S. spy agencies of being behind events that have unleashed a wave of anti-Western sentiment in the Muslim and Arab world.
Full report at:
http://www.indianexpress.com/news/muslim-protesters-rage-at-united-states-in-asia/1004265/
-----------
Afghan Militants Say Deadly Blast Was Revenge for Film
2012/09/18
KABUL (Reuters) - Afghan militants claimed responsibility on Tuesday for a suicide bomb attack on a minivan carrying foreign workers that killed 12 people saying it was retaliation for a film mocking the Prophet Mohammad.
A short film made with private funds in the United States and posted on the Internet has ignited days of demonstrations in the Arab world, Africa, Asia and in some Western countries.
In a torrent of violence blamed on the film last week, the U.S. ambassador to Libya and three other Americans were killed in an attack in Benghazi and U.S. and other foreign embassies were stormed in cities in Asia, Africa and the Middle East by furious Muslims. At least nine other people were killed.
Full report at:
http://www.nytimes.com/reuters/2012/09/18/world/asia/18reuters-
-----------
Panetta: US Concerned About Afghan Insider Attacks
2012/09/18
BEIJING (AP) — U.S. Defense Secretary Leon Panetta said Tuesday the U.S. is concerned about the impact insider attacks are having on its forces in Afghanistan.
But he insisted Gen. John Allen, the top U.S. commander there, is taking necessary steps to protect the force while still ensuring the U.S. will be able to hand over security to the Afghans and be able to withdraw by the end of 2014.
Panetta did not specifically address the dramatic action taken Monday by Allen, as NATOdecided to scale back its operations with Afghan security forces in order to lower the risk of them turning their guns on American and allied forces.
Instead, he argued that the attacks do not mean the Taliban is getting stronger. "I think what it indicates is that they are resorting to efforts that try to strike at our forces, try to create chaos but do not in any way result in their regaining territory that has been lost," he told reporters during a press conference in Beijing with China's minister of national defense, Gen. Liang Guanglie.
Full report at:
http://www.nytimes.com/aponline/2012/09/18/world/asia/ap-as-panetta-
-----------
Afghan soldier wounds foreign contractors; mob tries to storm U.S. base in Kabul
By Sayed Salahuddin and Richard Leiby
September 17, 2012
KABUL — An Afghan soldier opened fire on six Lebanese civilian contractors working for U.S.-led NATOforces in southern Afghanistan on Sunday night, causing minor injuries, coalition officials said Monday. The attack was the third by rogue Afghan security personnel over the weekend, when six foreign troops were killed.
The member of the Afghan National Army fired shots at six contractors riding in a vehicle near Camp Garmsir, a shared base in southern Helmand province, said Lt. Col. Hagen Messer, a coalition spokesman. Some of them were wounded, but Messer said he could not provide a specific number.
Full report at:
http://www.washingtonpost.com/world/afghan-shooter-wounds-foreign-contractor-police-
-----------
Prince Harry moved to safety in Afghan attack: minister
September 18, 2012
Prince Harry was moved under guard to a secure location during a Taliban attack on Camp Bastion, the base where he is deployed in Afghanistan, Britain's defence minister has said. Two US Marines were killed and unprecedented material damage caused when attackers armed with guns, rockets
and suicide vests stormed the NATObase in Helmand province last Friday.
"Additional security arrangements" are in place to protect Britain's third in line to the throne on his second tour of duty in the country, Philip Hammond told BBC's Newsnight on Monday when questioned about the assault.
Full report at:
http://www.hindustantimes.com/world-news/Europe/Prince-Harry-moved-to-safety-in-Afghan-attack-minister/Article1-931693.aspx
-----------
NATOannounces arrest over major base attack
September 18, 2012
KABUL: NATOsaid it had arrested a Taliban leader on Tuesday wanted for an unprecedented attack on a major military base in southern Afghanistan that destroyed six US fighter jets and killed two US Marines.
The US-led International Security Assistance Force (Isaf) said troops detained the suspect and two other suspected insurgents in the Nad Ali district of Helmand province, where the giant Camp Bastion is located.
"The Taliban leader was successfully taken into custody by the security force following joint efforts by Afghan and coalition forces to track down the Taliban insurgents responsible for the Camp Bastion attack," Isaf said.
Full report at:
http://dawn.com/2012/09/18/nato-announces-arrest-over-major-base-attack/
-----------
NATO restricts joint operations with Afghans: officials
September 18, 2012
KABUL: Nato-led forces are scaling back joint operations with Afghan forces after a spate of "insider attacks" in which Afghan recruits turned their weapons on Western allies, officers said on Tuesday.
The move marked a setback for the coalition's war strategy, as the planned withdrawal of Western troops hinges on training and advising Afghan forces to take over security by the end of 2014.
Under the new order, most joint patrols and advisory work with Afghan troops will only be conducted at the battalion level and above, while cooperation with smaller units will have to be "evaluated on a case-by-case basis and approved by RC (regional) commanders", the International Security Assistance Force (Isaf) said in a statement.
Full report at:
http://dawn.com/2012/09/18/nato-restricts-joint-operations-with-afghans-officials/
-----------
Bangladesh blocks YouTube over anti-Islamic video
Sep 18, 2012
DHAKA: The government in Bangladesh has blocked YouTube to prevent people from seeing an anti-Islam video produced in the US ridiculing the Prophet Muhammad.
Mir Mohammaed Morshed, a spokesman for the state-run Bangladesh Telecommunications Company Ltd., says the government blocked YouTube late Monday. He says the decision will remain effective until further notice.
Full report at:
http://timesofindia.indiatimes.com/world/rest-of-world/Bangladesh-blocks-YouTube-over-anti-Islamic-video/articleshow/16446738.cms
-----------
Southeast Asia
Indonesian president urges UN to issue rules on religions defamation
18-09-2012
JAKARTA, (Xinhua): Indonesian President Susilo Bambang Yudhoyono has urged the United Nations (UN) and the Organization of Islamic Cooperation (OIC) to issue regulations against religious defamation in the wake of global protests ignited by a film insulting the Prophet Muhammad, a media reported here on Tuesday.
In a speech before a national meeting of the Nahdlatul Ulama in Cirebon, West Java, Yudhoyono said "I call on the Organization of Islamic Cooperation and the UN to mull over international protocol to prevent things like this from happening again," referring to the anti-Islam film "The Innocence of Muslims."
Full report at:
http://www.muslimnews.co.uk/news/news.php?article=23396
-----------
Legal Scholars Back Shiite Cleric Jailed for Blasphemy
Firdha Novialita | September 18, 2012
Legal scholars poring over the trial and conviction of a Shiite cleric for blasphemy earlier this year have lambasted the episode as a study in the miscarriage of justice and called for an investigation by the Supreme Court and Judicial Commission.
Muhammad Arif Setiawan, a lecturer at the Indonesian Islamic University's Law School, said at a discussion on Monday that the trial of Tajul Muluk at the Sampang District Court in Madura Island, East Java, did not meet "academic standards" and was "legally flawed."
"All trials, when they are studied in retrospect, must meet a certain set of academic standards, but this one didn't," he said.
Full report at:
http://www.thejakartaglobe.com/home/legal-scholars-back-shiite-cleric-jailed-for-blasphemy/545014
-----------
Densus 88 Arrest Two Terrorism Suspects Outside Tangerang Mosque
Jakarta Globe | September 18, 2012
Police detained three people and seized bomb-making materials in terrorism sweeps in Tangerang and Bekasi on Monday, police said.
The National Police's anti-terrorism squad Densus 88 arrested two suspects in Bintaro, South Tangerang, allegedly connected to an explosion at a bomb-making factory disguised as an orphanage in Depok.
Full report at:
http://www.thejakartaglobe.com/home/densus-88-arrest-two-terrorism-suspects-outside-tangerang-mosque/545087
-----------
Malaysia culture minister: "YouTube insensitive to anguish of Muslims"
Alisha Hassan and Staff | 17 September 2012
Google refuses to remove YouTube clip of anti-Islam film, citing freedom of speech.
KUALA LUMPUR and CAIRO: Malaysia's Culture Minister Rais Yatim has lashed out at YouTube and Google for being "insensitive to the anguish of Muslims" concerning the film clip that sparked massive protests across the Islamic world for what Muslims felt was insulting to their faith and Prophet Mohamed.
He called for the clip, "Innocence of Muslims" to be immediately removed from the video-sharing site across the globe.
Full report at:
http://www.bikyamasr.com/77673/malaysia-culture-minister-youtube-insensitive-to-anguish-of-muslims/
-----------
The Netherlands: Dutch Muslim protests at US anti Islam film pass off peacefully
17-09-2012
A demonstration by some 50 Muslims protesting about the American internet film Innocence of Muslims passed of peacefully on Amsterdam's Museumplein on Sunday, police said.
The group of people gathered close to the US consulate, some of whom carried banners and flags. The group broke up around 17.00 hours. The consulate on Friday had advised Americans to avoid the area.
Meanwhile MP Geert Wilders, whose anti-Islam party PVV did badly in last week's elections after fighting on an anti-EU ticket, put links to the film on his own and party websites at the weekend.
Full report at:
http://www.dutchnews.nl/news/archives/2012/09/dutch_muslim_protests_at_film.php
-----------
At 15, Bali Boy Claims Record as World 'Grand Master of Memory'
Made Arya Kencana | September 17, 2012
Denpasar. Fifteen-year-old Bali resident Dominic Brian Hindarto set a new Guinness World Record for memorization over the weekend, breaking a record that he previously set three years earlier.
Performing before 2,000 participants at a leadership conference on Friday, Dominic managed to memorize 84 non-binary numbers in under a minute, beating his earlier world record of 76 numbers in under a minute, set in August 2009.
It took him four attempts to top his earlier mark, after coming up short in his first attempt and getting distracted by power blackouts during the next two attempts.
"I flubbed it a few times, but I persevered and kept at it, and finally I did it," Dominic told the Jakarta Globe on Sunday. "At the end of it, I was physically and mentally exhausted."
Bob Foster, a representative from Guinness World Records, said that despite his young age, Dominic deserved to be called the "Grand Master of Memory."
Full report at:
http://www.thejakartaglobe.com/education/at-15-bali-boy-claims-record-as-world-grand-master-of-memory/544819
-----------
Death Penalty for Corruption Convicts Gains Traction in Indonesia
Markus Junianto Sihaloho | September 18, 2012
Manpower and Transmigration Minister Muhaimin Iskandar would support a mandatory death sentence for corruption convicts if a fatwa is issued by the Nahdlatul Ulama, the minister said on Tuesday.
"Of course, I would really support such a decision," Muhaimin, who is also chairman of the NU-related National Awakening Party, said in a text message.
The NU discussed the possibility of issuing a fatwa against corruption convicts in an effort to deter future instances of corruption during a meeting in Cirebon, West Java, this weekend. Muhaimin, whose party usually supports all NU edicts, said he would push for a mandatory death sentence under the NU's direction.
Full report at:
http://www.thejakartaglobe.com/home/death-penalty-for-corruption-convicts-gains-traction-in-indonesia/545092
-----------
Chaos at FUI protest over anti-Islam movie
September 17 2012
A rally protesting the movie, Innocence of Muslims, turned chaotic as members of the Islamic Society Forum (FUI) clashed with police in front of the US Embassy in Jakarta on Monday.
The clash was sparked after the Central Jakarta Police officers blasted tear gas at hundreds of FUI members. Protesters retaliated by throwing rocks at police officers.
The group demanded that the US government punish the film director for insulting the Prophet Muhammad.
Full report at:
http://www.thejakartapost.com/news/2012/09/17/chaos-fui-protest-over-anti-islam-movie.html
---------
Europe
UN demands appropriate action as Syria abuses soar
18 September 2012
GENEVA: United Nations investigators said yesterday they had expanded a secret list of Syrians and military units suspected of committing war crimes during the 18-month-old conflict, calling for "appropriate action" against perpetrators of atrocities in the war-torn country.
The human rights investigators, led by Paulo Pinheiro, said they had gathered "a formidable and extraordinary body of evidence" and urged the UN Security Council to refer the situation in Syria to the International Criminal Court (ICC).
"Gross violations of human rights have grown in number, in pace and in scale," Pinheiro told diplomats gathered in Geneva, as more violence shook Damascus and Syria's second city Aleppo.
Pinheiro, head of a UN commission tasked with probing the abuses, said violations were occurring with such frequency that it was becoming impossible to investigate them all. Full report at:
http://www.arabnews.com/un-demands-appropriate-action-syria-abuses-soar
-----------
Salman Rushdie ups ante, says there's need for blasphemy
Sep 18, 2012
LONDON: The combative and unapologetic Salman Rushdie is back. Asked by UK's The Guardian daily if he would be more critical of Islam if he were to redraft his 1989 book 'The Satanic Verses' - for which Iran's then supreme leader Ayatollah Khomeini issued a fatwa to kill him - Rushdie said, "Definitely. Oh yes."
In his just-released memoirs, Joseph Anton - the pseudonym he adopted when he went into hiding for 13 years following the fatwa - the Indian-born author said there is a need for blasphemy. "The writers of the French enlightenment had deliberately used blasphemy as a weapon, refusing to accept the power of the Church to set limiting points on thought," he said.
Rushdie - known to be a non-believer - was "physically sick" after writing in Britain's The Times newspaper that he was Muslim. On Monday, he clarified he is "a profoundly irreligious man".
Full report at:
http://timesofindia.indiatimes.com/world/uk/Salman-Rushdie-ups-ante-says-theres-need-for-blasphemy/articleshow/16442971.cms
-----------
'Hate preacher' of Hizb ut-Tahrir hits back at Tony Abbott
Sep 18, 2012
British Muslim leader Taji Mustafa has hit back at claims from Opposition Leader Tony Abbott that he is a "preacher of hate", saying the comment is irresponsible and opportunistic.
Mr Mustafa flew out of Australia last night after speaking at a conference in Sydney over the weekend which was organised by his political group, Hizb ut-Tahrir.
The conference, called Muslim's Rise - Caliphate Imminent, encouraged the establishment of a global Islamic state and Sharia law.
Mr Abbott had called for Mr Mustafa's visa to be revoked, saying they should not be given to people who are "preachers of hate".
Speaking on 7.30, Mr Mustafa rejected the claim as an unfounded slur.
"If they want to revoke my visa on the basis on my character, as they said in Parliament, they should come and have a cup of coffee or maybe a barbie with me," he said.
"On a serious note, it's these kinds of irresponsible statements that actually stoke up mistrust between communities."
Full report at:
http://www.abc.net.au/news/2012-09-17/british-muslim-leader-taji-mustafa-hits-back-at-tony-abbott/4266624
-----------
Germany mulls ban on screening of anti-Islam film
Sep 17, 2012
BERLIN: Authorities in Germany are considering whether to ban the public screening of a film about Islam's Prophet Muhammad that has led to furious protests by Muslims worldwide, German Chancellor Angela Merkel said on Monday.
Last week, the US ambassador to Libya and three other Americans were killed when protesters attacked a US compound in Benghazi, while in Sudan an angry mob stormed the German Embassy in Khartoum during a demonstration against the film.
Full report at:
http://timesofindia.indiatimes.com/world/europe/Germany-mulls-ban-on-screening-of-anti-Islam-film/articleshow/16436379.cms
-----------
Russia prepares to outlaw hate movie
Sep 18, 2012
Russian prosecutors say they will seek to ban an anti-Islam film that has sparked violence around the world. The prosecutor general's office said on Monday it will ask the courts to outlaw the "Innocence of Muslims" film as "extremist and offending believers". The office said it already has urged leading internet providers to prevent its spread across the web. The move reflects the Kremlin's fears that the film could foment unrest.
http://timesofindia.indiatimes.com/world/rest-of-world/Russia-prepares-to-outlaw-hate-movie/articleshow/16442954.cms
-----------
Rushdie releases memoirs as anti-Islam film protests rage
Katy Lee | September 18, 2012
As violent protests over a US-made film rock the Muslim world, Salman Rushdie publishes his account Tuesday of the decade he spent in hiding while under a fatwa for his book "The Satanic Verses".
With at least 19 people killed in a week of furious protests over the film, Rushdie's candid memoir of the years spent on the run after he too was accused of mocking Islam, entitled "Joseph Anton", has an added resonance.
"A book which was critical of Islam would be difficult to be published now," the Indian-born writer, 65, told BBC television in an interview broadcast Monday.
"There's a lot of fear and nervousness around."
Considered blasphemous by many Muslims, "The Satanic Verses" -- published in 1988 -- earned him a fatwa from Iran's spiritual leader, the late Ayatollah Ruhollah Khomeini, urging Muslims to kill the writer.
Full report at:
http://www.thejakartaglobe.com/afp/rushdie-releases-memoirs-as-anti-islam-film-protests-rage/545103
-----------
U.N. Nuclear Watchdog Ready for Talks With Iran in 'Near Future'
2012/09/18
VIENNA (Reuters) - The U.N. nuclear watchdog said on Tuesday it was ready to hold talks with Iran soon and made no mention of allegations by Tehran that the Vienna-based atomic agency might be infiltrated by "terrorists and saboteurs".
The International Atomic Energy Agency issued a brief statement on a meeting on Monday between IAEA chief Yukiya Amano and Iranian nuclear energy head Fereydoun Abbasi-Davani, hours after Abbasi-Davani made the allegation in a speech to the U.N. agency's annual member state gathering in Vienna.
Full report at:
http://www.nytimes.com/reuters/2012/09/18/world/middleeast/18reuters-nuclear-iran-iaea.html?ref=middleeast&gwh=94F87BC2B696BD44687315524C81DC07
-----------
Paris Prosecutors Open Inquiry Into Protest at U.S. Embassy
By NICOLA CLARK
2012/09/18
PARIS — The Paris prosecutor's office confirmed on Monday that it had opened an investigation to identify the organizers of a protest outside the U.S. Embassy over the weekend against an American-made online video mocking the Prophet Muhammad.
A crowd of around 250 people — including dozens of Arab men dressed in traditional galabeya robes and women in face-covering veils — converged on Saturday afternoon on the streets near the embassy, which sits just off of the Place de la Concorde, waving banners, praying on sidewalks and chanting anti-American slogans. The police said the demonstration was unauthorized and was apparently organized through messages sent out via social media and mobile text messages.
Full report at:
http://www.nytimes.com/2012/09/18/world/europe/paris-prosecutors-open-inquiry-into-
-----------
Birmingham Islamic Society condemns embassy attacks
September 14, 2012
The Birmingham Islamic Society condemns the killing of U.S. Ambassador to Libya Christopher Stevens and his staff and condemns the attack on the U.S. Embassy in Cairo. We extend our deepest condolences to the families of Stevens and the other three American personnel at this tragic time.
Contrary to earlier reports, it is now becoming clear that this killing was not in reaction to a video depicting the Prophet Muhammad in a profane manner. Protests should never result in killing or destruction of property.
The best way to show our love for Prophet Muhammad is to manifest our reactions toward our adversaries as he did by loving and making prayers for them.
http://blog.al.com/birmingham-news-commentary/2012/09/your_view_birmingham_islamic_s.html
---------
Australia
Muslim leaders in Australia to call for peace at this Friday's sermons
Peter Lloyd
September 18, 2012
MARK COLVIN: No more protests is the directive today from an alliance of 25 Muslim organisations trying to limit the damage after last weekend's violent Sydney demonstration.
The call came amid talk of further demonstrations being planned in both Sydney and Melbourne.
Peter Lloyd reports.
PETER LLOYD: It's the first time so many diverse Muslim organisations have united. A coalition of 25 groups that claim to represent the estimated quarter of a million Muslims living in New South Wales.
It began with a call for calm and an unequivocal message that all street protests must stop, now.
Full report at:
http://www.abc.net.au/pm/content/2012/s3592874.htm
-----------
Singer Dan Sultan says Australia is 'racist'
Sep 18 2012
The ARIA-winning singer Dan Sultan has accused Australia of being a "fundamentally racist country" ahead of a series of protest concerts.
Descended from the Gurindji people, Sultan claims successive administrations have failed to recognise Aboriginal and Torres Strait Islanders people under Australian law.
Sultan will headline the inaugural Rock For Recognition shows in Melbourne, Sydney, Perth and Fremantle this November, with the aim of promoting indigenous rights.
The constitution makes no mention of Australia's First People and includes a "races power" which allows special laws to be directed to members of particular races.
While the Labour government has committed to a referendum to formally include indigenous people in the constitution, Sultan believes change is moving too slow.
"Australia is a fundamentally racist county and that's something that can be difficult for people to hear," Sultan told AAP.
Full report at:
http://news.ninemsn.com.au/article.aspx?id=8534901
-----------
Mideast Asia
Financial Strains Said to Threaten Stability of Palestinian Authority
By ISABEL KERSHNER
2012/09/18
JERUSALEM — As the Palestinian Authority marks the 19th anniversary this month of the signing of the Oslo Accords, the agreement with Israel that brought it into existence, the authority is facing a financial crisis that experts say could threaten its future operations and stability.
The International Monetary Fund said last year that the Western-backed authority had built the institutions and sound fiscal policies for running the economy of a future state. Oussama Kanaan, the fund's mission chief for the West Bank and Gaza, said in an interview that on that count, nothing had changed.
Full report at:
http://www.nytimes.com/2012/09/18/world/middleeast/palestinian-authoritys-stability-
-----------
Pro-Hamas Bloc Wins Control of UN Agency Union
2012/09/18
GAZA CITY, Gaza Strip (AP) — A pro-Hamas bloc has won control of a union representing Palestinians working for a UN agency in Gaza.
The bloc won 25 out of 27 union seats in a late Monday vote among 10,000 staffers with the U.N. Relief and Works Agency.
The development underscores Hamas' influence among Gaza's professionals even though it has been criticized lately for ignoring the needs of the poor.
It may also increase tensions between the U.N. agency and Hamas. The U.N. has tried to curb Hamas' power over the union in the past. A U.N. spokesman declined to comment.
Hamas has ruled Gaza since seizing power in 2007. It sees the U.N. as a rival to its dominance, because the agency runs schools, clinics and provides food to many in the coastal territory.
http://www.nytimes.com/aponline/2012/09/18/world/middleeast/ap-ml-palestinians-
----------
Israeli attack on Iran, stupidest idea: Former Mossad chief
18-09-2012
Former Mossad chief Meir Dagan says a potential Israeli military aggression against Iran's nuclear energy facilities would be the 'stupidest idea ever heard.'
"An attack on Iran now before exploring all other approaches is not the right way how to do it [sic]," Dagan said in an interview with CBS's 60 Minutes program on Sunday.
The remarks by the ex-spy chief come as Israel has recently stepped up their rhetoric against the Islamic Republic of Iran, threatening the country with military action to halt its peaceful nuclear energy program.
Israeli Prime Minister Benjamin Netanyahu and its war minister Ehud Barak have been pushing the UK and US to take a tougher line against Iran.
The US, Israel and some of their allies accuse Tehran of pursuing military objectives in its nuclear energy program.
Full report at:
http://www.presstv.com/detail/2012/09/17/262060/iran-war-stupidest-idea-exmossad-chief/
-----------
Iran writes to UN over anti-Islam film
18-09-2012
TEHRAN – Iranian Foreign Minister Ali Akbar Salehi has written a letter to United Nations Secretary General Ban Ki-moon to protest about the anti-Islam film produced in California, which has sparked protests across the Muslim world, the Persian service of the Fars News Agency reported late on Sunday.
In addition, the Iranian ambassador to the Organization of Islamic Cooperation, Hamid Reza Dehqani, said on Monday that foreign ministers of Muslim countries will soon discuss the issue of the insult to Prophet Muhammad (S).
Full report at:
http://www.tehrantimes.com/politics/101534-iran-writes-to-un-over-anti-islam-film
-----------
Iran-Turkey strategic ties can contribute to Islamic Awakening: Jalili
18-09-2012
TEHRAN – The secretary of Iran's Supreme National Security Council has said that strategic relations between Iran and Turkey can contribute to the Islamic Awakening occurring in the Muslim world.
SNSC Secretary Saeed Jalili made the remarks during a meeting with Turkish Foreign Minister Ahmet Davutoglu in Istanbul on Monday.
The Iranian official stated that strategic relations between Iran and Turkey can help newly established governments in the countries that experienced the Islamic Awakening to play effective roles in international relations.
Davutoglu called for the expansion of ties between Tehran and Ankara.
Jalili is scheduled to hold talks with Turkish Prime Minister Recep Tayyip Erdogan in Istanbul today.
http://www.tehrantimes.com/politics/101537-iran-turkey-strategic-ties-can-contribute-to-islamic-awakening-jalili
-----------
Enemies' chagrin over Islamic Awakening behind blasphemous film: Iran's Supreme Leader
18 September 2012
TEHRAN – Supreme Leader of the Islamic Revolution Ayatollah Seyyed Ali Khamenei has said that the fact that the enemies have failed to keep pace with the Islamic Awakening in the region has prompted them to perpetrate crimes such as insulting Prophet Muhammad (S).
The Leader made the remarks on Monday in an address during a graduation ceremony for cadets of a number of military academies of the Iranian Armed Forces in Noshahr, Mazandaran Province in reference to an anti-Islam movie produced in the United States that has sparked widespread protests across the Muslim world.
The film, which insults Prophet Muhammad (S), was produced in California, cost $5 million, and was financed with the help of more than 100 Jewish donors.
"The enemies' feeling that they have fallen behind in dealing with the rolling waves of the Islamic Awakening is the cause of perpetrating crimes such as insulting the Seal of the Prophets," he stated.
Full report at:
http://www.tehrantimes.com/politics/101545-enemies-chagrin-over-islamic-awakening-behind-blasphemous-film-leader
-----------
Palestine: Five injured by Israeli army fire near Ramallah
18-09-2012
Palestinian medical sources reported Monday that five residents were treated for the effects of tear-gas inhalation during clashes that took place near the Qalanida terminal, separating between occupied Jerusalem and the central West Bank city of Ramallah.
Medical sources reported that the wounded residents were treated, by field medics, for the effects of tear gas inhalation.
The clashed erupted as dozens of residents marched in commemoration of the Sabra and Shatella massacres that took place in the two refugee camps in Lebanon in 1982.
The army fired dozens of gas bombs at the protesters who responded by throwing stones and empty bottles at the soldiers. The clashes led to the closure of the road leading to the Qalandia terminal for several hours.
Full report at:
http://www.muslimnews.co.uk/news/news.php?article=23393
-----------
Turkey: Islamist salvation makes way to prime time with TV series
17-09-2012
Hürriyet Daily News:
The popularity of the new TV series, 'Huzur Sokaðý (Serenity Street), adapted from a 'salvation novel,' is reviving a four-decade old Islamist narrative in Turkey's pop culture: salvation stories
The TV series 'Huzur Sokaðý'is an adaptation from Þule Yüksel Þenler's bestselling novel of the same name, published first in 1970 The novel is one of the most popular examples of the the salvation novel.
Tune in to Turkish TV channel ATV's popular new series, "Huzur Sokaðý" (Serenity Street), to get a taste of how the never-ending debate over the public presence of Islam is reflected in pop culture. Read some of the comments made about the series by prominent columnists and writers, and you'll get a feel of how the debate has evolved (and continues to evolve) in the last four decades.
Full report at:
http://www.muslimnews.co.uk/news/news.php?article=23381
-----------
Israeli Diplomat Is Man in Middle
By ELISABETH BUMILLER
2012/09/18
WASHINGTON — With Prime Minister Benjamin Netanyahu of Israel engaged in an unusually public dispute with the Obama administration over Iran, Mr. Netanyahu's man in Washington, Michael B. Oren, has been working rooms all over town.
He has run up to Capitol Hill for damage control. He has spent hours with reporters making Israel's case against Tehran. He went to a Rosh Hashana party celebrating the Jewish New Year at Vice President Joseph R. Biden Jr.'s house. He had the White House chief of staff and hundreds of others over for Rosh Hashana at his own house. He went to a ribbon-cutting ceremony in Maryland to open the North American headquarters of an Israeli military contractor. He even made a quiet trip to press his arguments about Iran at J Street, the dovish Jewish lobbying group.
Full report at:
http://www.nytimes.com/2012/09/18/world/middleeast/israeli-diplomat-michael-oren-is-
-----------
Iranian Official Says Blasts Targeted Nuclear Sites
By DAVID E. SANGER and RICK GLADSTONE
2012/09/18
WASHINGTON — Iran's most senior atomic energy official revealed on Monday that separate explosions, which he attributed to sabotage, had targeted power supplies to the country's two main uranium enrichment facilities, including the deep underground site that American and Israeli officials say is the most invulnerable to bombing.
The official, Fereydoon Abbasi, a nuclear scientist who narrowly escaped an assassination in his car nearly two years ago, just before he was appointed to lead the Atomic Energy Organization of Iran, said one of the attacks occurred on Aug. 17, a day before international inspectors arrived at the underground site.
Full report at:
http://www.nytimes.com/2012/09/18/world/middleeast/iran-scientist-says-blasts-targeted-
-----------
Africa
Nigerian military says alleged Boko Haram spokesman killed
September 18, 2012
* Military official says group's mediaman killed; two field commanders arrested
KANO: Nigerian soldiers on Monday shot dead a man suspected to have acted as a spokesman for group Boko Haram and arrested two other high-ranking members, a military official said.
"We carried out an operation early Monday morning in which we killed a media man of Boko Haram terrorists and arrested two field commanders of the sect," said Lieutenant Iweha Ikedichi, spokesman for a military task force, adding he did not have their exact identities.
Soldiers involved in the operation on the outskirts of the city of Kano said the man killed was suspected to be one of the Boko Haram spokesmen who used the alias Abul Qaqa. The operation at a checkpoint was carried out with the use of intelligence information, they said.
According to a soldier who spoke on condition of anonymity, the three suspects were coming into Kano early Monday along with a woman they were transporting to receive medical treatment. The alleged spokesman was said to have resisted and was killed in a shootout. One of those arrested is an alleged "field commander" for Kogi and Kaduna states as well as for the capital Abuja, the soldier said.
Full report at:
http://www.dailytimes.com.pk/default.asp?page=2012\09\18\story_18-9-2012_pg4_3
-----------
South Africa Says Citizens Killed in Kabul Blast
2012/09/18
JOHANNESBURG (AP) — The International Affairs Ministry says several South African citizens are among victims of a suicide bomb blast in Afghanistan.
Spokesman Nelson Kgwete said "the exact number is yet to be verified." He was speaking on Talk Radio 702 which said the victims were believed to be employed by a South African aviation company based at Rand Airport in Johannesburg.
He said the South African Embassy in Afghanistan is following up the matter and would help establish next-of-kin of those killed.
A suicide bomber rammed a car packed with explosives into a mini-bus carrying foreign aviation workers to the airport in Kabul early Tuesday, killing at least nine people in an attack that a militant group said was revenge for an anti-Islam film that ridicules the Prophet Muhammad.
http://www.nytimes.com/aponline/2012/09/18/world/africa/ap-af-south-africa-
-----------
Libyan witness: US envoy was still breathing when found
Sep 18, 2012
CAIRO: A witness says US ambassador Chris Stevens was still breathing as people pulled him from a room where he was found after this week's attack on the US consulate in the Libyan city of Benghazi.
Fahd al-Bakoush says he was present when a crowd pulled Stevens out of the room inside the consulate where someone stumbled across him, thinking he was dead. No one knew who he was.
Al-Bakoush said on Monday that Stevens was breathing, though his face was blackened and he seemed paralyzed. Al-Bakoush says the crowd carried Stevens to a private car to drive him to a hospital, since there was no ambulance. Three other Americans died in the Tuesday attack, part of a wave of unrest over an anti-Islam film.
http://timesofindia.indiatimes.com/world/middle-east/Libyan-witness-US-envoy-was-still-breathing-when-found/articleshow/16442930.cms
-----------
Qaeda in North Africa Urges Killing of More U.S. Envoys
2012/09/18
DUBAI (Reuters) - Al Qaeda's affiliate in North Africa urged Muslims to kill representatives of the U.S. government in the region in retaliation for a film that mocks the Prophet Mohammad, saying it welcomed last week's revenge killing of the U.S. ambassador in Libya.
"We congratulate our Muslim rebel brothers who defended our Prophet's honor... and we tell them: the killing of the U.S. ambassador is the best gift you give to his arrogant unjust government," al Qaeda in the Islamic Maghreb (AQIM) said in a statement posted on Tuesday on a website used by militants.
Full report at:
http://www.nytimes.com/reuters/2012/09/18/world/middleeast/18reuters-protests-
-----------
URL: https://www.newageislam.com/islamic-world-news/by-new-age-islam-news-bureau/hindus,-muslims-swap-shrine-gifts-in-assam/d/8709