New Age Islam News Bureau
19 Sept 2012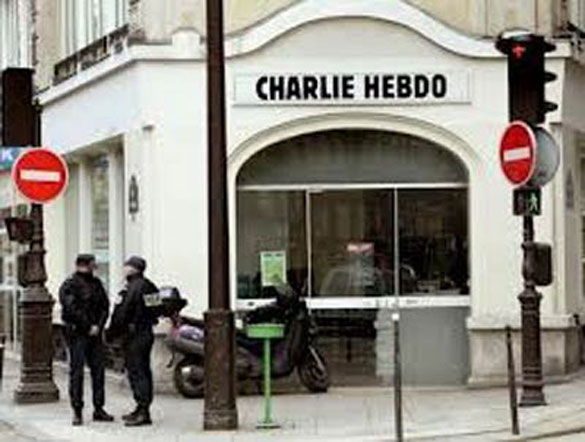 Europe
• French weekly publishes Prophet Muhammad cartoons
• Islam's civil war comes to Russia: Shiites and Sunnis battle in the Caucasus
• Newsweek's 'Muslim Rage' cover sparks wave of scorn
• Salman Rushdie releases memoirs amid raging anti-Islam film protests
• Islamic newspaper produced in Spain advocates a new financial system
• Russia could block YouTube over anti-Islam film
• UK Channel 4 film controversy: media the problem, and solution, to image of Islam
• France to close embassies in 20 countries
South Asia
• Triple suicide bombings kill 18 in Afghanistan
• Rohingya Muslims benefitted
• Bangladesh' Christian community condemn anti-Islam film
• Motorcycle bomb kills 2 Afghan guards: Police
• Afghan recruit reveals how and why he killed his American trainers
• Bangla PM's aide accuses World Bank of engaging spy network in Dhaka
• Fresh Eastern Afghan protest against anti-Islam film
• NATO: Halt in joint Afghan operations won't hurt strategy
• Hajis under private management to face lodging crisis: Hajj Agencies
• NATO Afghan patrol curbs 'prudent'
• Sri Lankan Muslims Protest Anti-Islam Film
• Coalition Sharply Reduces Joint Operations with Afghan Troops
Arab World
• 3 Saudis handed death for burning friend alive
• Saudi beheads Pakistan national for drug smuggling
• Saudi King orders blocking of web links to anti-Islam film
• Egypt to try 7 radical Coptic Christians, US pastor in symbolic anti-Islam film trial
• We are one family, Prince Salman tells Saudis
• Envoy hails honest cabbie as the true face of Pakistan
• Bahrain Agrees to Most UN Rights Recommendations
• Syria Orders Schools to Open, but Classes Give Way to War
• Rebels Are Said to Defeat Syrian Forces in Battle for Border Post
• YouTube blocked in Saudi to stop anti-Islam film
• Syrian regime plans to use chemical weapons: report
• Regional initiative on Syria takes off
• Coptic Christian in Egypt gets jail for anti-Islam rant online
• Egypt's Tahrir graffiti removal stirs anger, artists return to paint more
• Protesters gather outside home of anti-Islam producer's family home in Cairo
• Calls mount for international legal action against crass film
• Syria fighting rages as Brahimi visits refugees in Turkey
• MWL calls for legal action against anti-Islam movie
North America
• Ad Calling Jihad 'Savage' Is Set to Appear in Subway
• US Unmasked in Islamic World... Lebanon Demands Urgent AL Meeting
• New video shows Romney saying Palestinians don't want peace
• America must understand that Muslims are human too
• Barack Obama: Muslim world must help protect Americans abroad
• U.S. shuts Indonesia consulate amid film protests
• U.S. says there was no actionable input about Benghazi attack
• Travel curbs for US citizens in Pakistan
• U.S. Urges Its Ally Bahrain to Act on Rights Reforms
• CAIR Asks Mideast Muslims to Ignore 'Trashy' Anti-Islam Film
India
• Painting of Archangel Gabriel and pilgrims at the Kaaba trouble now for NCERT
• Pak curious about India's tryst with right to education
• Naroda Patiya convict thrashed in jail by 2008 Ahmedabad blasts accused
• Two-day India-Pak commerce secretary-level talks from tomorrow
• Chinese soldiers present in PoK: Army Chief
• Kashmir continues to burn in flames of anti- U. S Sentiment
• 75 more Pak Hindus raise pitch for Indian citizenship
• J&K cabinet reshuffle: Congress to induct fresh faces
• Bukhari drops Rampur plan after Mulayam assurance
Southeast Asia
• Indonesian radical Islam cleric urges more violence
• Indonesian President to ask the world to ban blasphemy
• Malaysia outraged over "Muslim Rage" cover
• Malaysia politician criticized for anti-Islam film comments
• Malaysia police use social media to connect with people
• Anti-Muslim film is Haram, says MUI
Pakistan
• Three Shias shot dead in Mastung bus attack
• MQM, PTI condemn Jamaat-e-Islami leader murder
• Muslim scholars stress need for modern education
• 'Sino-Pak friendly ties historical, multi-dimensional'
• Hazaras: Exodus to the land down under
• In U-turn, PM ready to open Zardari graft case
• Balochistan case: SC rejects all secretaries' response
• Blasts rock Karachi, 11 killed
• Lashkar-i-Jhangvi faction involved in Karachi blast: police
• Pakistan govt to join protests over anti-Islam film
• Three MQM men among six shot dead
• Anti-Islam film: LHC issues notices to PTA and federal government
• Foreign student's registration in Pakistani 'madrasas' completed
• Letter to refer to presidential immunity, says AG
• Verdict in dual nationality case reserved
Mideast Asia
• Palestinian President 'moots cancelling Oslo Accords'
• IAEA renews pressure on Iran after "terrorist" outburst
• EU-Iran Nuclear Talks 'Useful and Constructive'
• World Bank: Palestinian Fiscal Crisis Is Deepening
• Turkish Public Sours on Syrian Uprising
Africa
• Nigeria's Boko Haram calls for attacks on US in wake of anti-Islam film
• Chief Imam of Ghana wants US to act against producers of anti-Muslim movie
• After Libya, Renewed Questions about the Potency of Al Qaeda
• Thousands flee as Somali forces advance on Kismayo
Australia
• Australia Islamic leader condemns violence from anti-Islam video
• Religious unrest over offensive film won't spread to Brisbane: Islamic Council of Queensland
Compiled by New Age Islam News Bureau
Photo: French Weekly Charlie Hebdo Publishes Prophet Muhammad Cartoons
URL: https://www.newageislam.com/islamic-world-news/by-new-age-islam-news-bureau/french-weekly-publishes-prophet-muhammad-cartoons/d/8719
-----------
Europe
French weekly publishes Prophet Muhammad cartoons
Sep 19 2012
Paris: French satirical weekly Charlie Hebdo published cartoons of the Prophet Muhammad on Wednesday, a move criticised by the French authorities which sent riot police to protect the magazine's offices.
Issues of the magazine hit newsstands with a front cover showing an Orthodox Jew pushing a turbaned figure in a wheelchair with several caricatures of the Prophet on its inside pages, including some of him naked.
The front page cartoon had the wheelchair-bound figure saying "You mustn't mock" under the headline "Untouchable 2", a reference to a hugely popular French movie about a paralysed rich white man and his black assistant.
The publication came amid widespread outrage over a short film, made with private funds in the United States, that mocks the Prophet and has ignited days of sometimes deadly protests in the Arab world, Africa, Asia and some Western countries.
French Foreign Minister Laurent Fabius criticised the move as a provocation and said he had ordered security beefed up at French diplomatic offices in the Muslim world.
Charlie Hebdo's Paris offices were fire bombed last November after it published a mocking caricature of Muhammad. In 2005, Danish cartoons of the Prophet sparked a wave of violent protests across the Muslim world that killed at least 50 people.
Many Muslims consider any representation of Allah or the Prophet Muhammad offensive.
"Is it relevant and intelligent in this environment to add fuel to the fire? The answer is no," Fabius told France Info radio. "I'm very worried... and when I saw this I immediately issued instructions for special security precautions to be taken in all the countries where it could be a problem."
The government has called for restraint over the cartoons, restating the principles of free speech in France and urging those shocked by the images to take action through the courts.
Muslim leaders in France, which has Europe's largest Muslim population, have appealed for calm.
As outrage over the anti-Muslim film continues to fuel violence and protests across the Islamic world, French Prime Minister Jean-Marc Ayrault said the authorities had rejected a request to hold a march against the film in Paris.
"There is no reason for us to allow conflicts that do not concern France to enter our country," Ayrault told RTL radio.
Social media had circulated calls for a protest on Saturday against the film, after police arrested about 150 people who tried to take part in an unauthorised protest near the US Embassy in Paris last week.
http://www.indianexpress.com/news/french-weekly-publishes-prophet-muhammad-cartoons/1004898/
-----------
Islam's civil war comes to Russia: Shiites and Sunnis battle in the Caucasus
By Emil Pain
September 18, 2012
MOSCOW - Just this past August, there have been three attacks on Muslims in a small region of Dagestan - two attacks on Imams and one attack on a Shiite mosque.
The attack on the mosque was the first attack on Shiites in the Northern Caucasus. It appears that the fight between Sunnis and Shiites, which is so common in Iraq, Syria and Lebanon, is coming to the North Caucasus. The Salafists, who are gaining power in the region, do not recognize the division of Islam into the two branches, nor do they recognize different religious schools of thought. It is likely that they are behind both the organization and the execution of the attacks.
If you consider the recent death of Said al-Chirkavi, one of the most authoritative representatives of traditional Islam in Dagestan, who was killed by a suicide bomber, in conjunction with the recent attacks on the Mufti of Tatarstan and the killing of his deputy, then it is clear that this rise in religious violence is not isolated to Dagestan, but has spread to other parts of Russia that are historically Muslim.
There is no doubt that the traditional Sufi and Hanafi branches of Islam have suffered. Roman Silantev, a specialist in Islamic studies, said, "The last several months have been the most difficult in recent history for the traditional Muslims of Russia. The killing of Valiulla Yakupov and Said al-Chirkavi, two spiritual leaders who stood against the Salafist-Wahhabi ideology, was the strongest blow to the country's Muslim institutions, but it was not the only blow."

According to Silantev, the "war for Dagestan is lost," but there is still a chance to lead Dagestan away from the influence of radical Islam. That chance, he says, is the need to "stop the traitorous practice of talking with terrorists, and start a total war against them, with the goal of totally wiping them out. Otherwise Russia will become a second Iraq." That particular vision for Dagestan's rescue is substantially different from the ideas popular among the region's ruling elite. All of them, including the head of the local government and the United Russia faction in the local parliament, fear that al-Chirkavi's killing could interrupt peaceful dialogue in the republic.
Disappearances and extrajudicial killings
Silantev is the acting director of the All Russia People's Assembly, a program that functions under the aegis of the Russian Orthodox Church. His views are often aligned with the most conservative elements in Orthodox leadership. Based on statistics from the police and military, conservative generals and officers who are leading the fight against terrorism in Dagestan need no encouragement from conservative religious figures. They have been fighting a total war against those related to Salafism for a while. In those cases where there is not enough evidence to take someone to court, the accused simply disappears without a trace. And the number of disappearances is rising. In the first six months of 2012, there were more than 50 disappearances, compared to 31 in all of 2011. Of course, the kidnapping or extrajudicial killing of people does not weaken terrorism; in fact, it motivates it.
The conservatives are leading based on wishes, not on reality. Nobody wants to recognize the increasing crisis in vertically managed religious organizations, which are traditional in Russia.
For more than two centuries there has been a centralized organization for both Russian Orthodox and Muslims, connected to the state. A centralized Muslim spiritual leadership was in place under the Tsars and during the Soviet Union, both of which were controlled by the state. This state-sponsored spiritual leadership continues to this day, only slightly less centralized than during Soviet days.
As a result, "traditional" Islam is poorly positioned to offer any protection, guidance or assistance for Muslims with complaints against the government - either in relationship to the extremely high levels of corruption, even for Russia, or when Muslims have run-ins with police engaging in "fighting terrorism." Hence, more and more Muslims in Russia have grown dissatisfied with their spiritual leadership and are looking elsewhere for religion. They have found Salafism and Wahhabism. In 1999, Wahhabism was officially banned in Dagestan. This state involvement in religion has left the region teetering for years on the brink of civil war, with thousands of people killed, injured or disappeared without a trace.
So the official Muslim spiritual leadership, and other organizations associated with traditional Islam, are left in an exceptionally difficult situation. Many studies have shown that the rapid rise in the popularity of Salafism is connected to political and socio-economic grievances among the population in the North Caucasus. But at the same time, Dagestani fighters are much more likely to attack Imams than representatives of the government. Only the North Caucasian police suffer more casualties than imams of traditional mosques. As it turns out, not only average Muslims are left vulnerable by the centralized, vertical spiritual leadership, but also the spiritual leaders themselves.
http://www.worldcrunch.com/world-affairs/islam-039-s-civil-war-comes-to-russia-shiites-
-----------
Newsweek's 'Muslim Rage' cover sparks wave of scorn
Sep 18, 2012
PARIS: Newsweek's front page about the deadly protests currently sweeping the Muslim world has sparked a storm of controversy and derision on Twitter as netizens mock the magazine's headline " Muslim Rage."
"Lost nephew at the airport but can't yell for him because his name is Jihad. #MuslimRage," one Twitter user mocked online.
"Man next to me on subway reading Koran on his Samsung Galaxy tablet just offered his seat to an older lady. #MUSLIMRAGE truly affects us all," another netizen from New York posted on his account.
The front page shows a photo of angry Muslim protesters shouting and putting their hands in the air, under the headline "Muslim Rage" and a sub-headline "How I survived it, how we can end it."
The cover story is written by Ayaan Hirsi Ali, a well-known Somali-born rights activist and former Dutch lawmaker whose criticism of Islam has earned her death threats.
In it, she describes her own experience of renouncing Islam as well as making a short film with Theo van Gogh about Muslim women that saw the Dutch filmmaker shot and stabbed to death.
Full report at:
http://timesofindia.indiatimes.com/world/europe/Newsweeks-Muslim-Rage-cover-sparks-wave-of-scorn/articleshow/16449423.cms
-----------
Salman Rushdie releases memoirs amid raging anti-Islam film protests
Tuesday, 18 September 2012
As violent protests over a U.S.-made film rock the Muslim world, Salman Rushdie publishes his account Tuesday of the decade he spent in hiding while under a fatwa for his book "The Satanic Verses".
With at least 19 people killed in a week of furious protests over the film, Rushdie's candid memoir of the years spent on the run after he too was accused of mocking Islam, entitled "Joseph Anton", has an added resonance.
"A book which was critical of Islam would be difficult to be published now," the Indian-born writer, 65, told BBC television in an interview broadcast Monday.
Full report at:
http://english.alarabiya.net/articles/2012/09/18/238686.html
-----------
Islamic newspaper produced in Spain's Granada advocates a new financial system
18 September 2012
Granada is best known as the home of the medieval Alhambra palace, but the city also boasts one of the most beautiful new mosques in the region.
Viewed from the "mirador" or vantage point on the other side of the valley, the Alhambra is breathtakingly beautiful. And facing it is the main Mosque of Granada, the Mezquita de Granada, with its lush, green gardens and magnificent views.
The mosque itself was constructed by donations; mostly from Sheikh Sultan bin Mohammed al-Qasimi, ruler of Sharjah in UAE. 'Islam Hoy' is a newspaper that was started within the mosque's confines and is now published just across the street. Its editors say it is free from editorial control by any of its benefactors, even though the two sides share the same understanding of Islam and there is a fluid collaboration between the two institutions.
Full report at:
http://english.alarabiya.net/articles/2012/09/18/238746.html
-----------
Russia could block YouTube over anti-Islam film
18 September 2012
MOSCOW — A controversial new Russian media law could be used to block YouTube in the country over postings of the anti-Islam film that has sparked deadly rioting, the communications minister warned Tuesday.
"It sounds like a joke, but because of this video... all of YouTube could be blocked throughout Russia," minister Nikolai Nikiforov wrote on Twitter.
He pointed to sections of the law, which goes into effect on November 1 and is designed to protect minors from extremist and other dangerous material, allowing the government to block an entire site over the content of a single page.
Full report at: Copyright © 2012 AFP. All rights reserved.
-----------
UK Channel 4 film controversy: media the problem, and solution, to image of Islam
Nihal Magdy | 18 September 2012
London – In August, the UK's Channel 4 broadcast the documentary "Islam: The Untold Story". Presented by historian Tom Holland, the programme examined the issue of whether, as Muslims believe, Islam was born fully formed in all its fundamentals, or whether it evolved gradually over many years. It triggered sharp criticism and a flood of complaints to Channel 4 and the UK's communication regulator Ofcom.
Many Muslims and non-Muslims viewed the programme as poorly researched, biased and unbalanced in terms of the arguments presented. Some critics claimed that Holland's piece ignored pertinent scholarly material on Islamic history, and the Islamic Education and Research Academy (iERA) accused him of "selective scholarship", saying his work was "clearly biased".
Full report at:
http://www.bikyamasr.com/77854/uk-channel-4-film-controversy-suggests-media-may-be-the-problem-and-solution-to-image-of-islam/
--------
France to close embassies in 20 countries
September 19 2012
France said it would temporarily close its embassies and schools in 20 countries on Friday after a French magazine published cartoons of the Prophet Mohammad (SM), a move it fears will further inflame tensions over a film mocking the prophet.
"We have indeed decided as a precautionary measure to close our premises, embassies, consulates, cultural centres and schools," a Foreign Ministry spokesman said of the shut-down on Friday, prayer day across the Muslim world.
Before publishing the cartoons on Wednesday, French satirical weekly Charlie Hebdo, renowned for its irreverent treatment of the political establishment and public figures, argued that it had the right to uphold that tradition.
"We do caricatures of everyone, and above all every week, and when we do it with the Prophet, it's called provocation," the paper's editor, Stephane Charbonnier, told the news channel i>TELE.
Full report at:
http://www.thedailystar.net/newDesign/latest_news.php?nid=40957
-------
South Asia
Triple suicide bombings kill 18 in Afghanistan
Sep 18, 2012
KABUL: Three suicide bombings rocked three places in Afghanistan, including the capital Kabul, killing at least 18 people, including eight South Africans and three attackers.
The other attacks took place in Gereshk district in the southern Helmand province, a former stronghold of the Taliban, and in the eastern Kunar province, Xinhua reported.
In the first attack at 6.45 am in the fortified capital city, at least 12 people including eight South African nationals were killed, when a suicide bomber rammed his explosives-laden vehicle into a bus carrying foreign staffers of a local company.
In Gereshk, two people, including an Afghan soldier, were killed and five other soldiers were injured.
A terrorist driving an explosives-packed car blew himself up near a military base in Haiderabad area of Gereshk district at 4.30 p.m., an army officer said.
In Kunar's Watapor district, a man with an explosive device strapped to his body blew himself up near an under-construction bridge, where several people were gathered.
One civilian was killed and two others were injured.
In a statement released by his office, Afghan President Hamid Karzai blamed the "enemies of peace" for the attacks.
http://timesofindia.indiatimes.com/world/south-asia/Triple-suicide-bombings-kill-18-in-Afghanistan/articleshow/16453957.cms
--------
Rohingya Muslims benefitted
(Wam) / 19 September 2012
The Khalifa bin Zayed Al Nahyan Humanitarian Foundation (KZHF) has concluded the first phase of emergency relief project for Rohingya Muslims and has provided in-kind assistance to around 200,000 affected people in Myanmar's Arakan state.
The project was launched under the directives of President His Highness Sheikh Khalifa Bin Zayed Al Nahyan to provide emergency aid to the displaced Rohingya Muslims in Myanmar in the wake of the bloody atrocities against them.
Full report at:
http://www.khaleejtimes.com/kt-article-display-
--------
Bangladesh' Christian community condemn anti-Islam film
19 September 2012
United Forum of Churches of Bangladesh on Wednesday condemned the anti-Islamic film made by a United States producer mocking Prophet Muhammad (pbuh).
"We strongly protest and disapprove of making of the controversial film 'Innocence of Muslims' by an individual in the United States," expressing solidarity with Muslim community of the country the forum said in a statement.
The Christian community of the country along with its Muslim brothers and sisters is also shocked and aggrieved. No religion and religious beliefs in the world can support such heinous act, Archbishop Patrick D Rozario, chairman of the forum, said.
People irrespective of all religions should show honour to other religions and act accordingly, the statement added.
http://www.thedailystar.net/newDesign/latest_news.php?nid=40962
--------
Motorcycle bomb kills 2 Afghan guards: Police
September 19, 2012
KABUL: Afghan police say that a bomb hidden in a parked motorcycle has exploded outside a police training centre in western Afghanistan, killing two security guards.
Herat province police spokesman Noor Khan Nikzad says Wednesday's blast in Adraskan district also wounded six guards. He did not provide further details.
No one immediately claimed responsibility for the attack, but it matched the pattern of Taliban strikes that typically target Afghan forces or government workers.
http://dawn.com/2012/09/19/motorcycle-bomb-kills-2-afghan-guards-police/
-----------
Afghan recruit reveals how and why he killed his American trainers
Sep 19 2012
Kabul: A former Afghan police trainee has revealed how he killed two American soldiers who were teaching him to be a cop.
The unidentified 30-year-old man, whose face was covered, confessed to CNN in a Taliban-controlled Afghan village.
According to the New York Post, he showed the Afghan police uniform he wore on October 2, 2009, when he attacked the Americans, Sergeant Aaron Smith, 25, and Pfc. Brandon Owens, 21.
Full report at:
http://www.indianexpress.com/news/afghan-recruit-reveals-how-and-why-he-killed-his-american-trainers/1004852/
-----------
Bangla PM's aide accuses World Bank of engaging spy network in Dhaka
Sep 18 2012
Dhaka : The controversy over a multi-billion bridge project in Bangladesh today took a ugly turn with a top official accusing the World Bank of engaging a spy network in Dhaka which is dishing out "misleading" information to the global lender.
"There's a World Bank spy network here (Dhaka)... They have passed on false and misleading information to the Bank," Prime Minister Sheikh Hasina's economic affairs adviser Moshiur Rahman told newsmen.
Full report at:
http://www.indianexpress.com/news/bangla-pms-aide-accuses-world-bank-of-engaging-spy-network-in-dhaka/1004477/
-----------
Fresh Eastern Afghan protest against anti-Islam film
Sep 19, 2012
JALALABAD: About 1,000 protesters took to the streets in eastern Afghanistan on Wednesday, blocking a key road to Kabul in the latest demonstrations against a US-made anti-Islam film, witnesses said.
The protesters, mostly university students, chanted "Death to America" and "Death to the enemies of Islam."
More than 30 people have died in incidents linked to the trailer for "Innocence of Muslims," a US-made film that depicts the Prophet Mohammed as a thuggish womaniser.
Full report at:
http://timesofindia.indiatimes.com/world/south-asia/Fresh-Afghan-protest-against-anti-Islam-film/articleshow/16460146.cms
-----------
NATO: Halt in joint Afghan operations won't hurt strategy
Sep 19, 2012
BRUSSELS: NATO's top official has played down the significance of the alliance's decision to scale back joint operations with the Afghan army and police after a string of insider attacks, saying NATO's strategy of handing over responsibility for the war to its Afghan allies remains unchanged.
Following the deaths this year of 51 international troops killed by Afghan forces or militants wearing Afghan uniforms, NATO has said that troops will no longer routinely carry out operations such as patrolling or manning outposts with their Afghan counterparts.
Full report at:
http://timesofindia.indiatimes.com/world/south-asia/NATO-Halt-in-joint-Afghan-operations-wont-hurt-strategy/articleshow/16456770.cms
-----------
Hajis under private management to face lodging crisis: Hajj Agencies
19 September 2012
Around 30,000 Bangladeshi Hajj pilgrims, travelling to Saudi Arabia under private management, will face housing crisis in Makkah and Madinah if the current flight schedule is maintained, the Hajj Agencies Association of Bangladesh (Haab) said yesterday.
The situation will be created due to government's delayed announcement of the flight schedule, Haab leaders told a press conference in the capital.
They urged the government to allow other airlines alongside Biman Bangladesh Airlines, Saudi Airlines and National Air Services to fly 60,000 Hajj passengers within the first ten days into the start of Hajj flights to avoid the crisis. Otherwise, they said, 30,000 Hajj passengers would have to spend nights under the open sky.
Full report at:
http://www.thedailystar.net/newDesign/news-details.php?nid=250370
--------
NATO Afghan patrol curbs 'prudent'
September 19, 2012
BRUSSELS - NATO strategy in Afghanistan is unchanged and scaling back joint operations with Afghan patrols to prevent further Western deaths by locals is prudent and temporary, NATO chief Anders Fogh Rasmussen said Tuesday.
Rasmussen, who has previously expressed "deep concerns" over insider attacks on NATO troops with Afghan President Hamid Karzai, stressed that the two sides would continue to work together, "so our strategy remains the same."
NATO remains committed to seeing "Afghans fully in charge of their own security by the end of 2014. That is the bottom line. The goal is unchanged, the strategy remains the same and the timeline remains the same."
Full report at:
http://www.nation.com.pk/pakistan-news-newspaper-daily-english-online/international/19-Sep-2012/NATO-afghan-patrol-curb-prudent
-----------
Sri Lankan Muslims Protest Anti-Islam Film
September 19, 2012
COLOMBO, Sri Lanka (AP) — Hundreds of Muslims in Sri Lanka's capital protested Wednesday against an anti-Islam film produced in the United States, burning effigies of President Barack Obama.
About 300 protesters marched in Colombo, carrying signs and banners that read, "Ban anti-Islamic film all over the world. U.S. should apologize to Muslims." They chanted, "Hang the producer and director of the film."
Full report at:
http://www.nytimes.com/aponline/2012/09/19/world/asia/ap-as-sri-lanka-prophet-
-----------
Coalition Sharply Reduces Joint Operations With Afghan Troops
By MATTHEW ROSENBERG
September 19, 2012
KABUL, Afghanistan — In a significant blow to a core element of the Western exit strategy from Afghanistan, the American-led military coalition said Tuesday it has temporarily curtailed joint operations with the Afghan Army and police forces.
The new limits were a sign of how American priorities were being drastically reordered amid a wave of anti-American sentiment brought on by an anti-Islam movie, which has sparked riots across the Muslim world and on Tuesday was the motive behind a suicide bombing here that killed 14 people, 10 of them foreigners.
Coalition officials said they feared that anger over the American-made film, which mocks the Prophet Muhammad, could worsen an already deadly spike in attacks on foreign troops by Afghan soldiers and police forces over the past six weeks. Under the rules issued on Sunday, a general's approval will be required for foreign forces to work with Afghans on a tactical level — a broad category that covers everything from joint patrols into Taliban territory to hands-on training behind the fortified walls of a shared outpost.
Full report at:
http://www.nytimes.com/2012/09/19/world/asia/NATO-curbs-joint-operations-with-afghan-troops.html?ref=asia&gwh=3EE1469FEF0F00318230B62ED7B5A134
-----------
Arab World
3 Saudis handed death for burning friend alive
KHALED AL-SUBIANI
Wednesday 19 September 2012
The General Court yesterday sentenced three Saudis to death for burning a man alive.
The three, all in their 30s, tied the victim up inside a rug, poured a large quantity of fuel over him and set him on fire.
The victim, a 34-year-old father of two, died the following day in hospital from third-degree burns.
He was taken to the hospital by pedestrians who reported the incident to police. The incident took place in southern Jeddah two months ago. The victim's father said he would not pardon the killers. He says he was told by his son that he had financial disputes with the defendants. The defendants have demanded appeal.
http://www.arabnews.com/3-saudis-handed-death-burning-friend-alive
-------
Saudi beheads Pakistan national for drug smuggling
September 19, 2012
RIYADH: Saudi Arabia beheaded a Pakistani national on Wednesday in the holy city of Medina after convicting him of drug smuggling, the interior ministry said.
Bashir Khamis Ahmad was found guilty of trying to smuggle large quantities of heroin into the kingdom, the ministry said in a statement carried by the official SPA news agency.
The beheading brings to 60 the number of people executed in Saudi Arabia so far this year, according to an AFP tally based on official reports.
Amnesty International says 79 people were put to death in the Gulf kingdom last year.
Rape, murder, apostasy, armed robbery and drug trafficking are all punishable by death under its strict version of sharia, or Islamic law.
http://dawn.com/2012/09/19/saudi-beheads-pakistan-national-for-drug-smuggling/
-----------
Saudi King orders blocking of web links to anti-Islam film
19 September 2012
Custodian of the Two Holy Mosques King Abdullah has ordered Saudi telecom authorities to block the websites that show the nefarious film that denigrates Prophet Muhammad (peace be upon him) and Islam.
"On the basis of the king's directives all Internet service providers in the Kingdom have been instructed to block the film on users in Saudi Arabia," said the Telecommunications and Information Technology Commission.
"We have told Google to block all YouTube links containing the film. If the company fails to do so we'll block YouTube completely," said TITC, the Kingdom's telecom regulator.
People have been advised to inform TITC if they found any Internet sites showing the film by either contacting www.Internet .gov.sa or www.citc.gov.sa to block them.
Full report at:
http://www.arabnews.com/king-orders-blocking-web-links-anti-islam-film
-------
Egypt to try 7 radical Coptic Christians, US pastor in symbolic anti-Islam film trial
Joseph Mayton | 18 September 2012
CAIRO: In what is already being tapped as a largely symbolic trial, the Egyptian government announced it had issued arrest warrants for 7 Coptic Christians and Florida-based pastor Terry Jones over their links to an anti-Islam film that sparked widespread protests in Egypt and across the Islamic world last week.
All those that have seen arrests pushed by Egypt are unlikely to ever stand trial as they are believed to live outside Egypt.
The aim, however, by the prosecutor is to show Egyptians that they are moving forward on publicly trying those they believe are responsible for the film, which insults and defames Islam and Prophet Mohamed.
Full report at:
http://www.bikyamasr.com/77846/egypt-to-try-7-radical-coptic-christians-us-pastor-in-symbolic-anti-islam-film-trial/
-----------
We are one family, Prince Salman tells Saudis
19 September 2012
Vice Custodian of the Two Holy Mosques Prince Salman yesterday emphasized Saudi Arabia's efforts in the service of the holy haram in Makkah and the millions of pilgrims who come from all over the world for Haj and Umrah. "It is a big responsibility," he said.
Addressing princes, ministers, senior Islamic scholars and prominent Makkah citizens who came to greet him, Prince Salman highlighted the unity and solidarity of Saudi society.
"By the grace of God, the citizens of Saudi Arabia are one nation and one family. There is no distinction or discrimination amongst us," the prince told the gathering.
He attributed the Kingdom's security and stability to its implementation of the teachings of the Qur'an and Sunnah that form the country's constitution. He extended the participants the greetings of Custodian of the Two Holy Mosques King Abdullah. Those attended the reception at Al-Salam Palace included members of the Makkah Provincial Council, municipal councils and boards of chambers in Makkah, Jeddah and Taif.
Full report at:
http://www.arabnews.com/we-are-one-family-prince-salman-tells-saudis
-------
Envoy hails honest cabbie as the true face of Pakistan
Aisha Tariq / 19 September 2012
For a moment in time, Dubai-based taxi driver Omer Hayat Ajmal Khan has become the proud face of Pakistan, said Ambassador Jamil Ahmed Khan at a ceremony honouring the man who returned 123,700 Saudi riyals and jewellery left behind by a passenger in his cab.
The ambassador presented Omer with a silver plaque and a letter of appreciation for his act of integrity. The police force in Al Qusais, where Omer turned in the lost items, paid tribute to him earlier this week with gifts and a certificate.
Full report at:
http://www.khaleejtimes.com/kt-article-display-
-------
Bahrain Agrees to Most UN Rights Recommendations
September 19, 2012
GENEVA (AP) — Bahrain's foreign minister says the government has agreed to ease its treatment of political activists and demonstrators while accepting the vast majority of the U.N.'s top human rights body recommendations for improving its treatment of people.
Among the 176 recommendations from the 47-nation Human Rights Council were concerns over the treatment of prisoners and prosecution of human rights activists during the unrest that has hit Bahrain, a key U.S. ally in the Gulf, since early 2011.
Full report at:
http://www.nytimes.com/aponline/2012/09/19/world/europe/ap-eu-un-rights-bahrain.html?ref=europe
-----------
Syria Orders Schools to Open, but Classes Give Way to War
By an EMPLOYEE of THE NEW YORK TIMES in SYRIA and KAREEM FAHIM.
September 19, 2012
DAMASCUS, Syria — At one Syrian school, in the Damascus suburbs, students were so scarce this week that teachers spent most of the last few days sitting around and drinking tea.
On the outskirts of the northern city of Aleppo, the teachers just stayed home. The schools had been transformed into shelters for residents displaced by fighting, and in any case, one teacher said, there were more "more pressing concerns" than school.
Other schools had been taken over by rebel fighters, and throughout Syria, more than 2,000 school buildings had been destroyed or damaged in the war.
In an attempt to project calm in the midst of relentless violence, Syria's Education Ministry ordered schools to open this week. Instead of calm, however, the schools reflected what had happened in the rest of the country during the summer: the fighting had grown worse, the routines of daily life more dangerous and education had become one more casualty of the unrest.
Full report at:
http://www.nytimes.com/2012/09/19/world/middleeast/syria-orders-schools-to-open-but-
-----------
Rebels Are Said to Defeat Syrian Forces in Battle for Border Post
By SEBNEM ARSU and ALAN COWELL
September 19, 2012
ISTANBUL — For the second time in a week, the bloody civil war in Syria spilled across border areas on Wednesday as rebel forces reportedly expelled government troops from a northern frontier crossing in an apparent effort to expand resupply and infiltration routes in the campaign to overthrow President Bashar al-Assad.
Turkish schools in the region were closed for the day after intense overnight clashes as the rebels attacked the Syrian frontier post at Tal Abyad, south of the Turkish town of Sanliurfa, according to the semiofficial ANATOlian News Agency.
Television footage on Wednesday appeared to show members of the insurgent Free Syrian Army standing on the rooftop and hauling down the Syrian flag at the Tal Abyad customs post, which is less than a mile from Turkey's Akcakale crossing.
Full report at:
http://www.nytimes.com/2012/09/20/world/middleeast/syria.html?hp&pagewanted=print&gwh=D81C9C8B6C5C6D701F138264B3A347D3
-----------
YouTube blocked in Saudi to stop anti-Islam film
September 19, 2012
YouTube said on Tuesday that it was stopping users in Saudi Arabia from viewing an anti-Islam video that has sparked protests across the Muslim world, after the kingdom's press agency reported that the ruler had banned all access to the film and the site appeared to be blocked
there.
The online video sharing site said that it was preventing "Innocence of Muslims" from being seen on its site in Saudi Arabia after being notified by the government there that the clip is breaking the country's laws.
Full report at:
http://www.hindustantimes.com/world-news/RestOfAsia/YouTube-blocked-in-Saudi-to-stop-anti-Islam-film/Article1-932217.aspx
-----------
Syrian regime plans to use chemical weapons: report
September 19, 2012
The Syrian regime plans to deploy chemical weapons against its own people "as a last resort", the former head of Syria's chemical arsenal told a newspaper in an interview published on Wednesday.
Major-General Adnan Sillu said he defected from the Syrian army three months ago after
being party to top-levels talks about the use of chemical weapons on both rebel fighters and civilians.
"We were in a serious discussion about the use of chemical weapons, including how we would use them and in what areas," he told the newspaper, referring to a meeting held at Syria's chemical weapons centre south of Damascus.
"We discussed this as a last resort - such as if the regime lost control of an important area such as Aleppo."
Full report at:
http://www.hindustantimes.com/world-news/Europe/Syrian-regime-plans-to-use-chemical-weapons-report/Article1-932219.aspx
-----------
Regional initiative on Syria takes off
ATUL ANEJA
September 19, 2012
Saudi Arabia conspicuous by its absence in Cairo
Regional diplomacy to resolve the Syrian crisis has taken off in Cairo where Foreign Ministers of Iran, Egypt and Turkey met for exploratory talks on taking their dialogue forward.
The three top diplomats — Iran's Ali Akbar Salehi, Egypt's Kamel Amr and Turkey's Ahmet Davutoglu — also met Lakhdar Brahimi, U.N. and Arab League envoy, who has just returned from Syria after meeting President Bashar Al Assad, and a section of the openly functioning opposition that includes Arab nationalists, socialists and Kurds.
Significantly, neither Foreign Minister of Saudi Arabia Saud Al Faisal nor anyone in his place attended the conclave.
Full report at:
http://www.thehindu.com/news/international/article3911830.ece
-----------
Coptic Christian in Egypt gets jail for anti-Islam rant online
Sep 19, 2012
CAIRO: An Egyptian court has sentenced a Coptic Christian school teacher to six years in jail for posting cartoons on Facebook deemed offensive to Islam and for insulting President Mohamed Morsi and his family.
The Sohag misdemeanour court imposed three years jail on Bishoy Kamel for defaming Islam and Prophet Muhammed, two years for insulting Morsi and one year for insulting Mohamed Safwat who made the allegations against him.
Members of Al-Jamaa AlIslamiya and various Salafist groups attempted to attack Kamel when he was taken out of the court after receiving his sentence. They pelted stones on the police car used to transport him from the court. The defendant said he did not post the cartoons, claiming his Facebook account had been hacked two days before.
http://timesofindia.indiatimes.com/world/middle-east/Coptic-Christian-in-Egypt-gets-jail-for-anti-Islam-rant-online/articleshow/16458774.cms
-----------
Egypt's Tahrir graffiti removal stirs anger, artists return to paint more
Manar Ammar | 19 September 2012
CAIRO: Egyptian youth expressed their discontent with the government removing a large graffiti mural on the wall of the American University in Cairo (AUC) building on Mohamed Mahmoud street in downtown Cairo late on Tuesday, which had been painted to honor those who died in the January 2011 revolution and the November clashes that occurred on the street.
Full report at:
http://www.bikyamasr.com/77871/egypts-tahrir-graffiti-removal-stirs-anger-artists-return-to-pain-more/
-----------
Protesters gather outside home of anti-Islam producer's family home in Cairo
Manar Ammar | 19 September 2012
CAIRO: Local Egyptian media reports said that a protest of around 200 conservatives had gathered on Tuesday outside the family home of a Nakoula Basseley Nakoula, an alleged producer of the anti-Islam film that caused an uproar across the Islamic world.
State-run al-Ahram newspaper reported the protesters gathered outside the man's house in the upscale neighborhood of Zamalek to "get his mother and brother" for Nakoula's role in the film.
Full report at:
http://www.bikyamasr.com/77875/protesters-gather-outside-home-of-anti-islam-producers-family-home-in-cairo/
-----------
Calls mount for international legal action against crass film
September 19, 2012
BEIRUT: Political and religious leaders called Tuesday for international legal action against an anti-Islam film that has sparked waves of protest in several countries, including Lebanon.
Grand Mufti Mohammad Rashid Qabbani called for a Christian-Muslim spiritual summit to be held on Sept. 24 to discuss repeated attacks against Islam.
The summit would also discuss the Apostolic Exhortation for the Middle East which was signed by Pope Benedict XVI during a visit to Beirut over the weekend.
Maronite Patriarch Beshara Rai reiterated his earlier call on the United Nation to issue a resolution on the film.
Full report at:
http://www.dailystar.com.lb/News/Politics/2012/Sep-19/188486-calls-mount-for-international-legal-action-against-crass-film.ashx#ixzz26tZGc8jJ
-------
Syria fighting rages as Brahimi visits refugees in Turkey
19 September 2012
DAMASCUS: Syrian troops shelled several districts in Aleppo and clashed with rebels yesterday, as international peace envoy for Syria said he hoped for peace in Syria and an early return home for Syrian refugees.
The UN/Arab league envoy Lakhdar Brahimi yesterday met representatives of 1,300 Syrians at Altinozu camp in Hatay city, located on the border with their violence-racked homeland, in his first encounter since taking over the mission from his frustrated predecessor.
"We hope that their country will find peace again and that they can return to their country as early as possible," Brahimi said at a meeting with Turkish local officials.
The veteran Algerian diplomat said he was visiting refugee camps in Syrian neighbors to brief the United Nations on the gravity of the situation for the homeless Syrians, according to a Turkish official involved in the meetings.
Full report at:
http://www.arabnews.com/syria-fighting-rages-brahimi-visits-refugees-turkey
-------
MWL calls for legal action against anti-Islam movie
19 September 2012
The Makkah-based Muslim World League has strongly condemned the anti-Islam film "Innocence of Muslims" and called on Muslims across the world to refrain from resorting to violence to address the issue.
MWL Secretary-General Abdullah bin Abdulmohsen Al-Turki said such a film should not have been made in the name of freedom of expression, as it had destroyed world peace and harmony.
He urged international organizations to take legal action in order to prevent the display of the offensive film. "Freedom of opinion should not be allowed to take such a disastrous turn. It should be exercised in a cultured manner without causing harm to others.
"We strongly denounce the movie. It is an unacceptable act," he said after attending the International Seminar on Religion and Peace-building Process in Asean (Association of Southeast Asian Nations) in Bangkok on Monday. Thailand's Deputy Prime Minister Yongyuth Wichaidit opened the seminar.
Full report at:
http://www.arabnews.com/mwl-calls-legal-action-against-anti-islam-movie
-------
North America
Ad Calling Jihad 'Savage' Is Set to Appear in Subway
By MATT FLEGENHEIMER
September 19, 2012
As violent and sometimes deadly protests consume much of the Muslim world in response to an American-made video mocking the Prophet Muhammad, New Yorkers will soon encounter another potentially inflammatory rendering of Islam: an advertisement in the transit system that reads, "In any war between the civilized man and the savage, support the civilized man."
It concludes with the words, "Support Israel. Defeat Jihad," wedged between two Stars of David.
After rejecting the ads initially, then losing a federal court ruling on First Amendment grounds, the Metropolitan Transportation Authority said on Tuesday that the ads were expected to appear next week at 10 subway stations.
"Our hands are tied," Aaron Donovan, a spokesman for the authority, said when asked about the timing of the ad.
Full report at:
http://www.nytimes.com/2012/09/19/nyregion/ad-demeaning-muslims-to-appear-in-new-
-----------
US Unmasked in Islamic World... Lebanon Demands Urgent AL Meeting
Local Editor
September 19, 2012
Lebanese Foreign Minister Adnan Mansour, currently heading the Arab Foreign Ministers Council, demanded Arab League Secretary General Nabil Arabi to hold an urgent meeting in the AL Headquarter in Cairo to discuss the US produced anti-Islam film.
In a phone call with Arabi, Mansour considered that the film, which offended Prophet Mohammad, was "a blatant aggression against the noble prophet and the ideology, faith, feelings, and spirituality of over a billion and a half Muslim in the world."
Furthermore, Mansour said that "this persistent agression since years, and which intensified lately, on the Islamic religion and its noble prophet (PBUH), is taking a dangerous path that must be confronted with firm decisions against everything that targets religions, and the Islamic religion in specific, as it is being exposed to a centralized, deliberate, programmed and ugly campaign."
Full report at:
http://www.almanar.com.lb/english/adetails.php?eid=68820&frid=56&seccatid=67&cid=56&fromval=1
-----------
New video shows Romney saying Palestinians don't want peace
Sep 19, 2012
WASHINGTON: Republican Mitt Romney's reeling campaign hit more trouble on Tuesday after new video surfaced showing him saying that Palestinians do not want peace and a resolution of their conflict with Israel was not possible.
"I look at the Palestinians not wanting to see peace anyway, for political purposes, committed to the destruction and elimination of Israel, and these thorny issues, and I say there's just no way," Romney said in the secretly recorded video of a closed-door May fundraiser in Florida.
The images are the second from a video of the event that was published by liberal magazine Mother Jones. Romney was already in damage control from the first, which showed him describing President Barack Obama's supporters as victims who are too dependent on government and unwilling to take responsibility for their own lives.
Full report at:
http://timesofindia.indiatimes.com/world/us/New-video-shows-Romney-saying-Palestinians-dont-want-peace/articleshow/16456189.cms
-----------
America must understand that Muslims are human too
18 September 2012
Anti-American protests have continued to spread across the globe, though the fires of passion are predictably burning out. People do have jobs to go to, children to feed, lives to lead. Even violence-prone jihadists can't always be breaching embassies or murdering diplomats.
The official American line on all this is to blame the makers of a childish film called The Innocence of Muslims. Anyone who has seen this little masterpiece can understand why Muslims might get angry with the US government for tolerating such a travesty of film-making, but it is impossible, seriously, to believe that these violent protests around the world are a spontaneous response to a movie that few have seen.
Full report at:
http://fleming.dailymail.co.uk/2012/09/reaping-the-whirlwind.html
--------
Barack Obama: Muslim world must help protect Americans abroad
Sep 19, 2012
NEW YORK: President Barack Obama on Tuesday pressed leaders of the Muslim world to help ensure security for Americans in their countries after a wave of violence against US diplomatic compounds.
"The message we have to send to the Muslim world is we expect you to work with us to keep our people safe," Obama said during a taped interview with CBS's David Letterman in New York. "We expect their full cooperation because that's the only way the world works."
Protesters have attacked US embassies and burned American flags after an obscure California-made film triggered an attack on the US consulate in the Libyan city of Benghazi last week that killed US ambassador Christopher Stevens and three other Americans.
Obama, who has ordered tightened security at US's installations, called the video "offensive" but said it was not an excuse for violence.
http://timesofindia.indiatimes.com/world/us/Barack-Obama-Muslim-world-must-help-protect-Americans-abroad/articleshow/16457614.cms
-----------
U.S. shuts Indonesia consulate amid film protests
September 19, 2012
The U.S. has temporarily closed its consulate in Indonesia's third-largest city due to ongoing protests over an anti-Islam film produced in the United States.
About 300 members of the pan-Islamic movement Hizbut Tahrir Indonesia rallied on Wednesday morning in front of the consulate in Medan, the capital of North Sumatra province. Later, about 50 Muslim students also protested there. Both groups called on Washington to punish the makers of the film, "Innocence of Muslims."
It was the third consecutive day of protests in Medan.
The U.S. Embassy in the Indonesian capital of Jakarta sent a text message to U.S. citizens saying the consulate has been closed temporarily because of the demonstrations.
Wednesday's protests at the consulate were peaceful. On Monday, protesters hurled rocks and Molotov cocktails outside the embassy in Jakarta.
http://www.thehindu.com/news/international/article3914416.ece
-----------
U.S. says there was no actionable input about Benghazi attack
September 19, 2012
U.S. Secretary of State Hillary Clinton has said there was no actionable intelligence prior to the attack on the U.S. Consulate in Benghazi last week that resulted in the death of its envoy to Libya.
"With all of our missions overseas, in advance of September 11, as is done every year, we did an evaluation on threat streams. The Office of the Director of National Intelligence has said we had no actionable intelligence that an attack on our post in Benghazi was planned or imminent," Ms. Clinton said in a press conference on Tuesday.
In the aftermath of the attack, the U.S., besides reviewing its security postures, is taking "aggressive steps" to protect its citizens, consulates and embassies around the world, Ms. Clinton said, adding that Washington was working with different countries to acquaint them with U.S. security needs.
Full report at:
http://www.thehindu.com/news/international/article3913947.ece
-----------
Travel curbs for US citizens in Pakistan
September 19, 2012
The US has imposed travel restrictions for its employees in Pakistan following huge protests against a US-made anti-Islam film.
The restrictions have been introduced as anti-US demonstrations continued in Pakistan on Tuesday and more are planned in the coming days, Xinhua reported
Tuesday.
Full report at:
http://www.hindustantimes.com/world-news/Pakistan/Travel-curbs-for-US-citizens-in-Pakistan/Article1-932210.aspx
-----------
U.S. Urges Its Ally Bahrain to Act on Rights Reforms
September 19, 2012
GENEVA (Reuters) - Western countries led by the United States called on Bahrain on Wednesday to investigate alleged crimes committed by security forces during mass protests and to allow freedom of expression.
Bahraini Foreign Minister Khalid Bin Ahmed Bin Mohammed Al Khalifa defended his government's record at the U.N. Human Rights Council and said it would pursue "unprecedented reforms".
"We welcome peaceful expressions of disagreement, but not incitements to hatred and violence which damage the social fabric of a nation," Al Khalifa told the Geneva forum.
But the United States urged Bahrain, where the U.S. Fifth Fleet is based, to reform its police and security forces, allow free trade unions and dismiss criminal charges against all who have taken part in peaceful political expression.
Full report at:
http://www.nytimes.com/reuters/2012/09/19/us/19reuters-rights-
-----------
CAIR Asks Mideast Muslims to Ignore 'Trashy' Anti-Islam Film
September 11, 2012
By Council on American-Islamic Relations
WASHINGTON, SEPT. 11, 2012 — /PRNewswire-USNewswire/ -- A prominent national Muslim civil rights and advocacy organization today called on Muslims in the Middle East to ignore the distribution of a "trashy" anti-Islam film, clips of which are circulating online, that resulted in an attack on the American embassy in Cairo.
Nihad Awad, national executive director of the Washington-based Council on American-Islamic Relations (CAIR), said in a statement:
"We urge that this ignorant attempt to provoke the religious feelings of Muslims in the Arabic-speaking world be ignored and that its extremist producers not be given the cheap publicity they so desperately seek. Those who created this trashy film do not represent the people of America or the Christian faith. The only proper response to intentional provocations such as this film is to redouble efforts to promote mutual understanding between faiths and to marginalize extremists of all stripes.
Full report at:
http://www.heraldonline.com/2012/09/11/4254760/cair-asks-mideast-muslims-to-ignore.html#storylink=cpy
-----------
India
Painting of Archangel Gabriel and pilgrims at the Kaaba trouble now for NCERT
By Ritika Chopra
September 19, 2012
BARELY a week after putting an end to the cartoon controversy, the National Council of Educational Research and Training (NCERT) seems to be staring at another in the making.
This time, the spotlight is on two paintings reproduced in a Class XI history textbook titled Themes in World History.
The Shahi Imam of Fatehpuri Mosque, Mohd Mukarram Ahmed, has written to human resource development minister Kapil Sibal asking for the removal of a medieval painting of Archangel Gabriel ( on Page 79) and another of pilgrims at the Kaaba ( Page 80) from the chapter ' The Central Islamic Lands' on the ground that they are against the Sharia law.
Full report at: Mail Today
-----------
Pak curious about India's tryst with right to education
By Ritika Chopra
September 19, 2012
INDIA'S effort to make education a fundamental right has evoked the curiosity of people from across the border.
The visa agreement might have hogged the headlines, but external affairs minister S. M. Krishna's visit to Islamabad last week had an interesting development — Pakistan wants to learn from India's landmark Right to Education Act.
According to HRD ministry officials, the Indian education delegation ( led by joint secretary R. P. Sisodia) that had accompanied Krishna has agreed to share the country's experience in implementing the RTE Act with its Pakistani counterpart.
" The Act was a revolutionary step. Naturally they are curious about how the law was drafted and how its provisions are being executed as geographically they are similarly placed," a ministry official said.
Full report at: Mail Today
-----------
Naroda Patiya convict Babu Bajarangi thrashed in jail by 2008 Ahmedabad blasts accused
Sep 19 2012
Ahmedabad: Babu Bajarngi, who was convicted for life in the Naroda Patiya massacre case of 2002 post-Godhra riots, was thrashed by other inmates on Tuesday, which resulted in beefing up of security in Sabarmati Central Jail here.
"Today, during the routine visit at a blood bank inside jail premises, Babu Bajarangi and some of the accused in the 2008 Ahmedabad serial bomb blast case had an altercation with each other," Jail Superintendent V M Parghi said.
Parghi also said that following this incident security has been beefed up around Bajarangi and other Naroda Patiya case convicts.
Full report at:
http://www.indianexpress.com/news/naroda-patiya-convict-babu-bajarangi-thrashed-in-jail-by-2008-ahmedabad-blasts-accused/1004826/
-----------
Two-day India-Pak commerce secretary-level talks from tomorrow
Sep 19, 2012
NEW DELHI: Issues like increasing air connectivity and starting trade in petroleum products are expected to figure in the two-day Commerce Secretary level talks between India and Pakistan beginning tomorrow in Islamabad.
Commerce secretary SR Rao is leading a 10-member official delegation to Islamabad to meet his Pakistani counterpart Munir Qureshi. The last commerce secretary-level talks were held in November 2011 here.
Full report at:
http://timesofindia.indiatimes.com/india/Two-day-India-Pak-commerce-secretary-level-talks-from-tomorrow/articleshow/16463175.cms
-----------
Chinese soldiers present in PoK: Army Chief
Sep 19, 2012
NEW DELHI: Chinese soldiers are present in Pakistan-occupied-Kashmir (PoK) to provide security to its ongoing railways and road projects there, Army Chief General Bikram Singh said here on Wednesday.
"We are told that Chinese soldiers are there to provide protection to their ongoing projects related to their railways, road and hydro-electric projects and it is basically for security purposes," the Army Chief said in an interaction with reporters here.
"We have already conveyed this to the government and whatever is there, we have our frontiers guarded well," Singh said when asked if the presence of Chinese troops in PoK was a matter of concern for the force.
Full report at:
http://timesofindia.indiatimes.com/india/Chinese-soldiers-present-in-PoK-Army-Chief/articleshow/16464272.cms
-----------
Kashmir continues to burn in flames of anti- U. S Sentiment
Mail Today Bureau/ Srinagar
September 19, 2012
PROTESTS against the anti- Islam film failed to die down in Jammu and Kashmir, with marches being taken out across the Valley on Tuesday amid complete shutdown.
The shutdown call was initially given by a number of religious organisations but the separatists stepped in later to support it. The call evoked complete response with shops, business establishments, schools and colleges remaining closed and traffic off the roads.
People from the old city came out and started marching towards city centre Lal Chowk. But clashes broke out after policemen fired tear gas and resorted to baton charge to chase away the protesters at M. A Road near Lal Chowk. Angry protesters set ablaze a government vehicle and resorted to stone- pelting.
Full report at: Mail Today
-----------
75 more Pak Hindus raise pitch for Indian citizenship
Sep 19, 2012
JALANDHAR: Even as Punjab home department has sent verifications of 125 Pakistani Hindus to Union home ministry to process their cases further for being granted Indian citizenship, a delegation of 75 more Pakistani Hindus have raised their demand for the same.
The delegation members, led by All India Shiv Sena president Surinder Kumar Billa, met deputy commissioner Priyank Bharti demanding that their applications be also processed. Interestingly, some of these refugees even have ration cards and voter ID cards
The DC told TOI that he had asked them to apply with their documents after which the official process of verifications would start.
Full report at:
http://timesofindia.indiatimes.com/india/75-more-Pak-Hindus-raise-pitch-for-Indian-citizenship/articleshow/16457931.cms
-----------
J&K cabinet reshuffle: Congress to induct fresh faces
Sep 19, 2012
SRINAGAR: Observing that the ruling National Conference is losing ground in the Valley with its poor performance over the past three years, the Congress has moved in a tad aggressively by inducting three MLCs from the Kashmir valley to make them a part of the Omar Abdullah government and hope to improve their showing in the 2014 assembly elections.
The J&K Congress is peeved with Omar for his snatching the portfolios (roads & buildings and education) of its members on "frivolous" grounds. As such, the high command is under pressure from the state leaders to restore their share of ministries in the NC-congress coalition, a senior congress leader in New Delhi said.
Full report at:
http://timesofindia.indiatimes.com/india/JK-cabinet-reshuffle-Congress-to-induct-fresh-faces/articleshow/16457118.cms
-----------
Bukhari drops Rampur plan after Mulayam assurance
Sep 19 2012
Lucknow : The Shahi Imam of Delhi's Jama Masjid Syed Ahmed Bukhari cancelled his visit to Rampur on Tuesday on the assurance of Samajwadi Party president Mulayam Singh Yadav that he would soon visit Delhi and personally meet victims of the police firing at Masuri in Ghaziabad last Friday.
Bukhari had announced to reach Rampur along with the relatives of the victims to meet Mulayam who was to attend the inauguration function of cabinet minister Azam Khan's dream project Mohammad Ali Jauhar University.
Full report at:
http://www.indianexpress.com/news/bukhari-drops-rampur-plan-after-mulayam-assurance/1004767/
-----------
Southeast Asia
Indonesian radical Islam cleric urges more violence
September 19, 2012
Michael Bachelard
THE spiritual leader of radical Islam in Indonesia has urged his supporters to greater acts of violence in retribution against the producers of the film Innocence of Muslims.
Speaking from his prison cell, firebrand cleric Abu Bakar Bashir called for the closure of the US embassy in Jakarta, which was briefly besieged by petrol-bomb-throwing protesters (right) on Monday night.
While other Muslim clerics are calling for calm, Bashir, who is serving a 15-year jail term for establishing a terrorist training camp, told radical website aslami.org supporters should admire the action in Libya, which resulted in the death of the US ambassador.
''We have to react strongly over this harassment. We should not apologise [for Monday's attack on the US embassy] and, if needed, we should close it down,'' Bashir said.
Full report at:
http://www.smh.com.au/world/indonesian-cleric-urges-more-violence-20120918-264mv.html
--------
Indonesian President to ask the world to ban blasphemy
Bagus BT Saragih
September 19 2012
Amid massive protests condemning the distribution of an anti-Muslim film, President Susilo Bambang Yudhoyono said on Tuesday he plans to propose an international protocol banning blasphemy against religious symbols.
Yudhoyono held a plenary Cabinet meeting to discuss fallout of the circulation of the video Innocence of Muslims over the internet.
"I wish Foreign Minister [Marty Natalegawa] could present the latest developments on the political and security situation in the world following the release of a video clip that denigrates a certain religion," the President told the ministers upon opening the meeting.
"The situation has, both directly and indirectly, been correlated with the recent security situation in Indonesia," Yudhoyono added.
Full report at:
http://www.thejakartapost.com/news/2012/09/19/sby-ask-world-ban-blasphemy.html
--------
Malaysia outraged over "Muslim Rage" cover
Alisha Hassan | 19 September 2012
KUALA LUMPUR: At a small Arab cafe in Malaysia's trendy Bukit Bintang area of Kuala Lumpur, a group of Malaysians are relaxing, puffing away on their shisha, or water-pipe. But their faces are tense as their discussion turns to Newsweek's recent "Muslim Rage" cover that has created controversy across the Islamic world.
"Do they just not have a clue?" said Yussif Ahmad Aziz, a 22-year-old political science student in the city. "It's like these people in the west want to get Muslims upset, they want to have fighting words and they want to insult."
For these university students, Newsweek's recent cover has become a new point of contention among Muslims in the country. For Ayub Salim, a recent graduate and journalism intern with a leading daily in Malaysia, the magazine failed in its duty to uphold honesty and impartiality.
Full report at:
http://www.bikyamasr.com/77866/malaysia-outraged-over-muslim-rage-cover/
-----------
Malaysia politician criticized for anti-Islam film comments
Alisha Hassan | 19 September 2012
KUALA LUMPUR: A Malaysian politician is facing anger and a backlash over comments he made concerning the protests across the Islamic world last week in anger over an anti-Islam film that insulted and defamed Islam and Prophet Mohamed.
Perak DAP chairman Ngeh Koo Ham continued to be lambasted for his remarks on his Twitter account questioning the actions taken by Muslims in protest of the 'Innocence Of Muslims' film.
Full report at:
http://www.bikyamasr.com/77883/malaysia-politician-criticized-for-anti-islam-film-comments/
-----------
Malaysia police use social media to connect with people
Alisha Hassan | 19 September 2012
PETALING JAYA: Malaysia police are hoping that by boosting their presence on social media and networking sites in the country they can begin to reach and connect with more people in the country.
"It's a really solid way for us to understand what people are wanting from the police and how we can better serve them," officer Najib told Bikyamasr.com. "We are working to increase our crackdown on crime and using social media is a great way to hear from people and know what is happening quicker."
The Royal Malaysia Police has said it is to use Twitter and Facebook in an effort to help government agencies communicate, make aware and interact with communities in the country.
Full report at:
http://www.bikyamasr.com/77886/malaysia-police-use-social-media-to-connect-with-people/
-----------
Anti-Muslim film is haram, says MUI
September 19 2012
The Indonesian Ulema Council (MUI) announced on Wednesday that the distribution of Innocence of Muslims, a film that ridicules the Prophet Muhammad, was haram (prohibited under the Islamic law).
MUI division head for foreign affairs KH Muhidin Junaidi said that any visualization of the Prophet Muhammad, whether it glorified or denigrated the prophet, had never been allowed.
"We have never been allowed to make a visualization of the Prophet Muhammad. It is haram," he said as quoted by kompas.com.
Muhidin said that the MUI had issued the fatwa against the depiction of Prophet Muhammad on June 2, 1988.
Full report at:
http://www.thejakartapost.com/news/2012/09/19/anti-muslim-film-haram-says-mui.html
--------
Pakistan
Three Shias shot dead in Mastung bus attack
September 19, 2012
QUETTA: Three Shia pilgrims were killed and another nine were injured on Tuesday after their bus came under attack on Tuesday in Mastung District, rescue officials said.
Mastung Deputy Commissioner (DC) Irfan Shah and Balochistan Levies officials confirmed three deaths. Sources said officials had recovered remains of a car from the scene. They were of the view that the car could be used in the attack near Lak Pass. However, they were yet to confirm whether it was a suicide attack or a roadside bomb ripped through the bus coming from Iran. "There is no sign that someone on the bus exploded himself," the DC and rescue officials told Daily Times.
http://www.dailytimes.com.pk/default.asp?page=2012\09\19\story_19-9-2012_pg1_3
-----------
MQM, PTI condemn Jamaat-e-Islami leader murder
September 19, 2012
KARACHI: Pakistan Tehreek-e-Insaf (PTI) Sindh President Sardar Nadir Akmal Khan Laghari, General Secretary Syed Hafeez Uddin and Karachi President Ashraf Qureshi have strongly condemned the murder of Jamaat-e-Islami's senior leader and former Town Nazim, Dr Pervez Mehmood. In a statement issued here on Tuesday, they demanded that those responsible for deteriorating law and order situation in Karachi were ineligible to be in the present government for leaving the nation on the mercy of terrorism. They said that present rulers had to answer for the killings of innocent people, adding that terrorists could kill anyone easily at anytime in Karachi. "Law enforcement agencies have failed to nab even a single criminal," they added. Meanwhile, Muttahida Qaumi Movement (MQM) Coordination Committee strongly condemned the brutal murder of Dr Pervez Mehmood, and termed it a part of the nefarious conspiracy to undermine law and order situation in Karachi. The coordination committee condoled with the bereaved family and prayed for the eternal peace of departed soul. It also demanded of Sindh Governor Dr Ishratul Ibad and Chief Minister Syed Qaim Ali Shah to take notice of the murder of Dr Mehmood. It urged them to arrest the terrorists and bring them to justice.
http://www.dailytimes.com.pk/default.asp?page=2012\09\19\story_19-9-2012_pg12_10
-----------
Muslim scholars stress need for modern education
September 19, 2012
ISLAMABAD: Religious scholars in a seminar on Tuesday said it was imperative for the Muslims around the world to make modern education their top priority. A number of national and international religious scholars said this during a seminar, The Emerging Challenges and the Responsibilities of Islamic Scholars, organised by Pakistan Institute for Peace Studies (PIPs). The seminar was conducted to promote interaction, peace and harmony between international Islamic scholars and Pakistani religious scholars.
PIPs Director Muhammad Amir Rana welcomed the participants and termed it a remarkable opportunity to resolve various issues of the present Muslim world.
Full report at:
http://www.dailytimes.com.pk/default.asp?page=2012%5C09%5C19%5Cstory_19-9-2012_pg7_20
--------
'Sino-Pak friendly ties historical, multi-dimensional'
September 19, 2012
ISLAMABAD: President Asif Ali Zardari on Tuesday said that the historical friendship and multi-dimensional relationship enjoyed by Pakistan and China has stood the test of time and remains unparalleled in the contemporary era of inter-state relations.
"Our friendship is rooted in a shared history and cultural heritage and it is the result of the vision of our great leaders, Chairman Mao Zedong, Premier Zhou Enlai and Zulfikar Ali Bhutto," the president said while addressing China's National Day reception at the Chinese Embassy in the capital.
The president said, "What truly sets our friendship apart from other bilateral relationships between countries is the depth of positive feeling that exists between our people."
Full report at:
http://www.dailytimes.com.pk/default.asp?page=2012\09\19\story_19-9-2012_pg7_17
-----------
Hazaras: Exodus to the land down under
Zofeen Ebrahim
September 19, 2012
Packed with 80 to 82 fellow passengers, as their boat left the port in Jakarta, Amjad Hussain, was still unsure if he'd made the right decision leaving his family, his career, and his country for an alien land.
A print and broadcast journalist, Hussain, 38, belongs to the Hazara Shia community. He decided to leave Pakistan illegally and seek asylum in Australia in February after he realised the legal route would take forever.
Many journalists in Pakistan say he made the right decision otherwise he may have met the same fate as his journalist friend Saleem Shahezad's, who many believe got caught in the crosshairs of Pakistan's spy agencies and was killed in 2010 after he had written an investigative piece pointing to infiltration by the Al-Qaeda into the armed forces.
Full report at:
http://dawn.com/2012/09/19/hazaras-exodus-to-the-land-down-under/
-----------
In U-turn , PM ready to open Zardari graft case
Omer Farooq Khan
Sep 19, 2012
ISLAMABAD: In what appears to be an attempt to bide time until the next election in February 2013 and also douse the long-running conflict between the judiciary and executive , Pakistan's PM Raja Pervez Ashraf assured the supreme court on Tuesday that his government would write to the Swiss authorities to reopen a corruption case against the president.
"I've instructed the federal law minister to withdraw the letter sent to Swiss authorities by former attorney general Malik Qayyum for the closure of the graft case against President Asif Ali Zardari," Ashraf told the five-member bench headed by justice Asif Saeed Khosa.
Full report at:
http://timesofindia.indiatimes.com/world/pakistan/In-U-turn-PM-ready-to-open-Zardari-graft-case/articleshow/16458758.cms
-----------
Blasts rock Karachi, 11 killed
Sep 18, 2012
ISLAMABAD`: At least six people, including a girl, were killed in twin bomb blasts that rocked a market in Pakistan's port city of Karachi, while five people died and 13 injured when a suicide bomber rammed an explosives-laden car into a bus carrying Shia Muslim pilgrims near Quetta, media reports said.
Witness in Karachi told Geo News an explosion took place in a garbage pile near Hyderi market while the second went off in a car. At least 10 people were rushed to hospital in ambulances.
The powerful blasts destroyed two vehicles and shattered windows of many cars parked in the vicinity.
Full report at:
http://timesofindia.indiatimes.com/world/pakistan/Blasts-rock-Karachi-11-killed/articleshow/16453054.cms
-----------
Balochistan case: SC rejects all secretaries' response
September 19, 2012
ISLAMABAD: The Supreme Court on Wednesday rejected the joint response filed by Interior Secretary K M Siddiq Akbar, Defence Secretary Lt-Gen (retd) Asif Yasin Malik and Chief Secretary Balochistan Babar Yaqoob Fateh Muhammad in the law and order situation and human rights violations in Balochistan, DawnNews reported.
A three-judge bench of the apex court, comprising Chief Justice Iftikhar Muhammad Chaudhry, Justice Khilji Arif Hussain and Justice Jawwad S. Khawaja, heard the petition filed by the Balochistan Bar Association on the law and order situation in Pakistan's largest province.
Full report at:
http://dawn.com/2012/09/19/balochistan-case-sc-irked-at-interior-secretarys-absence/
-----------
Lashkar-i-Jhangvi faction involved in Karachi blast: police
September 19, 2012
KARACHI: Initial investigations of Tuesday's North Nazimabad blast revealed that around five to eight kilograms of explosive material was used in the explosion, DawnNews quoted the Federal Investigation Agency's (FIA) special unit as claiming.
The FIA's team visited the site of the explosion and analysed the area for forensic evidence.
"The explosive material contained around 500-800 ball bearings," FIA's investigation unit said.
A First Investigation Report (FIR) into the incident was registered under the Explosives Act and Anti-Terrorism Act on behalf of the state.
According to the FIR, the first explosion took place at 19: 19 PST (local time) and the second explosion occurred a minute later.
Full report at:
http://dawn.com/2012/09/19/lashkar-i-jhangvis-faction-involved-in-karachi-blast-police/
-----------
Pakistan govt to join protests over anti-Islam film
September 19, 2012
ISLAMABAD: The Pakistani government has decided to join demonstrators on Friday to protest against the American anti-Islam that has caused an outrage throughout the Muslim world.
Pakistan's federal cabinet on Wednesday announced a day of mourning and a public holiday for Friday when demonstrators will protest against the low-budget film ridiculing the Holy Prophet (PBUH).
The cabinet decided that the government will show solidarity with the public in their peaceful protest against the blasphemous movie.
Full report at:
http://dawn.com/2012/09/19/govt-to-join-protests-over-anti-islam-film/
-----------
Three MQM men among six shot dead
September 19, 2012
KARACHI, Sept 18: As Karachi braced itself for a strike called by the Jamaat-i-Islami and backed by the Muhajir Qaumi Movement (Haqiqi) for Wednesday, at least six people, including three workers of the Muttahida Qaumi Movement, were gunned down in a matter of a few hours on Tuesday night.
Six people were injured when gunmen on motorbikes lobbed a grenade near an office of the MQM in Baldia Town and started firing indiscriminately. The injured were taken to the Civil Hospital where the condition of two of them was said to be critical.
Armed men on motorbikes killed two young men, later identified as Saleem and Navaid, in Agra Taj Colony. Their bodies were taken to the Civil Hospital for medico-legal formalities.
Police said the dead, who were in their mid-twenties, were associated with the MQM's Karachi Mazafati Organising Committee.
Full report at:
http://dawn.com/2012/09/19/three-mqm-men-among-six-shot-dead/
-----------
Anti-Islam film: LHC issues notices to PTA and federal government
September 19, 2012
LAHORE: The Lahore High Court (LHC) has issued notices to Pakistan Telecommunication Authority (PTA) and the federal government for the incomplete blocking of the Internet links to the anti-Islam film here on Wednesday, DawnNews reported.
During the hearing, the lawyer representing the applicant, 'Aalmi Majlis Tahaffuz Khatam-e-Nabuwat' said while presenting his evidence that PTA has behaved irresponsibly by not completely blocking the internet links to the anti-Islam film.
Full report at:
http://dawn.com/2012/09/19/anti-islam-film-lhc-issues-notices-to-pta-and-federal-government/
-----------
Foreign student's registration in Pakistani 'madrasas' completed
Zahir Shah Sheerazi
September 19, 2012
PESHAWAR: Registration of foreign students studying in 'Madrasas' (religious schools) in Pakistan has been completed, DawnNews reported.
At least 2673 students are studying in Pakistani 'Madrasas' out of which 1147 are from Afghanistan.
Sources said that 396 foreign students are studying Madrasas in Punjab, 999 in Sindh, six in Khyber Pakhtunkhwa, 1147 in Balochistan , two in Azad Kashmir and 123 in Capital city of Islamabad.
Full report at:
http://dawn.com/2012/09/19/foreign-students-registration-in-pakistani-madrasahs-completed/
-----------
Letter to refer to presidential immunity, says AG
September 19, 2012
ISLAMABAD: Attorney General Irfan Qadir on Wednesday said the Supreme Court had accepted the constitutional clause granting immunity to the president, DawnNews reported.
Speaking to media representatives outside the Supreme Court, Qadir said the government would also refer to the president's immunity in the letter to Swiss authorities.
The attorney general said the letter that would be written to Swiss authorities would be in accordance with the Constitution.
Full report at:
http://dawn.com/2012/09/19/letter-to-refer-presidential-immunity-says-ag/
-----------
Verdict in dual nationality case reserved
September 19, 2012
ISLAMABAD: The Supreme Court on Tuesday reserved its verdict in the dual nationality case. A three-member bench, led by Chief Justice of Pakistan (CJP) Iftikhar Chaudhry, and consisting of Justice Jawwad S Khawaja and Justice Khilji Arif Hussain, observed that they had prolonged the case so that parliament could amend the constitution in this regard. During the hearing, Attorney General Irfan Qadir told the bench that if the lawmakers should not possess dual nationality then top functionaries such as president, governors, chiefs of armed services, chief election commissioner and judges should not enjoy the same. The CJP said that their case was not before the court. He said further if the court came to conclusion that dual national lawmakers should be disqualified then their cases would be sent to assembly speakers concerned. The AG said that there were a number of laws in the country, which were not being observed in their true spirit.
Full report at:
http://www.dailytimes.com.pk/default.asp?page=2012\09\19\story_19-9-2012_pg7_18
-----------
Mideast Asia
Palestinian President 'moots cancelling Oslo Accords'
19 September 2012
Palestinian President Mahmud Abbas proposed cancelling the Oslo Accords with Israel at a recent meeting of the Palestinian leadership, a senior member of the Palestine Liberation Organization (PLO) told AFP yesterday.
PLO Executive Committee member Wassel Abu Yusef said Abbas raised the idea of "canceling the Oslo agreement as well as the associated economic and security arrangements," at the meeting on Saturday and Sunday.
Abu Yusef said that "members of the Palestinian leadership had mixed opinions on the issue, and it was decided to postpone any decision until their next meeting," due to be held after Abbas's return from the UN General Assembly later this month.
"It was the first time the Palestinian leadership put the issue of the Oslo agreement on the table since it was signed in 1993," Abu Yusef added.
Full report at:
http://www.arabnews.com/abbas-%E2%80%98moots-canceling-oslo-accords%E2%80%99
----------
IAEA renews pressure on Iran after "terrorist" outburst
Sep 18, 2012
(Reuters) - The U.N. nuclear agency pressed Iran on Tuesday to address concerns about suspected bomb research, saying it was ready for talks soon and avoiding any mention of Tehran's allegation that "terrorists" may have infiltrated the Vienna-based watchdog.
The International Atomic Energy Agency (IAEA) issued a statement on a meeting between IAEA Director General Yukiya Amano and Iranian nuclear energy head Fereydoun Abbasi-Davani on Monday, which was held just hours after Abbasi-Davani sharply criticised the U.N. body in a speech to its annual assembly.
Amano said it was essential for Iran to cooperate with his inspectors to clarify suspicions about possible military dimensions to its nuclear programme, a charge Tehran rejects.
He told Abbasi-Davani that the IAEA "is committed to continued dialogue with the Islamic Republic of Iran and expressed the readiness of agency negotiators to meet with Iran's in the near future", the statement said.
Full report at:
http://in.reuters.com/article/2012/09/18/nuclear-iran-iaea-idINDEE88H04N20120918
-----------
EU-Iran Nuclear Talks 'Useful and Constructive'
September 19, 2012
ISTANBUL (AP) — Iran's chief nuclear negotiator on Wednesday reported progress in talks aimed at restarting negotiations over Tehran's nuclear program, calling a meeting with European foreign policy chief Catherine Ashton a day earlier "positive and fruitful."
Saeed Jalili offered few concrete details about Tuesday's meeting with Ashton in Istanbul, but said the two had assessed some "common points" reached by technical teams looking into the issue and had discussed "what can be done for a new cooperation."
"We discussed common points found by the experts and technical teams ... so that they may be brought closer together and that a framework for future talks can be drawn," Jalili said. "We hope (our) talks can help bring the common points closer together."
Full report at:
http://www.nytimes.com/aponline/2012/09/19/world/middleeast/ap-iran-
-----------
World Bank: Palestinian Fiscal Crisis Is Deepening
September 19, 2012
JERUSALEM (AP) — The World Bank warned Wednesday of a deepening fiscal crisis in the Palestinian territories and appealed to donors to act urgently to prop up the Western-backed Palestinian Authority.
The bank said the finances of the Palestinian Authority, which governs the West Bank, have been hurt by reduced donor funding; higher-than-expected spending on pensions and loans; and a revenue shortfall sparked by an economic slowdown, primarily in the Hamas-run Gaza Strip.
Full report at:
http://www.nytimes.com/aponline/2012/09/19/world/middleeast/ap-ml-palestinians-
-----------
Turkish Public Sours on Syrian Uprising
By TIM ARANGO
September 19, 2012
ISTANBUL — As the war in Syria rages next door, Turks have grown increasingly weary of nearly daily reports of troubles at home: Iranian spies working with Kurdish insurgents, soldiers ambushed and killed, millions spent caring for a flood of refugees, lost trade and havoc in border villages.
"This is how we start our morning," Mehment Krasuleymanoglu, a bookseller in a narrow alley in central Istanbul, said recently as he laid out several newspapers, each with a blaring headline about an explosion at a munitions depot that killed more than two dozen soldiers. The government called it an accident, but in the current environment, many Turks, including Mr. Krasuleymanoglu, are not so sure.
Full report at:
http://www.nytimes.com/2012/09/19/world/europe/turks-weary-of-leaders-support-for-
----------
Africa
Nigeria's Boko Haram calls for attacks on US in wake of anti-Islam film
David Eto | 19 September 2012
LAGOS: A spokesman for the militant Boko Haram group in Nigeria has told Bikyamasr.com the group is to call for an increase in attacks against American interests over the anti-Islam film that sparked widespread protests across the Islamic world.
"We will be firm in our belief that nobody can attack our faith and we hold the US responsible for the film," a spokesman said via telephone on Wednesday.
Full report at:
http://www.bikyamasr.com/77893/nigerias-boko-haram-calls-for-attacks-on-us-in-wake-of-anti-islam-film/
-----------
Chief Imam of Ghana wants US to act against producers of anti-Muslim movie
From: Ghana|Myjoyonline.com
September 18, 2012
The National Chief Imam has called on the United States government to take action against producers of an anti-Islamic film that has sparked riots around certain parts of the World.
The angry protestors say the film, Innocence of Muslims, ridicules their spiritual founder, Prophet Mohammed.
Full report at:
http://edition.myjoyonline.com/pages/news/201209/94080.php
-----------
After Libya, Renewed Questions About the Potency of Al Qaeda
By ERIC SCHMITT and DAVID D. KIRKPATRICK
September 19, 2012
WASHINGTON — The attack on the United States mission in Benghazi, Libya, that killed Ambassador J. Christopher Stevens has set off a new debate here and across the Middle East about whether Al Qaeda has been reinvigorated amid the chaos of the Arab Spring or instead merely lives on as a kind of useful boogeyman, scapegoat or foil.
In the week since the attack, the president of Libya's newly elected national Congress blamed foreign fighters from Algeria or Mali with links to Al Qaeda who he said entered the country months earlier to plan the assault. The Al Qaeda affiliate in North Africa praised the attack on Tuesday and urged more like it across the region. And in Washington, some Republicans have embraced that narrative, implicitly faulting the administration for prematurely declaring the demise of Al Qaeda with the killing of Osama bin Laden last year.
Full report at:
http://www.nytimes.com/2012/09/19/world/africa/questions-about-al-qaedas-potency-
-----------
Thousands flee as Somali forces advance on Kismayo
Sep 18 2012
Somali government forces are advancing on Kismayo, the key stronghold of Islamist group al-Shabab, as thousands of residents flee an expected assault.
A Somali government army general told the BBC that his forces were intending to take the port, but did not say when.
The United Nations refugee agency has reported a sudden spike in the number of civilians fleeing Kismayo from a few dozen to more than 1,000 a day.
Those who can afford it are hiring buses and trucks to leave the city.
Kismayo is the militants' main base in its fight against the Somali government, which has been slowly converging on the town with African Union (AU) soldiers.
Full report at:
http://www.bbc.co.uk/news/world-africa-19634074
-----------
Australia
Australia Islamic leader condemns violence from anti-Islam video
Bikya Masr Staff | 19 September 2012
SYDNEY: After protests in Australia's Sydney by Muslims were broken up by police last weekend, Islamic leaders have been urging Muslims in the country and across the world for calm after violent protests erupted after the spreading of an anti-Islam film insulting Islam and Prophet Mohamed enraged the Islamic world.
Omar Lum, the Chairperson of the Islamic Foundation Australia in Adelaide said "Islam is a religion of peace" in his condemnation of violent protests and killings in response to the extremist video reportedly produced by an Egyptian Coptic Christian man living in the United States.
Full report at:
http://www.bikyamasr.com/77857/australia-islamic-leader-condemns-violence-from-anti-islam-video/
--------
Religious unrest over offensive US film won't spread to Brisbane, says Islamic Council of Queensland
Andrew Macdonald
September 19, 2012
THE diversity of Brisbane's Muslim population means it is well placed to avoid chaotic scenes similar to those in Sydney, according to the Islamic Council of Queensland.
The organisation's president Mohammed Yusuf this week said the fall-out from the violent weekend riots had been widely discussed among senior community leaders, who continued to condemn the actions of an "isolated" group.
"We have discussed the issue in detail at our federal council meeting in Sydney, which was not as a result of this but a pre-organised meeting," he said.
"We concluded that the best way was to go back to our communities and reassure people that the only way to discuss issues like that, when you have them, is through dialogue and discussions, not by organising rallies and protests and things like that - it has a negative impact, really."
Full report at:
http://www.heraldsun.com.au/news/national/religious-unrest-over-offensive-us-film-wont-
-----------
URL: https://www.newageislam.com/islamic-world-news/by-new-age-islam-news-bureau/french-weekly-publishes-prophet-muhammad-cartoons/d/8719