New Age Islam News Bureau
16 Aug 2012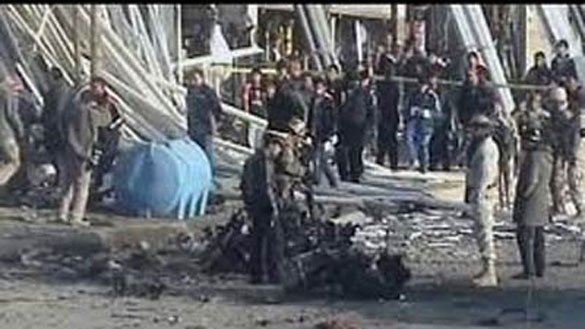 Arab World
• Egypt's Jihad Organizations Call for Christian Genocide
• 80 killed, 150 wounded in north Syria air strike
• Three bomb blasts kill 13 in Baghdad
• Jihadist group warns Egypt army over Sinai crackdown
• Shias kidnap 20, Sunni neighbours targeted
• Islamic group suspends embattled Syria
• Kuwait drama on war unity contrasts current feuds
• Unity, tolerance, solidarity and moderation needed — King Abdullah
• Syria TV says govt troops free captive journalists
• Bollywood movies inspire Egyptian student to learn Hindi
• Abductions in Lebanon as Syria war spills over
• Egypt's Islamist Leaders Accused of Stifling Media
• Syrian Rebels Said to Be Holding Elite Fighters From Iran
• Bahrain activist Nabeel Rajab jailed for three years
India
• Bodoland Muslims might turn 'militant,' warns minorities panel
• Pak Hindus to get long-term visas if they apply properly: Govt
• Sarabjit fears poisoning in Pakistan prison
• Kashmir desperate for the return of tourists after two decades of violence
• 'Islam came to Kashmir much before what historians say'
• Sacked official offers healing touch in temple
• On I-Day, Pak sends sweets, then bullets
• 'Pilgrims' to India admit they have other intentions
• Manmohan mum on Pak in I-Day speech
• Refuge for Pak Hindus: India has a difficult choice
• Assam violence spreads to new district, Army stages flagmarch
Pakistan
• 20 Shiites Shot, Killed in Pakistan, Official Says
• Terror attack on air force base raises fresh doubts over safety of Pakistan nukes
• Manto, Mehdi Hasan get Nishan-e-Imtiaz
• Pakistan's independence celebrations omit Jinnah's words on tolerance
• US cartoonist finds Pakistani caricatures politically poignant
• Settling scores: Taliban on a killing spree in Karachi
• Jumatul Wida to be observed with religious zeal and reverence
• TTP claims attack on Minhas base; nine militants killed
• Zardari urges Muslim countries to help in Afghan reconciliation
• Karachi violence claims four lives
• NO COUNTRY FOR PAK HINDUS
• 7 terrorists, 1 soldier killed in Kamra airbase attack in Pakistan
• No I-Day cheer for Pak Hindus at Jinnah's tomb
South Asia
• Suu Kyi's silence on Rohingya draws rare criticism
• Afghan helicopter crash kills 11, Isaf says
• Omani jihadist participated in Haqqani Network raid on FOB Salerno
• Ruling coalition to reverse own restrictions on sale and lease of state property
• People to get back fundamental rights when Islamic ideology-based society to be established, Prof Golam Parwar
• Police forwards Aruham's murder case to Prosecutor General
• Police crack down on 'harassment' of politicians
• Key Taliban member calls for end to war
• Road bomb kills three Afghan soldiers: Official
Southeast Asia
• Sufis in Sumatra Celebrate Idul Fitri
• 'Muslims can practice their religion freely'
• Moderate path is roadmap for China Muslims
• Thailand holds 'peace talks' with Muslim militants
Mideast Asia
• Iran says US quake aid was not in 'good faith'
• Iran denounces OIC move on Syria
• Iran admits giving WMDs to terrorists
• Israeli Leaders Could Be Dissuaded From Striking Iran
• Enlisting From Afar for the Love of Israel
• 'Muslim for a Month:' Tourists take Islamic 'pray-cations'
• Israel wraps up national SMS missile alert test
• Hezbollah Indoctrinates Children to Hate Israel Using Multi Million Dollar Theme Park
• 'Iranians and Quran' familiarizing the youth with historical background of Quranic Studies
• Muslim for a Month Program Gives Non-Muslim Tourists the Chance to Immerse Themselves in Islam
North America
• New plagiarism charge against Fareed Zakaria
• Obama in the line of fire for Osama raid bragging
• Islamic college students in Columbia rely on tight-knit community
• Another Miracle in Joplin: $250,000 Raised to Replace Burned Mosque
• Despite Alarm by U.S., Europe Lets Hezbollah Operate Openly
• Sikh body asks inclusion of hate crimes against Sikhs in stats
• Hillary Clinton considers blacklisting Haqqani Network
Europe
• U.N. panel blames Syrian regime for Houla massacre
• Islamic summit will take Myanmar's Rohingyas issue to UN
• Ecuador dares UK, grants asylum to WikiLeaks founder Julian Assange
• Jesus and Mary in Islamic Mysticism released in Russia
• Air strike as UN blames Syria for crimes against humanity
Africa
• Nigeria: Kano cancels famous durbar horse festival
• Malawi says no war with Tanzania over disputed lake border
• Nigerian Muslims kill evangelist in home
• DR Congo mine collapse: Dozens killed
Compiled by New Age Islam News Bureau
Photo: Three bomb blasts kill 13 in Baghdad
URL: https://www.newageislam.com/islamic-world-news/by-new-age-islam-news-bureau/egypts-jihad-organizations-call-for-christian-genocide/d/8290
-----------
Arab World
Egypt's Jihad Organizations Call for Christian Genocide
14 AUGUST 2012
RAYMOND IBRAHIM
According to today's issue of El Fegr, "Elements of terrorist, jihadi organizations distributed leaflets today inciting for the killing of Copts in Suez, Ismailia, and Upper Egypt, promising them [Copts] a tragic end if they do not return to the truth."
image of a copy of the letter appears on El Fegr's website. Titled "An Urgent and Important Notice," it begins by calling on "all brothers and sisters" to "kill or physically attack the enemies of the religion of Allah—the Christians in all of Egypt's provinces, the slaves of the Cross, Allah's curse upon them…" It proceeds to promise a monetary reward for whoever helps "achieve Allah's rights against his enemies."
As a testimony to how safe the jihadi organizations of today's Egypt feel under the new president, the Muslim Brotherhood's Muhammad Morsi, the usual cryptic language is dropped, as the letter names contact points and even a mosque, Sheikh Ahmed Mosque in Kasfrit, where those interested should rally "after Friday prayers where new members to the organization will be welcomed."
This genocide has been called until Egypt's Christians "return to the truth," a reference apparently meaning that Egypt's Christians must either embrace "the truth"—that is, Islam, which they must convert to—or else return to the truths of the religion, which holds that Christians must embrace their subhuman dhimmi status (Koran 9:29).
Both forced conversions and dhimmi status for Christians are a regular feature of Egypt's landscape, past and present.
Subsequent news reports cite the growing fear and terror among Egypt's Christian population.
http://www.rightsidenews.com/2012081416864/world/terrorism/egypts-jihad-organizations-call-for-christian-genocide.html
-----------
80 killed, 150 wounded in north Syria air strike
August 16, 2012
* UN human rights investigators accuse govt forces of committing war crimes
* UN coordinator seeks more access for aid deliveries
AZAZ: An air strike by a Syrian jet in the northern town of Azaz killed 80 people on Wednesday and wounded 150, a local doctor said.
The doctor, who identified himself only by his first name Muhammad, was speaking at a hospital in Azaz. Activists had earlier said at least 30 people were killed.
As the violence intensified, UN human rights investigators accused forces loyal to Syrian President Bashar al Assad of committing war crimes and crimes against humanity. They said rebels had also committed war crimes, but the violations "did not reach the gravity, frequency and scale" of those by state forces and the pro-Assad shabbiha militia.
"The commission found reasonable grounds to believe that government forces and the shabbiha had committed the crimes against humanity of murder and of torture, war crimes and gross violations of international human rights law and international humanitarian law, including unlawful killing, torture, arbitrary arrest and detention, sexual violence, indiscriminate attack, pillaging and destruction of property," said the 102-page report by the independent investigators led by Paulo Pinheiro.
In video posted by activists earlier on Wednesday, residents in Azaz - situated just north of the major urban battleground of Aleppo - screamed and shouted "God is greatest" as they carried bloodied bodies from collapsed concrete buildings.
The video footage, which could not be immediately verified, showed crowds of residents wrestling with steel bars and pulling away a giant slab of concrete to reveal the dust-covered arm of a child. "This is a real catastrophe," said an activist who gave his name only as Anwar. "An entire street was destroyed."
President Assad's forces have increasingly used helicopter gunships and warplanes against the lightly-armed insurgents.
In Damascus, a bomb exploded in the car park of a hotel used by UN monitors, but several military buildings are also in the vicinity and it was not clear what the target was. No UN staff were hurt in the blast, which occurred exactly four weeks after a bomb killed four of Assad's senior aides. The bomb set a fuel tanker ablaze and black smoke billowed over the city. Ash and dust covered white UN vehicles parked nearby.
UN emergency relief coordinator Valerie Amos, on a mission to seek more access for aid deliveries, was meeting European Union officials in Damascus when the bomb went off.
Groups calling themselves The Descendants of the Prophet Brigade and the al-Habib al-Mustafa Brigade claims the responsibility said of the bombing and that the attack had killed 50 soldiers. It was impossible to verify that claim.
http://www.dailytimes.com.pk/default.asp?page=2012\08\16\story_16-8-2012_pg7_2
-----------
Three bomb blasts kill 13 in Baghdad
Aug 16, 2012
BAGHDAD: Three bomb blasts shortly before sunset today killed 10 people north of Baghdad in the latest spasm of violence to grip Iraq.
The blasts underscored the volatility of the country eight months after the last US troops pulled out.
Insurgents, led by the local branch of al-Qaida, are trying to re-establish themselves in their old strongholds and undermine the government.
The first bomb went off today in Baqouba, about 60 kilometres northeast of the Iraqi capital. Police said two civilians and one police officer were killed, and five people were wounded.
Minutes later, authorities said, a car bomb exploded at the entrance of the main market in Muqdadiyah, about 90 kilometers north of Baghdad.
A second blast struck as police arrived on the scene. Police said the toll for both bombings in the town was seven killed and 26 wounded.
The bombs exploded shortly before the ceremonial breaking of the daily fast during the holy month of Ramadan, when families and friends gather for a sunset meal. Police said the Muqdadiyah market was crowded with shoppers who were buying last-minute supplies for the "iftar" meal.
Baqouba and Muqdadiyah are both located in the province of Diyala, a former stronghold of al-Qaeda's Iraqi branch. The province is home to both Sunni and Shiite Muslims.
There was no immediate claim of responsibility, though large coordinated bombings are often the work of al-Qaida's local franchise.
The al-Qaeda offshoot, known as the Islamic State of Iraq, has declared its intentions to reclaim areas from which it was routed by the US and its local allies.
It has for years had a hot-and-cold relationship with the global terror network's leadership.
Both shared the goal of targeting the US military in Iraq and, to an extent, undermining the Shiite government that replaced Saddam Hussein's regime.
But al-Qaida leaders Osama bin Laden and Ayman al-Zawahri distanced themselves from the Iraqi militants in 2007 for also killing Iraqi civilians instead of focusing on Western targets.
Generally, al-Qaeda in Iraq does not launch attacks or otherwise operate beyond Iraq's borders. But in early 2012, al-Zawahri urged Iraqi insurgents to support the Sunni-based uprising in neighboring Syria against President Bashar Assad, an Alawite. The sect is a branch of Shiite Islam.
Earlier in the day, gunmen killed three people in two separate attacks in and near the northern city of Mosul.
Two brothers were shot during a pre-dawn attack on a house in the small village of Qahataniya, outside Mosul, according to police.
http://timesofindia.indiatimes.com/world/middle-east/Three-bomb-blasts-kill-13-in-Baghdad/articleshow/15511429.cms
-----------
Jihadist group warns Egypt army over Sinai crackdown
Aug.16, 2012
The Egyptian army has been hunting militants in the Sinai desert since an attack last week on border guards killed 16 soldiers.
An Islamist militant group operating in Egypt's Sinai Peninsula bordering with Israel warned the Egyptian army on Wednesday that an ongoing military crackdown on jihadists in the area will force it to fight back.
The Egyptian army has been hunting militants in the Sinai desert since an attack last week on Egyptian border guards that killed 16 soldiers. Egypt blamed the attack on Islamist militants.
The army operation is the biggest in almost three decades in the tense border region where troop and army vehicle movements are strictly limited under the terms of Egypt's 1979 peace treaty with Israel.
"We have never raised our weapons against the Egyptian army," the Salafi Jihadi, one of the biggest jihadist groups in the Sinai, said in a statement. "So stop the bloodshed or else you will be dragging us into a battle that is not ours," the group said, addressing the Egyptian army.
The group belonging to the Salafist jihadist current in the Sinai denied involvement in the attack on Egyptian border guards and said its true fight was with the "Zionist enemy."
Security officials had said that 20 militants were killed by the Egyptian army on the first day of the Sinai sweep on Aug. 8.
The conflict is an early test for President Mohamed Morsi - a moderate Islamist elected in June following the overthrow last year of Hosni Mubarak - to prove he can rein in militants whose actions on the border worry Israel.
Moderates fear militant Salafists in Gaza and Sinai are joining forces, creating an environment ripe for al Qaeda were it to seek a base for use against Israel or the more moderate political Islam of Egypt's Muslim Brotherhood.
The Salafi Jihadi statement said other jihadist groups, which it did not name, were behind past attacks on Sinai's gas pipeline that delivers gas from Egypt to Israel and Jordan.
The group also said Sinai jihadists had fired rockets at Israel in the last few years. Egypt had repeatedly denied that rockets had ever been fired from Sinai into Israel.
Disorder has spread in North Sinai, a region with many guns and much resentment over neglect by Cairo. Bedouin tribes now control some areas that were cleared by Egyptian police during last year's uprising against Mubarak, who had worked closely with Israel to secure the border region.
Morsi, who took office in June, has promised to restore stability.
http://www.haaretz.com/news/middle-east/jihadist-group-warns-egypt-army-over-sinai-crackdown-1.458615
--------
Shias kidnap 20, Sunni neighbours targeted
August 16, 2012
BEIRUT: Lebanese Shia gunmen kidnapped more than 20 people on Wednesday in retaliation for the capture of one of their kinsmen in Syria, prompting Sunni Gulf states to warn their citizens to leave Lebanon immediately.
A Turk, a Saudi and several Syrians were among those abducted in an area of Lebanon controlled by Hezbollah Shia militants, raising the risk that the sectarian violence driving the conflict in Syria will spread to its neighbour, which fought its own civil war on sectarian lines for 15 years.
Saudi Arabia, the United Arab Emirates and Qatar told their citizens to leave Lebanon after the kidnappings and threats to seize more citizens of countries that have backed the uprising against Syria's President Bashar al-Assad.
Members of the Meqdad clan, one of Lebanon's powerful Shia families, said the kidnapping was retaliation for the capture of kinsman Hassan al-Meqdad by the rebel Free Syrian Army in Damascus two days ago.
Full report at:
http://tribune.com.pk/story/422897/shias-kidnap-20-sunni-neighbours-targeted/
-----------
Islamic group suspends embattled Syria
Jean-Marc Mojon | August 16, 2012
The Organisation of Islamic Cooperation suspended Syria on Thursday, saying the Muslim world can no longer accept a government that "massacres its people", further isolating the embattled regime.
The move by the world's biggest Muslim grouping came after dozens of people, including women and children, were reported killed in an air strike on a rebel bastion in northern Syria, while a bomb attack and a firefight rocked Damascus.
UN investigators also said Syrian forces had committed crimes against humanity, including the Houla massacre in May that shocked the world, during an escalating conflict that has killed thousands and sent many more fleeing.
Violence continues to rage in many parts of the country, including the northern battleground of Aleppo, with bitterly divided world powers in deadlock over how to end a conflict that could threaten the entire region.
The UN Security Council meets Thursday to formally end its observer mission in Syria, as UN chief Ban Ki-moon struggles to persuade Algerian diplomat Lakhdar Brahimi to become the new international envoy on the conflict.
An emergency OIC summit in the Saudi holy city of Mecca said it had agreed to suspend Syria because of "deep concern at the massacres and inhuman acts suffered by the Syrian people".
OIC chief Ekmeleddin Ihsanoglu said the decision sent "a strong message from the Muslim world to the Syrian regime" of President Bashar al-Assad.
"This world can no longer accept a regime that massacres its people using planes, tanks and heavy artillery."
Full report at:
http://www.thejakartaglobe.com/afp/islamic-group-suspends-embattled-syria/538713
-----------
Kuwait drama on war unity contrasts current feuds
By By HUSSAIN AL-QATARI
August 16, 2012
KUWAIT CITY (AP) — Each night for the past three weeks, families in Kuwait have been transfixed by a drama in which they already know the ending: Iraq forces will be driven out and the shattered Gulf nation will rebuild. But a 30-part television serial on Iraq's 1990 invasion has become more than just a retelling of the occupation and the brief but intense Gulf War.
The series is being seen by many as a reminder of past national unity at a time when Kuwait is caught in a near endless cycle of tribal bickering and political showdowns between the Western-backed ruling family and conservative Islamists, who want to impose measures such as banning public concerts and blocking women athletes from major sporting events. Tensions over the Gulf Arab showdowns with Shiite power Iran also have brought pressures on Kuwait's minority Shiites.
Full report at: Copyright © 2012 The Associated Press.
-----------
Unity, tolerance, solidarity and moderation needed — King Abdullah
14 August 2012
MAKKAH — King Abdullah, Custodian of the Two Holy Mosques, Tuesday emphasized the need for solidarity and unity of the Muslim Ummah to face the myriad challenges it faces.
In his inaugural speech to the two-day extraordinary Islamic Solidarity Summit here, King Abdullah said the Muslim Ummah was going through a "period of seditions and divisions." He said there was bloodshed in many parts of the Muslim World during the holy month of Ramadan.
The solution to these conflicts is unity, tolerance, solidarity and moderation, the King said. "We have to unite against any attempts to divide us. We can defeat injustice only when we are just. We can counter extremism only when we are moderate," the King said.
"We hope that Almighty Allah helps us find the causes that have made our Ummah weaker and divided, an issue which has reflected negatively on the Ummah," the King said.
King Abdullah called upon the leaders to rise to the occasion and shoulder their responsibilities. "We should all support what is right," he said.
The King also proposed setting up a dialogue center for Islamic schools of thought. The center would be based in Riyadh and its members drawn from the OIC states.
As leaders gathered in the holy city to brainstorm on ways and means to bolster the unity of the Ummah and safeguard its interests, in an exemplary display of homogeneity, millions of worshipers in the Grand Mosque here and the Prophet's Mosque in Madinah beseeched Almighty Allah for His forgiveness and His mercy in the Night of Power in the blessed month of Ramadan.
Full report at:
http://www.saudigazette.com.sa/index.cfm?method=home.regcon&contentid=201208151331
-----------
Syria TV says govt troops free captive journalists
Aug 16, 2012
BEIRUT: Syrian state-run TV says troops have freed three journalists who were seized last week by rebels while covering violence in a Damascus suburb.
Syrian TV says the three journalists from the pro-regime TV station Al-Ikhbariya were freed in a "qualitative operation" on Thursday in the town of al-Tal just north of the capital. It did not provide further details.
The British-based Syrian Observatory for Human Rights also reported heavy shelling on al-Tal during which it said the Al-Ikhbariya team were freed. The group relies on a network of activists on the ground.
http://timesofindia.indiatimes.com/world/middle-east/Syria-TV-says-govt-troops-free-captive-journalists/articleshow/15514614.cms
-----------
Bollywood movies inspire Egyptian student to learn Hindi
Aug 16 2012
Cairo : Her love for Bollywood movies inspired Mai Muhammad, an Egyptian student, learn Hindi and now she hopes that her mastery over the language would help her find a job in India.
"Bollywood movies were the main reason I fell in love with the language," Muhammad said.
Muhammad is among 30 Egyptian students who are studying Urdu and Hindi at the Maulana Azad Centre for Indian Cultural in Cairo.
The Egyptian students studying Indian languages had been invited to an iftaar party being organised by the centre which occupies a strategic location in downtown close to the iconic Tahrir square.
Nadia is another 25-year-old student who started studying Hindi at the centre and later included Urdu as well to her studies.
"I believe India is such an important country and its languages have to be optionally taught in Egyptian schools.
This is what I want to do in the future," Nadia says.
Around 60 Indian students studying at Al-Azhar University and members of the Egyptian Indian Friendship association also attended the event.
Meanwhile, The Indian embassy in Cairo celebrated the country's, unfurling the national tri-colour and organising a series of cultural events to mark the occasion.
http://www.indianexpress.com/news/bollywood-movies-inspire-egyptian-student-to-learn-hindi/989013/
-----------
Abductions in Lebanon as Syria war spills over
Aug 16 2012
Beirut : DAMIEN CAVE & DALAL MAWAD
Spillover from the Syrian conflict hit Lebanon in a frightening new way on Wednesday with a mass abduction of more than 20 Syrians inside Lebanese territory, which their captors called revenge for the kidnapping of a Lebanese relative by rebels inside Syria.
The captors of the Syrians, who were displayed in a video shown on Lebanese television, threatened to cause havoc in the streets and go on an extended kidnapping spree inside Lebanon until their family member was set free. "The next few hours and days will determine what will happen," one masked captor said outside the family's compound in a Shia suburb of Beirut.
Full report at:
http://www.indianexpress.com/news/abductions-in-lebanon-as-syria-war-spills-over/988859/
-----------
Egypt's Islamist Leaders Accused of Stifling Media
By KAREEM FAHIM and MAYY EL SHEIKH
2012/08/16
CAIRO — Several recent moves by government authorities against Egyptian journalists have drawn sharp criticism from the news media and led to accusations that the country's new Islamist president is willing to tolerate — if not employ — the same heavy-handed tactics used by former President Hosni Mubarak to stifle dissent.
Last week, the authorities suspended a satellite television channel that featured a program whose host is Tawfik Okasha, a strident opponent of President Mohamed Morsi, a former leader in the Muslim Brotherhood. On Saturday, the authorities confiscated copies of the daily newspaper Al Dustour, which has published regular condemnations of the Islamist group.
In other cases, editors have been faulted for tamping down criticism of Egypt's new rulers. And on Wednesday, for the second time in a week, the editor of a state-owned daily newspaper was accused of censoring writers who wrote columns critical of the Brotherhood.
While many people here argue that new media figures like Mr. Okasha went too far — seeming to threaten Mr. Morsi and the Brotherhood with violence on a recent show — the government's actions have revived concerns about the methods the Islamists are willing to use to strengthen their hold on power.
"What's happening is very serious," said Hani Shukrallah, the editor of Ahram Online, an English-language site. "We've got an organization that is not interested in democratizing the press, or freeing the press," he said, referring to the Brotherhood. "It's interested in taking it over."
Full report at:
http://www.nytimes.com/2012/08/16/world/middleeast/egypts-islamists-accused-of-
-----------
Syrian Rebels Said to Be Holding Elite Fighters From Iran
By THOM SHANKER and DAMIEN CAVE
2012/08/16
WASHINGTON — American officials said Wednesday that they had obtained credible information that at least some of the 48 Iranians captured in Damascus this month by Syrian rebels were members of Iran's elite Islamic Revolutionary Guards Corps, not the pilgrims described by the government in Tehran.
The new information came as Obama administration officials stepped up accusations of broad Iranian assistance to the embattled government of President Bashar al-Assad of Syria.
Officials would not describe the details that indicated the Iranians held by the rebels of the Free Syrian Army were members of the Revolutionary Guards, citing the delicacy of intelligence-gathering and -sharing efforts in the region, so it was not possible to verify the reports independently. The Iranians were on a bus that they said was on its way to a Shiite shrine when it was seized by the rebels.
"We have received indications that at least some of the passengers on the bus are I.R.G.C., and now in F.S.A. custody," said one American official, who discussed the information on the condition of anonymity.
Full report at:
http://www.nytimes.com/2012/08/16/world/middleeast/iran-revolutionary-guards-among-
-----------
Bahrain activist Nabeel Rajab jailed for three years
Aug 16, 2012
Prominent Bahraini human rights activist Nabeel Rajab has been jailed for three years for taking part in "illegal gatherings".
He is already serving a three-month sentence he received in July over comments on social networking websites.
Mr Rajab, president of the Bahrain Centre for Human Rights, had previously been detained several times.
He was one of the organisers of pro-democracy protests which have rocked the Gulf kingdom since last February.
Mr Rajab's lawyer Mohammed al-Jishi said three year-long sentences had been handed down on three separate counts.
Mr Jishi said he plans to appeal against the ruling.
Full report at:
http://www.bbc.co.uk/news/world-middle-east-19281045
--------
India
Bodoland Muslims might turn 'militant,' warns minorities panel
MOHAMMAD ALI
August 16, 2012
Warning sounded by the National Commission for Minorities in its report
There is a possibility that Muslims in the Bodo districts of Assam will turn "militant," influenced by jihadi outfits from across India, in case their security is not ensured by the State government. This warning was sounded by the National Commission for Minorities (NCM) in its report on the recent communal violence in Assam and has been communicated to Assam Chief Minister Tarun Gogoi. The report was prepared after it visited the conflict-torn districts in the Bodoland Territorial Autonomous Districts (BTAD) and Dhubri district in Assam.
The NCM delegation, which included Planning Commission member Syeda Hameed and NCM member K.N. Daruwalla, visited Kokrajhar, Gossaigaon, Dhubri and Bilasipara in July. Its report said the cause of the riot originated from the conflict between the Bodos and the resident Muslims of BTAD, and not between Bangladeshi migrants and the Bodos, even though it said infiltration from Bangladesh did take place throughout the year.
"The conflict this time as far as we could see was not between some exodus of Bangladeshi immigrants and the Bodos but between the Bodos and the resident Muslims of the BTAD."
"The conflict was unequal because the Bodos had leftover arms from the Bodo Liberation Tigers [AK 47 etc]. The Muslims are very poorly armed in comparison," the minority panel report said, with a warning about the potential jihadi influence on the Muslim population in Bodoland.
"There can be grave danger in future in case militant jihadi outfits from the rest of the country start supplying lethal weapons in this area," it said.
The panel has also recommended the formation of a Special Investigation Team (SIT) to investigate the major incidents of violence during the riots in the State as "this will restore confidence in the justice delivery system."
It has also called for a "serious and detailed dialogue" between the Ministry of Home Affairs, the Assam government, and the Bodoland Territorial Council. Such an interaction, it said, was "absolutely essential." The report also observed that the Bodos think that "driving out other ethnic people'' was in their interest and that is why the NCM delegation told the Chief Minister that "Bodos need to be told firmly that they cannot under any circumstances engineer a mass exodus of the non-Bodos and that they would never get statehood this way."
"BE FORCEFUL"
Accusing the administration of failing to stop the first round of violent clashes between Muslims and Bodos in the BTAD areas, the delegation told the Chief Minister to instruct the police to be "more forceful with both Bodos and Muslim criminals."
"We were also left with the distinct impression that the lower rungs of the police were afraid of taking action against the Bodos, possibly because of the armaments they possessed and the fact that they ruled the area," observed the delegation.
CONDITIONS "PATHETIC"
While visiting the camps of the Bodo and Muslim victims who fled after their homes were gutted down and looted by arsonists, the delegation expressed concern at the "pathetic condition of the camps where Muslims were housed'' and noted that overcrowding was a major problem.
Describing the condition at the Grahampur high school camp in Gossaigaon district, the report said: "This was a horrendous camp with 6,569 inmates from 31 villages."
http://www.thehindu.com/news/states/other-states/article3776902.ece
-----------
Pak Hindus to get long-term visas if they apply properly: Govt
Aug 16, 2012
NEW DELHI: With several hundred Pakistani Hindus arriving in India following alleged persecution, the government on Thursday said they will get long-term visas to stay in the country if they apply under stipulated rules.
"So far, no one has applied for long-term visa. Basically, we have norms for the long-term visa. If they apply under them, they will get it," Union home secretary R K Singh said here.
He was replying to a question on the possibility of India granting long-term visas to those Pakistani Hindus who have come to the country in last few days.
Most of these people have come on a month-long visa ostensibly for pilgrimage and many of them have reportedly expressed their desire not to go back to Pakistan.
Almost all Pakistani Hindus, before leaving that country, had to give an undertaking to the authorities there that they would not seek asylum from the Indian government and that they would return to Pakistan within 30 days.
Head of such a group, Anup Kumar had alleged that Hindu families were not safe in Pakistan, since kidnapping of young Hindu girls and brides by fundamentalists at gunpoint had become a routine affair.
He did not rule out the possibility that majority of the community members would never like to go back to Pakistan under the prevailing circumstances.
http://timesofindia.indiatimes.com/india/Pak-Hindus-to-get-long-term-visas-if-they-apply-properly-Govt/articleshow/15513784.cms
-----------
Sarabjit fears poisoning in Pakistan prison
Aug 16, 2012
AMRITSAR: Indian death row convict Sarabjit Singh has alleged poisoning and "mental torture" by officials at Pakistan's Kot Lakhpat Jail in a letter written to his sister, Dalbir Kaur. Quoting Sarabjit's letter, Dalbir said her brother expressed doubts over the food being served to him in jail saying he suspected it was laced with poison. The letter reached Sarabjit's sister through his lawyer Awais Sheikh.
In the letter, Sarabjit has accused Kot Lakhpat jail officials of conspiring to drive him insane. "They make fun of me when I ask them for painkillers," alleged Sarabjit. He also said that his health has deteriorated in the past two months because of slow poisoning.
Ensure medical help to Sarabjit, sister says
Sarabjit Singh has claimed that jail authorities were issuing veiled threats while humiliating him whenever he sought medical help or better food. "They tell me that they will send my mortal remains to India," he wrote to his sister Dalbir Kaur.
An alarmed Dalbir has appealed to the Prime Minister Manmohan Singh to instruct the Indian high commission in Islamabad to intervene immediately and get Sarabjit medically examined. "According to his letter, the food served to him needs to be examined. He should get the best medical treatment" she said. Dalbir added that Sarabjit said the jail superintendent had banned his meeting with Indian prisoners every Saturday and Sunday, she said.
In another letter to Sonia Gandhi, Sarabjit has appealed for diplomatic intervention for visas for his family members in India so that they can visit him in jail.
http://timesofindia.indiatimes.com/india/Sarabjit-fears-poisoning-in-Pakistan-prison/articleshow/15510472.cms
-----------
Kashmir desperate for the return of tourists after two decades of violence
Helen Pidd
15 August 2012
India's Jammu and Kashmir, under its Essex-born chief minister, is keen to highlight its stunning scenery over its grim insurgency
Two years ago, the old city in Srinagar was the sort of place police would only venture into wearing body armour. A stronghold for violent separatists agitating for an independent Kashmir, it was at the centre of uprisings that left more than 100 people dead, buried along with dreams of peace in the mountainous north-Indian region.
How quickly things change. This week, carefree tourists lined up in the same streets for barbecued mutton tikka and steaming plates of rogan josh. The Nowhatta mosque, where in the summer of 2010 youths would gather after Friday prayers to lob stones at the security forces (an episode commemorated in graffiti on a nearby wall declaring the area Srinagar's Gaza Strip), is to become a stop-off on an official walking tour focused on heritage, crafts and markets.
Full report at:
http://www.guardian.co.uk/world/2012/aug/15/jammu-kashmir-tourism-omar-abdullah
-----------
'Islam came to Kashmir much before what historians say'
Rare Qur'an manuscript calligraphed by 1237 AD scholar amazes many
M HYDERI
Srinagar, Aug 13: While general perception created by historians is that Islam came to Kashmir in 14th century, a rare manuscript of Holy Qu'ran showcased at a government organized exhibition in the City Monday hinted that the religion had made advent in the Valley much before what the written history reveals.
THE REVELATION
The rare manuscript, calligraphed by Fatah Ullah Kashmiri, believed to be a then Kashmiri scholar, dates back to 1237 AD, over eight decades prior to what many historians believe is Islam came to Kashmir during the regime of emperor RinchanShah. The Jammu & Kashmir Academy of Art, Culture and Languages (JKAACL) has showcased this and other manuscripts at the 2-day exhibition inaugurated Monday by Chief Minister, Omar Abdullah.
Secretary JKAACL, Khalid Bashir Ahmad, also a scholar, said: "The direct presumption we get from the manuscript is that Islam was Kashmir in the early 13th century." "Otherwise recorded history stated that (Islam came to Kashmir in) 14th century," the Secretary said.
Full report at:
http://www.greaterkashmir.com/news/2012/Aug/14/-islam-came-to-kashmir-much-before-what-historians-say--21.asp
-----------
Sacked official offers healing touch in temple
Aug 16, 2012
NEW DELHI: Amid reports of Hindus migrating to India from Pakistan's Sindh province, former deputy attorney general Muhammad Khurshid Khan was in Jacobabad, about 703 km from his home in Peshawar, to promote interfaith harmony through "sevadari". On Tuesday, he polished shoes at Jacobabad's Shiva temple and celebrated Pakistan's independence day with local Hindus.
"I was disturbed when I learnt about the insecurity among Hindus in Jacobabad. I wanted to instill confidence among them," Khan (62) told TOI from Jacobabad over phone. Initially, the Hindus were surprised to find a Pathan Muslim offering seva at the temple. "Soon, they embraced me with warmth," said Khan.
Full report at:
http://timesofindia.indiatimes.com/world/pakistan/Sacked-official-offers-healing-touch-in-temple/articleshow/15510957.cms
-----------
On I-Day, Pak sends sweets, then bullets
Aug 16, 2012
JAMMU: Hours after exchange of sweets and greetings on the Indo-Pak border between troops of the two sides, Pakistan rangers on Wednesday fired at Indian forward post in Samba sector, violating ceasefire for the seventh time in the past 11 days.
"There was small arms firing at Indian border outpost of Pansar along International Border in Samba sector around late this afternoon," a senior BSF officer said. Firing by Pakistan rangers started around 3.30pm and was on intermittently, the officer said, adding that BSF troops guarding the borderline replied back. There was no injury or damage caused in the firing.
There have been 31 ceasefire violations this year followed by 51 cases in 2011 and 44 cases in 2010. The recent firings and ceasefire violations by Pakistan come close on the heels of detection of a 400-meter-long tunnel in Samba sector on July 28and subsequent lodging of protest over the tunnel issue on July 31. "All activities across LoC are continuously monitored. Measures like strengthening of defences, deployment and military modernization are factored into our plans," officials said.
http://timesofindia.indiatimes.com/india/On-I-Day-Pak-sends-sweets-then-bullets/articleshow/15510028.cms
-----------
'Pilgrims' to India admit they have other intentions
By Vikas Kahol
Aug 16, 2012
ALARGE number of recent Hindu travellers to India — part of a group of 200 — do not want to return to Pakistan.
From Sindh and Balochistan, they came to India last week on a 33- day visa and are, officially, on a pilgrimage to shrines in Punjab and elsewhere.
But some confided they had other intentions — to stay back and seek Indian citizenship.
Some members of the group, not wishing to be identified, said they are not safe in the neighbouring country.
" We lack religious freedom and freedom to celebrate our festivals," a member said.
Another confessed they were considering asking the Indian government to allow them to stay back. " It is difficult to live in Pakistan. Our girls are constantly harassed," a " pilgrim" said.
Recently, there were reports that 250 Hindus were leaving Pakistan's Jacobabad and would never return. After the country's media highlighted the matter, the families were stopped at the Wagah border.
Full report at: Mail Today
-----------
Manmohan mum on Pak in I-Day speech
Aug 16, 2012
NEW DELHI: PM Manmohan Singh sprung a surprise in his Independence Day speech on Wednesday by not mentioning Pakistan, a country with which he is known to have personally charted out India's policy after the 26/11 debacle. In fact, Singh did not speak about India's foreign policy at all.
This is Singh's second consecutive speech from Red Fort in which he did not mention Pakistan. In 2011 though, he did say that India's relations with various countries had strengthened and deepened.
The speech this time was in complete contrast to the one in 2010 when he categorically stated that dialogue with Pakistan cannot progress far if Pakistan allowed its territory to be used for acts of terror against India. "Whatever differences we have with our neighbouring countries, we want to resolve them through discussions,'' the PM had said then.
Full report at:
http://timesofindia.indiatimes.com/india/Manmohan-mum-on-Pak-in-I-Day-speech/articleshow/15510821.cms
-----------
Refuge for Pak Hindus: India has a difficult choice
AUGUST 15, 2012
Should India offer Pakistani Hindus the chance to make a new life in our country? At an intuitive level, the answer is obvious. Nobody disputes that Pakistani Hindus are treated appallingly. Not only are there acts of violence directed at them but there is also sexual exploitation of young girls who are abducted and then forced to declare that they have converted to Islam and have married their captors.
Another factor that weighs heavily on us is the tragic reality that Pakistan's Hindus have nowhere to go. They can hardly seek refuge in Afghanistan or in the Gulf. If India refuses to take them in then they will be forever at the mercy of their tormentors.
But, in policy terms at least, the decision is more difficult than it might be at an intuitive level. Those who urge caution offer several grounds.
First of all, there is the two-nation theory to contend with. Pakistan was created as a homeland for the sub-continent's Muslims. MA Jinnah urged Muslims from all over undivided India to make their homes in the new country. All you needed to be granted Pakistani citizenship was proof that you were a Muslim. So, if any Muslim in the sub-continent says that he or she wants to live in Pakistan, it is difficult for the Pakistani authorities to refuse admittance on grounds of principle, given the nature of the two-nation theory.
Full report at:
http://blogs.hindustantimes.com/medium-term/?p=521
-----------
Assam violence spreads to new district, Army stages flagmarch
Aug 16 2012
Rangiya (Assam) : Ethnic violence that has rocked parts of lower Assam on Monday spread to a new district where incidents of arson were reported, forcing the Army to stage a flag march.
A group of people torched several vehicles at Rangiya area in Kamrup (Rural) district, which had not been affected earlier in the violence between tribal Bodos and members of the minority that claimed 77 lives so far in Kokrajhar, Chirang, Dhubri and Baksa districts.
A car was set ablaze at Gandhibari in Baksa district on Sunday night and its driver, Sahidul Hussain, has been missing since then. The car was returning from Baksa to Rangiya.
After the news reached Rangiya, angry locals blocked NH-31 at Udiana Chowk under Rangiya police station since early morning to protest against the incident.
The mob also tried to attack the vehicle of Rangiya SDO, Barnali Deka, forcing the police to use tear gas and fire in the air to disperse the crowd, the sources said, adding Deka was safe.
A bus going towards Guwahati at Bhatkuchi was torched and several other vehicles stranded on the highway were damaged by the mob that also set afire a wooden bridge at Kekahati.
The Army staged a flag march at Rangiya area after the incidents, the sources said, adding top district officials are also camping there.
The situation was officially declared as "tense but under control" Kamrup (rural) district.
Over four lakh people was rendered homeless in the violence in lower Assam that started late last month.
http://www.indianexpress.com/news/assam-violence-spreads-to-new-district-army-stages-flagmarch/989008/
--------
Pakistan
20 Shiites Shot, Killed in Pakistan, Official Says
2012/08/16
PESHAWAR, Pakistan (AP) — A Pakistani official says gunmen forced 20 Shiites off buses in northern Pakistan and killed them.
The police official said the incident happened Thursday in the Naran Valley.
The official spoke on condition of anonymity because he was worried about retribution.
The Deputy Inspector General of police in Gilgit, Ali Sher, said the victims were traveling from Rawalpindi, near the capital Islamabad, to Gilgit, a mostly Shiite area.
There have been several such sectarian attacks in the region in the past. Many Sunni extremists do not view Shiites as true Muslims.
http://www.nytimes.com/aponline/2012/08/15/world/asia/ap-as-pakistan.html?ref=asia&gwh=DEC122FAA539EA2FFC54C73EACB8D408
-----------
Terror attack on air force base raises fresh doubts over safety of Pakistan nukes
Aug 16, 2012
KAMRA: Heavily armed militants stormed a Pakistani air force base on Thursday, sparking clashes that left nine people dead and raised concerns about the safety of the country's nuclear arsenal.
One security official was killed and a plane damaged in the pre-dawn assault at PAF Base Minhas, where suspected Islamists again showed their ability to penetrate a sensitive military site five years into a Taliban insurgency.
There has been a lull in recent attacks, but speculation is now heavy that Pakistan could bow to US demands for an operation against militants in their premier fortress of North Waziristan, in the tribal belt on the Afghan border.
An official denied there were nuclear weapons on the heavily guarded base, but the audacious assault would likely raise further questions in the west about the dangers of Pakistan's atomic weapons falling into extremists' hands.
The air force said seven to eight attackers dressed in military uniforms and armed with with rocket propelled-grenades and suicide vests struck the base and adjacent Pakistan Aeronautical Complex at 2am.
Full report at:
http://timesofindia.indiatimes.com/world/pakistan/Terror-attack-on-air-force-base-raises-
-------
Manto, Mehdi Hasan get Nishan-e-Imtiaz
ANITA JOSHUA
August 16, 2012
Saadat Hasan Manto, Pakistani author who angered progressives and puritans alike in his time, has been awarded the highest civilian award on this year's Independence Day. The controversial author was selected for the Nishan-e-Imtiaz 57 years after his death in his birth centenary year.
He wrote his first story at 19. And over the next 24 years before his death at 43, he packed in several collections of short stories, radio drama, essays, and sketches besides a novel, and over half-a-dozen film scripts. Between all this, he managed to anger society enough to attract court cases galore on charges of obscenity and became the "creative conscience of the sub-continent'' in the words of writer Zaheda Hina.
Born in Ludhiana on May 11, 1912, Manto died in Lahore on January 18, 1955. He began his literary journey by translating works of Victor Hugo, Oscar Wilde, Anton Chekov and Maxim Gorky before penning stories of his own.
The decision to confer the honour on Manto was widely welcomed with people reflecting on the irony of how a man who had courted trouble through his works yet put Urdu literature on the world map and died a pauper had finally got his due.
Another leading limelight of Pakistan's shrinking cultural sphere who was given the Nishan-e-Imtiaz posthumously was ghazal king Mehdi Hasan who died earlier this year.
http://www.thehindu.com/news/international/article3776607.ece
-----------
Pakistan's independence celebrations omit Jinnah's words on tolerance
Jon Boone
14 August 2012
Missing 1947 address by father of Pakistan's independence is symptomatic of increasingly intolerant country, liberals believe
For Pakistan's broadcasters, no celebration of the country's 65th birthday would be complete without Muhammad Ali Jinnah. Every few minutes, usually in a burst of graphics, images of the tall, gaunt lawyer who managed to carve the country out of British India in 1947 takes over the screen.
After a few seconds of grainy black and white footage of the man known as the Quaid-i-Azam, or "great leader", the viewer is returned to presenters wearing suitably patriotic green clothes and reports about the day's events, including military parades and the festooning of Islamabad's major public buildings with spectacular quantities of lights.
Missing, however, is a speech he made at the first meeting of Pakistan's constituent assembly, three days before the creation of the state. Yet this is regarded by many as the most important Jinnah moment of all.
For it has become a touchstone for liberals aghast by the state of Pakistan, which they fear is increasingly intolerant of its minorities, including Hindus, Christians and Ahmadis, who regard themselves as a sect of Islam but are legally banned from calling themselves Muslims.
"You may belong to any religion, caste or creed – that has nothing to do with the business of the state," Jinnah told the gathering on 11 August 1947.
Full report at:
http://www.guardian.co.uk/world/2012/aug/14/pakistan-independence-religious-intolerance-jinnah?newsfeed=true
-----------
US cartoonist finds Pakistani caricatures politically poignant
By Mohammed Rizwan
August 16, 2012
LAHORE: Leading American political cartoonist Daryl Cagle has said that contrary to popular belief that cartoons have a universal appeal, political cartoons are deeply embedded in their socio-political environment, where caricatures could be understood and create humor within the context of everyday life of a society.
Speaking from the Washington DC via live video link, Cagle, who currently works for the cable news channel MSNBC, ran through his samples of Pakistani political cartoonists and journalists and later held a question and answer session for the audience. The veteran cartoonist said that from the sample of the Pakistani cartoonists' works that he saw, he found the caricatures politically poignant and direct.
Cagle stated that since electronic and social media now dominates over the printing press and people are increasingly tuning in to television for news rather than read newspapers, the cartoon media in the US has adapted to modern trends by diversifying itself. He said that cartoon blogs and syndicated drawings were playing an important role in his country's media industry.
Full report at:
http://tribune.com.pk/story/422712/us-cartoonist-finds-pakistani-caricatures-politically-poignant/
-----------
Settling scores: Taliban on a killing spree in Karachi
By Sohail Khattak
August 16, 2012
KARACHI: Karachi, it seems, didn't turn out to be a safe retreat for pro-government Pashtun leaders seeking to escape the vengeful Taliban in Swat and tribal areas – refugee-militants have begun targeting Awami National Party workers in the metropolis.
The most recent attack was on ANP Sindh central working committee member Amir Sardar, who hailed from Thana, Malakand.
Sardar, 55, who was associated with the ANP for over 30 years, was shot dead, along with two other ANP Sindh activists, near his home in SITE Town, Karachi, on Monday.
The Malakand chapter of Tehreek-e-Taliban Pakistan (TTP) claimed responsibility for the killings, claiming Sardar was punished for his assistance to the police in arresting TTP men.
Sher Shah Khan, an elected representative from Swat in the Khyber-Pakhtunkhwa (K-P) Assembly, told The Express Tribune that over 65 people hailing from Swat have been killed in Karachi in target killings, mostly at the hands of the TTP.
Full report at:
http://tribune.com.pk/story/422774/settling-scores-taliban-on-a-killing-spree-in-karachi/
-----------
Jumatul Wida to be observed with religious zeal and reverence
August 16, 2012
ISLAMABAD: Jumatul Wida, the last Friday of the holy month of Ramazan, would be observed across the country on August 17 with traditional religious zeal and reverence.
Jumatul Wida has a special significance since it is a prelude to the departure of holy month of Ramazan and considered the harbinger of the end of the showering of divine blessings that characterise the holy month.
Millions of fasting people will offer Friday prayers at across country mosques and prayer grounds.
In capital, the biggest gathering of Jumatul Wida will be held at Faisal Mosque. All large and small mosques across the country have been tastefully decorated and mosque administrations have made special arrangements to accommodate the extraordinary number of worshippers and to provide them with extra space outside mosques.
Special security arrangements have been made to ensure safety of people offering prayers inside mosques.
Imams and Khateebs in their sermons will stress upon Muslims to purify their souls through greater dedication to prayer, seek forgiveness of Allah Almighty and being kind to fellow beings.
Full report at:
http://dawn.com/2012/08/16/jumatul-wida-to-be-observed-with-religious-zeal-and-reverence/
-----------
TTP claims attack on Minhas base; nine militants killed
August 16, 2012
ATTOCK: Tehreek-i-Taliban Pakistan (TTP) spokesman Ehsanullah Ehsan on Thursday claimed responsibility of the attack on Pakistan Air Force's (PAF) Minhas airbase at Kamra, DawnNews reported.
Ehsanullah Ehsan, while speaking to Dawn.com from an undisclosed location, said " We have killed scores of security personnel." He also claimed that they have damaged three JF-17 thunder air-crafts.
He said "We are proud of this operation. Our leadership had decided to attack Kamra base a long time ago".
Ehsan said "nine of our men entered the base, four from one side and five from the other… They got together and launched the operation."
He said that the attack was a revenge for the lives of Baitullah Mehsud and Osama Bin Laden.
The TTP spokesman said that " they will continue the attacks on the military installments until the establishment of Islamic rule in the country."
He also confirmed the death of all nine TTP men who attacked the base.
During the early hours of Thursday, heavily armed militants stormed the PAF Minhas airbase sparking an intense gun battle lasting almost five hours.
Full report at:
http://dawn.com/2012/08/16/militants-attack-pakistani-airbase-at-kamra/
-----------
Zardari urges Muslim countries to help in Afghan reconciliation
August 16, 2012
MAKKAH: President Asif Ali Zardari has urged the Muslim Heads of States and Governments to join Pakistan in appealing all the groups in Afghanistan to join the reconciliation and peace process.
Addressing the fourth Islamic Summit here in Makkah on Thursday, President Zardari said that Pakistan has been seriously affected by the unrest in Afghanistan adding that the fallout of the Mujahideen resistance to the former Soviet Union was still haunting Pakistan.
Reiterating Pakistan's support to Afghan-led and Afghan-owned reconciliation process, the President said that peace and stability in Afghanistan was vital for the peace and stability of Pakistan. Indeed, it is vital for peace and stability of the region and the world, the President remarked.
The President said that he remembered Afghanistan as a tourist attraction and now the world has seen what war has brought to that beautiful country.
He said that through past experience Pakistan knows what war means.
Full report at:
http://dawn.com/2012/08/16/zardari-urges-muslim-countries-to-help-in-afghan-reconciliation/
-----------
Karachi violence claims four lives
August 16, 2012
KARACHI: At least four people, including two women, were killed in incidents of violence in Karachi, DawnNews reported on Thursday.
A man injured in a firing incident near the Metro Cinema area of Orangi Town died during treatment.
Separately, one person was killed in a firing incident at Karachi's Numaish Chowrangi.
In another incident, bullet-riddled bodies of two women were found from Sohrab Goth's Al-Asif Square area.
Moreover, police arrested two robbers from the city's Hassan Square area. Two pistols were recovered from the robbers who were riding in a rickshaw.
http://dawn.com/2012/08/16/karachi-violence-claims-four-lives/
-----------
No country for Pak Hindus
By Vikas Kahol in Amritsar
Aug 16, 2012
On 66th I- Day MAIL TODAY gives aground report on those stuck in No Man's Land
ISOLATED in Pakistan, 150 families of Hindus and Sikhs came to India, some more than 20 years ago, and made Amritsar their home. And all these years, they have been surviving on hope — that one day they will be granted Indian citizenship.
Their applications to the government have remained stuck in bureaucratic red tape.
Sixty- year- old Naam Singh says he has been trying to get Indian citizenship since 2007. " They misplace our files and ask us to apply afresh," he adds.
In the meantime, the exodus from across the border continues unabated.
In 2008, Bihai, Avtari, Jagtari and Gulzari families, comprising 60 members in all, came to India from Peshawar, wanting to stay here forever, according to sources.
The migrants in Amritsar do have permission to stay in the country from the home department, but they still consider themselves forsaken as the citizenship issue has been dragging on for years.
Full report at: Mail Today
-----------
7 terrorists, 1 soldier killed in Kamra airbase attack in Pakistan
Aug 16, 2012
ISLAMABAD: A group of terrorists armed with sophisticated weapons and suicide vests stormed a key Pakistan Air Force base in Punjab province that is believed to house nuclear weapons, triggering an intense gun battle that left seven attackers and a security personnel dead.
The terrorists, some of whom were reportedly wearing military uniforms, sneaked into Kamra airbase at about 2am on Thursday despite a state of high alert at the facility.
The attackers breached at least three barriers and tried to target Saab-2000 surveillance aircraft, news channels reported.
Following a gun battle that lasted over three hours, seven terrorists were gunned down by commandos, a PAF spokesman told the media.
He said eight terrorists were involved in the attack. There was no word on the fate of the remaining attacker.
Full report at:
http://timesofindia.indiatimes.com/world/pakistan/7-terrorists-1-soldier-killed-in-Kamra-airbase-attack-in-Pakistan/articleshow/15513137.cms
-----------
No I-Day cheer for Pak Hindus at Jinnah's tomb
Aug 16, 2012
AMRITSAR: If scores of Pakistani Hindus are at the end of their tethers and wanting asylum in India, it's because they have been treated as even less than second class citizens: they have been reduced to stateless people.
A Pakistan Hindu, Mukhi Odhamal, said the government there prevented as many as 500 Hindu families including women and children from celebrating Pakistan's independence day at the Mazar-e-Qaid (mausoleum of Pakistan's founder, Mohammad Ali Jinnah) in Karachi just a couple of days before they left for India.
Hurt at being disallowed from observing their country's national day in the precincts of the monument, the Hindus sat on the road in protest and offered prayers for their country from outside the gate of the mausoleum. "This was the first time that a large number of Hindus decided to hold a big function to celebrate their independence day," said president of Pakistan Hindu Seva, Sanjash S Dhanja. Mukhi Odhamal, who is the patron of the same NGO, said Hindus have always been treated as second class citizens in Pakistan. He said more than 500 Hindu families were denied permission to enter Mazar-e-Qaid, despite having permission from the Mazar's management committee.
Full report at:
http://timesofindia.indiatimes.com/world/pakistan/No-I-Day-cheer-for-Pak-Hindus-at-Jinnahs-tomb/articleshow/15510906.cms
-------
South Asia
Suu Kyi's silence on Rohingya draws rare criticism
Aug 16, 2012
By By JOCELYN GECKER
BANGKOK (AP) - She is known as the voice of Myanmar's downtrodden but there is one oppressed group that Aung San Suu Kyi does not want to discuss.
For weeks, Suu Kyi has dodged questions on the plight of a Muslim minority known as the Rohingya, prompting rare criticism of the woman whose struggle for democracy and human rights in Myanmar have earned her a Nobel Peace Prize, and adoration worldwide.
Human rights groups have expressed disappointment, noting that the United Nations has referred to the Rohingya - widely reviled by the Buddhist majority in Myanmar - as among the most persecuted people on Earth. They say Suu Kyi could play a crucial role in easing the hatred in Myanmar and in making the world pay more attention to the Rohingya.
Analysts and activists say that Suu Kyi's stance marks a new phase in her career: The former political prisoner is now a more calculating politician who is choosing her causes carefully.
"Politically, Aung San Suu Kyi has absolutely nothing to gain from opening her mouth on this," said Maung Zarni, a Myanmar expert and visiting fellow at the London School of Economics. "She is no longer a political dissident trying to stick to her principles. She's a politician and her eyes are fixed on the prize, which is the 2015 majority Buddhist vote."
The Rohingya have been denied citizenship even though many of their families have lived in Myanmar for generations. The U.N. estimates that 800,000 Rohingya live in Myanmar where they face heavy-handed restrictions: They need permission to marry, have more than two children and travel outside of their villages.
Full report at:
http://www.cbs3springfield.com/story/19291243/suu-kyis-silence-on-rohingya-draws-rare-criticism
-----------
Afghan helicopter crash kills 11, Isaf says
Aug 16, 2012
Eleven people, including seven foreign troops, have been killed in a helicopter crash in Afghanistan, the Nato-led coalition force says.
Those killed include three US soldiers and four other foreign troops, as well as four Afghans, the International Security Assistance Force (Isaf) said.
The crash took place in the Shah Wali Kot district of southern Kandahar province, reports said.
Isaf said it was investigating the cause of the crash.
http://www.bbc.co.uk/news/world-asia-19280582
-------
Omani jihadist participated in Haqqani Network raid on FOB Salerno
By BILL ARDOLINO AND BILL ROGGIO
August 13, 2012
A jihadist from Oman was killed during the Haqqani Network suicide assault on a major US base in eastern Afghanistan in June, according to a martyrdom statement posted today. The suicide assault was promoted by the Taliban on their propaganda website.
Ayman bin Saeed, who was also known as Abu Abdul Rahman al Omani, was one of the 11 members of the Haqqani Network suicide assault squad who attacked Forward Operating Base Salerno in Khost province on June 1, according to a statement released on the al Qaeda-linked Shumukh al Islam Internet forum. The martyrdom statement was translated by the SITE Intelligence Group.
The attack on FOB Salerno resulted in the deaths of two civilian contractors and one US soldier inside the base; scores more soldiers were said to have been wounded in the attack. The Haqqani Network fighters were able to penetrate about 50 to 60 meters before being gunned down during a firefight. The base also suffered heavy damage; photos of the aftermath show the caved-in roof of the FOB's large dining facility and the wreckage of the demolished post exchange. An RC-East spokesman told The Long War Journal that the damage to the facilities resulted from the large blast wave that followed the initial car bomb [see LWJ report, New details emerge about complex attack on FOB Salerno.
Full report at:
http://www.longwarjournal.org/archives/2012/08/omani_jihadist_parti.php#ixzz23hEVwUZB
-----------
Ruling coalition to reverse own restrictions on sale and lease of state property
By Mohamed Naahee | August 14th, 2012
The government is seeking to reverse restrictions concerning the sale and lease of state properties, that the ruling coalition parties themselves passed while in opposition.
Finance Minister Abdulla Jihad said the government requested parliament amend the Public Finance Act to remove the requirement for parliamentary approval for the sale or lease of any government property.
The controversial amendments to the Act, passed in June 2010 prior to the airport being award to Indian infrastructure giant GMR, sparked the resignation of then-President Mohamed Nasheed's cabinet over the opposition-majority parliament's "scorched earth politics".
Jihad told local media that the request to amend the Act was made as government faced "difficulties" leasing and selling its property, including land, buildings, and infrastructure, as the law currently demanded that such transactions could only proceed after parliament approval.
Full report at:
http://minivannews.com/politics/ruling-coalition-to-reverse-own-restrictions-on-sale-and-lease-of-state-property-42013
-----------
People to get back fundamental rights when Islamic ideology-based society to be established, Prof Golam Parwar
11TH AUGUST, 2012
Shramik Kalyan Federation vice president and former lawmaker Prof Miah Golam Parwar has said that Ramadan is month of holy Quran. Ramadan has so many dignity and importance as the divine book was revealed in this month.
There are some qualities needed for obeying almighty Allah and the holy Ramadan teaches the Muslims those qualities. Obeying Allah in all circumstances of life is called 'Taqwa' and the holy month teaches the Muslim this spirit, he said.
He called upon the people to acquire the schooling of the holy month of fasting and follow in all walks of life.
The Jamaat leader was addressing a discussion-cum Iftar Mahfil at the National Press Club on Thursday as the chief guest.
Full report at:
http://www.jamaat-e-islami.org/en/newsdetails.php?nid=MzQ2
-----------
Police forwards Aruham's murder case to Prosecutor General
By Ahmed Nazeer | August 15th, 2012
Police have concluded the investigation into the death of 16 year-old Mohamed Aruham, who was found dead inside 'Lorenzo Park' on May 30, and have forwarded the case to the Prosecutor General's Office to press charges against six suspects arrested in connection with the case.
The police identified the six suspects as Mohamed Sufyan, 19 of Gahdhoo in Gaafu Dhaalu Atoll, Mohamed Visaam, 19, of Maavah in Laamu Atoll, Mnsoor Yousuf, 23 of the same island, Athif Rasheed, 21 of Mahchangolhi Scenery View, Hussain Aleem, 28 of Galolhu Dhaashthaan and Ali Mifrah Ahmed of Mahchangolhi Kanbalifaru.
According to police, all suspects except Ali Mifrah Ahmed have previous criminal records.
Aruham's body was discovered inside Lorenzo Park at about 6:00am by police officers patrolling the area on March 30.
Local newspaper Haveeru quoted a witness who saw the body as saying that Aruham appeared to have been stabbed twice in the chest, and that his whole body was covered in blood.
Deputy Head of Police Serious and Organised Crime, Dhaudh Mohamed, previously told the press that Arham was killed in a revenge attack in an argument that night between two rival gangs.
Full report at:
http://minivannews.com/society/police-forwards-aruham%E2%80%99s-murder-case-to-prosecutor-general-42084
-----------
Police crack down on 'harassment' of politicians
By Daniel Bosley | August 14th, 2012
Police are taking stronger measures against people who harass politicians and such incidents are falling, according to President's Office Abbas Adil Riza.
The Maldivian Democratic Party (MDP) has meanwhile alleged that freedom of speech is being unfairly restricted by the crackdown.
Commenting on the arrest of an MDP activist known as Okay Zahir – who allegedly called the Islamic Affairs Minister a 'baaghee', or 'traitor' – Abbas said that Zahir stood accused of harassment.
Local media reported yesterday that Zahir's period in detention had been extended by a further 10 days after his original arrest on August 7. Zahir is a former director of the Thilafushi Corporation (TCL).
Abbas alleged that the accused "verbally abused the Islamic Minister", engaging in "indecent behaviour" towards Sheikh Mohamed Shaheem Ali Seed whom he claimed was in the company of his nine year-old son at the time of the incident.
Neither Sheikh Shaheem nor Police Spokesman Sub-Inspector Hassan Haneef were responding to calls at time of press.
Full report at:
http://minivannews.com/politics/police-crack-down-on-harassment-of-politicians-42024
-----------
Key Taliban member calls for end to war
August 16, 2012
ISLAMABAD: A key member of the Taliban has called for an end to the 10-year war in Afghanistan and for peace talks, demanding prisoner releases and an end to sanctions on rebel leaders to quicken the process.
"All sides should stop fighting and solve all their differences through dialogue and negotiations," wrote Mullah Agha Jan Motasim, who until 2009 headed the political committee and is still influential in some Taliban circles, in a statement sent to AFP.
Motasim, who was finance minister in the 1996-2001 Taliban regime, welcomed "important preliminary steps" from all sides, such as the lifting of UN sanctions on former regime members, and said that as a result the Taliban were "inclined towards dialogue".
But he called on the United Nations and United States to remove remaining Taliban names from the blacklist and demanded the immediate release from Guantanamo Bay of Taliban leaders.
Full report at:
http://dawn.com/2012/08/16/key-taliban-member-calls-for-end-to-war/
-----------
Road bomb kills three Afghan soldiers: Official
August 16, 2012
Kabul: An Afghan army vehicle has hit a roadside bomb in northern Afghanistan, killing three Afghan soldiers and wounding three others.
Lal Mohammad Ahmadzai, a spokesman for the Afghan National Police in northern Afghanistan, says the explosion occurred around 3 a.m. on Thursday as the soldiers were patrolling in Baghlan province.
No one has claimed responsibility for the attack, but the Taliban are targeting Afghan forces this summer to try to prove they are too weak to take over from exiting foreign combat troops.
Two other roadside bombings occurred in Baghlan last month, including one that killed four Afghan policemen.
In the other attack, the Afghan minister of higher education escaped unharmed when a roadside bomb hit a vehicle in his convoy. Two of his bodyguards were injured in the blast.
http://www.ndtv.com/article/world/road-bomb-kills-three-afghan-soldiers-official-255523
-------
Southeast Asia
Sufis in Sumatra Celebrate Idul Fitri
The Jakarta Globe | August 16, 2012
Dozens of Muslim Sufis in Padang, West Sumatra, celebrated the Idul Fitri holiday on Thursday, days before most others in the world's most populous Muslim nation.
"We held our Idul Fitri prayers today [on Thursday], after fasting for an entire month, or 30 days," Safar, an imam of the Saman (Muslim Sufi) sect, said, as quoted by Antara state news agency. "Our computations show that Idul Fitri falls on this day."
Safar said that each year the Saman sect celebrated the start and end of the fasting month three days earlier than the government's dates.
He said the group determined the date of Idul Fitri with its own method, which he said did not include astronomical observations, Antara reported.
The Saman sect held Idul Fitri prayers at the Carobong mosque in Gurun Laweh, Padang. Families brought food for a banquet after the prayers.
Safar said the Sufi sect was introduced to the area by his grandfather Angku Imam Karim, from the nearby region of Pariaman, West Sumatra. Pariaman is also home to two other Sufi sects, Naqsabandiyah and Satariah, which also tend to celebrate Idul Fitri ahead of the government's official dates.
http://www.thejakartaglobe.com/home/sufis-in-sumatra-celebrate-idul-fitri/538697
-----------
'Muslims can practice their religion freely'
Veeramalla Anjaiah
August 16 2012
China might be officially an atheist, communist state, but it has more Muslims than Malaysia — a Muslim majority state in Southeast Asia. Nevertheless, can Muslims practice their religion freely in a communist country?
Earlier this month, several international media outlets, including the Global Times, ran stories on how the Chinese government discouraged several Muslims in the West Xinjiang region from fasting during the holy month of Ramadhan. The government's intention was reportedly to encourage people to "eat properly for study and work".
In a quite contrast to the reports, Chinese Ambassador to Indonesia Liu Jianchao hosted a break-the-fast event for Indonesian journalists at his residence on Tuesday. "We have more than 20 million Muslims in China. One-fifth of the 56 ethnic groups in China adhere to Islam," Ambassador Liu said during a round table briefing prior to the event.
According to the Pew Research Center's 2011 report on the global Muslim population, China has 23.30 million Muslims in 2010, who mainly came from 10 ethnic groups, meaning that 1.8 percent of the country's total population of 1.33 billion people was Muslim.
Full report at:
http://www.thejakartapost.com/news/2012/08/16/muslims-can-practice-their-religion-freely.html
-----------
Moderate path is roadmap for China Muslims
Aug 16, 2012
NEW DELHI: Muslim organizations in China advocate "moderate Islam" as a foil to extremist influences that have seen disruptions in the Chinese province of Xinjiang where Uighurs have clashed with authorities.
The intervention of Muslim organizations is intended to emphasize Islam's universal values and impart a lesson of tolerance, said Adilijian Ajikelimu, vice-president of the Islamic association of China. He said China's Muslim organizations try to keep a check on growing extremism by holding regular meetings with the youth.
http://timesofindia.indiatimes.com/world/china/Moderate-path-is-roadmap-for-China-Muslims/articleshow/15511144.cms
-----------
Thailand holds 'peace talks' with Muslim militants
August 16, 2012
Thailand said on Thursday it was holding peace talks with some Muslim insurgent groups in its violence-wracked south, in a policy reversal which follows a recent surge in militant attacks.
Informal talks are under way between the government agency in charge of the region -- the
Southern Border Provinces Administration Center -- and several militant splinter groups, according to a deputy prime minister.
"Don't call it negotiations... but there are talks to achieve peace which is a crucial government policy," Yutthasak Sasiprapa, who is in charge of national security, told reporters.
"The government has assigned the Southern Border Provinces Administration Center responsibility for the talks as they are well aware who to talk to."
The talks are with splinter groups from the Runda Kumpulan Kecil (RKK) -- one of a web of insurgent organisations believed to be behind attacks, he said.
"We talk with newly set up groups of young people which separated from the RKK," Yutthasak said, adding that up to 9,000 insurgents overall were estimated to be operating in the violence-hit southern provinces.
Full report at:
http://www.hindustantimes.com/world-news/RestOfAsia/Thailand-holds-peace-talks-with-Muslim-militants/Article1-914365.aspx
---------
Mideast Asia
Iran says US quake aid was not in 'good faith'
August 16, 2012
* Interior minister says Tehran currently having medicine supply crisis because of sanctions
TEHRAN: Iran said on Wednesday it rejected a US offer of aid for survivors of twin deadly earthquakes that struck villages in its northwest on the weekend because it was not made in "good faith."
"Iran did not accept the US offer for sending humanitarian aid for quake survivors," Hassan Ghadami, the head of the interior ministry's crisis management organisation, said, according to the ISNA news agency.
"We do not believe the US put forward the offer in good faith. We are currently having a medicine supply crisis because of sanctions," Ghadami said. "Do us a favour and lift the sanctions," he said, referring to Washington's campaign of draconian economic sanctions imposed on Iran.
Full report at:
http://www.dailytimes.com.pk/default.asp?page=2012\08\16\story_16-8-2012_pg14_4
-----------
Iran denounces OIC move on Syria
ATUL ANEJA
August 16, 2012
Iran has stood up firmly against the suspension of Damascus from the 57-nation Organisation of Islamic Cooperation (OIC), saying the Syrian crisis can be resolved through a comprehensive internal dialogue and not from a policy of exclusion.
Addressing the media on Monday, Iranian Foreign Minister Ali Akbar Salehi said: "The suspension of its membership does not really resolve the issue and is not in line with the OIC charter." He added: "We have to look for other ways, means and mechanisms for resolving conflicts and crises."
Instead of declaring Syria suspended, Iran's top diplomat said the OIC should pave "the way for a meeting between the opposition and the Syrian government so they can negotiate with the help of others to reach a Syrian-Syrian solution".
Nevertheless, after the Foreign Ministers had met ahead of Tuesday's OIC summit in Makkah, the grouping's Secretary General Ekmeleddin Ihsanoglu appeared determined to marginalise Syria. Citing a rather awkward formulation, he observed that the "decision [for Syria's suspension] has been agreed upon based on consensus with an absolute majority".
Full report at:
http://www.thehindu.com/news/international/article3776719.ece
-----------
Iran admits giving WMDs to terrorists
By Reza Kahlili
August 14, 2012
Rogue state threatens Israel over Syria
Israel will be obliterated by chemical, microbial and nuclear bombs, Iran is warning, but those weapons of mass destruction will be used first on Tel Aviv by Hezbollah and Islamic Jihad at the start of a decades-old Muslim dream of destroying the Jewish state.
An alarming commentary last week in Mashregh, the media outlet of Iran's Revolutionary Guards, confirmed that the Islamic regime not only has WMDs but has armed its terrorist proxies with them. Mashregh speaks for the regime.
It warned Israel that if the fighting in Syria does not stop, an all-out attack on the Jewish state will be launched and that at zero hour, Tel Aviv will be the first city to be destroyed.
"The threat to retaliate against Israel with weapons of mass destruction is credible," said Dr. Peter Vincent Pry, executive director of the Task Force on National and Homeland Security, who previously served on the House Armed Services Committee and with the CIA. "A highly credible source in 2005 warned that a decision had been made at the highest level of the Iranian government to arm numerous ballistic missiles with chemical and biological warheads to retaliate against Israel if Iran's vital interests were endangered. The fall of [Syrian President Bashar] Assad would constitute endangerment of Iran's vital interest."
Full report at:
http://www.washingtontimes.com/news/2012/aug/14/iran-admits-giving-wmds-to-terrorists/?page=2
---------
Israeli Leaders Could Be Dissuaded From Striking Iran
By JODI RUDOREN
2012/08/16
JERUSALEM — A former Israeli national security adviser said Wednesday that the prime minister and the defense minister told him this week they had not yet decided to attack Iran's nuclear facilities and could be dissuaded from a strike if President Obama approved stricter sanctions and publicly confirmed his willingness to use military force.
"There is a window of opportunity," said the official, Uzi Dayan, a former deputy chief of staff in the military. "This window is closing, but if the United States would be much clearer and stronger about the sanctions on one hand and about what can happen if Iran won't make a U-turn — there is not a lot of time, but there is still time to make a difference."
Mr. Dayan, 64, who is currently the chairman of the national lottery, said he spent more than an hour each with Prime Minister Benjamin Netanyahu and Defense Minister Ehud Barak at their homes on Monday. He was being considered for the post of minister of the military's Home Front Command, which he said he turned down, and therefore extensively discussed with the two leaders the security threats that Israel is facing, particularly from Iran. (Another leading security official, Avi Dichter, is expected to be confirmed by Parliament as the home front minister on Thursday.)
The meetings came during a week of intensifying public discussion about the possibility of a unilateral Israeli attack on Iran, fueled by a series of leaks to journalists by supporters and opponents of such a strike. The media blitz seems to have awakened the Israeli public — left-leaning intellectuals staged protests, and there were long lines at gas mask distribution centers — and to have engaged Washington, where two top defense officials tried to tamp down the talk on Tuesday.
Full report at:
http://www.nytimes.com/2012/08/16/world/middleeast/israeli-leaders-dissuaded-strike-
-----------
Enlisting From Afar for the Love of Israel
By JODI RUDOREN
2012/08/16
Three days into Josh Warhit's first-ever visit to Israel, as a 16-year-old on a summer tour, war broke out in Lebanon, which transformed the group's itinerary — and his life plan. On Tuesday, with talk rampant about the possibility of an imminent Israeli attack on Iran, Mr. Warhit became a citizen of Israel to enlist in its army.
"Our parents were freaking out," Mr. Warhit, now 22, recalled of that first trip during the war against Hezbollah. "It only made us more thirsty. I love the Jewish people. Love involves commitment. Right now we need people to commit.
"Of course it's scary," he added, regarding Iran, "but if you feel a commitment, that's the thing to do."
Mr. Warhit, who grew up in New Rochelle, N.Y., and graduated from the University of Rochester after spending several summers in Israel, was one of 127 soldiers-to-be who landed Tuesday morning at Ben-Gurion International Airport here. They arrived after a week of intense media speculation that an Israeli strike on Iran's nuclear facilities was increasingly likely, though the premier enemy of the moment was not mentioned by name during a hero's welcome that included a live band, balloon hats and a speech by Prime Minister Benjamin Netanyahu.
Full report at:
http://www.nytimes.com/2012/08/15/world/middleeast/lone-soldiers-arrive-in-israel-to-
-----------
'Muslim for a Month:' Tourists take Islamic 'pray-cations'
By Tim Hume
August 14, 2012
Editor's note: Each month, Inside the Middle East takes you behind the headlines to see a different side of this diverse region.
(CNN) -- To the devout, the concept of becoming "Muslim for a month" -- or any other religion, for that matter -- could verge on the sacrilegious.
"It's a provocative title, 'Muslim for a Month,' so we were bracing ourselves for (criticism)," said Ben Bowler, who runs cultural exchange programs with that name. The tours take non-Muslims from around the world into Turkish mosques and homes for a first-hand experience of Islam.
"There has been a little of that -- 'Being a Muslim is for life, not just a month," he added.
But overwhelmingly, he said, the response from Muslims has been positive because the tours help to dispel negative stereotypes about the religion and leave participants with an enriched spiritual perspective.
"People are very visibly moved," Bowler said. "There's lots of tears. It's a rich, multi-layered experience and people are coming out with changed ideas and changed perceptions -- they are more aware of the positive side of the religion than before."
Muslim for a Month, run by Bowler's NGO World Weavers, is part of a new breed of cultural immersion tourism being dubbed "pray-cations." It promises travelers a rich, meaningful experience, by exposing them to religious beliefs and practices "in a country where spirituality is still very much alive," he said.
Full report at:
http://edition.cnn.com/2012/08/14/world/meast/muslim-for-a-month-praycation/index.html
-----------
Israel wraps up national SMS missile alert test
August 16, 2012
Israel on Thursday wound up nationwide testing of an SMS warning system against missile attack, sending texts to mobile phones in Jerusalem and other parts of the country, a military spokeswoman said.
The five-day exercise, which began on Sunday, took place to the backdrop of mounting
speculation over a possible Israeli strike on Iran's nuclear facilities and a resulting Iranian counter-attack.
The army said that along with Jerusalem, Thursday's test would include the Negev desert town of Arad, the northern cities of Afula and Hadera, and Upper Nazareth, a Jewish satellite of the Israeli Arab city.
A spokeswoman said that Nazareth itself, the largest Arab city in Israel, would not be included in the test but could not immediately say why.
The army says the warning messages are being sent in Hebrew, Arabic, English and Russian.
They are meant to warn of an imminent missile attack by Iran or Lebanon's Hezbollah militia, which could become a reality if Israel decides to mount a military strike on nuclear facilities in Iran.
Full report at:
http://www.hindustantimes.com/world-news/RestOfAsia/Israel-wraps-up-national-SMS-missile-alert-test/Article1-914340.aspx
-----------
Hezbollah Indoctrinates Children to Hate Israel Using Multi Million Dollar Theme Park
Jake HorowitzinWorld
15 August 2012
By all credible accounts, Hezbollah (Party of God), the Lebanese Shi'a political party and militia group founded in the 1980s to oppose Israel's occupation of southern Lebanon, has gotten even stronger than it was in 2006, when it held its last war with Israel. Nearly every week, new reports emerge from Israel or Lebanon, that suggest the war of words between the two sides continues to escalate, with seemingly no end in sight.
But is the heated rhetoric of war to be believed, or merely propaganda designed for domestic consumption? VICE producer Ryan Duffy set out to answer this very question in a new short film called, "Hezbollah's Propaganda War," investigating "what's what in propaganda offensives from the Iranian-funded Shi'a Muslim militia."
Full report at:
http://www.policymic.com/articles/12782/hezbollah-indoctrinates-children-to-hate-israel-using-multi-million-dollar-theme-park
-----------
'Iranians and Quran' familiarizing the youth with historical background of Quranic Studies
15 Aug 2012
The Book House is publishing 40-volume series of "Iranians and Quran" in order to familiarize the youth with the historical background of Quranci studies. According to the editor and manager of the project, the series will highlight the role of Iranians in translating, interpreting, memorizing and reciting the Holy Quran from the beginning to date.
IBNA: About four years ago when Akbar Saqafian was information technology deputy of the Book House the 40-volume "Iranians and Quran" project kicked off, said Ali Ojabi.
"The project was approved by Culture ministry and began under supervision of Saqafian. By far 28 volumes are released and we plan to release four more volumes by the end of Ramadan. The remaining volumes will also get published before the upcoming Fajr Decade."
Referring to the content of the series, he said: "The series attempts to highlight the role of Iranians in translating, interpreting, memorizing and reciting the Holy Quran from the beginning to date for the new generation in the form of brief easy-to-read volumes. For the compilation of the series we have asked young but talented researchers instead of well-known writers."
Full report at:
http://www.ibna.ir/vdcdn90fnyt0ok6.em2y.html
-----------
Muslim for a Month Program Gives Non-Muslim Tourists the Chance to Immerse Themselves in Islam
By Lena Vazifdar
Aug 14, 2012
A new cultural exchange program allows for non-muslims from around the world to become "Muslim for a Month." The program takes non-Muslims into Turkish mosques and homes for those interested in learning about Islam and Muslim life.
Ben Bowler who runs the program, "Muslim for a Month," said to CNN that most there has been a good response from Muslims with many of them in support because the tours help to discredit negative sterotypes and leave participants with a rich cultural and spiritual perspective about Islam: "People are very visibly moved," Bowler said to CNN. "There's lots of tears. It's a rich, multi-layered experience and people are coming out with changed ideas and changed perceptions -- they are more aware of the positive side of the religion than before."
The program is run by the NGO World Weavers which hosts cultural immersion tours.
Full report at:
http://www.travelerstoday.com/articles/2701/20120814/muslim-for-a-month-program-gives-
-----------
North America
New plagiarism charge against Fareed Zakaria
August 16, 2012
The Indian-American author called The Washington Post's charge "totally bogus"
Indian-American journalist and author Fareed Zakaria, who has been suspended by CNN and Time magazine after he admitted to plagiarism, is now accused of publishing without attribution a passage from a 2005 book, a charge he vehemently denied as "totally bogus."
The new allegation against the 48-year-old Zakaria, levelled by The Washington Post, was, however, refuted by The Daily Beast, which said the author's book did contain a citation to what he quoted in his 2008 book The Post-American World.
Mr. Zakaria's book contained a quote from the former Intel Corp chief executive, Andy Grove, about the United States' economic power, TWP said. It said the first edition of the book, which became a bestseller, made no mention of the comment's source, nor does a paperback version published in 2009.
In fact, TWP said, Mr. Grove's comment was published three years earlier in Three Billion New Capitalists: The Great Shift of Power to the East, by the former Commerce Department official, Clyde V. Prestowitz, who was attached with the Economic Strategy Institute, an eminent think-tank.
Full report at:
http://www.thehindu.com/news/international/article3776878.ece
-----------
Obama in the line of fire for Osama raid bragging
Aug 16, 2012
WASHINGTON: A group of former US intelligence and Special Forces operatives is set to launch a media campaign , including TV ads, that scolds President Barack Obama for taking credit for the killing of Osama bin Laden and argues that high-level leaks are endangering American lives.
Leaders of the group, the Special Operations OPSEC Education Fund Inc, say it is nonpartisan and unconnected to any political party or presidential campaign. It is registered as a so-called social welfare group, which means its primary purpose is to further the common good and its political activities should be secondary.
The OPSEC group first public salvo is a 22-minute film that includes criticism of Obama and his administration . The film, to be released on Wednesday.
"Mr President, you did not kill Osama bin Laden, America did. The work that the American military has done killed Osama bin Laden . You did not," Ben Smith, identified as a navy SEAL, says in the film.
"As a citizen, it is my civic duty to tell the president to stop leaking information to the enemy," Smith continues. "It will get Americans killed."
http://timesofindia.indiatimes.com/world/us/Obama-in-the-line-of-fire-for-Osama-raid-bragging/articleshow/15511083.cms
-----------
Islamic college students in Columbia rely on tight-knit community
August 13, 2012
COLUMBIA — Located on Fifth Street, two golden domes reflect light from the setting sun. Every Friday evening, Muslim families gather here to join in prayer and community.
The Islamic Center of Central Missouri in Columbia is a place of worship for many first and second generation immigrant families. The younger generations that attend the mosque are immersed in Columbia's culture, but religion remains a high priority in their lives. MU students Rafa Nizam, 20, and Hiba Syed, 19, rely on the tight-knit Islamic community to help balance their religious values with their lifestyle as college students.
"It's a guiding thread, when it comes to values, morals, interacting with people and etiquette," Nizam said.
He said Islam is a "litmus test" for all the decisions he makes in life. The organizations he is involved with reflect his religious values. Nizam is one of the founding coordinators of the Tiger Pantry, an organization devoted to feeding homeless and hungry students in Columbia. Members of the Islamic Center of Central Missouri preach the importance of volunteering and charitable activities.
Syed, also an MU student, majors in biology and psychology. She is involved with the Muslim Student Organization on campus and said that Islam is the guiding force for everything she practices in life.
"It's something that I try to keep in mind at all times," Syed said. "It helps me make decisions and it shapes the way I treat other people, the way I carry myself, and the way I dress, obviously."
While taking summer classes, Syed makes time to hang out with friends and also perform religious obligations.
"Praying five times a day, my schedule works around that to make sure I get that done," she said. "If you follow your religion and do what you're supposed to do, everything else in life will fall into place."
In addition to her daily prayers, she wears a hijab, a veil that covers her hair. She said people respect her for wearing a hijab because it demonstrates her strong values.
"People are generally interested," Syed said. "If somebody comes up to me and asks me, 'Why do you wear that scarf?' it's fun to explain and it's fun to match them and wear nice shiny, colorful ones."
Both Syed and Nizam are able to balance their religious values with their college lifestyle because of the strong bonds they share within the local Islamic community.
"You'll be a role model for somebody and somebody will be a role model for you," Nizam said. "That's what I've learned from having a tight-knit community like Columbia."
-----------
Another Miracle in Joplin: $250,000 Raised to Replace Burned Mosque
08/13/2012
Randy Turner English teacher
Sometime on the night of Aug. 2, the goal of $250,000 to rebuild the Joplin Islamic Society mosque, which was destroyed by a fire Monday morning, was met -- and the money keeps pouring in.
After a tornado that destroyed one-third of the city and left 161 people dead didn't keep Joplin down, it should have been expected that an act of hatred, as it appears the fire was, would not fare any better.
Again, the people of Joplin, people of all faiths, banded together to show the Islamic community its support, and people from all over the world, again of all faiths, led with their hearts and their pocketbooks once more, showing that the miracle of the human spirit, as our City Manager Mark Rohr termed it, is alive and well in Joplin.
Among those leading the battle to raise the quarter of a million that was needed to replace the mosque was one of my former students, Joplin High School junior Laela Zaidi, a blogger for Huffington Post's Teen page.
Full report at:
http://www.huffingtonpost.com/randy-turner/another-miracle-in-joplin_b_1748982.html
-----------
Despite Alarm by U.S., Europe Lets Hezbollah Operate Openly
By NICHOLAS KULISH
2012/08/16
As American officials sound the alarm over what they call a resurgent threat from the Shiite militant group Hezbollah, thousands of its members and supporters operate with few restrictions in Europe, raising money that is funneled to the group's leadership in Lebanon.
Washington and Jerusalem insist that Hezbollah is an Iranian-backed terrorist organization with bloody hands, and that it is working closely with Tehran to train, arm and finance the Syrian military's lethal repression of the uprising there. Yet, the European Union continues to treat it foremost as a Lebanese political and social movement.
As Israel heightens fears of a pre-emptive strike on Iran's nuclear sites, intelligence analysts warn that Iran and Hezbollah would respond with attacks of their own on targets abroad. Israeli and American officials have attributed the Bulgarian bus bombing last month that killed six people, including five Israeli tourists, to Hezbollah and Iran, saying it was part of a clandestine offensive that has included plots in Thailand, India, Cyprus and elsewhere.
While the group is believed to operate all over the Continent, Germany is a center of activity, with 950 members and supporters last year, up from 900 in 2010, Germany's domestic intelligence agency said in its annual threat report. On Saturday, Hezbollah supporters and others will march here for the annual Jerusalem Day event, a protest against Israeli control of that city. Organizers told the Berlin police that the event would attract 1,000 marchers, and that two counterdemonstrations were also likely.
Full report at:
http://www.nytimes.com/2012/08/16/world/europe/hezbollah-banned-in-us-operates-in-
-----------
Sikh body asks inclusion of hate crimes against Sikhs in stats
Aug 16 2012
Washington : In the wake of the shooting incident at a Wisconsin Gurdwara, an American Sikh advocacy group Wednesday demanded that hate crimes against the community be
included in the federal statistics on such offences.
"Given the rush of hate crimes Sikhs endured after 9/11, one would think that the federal government would be tracking hate crimes against Sikhs on its official forms, but that's not happening," said Sapreet Kaur, executive director of the New York-based Sikh Coalition said.
"Given the tragedy in Oak Creek, we renew our call on the federal government to begin track hate crimes against the Sikh community. How can you address a problem you are not measuring?" she asked in a statement.
Wade Michael Page, 40, an ex-army veteran, went on a shooting spree killing six Sikhs and injuring three others, including a police officer, at the Gurdwara on August 5, before dying of a self-inflicted gun shot wound.
Although Sikhs continue to experience hate crimes because of their distinct religious identity, the FBI has no distinct category to track such crimes, the Sikh Coalition said.
While hate crimes against other racial and religious groups are tracked, hate crime suffered by Sikhs are not.
Full report at:
http://www.indianexpress.com/news/sikh-body-asks-inclusion-of-hate-crimes-against-sikhs-in-stats/988981/
-----------
Hillary Clinton considers blacklisting Haqqani Network
August 16th, 2012
Washington, Aug 16 (ANI): The U.S. State Department has voiced concern about the Haqqani network, and said it was considering whether to designate the group as terrorists after strong appeals by Congress.
President Barack Obama's administration has repeatedly demanded that Pakistan take action against the terrorist group active in Afghanistan, and has also targeted its members, but has stopped short of putting the network on the terror blacklist, reports the Daily Times.
Earlier, Obama had signed a law that gave 30 days to U.S. Secretary of State Hillary Clinton to determine if the Haqqani network meets the criteria of a terrorist outfit.
"We share the grave concern of the Congress with regard to the activities of the Haqqani network," U.S. State Department spokeswoman Victoria Nuland.
As to whether Clinton will designate the Haqqani network as terrorists, Nuland said: "She's considering right now and reviewing the issue."
http://in.news.yahoo.com/hillary-clinton-considers-blacklisting-haqqani-network-063324556.html
---------
Europe
U.N. panel blames Syrian regime for Houla massacre
August 16, 2012
A U.N. expert panel has concluded that President Bashar Assad's forces and pro-government shabiha fighters perpetrated war crimes and crimes against humanity on Syrian civilians.
The panel appointed by the U.N.'s 47-nation Human Rights Council blames government and allied militia for the killing of more than 100 civilians in the village of Houla in May, nearly half of them children.
It says the murders, unlawful killing, torture, sexual violence and indiscriminate attacks point to involvement of the highest levels of government and forces.
The panel also concluded in its final report on Wednesday to the Geneva-based council that anti-government armed groups committed war crimes, including murder, extrajudicial killings and torture, but on a lesser frequency and scale.
http://www.thehindu.com/news/international/article3775830.ece
-----------
Islamic summit will take Myanmar's Rohingyas issue to UN
August 16, 2012
MAKKAH: The Islamic summit decided Thursday to take the issue of Myanmar's Muslim Rohingyas, displaced by deadly sectarian violence, to the United Nations.
At a meeting in the holy city of Mecca the 57-member Organisation of Islamic Cooperation (OIC) condemned "the continued recourse to violence by the Myanmar authorities against the members of this minority and their refusal to recognise their right to citizenship."
The summit has decided to bring this matter before the General Assembly of the United Nations," it said in a final statement.
The OIC announced on Saturday before the summit that it had received a green light from Myanmar to assist displaced Rohingya.
It said Myanmar gave its agreement following talks in the capital Yangon on Friday between a delegation from the pan-Islamic body and President Thein Sein on the "deplorable humanitarian situation in Rakhine state."
The delegation assured Thein Sein that Islamic humanitarian organisations were willing to provide aid to all residents of the strife-torn state.
Saudi King Abdullah decided Saturday to grant $50 million to the Rohingya, the country's news agency SPA reported, describing them as victims of "several rights violations, including ethnic cleansing, murder, rape and forced displacement."
Violence between Buddhists and Rohingya has left scores dead, with official figures indicating that 80 people from both sides died in initial fighting in June.
The entire state has been under emergency rule since early June with a heavy army and police presence.
http://dawn.com/2012/08/16/islamic-summit-will-take-myanmars-rohingyas-issue-to-un/
-----------
Ecuador dares UK, grants asylum to WikiLeaks founder Julian Assange
Aug 16, 2012
QUITO: Ecuador has granted political asylum to WikiLeaks' founder Julian Assange, foreign minister Ricardo Patino said on Thursday, a day after the British government threatened to storm the Ecuadorean embassy in London to arrest Assange.
Britain has said it is determined to extradite the former computer hacker, who enraged Washington in 2010 when his WikiLeaks website published secret US diplomatic cables, to Sweden where he has been accused of rape and sexual assault.
"Ecuador has decided to grant political asylum to Julian Assange following the request sent to the president," Patino told a press conference in Quito.
He argued that Assange's personal security was at risk, extradition to a third country without proper guarantees was probable, and legal evidence showed he would not have a fair trial if eventually transferred to the United States.
"This is a sovereign decision protected by international law. It makes no sense to surmise that this implies a breaking of relations (with Britain)," Patino added.
Even with asylum granted, Assange has little chance of leaving the Ecuadorean embassy in London without being arrested.
There has been speculation he could travel to an airport in a diplomatic car, be smuggled out in a diplomatic bag, or even be appointed an Ecuadorean diplomat to give him immunity.
But lawyers and diplomats see those scenarios as practically unworkable.
Ecuador's President Rafael Correa is a self-declared enemy of "corrupt" media and US "imperialism," and part of a left-leaning block of South American leaders.
He apparently hit it off with Assange during a TV interview the Australian did with him in May. Correa joked then with Assange that he had joined "the club of the persecuted".
Foreign minister Patino called the UK government's threat to enter the embassy "brutal," and acknowledged the only way Assange could travel to Ecuador would be if Britain grants him a safe pass to travel to an airport.
http://timesofindia.indiatimes.com/world/rest-of-world/Ecuador-dares-UK-grants-asylum-to-WikiLeaks-founder-Julian-Assange/articleshow/15517849.cms
-----------
Jesus and Mary in Islamic Mysticism released in Russia
15 Aug 2012
Written by the late noted German scholar Annemarie Schimmel, Jesus and Mary in Islamic Mysticism has been published in Russia.
IBNA: According to Al-Mustafa International University, the book was written by professor Schimmel and its Persian rendition was provided by Mohammad Hussein Khajeh Zadeh.
The Center for Dialogue between Religions of the Islamic Culture and Relations Organization in Iran has converted the Persian rendition of the book into Russian to be published in Russia.
Commenting on her book, Schimmel once said, "I wrote the book to show my fellow country people the strength of the links between Islam and Christianity and I hoped to link the two religions given the respect Muslims show to Jesus and Mary."
The book is one of Schimmel's grand books given her vast eloquence in writing and understanding of Iranian culture and literature.
To complete the book she referred to various Islamic resources including the Holy Quran, Suffi references, and Hadith as well as poetry pieces by Persian poets like Attar, Rumi, Sanaei and Nezami.
The Russian version of the book is published n Russia with support from the Islamic Culture and Relations Organization.
http://www.ibna.ir/vdceep8znjh8eni.1kbj.html
-----------
Air strike as UN blames Syria for crimes against humanity
August 16, 2012
AAZAZ: UN investigators said Wednesday the Syrian regime has committed crimes against humanity, including the Houla massacre, as two dozen people were reported killed in a devastating air strike in the north.
Regime forces were also bombarding the key battleground city of Aleppo in the north, activists said, while Damascus was shaken by a bomb attack targeting military headquarters and a firefight near the prime minister's office.
A report by the UN Commission of Inquiry said government forces and their militia allies committed crimes against humanity including murder and torture, while the rebels have also carried out war crimes, but on a lesser scale.
The report was issued as pressure mounted on President Bashar al-Assad's embattled regime with the world's largest Muslim body poised to suspend Syria over the unrelenting violence, following a similar move by the Arab League.
"The commission found reasonable grounds to believe that government forces and the shabiha had committed the crimes against humanity of murder and of torture, war crimes and gross violations of international human rights law and international humanitarian law," the report said.
Full report at:
http://tribune.com.pk/story/422900/air-strike-as-un-blames-syria-for-crimes-against-humanity/
--------
Africa
Nigerian Muslims kill evangelist in home
Matt Lacy –
Aug 14, 2012
A Christian evangelist with a Pentecostal church in Maiduguri, Nigeria was killed in his own home by Muslim terrorists.
Ali Samari, an evangelist with the Good News Church Maiduguri was killed at his residence by suspected members of the Boko Haram group. The group advocates instituting Sharia law in Nigeria and has been responsible for scores of Christian deaths.
According to Waoh Naija, an eyewitness said the evangelist who also repairs wrist watches was trailed to his house by two gunmen after leaving work.
Earlier this year, he had received a stern warning from men suspected to belong to book Haram telling him to leave his home.
The Muslim group also shot and killed a pastor and others in Maiduguri in April as he was about to administer Holy Communion.
The group has engaged in a series of attacks around the country including bombings on Christmas and Easter.
Full report at:
http://www.greeleygazette.com/press/?p=20538
-----------
Malawi says no war with Tanzania over disputed lake border
August 16, 2012
* Joyce Banda says can resort to other channels to solve matter
BLANTYRE: Malawian President Joyce Banda said Wednesday her country will not "go to war" with Tanzania over a border dispute in Lake Malawi, now poised to become a new oil and gas frontier.
"Even if the diplomatic route fails, it does not necessarily mean we will go to war with our brothers and sisters in Tanzania because we can resort to other channels to solve the matter," Banda told reporters in her first public reaction to the issue.
Tanzania wants an halt to oil exploration in the northeast part of the lake to pave way for talks to resolve the dispute. The border dispute erupted after Malawi last year issued a licence to British firm Surestream Petroleum to prospect for hydrocarbons.
Banda came to power in April after the death of president Bingu wa Mutharika, whose administration awarded the licence. "Much as it is a well-known fact that the lake belongs to Malawi, we will engage our Tanzanian counterparts and resolve our differences diplomatically and amicably," she said.
Full report at:
http://www.dailytimes.com.pk/default.asp?page=2012\08\16\story_16-8-2012_pg4_2
-----------
DR Congo mine collapse: Dozens killed
Aug 16, 2012
At least 60 miners have been killed after a shaft collapsed in a gold mine in north-eastern Democratic Republic of Congo, officials say.
The miners were about 100m underground when the accident happened in Orientale province on Monday, local media says.
Rescue efforts were hampered as crews had difficulty reaching the mine, which lies in a jungle area where armed groups operate, a local official said.
Such accidents are common in DR Congo, where mines are often unregulated.
Profits from the country's enormous mineral resources are widely seen as helping fuel ethnic conflict in DR Congo, while most of the population remains in poverty.
The collapse took place at Pangoy, 120 kilometres (75 miles) from Mambasa, and involved illegal miners, according to the AFP news agency.
The local government chief told UN-backed Radio Okapi the mine had been recently abandoned after clashes between the army and a local militia group, the news agency reports.
http://www.bbc.co.uk/news/world-africa-19280575
-----------
Nigeria: Kano cancels famous durbar horse festival
Aug 16, 2012
A festival held during Muslim Eid celebrations has been cancelled in northern Nigeria, a region hit by a wave of militant Islamist attacks.
A BBC reporter says it is the first time in more than 200 years that the three-day durbar, or horse parading ceremony, in Kano has been called off.
Officials said it was being cancelled as the Emir of Kano was in poor health.
Last week, a devotional retreat that takes place towards the end of Ramadan was cancelled due to security concerns.
The ritual is referred to as "i'tikaf", when some people spend the last 10 days of the Muslim fasting month of Ramadan in seclusion praying in mosques.
Analysts say another reason for the durbar's cancellation may be continued concerns about security and the campaign of violence being waged by the Islamist group Boko Haram in northern Nigeria.
Galloping horsemen
Full report at:
http://www.bbc.co.uk/news/world-africa-19274593
------------
URL: https://www.newageislam.com/islamic-world-news/by-new-age-islam-news-bureau/egypts-jihad-organizations-call-for-christian-genocide/d/8290