New Age Islam News Bureau
7 Sept 2012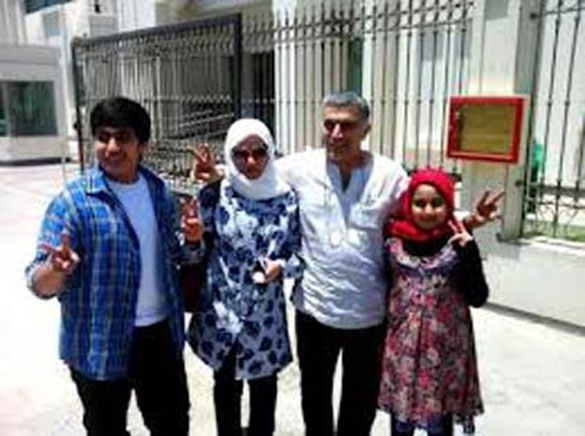 Arab World
• Bahrain: Human Rights Defender Stripped of his Clothes and Left in a Cell with Dead Animals
• Syria's Christians support stability, not regime: church
• Syrian shelling kills 20 in south Damascus, according to residents
• Bombs targeting Iraqi Shias kill eight
• Bomb Explodes Outside Damascus Mosque, 5 Killed
• The future of Arab cinema lies in facing up to real life, not censoring it
• Four Egypt officials acquitted of uprising murders
• Assassination Highlights Rifts Facing Syria Rebels
• Syria fighting rages as Russia urges Western re-think
• Policies win Saudi Kingdom accolades from WEF
India
• Punjab Waqf Board's income goes up, help builds 440 mosques
• The agenda of a liberalized visa regime between India and Pakistan, begun on an illiberal note
• Western air strikes on Libya violate UNSC resolution, says India
• India, Pakistan likely to sign visa pact Saturday
• 'Pak to face disastrous consequences in case of any other misadventure: Indian H M
• Yasin Malik, other JKLF leaders detained in J-K
• Nearly 20% Pakistani Hindus did not return
• Gujarat adopted adversarial attitude in Sohrabuddin case: SC
• After handing Abu Jundal to India, Saudi protests leaks
• I am a Sikh, not a Muslim: Sadique to HC
• Dawood Ibrahim behind Azad Maidan violence in Mumbai: Intelligence Bureau
• Krishna in Pakistan, will share concerns on terror
• Sex-selective abortions stoke violence against women: Azad
• More teeth for NIA to crack down on terror outfits
• Community leaders speak up for secular democracy
• SRK's unfulfilled Kashmir dream
North America
• US judge orders Muslim suspect be clean shaven
• US mosque plan draws protest on 'threat of Islam'
• DC Comics introduces a Muslim superhero
• US to blacklist Haqqani network: New York Times
• US congressman confirms high-level US-Israel spat over Iran
• West's approach to Syria short-sighted: Putin
• U.S. revokes 'terrorist' status of Nepali Maoists
• Ask Osama bin Laden if he is better off now: Kerry
Europe
• Post-nude photo scandal, Prince Harry deployed in Afghanistan
• France Sends Funds to 5 Syrian Civic Groups in Rebel-Held Areas
• British Leader reveals Zen Buddhism helps him cope with pressures of frontline politics
• Cameron and Hollande agree on hastening end of Assad's rule in Syria
• UK group denies Pak 'Osama bin Laden charge'
Pakistan
• Religious scholars affirm their opposition to sectarian violence
• Terror Pakistan mantra of past, not future: Hina Rabbani Khar
• Call to establish commission on conversions
• Four killed in violence in Karachi
• Three killed while making suicide jacket
• Making art out of Pakistan's war zones
• Post-threat, Pak ups nuclear-site security
• Foreign Secretary-level talks were positive and very good: Pak
• Pak army reinstates 3 retired Generals to court-martial them
• Musharraf keen to return to Pakistan
• Kamra base attack: Three out of nine militants identified
• ANP's Amir Nawab resigns from Sindh cabinet after party announces boycott
Africa
• Army: 7 radical Islamist Killed in Northeast Nigeria
• Libya delays trial of Muammar Gaddafi's son to hear from spy chief
• HRW accuses US of covering up extent of water boarding of Libyan Prisoners
• Sudanese president calls for African space agency
South Asia
• Myanmar Christians forced to convert to Buddhism: Rights group
• Taliban behind quarter of Afghan troop attacks on NATO
• One-third of children in Afghan south acutely malnourished
• Karzai urged to appoint Afghan rights experts
• Culture Clash with Afghans on Display at Briefing
• 212 Nepalese in Saudi jails
• Unrest threatens Bangladesh's key garment export
Southeast Asia
• Islamic radicalism hits ancient city of Mombasa
• Indonesia: Shia group wants a dialogue, not sermon
• Indonesia Terrorism Suspects in Plot on Parliament
• Eight years on, people remember Munir, demand new inquiry
Mideast Asia
• Donors pledge $6.4bn to address Yemen's humanitarian crisis
• The Democrats' misstep on Jerusalem and Israel's place in the US election
• Who is held to account for deaths by drone in Yemen?
• Iran to elect Ahmadinejad successor on June 14
• Israel may not carry unilateral attack on Iran: Defence minister
• Israel to Admit 3 of 21 Africans Waiting in Desert
Compiled by New Age Islam News Bureau
Photo: Bahrain: Human Rights Defender Stripped of his Clothes and Left in a Cell with Dead Animals
URL: https://newageislam.com/islamic-world-news/by-new-age-islam-news-bureau/bahrain--human-rights-defender-stripped-of-his-clothes-and-left-in-a-cell-with-dead-animals/d/8598
----------
Arab World
Bahrain: Human Rights Defender Stripped of his Clothes and Left in a Cell with Dead Animals
September 7, 2012
Mrs. Summaya Rajab wife of Human Rights Defender Nabeel Rajab revealed that she had visited Nabeel today in Jow Prison. It was the first visit in 3 weeks.
(Ahlul Bayt News Agency) - Mrs. Summaya Rajab wife of Human Rights Defender Nabeel Rajab revealed that she had visited Nabeel today in Jow Prison. It was the first visit in 3 weeks.
She emphasized that Nabeel was mistreated and humiliated through repeated body frisking. She said that they stripped him of all his clothes during the inspection, and they would leave him with a cover around his waist and covering his lower parts. Then he would be subjected to a humiliating body inspection.
He was transferred to a solitary cell on the day he was sentenced to three years of imprisonment, which explained the intention of revenge. She added that the atmosphere of the cell felt that he would undergo sessions of brutal torture.
On that cell he was forced to wear a cover around the waist that covered that lower parts, then he was forced to stand up and sit down for 40 times despite his suffering of a slipped disc. He asked for his back support belt after the slipped disc pain returned. Security forces had beaten him on his back several times prior to that.
Full report at:
http://abna.ir/data.asp?lang=3&Id=345089
----------
Syria's Christians support stability, not regime: church
RANA MOUSSAOUI
7 September 2012
DIMAN, Lebanon: Syria's Christians do not support the regime of President Bashar Assad, but they do want stability in their war-torn country, Lebanon's Maronite Christian Patriarch Bishara Rai told AFP on Thursday.
"I tell Westerners who say that we (Christians) are with the Syrian regime that we are not with regimes, we are with the state. There is a big difference," Rai told AFP, a week before the arrival in Lebanon of Pope Benedict XVI.
"In Iraq, when Saddam Hussein was removed, we lost a million Christians," he said at the patriarchal residence in Diman in northwest Lebanon. "Why? Not because the regime fell, but because there was no more authority, there was a vacuum."
The number of Christians in Iraq fell from one million under the regime of Saddam to 4,000 currently, following a wave of deadly attacks by Islamist extremist groups which triggered an exodus of Christians,
"In Syria, it's the same thing, Christians do not back the regime but they are afraid of what may come next, that is their feeling," said Rai.
Full report at:
http://www.arabnews.com/syria%E2%80%99s-christians-support-stability-not-regime-church
----------
Syrian shelling kills 20 in south Damascus, according to residents
Sep 6, 2012
BEIRUT/AMMAN: Syrian army mortar and artillery bombardment of an area of southern Damascus where Palestinian refugees live killed at least 20 people on Thursday, residents and local emergency workers said.
Yarmouk camp and the districts surrounding it have seen the most prolonged fighting in the capital since forces loyal to President Bashar al-Assad launched a counter-offensive to push rebels out of the city two months ago.
Residents in the camp said that for the last two weeks Yarmouk had been closed off from neighbouring districts and that they had heard regular clashes. Since early on Thursday they reported heavy bombardment in the area.
They said the army may have intensified its attack on the district in the belief that rebels, who have been sheltering in the nearby neighbourhoods of Tadamon and Hajar al-Aswad, were slipping into Yarmouk, whose Palestinian residents are suspected by authorities of siding with the rebels.
Full report at:
http://timesofindia.indiatimes.com/world/middle-east/Syrian-shelling-kills-20-in-south-Damascus-according-to-residents/articleshow/16285051.cms
----------
Bombs targeting Iraqi Shias kill eight
September 7, 2012
KIRKUK: A series of apparently coordinated bombings targeting Shia places of worship, or husseiniyahs, in north Iraq killed at least eight people and wounded 33 on Friday, a medical official said.
A car bomb targeted the Khezal al-Tamimi husseiniyah in central Kirkuk at about 12:55 pm (0955 GMT), followed by a bombing at Imam Ali husseiniyah in the city's northeast, and three bombings at Al-Mustafa husseiniyah in south Kirkuk, security and medical officials said.
Sadiq Omar Rasul, the head of Kirkuk health department, told AFP that eight people were killed and 33 wounded in the attacks.
An AFP correspondent saw the burned bodies of two children and dozens of burned-out cars at Al-Mustafa husseiniyah.
Hadi Qanbar, who had been praying at Al-Mustafa husseiniyah, said that worshippers were told about the attack on Khezal al-Tamimi and began to leave.
"But when we left, explosions happened one after another," he said. "We do not know why we were targeted."
Full report at:
http://tribune.com.pk/story/433004/bombs-targeting-iraqi-shias-kill-eight/
----------
Bomb Explodes Outside Damascus Mosque, 5 Killed
September 7, 2012
DAMASCUS, Syria (AP) — A bomb went off outside a mosque in Damascus on Friday, killing at least five policemen and wounding others, the latest violence in the capital, once the impregnable stronghold of President Bashar Assad's regime.
The bomb exploded in the northern neighbourhood of Rukneddine as worshippers were leaving the Rukniyeh mosque after Friday prayers.
Syrian TV said five policemen were killed, and an official at the scene told The Associated Press that six died. The official spoke on condition of anonymity in line with regulations.
An Associated Press reporter at the scene said the bomb went off across the street from the mosque and damaged a clinic as well as six cars. Officials at the bomb were placed on a motorcycle.
The brick wall over the entrance of the clinic collapsed, and blood could be seen on the wall and in the street.
Full report at:
http://www.nytimes.com/aponline/2012/09/07/world/middleeast/ap-ml-
----------
Assassination Highlights Rifts Facing Syria Rebels
By DAVID D. KIRKPATRICK
September 7, 2012
BEIRUT, Lebanon — The assassination of a Syrian rebel fighter linked to Al Qaeda called new attention on Thursday to the ideological differences among the Islamists fighting the government of President Bashar al-Assad and threatened to set off new strife among the rebels.
The mystery surrounding the fighter's death has opened a new window among the rebels, loosely allied as the Free Syrian Army, at a time when uncertainty about the opposition's unity and character — in particular, the potential inclination toward intolerant or sectarian Islamist politics — has deterred the West from more muscular support for the cause of Mr. Assad's ouster.
The fighter, Abu Mohamed al-Shami Abu al-Absi, led a brigade known as Jubhat al-Nusra, which calls itself a Qaeda affiliate. His body was found Wednesday in an area known as Sarmada on the Turkish border, several rebel fighters said in interviews over the Internet. All said he had disappeared three days earlier and was evidently kidnapped and assassinated.
Full report at:
http://www.nytimes.com/2012/09/07/world/middleeast/killing-of-rebel-with-qaeda-links-
----------
Syria fighting rages as Russia urges Western re-think
September 7, 2012
DAMASCUS: Fighting raged in Syria on Thursday, as troops and pro-regime neighbourhood militias clashed with rebels in the central region of Homs and as combat rattled Damascus and the area around the besieged city of Aleppo.
With at least 78 people reportedly killed on Thursday, Russian President Vladimir Putin urged Western and Arab governments to review their policy on Syria, saying the key objective should be to end the deadly violence.
In Homs province, at least nine soldiers and four members of the "popular committees" of civilians armed by the government were killed and dozens more civilian fighters wounded, the Syrian Observatory for Human Rights said.
These committees are made up of people who have taken up arms to defend their villages or neighbourhoods against the rebels.
The fighting in Homs was concentrated in the Crac des Chevaliers region, home to a historic Crusader castle, and Wadi al-Nassara, a valley where a number of Christian villages are located.
Full report at:
http://dawn.com/2012/09/07/syria-fighting-rages-as-russia-urges-western-re-think/
----------
Policies win Saudi Kingdom accolades from WEF
7 September 2012
JEDDAH: Saudi Arabia has won 18th position among 144 countries in the Global Competitiveness Report 2012–2013 published by the World Economic Forum based in Geneva.
"The Kingdom won top placing in the WEF report as a result of different positive indicators including the growing confidence of Saudis in the country's government and decision-makers," the Saudi Press Agency said.
Saudi Arabia's effort to combat corruption was another reason that qualified it to become the second country from the Gulf region to top the prestigious listing. Qatar was listed 11th while UAE got the 24th position. Switzerland is No. 1 on the list followed by Singapore, Finland, Sweden and Holland.
The official agency said Saudi Arabia got fifth position in areas such as protecting intellectual property rights, diversity of government spending and independence of judiciary and careful use of public funds.
"Saudi Arabia maintains the second-best place in the region and falls by one position from 17th to 18th position overall," the report said. The country has seen a number of improvements to its competitiveness in recent years that have resulted in a solid institutional framework, efficient markets, and sophisticated businesses, the report added.
The Kingdom scored high points on excellent telecom and communication facilities, efficiency in settling disputes, good corporate performance, efficiency of monitoring agencies, fighting monopoly and quality of taxation system.
Full report at:
http://www.arabnews.com/policies-win-kingdom-accolades-wef
----------
The future of Arab cinema lies in facing up to real life, not censoring it
Malu Halasa
6 September 2012
Afther 30 years of increasing conservatism, young directors are rebelling by examining complex and contentious relationships
The trouble with the Arab Spring is that people who have never been to the Middle East think they know it. There is a kind of finality in rolling news footage: a moment caught within a certain political context encourages pundits and casual observers alike to make sweeping assumptions. Movies, however, have always provided, à la Cervantes, truth through lies. The new crop of popular films from the Middle East are no different: characters that start out as troubled stereotypes evolve into complex and engaging figures.
This is best exemplified in what many consider the most successful Arab film of all time, The Yacoubian Building, a Middle Eastern Rear Window made in 2006. From the eponymous apartment building's gay newspaper editor to a young woman sexually harassed at work, these characters from Alaa al-Aswany's novel had held sway with audiences in the region ever since the book's publication four years earlier. After over 30 years of Islamic preachers calling for more conservatism in film and an older generation of celebrated Egyptian actresses donning the veil, younger film directors have taken their cue from The Yacoubian Building and rebelled by going inside the home and examining contentious relationships.
Full report at:
http://www.guardian.co.uk/film/2012/sep/06/arab-cinema-real-life-censorship
-----------
Four Egypt officials acquitted of uprising murders
September 07, 2012
CAIRO — An Egyptian court on Thursday acquitted four former senior police officials of involvement in the killings of demonstrators during the 2011 popular uprising that ousted president Hosni Mubarak.
The grounds for the decision were not immediately available following the announcement of the acquittals.
Faruq Lashin, former director of security in the Nile Delta province of Qalubiya north of Cairo, was among the four who had been charged with murdering demonstrators.
The prosecution inquiry had said the four accused tried to prevent protesters from taking part in a key day of demonstrations, the so-called "Friday of Anger," the climax of four days of protests on January 28 last year.
Twenty-seven people were killed and 40 wounded in clashes on that day, one of the deadliest 24-hour periods in the 18-day uprising which saw some 850 people die.
The mass protests against the Mubarak regime were fuelled by anger against police brutality.
The fallen strongman and his one-time interior minister Habib al-Adly were both convicted on June 2 this year for their roles in the deaths of demonstrators and sentenced to life in prison.
Copyright © 2012 AFP. All rights reserved
-----------
India
Man Booked For Sexual Abuse of Wife over 'Infidelity'
Sep 07 2012
Rajkot: THE Bhuj police on Thursday booked a man for allegedly torturing his wife by smearing chilli powder and acid on her private part on several occasions.
The incident came to light on Wednesday when the severely injured woman admitted herself to the Bhuj Civil Hospital.
Police said preliminary investigation revealed that the 32-year-old woman had been sexually tortured by her husband Abdul Karim. Besides Karim, police have booked his father, mother and brother for subjecting her to physical and mental harassment.
"Acid and chilli powder were applied on her private part repeatedly because they suspected her of infidelity," said a police officer, adding that the woman had tried to cover up the issue but it finally surfaced when she needed medical attention.
Police said they were yet to interrogate her husband and in-laws and that further investigation would reveal as to when it all started and how many times the act was repeated.
http://www.indianexpress.com/news/man-booked-for-sexual-abuse-of-wife-over-infidelity/999301/
----------
Punjab Waqf Board's income goes up, help builds 440 mosques
Sep 06 2012
Chandigarh: The income of Punjab Waqf Board has risen in past couple of years, and it has undertaken a number of welfare activities including help building 440 mosques in the state during the past 18 months, its chairman Izhar Alam said today.
"As against an income of just Rs 3.63 crore a few years back, the Waqf's income in revenue year 2011-12 (ending May 31) stood at Rs 20.20 crore. Two years back, our annual income was around Rs 15 crore," said Alam, a former Punjab Police DGP.
The Waqf has around 4,500 properties in Punjab which it manages at present, and has helped in building 440 mosques in a short span of one-and-a-half years, he said.
"The Waqf is also providing aid to 34 schools and 'madrasas'," said Alam.
It also undertakes a number of other welfare activities including providing scholarships to students and pension to the widows.
Alam said that the Waqf generates its own resources, including by leasing out some of its properties.
Touching upon the problems faced by the Muslim community in Punjab, he said that land for the graveyards is an issue.
"However, the Akali (SAD-BJP) Government has issued directions that where ever there is a sizable population of the Muslims and if land for the graveyards is not available, the concerned village Panchayat in case of villages and Municipalties in case of urban areas, will provide the land. If still there is difficulty, the Government has said it will purchase the land and make it available," he said.
Alam said he is also taking steps to improve the shape of Malerkotla constituency, which has 1.40 lakh Muslim populations.
http://www.indianexpress.com/news/punjab-wakf-boards-income-goes-up-help-builds-440-mosques/998847/
----------
The agenda of a liberalized visa regime between India and Pakistan, begun on an illiberal note
Sep 7, 2012
NEW DELHI: The agenda of a liberalized visa regime between India and Pakistan, that external affairs minister S M Krishna's has gone to finalize with his counterpart Hina Rabbani Khar, has begun on an illiberal note.
Pakistan High Commission in New Delhi on Thursday denied visa to the resident editor of English daily The Hindu after giving him long and didactic lectures on how September 11 and 26/11 were American conspiracies and how America was a common enemy to both India and Pakistan.
This is not for the first time that Pakistan has denied visas to Indian journalists. Earlier, Pakistan refused visa to Times Now journalist Nikunj Garg on the eve of the then union home minister P. Chidambaram's visit to Pakistan. Chidambaram at the time put his foot down and Garg was granted the visa at the eleventh hour.
However, no such protest was made by the Indian government on Thursday when Pakistan denied visa to journalist Praveen Swami, an expert on strategic and security issues. He was a member of a large media delegation accompanying the external affairs minister to Pakistan.
Swami has written extensively on insurgencies and terror networks in India and was nominated by his newspaper for the media delegation. His visa application along with his documents was forwarded to the Pakistan High Commission by the external affairs ministry. The journalist received his passport with a stamped visa but crossed and cancelled.
Swami told the TOI that he was called by the High Commission early this week for a meeting with Press Attache Manzoor Ali Memon that lasted for over an hour after two Pakistani officials, who did not share their visiting cards with him, dropped in. "I was asked no questions but instead handed out sermons by the two on how Indian and Pakistani media could join hands to counter American conspiracies," Swami said.
The journalist gave them a patient audience and told them that he was ignorant about the revelations they had made about "American plots" and he "would love to catch up on the WikiLeaks evidence against America they were referring to."
At the end of the meeting, Swami was gifted a book of poetry by Ahmad Faraz and non-fiction 'Pakistan from mountain to sea' by Mohamed Amin, Duncan Willetts and Brendan Farrow.
http://timesofindia.indiatimes.com/india/Indian-journalist-denied-Pak-visa-told-26/11-American-conspiracy/articleshow/16297598.cms
--------
Western air strikes on Libya violate UNSC resolution, says India
SANDEEP DIKSHIT
September 7, 2012
R2P cannot turn out to be a tool legitimising big power intervention'
India has told a United Nations meeting on the "responsibility to protect" (R2P) concept that Western air strikes on Libya were a complete violation of the U.N. Security Council's resolution number 1973.
While this concept grew out of genocide and ethnic cleansing in Rwanda and Srebrenica in the 1990s, it was perhaps because of the lack of oil there that the important members of the international community decided not to act in both the places, India's Permanent Representative to the United Nations Hardeep Singh Puri said at an interactive dialogue on the report of the U.N. Secretary-General on the "Responsibility to Protect: Timely and decisive action."
Hoping that the discussion would "contribute meaningfully" in further clarifying the true ambit and scope of R2P, especially in view of the Libya experience, Mr. Puri regretted that the principle grew from the international community's "troubled conscience" in Rwanda and Srebrenica but "when they chose to do so" in Libya, it was in the fulfilment of a larger objective.
India's PR to U.N. outlined three fundamental aspects of the concept as New Delhi sees them: (i) R2P cannot be used to address all social evils, including violations of human rights and humanitarian law. Rather it must only be confined to the four identified crimes, i.e., genocide, war crimes, ethnic cleansing, and crimes against humanity; (ii) the default response of the international community cannot be coercive measures under Chapter VII of the Charter; and (iii) in reality R2P cannot be seen as a pretext for humanitarian intervention, "a concept riddled with inconsistencies and driven by selfish motives on the part of the developed nations.''
He said R2P also cannot turn out to be a tool legitimising big power intervention on the pretext of protecting populations from the violations of human rights and humanitarian law. It cannot be seen as codifying a system of coercion, providing a tool in the hands of powerful governments to judge weaker states, and encourage regime change primarily on political considerations.
Mr. Puri felt in the light of the Libyan experience, the real problem lay with the responsibility of the international community to step in when a State manifestly fails to meet its responsibility to protect its population from these four crimes. "The Secretary-General's report clearly acknowledges that controversy still persists on aspects of implementation, in particular with respect to the use of coercive measures to protect population."
India, said Mr. Puri, was for beginning R2P with an early political engagement with the parties concerned. Any specific needs of the state concerned should be given due consideration and support. "It is only when an honest and serious attempt at pacific settlement fails that the international community, acting under the United Nations, should respond with coercive measures. And the response should again be calibrated and gradual, rather than immediate recourse to Article 42."
India wanted armed intervention to be a measure of last resort when everything else has failed. Selectivity must be avoided at all cost and the principle must be applied uniformly to all parties to a conflict.
PROTECTING POPULATION FROM CRIMES
Mr. Puri also touched upon references in the SG's report to the responsibility of protecting populations from crimes and violations related to R2P. "This change in phraseology is not appropriate. There are four crimes clearly identified under R2P in the World Summit Outcome Document, which have also been reaffirmed by Security Council resolution 1674. This normative framework cannot be changed at the Secretariat's sweet will, he asserted.
He felt the time had come to look at both sides of the coin — while the responsibility of each "state to protect its population from the four crimes is accepted in the World Summit Outcome Document, at the same time, greater focus and further understanding is required on the manner in which R2P can be implemented."
Also, the implementation of R2P requires an effective discharge of responsibility and obligations by states under the U.N. Charter in a balanced and impartial manner.
http://www.thehindu.com/news/national/article3867135.ece
---------
India, Pakistan likely to sign visa pact Saturday
07 Sep 2012
Islamabad, Sep 7 (IANS) The much-awaited visa agreement between India and Pakistan could be signed Saturday, Indian sources said here Friday.
The visa agreement could be a game changer for people-to-people contact between the two neighbours as visa rules for specified categories could be eased by both sides.
"The agreement is likely to be signed tomorrow (Saturday)," an Indian external affairs ministry source said here.
Though India had said earlier that it was ready to sign the visa pact, Pakistan had to clear some formalities on its part.
The new visa policy will have eight categories.
Full report at:
http://www.newstrackindia.com/newsdetails/2012/09/07/307--India-Pakistan-likely-to-sign-visa-pact-Saturday-.html
---------
'Pak to face disastrous consequences in case of any other misadventure: Indian H M
By Saurabh Shukla in New Delhi
September 7, 2012
Minister warns against repeat of 26/ 11 type misadventure
EXCLUSIVE
ANOTHER ISI- sponsored terror attack will spell doom for Pakistan.
The message is clear from foreign minister S. M. Krishna as he prepares to meet his Pakistani counterpart Hina Rabbani Khar in Islamabad.
"They (Pakistan) know it would be disastrous if, god forbid, any other misadventure on the part of Pakistan takes place," Krishna warned the neighbour in an exclusive interview to M AIL T ODAY ahead of his three- day bilateral visit to Pakistan starting Friday.
The minister was responding to a question on how India would deal with the situation if Pakistan continued to foment terrorism against India.
Krishna said he will convey to turn to Pakistan India's concerns on the tardy pace of 26/ 11 investigations. In the recent past, Indian intelligence agencies have alerted the government top brass about attacks being planned by terror groups such as Lashkar- e- Tayyeba (LeT) and being backed by the ISI, Pakistan's intelligence agency.
Full report at: Mail Today
----------
Yasin Malik, other JKLF leaders detained in J-K
September 07, 2012
JKLF chairman Mohammad Yasin Malik and several leaders of the separatist outfit were detained during a protest rally led by him at Lal Chowk area in Srinagar. Malik and over two dozen separatists, mostly JKLF leaders, were taken into preventive custody for violating prohibitory orders by
taking out a procession, the officials said.
The JKLF chairman had led a rally from party headquarters at Maisuma shortly after Friday prayers but they were intercepted by police at nearby Budshah Chowk in the heart of the city.
Full report at:
http://www.hindustantimes.com/India-news/Srinagar/Yasin-Malik-other-JKLF-leaders-detained-in-J-K/Article1-926063.aspx
---------
Nearly 20% Pakistani Hindus did not return
Sep 6, 2012
NEW DELHI: Nearly one-sixth of 17,485 Pakistani Hindus, who had come to India on valid visas in the past three years, did not return to Pakistan. All of them who stayed back, however, did not apply for Indian citizenships. They had, rather, sent representations to local authorities exploring the option of being in India for longer term for varied reasons including economic compulsions.
Indian government had during 2009-11 received 1,290 applications of Pakistani nationals for grant of citizenship by registration and naturalization. Though only 764 of them had got Indian citizenship during the period, the remaining ones were allowed to stay on long term visas.
The home ministry disclosed these figures in response to different Parliament questions over the last fortnight. These official data have come amid reports that many Pakistani Hindus who came to India recently do not want to return due to alleged religious persecution.
Although the home ministry in response to those questions preferred to distance itself from the allegation of religious persecution or discrimination, it said that all the applications seeking Indian citizenships were processed "as expeditiously as possible" in consultation with the ministry of external affairs and the state governments concerned where the applicant ordinarily stays after coming to India.
Full report at:
http://timesofindia.indiatimes.com/india/Nearly-20-Pakistani-Hindus-did-not-return/articleshow/16273527.cms
----------
Gujarat adopted adversarial attitude in Sohrabuddin case: SC
Sep 6, 2012
NEW DELHI: The Supreme Court on Thursday told the Gujarat government that it has been adopting "adversarial attitude" in the proceedings relating to the case of fake encounter killing of gangster Sohrabuddin Sheikh in which its former minister Amit Shah is one of the accused.
"Don't forget (that) the state has been taking adversarial attitude and sometime adversarial attitude turns into hostile attitude. Here is a prima facie case in which three persons were killed in cold blood and the matter needs to be investigated.
"More than once we said state should have shown anxiety to come to the bottom of the things. Why should it happen anywhere in the country?," said a bench of justices Aftab Alam and Ranjana Prakash Desai.
Full report at:
http://timesofindia.indiatimes.com/india/Gujarat-adopted-adversarial-attitude-in-Sohrabuddin-case-SC/articleshow/16284874.cms
----------
After handing Abu Jundal to India, Saudi protests leaks
Sep 07 2012
New Delhi: Saudi Arabian authorities have expressed unhappiness over the media leaks of details of the operation that led to the arrest of key Mumbai attack handler Abu Jundal, according to National Security Advisor Shivshanker Menon.
Menon made a reference to this while addressing the DGPs and IGPs at their annual conference where he underlined the need for ensuring complete secrecy in police operations and advised them not to compromise sources in claiming "operational glory", sources privy to the meeting said today.
The sources claimed that Menon in his address here yesterday said if the sources are made public there was a threat they may never work with the security agencies again.
The NSA told the top police officers that Saudi authorities were not happy with the way minute details of the Abu Jundal operation were made public apparently by the security agencies involved in the operation, the sources said.
Jundal, the 26/11 handler who is in jail in Mumbai, was deported to India by the Saudi authorities in June as part of enhanced intelligence and security related cooperation between two countries.
Full report at:
http://www.indianexpress.com/news/after-handing-over-26-11-handler-abu-jundal-to-india-saudi-protests-leaks/999383/
----------
I am a Sikh, not a Muslim: Sadique to HC
Sep 07 2012
Chandigarh: Adding twist to the petition challenging his election from the Bhadaur Assembly constituency in the January polls, Punjabi singer and MLA Mohammad Sadique on Thursday told the Punjab and Haryana High Court that he was a Sikh and not a Muslim.
Sadique filed the reply in response to a petition filed by former state principal secretary Darbara Singh Guru, who had lost to Sadique in the polls by around 7,000 votes. Guru had claimed that as Sadique was a Muslim, he could not have availed the Scheduled Caste reservation quota and contested from Bhadaur — a reserved constituency.
Stating that he belongs to the "doom" class, Sadique submitted that had he embraced Sikhism in 2006. In his reply, Sadique also raised the issue of "discrimination on the basis of religion". Terming the clause, which restricts the benefit of reservation only to Hindus, Buddhists and Sikhs as "unconstitutional", Sadique, stated that such "discrimination" is violative of Article 14 of the Constitution. He also questioned the rationale of confining reservation for contesting in elections to a handful of castes.
In his petition, Guru has challenged Sadique's SC status and sought that the election be set aside and fresh polls be ordered in Bhadaur.
The case will now come up for resumed hearing on September 21.
http://www.indianexpress.com/news/i-am-a-sikh-not-a-muslim-sadique-to-hc/999074/
----------
Dawood Ibrahim behind Azad Maidan violence in Mumbai: Intelligence Bureau
Sep 7, 2012
Intelligence Bureau has informed Maharashtra govt that Dawood Ibrahim's gang played a vital role in the violence at Azad Maidan in Mumbai last month.
MUMBAI: The Intelligence Bureau has informed the Maharashtra government's home department that underworld don Dawood Ibrahim's gang played a vital role in the violence at Azad Maidan in Mumbai last month. According to a senior officer of the state home ministry, the IB information is based on information collected through intercepts of international telephonic conversations.
All information related to how the violence at Azad Maidan was planned and executed has been handed over to Maharashtra home minister RR Patil. Just a day after the incident, chief minister Prithviraj Chavan had told media that there was initial suspicion about the possibility of this violence being planned abroad. Now the telephonic intercepts show that there is evidence to prove this. IB officials who analysed the intercepts have identified the telephone numbers and voices of known underworld members lodged abroad.
Full report at:
http://timesofindia.indiatimes.com/india/Dawood-Ibrahim-behind-Azad-Maidan-violence-in-Mumbai-Intelligence-Bureau/articleshow/16293214.cms
----------
Krishna in Pakistan, will share concerns on terror
Sep 7, 2012,
ISLAMABAD: External affairs minister SM Krishna on Friday arrived here on a three-day visit that will see him hold talks with his Pakistani counterpart Hina Rabbani Khar amid New Delhi's concerns on threats of terror emanating from various quarters in Pakistan.
India has made it clear that terrorism, and particularly the 26/11 attack, would remain a "core issue" as both sides review the second round of the dialogue process, revived in February 2011 after a long hiatus following the Nov 26-28, 2008, terror siege of Mumbai.
While the foreign secretaries - India's Ranjan Mathai and Pakistan's Jalil Abbas Jilani - will meet Friday, Krishna will hold talks with Khar on Saturday in an effort to take forward the process of fence mending between the two wary neighbours.
Both ministers will also co-chair the plenary of the India-Pakistan Joint Commission on Saturday.
Krishna, who was last in Pakistan in July 2011, spends some time in Lahore Sunday on the way back. He will meet political, business and civil society leaders before heading back home.
Other issues likely to figure in the talks are confidence building measures (CBMs), release of prisoners as well as trade and border issues.
Over 60 Indian mediapersons are accompanying the Indian external affairs minister.
http://timesofindia.indiatimes.com/india/Krishna-in-Pakistan-will-share-concerns-on-terror/articleshow/16294185.cms
----------
Sex-selective abortions stoke violence against women: Azad
Sep 7, 2012
New Delhi: Union health minister Ghulam Nabi Azad has warned fellow MPs that gender imbalance through sex-selective abortion can lead to increased violence against women, abduction, rape and trafficking.
Chairing a meeting of the consultative committee of Parliament on Wednesday, Azad said that the potential hazards of this imbalance caused by female feticide would be an adverse child sex ratio that would "severely impact the delicate equilibrium of nature and destroy our moral and social fabric".
Full report at:
http://timesofindia.indiatimes.com/india/Sex-selective-abortions-stoke-violence-against-women-Azad/articleshow/16290144.cms
----------
More teeth for NIA to crack down on terror outfits
Sep 7, 2012
New Delhi: With the National Counter Terrorism Centre ( NCTC) failing to take off, the government is aiming to give more teeth to the National Investigation Agency (NIA) to crack down on terror outfits such as the banned Indian Mujahideen (IM).
In a clear pointer to its intent, the home ministry has asked the country's premier terror agency to lodge a fresh FIR against the outfit with its absconding members as accused. The government is rattled by recurring attacks from IM operatives, the latest suspected to be the Pune blasts on August 1, and is embarking on a new approach to crack down on the outfit's network and cross-border infrastructure.
The NIA FIR, likely to be filed soon, will not focus on any specific event but the larger nationwide designs and conspiracy by the outfit to wage war against the country. This will help NIA to take up any incident related to the outfit and freely conduct investigations.
The home ministry's move will give NIA a wider approach and access to terror cases across the country and help evolve the agency on the lines of US' Federal Bureau of Investigation (FBI).
Full report at:
http://timesofindia.indiatimes.com/india/More-teeth-for-NIA-to-crack-down-on-terror-outfits/articleshow/16289850.cms
----------
Community leaders speak up for secular democracy
ASHA SRIDHAR
September 7, 2012
What happened in the north east reflected complete bankruptcy of identity politics, said Subhashini Ali, vice-president, All India Democratic Women's Association, at a seminar on 'Strengthening India's secular democracy' organised jointly by the Islamic Forum for the Promotion of Moderate Thought, the Church of South India Inter-faith Dialogue Centre and the Rajaji Centre for Public Affairs on Thursday.
Discussing the dangers of creating one subsuming identity, she said the whole concept of identity politics was being widely propagated as a method of liberation for marginalised, exploited groups to gain equality and be a part of the mainstream.
"But nothing can be farther from the truth," she said, adding, that instead of helping people find allies, it fosters animosity by creating an enemy of the 'other'. Though identity politics existed earlier, it had been strengthened with the development of capitalism, she said, adding that the means had become more sophisticated.
Full report at:
http://www.thehindu.com/news/cities/chennai/article3867290.ece
----------
SRK's unfulfilled Kashmir dream
By Naseer Ganai
September 7, 2012
KAUN kambakht bardasht karne ke liye peeta hai? Hum to peetay hain taki Paro ko bhula saken. " (Who drinks to forget pain. I drink so that I can forget Paro).
Like the unrequited love of Devdas, Shah Rukh Khan, who recalled the lines from the movie he had starred in, confessed of an unfulfilled dream in Pahalgam.
SRK said he had always wanted to be in Kashmir with his late father. "But I did not get an opportunity to do that. My father would say "Whenever you go to Kashmir take me along," the actor told the media as he prepared to leave Pahalgam after wrapping up a shooting schedule there.
King Khan was in Pahalgam to shoot for his yet untitled movie under the Yash Raj banner.
SRK plays an army officer named Samar in the movie.
Full report at: Mail Today
----------
North America
US judge orders Muslim suspect be clean shaven
Sep 07 2012
Fort Hood: A US military judge says the Army psychiatrist charged in a 2009 shooting rampage must be clean shaven or will be forcibly shaved before his murder trial.
Col. Gregory Gross issued the order today after a hearing to determine whether a federal religious freedom law applies to Major Nidal Hasan's case.
Hasan says he grew his beard because his Muslim faith requires it. Army regulations ban beards.
Gross ruled the defence didn't prove that Hasan is growing a beard for sincere religious reasons.
Hasan faces the death penalty if convicted of 13 counts of premeditated murder in the November 2009 attack on a Texas Army post.
The beard issue has repeatedly caused delays in Hasan's case.
http://www.indianexpress.com/news/fort-hood-shooting-us-judge-orders-muslim-suspect-be-clean-shaven/999245/
----------
US mosque plan draws protest on 'threat of Islam'
September 7, 2012
WEST BLOOMFIELD: A Christian legal group that recently defended a US pastor who publicly burned a copy of the Quran is now attacking a plan to turn a vacant US school into a mosque, saying it wants to confront the "threat of Islam" and stop a "stealth jihad" to turn the country into an Islamic nation.
The Islamic Cultural Association in suburban Detroit bought the former school last year for $1.1 million. But the Thomas More Law Centre is supporting a resident-led lawsuit to have the purchase overturned and has asked for a grand jury to investigate alleged corruption in the deal. A judge dismissed the case, saying the plaintiffs had no standing to file a complaint, but residents are appealing.
The effort is "targeting innocent Americans because of their faith and willingness to engage in the community and to contribute," said the Islamic association's attorney, Shareef Akeel.
The dispute is playing out in one of the largest Muslim communities in the US
The law centre has also represented Terry Jones, the minister who in 2011 burned a copy of the Quran at his Florida church, an act that led to violent protests in Afghanistan that killed more than a dozen people.
Richard Thompson, the law centre's president and chief counsel, did not return messages left by The Associated Press.
The law centre and residents accuse the school district of negotiating with the association behind closed doors and accepting illegal campaign contributions made by an association official.
The law centre also accuses Islamic organizations in the United States of taking advantage of the legal system to wage a "stealth jihad" that aims to transform the US into an Islamic nation.
It alleges that the Islamic association has ties to terrorism because of its links to other Muslim groups.
Full report at:
http://dawn.com/2012/09/07/us-mosque-plan-draws-protest-on-threat-of-islam/
----------
DC Comics introduces a Muslim superhero
September 6, 2012
NEW YORK: DC Comics introduced a new Green Lantern on Wednesday — the story of Simon Baz, an American of Arab ancestry raised in a Muslim family, who leaves behind street racing to join an intergalactic police force.
Baz, the muscular protagonist in his early 20s with the Arabic word for courage, "al-shuja'a," tattooed on his arm, is the latest example of superhero diversity in the comic book world. His debut comes after DC Comics unveiled a gay Green Lantern in June and Marvel Comics presented a half-black, half-Latino Spider-Man last year.
"In typical comic books there's a big handsome white guy and that's it. But that's not the world we live in, and comics are reflecting that," Thor Parker, social marketing and event director at Midtown Comics in New York, told Reuters.
Full report at:
http://tribune.com.pk/story/432458/dc-comics-introduces-a-muslim-superhero/
-----------
US to blacklist Haqqani network: New York Times
Sep 7, 2012
WASHINGTON: The United States is preparing to blacklist the Pakistan-based Haqqani network as early as Friday, the New York Times said on its website, quoting unidentified American officials.
US officials have accused the Haqqanis of high-profile attacks, including on the US Embassy in Kabul and a truck bombing that wounded dozens of US troops.
Designation by the state department as a Foreign Terrorist Organization would bring sanctions such as criminal penalties for anyone providing material support to the group and seizure of any assets in the United States.
The New York Times said senior officials who argued against blacklisting the group were concerned it could further damage relations with Pakistan and possibly jeopardize the fate of Sergeant Bowe Bergdahl who is being held by the militants.
http://timesofindia.indiatimes.com/world/us/US-to-blacklist-Haqqani-network-New-York-Times/articleshow/16292901.cms
----------
US congressman confirms high-level US-Israel spat over Iran
Sep 7, 2012
WASHINGTON: Israeli Prime Minister Benjamin Netanyahu blew up at the US ambassador last month because he was "at wit's end" over what he sees as the Obama administration's lack of clarity on Iran's nuclear program, a US congressman who was at the meeting said.
House Intelligence Committee Chairman Mike Rogers, a Republican, made his first public comments about the late August meeting in Israel in an interview with Michigan's WJR radio on Tuesday.
His disclosure comes only hours before President Barack Obama will at the Democratic National Convention to accept the party's nomination as its candidate in the November election, in which the level of the Obama administration's support for Israel has become a contentious topic.
"Right now the Israelis don't believe that this administration is serious when they say all options are on the table, and more importantly neither do the Iranians. That's why the program is progressing," Rogers said.
Full report at:
http://timesofindia.indiatimes.com/world/us/US-congressman-confirms-high-level-US-Israel-spat-over-Iran/articleshow/16290055.cms
----------
West's approach to Syria short-sighted: Putin
VLADIMIR RADYUHIN
06 Sep, 2012
Russia's President Vladimir Putin warned the West that its policy of funding terrorists to bring down the Syrian government was "short-sighted" and could backfire.
Mr. Putin said that in Syria the West was repeating the same mistake it had made in Afghanistan.
"Today some people want to use militants from al Qaeda or some other organisations with equally radical views to accomplish their goals in Syria," Mr. Putin said in his first full television interview since he reclaimed presidency four months ago.
He drew parallels with United States' support for mujahedeen to fight Soviet forces in Afghanistan.
Full report at:
http://www.thehindu.com/news/international/article3866735.ece
----------
U.S. revokes 'terrorist' status of Nepali Maoists
06 Sep, 2012
PRASHANT JHA
Six years after Nepal's Maoists entered open politics and signed a peace treaty, the United States has finally lifted its "terrorist" tag for the country's ruling party.
In a statement on Thursday, the Department of State announced it had "revoked the designation of the Communist Party of Nepal (Maoists) and its aliases as a Specially Designated Terrorist Entity under Executive Order 13224". It also revoked its status as a "terrorist organisation from the Terrorist Exclusion List (TEL) under the Immigration and Nationality Act".
The State Department said it had concluded that Maoists were no longer engaged in "terrorist activity that threatens the security of U.S. nationals or U.S. foreign policy". Explaining the rationale of the decision, the statement noted the election of the Maoists as the head of the government; the party's steps to "dismantle its apparatus for the conduct of terrorist operations"; and its "credible commitment to pursuing peace and reconciliation process in Nepal". It also looked ahead to the party's "continued engagement in a peaceful, democratic political dialogue in Nepal".
Full report at:
http://www.thehindu.com/news/international/article3867018.ece
----------
Ask Osama bin Laden if he is better off now: Kerry
Sep 07 2012
Charlotte : Seeking to boost the foreign policy and national security credentials of US President Barack Obama amidst a barrage of attack from the opposition Republican camp, a top American SeNATOr has sought to remind Obama's courage and leadership role in giving orders to kill Osama bin Laden.
Taking a dig at Mitt Romney, the Republican presidential candidate, SeNATOr John Kerry, Chairman of Senate Foreign Relations Committee, said that the former governor of Massachusetts would not have given such a order.
"Obama kept his promises. He promised to end the war in Iraq and he has, and our heroes have come home. He promised to end the war in Afghanistan responsibly, and he is, and our heroes there are coming home," Kerry said addressing the third and final day of the Democratic National Convention yesterday.
"He promised to focus like a laser on al-Qaeda, and he has, our forces have eliminated more of its leadership in the last three years than in all the eight years that came before.
"And after more than ten years without justice for thousands of Americans murdered on 9/11, after Mitt Romney said it would be "naive" to go into Pakistan to pursue the terrorists, it took President Obama, against the advice of many, to give that order to finally rid this earth of Osama bin Laden," he said.
Full report at:
http://www.indianexpress.com/news/ask-osama-bin-laden-if-he-is-better-off-now-kerry/999238/
----------
Europe
Post-nude photo scandal, Prince Harry deployed in Afghanistan
Sep 07 2012
London : Prince Harry, known as Captain Wales in the British military, today arrived at Camp Bastion in Afghanistan's Helmand province to start an operational tour as an Apache helicopter pilot, the Ministry of Defence said here.
Prince Harry will be working as part of the Joint Aviation Group (JAG) which provides helicopter support to the International Security Assistance Force (ISAF) and Afghan forces operating throughout Regional Command (South West), the ministry said in a statement.
Based in Bastion, the largest coalition military base in Afghanistan, his squadron will provide surveillance, deterrence and, when required, close combat attack capabilities as well as escort duties for other aircraft, the statement added.
Captain Wales qualified as a co-pilot gunner in February this year and was posted to 3 Regiment Army Air Corps, part of 16 Air Assault Brigade, to gain further flying experience and to operate the aircraft on a number of exercises.
Full report at:
http://www.indianexpress.com/news/postnude-photo-scandal-prince-harry-deployed-in-afghanistan/999377/
----------
France Sends Funds to 5 Syrian Civic Groups in Rebel-Held Areas
By STEVEN ERLANGER and DAVID D. KIRKPATRICK
September 7, 2012
PARIS — The French government is providing funds to five revolutionary councils in rebel-held parts of Syria to help them restore water supplies, sanitation, health services and bakeries, a senior French diplomat, Éric Chevallier, said Thursday.
French diplomats say that France is not supplying funds for weapons or providing weapons to the rebel Free Syrian Army, an umbrella for a number of disparate groups that are separate from the councils. But they say they are in regular conversation with the rebels, to hear their needs and to encourage them to unite and to protect minorities and democratic values. France also wants to ensure the support of the armed rebels for the program of aid to the civilian councils, the diplomats say.
Full report at:
http://www.nytimes.com/2012/09/07/world/europe/france-sends-funds-to-5-syrian-civic-
----------
British leader reveals Zen Buddhism helps him cope with pressures of frontline politics
Sep 06 2012
London: British Labour Party leader Ed Miliband has revealed that he uses a philosophy based on ancient Zen Buddhism to help him cope with the pressures of frontline politics.
He said that he tried to 'follow his instinct' because 'doing what you believe' was the way to cope with modern politics.
Miliband said that he used his instincts to stay focused on things that matter during times of difficulty and tried to stay 'stoical'.
According to the Daily Mail, he disclosed how his personal philosophy mirrors that of Zen Buddhists who believe that you can achieve enlightenment by understanding the meaning of life.
Those who practice the philosophy, which originated in 6th century in China, use meditation and chanting to help them achieve this aim, the report said.
Full report at:
http://www.indianexpress.com/news/ed-miliband-reveals-zen-buddhism-helps-him-cope-with-pressures-of-frontline-politics/998812/
----------
Cameron and Hollande agree on hastening end of Assad's rule in Syria
Patrick Wintour
6 September 2012
French and UK leaders talk of need to help opposition form new government and end 'civilian toll from political stalemate'
France and Britain agree on the need to speed up the transition from President Bashar al-Assad's regime in Syria to a new government, French president François Hollande said after a 40-minute meeting with David Cameron at the Olympic Park in London.
"David Cameron and I are in total agreement – we must accelerate the political transition [and] help the opposition to form a government," Hollande said. He also reiterated his promise to recognise a provisional Syrian government so long as the Syrian opposition form one that is inclusive and representative.
Britain accepts there may come a point when such recognition of the disparate opposition is possible, and also accepts that this might in turn helped persuade the Russians to abandon their support for the Assad regime. But Cameron and his advisers still think it is premature to recognise an opposition that remains divided and unable to solve differences between external and internal opposition groups.
Full report at:
http://www.guardian.co.uk/world/2012/sep/06/cameron-hollande-agree-syrian-transition
-----------
UK group denies Pak 'Osama bin Laden charge'
September 07, 2012
London, Sept 7 (PTI) Strongly denying any link with the Pakistani doctor who reportedly helped the CIA trace Osama bin Laden, a London-based charity today said it was seeking clarification from Islamabad for refusing visas to its staff working in the country.
The organisation Save the Children said its international staff in Pakistan had been given two months to leave the country, but said that the authorities in Islamabad had offered no reason for the sudden expulsion.
http://www.ptinews.com/news/2948523_UK-group-denies-Pak--Osama-bin-Laden-charge--
-----------
Pakistan
Religious scholars affirm their opposition to sectarian violence
September 7, 2012
KARACHI: Over two dozen religious scholars belonging to the Deoband, Ahle Hadith, Barelvi and Ahle Tashi schools of thought condemned sectarian killings in Quetta, Gilgit, Para Chinnar, Dera Ghazi Khan, Karachi and other areas and vowed to work together to curb hatred in the society.
They were speaking at a press conference at the Karachi Press Club on Thursday under the banner of the Bain-ul-Muslimeen Forum (BMF).
"Muslims of different sects are being targeted, and almost all sacred places have been attacked by terrorists," said BMF president Maulana Tanveerul Haq Thanvi. He suspected that a controversy to destabilise the country was on foot, and added that law enforcement agencies and the government were acting as "spectators" in the whole situation.
Thanvi also lamented that while Muslims belonging to different sects live peacefully with each other in other countries, it was only in Pakistan where such ethnic and sectarian clashes were taking place. "Jinnah made the country for people belonging to all sects and religions. [But now] people are compelled to migrate to other countries. The business community is also shifting its investment," he added.
Full report at:
http://tribune.com.pk/story/432696/united-we-stand-religious-scholars-affirm-their-opposition-to-sectarian-violence/
--------
Terror Pakistan mantra of past, not future: Hina Rabbani Khar
Sep 07 2012
Islamabad: "Terrorism was mantra of the past, terrorism is not the mantra of future," said Pakistan Foreign Minister Hina Rabbani Khar today ahead of her talks with Indian counterpart S M Krishna, asking India to see the Mumbai terror attack trial "realistically" and not "emotionally".
She also indicated that the new visa agreement will be inked during Krishna's visit.
Asserting that Pakistan has sent some very "serious signals" in viewing India in different light and on moving with India in various sectors, for instance trade relations, Khar said in an interview that by doing this her country was "breaking away from many positions we have held".
Making a strong pitch for the resumed dialogue process to continue, she said, moving forward will mean "Pakistan and India being able to sit around the dialogue table and convert the baby steps into medium-sized strides, which I think is already happening, and then big leaps forward and for that we need to change the mindset.
Full report at:
http://www.indianexpress.com/news/terrorism-pakistan-mantra-of-past-not-future-hina-rabbani-khar/999308/
---------
Call to establish commission on conversions
September 7, 2012
KARACHI, Sept 6: Activists of civil society, human rights and other organisations on Thursday demanded that the government set up a commission comprising representatives of all religious groups to draw guidelines on faith conversions.
These concerned people had gathered at the Pakistan Institute of Labour Education and Research centre to deliberate on challenges to access to rights the non-Muslim communities faced in the country.
A resolution read out at the gathering by Mohammad Tahseen, executive director of South Asia Partnership Pakistan, and unanimously passed demanded that the state create institutional mechanisms to do away with the caste-based discrimination. The state must fulfil its obligation of treating all citizens as equals and create conditions for equal access to rights and entitlements by all.
Full report at:
http://dawn.com/2012/09/07/call-to-establish-commission-on-conversions/
----------
Four killed in violence in Karachi
September 7, 2012
KARACHI: Violence in Karachi continued unabated as one person was killed and three more torture-ridden bodies were found in gunny bags on Thursday night, DawnNews reported on Friday.
Since Thursday night, four people have been reported as killed in separate incidents of violence.
Despite government's promises to alleviate the violence in the provincial capital, incidents of violence continue to happen without stopping.
In one incident, a man was killed when unknown assailants opened fire. The incident took place in the Ittehad Town in the Baldia area.In a separate incident, two bodies bearing marks of torture were found under the Rexer Lane Bridge on the Lyari River in gunny bags.
Another body bearing torture marks was found near Sindhi Hotel in Liaquatabad.
Meanwhile, Pakistan Rangers personnel have recovered 50 kilos of explosive material from a coach in Kot Sabzal near the Sindh-Punjab provincial border. The two drivers, conductor and helper of the coach were arrested by the Rangers.
http://dawn.com/2012/09/07/four-killed-in-target-killing-and-violence-in-karachi/
----------
Three killed while making suicide jacket
September 7, 2012
BHAKHAR: At least three terrorists were killed when a suicide jacket, which they were preparing, exploded at Chak 46-DB area on Thursday. According to police and intelligence agencies, three militants from Punjabi Taliban group were making suicide jackets in a house at a deserted place when a jacket suddenly went off. Resultantly, the terrorists were killed on spot. Superintendent of Police (SP) Saifullah Khatak said that police rushed to the scene soon after they got the information. Investigation into the incident has been started, Khatak added. He said that the blast was so powerful that it completely destroyed the house used by the terrorists. A civil defence team was also summoned from Bhakkar to defuse the remaining vests.
http://www.dailytimes.com.pk/default.asp?page=2012\09\07\story_7-9-2012_pg7_7
----------
Making art out of Pakistan's war zones
By Sonia Malik
September 7, 2012
LAHORE: There is a huge scar just above one of S Sajjad Hussain's eyebrows. On June 18, he was among the 70 students on a bus leaving for the Balochistan Information and Technology University when a bomb exploded, leaving five Hazara students aboard dead and 56 others injured.
"For the entire week before the incident, we had a police escort. But it was not there that morning," he recalls during an interactive session between artists hailing from Pakistan's conflict zones and renowned artists from Lahore.
After graduating from the National College of Arts, Hussain, ethnically a Hazara, had returned to Quetta and established a department of Fine Arts at the Balochistan University. The blast, he says, shattered him and compelled him to return to Lahore, which he believes is safer for artists than Quetta.
Full report at:
http://tribune.com.pk/story/432732/time-to-reflect-making-art-out-of-pakistans-war-zones/
----------
Post-threat, Pak ups nuclear-site security
Sep 7, 2012
LAHORE: Pakistan has deployed large contingents of army and police at one of the country's biggest nuclear facilities in Dera Ghazi Khan in the Punjab province following intelligence interceptions of a strike threat from terrorists.
Security was beefed at sensitive installations, specially at nuclear sites, to avert any attack on the lines of one on Kamra airbase, during Pakistan Defence Day, which is being observed on Thursday, officials said.
"There have been threats to all installations, including the Dera Ghazi Khan nuclear site, in the current law and order situation in the country," Dera Ghazi Khan district police chief Chaudhry Saleem said on phone.
"After the attack on Kamra airbase, we have been asked to remain extra vigilant. Police divisions are ready to respond to any emergency call," he said. Security had been further enhanced around the nuclear site in Dera Ghazi Khan after the attack on Kamra airbase on August 16, he said.
Full report at:
http://timesofindia.indiatimes.com/world/pakistan/Post-threat-Pak-ups-nuclear-site-security/articleshow/16291181.cms
----------
Foreign Secretary-level talks were positive and very good: Pak
September 7, 2012
Ahead of Indo-Pak Foreign Ministers meeting, the Foreign Secretaries of the two countries met on Friday for over two hours to take an overview of bilateral issues and to fix the agenda.
"Talks were positive and very good. We had an overview of issues before Foreign Minister-level talks and now we will brief our Ministers," Pakistan Foreign Secretary Jalil Abbas Jilani told PTI in Islamabad.
The talks between Mr. Jilani and his Indian counterpart Ranjan Mathai was a preparatory meeting to finalise the agenda for the parleys between External Affairs Minister S.M. Krihna, who arrived on Friday, and Pakistan Foreign Minister Hina Rabbani Khar on Saturday.
In Friday's meeting, the Indian delegation, led by Mr. Mathai, included Indian High Commissioner to Pakistan Sharat Sabharwal, Joint Secretary (Pakistan, Iran and Afghanistan) in the Ministry of External Affairs Yash Sinha and other senior officials.
The Pakistan delegation was led by Mr. Jilani and consisted of High Commissioner to India Salman Bashir, Director General (South Asia) at the Pakistan Foreign Office Zehra Akbari and others.
Full report at:
http://www.thehindu.com/news/national/article3870245.ece
----------
Pak army reinstates 3 retired Generals to court-martial them
Sep 07 2012
Islamabad : In an unusual move, Pakistan's Army has reinstated three Generals who retired several years ago so that they can be court-martial-led for alleged involvement in a financial scam, instead of being hauled up before a civilian court.
The National Accountability Bureau (NAB), which has been investigating the multi-billion rupee scam in the army-run National Logistics Cell (NLC), has informed parliament's Public Accounts Committee that the army has reinstated the retired Generals into active service so that they can face a court martial.
A NAB official told a meeting of the parliamentary panel Thursday that following the General Headquarters' refusal to allow the trial of the three retired generals in a civilian court, the NAB had decided to act only against civilian officials involved in the scam.
Though the army had not cooperated with NAB earlier and it refused to share records related to the scandal, an agreement has now been reached by the two sides due to the intervention of by NAB Chairman Fasih Bokhari, a retired naval chief.
Full report at:
http://www.indianexpress.com/news/pak-army-reinstates-3-retired-generals-to-courtmartial-them/999328/
----------
Musharraf keen to return to Pakistan
Sep 07 2012
Lahore : Former President Pervez Musharraf is keen to return to Pakistan from self-exile when an interim government headed by a "neutral" Prime Minister is formed ahead of the general election scheduled for early next year.
According to his party, the All Pakistan Muslim League, Musharraf has started contacting friends in the powerful army and in political circles to assess the possibility of his homecoming under a caretaker set-up.
Musharraf, who has been living in London and Dubai since early 2009, dropped plans to return to Pakistan earlier this year after the Pakistan People's Party-led government warned he would be arrested on arrival as a court had issued a non-bailable warrant for him in connection with the assassination of former premier Benazir Bhutto.
"In case of a neutral caretaker Prime Minister, it will be easier for Musharraf to take a flight back home," said an APML leader who did not wish to be named.
Full report at:
http://www.indianexpress.com/news/musharraf-keen-to-return-to-pakistan/999316/
----------
Kamra base attack: Three out of nine militants identified
September 7, 2012
ISLAMABAD: Air force authorities informed the Parliamentary Committee on National Security (PCNS) that three militants involved in the Kamra airbase attack had been identified and that they were residents of the Punjab province, DawnNews reported.
The committee's session was held at the Parliament House here on Friday and was presided over by Raza Rabbani.
Briefing the committee members, air force authorities said that three out of the nine militants who had attacked the Minhas airbase in Kamra had been identified and that they were residents of Punjab. One of the three hails from Sialkot.
In August, militants armed with rocket-propelled grenades and automatic weapons had carried out a brazen attack under cover of darkness on the Minhas base of the Pakistan Air Force at Kamra.
Full report at:
http://dawn.com/2012/09/07/kamra-base-attack-three-out-of-nine-militants-identified/
----------
ANP's Amir Nawab resigns from Sindh cabinet after party announces boycott
September 7, 2012
KARACHI: ANP lawmaker Amir Nawab, who is also a provincial minister, tendered his resignation from the Sindh government on Friday, DawnNews reported.
Provincial labour minister Nawab submitted his resignation to Sindh Chief Minister Syed Qaim Ali Shah.
Nawab said he did not want to function as a "puppet minister" and that he had tendered the resignation on directives from the party's central leadership.
Nawab further said that "the Pakistan People's Party could keep such ministries to itself".
The resignation came in the wake of the ANP's announcement that it would boycott all sessions of the Senate and the national and provincial assembles.
Earlier today, the party announced the boycott over the new law on local government institutions which had been signed by the governor and the chief minister.
The ANP stated that it was not taken into confidence over the law.
Speaking to media representatives, ANP's Sindh chief, Shahi Syed called the new local government law "a black law".
Full report at:
http://dawn.com/2012/09/07/anp-announces-boycott-of-assembly-sessions-over-local-govt-law/
----------
Africa
Army: 7 radical Islamist Killed in Northeast Nigeria
September 7, 2012
MAIDUGURI, Nigeria (AP) — Nigeria's army says security forces have killed seven suspected radical Islamist sect members in a besieged northeast Nigerian city.
Spokesman Lt. Col. Sagir Musa said in a statement Friday that a clash involving a special unit of army and police occurred Thursday in Maiduguri.
Musa said suspected Boko Haram gunmen started shooting at officers as they searched for sect hideouts in a busy residential area. The statement did not say if officers were hurt.
The clash came hours after coordinated attacks on mobile phone towers caused partial network failure in Maiduguri and other parts of northern Nigeria.
There was no claim of responsibility for the tower attacks Friday, but Boko Haram has threatened phone companies in the past.
http://www.nytimes.com/aponline/2012/09/07/world/africa/ap-af-nigeria-
----------
Libya delays trial of Muammar Gaddafi's son to hear from spy chief
Chris Stephen
6 September 2012
Abdullah al-Senussi to be asked for evidence about Saif al-Islam, as Libyans defy judges at The Hague
Libya has said it will delay the trial of Muammar Gaddafi's son Saif al-Islam, to gather evidence against him from the former spy chief who was extradited to Tripoli earlier this week.
Abdullah al-Senussi, Libya's former chief of intelligence, is expected to know the secrets of many former regime figures, including Saif.
"We expect the trial of Saif al-Islam to be delayed a little because Abdullah Senussi will be able to provide new information that can be used in Saif's trial," said prosecution spokesman Taha Ba'ara.
The interrogation of Senussi has already begun in the Libyan capital amid tight security, with the prime minister, Abdurrahim El Keib, promising to give him a "fair trial".
But his arrival seems likely to deepen a rift between Libya and the international criminal court (ICC). The two have already clashed over the fate of Saif al-Islam.
Full report at:
http://www.guardian.co.uk/world/2012/sep/06/libya-muammar-gaddafi-son-trial
----------
HRW accuses US of covering up extent of water boarding of Libyan Prisoners
Chris McGreal
6 September 2012
The organisation alleges that opponents of Muammar Gaddafi were subjected to the torture at secret CIA prisons
Human Rights Watch (HRW) has accused the US government of covering up the extent of water boarding at secret CIA prisons, alleging that Libyan opponents of Muammar Gaddafi were subjected to the torture before being handed over to the former dictator's security police.
The New York-based human rights group has cast "serious doubt" on Washington's claim that only three people, all members of al-Qaida, were water boarded in American custody, claiming in a new report to have fresh evidence that the CIA used the technique to simulate drowning on Libyans snatched from countries in Africa and Asia.
The report, Delivered into Enemy Hands: US-Led Abuse and Rendition of Opponents to Gaddafi's Libya, also says that the CIA, Britain's MI6 and other western intelligence services were responsible for "delivering Gaddafi his enemies on a silver platter" by sending the captured men to Tripoli for further abuse after the American interrogations.
The HRW report is based on documents seized at the Libyan intelligence headquarters after Gaddafi's fall, and interviews with 14 former detainees, mostly members of the Libyan Islamic Fighting Group (LIFG), which attempted for 20 years to overthrow the former regime in Tripoli. The group joined last year's revolution and some of those tortured by the US now hold leadership positions in the new Libyan administration.
Full report at:
http://www.guardian.co.uk/world/2012/sep/06/human-rights-watch-us-waterboarding
----------
Sudanese president calls for African space agency
David Smith
6 September 2012
Omar al-Bashir calls for co-operation on 'biggest project' after first stirrings of an African space race
He would not be everyone's first choice as an ambassador for Africa in outer space. The Sudanese president, Omar Hassan al-Bashir, is wanted by the international criminal court on charges of war crimes but had other matters in mind when he addressed a regional conference on Wednesday.
"I'm calling for the biggest project, an African space agency," Bashir told a gathering of communications ministers in Khartoum. "Africa must have its space agency." It "will liberate Africa from the technological domination", he said.
His call follows a controversial decision two years ago by the African Union (AU) to conduct a feasibility study that would draw up a "roadmap for the creation of the African space agency".
Since then, African astronomers received a massive boost when South Africa was awarded the lion's share of the Square Kilometre Array, the world's biggest radio telescope, which will see dishes erected in nine African countries. But sceptics question whether a continental body in the mould of Nasa or the European Space Agency would merely add bureaucracy and financial burdens that the world's poorest continent can ill afford.
Full report at:
http://www.guardian.co.uk/world/2012/sep/06/sudanese-president-african-space-agency
----------
South Asia
Myanmar Christians forced to convert to Buddhism: Rights group
September 5, 2012
BANGKOK: Christian students from Myanmar's Chin ethnic minority have been forced to convert to Buddhism, shave their heads and wear monastic robes, a rights group said Wednesday.
The Chin, a mainly Christian group in the poor and remote west of the predominantly Buddhist country, face harassment for the link between their faith and British colonial rule, according to the Chin Human Rights Organization (CHRO).
"President Thein Sein's government claims that religious freedom is protected by law but in reality Buddhism is treated as the de facto state religion", said Salai Ling, Program Director of the CHRO.
Rachel Fleming, another member of the group, said Christianity does not fit with the national view that "to be Burmese, you should be Buddhist".
Chin students are also frequently targeted for enrollment in schools run by Myanmar's military which convert them to Buddhism, she said, adding that Christian students are beaten for failing to recite Buddhist scriptures.
Full report at:
http://tribune.com.pk/story/431776/myanmar-christians-forced-to-convert-to-buddhism-rights-group/
----------
Taliban behind quarter of Afghan troop attacks on NATO
September 07, 2012
The Taliban are involved in a quarter of Afghan security personnel attacks on NATO colleagues, according to a military commander.
The surge of assaults, unprecedented in modern warfare, have seen Afghan troops opening fire on their NATO colleagues more than 30 times this year,
killing at least 45 foreign troops — most of them Americans.
US Lieutenant General James Terry, head of NATO-led coalition's joint command in Afghanistan, said 25-26% of the attacks were "insurgent-related". In an overnight briefing to reporters in Washington via video link from Afghanistan, he said 10% of attacks are "directly connected" to insurgents and classified 15% as "insurgent-associated".
Full report at:
http://www.hindustantimes.com/world-news/Afghanistan/Taliban-behind-quarter-of-Afghan-troop-attacks-on-NATO/Article1-925738.aspx
----------
One-third of children in Afghan south acutely malnourished
September 7, 2012
KABUL: Around a third of young children in southern Afghanistan are acutely malnourished, according to a UN-backed government survey.
The figures show there has been little improvement in tackling malnutrition, despite the billions of dollars of aid money pumped into the war-torn country since a 2001 US-led invasion brought down the Taliban.
According to the Multiple Indicator Cluster Survey, 18 percent of children — about one million — suffer from malnutrition across the country.
The south, which has been the most violent and least developed part of the country, is the worst hit with acute malnutrition at 29.5 percent among under fives, according to the survey conducted from October 2010 to May 2011.
Widespread poverty and insecurity mean aid organisations have a lighter footprint in the south and healthcare is less accessible than in other parts of the country. A 30 percent rate of severe malnutrition among children is one condition for a famine, although Afghanistan does not meet the other criteria for mortality and hunger for a UN famine declaration. The lowest incidence of malnutrition — around 13 percent — was found in the centre of the country, where the Taliban have little influence.
Full report at:
http://www.dailytimes.com.pk/default.asp?page=2012\09\07\story_7-9-2012_pg14_4
----------
Karzai urged to appoint Afghan rights experts
September 6, 2012
KABUL: A US-based group urged the Afghan president on Thursday to appoint independent and experienced human rights experts to seats on a national commission left vacant for nine months.
It was the second time in days that Human Rights Watch (HRW) has raised rights concerns with President Hamid Karzai, following his nomination of a cabinet minister implicated in torture to head the country's spy agency.
The five-year terms of nine commissioners serving on the Afghanistan Independent Human Rights Commission expired in December 2011.
Among those dropped was the country's most outspoken rights activist, Nader Nadery, who had been documenting atrocities committed over the past three decades, with many of those implicated now in prominent positions of power.
Full report at:
http://dawn.com/2012/09/06/karzai-urged-to-appoint-afghan-rights-experts/
----------
Culture Clash With Afghans on Display at Briefing
By ROD NORDLAND
September 7, 2012
KABUL, Afghanistan — It was billed as a news briefing by American and Afghan commanders on what the allies are doing to stop insider attacks by Afghan forces against NATO troops. The first question, though, was just about the last thing the three generals on the dais wanted to hear.
An Afghan journalist, Azizullah Foroghi, complained that an American soldier had pointed a weapon at him while he was setting up his camera at the Thursday briefing. "I believe if that had happened to an Afghan soldier instead of me, he would have reacted to it," Mr. Foroghi said, in Dari.
Mr. Foroghi, who works for Noorin TV, was clearly referring to the sort of insider attacks, known here as green-on-blue, in which Afghan security forces have killed 15 American and other foreign soldiers in the past month, prompting the United States military late last month to shut down some training programs run by Special Operations troops.
The generals did not all immediately get the reference, however, since the official interpreter gave a much-softened version of Mr. Foroghi's complaint, leaving out the accusation about the gun-pointing.
Full report at:
http://www.nytimes.com/2012/09/07/world/asia/afghan-and-american-culture-clashes-at-
----------
212 Nepalese in Saudi jails
GHAZANFAR ALI KHAN
7 September 2012
RIYADH: Nepalese Ambassador Udaya Raj Pandey has expressed concern over the fate of 212 Nepalese workers imprisoned in jails across the Kingdom, many for several years. Another 500 workers, including domestic aides, are being held in deportation centers while waiting to be sent back home.
Pandey said: "The pathetic conditions of the Kingdom's deportation centers contributed to the death of five Nepalese workers in the last year, one of whom committed suicide. Nepalese workers who leave home in search of jobs face many problems."
The ambassador has requested an amnesty period for Nepalese workers. "This will help me to correct the status of the workers and send all illegals back home in one go," he said. He noted the Riyadh-based Nepalese mission managed to repatriate 325 maids since he took office 13 months ago.
Full report at:
http://www.arabnews.com/212-nepalese-saudi-jails
----------
Unrest threatens Bangladesh's key garment export
September 7, 2012
DHAKA: Bangladesh's $19 billion garments industry attracts some of the world's biggest clothing brands because of low costs, but many retailers say unrest over pay and delayed shipping schedules are eroding that advantage.
The killing of a labour activist and increasing publicity of unsanitary and unsafe working conditions at the country's 4,500 garment factories is also making some retailers worried about their reputation.
Bangladeshi factories make clothes for brands including Tesco, Wal-Mart, JC Penney, H&M, Marks & Spencer, Kohl's and Carrefour.
Wages are as low as $37 a month for some workers.
In June, more than 300 factories near the capital Dhaka were shut for almost a week until the government and factory owners promised to consider pay demands and persuaded them to return to work.
Full report at:
http://tribune.com.pk/story/432967/unrest-threatens-bangladeshs-key-garment-export/
----------
Southeast Asia
Islamic radicalism hits ancient city of Mombasa
Tom Odula
September 07 2012
Hardline Muslim clerics. Young people who feel marginalized. Suspicions that police are responsible for the killings and forced disappearances of extremists.
These elements created a combustible mixture that exploded into rioting last week after Aboud Rogo Mohammed, a Muslim preacher accused of links to an Islamist insurgent group in neighbouring Somalia, was riddled with bullets as he drove his wife to a hospital for a checkup. Observers say these events underscore growing fundamentalism in Mombasa, dividing people in a city established centuries ago by Muslim traders from the Arabian Peninsula, now home to many people of Arab descent and Somalis.
No one has been arrested for the Aug. 27 killing that happened in broad daylight but Mohammed's wife, who was wounded in the leg, immediately suspected the police.
"It is you policemen who have killed him, we don't want a post-mortem or any help from you," Khaniya Said Sagar told police officers who came to assist her. Mohammed was the fifth alleged Muslim extremist who has been killed or who has disappeared in the last four months.
The Masjid Musa mosque where Mohammed preached weekly became ground zero of the rioting over two days in which four people, including three members of the security forces, were killed and three churches were damaged. Hundreds of angry young Muslims who took to the streets blamed police for the killing of Mohammed.
Full report at:
http://www.thejakartapost.com/news/2012/09/07/islamic-radicalism-hits-ancient-city-mombasa.html
----------
Indonesia: Shia group wants a dialogue, not sermon
Margareth S. Aritonang
September 07 2012
A Shia organization says it will accept an invitation to a transparent and neutral dialogue to resolve existing problems with majority Sunni Muslims.
"We have always been open to dialogue. I, for example, recently returned from a dialogue in Makassar," Jalaluddin Rahmat, the chairman of the consultative council of the Indonesian Ahlul Bait Association (IJABI) told The Jakarta Post on Thursday.
Jalaluddin, however, was critical of the government's point man on religious issues. "We can't trust Religious Affairs Minister Suryadharma Ali or his ministry because Suryadharma has declared us to be heretics."
Nor, Jalaluddin added, could the police be trusted as they have consistently backed Sunni Muslims.
Full report at:
http://www.thejakartapost.com/news/2012/09/07/shia-group-wants-a-dialogue-not-sermon.html
----------
Indonesia Terrorism Suspects in Plot on Parliament
September 07, 2012
Arrested Indonesian terror suspects have revealed plots on the parliament building and to attack police in the name of jihad, a senior official said Friday.
Two different terror groups planned to attack the country's parliament in Jakarta and plotted bomb and gunfire attacks on police in the central Java city of Solo, the country's counter-terrorism agency's chief Ansyad Mbai said.
"We worked with the anti-terror police squad to intensify hunting for suspects still at large and also stepped up security measures to anticipate any possible attacks," he told AFP.
Bayu Setiono, 22, who was arrested following a shootout last week in Solo that left two terrorist suspects and an anti-terrorism officer dead, said his group plotted more attacks.
"Our plan is to break up Solo like what happened in Ambon and Poso. We want to uphold Islamic Shariah and create a Muslim caliphate in Indonesia," he said referring to violence between Muslims and Christians, killing thousands in early 2000.
Full report at:
http://www.thejakartaglobe.com/news/indonesia-terrorism-suspects-in-plot-on-parliament/542999
----------
Eight years on, people remember Munir, demand new inquiry
Ridwan Max Sijabat
September 07 2012
Remembering Munir: Activists from the Victim Solidarity Network for Justice (JSKK) stage a peaceful rally outside the State Palace in Central Jakarta on Thursday. (JP/Wendra Ajistyatama)
As the nation observed the eighth anniversary of the murder of Munir Said Thalib, people urged the government to launch a new investigation into the killing of the human rights defender.
More people also appealed to the nation to recognize and respect Munir, the man who inspired many in his fight against human rights abuses committed by state apparatuses and vigilante groups.
Although many people don't have a personal connection to Munir, they have paid their highest respects to the human rights activist.
Full report at:
http://www.thejakartapost.com/news/2012/09/07/eight-years-people-remember-munir-demand-new-inquiry.html
----------
Mideast Asia
Donors pledge $6.4bn to address Yemen's humanitarian crisis
Annie Kelly
6 September 2012
UK, US, Saudi Arabia and World Bank agree aid to underpin Yemen economy and address urgent food and health needs
A new $6.4bn funding package has been announced to try to tackle the deepening humanitarian crisis in Yemen that has pushed 10 million people into chronic hunger.
A meeting of donors in Saudi Arabia this week, led by the British government, finalised the package of support after months of negotiation. The money will go towards underpinning the flagging Yemeni economy and funding new infrastructure projects, as well as immediately addressing the humanitarian situation.
With 58% of children under the age of five experiencing chronic malnutrition, Yemen has the second highest rate of chronic malnutrition in the world, behind Afghanistan.
The UK will contribute £196m (around $311m) between 2012 and 2015. Most will go towards protecting 2 million women and children from hunger and delivering short-term humanitarian assistance, which will provide 300,000 people with emergency food assistance and 170,000 with essential health services. Other donors include Saudi Arabia, which has pledged $3.2bn, the US and the World Bank, which pledged an extra US$400m to its existing $700m programme over the coming two years.
Full report at:
http://www.guardian.co.uk/global-development/2012/sep/06/money-yemen-humanitarian-crisis?newsfeed=true
----------
The Democrats' misstep on Jerusalem and Israel's place in the US election
Chris McGreal
6 September 2012
The DNC's reversion to recognising Jerusalem as Israeli capital underlines what a low priority Middle East peace talks now are
Just off the main road through West Jerusalem toward Bethlehem sits a prime but barren piece of real estate surrounded by luxury flats.
It's the site of a future American embassy to Israel that, for nearly two decades, the US Congress has demanded be built immediately. But once American presidents begin navigating the minefield of the Israeli-Palestinian conflict, they quickly realise they don't need to add to their problems by shifting the US embassy from Tel Aviv - a unilateral statement on the status of Jerusalem.
Just how sensitive the issue of Jerusalem is was laid bare at the Democratic National Convention on Wednesday when, fearing accusations of not being pro-Israel enough, the party leadership hurriedly revived a clause in the platform from previous years proclaiming the city as the Jewish state's capital when much of the rest of the world withholds recognition. The DNC also said Jerusalem should be an "undivided city", while contradicting itself by adding that the issue is subject to negotiation with the Palestinians, who claim occupied East Jerusalem as their own capital.
Full report at:
http://www.guardian.co.uk/commentisfree/2012/sep/06/democrats-misstep-jerusalem-israel-us-election
----------
Who is held to account for deaths by drone in Yemen?
Chris Woods
6 September 2012
There is a history of Yemeni officials lying to protect the US, and the Pentagon and CIA greeting queries with obfuscation
When news flashed of an air strike on a vehicle in the Yemeni city of Radaa on Sunday afternoon, early claims that al-Qaida militants had died soon gave way to a more grisly reality.
At least 10 civilians had been killed, among them women and children. It was the worst loss of civilian life in Yemen's brutal internal war since May 2012. Somebody had messed up badly. But was the United States or Yemen responsible?
Local officials and eyewitnesses were clear enough. The Radaa attack was the work of a US drone – a common enough event. Since May 2011, the Bureau of Investigative Journalism has recorded up to 116 US drone strikes in Yemen, part of a broader covert war aimed at crushing Islamist militants. But of those attacks, only 39 have been confirmed by officials as the work of the US.
Full report at:
http://www.guardian.co.uk/commentisfree/2012/sep/06/drone-deaths-yemen
----------
Iran to elect Ahmadinejad successor on June 14
Sep 07 2012
Tehran : Iranians will go to the polls on June 14 next year to elect a successor to President Mahmoud Ahmadinejad who is in his second and final term, the interior ministry announced today.
The presidential election will be held alongside municipal polls, a ministry statement carried by the official IRNA news agency said.
The last presidential election in 2009, which saw Ahmadinejad declared the winner over allegations by his challengers of fraud, was followed by widespread protests that were brutally crushed by authorities.
The figureheads of the opposition "Green Movement" – former prime minister Mir Hossein Mousavi and former parliament speaker Mehdi Karoubi – have languished under house arrest ever since.
On a visit to Tehran at the end of last month, UN chief Ban Ki-moon called on Iran to free all its political prisoners, adding that allowing the people's voice to be heard was especially important ahead of the presidential election.
http://www.indianexpress.com/news/iran-to-elect-ahmadinejad-successor-on-june-14/999364/
----------
Israel may not carry unilateral attack on Iran: Defence minister
Sep 07 2012
Jerusalem : Emphasising Israel's right to act independently to safeguard its security interests, the Jewish state in its first toned down message has expressed hopes that it may not have to unilaterally carry out a military attack against Iran to foil its nuclear ambitions due to an unprecedented concentration of US forces in the Persian Gulf.
Israel's Defence Minister, Ehud Barak, hinted yesterday evening that there may be no need for an Israeli strike on Iran shortly after meeting with Admiral James Winnefeld, US Vice-Chairman of the Joint Chiefs of Staff, who is visiting Israel.
"Israel retains its right to make sovereign decisions and the United States respects that," Barak said at his Atzmaut party gathering.
"However, one should not ignore the impressive preparations by the Americans to counter Iran on all fronts," he added in a mellowed down message after weeks of hard-hitting rhetoric responded in equal measure by Tehran.
Full report at:
http://www.indianexpress.com/news/israel-may-not-carry-unilateral-attack-on-iran-defence-minister/999248/
----------
Israel to Admit 3 of 21 Africans Waiting in Desert
By ISABEL KERSHNER
September 7, 2012
JERUSALEM — For days, their blurred images had appeared on Israeli television screens and in the newspapers, a group of 21 African migrants crouching on the desert floor behind the new steel fence that Israel has built along its border with Egypt.
Little was known about the group, though it included two women and a teenage boy. The migrants said they were Eritreans and they were seeking entry into Israel. The government vowed not to allow them automatic entry, in line with its new, tough policy of stemming the influx of African immigrants and asylum seekers. The army sealed off the area and said it had provided the migrants with food and water, but many here feared that they might die under the harsh and unrelenting sun.
Ultimately, the haunting scenes from across the fence proved too much.
On Thursday, about a week after the group's arrival at the border, the government announced a compromise. The women and the teenager were allowed in; the 18 men were sent back into the Egyptian Sinai Peninsula.
"It is important that everyone understand that Israel is no longer a destination for infiltrators," said Prime Minister Benjamin Netanyahu, using the term commonly used in Hebrew for all manner of migrants who slip into Israel from Egypt.
Full report at:
http://www.nytimes.com/2012/09/07/world/middleeast/israel-to-admit-3-of-21-africans-
----------
URL: https://newageislam.com/islamic-world-news/by-new-age-islam-news-bureau/bahrain--human-rights-defender-stripped-of-his-clothes-and-left-in-a-cell-with-dead-animals/d/8598