New Age Islam News Bureau
7 Aug 2014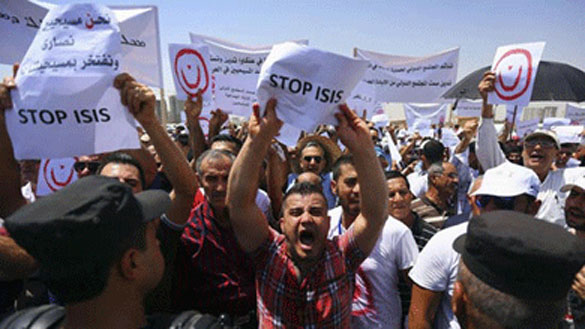 Demonstrators hold signs during a protest against militants of the Islamic State in Iraq and Syria group in Arbil, north of Baghdad July 24, 2014. (Reuters)
-----------
India
• 4 Young Men Head for Iraq, Citing Fight for Islam and India Wonders if More Will Follow
• Imam Held for Supplying T-Shirts with ISIS Slogan
• MP panel for Waqf like body to regulate Christian properties
Arab World
• Over 30,000 Iraqis Trapped In Mountains As Is Threatens To Kill Them
• ISIS Assault on Syrian Army Base Kills 41
• Blasts rock Iraqi cities Baghdad and Kirkuk, killed 14 people
• Islamic State militants extend gains in north Iraq
• Jihadists storm Syrian army base in Raqqa
• Militants leave Arsal but take Lebanese soldiers
• 3 female Morsi supporters sentenced to life in jail
• New Grand Mosque minarets ignite debate on Zamzam water sources
• Tunneling through triangle of death, IS aims at Baghdad from south
South Asia
• Freedom Fighter Blames Bangladesh Jamaat-e-Islami Leader for Over 100 Murders
• Nearly 900 Taliban militants launch attacks in Uruzgan, Afghanistan
• Uighurs hail Turkey's support for East Turkestan
• Ten policemen join Taliban group in Kunduz province
• Jatiya Party Chairman asks PM to protest Gaza killing
• Writ seeks ban on Indian TV channels
Mideast
• Yemen army says 18 al-Qaeda militants killed
• We won't 'even listen' to Israel's disarming request: Hamas
• Ankara on alert over jihadist advance in northern Iraq
• Hundreds of Iraqi Yazidis flee to Turkey: Ankara
• Israel agrees to 'unconditionally' extend Gaza ceasefire
North America
• U.S. Backs Sunni Plan to Fight Islamic State Jihadists in Iraq
• US Sanctions 3 over Funding in Kuwait for Islamic Militants
• CAIR Calls for Removal of 'Bomb Gaza' Games from Google's App Store
• Lawmakers want Obama to review Afghan pullout policy
• No sympathy for Hamas, says Obama; expresses concern for Gaza residents
Pakistan
• 'Martyrs Day' to honour soldiers killed in Zarb-i-Azb: Qadri
• 100pc Raise in Marriage and Subsistence Grant
• Harkat-ul-Mujahideen leader declares 'jihad' against Israel
• Pakistan slams Israel for turning Gaza into a 'wasteland'
• No 'Breakthrough' As Leaders Huddle To Break the Impasse
Europe
• Slight majority rejects Islam as part of Germany
• HRW wants women, kids held by Syrian fighters freed
• Italy to deport Muslim preacher for praising killing of Jews
• Germany, France, Britain propose EU mission to open Gaza-Egypt crossing
• Cuba's Castro rails against 'Palestinian Holocaust' in Gaza
• UN: Some rescued from Iraqi mountain siege; 200,000 flee
• UK-based man loses 11 of family in Gaza shelling
Southeast Asia
• Dressing Down for 'Jilboobs' as Ulema Council Issues Fatwa
• Shariah Study Lures Non Muslim Students in Asia: Islamic Finance
• Court Jails Khmer Rouge Leaders for Life for Crimes against Humanity
Africa
• Cameroon: Boko Haram Militants Kill 10 in Cameroon Raid
• Somali President says operation Indian Ocean against Al Shabaab will start soon
• Finnish-Somali politician: That's my son in jihadist video
• Libyan Congress calls for U.N.-backed ceasefire to end clashes
Compiled by New Age Islam News Bureau
URL: https://www.newageislam.com/islamic-world-news/new-age-islam-news-bureau/4-young-men-head-for-iraq,-citing-fight-for-islam-and-india-wonders-if-more-will-follow/d/98465
------------
India
4 Young Men Head for Iraq, Citing Fight for Islam and India Wonders if More Will Follow
07 August, 2014
KALYAN, India — For more than a decade, as alienated young Muslim men from all over the world left home to fight on the side of Islamists in distant conflicts, it has been a truism that they were not coming from India, a country whose participatory politics and preoccupation with nearby enemies seemed to make it an exception.
That theory has been shaken this summer by an unusual case.
Four young men from this city on the outskirts of Mumbai — well-educated children of a rising middle class — disappeared from their homes with no warning in late May, leaving behind a note about fighting to defend Islam. Investigators traced them to Mosul and have said they were recruited over the Internet by the Islamic State in Iraq and Syria — a process that, while relatively well-known in the West, has not been documented in India.
The case, though still viewed as an aberration, has opened up the unsettling possibility that Indian Muslims could be vulnerable for recruitment into sectarian conflicts in the Middle East via the Internet. Officials in the Indian-controlled portion of Kashmir, in the north, have taken notice of youths displaying ISIS banners and insignia in recent days, and on Sunday, the authorities in the southern state of Tamil Nadu detained a young man for questioning over a social media posting showing a large group of Indian Muslims in ISIS T-shirts.
In a country that is home to the world's second-largest Muslim population, and that has long struggled with low-level domestic terrorism, the possibility of a returning flow of well-trained jihadis is a chilling prospect.
"This came as a shock to all of us, this incident," said Deven Bharti, a senior official in the Mumbai police department. "Trying to join the global war, it is quite a new thing."
Concerned that the Kalyan cases might not be unique, Mr. Bharti said that "as a precautionary measure, we have asked all functioning units to look at missing boys."
Mr. Bharti, who led the investigation into the 2008 Mumbai terrorist attacks, has spent years tracking the region's homegrown terrorists and is familiar with the path they typically take: Spurred by grievances toward India's Hindu majority, they cross to Pakistan for training, then return to India as part of a terrorist cell or volunteer to fight in the disputed territory of Kashmir.
The four men who vanished from their homes on May 24, however, did not fit that pattern.
Brought up in middle-class enclaves — the kind with gates marked "Salesmen, Beggars Not Allowed" — three of the four had received training as engineers, a credential that epitomizes success in India.
In their neighborhoods, conservative Islam commingles with economic aspiration, as women in black veils, or niqabs, squeeze by a school bus headed to Old Boy's Association English High School. The young in Kalyan are increasingly conservative, said Iftekhar Khan, whose nephew, Fahad Tanvir Sheikh, 24, was one of the young men who disappeared.
Mr. Khan said his nephew had refused to allow a television in the family's home and made it a practice to confront young men and women if he spotted them chatting in public. Mr. Sheikh also refused to vote in Indian elections, saying they were forbidden by Islam, and nagged his uncle — who is a local elected official — for trimming his beard.
"The new generation is educated," Mr. Khan said. "Unlike our generation, they understand the concept of Islam and are against sinning." Another difference, he said, is that they focus less on grievances toward India's government and more on Islamic struggles in the Middle East.
Asked about ISIS, Mr. Khan said the group had been improperly labeled terrorist. "It's the same people who ruled with Saddam Hussein that America pushed aside to create their puppet government," he said. "Now that America is going out, Saddam's old force are fighting for governance in their own land."
On the afternoon of May 24, Mr. Sheikh spent the afternoon playing cricket. Then he showered, changed and left the house, telling his family he had work to do, Mr. Khan said. The same thing happened in three other households: Arif Majeed, 22, the son of a doctor, told his family he was going to study. Aman Tandel, 20, said he was going out to eat dinner. Shaheen Farooqui Tanki, 26, left without saying anything.
The men next contacted their families a few days later from Baghdad, where they had traveled as part of a religious tour group. Six days later, they broke off from the group and never returned. Alarmed, Mr. Majeed's father filed a missing persons report with the police. In a letter left behind for his family, one of the men asked for forgiveness and said he would next see them in heaven.
"It is a blessed journey for me, because I don't want to live in this sinful country," he said.
The letter urged the family to follow the precepts of Salafism, an ultraconservative form of Sunni Islam. Like other relatives interviewed, Mr. Khan said he was skeptical that the men intended to fight.
The events set in motion an intense investigation. Officials have been searching for one or more people who may have steered the men toward ISIS before their departure, but believe that much of the recruitment took place online, based on their digital footprint.
Thomas F. Lynch III, a specialist in Islamic terrorism at the National Defense University in Washington, said that "there is no credible reporting I'm aware of in over a decade" that Indian Muslims had become involved in jihadist activities.
The development could prove to be a watershed "at both international and Indian levels," he added, because Indian Muslims "have been enraged by local grievances but have not so much bought into the idea of worldwide oppression against Muslims."
ISIS, however, is making an effort to recruit a broader range of Muslims than its predecessors. Other Salafist movements, like Al Qaeda, avoided doing that, for fear of aggravating the subcontinent's giant Hindu population or provoking a harsh government reaction, he said, but ISIS, the newcomer, is far less cautious.
"They have to take a lot more risk, they have to be a lot more flashy, and they have to cast a wider net," Mr. Lynch said.
In interviews, some law enforcement officials shrugged off the notion that India's Muslims could be drawn into sectarian conflicts, for the same reasons they have not to date: because India's Muslims have access to political power and are well assimilated, thinking themselves first and foremost as Indians.
"Whatever the grievances, they can always be sorted out through a legal process," said Anil Kumbhare, deputy commissioner of police at the special branch in Thane. "It will never happen in India. It has become the DNA of the nation, democracy."
But in Borivali-Padgha, a quiet village an hour's drive from Kalyan that is known as a hub of ultraconservative Islam, no one shrugged off the threat. Since the four men disappeared, residents there said, investigators from the Anti-Terrorism Squad have been combing the neighborhood, looking for anyone who may have had contact with them.
Each surge in police pressure deepens the sense of resentment among young Muslims, said Saleem Yusuf Shaikh, 40, the vice principal of a school in a nearby city, who began to weep discussing the fighting in the Gaza Strip. He said he urged his students to read India's Constitution for reassurance that their rights would be protected.
"If I had not read the Constitution and understood India's secular tradition, I could also have become a victim of terrorism," he said. "It's very easy, until you feel that you are getting justice and are secure, you will try to go to the other side. But by the time you realize you want to come back, it gets too late."
http://www.nytimes.com/2014/08/05/world/asia/india-shaken-by-case-of-muslim-men-missing-in-iraq.html?_r=0
------------
Imam held for supplying T-shirts with ISIS slogan
D. J. WALTER SCOTT
07 August, 2014
A "deeper investigation" revealed that the main accused were active supporters of the ISIS and allegedly trying to brainwash Muslim youths for the cause that the ISIS was fighting for.
In a significant breakthrough, the Ramanathapuram police have arrested a Tirupur-based Imam, who had procured T-shirts and printed slogans in support of the Islamic State in Iraq and al Shams (ISIS) before sending them to the Muslim youths in Thondi, who had posed for a group photograph sporting the T-shirts in front of a mosque recently. The Hindu was the first to report this development which has now gone beyond a flutter.
After the arrest on Monday night of M. Abdul Rahman (24) and his accomplice Rilvan, who organised the photo session and had ordered the T-shirts, a special police team from the district visited the hosiery town of Tirupur and detained S.Faizur Rahman (27) who procured the T-shirts and supplied them to Rilvan after printing a modified ISIS emblem on them.
"The special police team brought Faizur Rahman here on Wednesday and he was arrested for arranging the T-shirts for the youths," the District Superintendent of Police N.M. Mylvahanan told The Hindu.
As he had arranged the T-shirts with full knowledge after receiving the designs and money from Abdul Rahman and Rilvan, he was also arrested under section 7 (1) (a) of the Criminal law Amendment Act (doing illegal activities and induce others to engage in unlawful activities) read with section 120 (b) of Indian Penal Code (criminal conspiracy), the SP said. He was produced before a magistrate court and remanded in judicial custody.
Faizur Rahman, who was working as an Imam in a local mosque in Tirupur, had despatched the T-shirts to Rilvan in Chennai, who, in turn, sent them to Thondi. After police launched a drive against those who posed for the photograph sporting the T-shirts, father of Abdul Rahman had destroyed about 50 T-shirts by burning them, while police seized 25 T-shirts. Two T-shirts were produced before the court, when the duo were produced for remand on Monday night, police said.
Meanwhile, police have initiated steps to impound the passport of Abdul Rahman, who used to visit Bangkok, Hong Kong, Singapore and Sri Lanka on tourist visa in connection with his textiles, leather and electronic goods business. As they could not seize the passport, police sent a copy of the passport to the Passport Officer and requested him to impound it, the SP said. The passport was being impounded to prevent Abdul Rahman from fleeing abroad in the event of his release on bail, the SP said.
Mr. Mylvahanan said Faizur Rahman had some connections at Devipattinam, a Muslim-dominated coastal town in the district. The main accused was also well acquainted with the two others arrested in the case so far. The incident came to light last week after a group photograph of the youths went viral on social media when one of them posted the picture on Facebook on Id-ul-Fitr, the culmination of the holy month of Ramzan.
Initially, it was believed that the Muslim youths wanted to only express their gratitude to the ISIS for releasing Indian nurses stranded in Iraq.
However, a "deeper investigation" revealed that the main accused were active supporters of the ISIS and allegedly trying to brainwash Muslim youths for the cause that the ISIS was fighting for.
http://www.thehindu.com/news/national/tamil-nadu/Imam-arrested-for-supplying-tshirts-with-isis-slogan/article6288657.ece
------------
MP panel for Wakf like body to regulate Christian properties
Written by Milind Ghatwai | Bhopal | August 7, 2014
The state commission for minorities has recommended to the BJP government to constitute a Wakf Board-like body to regulate and manage institutions and properties in Madhya Pradesh belonging to the Christian community.
Christians own scores of properties such as schools, churches and cemeteries across Madhya Pradesh, with market value such properties running into hundreds of crores of rupees. While the Protestants have favoured such a body, the more powerful Catholics are against the idea.
The division in the Christian community has kept the idea alive, which was mooted five years ago.
The commission at its meeting on Tuesday sent a revised recommendation clarifying the body would not interfere in religious affairs, and that it was needed because Christian properties were in the hands of trusts, individuals and organisations, and not regulated.
The commission's proposal has also argued that other faiths have certain bodies to manage their properties.
Commission member Anand Bernard told The Indian Express that the original proposal had been revised to guarantee non-interference in religious affairs.
He said the proposal could not be implemented before due to legal hassles, but noted that the High Court while rejecting the petition filed by the Catholics had held that there was nothing unconstitutional about the proposed body. The petitioners also lost in the Supreme Court after which the commission revived the idea, Bernard said.
Fr Anand Muttungal, chief coordinator of Isai Mahasangh and former spokesman of Catholic Church, who had challenged the proposal first in the High Court and then in the Supreme Court, contested the commission's version and claimed that he actually withdrew the SLP in the apex court after the state government said it was not considering any such proposal.
Bhopal archdiocese spokesman Fr P J Johny said the Catholics will continue to oppose the board arguing that its properties were well maintained and regulated.
The commission had in the past received complaints from Protestant organisations that their properties were being sold, encroached upon or vandalised. They wanted a body to protect their institutions and properties, said Bernard.
The recommendation has been sent to the CM for consideration. Bernard claimed that the state government was supportive of the idea.
http://indianexpress.com/article/india/india-others/mp-panel-for-wakf-like-body-to-regulate-christian-properties/
------------
Arab World
Over 30,000 Iraqis trapped in mountains as IS threatens to kill them
07 August, 2014
Thousands from the minority Yazidi community are stranded in the mountains of northwestern Iraq. If they make a move, they face slaughter at the hands of Islamic State jihadists surrounding them. However, they risk dying of dehydration if they stay put.
Many of those trapped are women and children taking refuge in nine locations on Mount Sinjar – a craggy ridge which, as legend has it, was the last resting place of Noah's ark.
Vian Dakhil, a Yazidi lawmaker, said the siege has already cost many lives, including children.
"Seventy children have already died of thirst and 30 elderly people have also died," she told the Guardian. "Over the past 48 hours, 30,000 families have been besieged in the Sinjar Mountains, with no water and no food."
Baghdad sent helicopters to drop supplies to people on the mountain, though the amounts were limited.
"Food is low, ammunition is low and so is water. We have one piece of bread to share between 10 people. We have to walk two kilometers to get water. There were some air strikes yesterday [against the jihadists], but they have made no difference," Nafiee, a man hiding on the mountain, said.
At least 500 Yazidis, including 40 children, have already been killed over the past week. Many more have received death threats, either from IS militants or members of the Sunni community who have allied with them for fears of reprisal.
Another 130,000 Yazidis have fled the city of Sinjar for Dohuk and Irbil in the Kurdish controlled north, where authorities are struggling to cope with one of the biggest refugee movements in decades.
"We are being told to convert or to lose our heads. There is no one coming to help. They were our neighbors and now they are our killers," said Khuldoon Atyas, who stayed behind to look after his family's crops. Before the siege, Sinjar was home to 300,000 people.
One man told Amnesty International that 30 members from two families were seized by IS from the village of Khana Sor, located northwest of Sinjar.
"They took the 15 men and took the women and children and until now we do not know what happened to them, where they are or if they are alive or dead," he said.
Sunni jihadists have long regarded the Kurdish minority Yazidis as devil worshipers, and have targeted them since the US-led invasion of 2003. Flights to a safer area is now the only option left.
"It's not like this is a one-off incident. We are almost back to square zero in terms of the preparedness and the supplies. Enormous numbers of people have been crossing the border since June," said UNICEF spokeswoman Juliette Touma.
"We are being slaughtered. Our entire region is being wiped off the face of the earth. I am begging you in the name of humanity," Kurdish MP Vian Dakhill said as she broke down in tears in parliament.
Kurdish peshmerga forces are reportedly in the area and have said they are starting to fight back. However, they are only lightly armed and have been unable to reach the refugees.
The Islamic State, formerly known as ISIS, has steadily conquered much of Iraq's north and west. On June 10, the hardliners – who want to create a medieval style caliphate stretching across Iraq and Syria – stormed Iraq's second city Mosul, sending the Iraqi army fleeing for their lives. The central government in Baghdad now has no influence over much of the country, which is now controlled by IS.
IS was able to loot Iraqi army weapons and arsenals, and has now captured three cities – including Tikrit and five oilfields. The extremist group is also closing in on the capital Baghdad.
The UN Security Council said ISIS militants pose a threat not only to Iraq and Syria, but to "regional peace, security and stability."
"Widespread or systematic attacks directed against any civilian populations because of their ethnic background, religion or belief may constitute a crime against humanity, for which those responsible must be held accountable," the Security Council said in a statement.
http://rt.com/news/178548-thousands-iraqis-trapped-mountains/
------------
ISIS assault on Syrian army base kills 41
7 August 2014
At least 27 Syrian regime forces have been killed in a jihadist assault on a military base in the northern province of Raqa, a monitoring group told Agence France-Presse on Thursday.
The Syrian Observatory for Human Rights said 14 jihadists from the Islamic State of Iraq and Syria (ISIS) group had also been killed in the attack on Brigade 93, including three who blew themselves up at the facility.
The Observatory said ISIS fighters have also seized parts of the military base in Raqa after launching triple suicide bomb attacks at its gates.
The monitor said the extremist group was engaged in heavy fighting with troops at Brigade 93 in Raqa, where ISIS already controls the regional capital and significant amounts of territory.
The fighting began on Wednesday night, after three ISIS fighters blew themselves up at the entrance of the base and around it.
Full report at:
http://english.alarabiya.net/en/News/middle-east/2014/08/07/Monitor-ISIS-storm-Syrian-army-base-in-Raqa-.html
------------
Blasts rock Iraqi cities Baghdad and Kirkuk, killed 14 people
World Bulletin / News Desk
7 August 2014
A suicide bomber driving a car killed 14 people in a Shi'ite Muslim area of Baghdad on Thursday, police and medical sources said.
The attacks came as the self-styled Islamic State of Iraq and the Levant (ISIL) rebels press ahead with an offensive in northern Iraq which routed Kurdish forces and alarmed the Baghdad government and regional powers.The group has previously claimed responsibility for bombings in Baghdad.
Meanwhile, two car bombs killed nine people in the Kurdish-held Iraqi oil city of Kirkuk on Thursday, police and medical sources said.
The explosions near a Shi'ite mosque holding displaced people came after an offensive launched by ISIL fighters which has routed Kurdish forces in northern Iraq and caused tens of thousands of people to flee.
http://www.worldbulletin.net/todays-news/142097/blasts-rock-iraqi-cities-baghdad-and-kirkuk
---------
Jihadists storm Syrian army base in Raqqa
07 August, 2014
BEIRUT: Jihadists from the Islamic State group have seized parts of a military base in Syria's Raqa province after launching triple suicide bomb attacks at its gates, an activist said Thursday.
The Syrian Observatory for Human Rights said the extremist group was engaged in heavy fighting with troops at Brigade 93 in Raqqa, where the Islamic State of Iraq and Greater Syria (ISIS) already controls the regional capital and significant amounts of territory.
The fighting began Wednesday night, after three ISIS fighters blew themselves up at the entrance of the base and around it.
The initial explosions killed and wounded "dozens" of regime troops, the Observatory said, with director Rami Abdel Rahman saying there was no confirmed death toll yet.
The group said IS fighters "were in control of large parts of the base".
Many regime troops had withdrawn to Brigade 93 last month, after ISIS seized the Division 17 base, killing at least 85 soldiers, according to the Observatory.
Full report at:
http://www.dailystar.com.lb/News/Middle-East/2014/Aug-07/266346-jihadists-storm-syrian-army-base-in-raqqa.ashx#ixzz39f2ZMqrK
------------
Islamic State militants extend gains in north Iraq
07 August, 2014
Islamic State militants extended their gains in northern Iraq on Aug. 7, seizing more towns and strengthening a foothold near the Kurdish region, witnesses said, in an offensive that has alarmed the Baghdad government and regional powers.
The advance came after the Sunni militants inflicted a humiliating defeat on Kurdish forces in a weekend sweep in the north.
The Islamic State, formerly known as ISIL, which has declared a caliphate in parts of Iraq and Syria it controls, clashed with Kurdish forces on Aug. 6 in the town of Makhmur near Arbil, the capital of the Kurdish autonomous zone.
Witnesses said the militants had seized Makhmur, but Kurdish officials told local media their forces remained in control there and television channels broadcast footage of peshmerga fighters driving around the town.
Full report at:
http://www.hurriyetdailynews.com/islamic-state-militants-extend-gains-in-north-iraq.aspx?pageID=238&nID=70092&NewsCatID=352
------------
Militants leave Arsal but take Lebanese soldiers
7 August 2014
Islamist militants withdrawing from the Lebanese border town of Arsal took captive Lebanese soldiers with them as they crossed into the border zone with Syria, Reuters reported militant and Lebanese security sources as saying on Thursday.
The army has said 22 of its soldiers are missing.
Before leaving Arsal, the militants freed seven Lebanese soldiers on Thursday after a truce deal, Agence France-Presse reported the official National News Agency as saying.
The NNA said the seven were freed in an army operation, although there was no immediate confirmation from the military.
The releases came after a delegation of Sunni clerics said it had negotiated a deal under which militants who have been fighting the army in the area since Saturday would withdraw and turn over prisoners.
On Wednesday night, chief negotiator Sheikh Hossam al-Ghali said the militants, believed to be from several jihadist groups operating in Syria, had begun retreating.
Full report at:
http://english.alarabiya.net/en/News/middle-east/2014/08/07/Report-seven-Lebanon-troops-freed-after-deal-.html
------------
3 female Morsi supporters sentenced to life in jail
07 August, 2014
A Cairo court on Wednesday sentenced three female supporters of ousted Islamist president Mohamed Morsi to life in jail.
They were convicted of using force and possession of weapons in violent events that followed Morsi's ouster last year, Al-Ahram Arabic news website reported.
The three were charged with challenging the authorities and inciting violence in fighting that took place in Hadaeq El-Qobba in Cairo.
They were also convicted of joining a banned group -- the Muslim Brotherhood, which was designated by authorities as a terrorist organisation last year.
The verdict comes in relation to a wave of violence blamed on Islamists to revenge the forceful dispersal of two large sit-ins of Morsi supporters in August 2013.
The government has cracked down hard on Morsi's group and their loyalists, leaving hundreds killed and thousands in jail.
http://english.ahram.org.eg/NewsContent/1/64/107849/Egypt/Politics-/-female-Morsi-supporters-sentenced-to-life-in-jail.aspx
------------
New Grand Mosque minarets ignite debate on Zamzam water sources
07 August, 2014
MAKKAH — The Saudi Binladin Group is constructing two 420-meter high minarets as part of the ongoing Grand Mosque expansion.
Construction of the new structures has raised concerns as consultancy studies have pointed out that work in the area could dry up Zamzam water sources.
The first minaret will be constructed on the northeast side, while the other will be located in the northwest side.
The structures will rise up to about half the height of the Makkah Clock Tower, the tallest concrete building in the world at 817 meters high and the second tallest tower in the world after the Burj Khalifa in Dubai, which is 828 meters high.
The foundations for the new minarets can now be clearly seen and each covers 900 square meters.
Full report at:
http://www.saudigazette.com.sa/index.cfm?method=home.regcon&contentid=20140807213902
------------
Tunneling through triangle of death, IS aims at Baghdad from south
07 August, 2014
BAGHDAD — Using secret tunnels built by Saddam Hussein and rough terrain to outfox Iraqi troops, Islamic State insurgents are getting dangerously close to Baghdad with the support of heavily-armed Sunni tribesmen, Iraqi security and intelligence officials said.
The Al-Qaeda offshoot, which poses the biggest security threat to Iraq since the fall of Saddam in 2003, has made new bold advances in the north, reaching a major dam and seizing a fifth oilfield and three more towns after routing security forces from the Kurdish autonomous region.
But some Iraqi intelligence and security officials are far more alarmed by the Islamic State's less heralded campaign in rural areas just south of the capital, rugged Euphrates valley terrain once known to US forces as the "triangle of death".
While the Islamic State's march on Baghdad from the north has been halted near the town of Samarra 100 km from the city limits, the fighters have more quietly building up their forces on the capital's southern outskirts.
Full report at:
http://www.saudigazette.com.sa/index.cfm?method=home.regcon&contentid=20140807213924
---------
South Asia
Freedom Fighter Blames Bangladesh Jamaat-e-Islami Leader For Over 100 Murders
07 August, 2014
Senior Jamaat-e-Islami leader Maulana Abdus Subhan had led the killing of over 100 unarmed civilians, mostly Hindus, at Satbaria union of Pabna in a single day during the 1971 Liberation War, said a freedom fighter yesterday.
SM Shams ul Alam, 65, told the International Crimes Tribunal 2 that the war crimes accused had also been present during the atrocities in Fokitpur, Sujanagar, Momrazpur areas under Pabna sadar.
After the end of his deposition, the witness alleged that Subhan's goons had cut his vein in 2001 and he had to receive treatment in India for three years. "My brother filed a case against Subhan at that time, but the BNP-Jamaat alliance government withdrew [stopped] the case after coming to power. Shamsul pleaded with the tribunal to reopen the case for justice.
The witness was a college student during the war. He passed his SSC from Ataikula School.
Testifying against the Peace Committee leader, the freedom fighter said he had witnessed the atrocities of Subhan and his gang by hiding himself in a bush near the Satbaria Union Parishad office.
"Around 6am on May 12, 1971, Subhan came to Sujanagar with the Pakistani occupation forces. The villagers were frightened since the anti-liberation forces started firing indiscriminately. Subhan got out of his white car and had a discussion with the Pakistani Army officers. A few minutes later, the army men shot dead four civilians, Cheton, Roton, Ghugri and Modon."
The witness said he had also seen smoke rising from the nearby Tarabaria, Fakitpur and Satbaria areas.
Full report at:
http://www.dhakatribune.com/bangladesh/2014/aug/07/freedom-fighter-blames-subhan-over-100-murders#sthash.AiLIgZ4e.dpuf
------------
Nearly 900 Taliban militants launch attacks in Uruzgan, Afghanistan
07 August, 2014
Heavy clashes continue in central Uruzgan province of Afghanistan as scores of Taliban militants launch coordinated attacks in Khas Uruzgan district.
According to local government officials, around 900 Taliban militants have taken part in the offensive which was launched five days ago.
District police chief, Nazar Mohammad, said foreign militants including Punjabis are also among the Taliban militants who are fighting the Afghan forces.
Mohammad further added that heavy casualties have been incurred to the Taliban militants during the clashes.
He said at least four local Taliban commanders were among the 40 killed during the clashes, while nearly 15 others were injured
According to Mohammad, at least one Afghan soldier was also killed and four others including a policeman and three Afghan soldiers were injured following the clashes.
The Taliban militants have not commented regarding the report so far.
http://www.khaama.com/nearly-900-taliban-militants-launch-attacks-in-uruzgan-province-8396
------------
Uighurs hail Turkey's support for East Turkestan
World Bulletin / News Desk
07 August, 2014
The World Uighur Congress has praised Turkey's call on China for a transparent investigation into recent reports of violence in East Turkestan (China's Xinjiang Uighur Autonomous Region).
China revealed that 37 civilians were killed in a disturbance and another 13 injured after a mob attacked a police station and government offices on July 28.
However, a lack of independent monitors in the region has raised suspicions that the death toll could have been much higher, according to Seyit Tumturk, the vice president of the World Uighur Congress.
"We welcome Turkey's call for a transparent investigation," Tumturk said referring to a statement released by the Turkish Foreign Ministry in which Turkey expressed "deep concern" over the recent reports of violence.
Turkey had also demanded that those accountable should face court.
Referring to Eastern Turkestan, which Uighur separatists have used as another name for Xinjiang, or for a future independent state in the Xinjiang Uighur Autonomous Region, Tumturk said, "We are relieved that Turkey has announced the Eastern Turkestan issue is under Turkey's responsibility."
Full report at:
http://www.worldbulletin.net/uighurs-hail-turkeys-support-for-east-turkestan/142052/uighurs-hail-turkeys-support-for-east-turkestan
------------
Ten policemen join Taliban group in Kunduz province
07 August, 2014
An Afghan Local Police (ALP) commander has joined anti-government armed militants in northern Kunduz province of Afghanistan.
According to local government officials, the ALP commander has surrendered to militants along with the nine other ALP forces who were under his command.
A local official in Chahar Dara district confirmed that the ALP forces together with their commander joined the Taliban militants group on Wednesday.
The anti-government armed militant groups including the Taliban militants have not commented regarding the report so far.
Kunduz is among the relatively volatile provinces in northern Afghanistan where anti-government armed militants are actively operating, specifically in Chahar Dara district.
The district police chief for Chahar Dara was injured and another policeman was killed after a suicide bomber targeted his vehicle late last month.
http://www.khaama.com/ten-policemen-join-taliban-group-in-kunduz-province-6517
------------
Jatiya Party Chairman asks PM to protest Gaza killing
07 August, 2014
Jatiya Party Chairman HM Ershad called upon Prime Minister Sheikh Hasina yesterday to take to the streets and stage movements protesting the Israeli attacks in Gaza.
The JaPa chairman said: "I urge the government to take to the streets. We, the Jatiya Party, have proved that we love Islam and we have always stood beside the oppressed people."
The former dictator made the statement while addressing a human chain organised by the party in front of the National Press Club, protesting the killings in Gaza.
The country has many Islamic parties but they were not staging any sort of movement to protest the Israeli attack on Gaza, he said, adding, "What is the fear? We are bearing Islam.
"I am calling upon the prime minister to protest the Israeli attacks by taking to the streets and protesting strongly."
Ershad said: "We always hear about 'human rights' but now we see that the rights are of two kinds.
"One is for the western people and another is for us."
Referring to the killing of labour leader, he said: "You [USA] have cancelled GSP opportunity for the labour leader death, but why you are silent now when hundreds of people are now being killed. What are you [USA] doing now?"
http://www.dhakatribune.com/politics/2014/aug/07/ershad-asks-pm-protest-gaza-killing#sthash.q2tKZc3d.dpuf
------------
Writ seeks ban on Indian TV channels
07 August, 2014
A writ petition has been filed with the High Court seeking an answer to why all the Indian television channels should not be banned in Bangladesh.
SC lawyer Advocate Syeda Sahin Ara Laili filed the petition on Thursday afternoon.
Petitioner, Laili, sougth the directives to take steps to stop the telecast of Indian television channels mainly Star Jalsha, Star Plush and Zee Bangla within seven days.
On Sunday, Advocate Aklas Uddin Bhuiyan sent the legal notice through registry post to the information minister, secretary of information and BTRC chairman, seeking stop to the airing of all Indian TV channels in Bangladesh within 24 hours.
Secretaries of Information and Home Ministries and Bangladesh Telecommunication Regulatory Commission (BTRC) chairman are the defendants of the writ petition.
http://www.dhakatribune.com/law-rights/2014/aug/07/writ-filed-seeking-ban-all-indian-tv-channels#sthash.0t0K3ej7.dpuf
---------
Mideast
Yemen army says 18 al-Qaeda militants killed
7 August 2014
Yemen's Defense Ministry says that the army has repulsed an assault by al-Qaeda militants near a southern city, killing 18 of them and losing two soldiers.
The statement said the militants attacked an army battalion as it was making its way to the Sayoun, in the southern province of Hadramawt, adding that an undisclosed number were arrested, including Saudi nationals.
Army units have been reinforcing the city over fears of attacks by al-Qaeda, which has a powerful presence in the southern region of the country.
In the spring, the military waged a wide offensive against al-Qaeda's strongholds in the south and destroyed a number of the group's training camps in mountains.
http://english.alarabiya.net/en/News/middle-east/2014/08/07/Yemen-army-says-18-al-Qaeda-militants-killed.html
------------
We won't 'even listen' to Israel's disarming request: Hamas
07 August, 2014
Ezzat Al-Rasheq, a leading Hamas figure, refused on Wednesday 'even listen' the Israeli demand of disarming the Palestinian factions in Gaza.
"As a delegation, we don't accept even listening to any suggestions in such aspect, and whoever [Israel] thinks he won the battle is wrong; the Palestinian people are the victors," AFP quoted Al-Rasheq as saying.
"Israel accepted the truce and withdrawal of its occupation forces from Gaza because they reached a dead-end; despite the pain, sacrifices, and patience, we emphasise the support of our people to the resistance."
Israel demands that Hamas, regarded by Tel Aviv and Washington as a terrorist group, disarm its armed group during the ongoing Cairo talks for ceasefire in Gaza.
Al-Rasheq's quotes are in line with those of the Islamic Jihad's Ziyad Nakhala- currently attending the indirect negotiations in Egypt between Israel and the Palestinian delegation- to Ahram Online on Monday where he expressed rejection of any disarmament talk.
A report in Israeli papers last week unveiled the willingness of Israel's Premier Benjamin Netanyahu to gather international support for a conditional deal based on disarmament of Palestinian factions in return for Gaza reconstruction.
Full report at:
http://english.ahram.org.eg/NewsContent/2/8/107832/World/Region/We-wont-even-listen-to-Israels-disarming-request-H.aspx
------------
Hundreds of Iraqi Yazidis flee to Turkey: Ankara
07 August, 2014
ANKARA: Hundreds of people from Iraq's Yazidi community have fled to Turkey after jihadists took over large swath of territory in northern Iraq, Turkish officials said Thursday.
An attack by the Islamic State of Iraq and Greater Syria (ISIS) group at the weekend sparked a mass exodus from the northern part of Iraq including the town of Sinjar, where most of the population is made up of the Yazidi minority.
A Turkish foreign ministry official described the flight as a "human tragedy."
"It is not possible for Turkey to remain indifferent to this. We will fulfil our responsibility," the official told AFP.
Another government official who spoke on condition of anonymity said hundreds of Yazidis had entered Turkey since Wednesday.
"They have been accommodated by the local authorities in a housing complex for earthquake victims in the town of Silopi near the Iraqi border," the official told AFP.
The Yazidi are a closed community that follows an ancient faith rooted in Zoroastrianism and are referred to by jihadists as "devil worshippers."
http://www.dailystar.com.lb/News/Middle-East/2014/Aug-07/266370-hundreds-of-iraqi-yazidis-flee-to-turkey-ankara.ashx#ixzz39f2Nuq9J
------------
Israel agrees to 'unconditionally' extend Gaza ceasefire
World Bulletin / News Desk
07 August, 2014
Israel has agreed to extend a three-day ceasefire in the Gaza Strip for another 72 hours.
"I can confirm that Israel has agreed to an Egyptian proposal to unconditionally extend the ceasefire for another 72 hours," Israeli Foreign Ministry spokesman Yigar Palmor told Anadolu Agency on Thursday.
Israel and Palestinian factions are currently observing an Egyptian-brokered three-day ceasefire that came into effect on Tuesday morning.
It is expected to expire on Friday morning unless extended.
The two sides are currently in Cairo for indirect talks aimed at reaching a long-term ceasefire agreement.
Palmer declined to discuss the contents of the Cairo talks.
"A negotiation is taking place and we will communicate about it after it ends and its outcome is made public," he told AA.
Israel has already completely withdrawn its forces from the besieged coastal enclave.
The Cairo talks followed nearly a month of unrelenting Israeli attacks on the Gaza Strip – home to some 1.8 million Palestinians.
At least 1886 Palestinians, mostly civilians, were killed and nearly 9800 others injured in the Israeli attacks, according to the Palestinian Health Ministry.
Three Israeli civilians were also killed in rocket attacks by the Palestinian groups on Israeli cities and towns.
Israel has also confirmed that 64 soldiers had been killed in battles with Palestinian fighters inside the Gaza Strip.
http://www.worldbulletin.net/headlines/142086/israel-agrees-to-unconditionally-extend-gaza-ceasefire
---------
Ankara on alert over jihadist advance in northern Iraq
07 August, 2014
Growing concern over the state of security in northern Iraq that has affected hundreds of thousands of Iraqis in the face of the advance of extremist jihadist groups has put Turkey on alert, as well brought concerns that the unrest could be spread to its territory.
An unscheduled security meeting was held in Ankara on Aug. 7 under the leadership of Foreign Minister Ahmet Davutoğlu and with the participation of Land Forces Commander Gen. Hulusi Akar, Gendarmerie Forces Commander Gen. Servet Yörük and National Intelligence Organization (MİT) chief Hakan Fidan.
The meeting came following the Islamic State of Iraq and the Levant (ISIL) fighters marching toward northern Iraq and seizing control of some towns traditionally inhabited by Turkmens, Kurds and Yazidi (or Ezidi) groups.
Full report at:
http://www.hurriyetdailynews.com/ankara-on-alert-over-jihadist-advance-in-northern-iraq.aspx?pageID=238&nID=70096&NewsCatID=510
---------
North America
U.S. Backs Sunni Plan to Fight Islamic State Jihadists in Iraq
07 August, 2014
BAGHDAD—The U.S. is holding talks with Sunni Muslim officials in Iraq who have requested help in organizing grass-roots fighting forces to counter an extremist militant group seizing territory across the country.
The meetings follow an outreach by Iraqi governors of Sunni-dominant provinces, who sent letters to Secretary of State John Kerry in late June seeking U.S. support before the jihadist group, which calls itself the Islamic State, drags "the whole region into darkness with them."
After a series of smaller rendezvous, U.S. officials met last week with the governors, tribal leaders and other Iraqi politicians in the city of Erbil to discuss recruiting and organizing fighters in four Sunni-dominant provinces where the Islamic State has snatched territory, said several participants.
In Washington, officials believe breaking Sunni tribes away from the Islamic State is critical to the long-term security and territorial integrity of Iraq. Some Arab and American officials say the effort is a cornerstone of a developing strategy to confront jihadist threats across the Middle East.
But the plan faces hurdles, in no small part because it is haunted by the legacy of a similar past project.
Many Sunni leaders, who say they have been disenfranchised and persecuted by Iraqi Prime Minister Nouri al-Maliki's Shiite-dominant government, say his departure is a precondition to their involvement.
Full report at:
http://online.wsj.com/articles/u-s-backs-sunni-plan-to-fight-islamic-state-jihadists-in-iraq-1407285311
----------
US Sanctions 3 Over Funding in Kuwait for Islamic Militants
07 August, 2014
The United States on Wednesday imposed sanctions on three men it said funneled money from Kuwait to Islamic militant groups in Iraq and Syria.
The U.S. Treasury Department said two of the men raised and delivered money for the Nusra Front, a Syrian rebel group linked to al-Qaida. A third man helped to transfer money from Kuwait to Syria for the Islamic State in Iraq and the Levant (ISIL), and also helped smuggle fighters to join insurgents in Afghanistan and Iraq.
ISIL, now known simply as the Islamic State, has taken over large swaths of Iraq in the past two months and seeks to impose a caliphate to rule over all Muslims.
"We and our international partners, including the Kuwaiti government, need to act more urgently and effectively to disrupt these terrorist financing efforts," David Cohen, Treasury's undersecretary for terrorism and financial intelligence, said in a statement.
Kuwait has been one of the biggest humanitarian donors to Syrian refugees through the United Nations, but it has also struggled to control unofficial fundraising for opposition groups in Syria by private individuals.
Treasury's sanctions freeze any assets the three men may hold in the United States and prohibit American people and firms from dealing with them.
Full report at:
http://www.voanews.com/content/reu-us-sanctions-three-over-funding-in-kuwait-for-islamic-militants/1972860.html
----------
CAIR Calls for Removal of 'Bomb Gaza' Games from Google's App Store
07 August, 2014
The Council on American-Islamic Relations (CAIR), the nation's largest Muslim civil rights and advocacy organization, today called on Google to remove violent games like "Bomb Gaza" from its Play app store. Other Google Smartphone games include "Gaza Assault."
The "Bomb Gaza" game, which tells users that they must "drop bombs and avoid killing civilians," was added to the Play store on July 29 and has already been downloaded hundreds of times. Israel has killed more than 1,800 Palestinians, mostly civilians, in its most recent attacks on Gaza.
In a statement, CAIR said:
"It is unconscionable that anyone would seek to profit from or appear to promote the ongoing slaughter of civilians in Gaza. We ask Google to immediately remove these games from its Play store and to screen future submissions and reject content that would make a game of killing civilians anywhere in the world."
CAIR is America's largest Muslim civil liberties and advocacy organization. Its mission is to enhance the understanding of Islam, encourage dialogue, protect civil liberties, empower American Muslims, and build coalitions that promote justice and mutual understanding.
http://www.cair.com/press-center/press-releases/12599-remove-bomb-gaza-games-from-google-app-store.html
------------
Lawmakers want Obama to review Afghan pullout policy
07 August, 2014
WASHINGTON: Leading Republican lawmakers urged President Barack Obama on Wednesday to reconsider his plan to withdraw US troops from Afghanistan as the country was still in a state of war.
In separate statements, the lawmakers said the murder of a US general in Afghanistan on Tuesday was a stark reminder of the need to keep American troops in the country for as long as it took to stabilise it.
Speaker of the House of Representatives John Boehner also offered to work with the president should he decide to stay in Afghanistan longer than scheduled.
The Obama administration announced a new timetable in May, which calls for ending the US combat mission in Afghanistan in December this year. About 9,800 US troops, however, will remain till 2015, but will be cut in half by the end of next year. By the end of 2016, the United States will maintain only a "normal embassy presence" in Afghanistan.
Also read: Obama says US finishing Afghan job
The Obama administration has also warned that it can withdraw the troops earlier than scheduled if Afghanistan failed to sign an agreement for legalising their stay.
But Speaker Boehner said that Major General Harold Greene's assassination was "a setback that demands leaders in Washington and Kabul to take time to assess the state of our shared campaign and the necessary steps forward".
Full report at:
http://www.dawn.com/news/1123789/lawmakers-want-obama-to-review-afghan-pullout-policy
------------
No sympathy for Hamas, says Obama; expresses concern for Gaza residents
Press Trust of India | Washington | August 7, 2014
Strongly defending US' ally Israel, President Barack Obama has said no country would tolerate launching of rockets and terror attacks on its cities, as he called for the extension of a ceasefire in Gaza.
"I have no sympathy for Hamas. I have great sympathy for ordinary people who are struggling within Gaza," Obama told reporters at a news conference in response to questions on the current situation in Gaza.
A 72-hour ceasefire between Israel and Hamas came into effect on Tuesday and has brought relief to millions on both sides after one month of fighting killed nearly 1,900 Palestinians and 67 people in Israel, mostly soldiers.
"I have said from the beginning that no country would tolerate rockets being launched into their cities. As a consequence, I have consistently supported Israel's right to defend itself, and that includes doing what it needs to do to prevent rockets from landing on population centers and, more recently, as we learned, preventing tunnels from being dug under their territory that can be used to launch terrorist attacks," Obama said.
Full report at:
http://indianexpress.com/article/world/world-others/no-sympathy-for-hamas-says-obama-expresses-concern-for-gaza-residents/99/
----------
Pakistan
'Martyrs Day' to honour soldiers killed in Zarb-i-Azb: Qadri
07 August, 2014
LAHORE: The Pakistan Awami Tehrik (PAT) will commemorate not only the lives lost in violent clashes in Lahore's Model Town but also those of soldiers killed in the ongoing operation Zarb-i-Azb, party chief Tahirul Qadri said.
"I want to especially say that August 10 is for Model Town martyrs. But more than that, it will be about Pakistan Army's martyrs killed in Zarb-i-Azb," Qadri told a press conference in Lahore.
He was accompanied by Pakistan Muslim League – Q (PML-Q) chief Chaudhry Shujaat Hussain and Majlis Wahdat-i-Muslimeen leader.
"We have guaranteed that if people coming to attend the prayers and the 'Day of Martyrs' are not harassed or attacked by government, then it will be as peaceful as the January 2013 rally," said the PAT chief.
Qadri warned the Punjab government against harassing its supporters coming to the rally.
"The Quran and the law allows (PAT supporters) to do what they can to protect themselves," he said.
"The government has been playing the role of murderers. On June 17, they killed 14 people and injured nine in Model Town. Nearly two months have passed but even an FIR has not been registered. Do you call this democracy?"
Full report at:
http://www.dawn.com/news/1123659/martyrs-day-to-honour-soldiers-killed-in-zarb-i-azb-qadri
------------
100pc Raise in Marriage and Subsistence Grant
07 August, 2014
LAHORE: The Provincial Zakat Council has decided a 100pc increase in the marriage grant and subsistence allowance for deserving people and also extended the tenures of Zakat committees of all districts up to Nov 30 where new committees have not been constituted yet.
This was decided at a meeting presided over by retired Justice Akhtar Hasan, the council chairman, here on Wednesday. Zakat and Ushr Secretary Habibur Rehman Gilani, Zakat Administrator Muhammad Yousaf Butt, representatives of social welfare, finance and local government departments, Maulana Raghib Husain Naeemi and other members attended the meeting.
According to a handout, the meeting was told the marriage grant of Rs10,000 had been fixed 10 years ago and needed an immediate increase according to the present circumstances. The council approved increasing the amount to Rs20,000.
Gilani briefed the chairman and members of the council that the Rs500 per month subsistence allowance was being given for 14 years and there was a proposal to increase it due to inflation, which council members unanimously approved.
Full report at:
http://www.dawn.com/news/1123836/100pc-raise-in-marriage-and-subsistence-grant
------------
Harkat-ul-Mujahideen leader declares 'jihad' against Israel
07 August, 2014
ISLAMABAD- A known religious leader, Fazal ur Rehman Khalil, declared "Jehad" against Israel is obligatory on all Muslims because of its involvement in the killings of innocent Palestinians in Gaza.
Khalil, who had previously led banned outfilt Harkat-ul-Mujahideen group that fought against Indian forces in Indian-occupied Kashmir and sided with the Taliban in Afghanistan, said he is ready to send his militants to Palestine to fight Israelis. "Jehad is an obligation of all Muslims in view of the ongoing Israeli barbarism in Gaza," he said. He said Muslims are disappointed at he conduct of their rulers, who have failed to effectively respond to the Israels's military actions in Gaza. "I am also ready to personally go to Palestine as fighting Israelis is part of my belief," Khalil, who now leads "Ansar ul Ummah" Islamic group, told a news conference at his Islamabad's headquarters. "If I find a route, I will not wait but will reach Palestine," he said. He also urged the Muslims to rush for the help of Palestinians.
Full report at:
http://www.pakistantoday.com.pk/2014/08/06/national/harkat-ul-mujahideen-leader-declares-jihad-against-israel/
------------
Pakistan slams Israel for turning Gaza into a 'wasteland'
07 August, 2014
UNITED NATIONS - Pakistan on Wednesday criticized the U.N. General Assembly's inaction on Gaza, saying the Israeli military assaults had "wrecked and ravaged" the small enclave and left 1,800 Palestinians dead and thousands more wounded.
"Most of Gaza is a wasteland," Ambassador Masood Khan, the permanent representative of Pakistan to the UN, told the General Assembly, which met some four weeks after the beginning of the Israeli-Hamas conflict.
"This was no war between two equals; there was no symmetry," he said of the month-long fighting between the modern Israeli military and Palestinian fighters.
"We regret that this Assembly, which has always demanded to play a more active role in the maintenance of international peace and security, is meeting so late and that too in an informal setting, with its members serving as a mere sounding board," the Pakistani envoy said, as he pointed out that the 193-member Assembly planned to take no decision.
"In the past four weeks, the Assembly has not pronounced itself on the situation in Gaza, while the (Geneva-based) Human Rights Council was able to pass a full bodied resolution," Masood Khan said.
Full report at:
http://www.dailytimes.com.pk/national/07-Aug-2014/pakistan-slams-israel-for-turning-gaza-into-a-wasteland
------------
No 'Breakthrough' As Leaders Huddle To Break the Impasse
07 August, 2014
ISLAMABAD: The capital witnessed a flurry of back-to-back top level political contacts on Wednesday as Prime Minister Nawaz Sharif reiterated that all political problems could only be solved through dialogue, and urged all political parties, especially PTI, to respect the public mandate of the last general elections.
He was talking to Jamaat-e-Islami Ameer Siraj ul Haq, who called on him at the PM House in a bid to diffuse tensions between the PML N and PTI ahead of long march and sit-in announced by Imran Khan for August 14. The opposition and government leaderships remained busy behind closed doors all day on Wednesday discussing the pros and cons and repercussions of the August 14 "Azadi March" of the PTI and possible ways to cool down the prevalent political temperature.
Jamaat-e-Islami chief Siraj ul Haq held meetings with PTI chief Imran Khan, Prime Minister Nawaz Sharif, opposition leader Khursheed Shah and Pakhtunkhwa Milli Awami Party (PkMAP) leader Mahmood Khan Achakzai to cool down the political temperature and find a solution to the political impasse. Meanwhile, PPP Co-Chairman Asif Ali Zardari phoned Imran Khan for the second time in two days, and PAT chief Tahirul Qadri in Lahore.
Full report at:
http://www.dailytimes.com.pk/national/07-Aug-2014/no-breakthrough-as-leaders-huddle-to-break-the-impasse
------------
Europe
Slight majority rejects Islam as part of Germany
07 August, 2014
Slightly more than half the Germans in a poll believed that the Islamic faith is not part of German society, according to a survey by polling institute Forsa for the Stern magazine on Wednesday.
A total of 52 percent of Germans in the poll rejected Islam as part of society, while 44 percent accepted it.
Furthermore, 69 percent of supporters of the Green Party and 61 percent of 14 to 29-year-olds accepted Islam as part of social life in Germany.
People that did not see Islam as part of German society included 69 percent of polled Eastern Germans, 63 percent of those who completed lower secondary school, 61 percent of people aged over 60, and 60 percent of supporters of the union (the two sister parties CDU and CSU).
A total of 82 percent of polled supporters of the euro-sceptic AfD are of the opinion that Islam is not part of German society.
Asked how one should deal with Islamophobia in Germany, a slight majority of 53 percent of those polled said Islamophobia and anti-Semitism should be outlawed in the same way.
However, 42 percent of Germans don't support this view as they find these attitudes cannot be compared.
For the survey, the Forsa institute interviewed 1,001 representative German citizens who were determined by a computerized random sample.
http://www.globalpost.com/dispatch/news/xinhua-news-agency/140806/slight-majority-rejects-islam-part-germany-survey
-----------
HRW wants women, kids held by Syrian fighters freed
07 August, 2014
BEIRUT — Syrian fighters have held 54 women and children hostage for an entire year, a rights group said Wednesday, urging they be freed and warning that holding civilians can amount to a war crime.
New York-based Human Rights Watch said the group was captured in the coastal province of Latakia during an opposition offensive a year ago.
Another group of 40 hostages was released in May as part of a deal that allowed Syrian opposition forces safe passage out of the besieged Old City of Homs.
But the group of 54, which includes 34 children, was still being held, apparently "with the intention of compelling government actions, including exchanging the hostages for detainees in government custody," HRW said.
"For a year families have been waiting to be reunited while rebel groups and the government negotiate over their fate," said HRW's Middle East and North Africa director Sarah Leah Whitson.
"Civilian lives are not pawns for fighters to trade. The hostages should be let go immediately."
It is unclear which groups are holding the 54 captives. HRW said it had identified several individuals, mostly from Gulf countries, who had raised funds for the Latakia operation and warned that citizens or countries backing groups involved in hostage-taking could be complicit in war crimes.
http://www.saudigazette.com.sa/index.cfm?method=home.regcon&contentid=20140807213923
------------
Italy to deport Muslim preacher for praising killing of Jews
07 August, 2014
MILAN, Italy – A Muslim cleric is set to be deported from Italy because of alleged hate speech against Jews, the Italian authorities said this week.
Abd Al-Barr Al-Rawdhi, an immigrant from Morocco, works as a preacher in San Donà di Piave, a small town about 30 kilometers north of Venice.
On Sunday, the Middle East Media Research Institute, a watchdog against hate speech in the Arabic- and Farsi-language media, uploaded a video in which Rawdhi appears to be praising the killing of Jews, even though the word "Jew" is never mentioned, the authorities say.
"What can we possibly expect from people who lost all respect for Allah, saying to Moses: 'Show us Allah outright?'" the preacher said, referring to a passage in the Koran in which the Jews challenge Moses. "What can we possibly expect from people who said 'the hand of Allah is shackled?' May their own hands be shackled, and may they be cursed for what they said."
The translation by the institute, also known as Memri, has been confirmed by Haaretz. According to Memri's website, the video was taken from another site, though Memri does not say which one. Haaretz was not able to trace its original source.
Full report at:
http://www.haaretz.com/jewish-world/jewish-world-news/.premium-1.609241
-----------
Germany, France, Britain propose EU mission to open Gaza-Egypt crossing
07 August, 2014
BERLIN - Germany, France and Britain have proposed reactivating a European Union mission on the Egypt-Gaza border to help stabilize the Palestinian enclave after a month-long war, a German diplomatic source said on Wednesday.
The source said German Foreign Minister Frank-Walter Steinmeier and counterparts in Paris and London favored restoring EU operations at the Rafah crossing that is the main window to the world for Gaza's 1.8 million Palestinians.
A two-day-old Gaza ceasefire was holding on Wednesday as Egyptian mediators pursued talks with Israeli and Palestinian envoys on an enduring end to a war in which Israeli shelling wrecked whole areas of the Islamist Hamas-dominated territory.
The EU Border Assistance Mission in Rafah started work in 2005 to monitor the crossing point as part of an accord worked out by Israel and the Western-backed Palestinian Authority. The operation was halted two years later when Hamas terrorists seized control of the Gaza Strip.
Egypt has repeatedly shut the border over the past year, significantly increasing pressure on Gazans, who already face a rigid land and sea blockade.
Full report at:
http://www.jpost.com/Operation-Protective-Edge/Fully-re-open-Gaza-Egypt-crossing-says-German-French-and-British-foreign-ministers-370248
------------
Cuba's Castro rails against 'Palestinian Holocaust' in Gaza
07 August, 2014
Former Cuban leader Fidel Castro described Israel's offensive in Gaza as a "new, repugnant form of fascism." Castro made his comments in a column published Tuesday in the Granma newspaper, the official newspaper of the Central Committee of the Cuban Communist Party, titled "Palestinian Holocaust in Gaza."
"Why does the government of this country (Israel) think that the world will be impervious to this macabre genocide that is being committed today against the Palestinian people?" Castro wrote.
Castro, 87, ruled Cuba from 1959 until 2006, when he handed over power to his brother Raul. Cuba broke diplomatic relations with Israel in 1973 after the Yom Kippur War.
In a more conciliatory moment, in 2010, Castro told Atlantic writer Jeffrey Goldberg that Israel "without a doubt" has a right to exist.
In that interview, Castro, according to Goldberg, expressed "great sympathy for persecuted Jews throughout history" and expressed admiration for Israeli Prime Minister Benjamin Netanyahu's father, Ben-Zion, who Goldberg described as "the world's foremost historian of the Spanish Inquisition, and a hard-line Likudnik."
http://www.jpost.com/Operation-Protective-Edge/Cubas-Castro-rails-against-Palestinian-Holocaust-in-Gaza-370239
------------
UN: Some rescued from Iraqi mountain siege; 200,000 flee
World Bulletin/News Desk
07 August, 2014
Some of the many thousands of people trapped by Islamic State militants on Sinjar mountain in northern Iraq have been rescued in the past 24 hours, a spokesman for the U.N. Office for the Coordination of Humanitarian Affairs said on Thursday.
The militants' capture of the nearby town of Sinjar, ancestral home of the Yazidi ethnic minority, had prompted tens of thousands of people to flee to the surrounding mountains.
"We're just receiving the information right now. We've just heard that people over the last 24 hours have been extracted and the U.N. is mobilising resources to ensure that these people are assisted on arrival," David Swanson said by phone from Iraq.
"This is a tragedy of immense proportions, impacting the lives of hundreds of thousands of people," he said.
"Over the past couple of days, almost 200,000 people have made their way northwards to Iraq's Kurdistan region, Dohuk governorate, or to disputed border areas inside Ninewah," he said.
Full report at:
http://www.worldbulletin.net/headlines/142080/un-some-rescued-from-iraqi-mountain-siege-200000-flee
-----------
UK-based man loses 11 of family in Gaza shelling
07 August, 2014
LONDON — A man in the UK reportedly found out through a Facebook message that he has lost 11 members of his family to a single Israeli airstrike, the Daily Mail reported.
According to the newspaper, Musheir Al-Farrah learned on Friday morning that his cousin's home in Khan Younis, southern Gaza, was hit by shelling.
Five children, aged from four to 15, are reportedly among the victims. Five of El-Farrah's relatives were taken into intensive care after the incident.
"I found out at 7a.m. on Friday through a Facebook message from a friend that 11 members of my family had been killed," said El-Farrah to the newspaper.
"They all died at around 3.45 a.m. on Friday. They were in bed sleeping when the first missile hit and so they were trying to get to safety.
"They ran and they were hit outside the building where they live. They were all still in their pajamas and nighties when they were killed," he said.
Israel has led a ground offensive into Gaza with the stated aim of destroying Hamas tunnels which are reportedly used to transport fighters and arms.
For its part, Hamas has continued firing rockets into Israeli territory.
http://www.saudigazette.com.sa/index.cfm?method=home.regcon&contentid=20140807213914
---------
Southeast Asia
Dressing Down for 'Jilboobs' as Ulema Council Issues Fatwa
07 August, 2014
Jakarta. The highest authority of Muslim clerics in Indonesia has issued a fatwa against what a leading Indonesian news website has dubbed "Jilboobs" — women who wear a Jilbab, or Islamic headscarf, but skimp on adopting entirely the conservative dress code by wearing "tight" clothing below the neck.
The Indonesian Ulema Council (MUI) met on Thursday in Jakarta. The MUI is composed of clerics from Indonesia's largest Islamic organizations, including Muhammadiyah and Nahdlatul Ulema, and has a broad range of responsibilities including issuing halal certificates and advising the government on policy.
"The MUI already has a fatwa against pornography. But that means that you should not show the shape of the body by wearing a Jilbab, but with tight clothing," said vice chairman of the MUI, ​​Ma'ruf Amin, as quoted by Liputan6. "The MUI strictly forbids it."
Ma'ruf applauded Indonesian women for electing to wear the Jilbab, but was critical of individuals who had elected to dress as they pleased.
"We respect those who are already wearing the Jilbab," he said. "But for those already wearing the Jilbab, it should not be vulgar."
http://www.thejakartaglobe.com/news/dressing-jilboobs-ulema-council-issues-fatwa/
------------
Court Jails Khmer Rouge Leaders for Life for Crimes Against Humanity
07 August, 2014
Two former Khmer Rouge leaders were jailed for life Thursday after being found guilty of crimes against humanity by Cambodia's UN-backed court, the first-ever sentences for leaders of the murderous regime.
"Brother Number Two" Nuon Chea, 88, and former head of state Khieu Samphan, 83, were "guilty of the crimes against humanity, of extermination… political persecution, and other inhumane acts," said judge Nil Nonn.
The pair are entitled to appeal the verdict, but the judge said the gravity of the crimes meant they "shall remain in detention until this judgment becomes final".
Prosecutors had sought life terms for the defendants — the most senior surviving ex-Khmer Rouge officials — for their roles in a regime which left up to two million people dead during the "Killing Fields" era from 1975-1979.
Full report at:
http://www.thejakartaglobe.com/international/court-jails-khmer-rouge-leaders-life-crimes-humanity/
------------
Shariah Study Lures Non Muslim Students in Asia: Islamic Finance
07 August, 2014
Demand for Islamic finance training from non-Muslims rose more than fourfold in the past seven years as students seek to enter an industry whose assets are set to double to $3.4 trillion by 2018.
Malaysia's International Centre for Education in Islamic Finance had 2,000 people enrolled on its courses this year, of whom about 14 percent are from nations with small Muslim populations, its Chief Executive Officer Daud Vicary Abdullah said in Kuala Lumpur yesterday. That compares with 3 percent in 2007, he said.
While students from South Korea, Japan and the U.S. dominate the enlistees, those nations have yet to introduce Shariah-compliant legislation. The U.K. became the first western country to sell sukuk this year, while Hong Kong and South Africa also plan to debut in the market in 2014. Ernst & Young LLP forecasts Islamic lenders will have 70 million customers by 2018, up from 38 million last year.
Full report at:
http://www.bloomberg.com/news/2014-08-07/shariah-study-lures-non-muslim-students-in-asia-islamic-finance.html
---------
Africa
Cameroon: Boko Haram Militants Kill 10 in Cameroon Raid
07 August, 2014
Officials in Cameroon said Boko Haram militants from neighboring Nigeria raided a remote northern border town Wednesday, killing 10 people and kidnapping a child.
Police said the militants gunned down nine civilians and a soldier in the town of Zigague. State-run radio reported the kidnapped child is the daughter of a local chief.
The reason for the raid is unclear.
The militants are suspected in last month's kidnapping of a local religious leader in Cameroon and the deputy prime minister's wife.
Boko Haram extremists have killed thousands trying to turn northern Nigeria into a strict Islamic state.
Their violence often spills over into neighboring countries.
The group came under worldwide condemnation for kidnapping nearly 300 Nigerian schoolgirls in April. About 219 are still being held hostage.
http://allafrica.com/stories/201408070194.html?aa_source=sptlgt-grid#ixzz39esghSnW
-----------
Somali President says operation Indian Ocean against Al Shabaab will start soon
07 August, 2014
Somalia's President Hassan Sheikh Mohamud has said a new military offensive against Al Shabaab militant group by African Union and Somali forces will start in the coming weeks.
Speaking to Reuters News agency in Washington DC where he attended US-Africa summit President Hassan said operation dubbed Indian Ocean to push Al Shabaab out of new areas is expected to start soon.
"Operation Indian Ocean is going to start within the next few days," He said
"We have all the measures in place to make sure that Operation Indian Ocean will definitely succeed."He added.
The president dismissed a recent spate of attacks in Mogadishu which include the killing of a lawmaker last week as the "last kick" of a group he said was being squeezed by Somali and African Union forces.
Full report at:
http://www.somalicurrent.com/2014/08/06/somali-president-says-operation-indian-ocean-against-al-shabaab-will-start-soon/
-----------
Finnish-Somali politician: That's my son in jihadist video
07 August, 2014
A Finnish-Somali politician has confirmed that a young man appearing in a jihadist propaganda video which was published online this weekend is his son.
Posted on Saturday by the militant extremist group Islamic State, formerly known as ISIS, the video features a man speaking accented Finnish calling on other Finns to join an Islamic caliphate governed by Sharia law.
Yle's current affairs discussion programme A-Studio spoke to Faisal Ali Warabe, who became known in Finland when he ran as a candidate in Somalia's presidential election. Warabe used to live in Espoo, where his wife and some of his family still live.
By telephone from his current home in Somalia, Warabe told the programme that the man in the video is his son, Sayid Hussein Feisal Ali, who has been in Syria for over a year along with his wife, who is also a Finn of Somali descent.
"I was shocked when I heard of it. I am worried now that I've seen his video come out. What he's talking about is his thing, not ours. We want him out of there and we need help to do that," Warabe said.
Full report at:
http://yle.fi/uutiset/finnish-somali_politician_thats_my_son_in_jihadist_video/7396194
-----------
Libyan Congress calls for U.N.-backed ceasefire to end clashes
World Bulletin/News Desk
07 August, 2014
Libya's newly elected House of Representatives on Wednesday called for an immediate ceasefire under United Nations supervision to end three weeks of clashes among rival armed factions that have killed more than 200 people.
After the worst fighting in Tripoli and Benghazi since the 2011 uprising ousted Muammar Gaddafi, Western governments have mostly closed up their embassies, fearing the North African state is edging toward another civil war.
Lawmakers, meeting in the eastern town of Tobruk far from the clashes in Tripoli and Benghazi, on Wednesday voted to back a proposal for an immediate ceasefire that would be monitored by the United Nations.
Details of the proposal were not immediately available, and it was unclear warring militias would accept the parliament decision after some of their political allies had already dismissed the new 200-member Congress as unconstitutional.
Full report at:
http://www.worldbulletin.net/headlines/142069/libyan-congress-calls-for-un-backed-ceasefire-to-end-clashes
------------
URL: https://newageislam.com/islamic-world-news/4-young-men-head-iraq,/d/98465