By Swati Parashar and Prabha Rani
July 4, 2019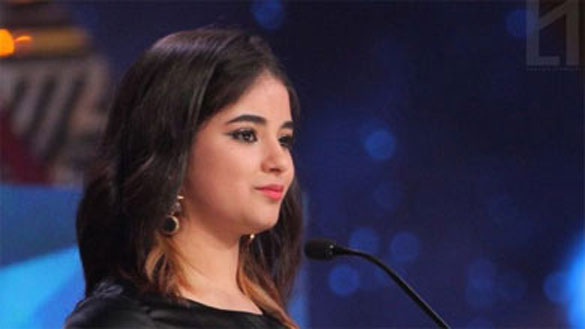 Zaira Wasim said she was not happy with the line of work as it interfered with her faith and religion.
-----
Zaira Wasim, an Indian actor from Kashmir, is at the centre of a heated debate over her decision to quit her acting career in Bollywood. This is not the first time that an actress has decided to leave her film career for other pursuits or personal engagements. Anu Aggarwal (of Aashiqui fame) and Bhagyashree (of Maine Pyar Kiya fame) were one-film wonders who left the industry for personal reasons. Twinkle Khanna opted out of the industry to become an interior designer and candle maker. We do not have a single instance of anyone making a public statement about quitting the field of any art form. What makes Wasim's case different is the very lengthy confessional style explanatory letter which she shared through her Instagram account outlining her decision to quit her profession, which she argues, enabled an 'environment that damaged her peace, Iman and her relationship with Allah.'
Spiritual and religious pursuits are common to Bollywood actors who tire of fame and the vagaries of the profession. Guru Dutt made Kagaz Ke Phool to express his angst about the film industry where friends were few and success short lived: while in the 70s, prominent Bollywood figures like Vinod Khanna, Parveen Babi and Mahesh Bhatt, joined Osho's commune in search of their 'real' selves, subsequently returning to their vocation and films. However, the extraordinary way in which Wasim has professed her religiosity, even expressing regret at her career so far and insinuating that the film industry was her path of ignorance and worldly desires over the righteous path of Islam, calls for greater scrutiny and critique.
There is something ironical about her recent public statement and her career in Bollywood, which now comes to an abrupt halt after a stellar start which won her many accolades. In Dangal she plays a young Haryanvi wrestler breaking stereotypes and in Secret Superstar she plays a young Muslim singer who defies her regressive father to sing, and pulls her mother out of an abusive marriage along the way. That Wasim should now cite religion for quitting her art makes her decision spurious and deeply problematic.
Those arguing that she does not cast aspersions on Bollywood and other Muslim artists must read her statement carefully where she seeks repentance for her previous actions, officially declaring her disassociation with the field that took her away from the path of Iman and threatened her relationship with her religion. Wasim's acknowledgement that her Bollywood work restrained her identity as a Muslim and took her away from the righteous religious path cannot be easily overlooked as a case of individual choice. She not only chose to ignore the admirable achievements of Muslim women in the same industry decades before her, at a time when it is assumed, the social norms were a lot more orthodox towards women and post partition religious anxieties prevailed, but also makes it difficult for young women choosing unusual pathways and professions. Were all the stellar 'Muslim' performers of the last several decades mere heretics? From devout Muslims like the legendary Mohammed Rafi, to actresses like Meena Kumari, Madhubala, Nargis, Waheeda Rehman, had these people strayed from the path of Iman? It is not individual choice alone at display in Wasim's case (and if it were so, she could have had a quiet contemplative exit), but a lopsided and narrow political and religious commentary, made in the public domain, oversimplifying the complex relationship between Muslim artists and Indian arts and Bollywood in particular.
It is also impossible to take Wasim out of her geo-political context. There are reports that her family has been at the receiving end of much criticism if not outright ostracism in the Kashmir Valley and she might have made the statement under duress. If so, this would not be the first time. Extreme right Islamist elements have over the years consistently criticised women who 'strayed' from the path of religion as narrowly defined by them. Pragaash, an all-girl music band of the Valley, was forced to retract and withdraw in the name of religion in 2012. Eight year old Tajammul Islam was criticised for her kickboxing activities in 2017. It is impossible to dismiss such incidents as the stray actions of a fringe. We should know better than to ignore the 'fringe' of any religious community, which historically attacks the freedoms of women. Liberals and liberal feminists of all shades, both in Kashmir and outside, must stand up to these elements that systematically erode hard won freedoms of women, in the name of religion or culture.
We condemn any trolling and bullying Zaira Wasim has been subjected to, on account of her decision. We recognise that she showed exceptional courage last year when she came out with her mental health issues (depression) also on social media. We acknowledge that as an 18-year-old she is very young and has a life ahead of her in which to make decisions about her profession and spiritual and religious pursuits. However, her public statement has far reaching consequences on young Muslim women making unconventional career choices which do not meet the approval of the religious patriarchs and which fall outside the conservative interpretations of religious doctrines and values. Such statements become the yardstick to judge the actions of other women and their beliefs.
In one of her recent tweets Wasim quotes George Orwell, "In a time of deceit telling the truth is a revolutionary act." The problem today is the inconvenience of certain kinds of truth, that challenge established wisdom, prescribed norms and acceptable world views. Wasim's public statement and those responses applauding it must be read and debated beyond just individual choice and personal religiosity.
The eternal human quest has always been to embrace the struggle between Deen (religion) and Duniya (worldly desires) as part of our existence. To reduce this spiritual pursuit to a public spectacle that mocks at human creativity and art in the name of religious values and god's will is both disingenuous and dangerous in the current climate of rising intolerance and fundamentalisms of all kinds. In our despair at Zaira Wasim's public statement, we turn to the great poet and Bollywood lyricist, Sahir Ludhianvi, whose classic song in the film Chitralekha, captures our angst and the mood of our critique.
Sansaar Se Bhage Phirte Ho, Bhagwan Ko Tum Kya Paoge?
Is Lok Ko Bhi Apna Na Sake, Us Lok Mein Bhi Pachtaoge.
Ye Paap Hai Kya, Ye Punya Hai Kya? Reeton Par Dharm Ki Mohre Hain
Har Yug Mein Badalte Dharmon Ko Kaise Aadarsh Banaoge?
(While You Strive To Escape From This World, How Will You Find God?
You Disowned This World; You Will Also Repent In The Other World.
What Is Sin And What Is Virtue? Traditions Seek Sanctity Through Religions.
How Will You Idealise The Ever Changing Religions Of Different Ages?)
Swati Parashar is Associate Professor in Peace and Development at the School of Global Studies, Gothenburg University, Sweden
Prabha Rani is Associate Professor, Department of History, Lady Shri Ram College, Delhi University
Source: The Indian Express
URL: https://www.newageislam.com/islamic-society/spiritual-religious-pursuits-common-bollywood/d/119089