By Shuham Charles
January 22, 2020
The news of young non-Muslim girls being made to convert to Islam seems to have become a daily occurrence in Pakistan. Just last week, a young Hindu girl was kidnapped in Jacobabad and her family stated that this was done in an attempt to convert her to Islam. Yet, quite often these cases simply slip between the cracks and into the abyss which houses the various human rights abuses that plague Pakistan. One incident which grabbed the media headlines last year was that of two sisters from Ghotki, who were reportedly abducted and forced to convert to Islam.'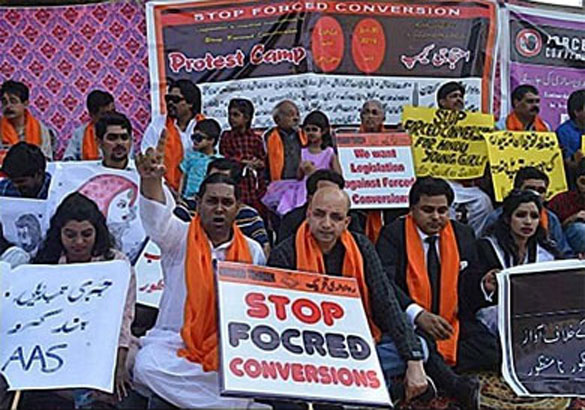 Photo: Shafique Khokhar
----
However, later a video of them stating that they had willingly converted to Islam began to do the rounds on social media. While the Islamabad High Court declared that this was not a case of forced conversion, the judgement did lead to a great amount of debate around how exactly such matters are dealt with by the authorities. As a result, the increasing need for a bill which addresses forced conversions and ensures that there are legal provisions in place to tackle this problem has been apparent for quite some time. Yet it seems that lawmakers in the country are simply not interested in tackling this matter.
Last year in the Sindh Assembly, the Pakistan Peoples Party (PPP) turned down a proposed bill against forced conversions which had been moved by Grand Democratic Alliance (GDA) MPA Nand Kumar Goklani. Unfortunately, the fact that PPP rejected the bill did not come across as particularly surprising since various religious groups in the country had been exerting pressure for the bill to be dropped. Nonetheless, the fact that PPP capitulated to these demands is shameful, especially since Sindh witnesses cases of forced conversions at an alarming basis. Reportedly, the parliamentary committee to protect minorities from forced conversions believes that "cases of forced conversions are mostly occurring in Sindh, while certain religious groups might even be considering conversion of minor girls through criminal tactics as legal." Hence, the need for such a bill in Sindh is self-evident.
Furthermore, the matter is only further compounded when the authorities are unable to adequately determine what constitutes as a forced conversion, because of which several religious groups in the country use this shortcoming to propound the narrative that a forced conversion bill would be inherently flawed. Such groups argue that while forced conversions are not permissible, "forcibly preventing someone from embracing Islam (is) also against the Shariah." Given the power religio-political groups have in the country, as evidenced by the backlash being faced by Sarmad Khoosat for his film Zindagi Tamasha, it seems unlikely that the forced conversion bill will see the light of day anytime soon. Instead, the rights of religious minorities residing in Pakistan will continue to be held hostage.
A recent conference held by Christian rights activists at the Karachi Press Club once again attempted to raise a voice for the disenfranchised and called upon the government to tackle forced conversions. However, it must also be noted that passing such laws is only half the battle, and ensuring their implementation is perhaps an even harder task. Even if the forced conversion bill is approved in the future, the ability of police personnel to conduct a transparent investigation into cases of forced conversion would need to be ensured by the state.
Statistics provided by the Aurat Foundation state that 1000 women and girls belonging to religious minorities in Pakistan are "abducted, forcibly converted and then married off to their abductors every year." Evidently, this is a problem which simply cannot be ignored any longer, either by Pakistan's political parties or by the citizens of Pakistan. While many in Pakistan readily criticise India for the religious persecution taking place in our neighbouring country, it is perhaps time to turn our gaze inwards and ensure we have legal mechanisms in place to prevent forced conversions in Pakistan. Instead of only being outraged for religious minorities who reside outside of Pakistan, it would not hurt us and our politicians to protect the rights of the non-Muslims who call Pakistan their home. This national duty can no longer be ignored, no matter what the cost.
Shuham Charles is an academic researcher. He has a Masters in Public Policy and International Law. He is currently attending a theology programme in the Netherlands.
Original Headline: How long will Pakistan continue to ignore forced conversions?
Source: The Express Tribune
URL: https://www.newageislam.com/islamic-society/welcome-pakistan-problem-forced-conversions/d/120887