By Sher Alam Shinwari
26 July, 2015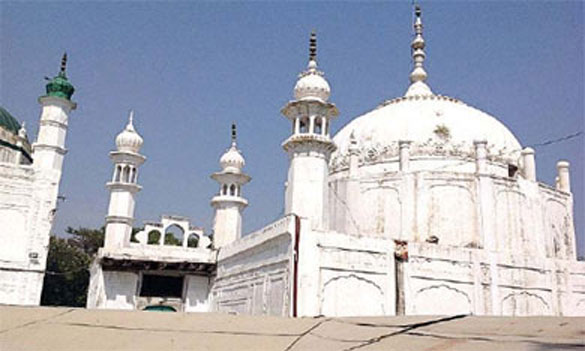 A view of the shrine of Hazrat Kaka Sahib in Nowhsera — Dawn
------------
The shrine of 16th century's most popular Sufi saint Kastir Gul alias Hazrat Kaka Sahib is located in a rugged mountainous area around 12km south of Nowshera district. It is considered as one of the most frequently visited religious heritage sites in Khyber Pakhtunkhwa.
People throng Kakak Sahib's shrine everyday in a large number for seeking solace and spiritual delight. Pilgrims from far and wide visit the shrine to pay their respects to the Sufi saint. Kakakhel tribe produced a number of religious scholars, poets, writers, economists, academicians, researchers, historians and experts in many other fields. Till date, Kakakhels are known to be experts in more than one field of knowledge and scholarship. Such was the scholastic legacy left behind by Kaka Sahib.
"I have come from Tirah valley along with my family members. We find a spiritual satisfaction here. This is our family tradition; we come here every year to satisfy our urge for a paying visit to the shrine of Hazrat Shiekh Rahmkaar Baba," Wali Rehman Afridi, a pilgrim told Dawn.
The complex of the Sufi saint comprises the magnificent mausoleum of Hazrat Kaka Sahib and graves of host of his family members, tombs of his staunch disciples, a spacious mosque, Langar Khana, library and a few family quarters for night stay of guest visitors.
He had earned the title of Rahmkaar – 'the kindest' who used to free slaves and show mercy on orphans, poor and destitute families. "He once had got released 3,000 slaves after having paid money to their masters. He used to arrange Langar for thousands of his pilgrims and devotes regularly and extended financial assistance to destitute families," writes late Bahadar Shah Zafar Kakakhel in his book 'Rahmkaar Kaka Sahib'.
His devotees included people from all walks of life. Renowned classic Pashto poet Khushal Khan Khattak, his father Shahbaz Khan Khattak and his elder brother Faqir Jamil Baig were among his diehard disciples. One of Khushal Khan Khattak's daughters was married to Ziauddin Shaheed, son of Kaka Sahib.
According to a legend, his ancestors had migrated from Bukhara in Central Asia many centuries ago and permanently settled in the outskirts of Nowshera. He became a spiritual successor following death of his father, Hazrat Shiekh Bahadur Baba. His shrine is located some 40km away from Ziyarat Kaka Sahib town.
Born on the first of Ramazan in 1576, Kaka Sahib had received religious education from his Sufi father and a few Islamic scholars of his time. He used to practice all four Sufi orders – Naqshbandia, Suharwardia, Chistia and Qadria. Kaka Sahib also fondly called as Ziaree Kaka used to deliver lessons to his devotees.
Built by Kaka Sahib's direct descendants and followers in early 17th century, his white mausoleum has beautiful mosaic work and floral pattern all over inside the structure in Mughal architecture style. The small craggy town was named 'Ziyarat Kaka Sahib' after death of Hazrat Kaka Sahib on Rajab 24 in 1653.
Disciples of the Sufi saint recently conducted 373th Urs of Kaka Sahib under the 13-member Darbar council, which was formed in 2003. Each member in Darbar council represents his own clan of Kakakhel tribe. Local people told this scribe that till a few years ago, hundreds and thousands of people attended the urs, usually spread over a week.
Mian Rahmat Karim Kalakhel, a resident, said that the weeklong Urs celebrations included 'raising of flag (Nishaan), laying of floral wreath on the shrine, Khatmul Quran, Mahfil-i- Zikr, Mehfil-i-Samaa (Qawwali) outside the Dargah, distribution of Langar and Chiraghaan (illumination), while residents would also arrange sports competitions among young visitors.
"Now the Urs celebrations have been reduced to two days because of security reasons. Around 5,000 to 7,000 people daily visit Kaka Sahib's shrine," Mr Karim elaborated. He said that the residents had been facing water scarcity due to its location on a rocky terrain.
Ameenulah Kalakhel, another resident, said that noted economist and the current national security adviser as well as key adviser on foreign policy at the Ministry of Foreign Affairs, Sartaj Aziz was born and bred in Ziyarat Kaka Sahib's town. He said that Mr Aziz had once visited his native town during first tenure of Nawaz Sharif.
"He had set up two water pumps but now they are insufficient for around 60,000 population of the village. Also a number of visitors show up every day. Similarly, our library is in shambles because it contains only 300 to 400 books," he maintained.
He said that it should be updated on modern lines where scholars could conduct research on the life and services of Kaka Sahib. "We appeal to Sartaj Aziz to resolve our water and electricity issue and release funds for our library so that research on Kaka Sahib could be conducted on scientific lines," he said.
Mian Feroz Shah Jamal Kakakhel, the patron in chief of Darbar Council, told this scribe that his colleagues had been serving the Darbar Kaka Sahib since long. He said that the shrine was not under the control of any government department including 'Auqaf'. "We run the affairs of the shrine on our own. We don't think anyone else could perform this duty in a befitting manner. Kaka Sahib is a symbol of spirituality and enlightenment for us," he maintained.
He said that Kakak Sahib was highly revered even in his time by Mughal rulers. "Once Mughal King Aurangzeb came to Nowshera to meet Kaka Sahib but he refused to see him in his residence. Then a makeshift palace was erected which still exists at a short distance from here but is in ruins. It is called 'Aurang Mahal'," Mr Kakakhel narrated.
Source: http://www.dawn.com/news/1196455/kaka-sahib-shrine-a-place-of-spiritual-satisfaction-for-many
URL: https://www.newageislam.com/islamic-society/sher-alam-shinwari/kaka-sahib-shrine-–-a-place-of-spiritual-satisfaction-for-many/d/104039