By Shameem Tariq
17 September, 2014
In the same issue of a newspaper, details of two court case judgements have been published. One judgement is of a bench headed by Supreme Court Chief Justice R. M. Lodha, in which all of the under trial detainees, who had spent more than half of their prescribed sentences under the section they were arrested, have been ordered to be released. The said bench also included Justice Koren Joseph and Justice Rohinton F Nariman.
Until 31 December 2012 there were 385000 prisoners in the prisons all over India of whom 66%, i.e. 255000, were those whose cases were under trial and no judgement had been given and were being held in prisons. About 100,000 of them will benefit from this verdict and will be able to be released. However, 100,000 of them are those who have been detained under allegations of murder, rape or terrorism and cases against them are pending. They will not be able to get any relief from this judgement.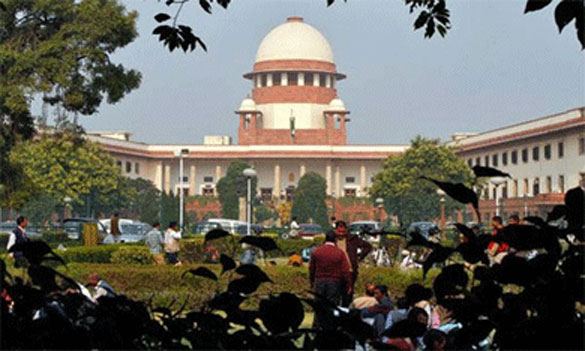 Supreme Court of India
------
This is a historical judgement for which Central Government deserves congratulation because of a joint decision by Ministry of Home Affairs and Ministry of Law and Justice and after being informed about Supreme Court's Judgement by Attorney General Mukul Rastogi, Central Government is in touch with state governments and soon it will also approach high courts and intends to release all those prisoners whose cases are under trial.
The Supreme Court has also ordered the Government to submit papers in relation to speed up trials of the criminal cases.
If this judgement had also envisaged that the cases of all those who have been detained for alleged terrorism should be investigated by Judicial officers—because those who have been held as alleged terrorists by the police, on the basis of such charges only they cannot be held as terrorists—then this judgement would have provided relief to those who have been pleading innocence but have been declared as terrorists and have been incarcerated. No Muslim wants leniency towards terrorists but their complaint is that even innocent people have been accused of terrorism and have been locked up.
The other judgement is of a Session Court of Thiruvananthapuram [in South Indian state of Kerala] in which the court rejecting bail application of a 25 year old young man Muhammad Salman says that Salman's behaviour is tantamount to anti-national and is therefore more serious than a murder.
Total number of five, including Salman and two women, were arrested as they did not stand up [to show respect] when in a cinema hall at the end of the movie national anthem was being played. In addition to not standing up during the playing of national anthem, Salman has also been accused of uttering witticism and then posting insulting remarks on his Facebook against the national anthem.
According to newspaper reports, except Salman, of all the five against whom cases have been framed only one person, Harihara Sharma, has been granted bail.
There are big contradictions in the statements of Harihara Sharma, his defence lawyer and representatives of human rights organisations and the verdict passed by the learned judge. This question is also of importance that the offence for which Sharma has been granted bail then why Salman could not get bail in the same case?
Debates about its legal implications will keep going on. This is also possible that wrong sections [of criminal procedure code] have been slapped on those who refused to stand up and sing along the national anthem. However, it must be agreed that by not standing up at the time of playing of national anthem Salman and others acted inappropriately. It is highly tragic that there are some elements among Indian Muslim youths who embarrass and bring a bad name to the whole of the community and thus make the community pay the price by facing the resultant vengeful reaction. They seem to have been possessed by the evil spirits.
The anthem composed by Rabindra Nath Tagore is a national anthem and, therefore, its veneration is mandatory. There has been a common misperception about it that it had been composed to welcome George the Fifth on his visit to India and that it described him as the decider of India's destiny. But now these are only stories of the past. The fact is that Congress's 18th session was going to be held on 26 December 1911 in Calcutta. One high English official suggested Tagore to write a poem to welcome George the Fifth and that poem to read at Congress's Session.
For Tagore this was an intolerable demand. However he did write the poem Jana Gana Mana and that was also read at the Congress's session. The impact of it was that the Director of Education of East Bengal issued a circular ordering all the government employees not to send their children to the school set up by Tagore. The reason was that Tagore's poem was not in praise of George the Fifth but the Creator of the Universe. The English [rulers] got the message but a section of Indians continued to spread misunderstandings about Tagore. For some time Tagore kept silent about it but then he wrote a letter to Pulin Bihari Bose [Sen?] making everything clear. He wrote,
'A certain high official in His Majesty's service, who happened also to be my friend, had asked me to write a song of felicitation I favour of the Emperor. The request simply amazed me. In fact it caused a great stir in my sentiments. In response to that great mental turmoil, I pronounced in elation the glory of that Bhagya Vidhata [ed. God of Destiny] of India who has from age after age held steadfast the reins of India's chariot through rise and fall, through the straight path and the difficult terrain in Jana Gana Mana. That Lord of Destiny, that Reader of the Collective Mind of India, that Perennial Guide, could never be George V, George VI, or any other so called George. Even my official friend understood this about the song. He may have been greatly enthusiastic about the admiration of his master, after all he was not lacking in simple common sense.'
In my book Tagore Shanasi I have devoted a full chapter about this very issue. It is difficult to say if it was due to some misunderstanding that the youth from Thiruvananthapuram did not sing along the national anthem or someone else had misguided him for this or if he had been driven to do so by his compulsive nature of offending. In any case his action can neither be justified; nor will it bear any good results. This, however, helps the fascist mind-sets that provide justification for every anti-Muslim crime, in their hateful campaigns.
After hearing Supreme Court's judgement a desire was ignited in my heart to appeal to the Government and the Supreme Court to order a judicial inquiry into the growing grievances of a community and if it is needed clarify the difference between the 'terrorists' and 'those who have simply been labelled as terrorists'. But in an atmosphere like the one that Salman and other youths like him help create, who will be there to make such an appeal and who will be there to hear it?
Translated from Inquilab, 14 September 2014, by Urdu Media Monitor.Com
URL: https://www.newageislam.com/islamic-society/shameem-tariq/some-spoilt-muslim-youths/d/99132