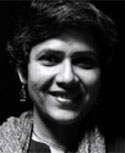 By Seema Chishti
Nov 19 2012
One of Partition's most evocative stories, Toba Tek Singh will on Monday be the take-off point for a seminar entitled 'The Partition of Madness and the Madness of Partition' being held here.
The 1955 short story by Saadat Hasan Manto was based on inmates of lunatic asylums being split in the wake of Partition — with Hindu and Sikh inmates being transferred to India and Muslim inmates going to Pakistan.
In the year of Manto's birth centenary, the day-long seminar will dwell on the fact that the Urdu writer's story reflected the actual transfer of inmates between the two countries based on their faiths, and what it meant for us and them.
Being organised by the Centre for the Study of Developing Societies (CSDS), the NationaI Institute of Mental Health and Neurosciences (NIMHANS) and The Wellcome Trust, the seminar will seek to explore dimensions of mental well-being keeping in mind the lonely wail of the protagonist in Toba Tek Singh.
In the book, several inmates of a Lahore facility are anxious about a "transfer" in the wake of Partition. One of them, a Sikh inmate called Bishan Singh, is traumatised at being told he is being sent off to India while his village Toba Tek Singh is in Pakistan. He doesn't want to go, and is finally found dead in the no-man's land between India and Pakistan. His non-sensical mutterings in the book are an indictment of the separation of the two countries.
The seminar will open with a paper by Dr Arvind Kala, a psychiatrist with a keen interest in history and law who, coincidentally, is based in Ludhiana, the town Manto was born in.
"There were 30 mental hospitals in the country at the time of Partition," Kala says. "Twenty-seven of these were in what came to be post-Partition India and three in Pakistan, in Lahore, Hyderabad (Sindh) and Peshawar." The paper is set to discuss how, "after protracted correspondence and several postponements, 450 non-Muslim patients were transferred from the three hospitals (in Pakistan) to India in December 1950. Simultaneously, 233 Muslim patients drawn from various mental hospitals were transferred to Lahore."
At the time, according to Dr Kala's paper, the Indian government was said to have complained about the ill-treatment meted out to Hindu and Sikh inmates.
Speaking about how the idea of the seminar took root, Dr Alok Sarin, senior consultant psychiatrist at Sitaram Bhartia Institute of Science and Research who is one of the driving forces behind the meet, explained: "It all started when I was researching in the Teen Murti library as a Fellow and discovered that there was actually a problem about mental patients after Partition, when it was decided to send Hindus and Sikhs across from the asylum in Lahore to India. As Agra and Ranchi were seen as too far, the Amritsar facility was set up in 1949 to deal with the incoming inmates from West Punjab."
Sarin said the intention was both to look at this traffic in asylum inmates, and "to see what it can tell us as about the nature of a society's understanding of mental illness, and its attitudes towards the mentally ill". He added that it was also important to look at what happens when a society is fractured and how long it took for any society to heal after such ruptures, if it heals at all.
Leading sociologist Dr Ashis Nandy and eminent historian Prof Shahid Amin are among the participants. Atamjit Singh, a Punjabi playwright; JNU professor Moushmi Basu (set to speak on how breaking up of nations impacts mental well being); Dr Sanjiv Jain, head of Psychiatry, NIMHANS, Bengaluru; and Alok Bajpai, a Kanpur-based psychiatrist who has worked on cinema, literature and Partition and who is one of the co-organisers of the seminar, will speak on issues around mental well-being, history, literature, the law and its interconnections with identity.
Source: http://www.indianexpress.com/news/exploring--madness-of-partition--through-toba-tek-singh/1033000/0
URL: https://newageislam.com/islamic-society/exploring-'madness-partition'-toba-tek/d/9379