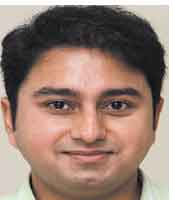 By Saif Shahin, New Age Islam
April 8th, 2013
"Fun... someone who enjoys life... knows what she wants n does not blindly follow things... practical, emotional …"
"I am [woman's name deleted]. I have completed my Bachelors in Arts. I am currently working as a Customer Support / BPO / KPO Profession…"
"I am a bachelor. My hobby is to explore new places. My family is modern and free minded. My friends says Mr. Perfect…"
"I am working as a Senior Strategic Management and Business Consultant in a MNC for Pharmaceutical and Medical Device clients…"
Educated, fun loving girls with minds of their own. Well-to-do guys from open-minded families, working in top managerial positions for multinationals. These sound suspiciously like descriptions of young and successful Indian men and women. And they are―with one more crucial adjective attached to them. They are all Muslims.
These lines are the introductions to some Muslim profiles on Shaadi.com, one of India's most popular matrimonial websites. Bachelors and maidens―or their fathers and mothers, uncles and aunts, friends and well-wishers―post these profiles online to attract prospective brides and grooms. They offer idealised descriptions of these young matrimonial "candidates," as well as their expectations about ideal life partners. These descriptions may or may not accurately represent who these people are. But they do reflect the social ideals of at least one section of Indian society―the urban Muslim middle class.
Bachelors with Bachelor's, Syedas without Hijab
Education comes up first, generally in the first sentence. More than 90% of Muslim men and women with online matrimonial profiles say they have a bachelor's degree or above, according to a recent study of 270 Indian Muslim profiles on Shaadi.com. Quite a few state having Master's and doctoral degrees as well, says the study by Smeeta Mishra, Mathukutty Monippally and Krishna Jayakar, published in Asian Journal of Communication.
Most men have their degrees in engineering, technology or management, while women prefer disciplines such as architecture, fine arts, fashion, commerce, science and medicine. Almost all the men who have their profiles online are already working. However, a number of women are either students or unemployed. Nearly two-thirds of the men have annual salaries in the range of Rs1-10 lakh. But most women's profiles do not mention their income.
Descriptions and expectations of physical appearance make for particularly interesting reading. Almost all Muslim men and women claim to be "fair/very fair" or "wheatish" in complexion. Just one male profile mentions a dark skin tone, while not a single female does so. Similarly, almost everyone appears to have athletic or slim body types―men are mostly athletic, women mostly slim. While 21% of men say they are looking for "fair" partners, 7% of women say so too.
Surprisingly, there is very little by way of religion in these profiles. Less than a quarter include Islamic greetings (such as Assalam u Alaikum). Just 19% of women talk about engaging in religious practices such as wearing Hijab or Burqa, praying five times a day or fasting during Ramzan, while only 7% men do so.
In comparison, sect and caste-based affiliations are mentioned more overtly and more often. Nearly 84% of men and women whose profiles were studied say they are Sunni, in line with the demography of Muslims in the country. Nearly a quarter talk of their caste: four-fifths say they are upper caste Syeds, Sheikhs, Pathans and Mughals, while the rest belong to lower castes.
Open Minds within Closed Walls
These findings have wide ranging ramifications. Clearly, middle class Muslim families in India value education―and not madrasa education but secular, modern education―for their sons and daughters. However, while men look for brides only after they get a job, women (or their families) typically start doing so even as they are studying in college. Thus, while modern education comes across as important for girls too, it seems to be primarily intended for the traditional purpose of finding good husbands. Girls are not seriously expected to focus on their careers.
This part-modern, part-traditional outlook reveals itself many other ways. For instance, most girls' profiles tend to be posted by their family members rather than the girls themselves. This is in keeping with traditional social mores, which don't allow girls to initiate their own "groom hunt." Even as these families use modern technology―the Internet―they do so for a very traditional purpose―arranging a marriage for their daughter. As the authors of the study note, this sends out a "dual message: we are modern, yet we are traditional."
Skin colour comes across as another important social value―for both men and women. Almost everyone believes fairness to be a desirable quality, and thus mentions it in his or her profile. Those who are not sure if they would qualify as "fair" refer to themselves as "wheatish"―but still make it a point to mention this rather than just stay quiet on the subject. This indicates they fear that if they do not at least call themselves "wheatish," they would be assumed to be dark complexioned, which they certainly do not want.
The most telling finding is their reticence on religiosity, especially when compared with their avowal of sectarian and caste-based affiliations. It shows that while being a practising Muslim doesn't matter so much when it comes to marriage, being Sunni or Shia, Syed or Qureshi, does count. This finding has two implications. One is the "influence of South Asian culture on Islamic practice, which is evident in the mention of caste identifications," as the authors note.
The second is the "functional" role of religion in the lives of middle class Muslims. Islam, for them, does not mean its rituals and practice, and perhaps not even its spirituality and philosophy. Rather, being a Muslim is a social identity, the function of which is to determine who does one interact with, socialise with, or marry. Sectarian and caste-based affiliations make this identity narrower still, but they all basically serve the function of defining the social boundaries within which middle class Indian Muslims lead their lives. That the Internet, a global medium, is built to transcend such boundaries makes it all the more important to affirm them clearly.
"Modern, educated, fun-loving, open-minded … Click here to marry me (only fair-skinned Sunni Syeds may apply!)"
Saif Shahin, a regular columnist for New Age Islam, is a doctoral research scholar in political communication at the University of Texas at Austin, U.S.
URL: http://www.newageislam.com/islamic-society/saif-shahin,-new-age-islam/fun-loving,-fair-skinned,-syed-and-sunni--through-the-looking-glass-of-online-muslim-matrimonials/d/11051