By Rami Rayess
07 August 2020
Long years of corruption and mismanagement have dragged Lebanon to where it is now. The enormous blast that hit Beirut Tuesday evening was just a new horrific example of how detrimental corruption can be. More than 2,750 tonnes of confiscated ammonium nitrate exploded, leaving 154 dead, more than 5,000 injured, and some 300,000 homeless, as of Friday.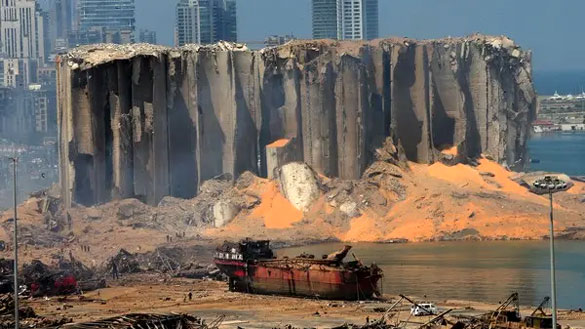 The explosive ammonium nitrate material has been stored in Beirut's Port for more than six years in a row.
Had such a blast happened elsewhere, the president, the prime minister and the concerned ministers would have immediately resigned, taking responsibility of what happened. However, in Lebanon where accountability is absent, such steps were not even contemplated by the concerned officials. No matter what decisions were made by the Higher Defense Council or by the Council of Ministers, damage has been done. Unimaginable scenes that emerged in the aftermath conjure mental images similar to those from Hiroshima in 1945 at the end of World War II.
Before the blasts, Lebanon's situation was already dire. Historically, the country has been penetrated by foreign interference and has been seen as the backyard for regional and international powers. In addition to that continued threat, it must now confront an unprecedented economic crisis that is restructuring the country politically, socially and economically.
Lebanon is quickly approaching the classification of a failed state. It defaulted on its debt last March, and its local currency lost almost 85 percent of its former value, its international credit has been downgraded to C by Moody's, the lowest classification ever, placing it in the same basket with Venezuela and Zimbabwe. Almost half the population is now considered to be in poverty.
For a country that has historically relied on tourism and banking services, it is now in a dire situation. After the blast, that situation will become worse.
The debt-ridden country has fallen into a vicious cycle in which a lack of confidence in the ailing banking system reduces the cash flow into the country – especially fresh dollars. Simultaneously, the lack of cash flow into the banking system has diminished the cabinet's capacity to borrow money to finance its basic functions and to support the stability of the national currency. With weak industry and productive sectors, the country imports most of its basic needs and commodities, a process that has become even more difficult and complicated with the scarcity of American dollars in the market.
Above all that, Lebanon has failed to attract foreign aid to overcome this impasse. The international community expressed support for Lebanon and has said it will send support, primarily in the form of food and medicine.
But in the long run, and in regard to its dire economic crisis, international lenders are no longer willing to extend a helping hand to Lebanon, at least not before drastic reforms are launched, and despite the economy's freefall, the government has failed to make reforms for years.
Paris, one of the only Western capitals that is still willing to conditionally help Lebanon, sent its foreign minister to Beirut last week in a final attempt to push the Lebanese Cabinet to introduce reforms. Lebanon's Prime Minister Hassan Diab harshly and undiplomatically declared after his visitor adjourned back to Europe that the French minster has a distorted image and insufficient information on the Cabinet's reform plans. The visit paid by the French President Emmanuel Macron to Beirut after the blast, in which he toured the damaged neighbourhoods, has left all Lebanese officials embarrassed and exacerbated the Lebanese people further.
The incumbent cabinet is strongly supported by Hezbollah and the Free Patriotic Movement (FPM), the latter of which is the party of Lebanese President Michel Aoun. The FPM has headed the Ministry of Energy and Water for the last twelve years and has still failed to provide 24-hour electricity to its citizens. This failure in annual total has cost an estimated no less than $2 billion.
Beyond failing to reform the electricity sector, it has also failed to crack down on the smuggling of food, oil and fuel to Syria – another reform that if made would contradict the interests of its stakeholders, though it would help alleviate poverty.
Smuggling from Lebanon into Syria has been ongoing for years, but it has intensified as Syria's economy deteriorates and as additional American sanctions are imposed.
This illegitimate trafficking is a huge burden for the Lebanese economy.
It is a clear, well-defined problem, and it is documented by ordinary citizens who watch trucks cross the border. However, Cabinet has done little on the subject despite taking numerous decisions with the Higher Defense Council. All has remained ink on paper, and nothing has been implemented. This is an area of influence for the so-called Axis of Resistance extending from Beirut to Tehran through Damascus. Nevertheless, Lebanon cannot afford to – and should not have to – finance two economies at home and in Syria.
The incapacity of the incumbent Cabinet is not negotiable anymore. The government has failed to achieve one accomplishment since it took office few months ago. It has increased the country's seclusion on all scales. Diab has failed to make a single foreign visit to an Arab or Western country. He wasn't invited, and his requests to visit any foreign capital were not welcomed.
Replacing the current Cabinet with a new one is no easy task. Erecting new governments in Lebanon has been a tedious mission in the last ten years or so. The various factions have developed their own veto powers that have complicated the matter further. Long months of negotiations have been consumed as factions vie to distribute portfolios and nominate preferred candidates.
Now, it is worse.
As regional governments, which serve as patrons to local players, have turned a blind eye and local political divisions deepen, the resignation of the Cabinet would likely lead to a caretaker government with a prolonged tenure in which law making is nearly impossible. This term might well extend until the end of the term of President Aoun in October 2022. Whether the "blast has broken the siege on Lebanon" as its president announced Friday, or not, the country is devastated regardless.
The only way out would be a new Cabinet of independent professionals that can win the support of all the factions on the political spectrum. This new set of leaders would have to be capable of introducing drastic reform measures that might gradually pave the way for regaining international and regional confidence in the country, thus allowing for new cash flows that might balance the ailing economy that is falling apart. Is this wishful thinking? Maybe.
Rami Rayess is a Lebanese writer and journalist. He is also a University Instructor and translator. He holds a Masters degree in Political Science from the American University of Beirut. He writes regularly to several newspapers and websites in both Arabic and English.
Original Headline: Beirut explosion will hasten Lebanon's meltdown
Source: The Al-Arabiya
URL: https://newageislam.com/islamic-society/lebanon-quickly-approaching-classification-failed/d/122575