By Rakhshanda Jalil
02 Mar 2021
Given that the Indian climate is marked by a difference of temperature and rainfall more than anything else and falls under the category of "tropical monsoon" with no clearly defined spring or autumn, the "idea" of spring has an important place in our collective consciousness, and by extension our poetry. Just as there is copious amounts of poetry in Sanskrit on the six seasons as identified by the ancient Hindu calendar, namely, Vasant, Grishma, Varsha, Sharad, Hemant and Shishir and on Vasant or spring in particular, so too there is a joyous celebration of Bahar in Urdu poetry.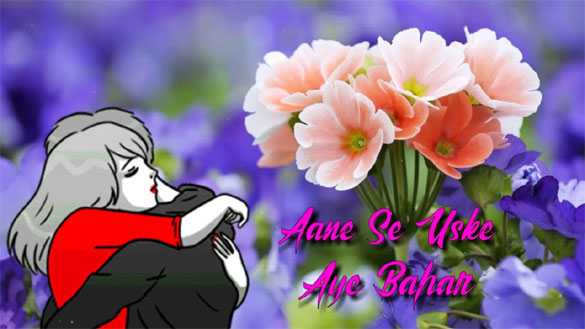 What 'Bahaar' Means to an Urdu Poet
Meaning beauty, glory, splendour, elegance, prime of life, bloom of youth, 'Bahar' is used for spring, spring-time and verdure. But the Urdu poet, as is the poet's wont, infuses the word with a special agency to mean many things: exuberance, prosperity, a time of plenty, a promise of new beginnings as also beauty, fragility, impermanence.
At its simplest, here is Ahmad Faraz comparing spring at the peak of its glory with the beloved's face:
Bharii Bahaar Mein Ik Shaakh Pe Khilaa Hai Gulaab
Ki Jaise Tu Ne Hatheli Pe Gaal Rakha Hai
A rose has bloomed on a branch in the fullness of spring
Looking as though you have placed your face on your palm
And the classicist Jigar Moradabadi declaring the beloved's beauty that surpasses that of spring;
Sehn-E-Chaman Ko Apni Baharon Pe Naaz Tha
Woh Aa Gaye To Saari Baharon Pe Chha Gaye
The garden's courtyard prided itself on its springs
When she came, she held sway over all the springs
Fani Badayuni Rues The Frittering Of The Possibilities That Spring Offered:
Tinkon Se Khelte Hi Rahe Ashiyan Mein Hum
Aaya Bhi Aur Gaya Bhi Zamana Bahaar Ka
We kept playing with twigs in our nests
The time of spring came and went away
What Spring Means to Those in Captivity
The coming of spring is always most evocative for those who are in captivity – literal or metaphorical – for the bars of the cage – real or imaginary – enhance the sense of being deprived of all the abundance in nature's garden. This sense of deprivation is best captured by Sauda:
Kahiyo Saba Salaam Hamara Bahaar Se
Hum To Chaman Ko Chhod Ke Sū-E-Qafas Chale
Convey my greetings to the spring, O breeze
I have left the garden and gone towards the cage
And Yagana Changezi:
Qafas-Nasibon Ko Tadpa Gai Hawa-E-Bahar
Chhuri Si Dil Pe Chali Jab Chali Hava-E-Bahaar
Spring breezes trouble those destined for prison
Like a knife on the heart these breezes of spring
And in the same ghazal, the poet goes on to say:
Hawa Mein Aaj-Kal Ik Dhimi Dhimi Wahshat Hai
Isi Zamaane Se Shayad Hai Ibtida-E-Bahaar
There's a slight frenzy in the air these days
Perhaps the beginning of spring is in the world
Shaḳhon Se Barg-E-Gul Nahin Jhadte Hain Baaġh Mein
Zewar Utar Raha Hai Urūs-E-Bahaar Ka
It isn't the flower petals coming off the branches in the garden
It is the jewellery being taken off by the bride of spring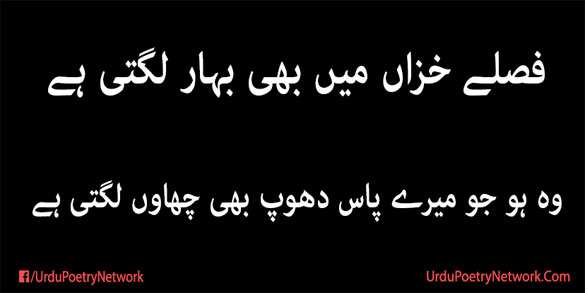 The Fickleness of Spring & Autumn
Used in conjunction with khizaan (autumn), bahaar reinforces the life principle as in this sher by Shakeel Badayuni:
Miri Zindagi Pe Na Muskura Mujhe Zindagi Ka Alam Nahin
Jise Tere Ġham Se Ho Waasta Woh Ḳhizan Bahaar Se Kam Nahin
Don't smile at my life, I have no affliction in life
He who has your grief autumn is no less than spring
Here's another version of the popular bahaar-khizaan trope with Arsh Malsiyani stressing the fickleness of both:
Nairangi-E-Bahaar-O-Khizaan Dekhte Rahey
Hairat Se Hum Tilism-E-Jahaan Dekhte Rahey
I watched the fickleness of spring and autumn
In amazement I beheld the illusion of the world
Faiz Ahmad Faiz has the last word on the possibilities bahaar offers and the terrible sadness that comes in the wake of a spring that is unlike any other:
Na Gul Khile Hain Na Unse Miley Hain Na Mai Pii Hai
Ajeeb Rang Mein Abke Bahaar Guzri Hai
The flowers have not bloomed nor have we met her or drunk wine
This spring has passed by in the odd sort of way
And this, my personal favourite also by Faiz, that I like to quote often when the world seems a dark place:
Hum Ne Dil Mein Saja Liye Gulshan
Jab Bahaaron Ne Be-Rukhi Kii Hai
I created a garden in my heart
When spring showed indifference
----
Dr Rakhshanda Jalil is a writer, translator and literary historian. She writes on literature, culture and society. She runs Hindustani Awaaz, an organisation devoted to the popularisation of Urdu literature.
Original Headline: Spring in India: The Joyous Celebration of 'Bahaar' in Urdu Poetry
Source: The Quint
URL: https://newageislam.com/islamic-society/just-there-copious-amounts-poetry/d/124441
New Age Islam
,
Islam Online
,
Islamic Website
,
African Muslim News
,
Arab World News
,
South Asia News
,
Indian Muslim News
,
World Muslim News
,
Women in Islam
,
Islamic Feminism
,
Arab Women
,
Women In Arab
,
Islamophobia in America
,
Muslim Women in West
,
Islam Women and Feminism