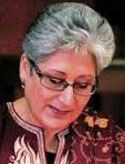 By Raheel Raza
January 31, 2019
Are Young People Running From Religion?
That was one of the topics of a multi-faith panel I was invited to participate in recently on Context Television. Joining me were Rabbi Jordan Cohen and Pastor Sheldon. The question raised by the anchor was whether young people are running away from religion due to dogma and forced religiosity.
The pastor spoke about how Christian youth are not comfortable with following dogma and would like to be free to practice the faith. The rabbi also echoed that and said we are fortunate to live in a country that affords us religious freedom, which is an important component for a thriving faith community.
The idea of this dialogue came after Rahaf Mohammed, a young girl from Saudi Arabia, ran away from her family, her country and her faith because she was being forced into religiosity. Rahaf was given sanctuary in Canada.
Many questions have arisen from this episode, including whether it was culture or religion that she felt oppressed her.
Rahaf was fortunate to have gotten away from the Saudi kingdom, and while I am very glad she has found sanctuary in a free country, there are thousands of other women in Saudi Arabia who are facing forced religiosity.
Forced religiosity is not about God or faith. In theocracies like Saudi Arabia, it is about power, patriarchy and control and nothing to do with spirituality. In these countries, men are the religious leaders and women are the ones who are forced to follow an ideology that dictates what they should wear, who they should meet, where they can go and also how they should practice the faith. These dictates are enforced by religious police.
Added to this, there is the abuse.
A report from Amnesty International alleges that 10 women's rights activists who have been detained in Saudi Arabia for months without charges are facing escalating levels of torture and sexual abuse.
Among them is University of British Columbia graduate Loujain Al-Hathloul, an outspoken advocate for women's rights. From the names we know, Samar Badawi (sister of jailed blogger Raif Badawi) has also been jailed.
While we know that religious freedom is not the norm in Saudi Arabia, this abuse of women goes beyond religion and is an abhorrent human rights violation.
We see this happening in many other Muslim majority countries. Take Iran for example. There, women are jailed and tortured for simply uncovering their hair. During the recent massive protests against the government, many women were incarcerated. The ones who weren't are continually harassed by the notorious religious police.
A question also came up on our panel: What can the world can do? The international community should reference Rahaf Mohammad's case to pressure Saudi Arabia to clean up its human rights violations and give women full rights and freedoms.
And similar to how Clarion Project's acclaimed film Honor Diaries exposed problems women face in Muslim majority societies in full detail, isn't it time that the Women's March, the #MeToo movement, Linda Sarsour and the two newly elected Muslim members of the U.S. Congress take their heads out of the sand and directly address these issues of human rights violations against their sisters?
I'm waiting with bated breath to hear them speak out!
Raheel Raza is ​an adviser to Clarion Project. ​She is an award-winning author, journalist and filmmaker on the topics of jihad and Sharia. She is president of The Council for Muslims Facing Tomorrow, and an activist for human rights, gender equality, and diversity.
Source: clarionproject.org/running-from-religion/
URL: http://www.newageislam.com/islamic-society/raheel-raza/forced-religiosity-is-not-about-god-or-faith--in-the-theocracies-like-saudi-arabia,-it-is-about-power-and-nothing-to-do-with-spirituality/d/117626