By Qaswar Abbas
September 16, 2013
A five-year-old is fighting for her life in Sir Ganga Ram Hospital in Lahore after being raped by unidentified men. A few hundred kilometers away, in Faisalabad, an industrial hub of Pakistan, another minor girl is lying in coma in Intensive Care Unit of Allied Services Hospital. She lies tethered to a ventilator, with a broken body and injuries to the brain and private parts.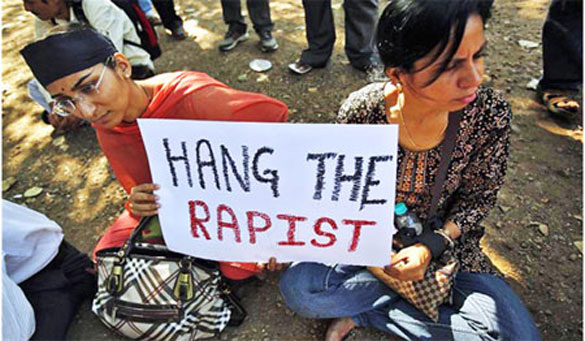 Raped on September 13 and 14, respectively, their little lives have rocked the nation, igniting protests throughout Pakistan and raising several questions: Is this any country for children?
Five-year-old Rukhsana (name changed) went missing in the morning of September 14 from outside her home. A few hours later, a security guard found a half-dead baby girl, near Sir Ganga Ram Hospital, Lahore, and provincial capital of populous Punjab. He immediately took the girl to hospital where she still fights for life.
Doctors told India Today that victim is facing serious medical complications and unable to pass stool and urine.
In Faisalabad, on September 14, unidentified men kidnapped 10-year-old Shazia as she walked to attend classes in school, took her to a nearby jungle and raped her. The rapists then threw her body in the bushes and fled. She struggles for life in Faisalabad's Allied hospital following vaginal and anal tearing.
These are but few examples. Local media in Pakistan report numerous such attacks on daily basis-cases of women, young and old, and even children suffering the ultimate abomination.
The rapes have sparked violence across Pakistan prompting members of civil society to come out on streets and roads to protest the heinous assault on children. They are demanding that the rapists be arrested and hanged to death publicly. The protests across Pakistan prompted the Supreme Court of Pakistan to take suo motu notice of the gang rape of children and directed the police to trace the alleged rapists.
The Provincial Law Minister of Punjab Rana Sanaullah promised that the guilty would be punished. "Those who have done this heinous crime are not humans but beasts and will be arrested and prosecuted under the law and given exemplary punishment," he told the media on Friday.
Indicators show that violence against the women and children is increasing. Two months ago, unidentified people molested a six-year-old girl, daughter of a junior army officer, while she was undergoing an eye operation at a well known hospital situated in the heart of Islamabad, the federal capital of Islamic republic of Pakistan. The police, as usual, lodged an FIR against unknown rapists, but, are still struggling to find out who raped the girl.
Rape is fast becoming Pakistan's "national problem," say experts.
According to Google, Pakistan remained No. 1 nation for searching websites for "rape pictures" between 2004 and 2009, "rape sex" since 2004, "child sex" between 2004 and 2007. Google recently ranked Pakistan as No. 1 in the world in searches for pornographic terms, outranking every other country in the world in searches per person for sex-related content.
According to data revealed by the Google earlier this year, Pakistan tops the list in searches per-person for "horse sex" since 2004, "donkey sex" since 2007, "rape pictures" between 2004 and 2009, "rape sex" since 2004, "child sex" between 2004 and 2007 and since 2009, "animal sex" since 2004 and "dog sex" since 2005. The data has been revealed by Google Trends and Google Insights, features of Google that generate data based on popular search terms.
In Pakistan, majority of rape cases aren't reported and convictions for crimes against women are rare. Over 150 women, children and minor girls were raped across the country in 2012.
Source: http://indiatoday.intoday.in/story/pakistan-on-boil-as-increasing-rape-cases-trigger-outrage-among-people/1/310070.html
URL: https://www.newageislam.com/islamic-society/qaswar-abbas/pakistan-on-boil-as-increasing-rape-cases-trigger-outrage-among-people/d/13589