Allegations of Blasphemy Makes All Muslims Go Crazy
Main Points:
1. Mushtaque was mentally ill for fifteen years.
2. He pleaded innocence before the mob.
3. This was the second incident of mob lynching after December 3 lynching of A Sri Lankan.
4. Pakistan government issues a formal statement of condemnation.
5. Religious circle remain silent on the incident.
----
By New Age Islam Staff Writer
16 February 2022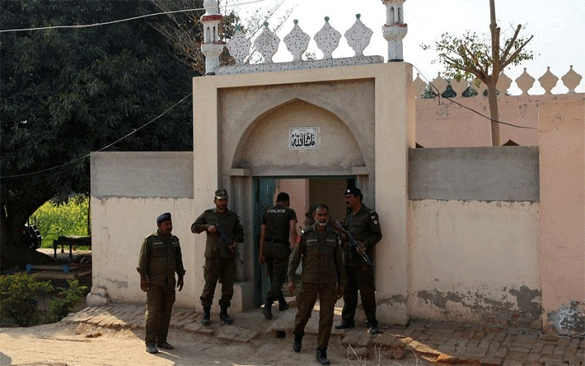 Police officers stand outside a mosque on Sunday, a day after a mob lynched a man in Tulamba Village, in Mian Channu, Punjab. — Reuters
-----
Once again in Pakistan, an innocent Muslim Man was killed by an unruly mob over the allegation of desecration of Quran. A mob of mentally ill Muslims killed a mentally ill Muslim Man named Mushtaque in village Dear in Khanewal district of Punjab in Pakistan on Saturday evening. He was tied to a tree and stoned to death. The police had arrived at the spot well on time and taken Mushtaque in custody but the mob snatched him from the police. After that the police remained silent spectator to the gory murder.
The victim's family has said that Mushtaque had been mentally ill for about fifteen years. He would often go missing and would go abegging and eat whatever he got.
On the fateful evening, the custodian of the local mosque reportedly saw Mushtaque with burning pages of the Quran and seemingly trying to pages another Quran. He raised an alarm and people coming for evening prayers caught him and beat him to death. According to him Mushtaque pleaded innocence to the mob before being killed.
The Prime Minister of Pakistan Imran Khan condemned the incident in strong words and added that the case would be dealt with the severity of law and that his government had zero tolerance against anyone taking the law into his own hands.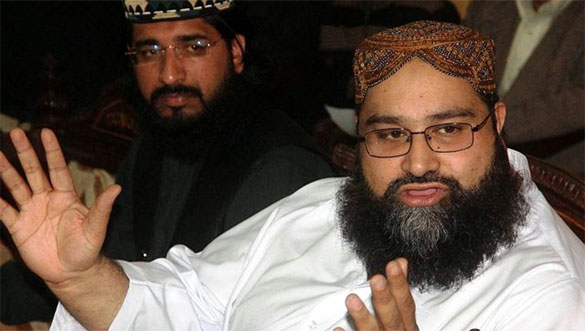 Maulana Tahir Ashrafi, PM's special representative
-------
Maulana Tahir Ashrafi, PM's special representative on religious harmony said in a televised press conference that it was not the religion of their prophet to kill under your interpretation of religion.
Shireen Mazari, Federal Minister for Human Rights also condemned the incident and demanded punishment to the culprits.
All this makes us believe that Pakistan's government has taken the incident seriously and will do something that deters religious fanatics of his country from perpetrating such un-Islanic acts in future. But on practical level all the statements by the PM and his ministers and advisors appear to be a hogwash. The truth is that the incident has not stirred the national conscience and has passed as a regular and common incident.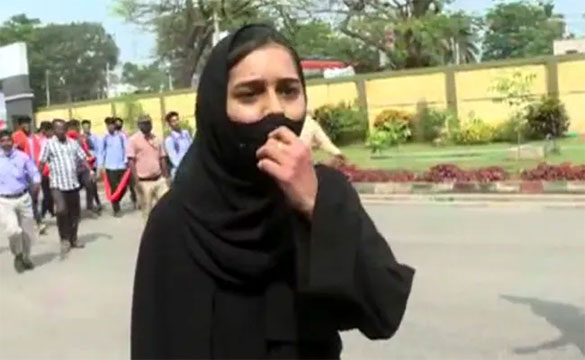 Muskan Khan
-----
The reason for this inference is that though the PM, his federal minister and his religious advisor have formally condemned the incident and senators Sajid Mir and Ejaz Ahmad Choudhury formally condemned the incident in the Senate, no Ulema true to their salt have said anything about the incident leave aside condemning it. When the pages of two major Urdu newspapers Jang and Nawa-e-Waqt are flipped through, no columns by the regular columnists are found condemning the incident or discussing the incident from Islamic point of view. Instead women's wing of both Jamiat-e-Ulema Islam and Jamat-e-Islami Pakistan eulogise Indian student Muskan's bravery. JUI women's wing even organised a rally in which women shouted Muskan Zindabad, hijab Zindabad and Bharat Murdabad. But conspicuously they did not say a word on the lynching of a mentally ill man of their own country by the Muslims.
Ironically, the Minister of Waqf and Religious Affairs, Syed Sayeedul Hasan said in a programme on Tuesday two days after the lynching that steps were being taken under the guidance and inspiration of PM Imran Khan and Punjab Chief Minister Usman Buzdar to make Punjab a state like Madina. There cannot be a bigger blasphemy against the prophet of Islam than this. It was in Punjab that on December 3 last year, a Sri Lankan Hindu was killed and then burned by a mob for alleged blasphemy. In the Punjab actually Muslims and non-Muslims both are unsafe from religious fanatics and the government claims that they are taking steps to make Punjab a state like Madina.
About ten years ago, a man who was a hafiz-e-Quran was burnt to death after being lynched for inadvertantly dropping the Quran on the earthen oven in his home. Some pages of the Quran had got burnt despite his effort to save it. But the angry mob of Muslims had dragged him out of the police station and beaten him to death. After that they had set at his body on fire.
Lynching of Muslims and non- Muslims for alleged blasphemy are common in Pakistan. According to the report of a think tank Centre for Research and Security Studies, in Pakistan 1415 cases of blasphemy have been reported from 1947 to 2021 out of which 18 women and 17 men have been killed extra-judicially. Salman Taseer, the former Punjab governor was killed by his bodyguard because he was demanding repeal of blasphemy laws of Pakistan which propose death sentence for a convict. Incidentally very few convictions have come but religious organisations provoke Muslims to kill those acquitted by the law.
The blasphemy laws of Pakistan are generally used by the majority Sunni Muslim community to intimidate the minority communities and sects and to settle personal scores. Rights activists and liberal Muslims of Pakistan have demanded a repeal of these Draconian laws but the governments of Pakistan have succumbed to the pressure of militant religious organisations and clerics.
In Pakistan, majority of Ulema are of the view that even a Muslim can be killed for blasphemy. So the common belief of Pakistani Muslims is that anyone accused of blasphemy should be killed without waiting for the completion of the judicial process. Even if the courts of law acquit them, Muslims should not acquit them.
In recent years Punjab of Pakistan has become a hotbed of religious and sectarian extremism. Religious scholars keep spreading sectarian and religious hatred among Muslims in the garb of spreading the message of Quran and Sunnah.
Therefore, despite the strong words of the PM of Pakistan against the lynching, there is no hope of the culprits being brought to book as the blasphemy laws will be applied to the victim and the culprits will be freed under the pressure of militant religious groups with which these fanatics are associated
URL: https://www.newageislam.com/islamic-society/pakistan-ulema-allegations-blasphemy-muslims-/d/126382