By Muhammad Ezaz-ul-Haq Sahibzada
7, Oct 2013
After a great experience in government school, it became clear that another institute- a Madrasa had been waiting for me, or maybe it had been praying that I would never go there. It was a charitable institute established by pious souls for the Islamic as well as ordinary school education (from sixth class to Bachelors level) for free. Departments for both religious education and schooling were separate. Any body was welcomed to come and attain knowledge. Boarding facilities, food and utilities were available free of cost for all students/staff and it mostly attracted students from poor families.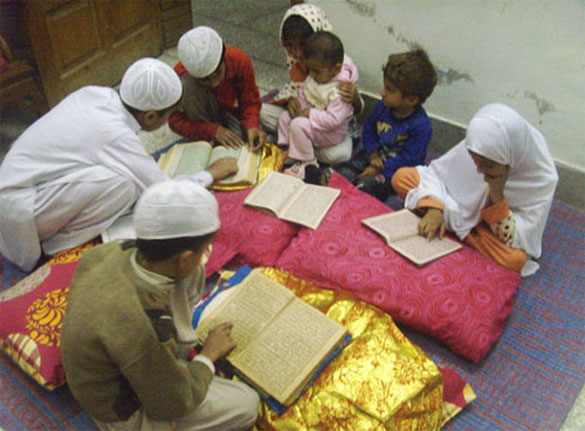 Hostel warden, a unique personality in his own, used to exert his influence over the new students with his power to know things through his "Mu'aqqil" or genie. The genie was supposed to tell everything from a false statement about illness to wastage of time on playing. Later on when few computers were purchased with help of a government grant, his informer became the "kampooter" which performed all the duties of his former genie. Genie must have been upset during those days until students, most of whom had hardly seen computer before, realized that computer was not capable of the claims made about it.
The warden hired back the genie.
Among other differences with the government school, 'Farsi' or Persian was compulsory till eighth class- the same in which I joined the institute. As terrified as anybody could be at that age by a new foreign language, I was compelled to learn it- or enough of it to pass the examination. It soon became clear that all the hue and cry about it like "kia mei Farsi bol raha/rahi hun" was very unjustified.
We were not, and still are not, doing justice to such a sweet language which is integral part of Urdu. Only those who have studied universal writers like Sheikh Saadi can tell the loss. One has to search libraries to find something of the class of "Gulistan", his masterpiece.
Classes of science subjects at matriculation level had recently been commenced despite absence of qualified teachers and laboratories. Still, I can claim with reasonable surety that it was one in thousands of such institutes which could think of teaching science. The only chemistry lab consisted of few jars of chemicals.
For the classic practical anatomy of frog in biology, one was arranged by a student as per the teacher's instructions and a brand new dissection-box was purchased. Due to lack of anaesthesia and stitching expertise, it was decided to kill the frog first and then perform the operation.
For this it was put in a chemical solution and left there. The foolish frog tried to escape the chemical solution when someone removed the lid to see whether it was dead. We could not let such illiterate frog to destroy our plans that could not see the "bigger picture" and the "great cause" for which her life was being taken. So it was put back into the solution. Prima facie it was a horrible act but none of us was afraid of legal implications.
We could easily force her relatives to forgive us 'in the name of Allah'.
Inauguration of female campus was really a commendable addition later on which was, and still is, the only education facility after tenth class.
The greatest service to the society was that the institute was feeding, educating and sheltering many of those who would otherwise be required to earn a living if they stayed with their families. And indeed almost all of them started working as soon as they left the institute. It was not the only Madrasa of this kind. There are thousands of such institutes across the country (not necessarily with same set of facilities) educating some two million students. It revealed on of tragedies of our beloved land. A nation which believes in great religion of Islam has left it to those who turn to Islamic education only when they cannot afford any other education which could give them a better earning.
So the product of such religious institutes is, with all due respect, hopelessly substandard. Understanding of modern world of an average graduate of such institutes is miserable resulting basically from quality of education of such institutes and the social class the student represents. Consequently, there is ever increasing communication gap between our teachers of Islam and us.
And it's not difficult to fathom relation between poverty, Islam and exploitation of this poverty in the name of Islam by fanatics who have taken thousands of innocent lives to teach us peace.
The gap will continue to increase until these institutes are brought into mainstream educational system. Had there been an up to the mark performance of Madrasa, we could have enough scholars of international calibre to fight the "Islamophobia" and present true image of it to the world. When fanatics become torch bearers of peace, they spread it through taking thousands of innocent lives and then insane rulers of mighty nations "restore" it through killing hundreds of thousands innocent souls and ruining life for millions of others.
Let us hope against hope that new government can think of something more revolutionary than distributing laptops (really wished to not mention them again but the whole insanity is too immense to go unnoticed) and can do something for those millions of students who are getting education in these institutes.
The only problem with our educational system from view point of Raiwand is deficiency of laptops. As events are developing, it seems the only thing we can do is to wait for someone falling from the sky right into Raiwand and taking our honourable Prime Minister and my Chief Minister on a tour of real Pakistan where millions of students are getting education which is of hardly any use, where hundreds of thousands of innocent hands are forced to child labour, where thousands of ghost schools exist.
Source: http://blogs.thenews.com.pk/blogs/2013/10/madrassah-a-great-experience/
URL: https://www.newageislam.com/islamic-society/muhammad-ezaz-ul-haq-sahibzada/madrasa--a-great-experience/d/13885