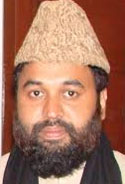 By Maulana Khushtar Noorani
(Translated from Urdu by Ghulam Rasool Dehlvi)
13 June, 2014
Islam is a spiritual faith based on peace, simplicity and humility. This foundational principle of Islam is the core value embedded in its precepts, practices including all social aspects of its jurisprudential mandate. Therefore, Islam severely condemns every mindless act that may cause the slightest harm to human beings, regardless of faith, creed and caste. Any act of mischief or hooliganism perpetrated on the occasion of Shab-e-Bar'at (the night of salvation) to the detriment of co-existence, social cohesion, national peace and integration is a grave misrepresentation of Islam. Such actions not only give an absolutely tarnished picture of the holy night of salvation (Shab-e-Barat) but also bring humiliating shame to the thinking members of the community.
As a matter of fact, Shab-e-Barat is the Islamic night of divine forgiveness, deliverance from the hellfire, and the night of salvation when Muslims across the world seek Allah's blessings for the year ahead. But for a major section of Indian Muslim community, particularly in Delhi and adjoining areas, the night has been in the news more for the actions of rowdy bikers from the community than the majority of silent worshipers. Even the passionate Muslim youths on their way to graveyards or places of worship, sometimes seem to go wayward. It is quite deplorable to see the young Muslim bikers perform dangerous stunts on busy stretches. Such wayward and morally untrained youths are a menace for the Muslim community in India. They have become a stigma especially for the Ulema and Imams of the mosques who are responsible enough to guide them during the Friday religious sermons in their mosques and on other special occasions when Muslims turn up there in great number.
While Muslim guardians need to counsel their youngsters who are mostly in their early twenties, Ulema should also feel impelled to organise special meetings and brainstorming sessions to find effective ways to prevent this hooliganism. It is time Ulema and Imams take it upon themselves to rein this menace.
Maulana Khushtar Noorani, chief editor, Jaam-e-Noor (an Urdu monthly magazine) is a noted Indian Sufi-oriented Islamic scholar. He is the spokesperson of All India Madrasa Co-ordination Committee, and the managing trustee of the New Age Media and Research Centre.
URL for Urdu article: http://www.newageislam.com/urdu-section/khushtar-noorani/ulema-should-pay-attention-to-religious-reform-of-the-society--معاشرے-کی-مذہبی-اصلاح-کے-لئے-علما-متوجہ-ہوں/d/87496
URL: http://www.newageislam.com/islamic-society/maulana-khushtar-noorani,-tr-new-age-islam/the-hooliganism-on-the-shab-e-bar'at-(the-night-of-salvation)--ulema-and-imams-must-take-it-upon-themselves-to-rein-this-menace/d/87519