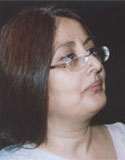 By Humra Quraishi
Jul 26, 2013
This was indeed a very special iftar, for on this Sunday evening, during the holy month, here I was, breaking the day's fast after prayer with a group of young girls from different parts of the country, several from the riot-affected belts of Gujarat and Assam and many of them from other troubled areas as well. Their new home was the orphanage, 'Happy Home', where their basic needs were being taken care of by well-wishers. The girls are also being sent to a reputed local school.
As I looked at my dinner companions, 45 girls seated in a semi-circle, I found that each pair of eyes had a heart-rending story to tell. Yet here they were, praying so earnestly before opening the day's roza. Though there lurked ample traces of pain and sorrow in their eyes, each of them seemed to look ahead, evidently not dwelling on the past, but full of hope for the future, despite the personal tragedies they had faced, the havoc and destruction they had seen first-hand.
Some of these children, orphaned very young, would have perished in the rioting in Gujarat and Assam if volunteers of the Zakat Foundation of India, led by former civil servant Syed Zafar Mahmood, hadn't set up a set of Happy Homes in the capital — one for girls and another one for boys — to try and rehabilitate them in middle class settings.
This Iftar evening, sitting right next to me was a little girl from one of the riot-affected areas of Assam. Obviously, she was too young to fast, but was participating in the rituals with full enthusiasm as she looked about innocently, chatting away, informing me that her village was far away.
When I asked her about her siblings or parents, her eyes looked around as though trying to relive memories of her village home but another little girl from Gujarat, her newly acquired friend, somewhat distracted her with the food spread out on the plate placed in front of them. And together, they ate the dates, rice Pulao and fruit with great relish.
This evening, I was reminded of the true meaning and concept behind observing the roza and then opening the day-long fast with a 'special' group — for fasting during Ramzan means much more than keeping away from food and water or any other kind of abstention. It is to get sensitised to the plight of those who go hungry and reach out to those who cannot afford a meal, and thereby connect to them. It is a month-long practice that ought to fortify and strengthen the practitioner and cleanse the soul. Opening the roza in a group is encouraged, for then, you share, connect and reach out.
If only more of us made the effort to connect, there would be less of pain and more of fulfilment — experiencing a togetherness and bonding, for are we not part of the same web of life?
Source: http://timesofindia.speakingtree.in/spiritual-articles/faith-and-rituals/a-very-special-iftar/24546
URL: http://www.newageislam.com/islamic-society/humra-quraishi/a-very-special-iftar/d/12831