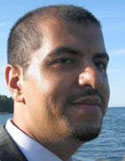 By Haroon Moghul
7 November 2013
What are the West's fastest-growing religions? Maybe Islam, maybe none. A civilisation a bit more Muslim, and much less monotheist, will challenge us far beyond what New Atheists can conceive; the cross-fertilization of misunderstood religion may be glimpsed in Chris Stedman's work or the late Ronald Dworkin's. What brings them together?
They're both kind of, sort of, saying "Salam." What kind of Muslim wouldn't respond?
When I was younger, I was told "Taqwa" meant fear of God and was encouraged to get some. But Taqwa, as I learned, meant "awe"- the Qur'an overflowed with invocations of the universe's inbuilt order: God said we'd find Him in His handiwork. Middle school Haroon believed Captain Kirk was on a spiritual jihad. Star Trek rendered a universe the monotheism of which was as obviously invisible as dark energy: You couldn't see Him, but you couldn't not see Him.
In love with physics, astronomy and cosmology, I was only continuing a tradition my (spiritual) ancestors had pursued. Classical Muslims grafted art onto art, adorning the very verses that preached reason and revelation, in so doing inventing an aesthetics that bound East and West even as it transcended them. Once we created cultures that savoured knowledge. And if you say, "that's not any Islam I can recognise"- well then maybe you're right.
Thank Allah for Atheists
Sometimes the value of engaging those whose beliefs are apparently so different lies in being forced to find ourselves. For every Richard Dawkins who says there's no space for sophistication within (my) religion, a young Muslim returns to the sources of her faith, asking—could it be true? (Thank Allah for him too.) Maybe the question of atheism, with the increasingly audible pondering over whether religion has any utility, might restore Muslims to ambitiousness and openness.
Of course, when the very mention of religion can be greeted with the severest, most wounded skepticism, that there is in Islam some basis for common ground with those who might call themselves agnostics or secular humanists could surprise. It shouldn't. Science, like religion, begins with awe, but awe must manifest itself in action or it is not awe. Like great Muslim scholars, many scientists grew up enamored of the world, eager to understand its mysteries, and fascinated by its complexities.
But they never stopped there. Else they wouldn't be scientists, would they? Darwin had an idea, but then he got on the Beagle. How different is that from Muslims who ages ago traveled far from the comforts of home to seek knowledge? In this overlap is the stuff sympathy is made from, the material from which a dialogue can be woven, the grounds on which houses of collaboration will be built.
I have more in common with a religious Christian than a secular Muslim; I have more in common with a curious nonbeliever than a passive believer. As a person who believes immobility does not become faith, I am interested in solving problems, not uselessly viewing them from afar. I should like to see Muslim communities and institutions hunt down their heritage, doing their best to restore it in their curricula, sermons, literature, and the programs and activities they pursue.
I should like to see them, too, assign books like Dworkin's and seek out speakers like Stedman. What I seek is not just religiously necessary - we are called to build a more harmonious world - but politically critical. Democracies work not because people agree on everything, but because they've learned how to address common challenges. What do we do with the environment? How do we conserve our planet? How do we grow responsibly? How do we defuse conflicts?
How Do We Get A Muslim In The Next Star Trek Movie?
The Roman Empire was much resurrected after September 11th; the image might be apt, though unexpected. The West is changing. But many of us are part of that change. This is less Niall Ferguson's nightmare than a question of how to balance change with continuity. Long ago, a "pagan" state became Christian. Either the post-religious or the Saracens act as the Christians this time around; I haven't decided. But that's beside the bigger picture, which is how we come to terms with the transition.
With what confidence?
We can, I hope, handle a little evolution every now and then.
Haroon Moghul is the Fellow in Muslim Politics and Societies at the Center on National Security at Fordham Law School. He is a graduate student at Columbia University, a widely-recognized speaker on Islamic thought and Muslim history, and the author of The Order of Light (Penguin 2006). Haroon's writings have been featured on Foreign Policy, Boston Review, Salon, Tikkun, Religion Dispatches, Al-Jazeera, Today's Zaman and Dawn. He is a Fellow at the Institute of Social Policy and Understanding and serves as an expert guide to the Muslim heritage of Spain, Turkey, and Bosnia.
Source: http://english.alarabiya.net/en/views/news/middle-east/2013/11/07/I-don-t-believe-in-God-is-that-going-to-be-a-problem-.html
URL: http://www.newageislam.com/islamic-society/haroon-moghul/i-don't-believe-in-god;-is-that-going-to-be-a-problem?/d/14333